INTRODUCTION
Hello everybody, I hope I haven't bored you away from this series of reports just yet and if you haven't read the previous reports you're missing out on all the 'interesting' background information that explains why I took this trip in the first place. This report features the first real highlight of my big trip thus far, a long distance ride on a classic Boeing 737-500 with the Kazakh Airline, SCAT Airlines.
The other previous parts can be found here:
Part 1, Daegu-Beijing, Jeju Air Boeing 737-800
Part 2, Bejing-Xi'an, China Southern Airbus A321
Given the increasing rarity of Boeing 737 classics across the world, I was very much looking forward to my flight in the aircraft. For the few on the forum who are perhaps not so well acquainted with the type, the first Boeing 737 Classic series aircraft rolled out of Renton in 1984 with the first Boeing 737-300 entering service with USAir in November that year. This new type could carry more passengers, further and much more quietly whilst burning less fuel than the Boeing 737-100 and 200 series models. In September 1988, the largest Boeing 737 model until the release of the Boeing 737-800 ten years later, the Boeing 737-400 entered service with Piedmont Airlines and in February 1990 the first Boeing 737-500 entered service with Southwest Airlines. It is fair to say that the type faced tough competition with the high tech fly-by-wire Airbus A320 entering service in 1988 and the further improved Boeing 737NGs entering service only eight years after the final Boeing 737 Classic subseries was introduced. Despite these, a respectable 1988 Boeing 737 Classic models were produced in the 19 year period between 1981 and 2000.
Unfortunately, the type is certainly not getting any younger and with constant improvements in fuel efficiency many large airlines that once operated them in large numbers have now said goodbye to these aging types in favour of younger and more fuel-efficient types. In Korea a flight on the type is now impossible since the type was retired by Air Busan in 2016. However there are still a reasonable number of passenger models flying in Japan with Okinawa based JTA and ANA Wings, although examples are expected to be retired by 2018 and 2020 respectively. In the UK, the type which was once a common feature at airports across the country is being increasingly rare with only one British airline (Jet2) operating the passenger variant of the aircraft.
THE AIRLINE
Despite being an airline virtually unheard of to most outside Kazakhstan, SCAT Airlines is a well-established carrier that has been flying for over twenty years. According to the airline's website, seventeen people formed the airline in 1997 in the city of Shymkent. This dedicated group filled various wide ranging roles and even, as the website claims, 'painted the aircraft themselves'. The airline operated its first scheduled flight in 1998 between Almaty and Kyzylorda. Since then the airline continued to grow and today offers flights across Kazakhstan and internationally to Armenia, Azerbaijan, China, Egypt, Georgia, Russia, Turkey and Uzbekistan with a fleet of Antonov 24s, Boeing 737-300/500/700s, Boeing 757s, Boeing 767s and Bombardier CRJs.
SCAT Airlines' weekly service to Xi'an commenced operation in March 2016 and as of summer 2017, it departs Almaty at 1000 on a Thursday, arriving at 1615 before departing an hour later and arriving back in Almaty at 2010, 4H55 later. With a distance of 1804 miles I suspect this to be one of the longest Boeing 737 Classic routes in the world.
BOOKING
SCAT Airlines' website is perhaps not as fashionable as that of many major airlines but it worked well and is highly detailed giving passengers all they need to know about the airline and its history, the aircraft they operate, their destinations and virtually anything else you can think of related to the airline. I booked directly through their website, it worked just as well and within a couple of minutes I had purchased tickets for the flight. Being a full-service airline, no added extras were offered and seats could not be selected at the time of booking. Almost immediately after this I received four emails from the Russian Sirena Travel on behalf of SCAT featuring my itinerary, a PDF copy of my itinerary, receipt and a conditions guide. This was perhaps a little excessive and could be easily included in one single email.
THE JOURNEY
Having arrived at Xi'an Airport just before 0900 that morning with a 1715 flight and suffering from around two nights of missed sleep I was willing to do anything for just a few hours of peaceful sleep including parting with a small fortune. And that is exactly what I did, spending 500 CNY for a five hour stay at the airport's luxurious Regal Hotel. Notably, a five hour stay here was around the same price as a three night stay at the Almaty Airport hotel. After a restful stay with around three hours before my flight I walked across the hot bridge that connects the hotel to the main terminal with the intention of heading to the check-in desks. Sort of expecting the check-in desks yet to open I had no unpleasant surprises when I arrived at the international desks and found that the only queue of passengers that could be seen were those travelling to Hong Kong on Cathay Dragon's 1550 service. With little to do I sat and waited at a series of benches directly opposite these desks and take in my surroundings.
Not a great number of international departures
Unlike some Chinese airports, say Kunming or Shenzhen with their interesting roofs, from an non-architect point of view, there was nothing in particular that stood out about the design of this airport. Xi'an Airport just seems to be your standard modern glass airport that can be found across China and indeed the world. Inside everything appeared to be reasonably clean with incredibly well polished floors, even the toilets appeared to be in a reasonable state, something that many people who frequent Chinese airports outside of Beijing and Shanghai do not for granted. Also, the free wifi provided throughout the terminal worked well even for those who lack a Chinese number, which again I have only usually found is the case occasionally in Beijing and usually in Shanghai Pudong.
The main check in hall
By 1450 the last few stragglers for the Hong Kong bound flight came running in and after these passengers had checked in, all signs of Cathay Dragon/Pacific were removed and their staff fizzled away. Over the previous two minutes the area surrounding me had filled with a reasonable number of people speaking Kazakh and Russian, a sure sign I was in the right place. At 1510, the screens above three check-in desks changed to show the SCAT logo as well as showing Almaty in Chinese. I, as did many of the waiting passengers headed to the desks despite no signs of any staff members. At 1530 staff arrived at the desks and spent the next fifteen minutes chatting and firing up the system. During this time, a random middle aged gentleman who appeared to just be walking passed walked up to one of these manned desks as if he was about to ask one of the check-in agents a question. Then, without saying anything he climbed up on top of the luggage belt and looked down in order to find out his weight. All this time the check-in agents were looking at him with a slight look of disbelief. However this farce was over as quickly as it had begun after he stepped down and walked away.
The check in desks for the flight
Being at the front of one of the three queues as soon as the desks opened I was seen, I asked for a window seat and after a couple of minutes I received a boarding pass with the seat 16F printed on a Xi'an Airport branded first class boarding pass card. With no reason to stay landside I headed straight through to customs and immigration, which given that I was the first passenger to check in, both were completely queue-less and thus within ten minutes of checking in I was in the airside international departure hall. Given that this area was completely empty upon my arrival it seemed spacious however perhaps it would get rather crowded if several full widebody flights happened to be departing at the same time. As with the landside area, this area appeared to be well cleaned and the wifi here worked well. Good views of arriving and departing aircraft could be had from the far end of the concourse.
The empty international departure area
As per usual at many Chinese airports, the majority of aircraft movements consisted of Airbus A320s and Boeing 737-800s with the occasional Airbus A330. There were also a few Embraers and a couple of Bombardier CRJ700s belonging to China Express Airlines present too. I came across a familiar aircraft which I had flown twice on two different trips in May 2017, Kunming based Boeing 737-800 B-1702, which took me from Incheon to Kunming at the start of May and Kunming to Shanghai Pudong at the end of May.
Waiting for the flight
Although there had appeared to be a fair number of passengers at check-in, these people filtered through in waves and for a significant period there were very few
passengers in the concourse. At 1618, our short and stubby Boeing 737-500 touched down in Xi'an bringing an end to its relatively long journey from Almaty and a few minutes later it pulled up to stand 704. Our aircraft for the flight was Lithuanian registered Boeing 737-522 LY-AWE, an aircraft that first took to the skies above Washington State in late October 1992, making it almost 25 years old at the time of the flight. The aircraft then had a twelve year career flying around the US with United Airlines before being sold to the now defunct Canjet in 2004. After four years of ferrying holidaymakers from cold Canada to the sunny Caribbean it headed to the Baltic to fly across Europe with then Lithuanian national airline FlyLAL. Three months before the airline's bankruptcy in November 2008 the aircraft began to operate for SCAT Airlines and continues to fly with SCAT to this day carrying up to 124 passengers in an all economy class configuration per flight. The aircraft has suffered two significant incidents whilst flying in Kazakhstan, both involving false unsafe nose gear indications, once in 2011 in Almaty and once in 2014 in Astana. In the week prior to my flight, LY-AWE had travelled over 28000 miles over 42 flights most of which were domestic visiting Aktau, Almaty, Astana, Kostanay, Mineralnyye Vody, Oskemen and Shymkent.
Pulling into the gate
After passing the time away by looking out the window and using the airport's free wifi 1700 soon came and went and there was no sign of boarding, nor were there any staff members at the gate. Outside there were virtually no signs of life around our aircraft once the aircraft had been fuelled up however our baggage could be spotted on carts baking in the hot sun. Fortunately I had no expensive Belgian chocolates in my hold luggage. Ten minutes later the ground crew aka Xi'an's strongest residents came back out onto the apron and pushed the baggage carts towards the aircraft before loading these one by one up into the aircraft. At our scheduled departure time of 1715 our tug showed up and boarding was called immediately in Mandarin and English. After having my boarding passed scanned I went down the largely viewless winding jetway before reaching our little Boeing 737.
As I stepped aboard, I received no greeting from the crew however I couldn't blame them. They had been stuck aboard this boiling hot aircraft for over five hours by the time boarding commenced. As I made my way down the aircraft to my seat the aircraft's age was apparent thanks to the big chunky style seats with wide armrests fitted with ash trays and vintage style signs. With the last four rows remaining blocked, after gesturing my intention to move to the tough looking, arms folded cabin crew member at the rear at the cabin I received an approving nod and moved to seatmate-less 19F which seemed a better option being trapped for five hours with two seatmates. At the rear of the aircraft a refreshing slight breeze could be felt thanks to the opening of the rear left door. Several minutes after I moved there was a slight frenzy whilst other passengers attempted to do the same. In the end I was joined by a gentleman in 19D.
Old style well padded seats
Looking inwards
Looking forward
The seats in the aircraft were significantly larger than in your modern Boeing 737 and were covered in dark blue leather. These were fairly comfortable although had a mediocre amount of legroom. As one would perhaps expect from a relatively old aircraft the cabin appeared to be in a very worn condition with scratches and marks all over the place. My window shade would only lower half way and featured a large crack. The seat pockets contained a copy of the airline's inflight magazine, a battered safety card and a sick bag. The flight that day was around 60% full with about 80% of the passengers being Kazakh and mostly consisting of families as well as a few lone students returning from China during their summer holidays. The other passengers were mostly middle-aged men from China and appeared to be travelling as a group. Three cabin crew members were staffing the cabin that flight, all female, two in their 20s serving the front of the aircraft and a middle-aged woman serving the less populated rear half of the cabin.
Looking outwards
The safety card
And inflight magazine
Slightly worn
Looking forward
At 1730 both doors were closed and the cabin crew performed a welcome speech and manual safety demonstration in Kazakh, Russian and English before coming around the cabin with a basket of boiled sweets. At 1740 the mish mash of yellow lights running along the sides of the cabin were turned off and we began pushback. As we headed backwards the engines loudly whined into life and the flaps were extended by five degrees. As we held before beginning our taxi the air con finally came into life and filled the cabin with much cooler air. Three minutes later the engines powerfully pushed us forward and we made a quick taxi to runway 05L. After several minutes of holding whilst an Dalian Airlines 738 and Capital Airlines A320 arrived in the historic city and a Sichuan A319 departed ahead of us, one of the pilots came on the speakers during one of two times we would hear him during the flight and politely announced 'cabin crew takeoff position please, thank you' and we taxied onto the runway. After waiting for a few moments whilst the Boeing 737 aircraft vacated the runway, our engines roared into life powering down the runway in what seemed to be one of the loudest takeoffs I've experienced recently. Moments after lifting off, we were offered views of a bank of sixteen stored Hainan Airlines and Tianjin Airlines Donier 328JETs. Interestingly around 16% of the this type ever produced are now stored in Xi'an.
A sea of modern aircraft
Ready for departure
Rocketing away
After leaving the airport perimeter we made a shallow noisy climb above the urban Jingyang County to the north of Xi'an before turning northwestwards just before reaching the small (by Chinese standards) city of Tongchuan. From here the apartment blocks beneath transformed into rural green hills covered in terrace farms as we crossed the border into northern Ningxia, this scenery continued for a while until the clouds came and swallowed our view.
The flat green fields surrounding the airport
More mountainous scenery
Thirty minutes after take off as we neared our cruising altitude of 34000 feet the seatbelt were extinguished and the crew immediately wheeled two trolleys to the front of the cabin indicating the commencement of the meal service. By 1830 the first trolley reached the rear of the cabin and I opted for a cup of bright orange, sugary Fanta which was served to me in a SCAT branded paper cup filled dangerously to the brim. Within a few minutes the clouds beneath us opened up again revealing a complete different landscape to the one I had witnessed only fifteen minutes ago. The landscape here, east of Lanzhou was far rougher with the green hills replaced with dull sandy coloured jagged peaks of Gansu. There appeared to be few roads or settlements however I did spot a small remote airfield near the town of Gaowanxiang.
Round one
The sandy landscape beneath us
By 1900 we had hit the first patch of turbulence and a pretty heavy patch at that. Despite this the crew proceeded to conduct the meal service. As with most meals on Chinese domestic flights, this consisted of a cardboard box and a foil tray containing the meal. I also received an unpackaged hard white bread roll and a soft brown one. The cardboard box consisted of a beef salad, fruit salad and a muffin as well as plastic cutlery and the main dish consisted of a simple but delicious prawn, vegetable and rice dish. Overall the meal itself was rather good and sufficiently filling for the flight although the crew handed these out in a cold manner without a word.
The colourful box
And its contents
As I ate, the glimpse of the skies opened up once again as we were 34000 feet above the orange sand dunes of the remote Gobi desert of Inner Mongolia. After flying north until we were less than fifty miles away from Mongolia we turned westwards over the area of Ejin, famous for its satellite launch centre. To the east of the town, a large refreshing looking turquoise oasis could be seen.
Meanwhile inside the cabin the lack of any sort of IFE bar the inflight magazine meant many passengers had fallen asleep bar a group of middle aged gents behind me who loudly watched a Korean drama before playing the latest Chinese pop songs, lacking any headphones they resorted to playing this loudly out of their devices' speakers at a level that at times I was convinced it was coming from the aircraft's speakers. Three hours into the flight I decided to make a trip to the bathroom. Interestingly the toilets were laid out in an unusual style with the doors facing each other diagonally. As one would expect from this old aircraft they were old fashioned in style, they were also incredibly dirty and worn looking with a pool of liquid (hopefully water) congregating on the floor.
Making my way to the toilets
Not the cleanest aircraft bathroom I've used
After well over an hour of flying over the desert, the scenery beneath us rose up and transformed into the grey rocky mountains of eastern Xinjiang. Again like much of the flight we soared high above an incredibly remote area with very few roads or settlements however we did occasionally pass the occasional massive windfarm. As we neared the city of Hami home to over half a million people and famous for its sweet melons the jagged snow-capped peaks of the Karlik Mountains came into view.
Endless wind turbines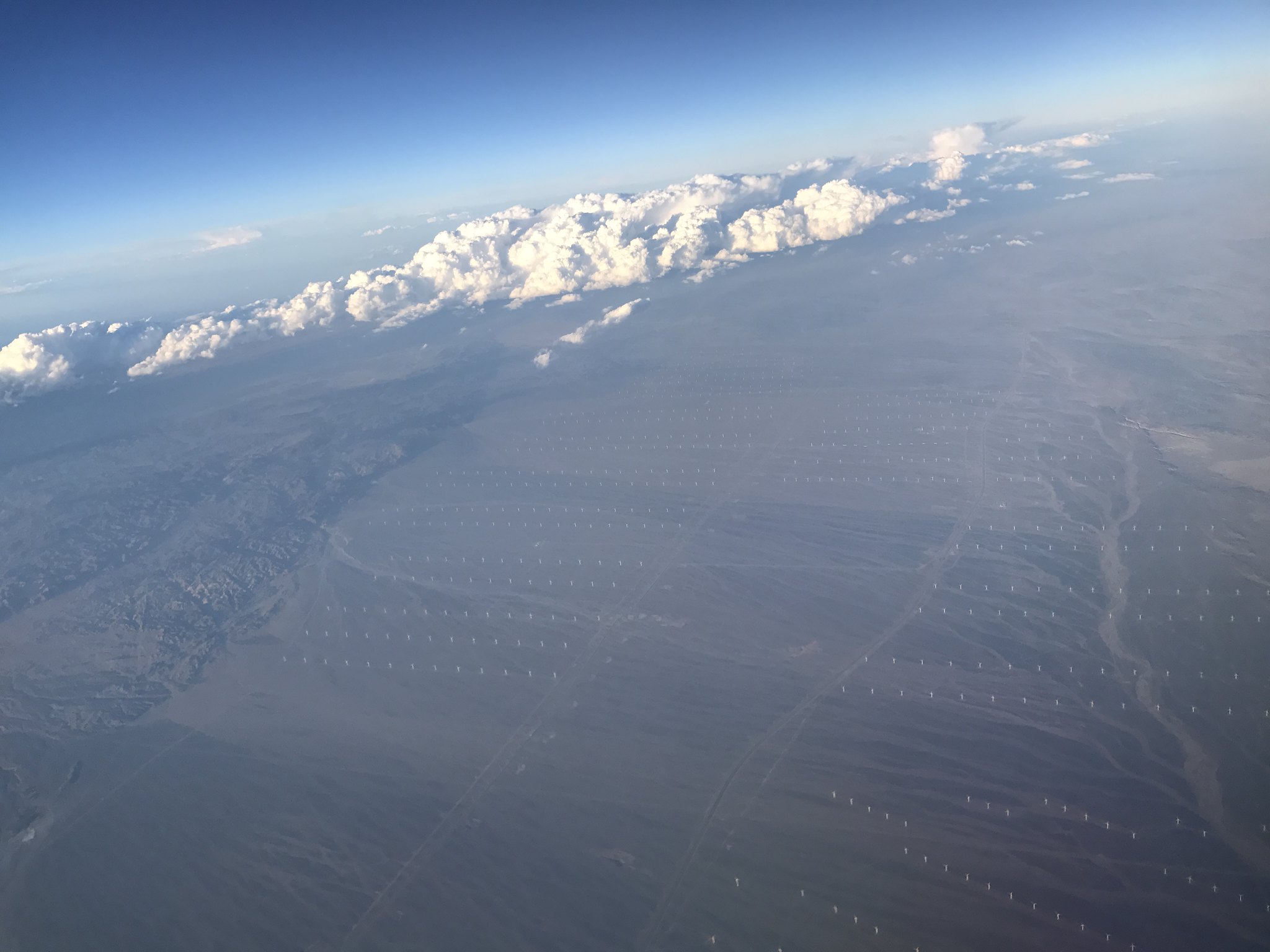 The Karlik Mountains
After taking a short fifty minute nap I awoke to find that we were now cruising at 36000 feet above the cultivated desert of central Xinjiang north of Turpan, a town I had visited in 2016, famous for its grapes. At this time an Air China Airbus A320 wizzed past us in the opposite direction as it made its way from Urumqi to Chengdu. At this point, the journey became rather monotonous despite having flown over beautiful and interesting scenery for the past few hours. It is amazing just how large China is! When we reached an area just north of Urumqi we turned to fly southwest and after a few minutes we flew over higher snow-capped Tian Shan mountains than those previously seen. Although the view of these was slightly obscured by a thin layer of cloud. At this time we were also treated to a spectacular dusk although the incoming sunlight highlighted the dirt on the windows and made it near impossible to take any good photos.
A reasonably ineffective window shade
The Tianshan Mountains
As we neared Almaty I made a final trip to the bathroom during which time all three cabin crew members were chatting away at the front of the cabin, although when one noticed I was waiting in the rear galley she asked in Russian whether there was anything I needed. We finally crossed into Kazakh airspace at around 2200 Beijing time or 2000 Almaty time as we continued to chase the orange setting sun. When our scheduled arrival time of 2010 came around we were still at 36000 following the winding Ile River. At 2015 the seatbelt signs were switched back on and an announcement was made informing us of our descent. As soon as this was over we began to sink back towards earth the crew came around to collect rubbish and blankets. As we flew to the south of the large Kapchagay Reservoir the crew once again came around with boiled sweets.
The short cabin during the final stages of the flight
We then turned southwest towards Almaty over farms, factories, towns and villages lit up by the orange glow of street lights. As we sunk lower the flaps were gradually extended and a few bumps of turbulence could be felt. At 7000 feet and to the north of Almaty we made a 180 degree turn to line us up for runway 05L, quite appropriate seeing as we departed Xian's 05L! As we turned the mountains that lie to the south of Almaty came into view as did the city itself. After our gear came down and full flaps extended one of the pilots announced, 'cabin crew landing stations'. We then sunk lower and lower over mostly residential areas consisting of individual low rise houses and the occasional tower block.
At 2038 we made an incredibly smooth touchdown in Almaty which was followed by some hard braking. As there is no taxiway that runs parallel to the runway after we slowed down we made a U-turn before making a fast taxi back down the runway. After we turned off the runway, the interesting array of active and stored Antonovs, Tupolevs and Yaks came into view as well as a large number of business jets. After a short taxi past a bunch of less interesting modern Air Astana aircraft and a fellow SCAT 735 readying for departure we pulled into our remote stand. As soon as the engines were shut down the cabin plunged into darkness before the emergency lights came on, creating a small amount of light in the aisle. A minute or so later the APU could be heard powering into life and the main cabin lights came back to life although this didn't last long as the APU almost immediately spooled back down and the cabin fell into darkness once again. A couple of minutes later the door at the front of the cabin was opened and with the aid of mobile phone torches to find their belongings one by one we slowly deplaned and made our way to the awaiting buses.
Making a U-turn on the runway
The dark cabin
Disembarking our 735
After a short bus ride past a couple of resting Bek Air Fokker 100s and the luxurious looking Soviet era VIP terminal we arrived at the main terminal's door to the immigration hall. This hall was smaller than I had expected considering the airport is one of the main two gateways to Kazakhstan. As I had not received an immigration form on board the aircraft I headed over to the circular table to pick on of these up and fill it in. Despite a number of reviews of the airport complaining about long queues at immigration, thanks to the recent visa-free policy for citizens of many nations these queues are largely a thing of the past and within a couple of minutes of joining a queue I was seen. At the desk the officer did not appear to speak much English and kept repeating the word 'today' in a question like manner. Unsure of what he meant by this I showed him my tickets out of Kazakhstan and a while later my passport was stamped and I entered Kazakhstan. By the time I had made it through immigration my bag was already spinning around, I picked it up and lugged it to the small arrivals hall where I changed some USD and CNY into Kazakh Tenge before walking across to the old but convenient airport hotel.
SUMMARY
When I booked the flight, I knew full well that I would be travelling on a relatively old aircraft without the luxury of personal TV screens or even overhead TV screens. I thus wasn't surprised by how worn the aircraft seemed to be or the lack of entertainment. However for those passengers who are perhaps used to larger and more internationally known airlines then perhaps the aircraft may have come as a bit of a surprise. However, on the plus side, the aircraft was clean upon boarding and featured comfortable seats with a reasonable amount of legroom.
The crew on the flight were a little cold and unfriendly however as demonstrated when I waited to use the bathroom, they were fairly attentive and there when you needed them. I have nothing negative to say about the catering, the amount of food was sufficient for this medium haul flight and several drinks rounds were conducted plus the boiled sweets before departure and landing were a nice touch. The service on the ground in Xi'an was good and efficient and the arrival procedure in Almaty didn't take too long.
Would I fly medium haul with SCAT again? Yes, I probably would, especially if the price was right. However perhaps if another more reputable full service airline, say, Air Astana were offering the same flight for a similar price then perhaps I would be more compelled to fly with them, especially if I didn't care about the type of aircraft.
Anyway that's it for this trip report! I hope you enjoyed and in the next report I'll cover my flight from Almaty to Astana on a vintage Bek Air Fokker 100. Thank you for reading!
OTHER TRIP REPORTS
Please note, the photos of many reports seem to no longer be working however these photos can be viewed on my blog
Forever in Y
Korea Domestic
Asiana Boeing 767 Gimpo-Jeju
Air Busan A320 Busan-Jeju
Jeju Air Boeing 737-800 Busan-Jeju
Jin Air Boeing 777-200ER Jeju-Gimpo
Korean Air Airbus A330-300 Jeju to Busan
Korean Air Boeing 747-400 Gimpo to Jeju
Korean Air Boeing 787-9 Gimpo-Jeju
Short Haul
China Southern Airbus A321 Bejing-Xi'an
Cityjet Avro RJ85 London City-Cork
Far Eastern Air Transport MD-80 Taipei Songshan-Makung
Jeju Air Boeing 737-800 Daegu-Beijing
Joy Air Xian MA60 Yantai-Dalian-Yantai
Lucky Air Airbus A320 Lijiang-Kunming
Southern Sky Airlines Antonov 24RV Almaty-Balkhash-Astana
Thai Airways Boeing 777-300 Bangkok-Phuket
Tibet Airlines Airbus A320 Kunming-Lijiang
Ukraine International Airlines Boeing 737-800 Kiev-Istanbul
V Air Airbus A320 Taipei-Busan
Medium Haul
Air India Boeing 787-8 Incheon-Hong Kong
China Eastern Boeing 737-800 Incheon-Kunming
China Southern Boeing 777-200 Urumqi-Beijing
Korean Air Boeing 737-800 Incheon-Kunming
Vietjet Airbus A320 Ho Chi Minh City-Taipei
Long Haul
China Southern Airbus A330-200 Istanbul-Urumqi
KLM Cityhopper/KLM Fokker 70 and 747 Combi Humberside-Amsterdam-Seoul Incheon
Korean Air A380 Seoul Incheon-Paris CDG
Oman Air Airbus A330-300 and Boeing 787-8 Heathrow-Muscat-Bangkok
Thai Airways Bangkok-Karachi-Muscat
Vietnam Airlines Airbus A350 and Boeing 787-9 Heathow-Hanoi-Seoul Incheon