Hong Kong Airlines' Inaugural to Los Angeles: Work in Progress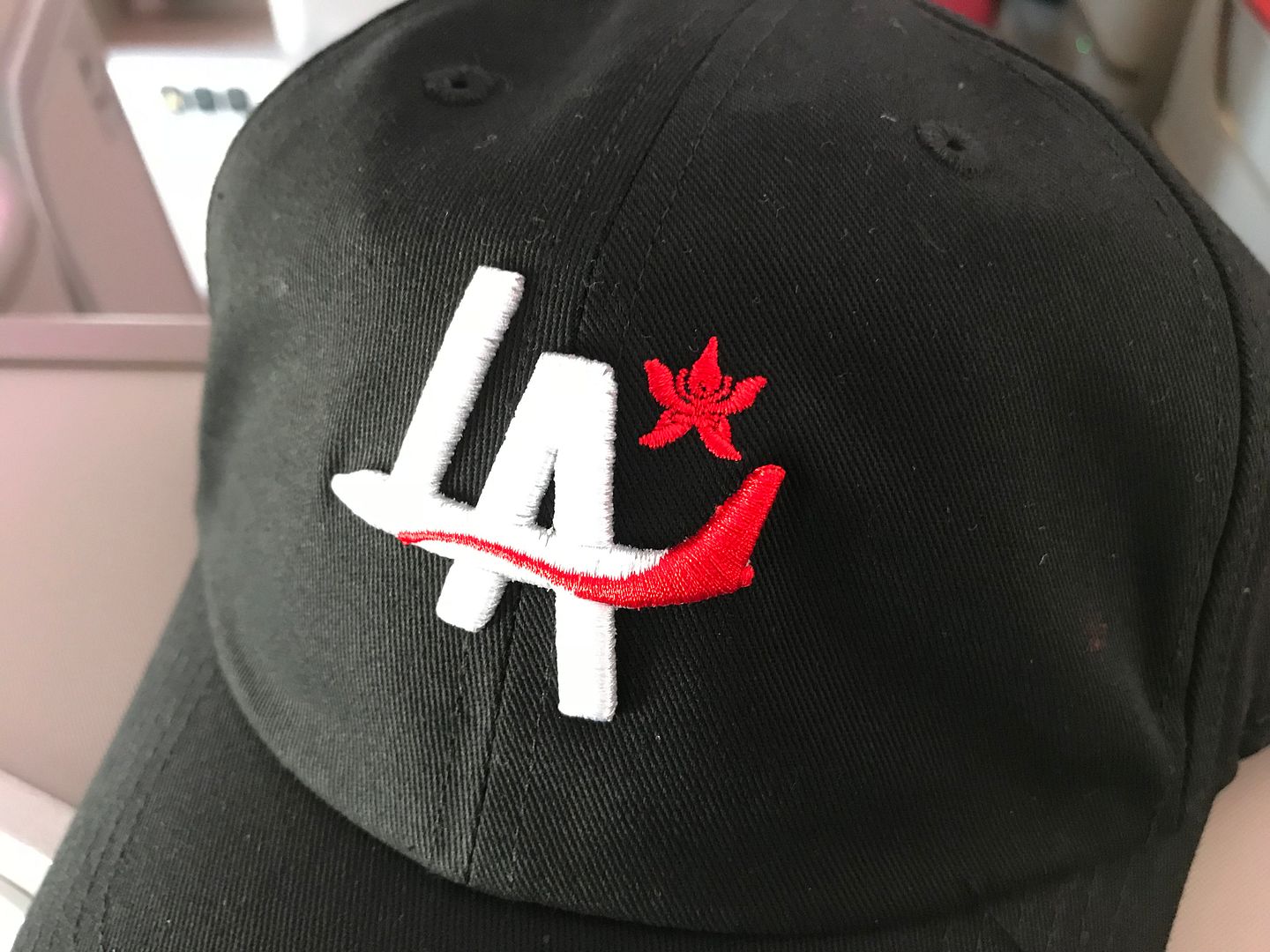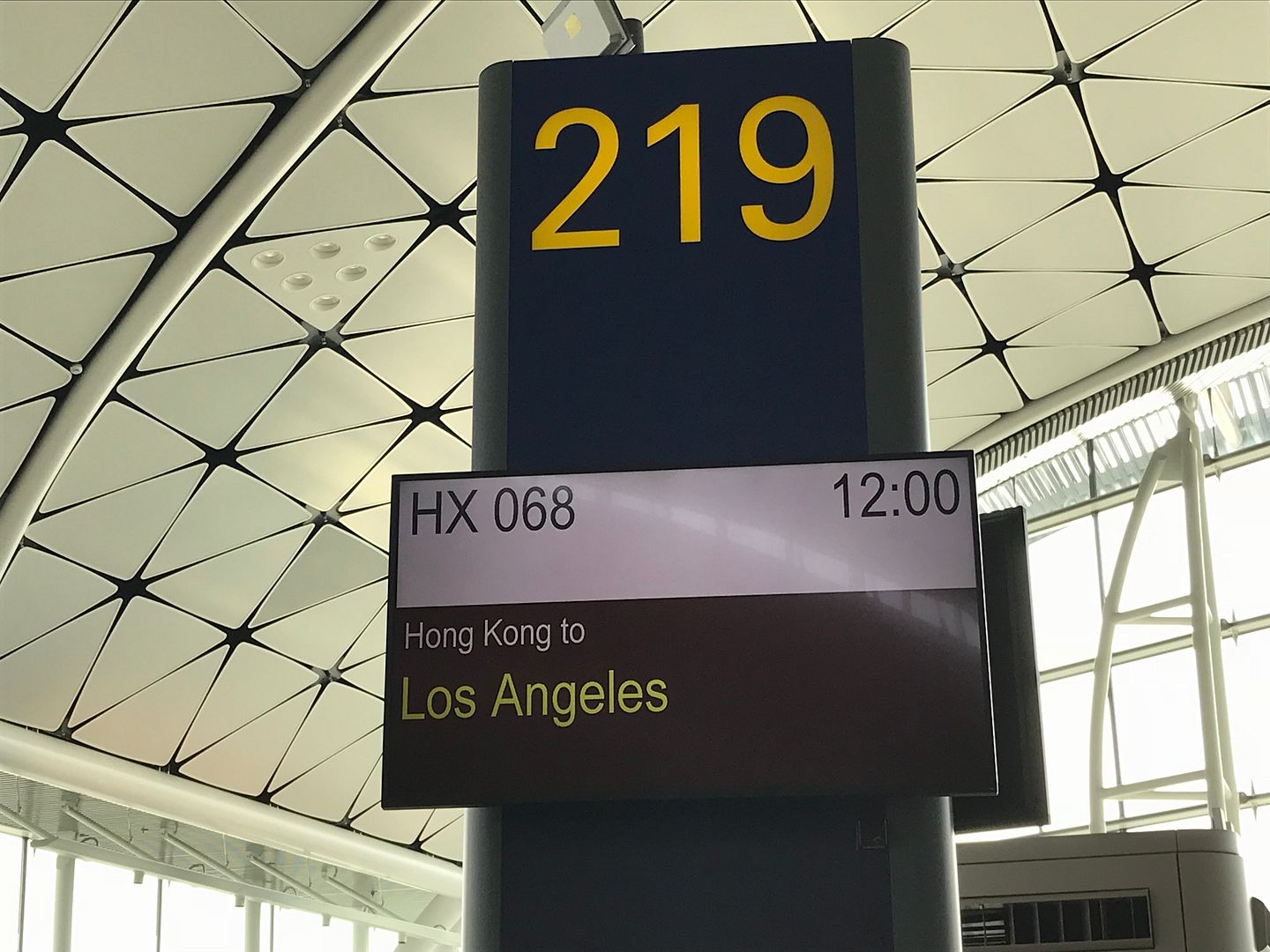 As an avid supporter of Hong Kong Airlines, I looked forward to their third major milestone event of the year, which is their inaugural A350 flight from Hong Kong to Los Angeles, which is their first North American city (after the Vancouver Inaugural and the receiving of its first A350). Given the positive experience I had in Vancouver back in the summer for the inaugural Vancouver to Hong Kong flight, this Hong Kong to Los Angeles inaugural flight was basically a major letdown, as there was really not much going on to celebrate the new flight, other than a few minor decorations and a gift bag. The increased security measure became the focus, as the staffs were obviously not familiar with the requirements. Training is lacking, and I was caught at a pretty bad situation, which had me gone through check twice – one with the increased measure and the second minor one. I will explain more in detail for those who will have to put up with this chaos for the next few weeks, as staffs get familiar with this requirement. I am sure that there will be tweaks here and there. First, I am very impressed with A350 seats, which are much wider than the A330 suites, and although only the first three leased A350s (B-LGA to B-LGC) has these seats, they are comfortable. The seats are also wider and I slept well for six hours. Second, there was finally some attempt changes on the first main meal service with nicer appetizer, a new soup course, and a larger redesigned casserole dish for main course (still no individual platting). Of course, there is a new local celebrity chef, Gabriel Choy. Unfortunately, all these new items really distract the crews. While they were still pretty good, they were not as personable and warm as the inaugural Vancouver flight. The crews were more focused on all the new catering and service items. Some of these issues were expected and I was sure that things will be resolved down the road. Therefore, I will give this trip report the label, "work in progress," and Cathay Pacific has nothing to worry about yet. For enthusiasts, if you want a good HX inaugural experience, I recommend doing the opposition direction, like from San Francisco to Hong Kong. At least these outsource stations are willing to provide more food and drinks, and less distracted by this security requirement.
December 18, 2017
HX 68 Hong Kong to Los Angeles Lv1200 Arr0815 Airbus A350-900 B-LGC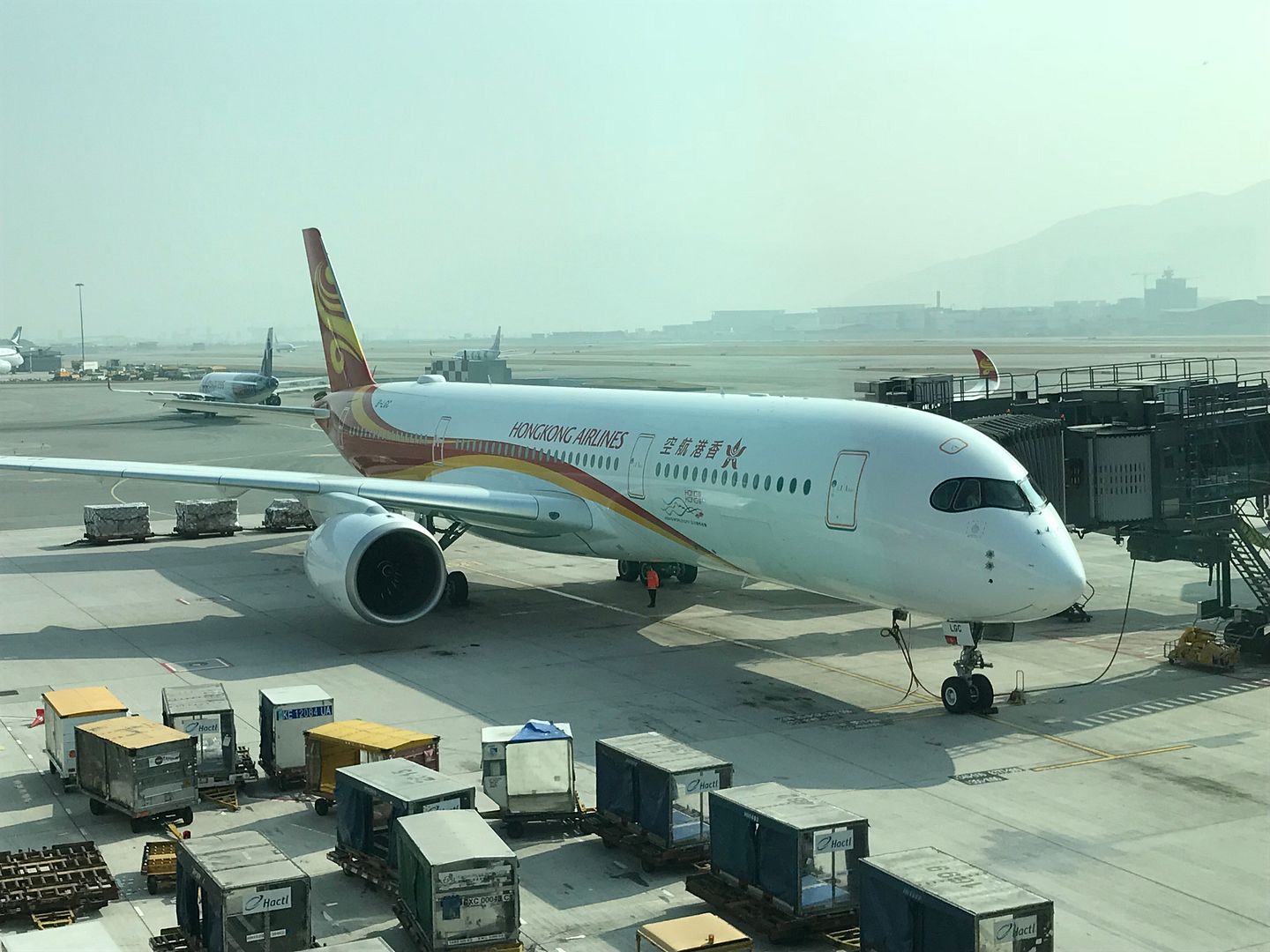 Full Album link:
http://s1213.photobucket.com/user/Carfi ... ugural2017
Booking:
I discussed this Z fare issues before, so I am not going to repeat it again. Basically, all these discounted fares sold by HX on these new long-haul flights featured these "Z" class, which is actually their mileage redemption booking class, and you could not earn any miles. My original plan was to do a quick roundtrip, but with no mileage earning, I was not going to do with it. In the end, I refunded the original ticket and found a J class ticket from Taipei to LAX via Hong Kong, which is still reasonably priced, and I will earn miles. However, HX eventually released a bunch of discounted fares. Hopefully they fix the Z tickets by now, but please check the fare codes before confirming any tickets. Please also be patient and Hong Kong Airlines, especially business class, is not a particular sold out item. They are still pretty disorganized and their website is a total mess. So, you don't have to rush to get a seat on the inaugural flight.
[I was just told that Z fares will earn 80% mileage beginning January 1, 2018. It was still relatively cheap but better than nothing! If CX can give 100% to I and Z, HX should be able to do so.]
A quick word about mileage accrual, since I will post it on flyertalk. One of the weakest points about HX is that they have zero American airline partners. You can only earn points on Fortune Wings Club, which is their parents' company mileage program. It is important for HX to codeshare with airlines like Alaska and JetBlue, which will enhance their North American flights. It will be nice to have earn miles on Alaska and/or JetBlue while flying HX. It is not an urgent issue but something HX needs to think in long term about connectivity in North America, and how to attract American passengers too. You can rely on your Asian base solely.
Check-in (Transit Desk Experience):
My day started at Taipei and yes, the staffs were aware of the new flight to the US. However, they were unable to provide any security interviews. They were able to check my bag through to LA but I had to go through the transit desk in Hong Kong for my onward flight to Los Angeles. Fast forward to Hong Kong a few hours later, Hong Kong Airlines uses the Midfield Concourse for all its flights, and are also agents for a few airlines, such as Jet Airways (of India). The transit desk area was huge with separate priority lines, but the problem was only three lanes were opened. No one was enforcing the queue, and there were lots of passengers coming from other low-cost carriers using the Midfield Concourse, such as Hong Kong Express, Scoot, Cebu Pacific, and Air Asia, who attempt to check in here, despite not allowed. The desks were busy, as there were two Jet Airways' Boeing 777 flights departing midday. The agents were pretty indifferent, unlike those agents in the main check in area. They were basically unhappy to deal with these Jet Airways' passengers and did not bother to hide their distaste.
Of course, they were a bit friendlier, once they saw a Cantonese speaking passenger flying business class. However, it was also their first US flight. There was a staff, who doubled as a security agent, and did the interview. Since I am a US citizen going home, it was straightforward. At the same time, they were also not familiar with the need to highlight the passengers' name. Honestly, I did not know what the right procedures are. In the end, I was sent to the secondary line once, and then being pulled away at boarding checkpoint, I had to redo the interview and went through another primary check. Hong Kong Airlines, in anticipation of lots of connecting US passengers and a second SFO flight, needs to open up a queue specifically for US flights in the transit area. It was unacceptable, but since it was the first day, I let it pass, but in the long run, it will not work.
Lounge:
Club Autus is the name for Hong Kong Airlines' second lounge, as well as their main lounge in the Midfield Concourse. I did not take too many pictures this time, but will rather share with you my experience in November, when it was quieter. Basically, it is a much nicer place to hang out with better food options, as well a full noodle bar, and I like the view provided by the lounge. The only different this time is that there are some blocked areas for invited guests, and the VIP wing is also opened for invited guests. The staffs were put in their best behaviors today but to give them credits, their lounge staffs are generally personable and helpful. I really like their "Satay Beef Noodle Soup" for breakfast, which is really unhealthy but a local favorite. Hong Kong style "egg" pancakes are unfortunately not available till after 12pm. HX needs to change this rule because all the US bound passengers will miss this local favorite.
Here is the album link:
http://s1213.photobucket.com/user/Carfi ... /ClubAutus
Boarding:
I headed to gate 219 once around 10:25am. I snapped a few pictures of B-LGC, and unfortunately, the lighting did not work for my benefit.
There was absolutely nothing going on. I asked the security staff about their opening time and he said he did not know and HX had not informed him that information yet. Then I decided to just go to the lounge. One of the lounge staffs told me that there would be some celebration there, so I foolishly believed her and returned to the gate at 11am.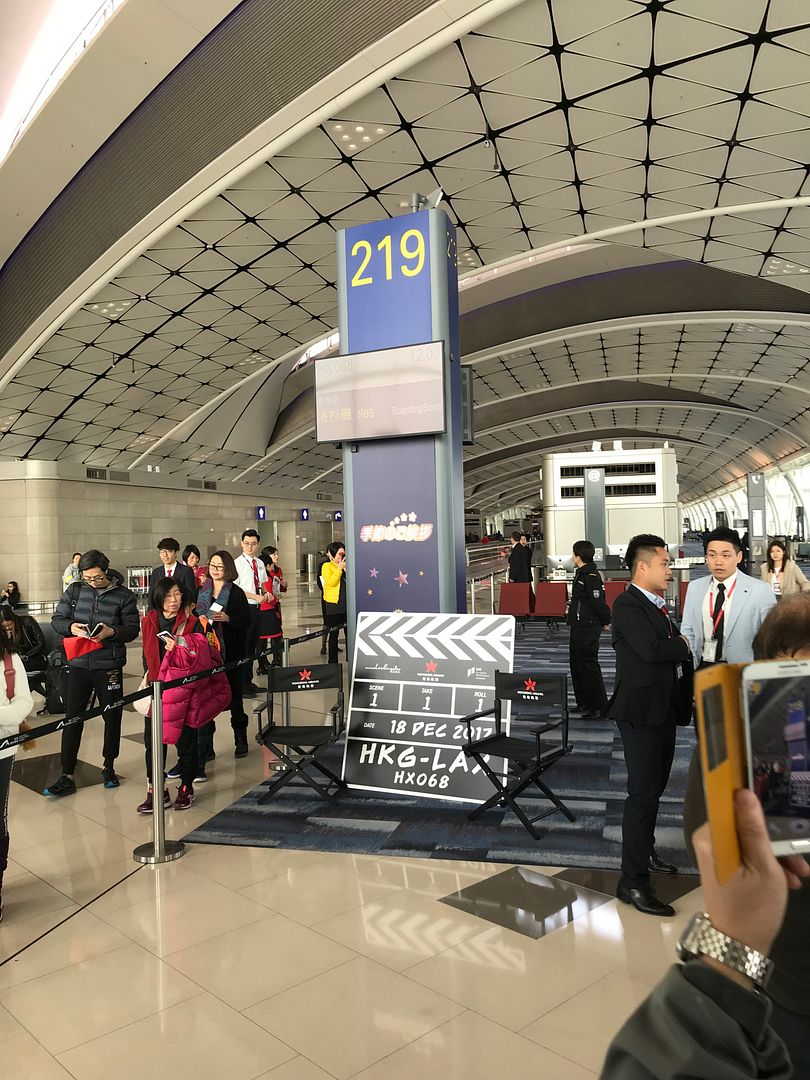 There was now basically a few decorative items:
Well some Hollywood chairs with a director board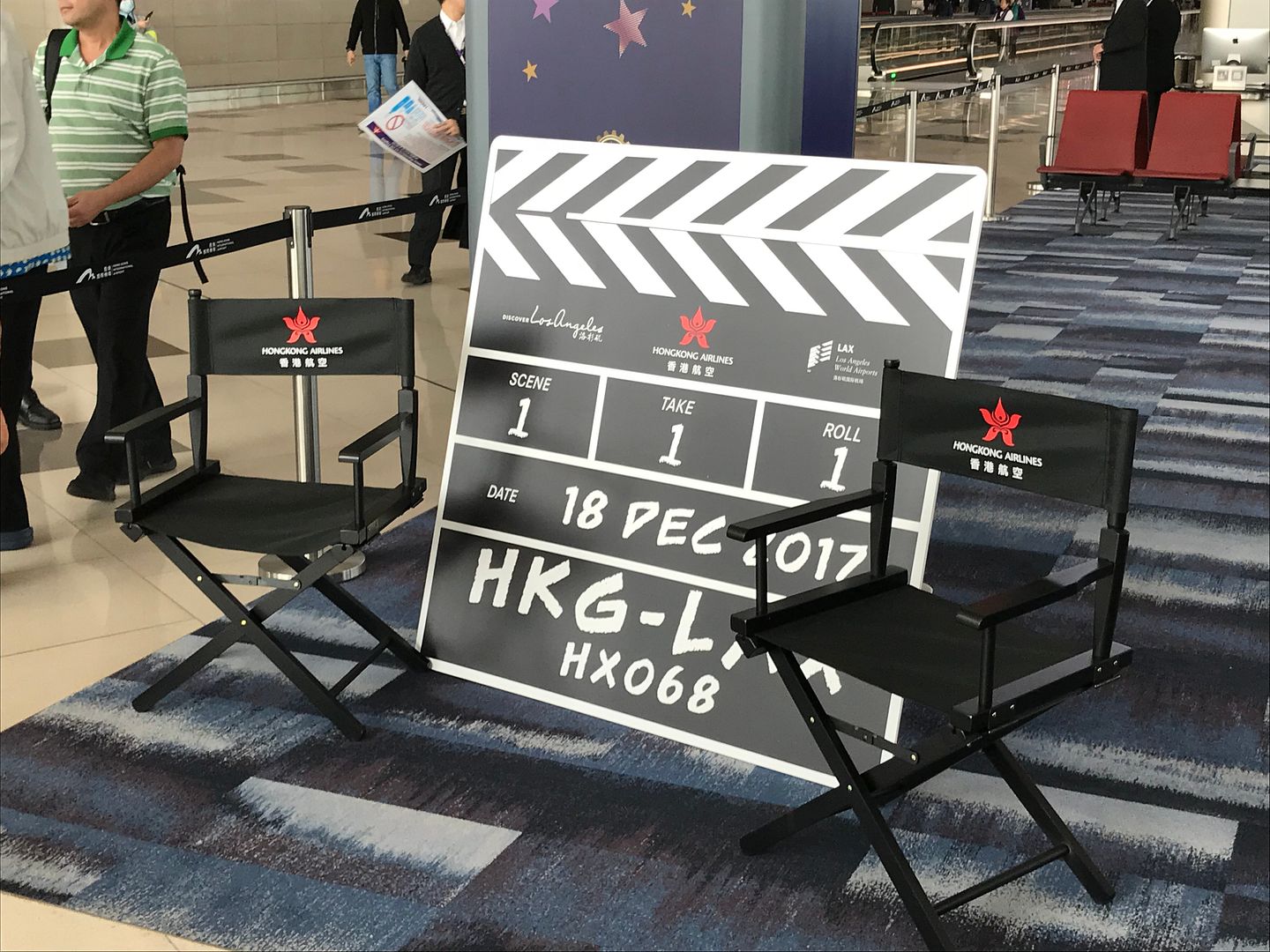 As well as LAX signs
Some staffs later showed up to take pictures but given the chaos, no one was quite in the mood.
Security check: Today was the first day so I expected a total nightmare, which in the end was true. Basically, staffs were not trained and the communication between HX staffs and the security staffs was pretty bad. There was a separate priority line, pictured here…
But in the end, I was inevitably sent to the "secondary screen" list. I guess I did not look like a business class passenger. There were many annoyed passengers and the staffs should have explained the purpose of the secondary checks, instead of brushing them off, or the staffs simply did not understand these safety measures.
So, I got the full pad down and the security staff could not find my name in their secondary list. I told them that I was not on that list. My name was not highlighted because I came from the transit desk. The screening part was okay but it was pretty infuriating to see the security staffs struggling with the list. Eventually they just wrote my name down, and then there was a staff handing out inaugural gift bag, which contained some novelty items, as well a cap signifying this inaugural flight, as well as a flight certificate. Then I finally headed to the priority boarding line. Once again, the staff told me that my name was not highlighted and I did not receive my interview yet. I told them that I got the interview in the transit desk. Well they would not budge so a HX gate supervisor apologetically took me out from the boarding queue and returned me to the security staff, who was interviewing passengers. Well the saving grace is that the gate supervisor was friendly and super apologetic (and handsome too… I may add,) so I got another security check. I almost felt like the luckiest man alive and got to experience both primary and secondary checks in thirty minutes. Second time was the charm… I guess.
Then I stood in queue for my gift bag, which contains these items, flight certificate and a cap.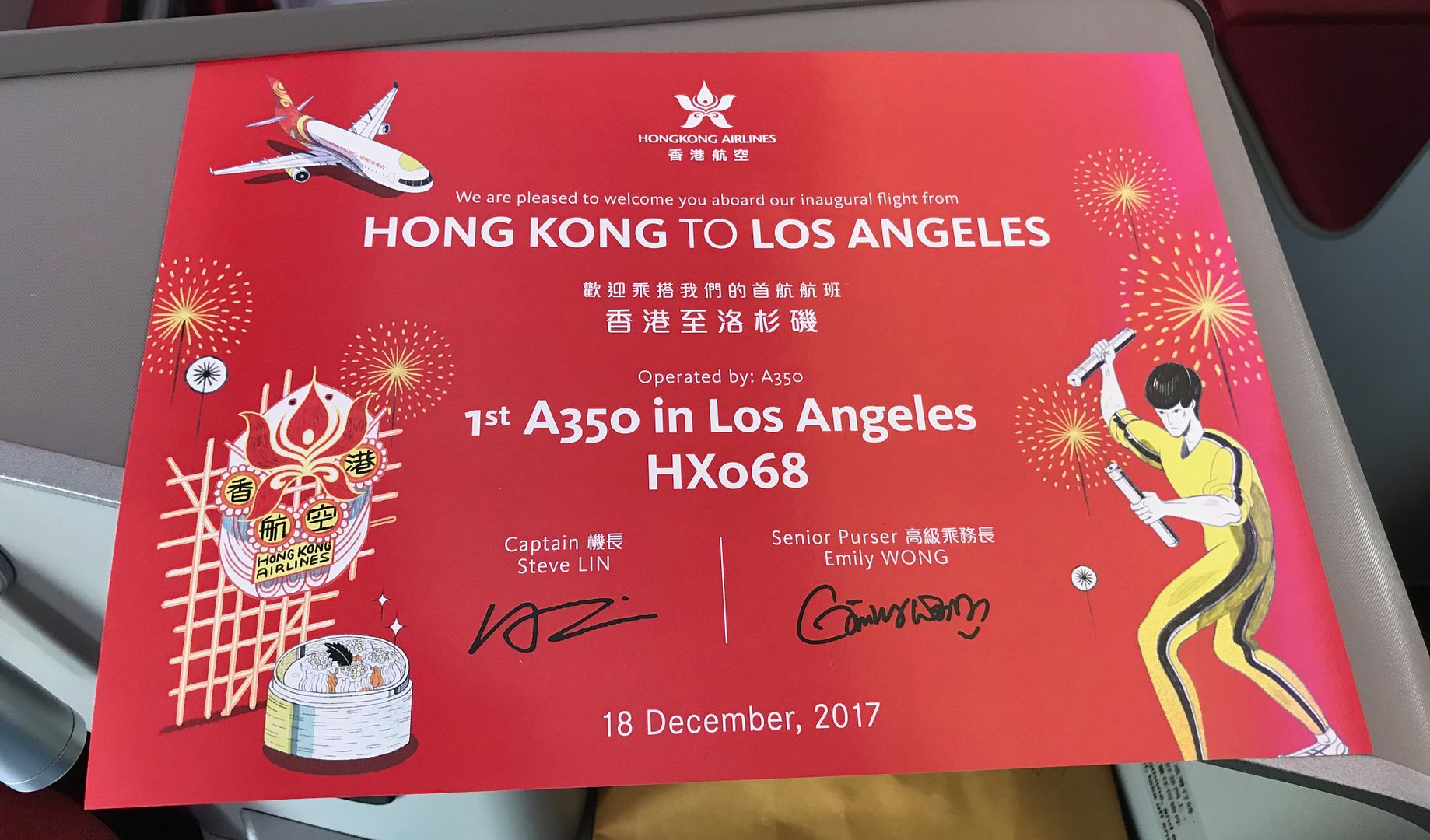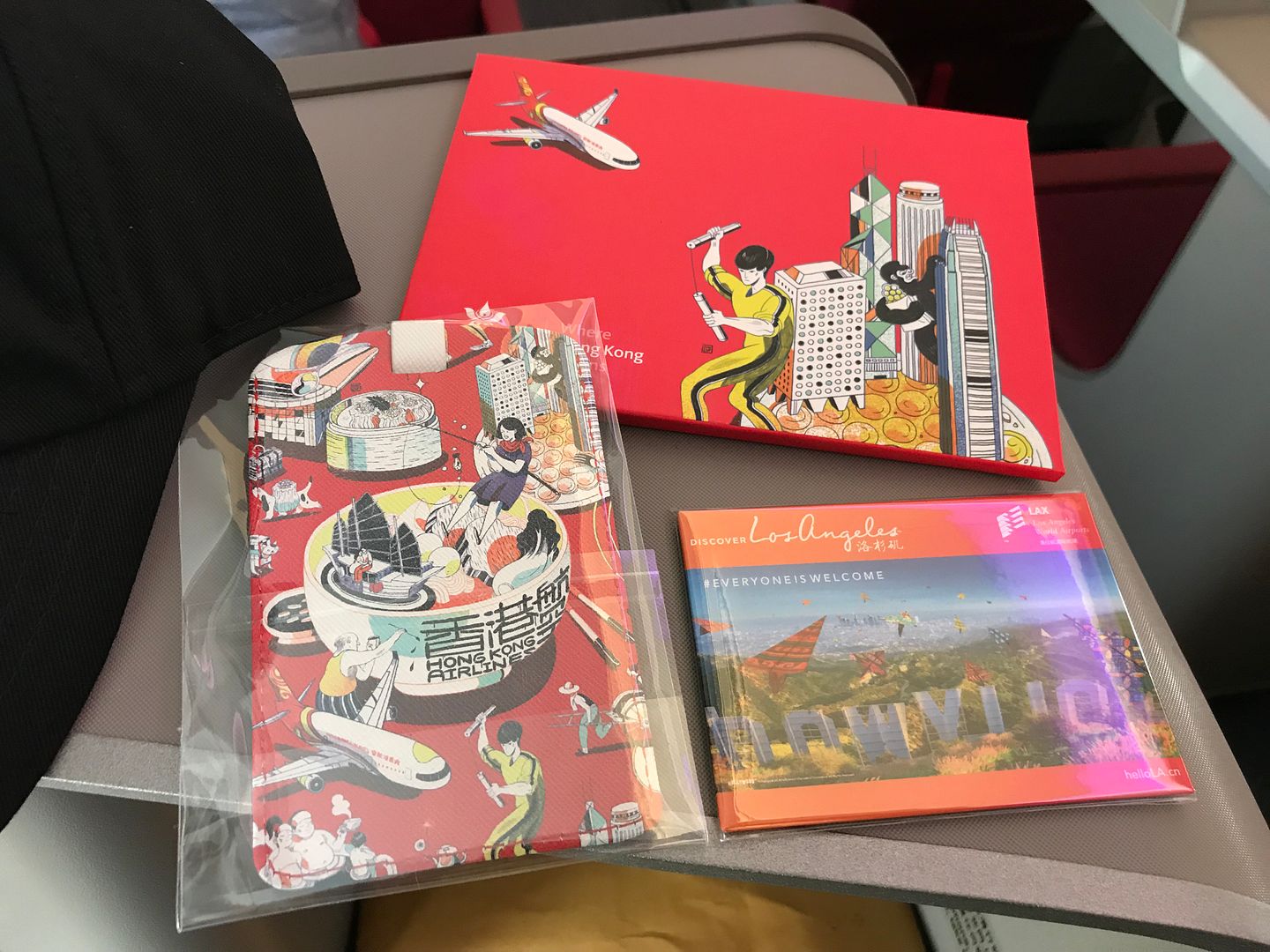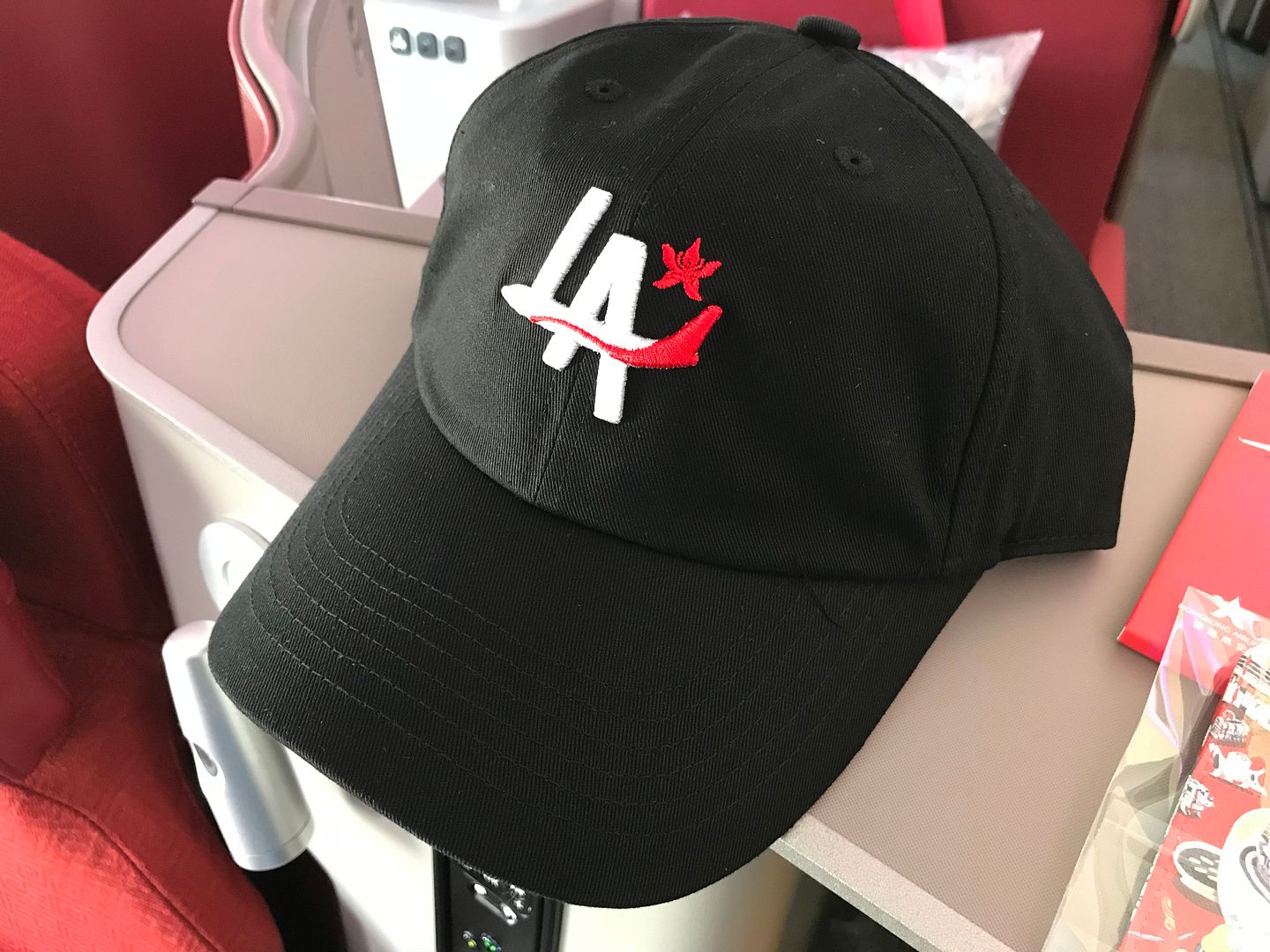 Once again, the priority queue was slow because there were more issues with some Thai passengers, who might have the same issues as me as transit passengers.
Suggestion time:
1. Most important thing is to tell passengers what time should they be at the gate, and what time will the security screening begin? I asked around and nobody at the transit desk or at Club Autus are able to tell me specifically what time the screening will begin. Once again, it was first day, but for second flights and onward, they should have a better idea. Telling passengers to be there early mean little and give passengers a specific time especially if they want to maintain the current system.
2. Hong Kong Airlines need to block off a larger area for US bound passengers, and eventually with two or even three daily flights departing in the early afternoon hour (maybe JFK flight needs to be timed differently), you need to have a larger gate area.
3. Security checks must open earlier, and I know the intent here is to minimize waiting time. Passengers who cleared security immediately sent to the boarding queue. They started boarding right at 11:15am, but with secondary screening, they either have to tell those passengers at check-in that they are selected for secondary screening so be there early and joining a specific queue, or just open security earlier, so passengers can wait inside a secured area. I firmly believe that there will be less opportunities for hiccups if they allow more time for boarding and security. It was really chaotic to see staffs and passengers running around with no particular good reason.
4. Queue management – there is a separate priority lane for business class and elite passengers, but I got mixed up with secondary screening passengers. This is easy to resolve with better signs and a third separate queue for secondary passengers. Label it "secondary screening" or just to tell those passengers to come earlier and to tell staffs in advance so they can be placed in a separate lane. Those secondary screening is very intense and takes much longer, and as someone who just got this secondary check, it takes at least five minutes per passenger.
5. Hong Kong Airlines need a US security interview podium either in the transit area, or right outside the gate. There should be staffs directing transit passengers automatically to the podium to avoid all these mixed ups and confusions. All the check-in and transit check-in desks should share the same procedures. I think the procedures now are that they don't want to give you a boarding pass, until you first successfully go through a security check. So, a security podium is unavoidable in the transit area. That is just a cost that HX needs to absorb by flying to the US.
Today was the first day of USA operation and HX previously only has the Saipan flights now, which share similar security measures. Things will be more intense to these Mainland American cities. However, for passengers bound for LA during the upcoming Christmas and New Year holidays, I recommend patience because staffs are still learning and training is lacking severely. Most of us are aware of these security measure and please don't play dumb, if you are chosen to go through a secondary screening. To my fellow passengers, especially to that two Chinese Canadian women behind me, it was possibly not the best time to whine about the secondary measures when you were waiting for your turn. You can question the effectiveness but those conversations should be done in private and after you leave the security area.
I eventually made it on board, and at that moment, Business class only had one other revenue passengers, the relief pilot and one staff. I took the opportunity to take some pictures.
My seat for the next 12 hours – 16K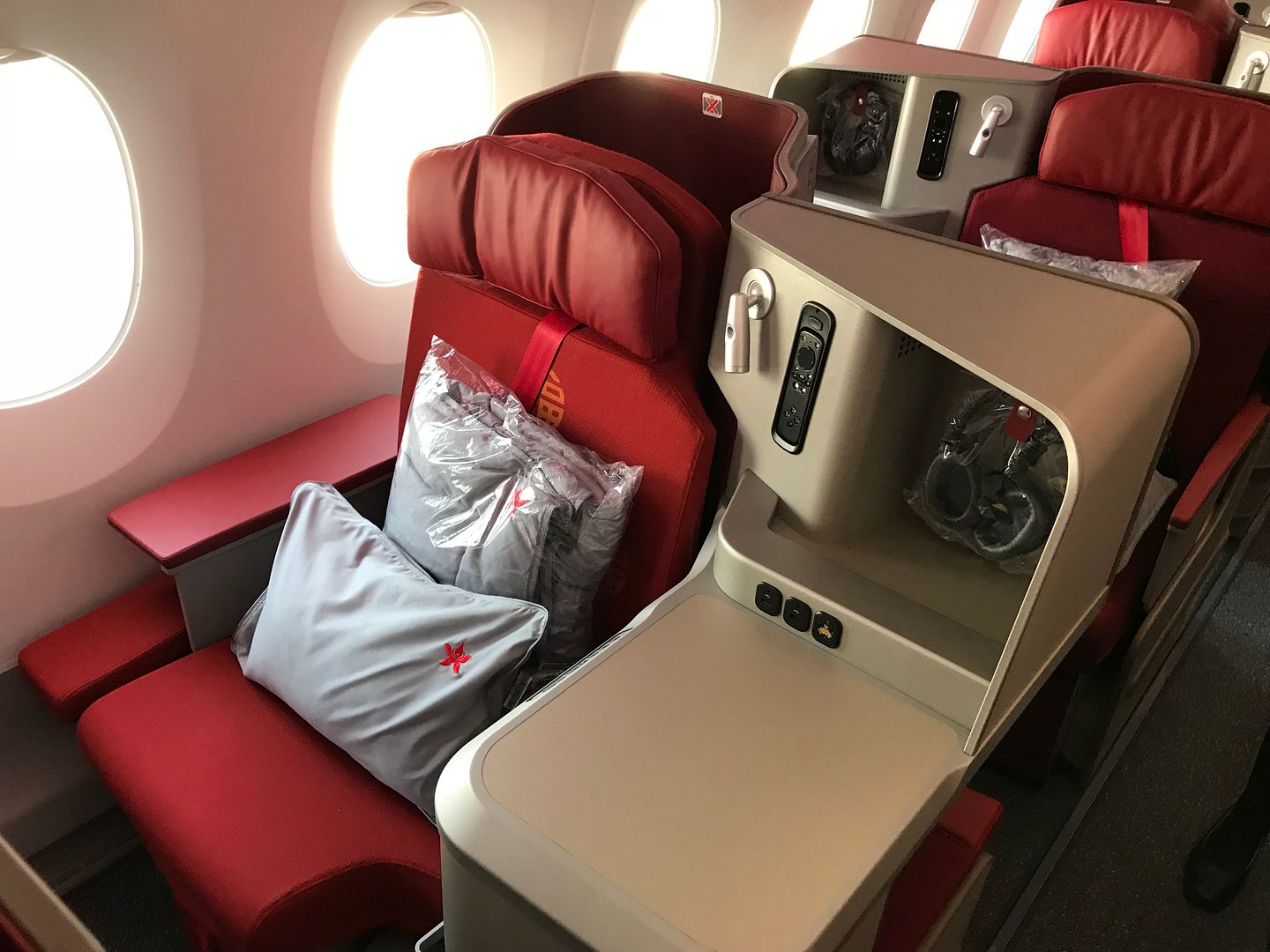 Cabin:
These three A350-900s, B-LGA, B-LGB, and B-LGC, will feature a different cabin product than the ones ordered by HX. These first three A350-900s were originally destined for AZUL, but due to the economic crisis in Brazil, Hainan Airlines Group took over these leases for their first few A350s. I believe three went to Hong Kong Airlines, and their subsidiary airline, Capital Airlines, will receive one or two too. Anyway, these aircraft had already the original AZUL seats installed, so HX basically just refurbished the upholstery and kept the same seat.
Business Class cabin feature a much nicer and updated version of their current long-haul suites featured on their A330-200s and -300s. The new suites were larger, wider, and more customer friendly. Storage spaces are improved, depend on where you sit. But everything has to go on the overhead bin during takeoff and landing. You will also notice the shoulder belt, which is required for takeoff and landing.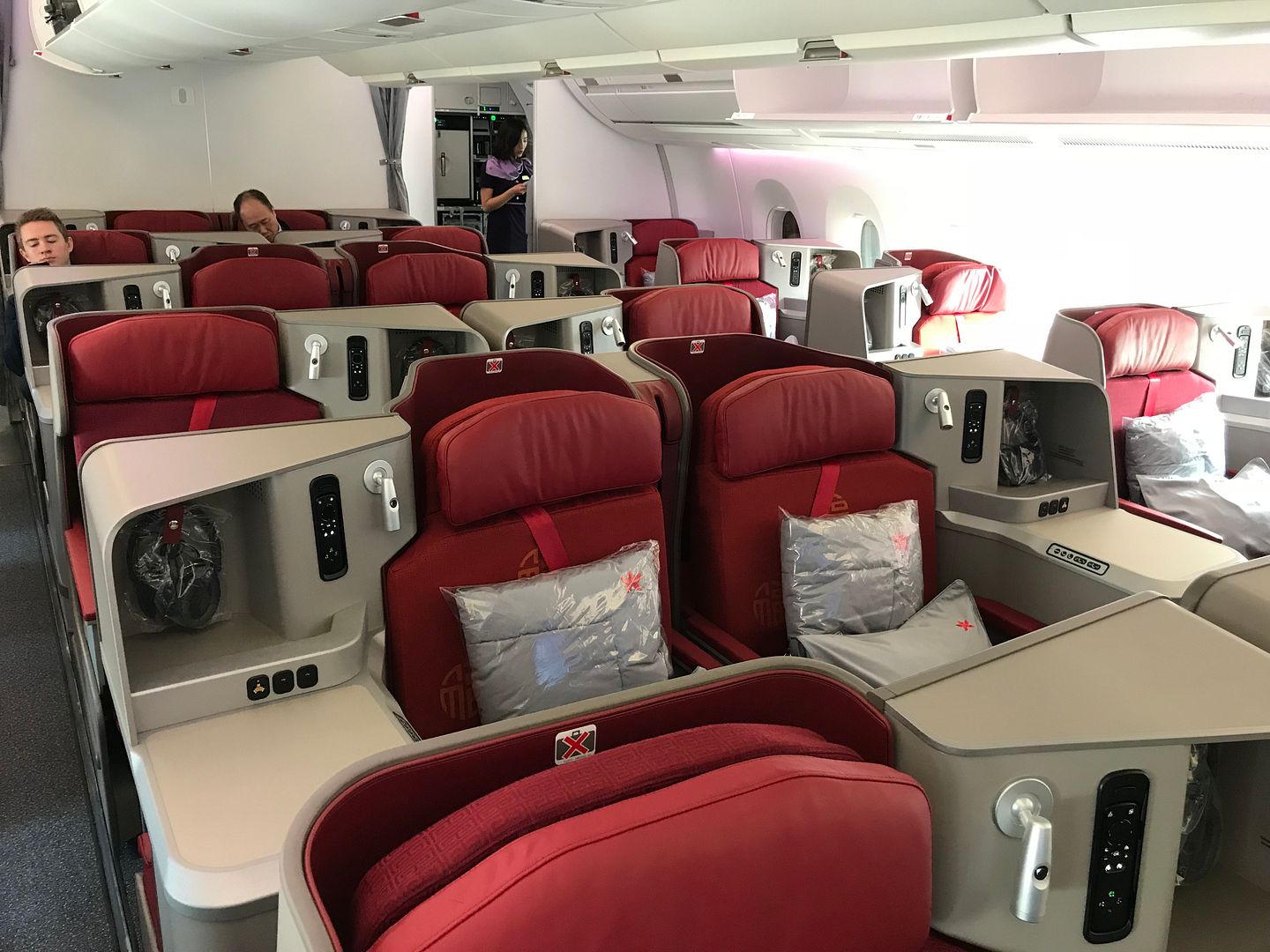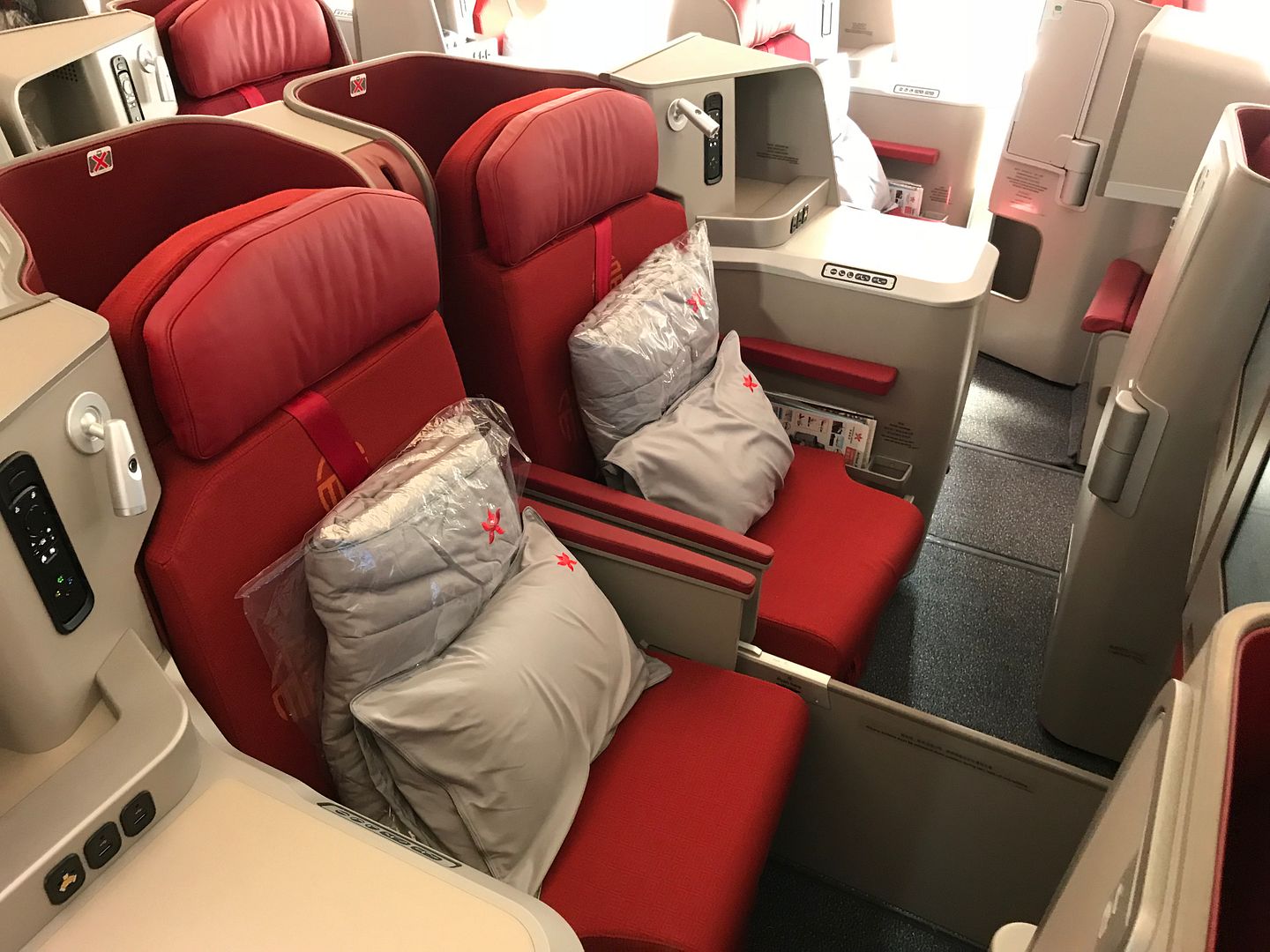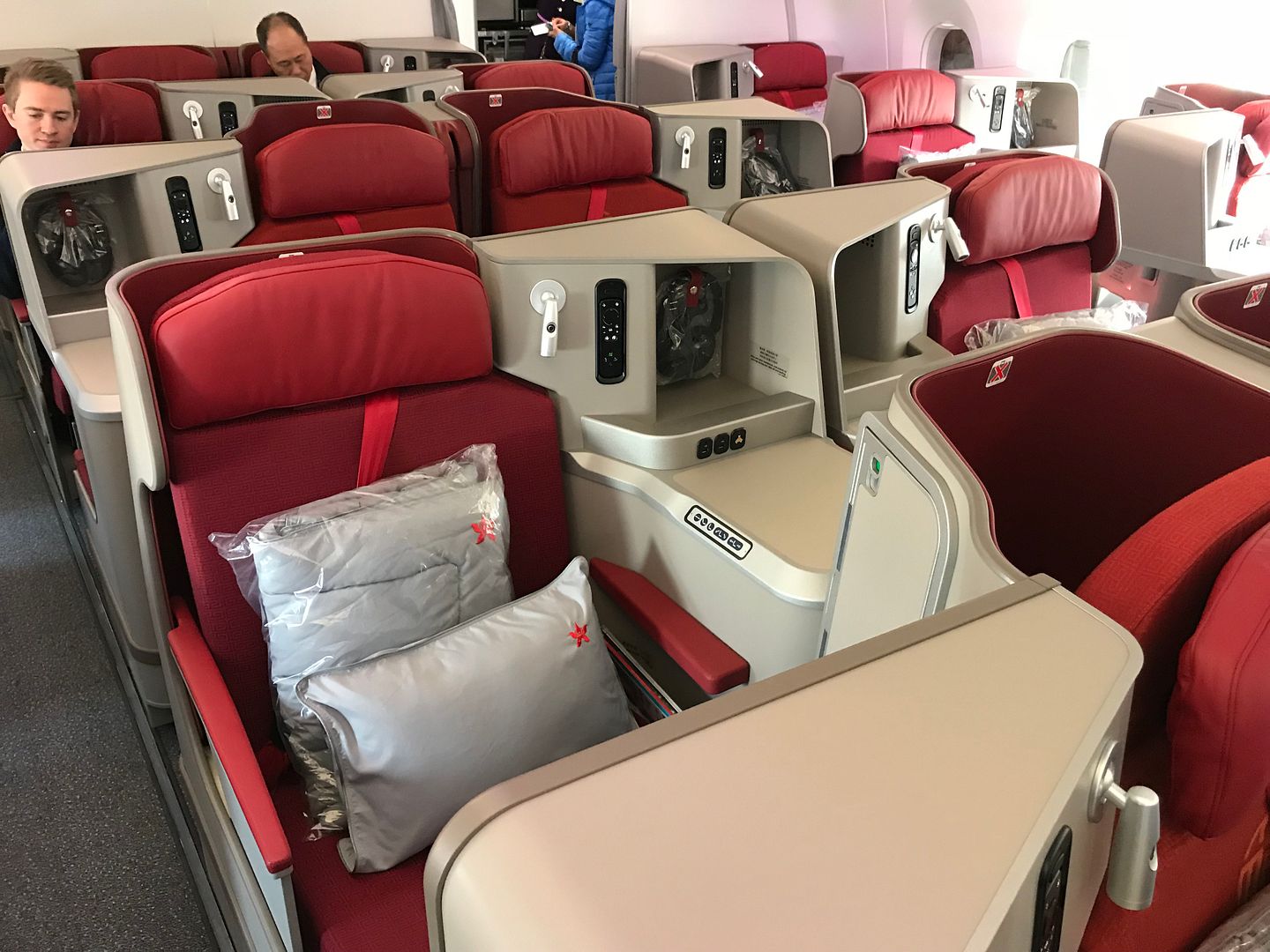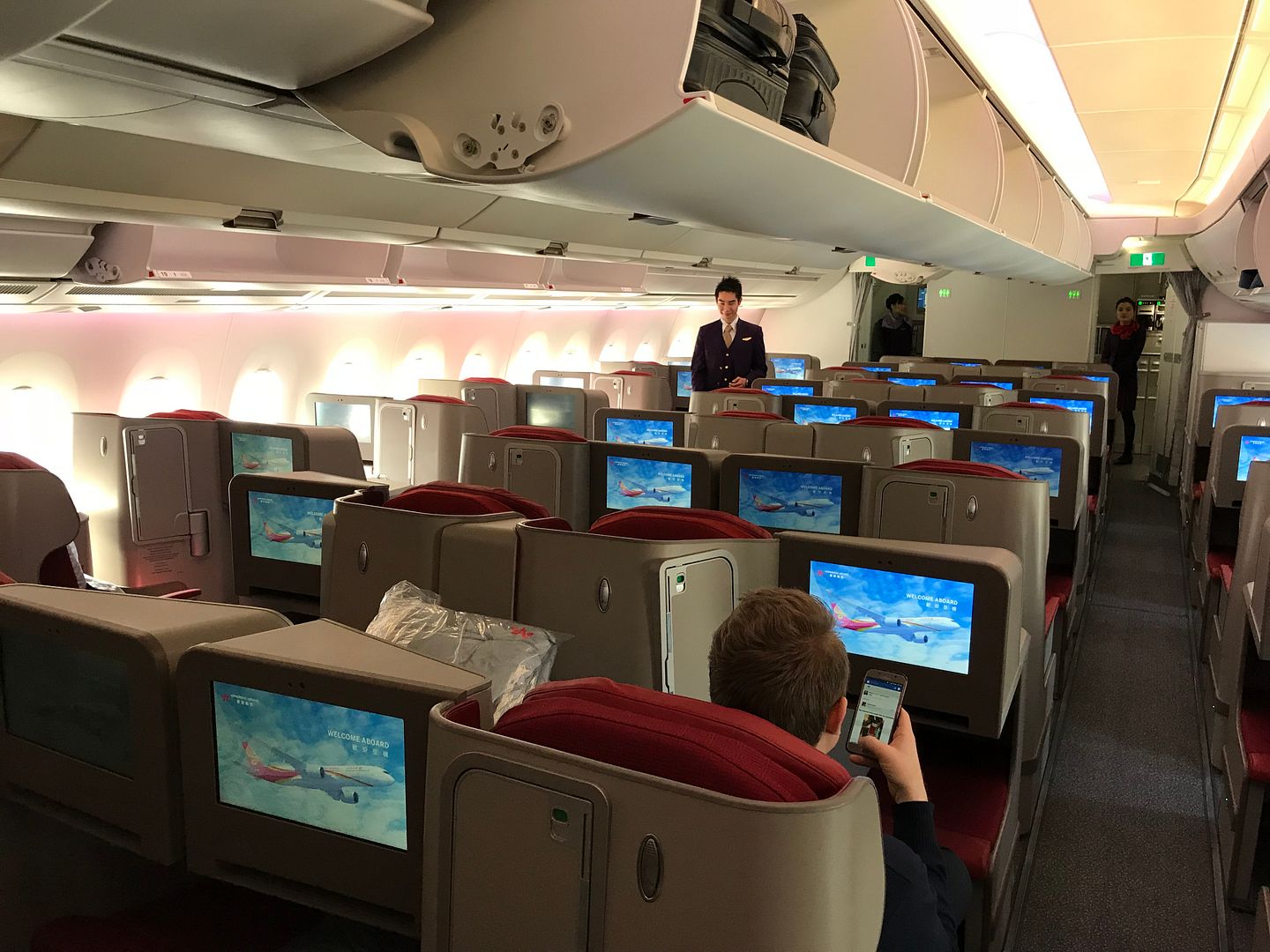 "H" seats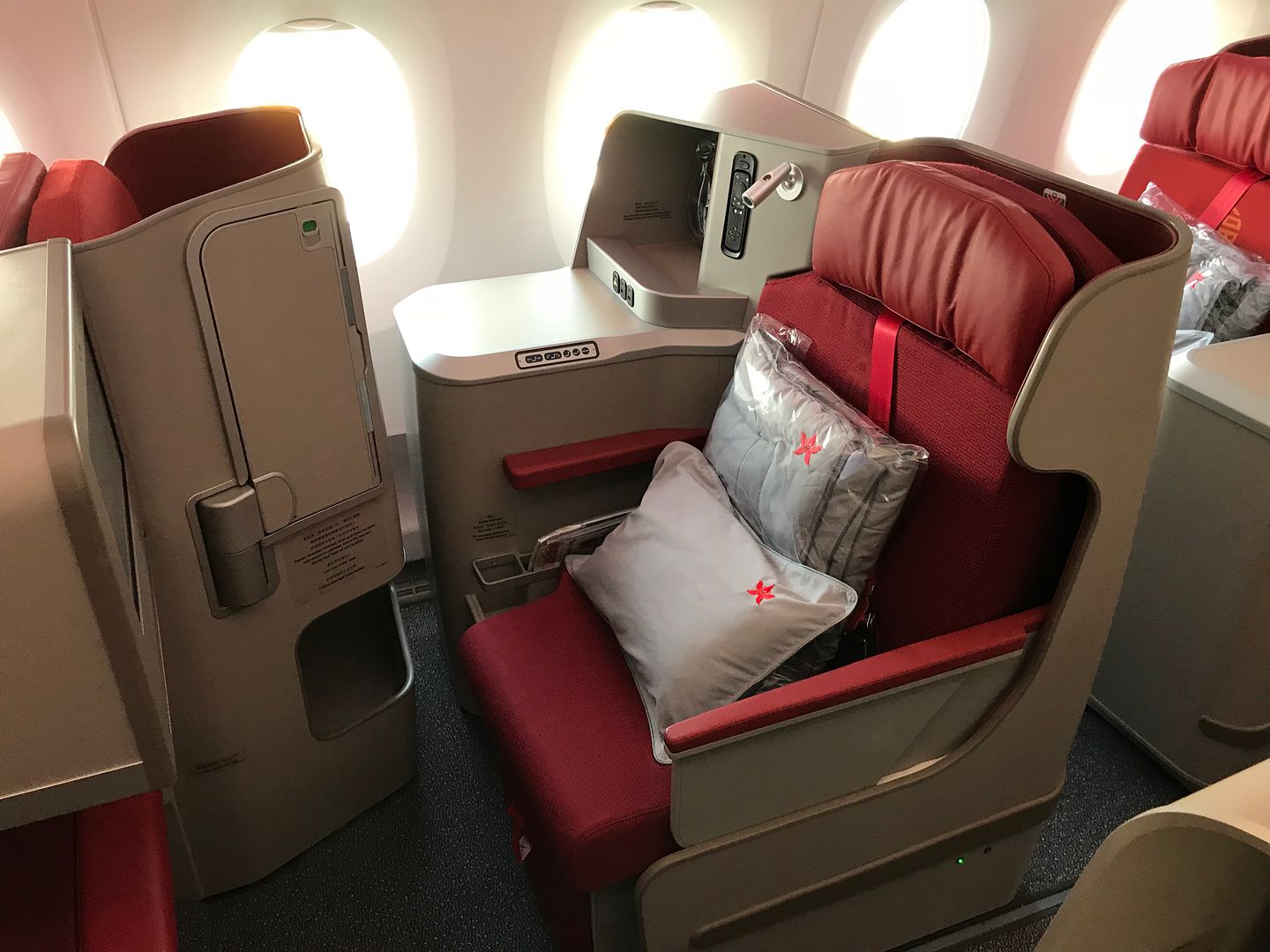 Economy Class feature a less dense configuration, compared to the ones that will feature on HX's own A350 eventually. AZUL has this economy extra section, which is fairly large, and HX is stuck with it now. I guess it might be too expensive to change it, or AZUL might take these planes back eventually when things improve. HX taking these three A350s is just a stop gap before accepting its own A350s in 2018. Hainan Airlines Group has a share on AZUL now too, which explains this lease situation. Anyway, I was only able to take photos of the first economy extra section. The seats look very comfortable and they all have these new neck style pillows with new grey blankets.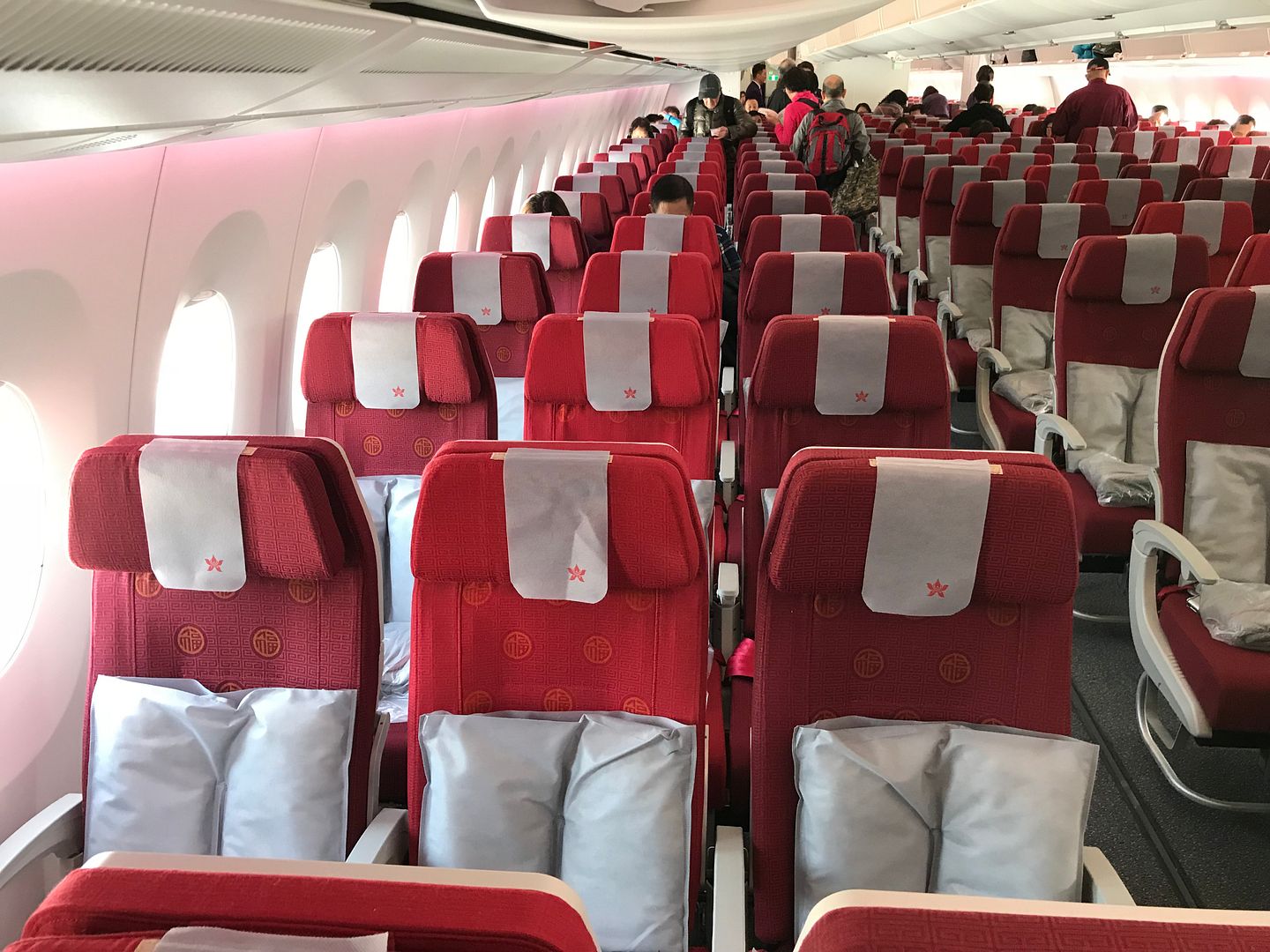 Departure:
Business Class cabin was eventually filled with many invited guests and Hong Kong Airlines' staffs for obvious reasons. Hong Kong Airlines' CMO, George Liu, was onboard this flight, and sat behind me. There were lots of confusion about seat assignments among staffs especially their media team, but things settled down. To my amazement, door closed right on time at noon, and we pushed back a few minutes later. However, there was no water canon sendoff.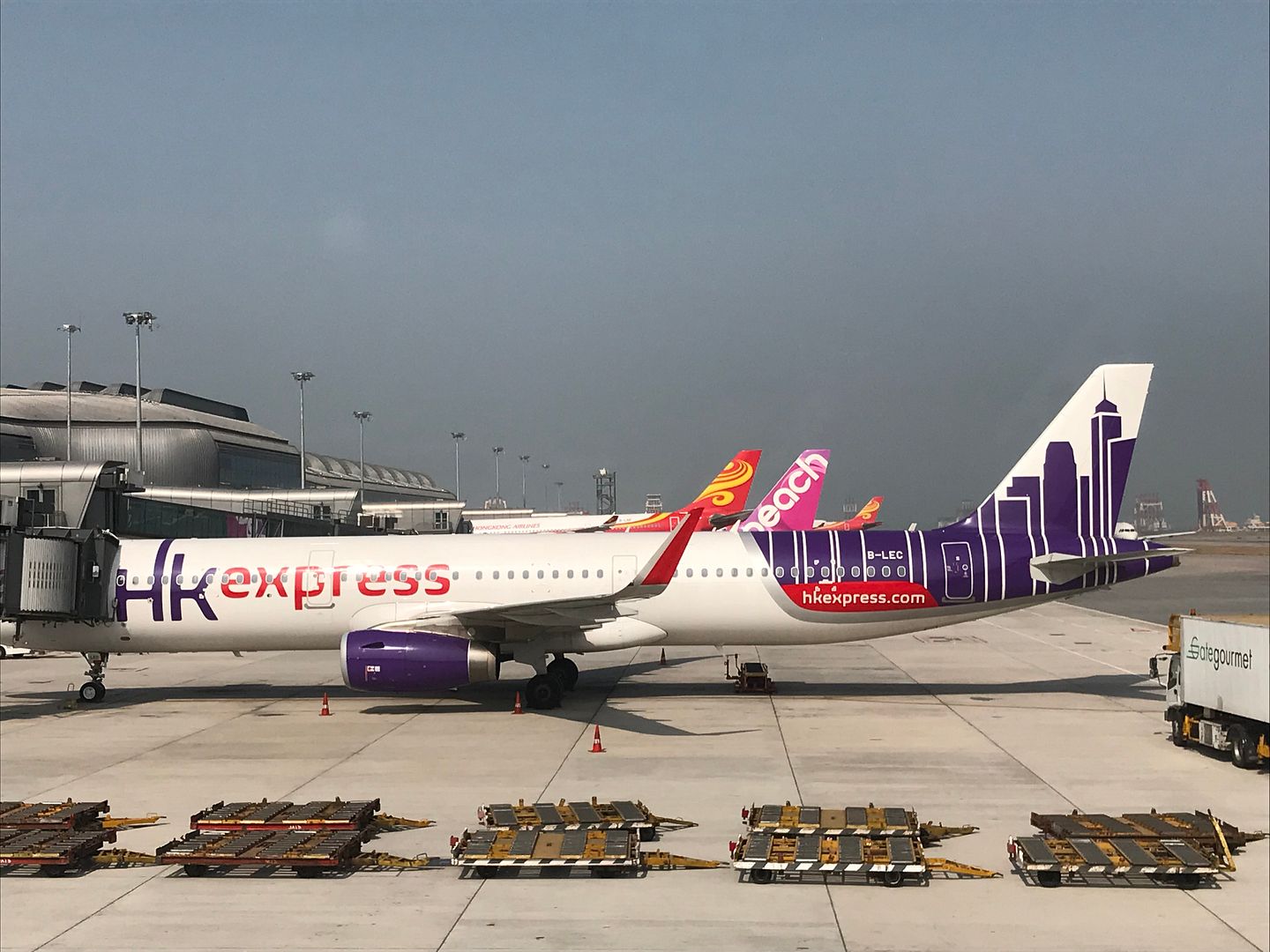 Traffic was not so bad at these hours, so we took off from R/W7R at 12:25pm for our eleven hours and thirty minutes flight.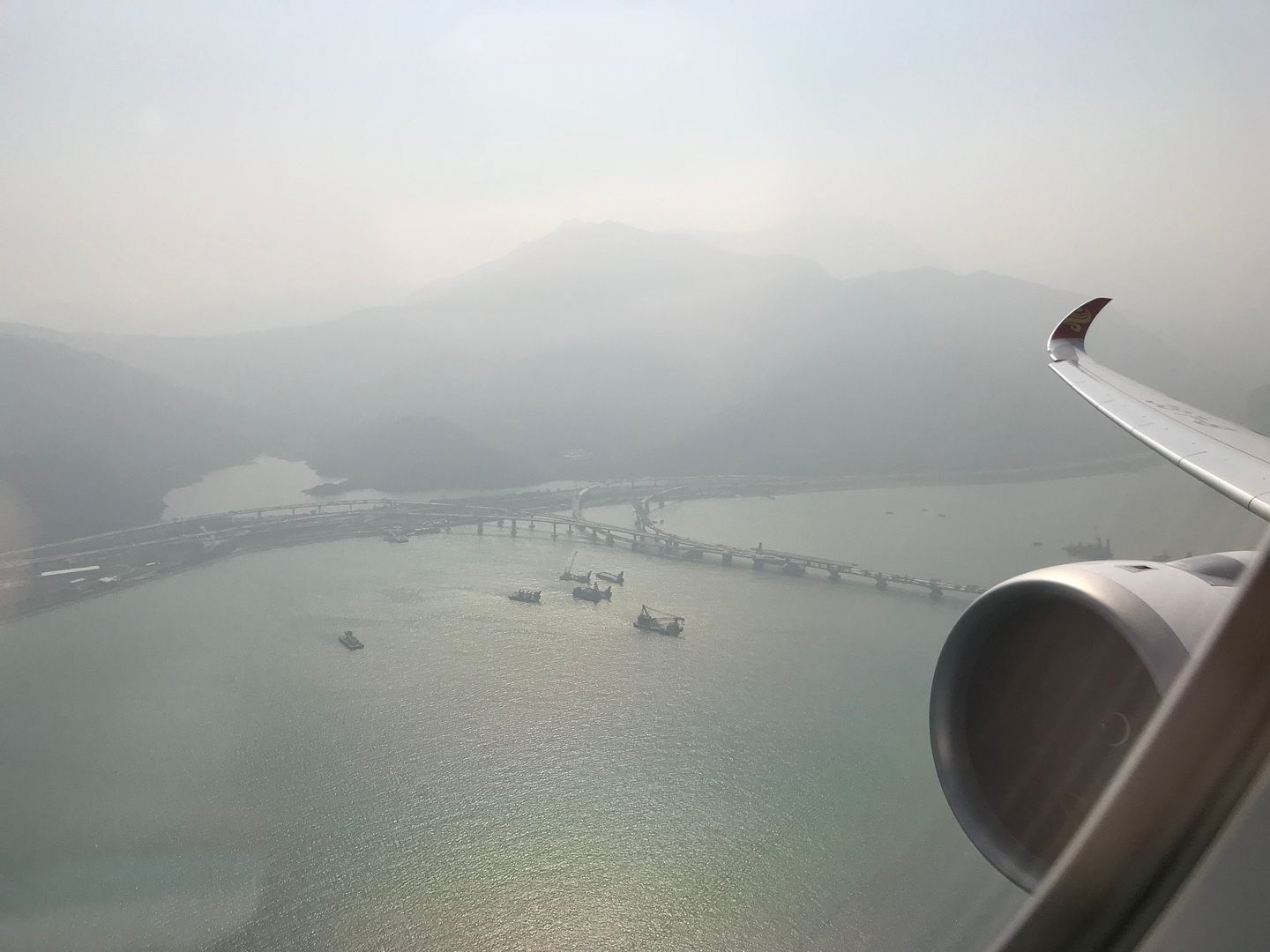 Happy to report that these three leased A350s come with my favorite feature – nose and tail camera! Nice view on takeoff.
Flight path was pretty straightforward and typical. We climbed to 33,000ft, as we headed towards Taiwan passing Taichung and then before exciting Gongliao, we climbed further to 35,000ft. Then we climbed further to 37,000ft before hitting the cities of Ibuski and Ichnian, and then eventually passing the Miyake Island before heading towards the California coast. We eventually reached 39,000ft, our final altitude for the cross over the Pacific Ocean before reaching the Monterey Peninsula, and then towards Thousand Oaks and then turning towards LA overflying Santa Monica.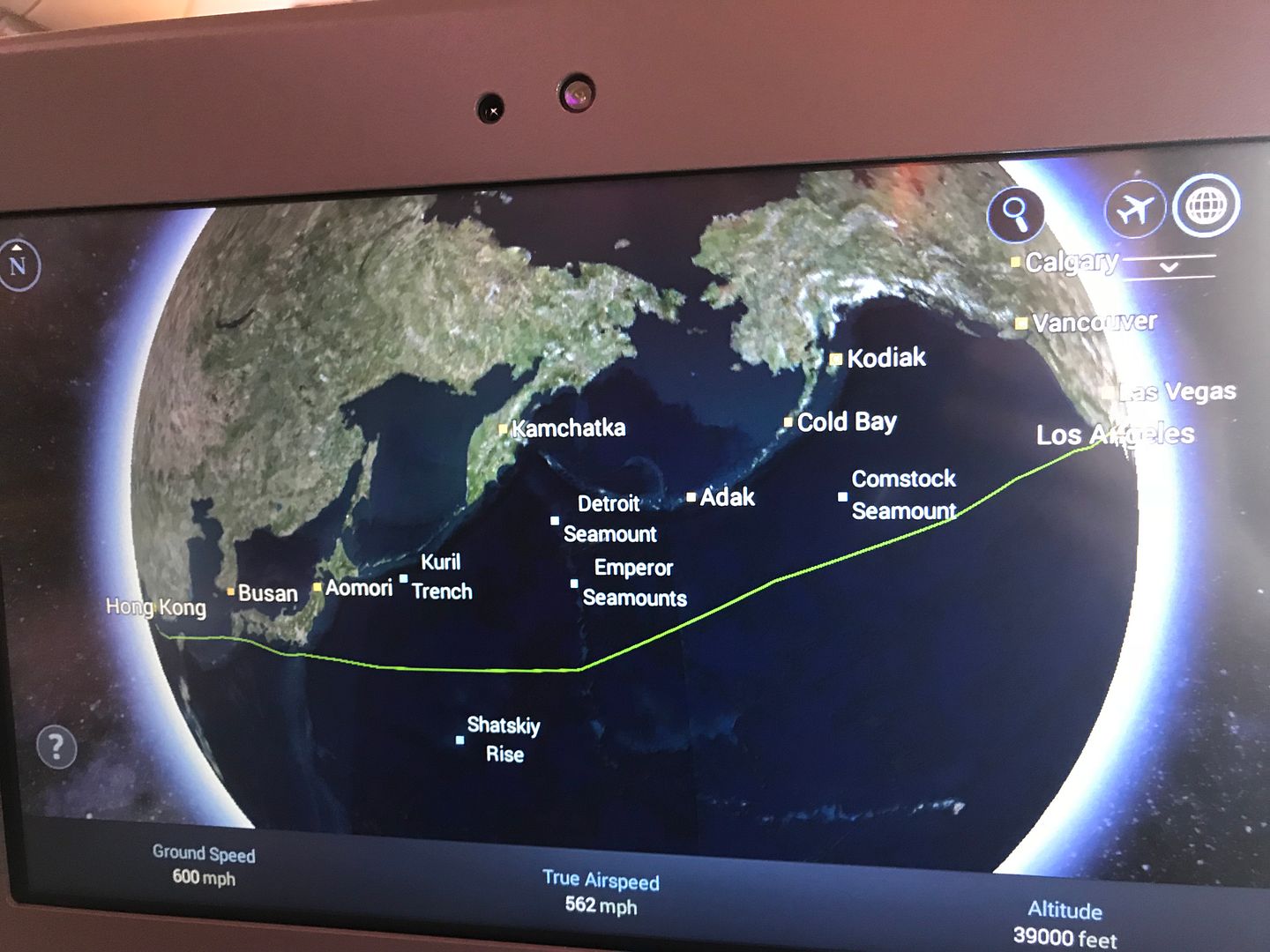 It was a relatively quick flight with strong tail wind pushing us. However, it also meant it was choppy. It was quite annoying that the seat belt sign kept on going in and out (seven times for those who care about specifics), but that is the typical winter eastbound experience.
Shortly after takeoff, bottled Evian was passed out, along with HX staff handing out an extra gift bag for business class passengers. JIA gave us a pair of chopsticks with a book describing various Chinese pottery, and all passengers got discount coupons for Warner Brothers' studio.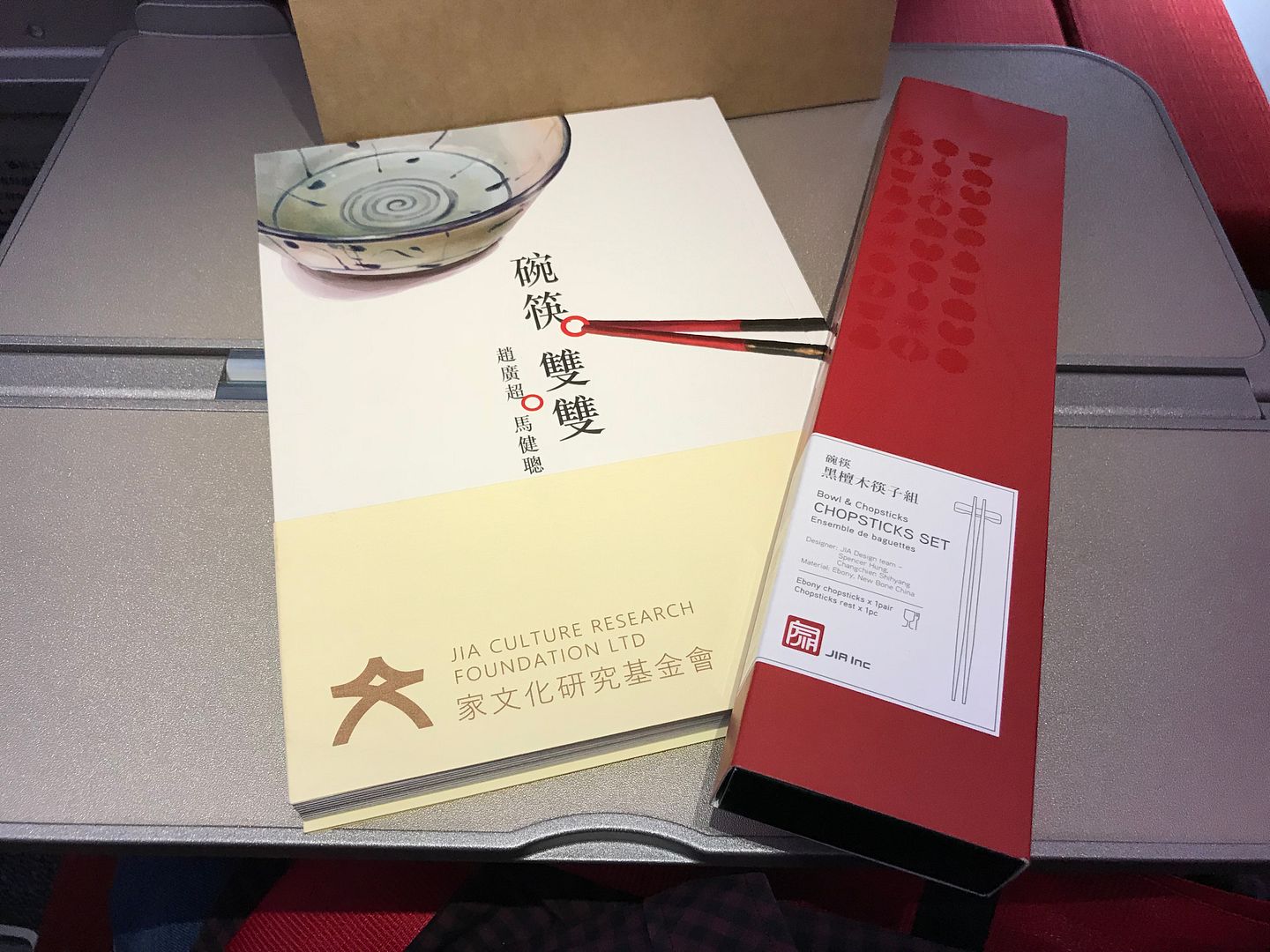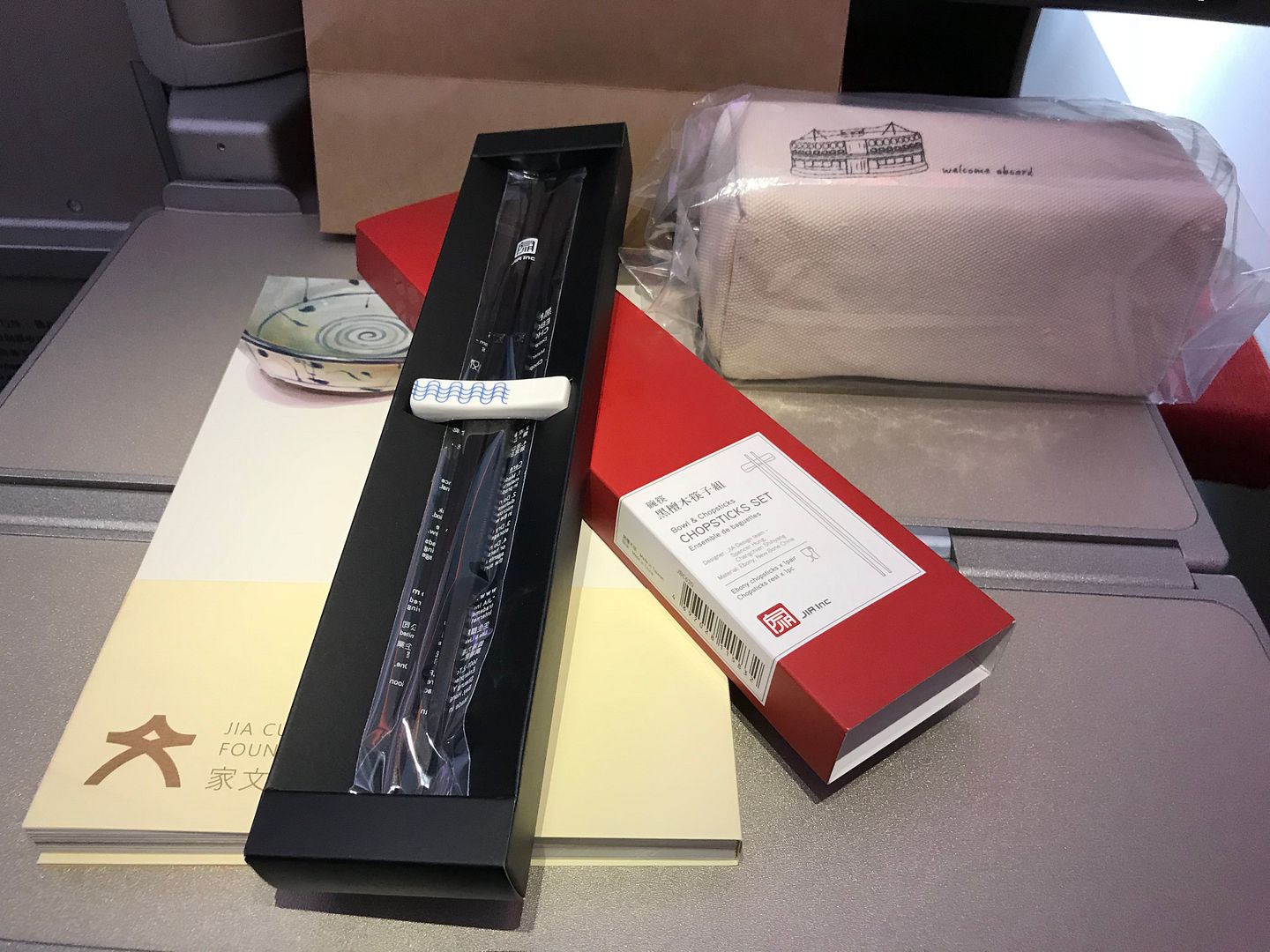 Slippers – grey colored ones for long haul flights now, which are much preferred than those red and purple ones
Amenity Kit – same as before!
Lunch Service:
As I mentioned before, LA flights feature new menu with new china, cutlery, and glassware. Service was slower than normal, but it was okay for the most part. It was a daytime flight. The new menus are smaller but feature the same cover as the current menus.
Similar to all HX flights, there was a beverage and mixed nut service. Mixed nuts are not warmed but now served in a red casserole dish. Unfortunately, the wine list was the same shitty one. HX must have signed an exclusive contract with Charlotte Street Winery, and "luckily," we got one additional choice for long-haul flight, Luis Felip Edwards Family Selection. Really, these wines are forgettable and did not belong to a premium cabin. But I like the new glassware, but I miss the more colorful mugs.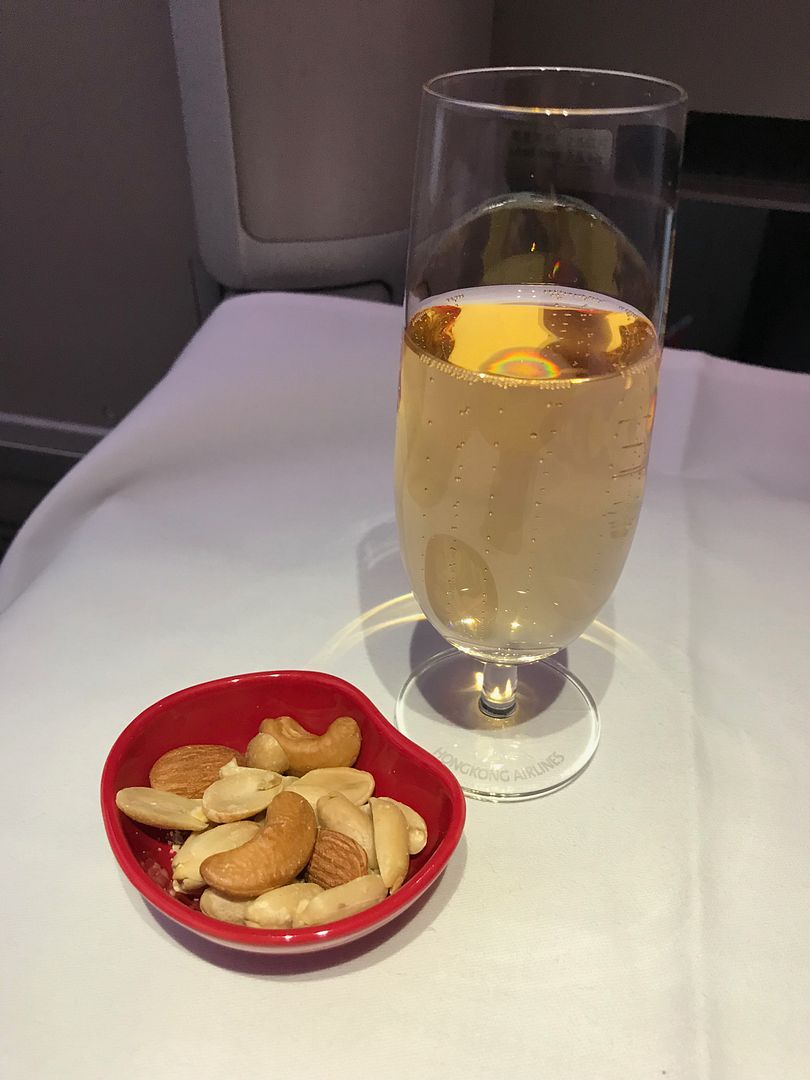 White wine
Over Taiwan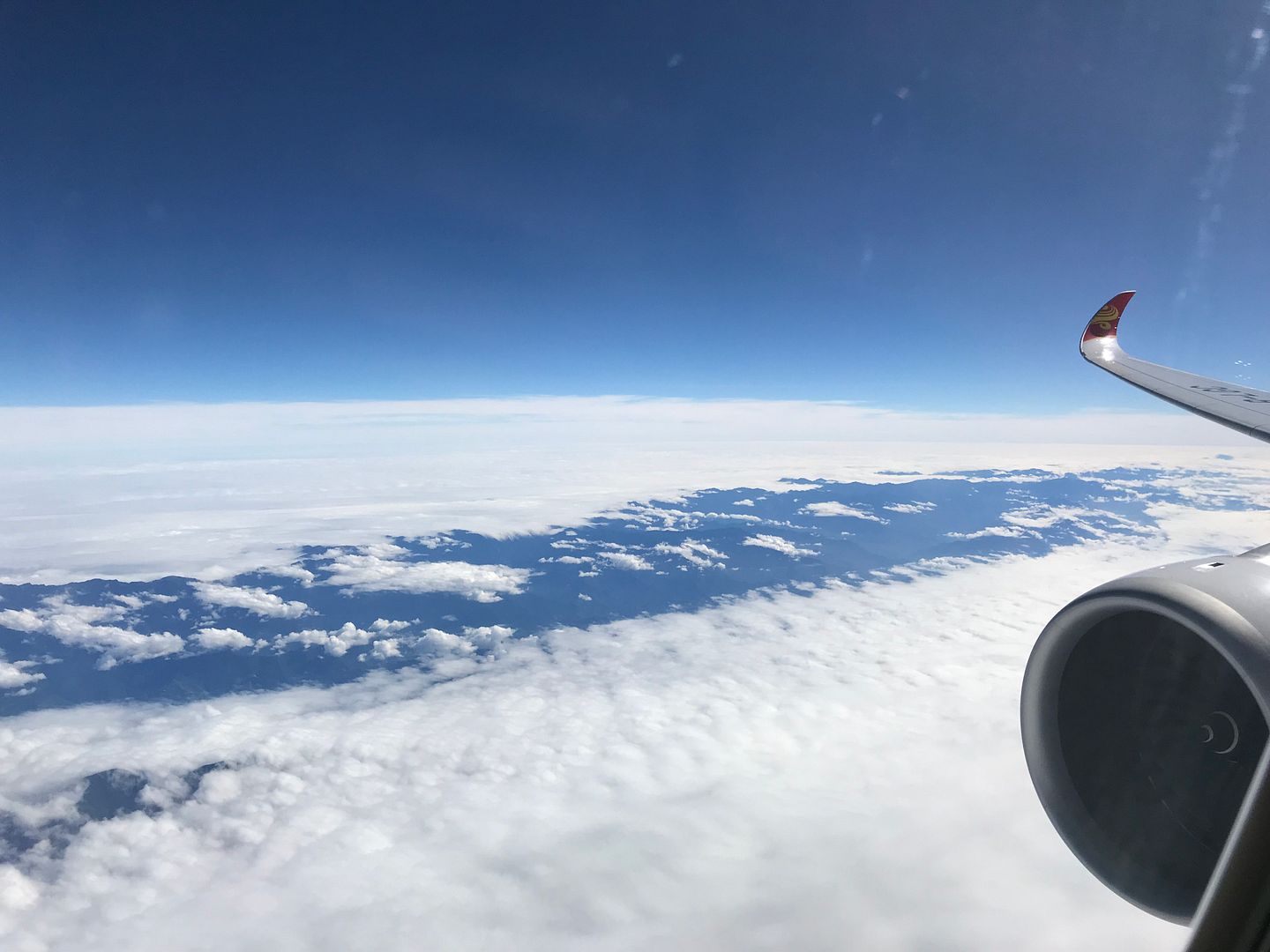 Wine List
Champagne
Gonet-Medeville Blanc de Noirs Premier Cru Brut NV
White Wines
Charlotte Street Chardonnay, South East Australia
Luis Felipe Edwards Family Selection Gran Reserva Sauvignon Blanc
Red Wines
Charlotte Street Cabernet Sauvignon, South East Australia
Luis Felipe Edwards Family Selection Gran Reserva Merlot
Another new improvement is that the meals are actually nicer now with a more normal appetizer, instead of those funky Chinese dishes that HX passed as appetizer in regional flights, and then a side salad. There is also now a soup course, and the main course is served in a larger casserole dish that has more protein than carb. I don't foresee individual platting but it will be nice to have that feature eventually. There is also a new celebrity chef, that is younger and more Western. Here is the description from the menu!
New Celebrity Chef (from Hong Kong) – Gabriel Choy
"Hong Kong born and bred, Gabriel has spent part of his career in London working with celebrity chef, Gordon Ramsay, and at world-class restaurants, including Three Michelin Star awarded "The Fat Duck," as well as closer to home at "The Gaddis" of Peninsula in Hong Kong. He has held positions of Executive Chef and Senior Consultant at a number of Asia food and beverage groups while some may also recognize him from his appearances on numerous popular TV cooking shows.
Gabriel's experience of Western culinary techniques, his Hong Kong heritage, and use of locally sourced ingredients help to create a modern fusion style that never fails to surprise."
Honestly, I have never watched Choy on TV or heard about him, but the resume looks alright. At least, they are attempting some Western dishes.
Lunch
Served shortly after departure
First Course
Starter
Side Salad – this is really nice salad with passion fruit infused "balls," which is paying tribute to molecular cuisine.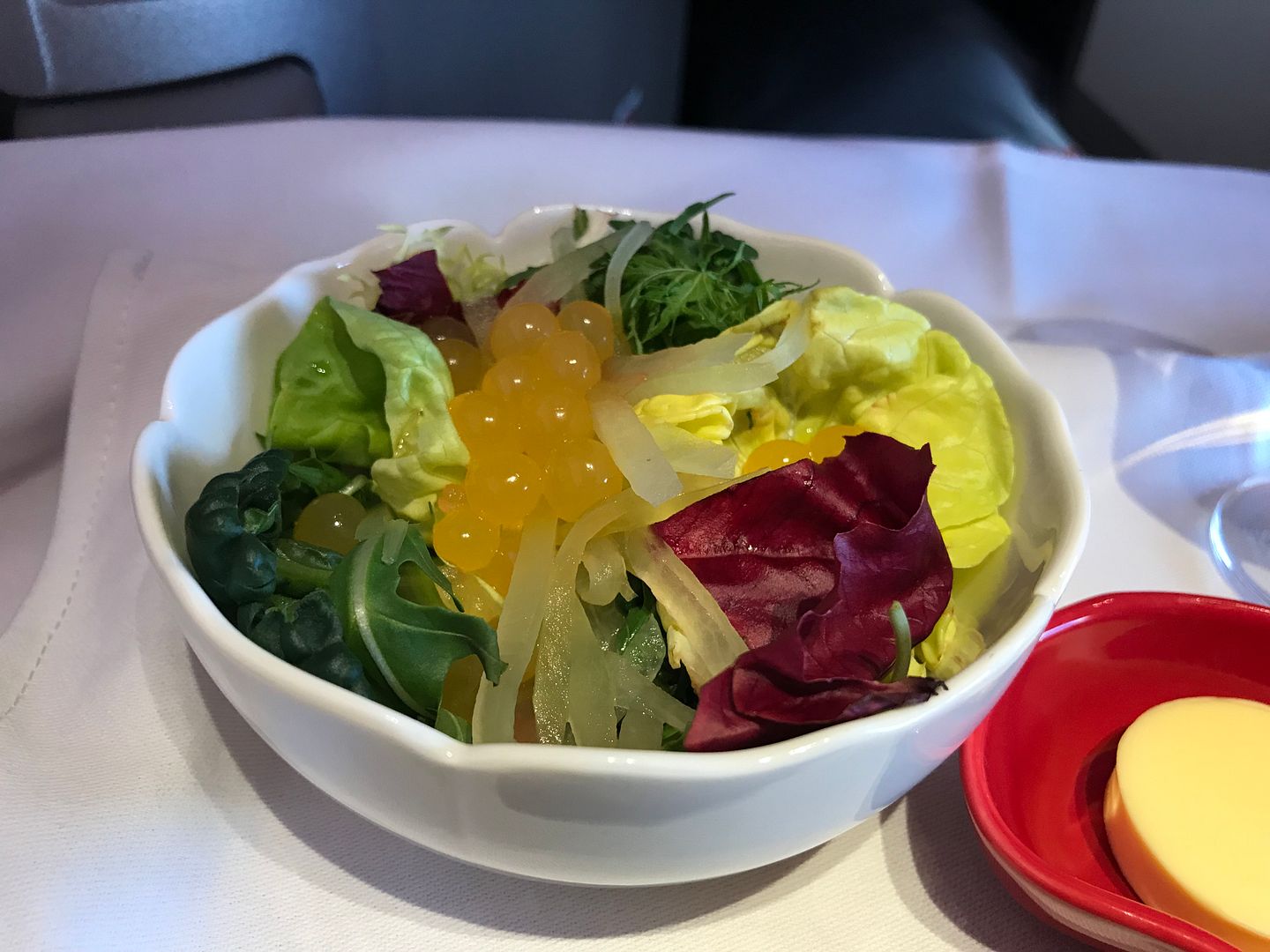 Foie Gras stuffed sachima with a mandarin marmalade
Finally, I got a proper starter and it is basically a walnut Foie Gras roll. It was very good. I also like the new china, especially this new salt and pepper shakers designed like dim sums, which you can keep as souvenirs. I like how Hong Kong Airlines tries to use symbols that are uniquely Hong Kong.
New cutlery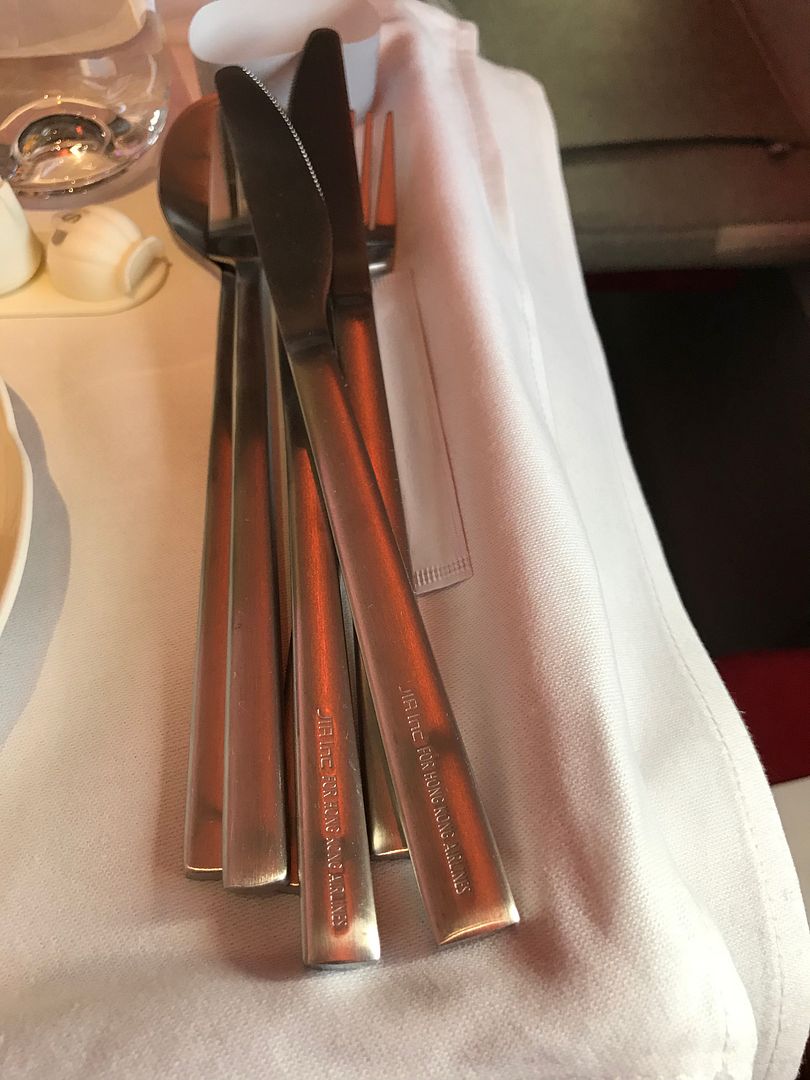 Soup
Italian roasted tomato soup
I like the new soup course and the tomato bisque tasted nice.
Main Course
Gabriel Choy's Black Bean tapenade gratin chicken supreme with bacon, pumpkin gnocchi in Genovese sauce, seasonal vegetables
Since it was the inaugural flight, I went with Choy's dish. For chicken breast, the tapenade with a use of a classic Chinese ingredient, black beans, kept the meat moist. It was flavorful for sure but my only comment was the side dish, which seem slightly out of place. The gnocchi is nice too but not sure about the basil based Genovese sauce.
Or
Dong Po Pork with steamed rice and seasonal vegetables
Or
Mushroom Risotto Wellington
Dessert
Baked blueberry cheesecake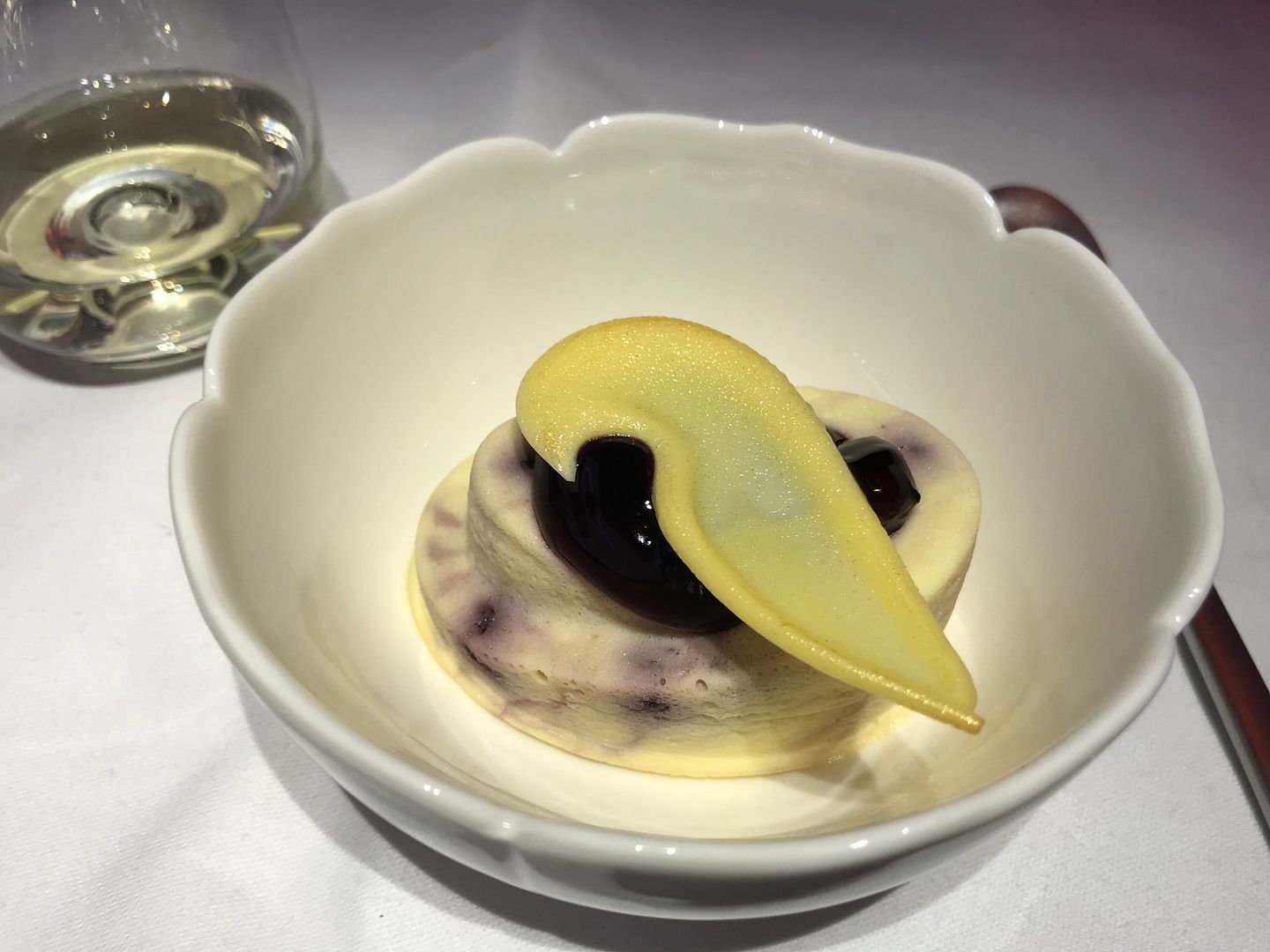 Haagen-Dazs Ice Cream
Cheese Plate
For some reasons, it took over an hour prior to desserts being served. The dessert trolley is fairly typical now for HX's long haul flight, but you have two choices of ice cream now. The cheese plate looked more refined. Thanks to the F/A for allowing me to take this photo.
Selection of Breads
Tea and Coffee
It was basically a well-rounded meal with improvement on both quality and quantity. If they kept up this new menu, I can see myself flying them again. My issue though is that HX needs to change its menus more frequently and if things don't work, they need to change it. I hope it won't turn into their regional flights, which feature the same menu for the past few years. Most major airlines like ANA, China Airlines, Japan Airlines, and EVA Airways has four cycles a year. Cathay Pacific changes monthly but their dishes are repetitive too.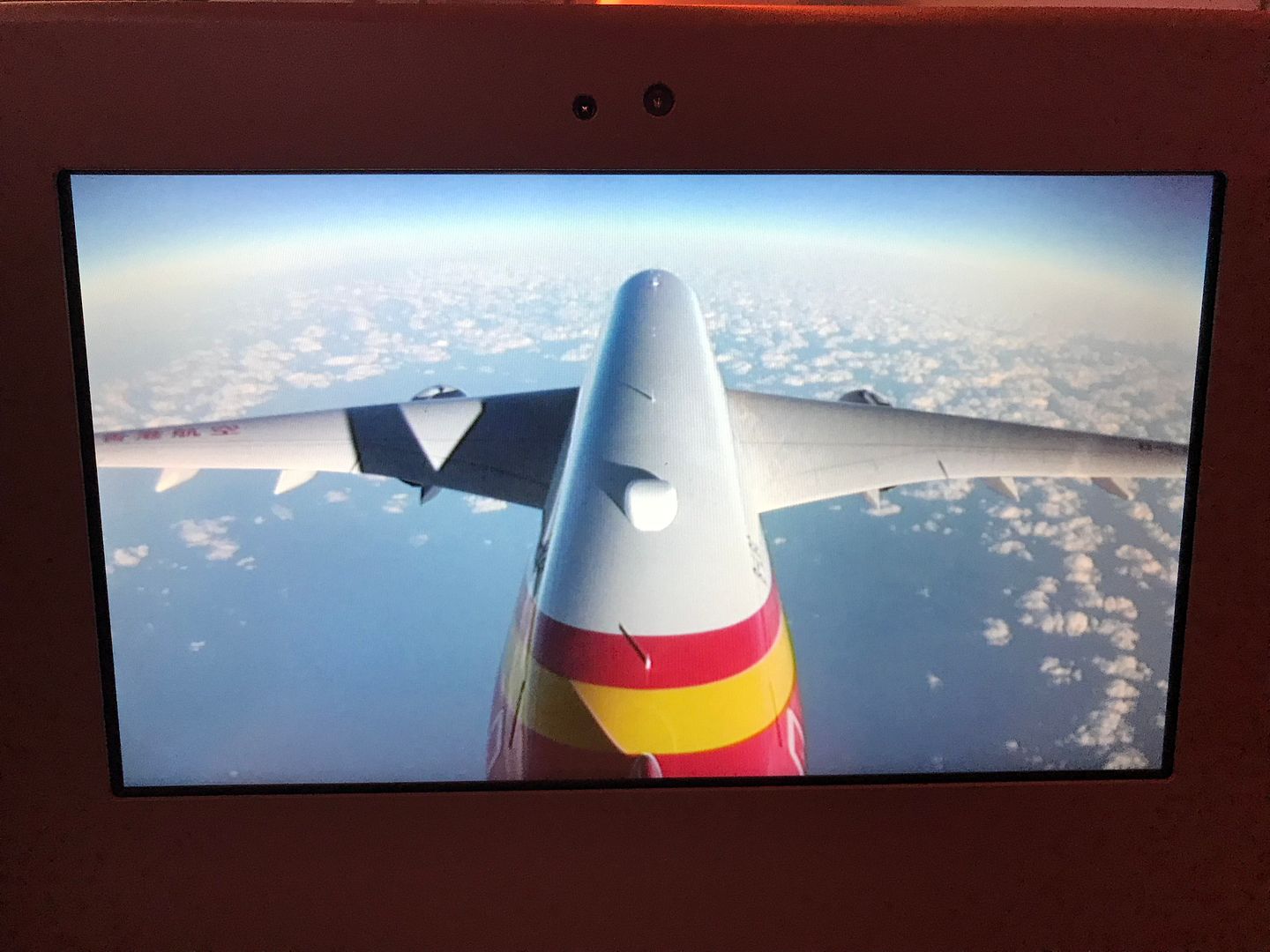 Entertainment:
New the television itself is nicer now and it is fully touchscreen. The interface is easier to navigate and more modern. Unfortunately, the content remains unimpressive, and the amount of television programs is just weak. Given the huge amount of variety shows in China and Taiwan now, they can easily have a full season of those singing or variety shows on demand. Western sitcoms are almost non-existent, except Modern Family and possibly Big Bang Theory.
WIFI is now available and here is the price list!
Unfortunately, I bought the flight pass for $18.95 (full price is $30) and it was a mistake. I did not know if they had more staffs using WIFI today or not, but the speed was basically unusable. I tried to post something on Facebook, which failed. I managed to load one Instagram picture. I tried using it on both my cell phone and laptop. Both failed miserably. As I am typing this report about two hours out from LA, we lost WIFI signals all together. They need to work on the signals, and also the speed, and for now, I will refrain from relying on it for work purposes, or even bother paying for it.
After lunch, two Hong Kong Airlines' F/As went around with cardboards and did a social media campaign. Here is me with two F/As. The picture actually looks better than I have expected, so I will post it.
Seat:
Storage spaces:
Open side storage bin with headsets and small items
Personal lamp and remote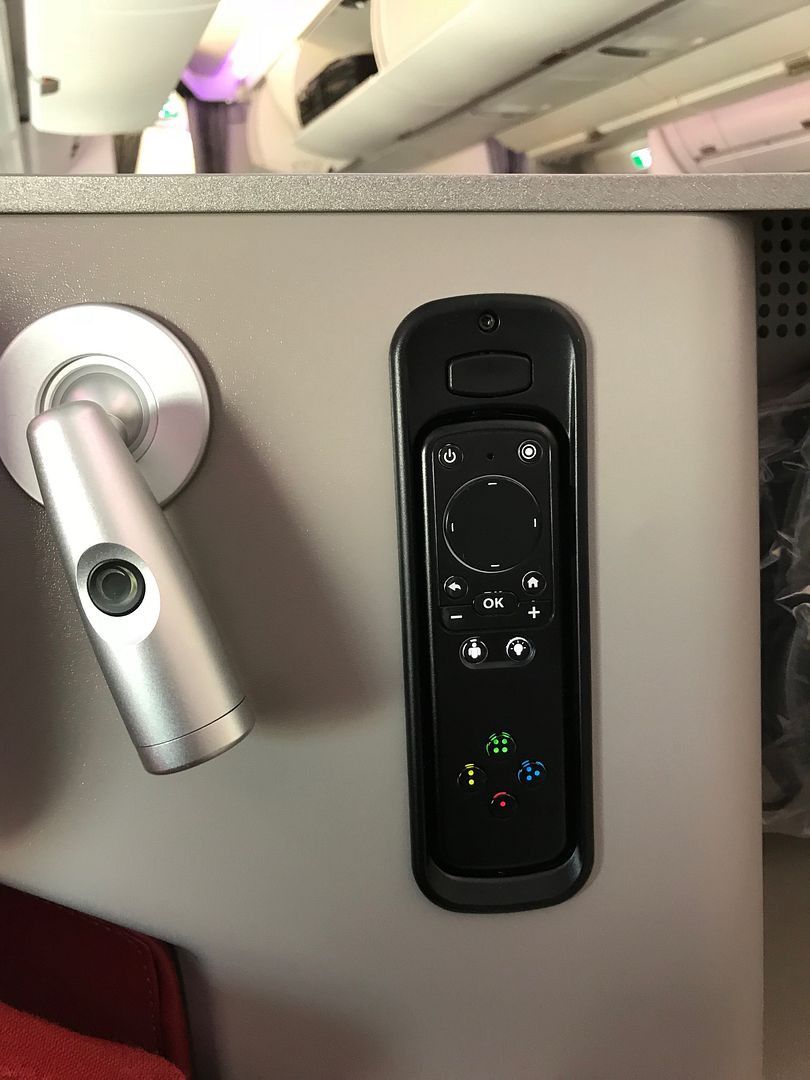 Larger shoe storage area
New tray table design – flexible and can be swirl to the side. If you need to leave your seat during meal, you can do it. I manage even as a pretty big guy.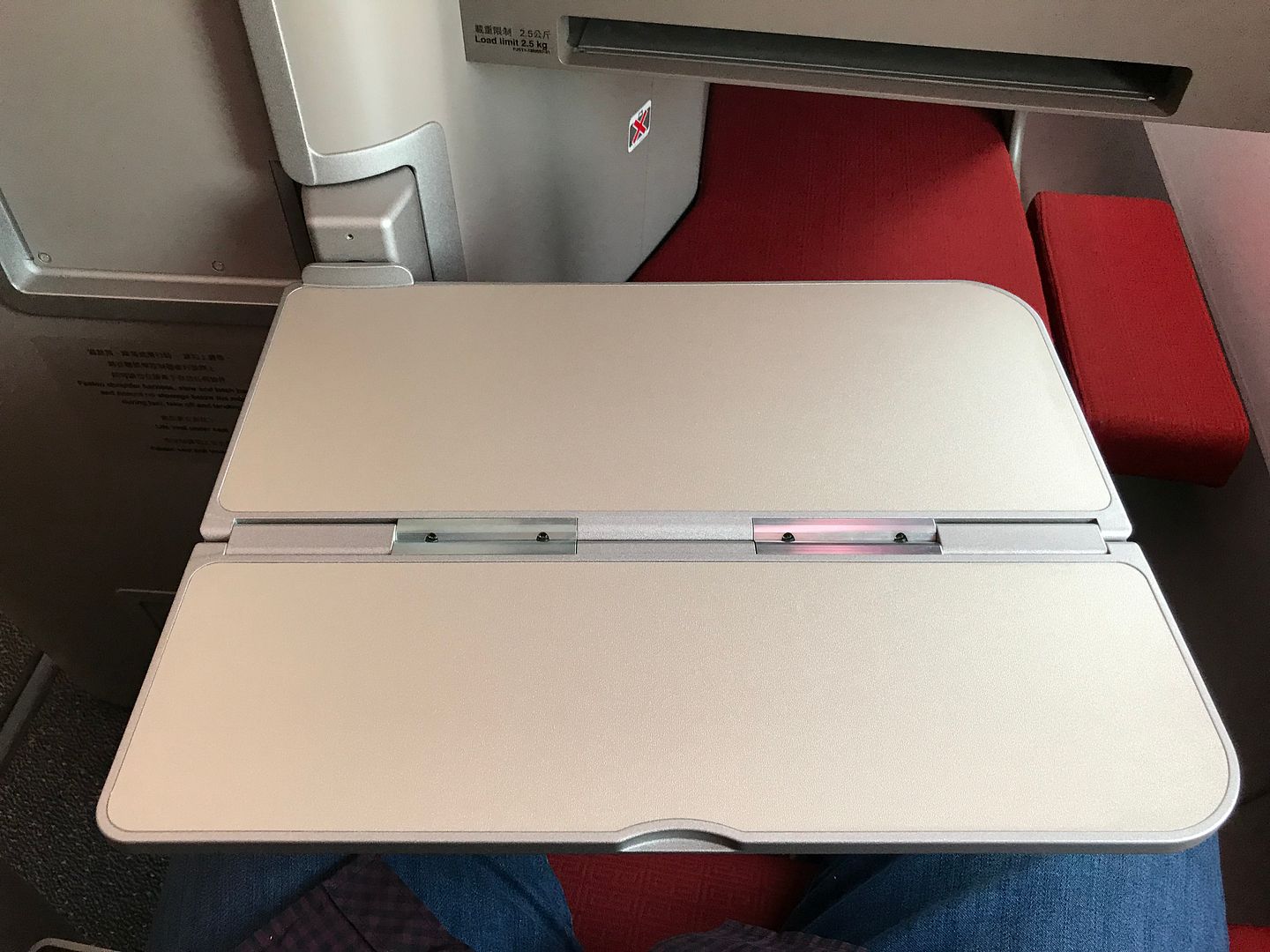 Larger TV – all touchscreen
Interesting storage space underneath TV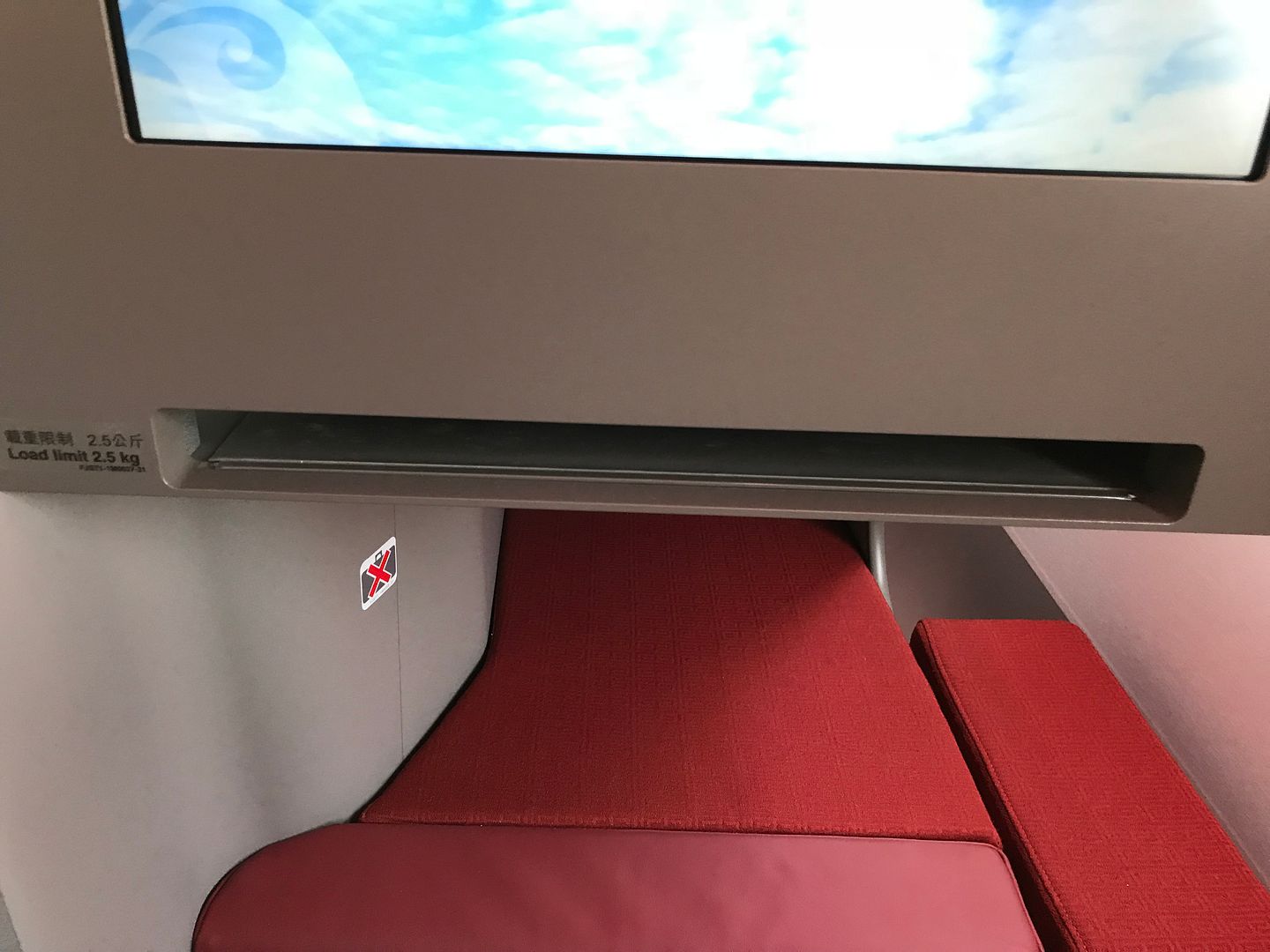 Literature pocket with bottled water holder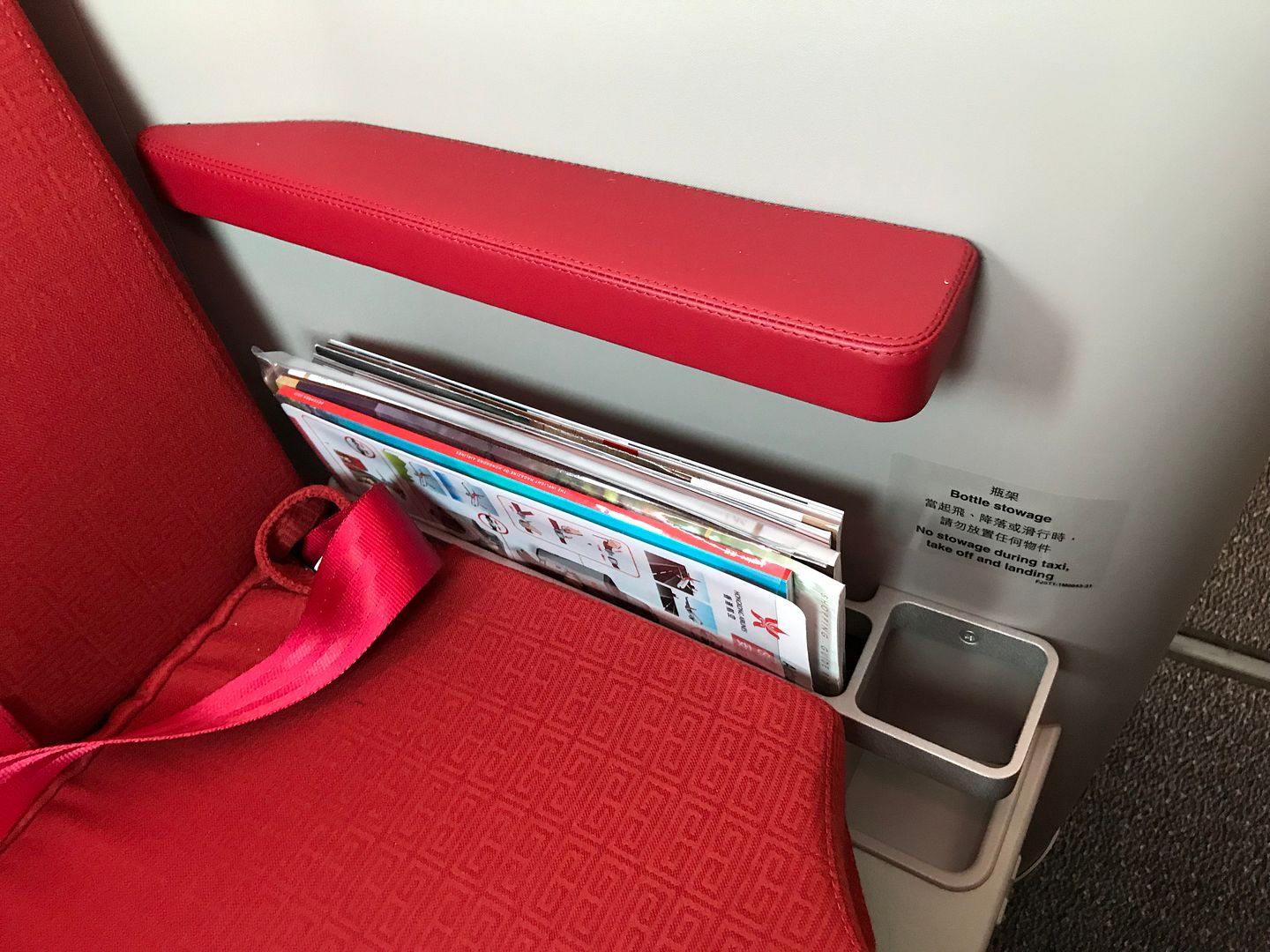 Universal power outlet – not pictures but on the side of the seat
Two new USB ports with power adaption outlet
Seat adjustment/control panel
Pre-set recline position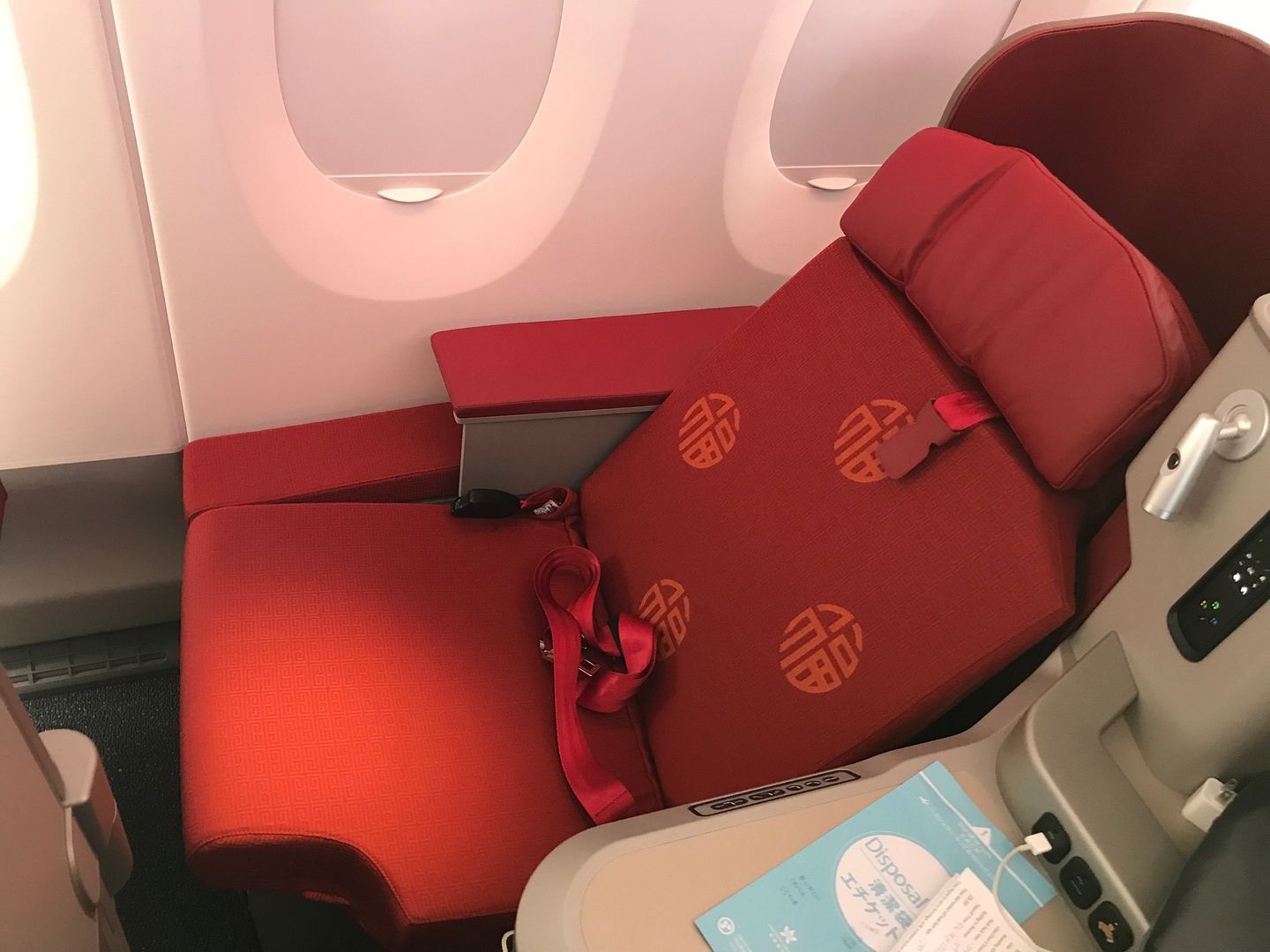 Full flat position
If you choose the semi-aisle seat on the solo sides – C or H seats, you actually have a slightly differently placed tray table, and then you get an additional storage bin right below the real window seats.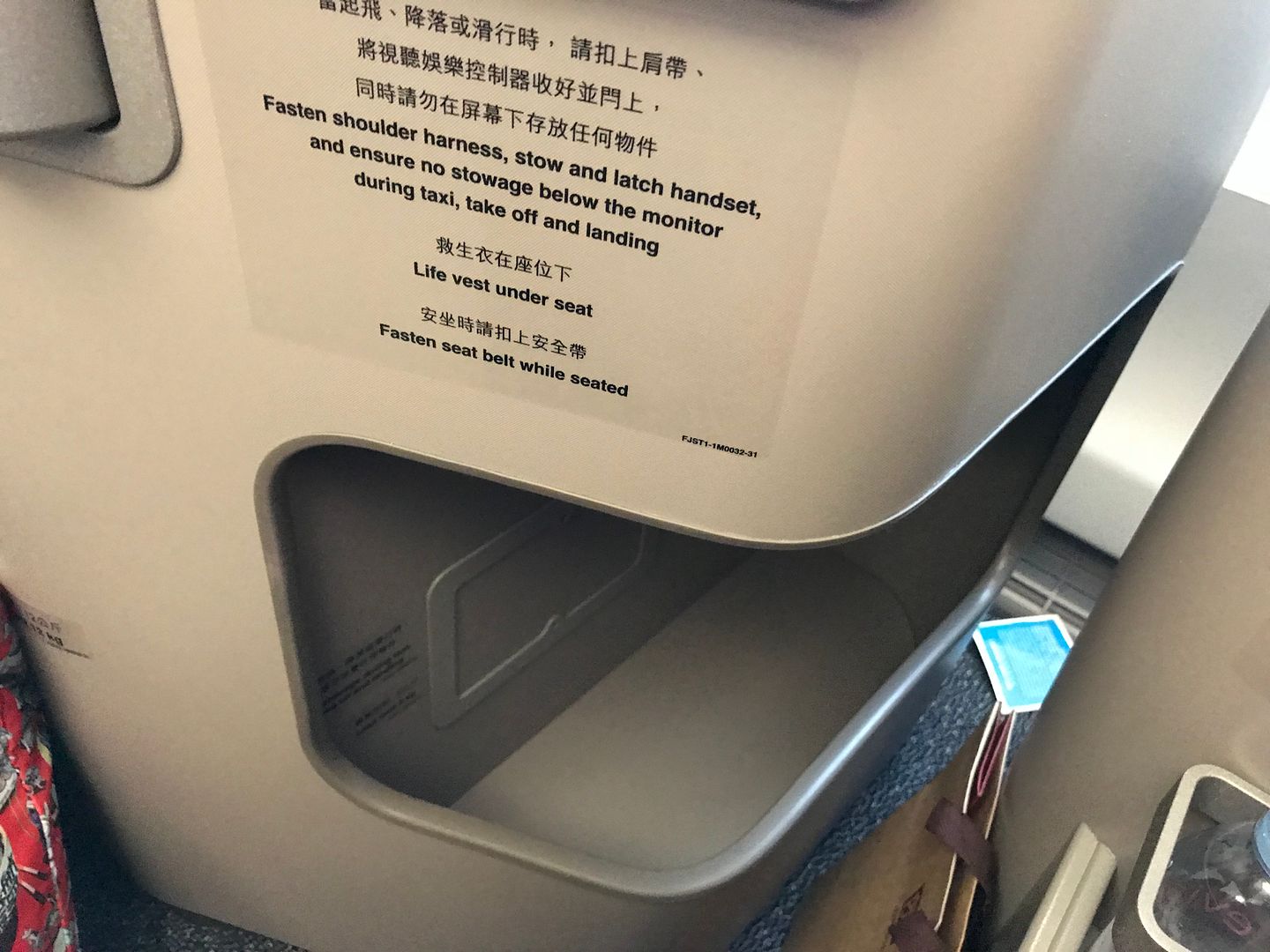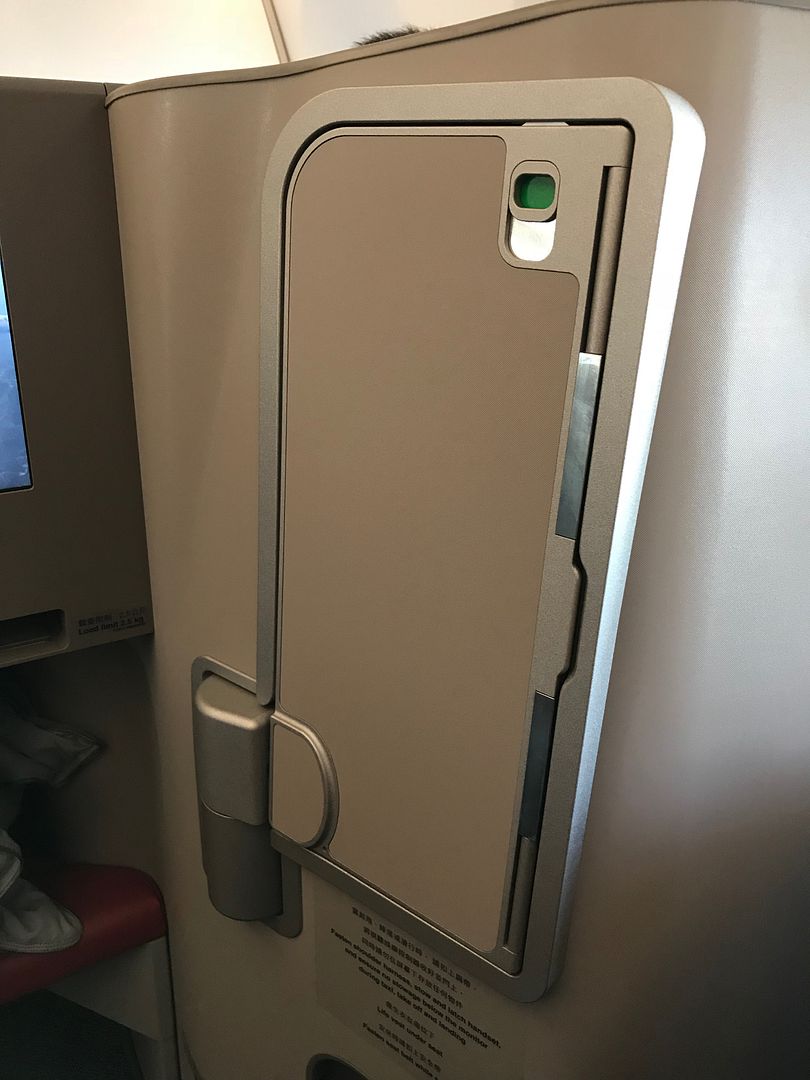 Please note the new armrest design, and when you fully recline the seat, the armrest is on the same level as flat bed. It becomes a wider bed.
Full flat bed with new grey pillow, which is actually useful and thickly padded, and new grey duvet blanket, which can be longer. I slept for six hours straight.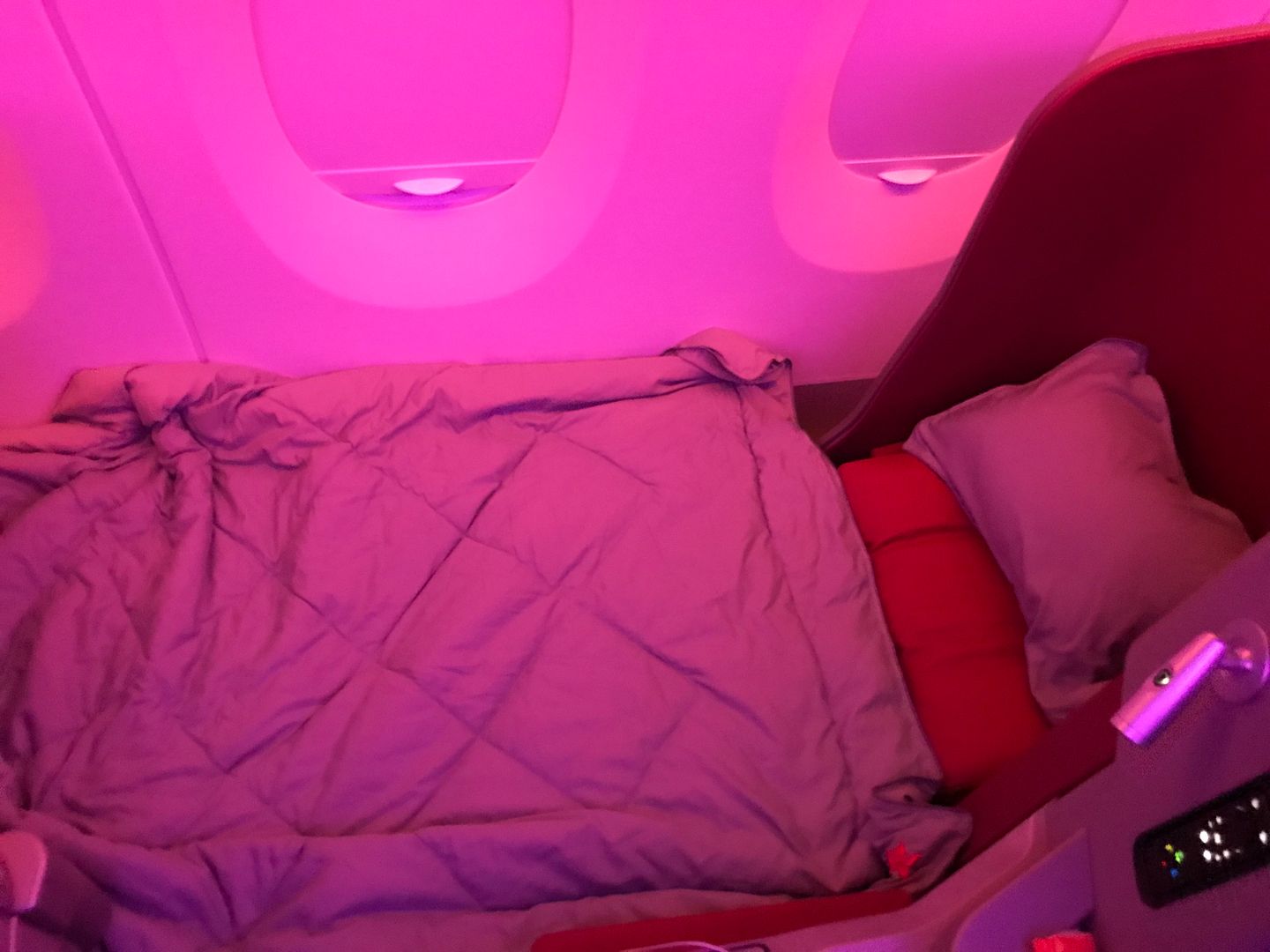 Best seat will be the bulkhead window seats 11C and 12K, but if you are on the right side, 12K, the bathroom is closed by but there are plenty of closets and a curtain that separate that seat from the bathroom.
11C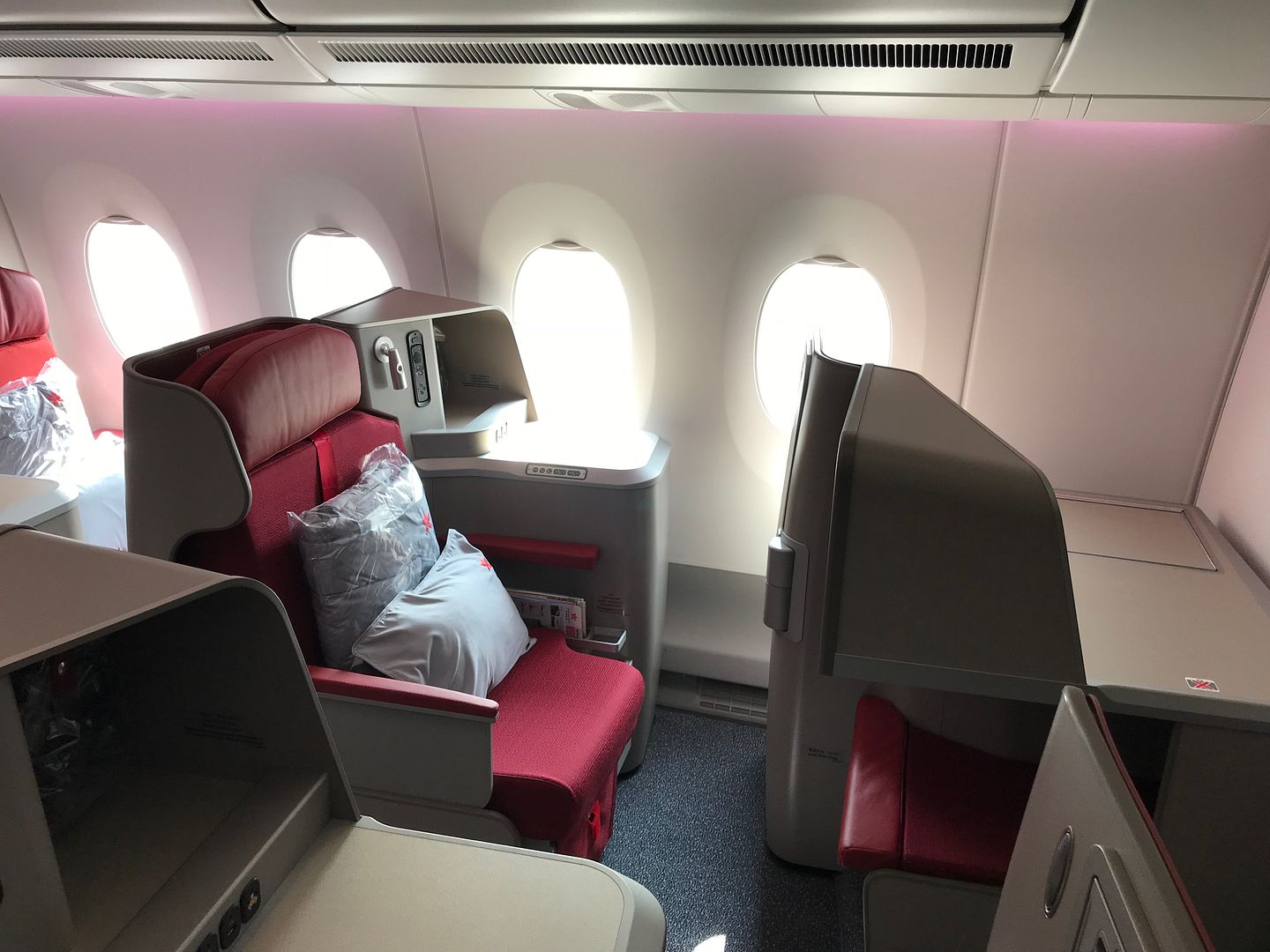 The worst seats will be the pair of seats in the bulkhead – 11E and F, especially on the right side with the bathroom next to you. There is a curtain but still annoying.
New bathroom amenities
Mid-Flight Service:
Unfortunately, I really miss the bar on the A330-200 and realistically I can't see HX bringing it back. However, a nice buffet area will give passengers chances to stretch their legs and interact with the crews. The F/As adopt mostly a CX approach and avoid walking in the aisles too much. However, you are welcomed to use the call button and then they offered me a snack after seeing me with my lights on.
I tried the calzone, which was really good. I had the pork bun before and you can search for my Vancouver trip report.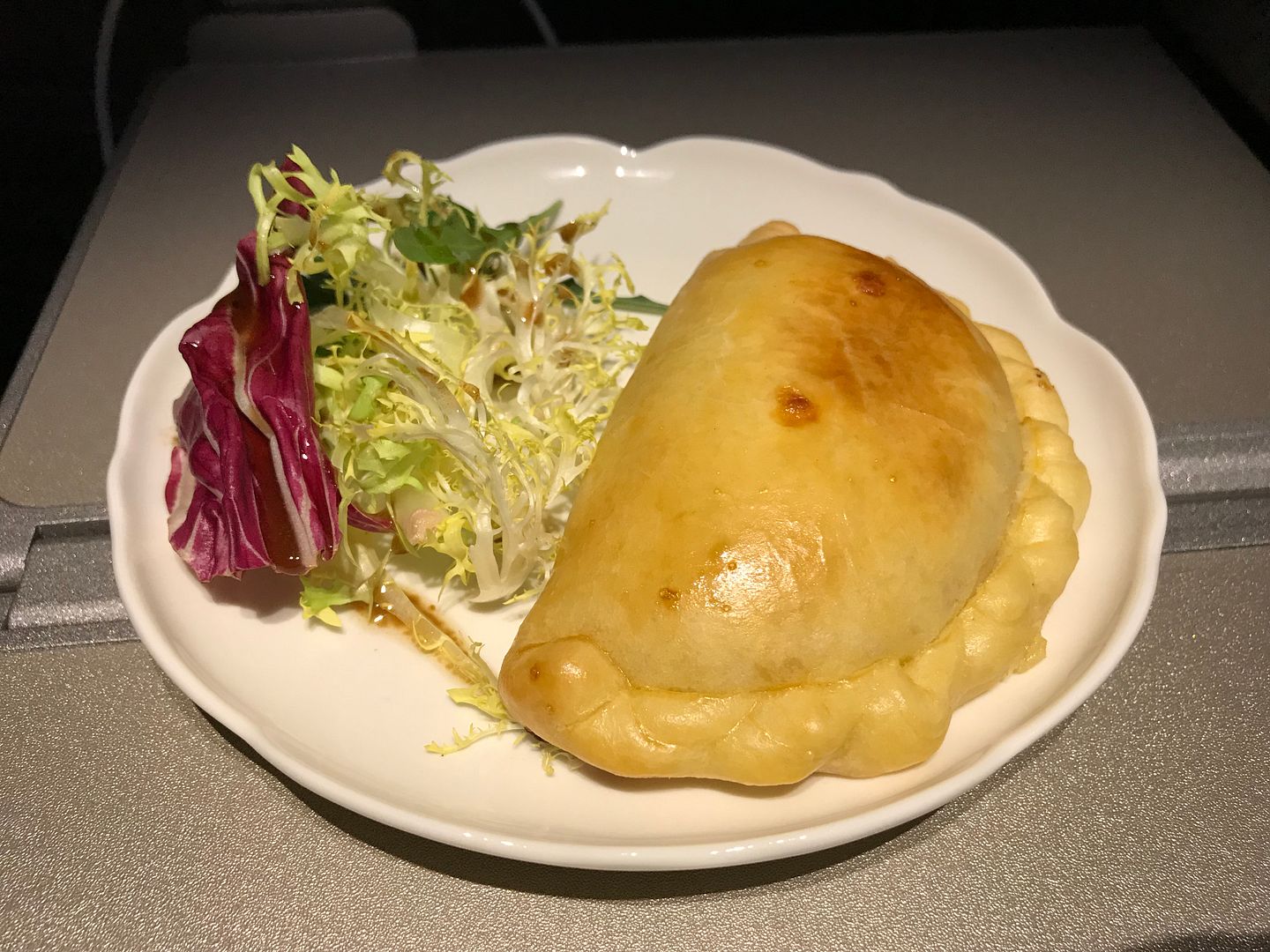 Mid-Flight Snack
A selection of sweet and savory snacks is available at the galley.
Alternatively, please ask the cabin crew at any time if you would like to enjoy one of the following mid-flight snacks.
Cheese and Tomato Calzone
Pan fried pork loin and onion deep fried Chinese whole wheat bun
Cheese Plate
Breakfast time:
I am impressed with F/As taking individual orders. However, the breakfast service was slowed this morning, which was a bit unusual. They did not use a trolley at all for the first course, which was a bit odd. There was a huge amount of time gap between passing out tray, serving beverages, and passing out breads. Main courses were only passed out literally fifty minutes prior to landing. There was no hot towel service at all before and after the breakfast service. I knew it was not the F/A's fault and there must be something going on in the galley. These A350 front galley was small, which I have noticed.
Breakfast
Served prior to arrival
Starter
Seasonal Fresh Fruit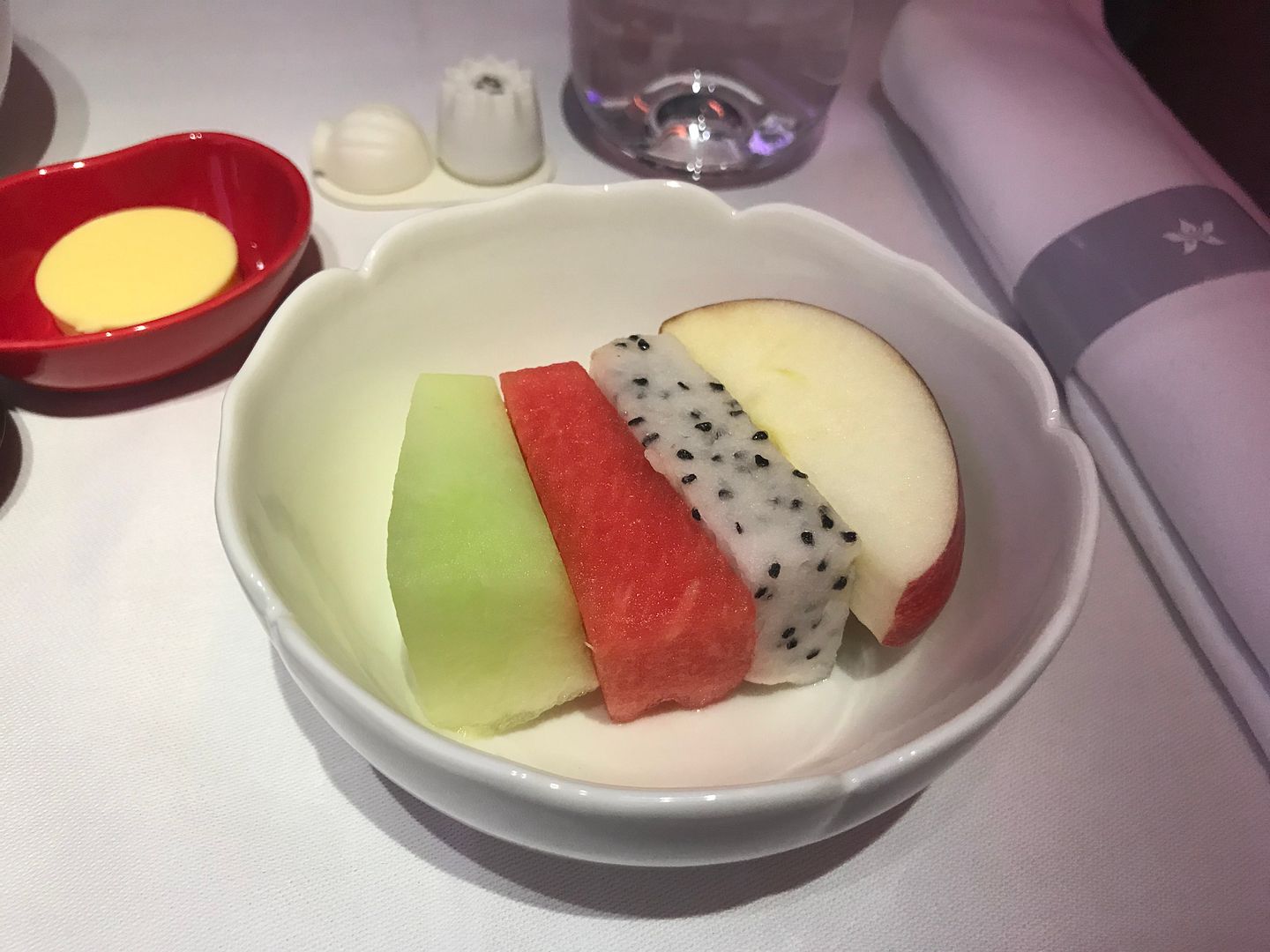 Fruit Yogurt
Main Course
Leek, pumpkin, and mushroom frittata with red onion wedge and seasonal vegetables
Assorted Chinese Dim Sum
Today's selection includes steamed shrimp dumpling, steamed chive and shrimp dumpling, steamed pork dumpling with shrimp (siu mai), steamed beef meatball, and steamed glutinous rice filled with pork wrapped in lotus leaf.
Unsurprisingly, this dish was the popular one and they ran out quickly. They might want to load more of these dishes in the future, or have a second Chinese main course choice, like congee.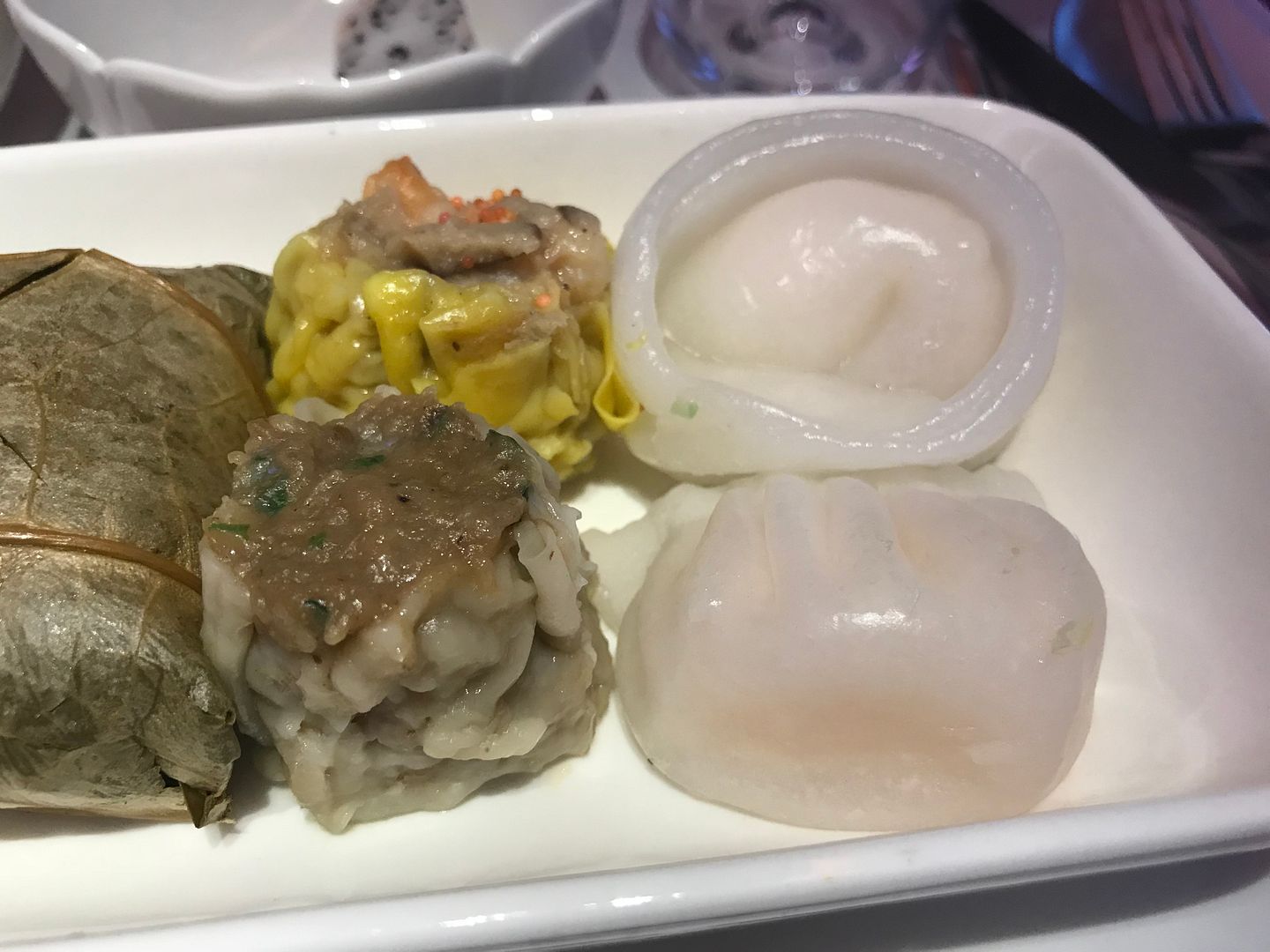 Chocolate Pancakes with banana whipped cream and mixed berry compote
Light Option
(Fresh fruit, fruit yogurt, cornflakes)
Selection of Breads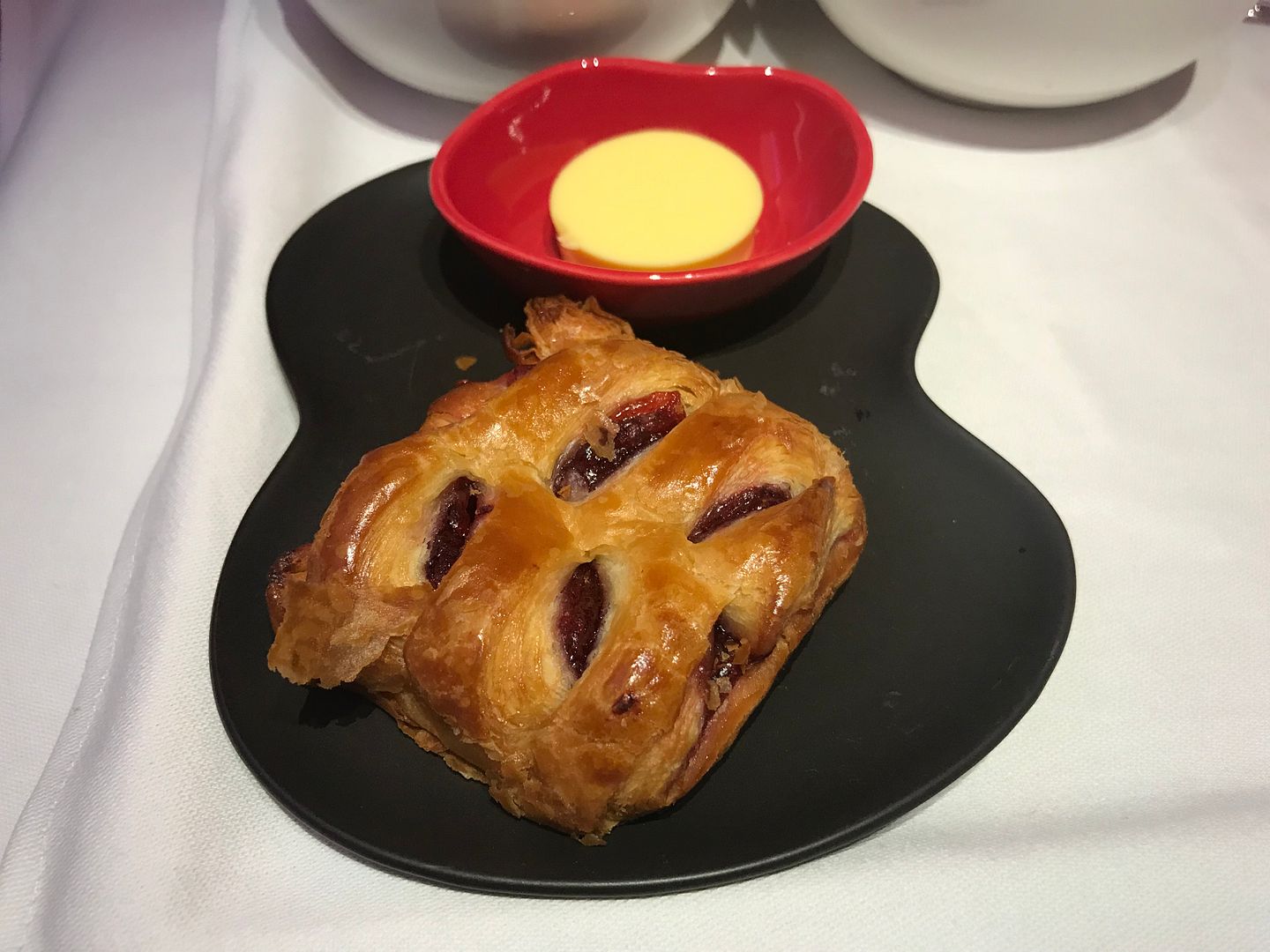 Tea and Coffee
Flight Attendants:
As I have mentioned before, Hong Kong Airlines might not be perfect in many areas and in some ways, they are limited in their resources to provide those top-notch amenities that other first tier airline offered. Ultimately, you pay for what you get. However, I have always praised HX's flight attendants, which are always enthusiastic and go out of their ways to provide warm service. Subconsciously, they know they offer less in many areas, and their soft service product is their strength. Some of those F/As, who have previously worked for CX or other major airlines, notice how much less they have to offer. But today's flight was really a bit odd. Maybe they were nervous with the number of staffs onboard, including their CMO, customer service chief, flight attendant trainer, and invited journalists. They were also nervous about the amount of new catering items and procedures. While they were still happy and addressed me by name at all times, they were a bit overwhelmed. I think HX definitely needs to increase the number of staffs for the first month or so, until everyone was comfortable. On the Vancouver flight, the F/As were super friendly and relaxed, and even had times to write personal notes to passengers. On this LA flight, they were less relaxed and more flabbergasted. The quality of service is still high but the ratio of passenger to F/A is a bit too high. Maybe HX needs to adjust the initial staff levels for these long-haul services.
Descent eventually began at 7:25am Los Angeles local time. It was a beautiful morning, and I took a few shots as we approached LA.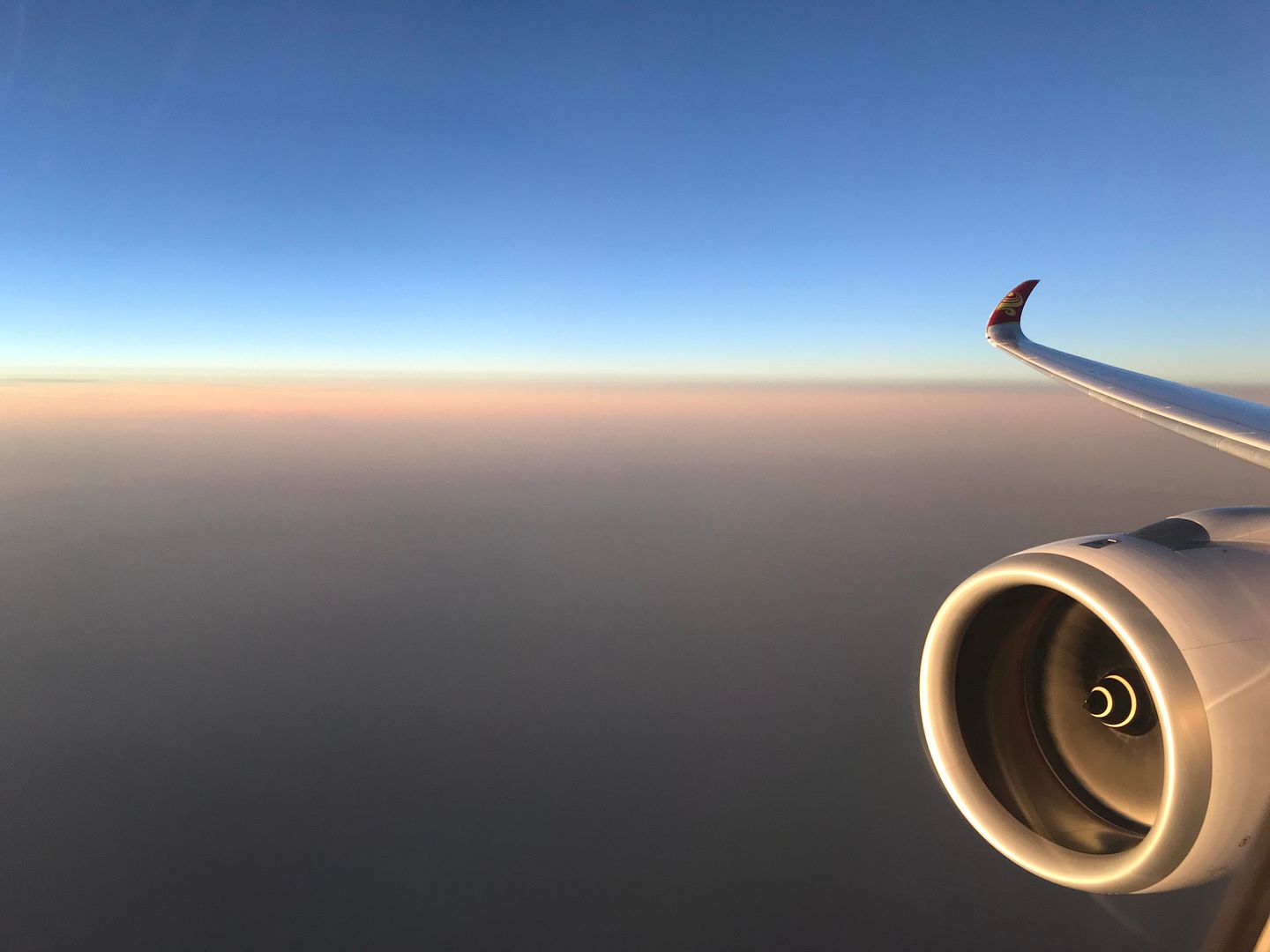 Mountains
Good Morning LA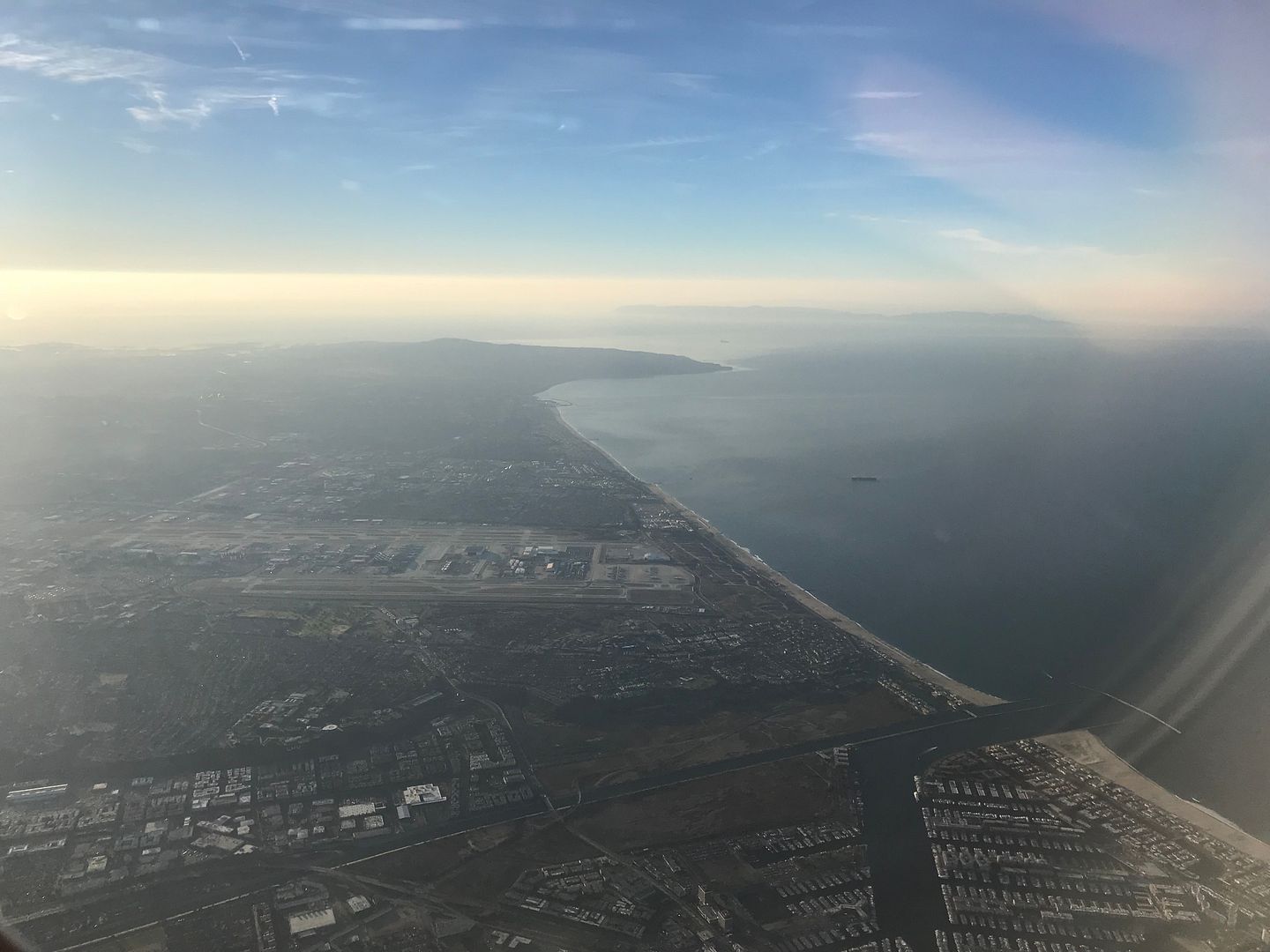 Approaching LAX and I loved the tail camera.
We landed on R/W24R at 7:51am and the pilots had already warned passengers about the long taxing time due to construction at the airport.
Landing – HX's A350 landed at LAX for the first time.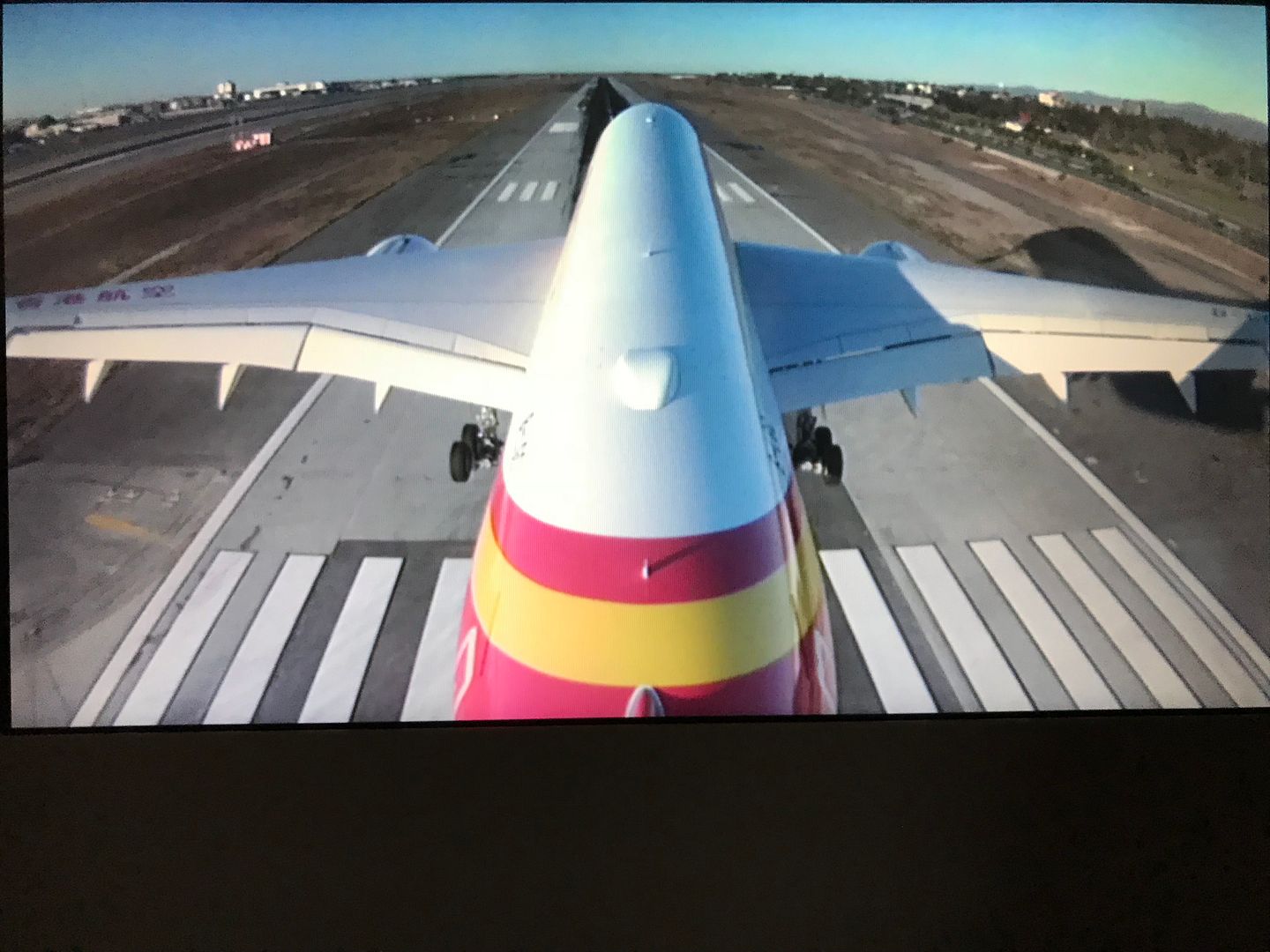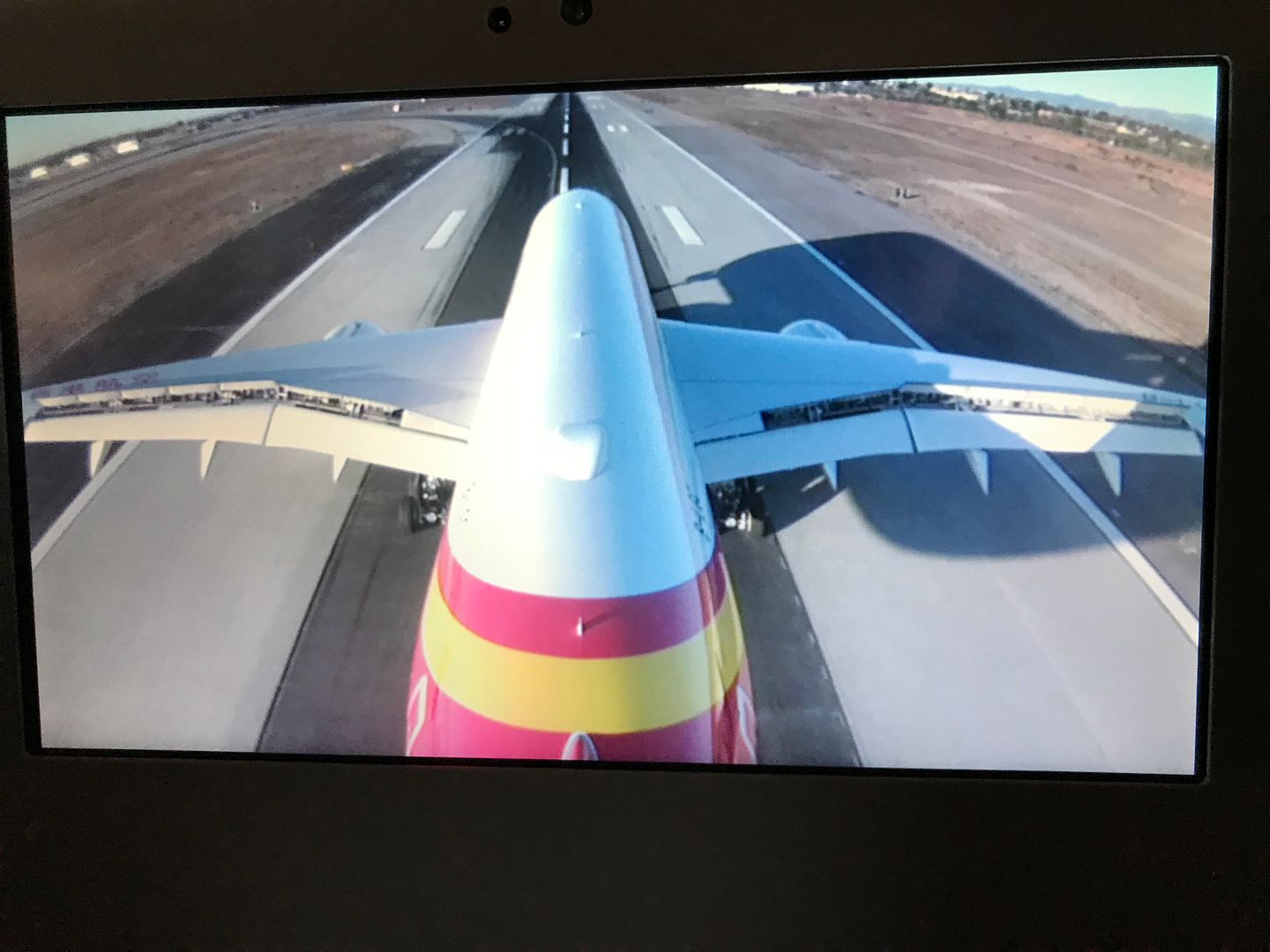 Swissport is HX's agent in Los Angeles
The pilot claims that this is the first scheduled A350 flight here at LAX but maybe someone can correct him.
We eventually made our way to gate 134 and there was no water canon salute, which was a bit disappointing. However, given the fire situation and the constant drought situation in Southern California, it will be rather tasteless to waste resources now. Nonetheless, the LAX authority could do a bit more in welcoming passengers. There was absolutely nothing in terms of having a banner in welcoming inaugural passengers and even passing out LAX gift bags, and the LA Tourism Board could at least do something. When I flew ANA's inaugural flight to San Jose, CA, San Jose Airport staffs are passing out gift bags outside the custom hall. Same with my JAL's resumption to Kona flights. The Vancouver Airport authority put much more effort in welcoming Hong Kong Airlines into Vancouver, even though there are already two airlines flying this route. I hope San Francisco Airport Authority, which I have more confidence after attending a few of their inaugurals and hopefully read this report, and New York Airport's Port Authority, can do more in their end in the future.
Baggage Claim 9 – first time displaying in LAX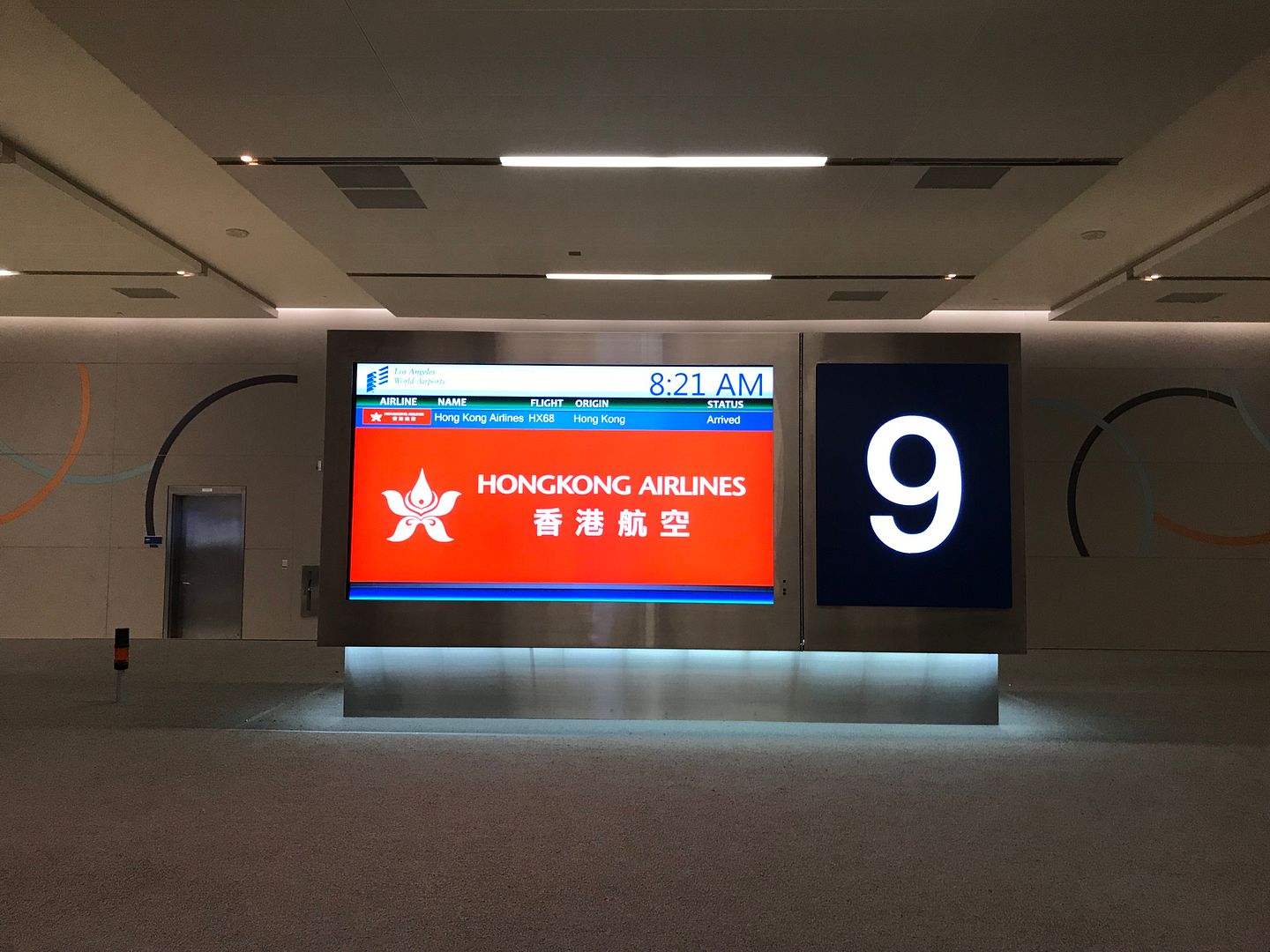 Bags came out relatively quickly.
In conclusion, I feel a bit underwhelmed especially after experiencing a much-hyped Vancouver inaugural flight. I think the US security measures and the use of a new aircraft type possibly make the focus of this inaugural on more practical aspect. The transit situation needs to be addressed urgently because HX will have to rely on those connecting passengers to make these flights profitable. I notice that there are the usual Mainland Chinese passengers, as well as Thai passengers too especially HX has a strong presence in these Chinese and Thai markets. Moreover, HX needs to address the gate situation and how to best handle these US screenings. They need to train more staffs on the procedures, especially secondary screening. With more US flights, they need to really think of blocking a major gate and two gates when SFO starts in March to handle the security matter, and allow a more seamless and less hassle experience.
At the same time, Hong Kong Airlines needs to be a bit more aggressive with the fare sales especially business class (you can't make money out of staff travels and cheap economy class tickets). There is a huge amount of retired Hong Kong-Chinese community, and many of them are middle class and above. With one daily flight, you could not steal too many business passengers from AA and CX. Hong Kong Airlines has a successful Air Pass program, and maybe it can try a North American Air Pass too. However, HX needs to really come out with a big business class fare sale, sort of like Cathay Pacific's Black Friday sales. Many of my family and friends are flying cheaper one-stop business class flight between US and Hong Kong on airlines like Korean Air, Asiana, China Airlines, EVA Airways, Philippine Airlines, Japan Airlines and ANA. I felt that those are the business class passengers HX can easily steal. Just match their prices or undersold them, I bet they will be willing to fly Hong Kong Airlines because of the nonstop flights. They need to do more in promoting the brand in the Chinese American community too.
The current schedule, especially eastbound, is perhaps not the most ideal too, but given the slot situations at both ends, you can't really change much. The current noon departure time and 8am arrival time are not that great. It is difficult to get the sleep schedule right and most passengers stay awake or could not sleep long. At the same time, the arrival experience in LAX is also smoother because HX is between the arrival of the early Australian flights and the mid-morning rush from North Asia. For the return flight, I am a fan of these daytime returns because it works better for my jetlag. You can just take a nap after lunch and then stay up for the rest of the flight. When you arrive in Hong Kong, you have a light supper and then go to bed. It also allows some connections to Southeast Asia, Taiwan and China.
During the flight, I had the opportunity to speak with a number of Hong Kong Airlines' staffs and truly appreciate their efforts in reaching out to me. They read my previous emails and have a few meaningful conversations. One can question their true intent or be cynical about them being genuine or not. At least, they are not snobbish like other airlines, and are being proactive in addressing my concerns and actually finding answers to my questions. They have made some changes based my suggestions, especially resolving the Z fare situation in 2018. [I hope you will update your website accordingly.] I feel their staffs genuinely trying to do their best given the fact that they really have less experiences and resources. I intend to remain honest in my opinions and this report has not been altered after my conversations with them, except adding information that I found out. I wish Hong Kong Airlines successes in their new long-haul network, and we need the competition.
Happy Holidays!
Carfield