Merry Christmas from my place(which is UTC -7) and I wish you well this holiday season!
Let's get right back into this TR action, shall we?
If you haven't read part one, here it is: Seeing the Terra Cotta Warriors Up Close and Personal Part 1 | CZ NNG-XIY
viewtopic.php?f=9&t=1379515&p=19980033#p19980033
Day 1: Rainy Day in China's Ancient Capital
We'd just made it into town and it started down-pouring like crazy, and we stopped for some salty pulled beef noodles.
This area happens to be right by the famous Large Wild Goose Pagoda, built during the Tang dynasty and rebuilt several times from an earthquake during the Ming Dynasty
The square overlooked by the pagoda, supposedly Asia's largest water fountain display
The pomegranate, Xi'an's city flower
After visiting here we retired to our local hotel thanks to a very kind taxi driver not on his shift, which took a while since we couldn't figure where it was.
Day 2: Huashan: a test of patience
We set out early this day to make sure we got there in time, as the past few days were rainy, which meant long lines, I mean crazy long line to get into this place. We quickly found the subway and then headed for Xi'an North Railway Station, where we would board a train bound for Huashan, a famous mountain located half an hour Northeast of Xi'An North by High Speed Rail. We opted for the next train at around 9:30 and for the return train at 20:00, which oddly is quite a long ways away from when we just arrived, but this is a good purpose however, since the waiting game here is infamous.
Once we got to the station off we were to a taxi where he offered a brief talk about how he would sell tickets to us for a reasonable price since he told us the waiting was quite insane. (To be fair we should have listened to him).
After getting we got in line for our tickets, and then of course the crazy waiting game begun. First we were tightly escorted by security members into a quite vast waiting hall where we were held for about an hour. It was quite tight and if you lost anything, you'd be quite out of luck, as a young man lost his mother's ticket and began wailing.
The game has only begun!
After the wait again there was another little waiting area for us in order to ascend the West Side of the Mountain by bus, and 40 minutes later up we were for more ticket queues, and the game finally comes to a start:
Entrance to Huashan
First we were filed into another waiting area for about 20ish odd minutes, and off we were again, and to another insane long waiting line with concessions available for purchase:
https://i.imgur.com/KXeuMYd.jpgimg
]
This one took quite a while, and in fact they gave you some mist showers while you waited:
And since we used a lift to get up from here, then we needed again another wait
The view of the queue
On the lift ascending the West Peak:
Once we were on top we were met with my Mother's phone ringing from our father, all the way from the US calling:
We then went to our hike around the mountain:
Years of bought locks you can buy on top of the mountain to always be locked on the mountain
Descending the mountain
Afterwards, another 1 hour line was needed to go down the mountain via a lift. A couple desperate tourists showed train tickets to "cut" in line, but we were in no hurry since our train was in another 2-3 hours.
Once back down we headed for the taxis and quickly went off to the train station in the late hours of the sun
There we were able to switch to the earlier train coming from Shanghai Hongqiao (Yes, the same name as the airport, they conveniently link each other) which had an extra stop in Weinan.
After getting back we ate some nice congee (from the south) without all the odd spices and salt:
Day 3: Finally: The Emperor's Tomb and the Terra Cotta Warriors
The next day we set out early once again to make sure we would make it out on time. This time we needed to head for the Xi'An Train station downtown to take the bus to the famous site.
On the ride we got maps of the area and talked with an Italian household and give them some help.
We got a Mandarin speaking guide to make sure we could have a full expirience
We first headed to the bronze works exhibit where several famous bronze works were unearthed and put to display
Emperor Qin's tomb written in ancient characters
Famous Horse Chariot unearthed in the late 1970's
The Horse Chariot, which the emperor's police/security would pilot with
Once again crazy crowded as you get just a few seconds to snap the perfect shot
The Emperor's Chariot
Ancient Bronze Sheild
Ancient horse stirrups
Water jug and spirit jug (They actually drank more spirits than they did water back in this time period)
Eventually we headed into the famous Pit 1, housing the many famous Terra Cotta Warriors
Archaeologist and dignitary entrance
Soldiers waiting to be repaired
Pit 3, where strategists and cavalry are
Views of pit 2
Famous Terra-Cotta
The Archer
Southern General
Northerner(?) and horse
"Kung-Fu" Man
After this we headed out to some lunch and we stopped by Mr. Lee, noodle shop and then headed off to see the mausoleum, which in this case will never be opened, although we've been told by archives what possibly is inside, but locals say its just a pile of dirt as it happens to be, although soil tests do show that there is a high trace of mercury than usual
The Emperor's Tomb
More pomegranate
Afterwards we departed for back to town for some more sightseeing, and a visit to the famous Huiminjie, or Muslim Street, filled with Halal food
Roujiamuo
or Chinese Style Pulled Pork Sandwich and toasted bread
'
The Bell Tower
Drum Tower
Huiminjie (Sorry I didn't take many pictures of this place, but here's a clip and where this photo is from
https://www.youtube.com/watch?v=PJp8nXxtqoM
)
Yogurt Mug
After the long day we finally got back and were ready to leave the next day.
Day 4: Exploring the Wall and "escaping" it
Early after breakfast we went to City Wall where the old city was put into.
On the way we caught up with a local explaining this city, and about how the locals eat as well
The South Gate
The moat
Ancient sun-dial
Anyway we happened to put our bags at the service desk since we would soon depart afterward to a nearby hotel with an airport shuttle
We biked this area, which is about 15km or about 9 miles around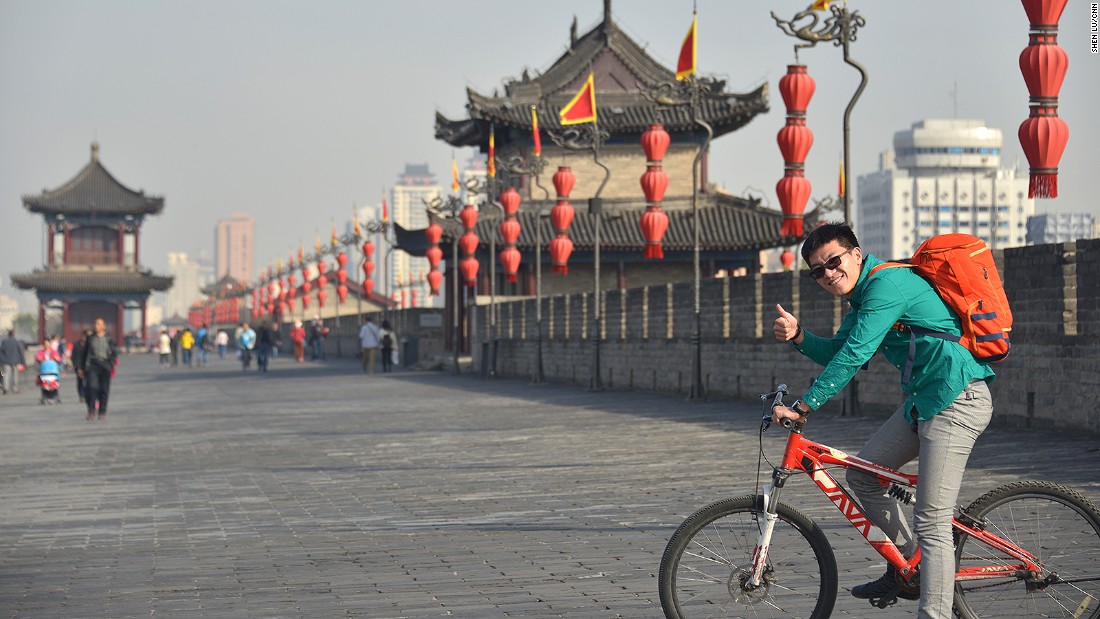 Image from CNN
Wikipedia Photo
After this, we were off to the airport heading back to Nanning
Hope you guys enjoyed this, and have a good and happy holidays and stayed tuned for Part 3.
-bgboiflyer