Flying Transcon: Virgin America A320 PHL-SFO F
Background: While it's true that the New York to California transcon market is unique in the lower 48 states, given the premium products offered in Business Class and First Class, New York to California is hardly the
only
transcon market. There are plenty of long-distance, cross-country routes which don't involve the Big Apple. So while there are plenty of airlines flying their best products out of New York, there are certainly a lot more transcon flights worth experiencing out of other major cities, too.
My home airport of Philadelphia may not offer all the special products like New York, but the routes to California are the longest domestic routes to be found out of Philly. Five years ago, the last time I flew transcon out of PHL, it was on US Airways. Those routes were since taken over by American, but that's not the only change to the Philadelphia transcon market to take place since my last flight. Virgin America, who had suspended their Philadelphia service in 2014, recently resumed their flights, and are currently offering both PHL-LAX and PHL-SFO. Seeing as how Alaska Airlines are taking over Virgin America, and have indicated that the Virgin product and brand will be retired, time is short to catch Virgin America before its demise. How better than from my convenient home airport of PHL.
I've flown Virgin America once before, in January of 2017. My flight was JFK-LAX, which had served to position me to LAX so that the following morning, I could catch my flights to Tokyo and then onto Sydney, the main destination of my trip. It had been a very mild winter; in fact we only really got one snowstorm...on the exact date of my Virgin America flight. It had snowed all day. As my departure time kept being pushed back, I grew nervous that the flight would be cancelled, like a lot of other flights out of JFK that day. That would have made me miss my flight to Tokyo and then Sydney, which would have been truly horrible. But strangely enough, Virgin didn't cancel the flight. The gate agents continued providing updates to the passengers, as the JFK runways were closed, my inbound plane was diverted to Allentown, and then needed refueling, then eventually took off again for JFK, only to land with no available gates, to park on a remote stand, only to have no available buses. In the end, the delay ended up being 7h. But the flight hadn't been cancelled! Virgin got me to my flights to Tokyo and Sydney!
I was so happy that Virgin hadn't cancelled their flight. But Virgin hadn't stopped there...they sent an email apologizing for the delay, and offered a $200 credit towards a future flight! I had not seen such a gesture before. Here I was, happy the flight had gone out, and then they sent a voucher to apologize for a weather delay! I was very happy to fly with Virgin again. My opportunity came when I was headed on a trip to Seattle. I could fly PHL-SFO-SEA, use my voucher, and experience Virgin America one more time before it's brought into the Alaska brand. And this time I could fully enjoy the flight, without the stress of a 7h snow delay.
PHL-SFO
Virgin America VX1141
Departure: 09:00 (actual 08:48)
Arrival: 12:25 (actual 12:29)
Actual Block Time: 6h41
Actual Flight Time: 5h35
Seat: 1F First Class
Airbus A320
I arrived to the Virgin America check-in area in Terminal D and found nobody there. I was checked through to Seattle and given cardstock boarding passes. I made it quickly through Precheck, and was airside by 08:05, quite a bit later than planned, but I had started the day by running late. Boarding was set for 08:20 and departure for 09:00.
At the gate in PHL:
My aircraft today was N364VA, an Airbus A320 with sharklets built in 2016. Pre-boarding began right as I arrived to the gate, early at 08:15. I had started the day late, but still made it first into First Class...what a cool cabin, with such a great atmosphere. Stylish white leather seats with purple mood lighting, overhead lights perfectly illuminating the seats, with window shades down to heighten the effect.
Virgin America A320 First Class:
Seats 1DF:
The flight attendant in the forward galley saw me taking pictures, and asked, "Are you up front with me?" I replied, "Yes, and I'm very excited!" A pre-departure beverage was offered, and I requested champagne.
I settled into my seat. An amenity kit - containing eye shades and a Virgin America pen - was delivered with my champagne, along with a bottled water. Very nice.
Looking over to 1AC:
Coach passengers passing through during boarding were continually remarking on how stylish or swanky the First Class is. They'd never seen anything like it! Indeed, there was excellent bulkhead legroom, with a wide seat with just a little extra storage within each armrest. There was a small cocktail table in addition to the main tray table. Interestingly, the bulkhead was transparent purple, so I could see right into the galley. More and more people continued boarding, and the vast majority were commenting on how great the First Class looked. That's not something I hear on other airlines. Virgin really had a special product. Alaska, taking over Virgin, will not be keeping their First Class. That's too bad because it sure seems like everyone aspires to it! I was enjoying my champagne to celebrate my Virgin transcontinental flight connecting to Seattle. I just noticed boarding music playing; Virgin really did a great job with their onboard atmosphere. I particularly liked the mood lighting and of course the unique stylish seats. Not flat bed seats, but the best in any domestic First Class.
Legroom Shot:
Safety Card: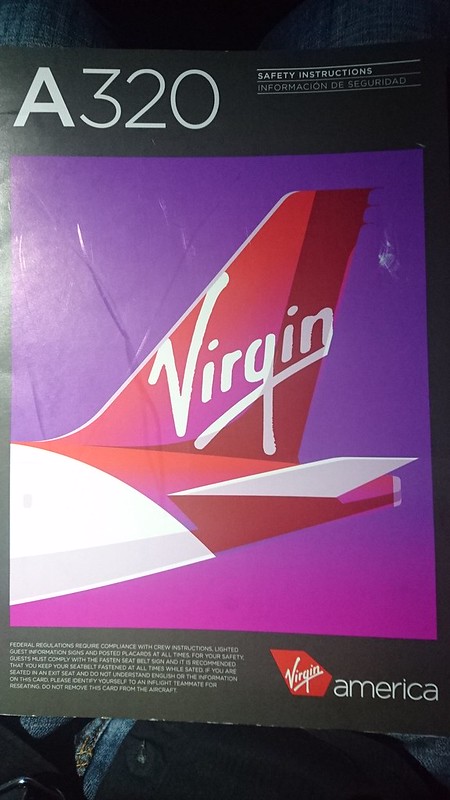 Overhead View:
The flight attendant commented that the load today is very light, and indeed within 15 minutes of boarding starting, it was already done. The flight attendant then came to me and said, "It's just you and me up here in First Class! Would you like all eight meals!?" Wow, my first time ever alone in First Class! Load 1/8! And on the longest nonstop domestic route out of Philly! The flight attendant and I had a nice chat about the history of Virgin in Philly, and then I was presented a menu and encouraged to order both entrees! I already knew this was going to be one of my best ever domestic flights. Flying Virgin with $200 off, before the brand is retired, the only one in First Class for my first time ever, not only on the longest route out of Philly transcon but then a second Virgin flight into Seattle, I was very excited and happy to have chosen Virgin!
All alone in First Class!
The captain came to the front of the cabin for his welcome announcement; he was expecting an on-time departure, with a short flight time today of 5h38. It was to be mostly smooth the whole way to San Francisco. "We hope you enjoy the flight, and welcome onboard!" The door was closed at 08:45.
"Please watch the screens in front of you for the safety demonstration; if you're seated in First Class, please watch the live demonstration." I had a personal safety demonstration, but to the narration of the video. The narration was essentially a pop song; I would have liked to have seen the video since it seemed unique and in the Virgin vein, but First Class screens were stowed. Pushback was at 08:48. I realized I was smiling uncontrollably like my first time in F almost eight years ago. Like anything, you get somewhat used to flying in F, but every once in a while something comes along to match your first time, no matter how long ago that might have been. This was going to be an awesome flight.
After a short taxi, I saw out the window that we were joining an extremely long queue to takeoff, probably more than 15 aircraft. This was not unexpected, having flown mid-morning Philly departures before. Starting around 08:00, it's rush hour for departing flights. Philly really isn't that good, with worse and worse fares, especially now that US merged into American, and then the long lines for rush hour takeoff. I honestly don't even use Philly that much anymore, taking the twice-as-long trek to Newark more often than not. Today, though, I enjoyed the convenience, and most of all the chance to be the only one in Virgin America First Class! Plus in this case, the fare was actually better out of Philly than any New York airports. Perfect.
After 20 minutes waiting, the captain apologized for the long taxi, explaining that it was rush hour in Philly and we were 13th in line. It should be about another 15 minutess, but we will still have an on-time arrival.
Finally after 40 minutes (!) of waiting, it was time to takeoff. At 09:35 on Runway 9L we had a takeoff from a stop. It was a pretty decent takeoff for an A320, with acceptable pushback into the seat, but I still don't prefer the droning sound of the engines. Takeoff was to the north, and we quickly made a pretty sharp turn to the left to be pointed in the direction of San Francisco.
I took out my screen and saw that upgrades from the Main Cabin to First Class were available for $399, or from Main Cabin Select to First Class for $190. There were no takers.
The curtain was closed in the galley, so I could no longer see through the purple bulkhead. My personal flight attendant stopped by to offer a hot towel, from a platter of eight hot towels all for me. She asked if I'd chosen which entree I'd like first.
Poached Eggs and Brisket
- poached cage free eggs, seared corned beef brisket, roasted celery root, beets, potatoes, sautéed rainbow chard with bacon, horseradish creme fraiche, toasted panko breadcrumbs and parsley - with English Breakfast tea. Also served with a bowl of fresh peaches, blueberries, raspberries, and plums; topped with a peach-basil syrup. And more champagne to start! We had another nice chat about Virgin and my positive experience in January despite the 7h snow delay. The champagne was quickly served.
I reclined and extended the footrest. This was a very comfortable seat. It was so spoiling being the only one up here! I was enjoying the champagne very much, really the most appropriate thing to be drinking considering the circumstances! I was happy to be able to plug in my phone. I had been planning to charge it in the airport, but then I ended up running quite late. At least Virgin is ahead of the game with power outlets in all the seats, unlike a lot of other domestic airlines' planes. Suddenly a delicious smell washed over me; it must be my personal dining experience about to begin! Before I know it, we were already at 34,000ft and almost to Pittsburgh, with the inflight map projecting only 5h to go, and an estimated 12:12 arrival. Very strangely the map had Sicklerville, NJ on it, the small standard suburban town which nobody has heard of, but where I spent all of my childhood.
I took a quick restroom break, as I had also been running too late for that in the terminal. I hoped there wouldn't be a line!
The Red entertainment system was easy to use, and very responsive to touch on the screen, but if I'm honest, I had been expecting a better selection of material to watch. Nevertheless with IFE on individual screens hardly available in the US, I was happy to have it! My first choice, a favorite from years past, was
Slumdog Millionaire
.
My first entree was served. It was my first time ever trying poached eggs. They ended up being very good! The croissant was also excellent, but perhaps most of all, the fresh fruit bowl with the syrup. Delicious! I was quite happy with the meal, but also quite happy that I get to sample the other offering, too!
Love the Virgin salt-and-pepper shaker.
I finished my first movie, definitely one of my favorites ever, with 2h50 down, 2h45 or 1,200mi to go, right at the halfway point, just crossing from Central Time into Mountain Time, and still predicting a 12:12 arrival. It was time for a restroom break, and my flight attendant offered a snack for when I'm done. After I came out, she had prepared the entire snack basket for me. "Another drink?" I suppose one more glass of champagne.
Amenity Kit and Snacks:
To go with the popcorn, I asked for the first of Virgin's craft beers: Anchor Steam from San Francisco. The other beers on offer were 21st Amendment "Brew Free or Die IPA", 21st Amendment "Hell or High Watermelon", and Heineken. I liked the unique craft beer offerings not found on other airlines...good thing I had two Virgin flights today so I could try all of them. The Anchor Stream was quite a nice amber session ale, and very surprisingly, it came in a plastic bottle which looked identical to a glass bottle! I decided to start a second movie,
Going in Style
with Morgan Freeman, Michael Caine and Alan Arkin.
Red Entertainment System and Anchor Steam:
Relax Mode, very comfortable!
Halfway through the movie, I thought it was as good a time as any to ask for the other meal. "Is it still possible to get the second entree?" - "Sure!"
The second meal was
French Toast with Scrambled Eggs
- orange infused brioche French toast, creamy scrambled cage free eggs, roasted tomatoes, rhubarb-thyme compote, and real maple syrup. No more than ten minutes later, and I began to smell that delicious Virgin America breakfast smell again! With about 45 minutes left inflight, my second meal was served..."Think of it as brunch!"
It was another excellent meal, with the eggs very well cooked, the French toast also well cooked, and the orange infused maple syrup excellent. The croissant was very good, as was the fruit once again. These had been two of my top the airline breakfasts ever! And how nice to get both, 4h apart. Now that's how a long transcon First Class flight should be!
A hot towel concluded service, and the captain was already announcing that we'd begun decent and expect to arrive in 30 minutes, that would be right on time at 12:12. The weather was cloudy and 59 degrees.
Descent began and it was time for the cabin prep announcement. The longest domestic nonstop out of Philly, and it was already ending. I would have been happy with it much longer in my private First Class cabin! Honestly it didn't even seem like a long flight at all. It had been a really special and unique experience; I was very happy my first solo trip was on Virgin on this flight today.
Landing was on 28R at 15:10. We headed to the Virgin area of gates, and the captain announced that while we were 10 minutes early, our gate was not ready yet. I guess we must wait on both ends.
The Virgin America area of gates:
Alaska Airlines B737-900, N302AS, also due to fly to Seattle:
We made it into Gate 53 at 15:29 Eastern Time, 12:29 Pacific Time. Boarding for my next flight was set for 14:00, and departure for 14:40. That gate was not yet announced.
At the gate in SFO:
After such an excellent flight, my sadness at Virgin's demise is only heightened. It had only been my second flight ever with them; I never really flew them that much, but I will certainly miss their onboard product, service and style. I was very happy to have a second segment coming up.