My country is finding itself in dire straits and foreign airlines have been – understandably – pulling out of CCS to the tune of
Ten Little Injuns
. Lacking any remarkable recent trips to report on, I dug very deep into the memory chest and found a couple of pictures of a flight I took exactly 35 years ago today.
One caveat though: Don't expect this to be a TR in true fashion as both the flight and the photos were taken well before my trip reporting days here on A.net. No notes were taken, so, sorry, no hard facts on meals, actual times, seat comfort or lack thereof. In fact, the pictures are all scans from prints and these obviously show their age as they have taken on a pinkish hue.
I had spent the Christmas holidays at home enjoying the company of family and friends and soaking up the warmth of our tropical climate in preparation for the winter that lay ahead, and now it was time to return to Frankfurt to resume my internship.
The route:
The flight
I had taken advantage of the pre check-in service VIASA were offering at the time. During the morning for evening flights, and during the afternoon for flights departing the next morning, one could take suitcases to the airline's city offices in a shopping mall in Caracas, check the baggage and get the boarding pass. In pre-Internet and pre-OLCI days this was a smart way to secure a preferred seat and have a hassle-free experience at the airport later.
14.01.1983
Airline: VIASA
Flight: VA708
STD: 21:15
STA: 9:55 +1 / 14:40 +1
Route: CCS-LIS-FRA
Registration: YV-133C
Aircraft: McDonnell Douglas DC-10-30
Seat: 13J
Here's a picture of the plane from the A.net database: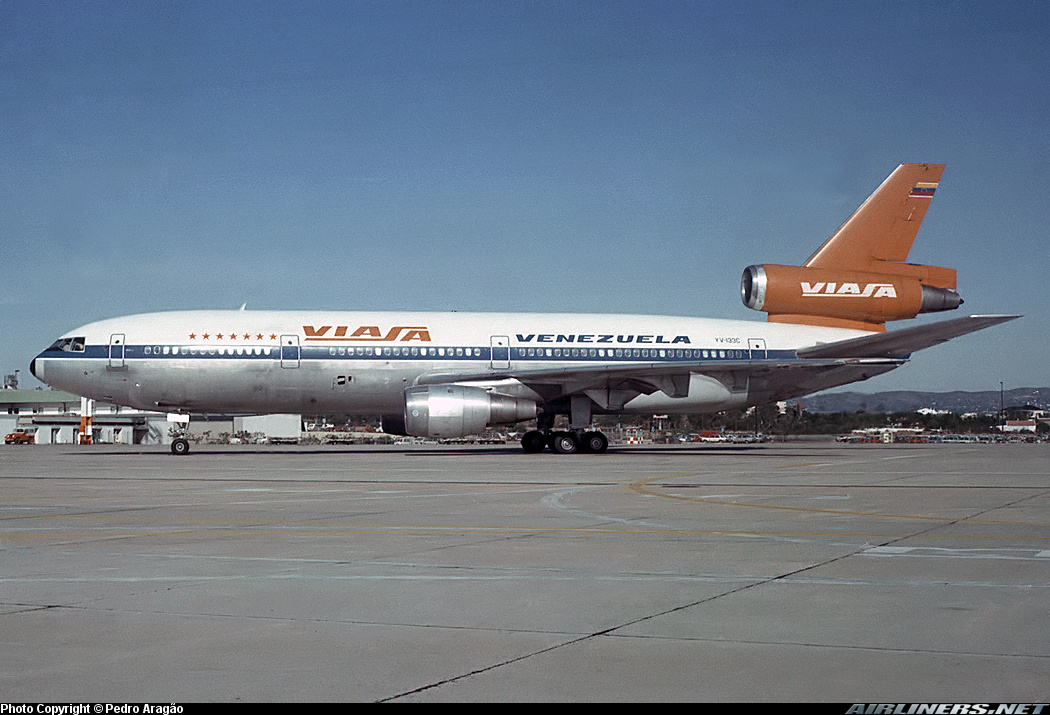 The following pictures were taken during our stop in LIS. Passengers continuing to FRA and AMS were requested to stay on board the aircraft, but could move freely around.
I asked the cabin crew if I could just go out at door 2L and re-enter the plane at 4L, which posed no problem at all. The first sight upon stepping down the stairs was the (then) massive GE CF6-50-C2 engine.
.
Who said that "Under the wing, you know! / UTWYK" is a fad of this decade?
.
With the walk-around done it was time to go on board again.
.
The majority of passengers had disembarked in LIS and only very few remained for the legs to Frankfurt and finally Amsterdam. A few shots of the now nearly empty cabin:
.
.
.
.
It all looks so '80s, and for good reason: it was the 80's! I see that yours truly even made a cameo appearance in one on the pics…
After the stopover in Lisbon the flight continued to its next port of call: FRA. Here are a couple of photos from that leg. Initially there was still a solid cloud layer, but upon reaching the Pyrenees (or were it the Alps already?) it cleared up a bit.
.
If you were lucky enough to get a window seat, rows 10 to 13 in Y afforded great views of the landscape below and the engine. I particularly enjoyed the gushing sounds the engines made when power adjustments were applied during taxi. And to me there's nearly no match to the sound of these engines on take off, either sitting inside or standing at the airport fence.
YV-133C delivered me to FRA on time and into a very strong winter with temperatures of up to -20° C. Brrr!
Those were the days my friend, we thought they'd never end…
Yet they did.
In comparison to
those days
, we are now spoiled with IFE. Whatever the full service airline, there is a huge selection of movies, TV shows and music to choose from and keep ourselves entertained during flights, usually on pretty high resolution screens and on demand. And we complain if the selection isn't comprehensive enough!
In
those days
IFE consisted of a maximum of 10 music channels running on an endless loop (please refer to the inflight magazine for the programming…) and one feature film, two if the flight was long, three if it was
really
long (think FRA-EZE for example).
Remember when those films were projected via a beamer suspended from the cabin ceiling, casting three different colored rays onto a pull-down screen or a flip-screen on the bulkhead that served as a wall decoration when not in use? The quality of those projections was a far cry from today's hi-res seatback screens, but the films shown usually afforded bragging rights with friends at home, since they were featured on board long before they would eventually be released in Venezuela. "Ha, I already saw that movie on a flight from X to Y!" would be a smug comment back then…
A passenger taking a stroll on the tarmac during a stopover would be unthinkable today, with all the TSA craze and other security measures that have been implemented meanwhile. But in
those days
it was real fun!
Viasa's YV-133C was the first DC-10 to leave the fleet in June of 1984, a year and a half after this trip took place. She went on to become N143AA in the livery of American Airlines and was finally broken up in Mojave in 2001, 28 years after entering service with KLM as PH-DTF.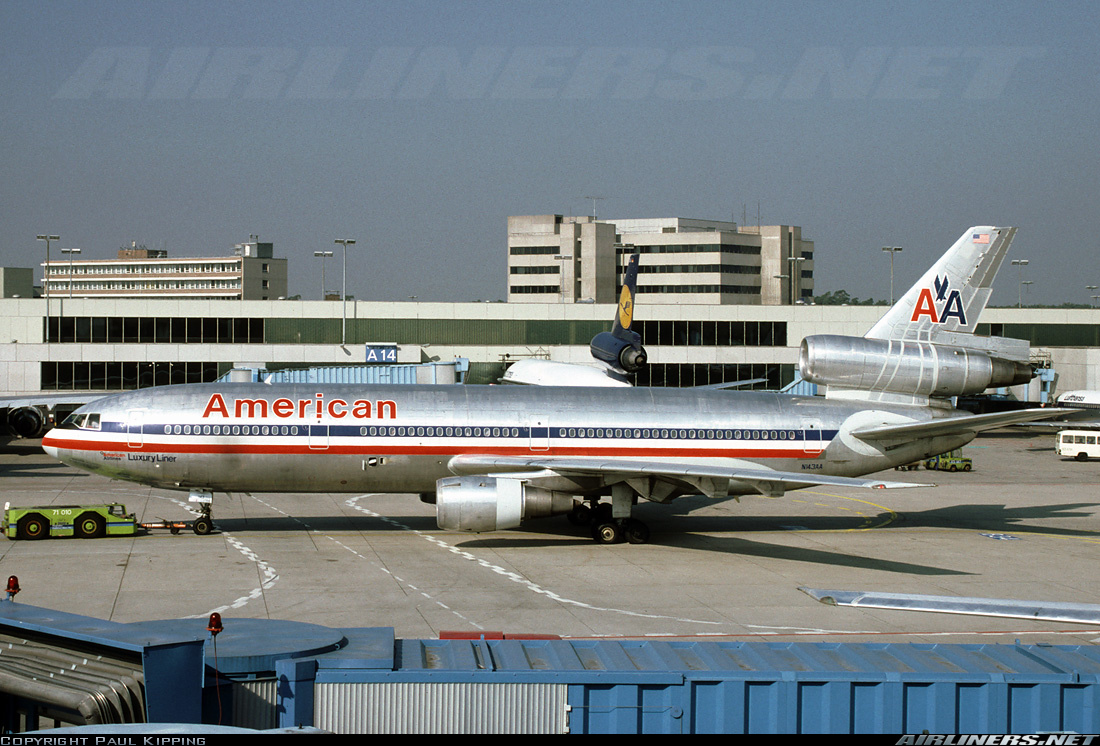 And, since we are talking about
those days
, here are a few pictures of the ramp action at CCS in the early to mid '80s, when there was still a freely accessible (and free) observation terrace on top of most of the terminal building:
After taking over the route from B-Cal (another one from
those days
), BA commenced service to CCS initially with the Lockheed Tristar L1011-200 and later switching to the L1011-500, of which the airline had two frames on a temporary lease from AirLanka, G-BLUS and G-BLUT. Pictured here at CCS is G-BLUT,
Dunnet Bay
:
Blut meaning blood in German, we couldn't help but make some jokes about this "bloody" reg.
A couple of years after the flight I'm reporting on here, VIASA revised their livery slightly, got rid of the seven stars between doors 1 and 2 (which stood for both the then 7 stars in the national flag and the 'seven star' service VA claimed to provide), lowered the cheatline to below the windows changing it from a solid blue to three different shades of blue, and painted the nacelles of engines 1 and 3 white with a blue trim line. Although only a minor change, I think it was for the better, as seen here on YV-138C and YV-135C:
.
In
those days
Air Panama International was also still around. Here is B727-100 HP-610-API being towed to the gate in preparation for the daily service to PTY:
Back then COPA were a small me-too airline, and look where they are now – and where Air Panama is now…
And LACSA from Costa Rica, serving Caracas for a long time with the strident BAC 1-11, had just started to use larger equipment, as exemplified here by B727-27 N803SC, about to taxi out to the active for its flight to SJO:
LACSA are no more. They became part of TACA which in turn became part of Avianca…
The domestic market was shared between then state-owned Aeropostal - Línea Aeropostal Venezolana (LV), currently languishing in their umpteenth re-incarnation, and privately owned Avensa - Aerovías Venezolanas S.A. (VE). Shown here are DC-9-32 YV-23C and B727-22 YV-89C:
.
.
The DC-9 was delivered factory-fresh from the manufacturer to Aeropostal in 1976 while Avensa's B727 began her service life in 1965 with United as N7044U. Avensa are now long gone.
And VIASA went bankrupt 21 years ago as well. Some three years after that, in 2000, a blue maiden in a red robe took to the air at the opposite end of the world, but it would take another nine years until that maiden Down Under took up Viasa's original IATA code VA.
Those were the days, my friends…
Cheers,
C.
Previous trip reports:
Checkin' on Robinson and Friday – on a Wednesday: Aerocardal
TAP. Why not? CCS-LIS-HAM vv + LAN 787-9 interlude
#4: Eldorado by day: AV B787/A321 SCL-BOG-CCS Y
#3: Twotters & a narrow gauge train in Patagonia
#2: "The LAN guy" gives Sky a try: H2 SCL-PMC-SCL
#1: Eldorado by night: AV A321/B787 CCS-BOG-SCL J
Joining the Club - 20 years late: AA LAX-MIA
Venturing beyond: AS SEA-LAX
Sleepless in Seattle: In the Beaver's lair
HAM-CCS:The first LH and a ride in J - sort of
Chasing Zulu: 4U HAM.LHR-HAM
Moving on: LH ZRH-FRA-HAM
LH CCS-ZRH: Flashbacks along airway UA550
Deep Chile II: Ham, monkeypuzzle trees & a culprit
Deep Chile I: To the hut with the power outlet
Return from Mt. Pleasant – Not so pleasant: LAN
Island-hopping on, well, an Islander: FIGAS
LAN wishes you a pleasant flight to Mt. Pleasant
Another day, another Lufty – HAM-FRA-CCS
Off to Oman 4: Return MCT-FRA WY A330
Off to Oman 3: Of spices, dhows and frankincense
Off to Oman 2: ICE in F and WY in Y
Off to Oman 1: Positioning commute LH CCS-FRA.HAM
LANning back up again: PUQ.PMC-SCL-LIM-CCS
LANning down South Americas backbone: CCS-PUQ
South, farther south, southernmost! PUQ-WPU on DAP