A controversial yet deserved title to my first experience on Emirates. Please note that all views expressed on this report are mine and they might reflect a one off experience. If you have noticed instances like mine, let me know in the comments section. I'm very critical in this TR as I attach high standards to the brand.
Also, this is my first time writing a TR. I have been lurking for nearly a decade so it is time I contribute. Forgive my bad photography; flying for 18 hours with an 8 hour layover made me take photos out of haste. I don't know but it might have an influence on my experience so take my words with a grain of salt.
Flight info
EK 235
L.F 90-100%
B77W - A6-EPW (1.1 years old)
15h 28m
Backstory
I am an International student studying aerospace engineering in America; check my username if you want a hint as to where I am from. I have making this twice a year commute usually on QR, EY and UL with a combination of either AA or UA. I prefer the latter as I have a natural bias for my home carrier, love ex CMB catering, friendly air-hostesses

, sandwiches as a mid-flight snack and the chance to fly old UA birds. Last time I flew UA, I had the pleasure of flying the oldest 777 which gave me goosebumps and was one of my most memorable flights. This time however, my switch in location from upstate NY to Chicago, prompted Emirates as the cheapest option to go from my native country to Murica. I was excited to say the least. Emirati exuberance as seen in other reports made me envision luxury. No denying that this assumption was true but money is not everything in this world after all, isn't it?
My journey began with EK 655 to DXB. Wonderful flight. Air-hostesses were really nice with one suggesting that I opt out Bailey's for Amarula which I have never tasted. I think I will stick with Amarula from now on. Food was okay. They served native white fish curry with a spinach and leek curry and a perfectly spiced grilled chicken with an Arabian style mushy eggplant (forget the name). The main was not stellar as I wanted a final taste of home, before I leave for the wintery hellhole which lacks my cuisine, but it was authentic enough for me to bid farewell. Short finals and landing at DXB was very turbulent with the 77W bouncing in the sky. I enjoyed the bumpy ride a lot but I can't say the same for the other passengers who oohed and aahed intermittently as they traversed in a non-inertial reference frame.
This was followed by an 8 hour layover in Dubai. No complaints here other than the fact that the place needed more chairs. Nearly all the seats were taken and once I found my reclining chair, my ass claimed temporary ownership till boarding time.
EK 235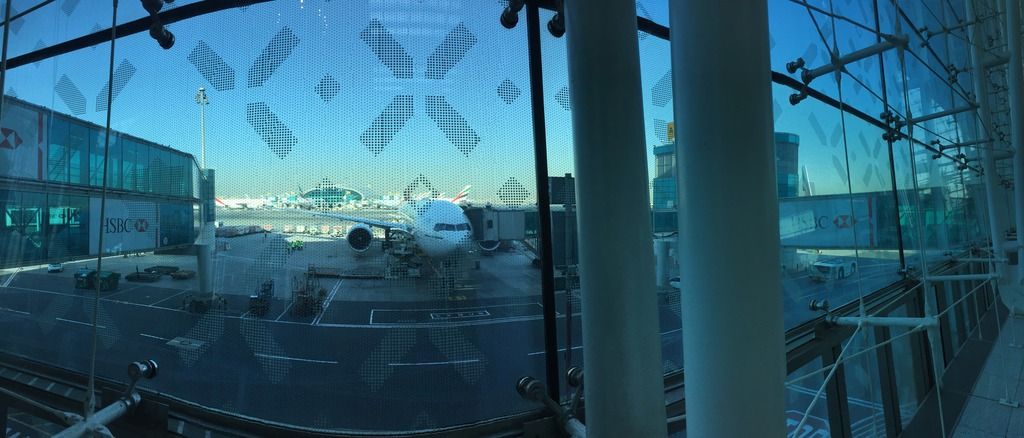 The windows were annoying as it messes up zoom for auto digital cameras. Is this intentional?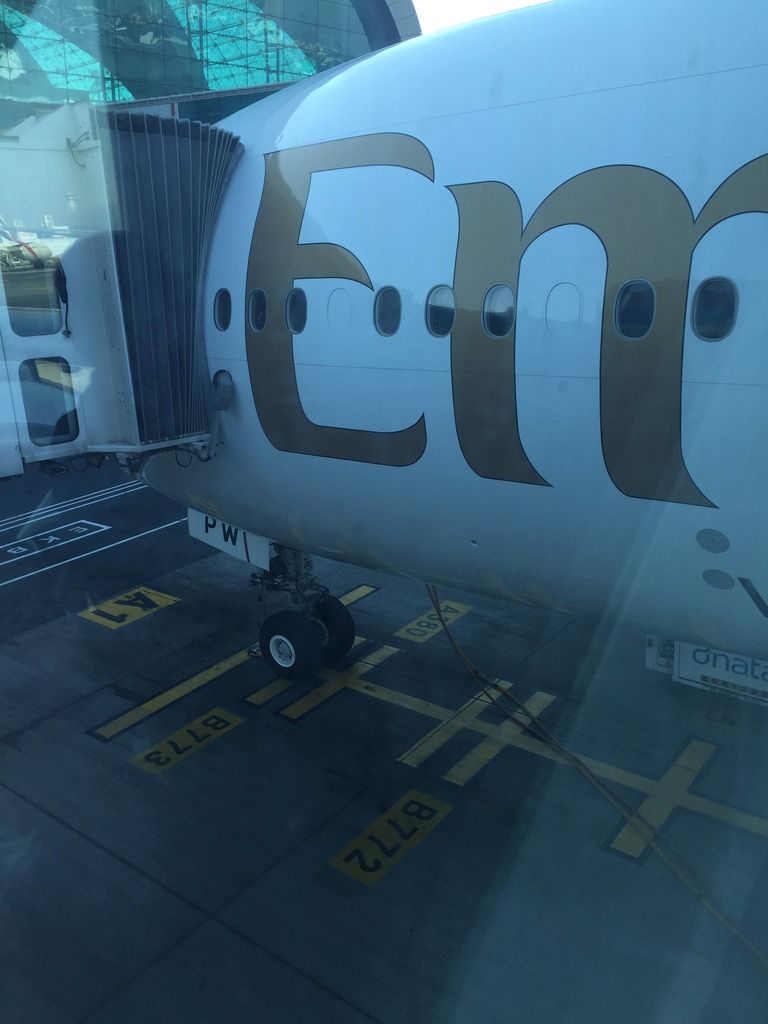 If only you were an A380 my love.

Being a superstitious person, I associate numbers I've seen before with fortune. 235 was the course number of my bitter-sweet physics course, classical mechanics. This class was hard, I suffered a lot but I got a good grade in the end. This got me thinking preflight on how my experiences aboard EK 235 would turn out to be.
I was greeted by the flight attendants in first class who directed me to the correct aisle (which I couldn't have guessed btw

). To my horror I saw my human sandwich awaiting me right at the back of the middle economy cabin. To my luck, I sat in the wrong seat and when I corrected my mistake, the old couple sitting next to me offered the aisle seat instead of the window seat. I would normally refuse this offer as I have to stay true to being an avgeek but I knew this flight would require me to go to the toilet quite often so I accepted their offer. It was nice to sit next to this old couple and I think they were glad that I did because it reminded me of my parents as much as I did to them as a kid. This plays a role later on as I was more helpful to them as the moody flight attendants.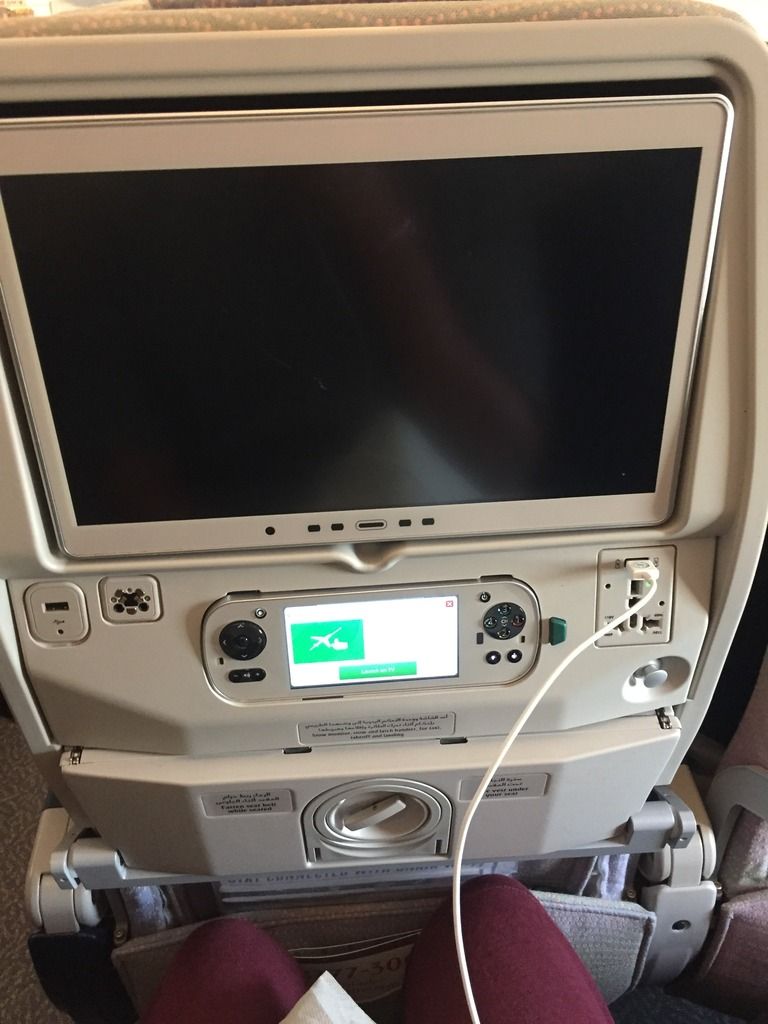 For a 6'3'' person, legroom was decent. I've had better legroom on Malindo Air which is a low cost carrier though.

Fast forwarding to the completion of boarding, the captain announced a 20 min delay due to the loading of cargo. When placing the luggage, the old gentlemen sitting next to me had the double trouble of placing the luggage away from the holder above him and looking after his handicapped wife. This seemed to be a huge nuisance to the flight attendants. One flight attendant going to the extent of making faces, raising eyebrows and exhaling deeply which was RUDE. I mean come on! the guy was at least 70 and instead of asking him what he needs in order to clear the aisle, she just asked him to not block the aisle. There was no help whatsoever when it came to loading bags into the bins. A frail looking boy nearly had his bag fall on him before another dude jumped in and intervened. Meanwhile the old man and his wife had trouble putting his seatbelt. I tried helping them but the flight attendant came to his 'rescue'. All she did was stand next to me and give instructions to which the old man wasn't responding. She appeared to not understand what he was saying which caught the attention of a purser who was doing her rounds. She was as equally unhelpful in barking instructions. It took him a couple of minutes to figure out what was going on. It's human to voice frustration but it is also not professional. This could have been simply resolved if she just bent over and diagnosed the problem.
Anyways lets proceed to the flight. Routine take off with a nice view of Dubai. I was excited for the food as I've seen their catering in previous TRs. Menu shown below. Flight attendants on this flight didn't like smiling too much. They walked down the aisles with a cat-walk model smirk. They were pretty gorgeous but this wasn't a fashion show. I know its tough to endear 15+ hours of smiling but I have also flown plenty of other carriers on long hauls who have been able to show a level of sincerity when it comes to service. ME3 FAs are very robotic and bore me. I'm no Sam Chui who flies first and business. Maybe then I can see Arabian hospitality if that even exists on these carriers.
Okay, I'll try to not complain from here on.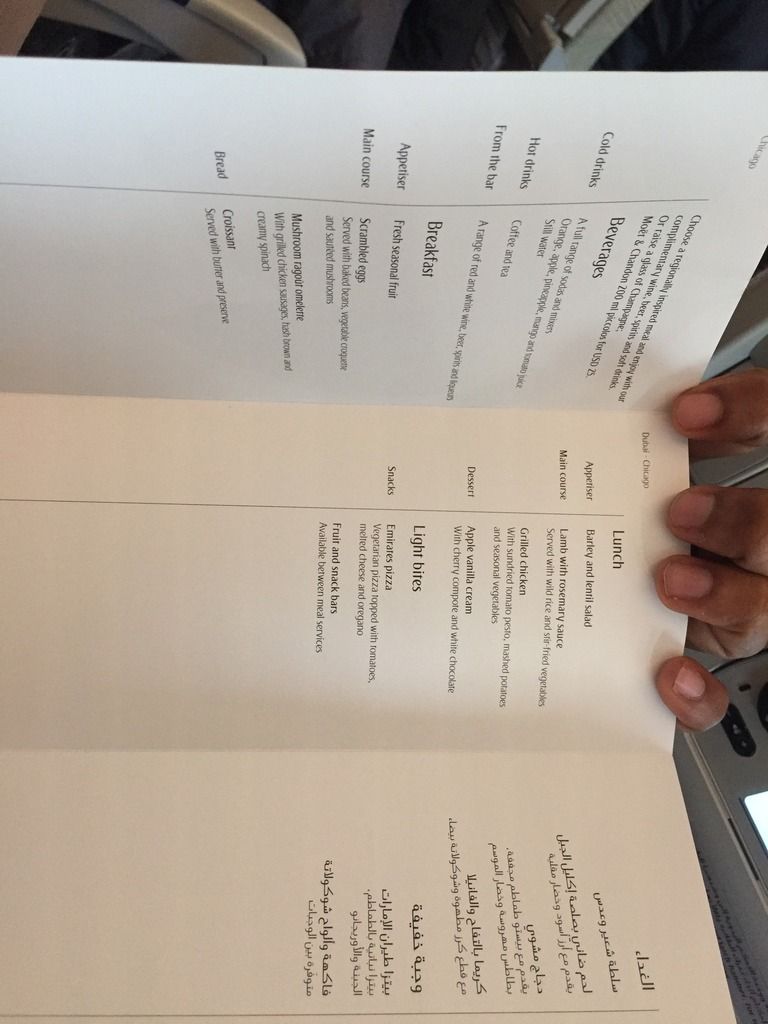 Before the F&B service, two cabin crew members went with a polaroid camera taking photos of families with kids and placing the instantaneous photos in a card which had some handwritten comments. I was psyched as I thought they might take mine too but to my dismay they passed by. So much for combing my hair and practicing my smile lol.
Breakfast was served 1-1.5 hours after takeoff. No complaints. I actually enjoyed the omelette as it had a creamy inside. I wish I chose the Asian vegetarian meal instead as that breakfast looked filling. I washed it down with a virgin Mary as I was pretty hungry and treat it as an additional course of a cold soup. The standard offering however was larger than most so kudos to that!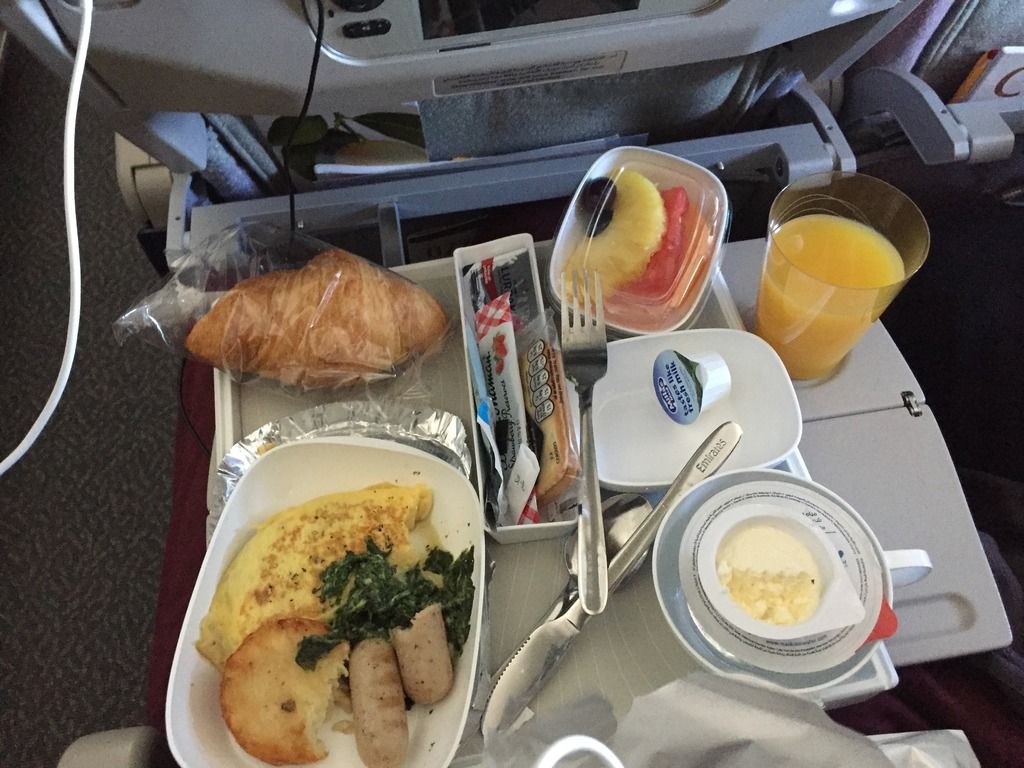 Forgive me, I realized I planned on writing a report only a few bites into the meal lol

I started to nap after the meal and woke up somewhere over Turkey. Watched a few episodes of the big bang theory to see if it is still bad... my verdict, it is a bit tolerable than what it was. Went to the aft galley and took a few chocolates. Try their Loacker Tortina.. It is an orgasm in the mouth! It was really good. They sold like hotcakes tho.. it was gone by my second stroll and I had to resort to kit kat instead.
I usually take the time to speak to FA's as they share a mutual affection for planes but I wasn't keen on trying it with these flight attendants so I slept. I was woken up somewhere over Germany for lunch.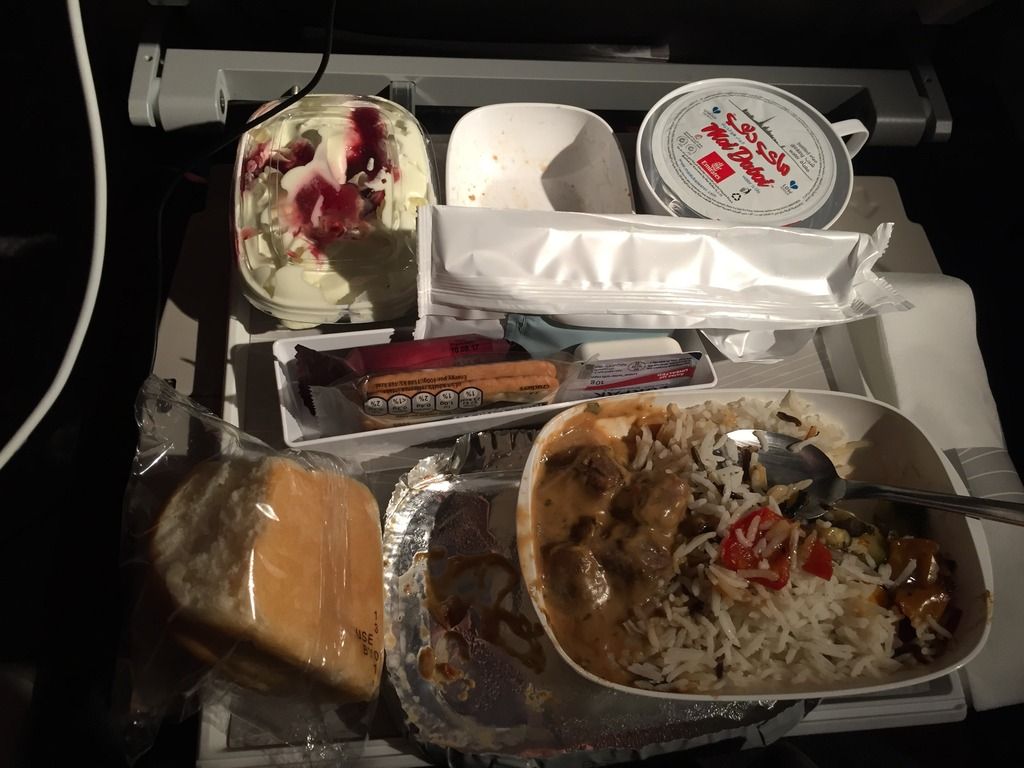 There were good chunks of lamb. Not a bad meal. Only let down was the dessert as pairing a white chocolate cream with apple was too contrasting for me that it confused my taste buds. I was wanting to taste the chocolate but it was overpowered by the apple. Forgive me once again for not taking a photo before diving in to the meal.

I chased the meal this time with a bloody Mary. Old man near me was curious when I was offered a mini vodka bottle and took the bottle for inspection. A funny anecdote was that the flight attendant this time forgot the Worcestershire sauce for which I asked for. She was puzzled. Her forehead shrank wondering what I just uttered. I repeated my request.
'Can I have woo-ster-shir sauce'
'Oh, you mean't Wor-cest-er-shire sauce'
I laughed within and said yes. I understand it took me some time to perfect it and that she wasn't a native speaker but I can't stop forgetting that I'm on a carrier like Emirates which holds godly standards.
He followed suit and asked the flight attendant for a virgin Mary during a walk by. I began my sleeping routine soon afterwards, got up somewhere over Canada, watched a few more episodes and took another nap. I woke up to the sound of FAs collecting pizza wrappers. Dang, I missed it! I'm not going to let this slide. I asked for one and was given without a plate (plate was offered to others). I gobbled it down without taking a picture. Sorry. It was nothing to write about. Just a slice of margherita pizza.
A few moments later an announcement was made for descent into O'Hare. We were in a holding pattern and made our way to a nice, smooth 2 whites 2 red touchdown in gloomy ORD.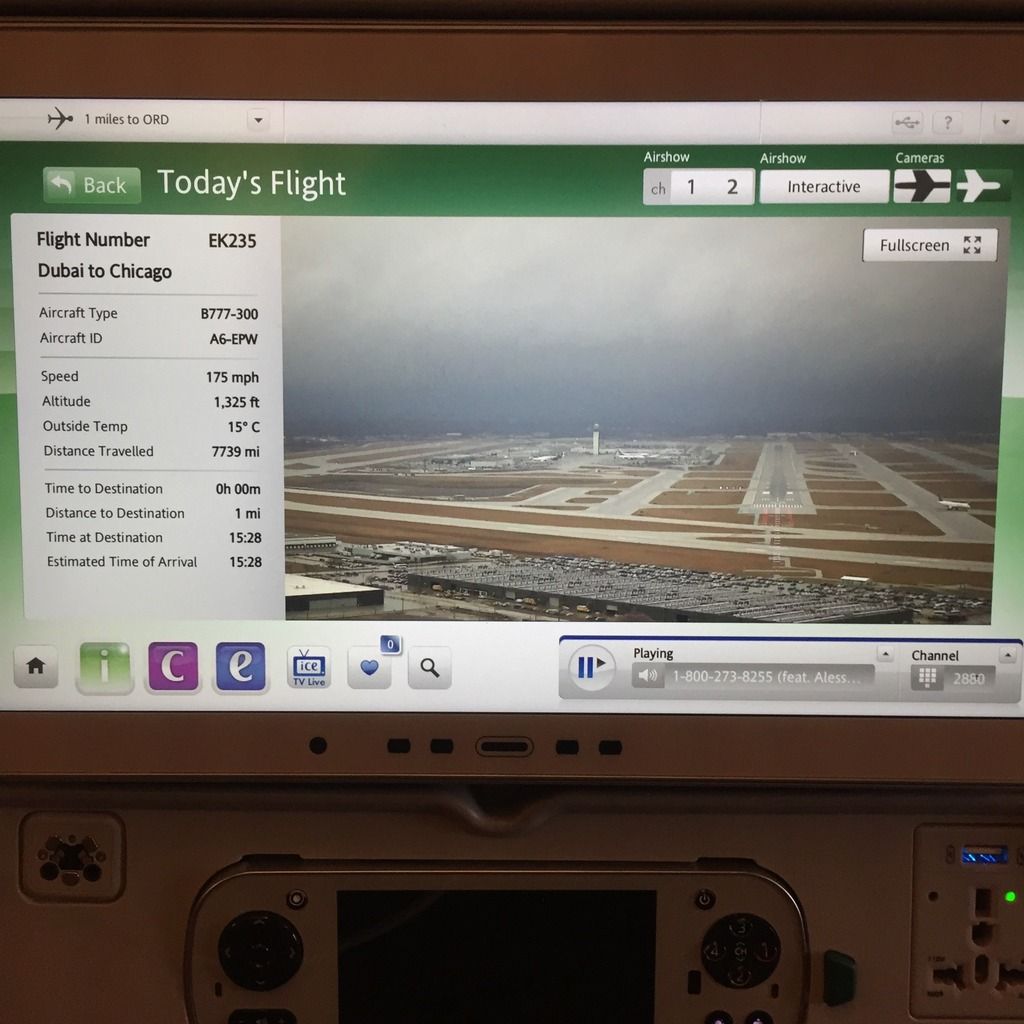 At the gate we were flanked by a QR 77W and a BA 744.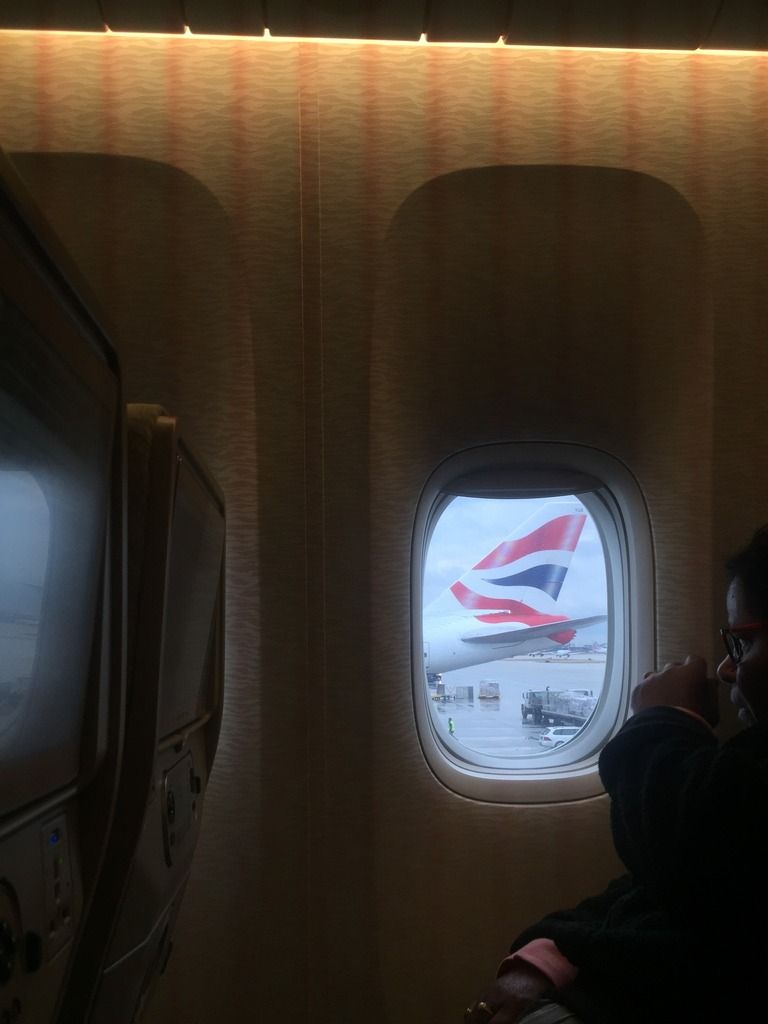 Oh, I forgot to mention that the flight attendants were chewing gum (I don't know if it was gum but there were 2 of them who were chewing something while collecting garbage) in the last hour of the flight. Is this acceptable? I've never seen it before. It reminded me of cows as their mouths were moving in the same manner in which cows their cud.
In conclusion
My experiences aboard EK 235 exceeded my expectations when it came to material comfort. Food quantities were generous and was of quality. ICE needs no explanation - excellent although they need to have Strobe by deadmau5 like EY without having some unknown playlist of his

. Only let down were the flight attendants. They were not professional in my eyes. Maybe I am too judgemental or I witnessed a one off bad experience. I felt they didn't have patience for people who were not quick or understanding of their commands.
Please let me know how my first TR went. If you liked it, I'll write another one the next time I fly too.