Hawaiian Airlines A321-271N Oakland, CA - Kahului, HI (OAK-OGG) 20 January 2018
Hi A-netters. Early January 2018 I decided to book a flight aboard Hawaiian Airlines new A321neo service from Oakland to Maui. Not having any vacation time to spare I just did a day trip out of Oakland while returning to Las Vegas via Honolulu. Most people would see this as a waste of time and money and I'd have to agree in principle. However, I'm an Avgeek and often throw common sense out the window when it comes to flying.

This trip report focuses on the A321neo flight from Oakland to Maui but I include all four flights associated with this trip in this report.

This flight would also further my quest to sample a flight aboard each of the U.S.-operated A321s. Not EVERY airframe mind you, but at least one from each airline. I have them all except the forth-coming Alaska Airlines airframes.


Great Circle Mapper map: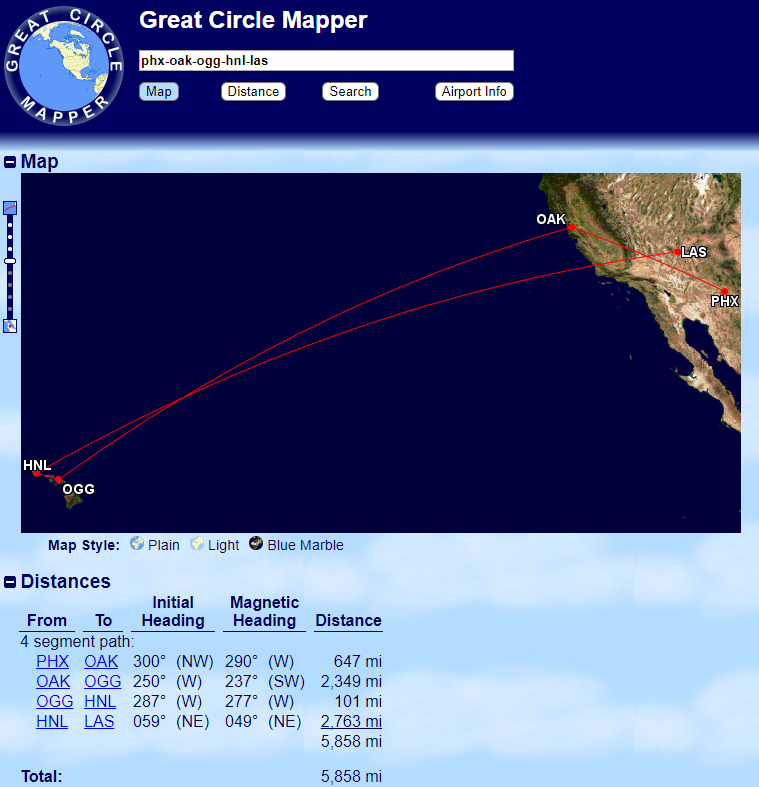 Maps generated by the Great Circle Mapper - copyright © Karl L. Swartz.



Since I don't live in California I had to fly to Oakland for the HA flight. I took an evening Southwest flight from PHX to OAK aboard WN #5675 operated by 737-8H4 N8624J.
Southwest 737-8H4 N8624J arriving PHX prior to my flight to OAK:

19 January 2018

Southwest Airlines #5675 PHX-OAK (new city pair for me)
737-8H4(W) N8624J
Seat: 6A
Depart: 20:15 MST Runway 7L
Arrive: 20:48 PST Runway 30
Flying Time: 1:33

I like posting my departure and arrival videos on YouTube and you can view the departure video of this flight
here.
Likewise, my arrival video is viewable
here.
After arriving Oakland our gate was occupied so we had to wait about 15 minutes before getting to the gate. After deplaning I casually made my way over to Gate 3 where I suspected my
ride to OGG would be waiting overnight.
Hawaiian Airlines A321-271N N202HA at OAK gate 3. It arrived at the gate as #24 from OGG at 9:12pm, just 30 minutes before I took this photo. Incidentally, this wasn't my first sighting of this airframe. I'd happened across it during a visit to Everett / Paine Field, WA last year and saw it there on November 11, 2017.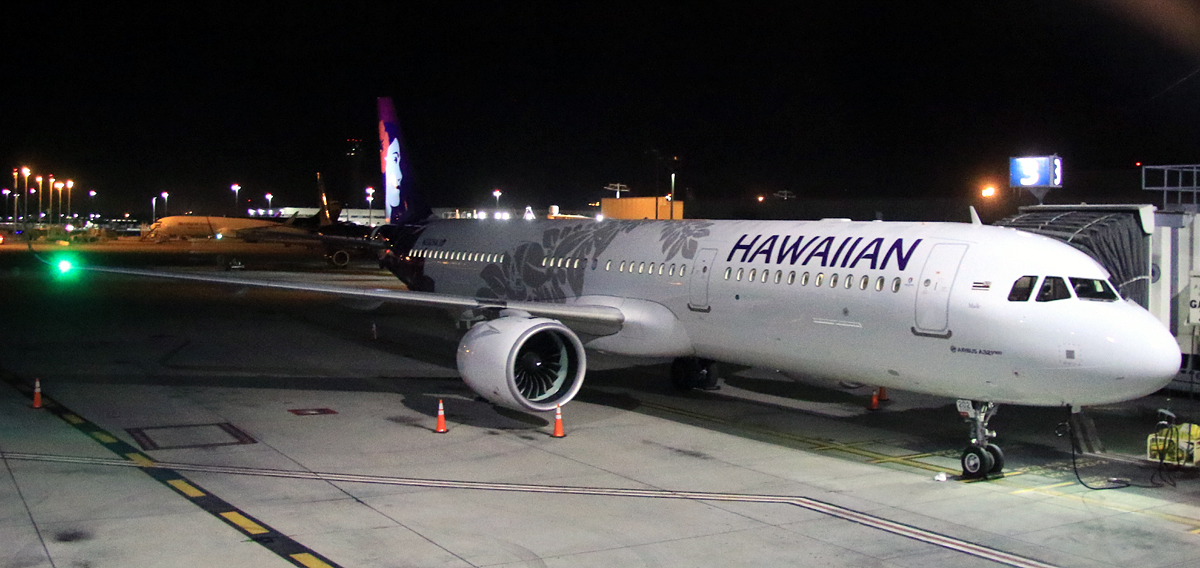 The couch I spent a few restless hours napping on overnight: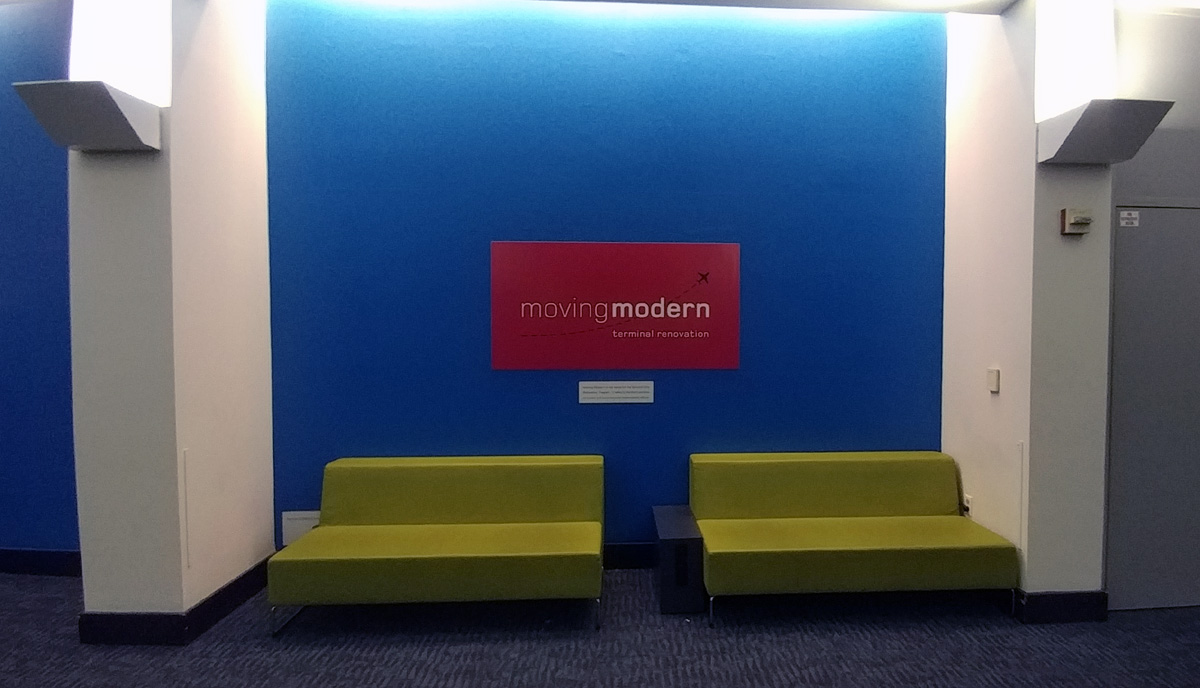 20 January 2018

Hawaiian Airlines #23 OAK-OGG (new city pair for me)
A321-271N N202HA
Seat: 14J Extra Comfort
Depart: 08:40 PST Runway 30
Arrive: 11:31 HST Runway 2
Flying Time: 4:51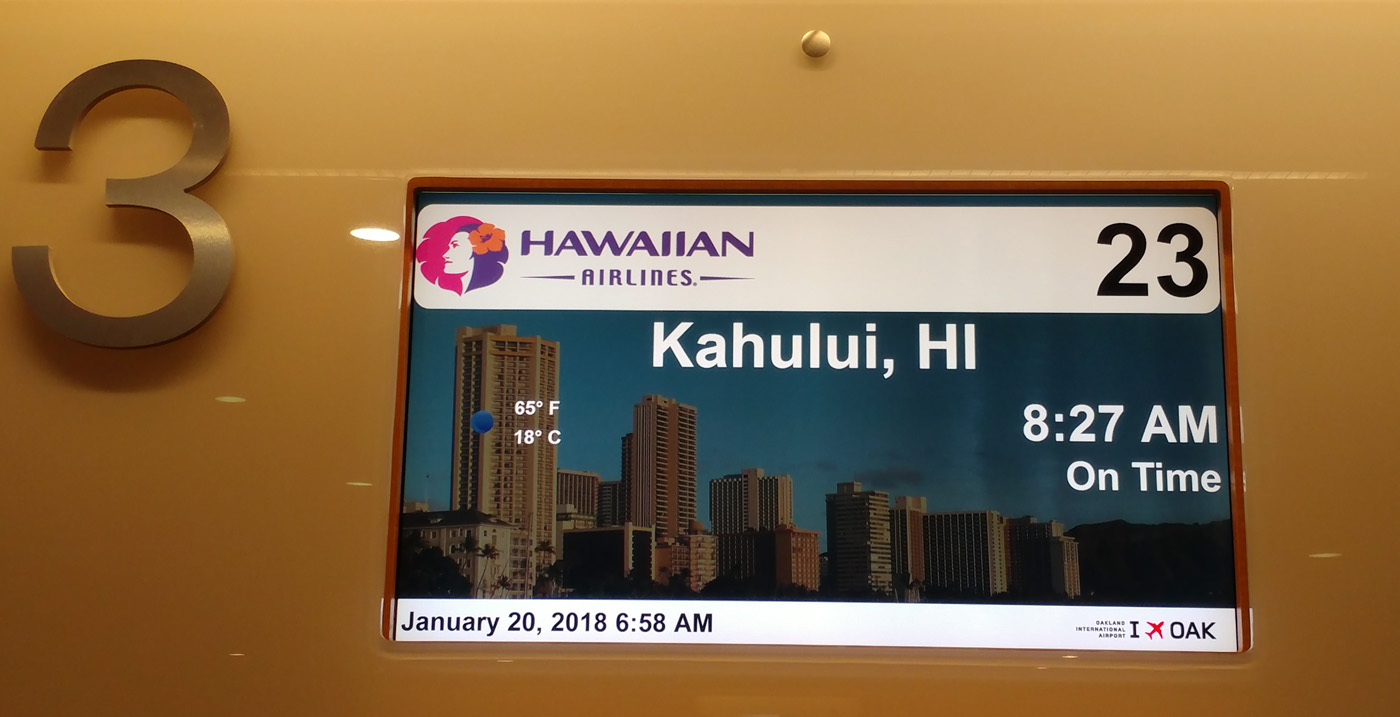 Hawaiian Airlines A321-271N N202HA at OAK gate 3 prior to boarding: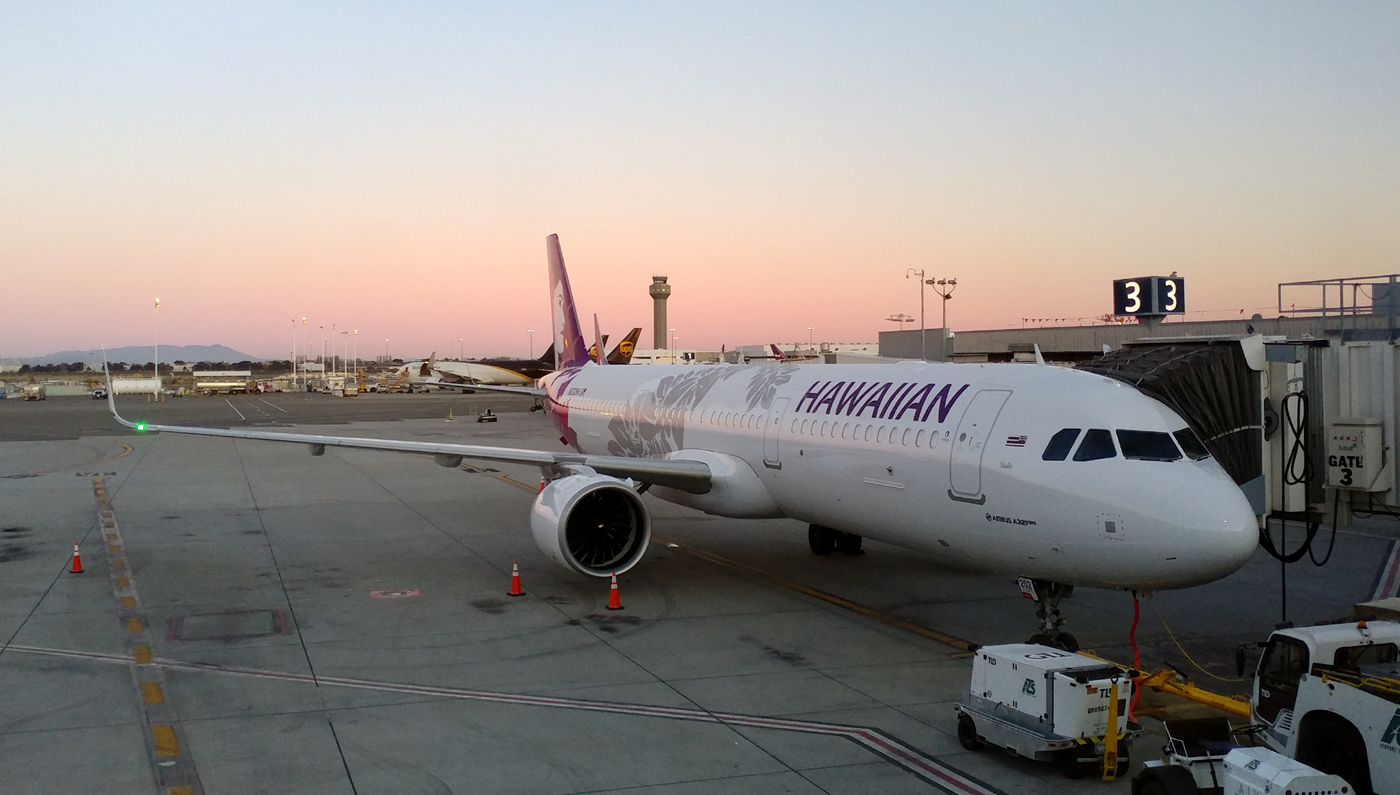 Our departure from OAK was delayed for crew rest by about 45 minutes. Leading up to boarding time the counter agent kept making announcements advising passengers to download the HA Entertainment App because the A321s don't have personal viewing screens. I took her advice and easily downloaded the app to my phone. I typically don't watch any movies aboard relatively short flights instead choosing to view the moving map display and looking outside when possible.

This particular day the Bay Area was nice and clear with plenty of sunshine. Temps were cool...in the 40F range...but that was only evident to me in the jet bridge. I had not taken off from OAK since December of 1976, and I've only landed at OAK a few times...most recently in January of 1988!! I have visited OAK as an enthusiast numerous times but not in the past 10 years.
Boarding ship 202: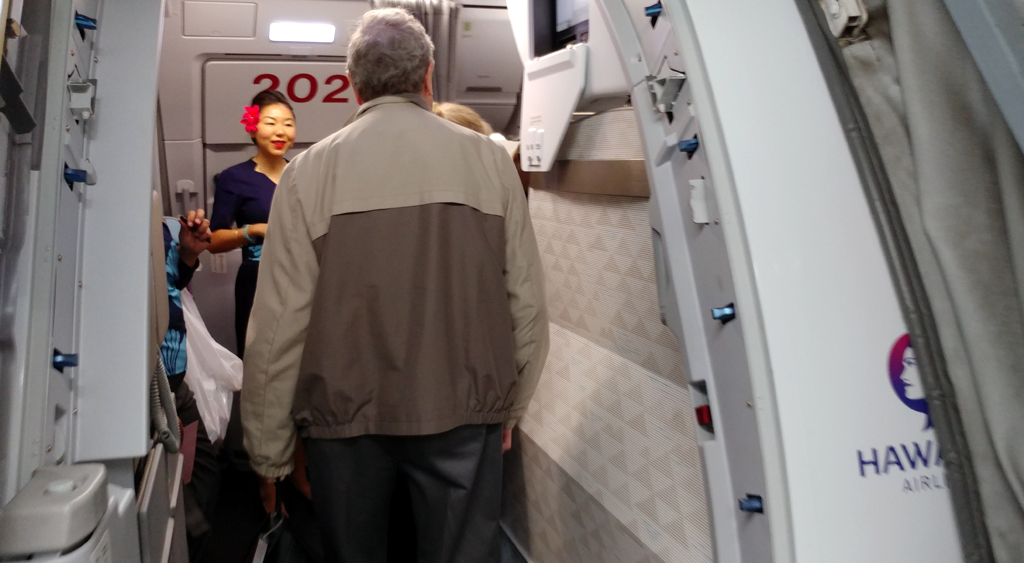 First Class cabin: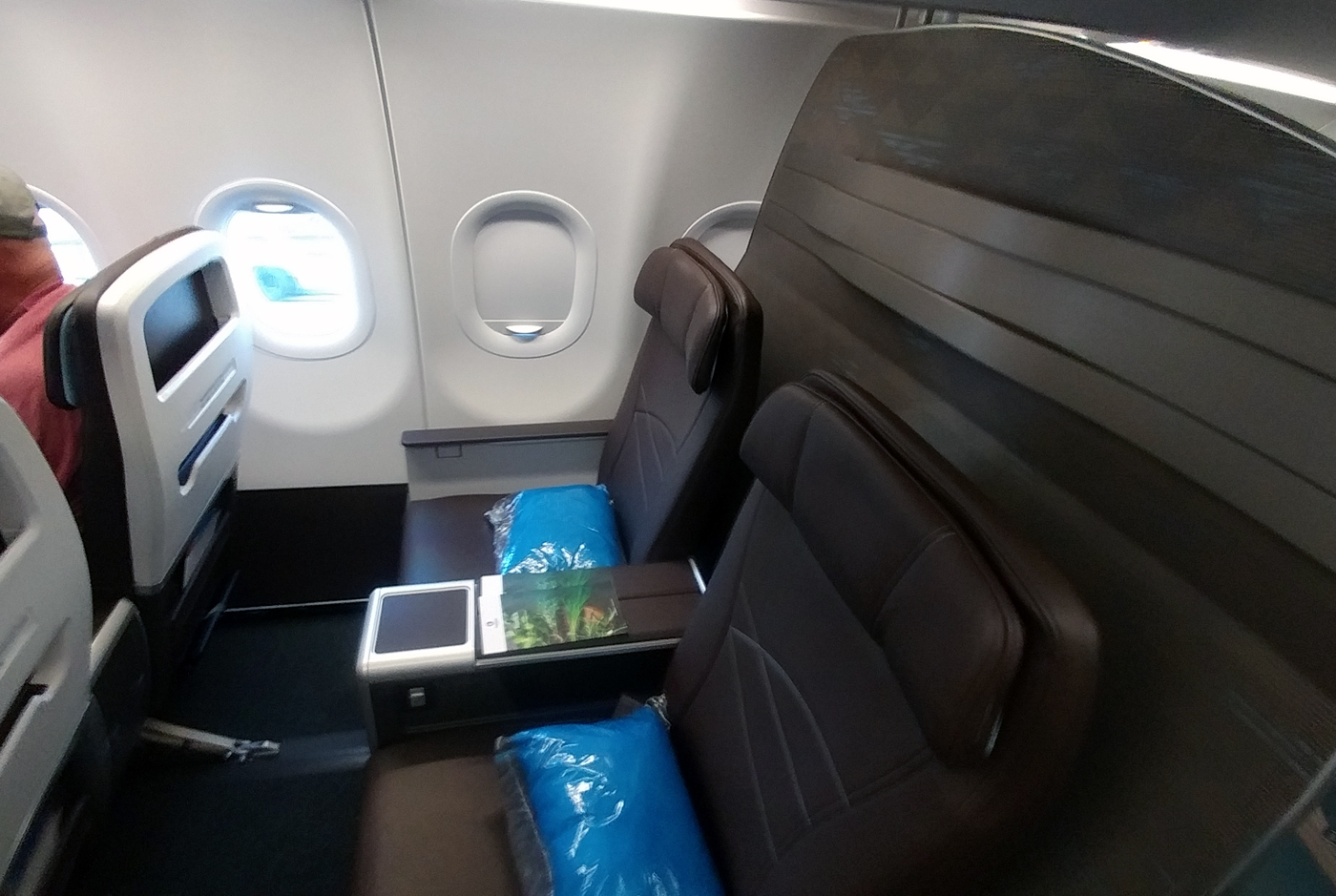 Extra Comfort cabin with rows 11, 12, 14 visible. There is a non-Extra Comfort row behind 14 and past door 2 there is another two rows of Extra Comfort seating.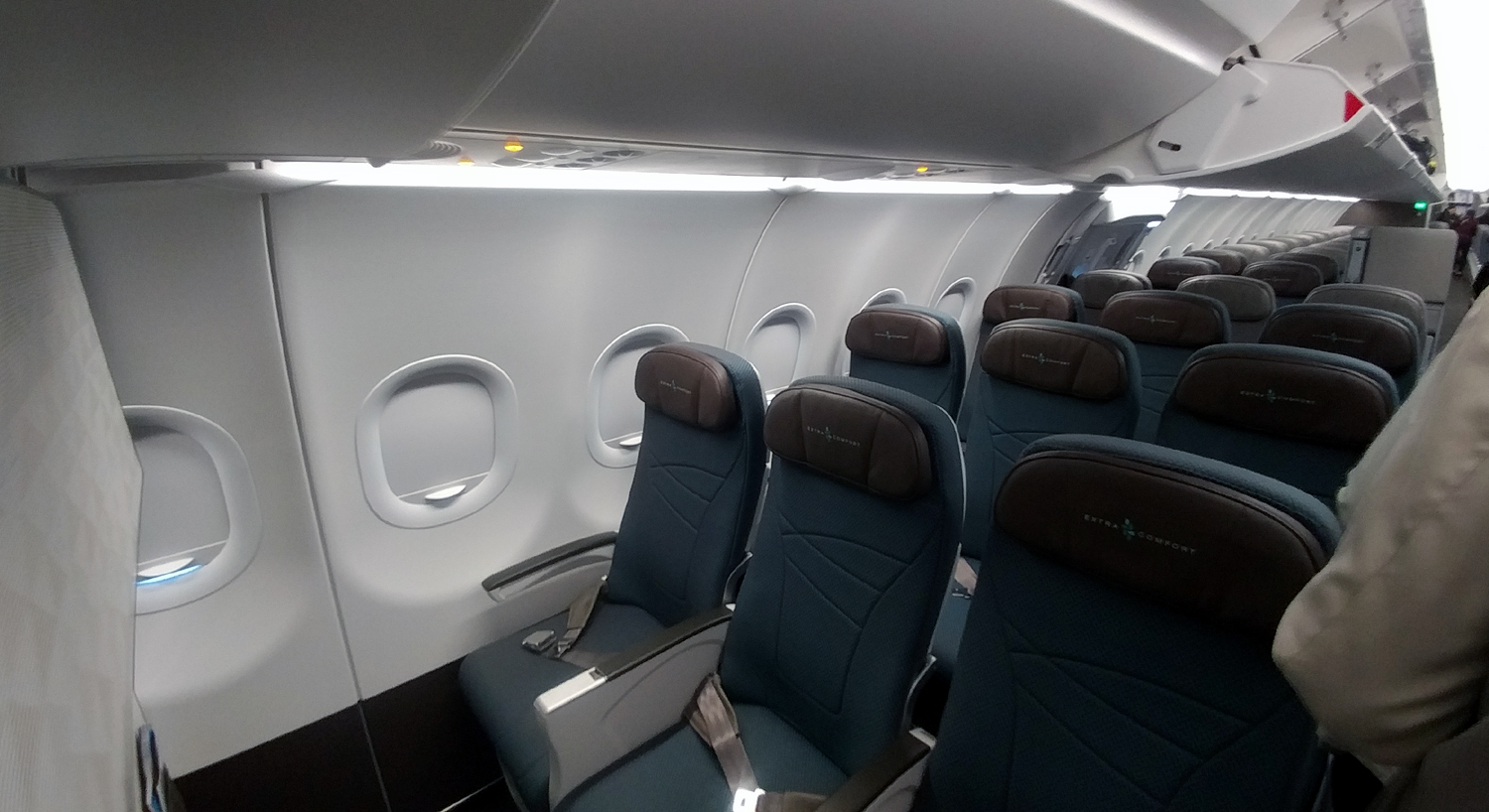 I found my seat 14J in the Extra Comfort cabin. This row is the second row ahead of the #2 door and the seat has two windows. The row behind me has no window and is immediately in front of the #2 door.
Row 14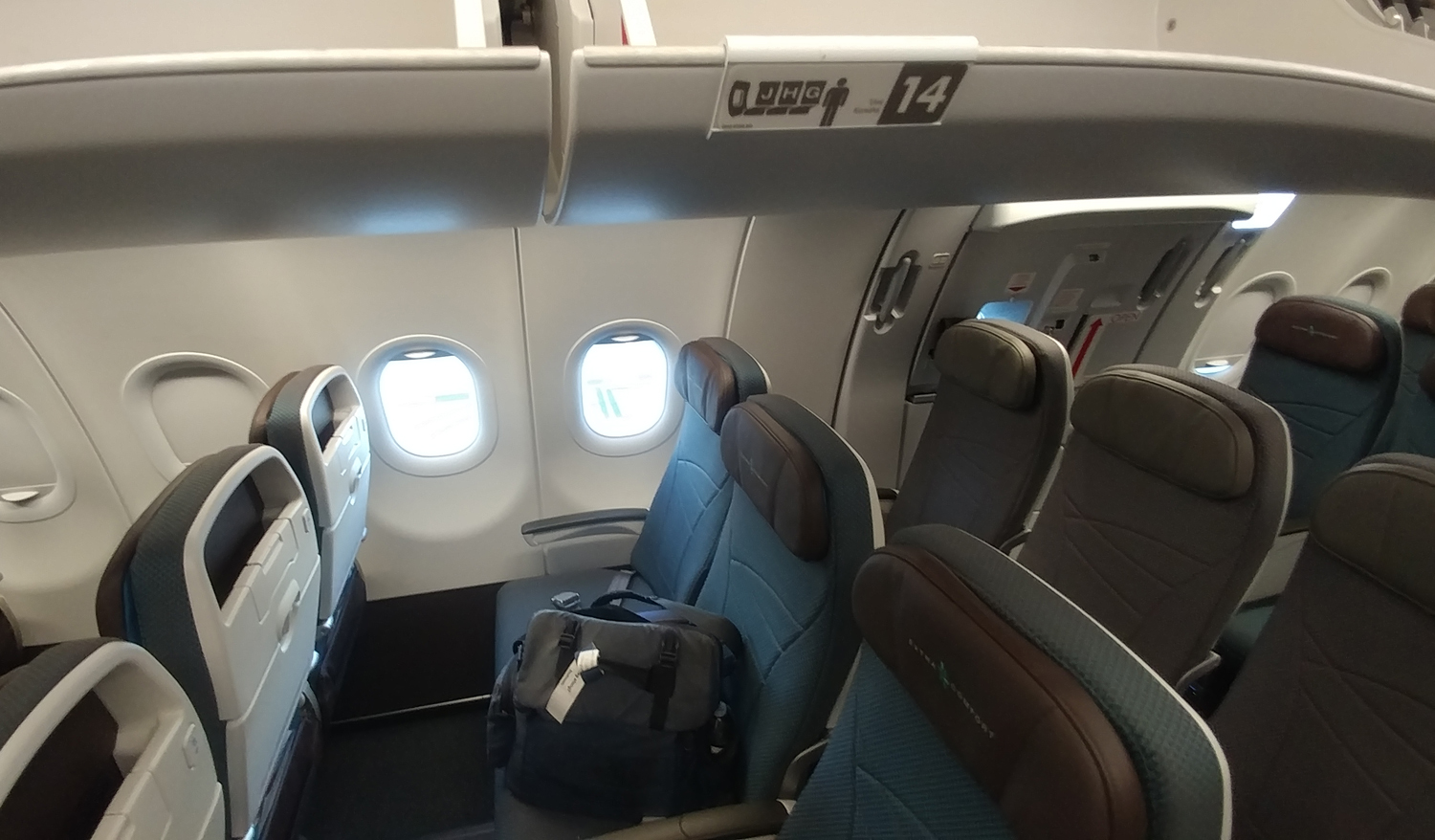 Seatback storage and power outlet: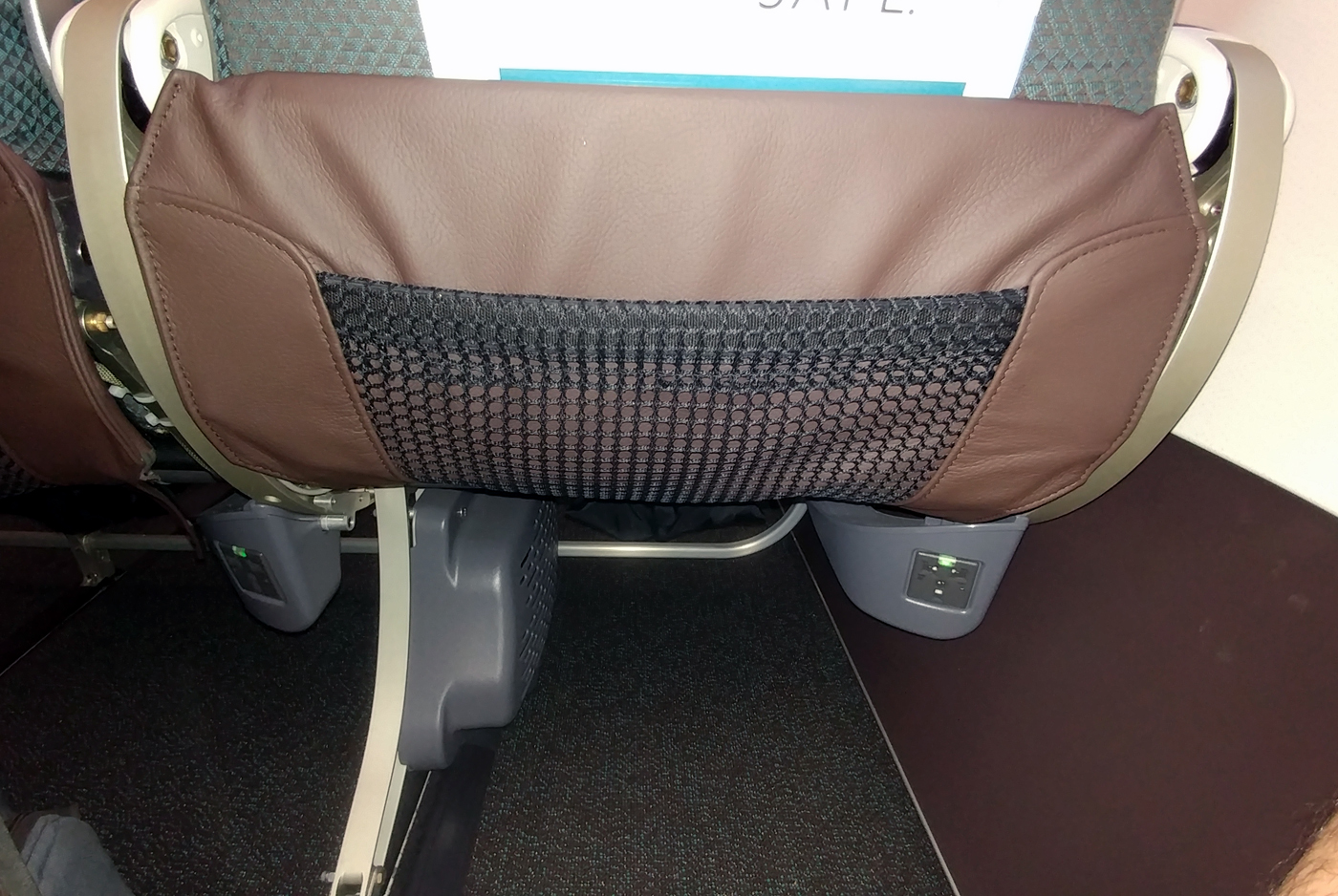 There is no row 13 on this airplane...I guess Hawaiian Air is superstitious?
Overhead bins across the row from me: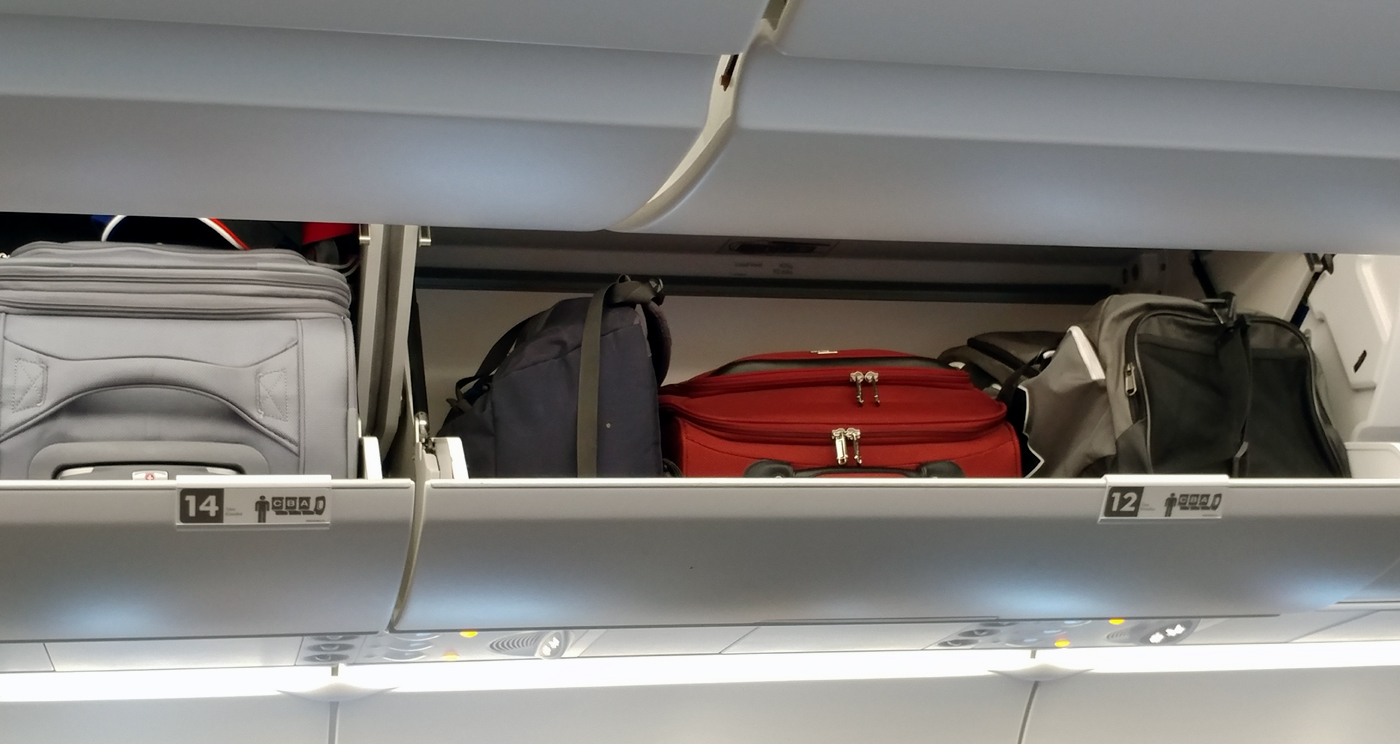 The seat was comfortable for a coach seat and the seat back has a nifty personal-device holding fixture above the stowed tray table. I typically don't travel with a laptop or tablet so I couldn't check the fit with my older Samsung Note 10. My phone could easily sit on the flip-out holder. The smaller width piece above the phone is spring loaded so when pulled up to capture the top of the device it closes down on it, thus securing it in place.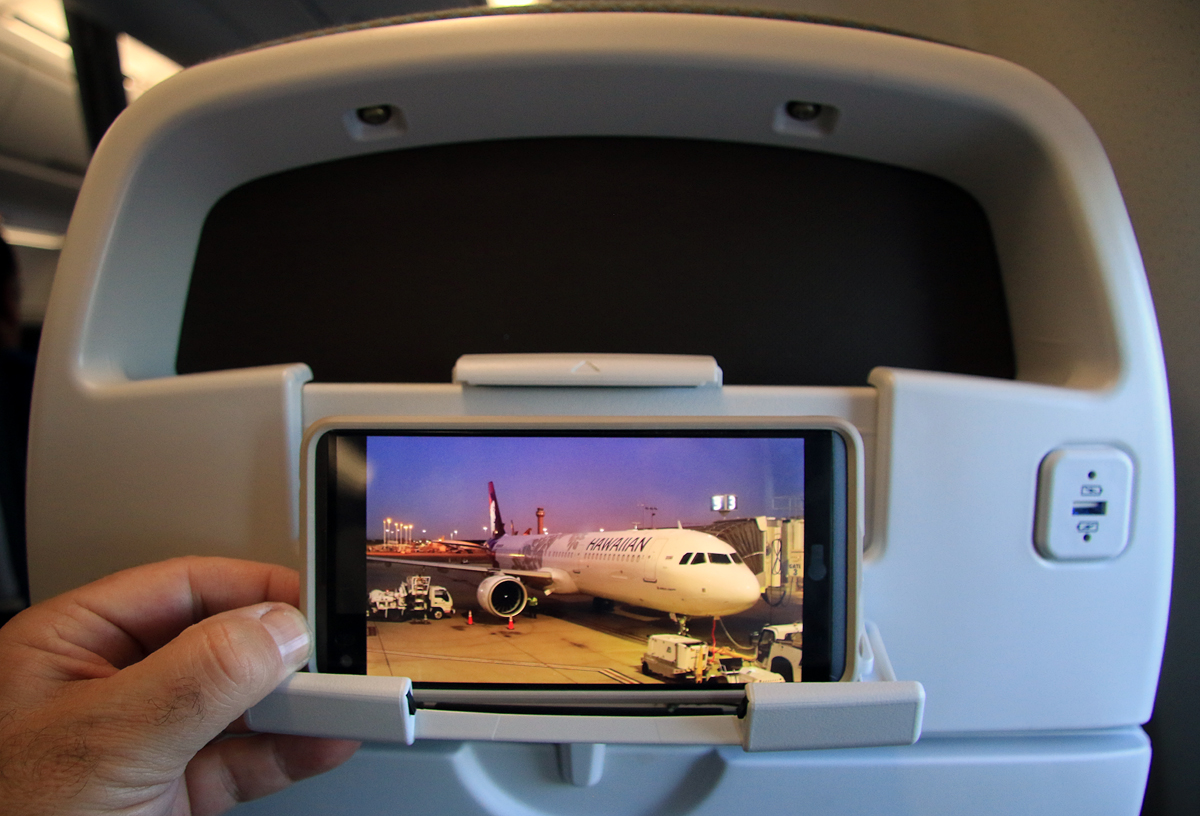 Once boarding was complete and we pushed back I was really excited to get this day going. It was going to be a long day for me with my last flight of the day getting me back to Las Vegas just before midnight. When we got to a spot near the end of the runway I started video recording through the window with my Canon DSLR.

The departure video of this flight

here.



As we were about to take our position on runway 30 the S.F. - Oakland Bay Bridge was directly off the departure end of the runway...a nice view. After takeoff, the captain made an announcement we'd be leveling off at three thousand feet and flying right over the Golden Gate Bridge. Those folks seated on the port side would have a nice view of San Francisco while those of us on the starboard side would have a nice view of Marin County. I could see the Bay Bridge as well as Treasure Island, Angel Island and points north. I could not see the Golden Gate Bridge from my vantage point. Pretty soon we were passing the Farallon Islands...the last bit of dry land before reaching the Hawaiian Islands.
Heading for runway 30. San Francisco skyline and S.F. - Oakland Bay Bridge. I've been across that bridge more times than I can count but not since the new east span opened some years ago.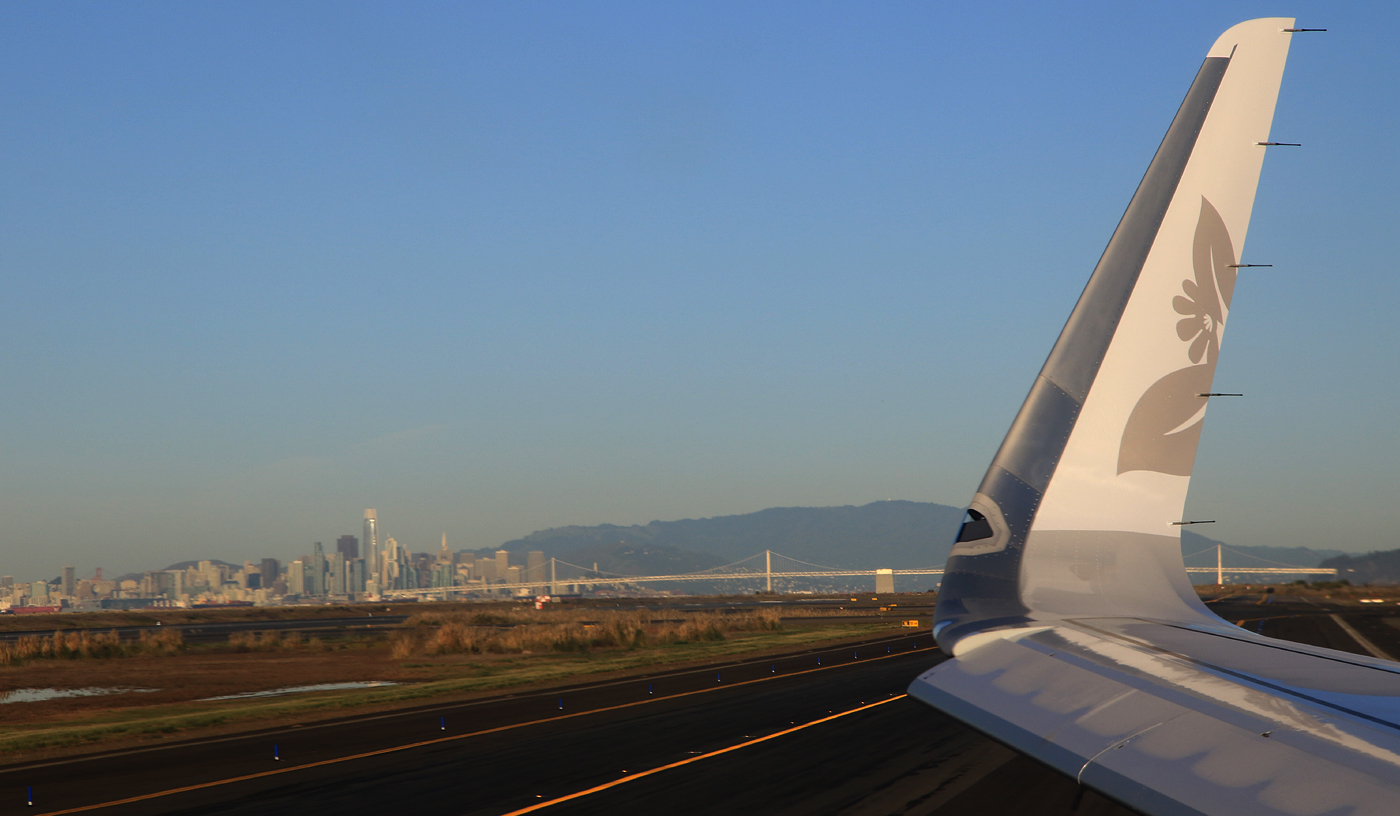 Getting ready to line up on runway 30: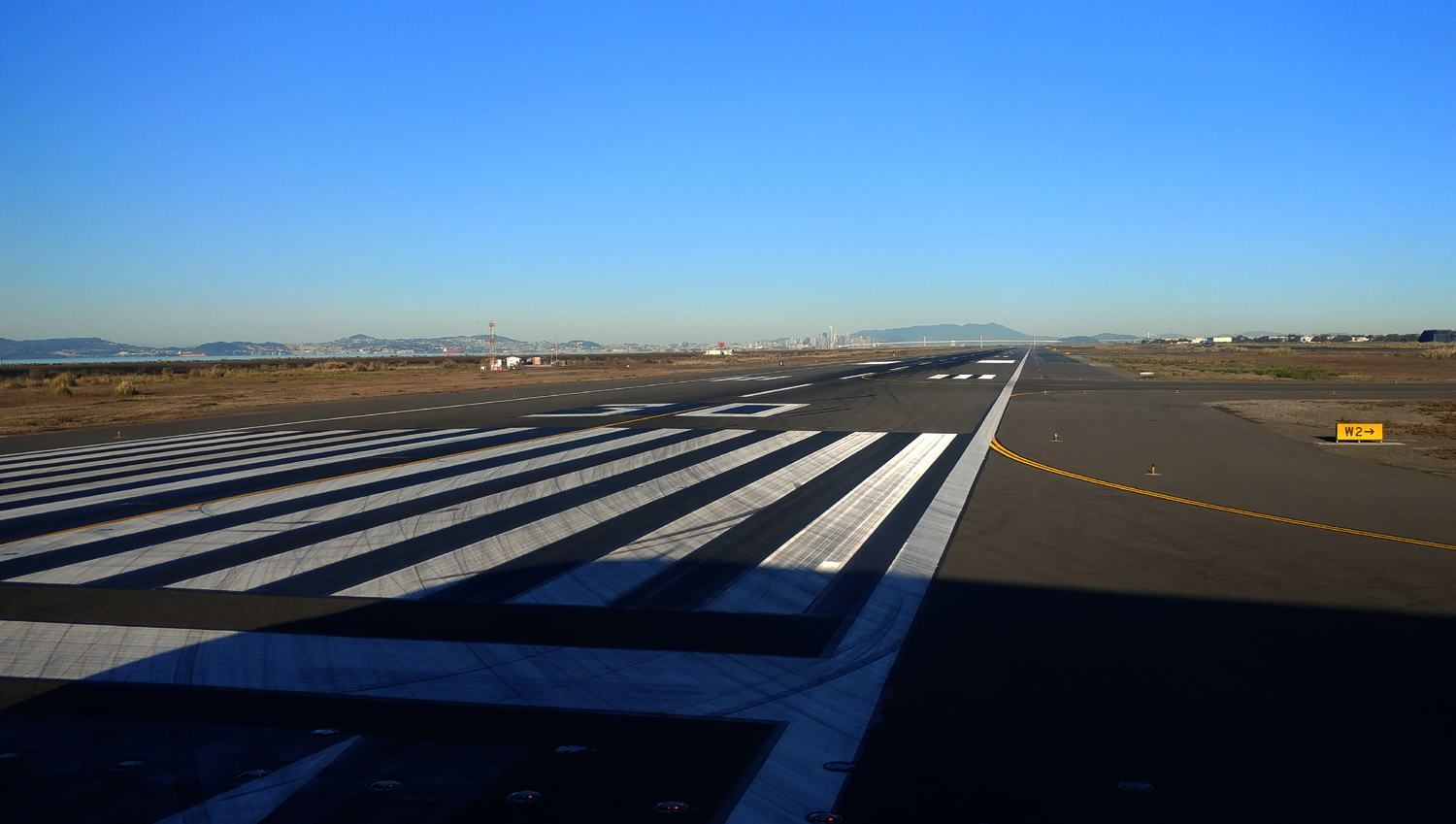 Airborne from OAK: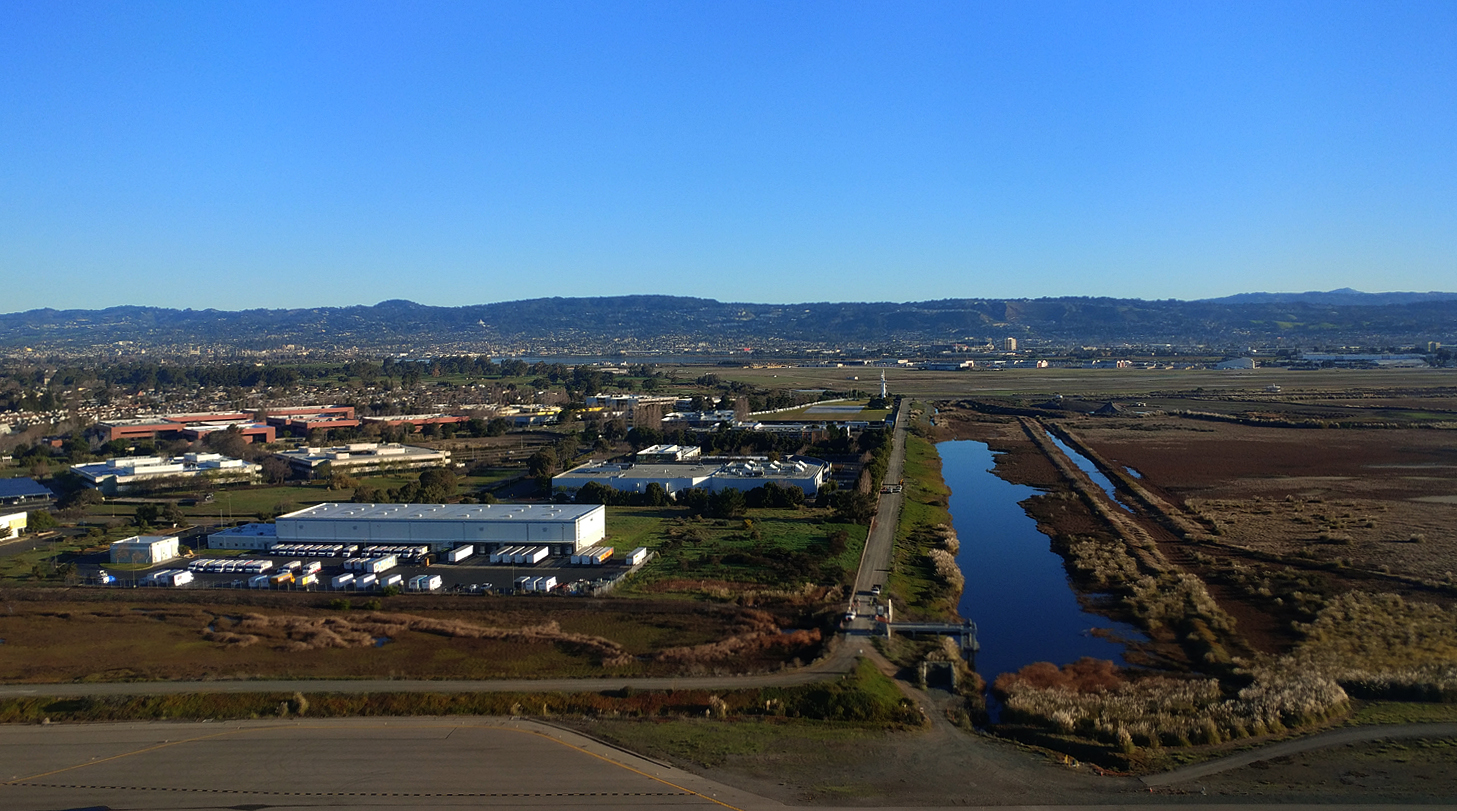 Angel Island: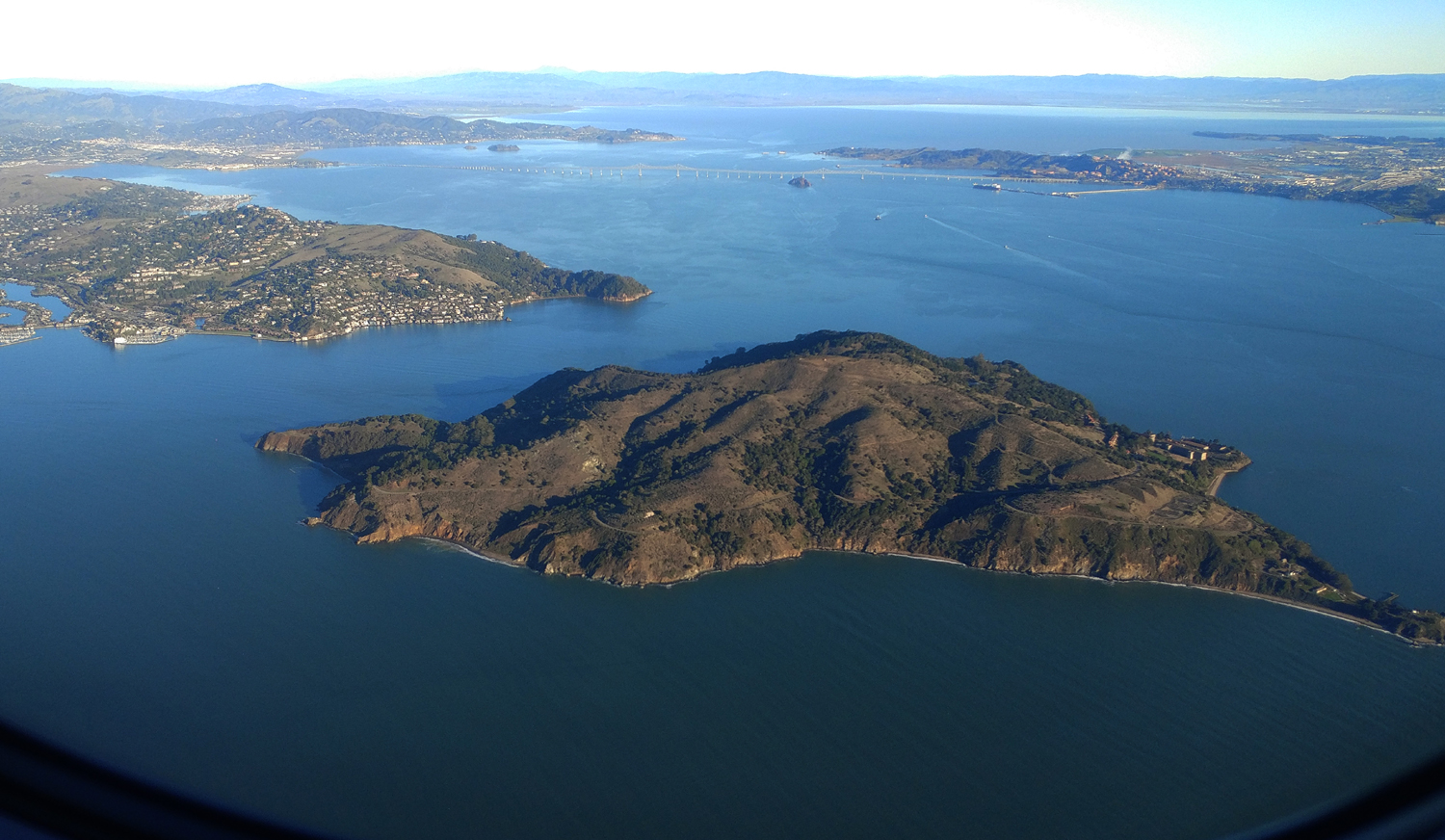 The Farallon Islands from 13,000 feet / 4000 meters: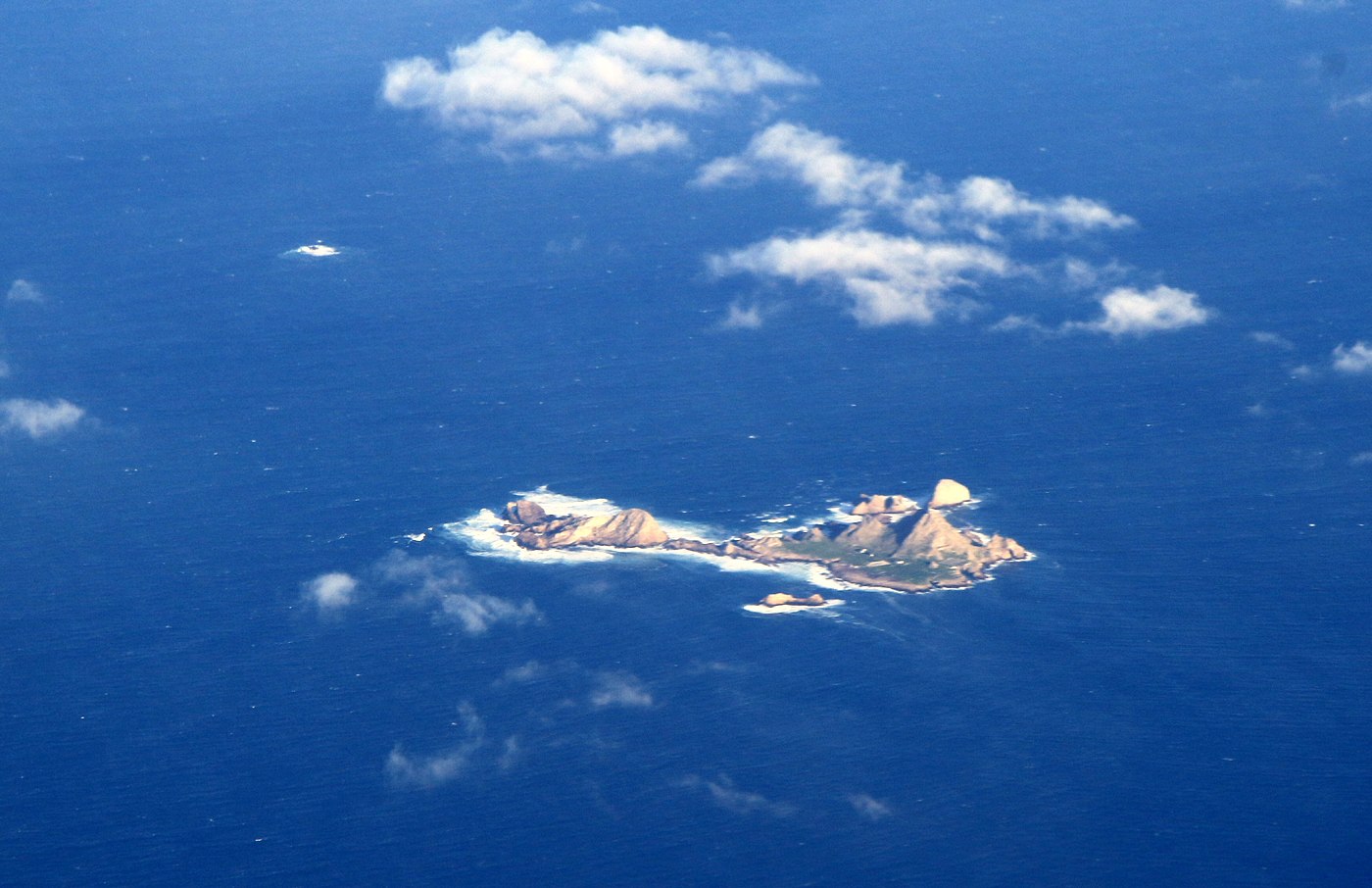 The first inflight service was a snack cart with food items and souvenirs for purchase. I purchased a bag of Island Princess Macadamia Popcorn Crunch. I was going to get the same brand of Royal Crunch but they were sold out. The snack I did get was pretty tasty and I've still got some of it left over.
Macadamia Popcorn Crunch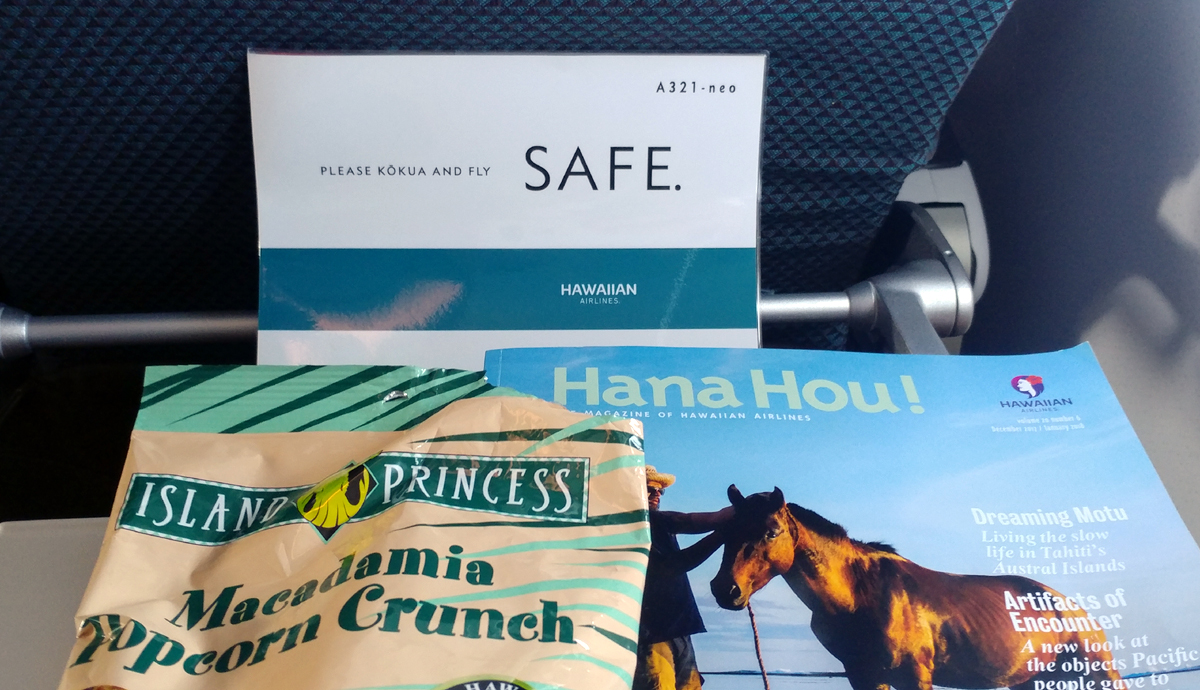 Monitoring flight progress: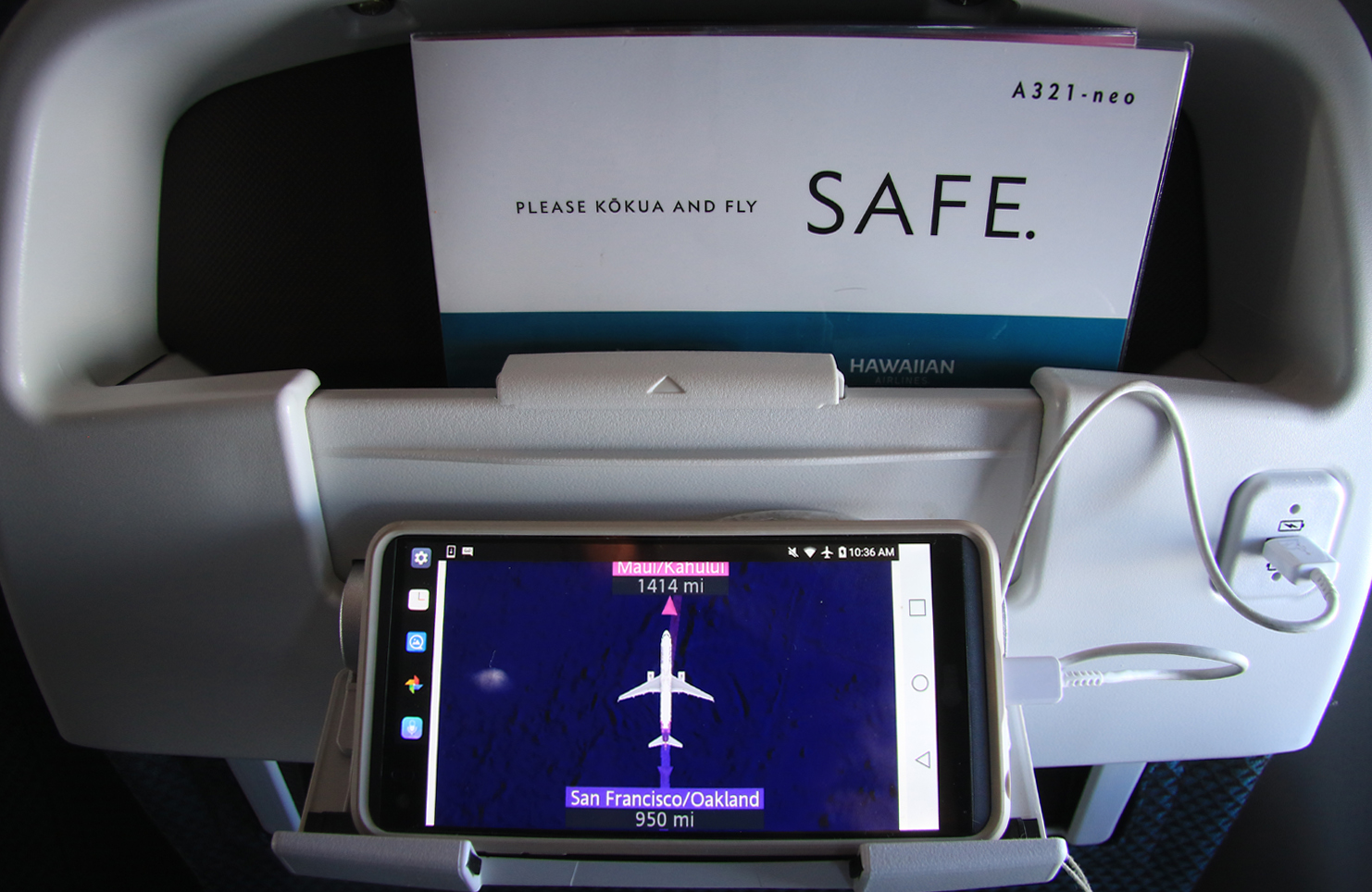 The complimentary food service (called brunch on the announcement) on this flight consisted of a snack box with a strawberry yogurt, some loose grapes, and a sweet "something." Not sure what category to put this sweet in but it was pretty tasty. I had a cup of tomato juice as well as the complimentary rum punch served up on these flights.
"Brunch"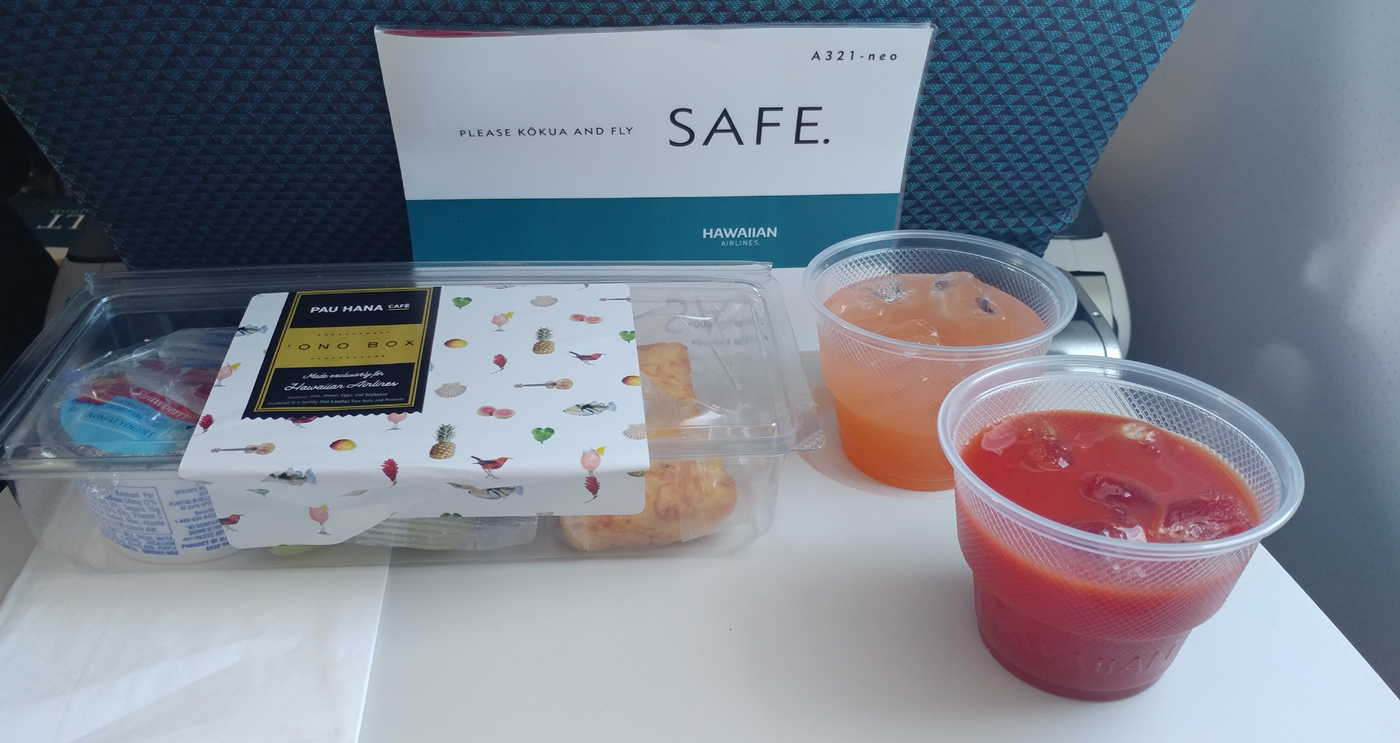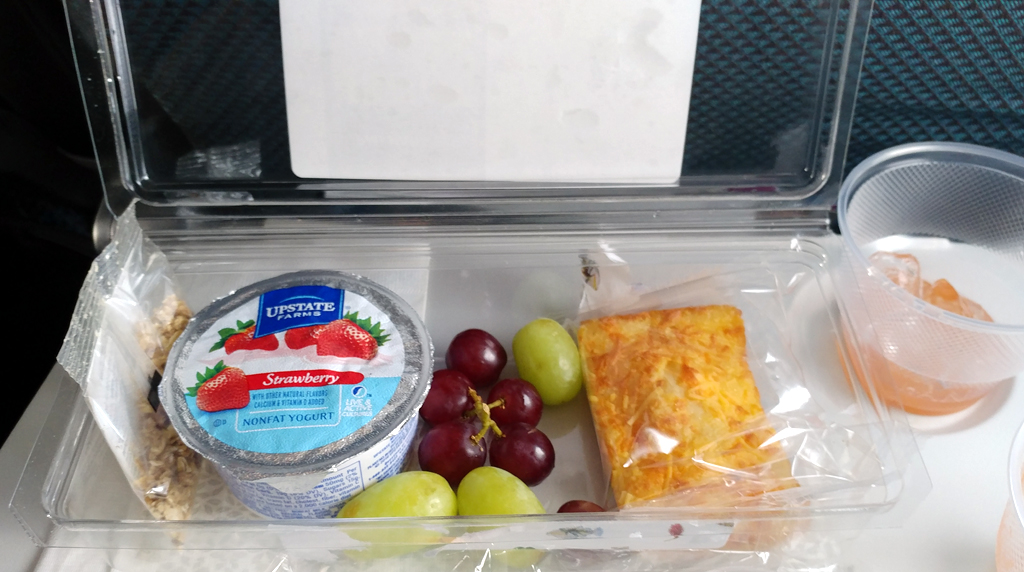 Despite what I said earlier about not watching movies on the IFE, I decided to have a look at the latest Planet of the Apes offering. I'd stowed my camera bag in the overhead bin so I'd have some foot room and I left my noise-cancelling headphones in it. I didn't want to bother my seat mates for something so trivial so I just read the subtitles. This was OK for about 10 minutes then I gave up on watching the movie.

I did want to have a look at the rest of the cabin so I took one opportunity to disturb the couple next to me for a visit to the loo. I walked to the rear of the cabin and took care of business. I chatted with the flight attendant for a moment and stretched a bit before heading back to my seat a few minutes later.

I made a short recording with my phone on the way forward to my seat. You can see it here:

Cabin Video



The rear restroom / loo: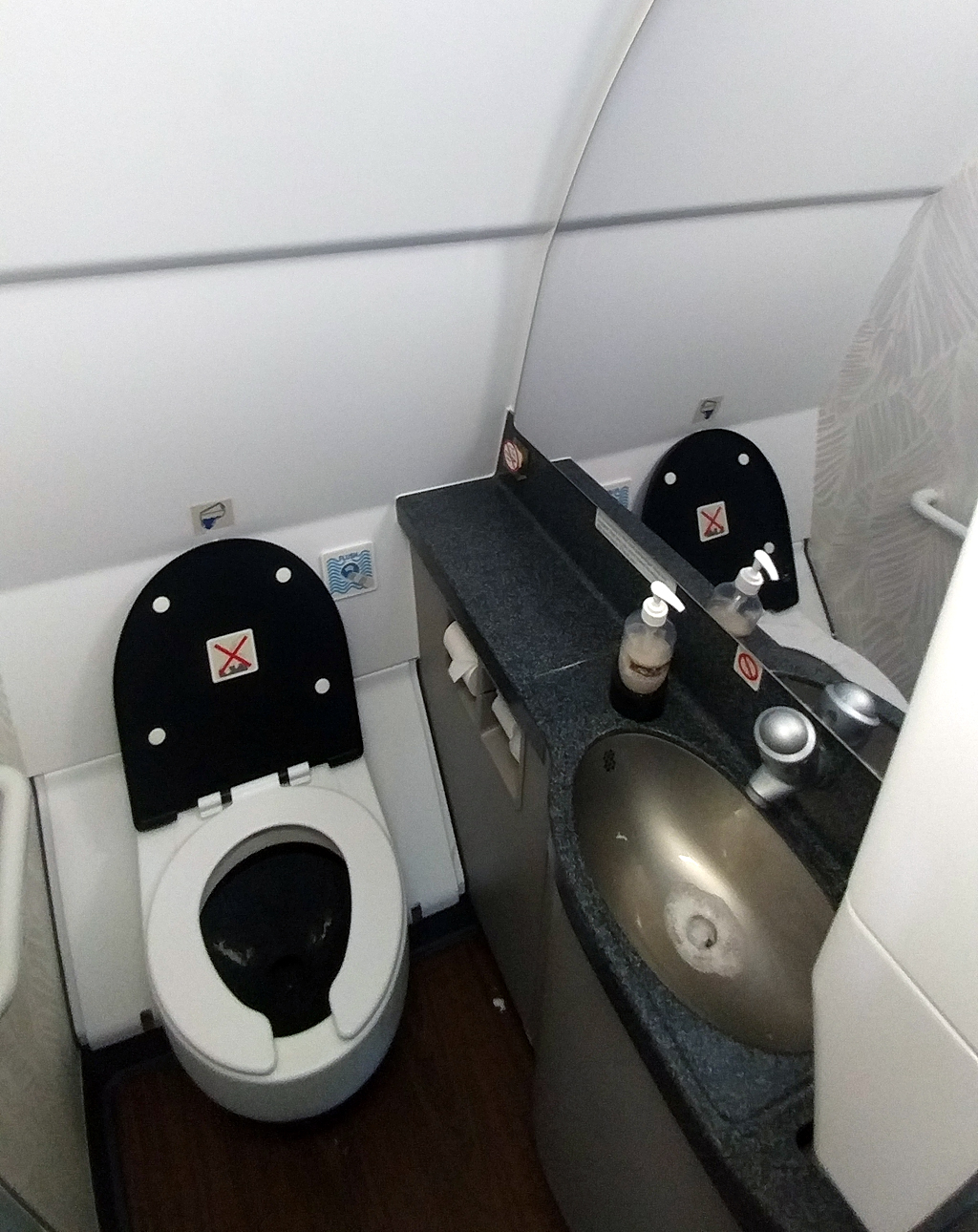 Looking forward from the rear galley area: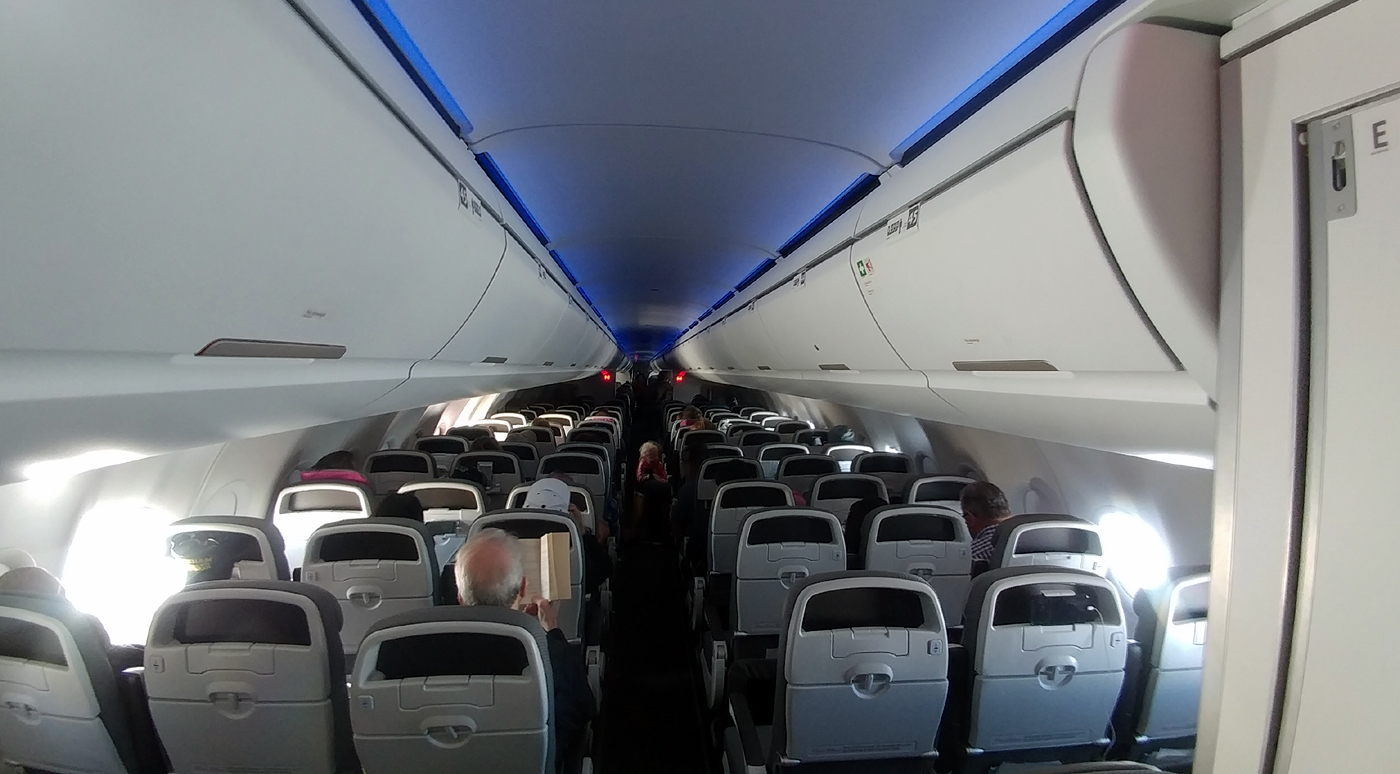 Moe in his seat: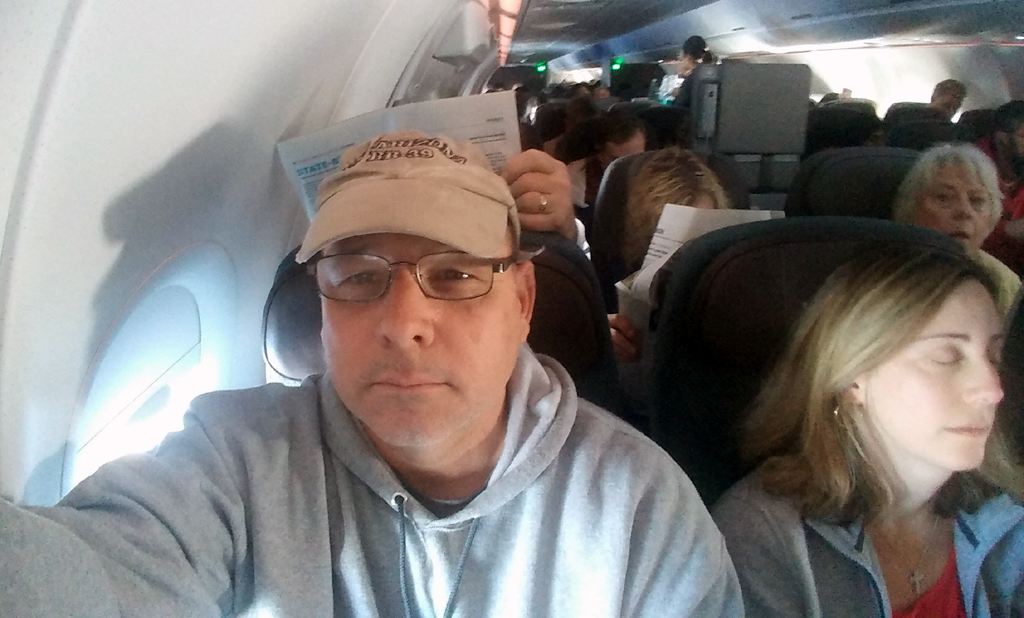 View forward from my seat: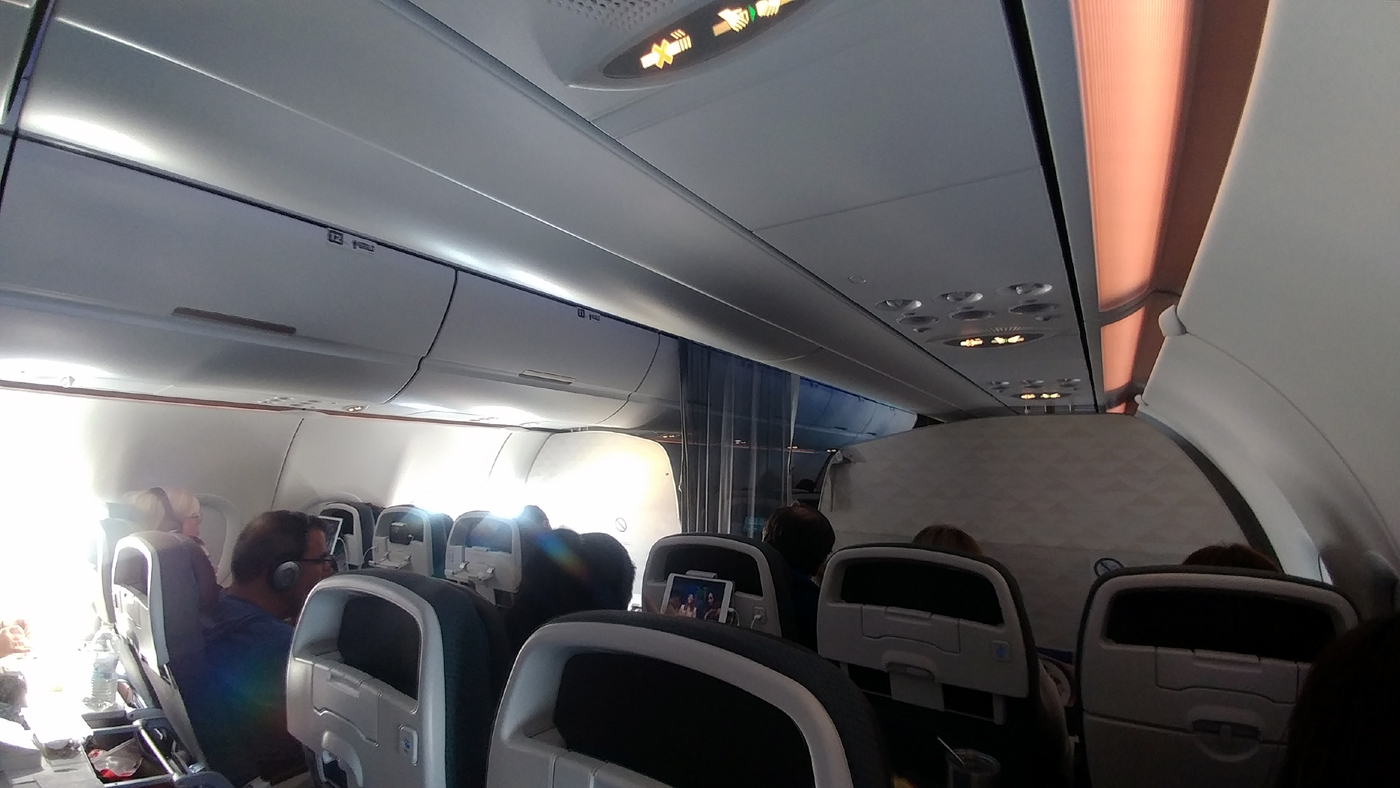 A while into the flight I noticed our contrail shadow on the sea surface below. I snapped some photos trying my best to get it in frame but it was tough. At times we were passing over some clouds and that made it easier to get a photo of the shadow with the airplane shadow kind of visible.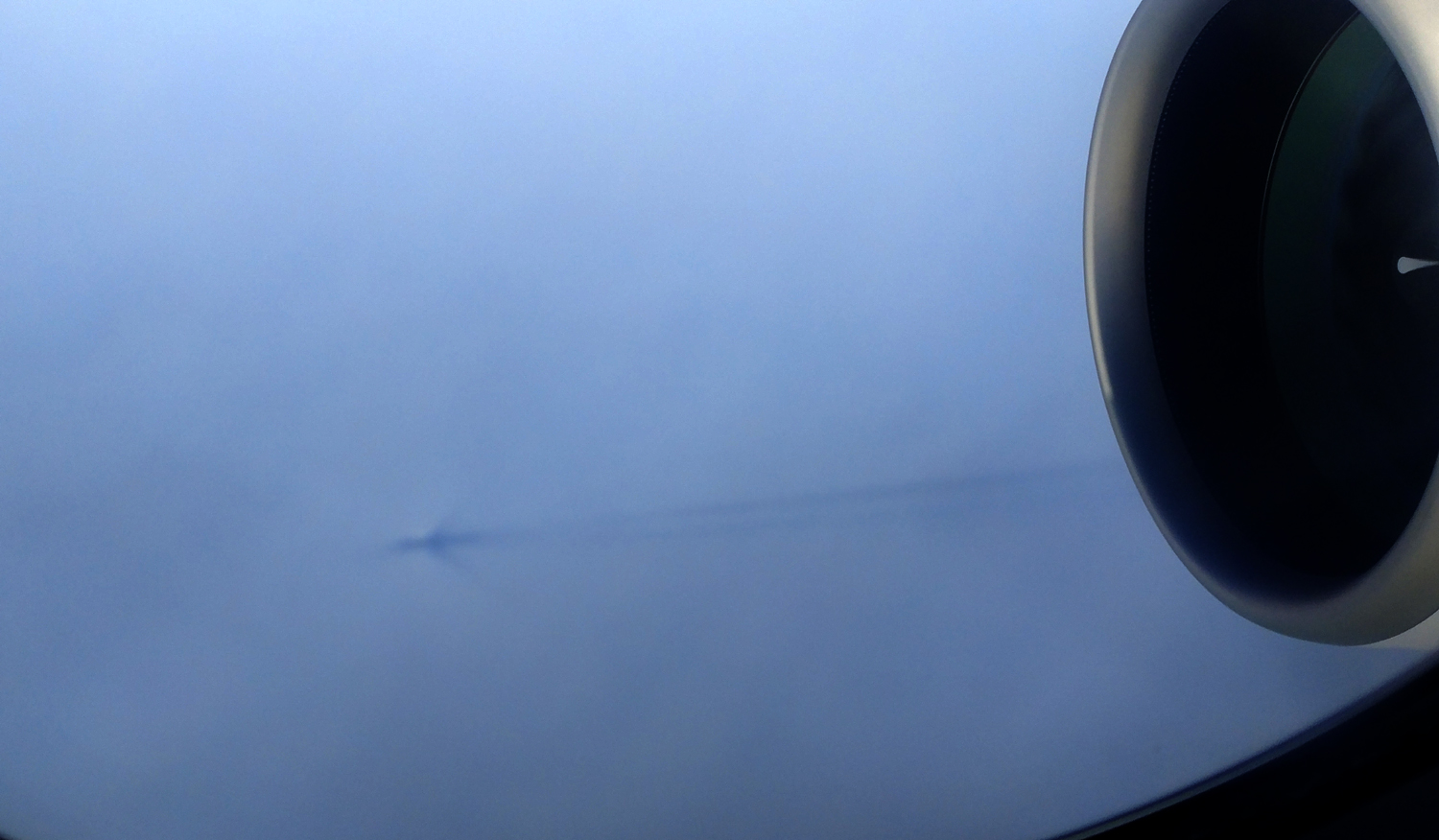 Not very vivid, but an image of the "glory" is always nice to attempt: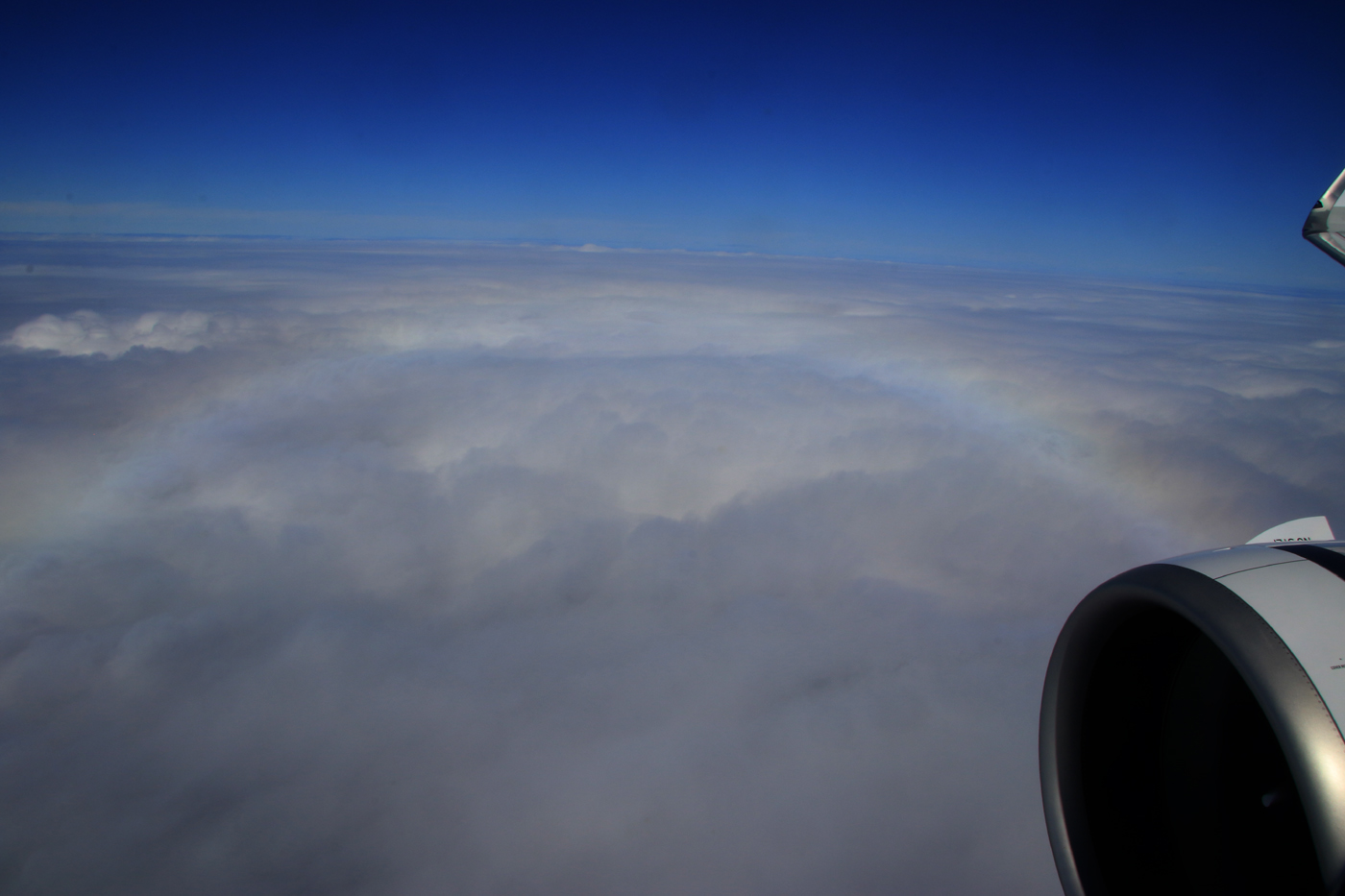 Somewhere over the Pacific, but getting close to OGG: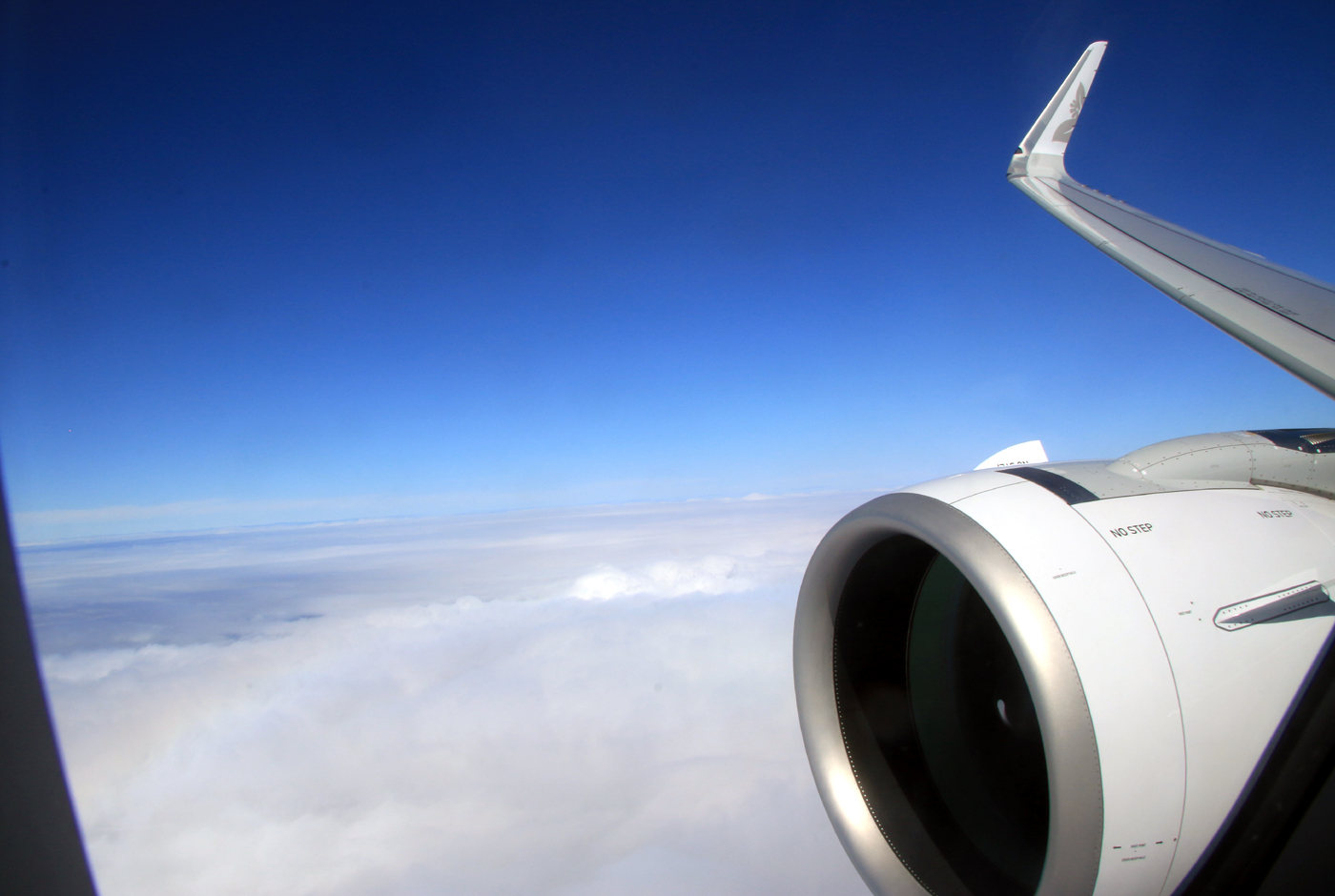 All too soon we were advised our final descent to Kahului would shortly begin so the cabin crew made their preparations. I became aware of our approach when I could see the island ahead of us on the right-hand side. We were coming in from the north and entering a right-hand traffic pattern. Despite some clouds I was able to see the airport off the starboard side and I pointed it out to my seatmate. I snapped some photos and commenced video recording our arrival with my Canon DSLR.

The video can be viewed here:

Arrival video
On downwind for runway 2 at OGG: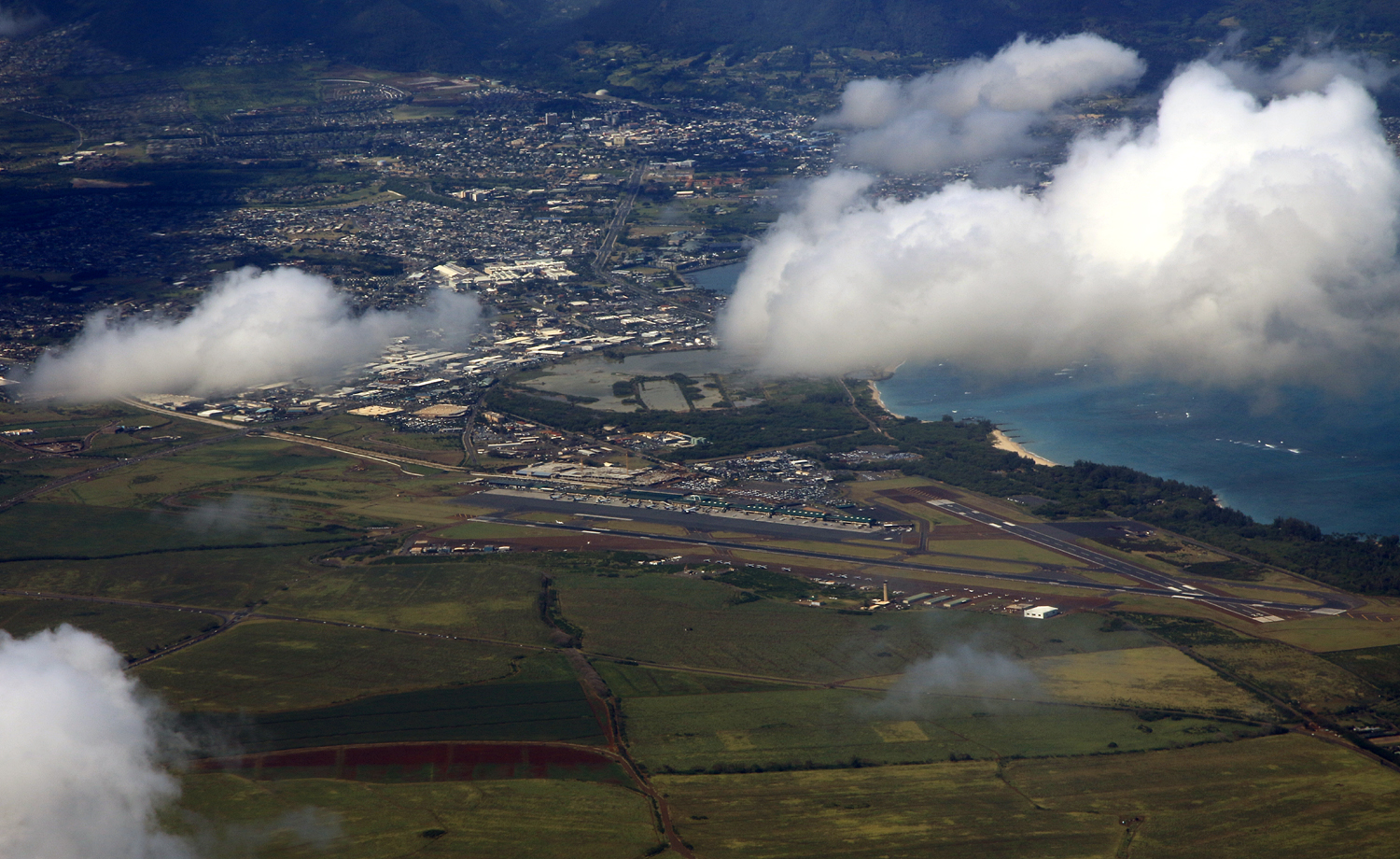 We touched down on runway 2 a little behind schedule but with plenty of time for me to make my connection to Honolulu. After deplaning I wandered the terminal for a little while to photograph some of the airliner activity. Most of the terminal windows were dirty on the outside with some barely clear enough to see out. The sign outside the food court boasts "incredible views"...that's a laugh...they were some of the dirtiest windows!!

I had less than two hours before my flight to Honolulu. I checked the flight tracker to see where the airplane was...it was departing HNL and was being operated by 717-22A N476HA...another new tail for my logbook.
Just why is the airport code OGG??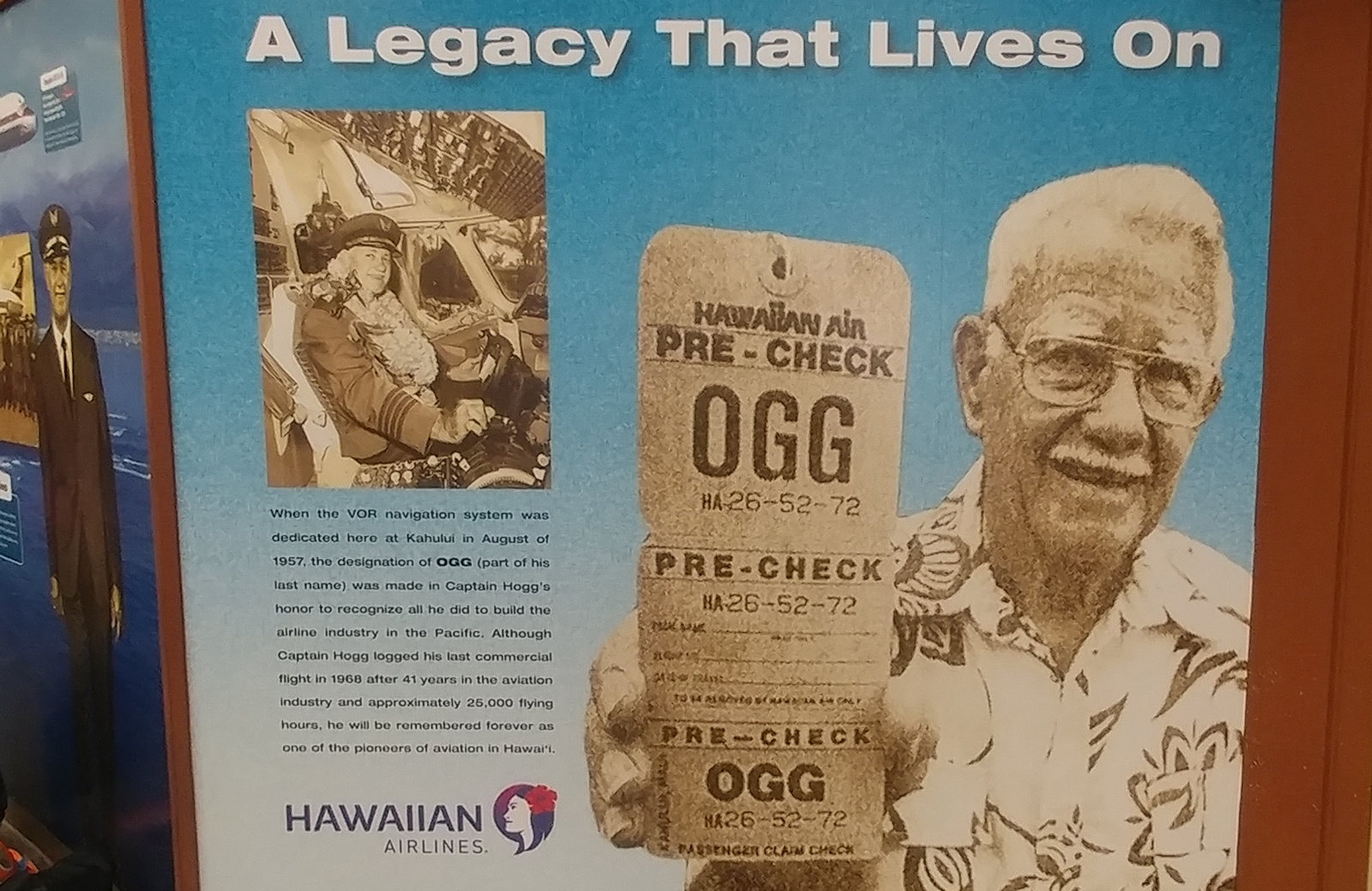 Some photos from the OGG terminal prior to flying to Honolulu:
N202HA at gate 21 after my arrival from Oakland.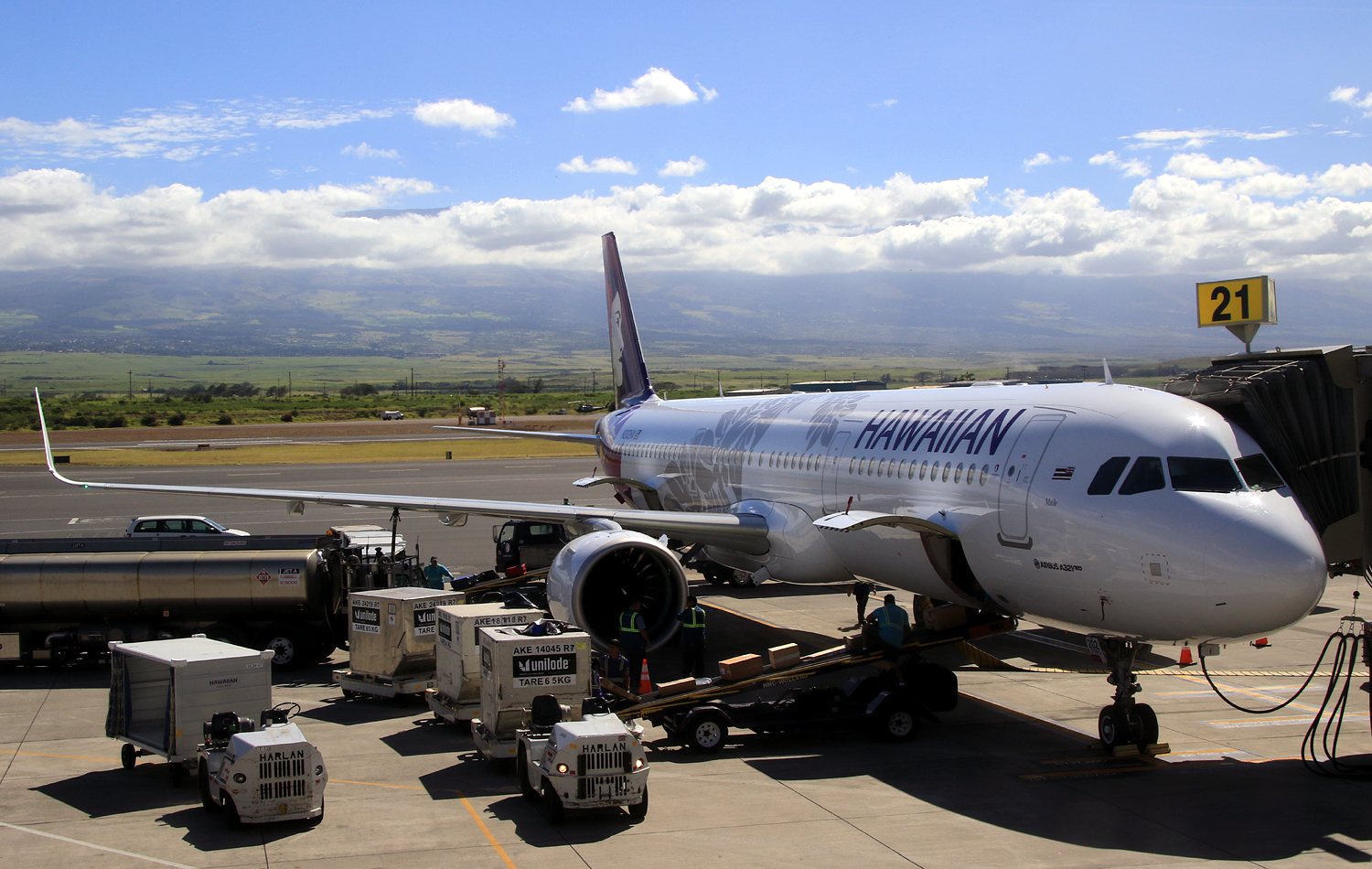 N204HA arriving as #39 from Portland. N202HA is at gate 21.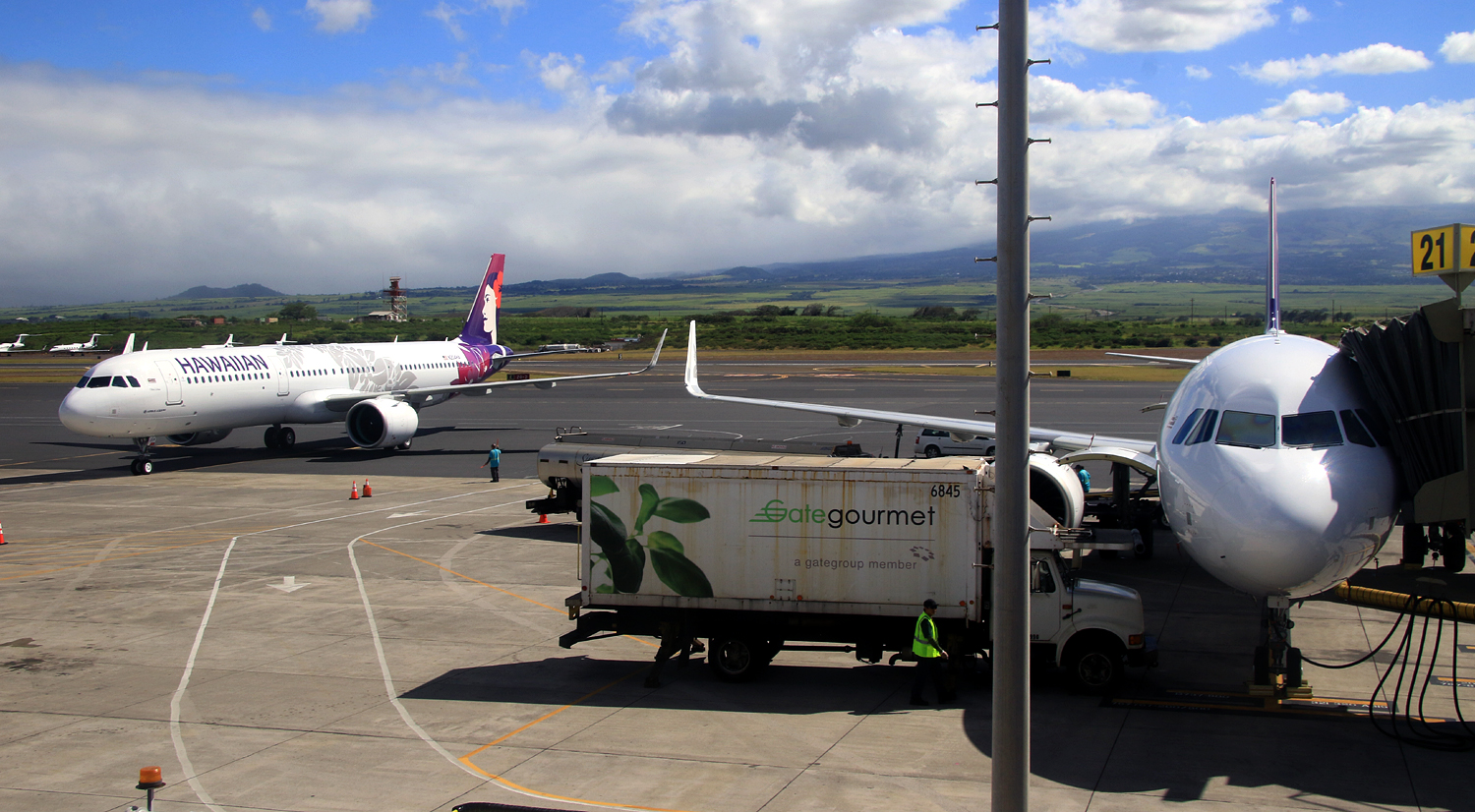 Both current Hawaiian Airlines A321neo. N202HA is being prepped for Portland and N204HA is heading to Oakland.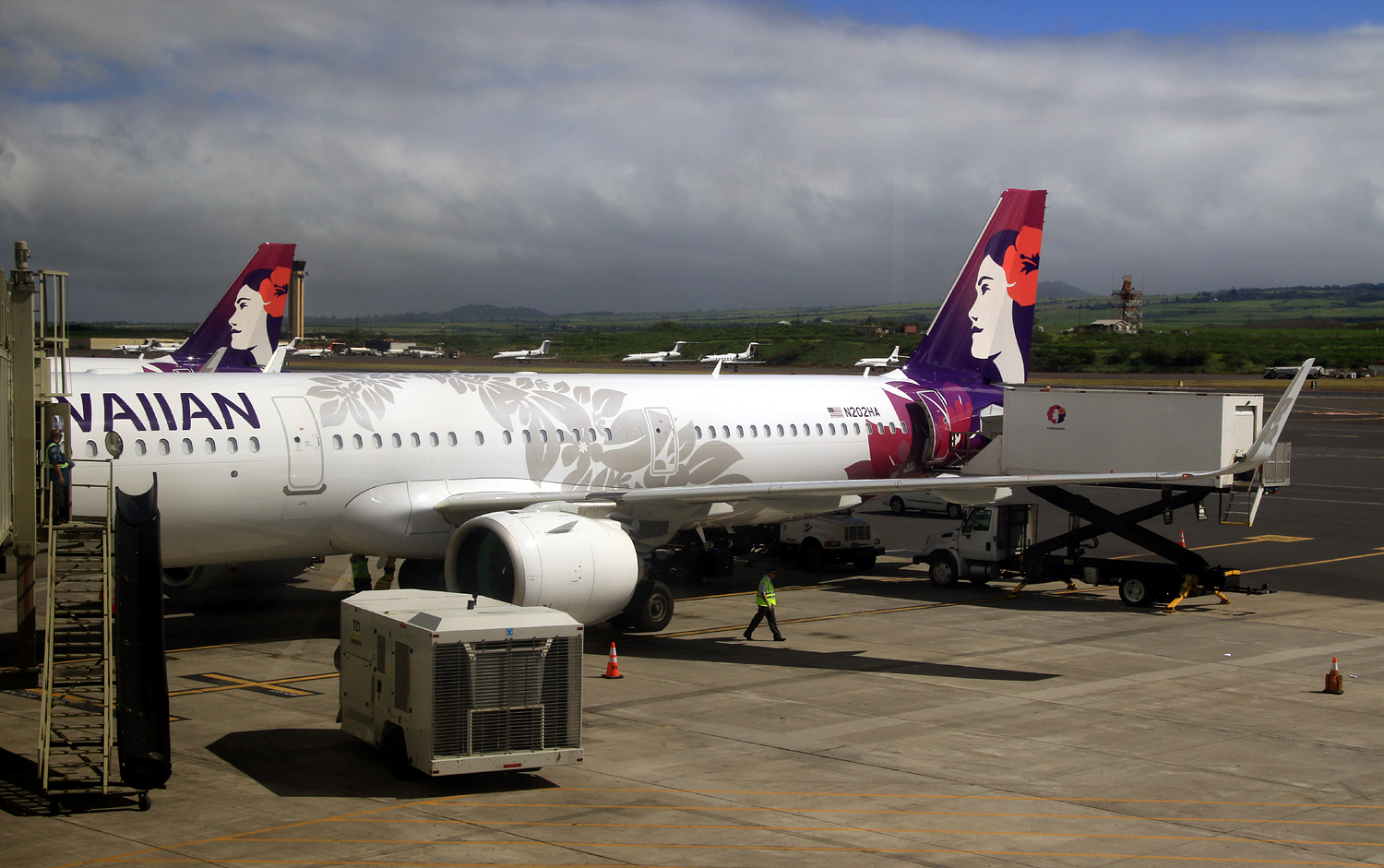 Minor variations are evident in this photo of the old (foreground) and new (background) Hawaiian Air tails on the 717s. Titles are different as well.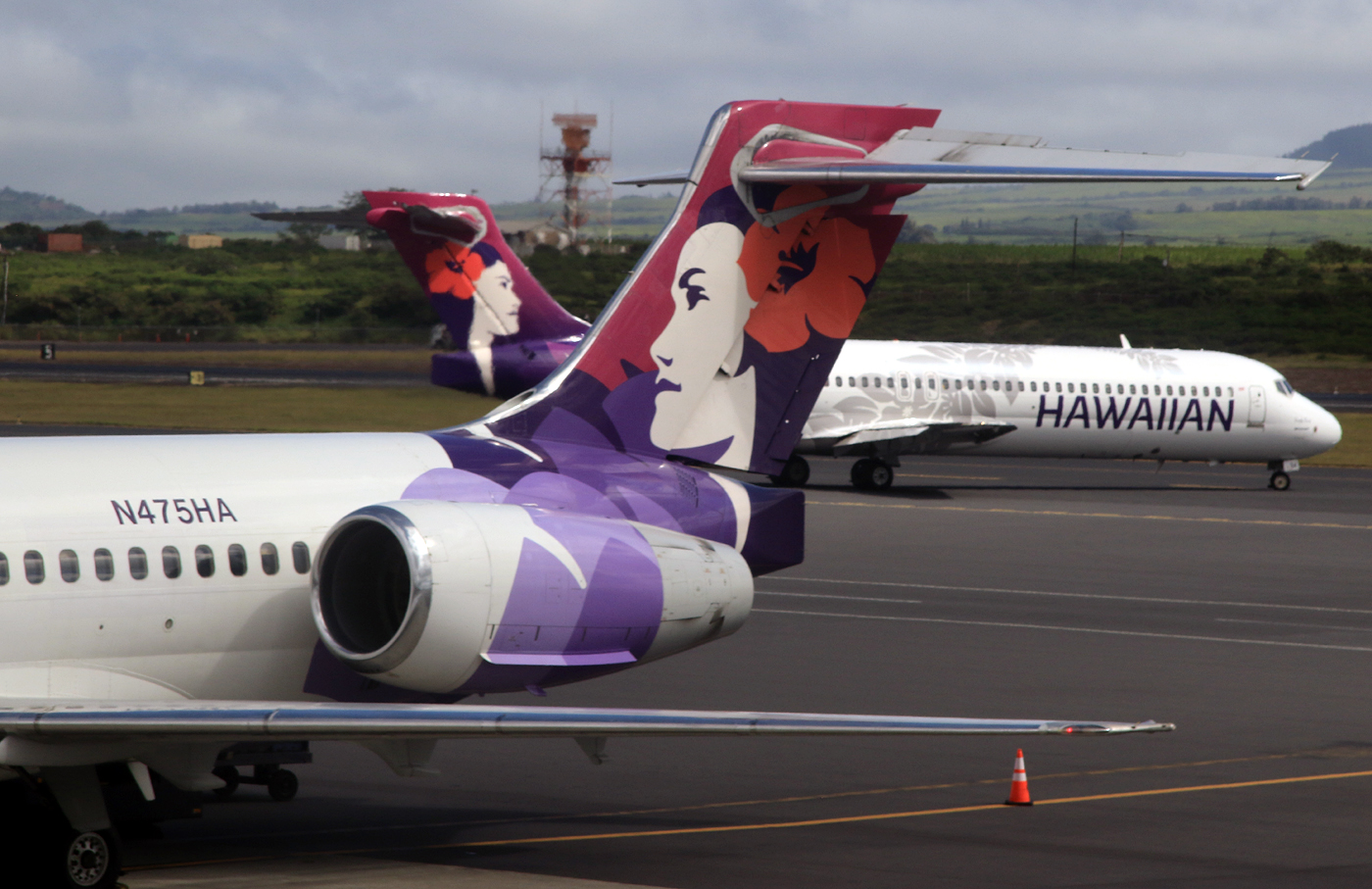 N476HA arrives as HA #356 from Honolulu. I will be flying in this bird to Honolulu on HA #355.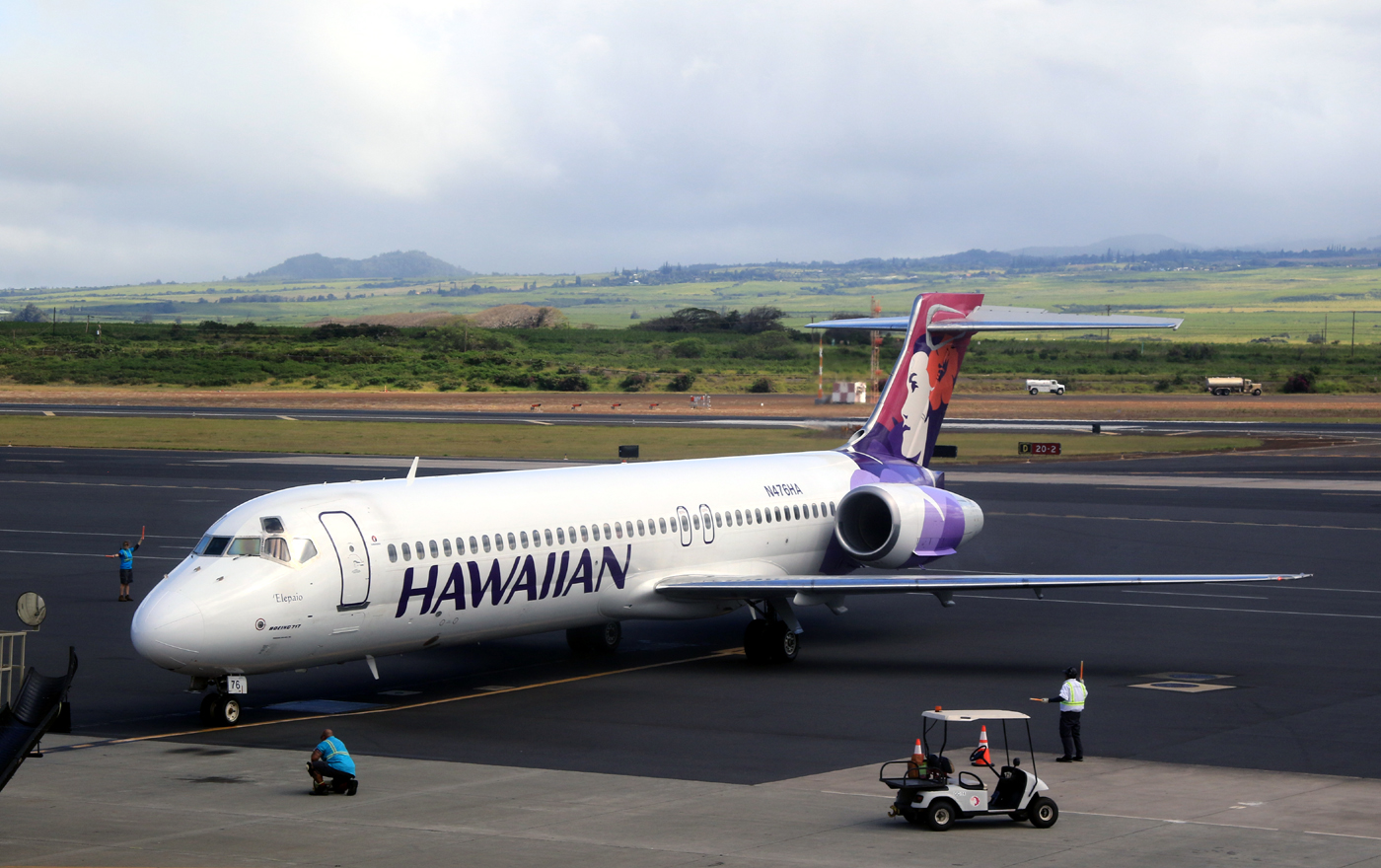 Some of the aircraft present while onboard N476HA heading to Honolulu: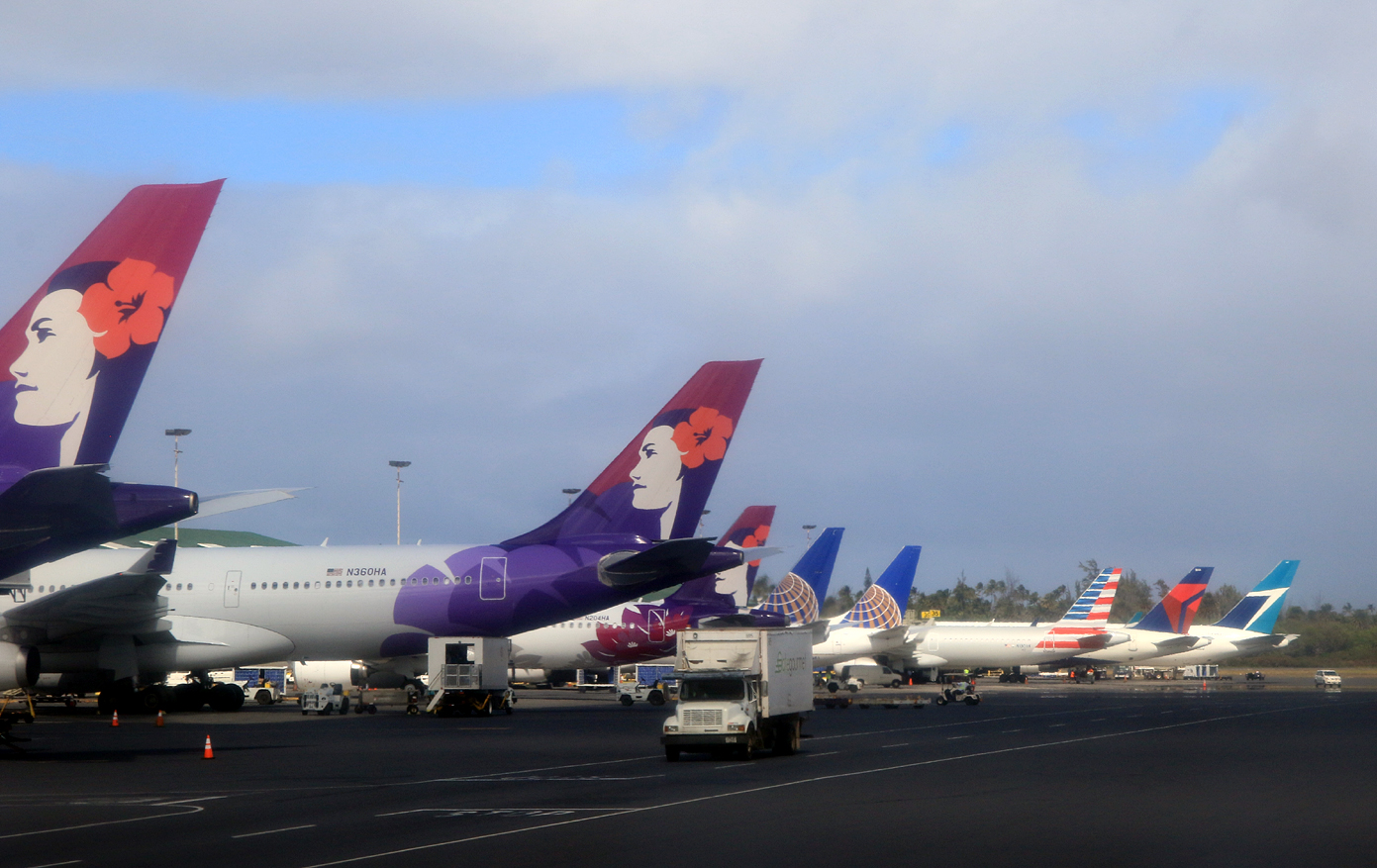 A quick grab photo on N782AN arriving from DFW as AA #7: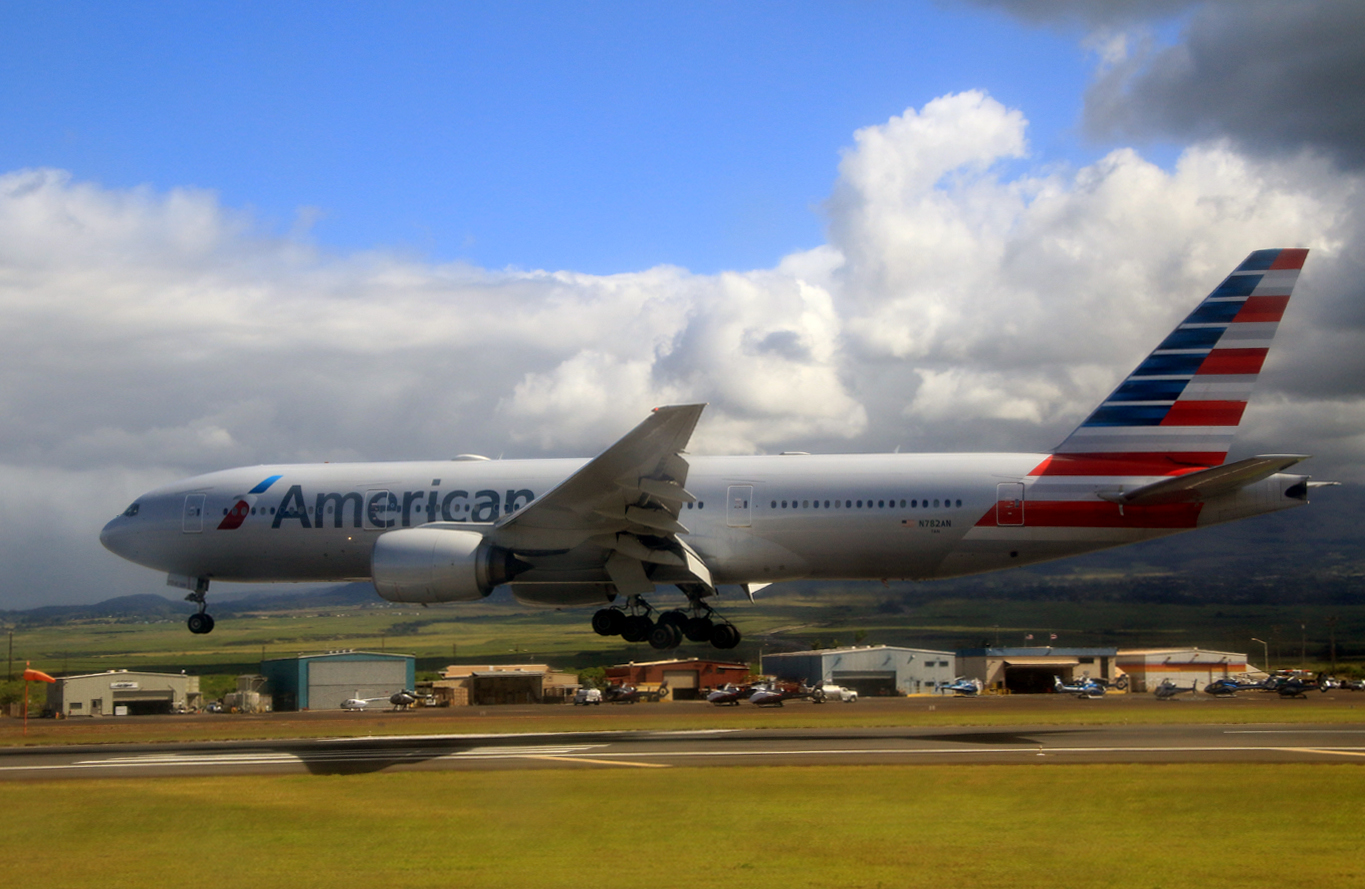 20 January 2018

Hawaiian Airlines #355 OGG-HNL
717-22A N476HA
Seat: 5A
Depart: 13:42 HST Runway 2
Arrive: 14:00 HST Runway 8L
Flying Time: 0:18

Here is my departure video from OGG:

Departure video


Bear in mind the window at seat 5A was pretty crappy so, well, there you have it.

Onboard N476HA during the short flight between OGG and HNL: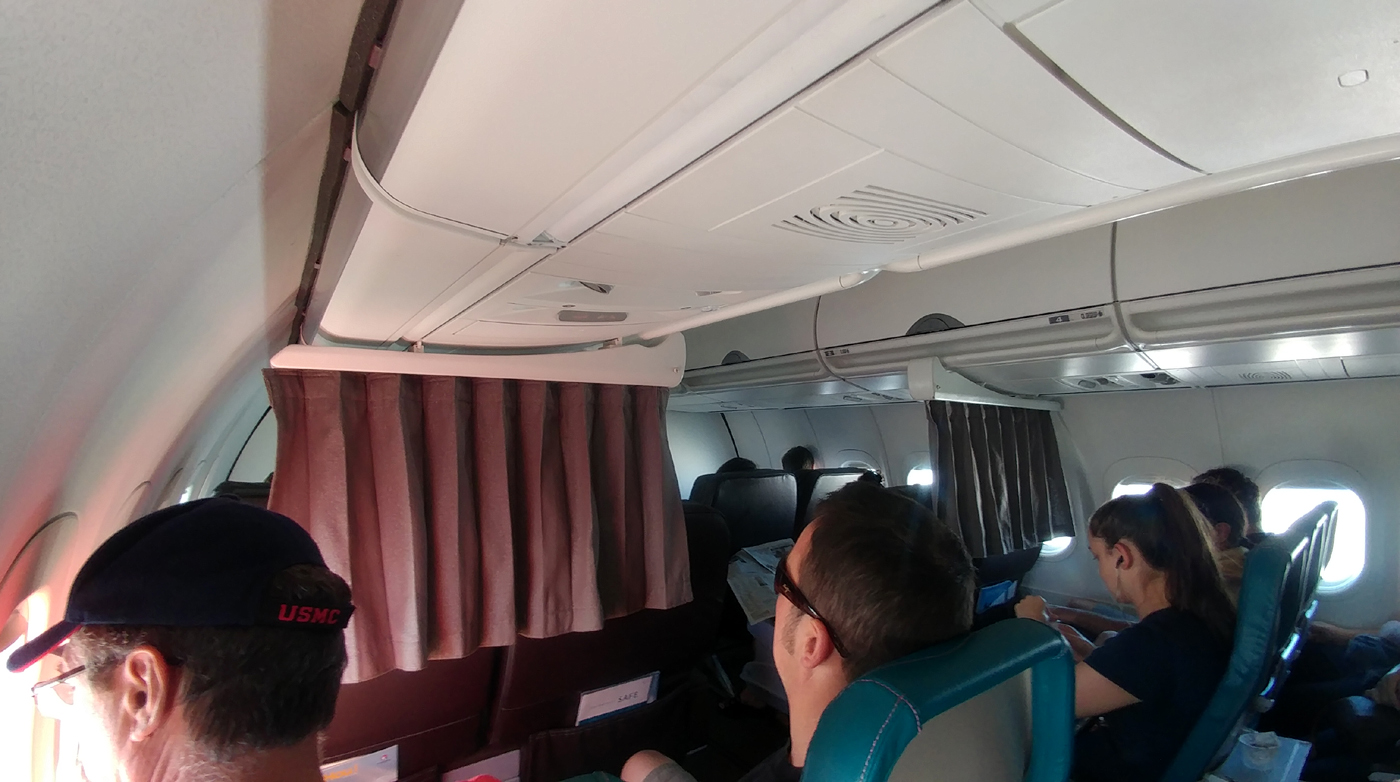 And here is my arrival video at HNL:

Arrival video




Again, I had a couple hours before my flight back to the mainland. Naturally it was quite humid in the airport but that didn't deter this desert rat from wandering around checking out the planes. The time of day meant nearly all the planes present were U.S. airlines. There was a JAL 777-200 as well as an Air Asia X A330-300 that departed for Osaka.
Open air photo of N476HA after my flight aboard her from OGG:
Ohana ATR-42 N804HC: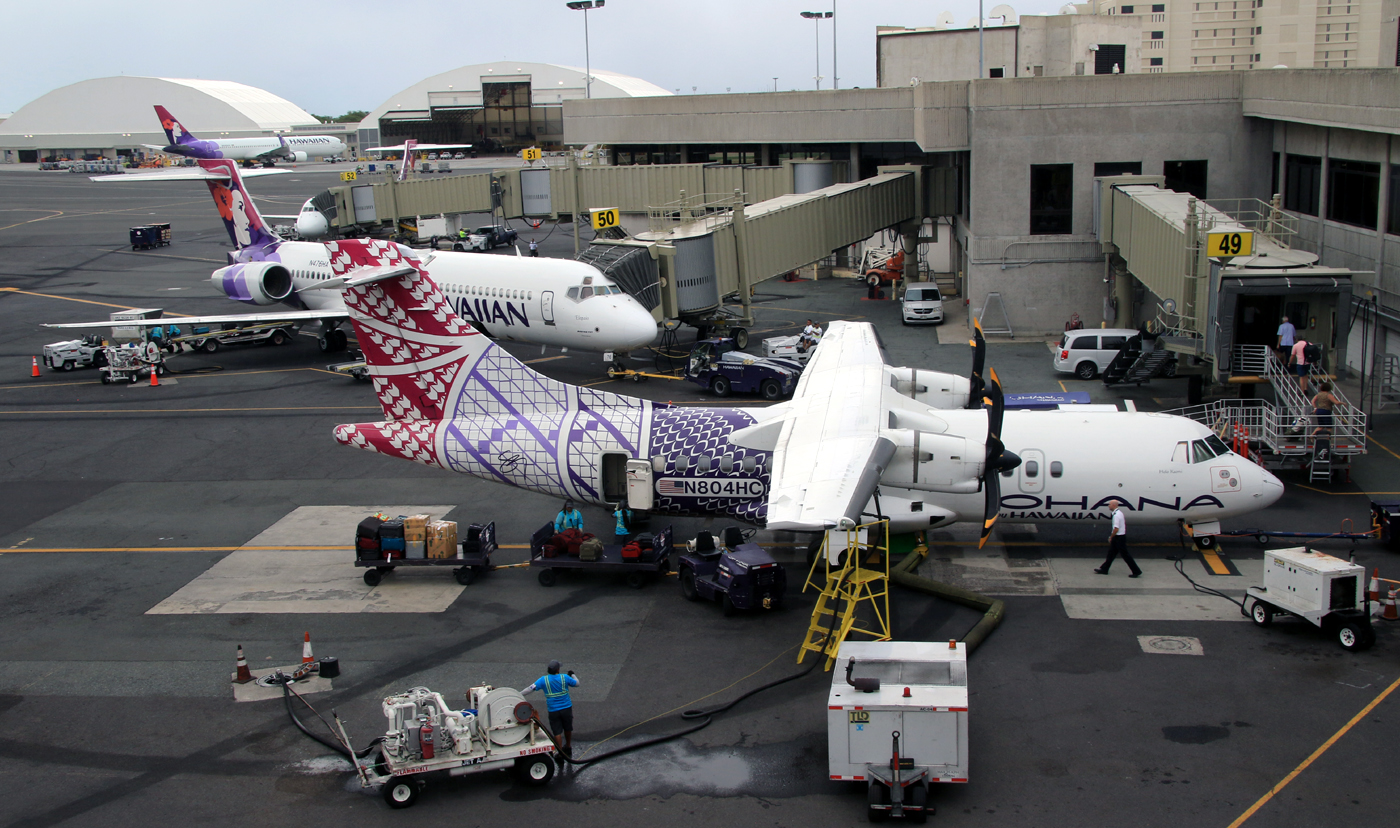 Virgin America / Alaska Airlines A321-253N N925VA pushing for SFO: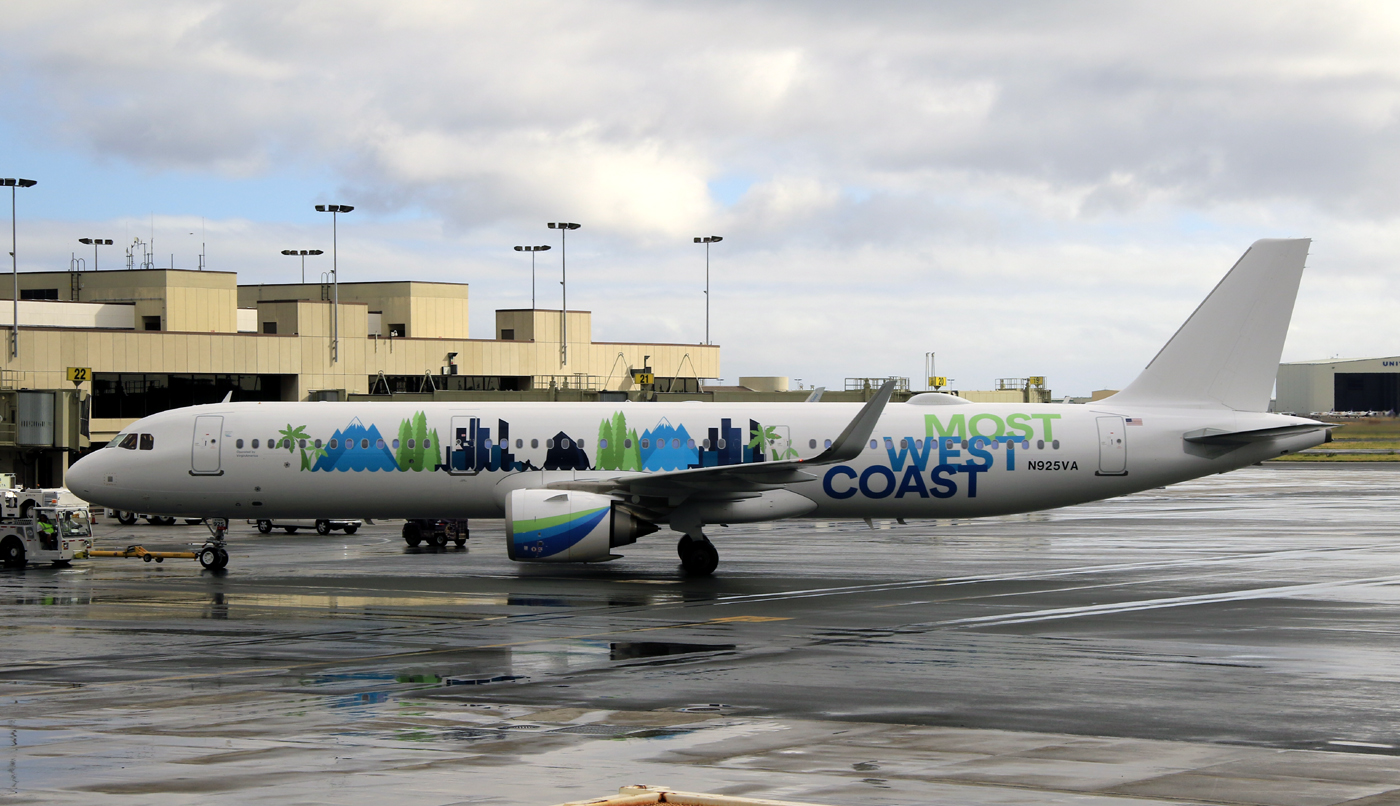 Several United 777-200s plus an Air Asia A330: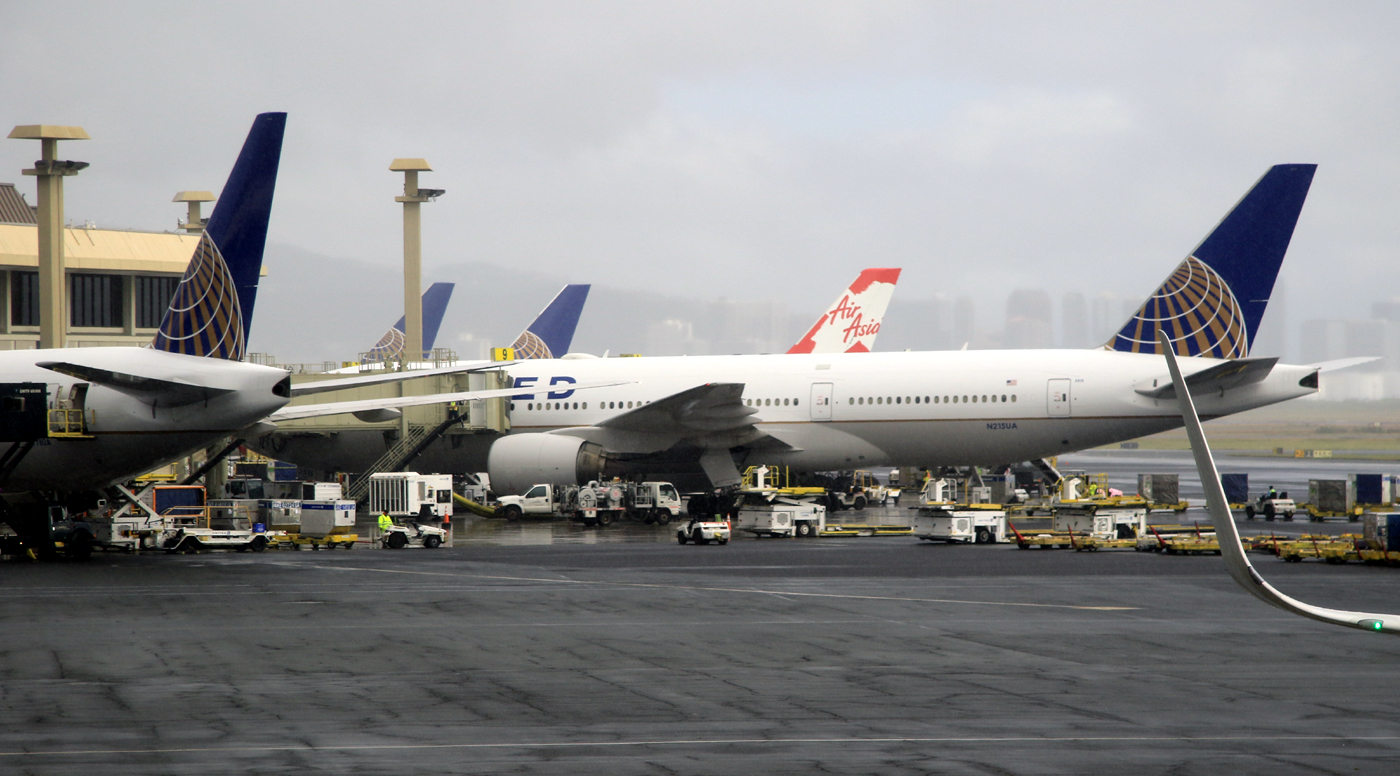 20 January 2018

Hawaiian Airlines #18 HNL-LAS (new city pair for me)
A330-242 N390HA
Seat: 14A Extra Comfort
Depart: 16:34 HST Runway 8R
Arrive: 23:43 PST Runway 26R
Flying Time: 5:09

N390HA being serviced at gate 25 prior to our departure to Las Vegas: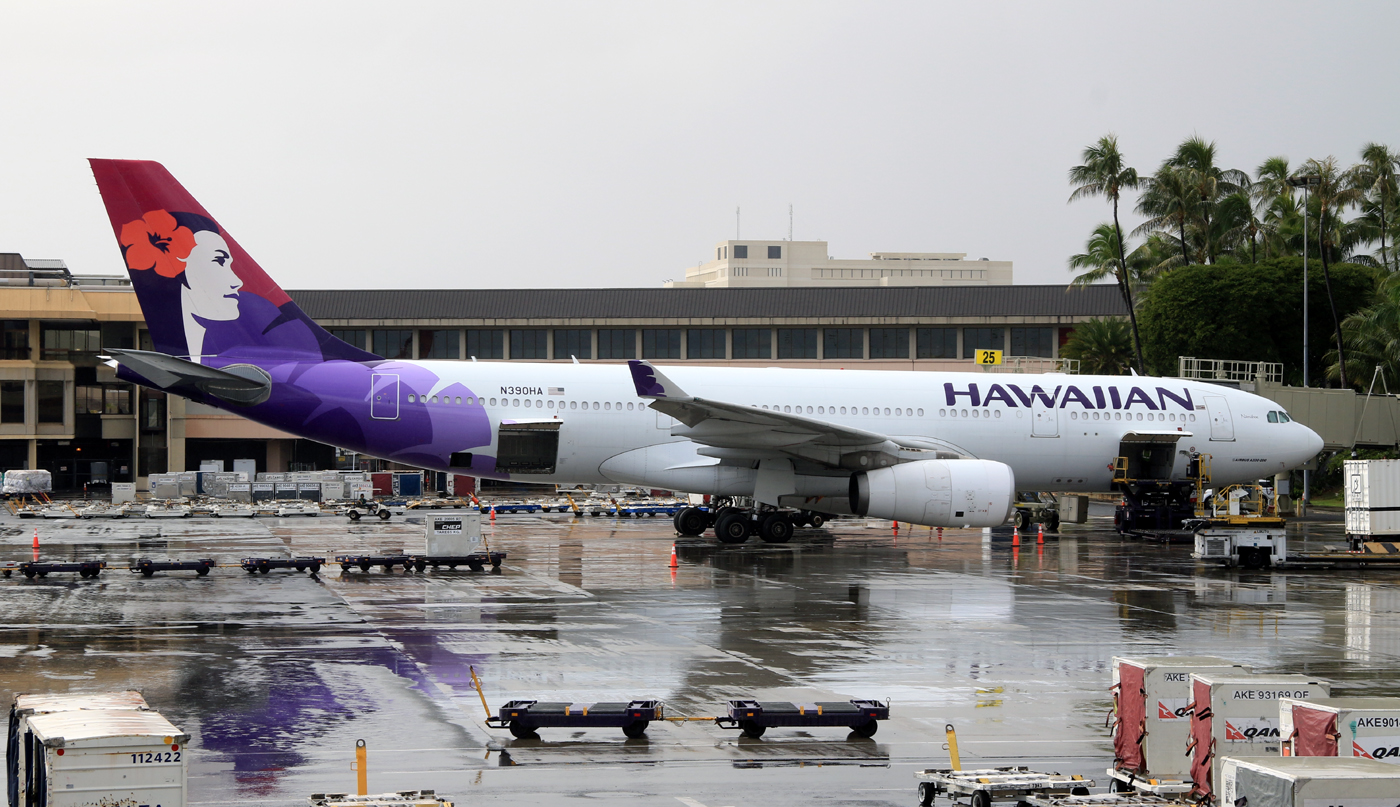 After wandering around until flight time, I headed for the loo to change into a clean, dry shirt and then relax in the air-conditioned comfort of the boarding lounge at gate 25. During pre-boarding it was announced we'd be delayed a few minutes while maintenance placed some seals on some of the life vests. Go figure. The delay was minimal and boarding commenced. Since I'd "upgraded" to an Extra
Comfort seat for the flight to Las Vegas just a couple days ago I was able to board in Zone 2. When finding my seat, I was a bit surprised it was a bulkhead...not something I normally select as I like to have the room under the seat in front. Oh well, it was no big deal and I took my seat next to the fellow who was already seated in 14B.

It took me a few minutes to get organized since I had to stow my bag in the overhead and find a place for my necessities at my seat. I had to shake my head a bit as I noticed annoying vertical lines on the window of this Airbus A330. I consider anything that hinders my photography through the windows as a nuisance but what is a person to do but just accept it.
Here is my departure video from HNL:

Departure video


Please keep in mind the window at seat 14A had those funky vertical lines so it is a bit annoying.
Interior of N390HA: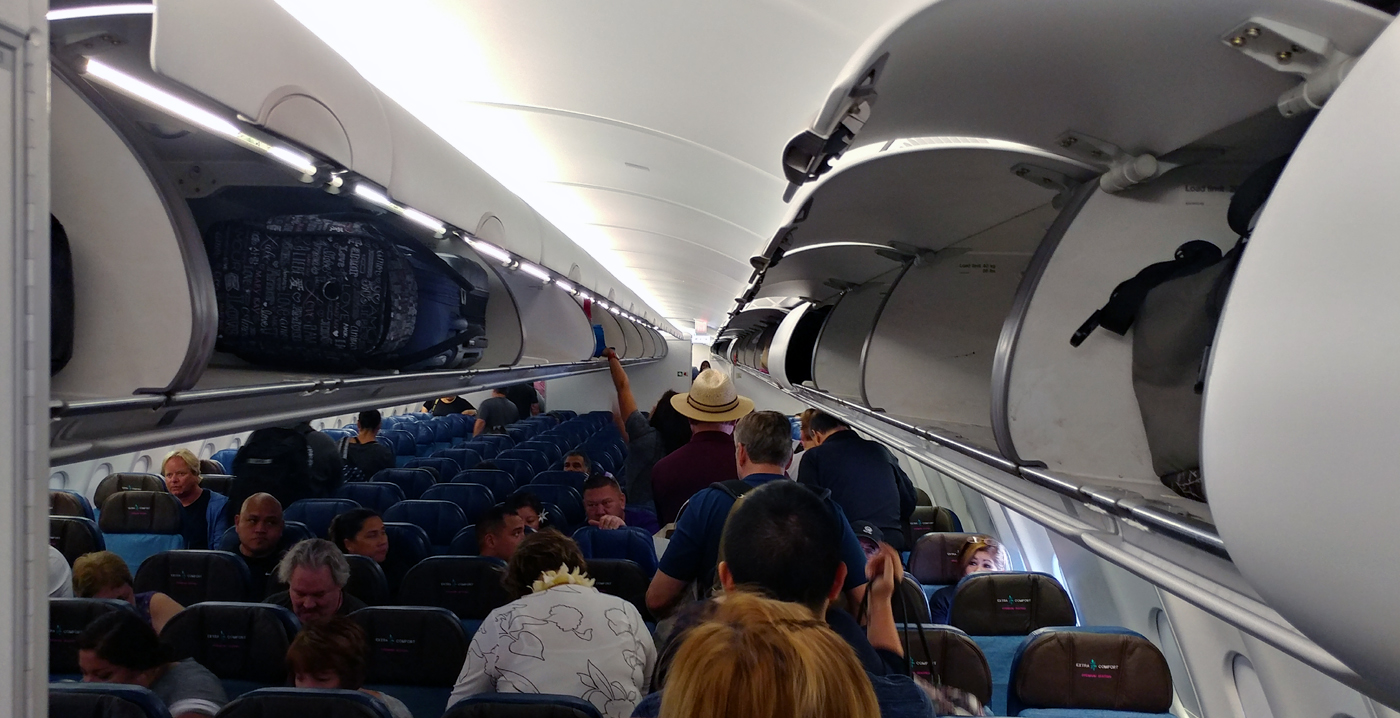 Bulkhead seating at row 14: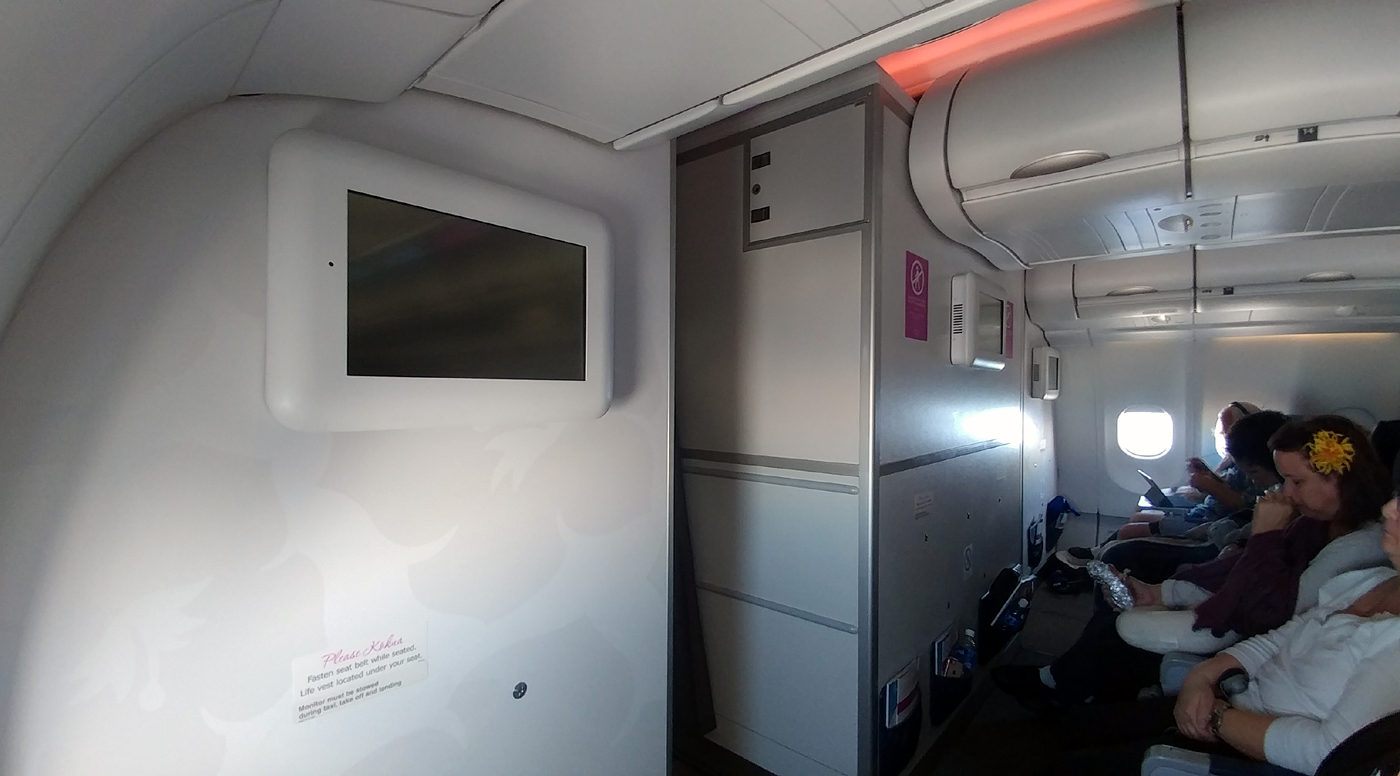 Nice rainbow while crossing 8L/26R: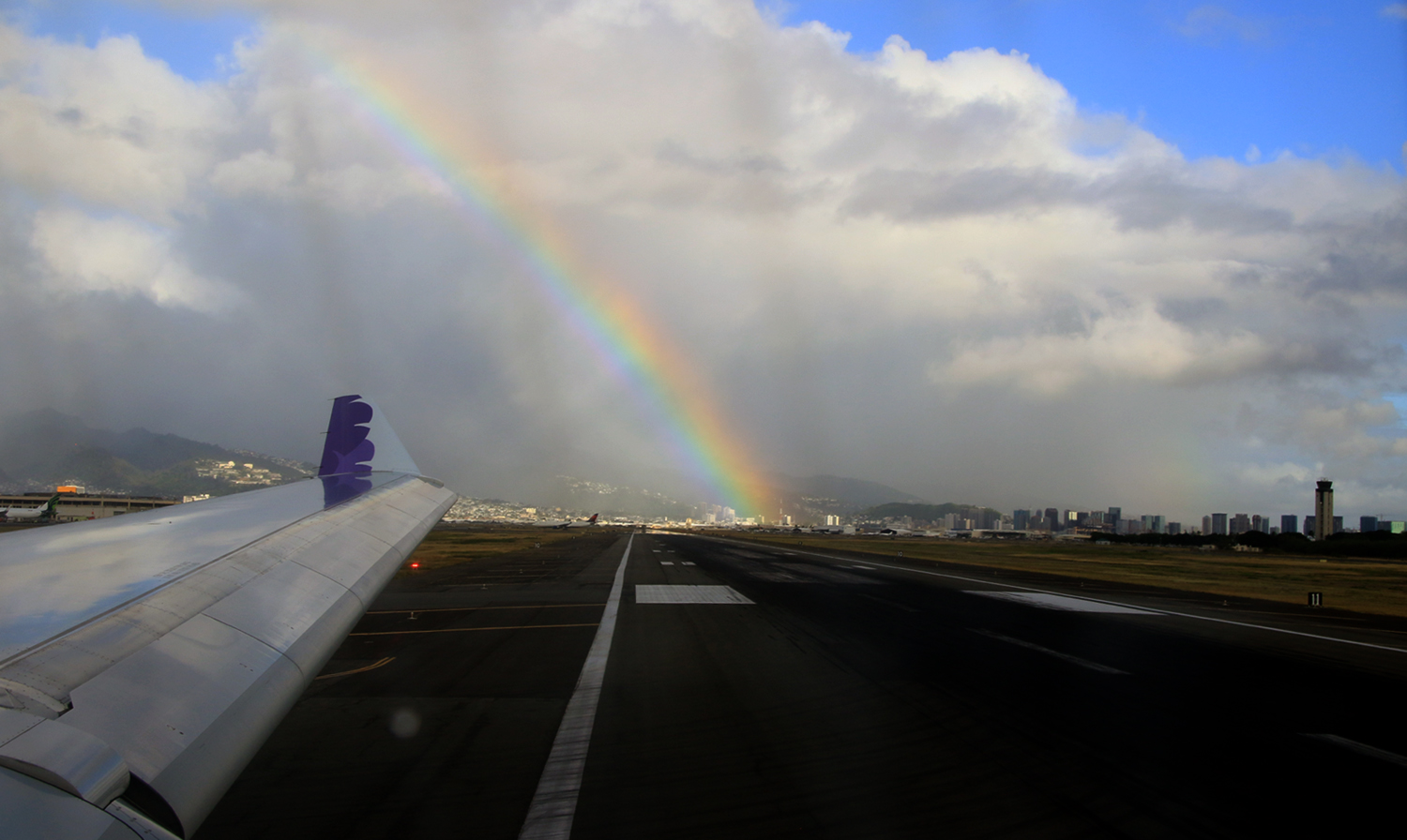 Diamond Head as seen from N390HA after departing HNL on the "reef runway" 8R: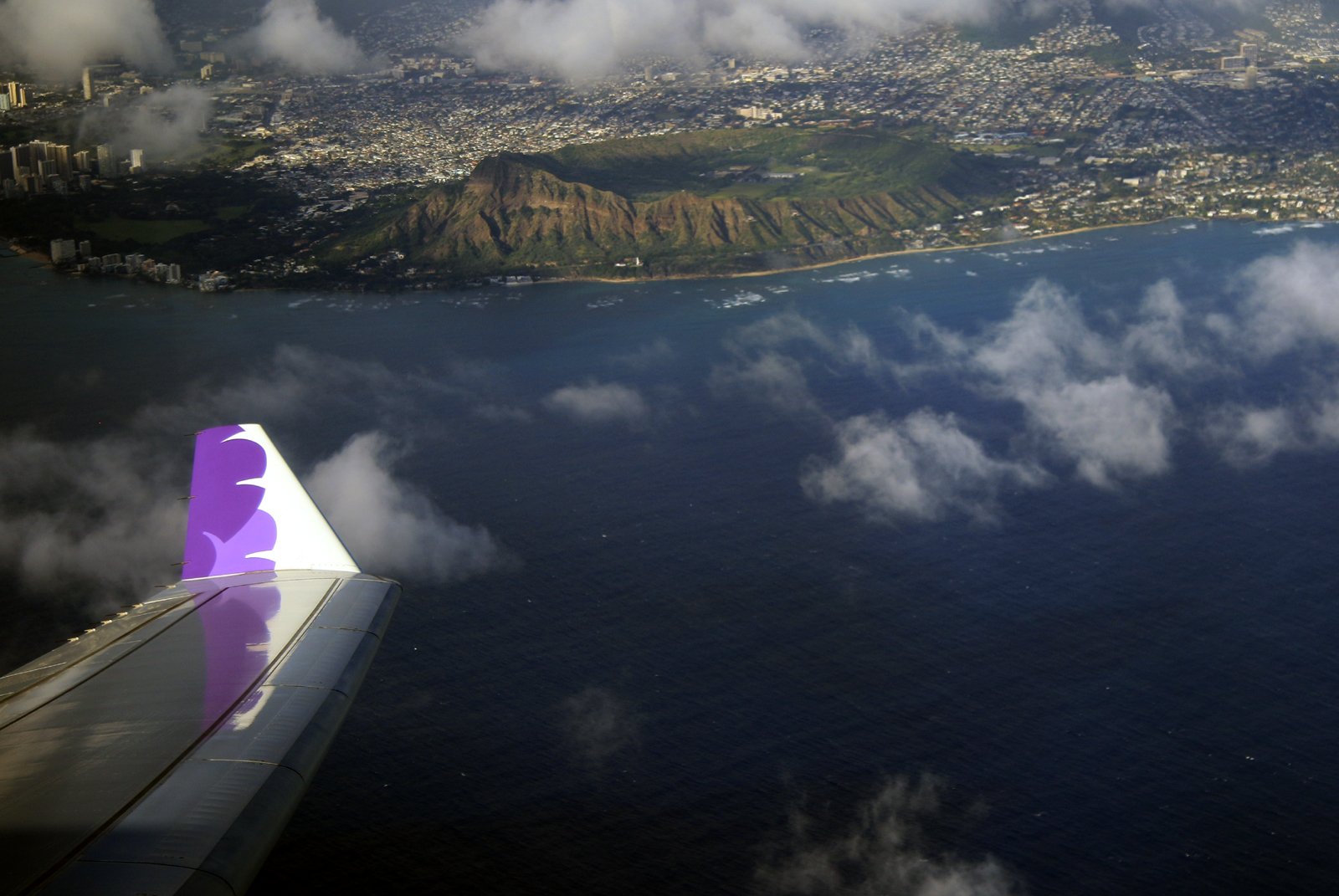 One of the map display screens on the bulkhead: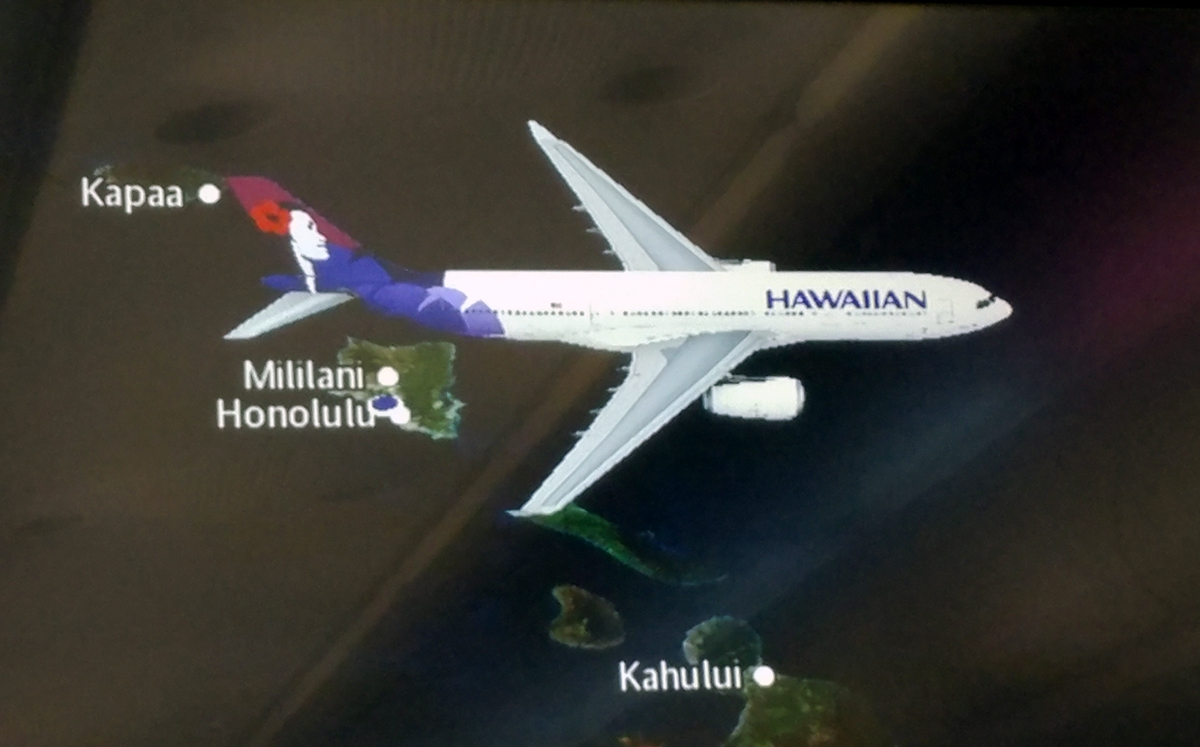 Another map display screen on the bulkhead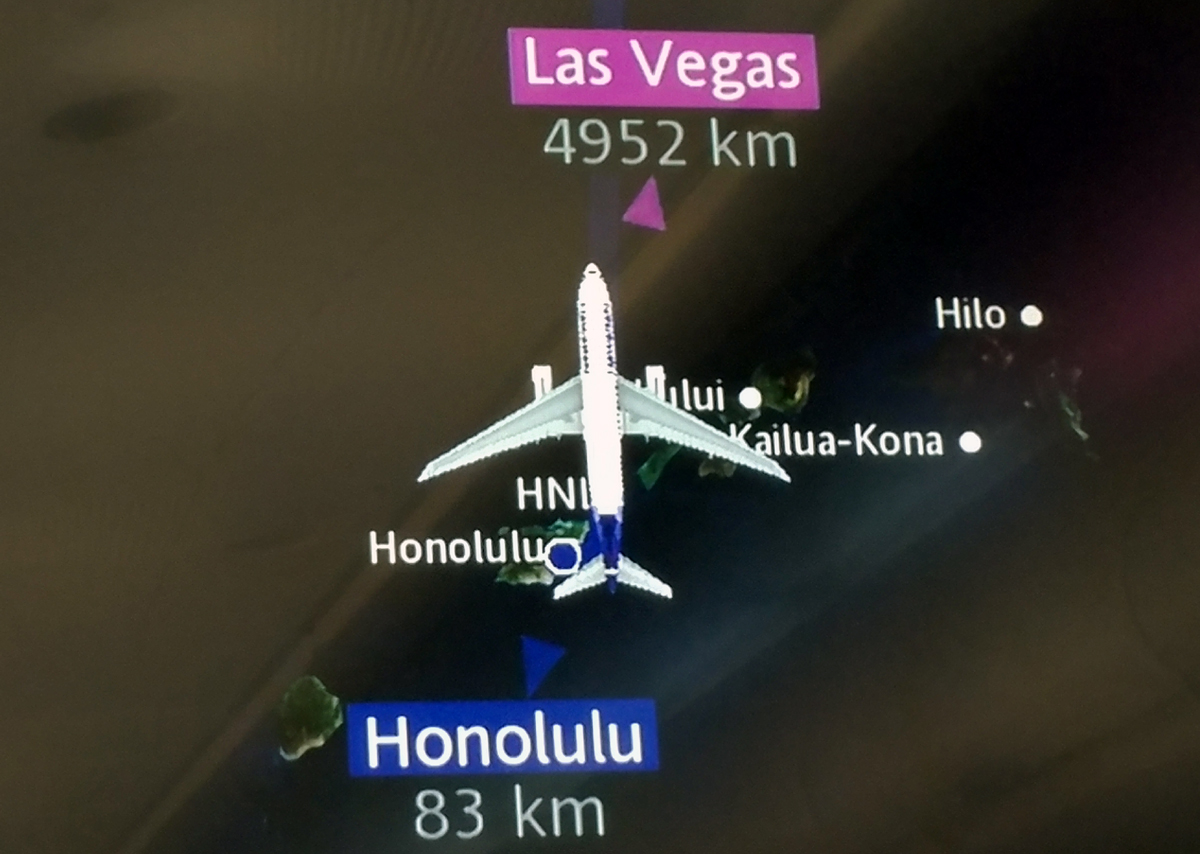 Snacks I purchased onboard.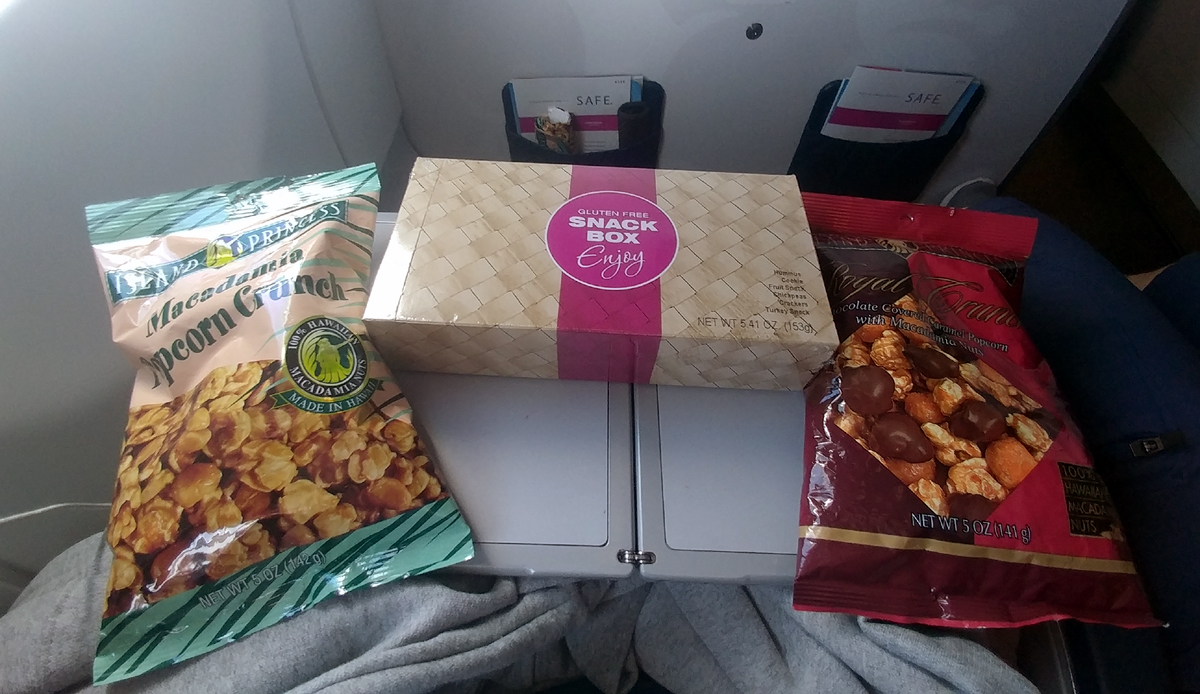 This is the "meal" served. Crisps plus a warm teriyaki chicken sandwich. It was edible.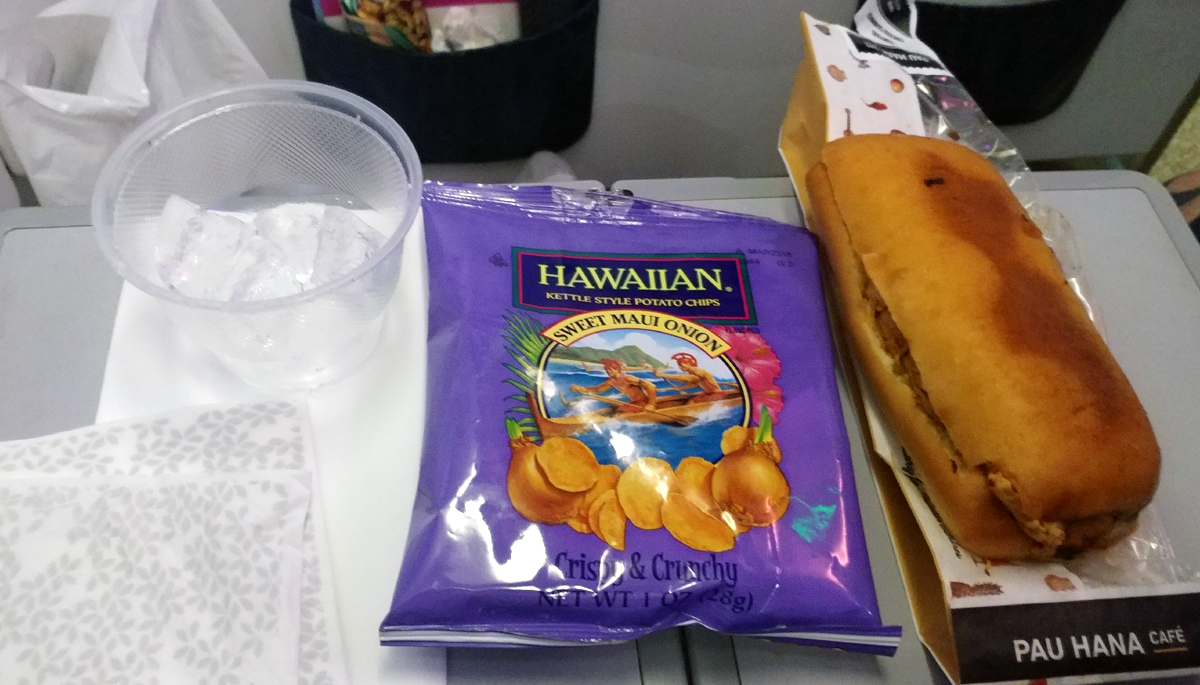 Another of the delicious rum punch drinks with a snack. I haven't eaten the snack yet.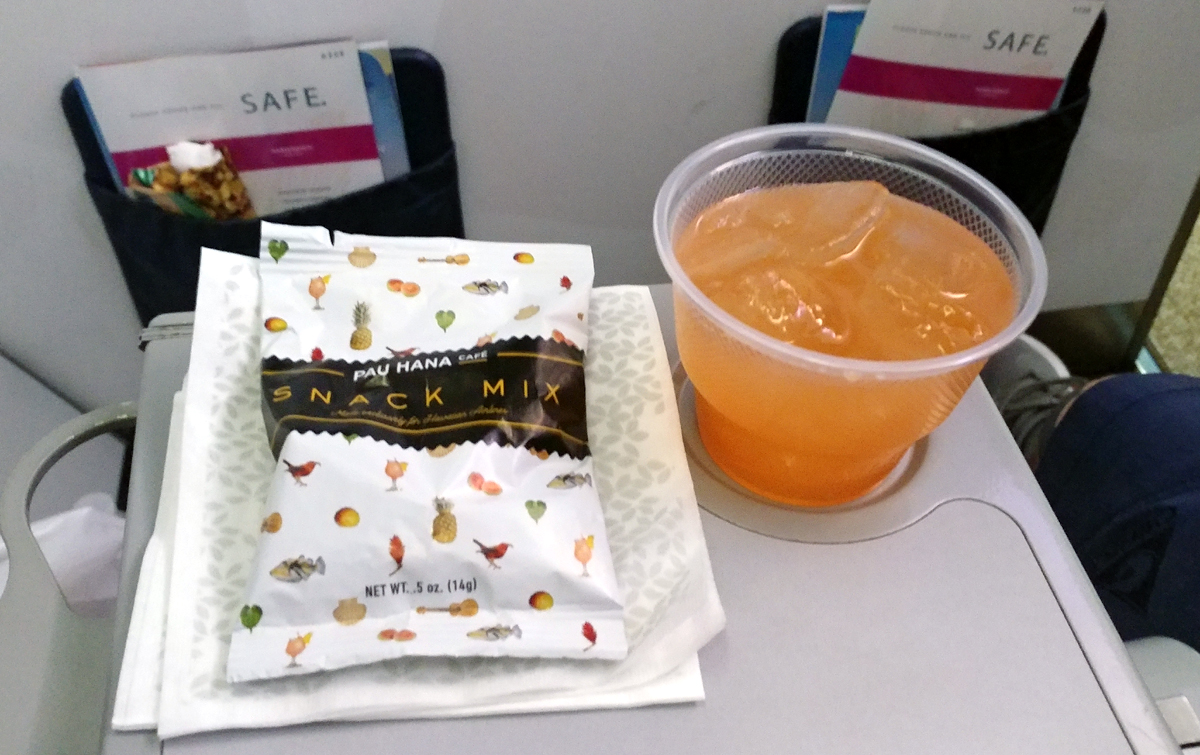 Sunset approached quickly after departing Honolulu: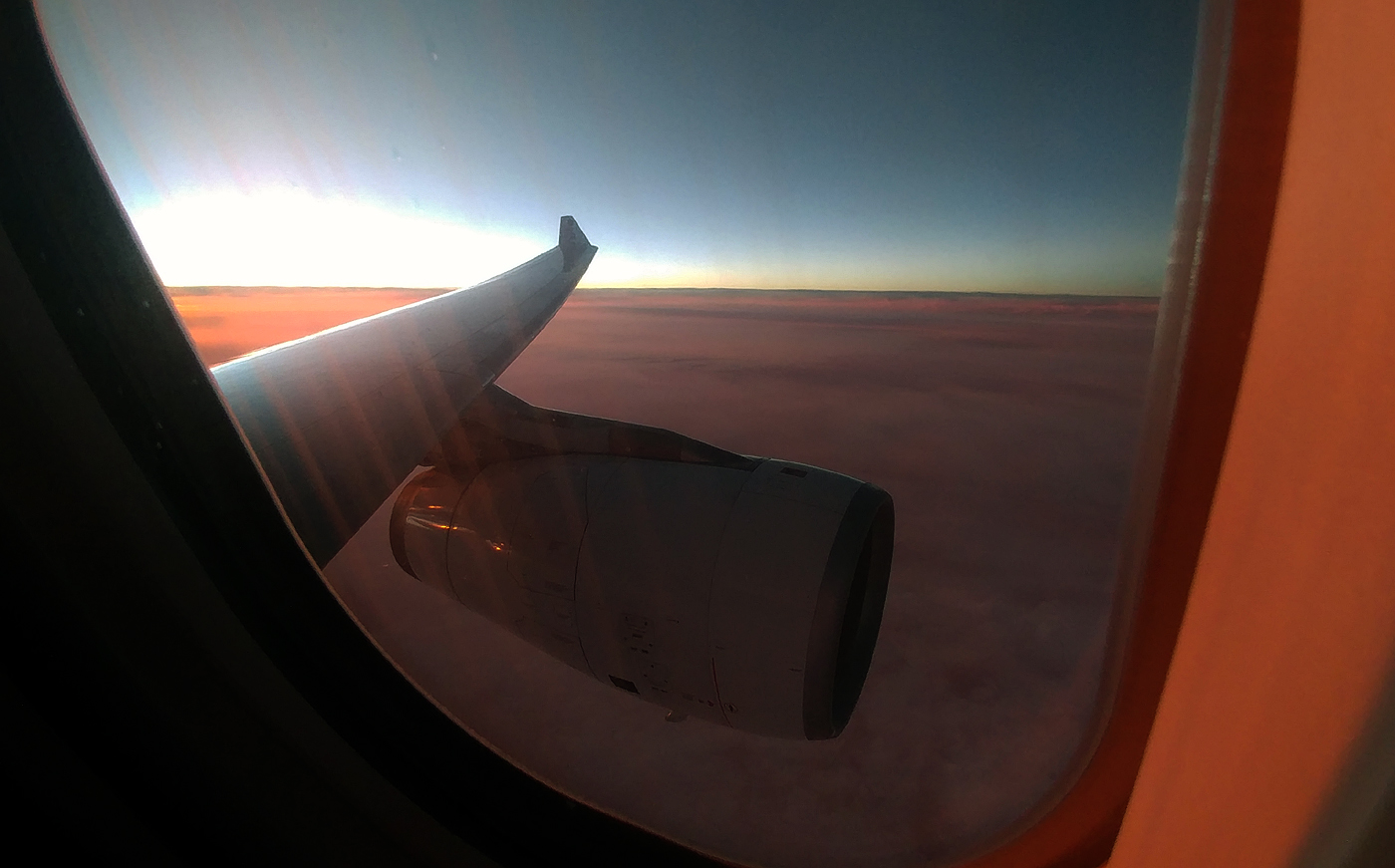 I napped for a while after the meal and drink. I awoke in time to see us crossing the California coastline but I couldn't determine where we were. After I got home and
checked the flight trackers I see we were just north of Ventura: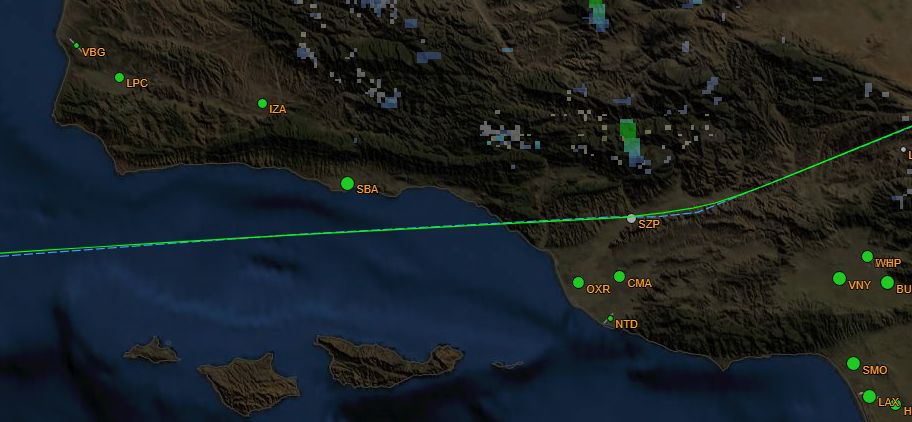 Here is my arrival video from HNL:

Arrival video


Please keep in mind the window at seat 14A had those funky vertical lines so it is a bit annoying.
N390HA at the gate in Las Vegas after arrival from Honolulu: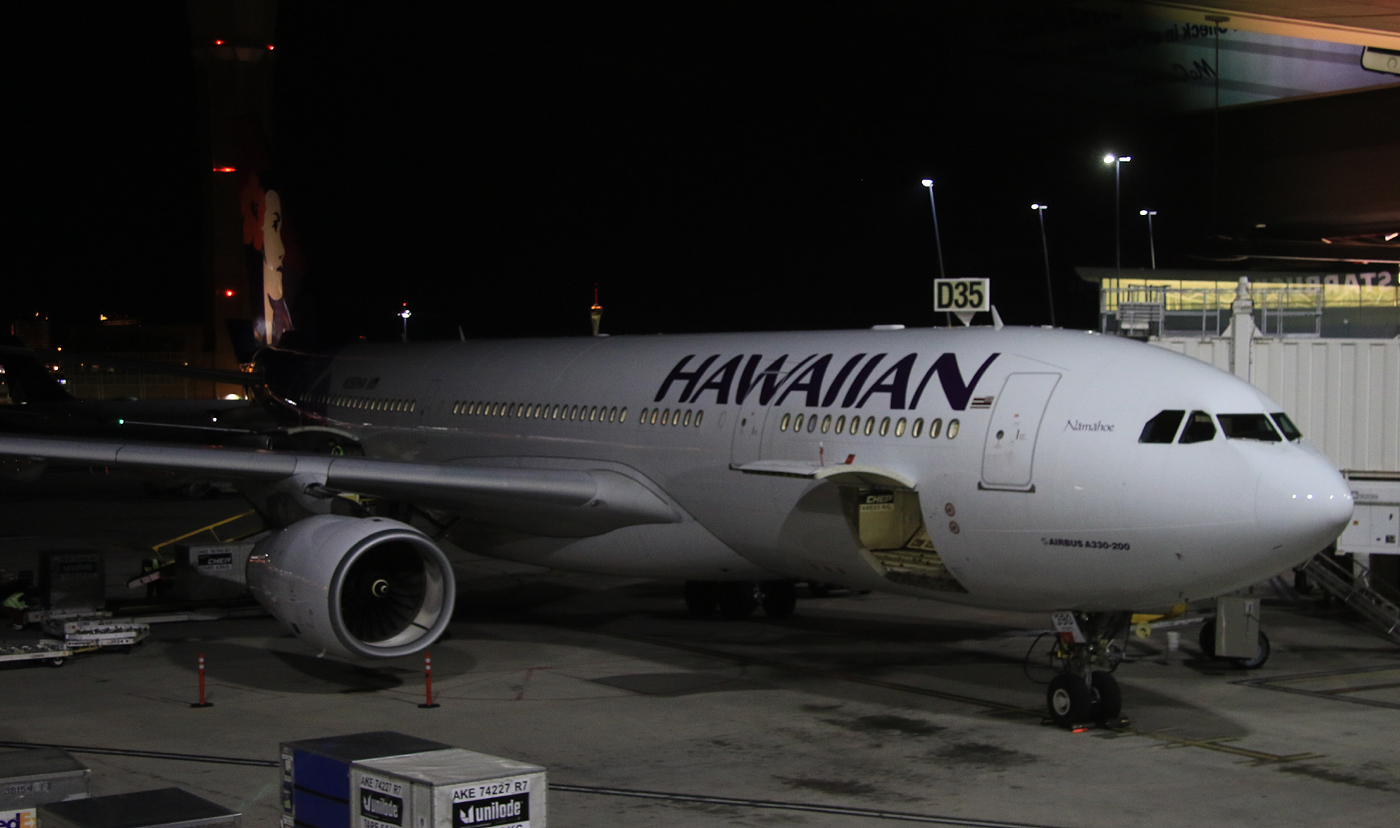 So, there it is...my first flight on Hawaiian Airlines new A321neo between the mainland and Hawaii, as well as the other flights associated with this trip. After leaving the terminal I got the shuttle to the rental car center and got my car for the drive back to PHX. I made it to Kingman Arizona about 3am, slept for a few hours then woke up and watched trains on the BNSF mainline for a few hours before heading home.

AMTK 176 leading the #3, the westbound Southwest Chief from Chicago to Los Angeles, pauses for a crew change at the Amtrak station in Kingman, Arizona. The time is 3:25am and according to the latest timetable the train is running about 2 1/2 hours late.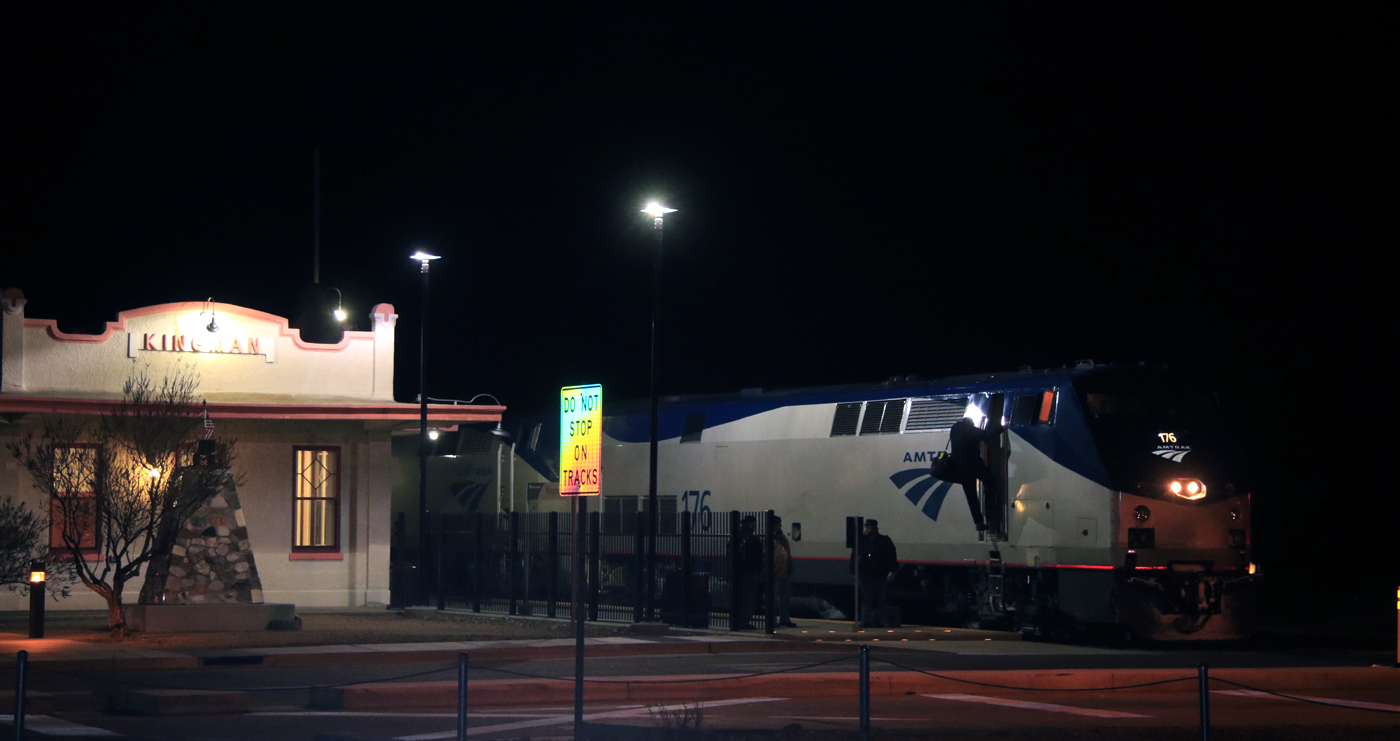 BNSF 8079 leads an eastbound intermodal through Kingman, Arizona.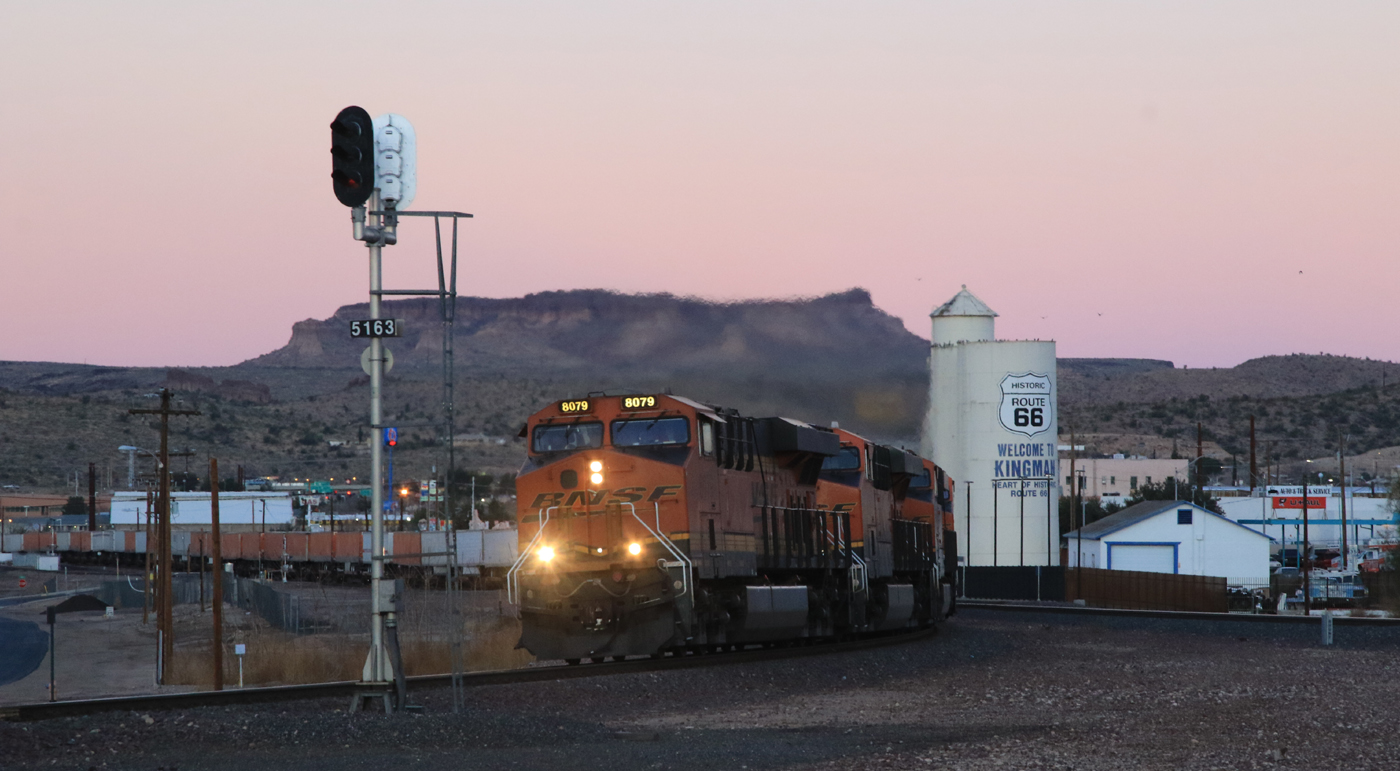 BNSF 3848 leads a westbound manifest through Kingman Canyon, Arizona.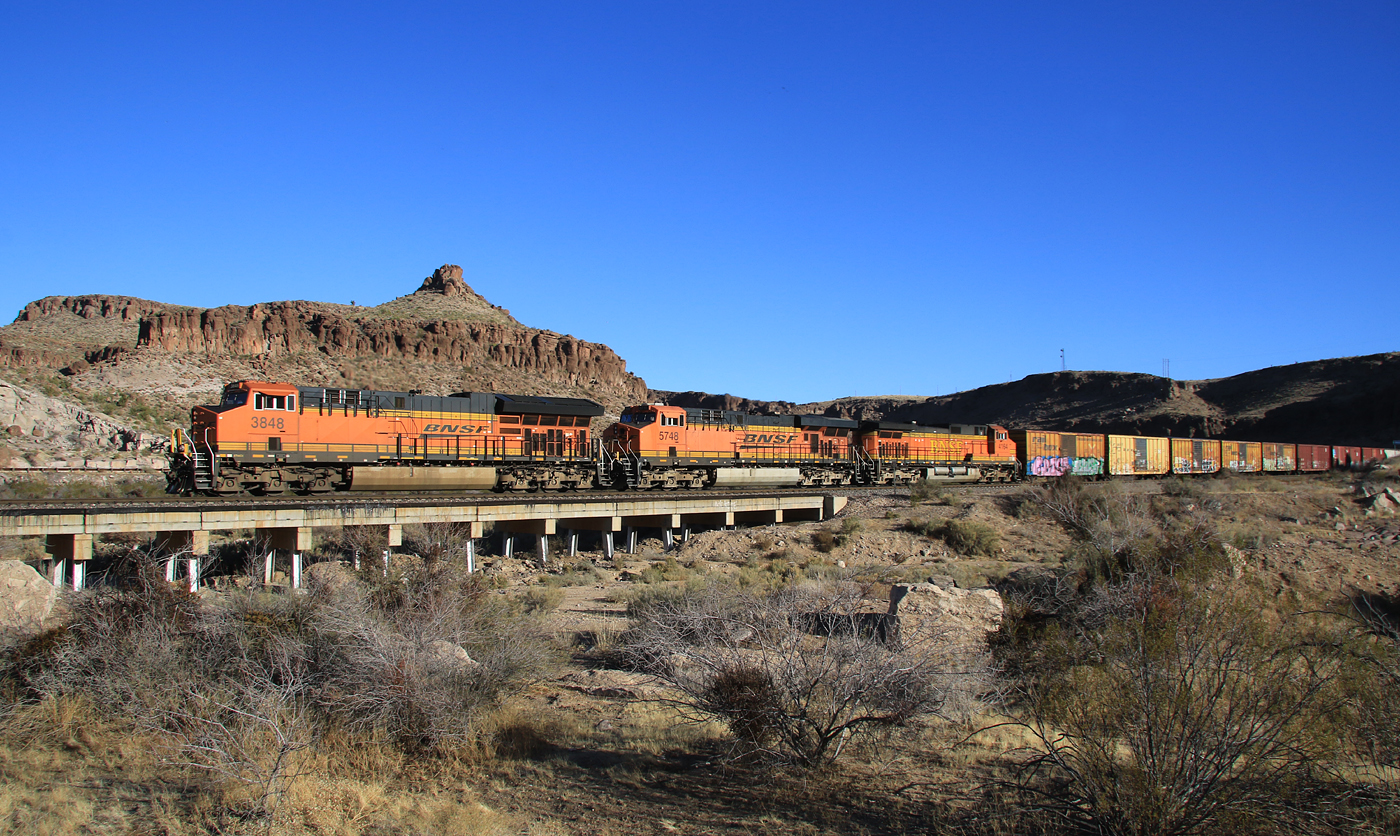 I hope you have enjoyed reading this trip report. Mahalo!
Moe