Ancient Athens via Ancient 767s - BA Club Europe and the InterContinental (w/pics)
Welcome to my final trip report for 2017 (published just a little behind schedule) telling the tale of an early October trip to the capital of Greece. I'll cover the British Airways Club Europe experience on two sectors on the 767, along with reviewing the InterContinental Athenaeum Athens and sharing some of my favourite images from around the city.
LHR-ATH
Entering Heathrow's Terminal 5, we headed straight for BA's First Wing in Zone J, pausing to collect our boarding passes; whilst I often use mobile BPs, I usually prefer to have a 'proper' boarding pass if there is no queue to collect one as was the case this morning.
Andrew Neil, the journalist and broadcaster, queued next to me at one of the First Wing's two security lanes and was later spotted in the Refectory area of the Galleries First lounge. We found some seats looking out over the threshold of Runway 09R, just to the right of where the First Wing opens out into the lounge. This area is nicely secluded to the rear of the Gold Bar, with high-backed armchairs providing some welcome privacy in what can be a busy lounge. It was late morning and I wasn't particularly peckish, so made do with a coffee and banana; here is the full breakfast menu for completeness.
Departure today was from Gate A13; although Club Europe and oneworld Emerald passengers were called first, there was the usual free-for-all rush to the Priority Boarding lane. BA are in the process of introducing group-based boarding; I just hope it is actively policed as it is on AA, whom BA have reportedly worked with closely on developing the new system.
BA operate a mixture of B767 and A320 aircraft to Athens. G-BNWX would be operating our flight having hopped to and from Amsterdam earlier that morning. This 767 was delivered new to BA way back in 1994 and today would be my third time travelling on this particular aircraft. Boarding was via Door 2L, which meant a satisfying left turn to our seats in the front row (Row 2). BA now operate a fleet of just seven 767s, all in shorthaul configuration, the last of the longhaul configured aircraft having been retired in 2016. These final 767s will all be retired by the end of this year, and are configured with 15 rows of old style convertible Club Europe seats spread across two cabins, and a further 24 rows of fixed Euro Traveller seats. Our aircraft today was configured with the entire forward cabin of 9 rows as Club Europe, plus the first 3 rows of the second cabin. The convertible seats offer an ample 34" pitch, the most of any shorthaul configured BA aircraft, although our seats in the front row had a similar amount of legroom as Row 1 on the LHR Airbus aircraft.
On 'Long' shorthaul flights such as ATH, blankets and cushions are pre-set on seats, along with a pack of cheap and nasty headphones on IFE-equipped aircraft (the 767s and a handful of A320s). BA should really provide the same noise-cancelling headphones they offer in Club World for Club Europe passengers on these routes, although it's perhaps a moot point as I rarely watch main screen IFE (and the IFE is often not working or simply not turned on). The film on this sector was Hampstead after a run of BBC World News, for what it's worth.
The best seats in CE on the 767 for solo travellers are undoubtedly the D and F seats in the middle block, as the E seat isn't sold and the armrests collapse into that seat providing additional seat width. For two travelling together, the AB/JK pairs are adequate, but be aware that there is no space or table between the seats as on the Airbus aircraft. This lack of storage/personal space is quite clear on a relatively long sector such as ATH, as is the visually chaotic nature of such a large and tightly configured cabin when full (as today's flight was).
Rather predictably for such an old aircraft and for the old convertible seats, the headrest at my seat (2J) was as wobbly as jelly and failed to stay in the 'up' position, the reading light above Seat 2K was inoperable, whilst one of the two windows adjacent to that seat was half filled with water between the two panes. This latter issue at least provided a modicum of amusement on takeoff.
Jackets were taken on request as our First Officer announced a flight time of 3h15. Pushback came slightly behind schedule and the new 'comedic' safety video rolled as we taxied out to the active departure runway.
Service started promptly once airborne, with a hot towel and bar service (via trolley) accompanied by packaged nuts. Gone are the mini bottles of wine and champagne; Medium and Long sectors now feature full size bottles which remain securely under the cabin crew's control. A drop of Castlenau champagne was my drink of choice to start today's flight. Due to the poor reception last April's catering changes received, BA are reviewing their shorthaul Club Europe catering in Q2 this year; I hope un-packaged nuts (at least on Long sectors) are up for consideration. A pre-departure beverage would also be a welcome addition.
Although I noticed them in the galley, menus weren't handed out on this flight. However, thanks to the power of the internet, I can confidently state that the starter for today's lunch was smoked breast of duck on Waldorf salad. As is often the case on Long sectors, the starter passes as one of the main courses on selected Medium and Short sectors. This particular platter is one of my least favourite currently doing the rounds; I'm not a huge fan of duck to start with, but couple it with some cheap shredded cabbage and some bland salad leaves, it's never going to be a winner.
The tiny three-quarter size trays are quite frankly ridiculous, leaving even less room than before for the warm bread offered from the basket. I still live in hope of Club Europe one day seeing a bread plate. The main course today was a choice of chicken khao soi with jasmine rice, or hot smoked salmon on lemon and dill linguine; the latter was my choice and although the dish had clearly been cremated in the 767's brutally unforgiving ovens, it was very tasty and filling. The main course was presented without the charger plate below, and I had to re-use the starter cutlery as the cutlery/serviette roll was missing a second set. Whilst we're on the topic of the serviette roll, last year's catering revision saw the wet towelette removed from the pack - I really miss this for use after eating the bread.
The Croxton Manor mature Cheddar cheese with mango and chilli chutney and oat cakes looked a little sorry for itself with just the single slice of Cheddar, but it's nice that a cheese plate is offered in addition to a dessert. To conclude today's lunch service, the chocolate and orange tart with bitter orange sauce provided enough sugar to keep me awake for the rest of the flight. I am really getting tired of having to prompt the cabin crew to provide a drip dish when I have tea with a teabag; I'm not sure where else they think a used teabag can be placed once all other dishes have been cleared away?
Once the service had concluded, the crew weren't great with further refills on this long sector; although there's always the call button, I don't like using it if I can help it and so I stopped in the forward galley on my return from the washroom to get some water. The 767s have one forward washroom (despite what the placards on the forward bulkhead claim), and two in the Doors 2 galley for CE use (when CE extends back that far); all three are stocked with pleasant Elemis hand wash and moisturiser. The plug in the basin of the forward washroom was stuck in the down position unless the release button was pressed; with the desert beckoning for these aircraft, I doubt such maintenance issues will be addressed before retirement.
We landed a little ahead of schedule and disembarked conveniently from Door 1L. Promptly through immigration thanks to no queue at the electronic gates and with no baggage to wait for, we headed out to find our InterContinental driver. Because we were early, the driver took 5 or so minutes to arrive and escort us to a Mercedes Vito for the 45 minute ride into the city centre.
InterContinental Athenaeum Athens and 4 Days in the Greek Capital
It comes as no surprise to regular readers that InterContinental is one of my favourite hotel chains. Their properties usually strike just the right balance between elegant and corporate, without being completely over-the-top luxury. The Athens property errs towards the corporate end of the IC spectrum, but is nevertheless a very comfortable base from which to explore the city. The lobby is expansive, with a wraparound balcony housing the bar and lounge, with restaurants and shops off to the sides and function rooms on the levels below.
From reception we were escorted up to the Club InterContinental lounge for an efficient check-in, backtracking along the 8th floor once formalities were complete to our Acropolis View Club InterContinental room, a one category upgrade from a Club InterContinental room. Whilst the design of the Club floors is dated, it is by no means unattractive, and our room was very spacious with an ample seating and working area beyond the bedroom.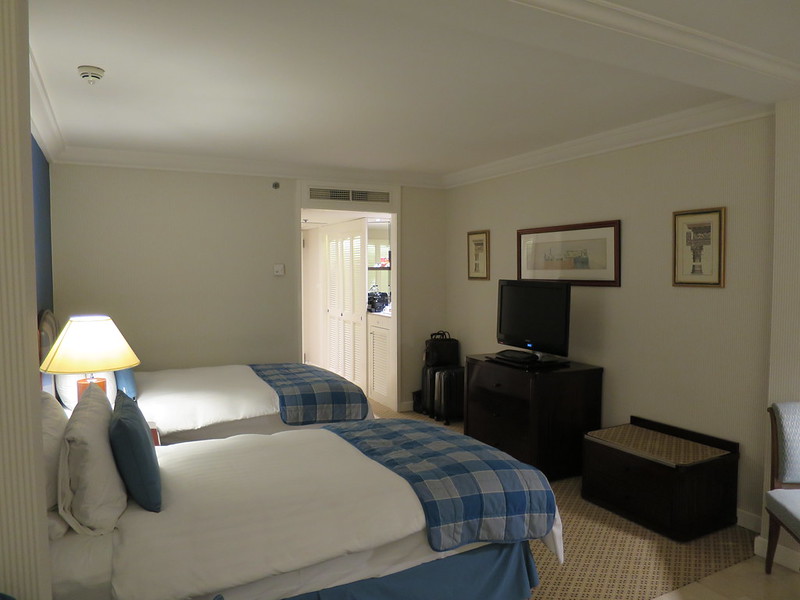 Ambassador amenities were well provided, with a welcome large bottle of mineral water (replaced daily), generous fruit plate and a gift of sesame bars - not to my taste (think cardboard with an infusion of more cardboard), but (just perhaps) better than nothing. It was good to see a proper Nespresso machine in the minibar area, although it seems as though this IC is keen to cut some costs with non-Nespresso capsules. For non-Ambassador guests, it appears that just the one complimentary small bottle of mineral water is provided, which is a little stingy (although more bottles were freely handed out during turndown service). Honey for tea was a thoughtful inclusion.
The bathroom was well appointed, although in common with many older un-refurbished properties, there was no stand-alone shower and the mirror wasn't anti-steam. Amenities by local brand Korres made a nice change from the usual Agraria products.
After a comfortable night's sleep we headed to the Club lounge for breakfast the following morning. A comfortable space, the lounge features clusters of soft seating interspersed with table seating, a central buffet and bar area, and a couple of meeting/private dining rooms with a smaller TV lounge seating area at one end. An outside terrace completes the space, offering some spectacular views across the city to the Acropolis (a view shared with our room).
Whilst there is no waiter service, the staff kept the lounge clean and tidy, promptly clearing empties. The offer was nowhere near as extensive as the best Club InterContinental lounges out there (that honour goes to Singapore, closely followed by the Grand Stanford in Hong Kong), but what was available was perfectly adequate; fresh berries and bircher muesli was missed at breakfast, however. We enjoyed afternoon tea and dinner canapés on a few occasions during our stay when time permitted, also sampling in-room dining and the hotel's Café Vienna for dinner - pleasant service in a relaxed atmosphere, without the experiences being notably memorable.
Whilst we did walk one morning from the hotel into the city centre (about 30 minutes at a brisk pace through not the most attractive of residential streets), the complimentary hotel shuttle bus was an easier way to travel to Syntagma Square - even if it was a sub-optimal Iveco minibus with a driver who hadn't fully grasped the concept of an on time departure.
We focused on the Monastiraki and Aerides areas on our first day, purchasing a 5 day ticket at Hadrian's Library to access all of the main historical sites for a reasonable EUR30 each. As well as the Library, we explored the compact Roman Agora and expansive Ancient Agora. Even those not fully into their history are sure to be wowed by the opportunity for learning from these ancient sites.
Taking a break from the archaeology on the second day after a brief stop at the Olympieion, we wandered through the rustic National Gardens to the upscale residential and embassy district of Kolonaki.
An early start on day three had us beating the majority of the coachloads of tourists to the Acropolis and its slopes, the sun making a perfectly timed appearance to enhance some of the most breathtaking urban vistas in Europe. After touring the well designed museum, we headed to Kerameikos (not pictured here) - particularly snooze-worthy and certainly one to miss on a short trip.
With an 8pm departure on our final day in Athens, we had plenty of time for a leisurely breakfast before heading out to the final site included in our ticket - the well-tended Aristotle's Lykeion - via the vibrant Central Market. Beware the fish market, which is not suitable for those wearing open shoes as one of us found out to our cost. (At least one of the dinner options on the flight home was fish.)
I'd managed to extend our check-out until 4pm, and although we could've continued to use the facilities of the Club lounge we decided to head out to a taxi to the airport, Athens traffic being somewhat unpredictable. Whilst our previous taxi driver had opted for the mountain route, this time our driver took us via the sea (roughly the same distance according to Google Maps), passing through the coastal towns of Alimos and Glyfada and the old airport at Elliniko in between, resplendent with old Olympic Airways logo.
ATH-LHR
With check-in desks opening 2 hours before departure, we used mobile BPs to access the passport check and security, where the queue for the single Fast Track lane was typically slower than that for the several standard lanes. It looked like there was a special area for Fast Track off to the right, but this wasn't in use today. I was pleasantly surprised by the rigour applied by the security staff; they insisted on iPad covers off, and even decanted my liquids from my perfectly compliant bag into one of their own bags. It beats my experience of a couple of years ago in Doha where a security officer pointed to the x-ray screen and asked me to identify what something was.
BA closed their Terraces lounge at Athens in the summer of 2016. Since then, they've used the third party Skyserv lounge. Aside from some reasonably new furniture, the lounge bears the fit-out of its former life as an Olympic Airways/Airlines lounge. It's a pretty dismal and dated space, with an oppressive black floor, unimaginative seating layout, utilitarian ceiling and washrooms, harsh lighting and a modest selection of unappetising snacks. As the world's slowest cleaning staff shuffled around, I went on the hunt for power sockets, eventually resorting to sitting on the end of one of the bench seats to charge my phone at one of the two visible sockets.
Boarding at Gate A9 was a total shambles with no gate signage at all and a single Club/Gold/Silver/Bronze call that went unpoliced; as my BP was being scanned, the agent half-apologised and said that the Priority Boarding banner had broken earlier in the week. Fair enough if that was the case, but I'm sure a couple of temporary signs could've been printed off. Clear announcements and policing don't require any signage.
With the airbridge connected to Door 1L, the opening moments of the flight in Row 2 weren't as peaceful as they could've been with the entire aircraft's worth of passengers filing past. My second time on this aircraft, G-BZHB was in no better condition than her outbound sister, despite being four years younger - a veritable child at just 20 years old. Highlights included the traditional broken headrest, non-functioning IFE (resulting in a manual safety demonstration and rendering the pre-placed headphones somewhat useless) and reading lights throughout the aircraft that simultaneously turned off shortly after takeoff and could not be re-energised. Our rather jaded Cabin Services Director noted that 'these aircraft are old and nothing works; we have to be engineers and do everything ourselves'. I responded that hopefully the engines and gear was in full working order. Hmm. My 'disappointing flight' radar was more than twitching by this point.
Jackets were taken on request as the 9 row Club Europe cabin filled up ahead of pushback around 10 minutes behind schedule to commence this 3h30 flight. The cushion BA provide on the longest of the Long sectors is really welcome, although I find the old squishy convertible seating to be pretty comfortable in any case. I didn't have any use for the blanket on this flight, but it's another good amenity to have the option of.
Once airborne, service commenced with hot towels and a trolley bar service (featuring two packets of nuts for each passenger). No menus, lemon slices or serviettes had been loaded, and so on request the CSD serving the port aisle brought a packaged serviette from Euro Traveller for use with the nuts, commenting that BA were 'cutting back'. Whilst this may be true more generally, this is not the case for serviettes in Club Europe - and in any case, is not something that crew should be openly declaring to passengers. I should apologise at this point for the poor lighting of the following images; inoperative reading lights are the trip reporter's curse.
Dinner this evening commenced with a starter of peppered melon carpaccio with king prawn and raspberry dressing. This was passable, but most fruit (and I include melon in this assessment) has no place in a starter or main course, IMO. The tray had been presented by the CSD with plastic lids covering the cheese and dessert plates; another service no-no that by itself is not a huge issue, but added to the other niggles combines to present an unfavourable view of this particular crew. I handed the lids back to the CSD, by which time I think she'd got the measure of me and I'd got the measure of her - there was hope for a friendship yet!
This evening there was a choice for main course of chicken supreme with potato gnocchi, rosemary cream sauce and dry ratatouille or miso-glazed cod with wasabi mash and wok-fried vegetables; I picked the latter which turned out to be an excellent dish, nicely flavoured and not badly presented, accompanied by a fresh cutlery/serviette roll and further warm bread.
Cropwell Stilton with red onion chutney and oat cakes comprised the cheese plate, whilst dessert was the chocolate tart with coffee mascarpone cream and pecans - super sweet but enjoyable. I opted for a peppermint tea to conclude the service (bonus points if you can guess whether I had to request a drip dish or not).
Once on the ground at Heathrow, as seems to be the case for most late night shorthaul arrivals, we parked at a T5C stand, but with a brisk pace, hardly a queue at the e-gates and no checked bags, were landside in short order.
This was a pleasant long weekend in historic Athens, bookended by one average and one sub-par flight. The retirement of the 767s can't come soon enough - the interiors are poorly maintained, and in Club Europe the large cabin size and close together outboard seating means the modicum of privacy and space otherwise available in that cabin on the Airbus fleet is all but lost. The weight that a good or otherwise cabin crew brings to the experience should never be underestimated.
Thanks for reading; comments and questions are welcomed as always.
Coming Soon:
The Qatar Airways 787 and A350 Business Class Experience to Singapore.