27 January 2018: Flying American Airlines PHX-HNL-PHX intending to ride the A330-300.
Hi A-netters. I recently learned American Airlines was serving PHX with the A330-300 so I searched out ways to try and fly on it. The aircraft does a daily Charlotte-Phoenix-Honolulu turn...not sure how long it will last as I haven't checked into future dates.

Phoenix has very little passenger widebody traffic. That I know of there is only the BA 747-400 and the aforementioned A330-300 currently serving PHX. In December I caught a flight aboard an American A330-200 from Charlotte...in February 2017 I got the American A330-200 to Charlotte. Delta had an A330-300 serving Atlanta and on the inaugural ATL-PHX flight of the season in November 2016 I tried for that but it was subbed with a 777-200LR. A nice ride, but not the plane I was hoping for. A month or so later I tried it again and was rewarded with the Delta A330-300 ATL-PHX. Not that I'm trying to fly everything serving PHX, but with the limited choices I'd like to fly the domestic widebodies entually.

To that end, in early January 2018 I booked a roundtrip from PHX to HNL with the return to PHX being operated by the A330-300 on flight #693 departing 1030pm arriving PHX 727am the next day.

As stated in my earlier trip report on flying aboard Hawaiian Airlines' new A321neo, I don't have any spare vacation time at the moment so I planned this trip as a day-trip to HNL for the express purpose of getting the A330-300. I could've just as easily booked the Charlotte portion of the trip but Hawaii is more exotic even if just for a day...or a few hours...or even just one hour!
Itinerary as booked: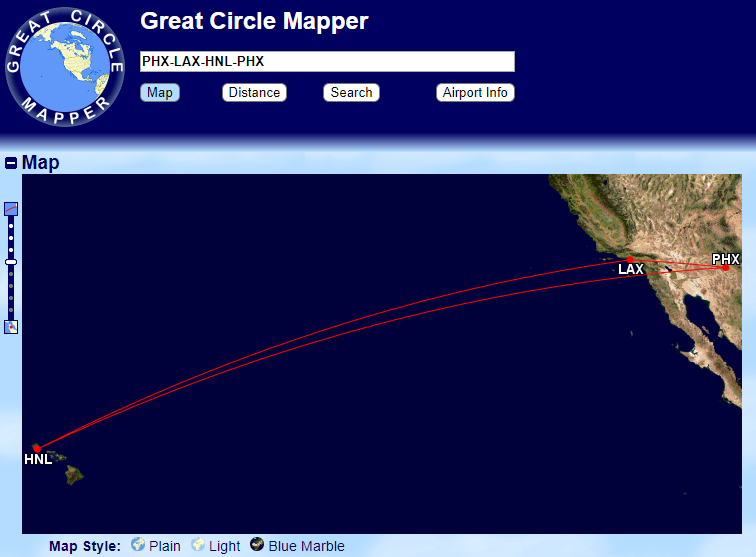 Maps generated by the Great Circle Mapper - copyright © Karl L. Swartz.
27 January 2018 I arrived PHX Sky Harbor about 4am and parked in West Economy. It is the cheapest of the on-airport options at $7 / 24hours. There are no shuttle services as T2 is quite close by. Walking east past T2 a few hundred more yards/meters gets you to the elevators/lifts to the PHX Sky Train station at T3 as well as the entrance to T3. Since AA operate from T4 it is a short wait for the next train to T4 and just a couple of minutes ride on the train.

Once inside T4 I go through security on the south side where the Southwest Airlines gates are. This side typically has a shorter queue at this time of the morning plus it gives me a bit more of a walk to get to the American Airlines gates.

With 90 minutes or so until boarding I usually walk the concourses to get a bit of exercise. My CRJ-700 of SkyWest/American Eagle is parked at gate B3 so I'm able to get a photo of it in the dark while on the people mover.
N718SK at gate B3 before departure: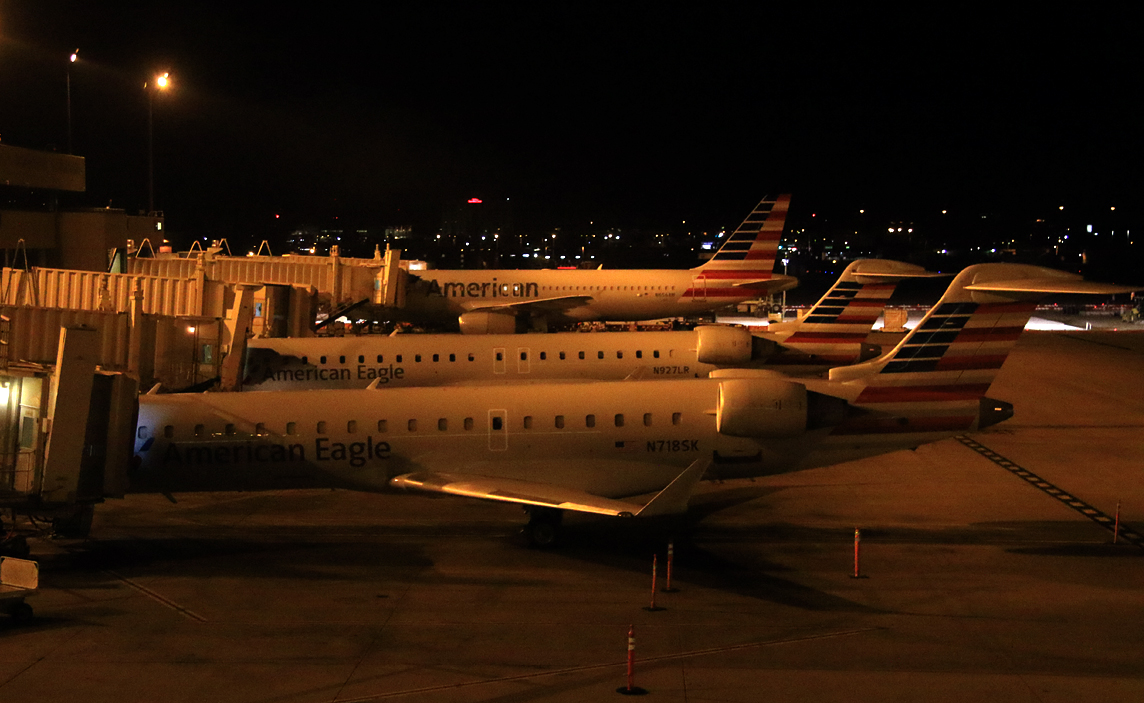 27 January 2018
Leg 1: PHX-LAX
SkyWest / American Eagle #2996
CRJ-701ER N718SK
Depart: 07:04 MST Rwy 7L
Arrive: 07:06 PST Rwy 24R
Distance: 399 sm
Flying Time: 01:02

In due course boarding was called and with my Alaska Airlines MVP creds I am in Group 4. I take my seat 12D and stow my camera bag under the seat.
Boarding N718SK at PHX: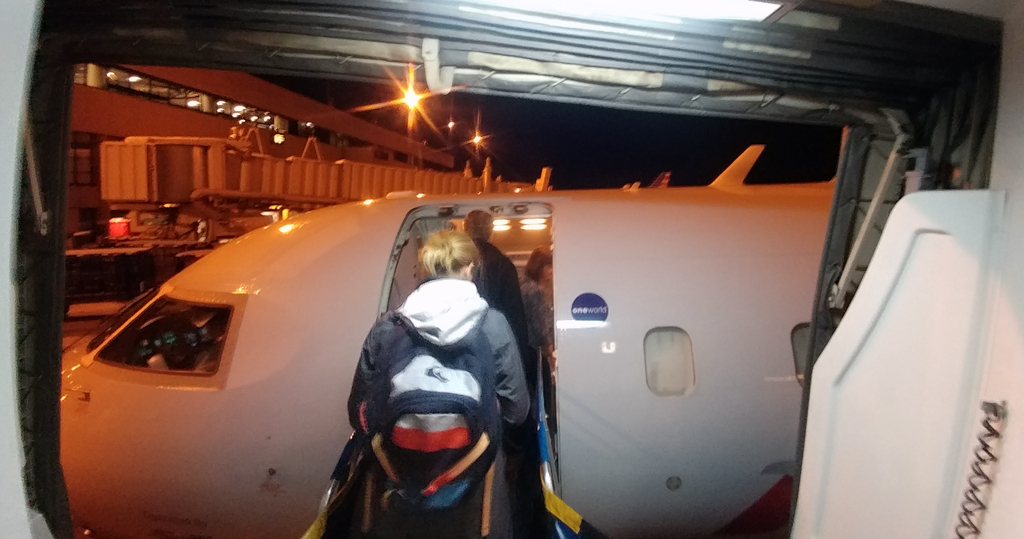 I'm rather dismayed at the condition of the window glazing...it is terrible under the harsh glare of the ramp lighting. Maybe it'll be better in daylight once we are heading to LAX.
Really crappy windows on N718SK: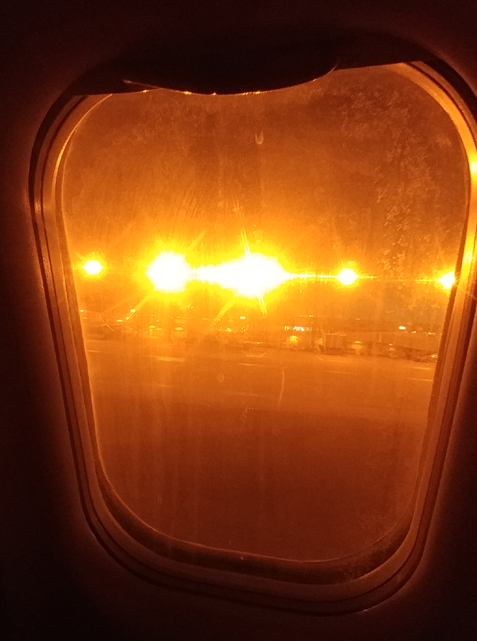 Sunrise enroute to LAX: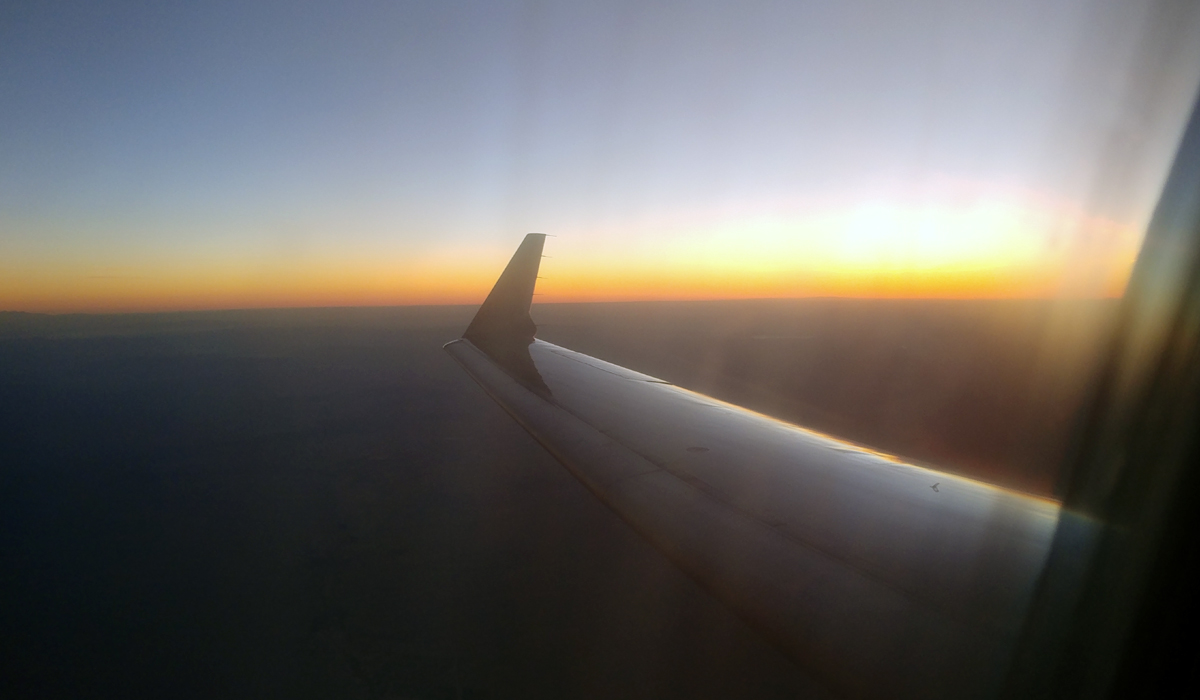 Safety card and In-flight magazine: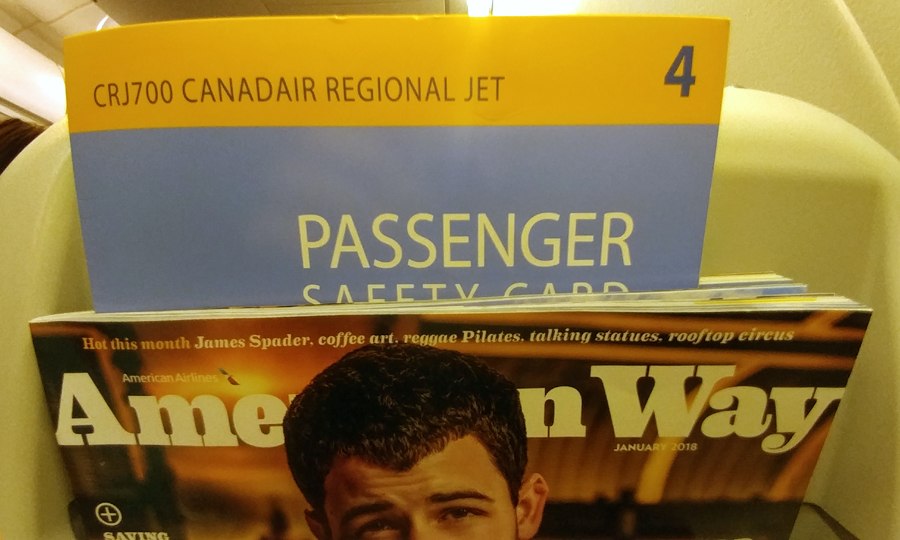 Orange juice and a Biscoff: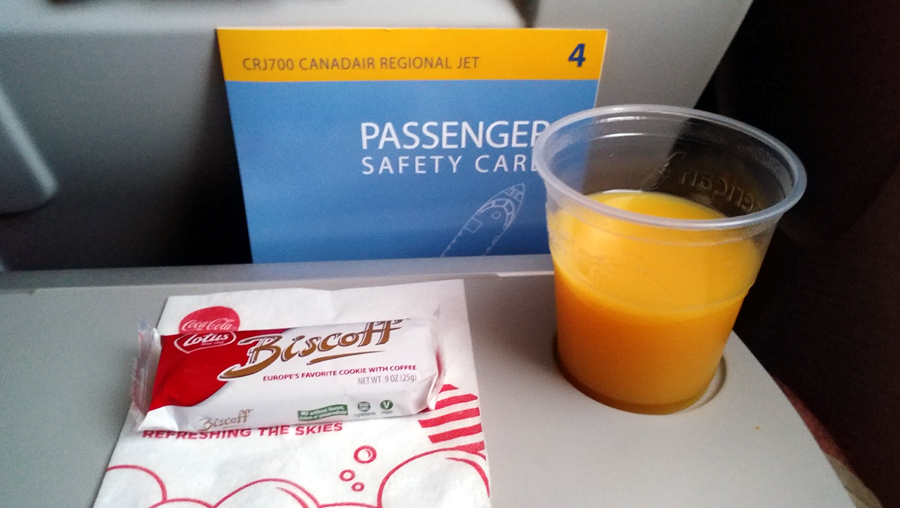 Of course we parked at the remote so-called "Eagle's Nest."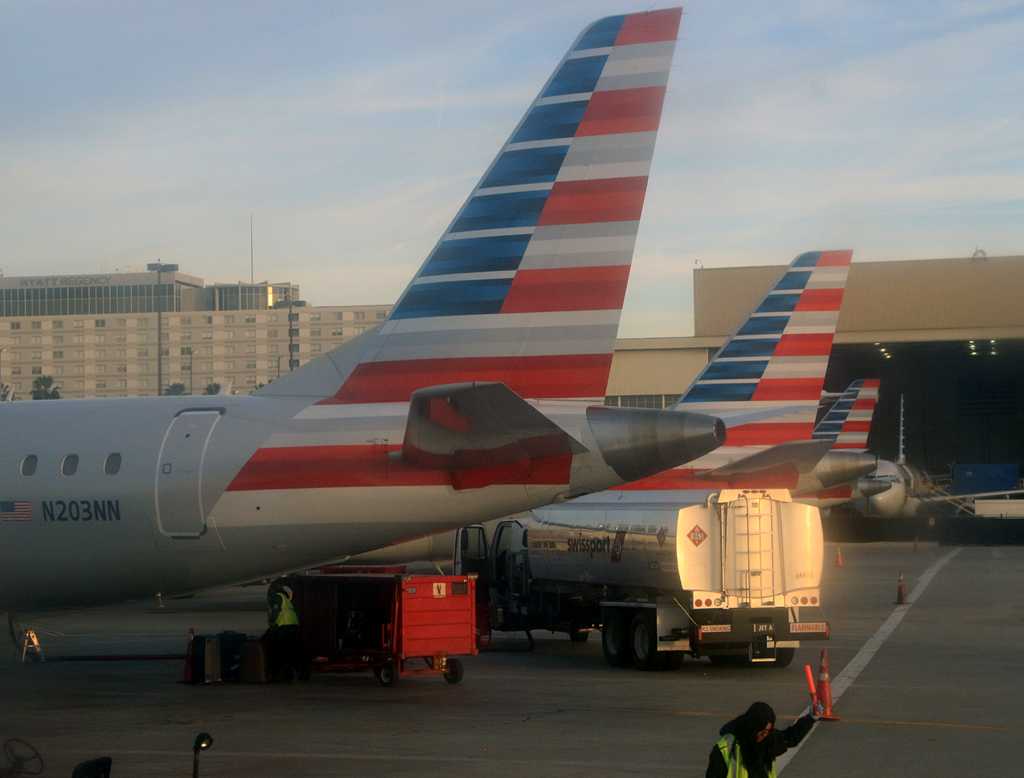 I don't know how this gal got onboard with three bags...she was really struggling to deplane:
With a 2-hour connection I catch the bus to Terminal 4 so I can walk to TBIT and check out the international airliner action. My flight to HNL is departing from T5 so I'll have to give myself plenty of time to make the rather lengthy walk back to gate 53B for boarding at 910am.

The walk between T4 and TBIT using the airside connector only takes a few minutes and the view of the south side of the TBIT is excellent. The west side of T4 is also good and I got my first up close views of an AA 787-9, parked at gate 41.
American 787-9 N828AA: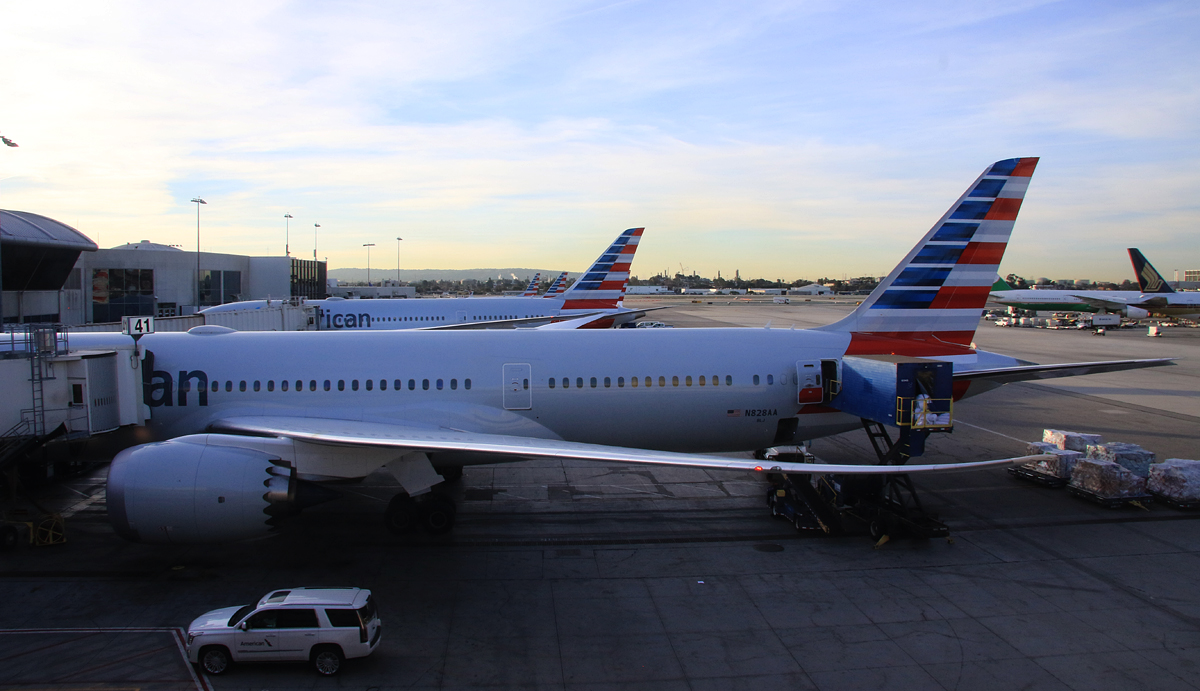 Interior of TBIT: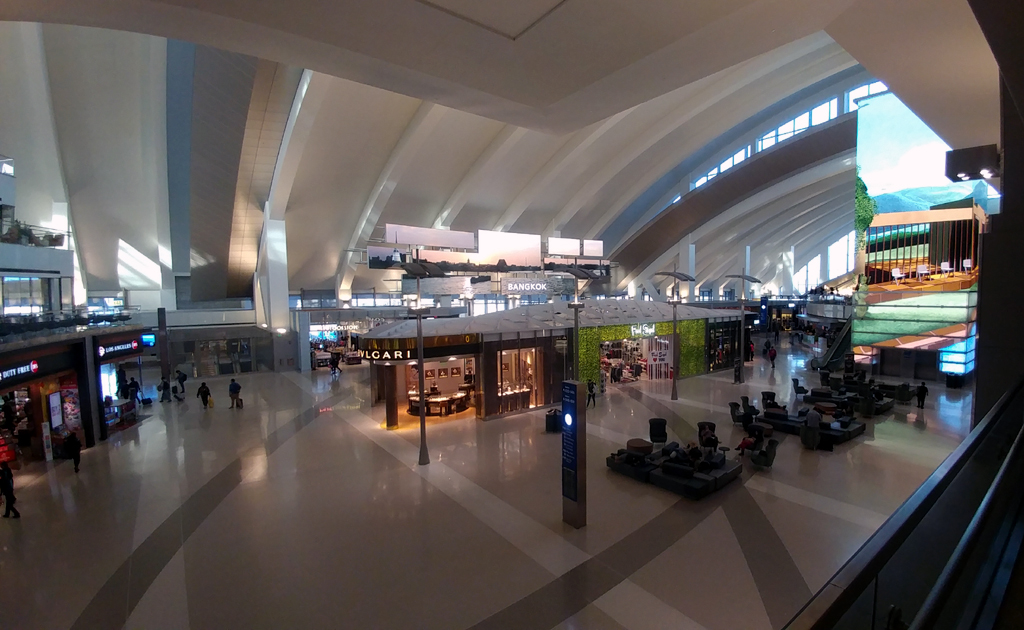 Construction of the new midfield satellite concourse: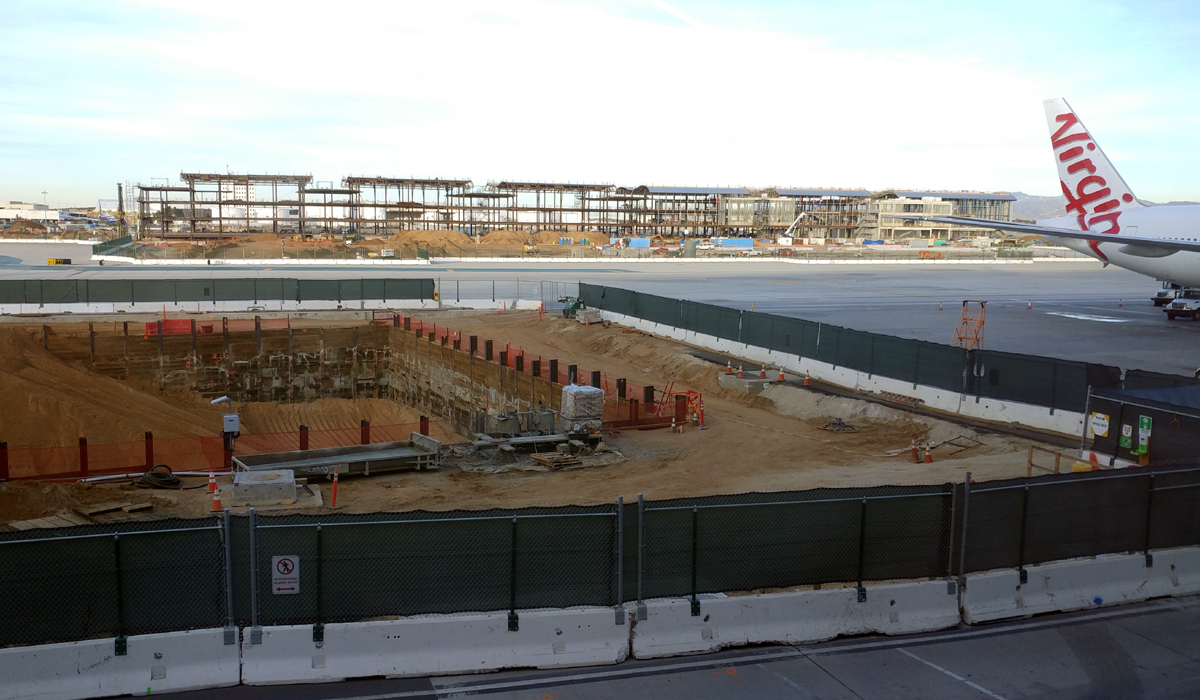 Thunder from Down Under:
Air China 787-9 B-1467 arrives from Beijing operating CA #887: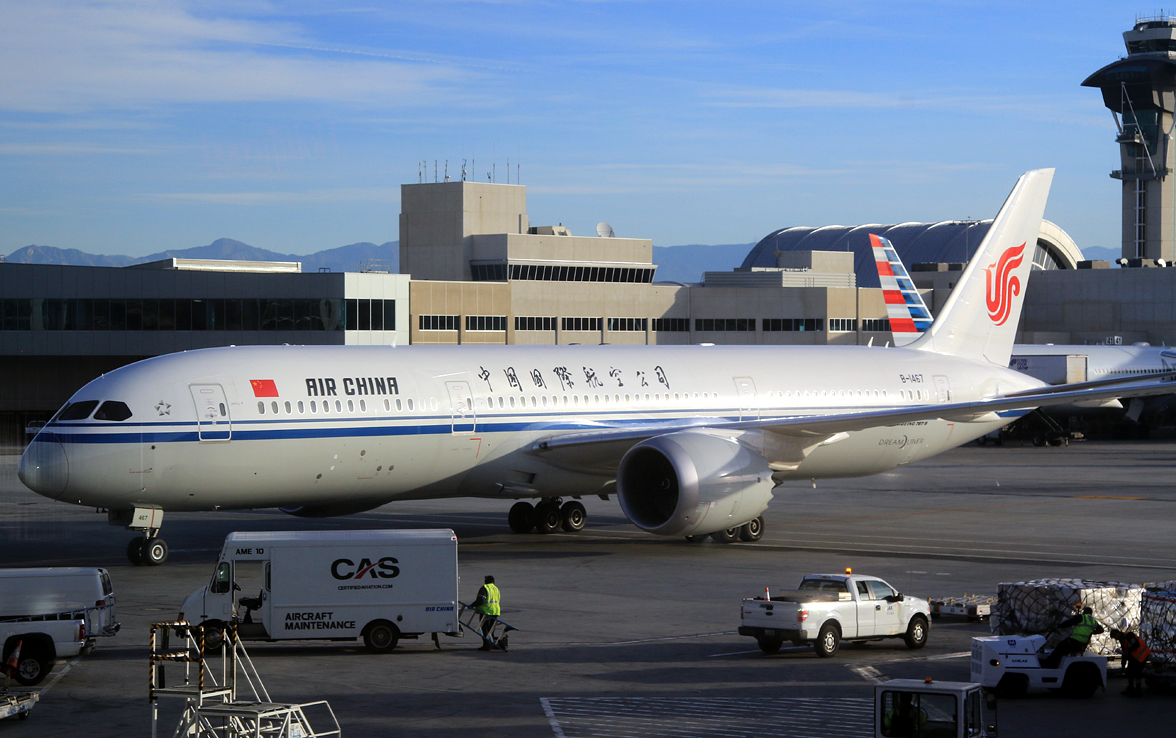 Virgin America A321neo N921VA "neo kid on the block" tows to the gate. This airplane was about 20 minutes behind us while flying LAX-HNL.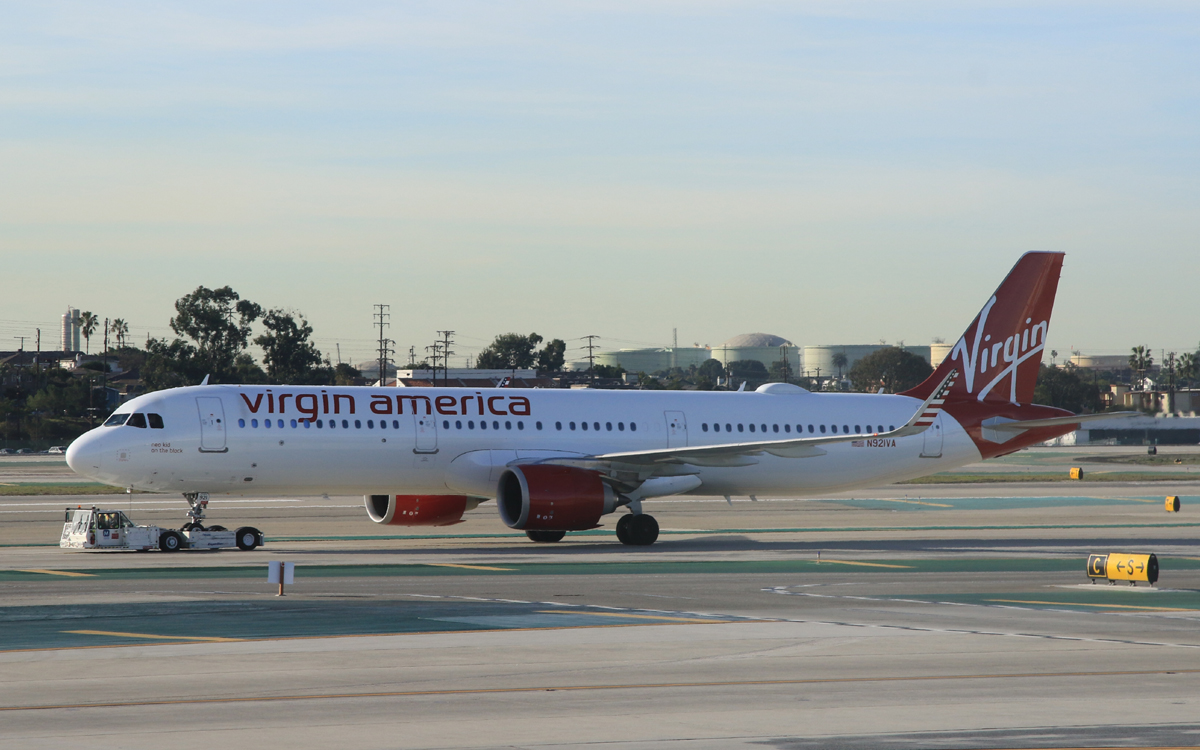 Hong Kong Airlines A350-941 B-LGA operating HX #68 arrives gate 156: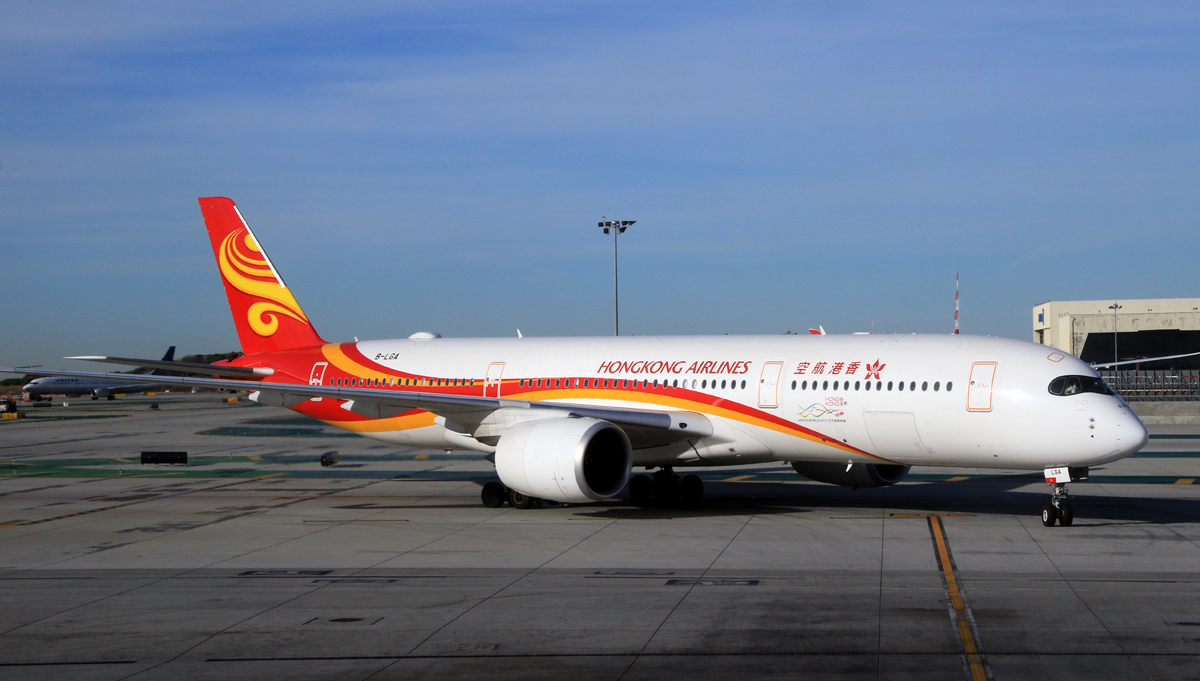 Once I finished a quick phone video of B-LGA arriving the gate I made haste for Terminal 5. Boarding was set to begin in 15 minutes and it would take all of that for me to get there on foot. Despite thinking I know my way around the LAX "underground" I ended up missing the turn for T5 after descending from T4 and ended up at the exit to baggage claim. About face and back to the correct tunnel for T5. My left shin was starting to ache a bit at this point but within a few minutes I was ascending to T5 on the escalator. I sorted out 53B and headed there.

27 January 2018
Leg 2: LAX-HNL
A321-231(WL) N118NN
Depart: 10:11 PST Rwy 25L
Arrive: 13:56 HST Rwy 8L
Distance: 2679 sm
Flying Time: 05:45

Departure Screen: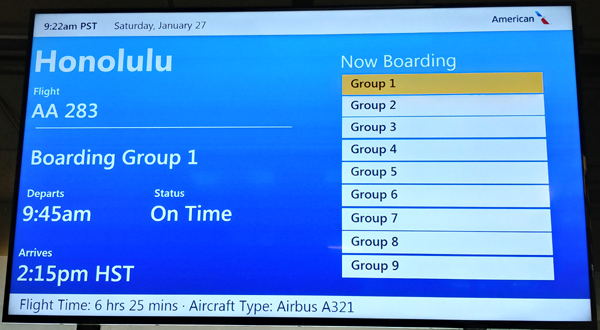 The boarding area was crowded and as soon as I arrived I heard my name on the loudspeaker. I made my way to the counter where I was asked if I wouldn't mind changing my seat to the opposite side of the plane. I briefly explained my explicit reason for selecting the seat (photography reasons) and politely declined to do so. Gate 53B offers virtually no view of the aircraft at the gate except for a nose shot...apparently I didn't bother taking one..

N118NN at Gate 53B: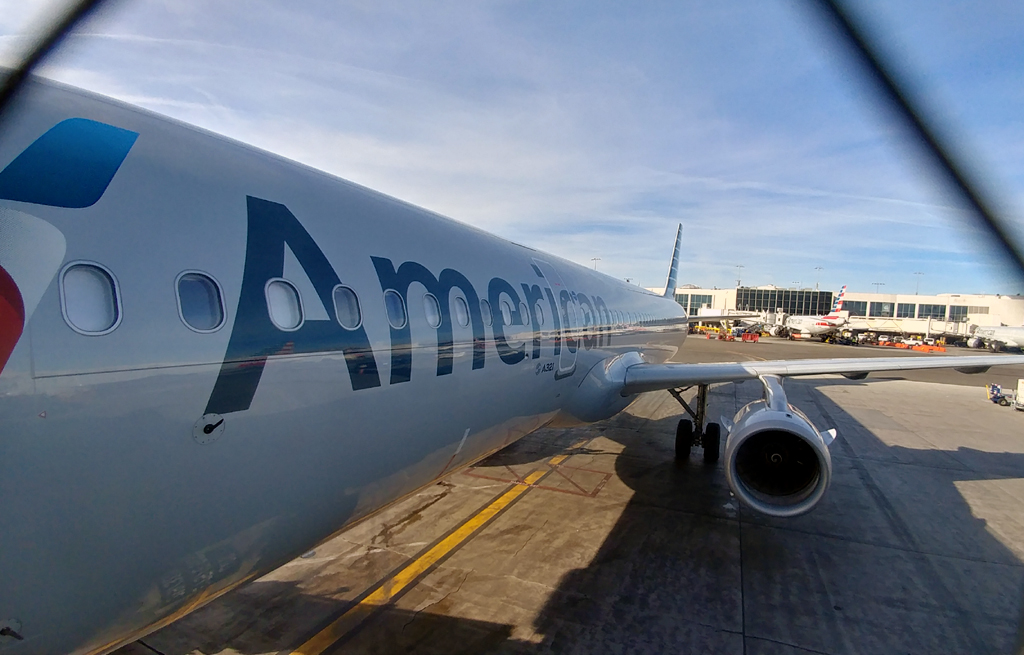 Boarding N118NN: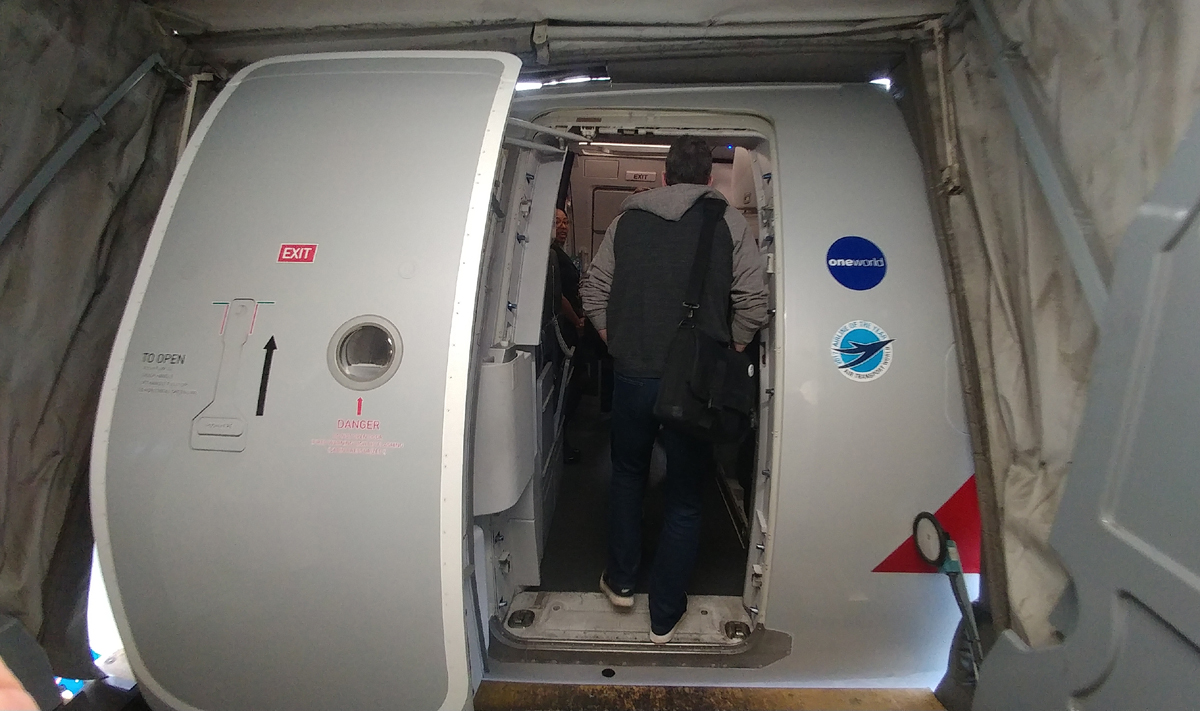 My view from row 9: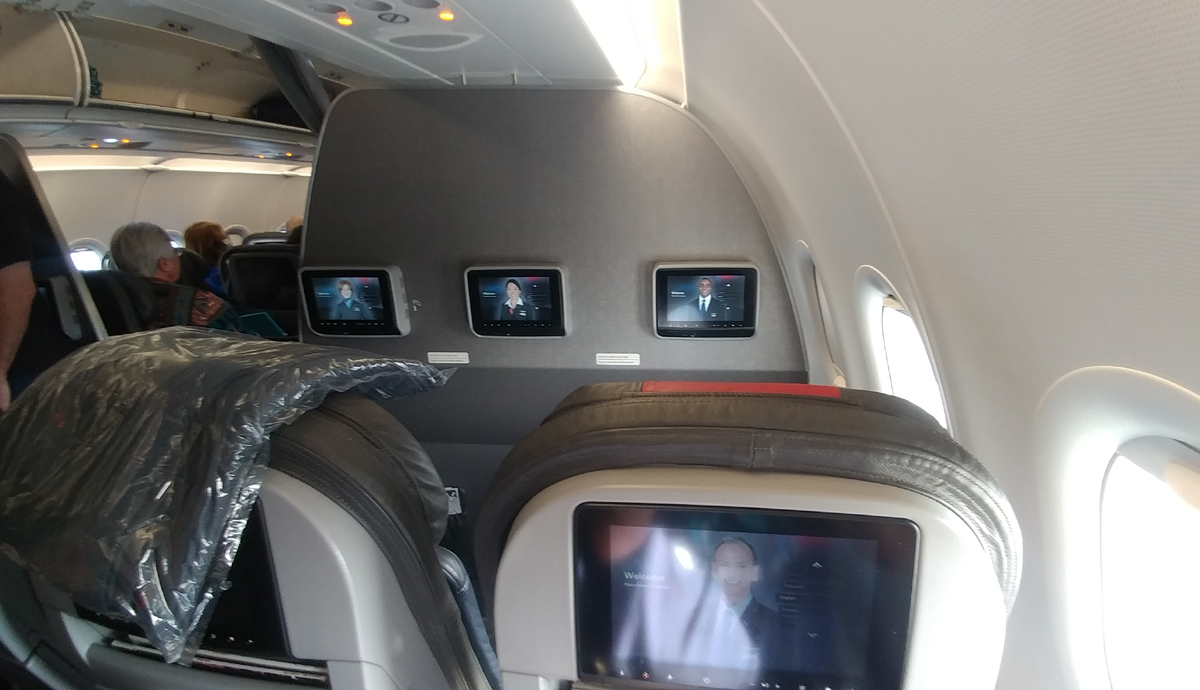 After pushback with A319-115(WL) N8001N. We don't typically get the A319s with sharklets at PHX so I haven't seen many of them: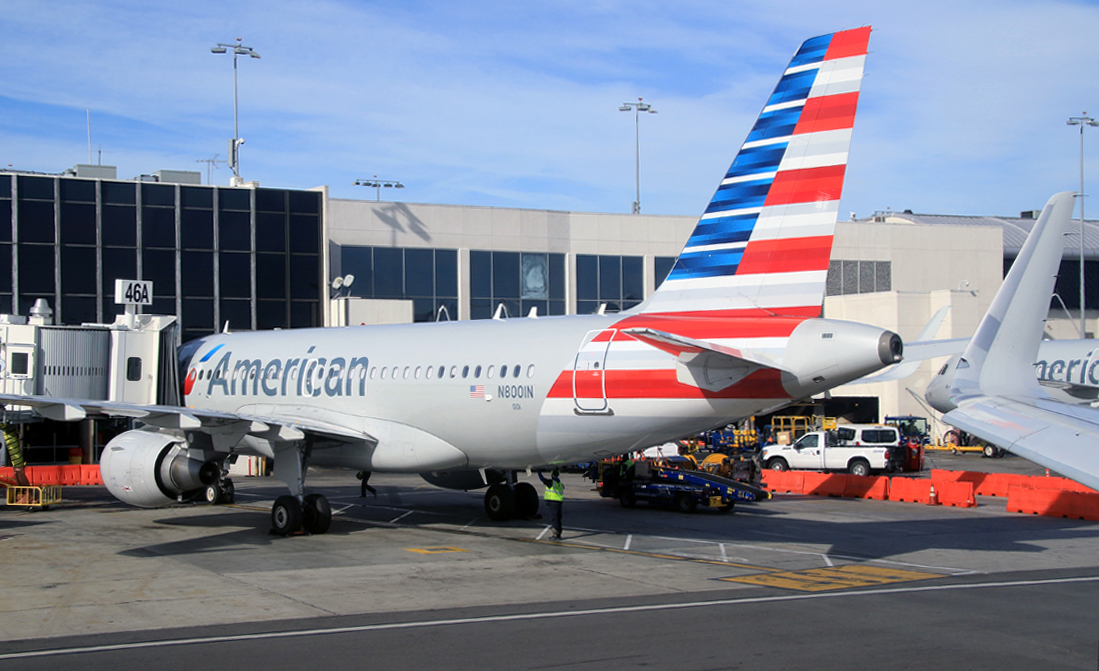 Turning onto 25L at LAX: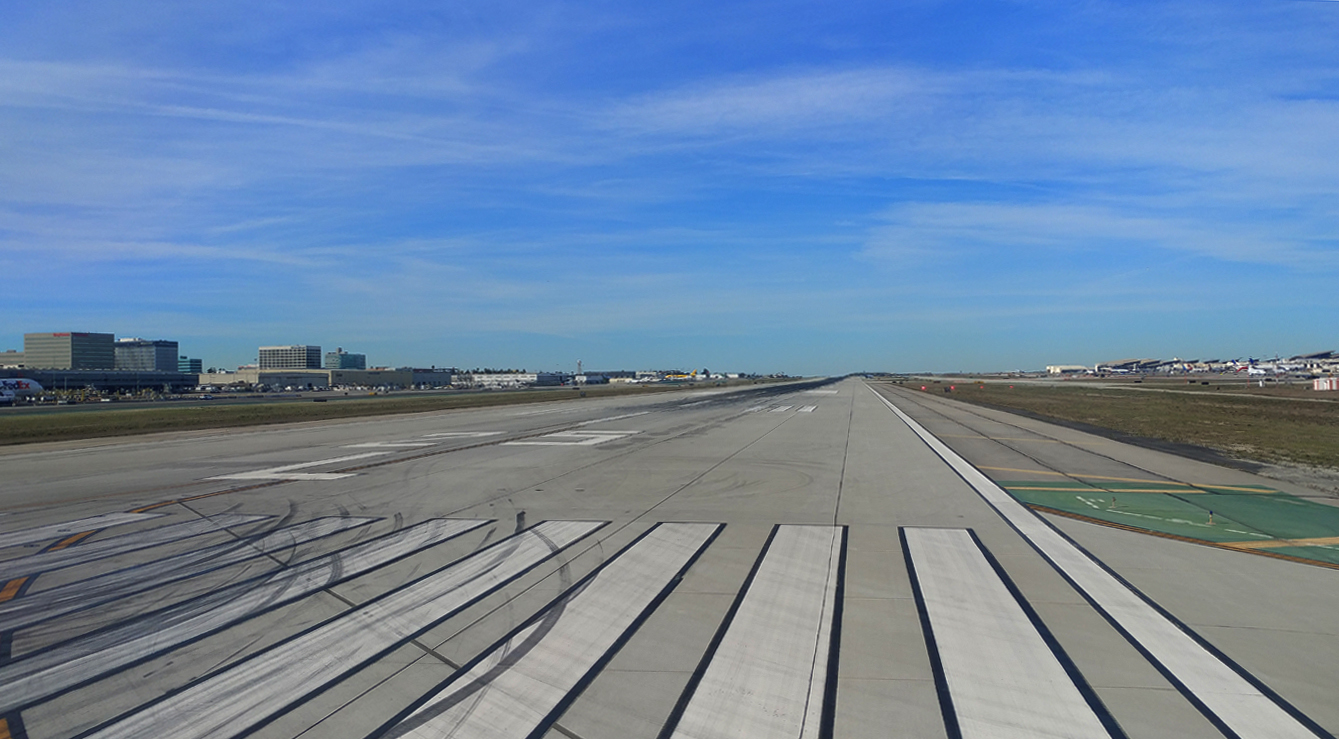 Still from my departure video: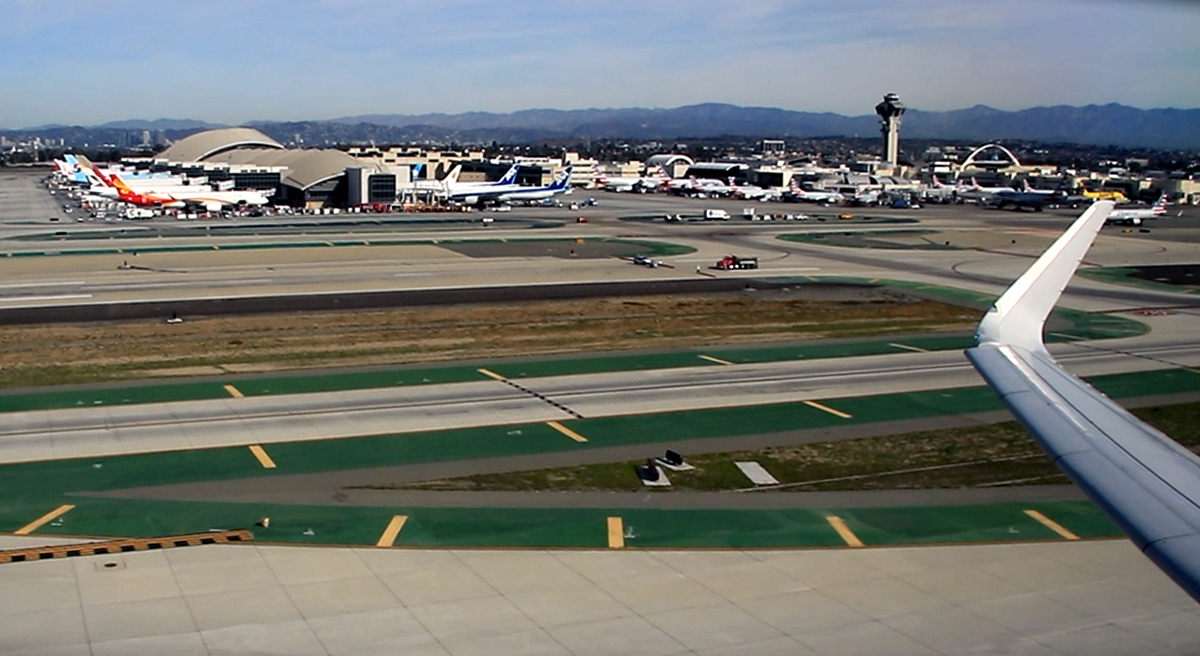 My

takeoff video

as posted to YouTube.
Shortly after takeoff from LAX the captain announced we would be heading north a bit towards Morro Bay and joining the SFO-HNL track for a smoother ride at our cruise level of 30k feet / 9100meters. Despite the longer routing he said "we'd fly a little faster" and arrive on time.
Lake San Antonio (top) and Lake Nacimiento (bottom) as seen from N118NN: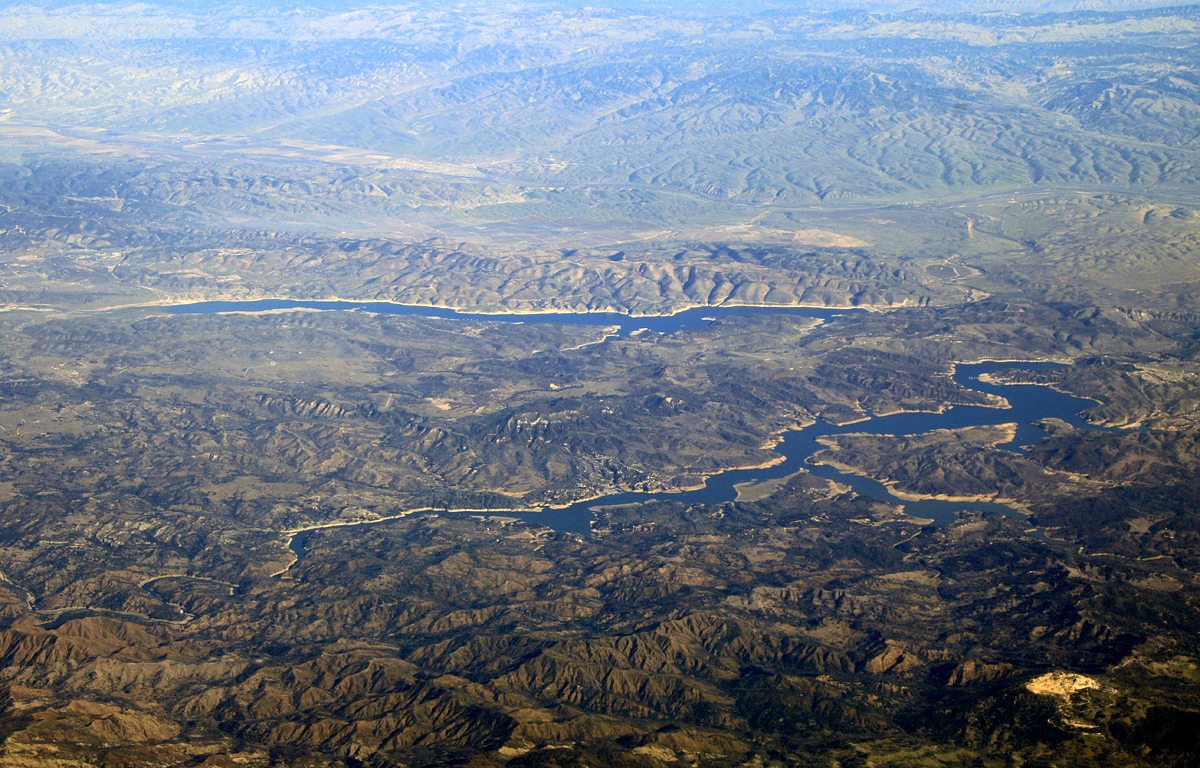 Leaving the California coast behind:
AVOD screen: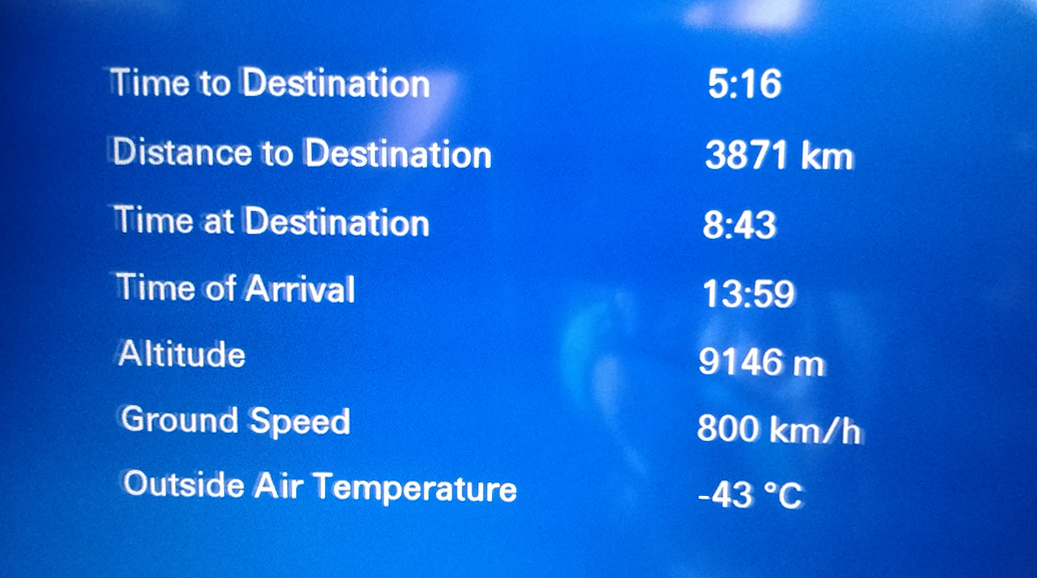 I purchased the cheese/fruit tray and the Turkey & Swiss Croissant: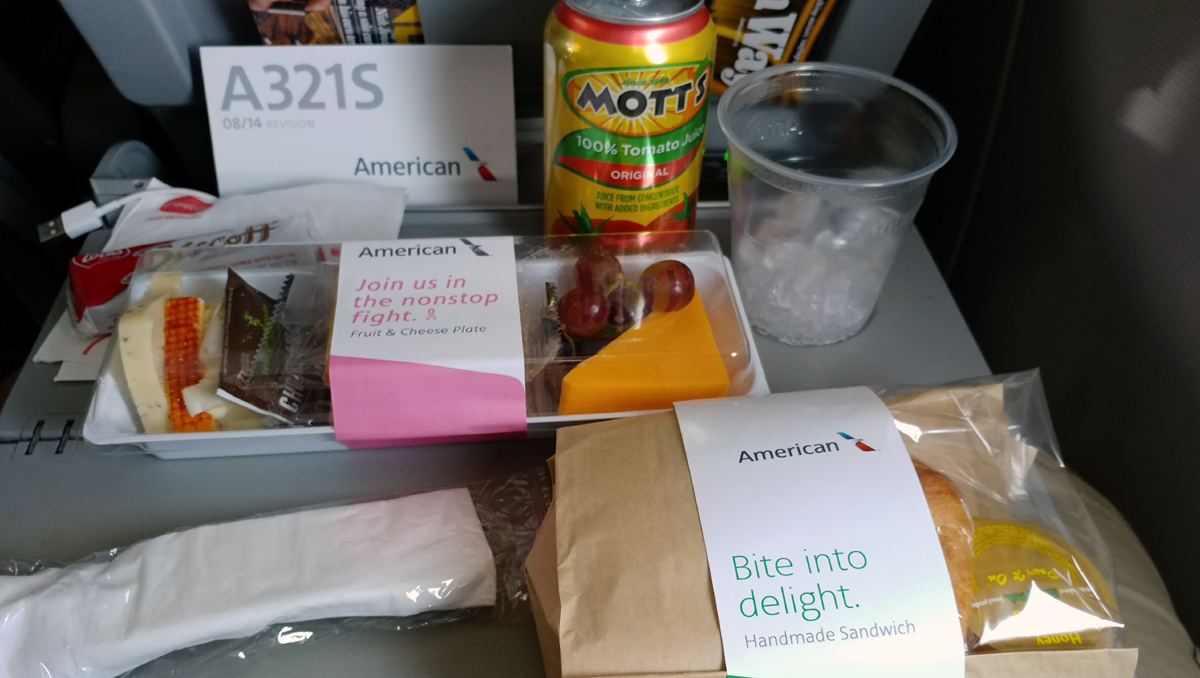 AVOD screen: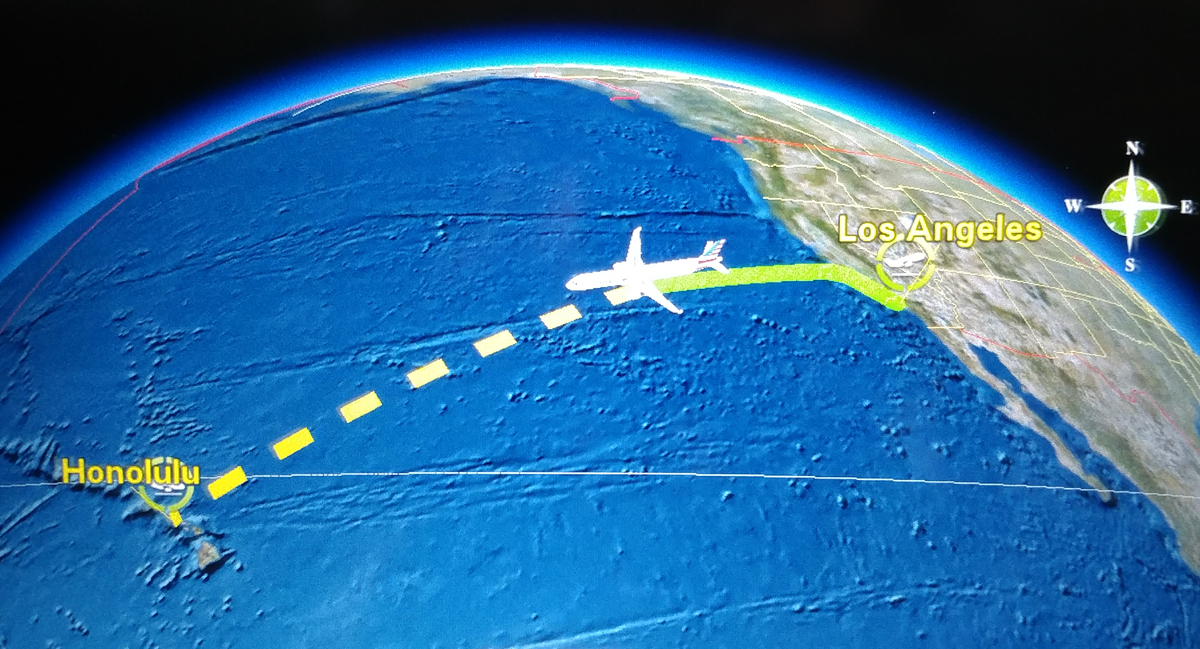 My

landing video

as posted to YouTube.

After deplaning I started walking around the concourses checking out the airliners present. Like last week, due to the time of day there were only Air Asia A330 and JAL 777-200 representing foreign airlines. Plenty of Hawaiian Airlines A330s, 767-300s and 717-200s as well as the typical mix of Alaska, American, Delta and United. Virgin America was inbound from LAX with N921VA "neo kid on the block." I wandered over to the inter-island terminal to see what other planes were present. I checked out two of the gardens at ground level to see if I could photograph any birds.
N118NN at gate 16 after deplaning: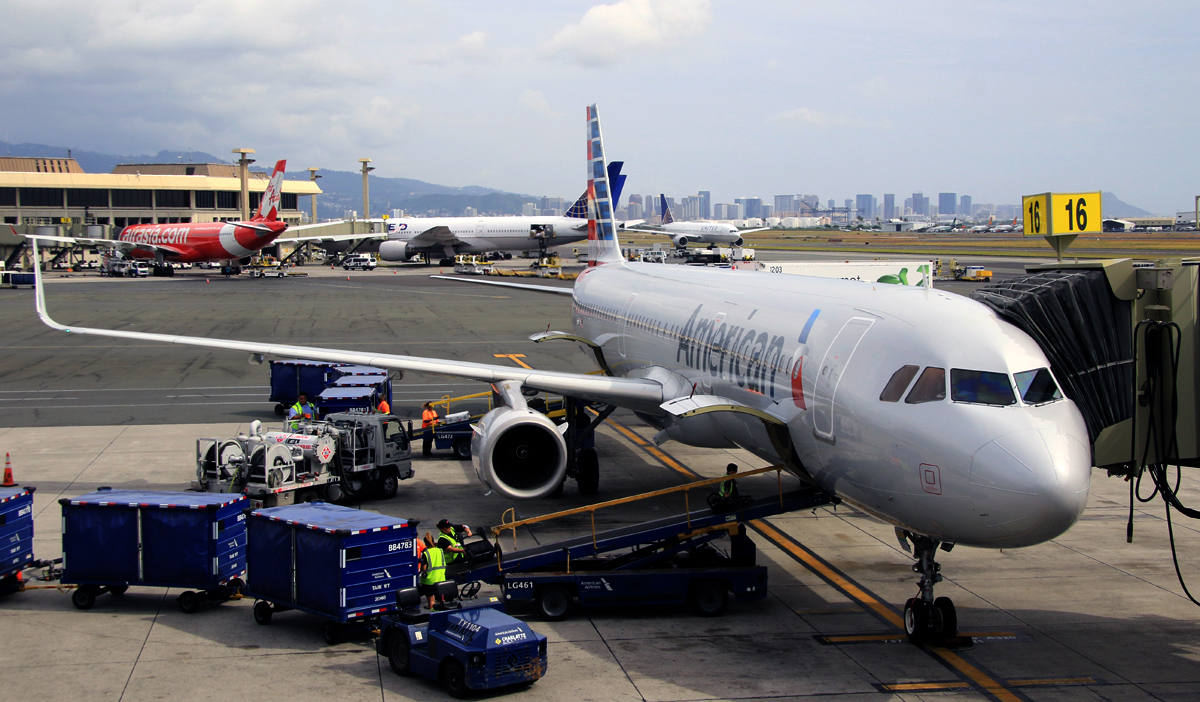 Virgin America A321neo N921VA "neo kid on the block" arrives from LAX.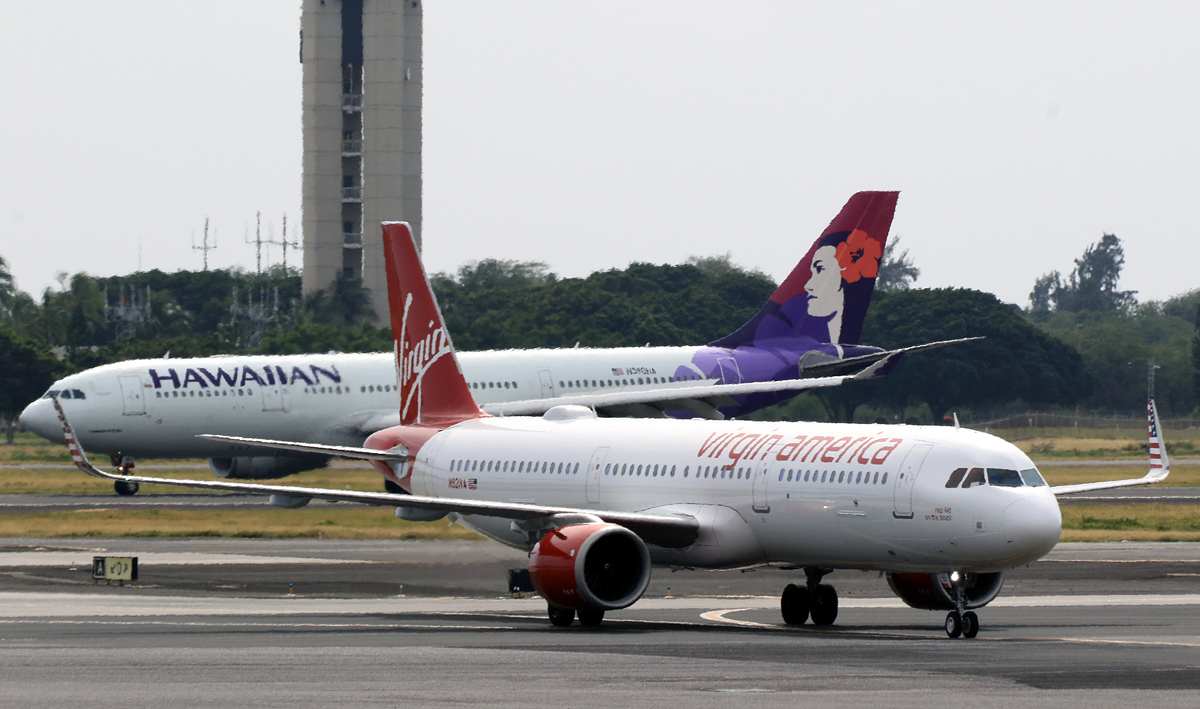 A Japanese garden one can walk through: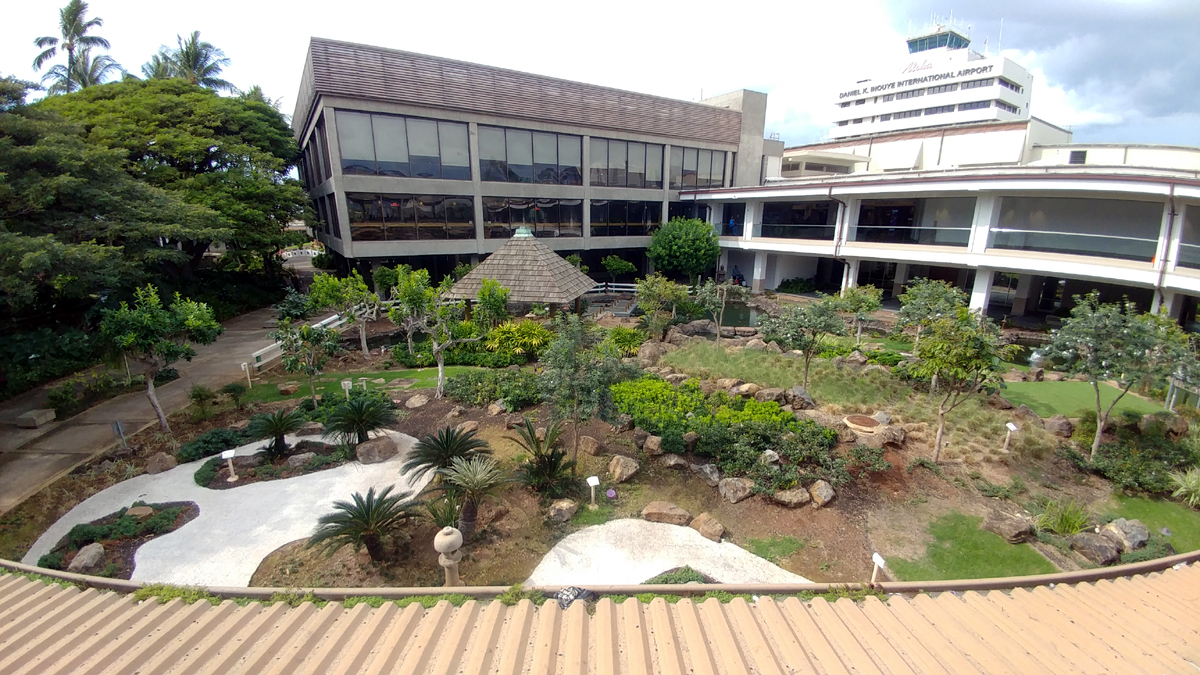 Koi pond in a Japanese garden: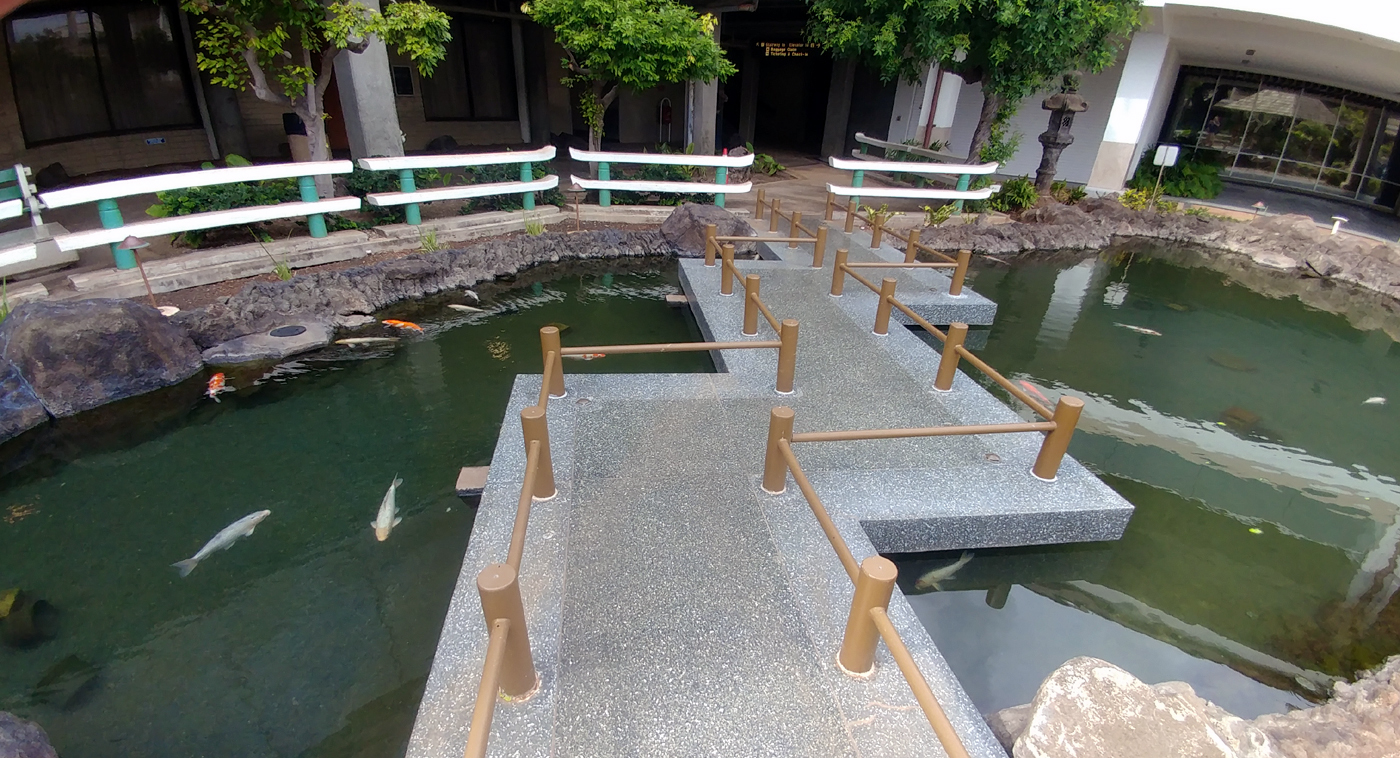 Back on the main level I decided to check out the Hawaiian Airlines "Ewa Concourse" (North American and International) to see if I could get a better look at the Aloha Air Cargo 767-300F parked at their facility west of the terminal complex. As I was entering that concourse I wanted to check the arrivals monitor to see when my plane (the A330) would be arriving so I could photograph it and that's when I noticed it. The inbound flight from PHX to HNL has been cancelled.
Arrivals screen showing inbound PHX flight cancelled: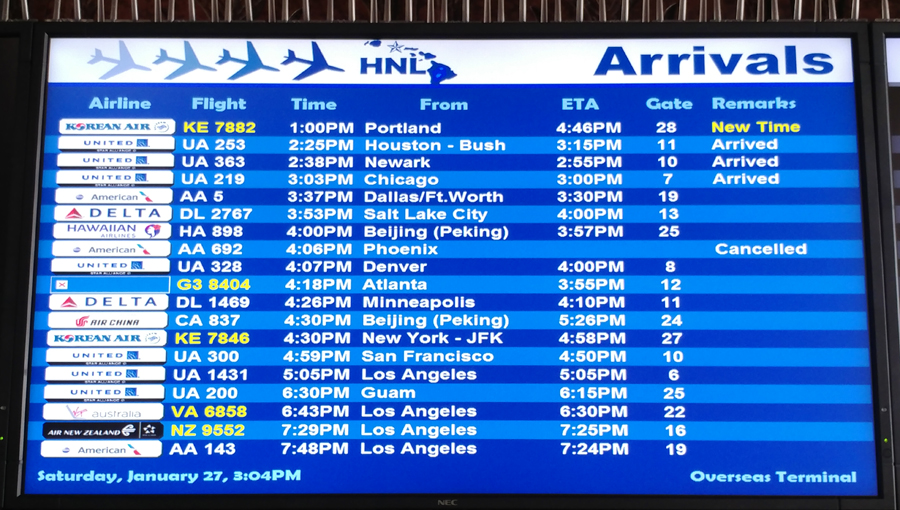 After I returned home I checked out the routing of the A330 diversion back to PHX. Seems they had to return a bit after departure for a mechanical.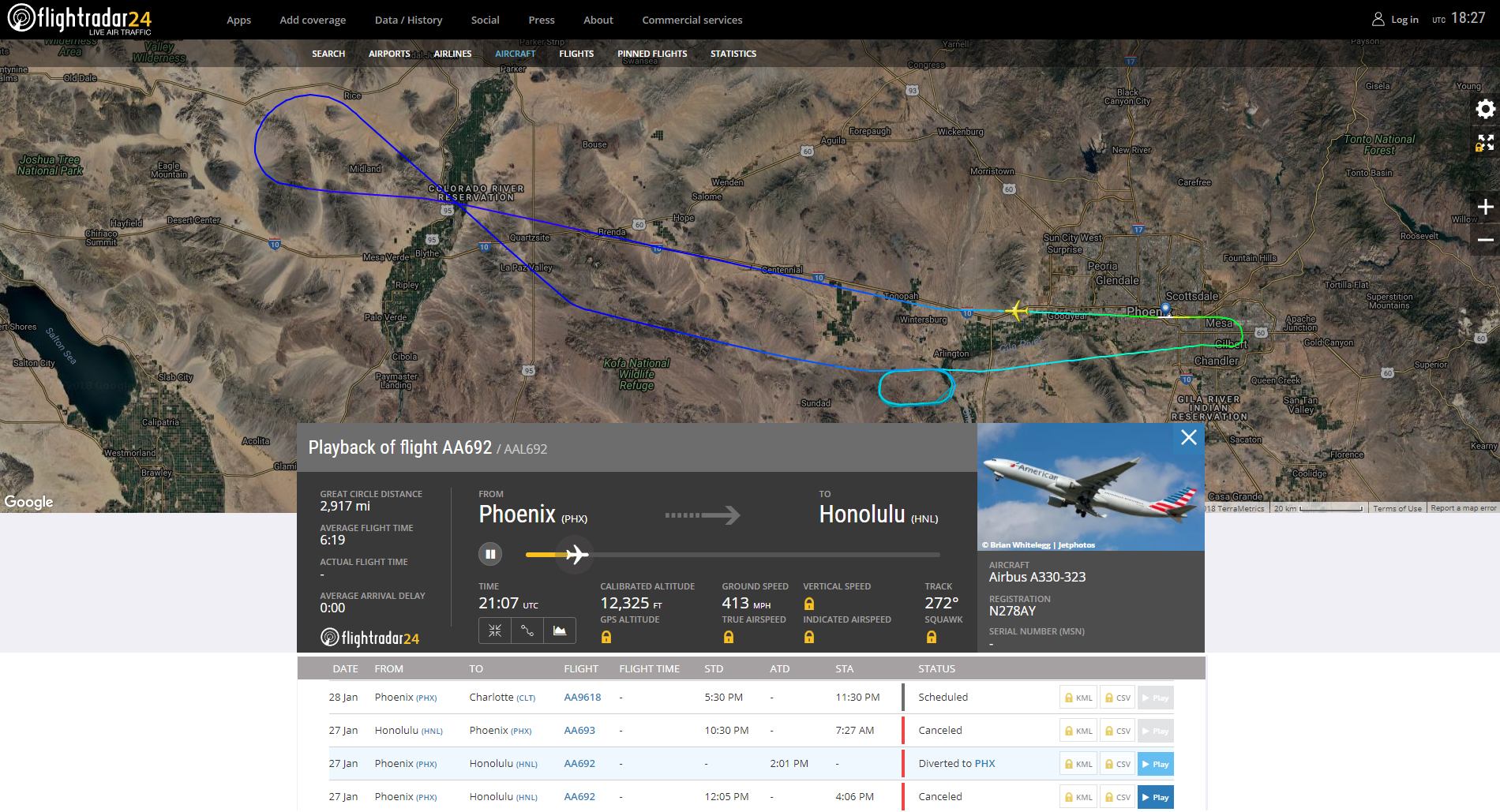 I pulled out my phone to see if I'd received any text notifications...sure enough there was one from American with rebooking information...a flight for Sunday afternoon arriving PHX at 10pm Sunday night. I did an about face and thinking on my feet I made my way back to gate 16 to see what my options were. I explained the situation and asked if this A321 flight to Los Angeles (in final boarding) had any seats available. It was full and my best course of action I was told would be to exit security and go to the ticket counter. As I contemplated my situation, I thanked the two counter agents and walked away.

Not a minute later I heard my name being called out from behind me...it was the gate agent getting my attention. Turns out there actually was one seat available...an aisle seat in the last row of the plane...and it was mine if I wanted it. The flight would arrive 11pm and my connection back to PHX was at 6am Sunday morning...I gladly accepted it. While the agent went to another computer to print my boarding passes I visited the bathroom to change my shirt as well as fill up my water bottle. The agent followed me down the jet way, I thanked her for finding me a seat, and I walked back on board N118NN.

27 January 2018
Leg 3: HNL-LAX
A321-231(WL) N118NN
Depart: 16:05 HST Rwy 8R
Arrive: 22:52 PST Rwy 25L
Distance: 2618 sm
Flying Time: 04:47

When I reached my seat row there was a young-ish woman at the window. Explaining that I was a photographer I asked her if it would be possible for us to switch seats for the takeoff so I could take photos and video. She happily agreed so my two seat mates got up and I took seat 36F in the ass-end of this fully packed plane. The fella in 35F had his seat fully reclined at the gate and I had to ask him to put it forward just so I could sit down and stow my camera bag. My seat mate in 36E was a broad shouldered fellow who made little effort to keep his elbows and knees out of my "personal space" but I just dealt with it for the flight.

The skies north of the terminal were quite stormy and there were occasional lightning flashes. The captain came on and said we were now on a gate hold because of lightning within three miles (5 kilometers.) He explained there were still some bags to load once the ground handlers were able to return to work it would be just a few moments then we'd be on our way to Los Angeles.
Alaska 737-890(W) N588AS pushes back for Oakland: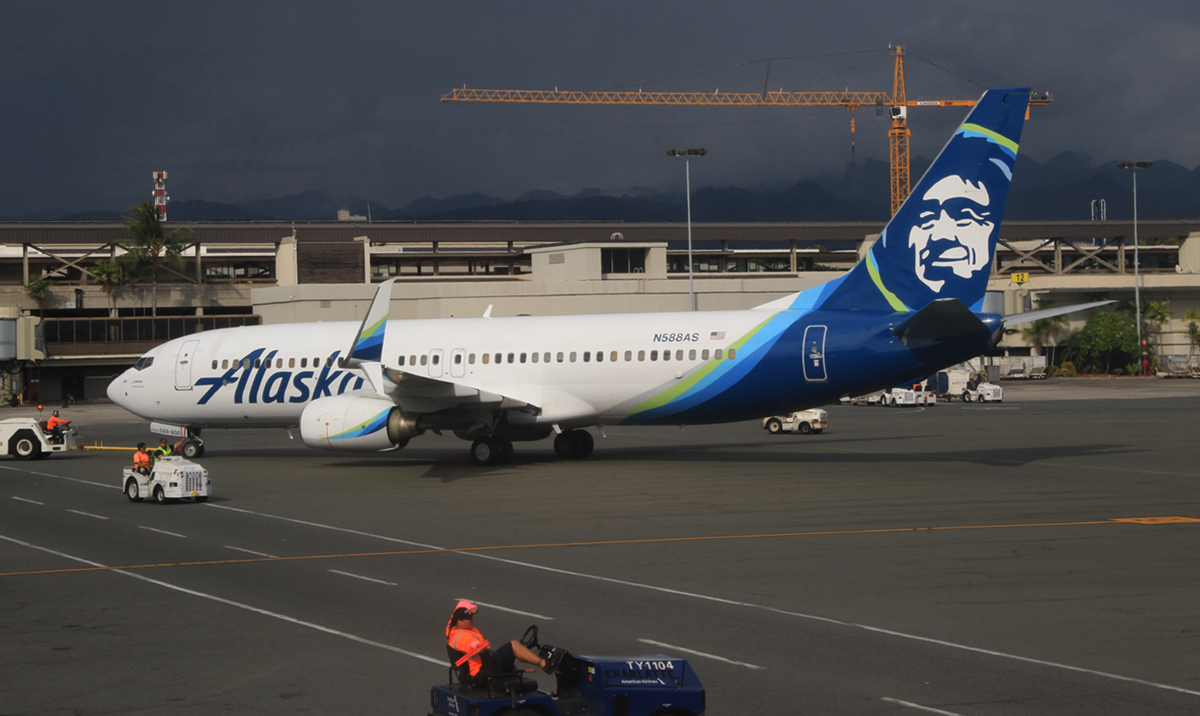 Turned out the weather delay wasn't all that long and eventually we were all buttoned up and ready to push. We slowly made our way to the reef runway 8R Thankfully we passed right by that Aloha Air Cargo 767-300F I set out to try and see earlier so I got a good glimpse of it.
Another view of N588AS with Diamond Head in the distance: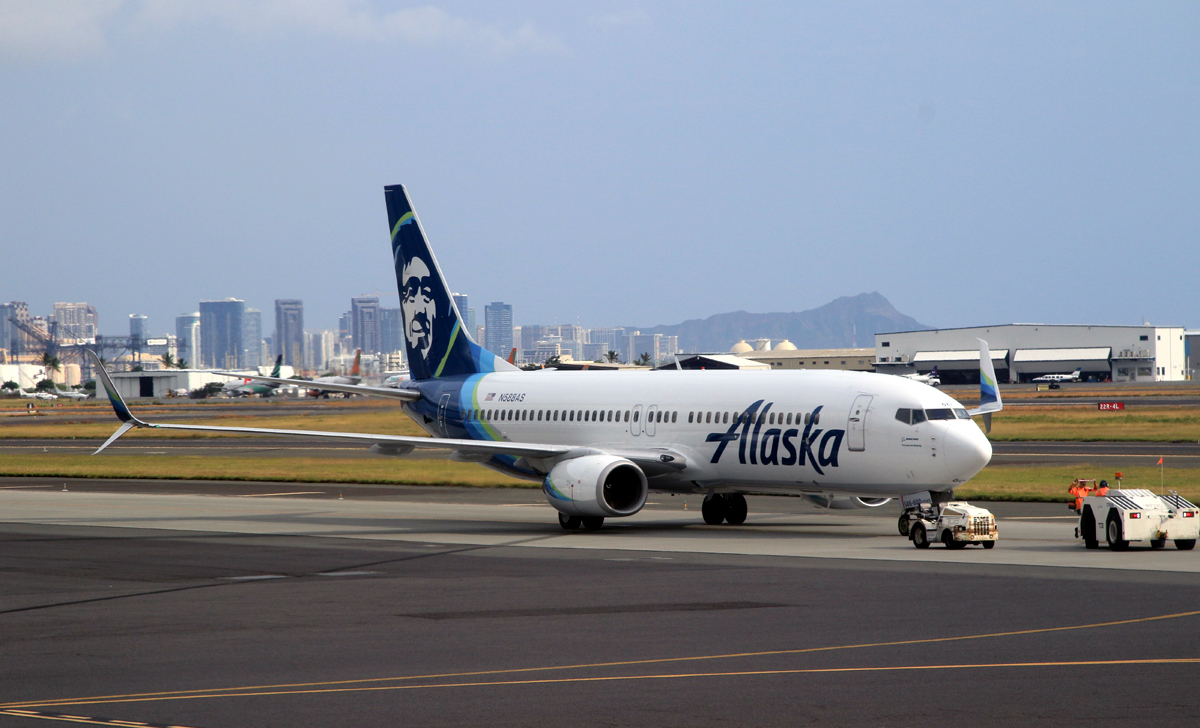 Aloha Air Cargo 767-323(ER)(BDSF)(WL) N399CM. Formerly N382AN with American Airlines: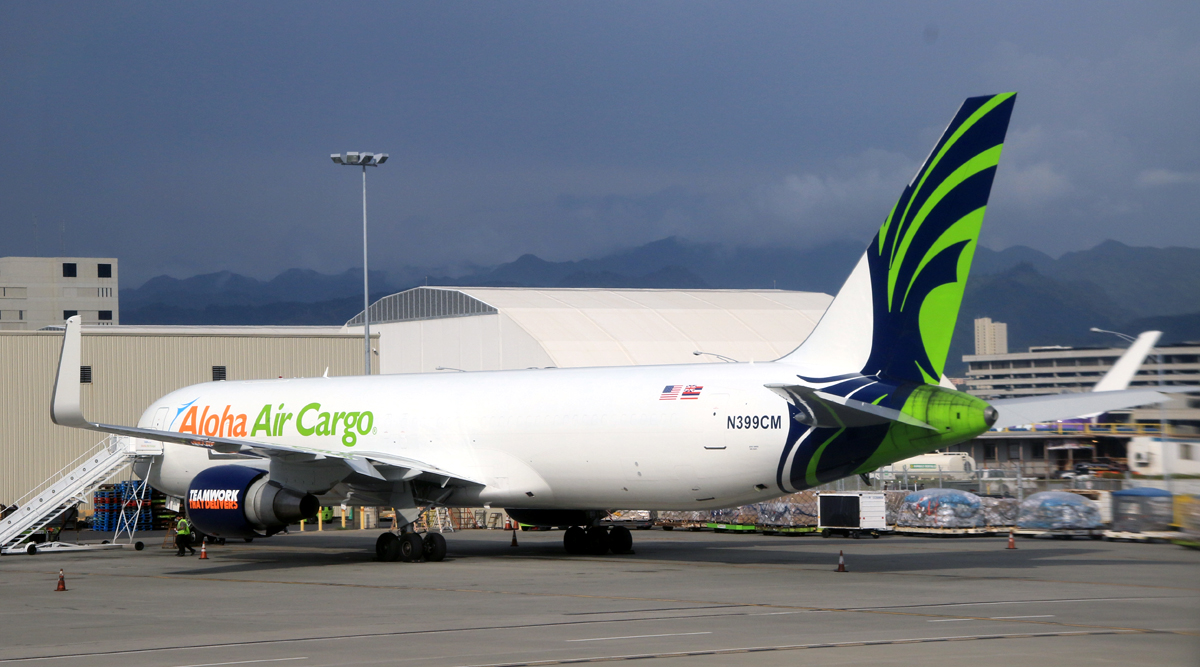 Aloha Air Cargo 737-300Fs N302KH and N361NC: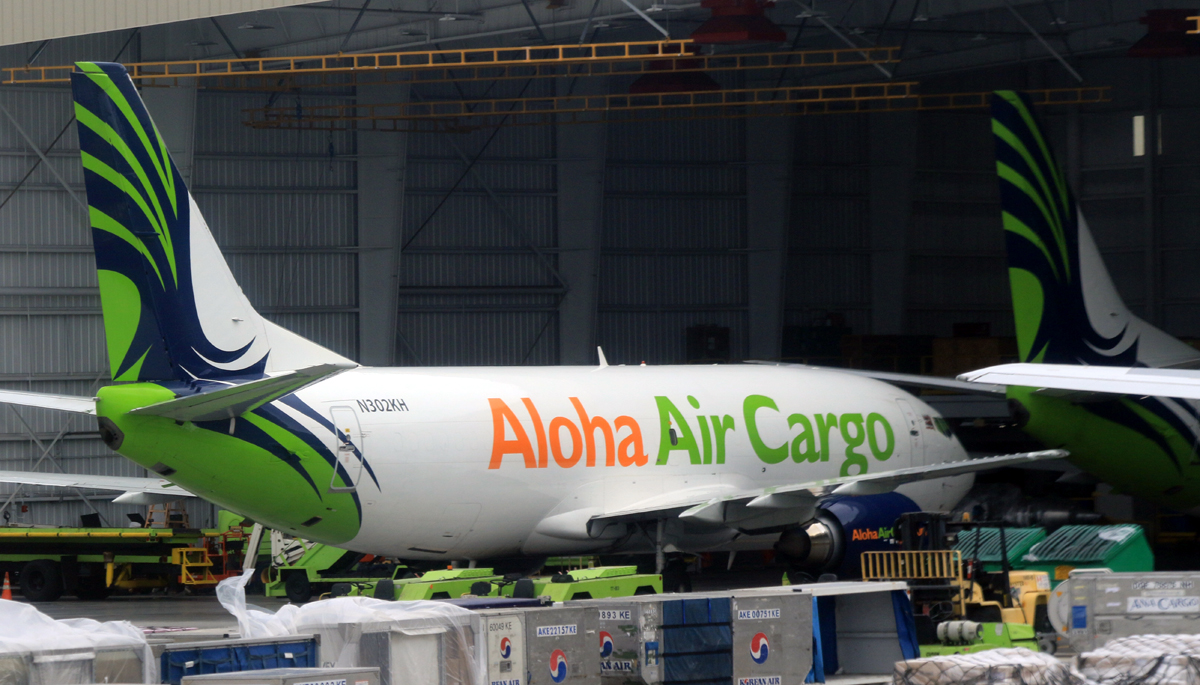 Several USAF C-17A Globemaster IIIs: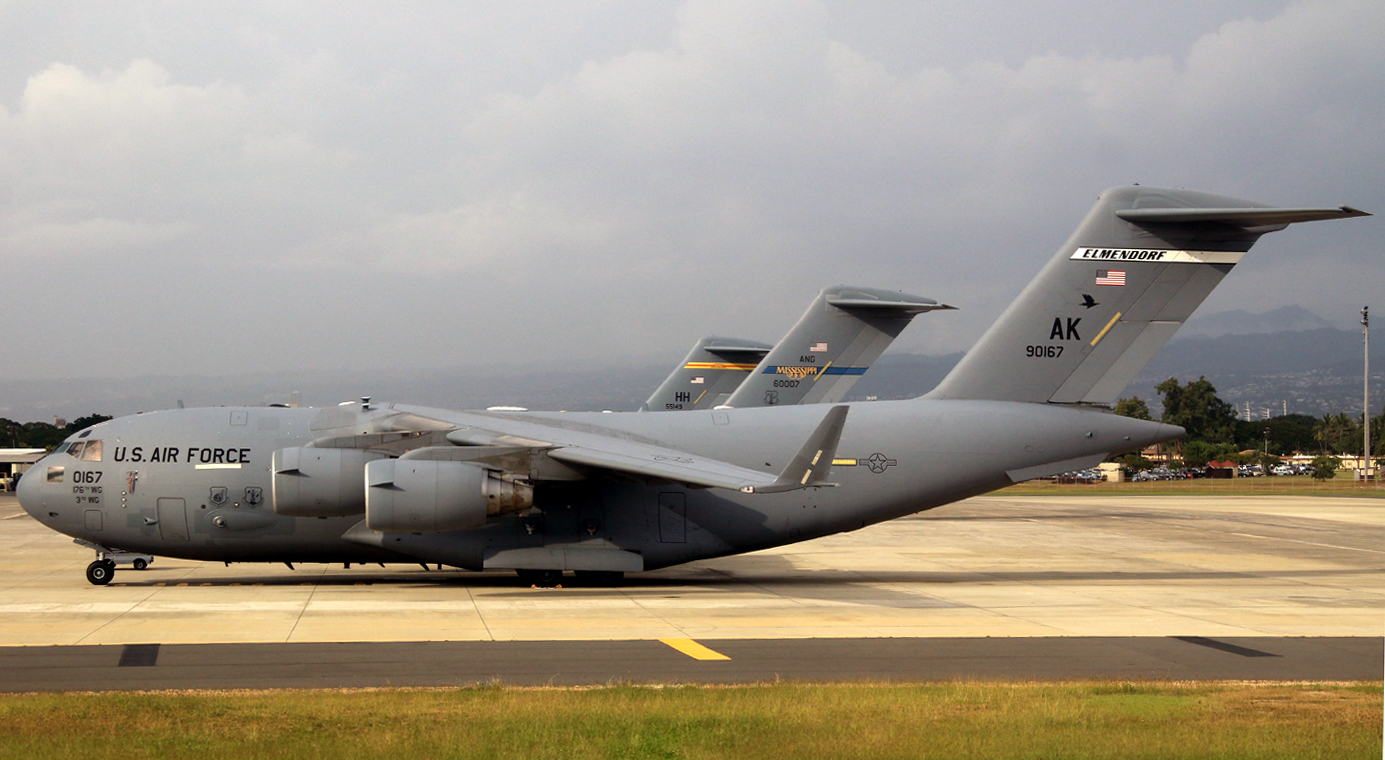 On taxiway RB enroute to 8R. Part of the Hickam AFB leisure activities:
My

takeoff video

as posted to YouTube.
Heading to LAX:

After departure the captain announced our flight time would be about 4:47 at a cruise altitude of 29k feet / 8840 meters. There was some weather across the Pacific and the ride was a bit turbulent at times. Sunset was approaching rapidly as we left the Hawaiian Islands behind.

Thankfully the flight went by fairly quickly. I didn't move from my seat once and I tried my best to keep comfortable despite no seat recline and being in fairly tight quarters. I never did switch back to the aisle seat as I'd offered to do with the gal who gave up her window seat for me.

When the food/beverage cart made it to the last row I ordered the turkey sandwich and a sparkling wine. I also took a ginger ale to wash down the sandwich later on. I re-watched "American Made" again...maybe I fell asleep during it I can't remember.

I woke up just as we were about to cross the coastline. I could see the bright lights of LAX through my window and I watched the flashing lights of a jetliner lifting off the runway and head out over the Pacific Ocean. We were on the downwind leg I've seen countless airplanes on before while on the ground at LAX. I've only shot this approach myself into LAX a few times and it was nice to see it from the air and at night.
My

landing video

as posted to YouTube.

After deplaning the only photo I could get was a nose shot of N118NN at gate 48A.
N118NN at the gate at LAX: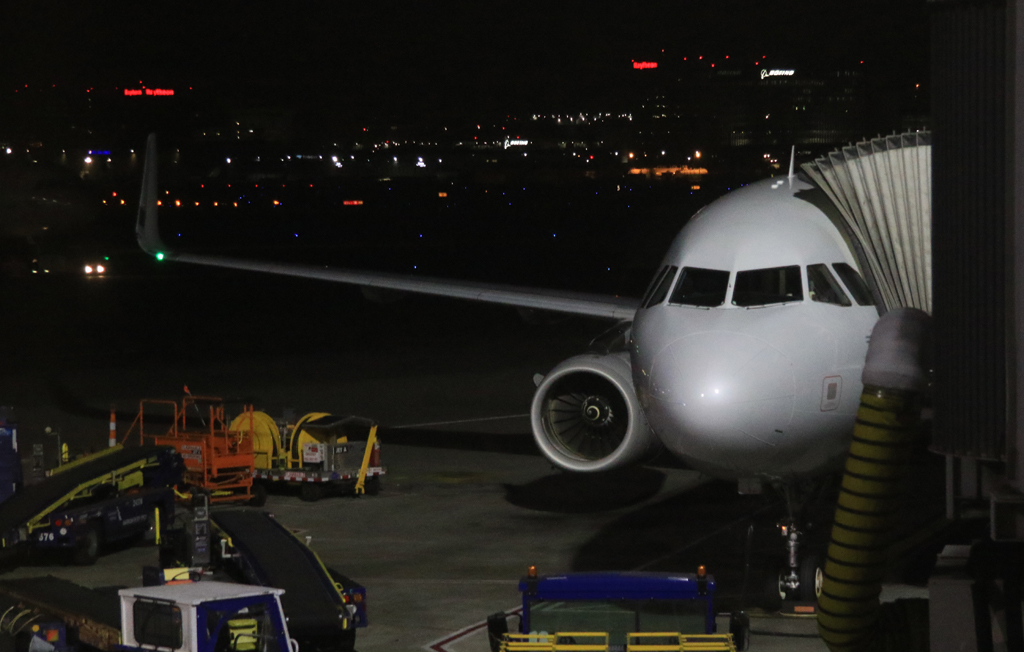 I made the easy walk over to TBIT to see what foreign airliners were at the gates for the evening push.

After walking to both ends of TBIT I found a place to get a nap for a few hours. I made sure to set my phone alarm to give me enough time to walk back to T5. Thankfully I had a blanket with me so I could stay fairly warm. It was a fitful period of relative unrest and before long I was awake before the alarm went off.

I laid in the chair looking out into the blackness to the west. Eventually lights started appearing as planes lined up to arrive on runways 6L or 6R. Pre-dawn arrivals typically arrive to the east and today was no exception. The nice thing was a few of them taxied past me...opposite of what they would do during normal daylight hours in my experience.

Where I tried to nap for a few hours:
Finally it was 5am and time to get up, visit the loo, and head over to my departure gate in Terminal 5.[/size]

28 January 2018
Leg 4: LAX-PHX
A321-211 N185UW
Depart: 06:34 PST Rwy 25L
Arrive: 08:31 MST Rwy 7R
Distance: 426 sm
Flying Time: 00:57


I was assigned window seat 5F by the agent in Honolulu. Despite being a bulkhead seat (which I typically don't choose myself) I kept it since the flight to PHX is only an hour. The terminal was very busy and I wandered around T5 looking at the other airliners present: Hawaiian, jetBlue, Spirit.

Pretty soon boarding time came and Group 4 was called. Down the jet way I went and onboard my third A321 flight in a row. I found my seat 5F right where it should be so I stowed my camera bag in the overhead bin and took my seat.

My

departure video

as posted to YouTube.
Being on the starboard side of an eastbound plane puts the winter sun in your face...at least in the northern hemisphere. Therefore, my photos during this early morning flight leave a bit to be desired but I take them anyway as a record of what I was doing.
Approaching sunrise as we cross the California coastline enroute to PHX:
My

arrival video

as posted to YouTube.

After fetching my car from long term parking I wanted to stick around the airport for a little while for the American A330-300 to arrive from Charlotte. By the time I pulled up to Jack-in-the-Box at 40th Street & University the flight was about to enter downwind so I had a few minutes. There is a nice spot to watch planes south of the airport off of 40th Street. It is across from Terminal 4 and affords great views of the south runway operations.


So there it is, my trip report about my failed attempt to fly onboard an American Airlines A330-300. With three more A321 rides under my belt, I'm that much closer to surpassing the 737-300 as my most flown airframe type....currently at 59. A321s stands at 47. I don't know if I'll surpass the 737-300 this year but I will work on it. And with some luck and planning maybe I'll get another chance at the AA A330-300.

Hope you have a nice day...and thanks for having a look at my trip report.

Moe