Off to the Big Apple with Norwegian
EDI–SWF (and return), 7M8
When Norwegian launched their new TATL service using 737MAX aircraft back in the summer, I took the opportunity to visit a city that had always been on my bucket list; New York.
I booked the flights from EDI to SWF through Norwegian.com for just over £200 return. A bargain when compared to the prices quoted by other airlines such as United etc.
We arrived at EDI and checked in before heading up to the security hall which we passed through in under 5 minutes. They really have got this process spot on now and in my experience it is now always a seamless and pain free experience.
We were early for the flight by a few hours so spent some time in the Champagne Bar before heading to The Gathering for lunch. Scotland were playing France in the Six Nations Rugby and we managed to stream the game over the airport's free Wi-Fi while we were eating, which was just as well as it was a good performance and ended up with Scotland winning.
One thing I did notice is that most of the seating in the main terminal area has been replaced – this was needed as some of the seats were in a bad condition but no longer – the new design looks to be mainly curved wood and looks good.
We headed around to Gate 2 for boarding and I was unlucky enough to get selected for an extra random security check. The checks are more onerous on this flight to the US than I have been used to in the past. I was held at the gate desk for a few minutes before being taken to a desk where my bag was thoroughly searched and my electrical items (laptop / iPad etc.) were checked.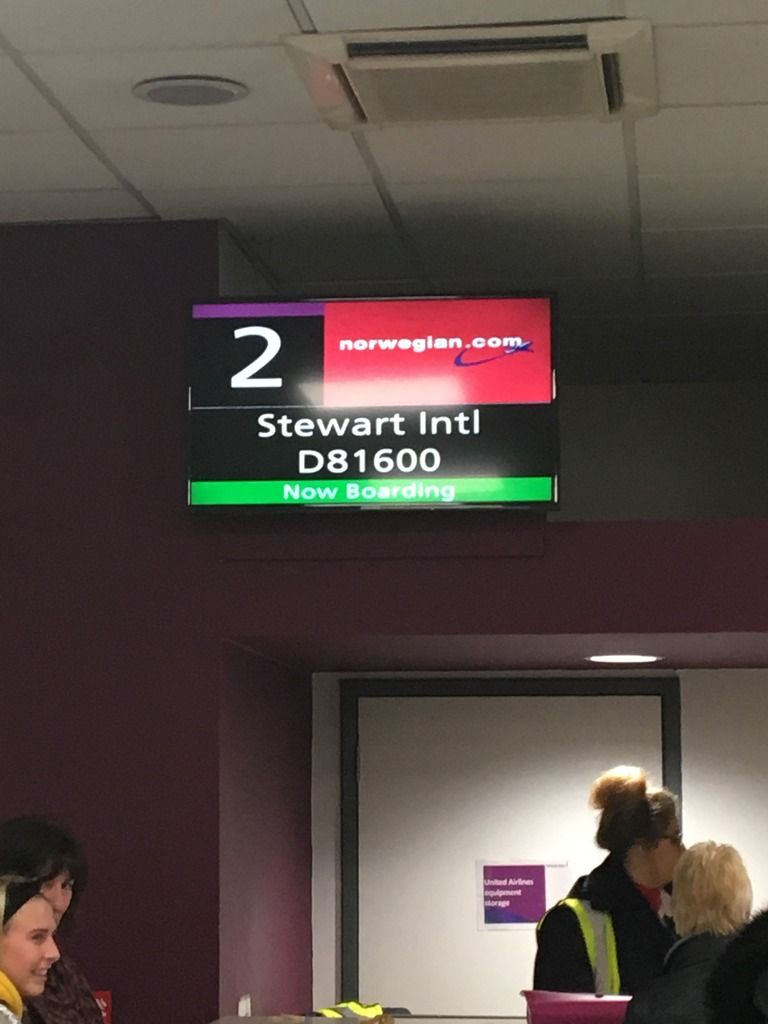 EI-FYF was our ship for the flight to SWF having just arrived from Oslo. I was impressed when I boarded as I had never seen the new 737 Sky Cabin. The mood lighting improves the ambiance onboard and I had booked the flights early enough to secure seats in row 16 (one of the central exit rows) so was able to enjoy plenty of legroom.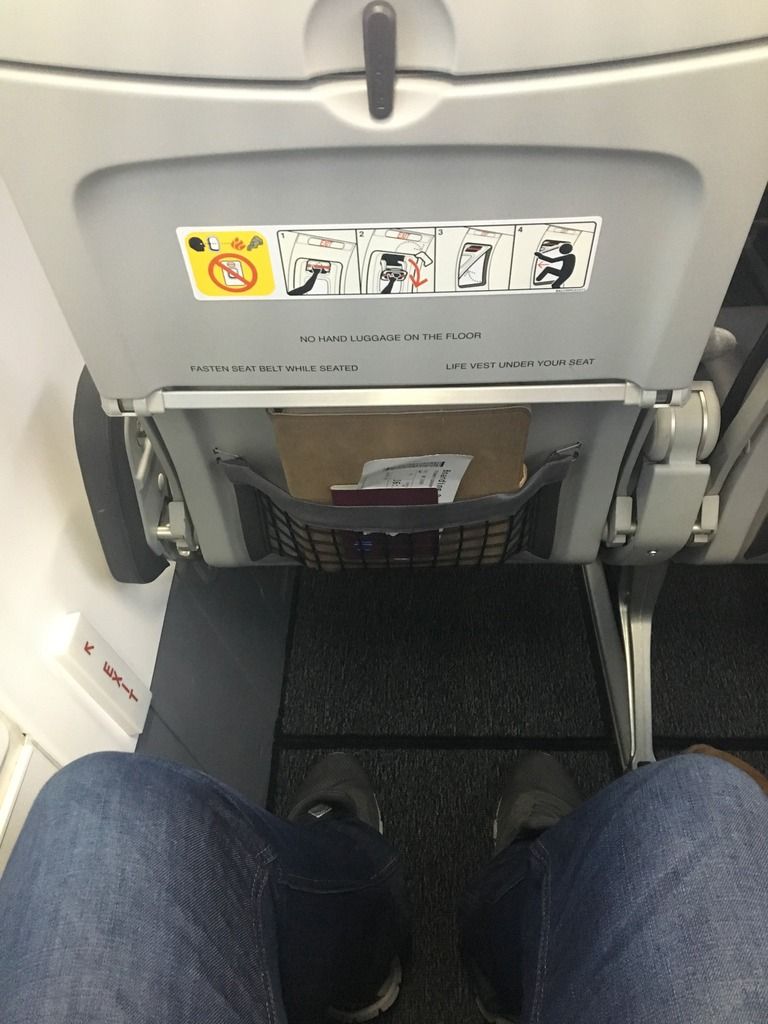 The captain announced that our flight would take 8 and a half hours due to strong headwinds – an hour longer than expected as we were going the long way. Indeed, Wow's flight to KEF had a severe delay as a result.
I was hearted to see that the flight was fully booked with a good range of ages and what seemed like a healthy mix of European and US passengers. There were a lot of different accents – the couple next to us had travelled up from Durham to take advantage of the cheaper fares.
The flight was pleasant, if a bit long due to the weather. I had come prepared and had downloaded a lot of movies and episodes of Peaky Blinders to the iPad so was able to keep myself entertained. The crew passed through the cabin regularly, firstly serving those who had ordered food online and then offering hot food and drinks to everyone else. They were very professional and seemed genuinely content. Calling them via the overhead panel to order more bottles of wine to our seats was not a problem. They were only accepting card payments onboard though.
After arriving into a misty Stewart Airport we were held short of the stand for around 10 minutes as an outbound Norwegian flight was being deiced and was blocking access to the stand. Soon enough we were parked up and disembarking via steps into the terminal.
The baggage hall and customs area is pretty small with 4 main lines – one for those who had been to the US in the last 2 years, one for crew, one for US passport holders and one for all other passport holders. This line was pretty busy so we used the automated machine to take our pics, scan our passports and our fingerprints which allowed us to use line one. All in all, we probably were through this area in about 20 minutes and onto the waiting Shortline coach which was parked directly outside and which would take us on the 80-minute journey to the Port Authority bus terminal in Manhattan. The coach was comfortable, had free Wi-fi and for $20 was a bargain.
Our stay in New York lasted 5 days and we made the most of it. We did the open top bus tour (downtown and uptown lines), visited the 9/11 Memorial and Museum (a very special place – worth a visit), the USS Intrepid Air, Sea and Space Museum, the Top of the Rock, and the Staten Island Ferry and did plenty walking including over the Brooklyn Bridge. I wouldn't hesitate to visit again.
Before long we were back on the coach to SWF. This time we left at 17:00 for our flight at 22:00 back to EDI. The coach took just under 2 hours due to the traffic congestion getting out of NYC. Check-in was smooth as was the security check. The departure hall itself is small with a small shop and bar. We spent most of it chilling by the windows at the gate watching what was going on. Other flights were departing to Bergen and Dublin.
Our flight home was on EI-FYE which left on time and was again fully booked. The flight took just under 6 hours, much better than the flight out.
Back in EDI, it was a seamless trip through immigration and home to head back to work.
Would I use Norwegian again? Absolutely! I thought the onboard product was good and will be improved further when free Wi-Fi is introduced on the 737-Max fleet later this year. For the price it was money well spent and I may try them out for a trip to PVD and Boston later this year. I am looking forward to them hopefully expanding further at EDI. We just need the Scottish Government to finally reduce APD as promised so they can fulfill their potential.
Some other pics from the trip below: