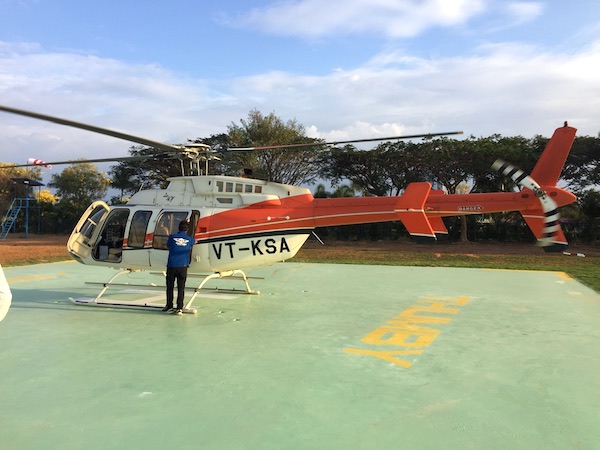 Welcome to my latest trip report.
Here is a quick summary of a quite unique flight that I took recently. Enjoy!
Anyone who has ever been to Bangalore and has taken the dreadful road trip between the BLR airport and the city center (or even into the tech hub area called "Electronics City") will know what I am talking about: On some days, the trip from the city center out to the airport will take 1.5 hrs for roughly 40 kms... and that would be a good day. On a bad day, the roughly 75km trip from Electronics City to BLR can take as much as 3 hrs – and result in stress, missed flights and whatelse.
I have done this trip myself a few times already, so I know how bad it can be. But finally, there is hope in the air (who accurate for a trip report  ) in the form of HeliTaxi, a new startup in Bangalore that has recently (as of March 2018) introduced helicopter shuttle flight between BLR Airport and Electronics City as well as a central city location, the old HAL Airport (currently used for military as well as General Aviation purposes).
The flights are operated a fee times a day, using Bell helicpoters that can seat 6 passengers. The flight time between Electronics City and the Airport is just 15-20 mins, and besides saving a lot of time it also provides some scenic views. The cost is roughly 45 US$ each way, which is around 2.5 x the price of an Uber for the same distance – yet much, much faster and super convenient. Well worth the cost.
On a recent trip, I was able to sample the brand new Heli Taxi experience myself.

One day before the flight, I used their App (which is quite basic at this point) to reserve a seat for the next day. I was then contacted by the company a few hours later to confirm the seat and arrange the payment, which was a bit complicated, as they are currently only able to process credit cards issued in India. Cash payment is also an option, but it would be much nicer to actually being able to use a credit card and receive a proper receipt (something I never receicved, despite being promised to be e-mailed a proof of payment).
On the day of travel, I took an Uber to the old HAL Airport located roughly in the eastern city center area. This is where the experience failed a second time, as the location of where the driver had to go to was not communicated properly. They should make it simple and have an address or fixed location in their app, so one can give that to the driver. Instead, I was told to come to HAL Airport, Gate 30.... which meant, the really good driver was still a bit lost and we had to circle almost the entire airport area, resulting in nearly missing the helicopter.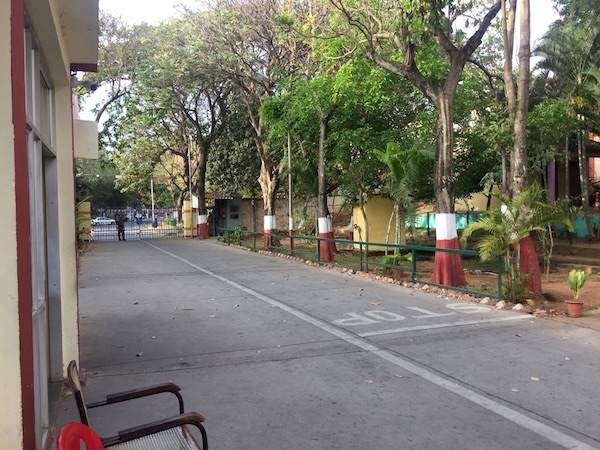 HeliTaxi Bangalore Helicopter Flight - Arriving at the HAL Airport Gate
But once I arrived at the right Airport entry gate, things were much smoother and this is were the experience really started to be great.
Once at the entry gate, a person checked my passport against a manifest and allowed me into the General Aviation area (Gate 30 is also one of the GAT entrances). There, security personal performed a bag check and I was then driven to the heliciopter landing area in a car, along with two more passengers who arrived ahead of me. The helicopter was scheduled to land near the private jet apron.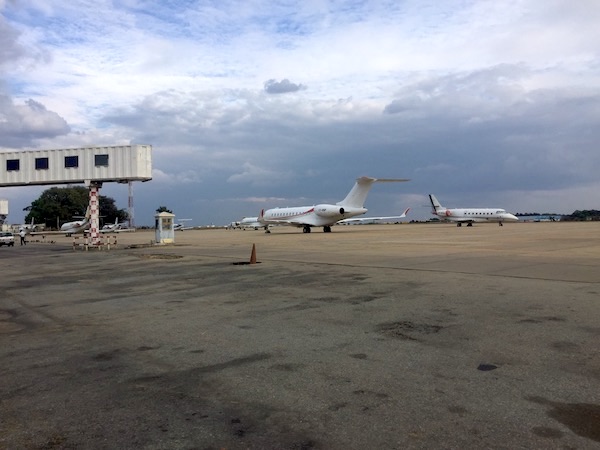 HeliTaxi Bangalore Helicopter Flight - Private Jet Apron
We waited around 5 mins until the helicopter landed (coming in from Electronics City) and picked us up.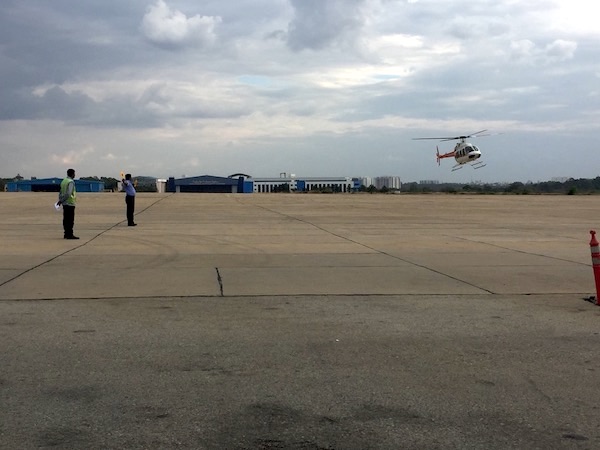 HeliTaxi Bangalore Helicopter Flight - Our Bell Helicopter on approach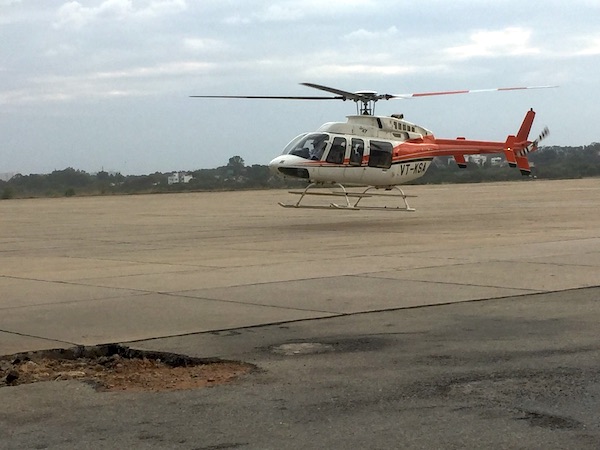 HeliTaxi Bangalore Helicopter Flight - Bell Helicopter landing
HeliTaxi Bangalore Helicopter Flight - Ready for boarding
A quick 2 mins later we were airborne again, with a full load of passengers and heading out to the airport.
I will let the picture do the talking now, as it was also quite a nice day for flying.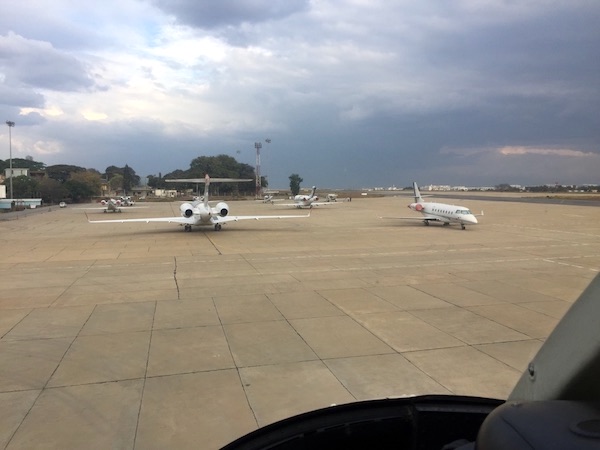 HeliTaxi Bangalore Helicopter Flight - Taking off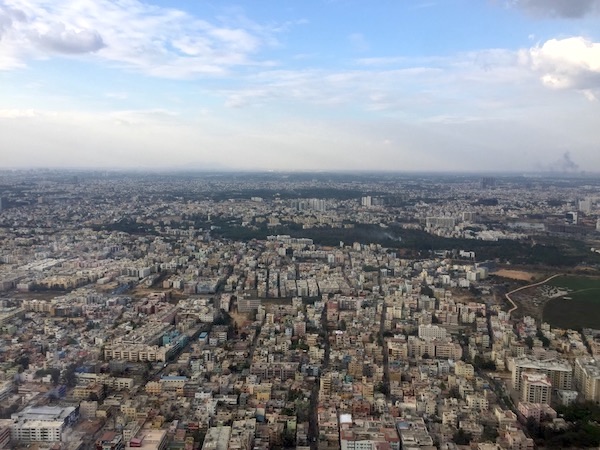 HeliTaxi Bangalore Helicopter Flight - Heading out north over the city of Bangalore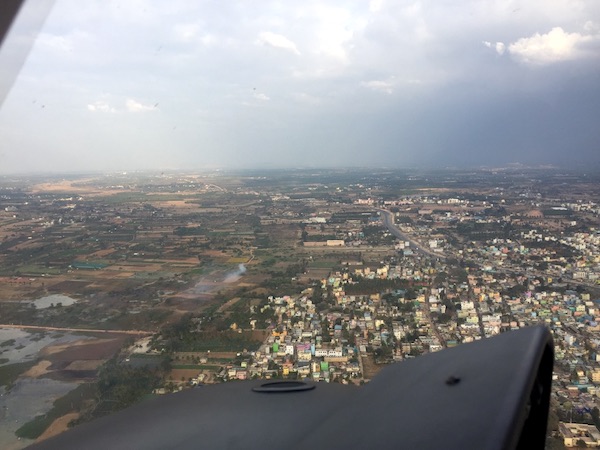 HeliTaxi Bangalore Helicopter Flight - Quite some nice clouds, but an overall smooth flight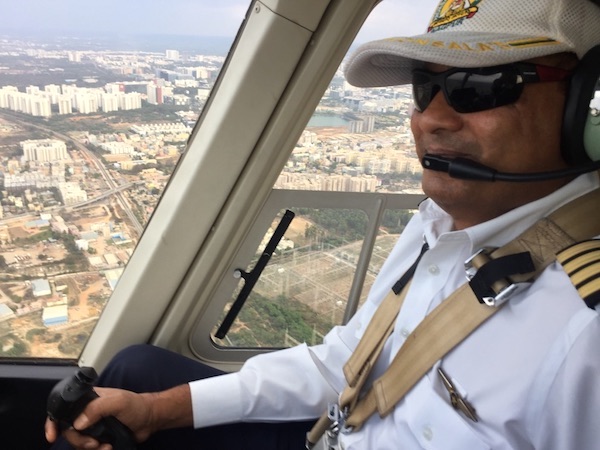 HeliTaxi Bangalore Helicopter Flight - Our pilot, he was all smiles and really friendly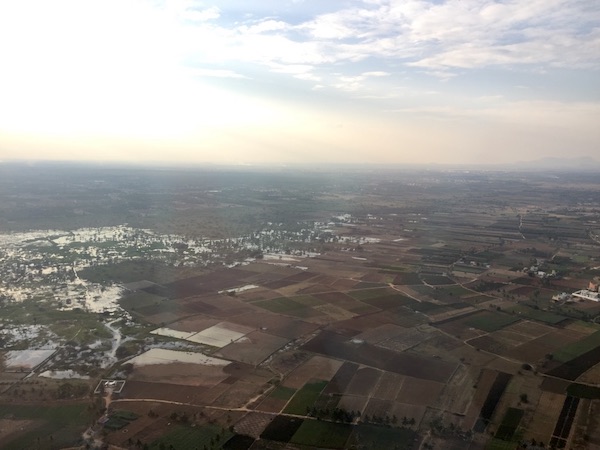 HeliTaxi Bangalore Helicopter Flight - Just 10 mins after take-off, we were already outside the city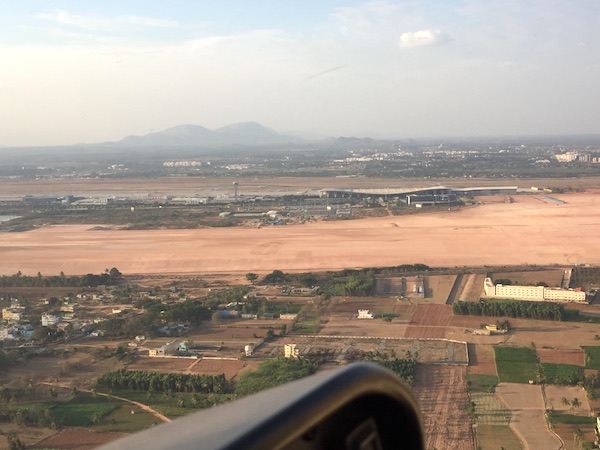 HeliTaxi Bangalore Helicopter Flight - Already approaching the BLR Airport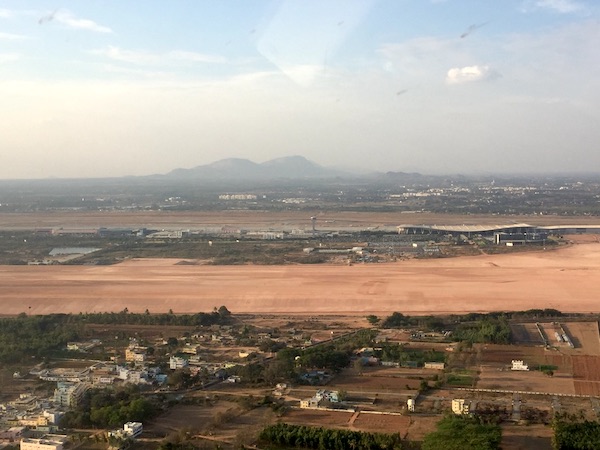 HeliTaxi Bangalore Helicopter Flight - You can see the BLR expansion works when approaching from the south
At BLR, you land outside the main airport area and are then driven to the terminal by car, which is just a short 3 minutes trip.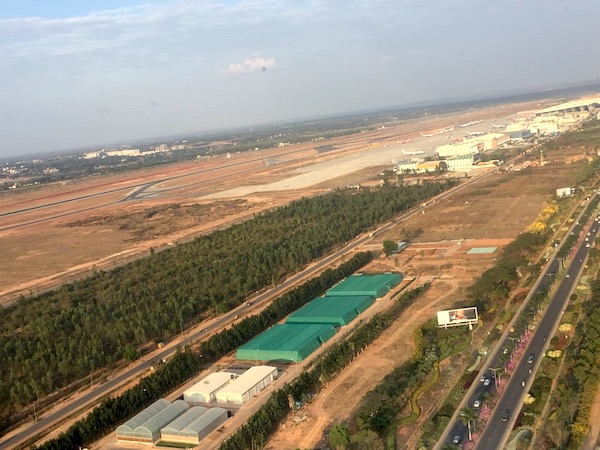 HeliTaxi Bangalore Helicopter Flight - Getting ready to land, the helipad is visible on the center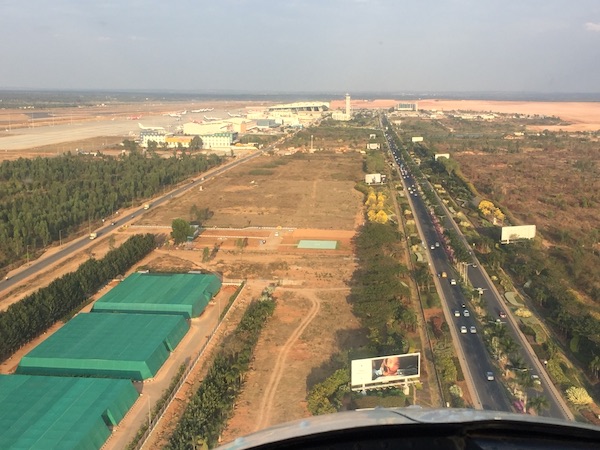 HeliTaxi Bangalore Helicopter Flight - Final moments of the flight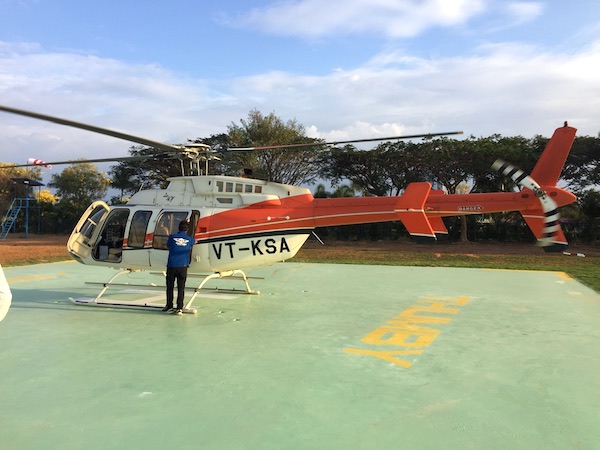 HeliTaxi Bangalore Helicopter Flight - Our Bell Helicopter after airing the at heli pad
So, how was the experience overall?
In my opinion, the service itself is super-nice, saves you a ton of time (especially going from/to Electronics City) and I also felt safe onboard the flight. The "ground experience" at HAL Airport could be better, especially finding the right place was really difficult. But it is a new startup and I know they work hard to make things right. If they now are able to also ensure a smoother booking / payment process, then the whole service will get a big thumbs up from me.
Currently, the service operates during daylight hours only, not sure if they plan to extend that to evenings as well. But due tot hat situation, it is not really suitable for any Europe and East Asia bound flights (which allmost all arrive and leave late at night). But for any other flights, it makes traveling in Bangalore much easier.
Also, I was told they plan to add more aircraft in the future, so they can offer more flights per day (right now, it is a handful each day in each direction). I am really curious to see how it plays out and will for sure use them again.
You can find more details at helitaxii.com