Background
Back in 2001, my young self had fairly little interest in aviation. Yet, I remember looking excitedly out of the gate windows at Heathrow down on to what I thought at the time was an odd looking jet. This was no space rocket (or space junk) but rather an Iberia McDonnell Douglas MD-80 that would soon take me and my family down to Seville for our summer holiday. Nine years later, my slightly more interested in aviation self once again got the opportunity to fly on the Mad Dog. This time I flew on a couple of Scandinavian Airlines' comfortable MD-82s from St Petersburg to Heathrow with a stop in Copenhagen. At the time, I realised that the aircraft was certainly rarer than an Airbus A320 or a Boeing 737 and a dying breed. Yet I certainly did not realise how quickly the MD-80 would disappear from the skies of Europe.
The cockpit of SAS' MD-82 LN-RML after arriving in Copenhagen from St Petersburg, August 2010
Unfortunately, I only developed an interest in the type once they had been retired by all the large European operators of the type aka Alitalia, Iberia and Scandinavian Airlines. After moving to Korea, I accepted my chances of flying the type were incredibly small, having been long retired from service with China Eastern, Japan Airlines and Korean Air, the major airlines of the region that once operated the type. Yet fortunately on a short trip to Taiwan in 2016, after much booking hassle I managed to step aboard an MD-80 for what I believed may be my last ride on the type. This flight was a short hop with Far Eastern Air Transport from Taipei Songshan to Makung (link to my report at the end – photos on my blog). Unfortunately, given the airline's original plan to replace these with Boeing 737-800s and their current plan to replace these with ATR 72s, I think it unlikely that I will get to fly on one in Taiwanese skies again.
MD-82 B-28021 at Taipei Songshan
So, how did I manage to catch a flight on the MD-80? Well, in September 2017 I found myself stranded in Birmingham Airport. I had been scheduled to catch a Sukhoi Superjet and Embraer 145 down to Turin however fog in Brussels had thrown a slight spanner in the works. Still wanting to go and having not received the greatest amount of assistance from Brussels Airlines I looked up various combinations, one being from London via Olbia, with the second leg operated by a Meridiana MD-80. Now, I was fully aware that Meridiana had been a long term operator of the type, but I held the belief that their remaining examples had been replaced by Boeing 737NGs. In the end, I did not end up booking that flight combination however I did do some research on Meridiana's MD-80 fleet. Through this I discovered that the airline's four remaining airworthy MD-80s were all set for retirement just over a month later on the 31st of October 2017 marking the end of scheduled MD-80 operations in Europe. Not only this, but the date would also mark the end of 34 years of McDonnell Douglas operations in Italy, with the type operated by Alitalia, ItaLi Airlines and Meridiana (plus its predecessor Alisarda of course).
Unsurprisingly I was first drawn to the idea of catching a ride on the very final Meridiana flight operated by an MD80 scheduled to be IG1116 from Rome Fiumicino arriving in Olbia at 2230. Yet, there were several negatives that came with this option, firstly the flight would have been in complete darkness which, wanting to take pictures of the world below, not of my reflection, this wasn't great. Secondly, one way tickets on flights between the two cities that day started at 60.80 EUR which seems a little extortionate for a journey with a flight time of no more than fifty minutes. In terms of price per mile, this came to a total of 0.39 EUR per mile.
Finally, having fallen victim to several last minute equipment swaps this year, I dreaded to think that the same might happen to this flight too.
After doing some searches on Meridiana's stylish and easy to use website, I soon discovered that for the duration of October, the type would operate services on the airline's summer thrice weekly Olbia-Gatwick-Olbia service. Surprisingly, this significantly longer daytime flight (with a flight time of usually at least two hours) came with a much better value price tag of only 30.82 EUR (0.04 EUR per mile) beating Easyjet's fare offered on the same route. Without any hesitation I booked this, after doing so I then paid AMOUNT in order to select 35E, located in the classic avgeek rear area of the aircraft. Booking via Meridiana's website was easy and quick and I encountered absolutely no difficulties during this process so top marks here.
The Journey
For an airport that is only a mere 3 kilometres away from the city it serves, you would think transport to and from the facility is straight forward and cheap. The previous evening after arriving on Easyjet's A320 service from Gatwick, upon handing over around 20 EUR to the taxi driver who had dropped me off a distance away from my hotel in the city centre, I realised that this isn't necessarily the case. There are several bus services into the town however I found little information at the airport regarding these and after arriving at the deserted bus stop, I opted to take a taxi.
Getting to the airport in the morning however was a completely different matter, having spent the night at a hotel with no wifi and a SIM card that appeared not to work outside the UK, I had little idea where to catch a bus from and with no taxis to be seen, I was a little concerned. Being a keen hiker, I thought to myself 'three kilometres is nothing!' and so I decided that I would attempt the early morning journey to the airport on foot. Being cautious I allowed time for things to go wrong and so I left at 0600. At this time the dark streets of Olbia were nearly completely deserted with only the occasional street cleaner seen tidying before the streets were illuminated by the morning sun. After heading down Olbia's main strip I walked along the small harbour taking in the scent of the sea before crossing over a small bridge and heading through an ordinary residential area. Admittedly, a pedestrian cannot take the most direct route thanks to the main bridge between Olbia and the other side being only available for the vehicles. Yet for forty minutes aka the first two thirds of the journey all was going well, until I reached a large roundabout, from here all roads that led to the airport seemed to be unpedestrianized, the darkness and my lack of mobile data meant that I could not search for any other options and so I became a little worried. I was so far, yet so close from the airport, was I going to remain trapped there forever? Fortunately I happened to stumble across a bus stop where the number ten bus bound for the airport was scheduled to turn up in the next few minutes. This small minibus eventually came and transported me up the hill towards the airport and the sky was filled with a fantastic orange glow as the sun began to rise.
As the skies turned orange, the crisscross contrails left behind by heavy aircraft travelling South to North towards places such as Amsterdam, London and Paris after long overnight flights from Africa, and a range of aircraft heading East to West and vice versa, many of which were heading from or going to Barcelona became visible.
From the outside, the terminal is just a long white box with few windows, reminiscent of many low cost terminals across Europe. This gives the impression that the interior will be equally plain, boring and uninspiring and so passengers are in for a pleasant surprise when they enter the building. The landside interior seems to be modern and nicely designed with high ceilings giving a good impression of space. There are plenty of cafes and shops, although many of the latter did appear to be closed at around 0710. At the end of the landside passageway is the incredibly spacious check in area where preserved Beech C-45F Expeditor I-SARE can be seen hanging above a bank of check in desks. Some of the branding is a little old with Windjet (an airline that ceased operations in 2012) and Jet2 (I think it's been quite a while since they operated services to Olbia) still shown.
Given that Meridiana is the hometown airline and by far the largest operator in Olbia, it came as no surprise that they had their own dedicated check in desks along one end of the check in hall. At first sight, half of these looked to be very busy however it turned out that these desks were being used to check in Eurowings' passengers. The other half being used by Meridiana was pretty much devoid of passengers and thus I was able to walk straight up to a check in desk. Here the Meridiana staff were friendly and polite and were able to check me in almost instantly. After a few moments I was handed an Olbia Airport branded boarding pass which was notably the only time I recall being handed an airport branded boarding pass outside China. With nothing to lose by going though security early, I decided to head through to the airside departures area straight away.
Upon reaching security, one can opt to pay a little extra in order to use the fast lane, however considering how most of the lanes were lacking passengers this would have been an extreme waste of money. After having my boarding pass scanned, I headed through the checkpoint and was airside in about a minute or so. As with airports in the UK, a duty free area is placed right after security and must be walked through in order to reach the departure area. This contained the usual wide range of products one would expect to see as well as a variety of local produce for those wanting to take a last minute edible gift/souvenir. Whilst the landside area is spacious and modern, the airside area was a little shabby although on the plus side there were a reasonable number of windows where I was able to look out at the action on the apron. Given the fact that it was the morning rush hour there were plenty of passengers waiting to board their respective flights and unfortunately this meant there were not a great deal of seats where one could sit down. Fortunately there was fast free Wi-Fi and several charging points, all a passenger could want in the 21st century.
Outside, the sky was transforming from red to yellow as the sun continued to rise over the Mediterranean. On the ramp a Eurowings Airbus A320 was being readied for its flight up to Germany whilst a Meridiana MD-82 was towed from the maintenance area and into a gate for its domestic flight to Verona and a comparatively boring Jetairfly Boeing 737-700 touched down after a flight from Lille. A few minutes later another Eurowings Airbus A320 made a smooth looking landing on the runway indicating the airline's large presence in Olbia.
With the United Kingdom not being part of the EU Schengen agreement, London passengers must first pass through passport control before they are allowed into the gate area. At 0830 it was revealed that our flight would be departing from gate 10 (or rather the bus taking us to the aircraft) and so I decided to immediately head to the passport control area. By the time I arrived there was already a reasonable queue of passengers waiting to have their passports checked, with only two desks open it took around eight minutes before I reached these desks. After having my passport checked I headed down to the quiet waiting area where two buses could already be seen ready to take us to the aircraft.
At our scheduled boarding time of 0850, the six strong crew turned up to the gate indicating that our flight would likely make a slightly delayed departure. After ten minutes, a small orderly queue formed after an announcement was made inviting passengers to board the waiting buses and the screen changed to show that boarding was underway. A short while later my boarding pass was scanned and I was invited to board the second of two waiting buses, a procedure which made sense seeing as I was seated near the rear of the aircraft. Being one of the final passengers to board these buses it did not take too long before the bus doors were shut and we pulled away from the terminal. As I glimpsed out one of the bus's windows I caught sight of the long, pencil like jet that would take us on the 850 mile journey up to the capital of the UK. As expected, the McDonnell Douglas MD-82 was painted in virtually the same red, black, yellow and white livery that has been gracing the skies since the design was introduced by Alisarda in the 1970s. Whether you think this is an outdated livery that has been in the skies for too long or a classic, easily identifiable livery, it would be hard to deny that it is significantly more interesting than the new, boring fuel saving liveries of many airlines around the world.
After a minute or so we arrived at stand 109 where it became clear that the aircraft taking us to London was I-SMET, the oldest airworthy MD-80 in Meridiana's fleet and the 29th oldest MD-80 family aircraft still flying. Despite being manufactured in March 1987 at McDonnell Douglas's Long Beach factory, the aircraft can be considered to be truly Sardinian as it has spent its entire life flying passengers to and from the island with Alisarda and its successor, Meridiana. Unlike the airline's other aircraft, this example did not seem to have been too busy over the past week, in fact this was to be the aircraft's first flight in over four days. In the week prior to my flight, my aircraft had flown a measly total of around 4400 miles over fourteen flights connecting Olbia with Milan Linate, Naples, Paris CDG, Rome Fiumicino, Turin and Venice.
One we pulled up to the aircraft and the doors were opened, I had imagined that we were going to be guided towards the aircraft's rear stairway. Yet once the bus doors were opened we were not ushered towards the aircraft's tail, instead most passengers headed without guidance to the airstairs at the front of the aircraft. Being one of the last passengers to disembark the bus, it was a while before I stepped on board the aircraft. Despite this, I could not complain! I was basking in the pleasant morning sunshine enjoying the fantastic view of the MD80! As I got closer to the aircraft's fuselage it became clear that the aircraft's exterior had likely been cleaned recently as it was mostly spotless with few visible dirt marks giving the impression to a non-aviation enthusiast that this aircraft was much newer than it really was. Coincidentally I overheard one passenger remark on how the aircraft looked like a business jet, obviously a passenger that was perhaps not all too well acquainted with T-tail airliners! As I waited on the shallow steps, the noisy AlliedSignal APU fired into life in the tail which would have likely been uncomfortably loud for the passengers had we boarded through the rear stairs.
A few minutes later, I stepped onto the aircraft where I was greeted with a 'buongiorno' by one of the four flight attendants on the flight. As I waited at the front of the aircraft, I looked left catching a glimpse into the small cockpit, likely ahead of its time in the early 1980s, but clustered and old fashioned looking when compared to the glass cockpits of today's airliners. After the queue subsided a little I made my way down into the cabin of this aircraft, receiving several more greetings from the crew as I made my way to the rear of the flying pencil. Eventually I reached seat 34E directly opposite the rear half galley. Moments after sitting down I was approached by another cabin crew member who first spoke to me in Italian, after looking confused he told me in English that it was going to be a noisy flight if I remained at the rear of the aircraft and gave his permission for me to move further forward. I politely declined his offer and chose to remain in my noisy seat.
A nice bulkhead
Meridiana branded seat belts
Looking forwards
inwards
And upwards
Unlike on some older types whose design is a clear hint at the aircraft's age (the older BAe 146s for example with their square overhead lockers), to a non-aviation enthusiast the cabin did likely not appear to be that of a thirty year old aircraft. This was partially assisted by the fact that Meridiana's aircraft have been retrofitted with modern looking leather seats which help disguise the aircraft's age rather well. Yet considering the age of the aircraft, I was expecting some inevitable wear and tear however this was largely absent around my seat bar a heavily scratched window. The seats themselves were comfortable and seemed to be quite large with a reasonable amount of legroom and featured a fabric headrest cover with Meridiana's logo. Inside the seat pockets one could find the usual safety card and sickbag, the airline's magazine and an Audi promotional booklet.
By 0930, ten minutes after our scheduled departure time all passengers had taken their seats, it turned out I was to be the rearmost passenger on this flight which was no more than 60% full, most passengers seemed to be tourists from Italy heading to London. The six strong crew were all from Italy and having caught a glimpse of the cabin crews' MD-80 souvenir tag decorated bags seemed to be pretty proud of this old type! At this time the captain performed a welcome announcement however the intense noise from the APU (the rear door was still open at this time) meant that this was largely inaudible however I am fairly certain he detailed the weather in London and our route to London. After this the cabin became notably quieter as the rear door was shut in preparation for our engine start. The crew then took their positions in the aisle for a safety demo as our two Pratt and Witney JT8D-200 engines fired into life. Admittedly, sitting near the rear of the aircraft and given the age of the engines (designed at a time when noise was an afterthought) I had presumed this would have been a little louder. After these were powered up, the flaps quickly dropped down before the engines pushed us forwards out of the stand.
Looking back at one of our JT8Ds
The taxi to runway 23 was short and hold-less which didn't come as a great surprise considering Olbia's status as Italy's seventeenth busiest airport. Sitting on the starboard side of the aircraft, as we made our way to the runway I was given good views of the short wooded hills that lie on the south side of the perimeter fence as well as the taller hills/mountains out in the distance. As scenic as they were, some of you reading this may have preferred the view those on the port side of the aircraft received which consisted of a host of aircraft at Meridiana's maintenance area and a couple of lifeless Metroliners, unlikely to ever fly again. After a three minute taxi, we turned right onto Olbia's sole runway. With a length of 8025 feet, if our aircraft had been at MTOW we would have required approximately 90% of the runway in order to depart. In fact, according to data from Wikipedia, a fully laden MD-83 or MD-88 would in theory only make it into the air with 45 metres of runway left to spare.
Mid taxi
At 0940, without any pause, our two engines finally roared up to the noise level I had expected from the MD-80 providing the thrust that would push us all back into our seats and life us up into the blue Sardinian skies. After enjoying a powerful take off roll, approximately 1100 metres down the runway we rotated upwards giving a clear view of the near empty business jet stands on the initial climb out. After speeding over the airport's perimeter fence we made a shallow climb out over the rocky hills that surround Olbia, making a shallow turn northwards to put us roughly in the right direction for London. Our fantastic view of northern Sardinia was then lost as a thin layer of clouds took this away from us. Fortunately, by the time we reached 17000 feet, seventeen minutes after takeoff, the clouds cleared revealing the blue waters of the Strait of Bonifacio which separates Sardinia from its smaller French neighbour, Corsica.
Crossing the Strait of Bonifacio
To be fair my knowledge of Corsica was fairly limited, of course, I knew it was a popular French island to the north of Sardinia and that Ajaccio acted as the province's capital. Historically I knew of the island's link to the Bonapartes and in terms of aviation I knew it was home to the Airbus A320s and ATR 72s of Air Corsica. Yet I was certainly not aware of the area's topography and I was thus surprised at the spectacular mountains (including Monte Cinto, the 8878 foot mountain and tallest mountain) and deep valleys that seemed to fill the island from north to south. This brief aerial introduction with the island led me to put it on my 'must visit' list! After such great views, the clouds came in blocking the view of the Mediterranean some distance beneath us and leading me to fear that that was it for our good views during the flight.
A selection of views of Corsica
Meanwhile, inside the cabin the crew had been busy in the half galley preparing to roll the trolleys out for the in-flight snack service, chatting loudly as they did this. These were rolled out at 1000 with the service unsurprisingly commencing at the front of the cabin. Ten minutes later these reached me and I was politely offered either a turkey or cheese sandwich and a drink. I opted for the latter with a coffee, both of which were handed to me with a smile. Now of course, the meal service was no Korean Air bibimbap with soup, sides and a desert, nor was it an Air India curry served with a hot paratha but it was perfectly adequate for the flight. I have no complaints about the taste of the sandwich or the coffee. Plus, considering that I paid less than thirty Euros, considerably less than the Easyjet fare I had paid to get to the island, the fact that Meridiana sell such cheap tickets and provide complimentary snacks and drinks in the cutthroat twenty first century airline industry is nothing short of a miracle.
Fifteen minutes after passing over Corsica, the clouds beneath us again opened up giving just as we were about to pass over Nice. Sitting on the aircraft's starboard side this meant I was treated to good views of the millionaire's paradise, Monaco. This urban seaside landscape soon rose up to the jagged and rocky green mountains of France's Mercantour National Park located on the nation's border with Italy. We continued our smooth flight at 34000 feet up towards Grenoble, as we journeyed north the mountains beneath us became taller and even more spectacular as we passed over the Ecrin National Park where mountains such as the 12946 foot Mont Pelvoux and 13071 La Meije could be spotted as well as glaciers. After passing over Chambery at 1030, the landscape sunk down and became greener before the clouds once again blocked our view of the earth.
With the new cloud cover beneath us, I saw it as the perfect time to explore the in-flight entertainment which of course only consisted of the airline's 'Atmosphere' inflight magazine. This contains the usual smorgasbord of advertisements, destination/travel related articles and pieces of information about the airline in both Italian and English (albeit with numerous grammatical errors). As I learned from my quick read, those travelling on the airlines' 'new' Boeing 737-800s can enjoy numerous musical channels. Whilst those heading off to Africa, Asia, North or South America on one of their Boeing 767-300s in economy can tune into one of the three films played on the overhead screens (in October 2017 these consisted of Going in Style, Hidden Figures and 42). The privileged few riding in 'Electa Class' are offered iPads stocked with a wider range of content.
A reasonable medium and long haul route network
As we headed northwards up Eastern France, our flight continued without even the slightest jolt of turbulence. Whilst the clouds continuously came and went offering us views of green fields, forests and small French towns. Despite the loud hum of the engines on one side, and the crew chatting noisily on the other, I drifted off to sleep for a good twenty minutes. By the time I awoke we were nearing Paris, however unfortunately cloud cover meant that this remained unseen for all of those onboard. Turning my attention to the scenery above the clouds, we flew parallel with a British Airways A320 for a few minutes on its way from Geneva to Heathrow and KLM Boeing 737 crossed just behind us at a slightly higher altitude on its way from Amsterdam to Barcelona.
As we past just west of the city of Amiens, located in the Somme region of Northern France, the captain once again made another mostly inaudible announcement presumably regarding the commencement of our descent. A few minutes later, for the first time during the flight the engine noise seemed to decrease and our nose pitched downwards towards earth. I then decided to make a trip to one of the aircraft's two rear lavatories. As expected these were a little old fashioned and seemed to resemble those I had encountered on Boeing 737 Classics, however the one I visited was clean and well stocked with little sign of any wear and tear so no complaints here. Although I should mention that only cold water seemed to be available from the these.
A quick explore of the cabin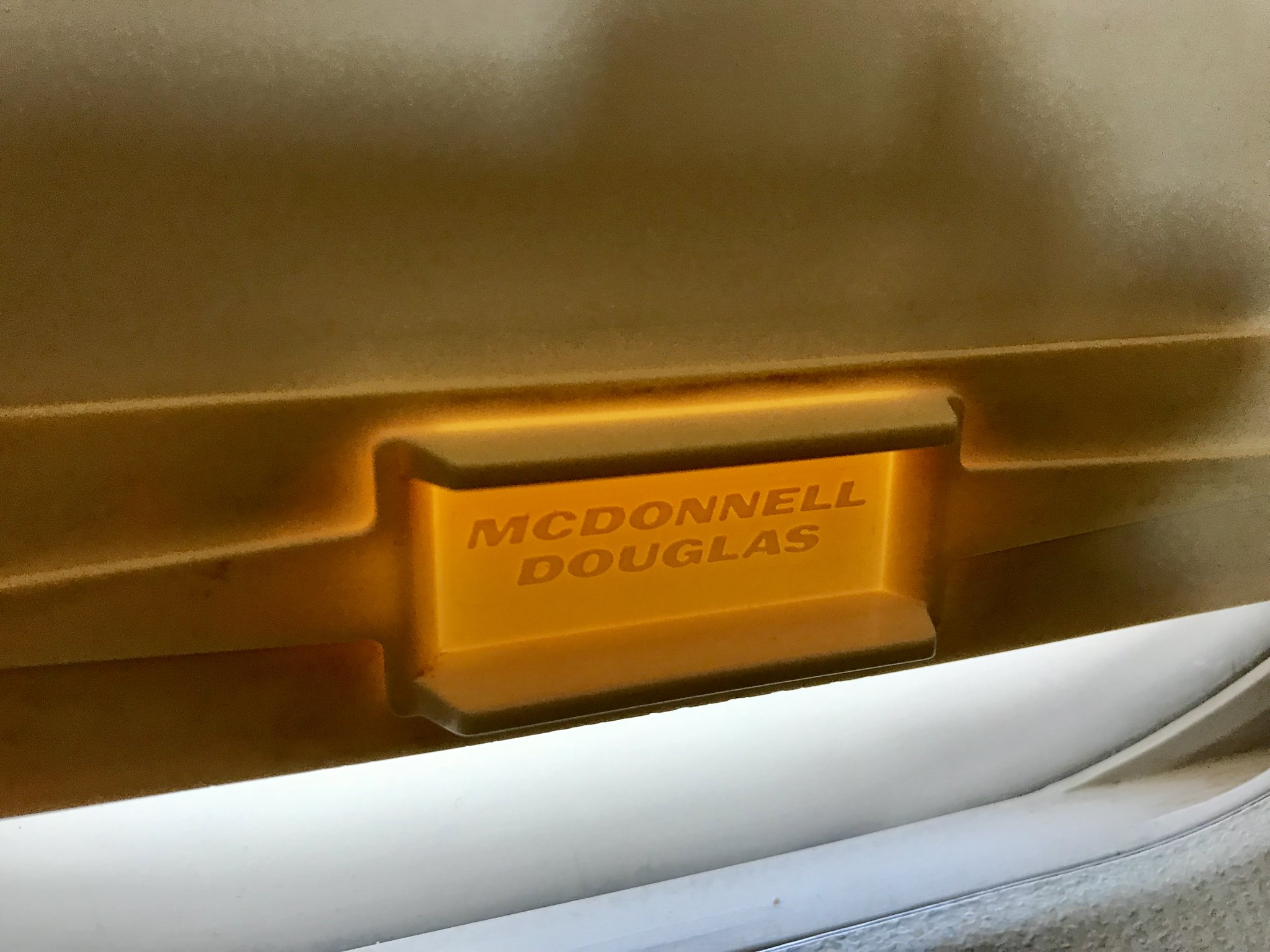 At 1113, we crossed over the town of Abbeville and headed out over the Bay of the Somme towards the dark blue cold looking water of the English Channel, a far cry from the turquoise waters of the Mediterranean we had seen at the beginning of the flight. Clouds then once again took away our view of the earth whilst the engines continued to provide a significant amount of noise as if power was continuously being added and taken away. After a nine minute crossing of the Channel we crossed the British coast near the historic East Sussex town of Hastings, famous for its 1066 battle where the forces of King Harold were defeated by the armies of William of Normandy. Over twenty minutes after beginning our descent we sank into the clouds at 5200 feet over Tunbridge Wells and commenced a shallow left hand turn that would line us up for an approach on Gatwick's runway 26L.
The Bay of the Somme visible as we commence our descent
After our remarkably smooth journey up from Italy, our first patch of turbulence occurred as we began to sink into the thick layer of cloud that seemed to be omnipresent over south eastern England that morning. Although, fortunately for those who aren't too keen on being thrown about, this turbulence could not really be described as anything more than a few calm bumps, barely able to wake up the lightest of sleepers. As we continued descending through the clouds it became clear that the weather in London was a sharp contrast from the sunny Sardinian weather we had left behind, with both the flaps and landing gear lowered whilst we remained in the clouds. Several minutes after entering the clouds, we darted beneath these and were given our first glimpse of the UK that day which came in the form of the dark green rain soaked fields in the semi-rural landscape to the east of Gatwick Airport.
As we sunk over the clusters of car parks and airport related buildings on final approach, the power seemed to be continuously added and taken away from our two engines resulting in a fitting noisy end to the flight. After flying over the perimeter fence, we floated down over the threshold of Gatwick's runway 26L and made an incredibly gentle touch down at 1038 British time, just under two hours after departing Olbia. This smooth landing was followed by the noisy application of the reverse thrust as we decelerated on the wet runway past a host of far more modern aircraft including a Cathay Pacific Airbus A350 and several of Qatar Airways' Airbus A320s operating rescue flights for those passengers affected by the sad collapse of Monarch.
By the time we reached a suitable taxi speed we were near the end of the runway, after turning off I caught a glimpse of another, slightly older Italian registered MD-82 that once proudly flew for airline ItAli Airlines. Unfortunately this jet seemed to be in quite a sorry state, missing engines and appearing to be rather weathered having not flown since being impounded at Gatwick in 2010. Seeing this aircraft reminded me of the time I saw a Bangladeshi MD-83 belonging to United Airways at Gatwick back in 2010. Not letting their lack of long haul aircraft at the time prevent them from operating long haul flights, the airline operated a twice weekly service from Sylhet to Gatwick with the MD-83 with stops in Dhaka, Dubai and Istanbul.
Back to the present and as we taxied towards the terminal area, a Turkish Airlines Boeing 737-800 touched down and made a much quicker exit than we had managed. We then turned off into the remote stand area, passing by the modern CX Airbus A350 which seemed to be being serviced by an army of cleaning staff and a cold and dark Smart Lynx Airbus A321 in basic Thomas Cook colours. After passing by several aircraft we made our way towards the North Terminal where squadrons of orange tails were waiting before they departed off across Europe and North Africa. After passing under the terminal's distinctive bridge, we carried on down the taxiway, eventually pulling in to gate 49, near the far end of the North Terminal.
Old meets new
After pulling into the gate, many passengers began to stand and collect their goods from the overhead lockers despite the fact we continued to slowly edge forward as the perfectionist pilots made adjustments to our final position. Meanwhile, the cabin crew who had been talking continuously since taking their seats for landing were now using this time to catch up with the world using their phones before opening the rear door. Despite the fact this was opened, boarding was only conducted through the front exit.
At 1055, after thanking the smiling crew member at the front of the aircraft I stepped onto the jetway and thought to myself, will that be the last time I travel aboard an MD-80? Well, Danish Air Transport does operate a single MD-83 on various flights across Europe, including interestingly some incredibly long (5 hour+) mid-haul slogs across to Greenland whilst Bulgarian Air Charter does still operate ten MD-82s although they appear to be replacing these with Airbus A320s. Yet, I should never say never! (and of course, there are still plenty of MD-80s in American skies)
After snapping a few quick pictures of the aircraft, I headed up into the very 1990's style North Terminal and embarked on the long walk to immigration. Once arriving there I was able to head through the queue-less e-gates and was thus landside in no time, reaching the station at 1115 with fifteen minutes to spare before my train to London Bridge.
One last view of our aircraft from afar
I-SMET made its final flight for Meridiana on the final day of MD-80 operations at the airline, landing in Olbia sometime after 2200 on the 31st of October 2017. The aircraft then remained on the ground in Olbia for just over a month before taking to the skies once again for a long-ish flight up to Billund where the aircraft sits in storage along with the other final airworthy MD-80s in Meridiana's fleet.
That's it for this report – I hope you enjoyed it and thank you as always for reading!
OTHER TRIP REPORTS
Please note, the photos of many reports seem to no longer be working however these photos can be viewed on my blog
Forever in Y
Korea Domestic
Asiana Boeing 767 Gimpo-Jeju
Air Busan A320 Busan-Jeju
Jeju Air Boeing 737-800 Busan-Jeju
Jin Air Boeing 777-200ER Jeju-Gimpo
Korean Air Airbus A330-300 Jeju to Busan
Korean Air Boeing 747-400 Gimpo to Jeju
Korean Air Boeing 787-9 Gimpo-Jeju
Short Haul
Bek Air Fokker 100 Almaty-Astana
China Southern Airbus A321 Beijing-Xi'an
Cityjet Avro RJ85 London City-Cork
Far Eastern Air Transport MD-80 Taipei Songshan-Makung
Jeju Air Boeing 737-800 Daegu-Beijing
Joy Air Xian MA60 Yantai-Dalian-Yantai
Lucky Air Airbus A320 Lijiang-Kunming
Southern Sky Airlines Antonov 24RV Almaty-Balkhash-Astana
Thai Airways Boeing 777-300 Bangkok-Phuket
Tibet Airlines Airbus A320 Kunming-Lijiang
Ukraine International Airlines Boeing 737-800 Kiev-Istanbul
V Air Airbus A320 Taipei-Busan
Medium Haul
Air India Boeing 787-8 Incheon-Hong Kong
China Eastern Boeing 737-800 Incheon-Kunming
China Southern Boeing 777-200 Urumqi-Beijing
Korean Air Boeing 737-800 Incheon-Kunming
SCAT Boeing 737-500 Xi'an-Almaty
Vietjet Airbus A320 Ho Chi Minh City-Taipei
Long Haul
China Southern Airbus A330-200 Istanbul-Urumqi
KLM Cityhopper/KLM Fokker 70 and 747 Combi Humberside-Amsterdam-Seoul Incheon
Korean Air A380 Seoul Incheon-Paris CDG
Oman Air Airbus A330-300 and Boeing 787-8 Heathrow-Muscat-Bangkok
Thai Airways Bangkok-Karachi-Muscat
Vietnam Airlines Airbus A350 and Boeing 787-9 Heathow-Hanoi-Seoul Incheon