Club World London City Shuttle in 2018 – Really lackluster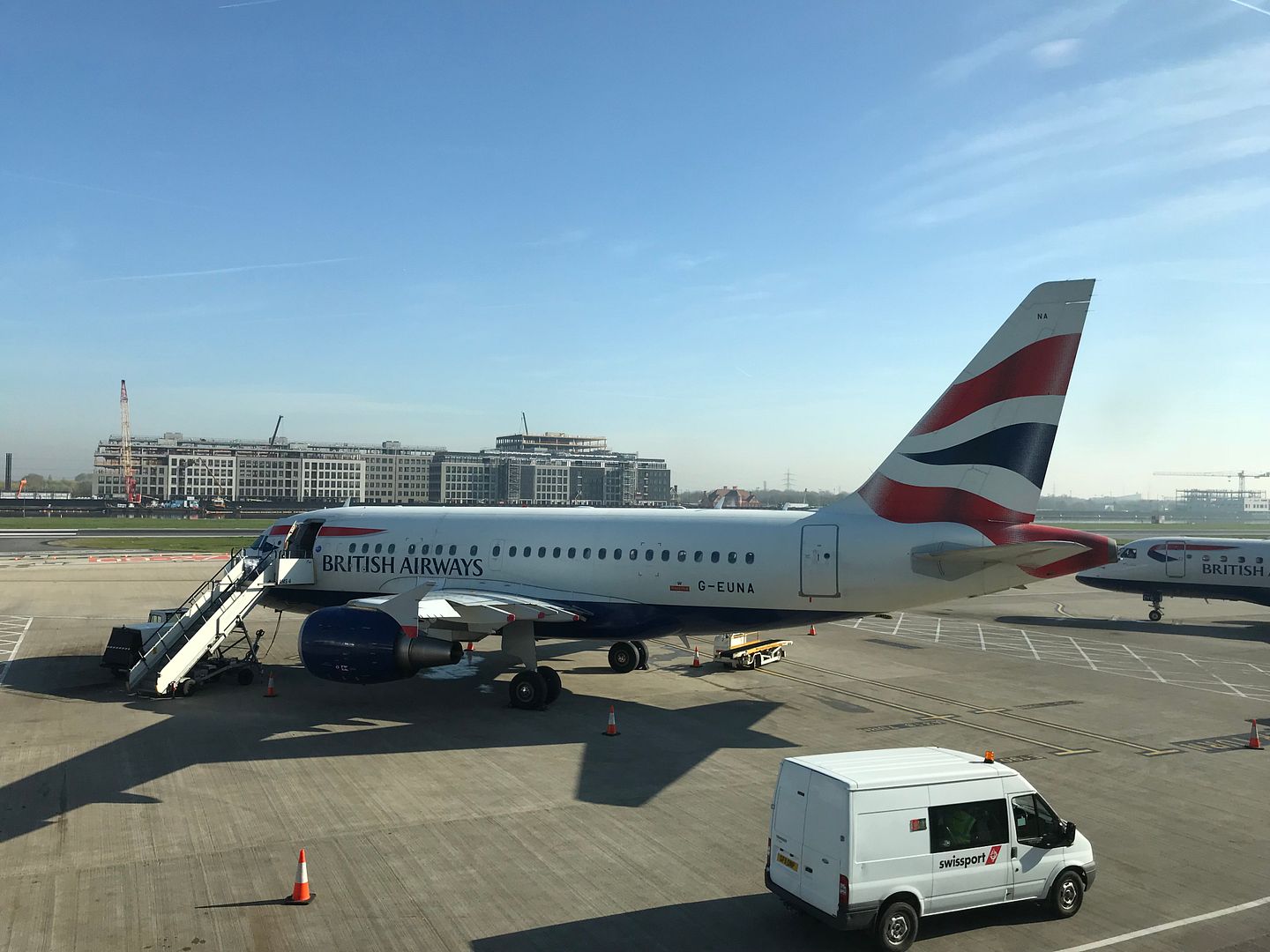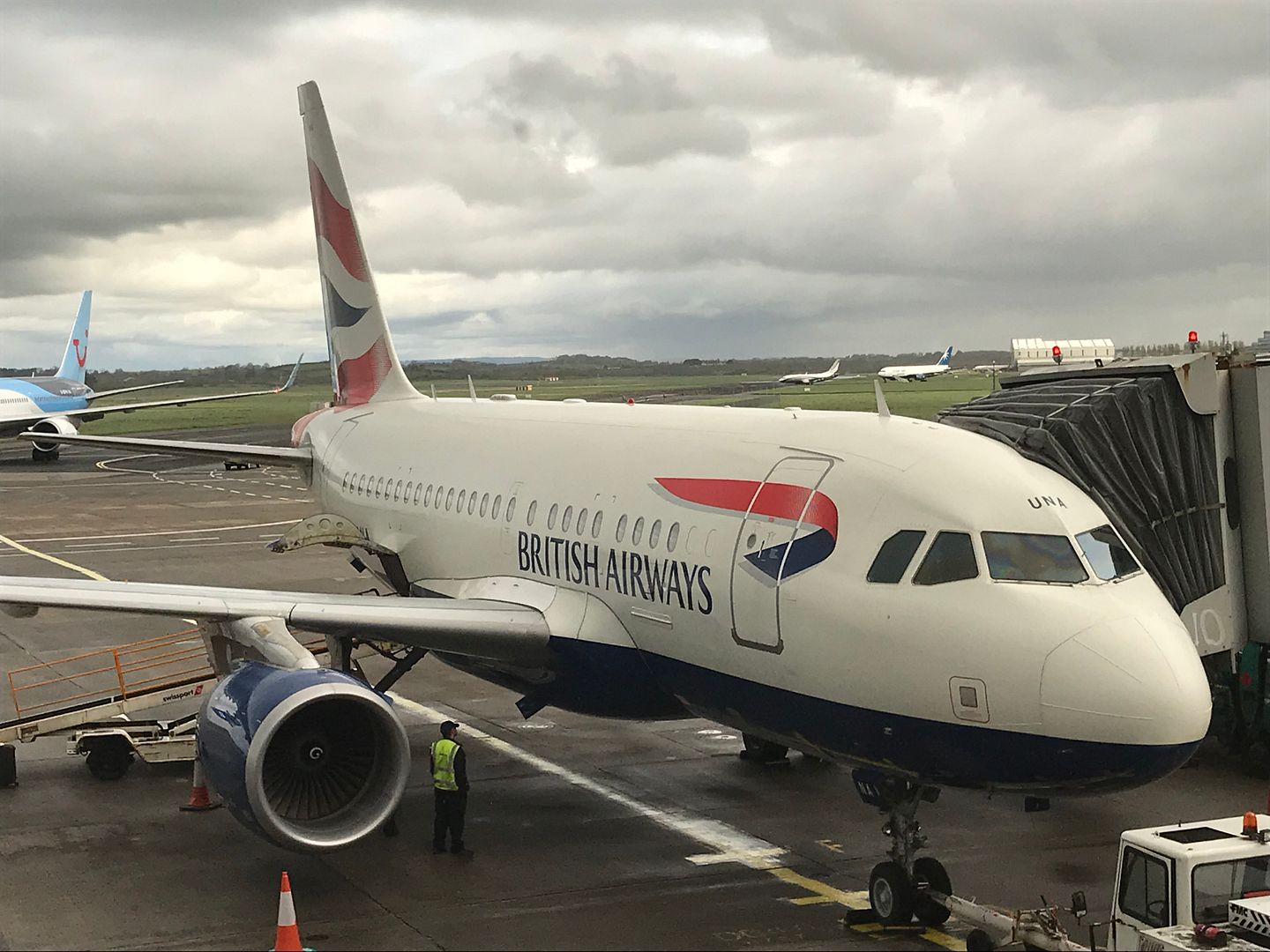 Full photo album:
http://s1213.photobucket.com/user/Carfi ... eApril2018
British Airways operates a really unique flight between London City Airport and New York JFK using a single A318 and this flight is obviously special because it takes over the old flight numbers 1 and 2 from the Concord generation. In the heydays, there were two weekday frequencies with two dedicated A318s. London City Airport is a unique airport located near Canary Wharf, the heart of the world's financial center, which is convenient to many corporate travelers working in the finance sector. Hence, it is also known as the "Bankers' Shuttle." Of course, City airport poses unique challenges to any operators, not to mention transatlantic flights with a short runway and crowded apron space. This flight can only operate nonstop from JFK to London City, and on its way back, it has to stop in Shannon for a fuel top up. Someone at the BA team comes up with a great idea and decides to take advantage for the Pre-clearance facilities in Shannon, and during the stopover, all (crews and) passengers clear custom and immigration, and the flight will be treated as a domestic one after its arrival into New York JFK. The A318 operates on this flight features 32 business class lie flat seats and three cabin crews take care of you. BA is quite ambitious in the beginning and this service has a certain glamor to it. There was a small lounge setup at the gate for this flight and it made sense with two daily flights. However, under the "great" leadership of Alex Cruz, the former CEO of Vueling, everything has to be streamlined and reflect its core as a "LCC inspired premium airline". The lounge was no longer available and you got a restaurant coupon instead. The onboard service is just regular Club World (and no even the newly enhanced meal services featuring on the JFK-LHR flights, despite this flight was being catered by Do & Co), and I actually think Open Skies, BA's French subsidary, which will become history after this summer, has the best BA branded Club World service. The London City flight, unfortunately, did not go this way. The saving grace is the "White Company" branded bedding with mattress pad, duvet and a light blanket. The service was of course pretty personalized with three cabin crews looking after 32 passengers, which don't always happen. There were only fifteen passengers on my flight, and all indications seem to lead to the eventual conclusion that this service will come to an end.
April 18, 2018
BA 1 LHR-SNN Lv0940 Arr1100 Airbus A318-100 G-EUNA
Check in area at LCY:
I arrived at London City Airport a bit earlier than expected but my goal was to check out that "special" lounge. I wanted to take some pictures before the crowd arrived. Of course, I should have read FT reviews and headed to airport later. Anyway, the check in line was not busy at all, but apparently only one agent could work on the New York flight. The display in the back also showed that only one counter for the New York flight. Since the agent was assisting a previous guest (not even heading to JFK), I had to wait for her. I asked for a pair of seats and the agent gave me a choice of row 3,4,5 or 6. She also told me that I could use my boarding pass for a free hot breakfast in the Pilots' restaurant located in the main area after passing security. When I asked about the lounge, she told me that it had been converted back to a regular gate. She told me that I did not need to go to the gate till 40 minutes prior to departure.
Security was easy, as the early morning rush period was over. To give London City airport credit, there isn't really much space for them to work on. Plus, there is really no space for any lounges so everyone has to wait in the main seating area.
Here is the pilot restaurant with its breakfast menu.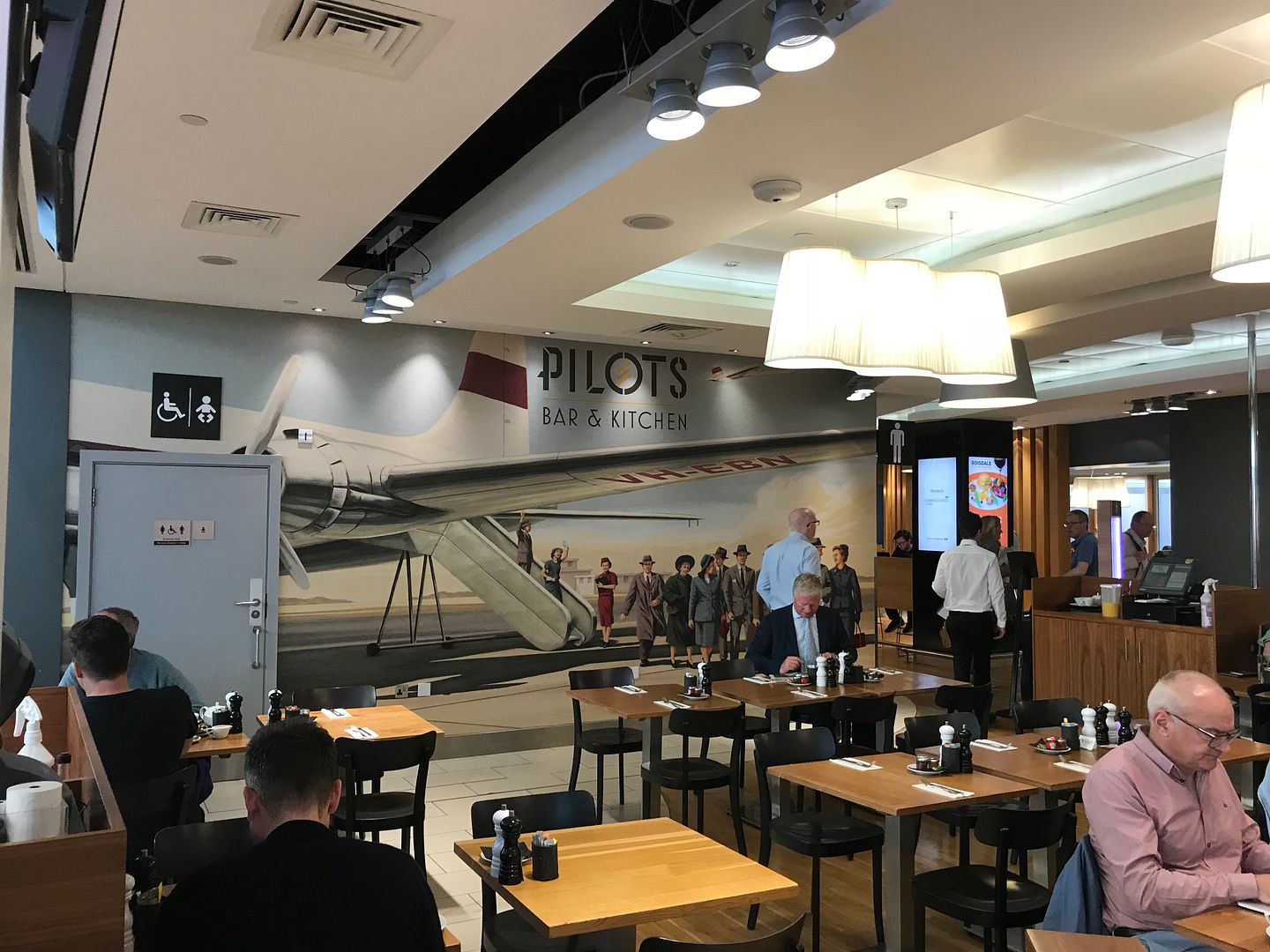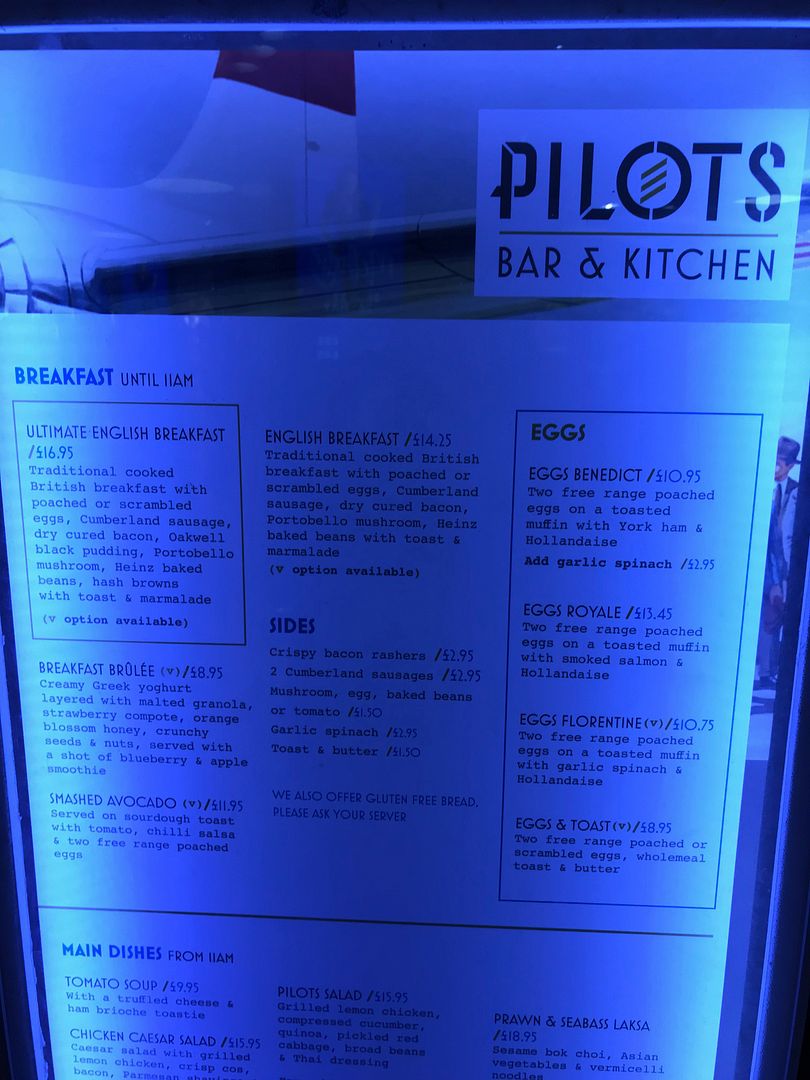 I did not partake in any breakfast because I had already gotten breakfast just forty minutes ago. I just made some last-minute shopping and spent most of my time looking at planes.
Plane-spotting is cool at LCY and they have plenty of seating and large windows along the corridor, which allow closed up view of various regional jets and turboprops.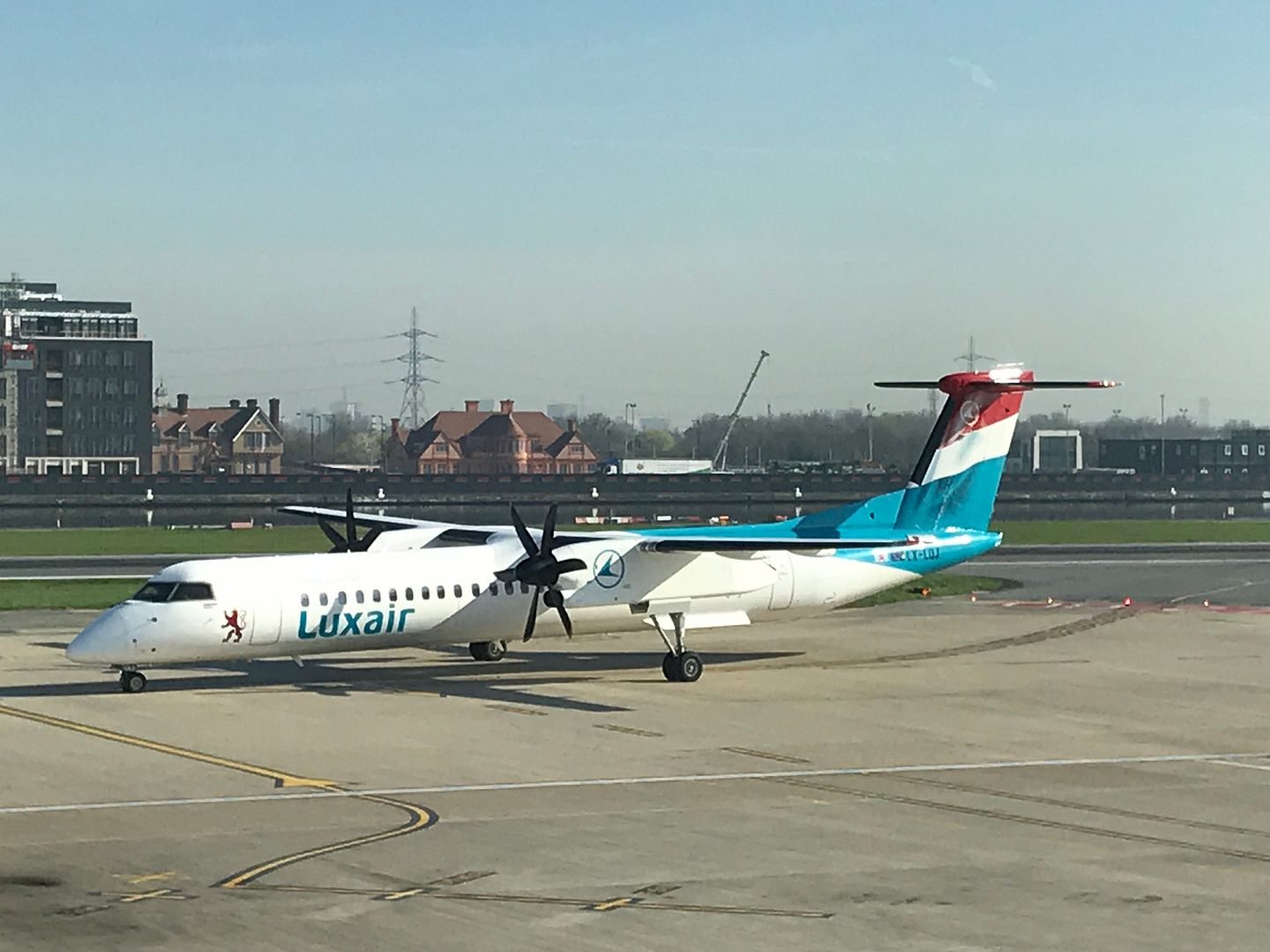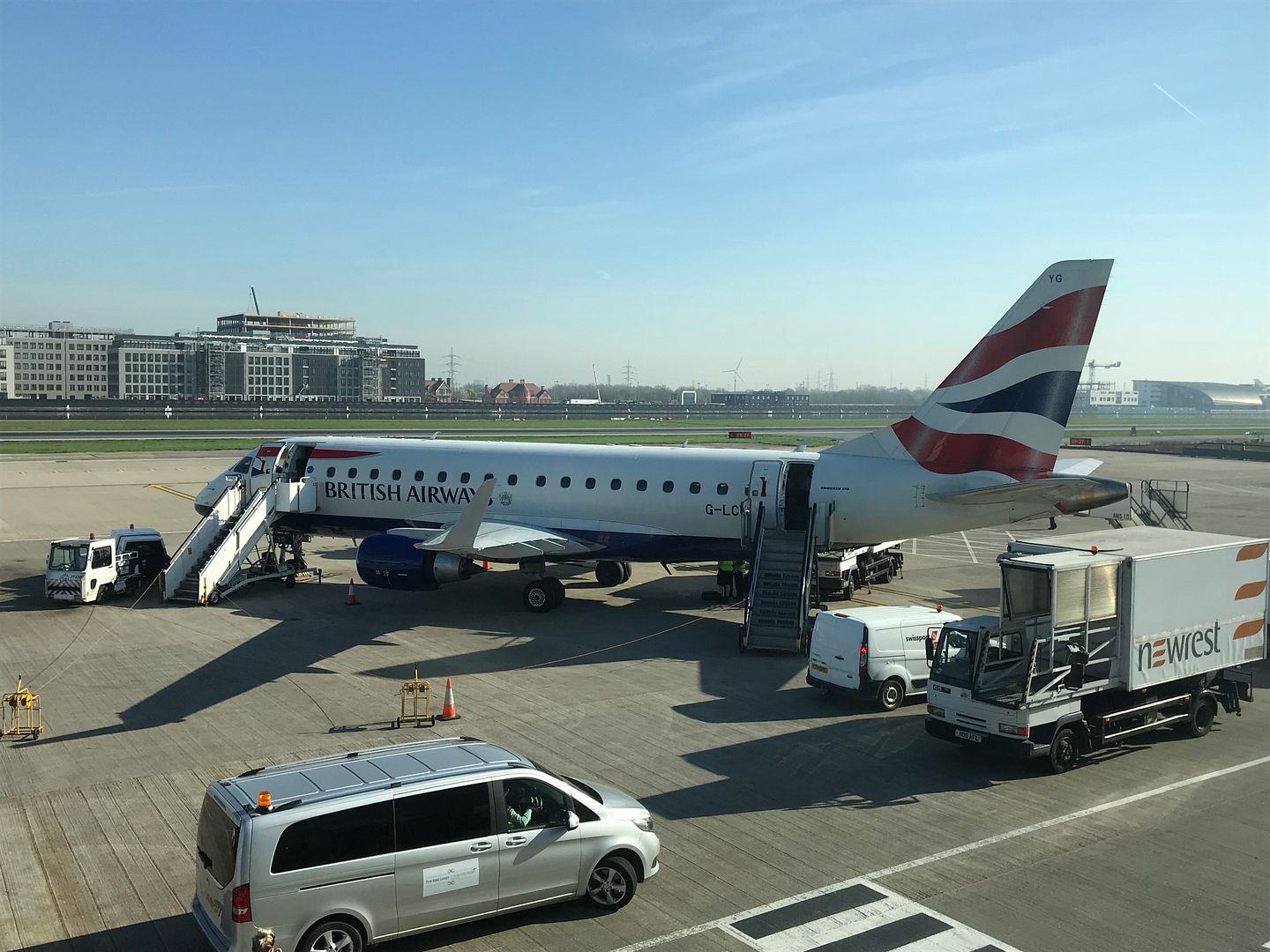 Gate 21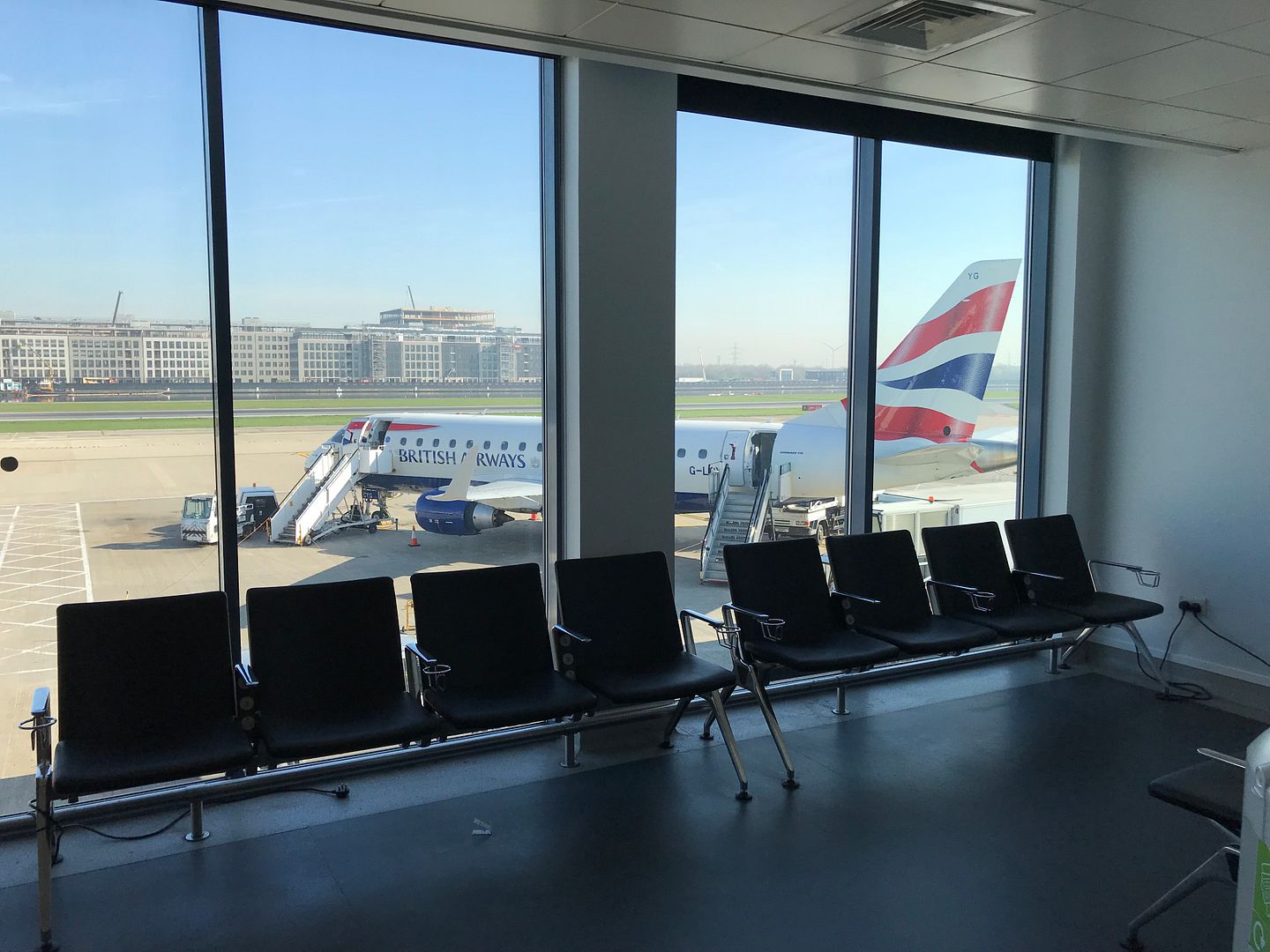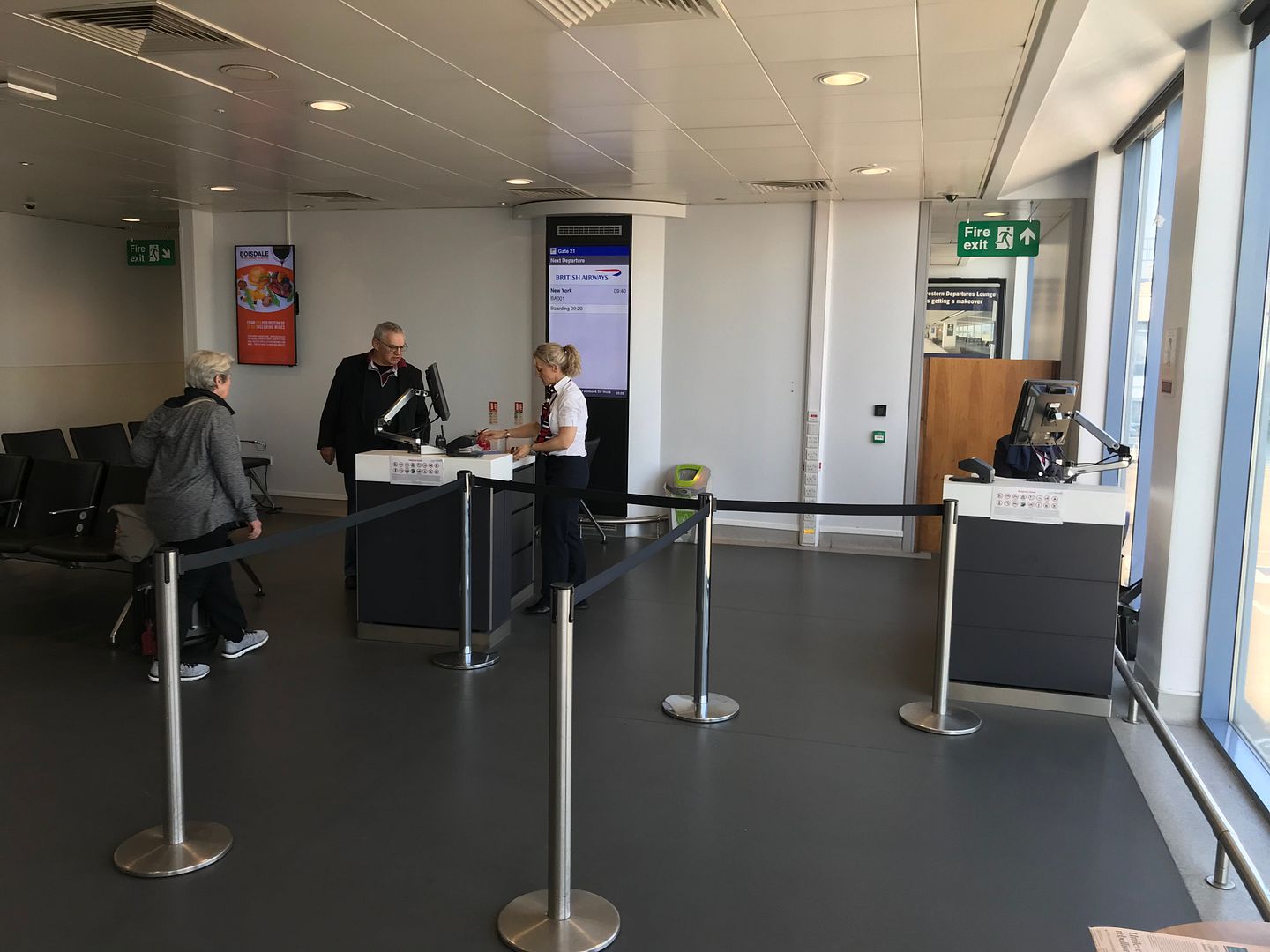 Well here is the gate for gate 21 and the only thing that tells you that it is special is this table with newspapers and magazine – not even a big selection.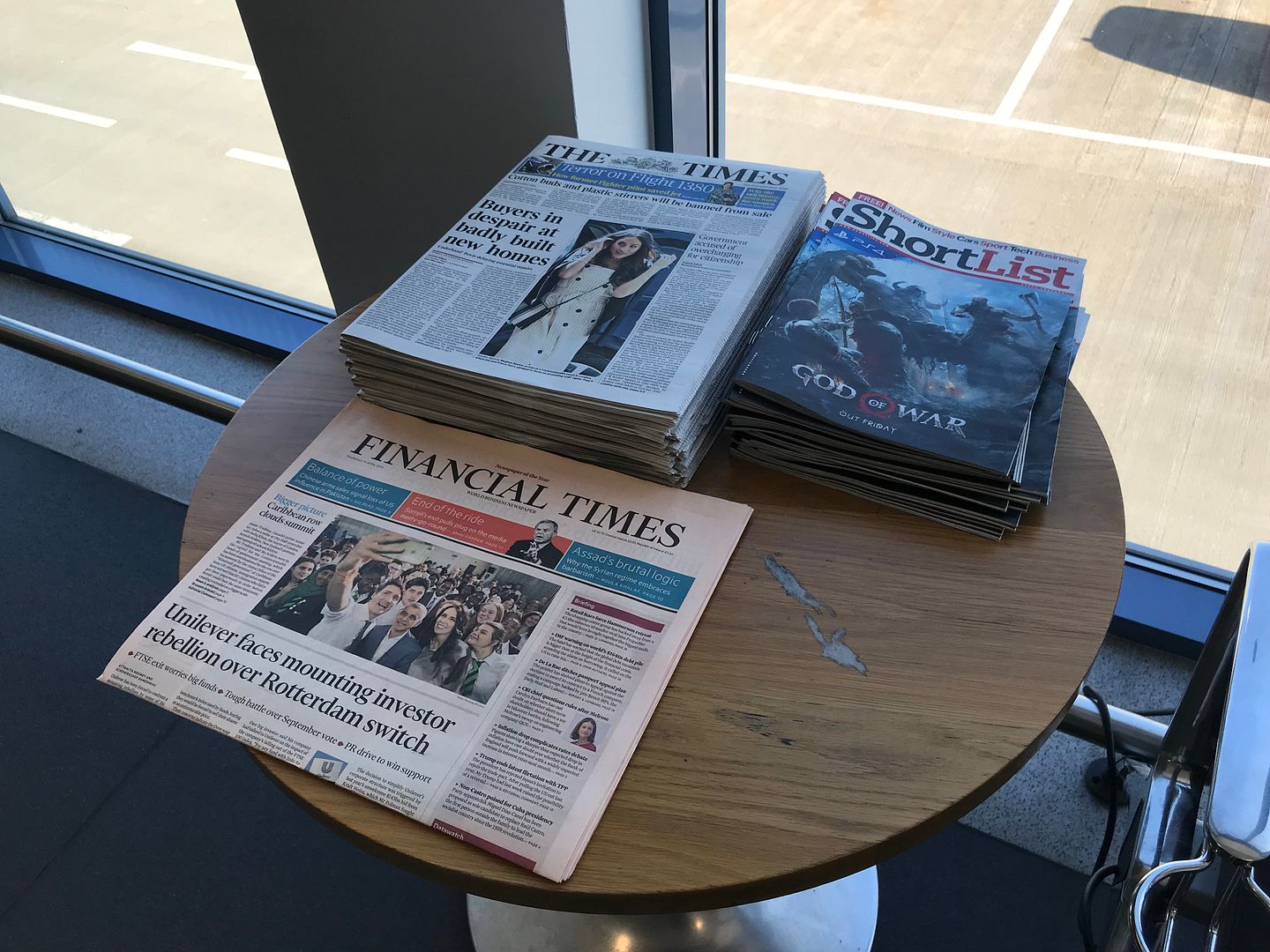 Then there are regular seats but windows are fine with me.
At 9:20am, we got some bad news. The turnaround manager informed us that our new departure time would be 10:25am. The reason was that the driver for the catering truck just discovered that his license had expired this morning, and it took them a while to issue him a new one. Since the JFK flights got the special DO & CO catering (while other get the NatWest catering), we really had to wait. The truck also had all the special beddings for the flights too. However, with a light load, the delay was really minor.
Catering truck finally made it to the plane…
G-EUNA – Baby Airbus and somehow the "big" bird here at LCY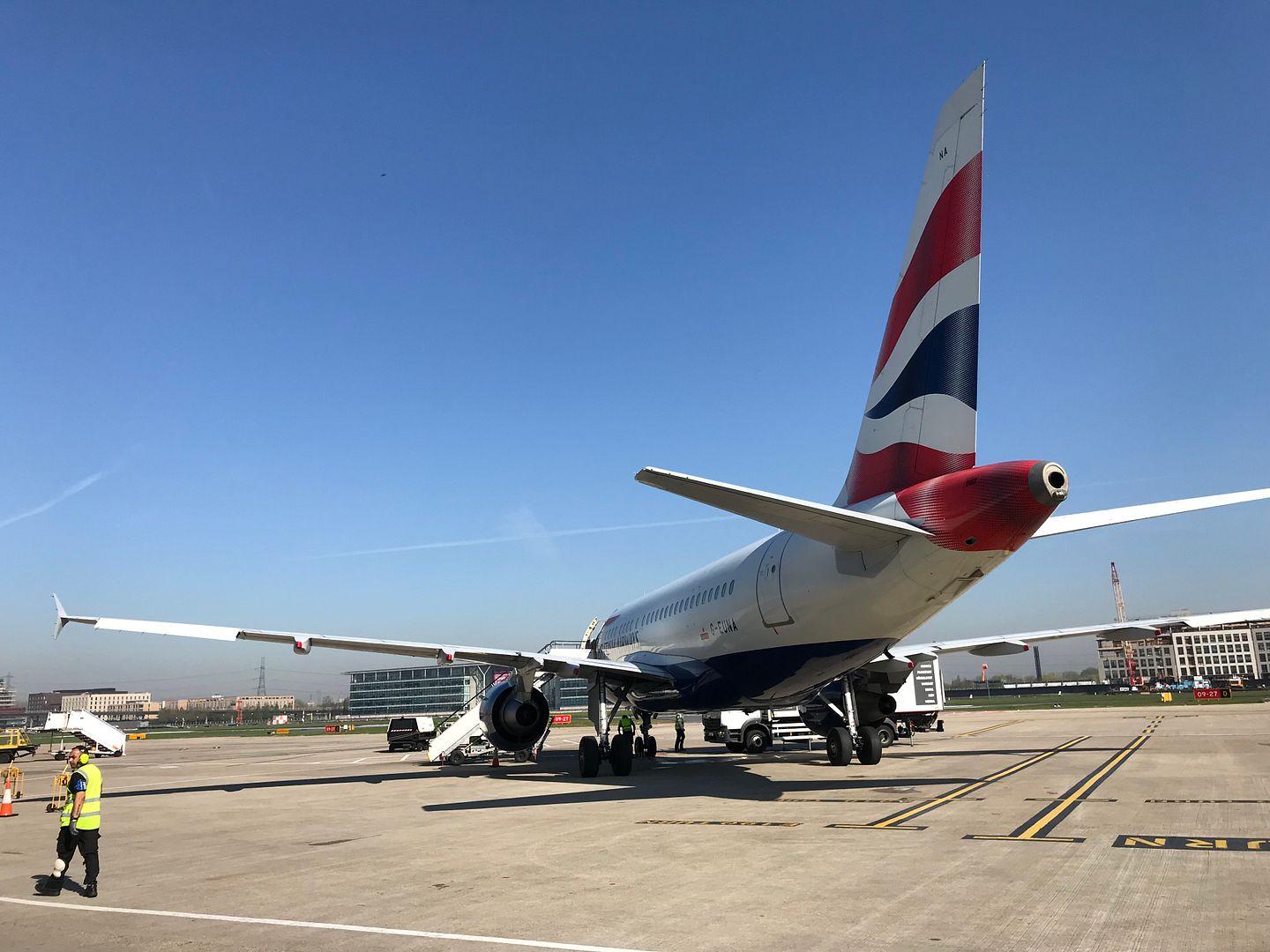 Boarding finally began at 9:49am and eight minutes later, door was closed.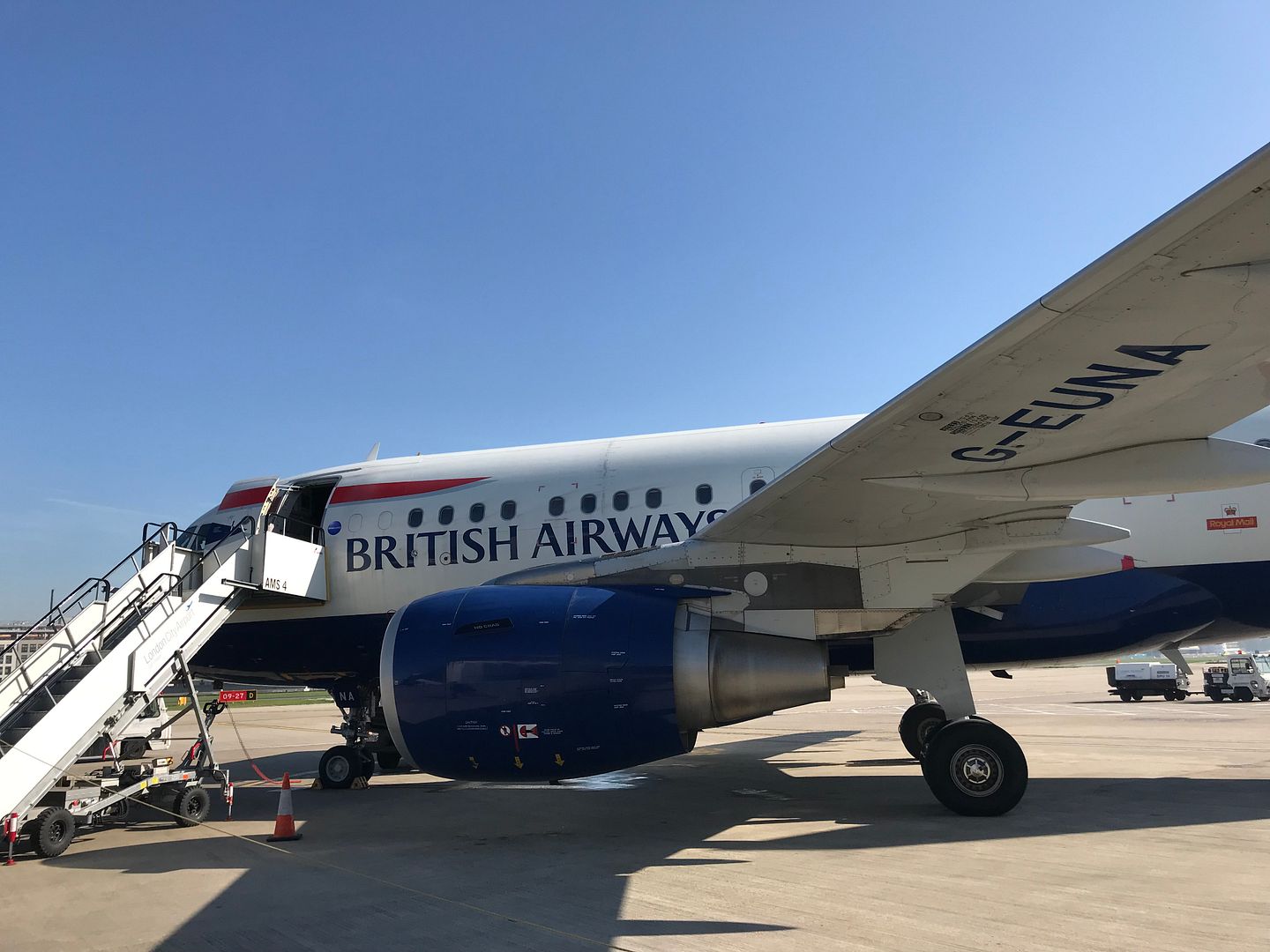 Some cabin shots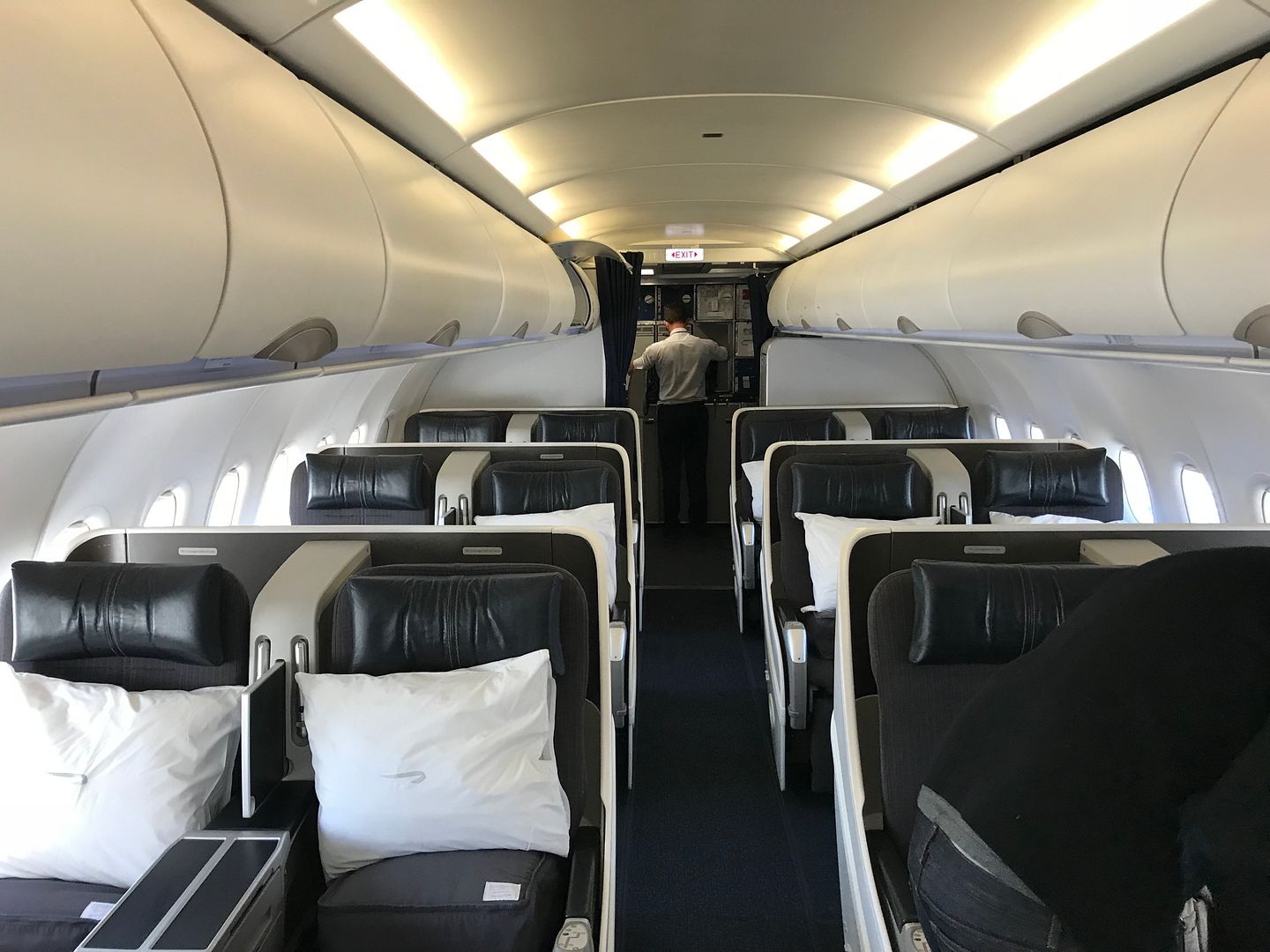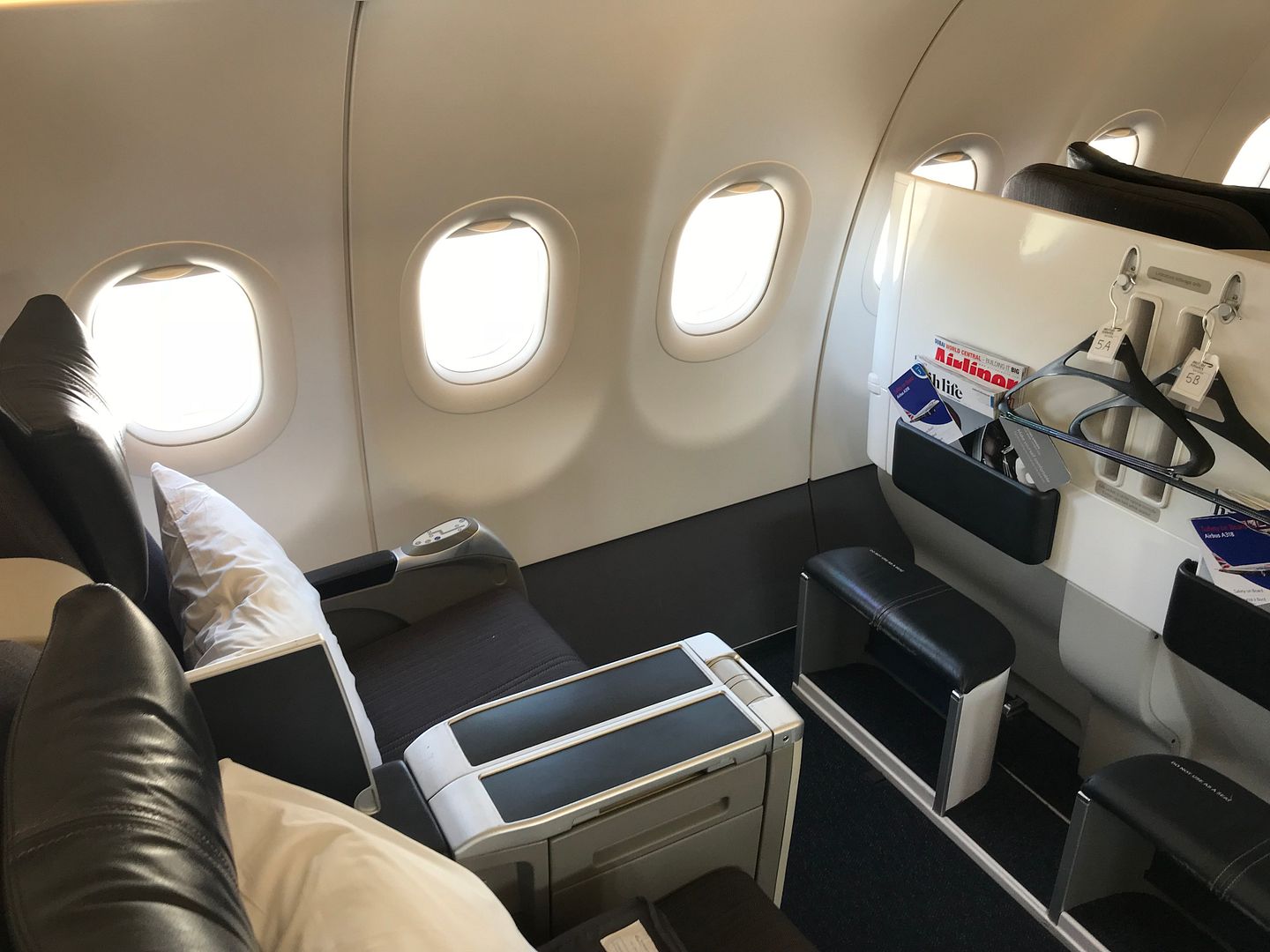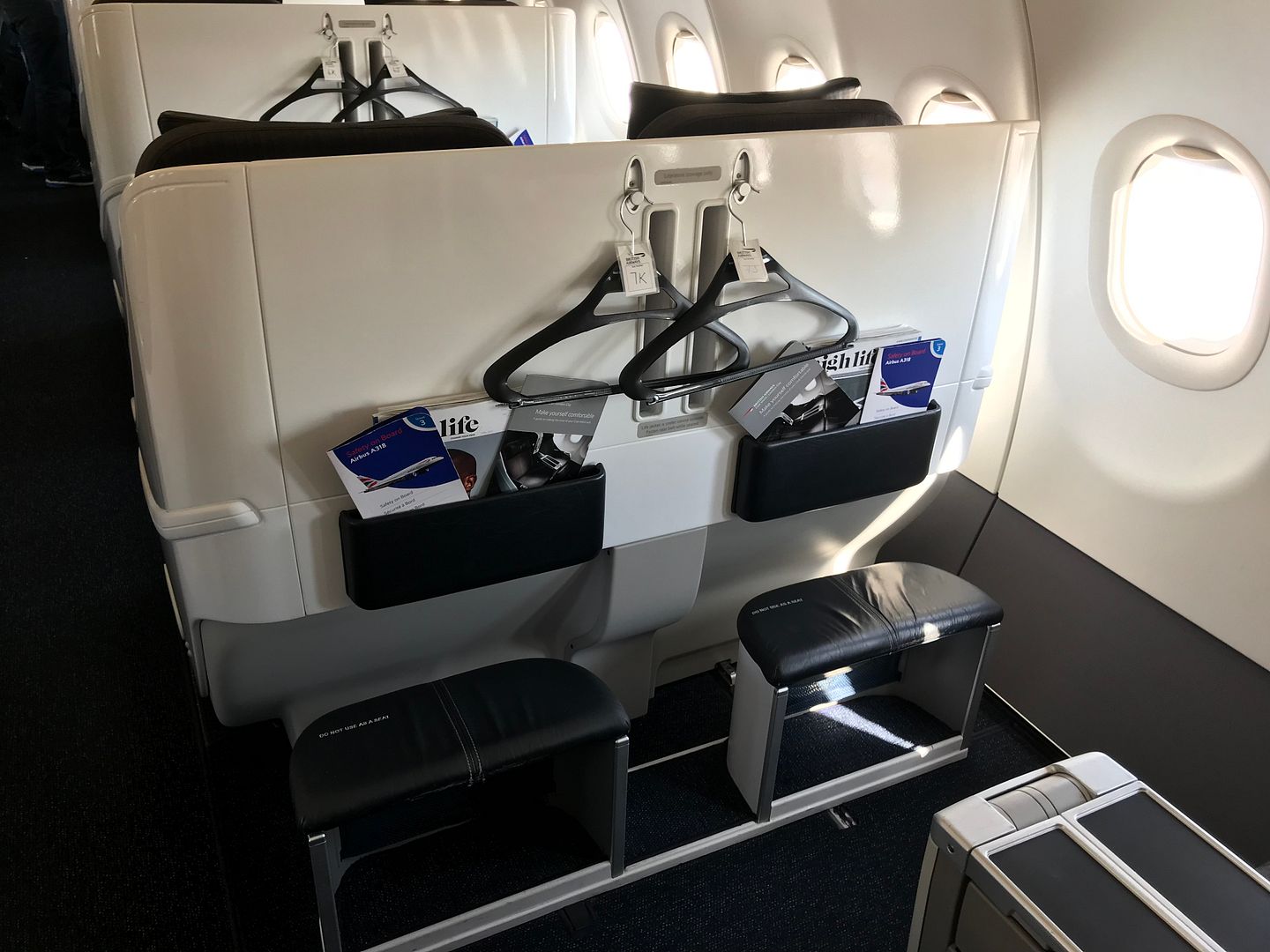 1AC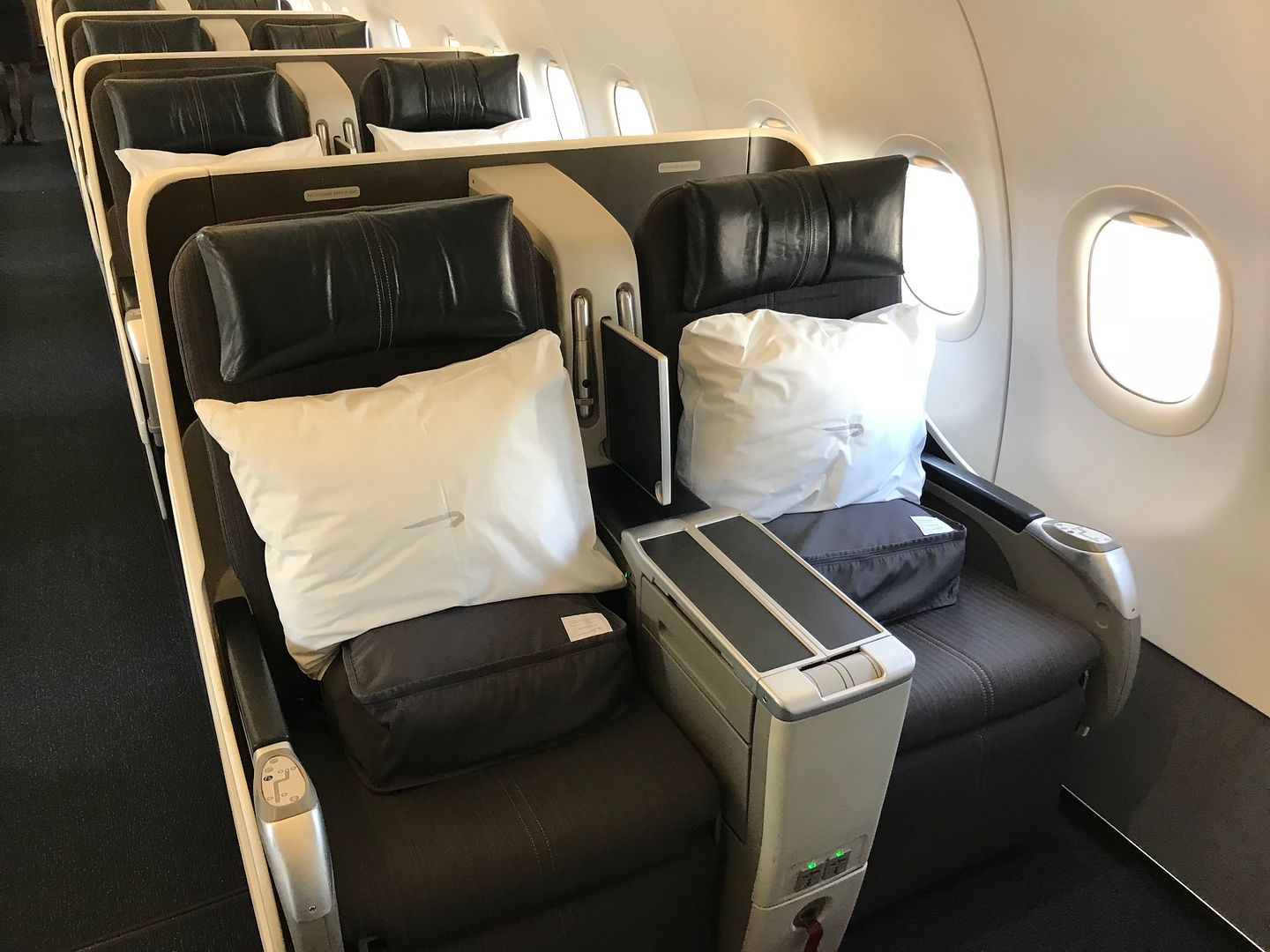 Each seat has a pillow and white company bedding bag.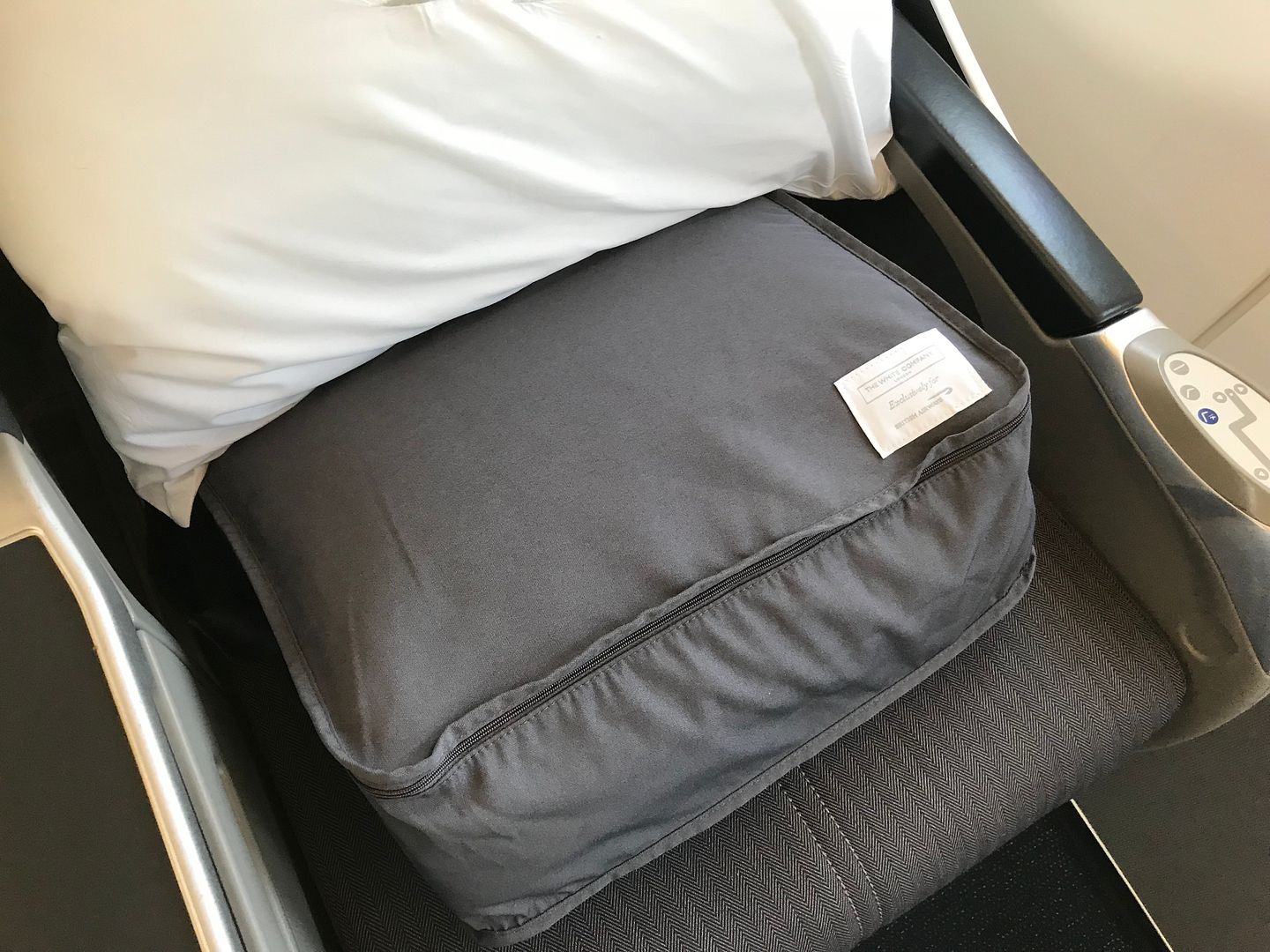 Seat features
Divider with a personal reading light
Literature drawers
Footrest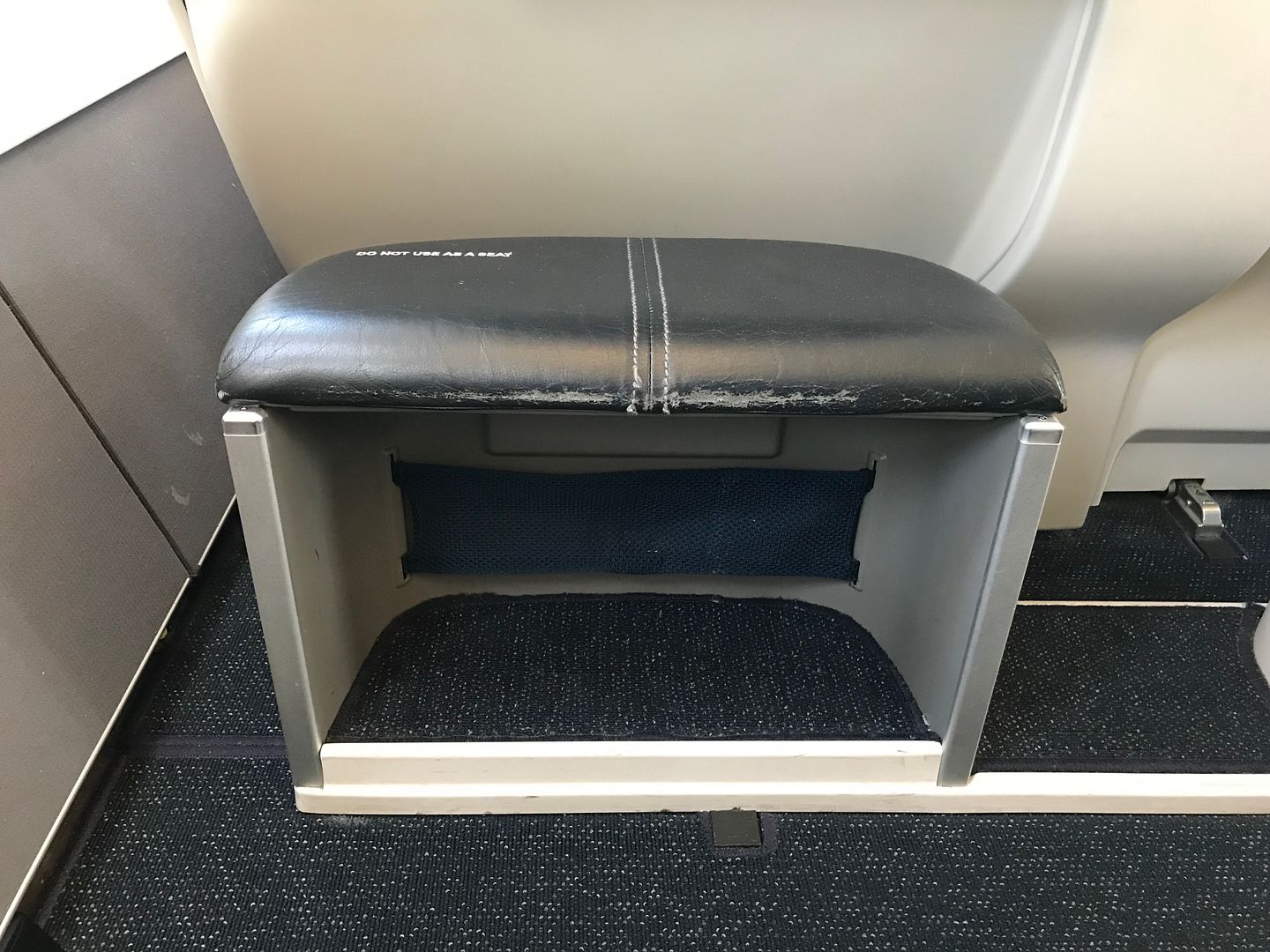 Power plug #1 and small side storage bin (glasses and small items)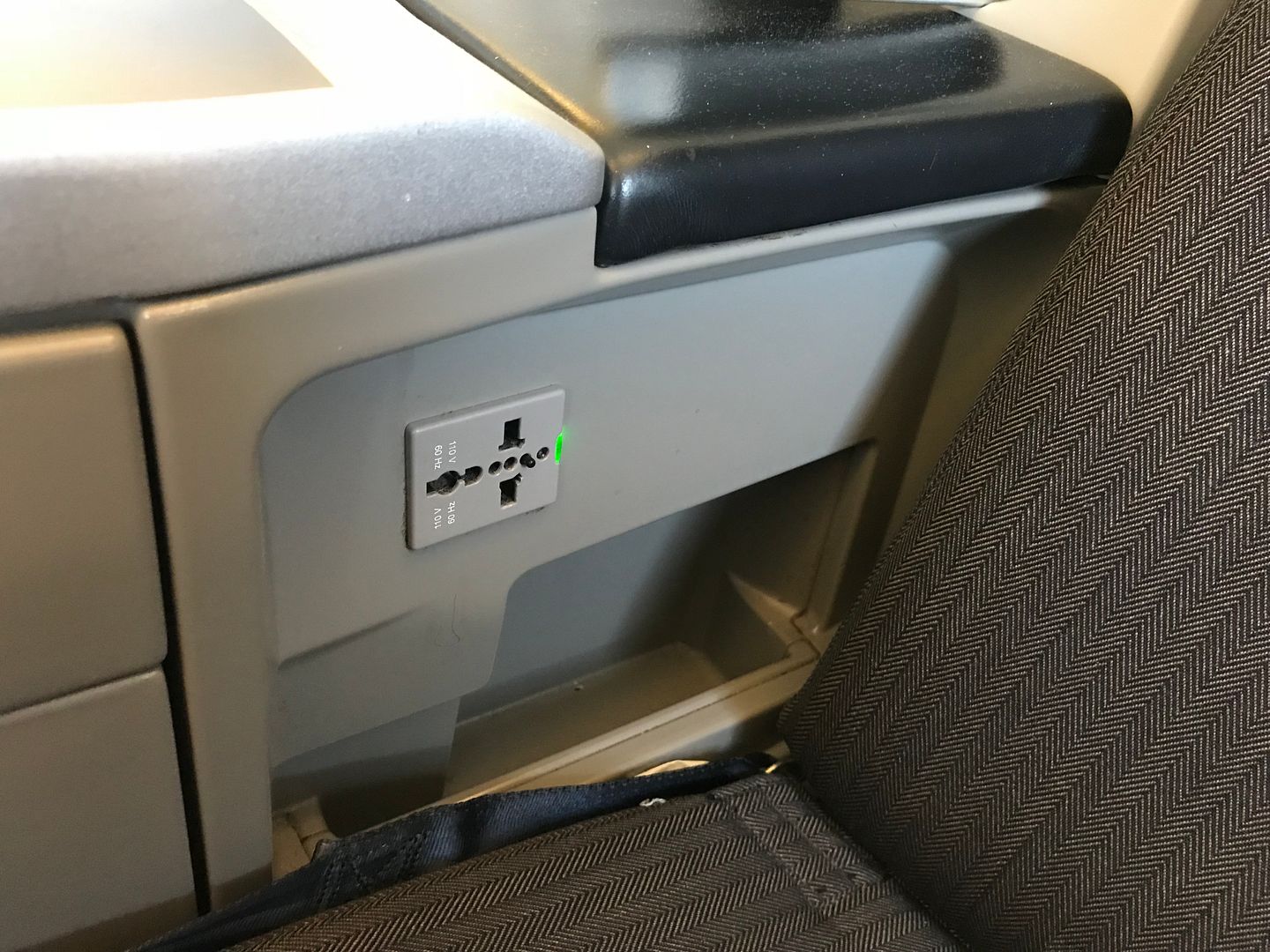 Power plug #2
There was literally no pre-takeoff service because things were moving quickly here at LCY. The startup was done at the gate, before heading to runway. Because of the size of our plane, we can't really taxi like other regional jets. We basically headed to the nearest runway intersection, headed down the runway and then back-tracked for our takeoff run. The captain had warned passengers about the unusual takeoff power, so no one would be surprised.
Great view of the tarmac, as we headed down the runway!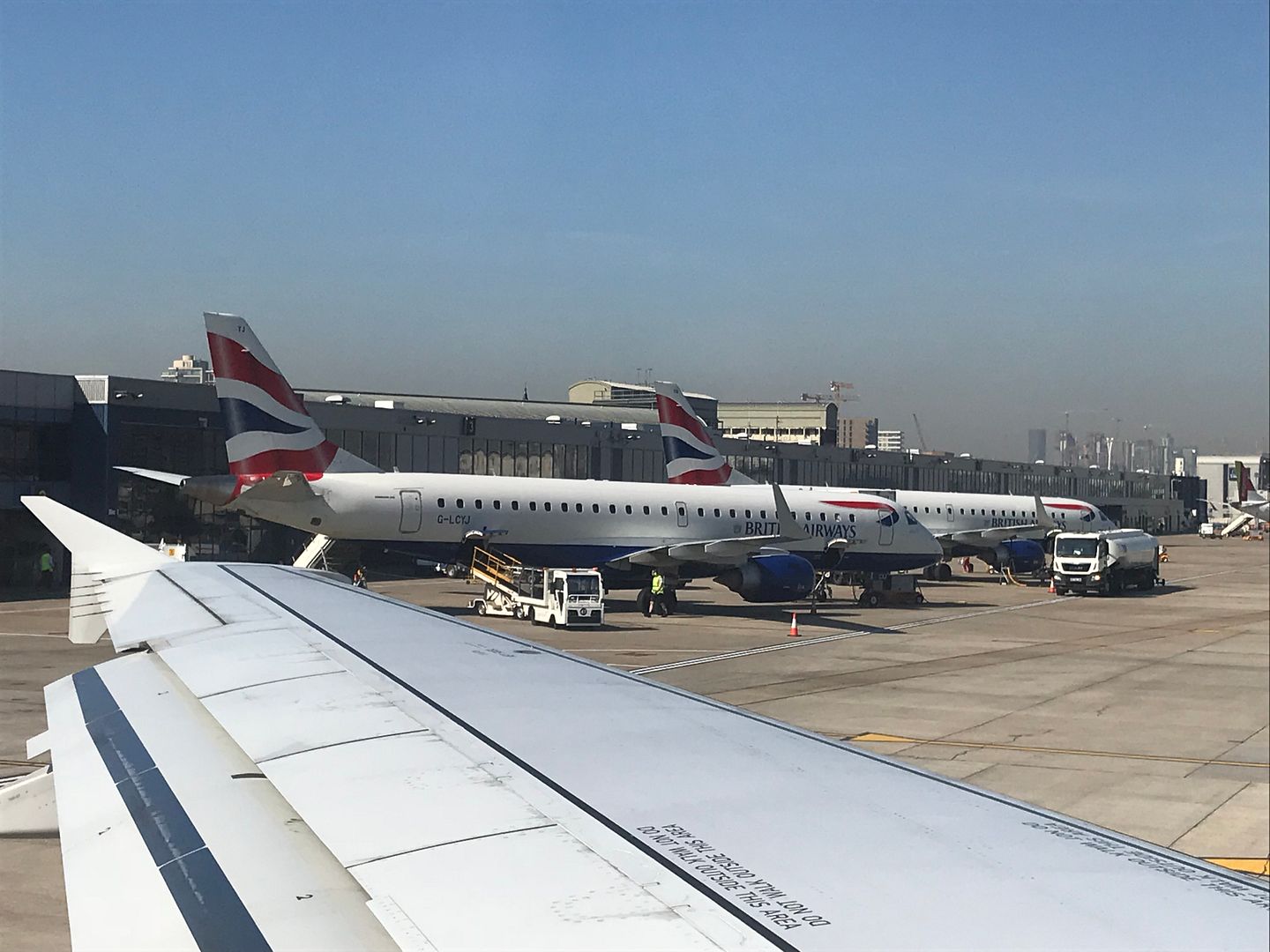 Landing sequence of this EMB-190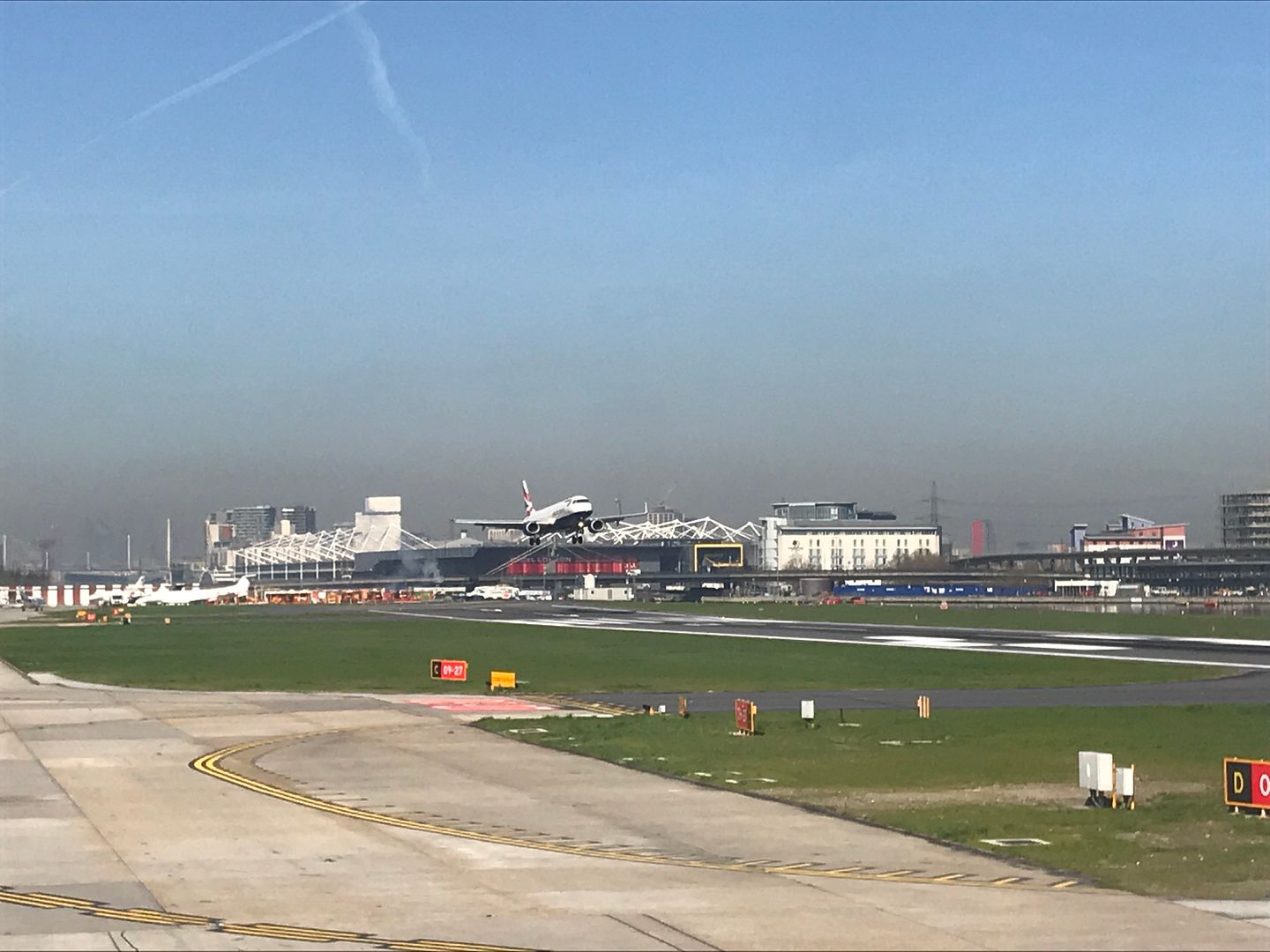 Backtracking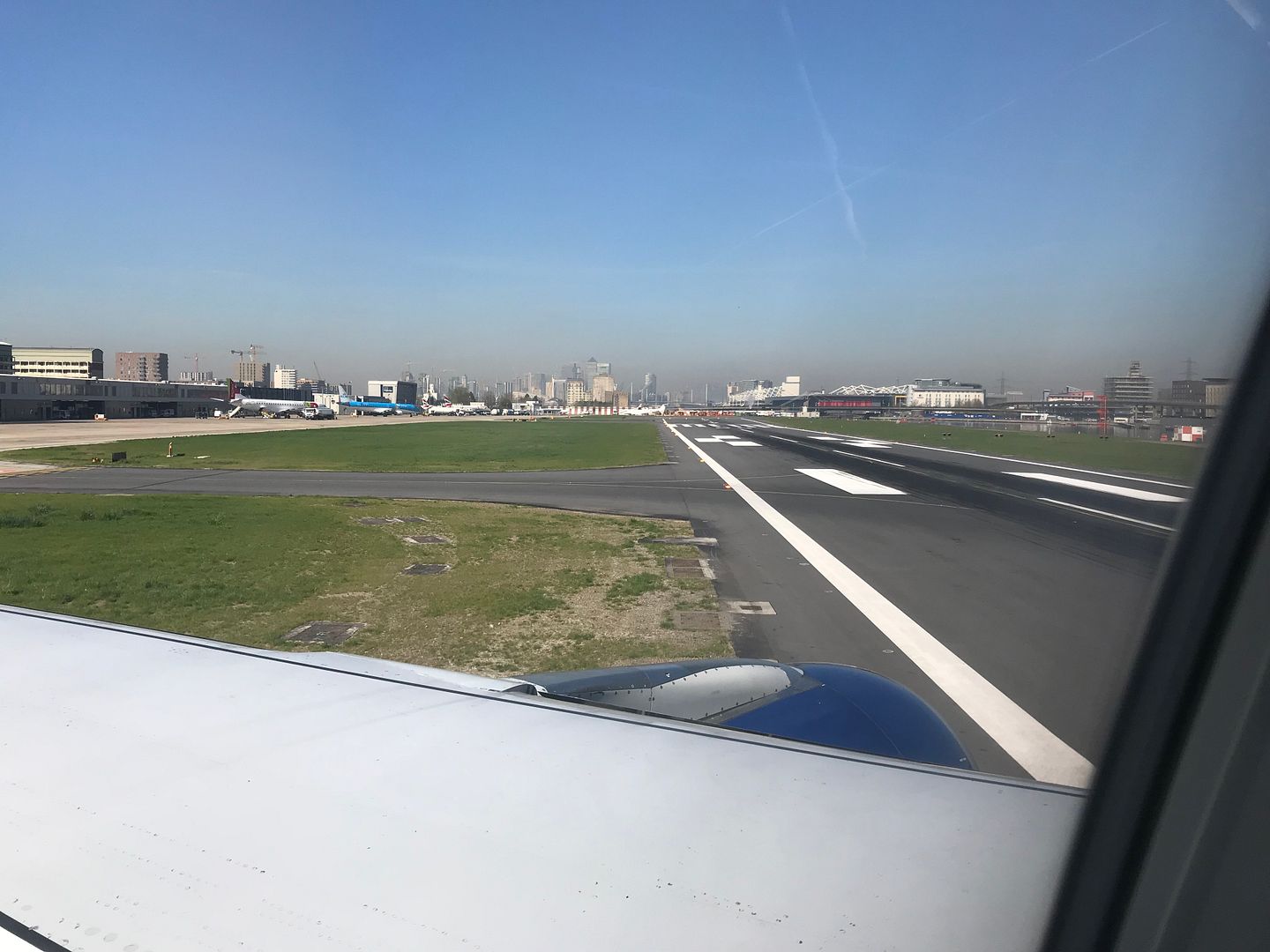 We took off from R/W9 at 10:10am for our quick one-hour flight to Shannon. We stayed at 38,000ft for the short flight towards Shannon.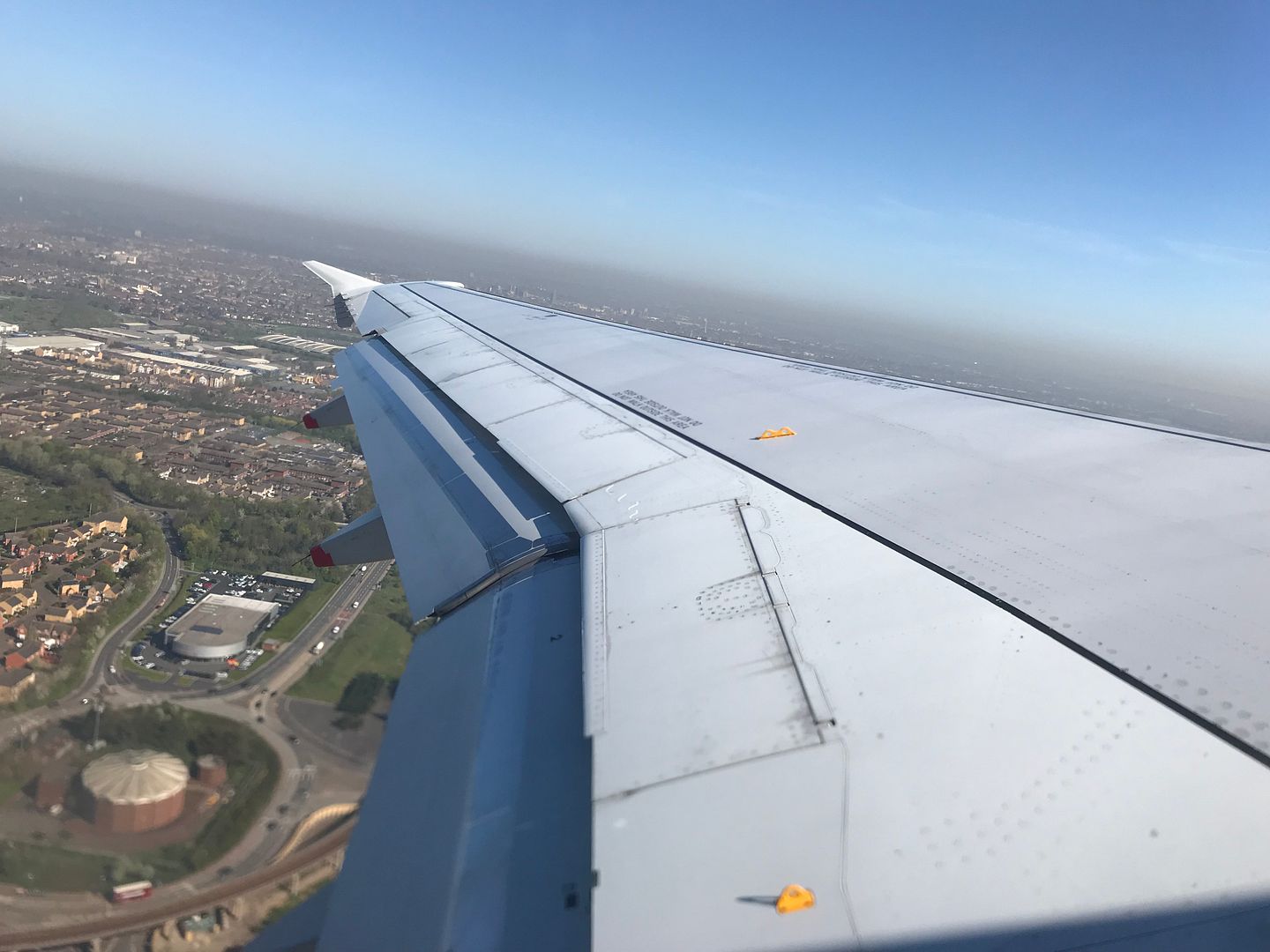 Departing London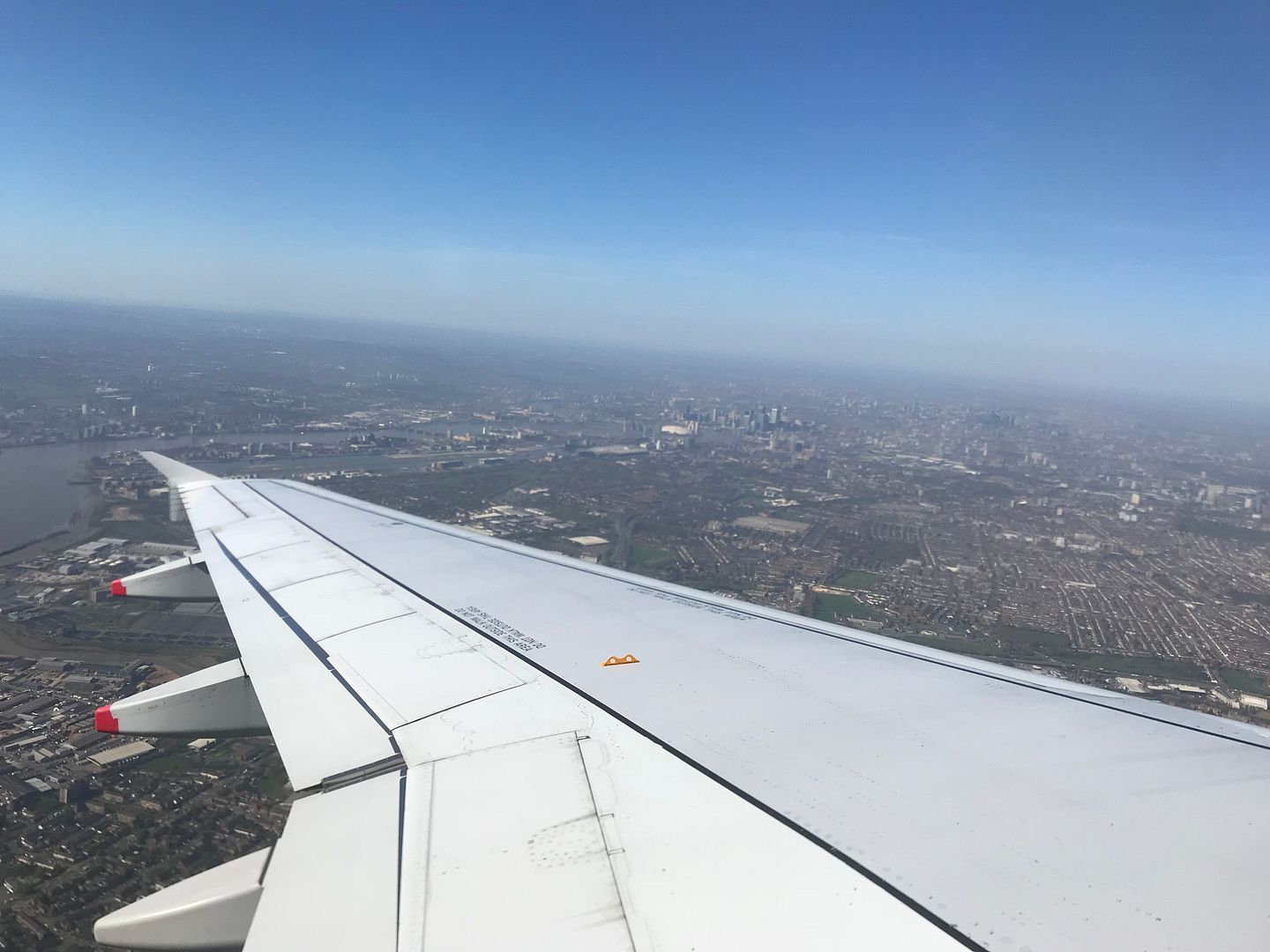 Literature pocket – safety card, High Life Magazine, duty free catalog (but there was no duty free service), and unique seat guide for these A318 seats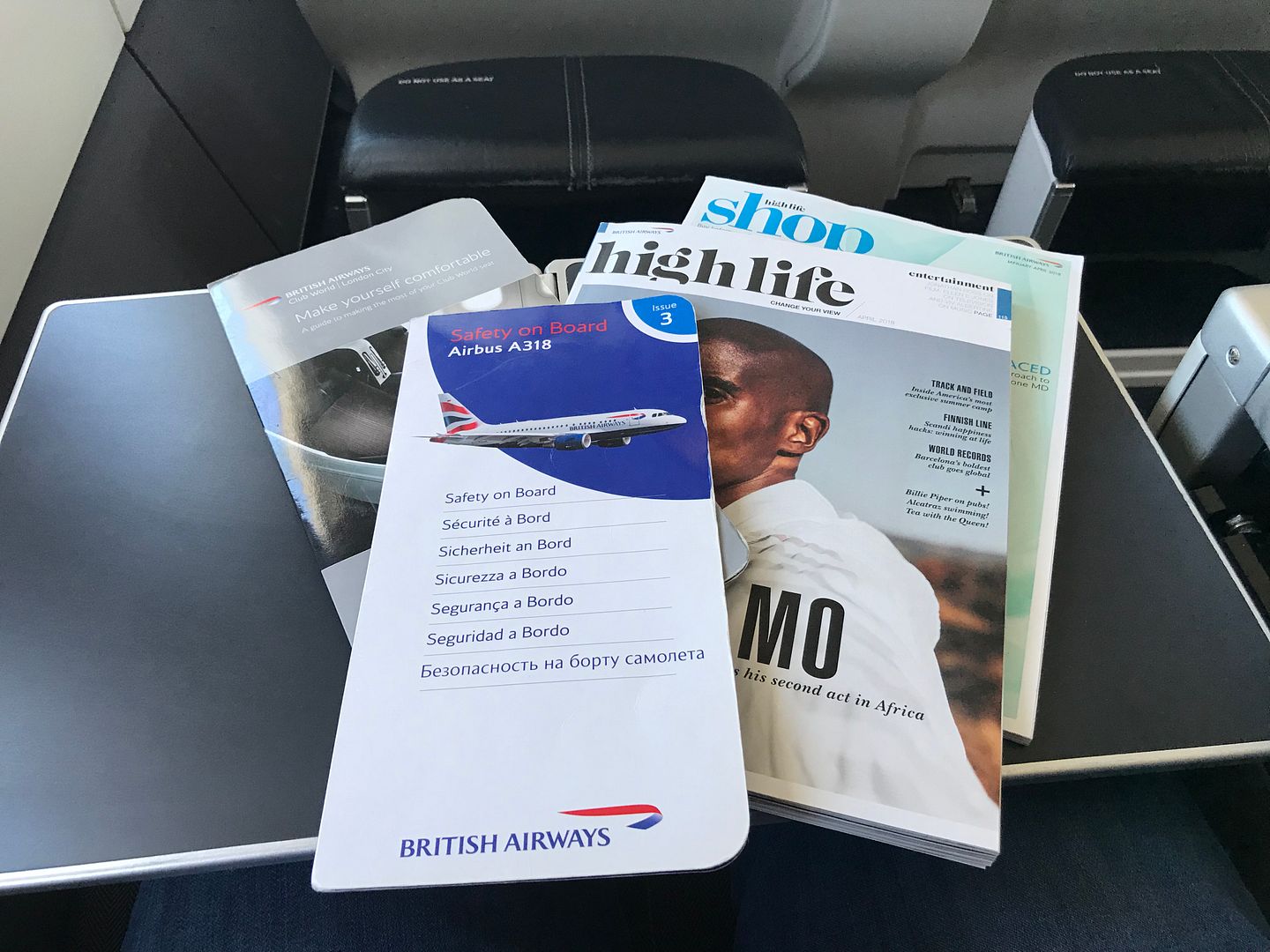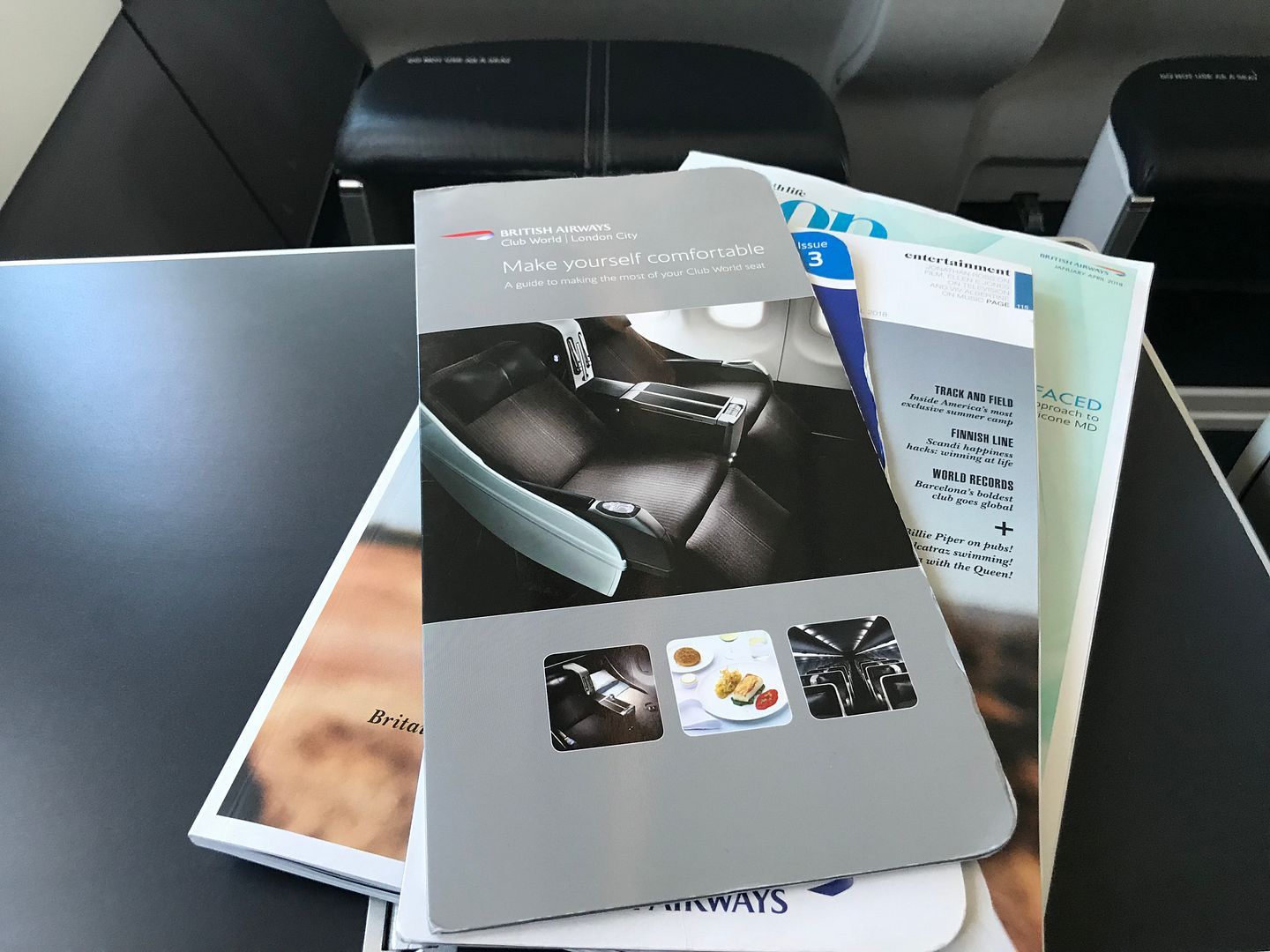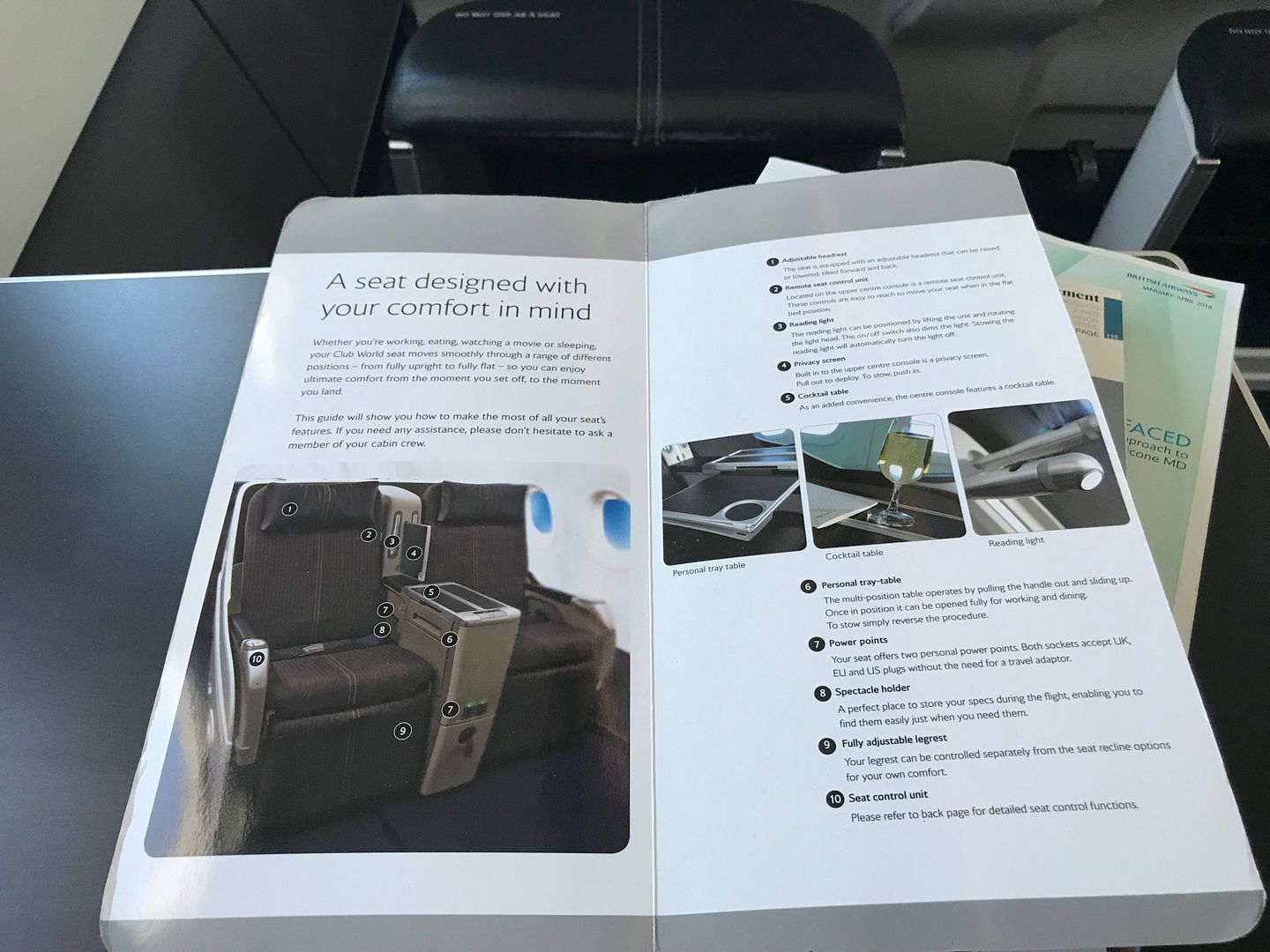 With a short flying time, the cabin service was fairly limited. Menus were first passed out and then one of the F/As took beverage orders.
Beverage – no alcohol for me yet, as I still need to clear custom at Shannon, but most passengers went with champagne
Then the F/A passed out starters from lunch and you got to choose after seeing both choices.
Most passengers went with vegetarian sushi, including me. BA should go back to two savory items.
Of course, F/A reminded everyone that there was no soy sauce, which was a big "No" in my book, and the plate came with wasabi and ginger. The sushi was fine for a Western carrier but not sure if I am a fan of it. It is a bit too fusion for my taste.
No reason for wasabi and ginger (as we are not eating fish and need to clean palate in between)
Seat in recline position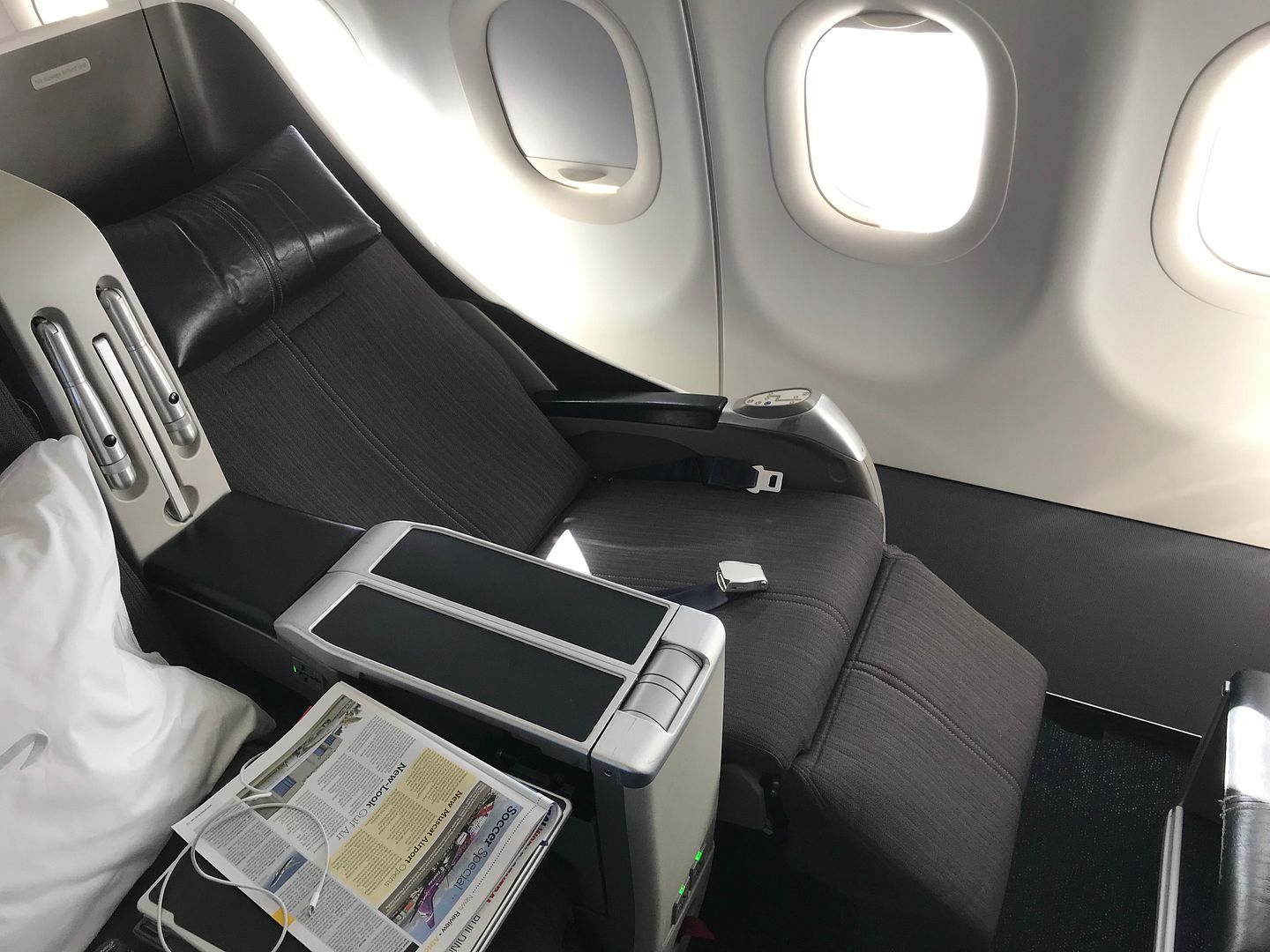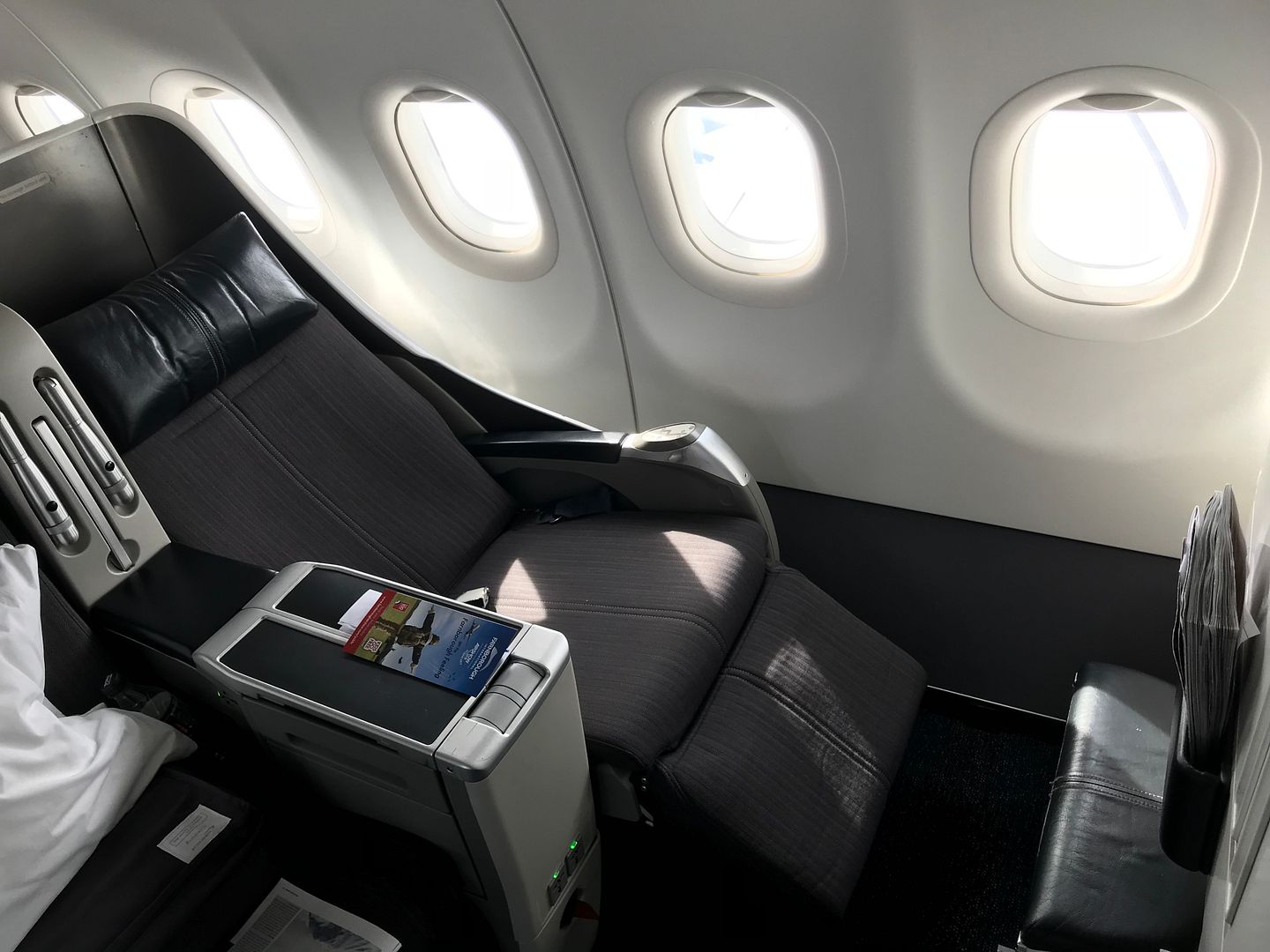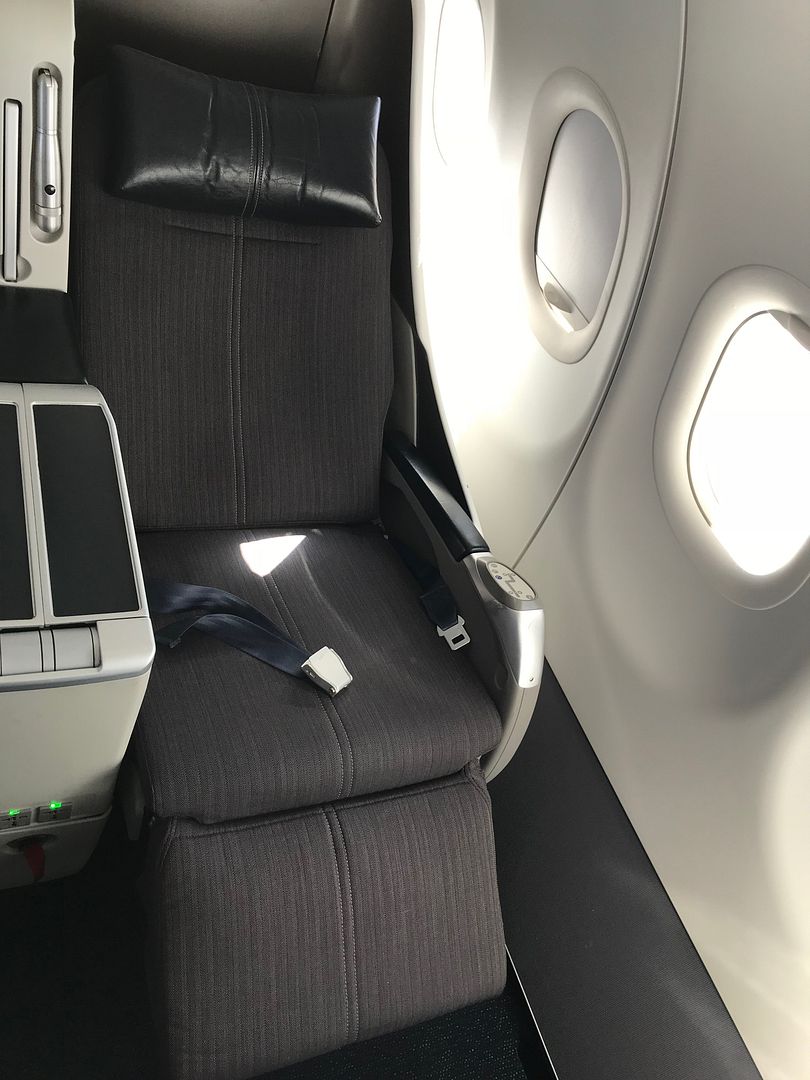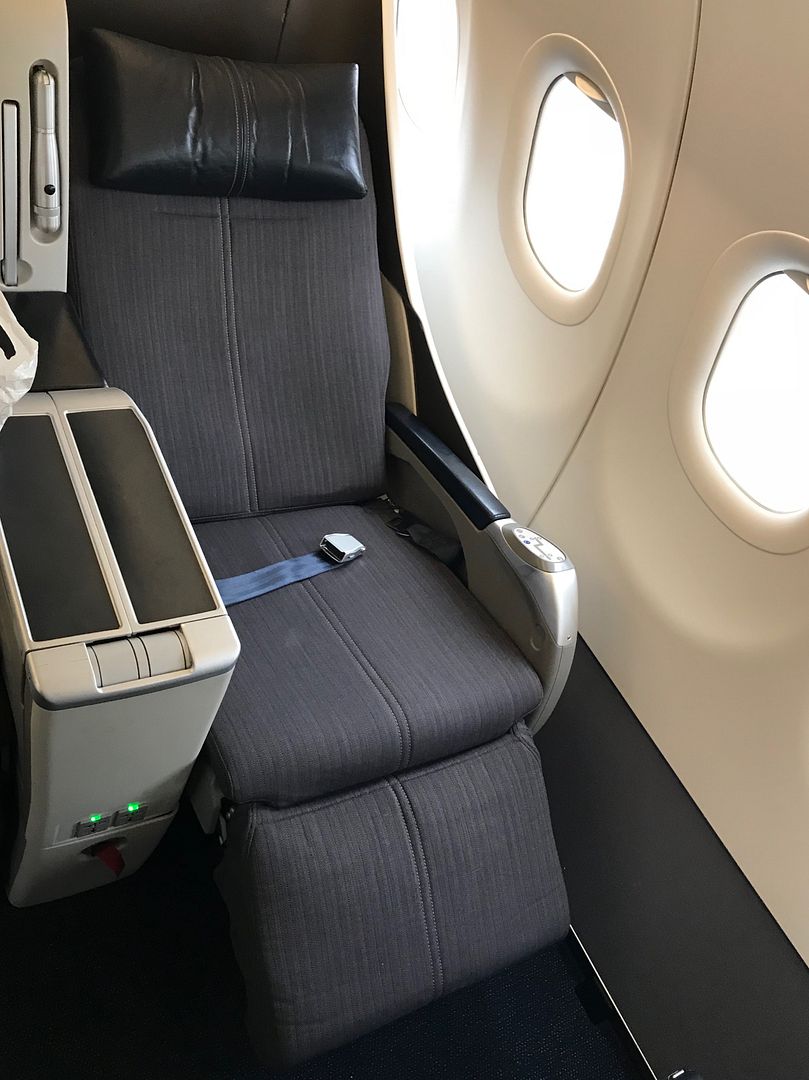 The rest of the flight went by quickly and we began our descent at 10:52am.
It was a rainy day here at Shannon.
We landed on R/W24 at 11:11am and parked at stand 34 three minutes later.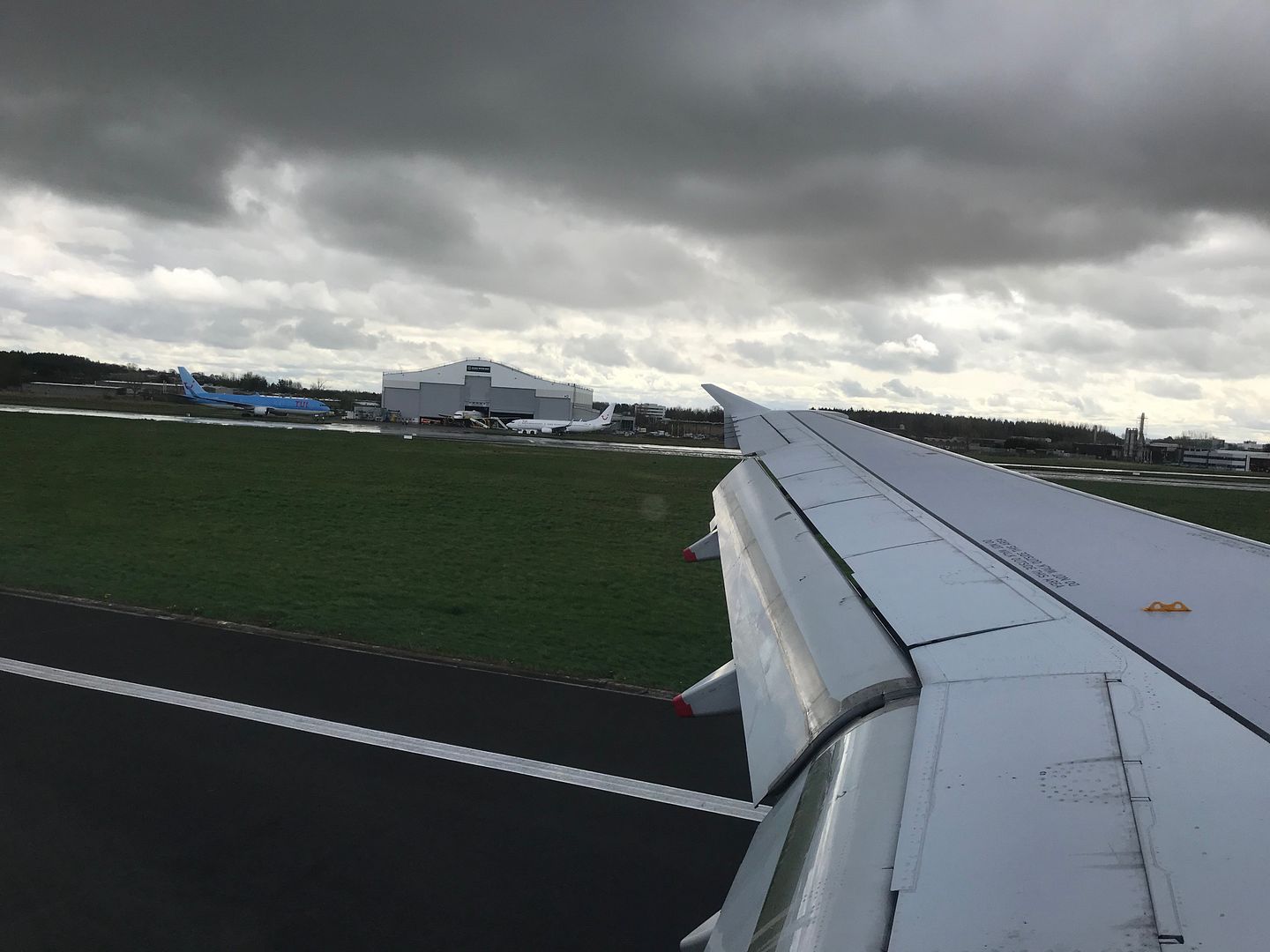 A United's Boeing 757-200 next to us
Shannon Airport was a bit different from my previous visits many years ago and the transit procedure was simple. Two agents led us to the transit area, which we all had to go through the typical security check. It was annoying and they made you take off your shoes here.
But with fifteen passengers and every lane being opened, things went smoothly. Then you immediately entered the duty-free area, which features cheaper duty-free alcohol and cigarettes. I wish I know about the possibility to buy duty free goods at Shannon. You did not have much time to slowly browse around but if you know what you need, you have time to buy those products even on a delay situation like my flight. I got some smarties for my godson. During the flight, they told passengers with checked bags to wait for the announcement before going through the pre-clearance area. They had to unload all the bags first, in case custom needs to open your bags.
The pre-clearance area was actually not too busy, despite a few flights were departing at these same hours. There was also a military charter flight but these soldiers went through different channels.