Hawaiian Airlines Long Beach Inaugural June 1, 2018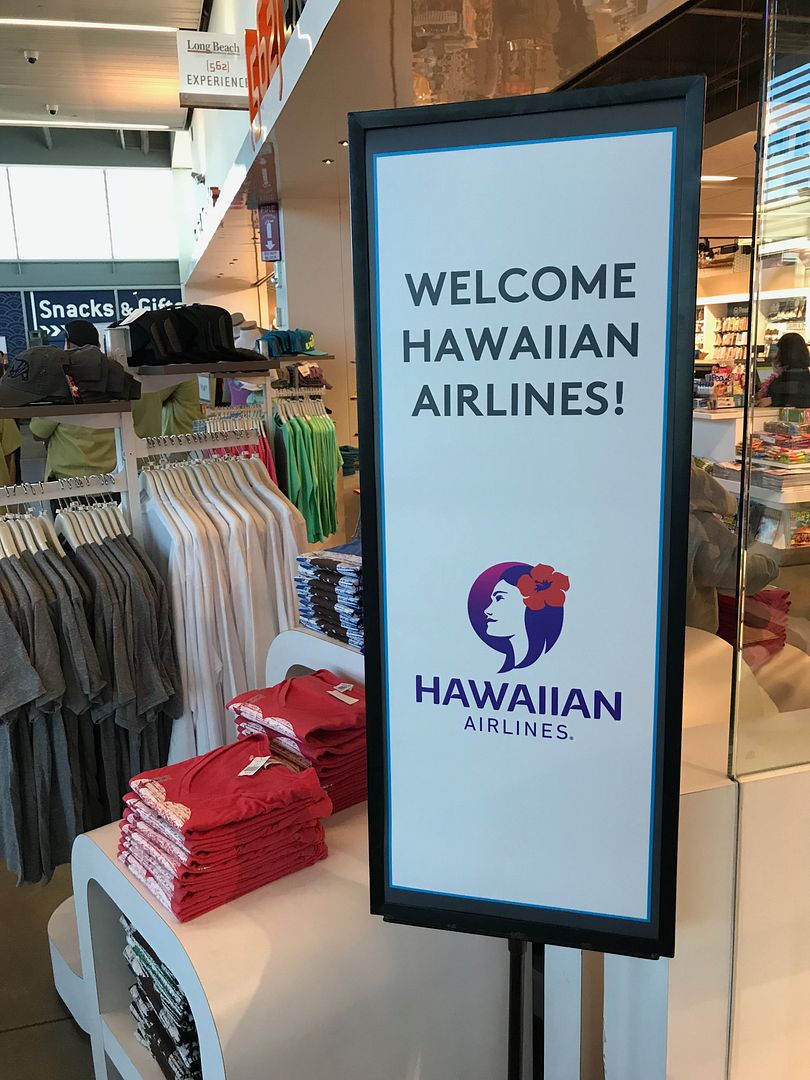 Hawaiian Airlines announced in January that Long Beach would be their next Californian destination, and their newly purchased A321NEOs are designed to fly into these markets – secondary airports in major cities and smaller regional cities that might not support an A330 but fit perfectly with these A321Ns. Long Beach Airport is becoming one of my favorite airports, as LAX is getting more difficult to navigate especially traffic within the airport itself. Long Beach is equal distance from my home, so I targeted this inaugural. Unfortunately, I did not manage to buy one of those discounted first-class fares, but eventually used the upgrade bid system to try. My upgrade was clear about a week before the flight. Hawaiian Airlines definitely knew how to incorporate the Hawaiian cultural elements that tourists like into these inaugural parties. This inaugural turned out to be pretty nice and I manage to take many pictures of these Hawaiian Airlines' A321NEO, so hope it will help out future travelers. While there were no space flex gallery and bathrooms, HA really crammed the planes with seats. I will prefer the larger A330-200s, but for fliers from these smaller markets, these A321Ns are still an acceptable alternative.
June 1, 2018
HA 69 LGB-HNL Lv0830 Arr1140 Airbus A321NEO N204HA "'Ōhi'a Lehua"
Full album link for those who are no interested in read the report!
http://s1213.photobucket.com/user/Carfi ... BInaugural
Since it was an inaugural flight and found out that there would indeed be some celebration the day before, I arrived fairly early at Long Beach Airport.
I immediately spotted these check-in kiosks curbside and you can even tag your bags. There are staffs to assist.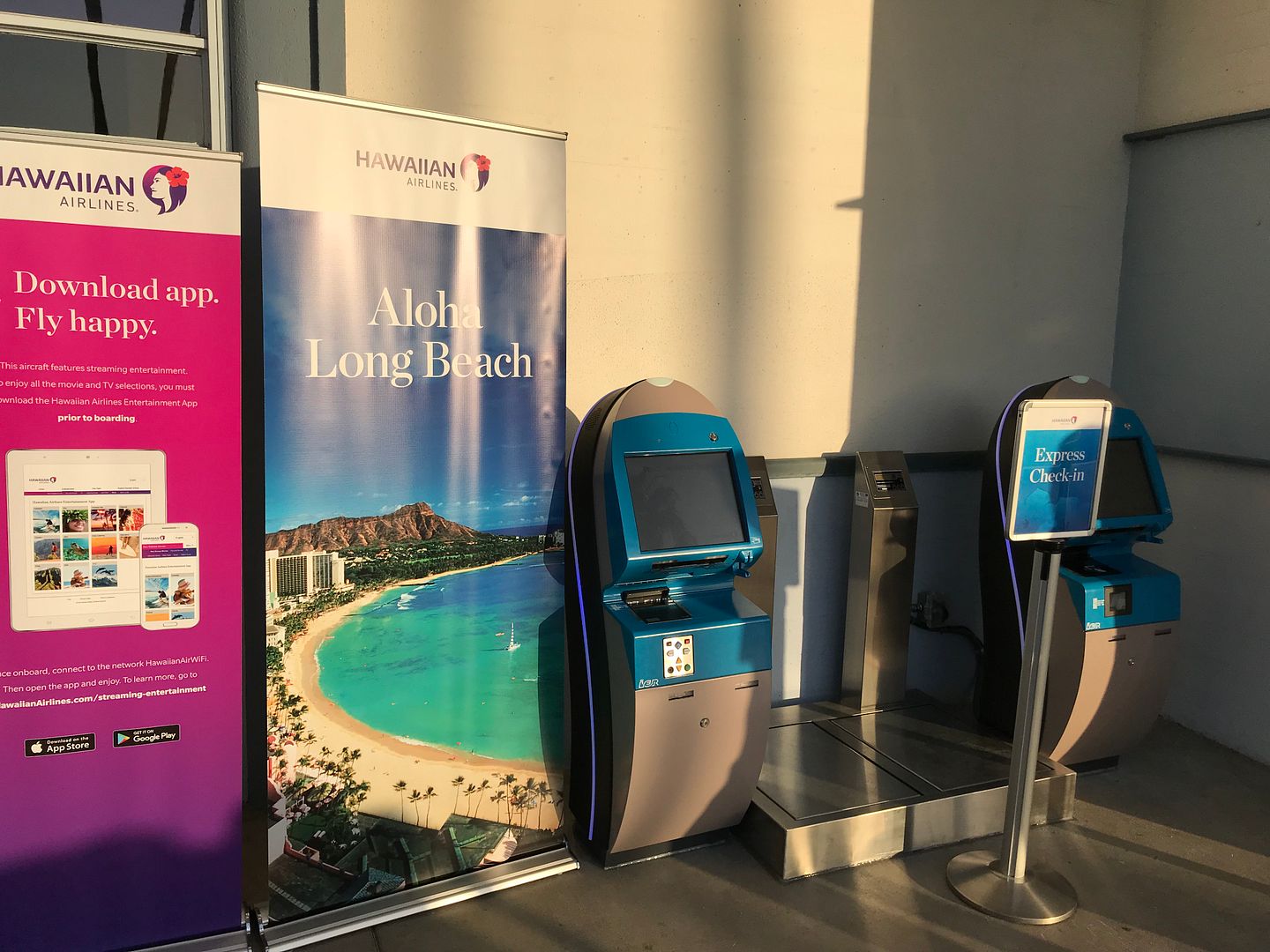 Once you walked in, you understand why HA need those curbside check-in counters. Hawaiian basically has three counters – one for first and elite fliers, one for regular check-in and one for drop off. JetBlue was the ground agents for Hawaiian, but the service was only lukewarm, as most agents were more focused on learning the system. However, I was able to use the first-class line and the agent was at least familiar with entering the TrueBlue number (as you can't do it online when booking now). There was still no queue as things were still quiet this early.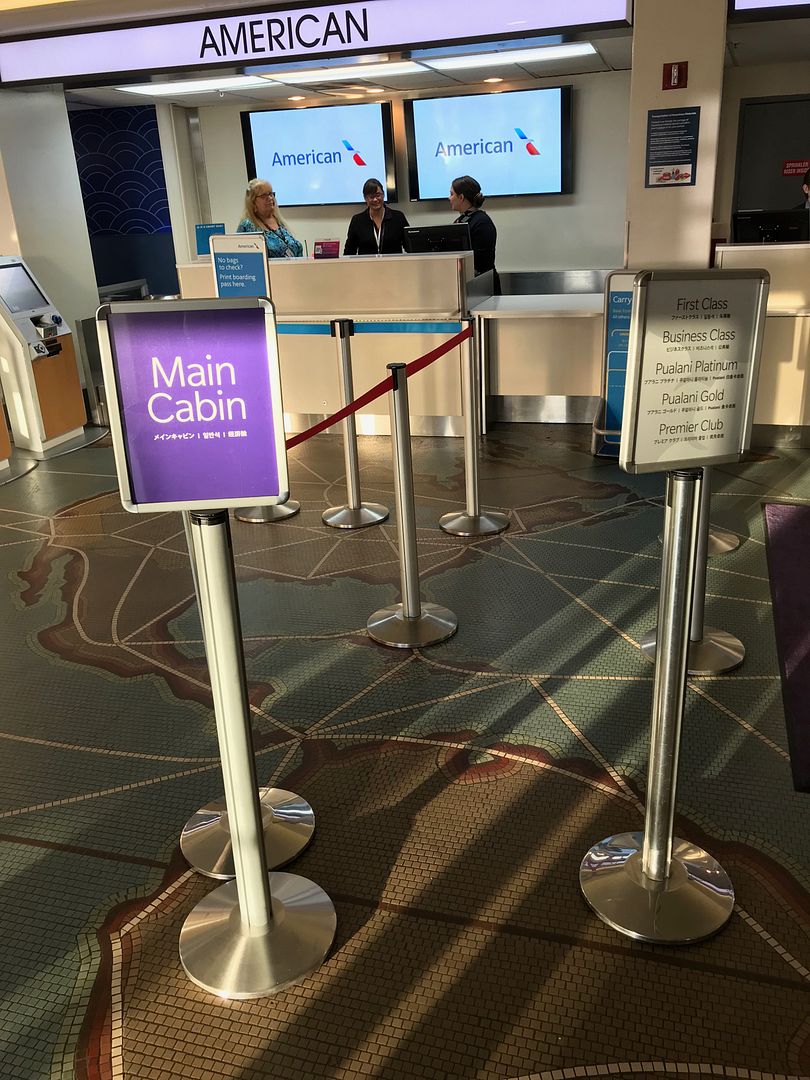 Then I headed towards TSA security lane because there was really nothing much anymore in the public area. The only full-service restaurant in the original building was closed.
Press check-in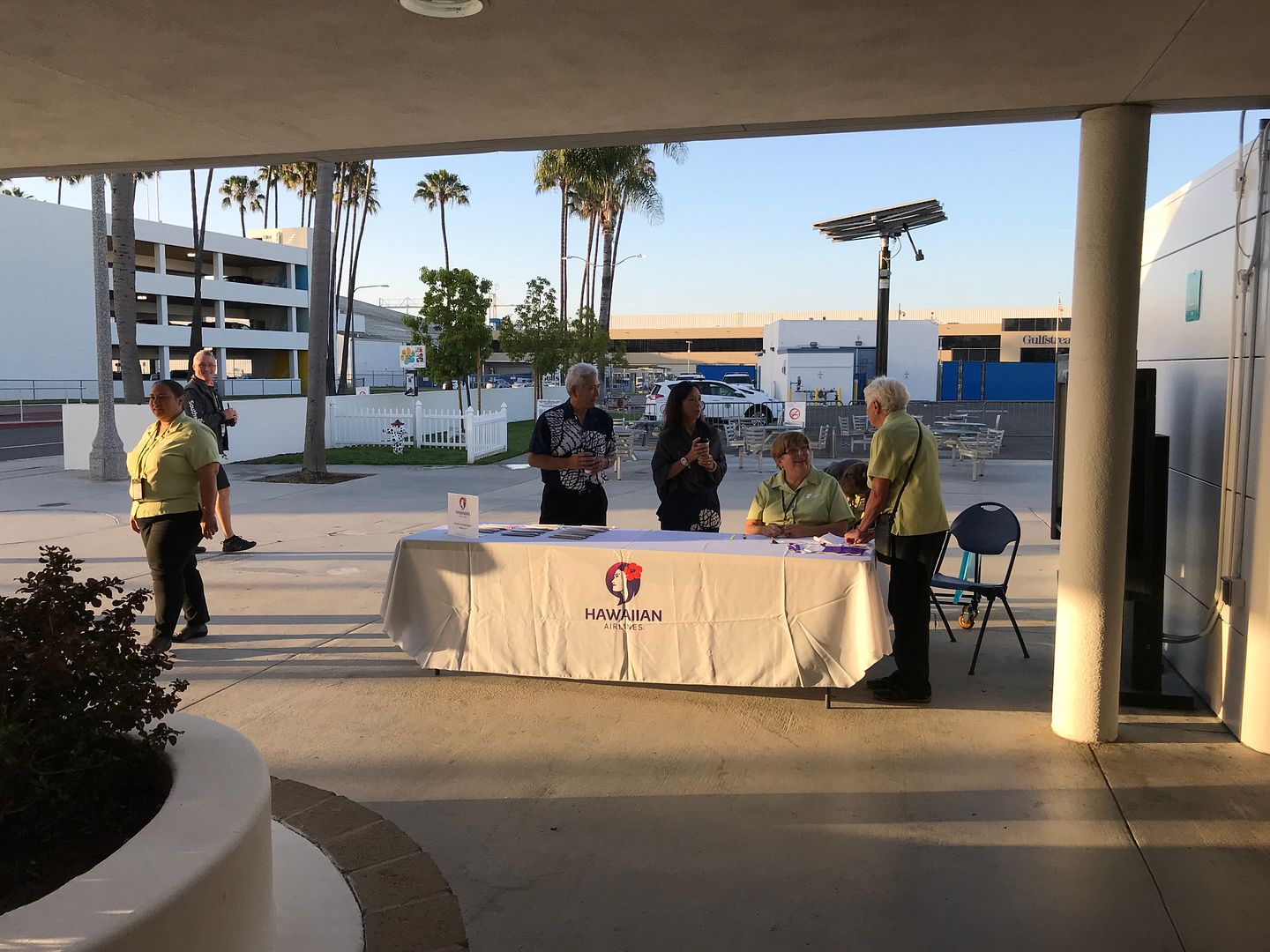 Long Beach Airport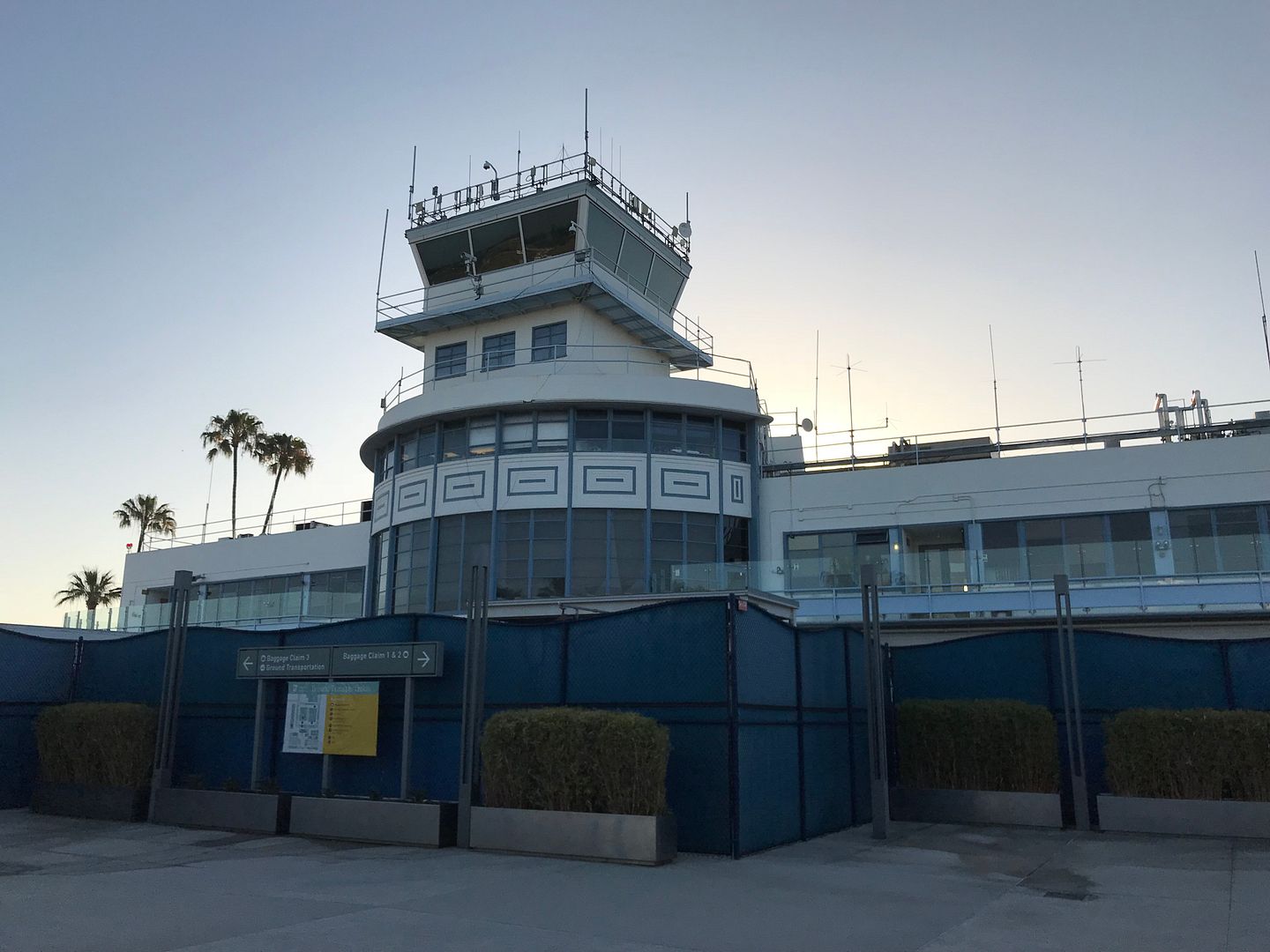 TSA Check
I generally had no issue going through TSA in Long Beach because the queues were usually not too long. However, the conductor this morning was very rude. He was rushing people even though there was no queue at all. His attitude was poor and thankfully the rest of the TSA staffs were friendly as always.
Priority line has already updated with Hawaiian Airlines' information.
I originally thought that Hawaiian would use the less busy South concourse (Gate 1-4) but since JetBlue was its agent and codeshare partner, it used the busier and honestly a bit over-crowded North Concourse.
With this permanent sign, HA seems to be using gate 11 in LGB every morning.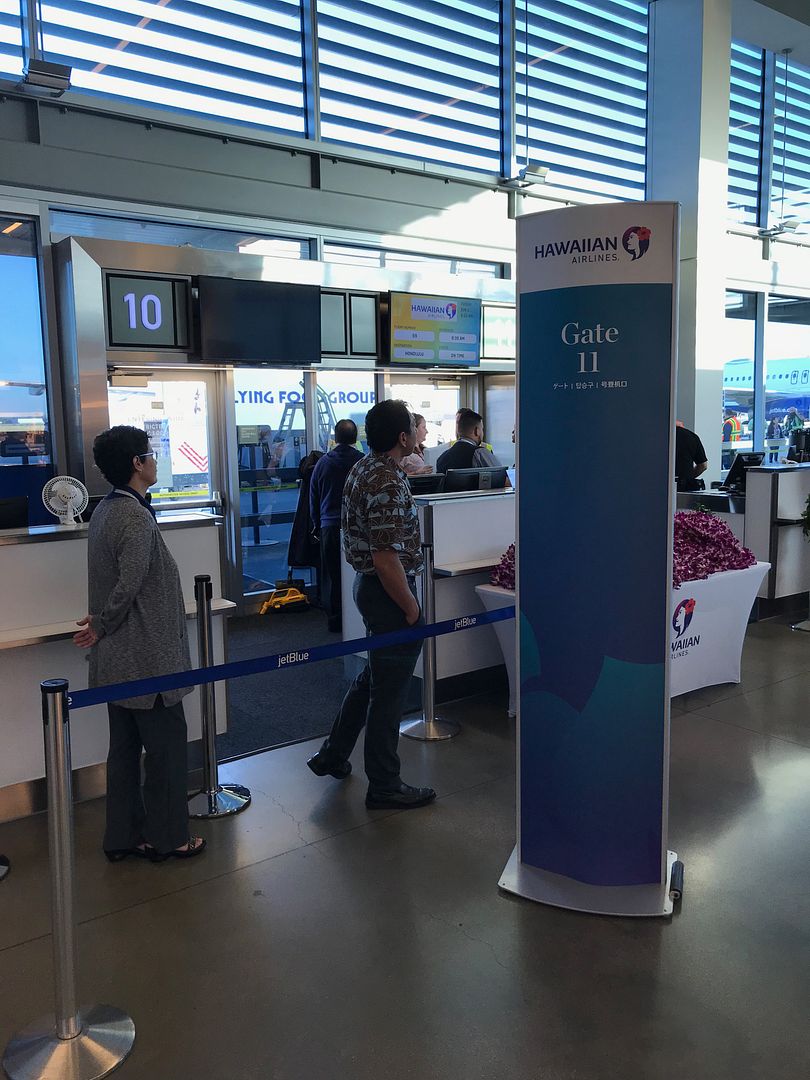 When I arrived at the gate, there was already a three-man band playing Hawaiian music and two Hawaiian dancers.
I was surprised some passengers were already at the gate.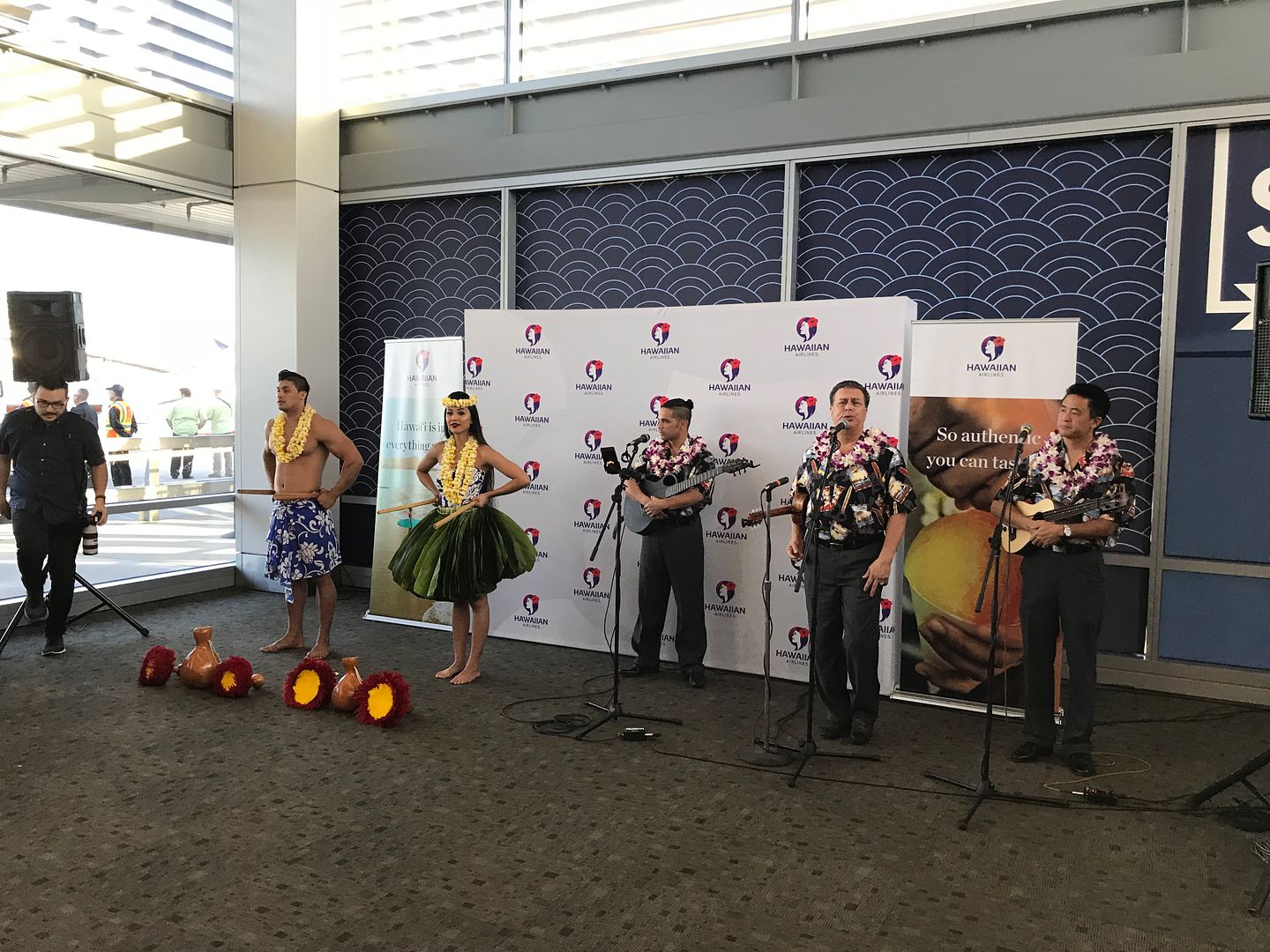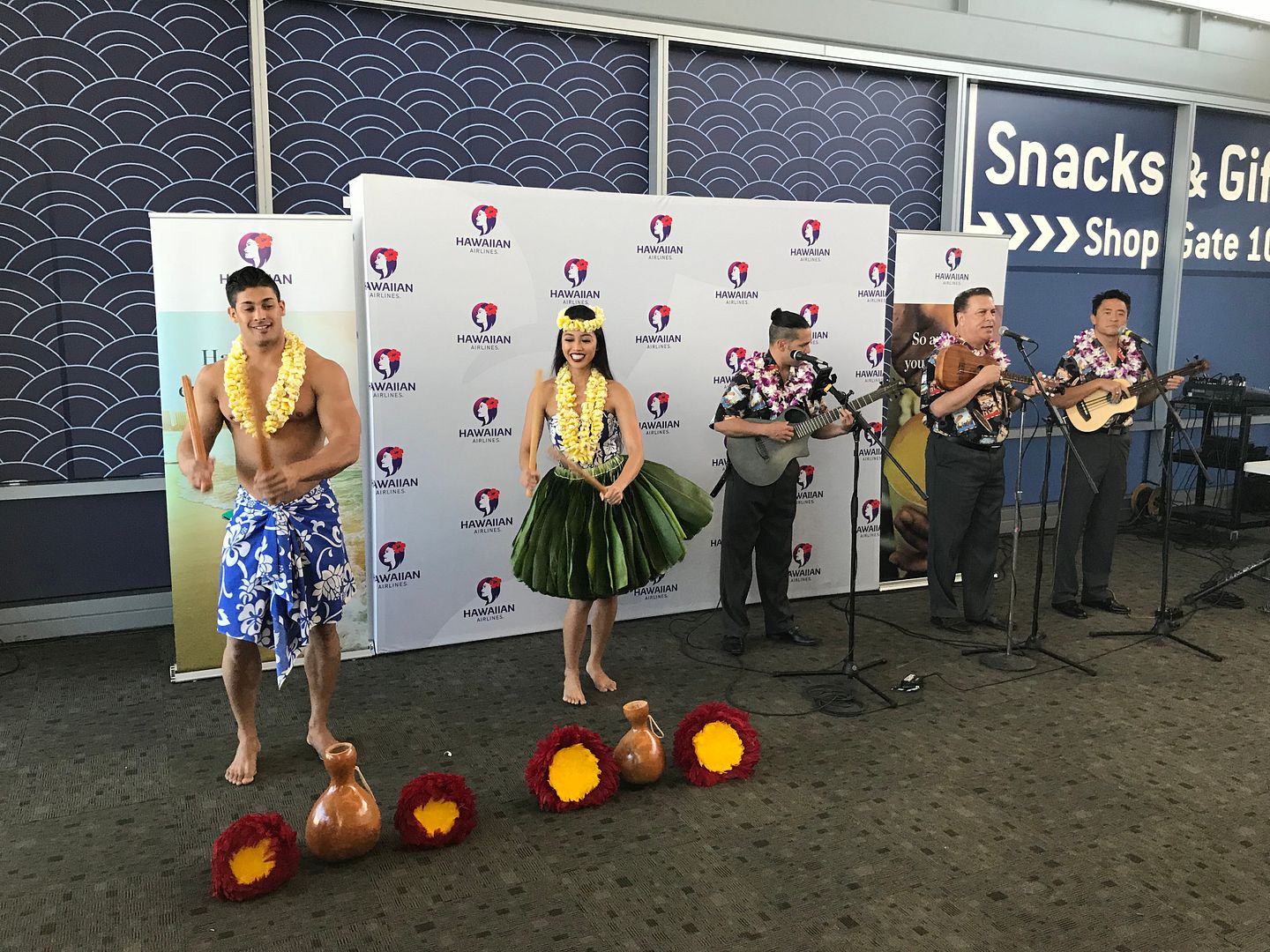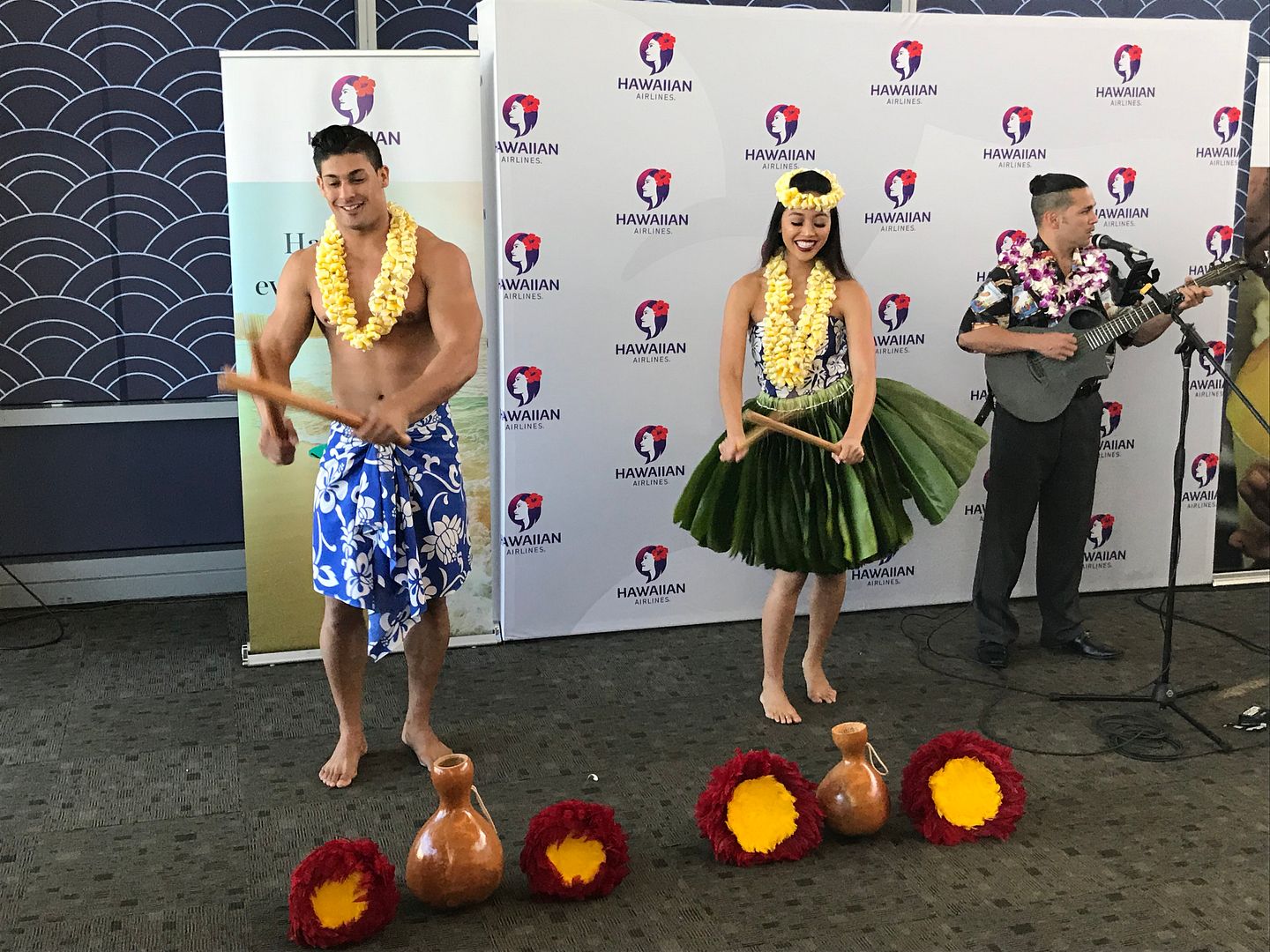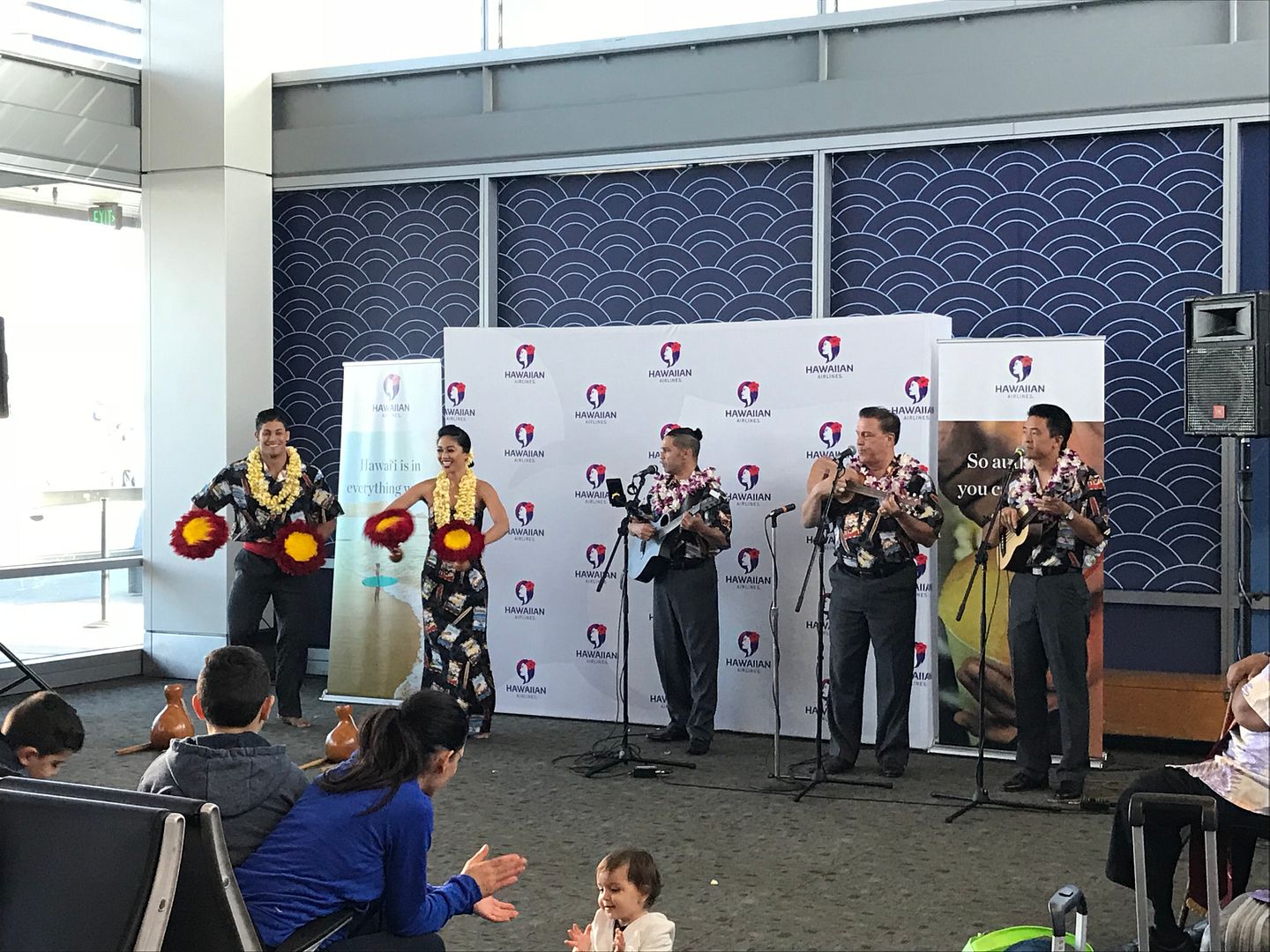 There was also a continental breakfast buffet featuring pastries, croissants, guava juice, and coffee.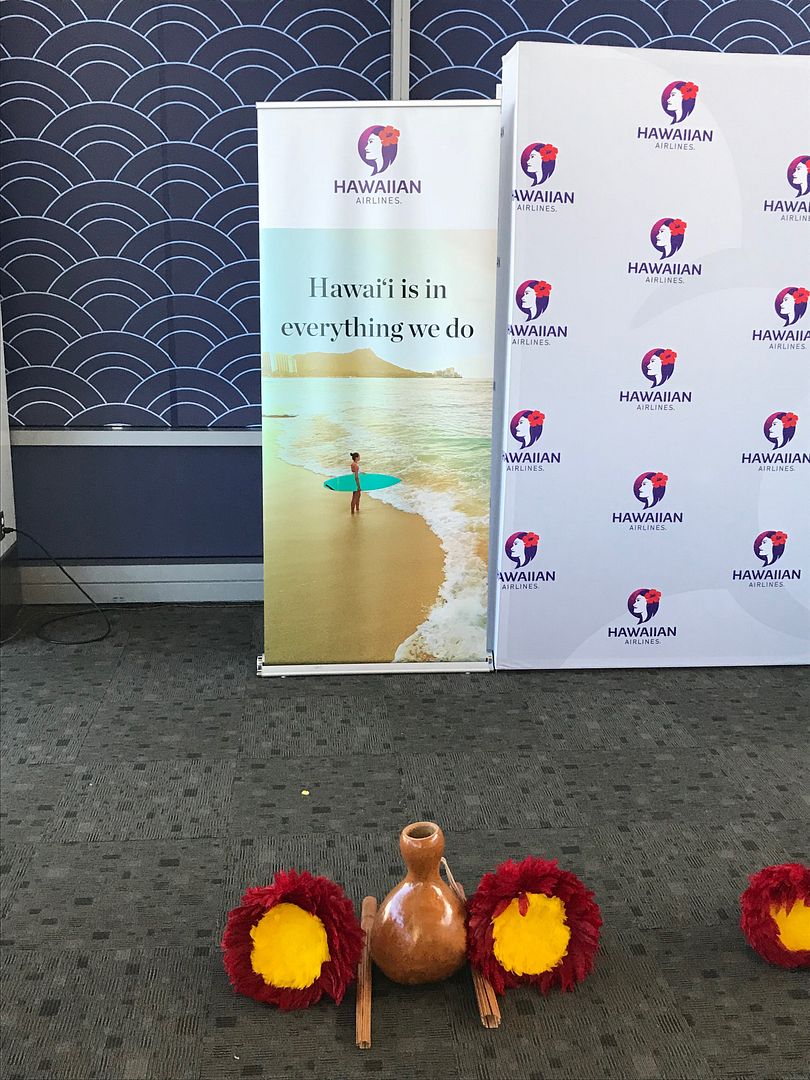 There was soon a press conference featuring the usual range of speakers, including LGB airport director, Jess Romo, Vice Mayor of Long Beach, Rex Richardson, and Hawaiian Airlines' President & CEO, Peter Ingram (who was not on the flight though, and I presume he will stay in LA area for more promo matters).
Then there was a traditional Hawaiian blessing ceremony by Kahu Richard Kamanu of Kaumakapili Church in Honolulu, assisted by Hawaiian Airlines' employees. Hawaiian Airlines also has a blessing ceremony for inaugural and special flights.
Boarding then began at 7:36am, and the first passengers to board the flight was Fred and Kim Pēna, who just retired from his job of Operations and Facilities Bureau manager at the Long Beach Airport. I was curious on why this elderly couple received so many attention and eventually read about at local Long Beach Airport.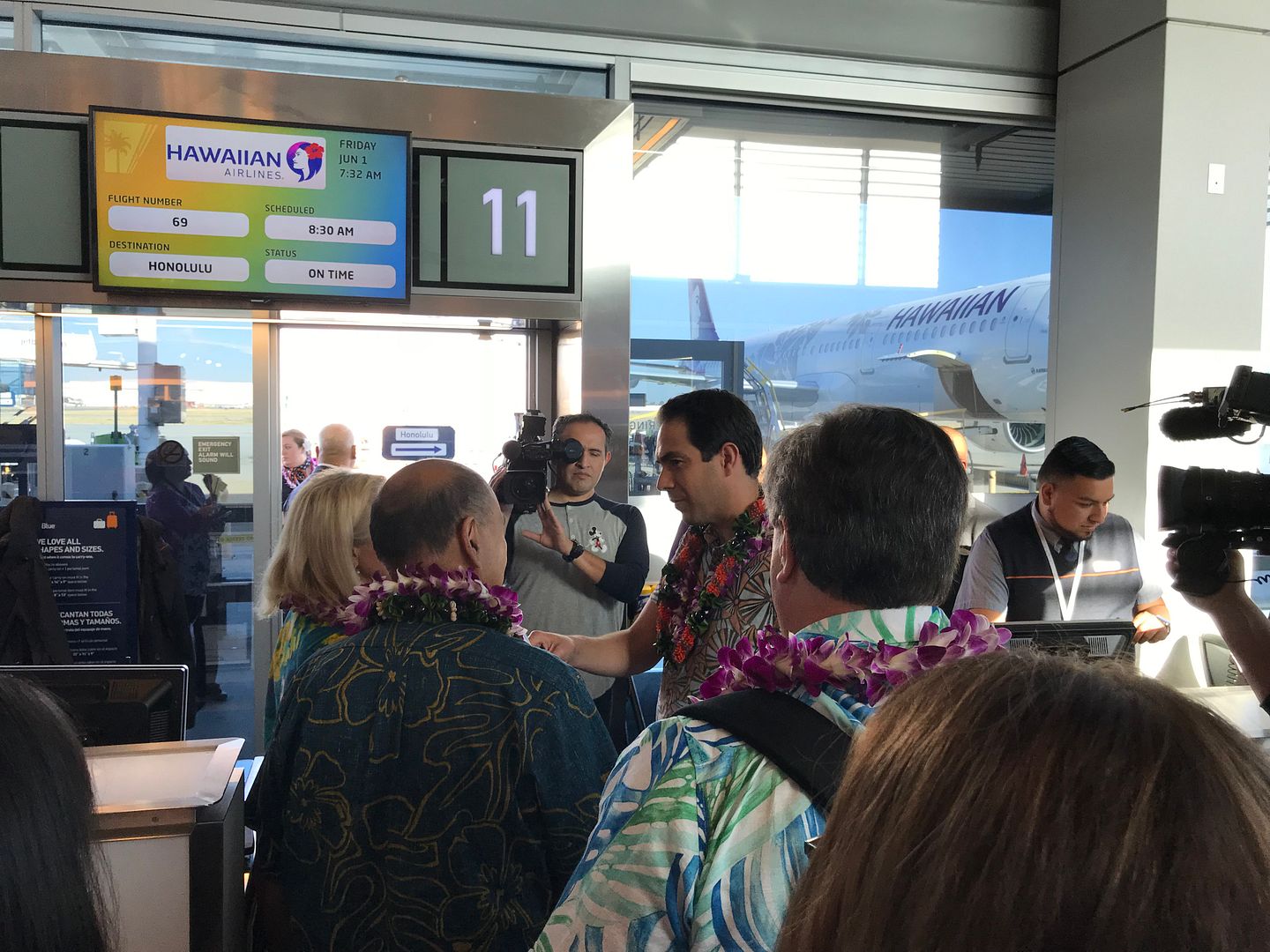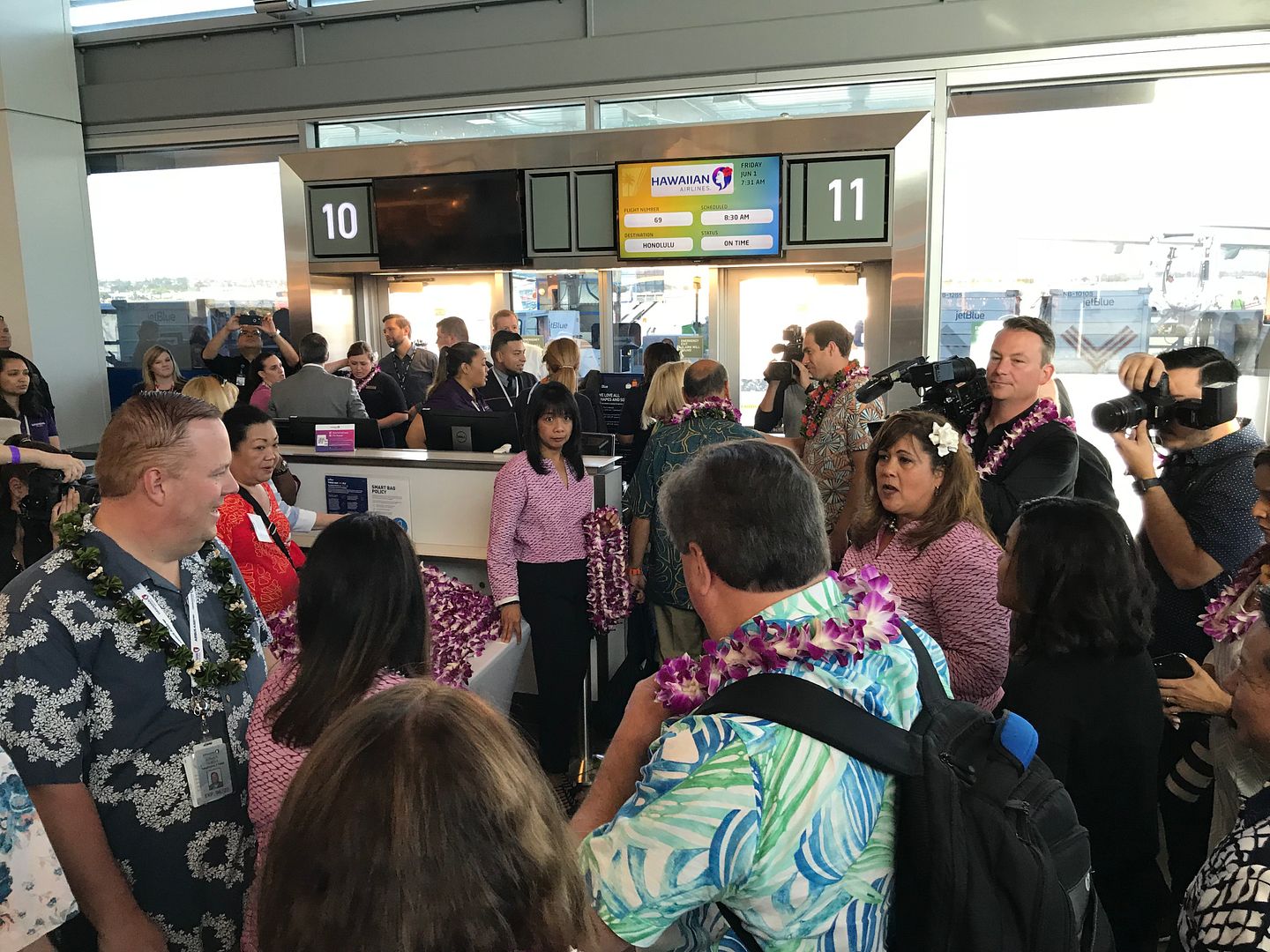 Staffs were placing lei at each departing passenger, and also passing out gift bags.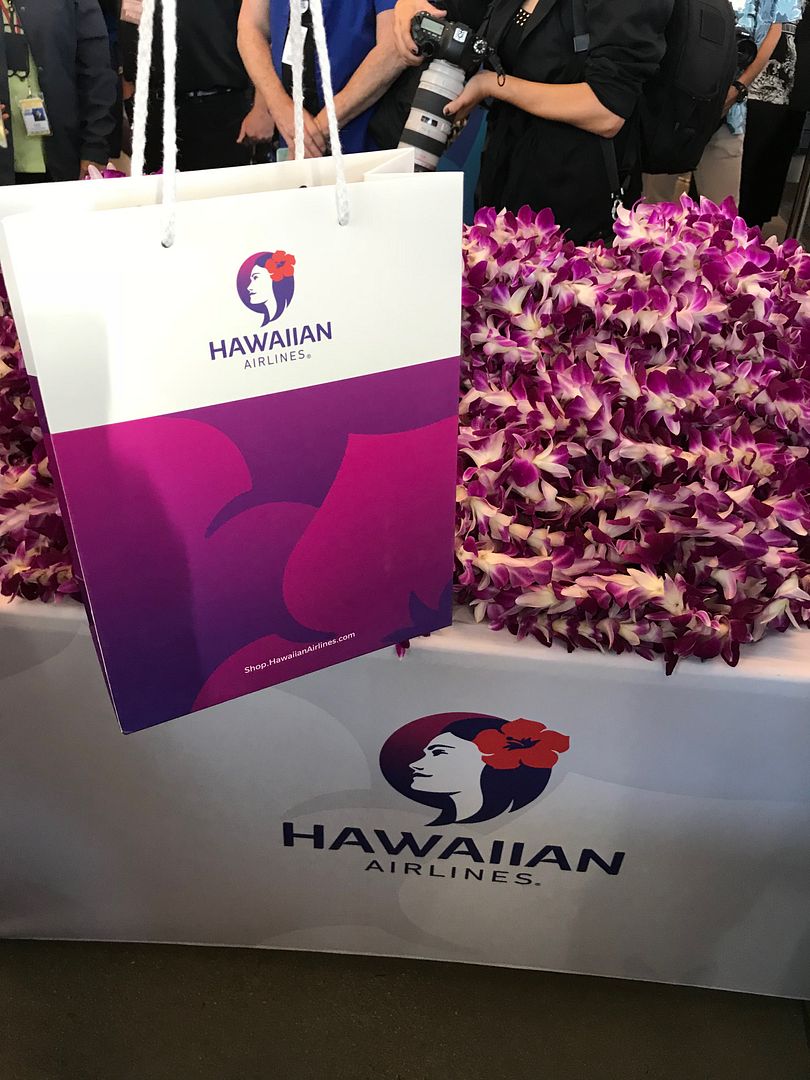 Gift bag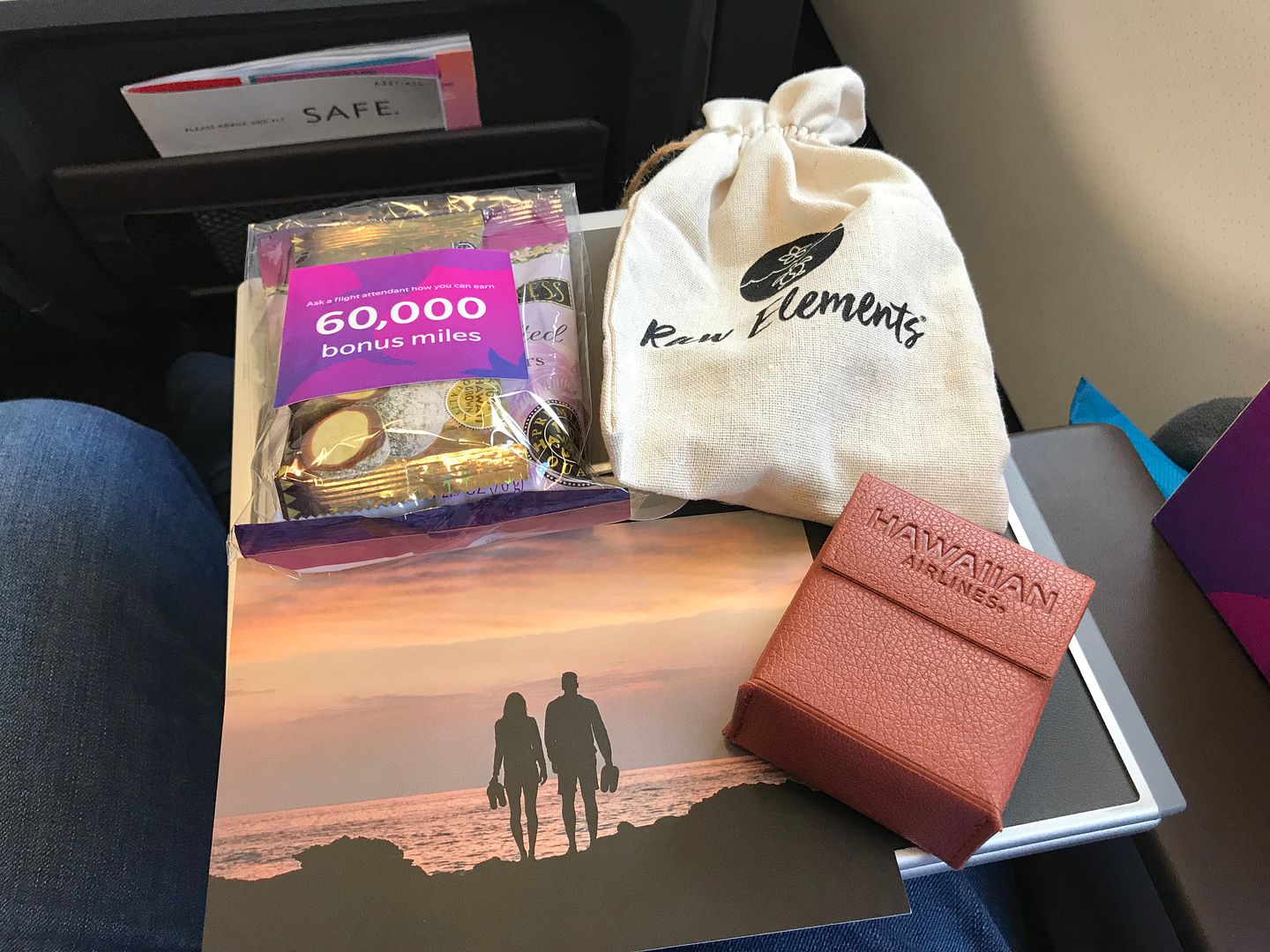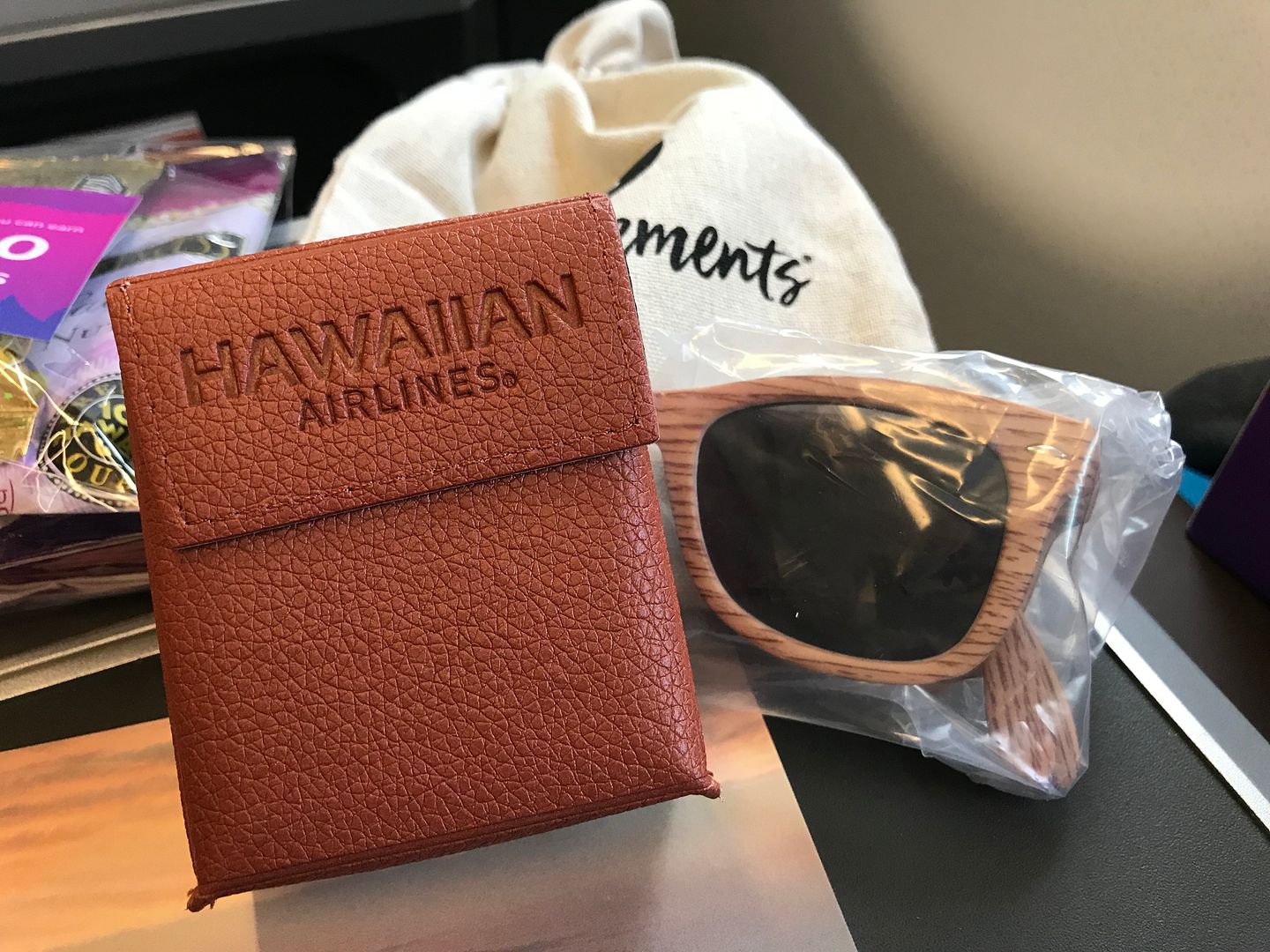 Beauty in boarding at Long Beach Airport – got a close look at this new A321Neo – not the latest delivery but pretty new.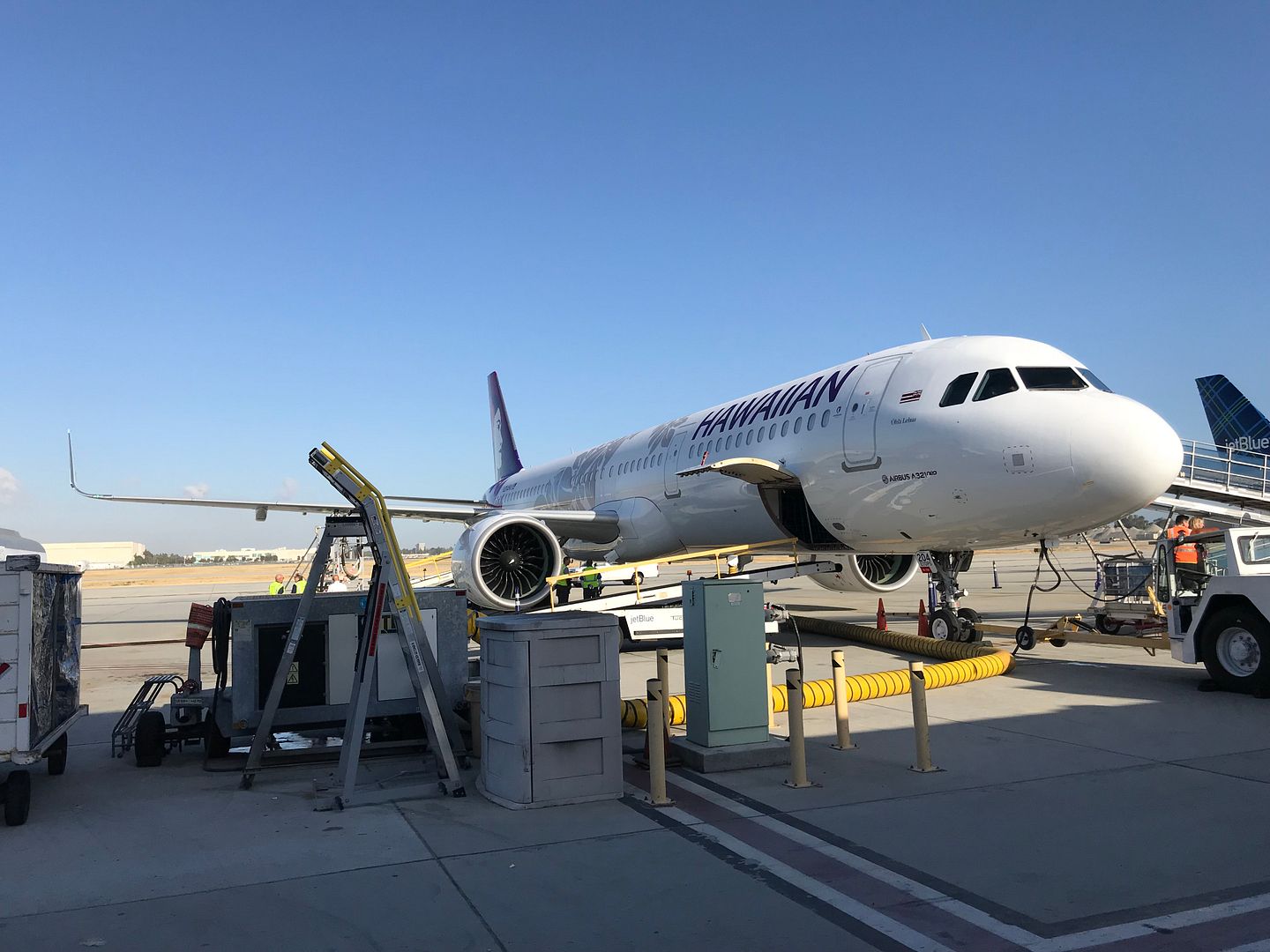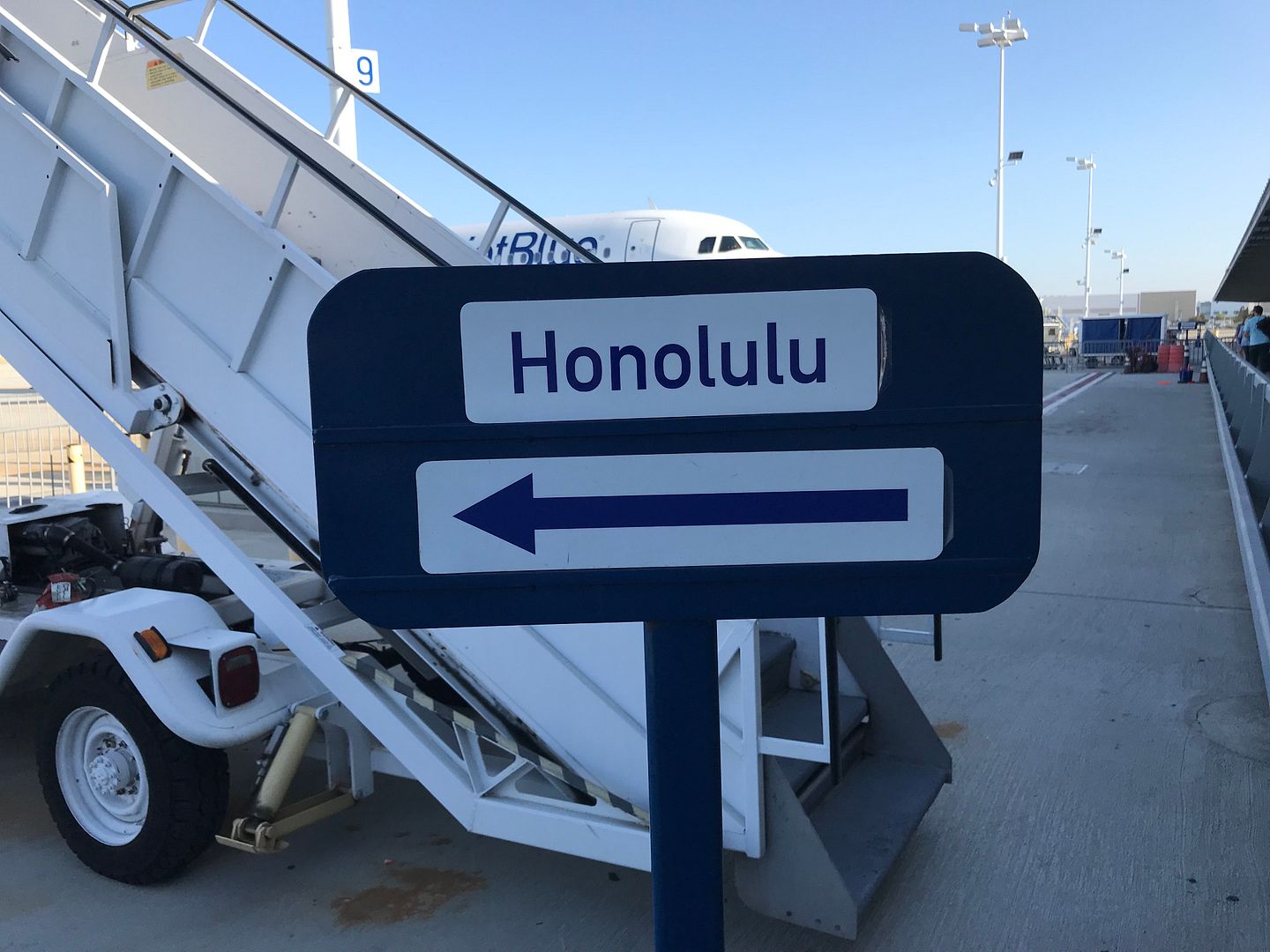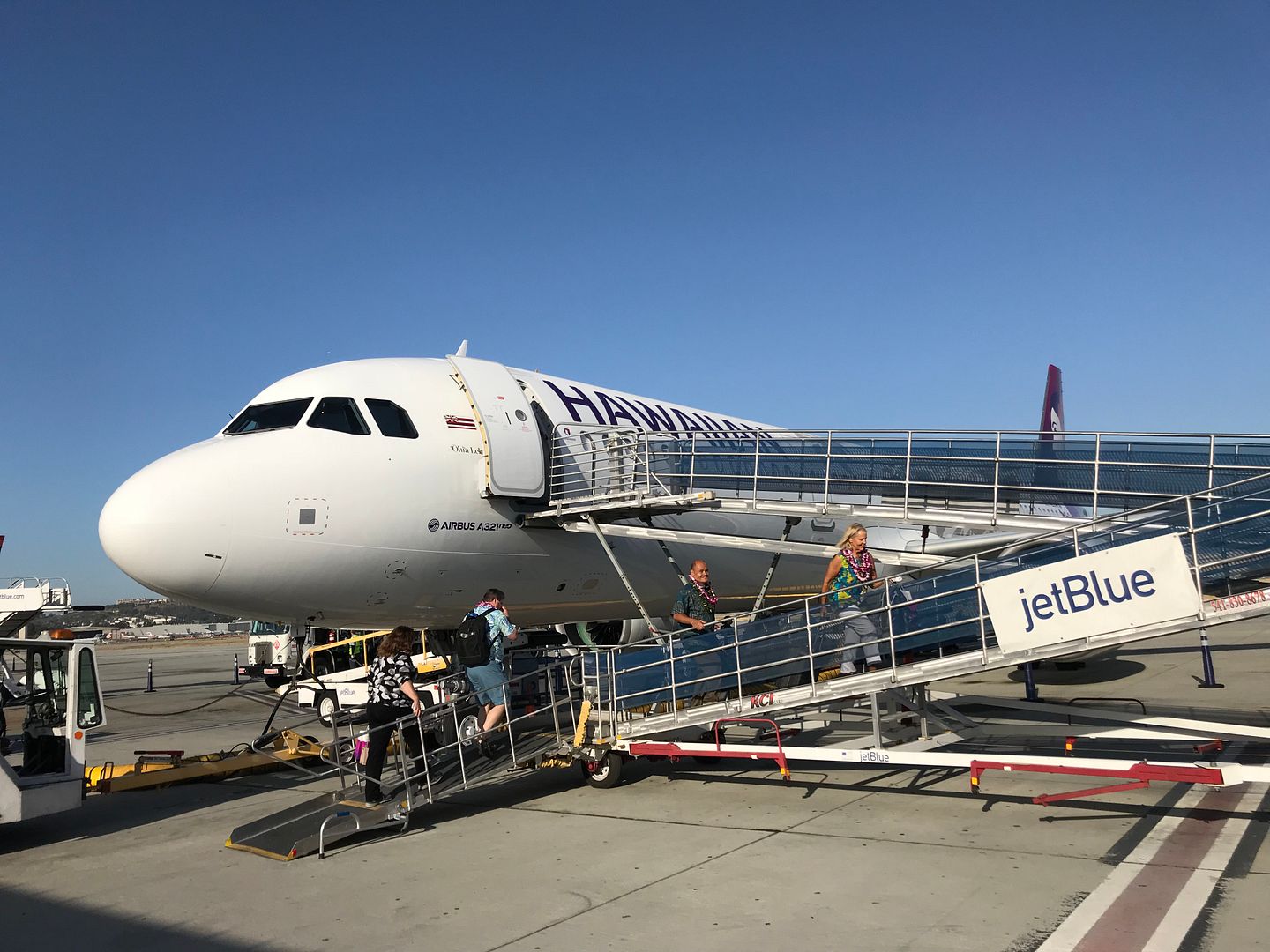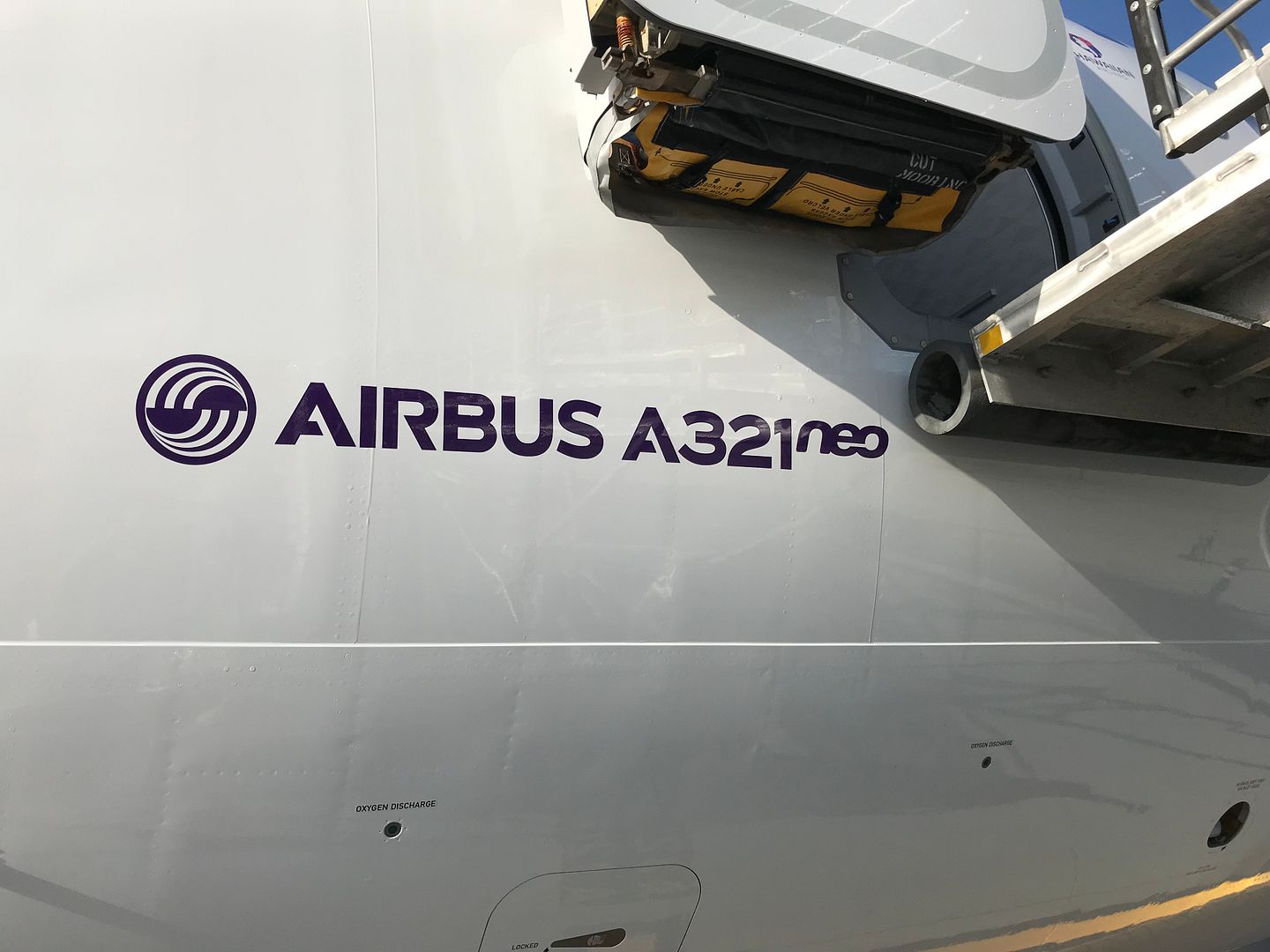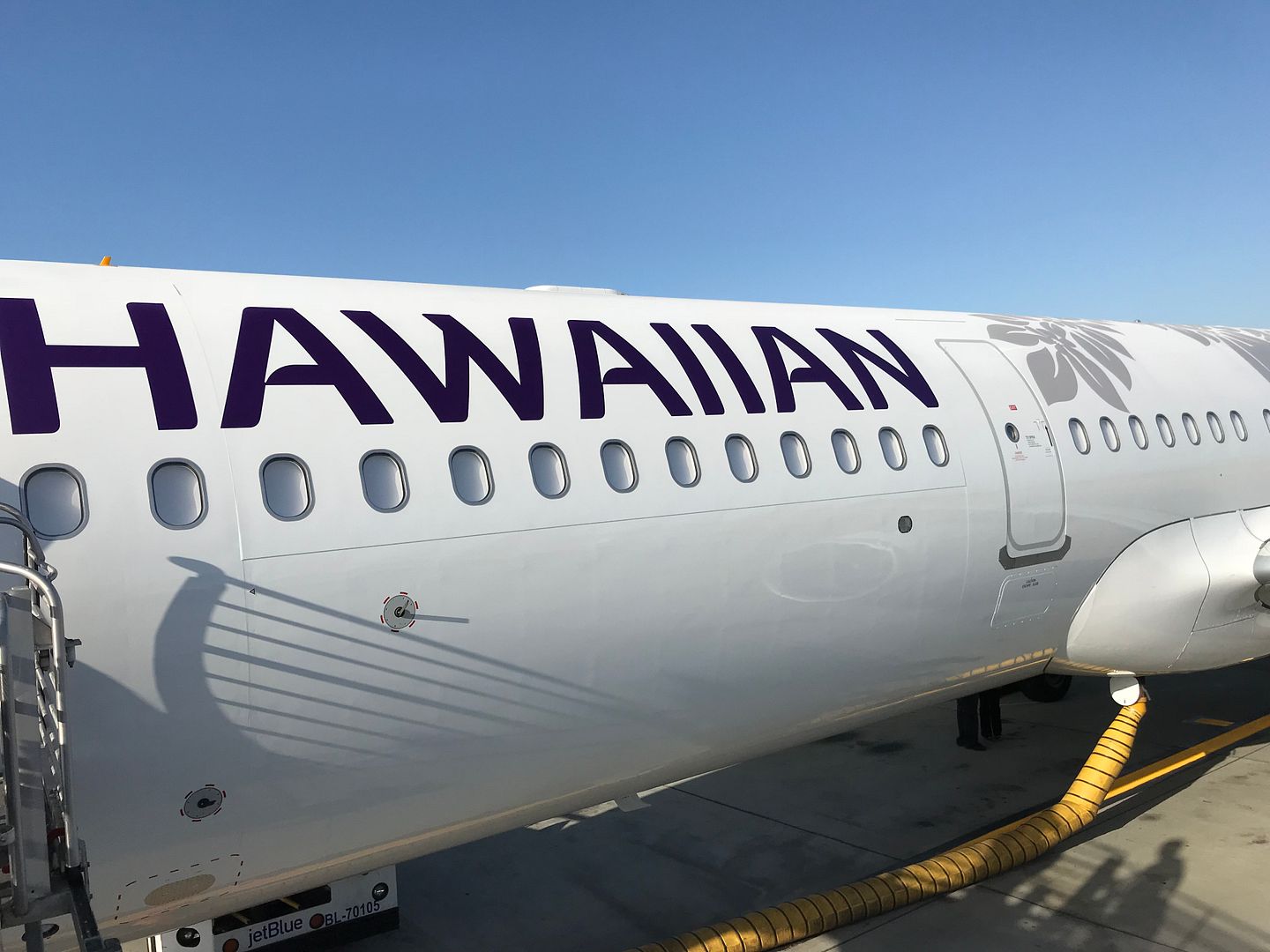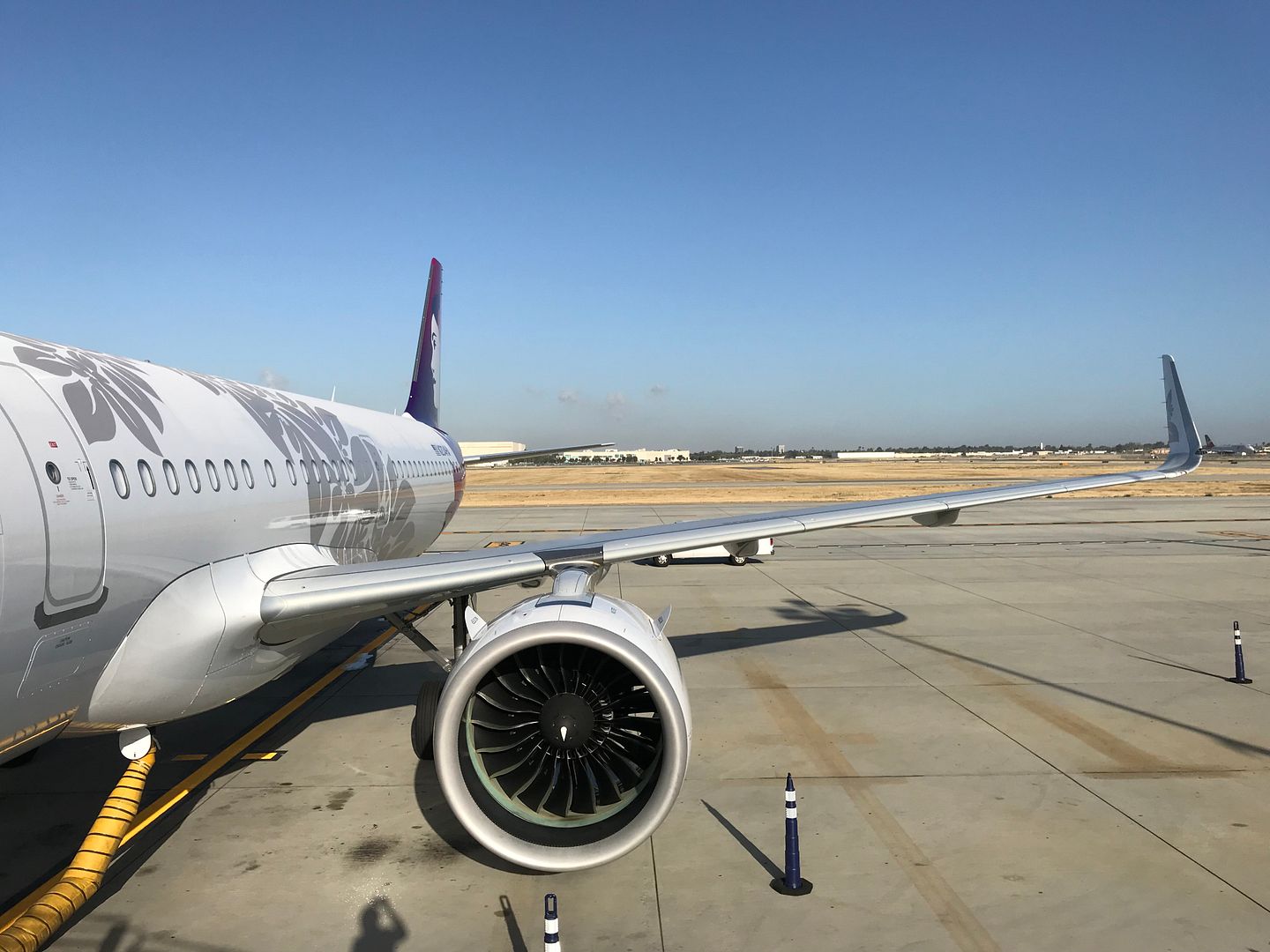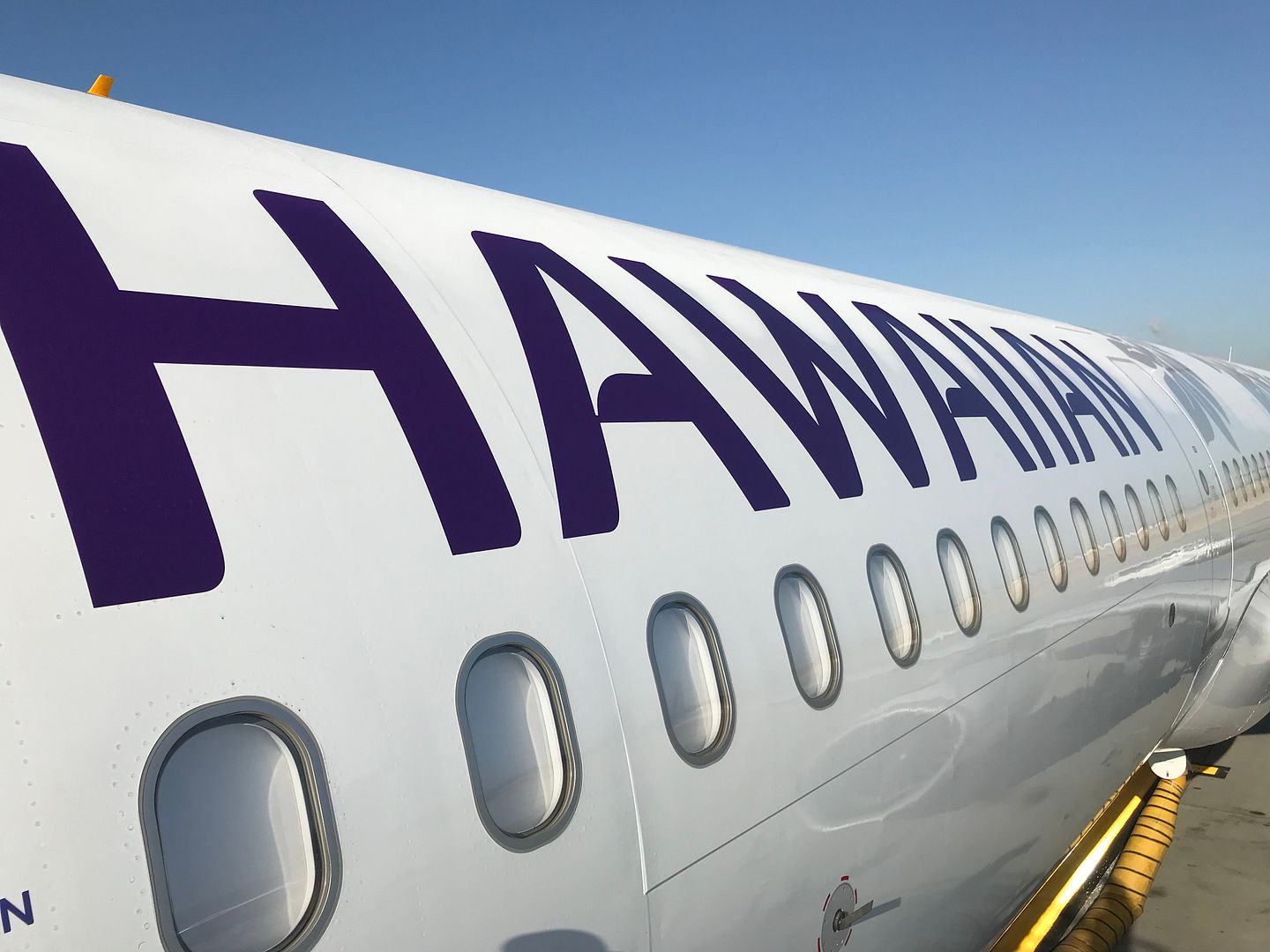 Since boarding was running a bit slow today and me sitting at 4J, last row of first class, I took the opportunity to snap some pictures in the economy cabin, and the crews were more than happy for me to do so.
First Class cabin – four rows of recliner chairs
1AB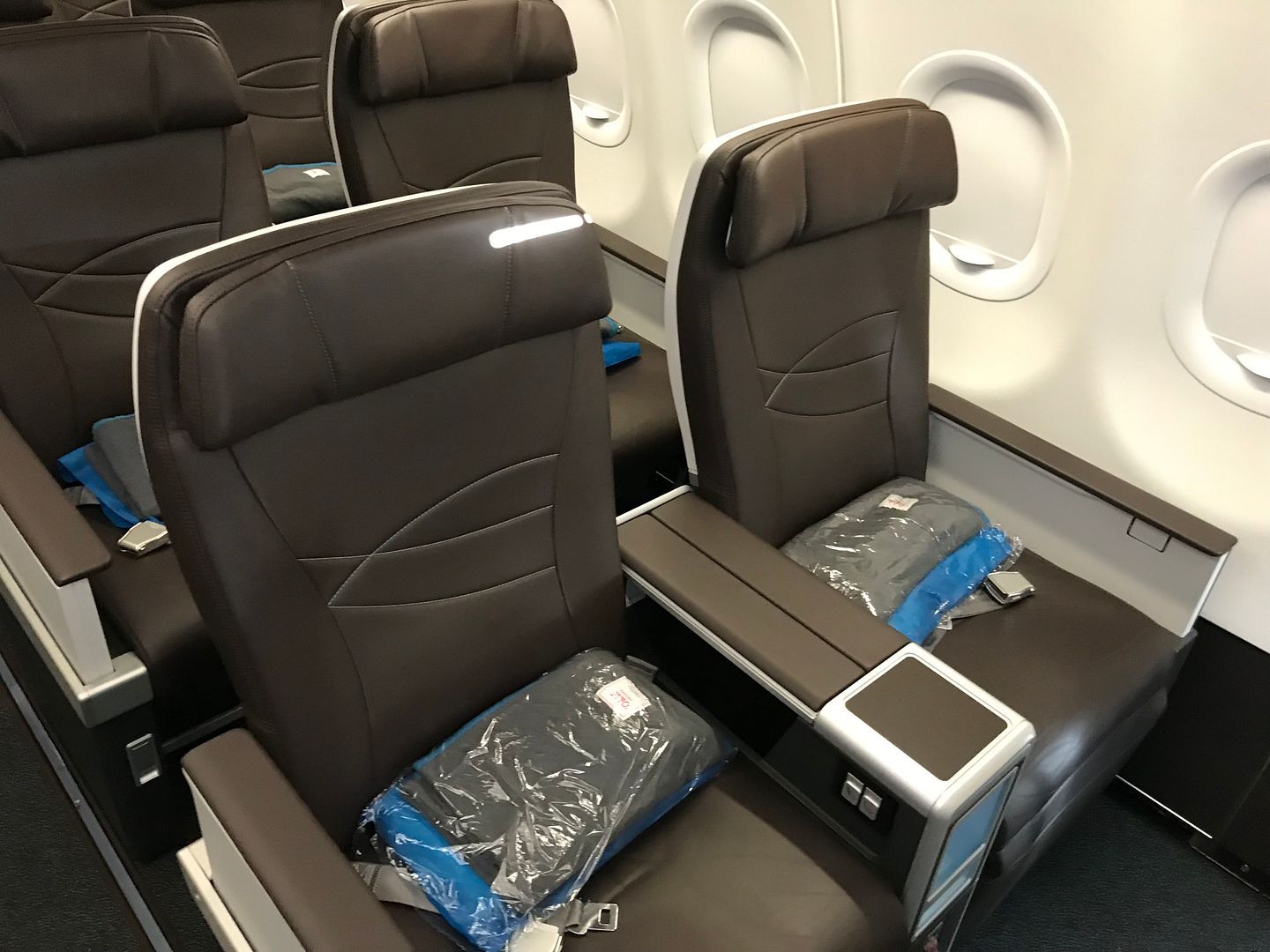 Legroom
My seat 4J
Pillow and blanket at each seat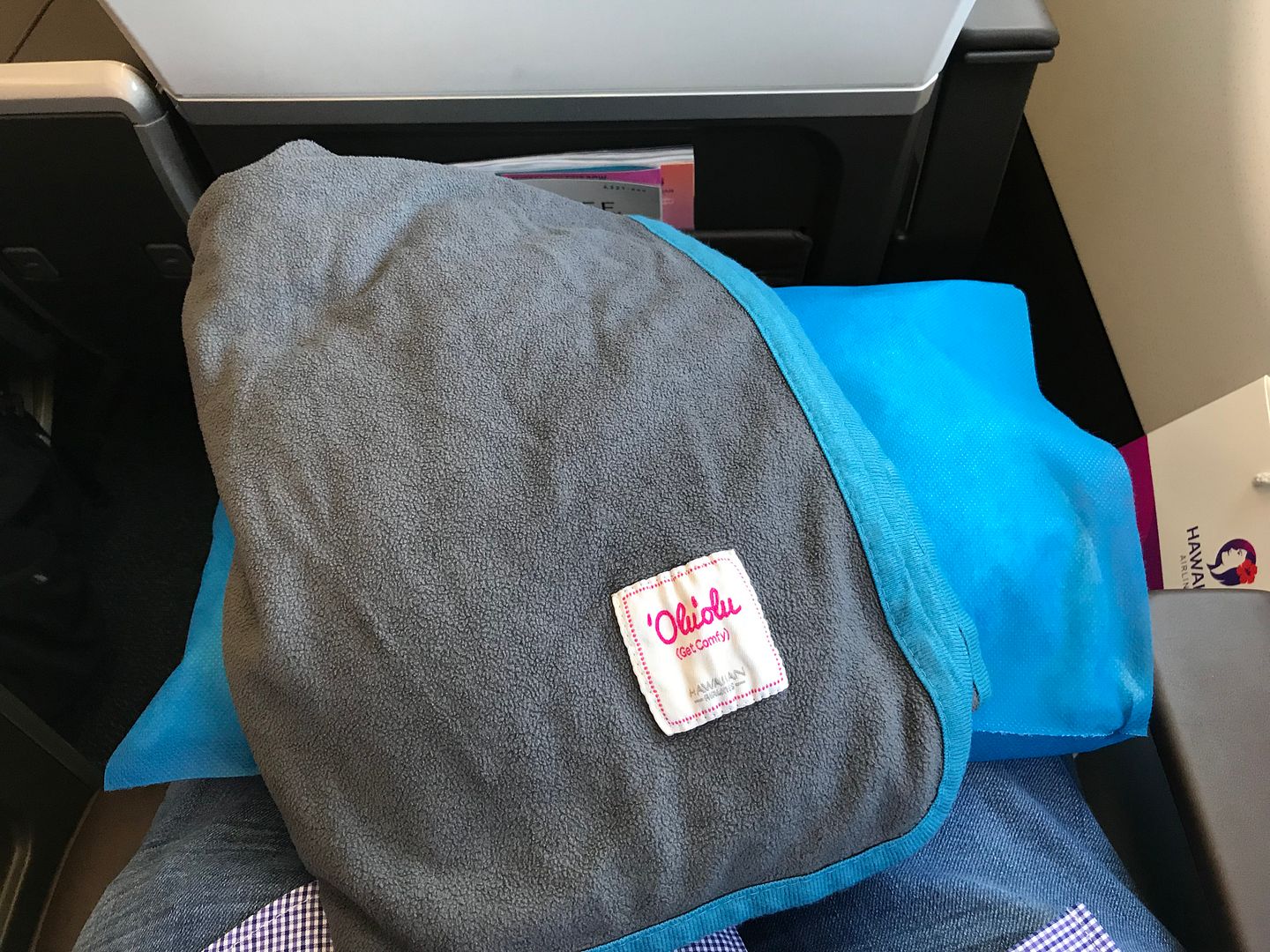 Economy cabin:
Right after first class – mostly economy extra seat but include perhaps the worst row of economy seats
Best economy comfort row – Row 11 and there is under seat storage, as you notice the little cutoff under the divider. But this row is blocked.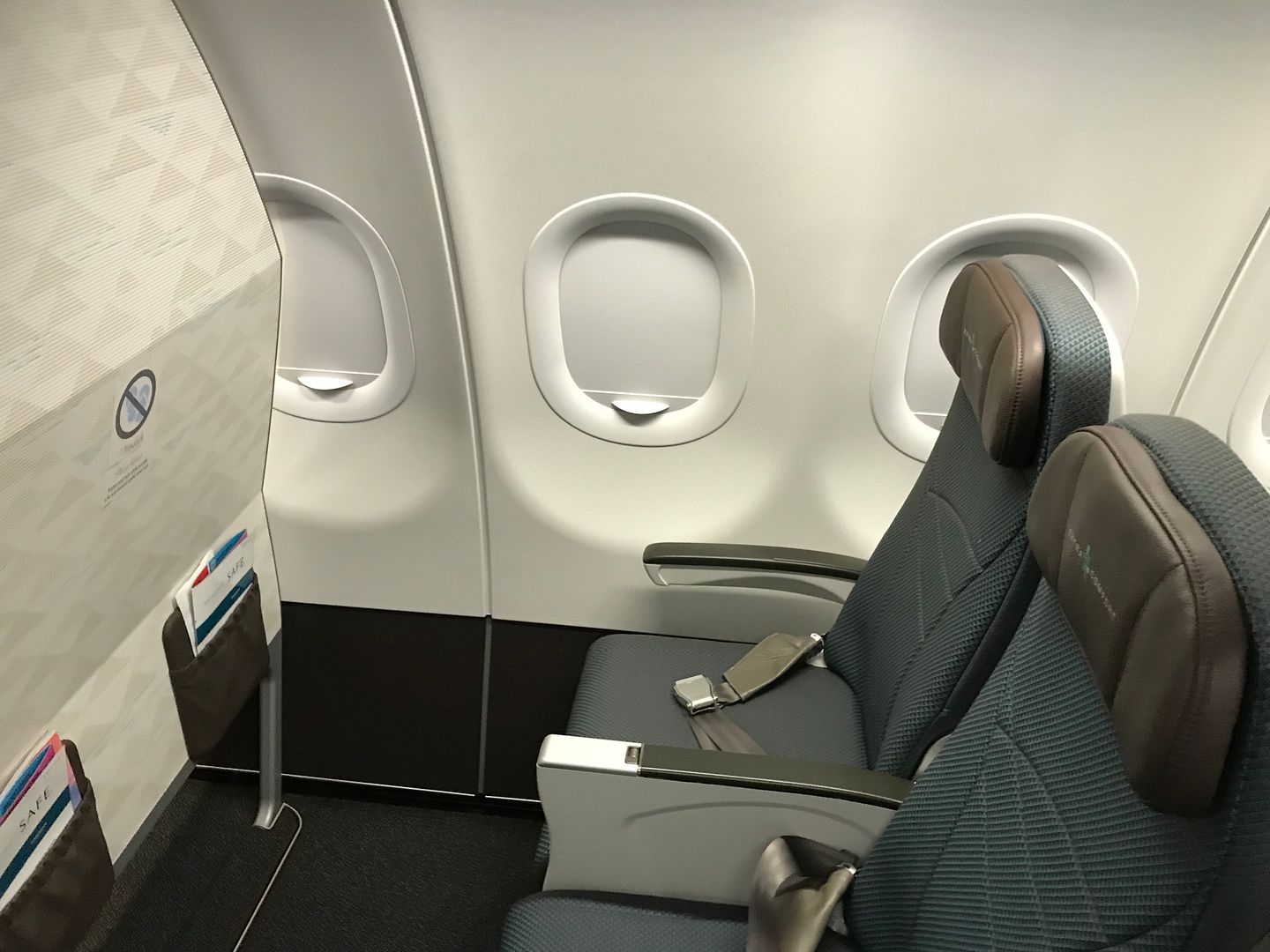 Row 14GHJ
Row 16ABC – economy extra seat right at door 2 and I won't recommend the window seat – no armrest and window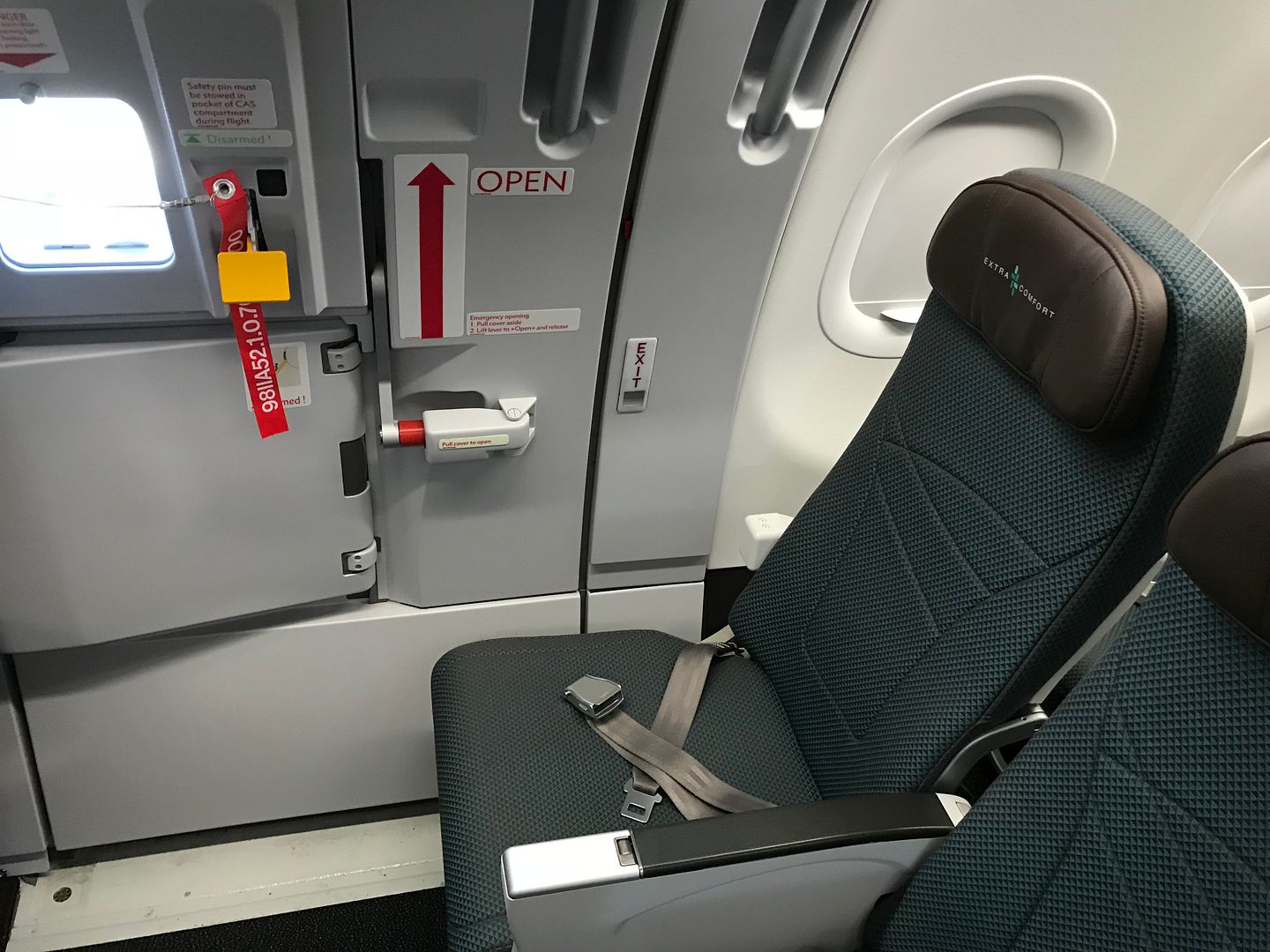 Row 16EF – next to jump seat – I am still not sure how evacuation will take place.
Row 15 – bad row and avoid at ALL costs – no recline & no window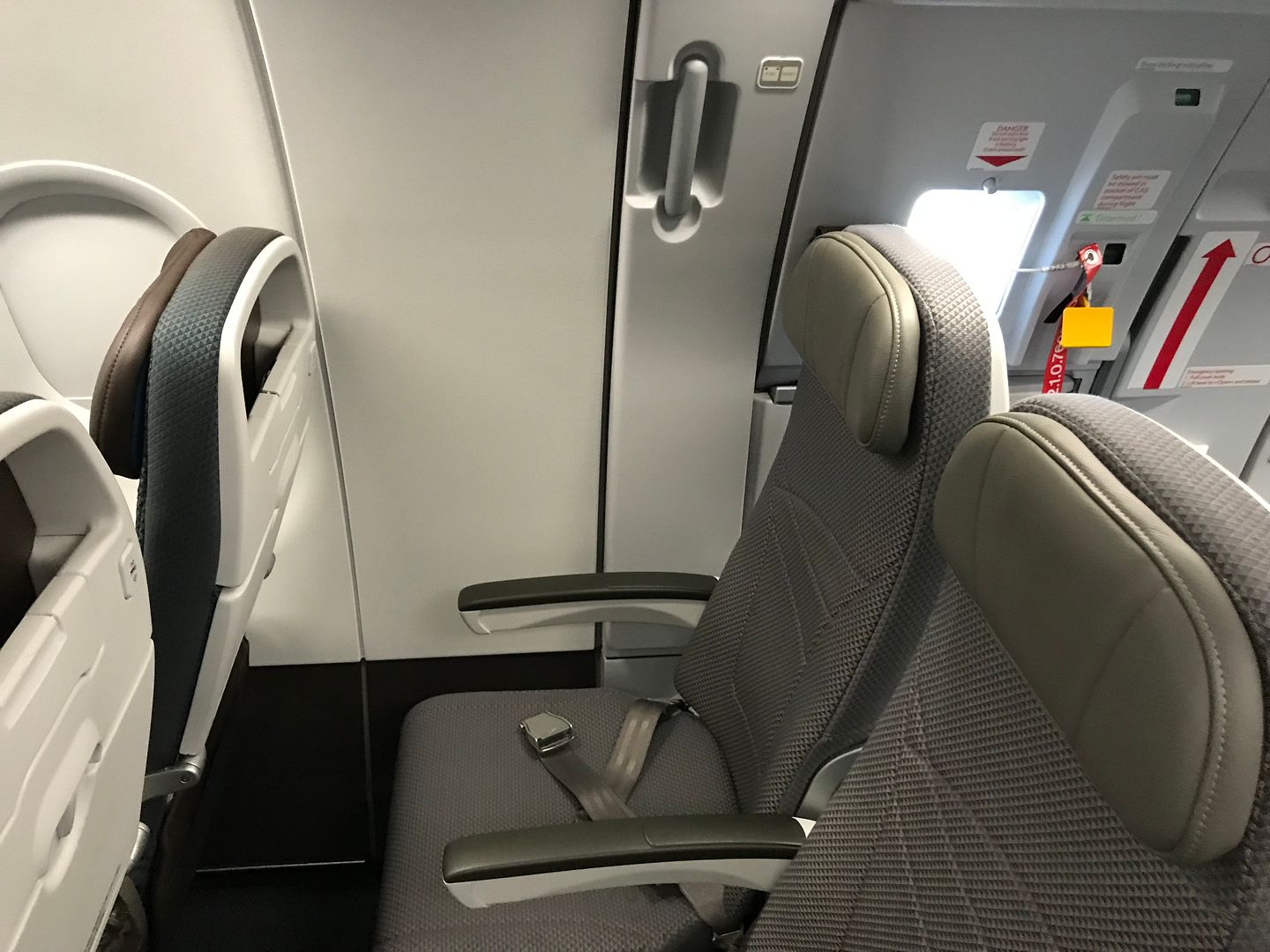 Main economy section right behind door 2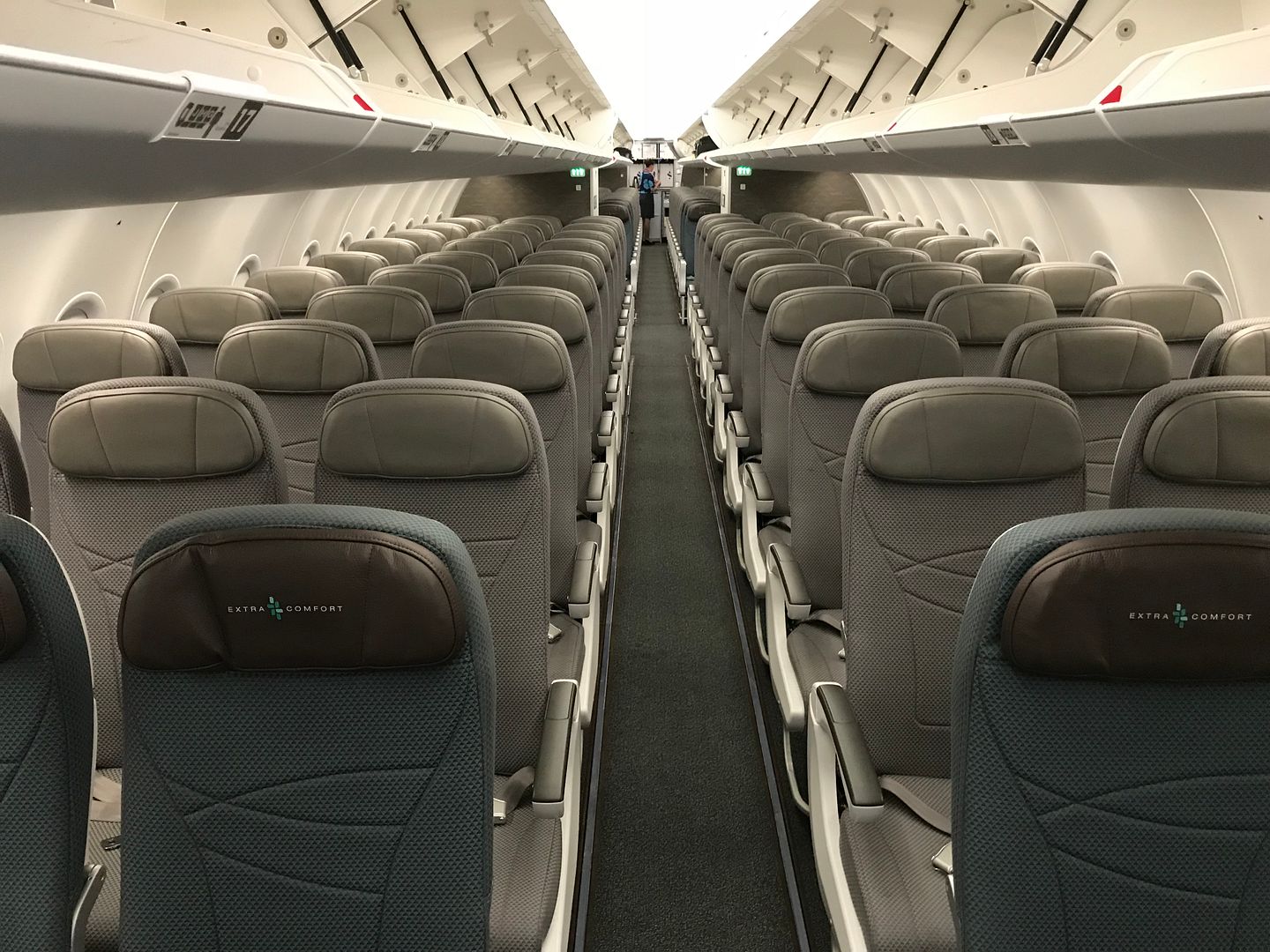 17A – last row of economy extra in forward economy section
Row with misaligned window – Row 21
Mid-cabin lavatory
Cute bathroom sign pointed out by the F/A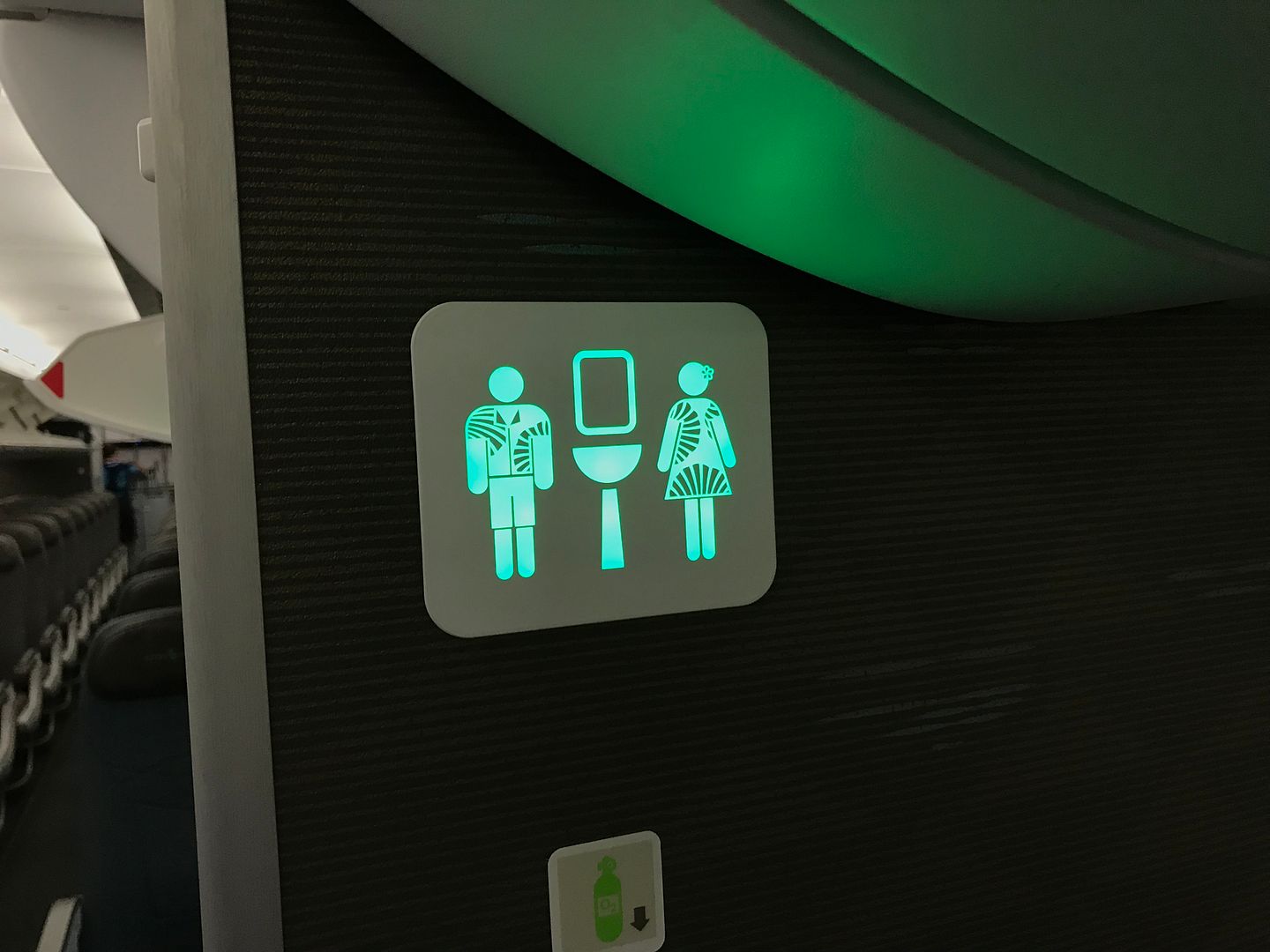 Row 27 – right before mid-cabin lavatory – no recline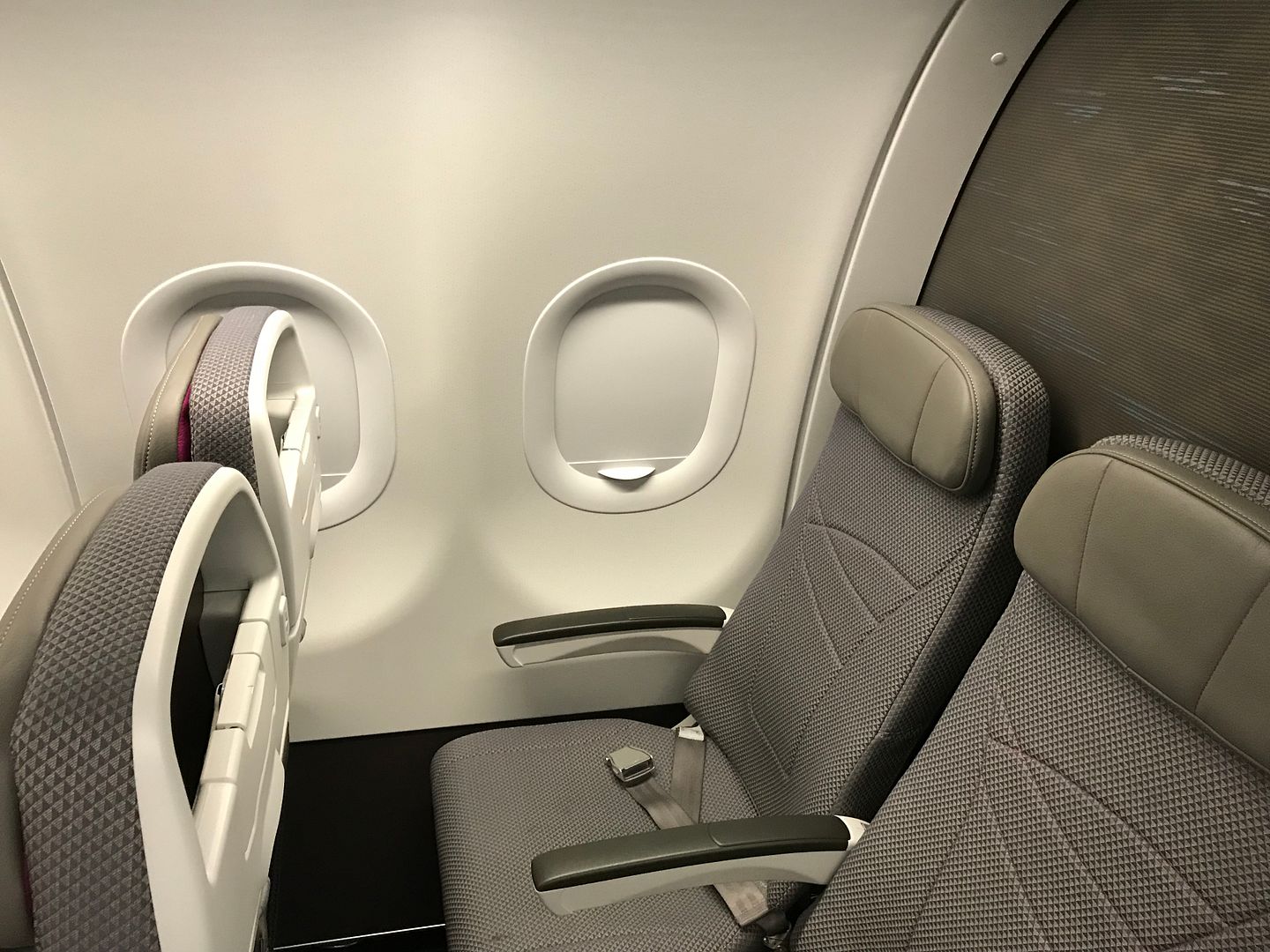 The aft economy sections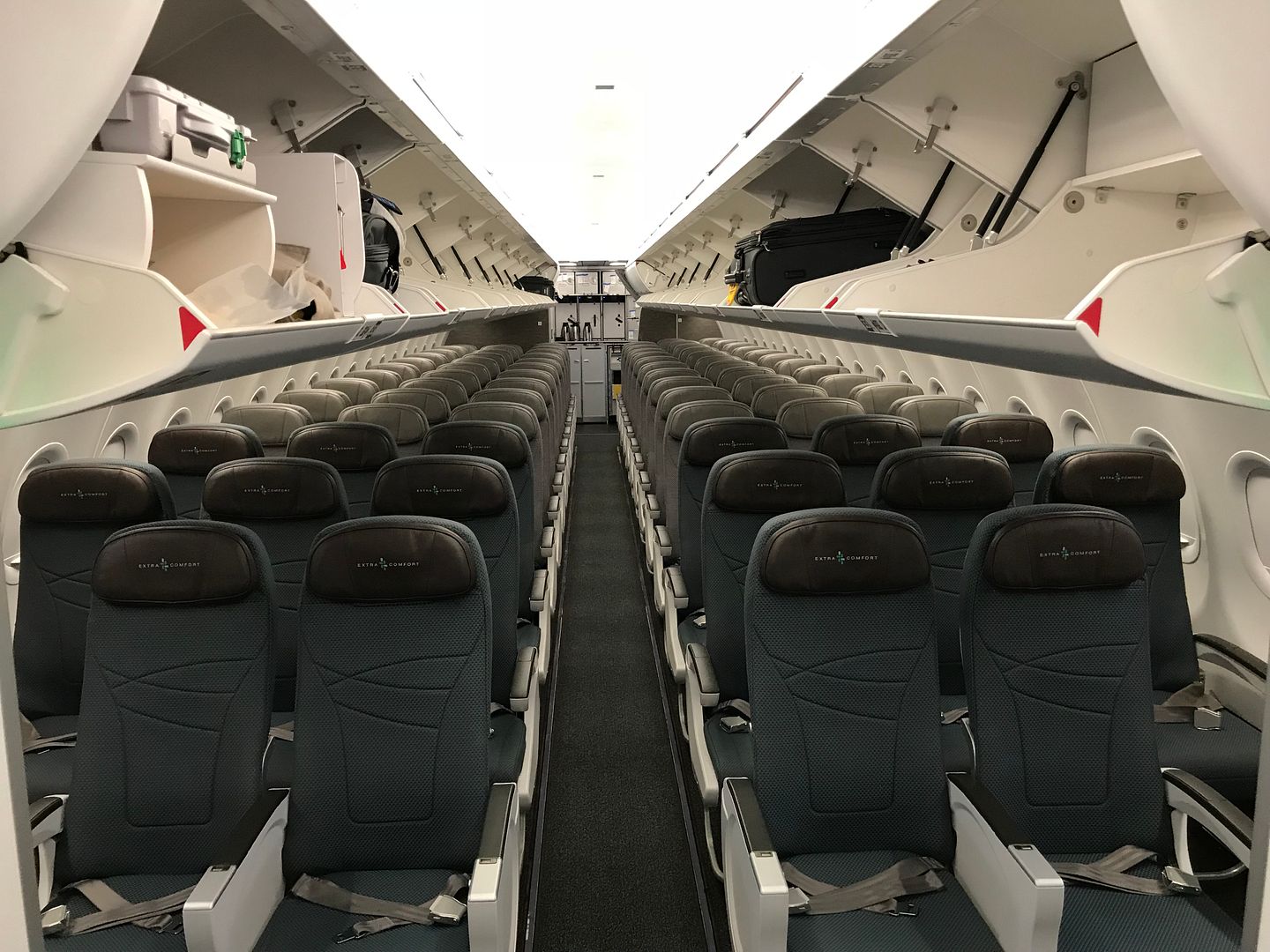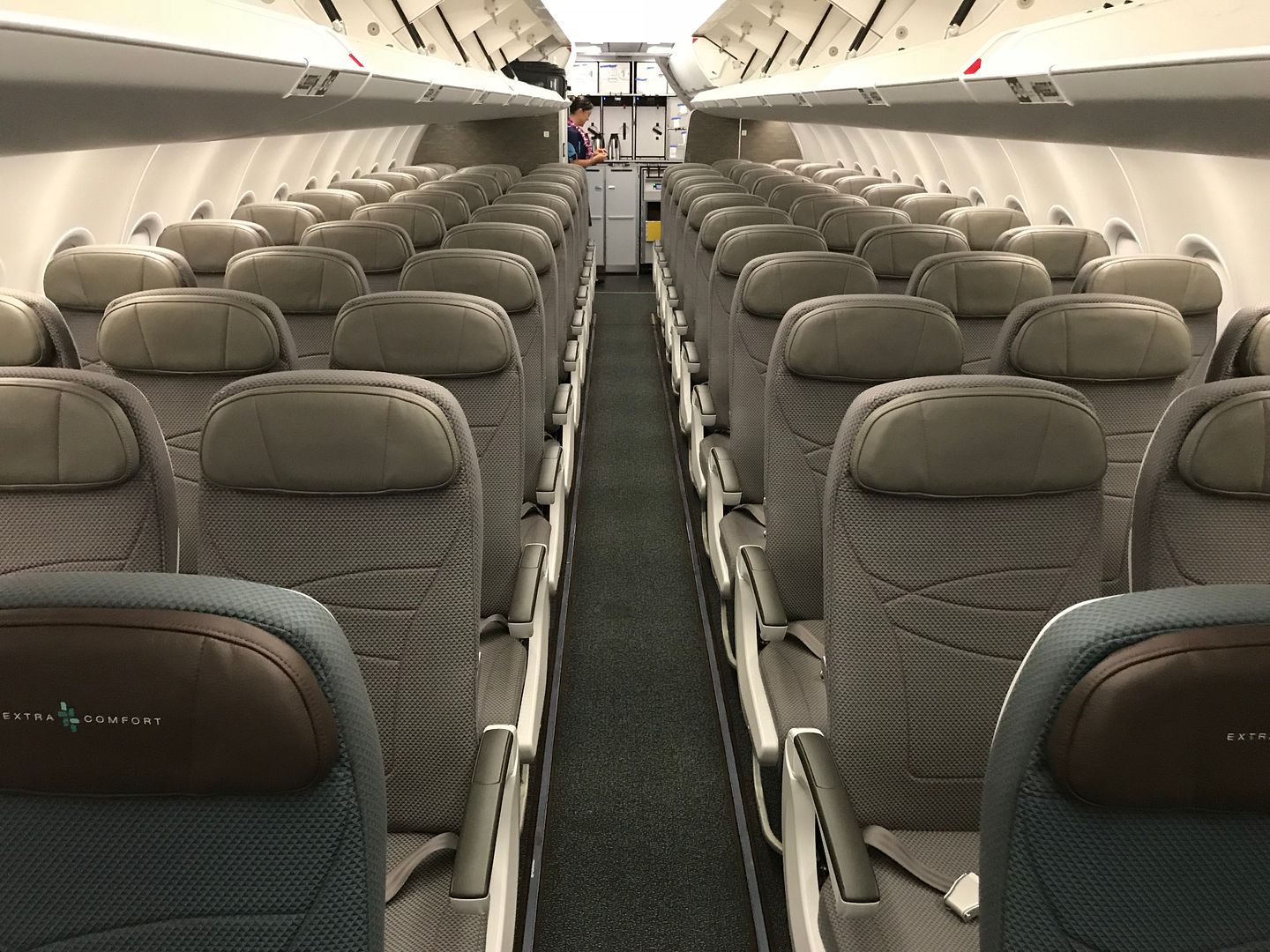 Row 33-35
Best economy comfort seat – 34A and 34F – good legroom & some freedom of movement along with a real window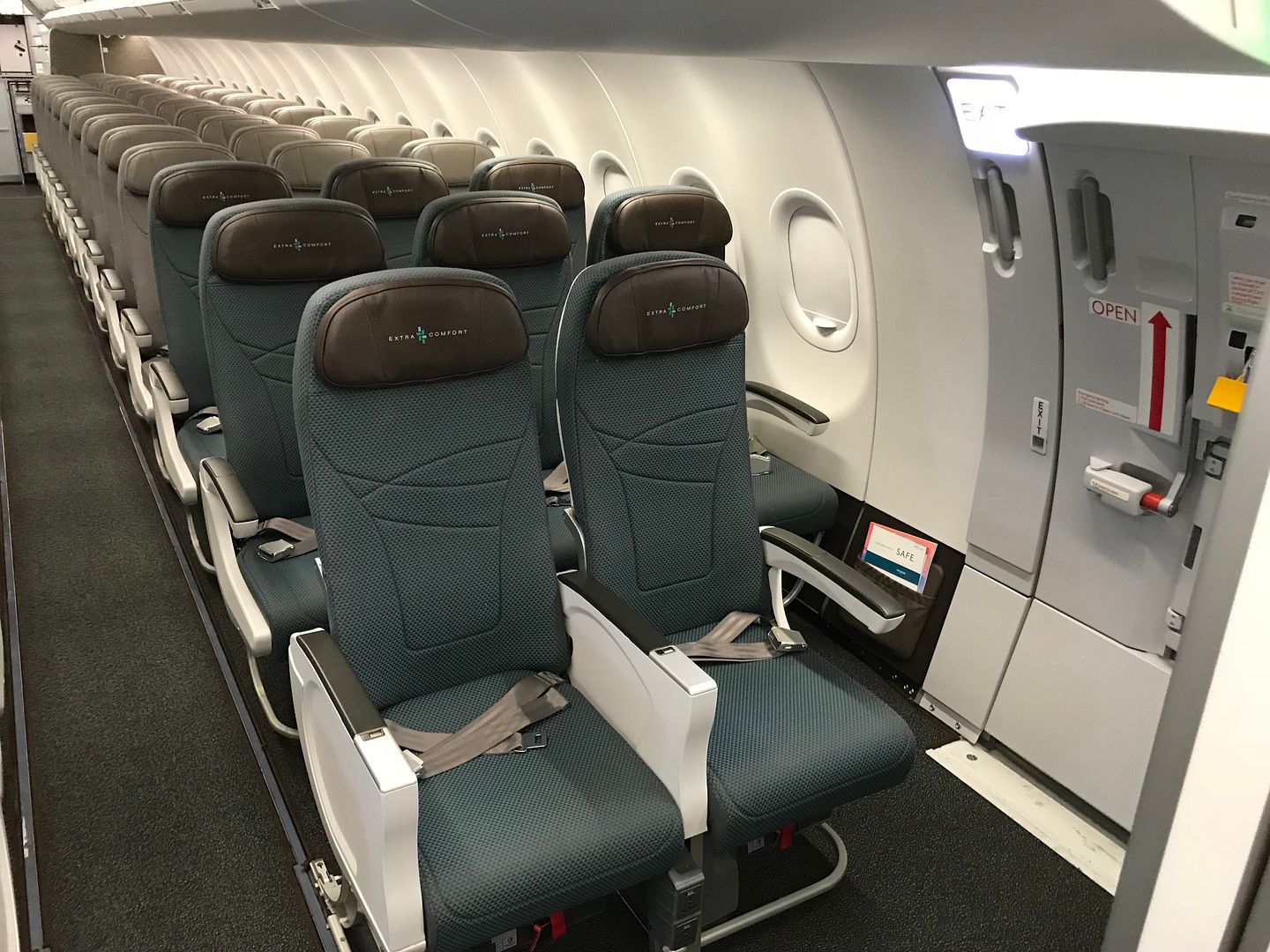 New overhead bins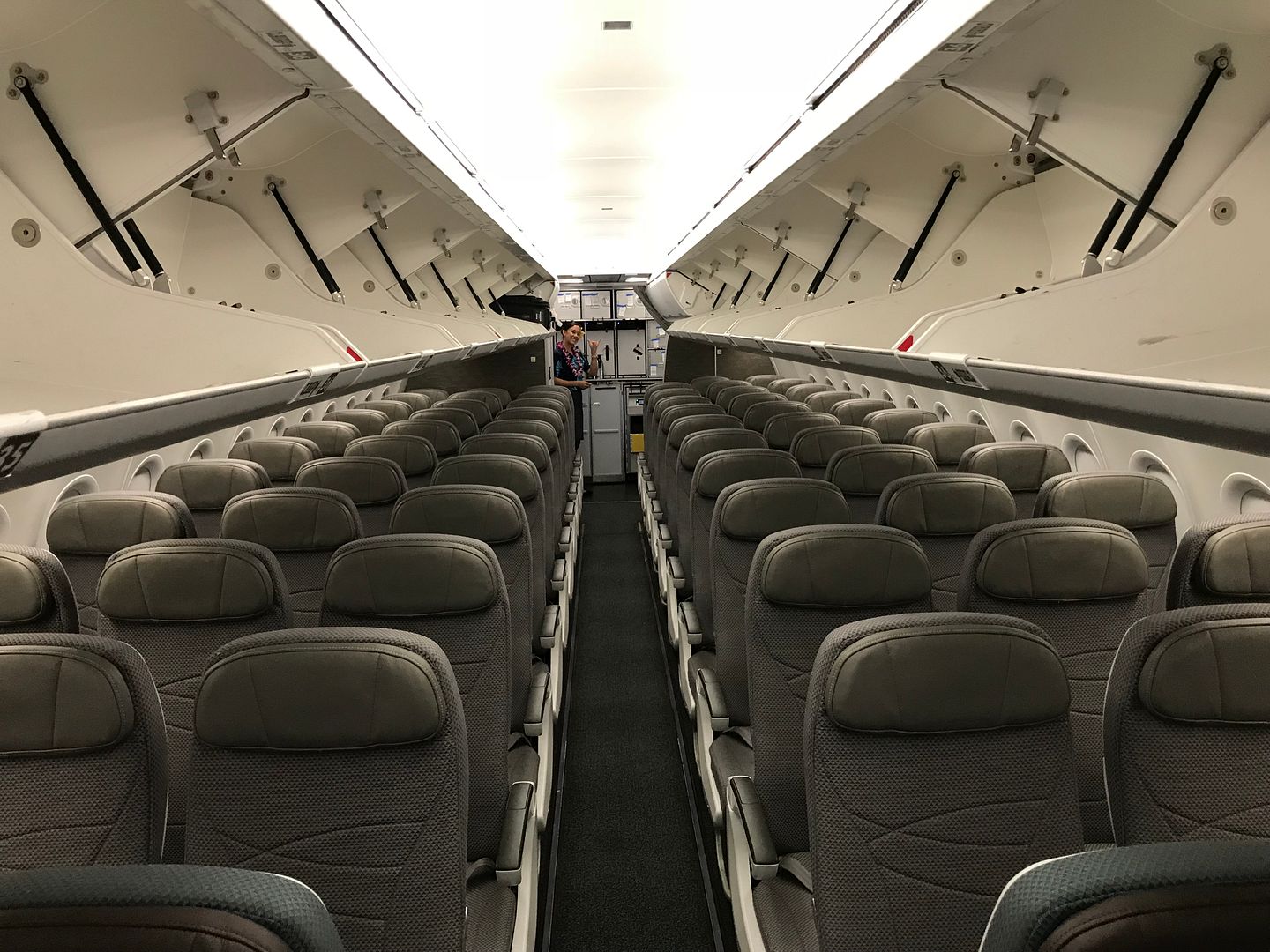 Economy seat – iPad/other similar devices holder & USB port at each seat
Economy class legroom compared to economy comfort (grey – regular seats & blue – economy comfort seats)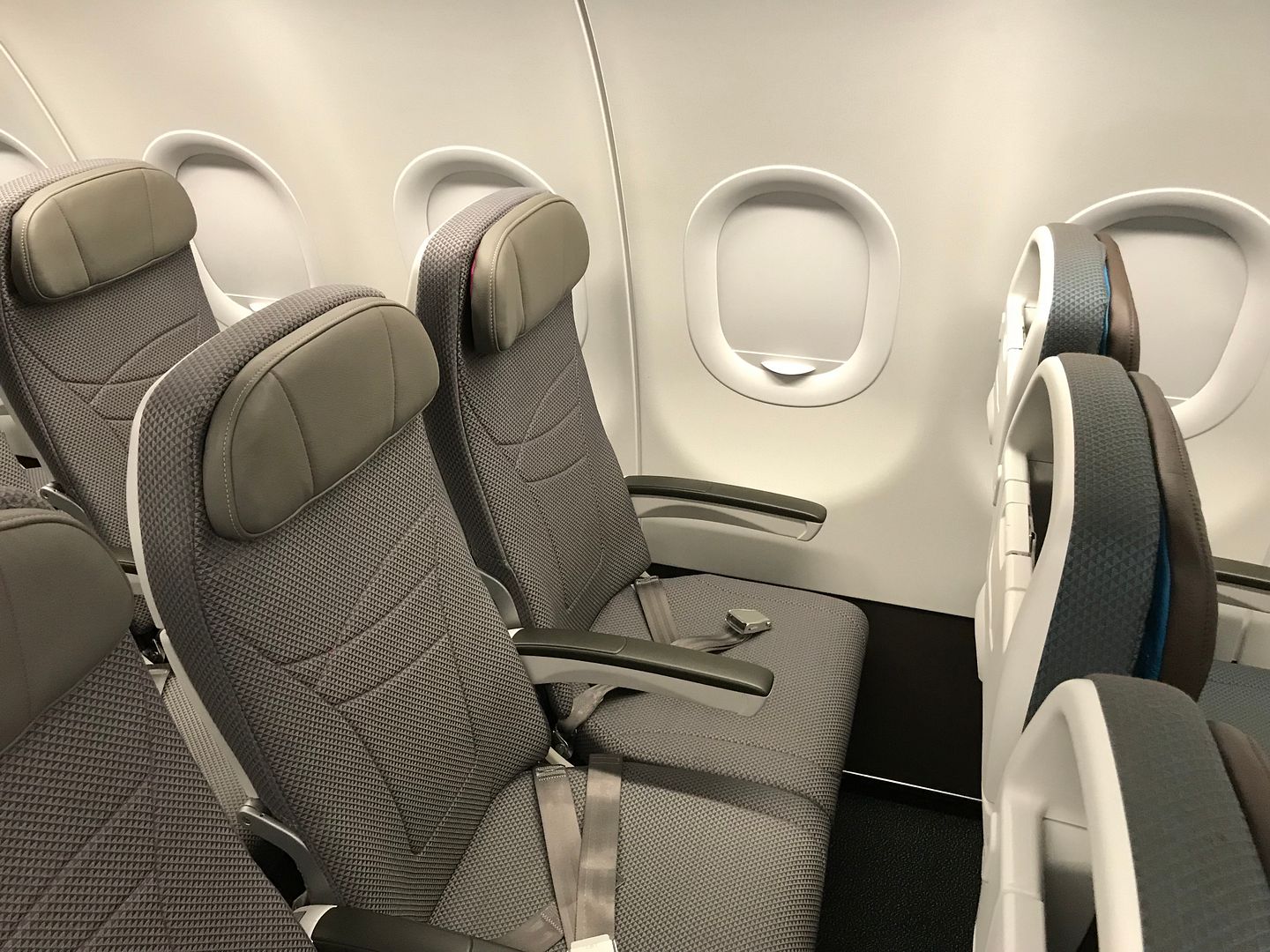 For first class, the seats are fairly typical of a recliner that you will find at narrow-body planes, but there are couple additional features including an interesting tray table design to help with iPad and other similar devices, leg rest in front of the seats, and two power ports – one USB and one universal power outlet, along with a side storage bin. The recline was not too great, and I hope Hawaiian Airlines charges less for this recliner seat. It is very different from the lie flat seats on A330-200s.
iPad holder – similar to economy seat
Literature pocket
USB port in front
Individual power outlet on the side with additional storage for small items
Water bottles holder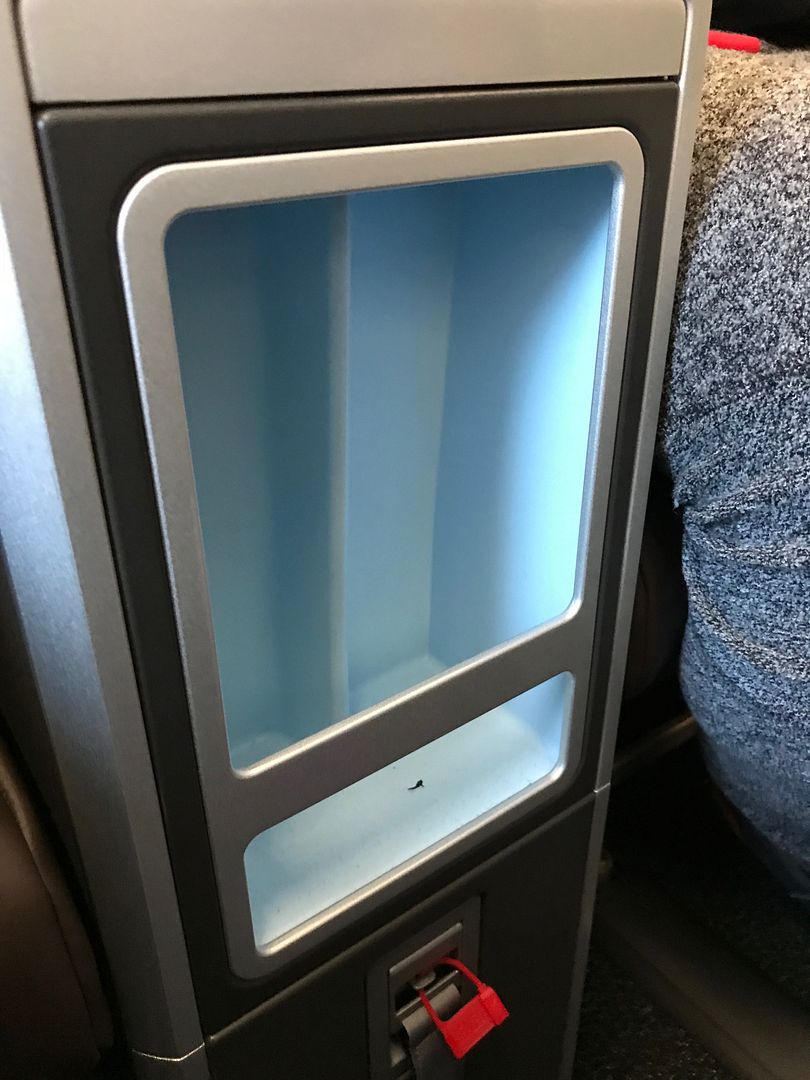 Tray table
You have to push this button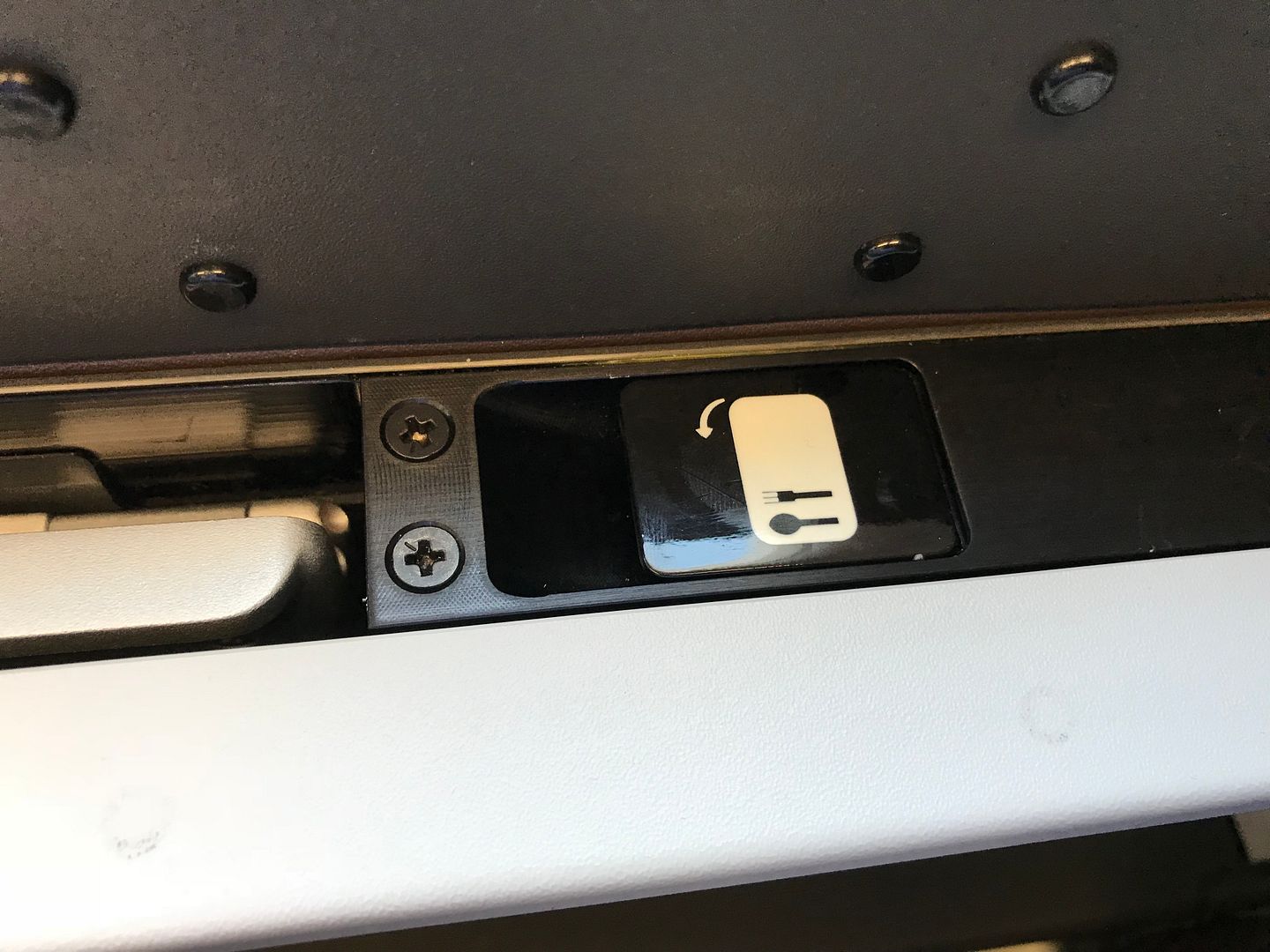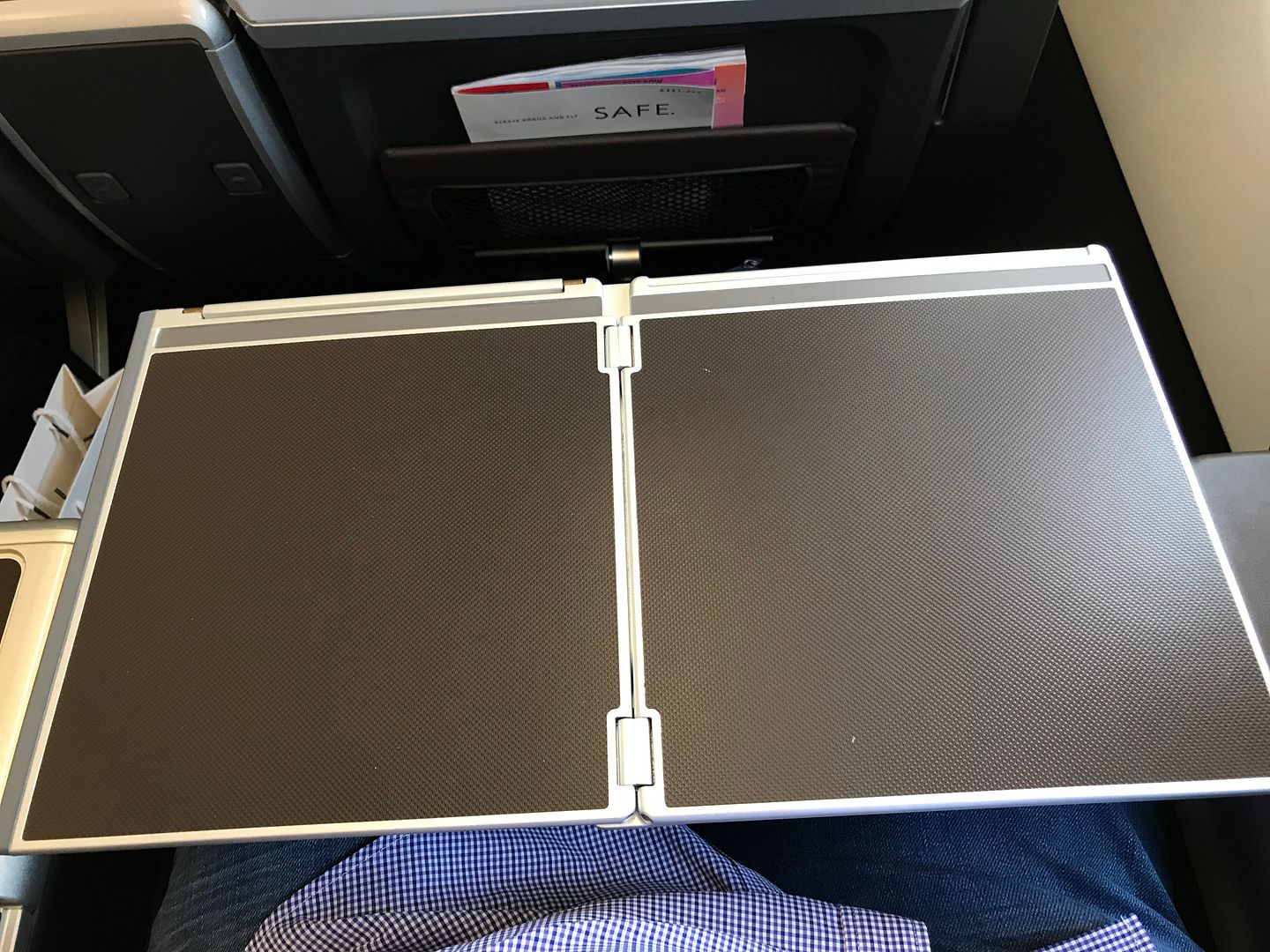 Leg rest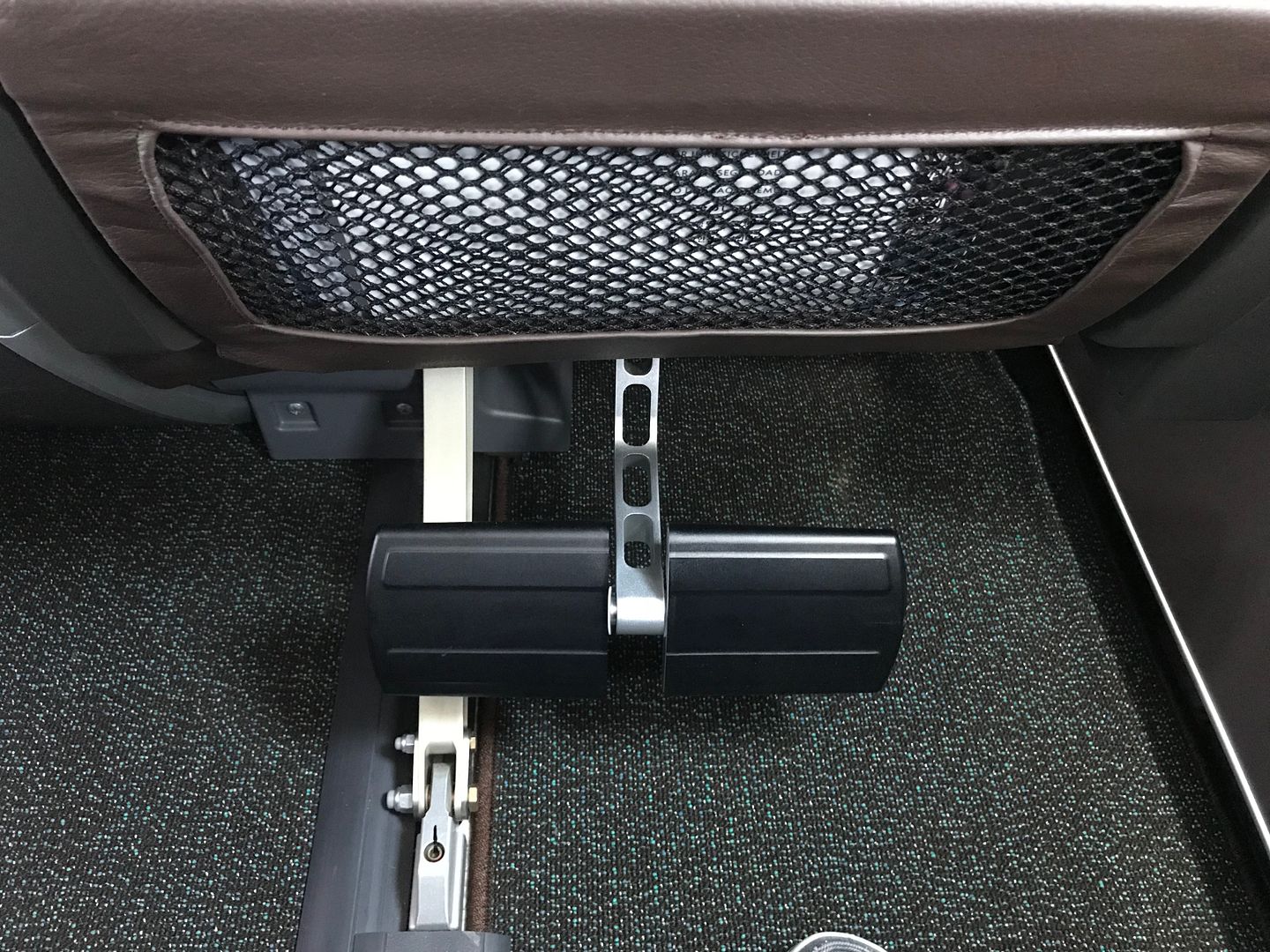 Two excellent (but junior) F/As were in charge of first class – Matt and Malya (sic). Both of them were excellent, given then they just arrived from Honolulu the night before. Their layover was barely twelve hours.
Pre-takeoff beverage was offered and you got a choice of Guava juice or Mai Tai, which was served in glassware. I had the Mai Tai, which was very strong.
My neighbor had guava juice.
Menu – it was pretty shameful that they only changed their menu twice a year. This new menu will last till November 2018. Given there is no choice for breakfast, it will be nice to at least change three times a year. I know HA is a low yield carrier but their first class is not cheap.
New chef – Chef Lee Ann Wong, contestant of Top Chef Season One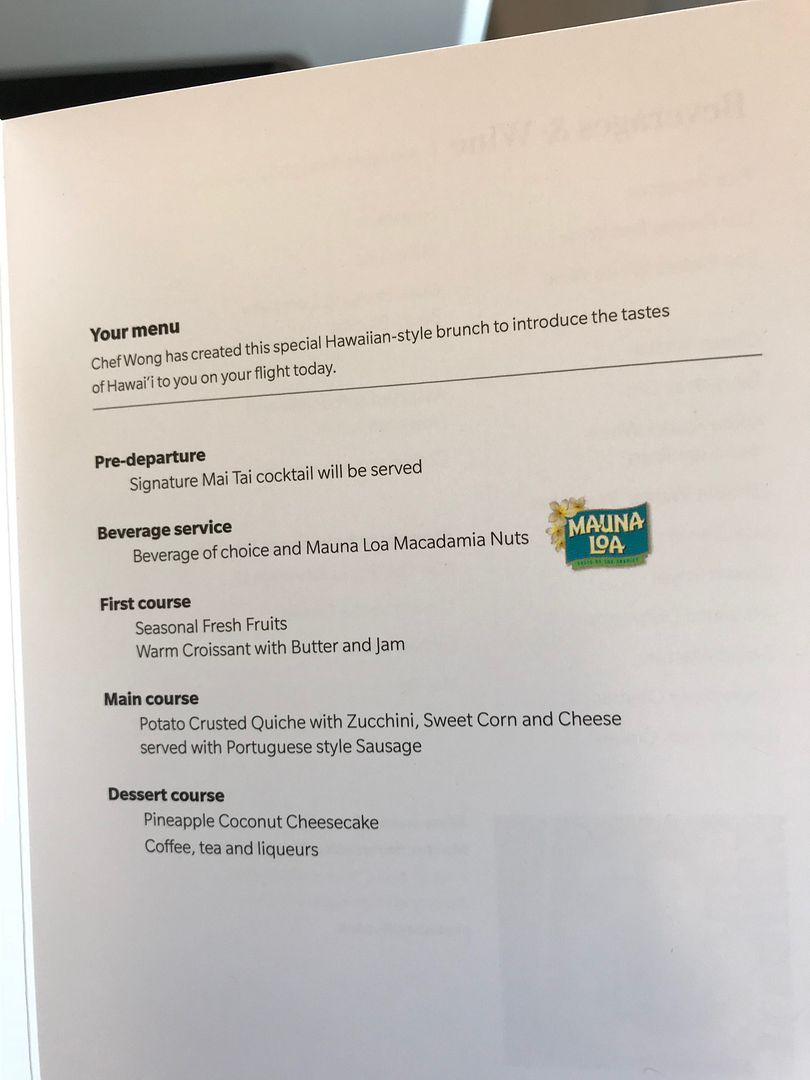 Long Beach is JetBlue's land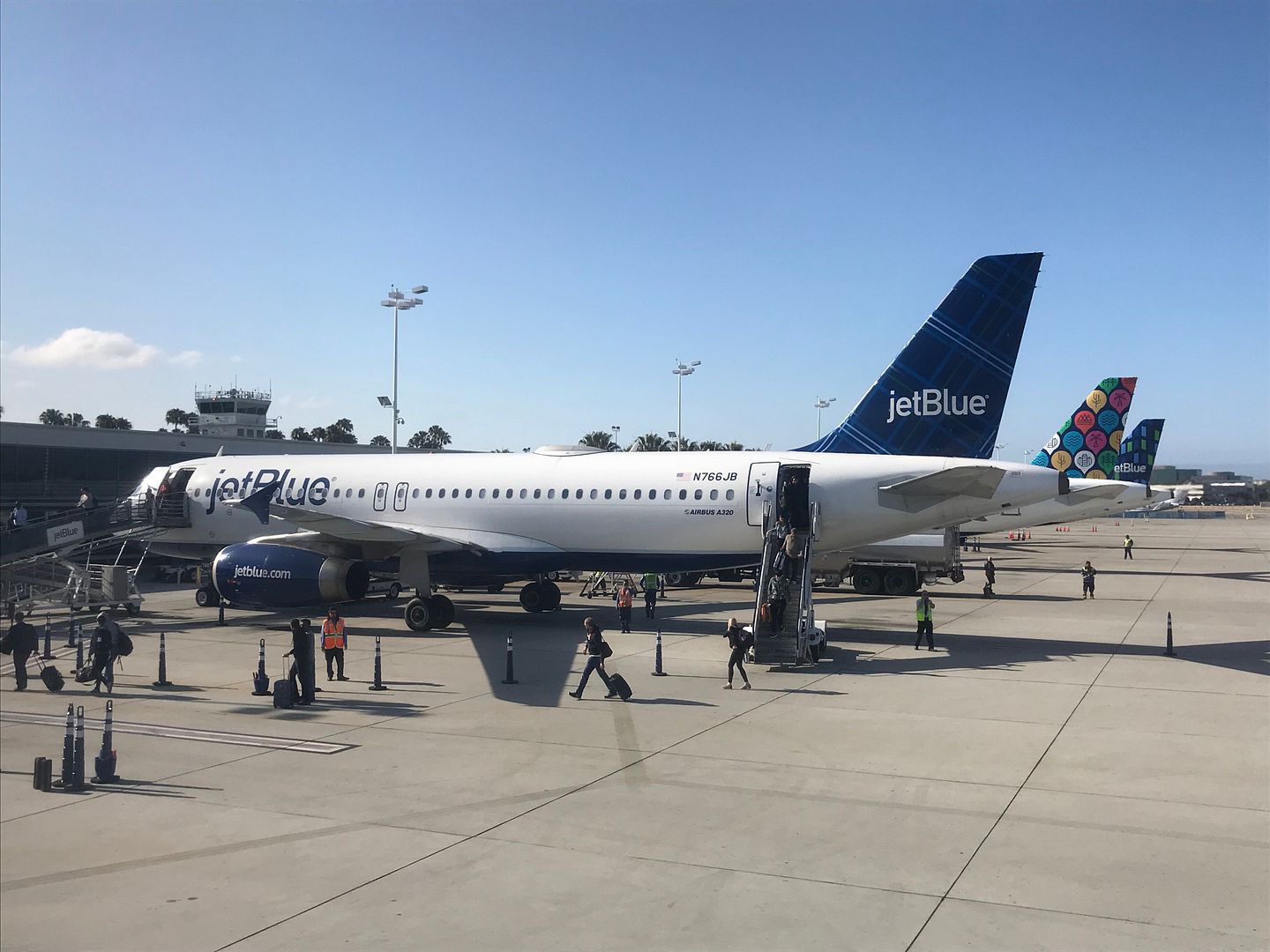 Door was finally closed at 8:20am. It was not bad given the amount of non-rev and entertainers that they need to bring back to Honolulu. The flight was pretty full to begin with, so the entertainers mostly got the economy extra seats. They had to play a bunch of musical chairs over the economy extra seats especially with this strange configuration.
Good sign when you see this truck