Down Under with Delta - with a couple of
SNAFUs
along the way.

Hi A-netters. This report is about a trip to Sydney, New South Wales in late July 2016. In spring of 2016 my adult daughter (25 at the time) married an Australian fella. In April 2016 I offered to take my daughter to Sydney so she could meet her new in-laws. As she and I sat across from each other eating lunch (at an Outback restaurant no less) we were browsing online fares from PHX to SYD. Quite reasonable fares starting at around USD 1200 return for each of us...so I told her we could do this. In due course she got to work on her passport while I got to work with the flight arrangements once we decided on the final week in July and I confirmed I could take yet another week off from work.

I was really tempted to book the Hawaiian Air option PHX-HNL-SYD flying aboard 767-300 & A330-200 each way as I had yet to fly Hawaiian Air and I love those widebody types. The price for economy on Hawaiian was a couple hundred more than the cheapest option, and the connection at HNL was only about an hour. I finally chose Delta, booking a flight departing on Friday 22 July in the afternoon, connecting in Los Angeles with several hours connection to the nonstop 777-200LR to SYD. This option would get us to Sydney Sunday morning. I booked our return flight for 1 August, departing SYD in the morning and arriving LAX just after sunrise the same morning with a short connection to PHX. A few days later I upped the game just a little bit by buying Comfort+ for the trans-pacific segments. I figured it would be worth it having the extra legroom and power outlets for such long flights.
Fairly simple return trip plan, right?
Map generated by the
Great Circle Mapper
- copyright
Karl L. Swartz

That year was a busy year for me travelling so the three months between booking and travelling went by pretty quickly. Her new husband flew ahead of us by a couple of days. When travel day came I picked her up at her sister's house and we drove to PHX. I dropped her curbside at T3 with her luggage so she wouldn't have to drag it from long-term parking. Mid-afternoon in July in Phoenix tends to be quite hot...I wanted to minimize stress and heat exposure for her. I parked in East Economy and made my way to T3 via the Sky Train.

She was waiting for me at check-in so we proceeded through that process then made our way through TSA with minimal hassle.

Third week in July and it's a tad warm in Phoenix...lets go somewhere cooler!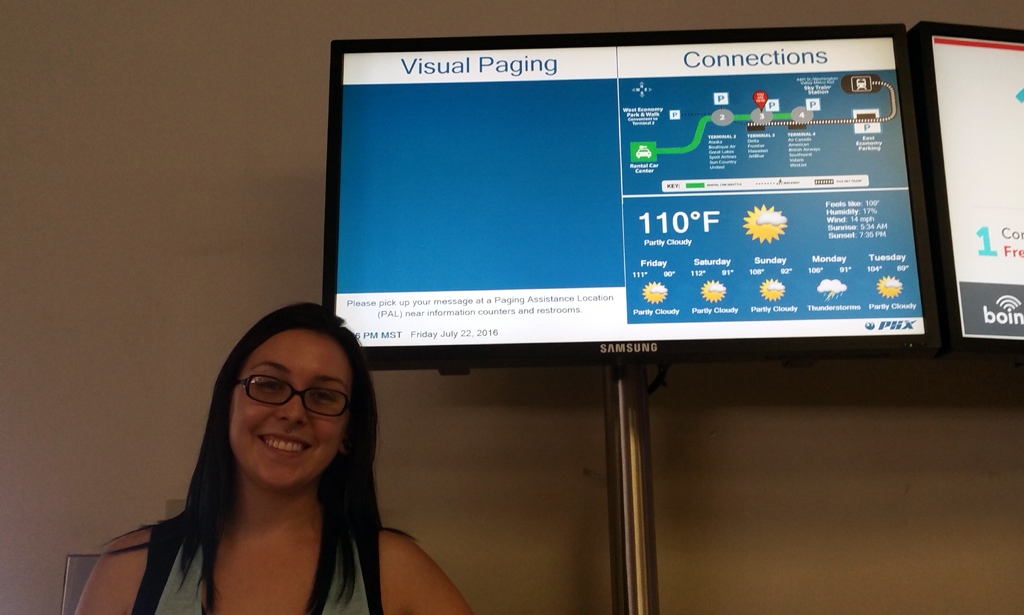 Flight 1 as booked:
22 July 2016
Compass Airlines / Delta Connection
PHX-LAX Flight # 5828
Embraer 175LR N615CZ
STD: 4:45PM STA: 6:20PM
Seats: 10A & 11A (so we'd both have window seats)
My photo of N615CZ arriving PHX this afternoon: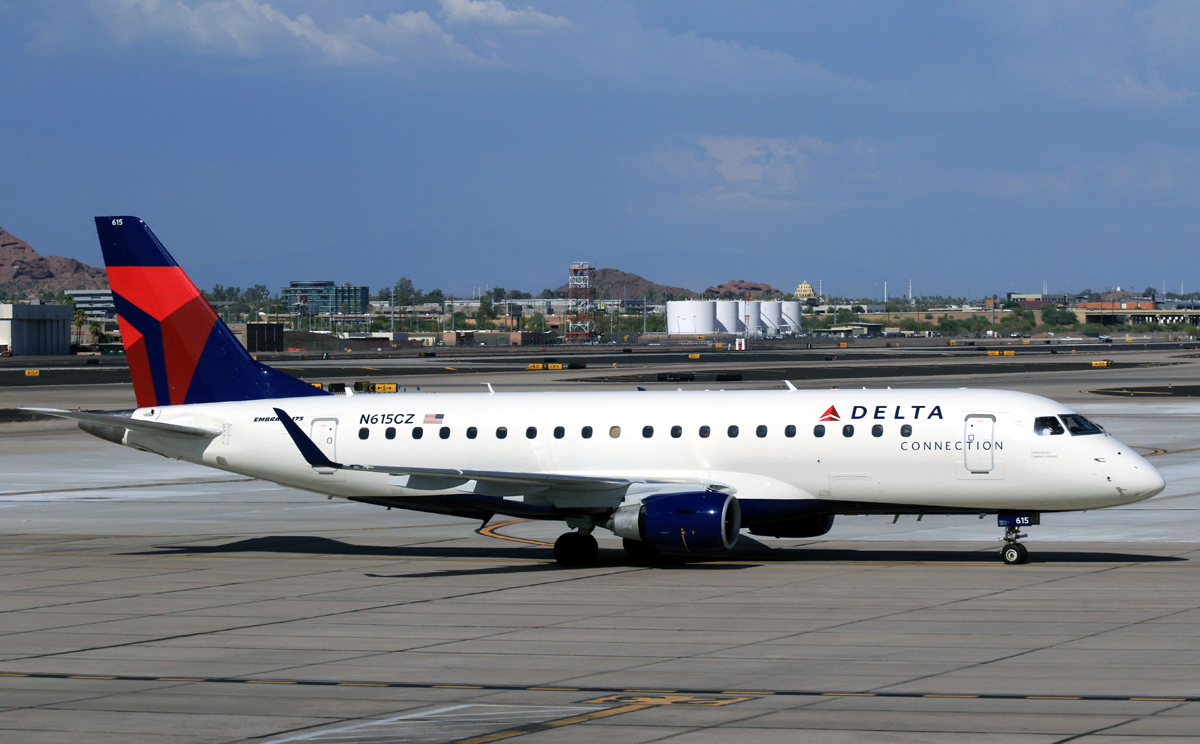 My photo of N615CZ being serviced at PHX gate 15: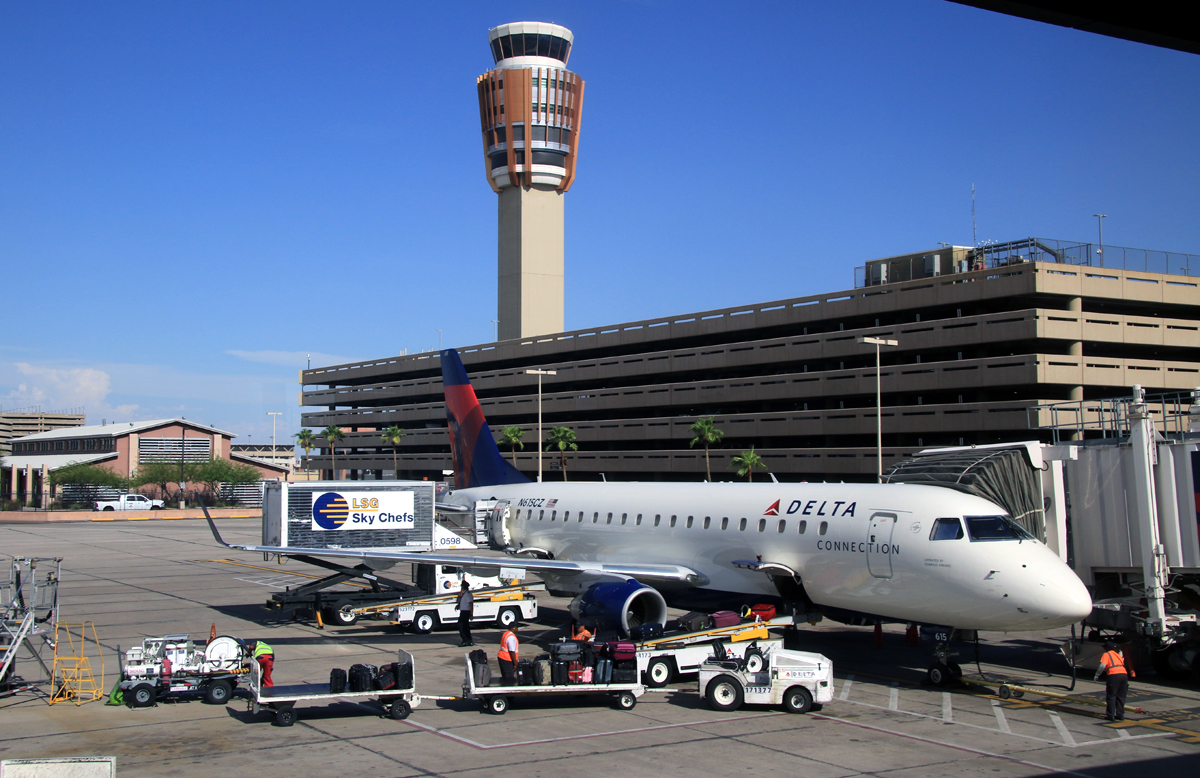 Incidentally, the Sponge Bob toy accompanied me on a lot of adventures. It originates from my work as a mascot we'd take with us TDY and I started taking it on personal adventures. Sadly in February 2017 I forgot him in a hotel near LHR. Attempts to locate it proved futile, so this Sponge Bob toy travels with us no more.

Being the Avgeek I am I was tracking our inbound plane while watching and photographing some planes out the windows. My daughter was entertaining herself as young folks do while comforting herself with a Starbucks. I'm not a nervous traveler but she can be. We hadn't flown together very often, the most recent being in the late 90s as I recall.

At any rate our inbound plane was a little tardy arriving and eventually N615CZ was pulling up to the gate. Our departure was summarily posted as being delayed a bit due to the somewhat late arrival of our inbound plane.

SNAFU #1: ROAD TRIP!

As luck would have it, there was a technical problem with the flight and it was delayed about an hour. That hour became two hours, and we started worrying we would not make it to LAX in time for our flight to SYD. The flight was eventually delayed so much that we indeed had to explore alternate plans.

I was on the phone with Delta and wouldn't you know it they offered to re-book us the next morning on a Delta flight from LAX to HNL connecting to the Hawaiian Air flight to Sydney. While sorting that out I had my daughter get on the phone with Enterprise so we could rent a car and just make the 6-hour drive to LAX during the night and arrive LAX with plenty of time to make the flight to HNL. While my daughter was a bit distraught over the trip beginning as it has, I was internally scoring a victory of sorts with the now-scheduled HNL connection and the Hawaiian A330 flight.

Our route through the desert to LAX in the quiet hours of 22/23 July 2016. This is not the road conditions at the time: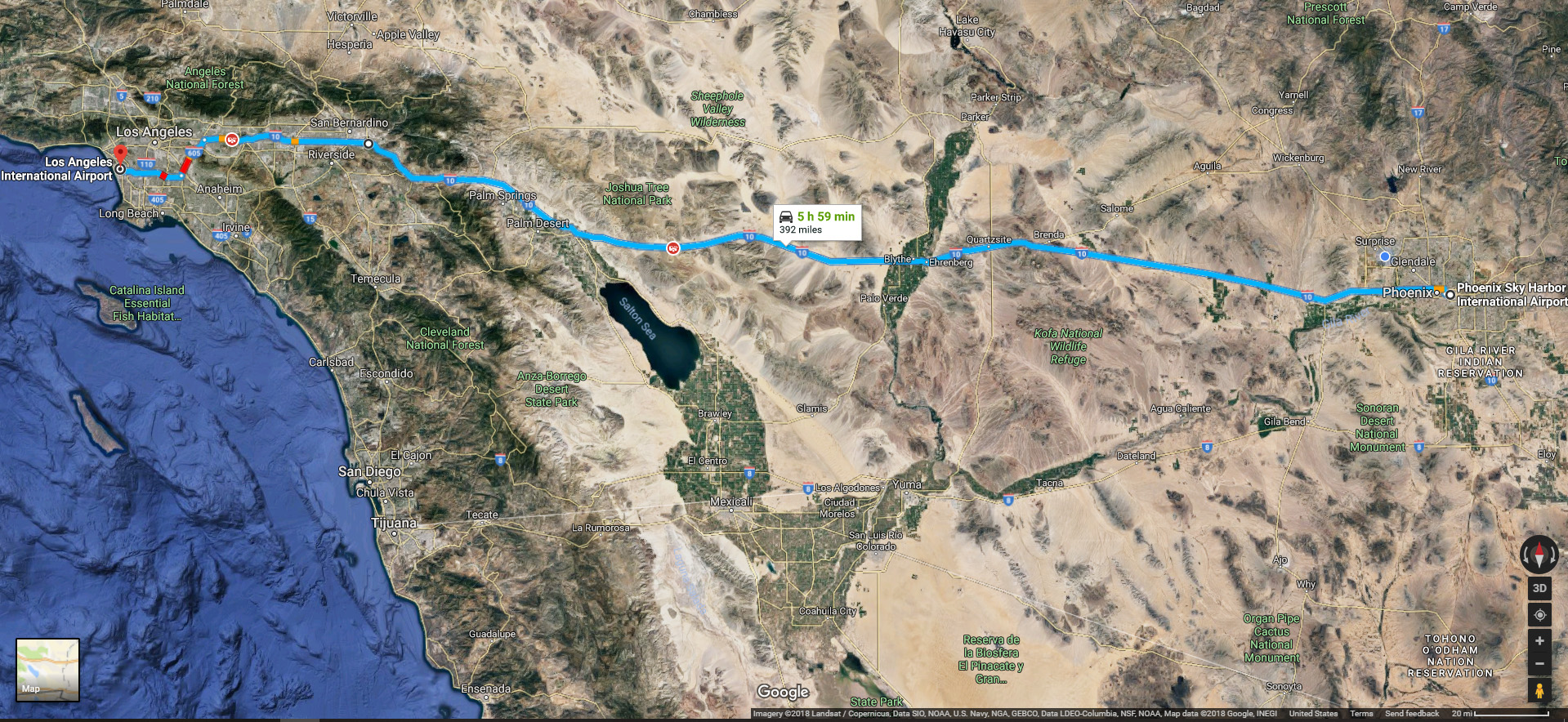 We had to reclaim our baggage at PHX and take the bus to the remote rental car facility. Our car was waiting for us and we packed our stuff in it and set out for LAX. Now, I've driven between Phoenix and LAX (the airport) many many times so I knew my way. Traveling across the desert in the middle of the night is nice. We got to Palm Springs about 1AM so I estimated our arrival about 3AM. The L.A. freeway system is pretty good...even better in the middle of the night. Granted it was a Saturday morning so the normal weekday commute traffic wouldn't be a major issue. We made it to the rental car return and a few minutes later we were on the bus to Delta's T5.

After painlessly going through TSA I pursuaded my daughter to hike with me to Tom Bradley Int'l Terminal so we could rest in the relative peacefulness of the nearly-abandoned terminal. I assured her we'd make it back to T5 with plenty of time to board our flight to Honolulu.

After waking and walking back to T5, we found some breakfast. Our plane was parked at gate 52A and didn't provide an opportunity to get an unobstructed photo. Before long, boarding commenced. Thankfully, Delta was able to provide Comfort+ for this segment since I'd paid for it LAX-SYD. Now nearly two years later, I don't remember our seat #s and my thermally-printed boarding pass has all but completely faded. We had good window views, and this section of the airplane in this configuration (26F / 29W / 171Y) has some blocked windows but no idea of the seat #.

Flight #1 as rebooked by Delta:
23 July 2016
Delta Air Lines
LAX-HNL Flight # 611
Boeing 767-332(ER)(WL) N199DN
STD: 8:35AM STA: 11:52AM
Seats: 1nA & 1nB (don't know actual #s)
05:59AM looking west from TBIT. Pretty soon this will be a bustling area: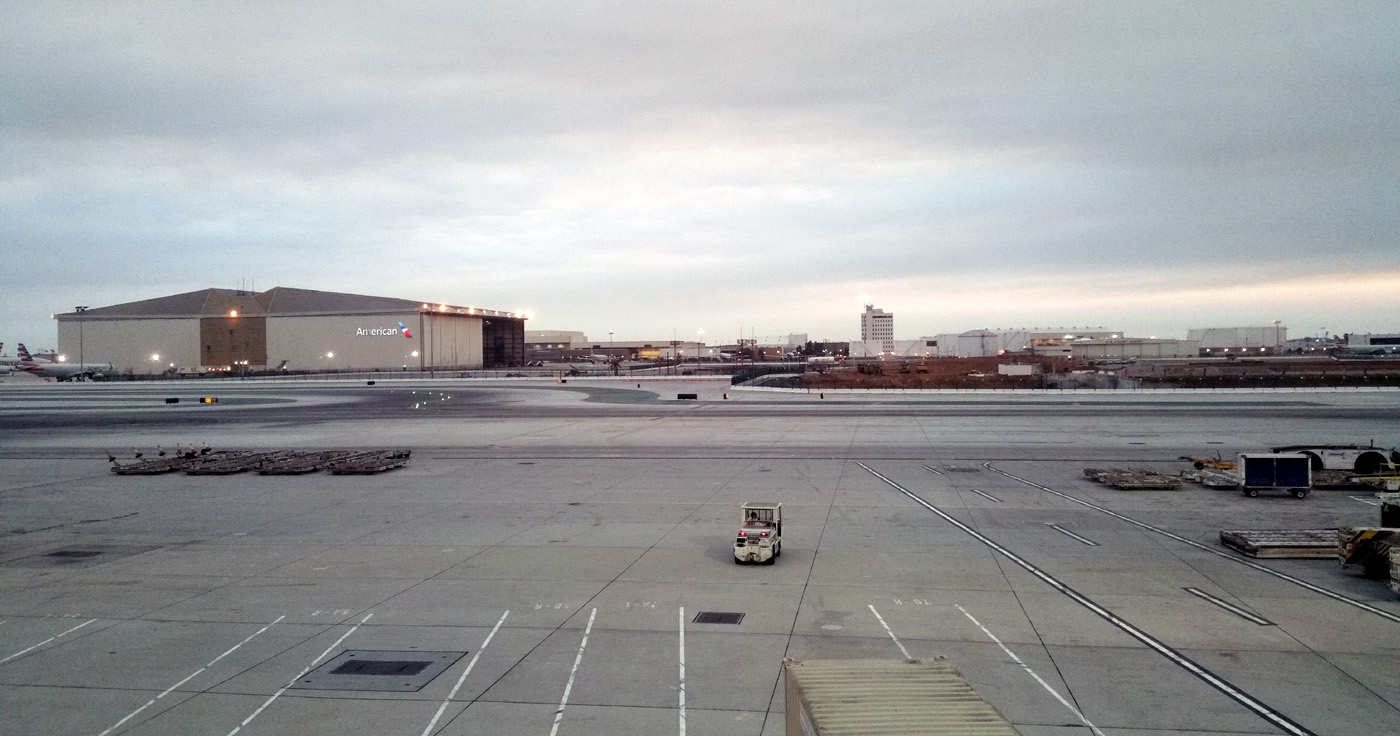 Heading down the escalator in T4 for the underground walk to T5 :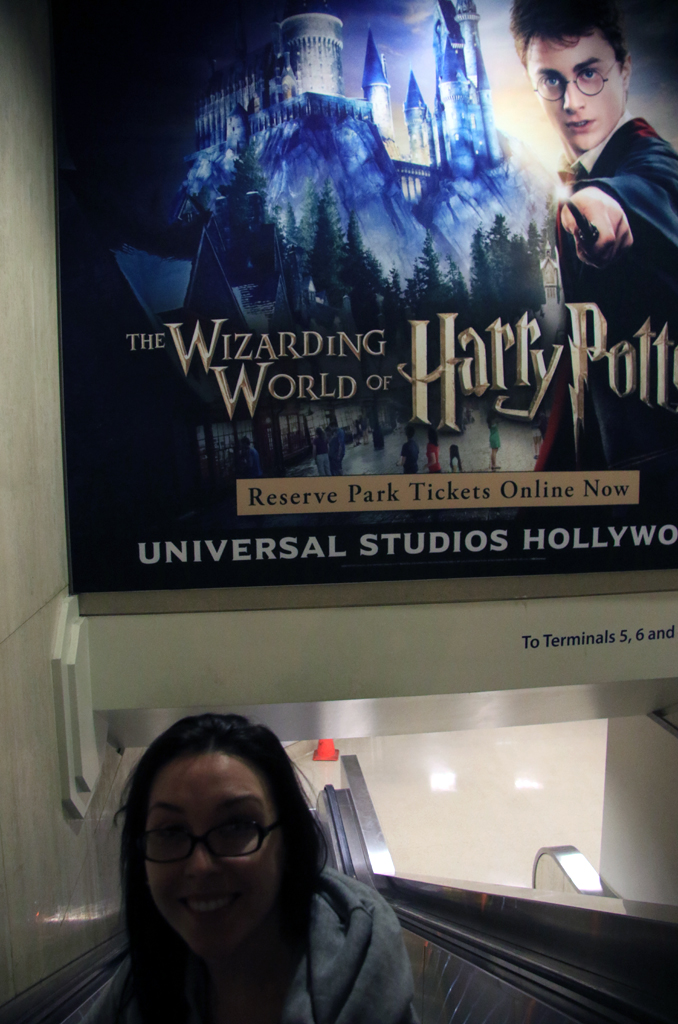 My photo of N199DN at LAX gate 52A: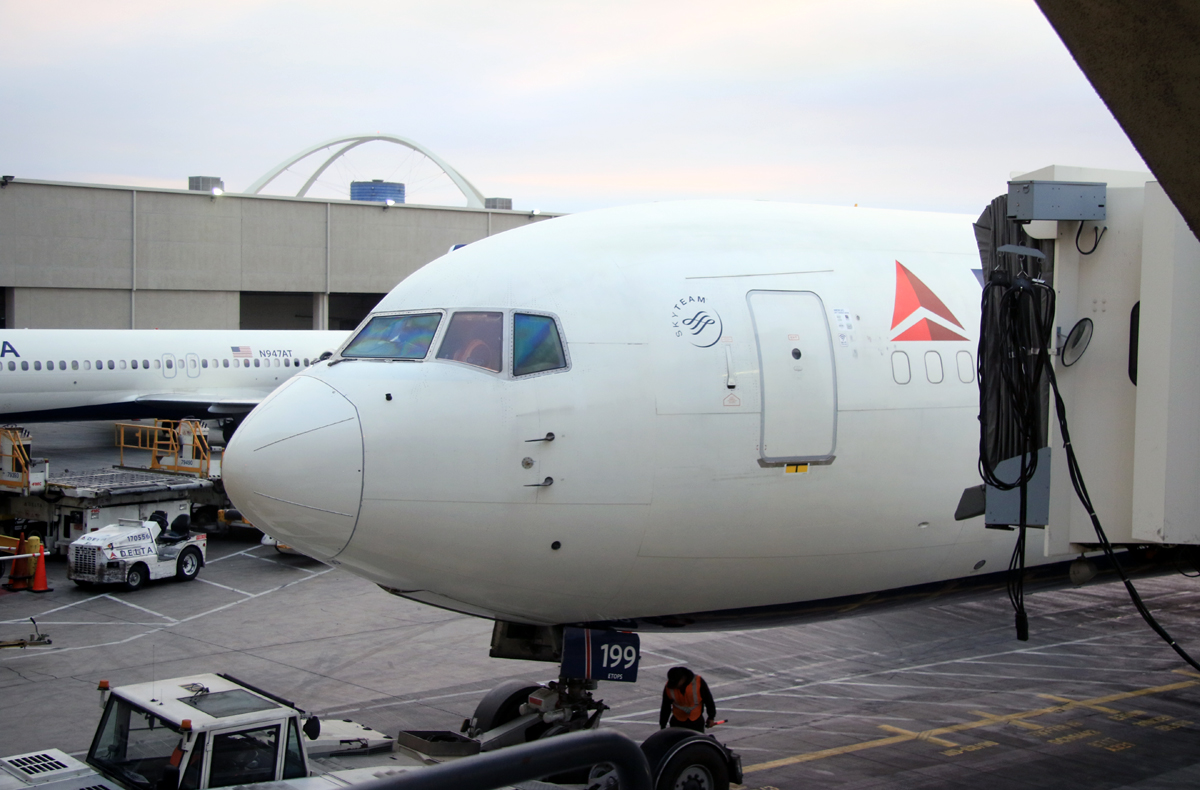 My photo of N199DN at LAX with the sun peeking through the marine layer:
SB ready to fly: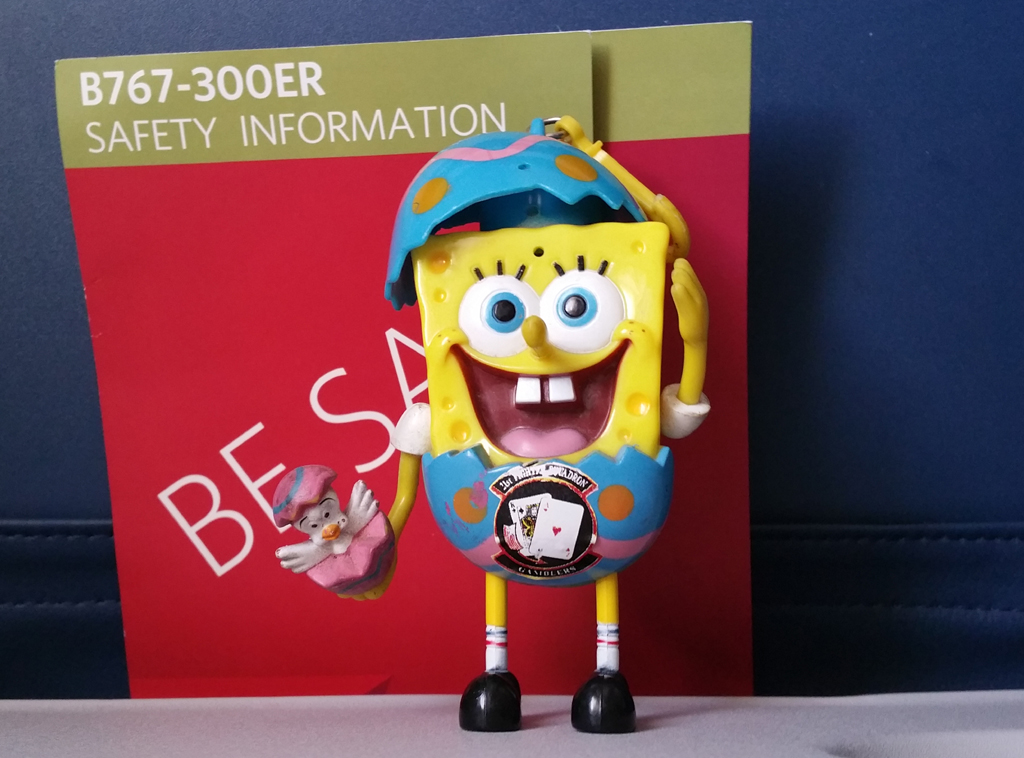 While on the ground and climb out from LAX all my photos came out with this wierd color cast: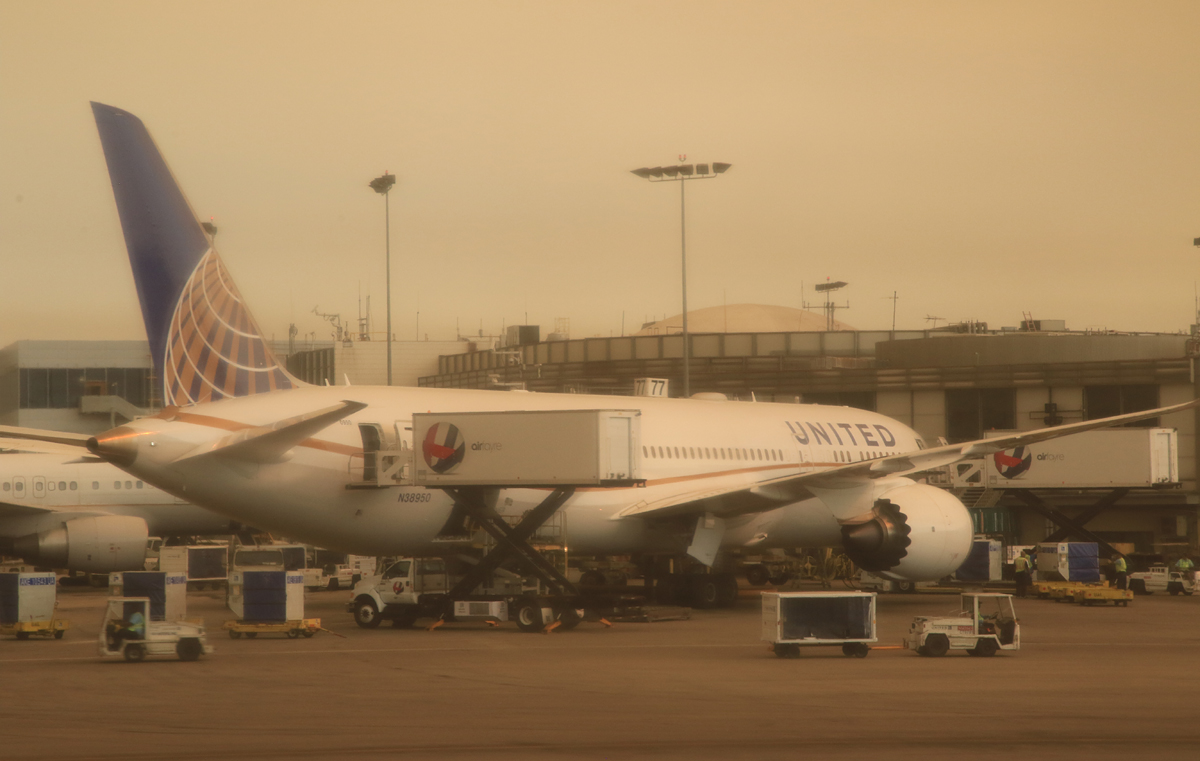 Photoshopped to correct: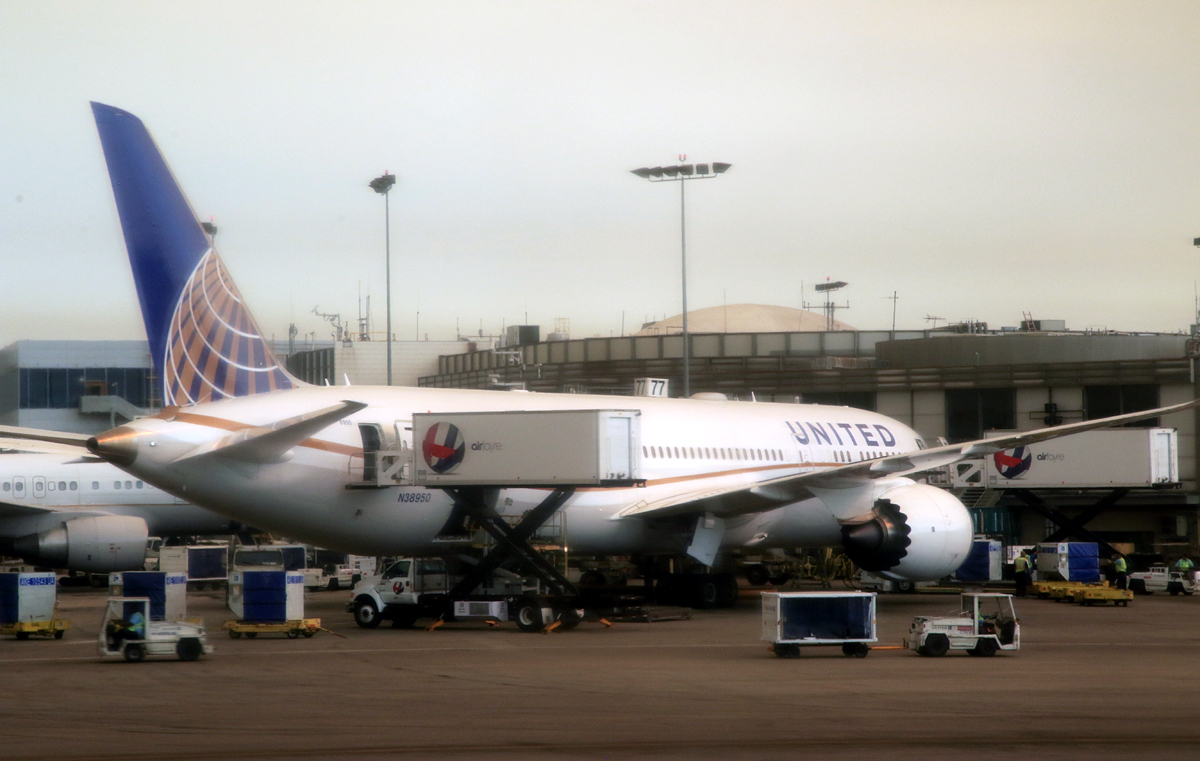 Some turboprops at LAX: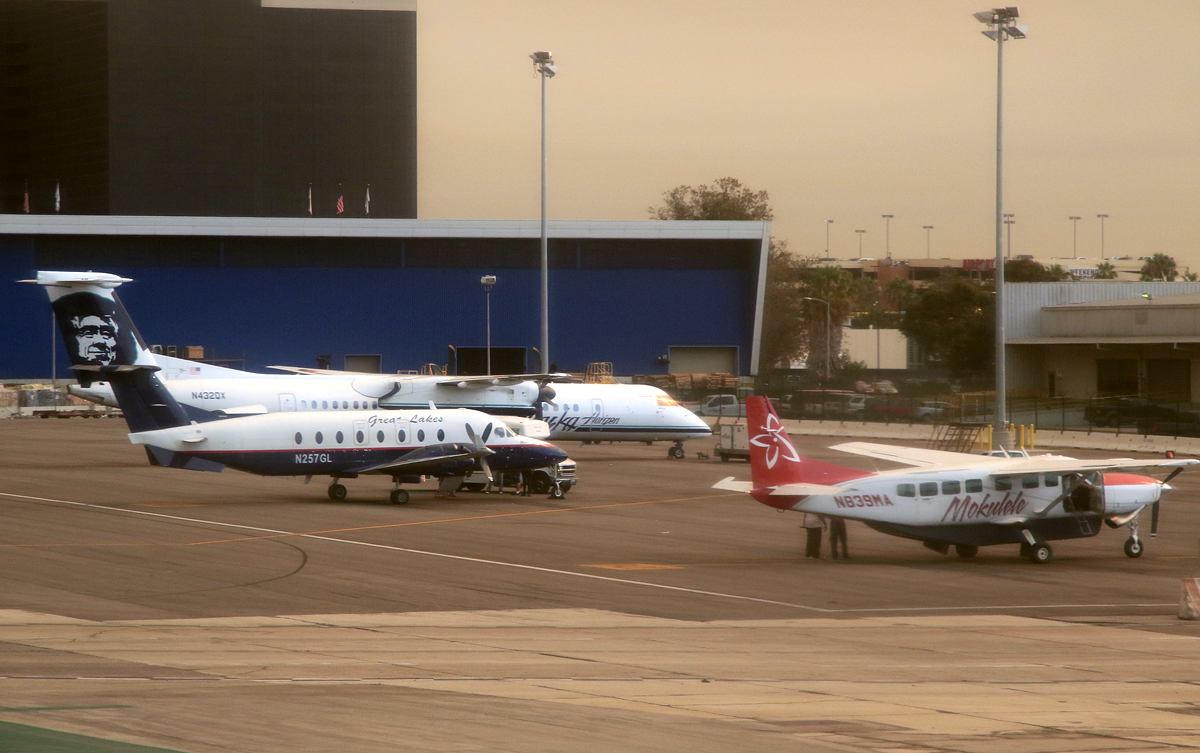 We didn't have to wait long for departure once we reached 25R. I didn't video the takeoff, instead choosing to take photographs of the airplanes on the south side. Thankfully I was able to get a couple photos of Imperial Hill, where I've spent a LOT of time watching and photographing planes over the years.
Imperial Hill LAX observing location: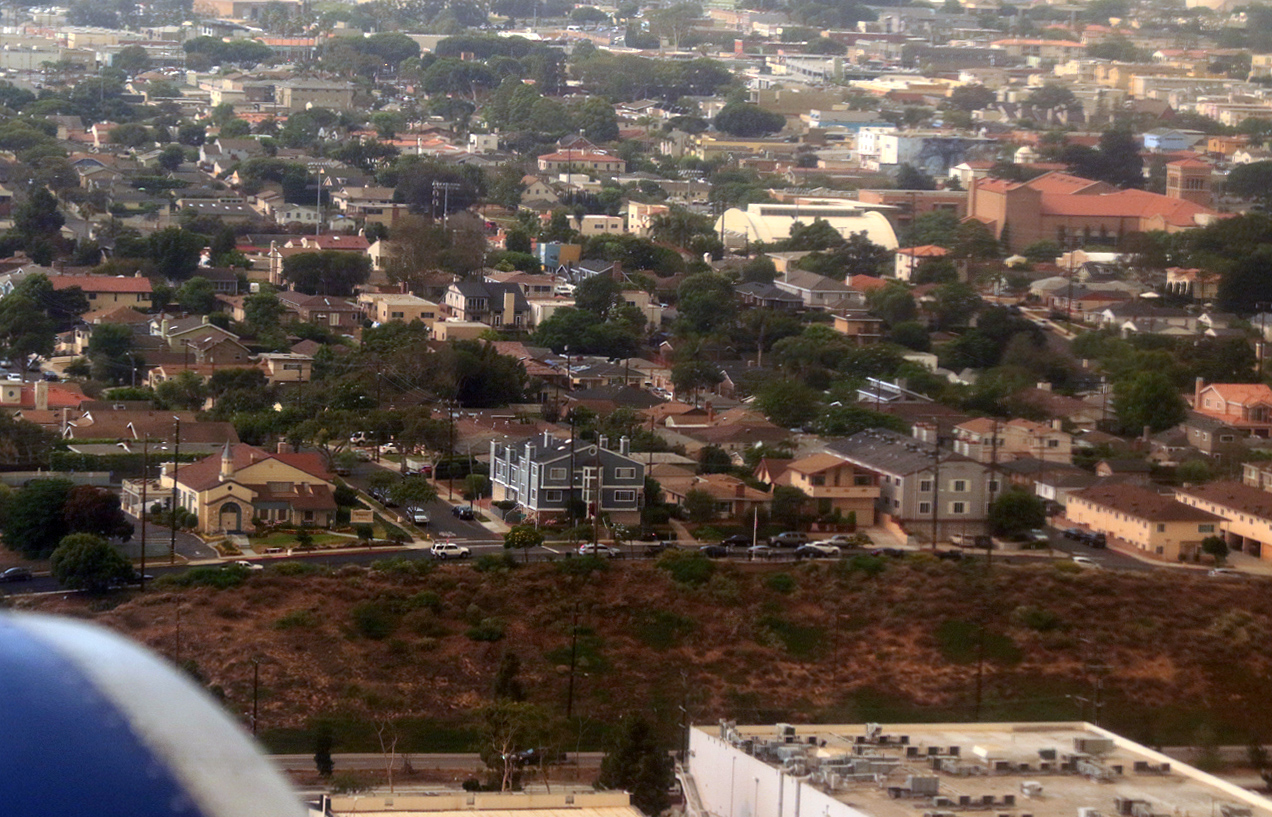 Our flight to HNL was pretty nice but I didn't take many on-board photos. I probably slept some because of being up all day Friday then driving to LAX overnight to catch this flight.

Snack aboard DL 611 to HNL: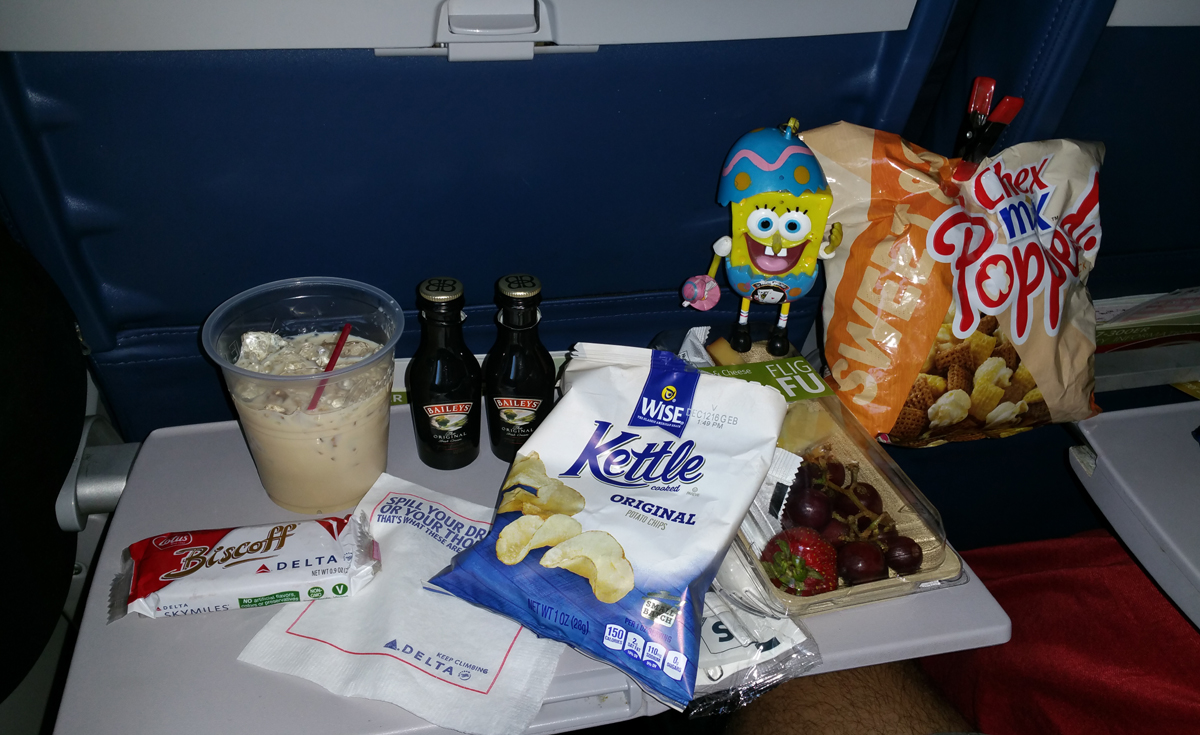 Here we are 80 minutes out from HNL: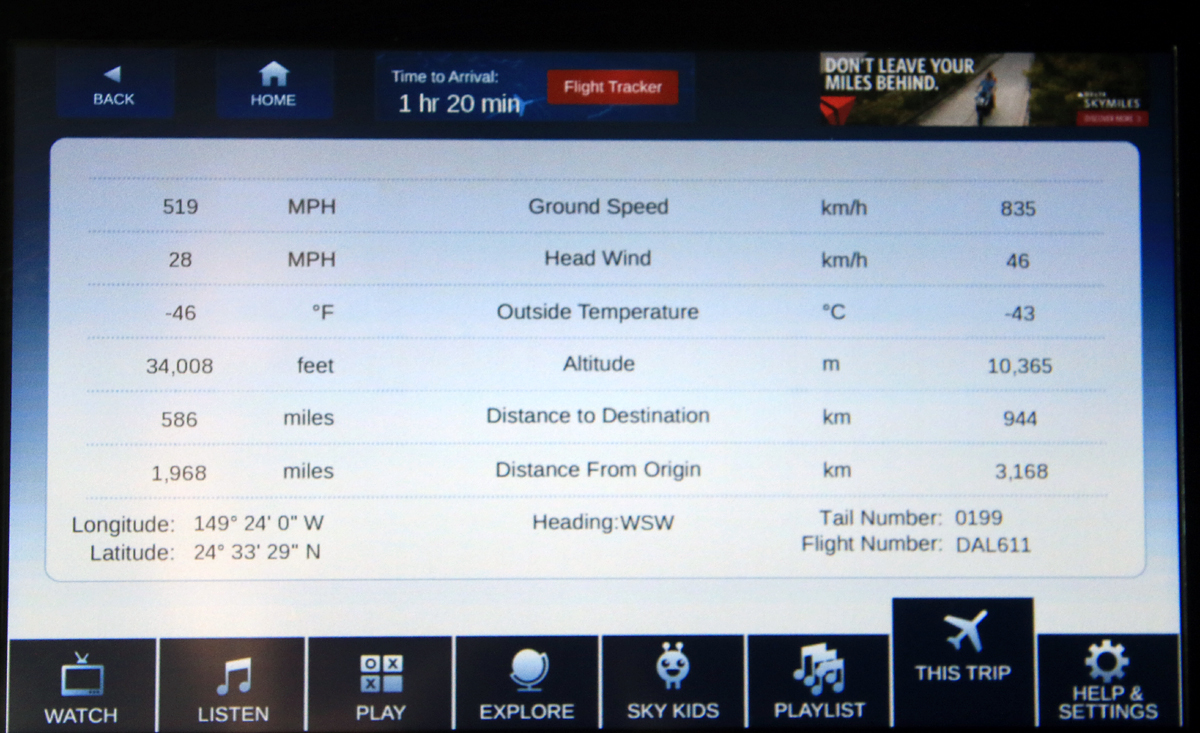 All too soon we were beginning our descent. Our arrival track took us right over Honolulu with a nice view of Diamond Head off the port side:

Diamond Head while on a very long downwind: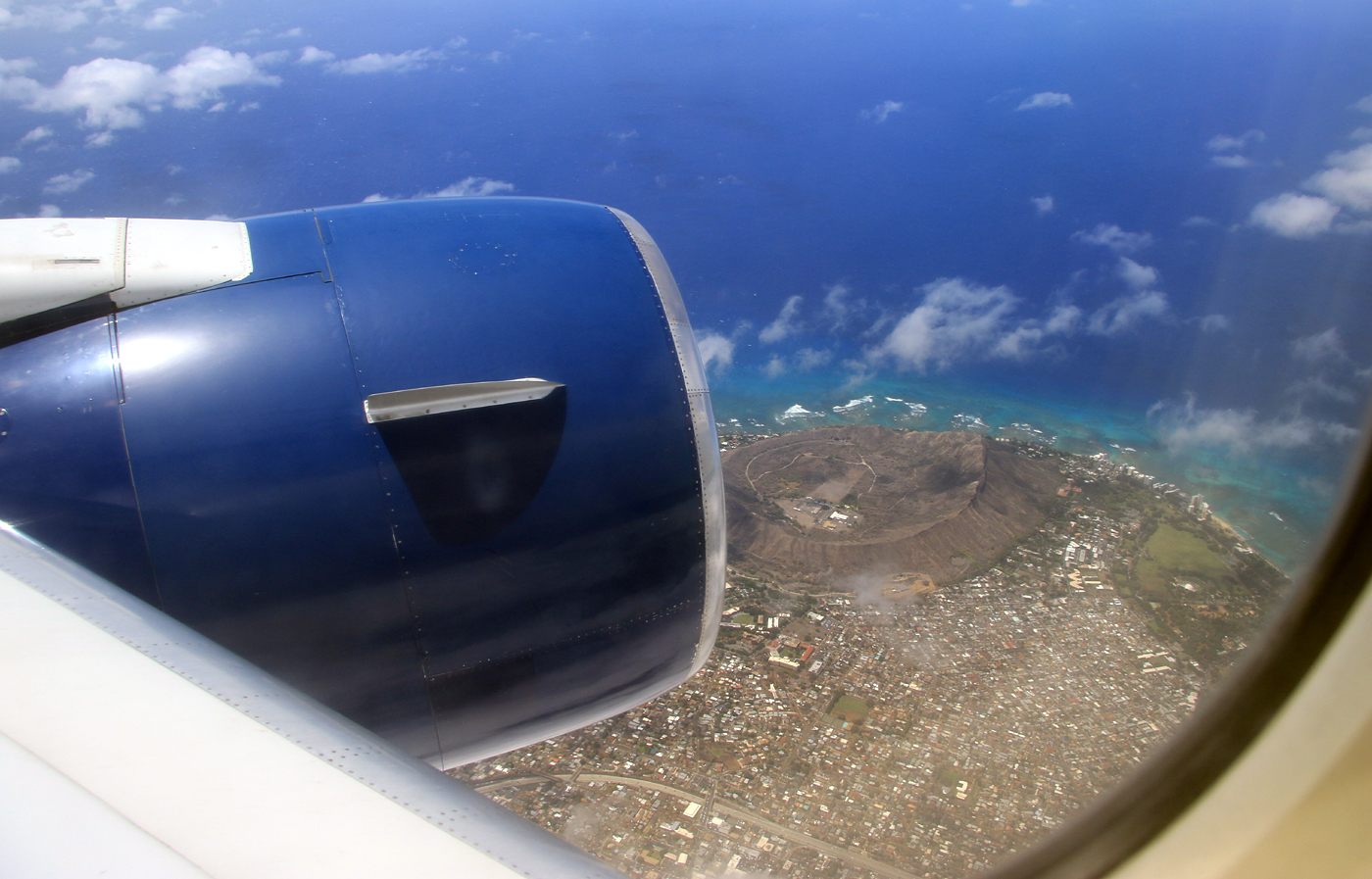 Another view of Diamond Head: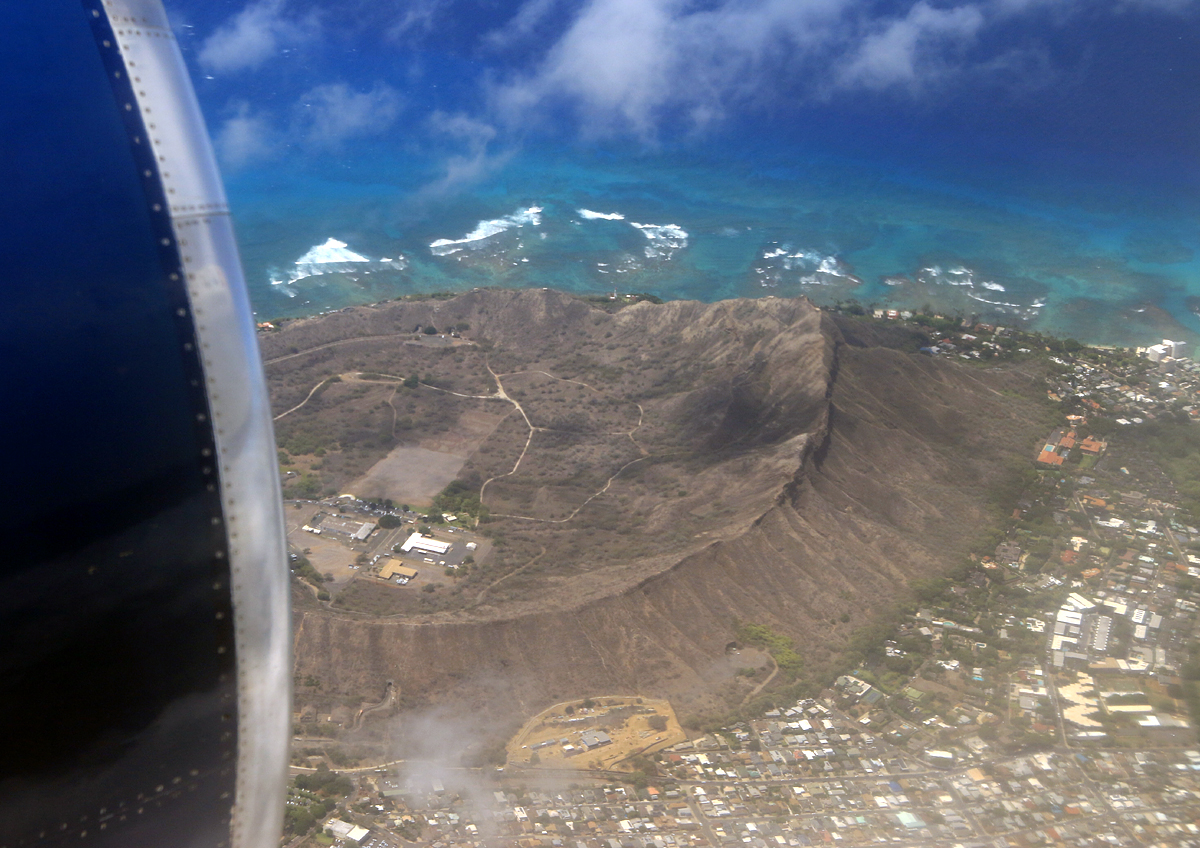 View on long final to the west of HNL. An elevated portion of Honolulu Rail Transit is seen under construction: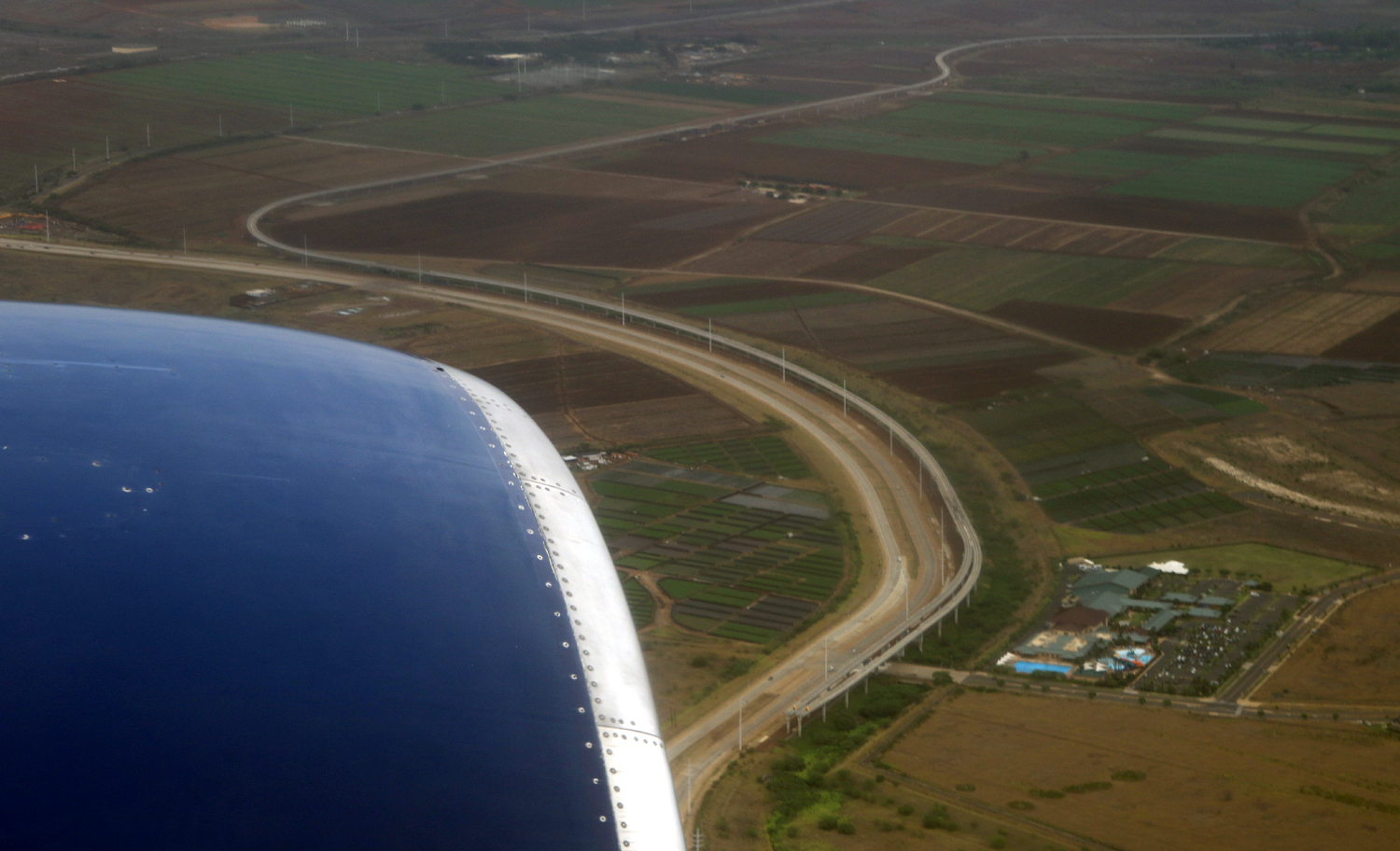 Hickam AFB while on short final to 8L. USS Arizona memorial is visible next to the red/white checkerboard structure just left of center.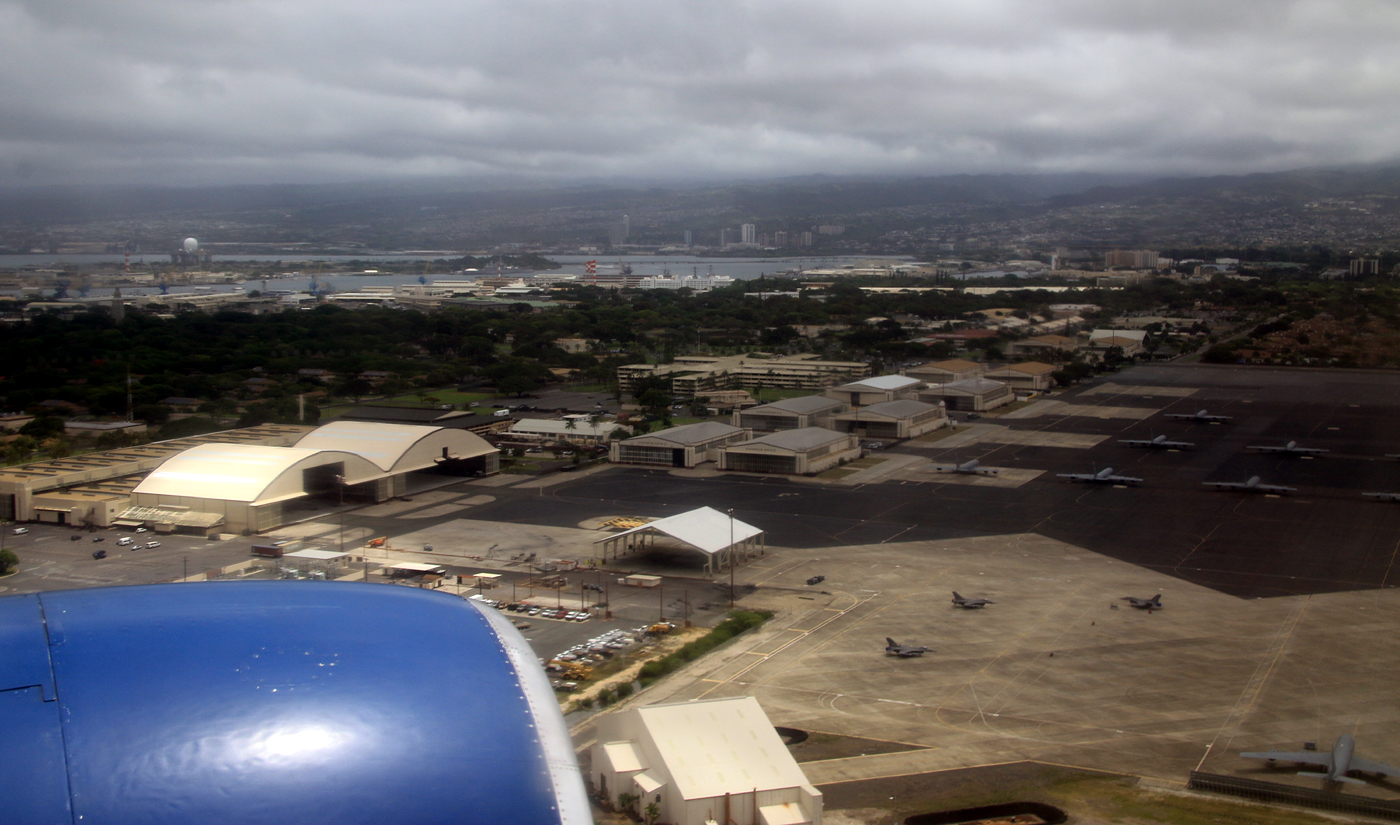 ATI 757 Combi and some P-3 Orions and C-40s: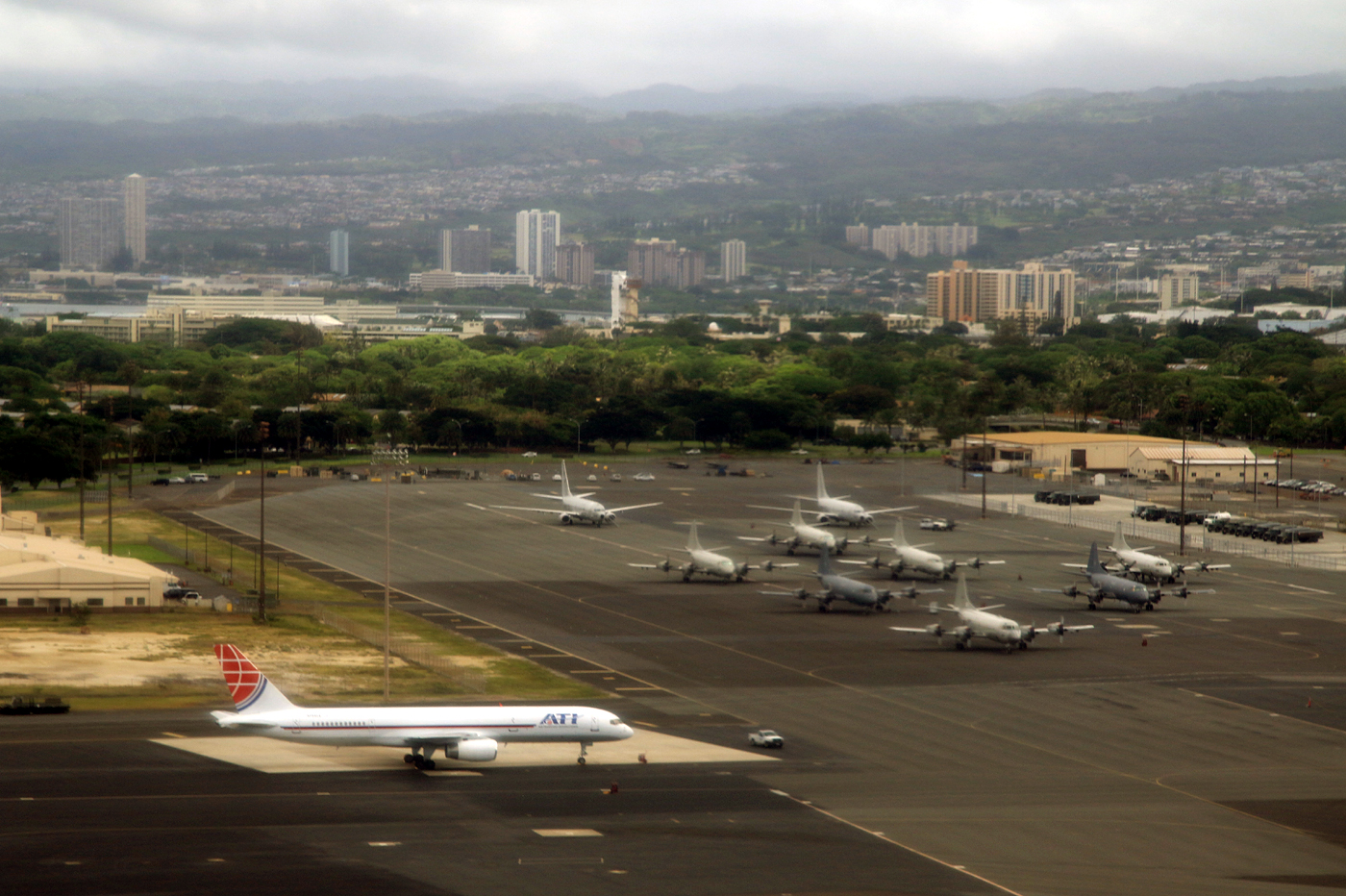 A couple of USAF E-3 Sentrys: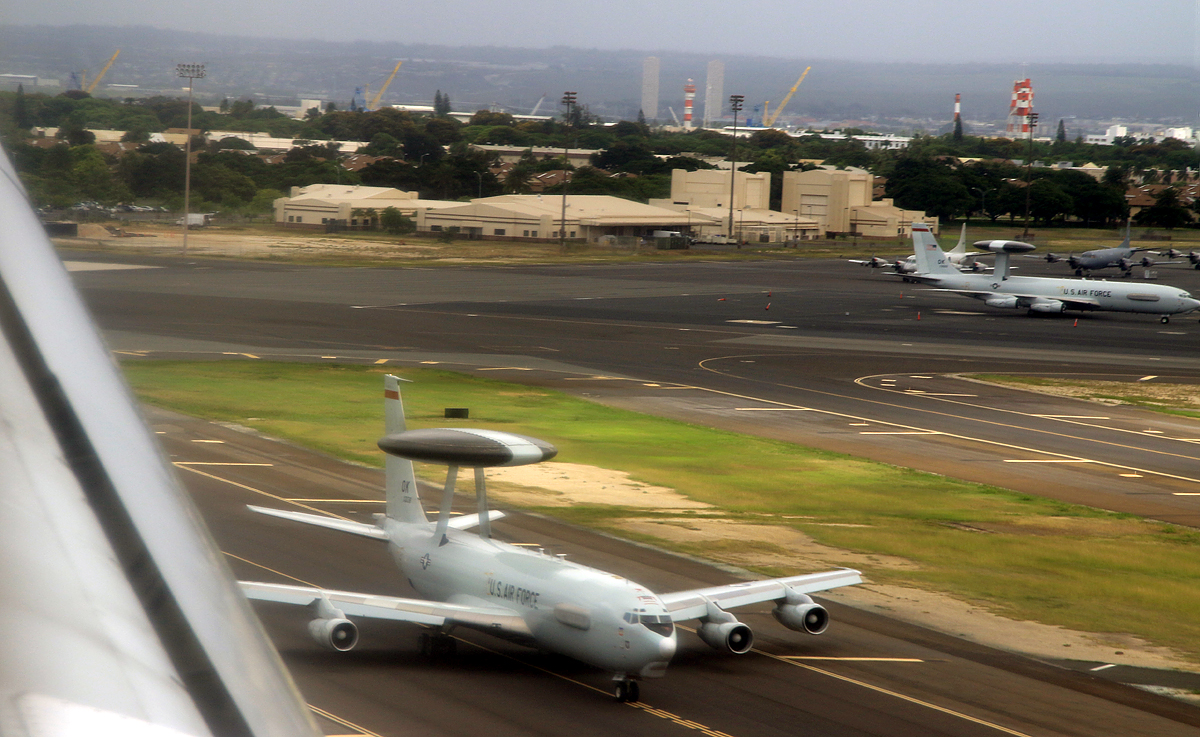 A trio of USAF C-17A Globemaster IIIs: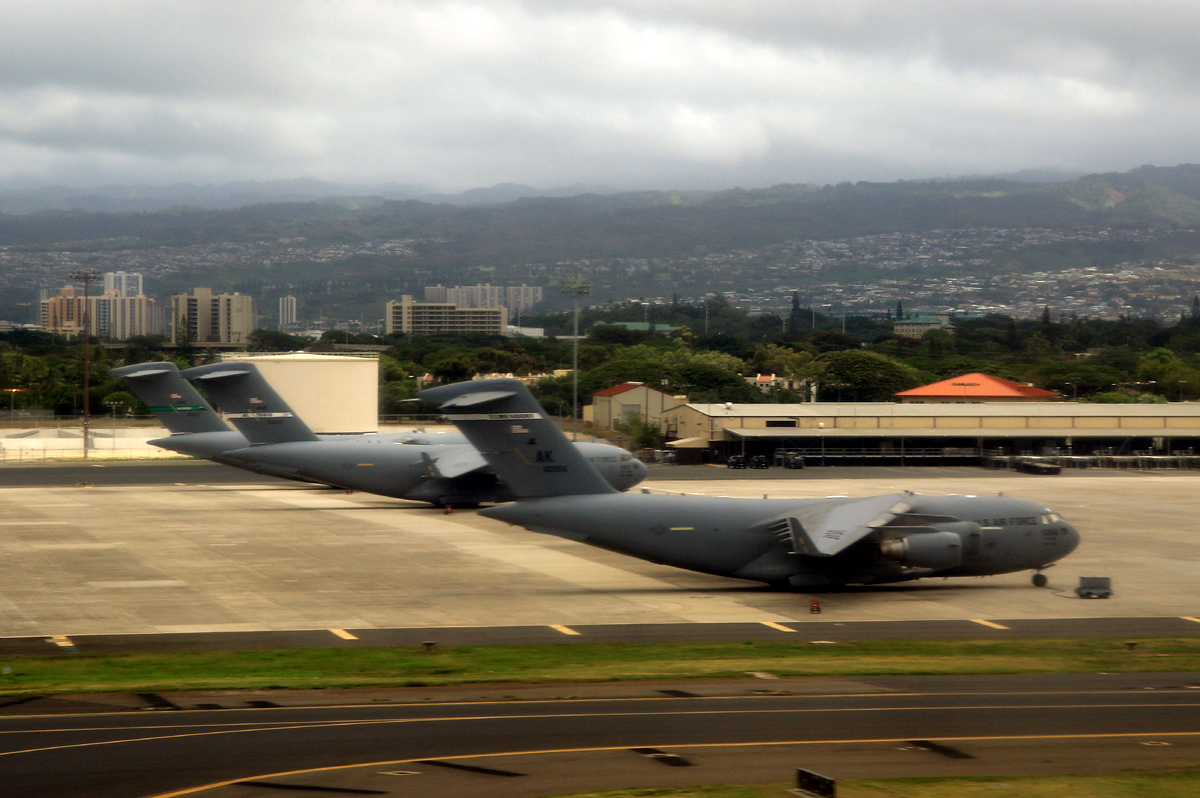 Some planes at HNL while heading to the gate: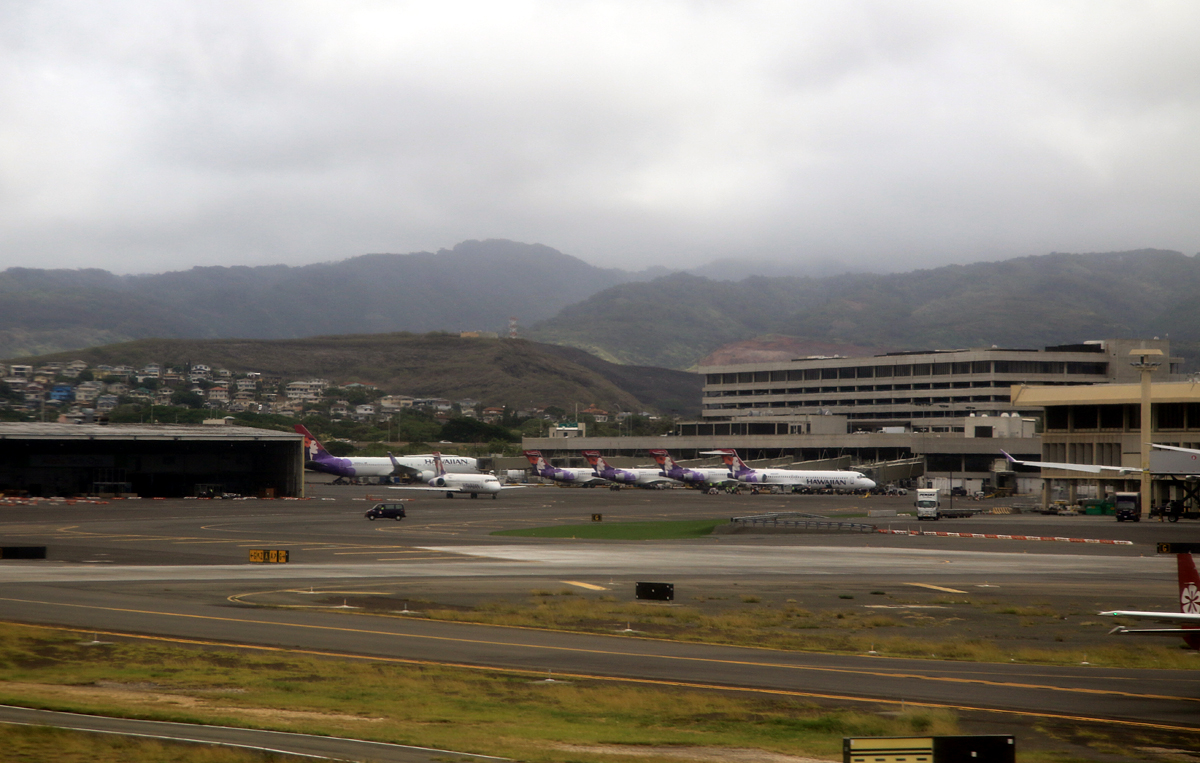 Some planes at HNL while heading to the gate: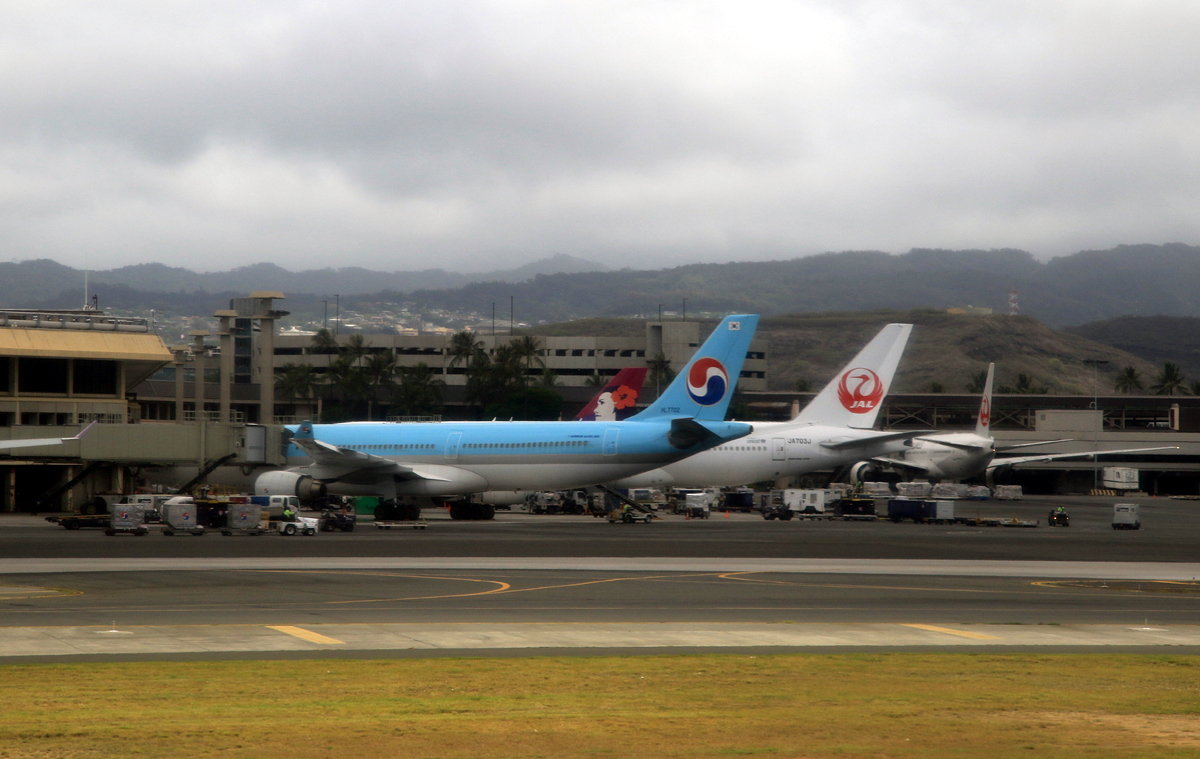 Sister 767 N189DN at the gate next to us as we arrive: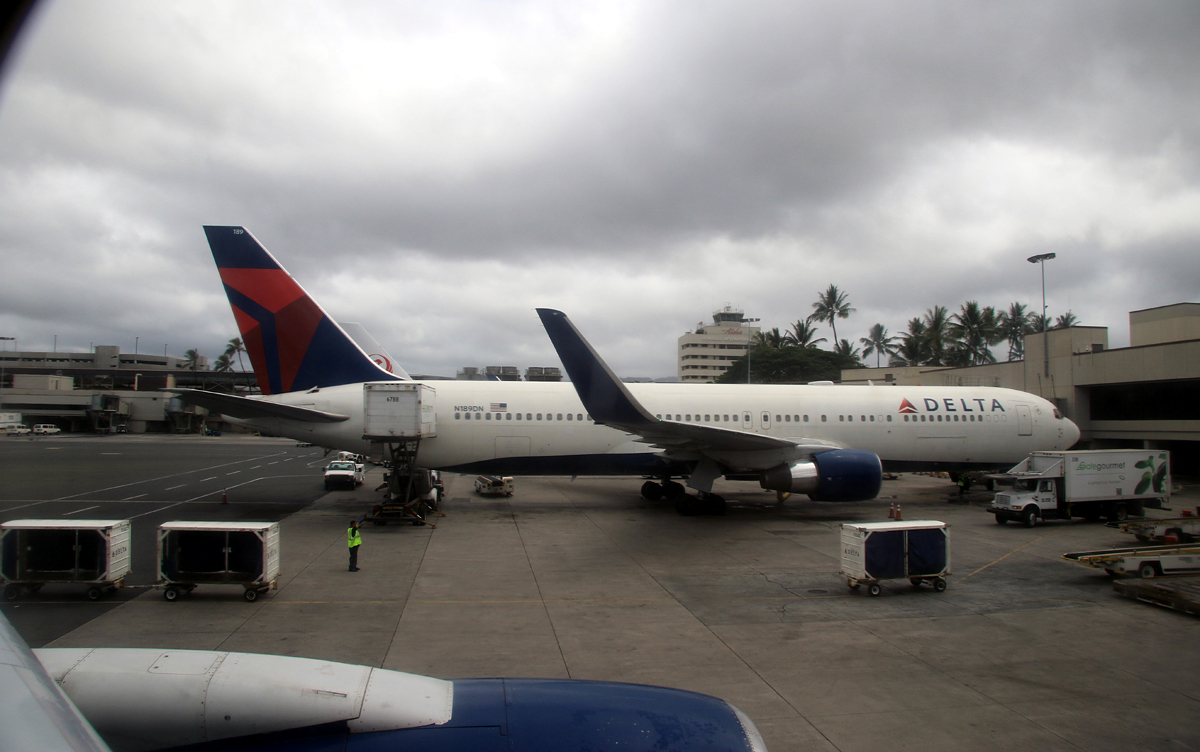 Sister 767 N189DN at the gate next to us as we arrive: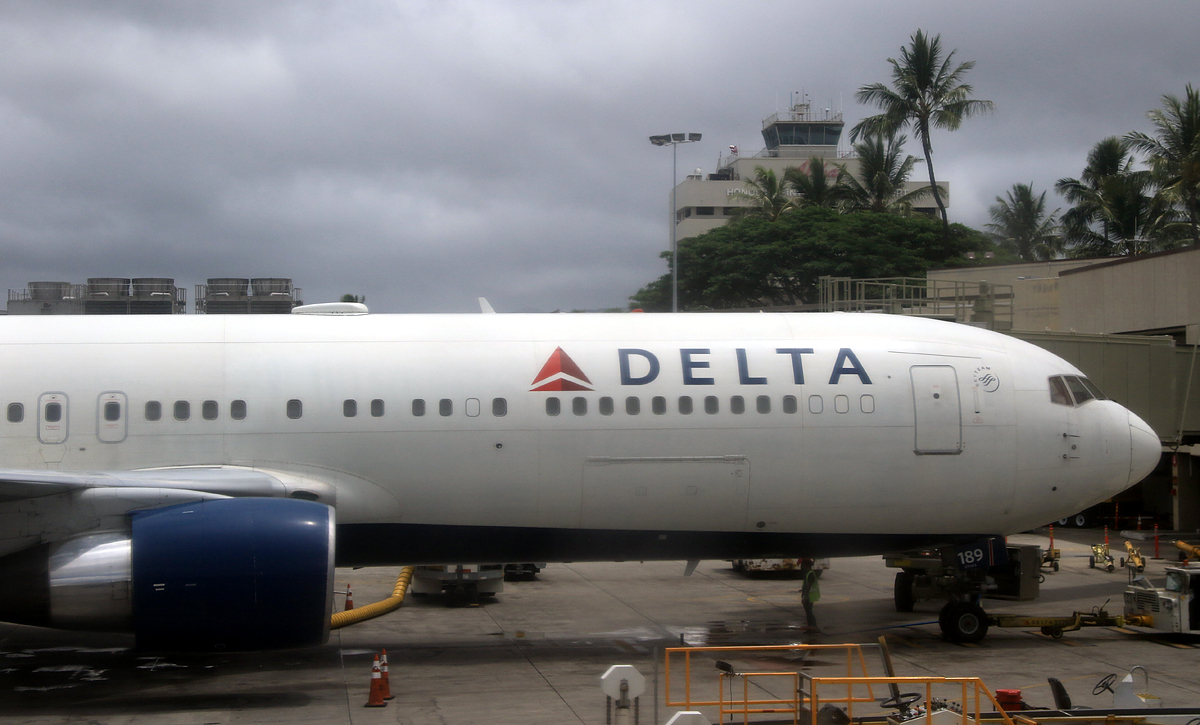 Flight Aware screenshot of flight 611 this morning:


After we disembarked we immediately made our way to our Hawaiian Air departure gate. I'd only ever spent some time at HNL in 1997 during my South Pacific Adventure. Given the brief nature of this stay, I was hoping to be able to return to Hawaii some day and do some more plane watching and photography at my leisure.

Our 767-323(ER) N199DN at Honolulu while were walking to our Hawaiian Air gate: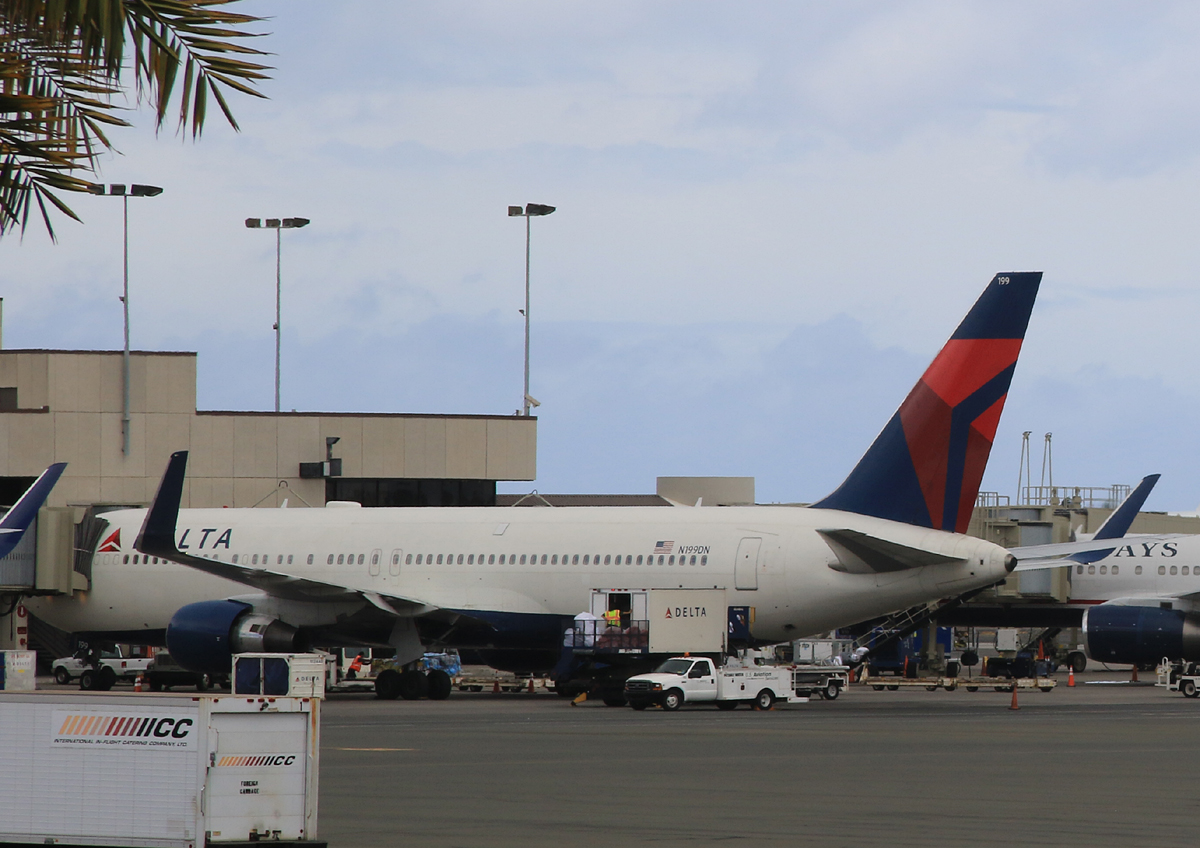 Our 767-323(ER) N199DN at Honolulu while were walking to our Hawaiian Air gate: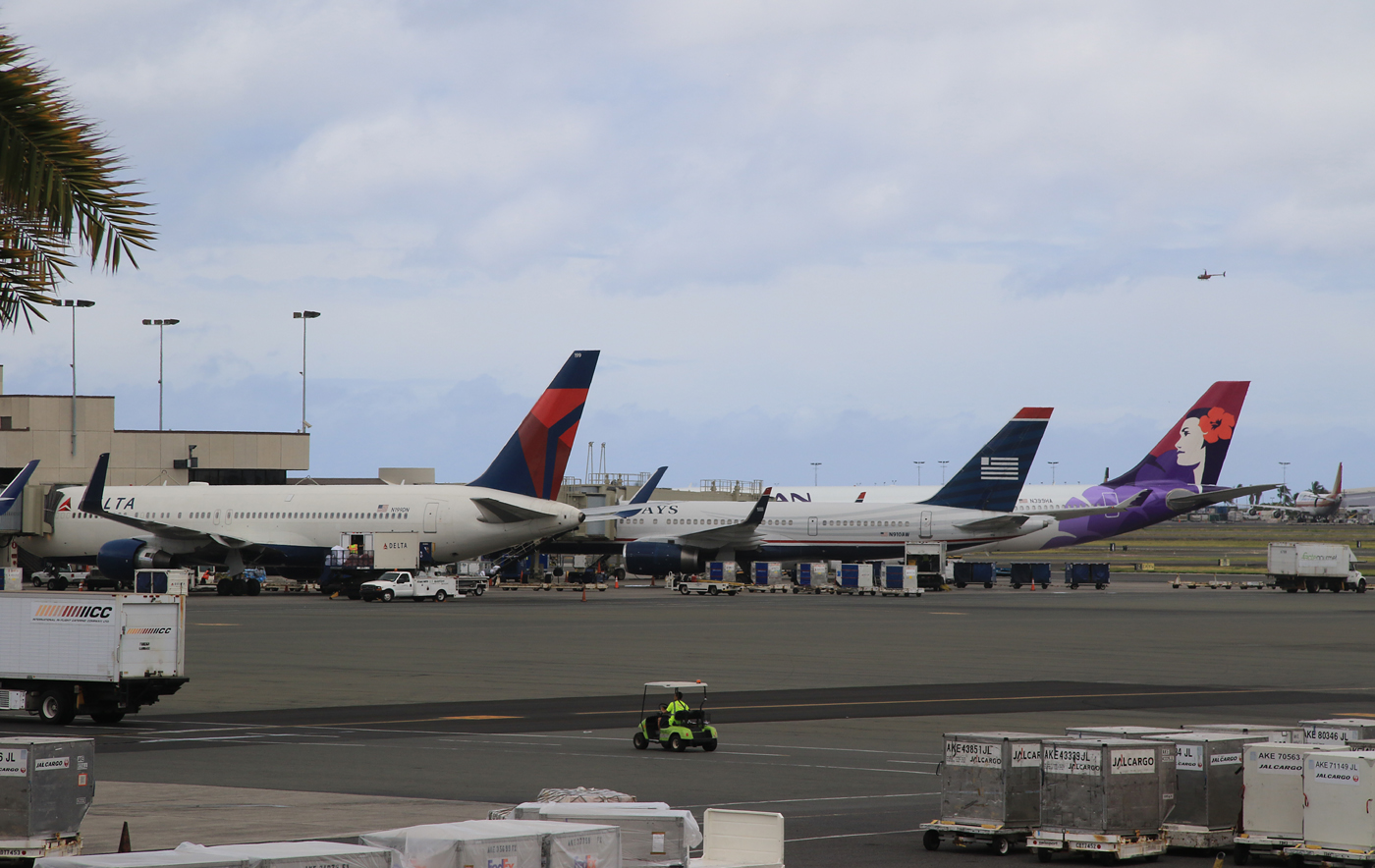 Hawaiian Air A330-243 N383HA will operate our flight to SYD this morning...or will it?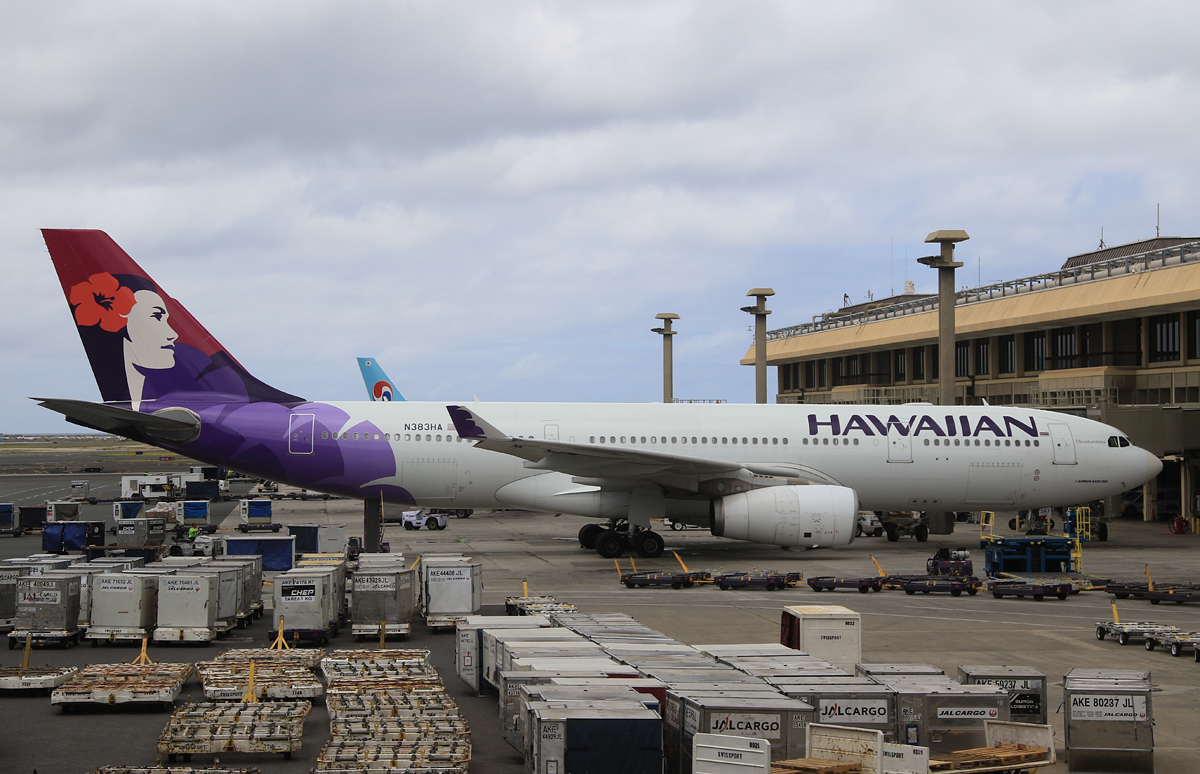 Flight #2 as rebooked by Delta:
23 July 2016
Hawaiian Airlines
HNL-SYD Flight # 451
Airbus A330-243 N383HA
STD: 12:35PM STA: 6:35PM +1
Seats: 28E & 28F

Our A330-243 N383HA was being serviced at gate 26 and pretty much ready to board when we arrived. Since we'd been re-booked on this flight on such short notice, we did not have window seats, but we were seated together in row 28. My daughter took the aisle seat while I took the inboard seat. I was very happy to be boarding my very first A330 with an N-number...in fact this was only my second ever A330 flight...the first being 22 years prior on Aer Lingus when they were brand new in service. We settled into our seats and waited for pushback. By now we were really starting to feel the effects of our delay and road trip and flight to Honolulu. I was looking forward to at least taking a nap during the 10-hour scheduled flight to Sydney.

I'm not used to sitting away from the window as I really enjoy looking outside and photographing the planes and such as we taxi out and take off. Not much I could do about that in this situation so I just tried to glimpse whatever I could through the closest window. I'm pretty sure we took off on the "reef runway" 8R. As we climbed out I was watching the seat-back screen.

Ten hours from Honolulu to Sydney would be my daughter's longest flight to date:
SNAFU #2: RETURN TO HONOLULU AFTER CROSSING EQUATOR!

Not quite four hours into the flight an announcement was made. We were returning to Honolulu because a nearby aircraft had reported we were streaming fluid or vapor. We'd crossed the equator by now but not made it to the International Date Line yet.

AVOD screen during the announcement we were returning to HNL: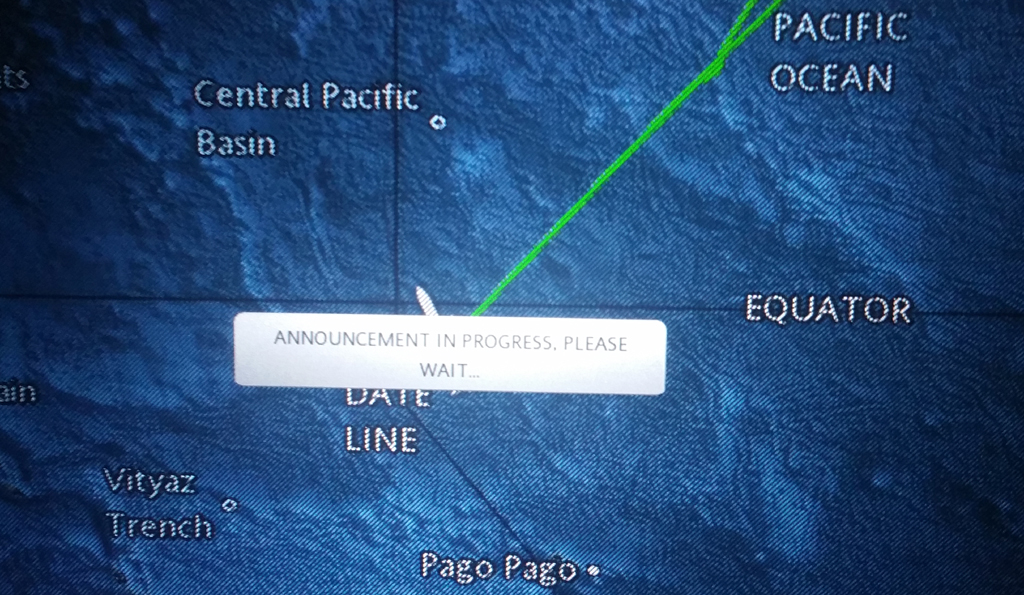 Returning to Honolulu: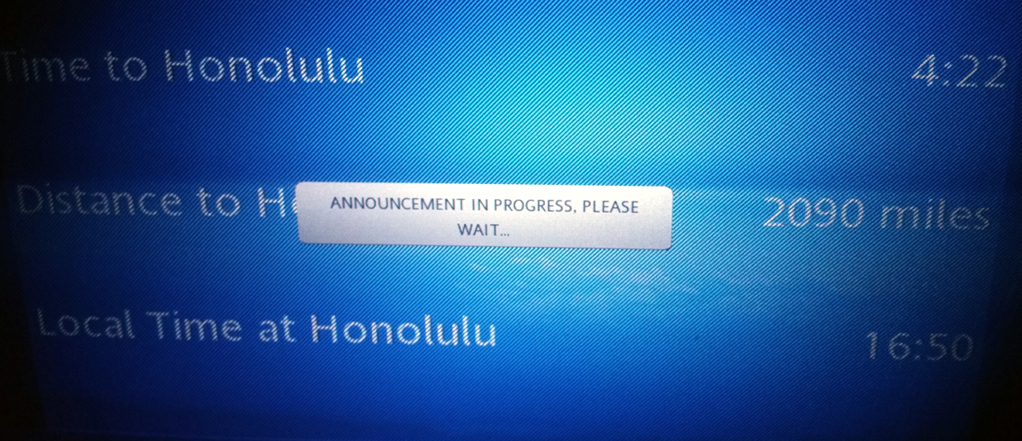 Returning to Honolulu: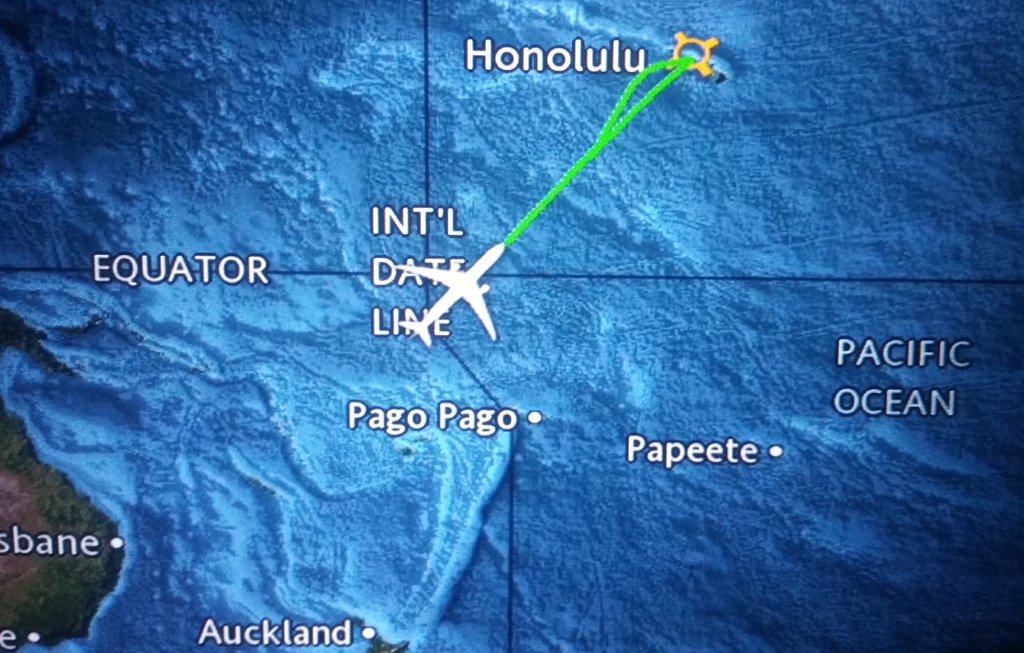 Returning to Honolulu: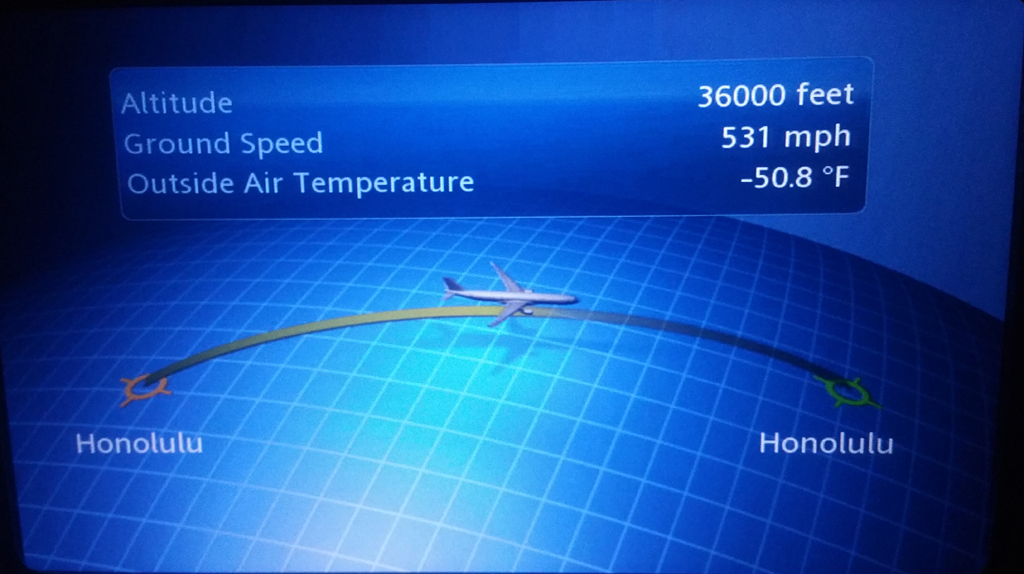 I took this in stride, but the news didn't sit too well with my daughter. I did the best to reassure her everything was probably going to be fine and the captain made the decision as a precautionary measure for the safety of all on board.

So after we turned around we faced another four hours' flying time back to HNL...putting us on the ground after dark. We were informed we'd be accommodated for the night and put on the same flight to SYD the next day.

I asked a passenger at a window to snap a photo for me: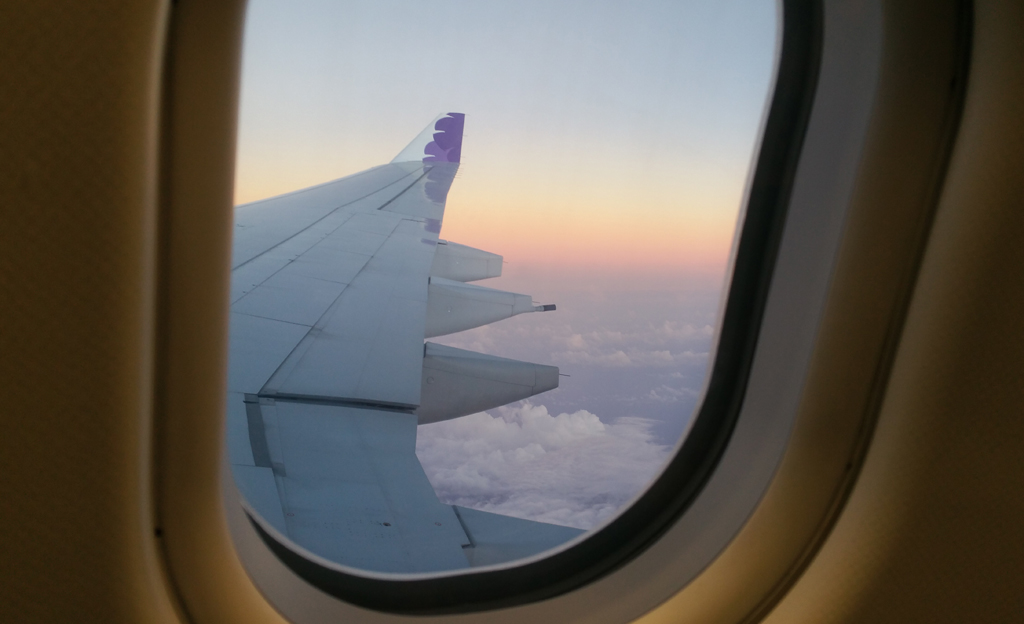 Returning to Honolulu: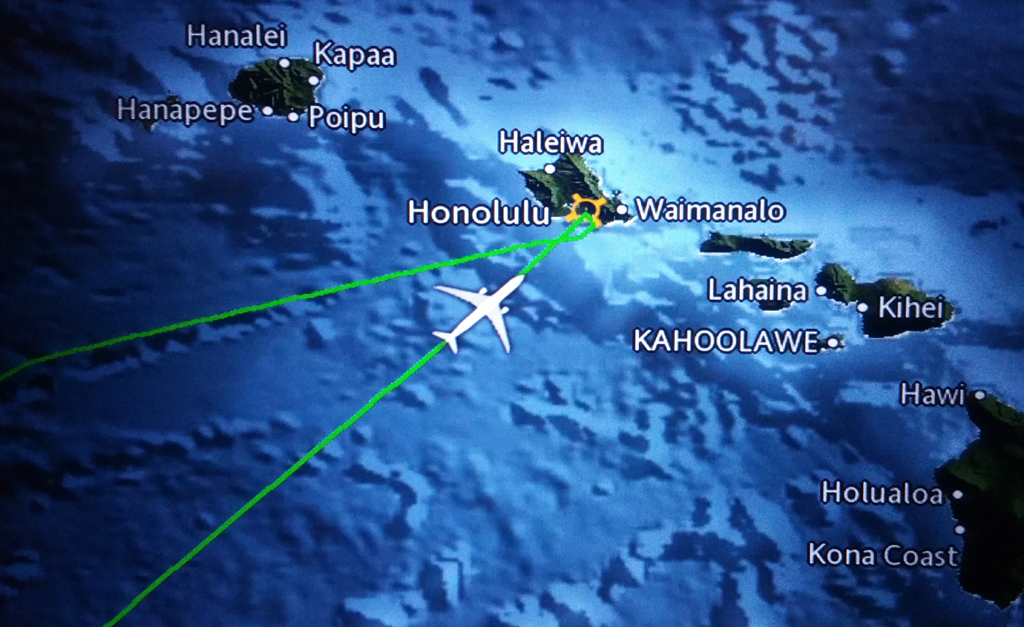 N383HA at HNL after we arrived back at HNL: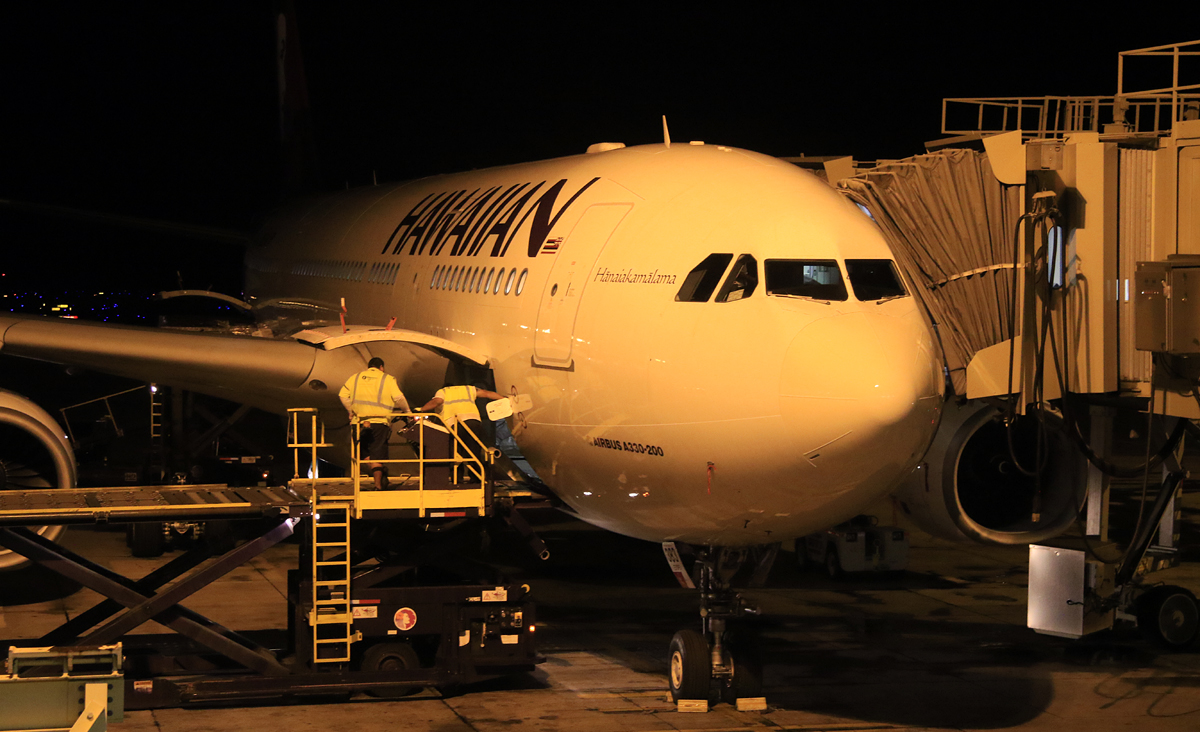 Flight Aware screenshot of the HNL-HNL diversion:


As we deplaned we were given a voucher for a hotel in Waikiki, a meal voucher, and instructions on what to do the next morning. Of course we had to collect our checked baggage. By this time we were both very knackered and I got the brilliant idea to just hire a taxi for the hotel instead of waiting with the herd of folks for the busses. All I wanted to do was get us checked into the hotel and hit the sack for the night after a particularly grueling two days. The taxi ride was not cheap (approx US $50) but in my mind well worth the expense to beat the HA 451 crowd to the hotel. By this time it was close to midnight and check in went smoothly. Soon we were in the room and winding down.

Our hotel room in Waikiki the next morning: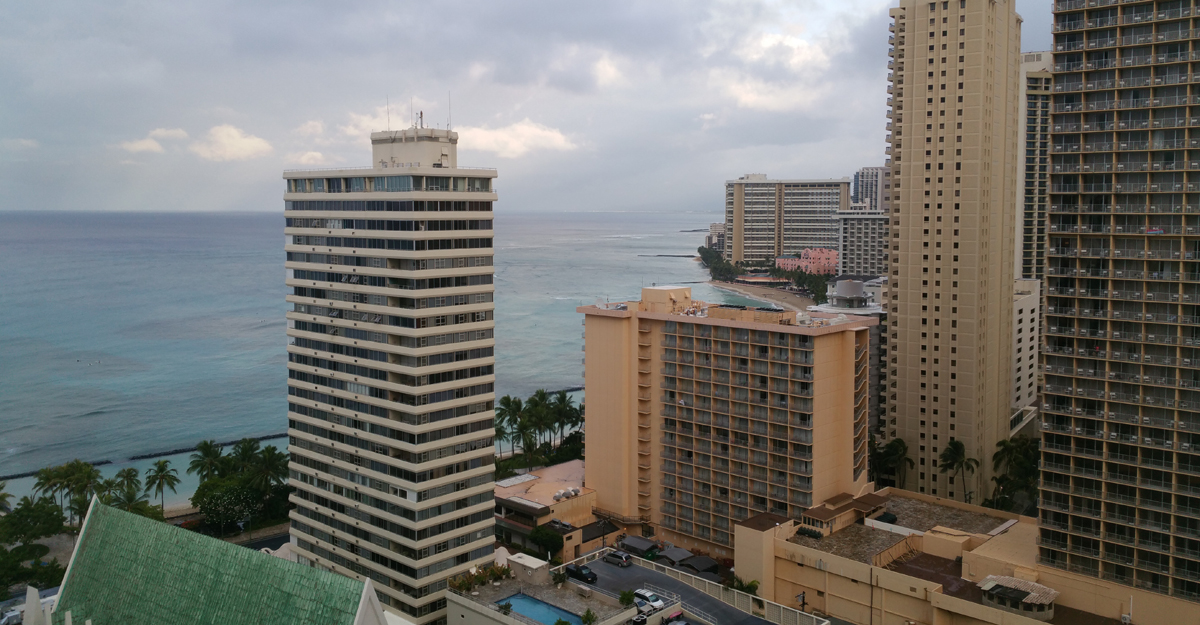 Our hotel room in Waikiki the next morning: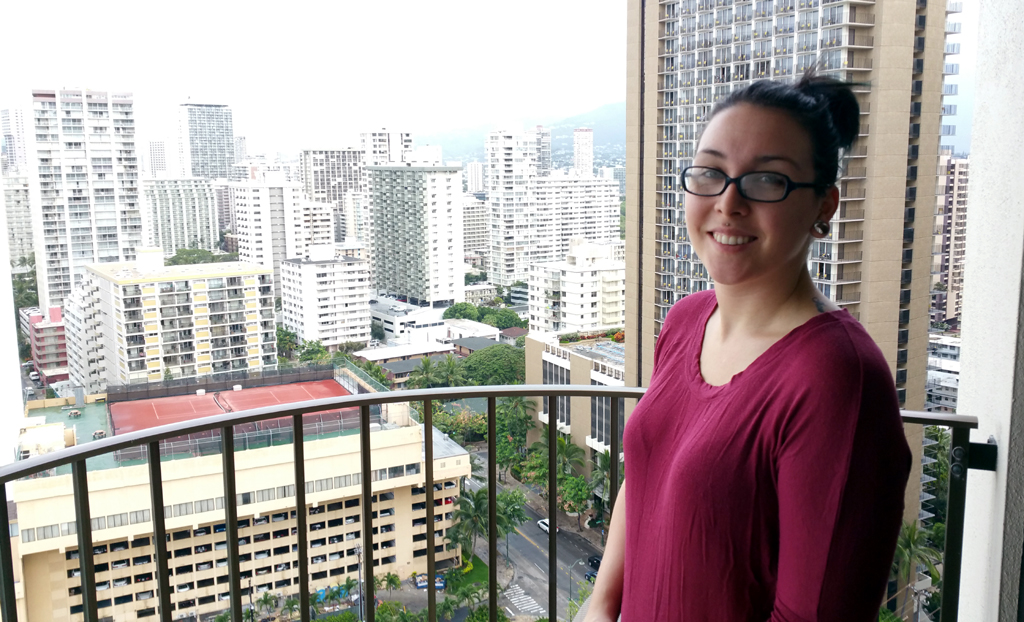 Our hotel room in Waikiki the next morning: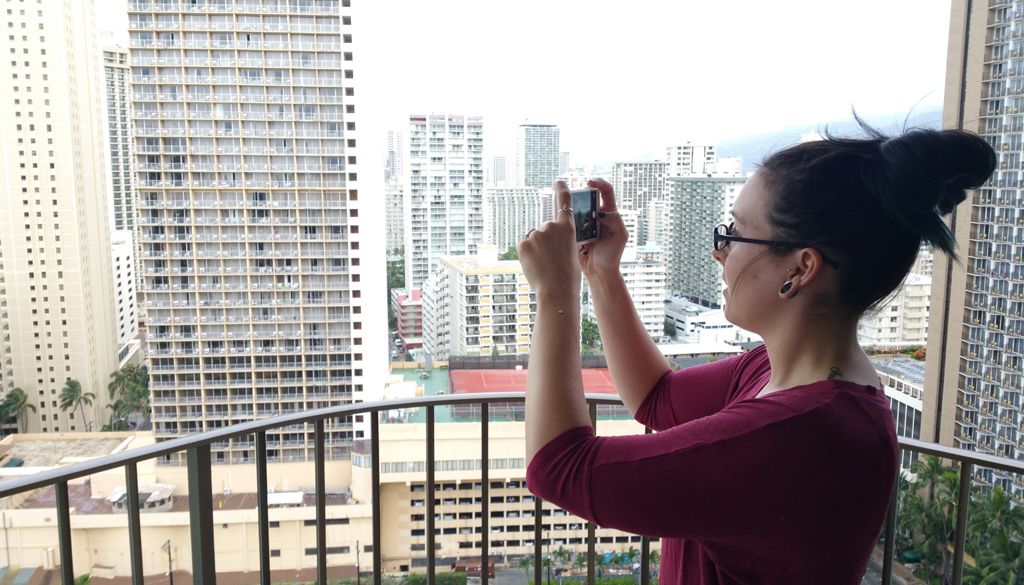 Fairly refreshed the next morning, we packed up and went downstairs for breakfast. Our voucher barely made a dent in the price for the hotel's
breakfast buffet but it was reasonably good. After eating I got us a taxi for the trip back to HNL.

Checking in...again...at the Hawaiian Air counter: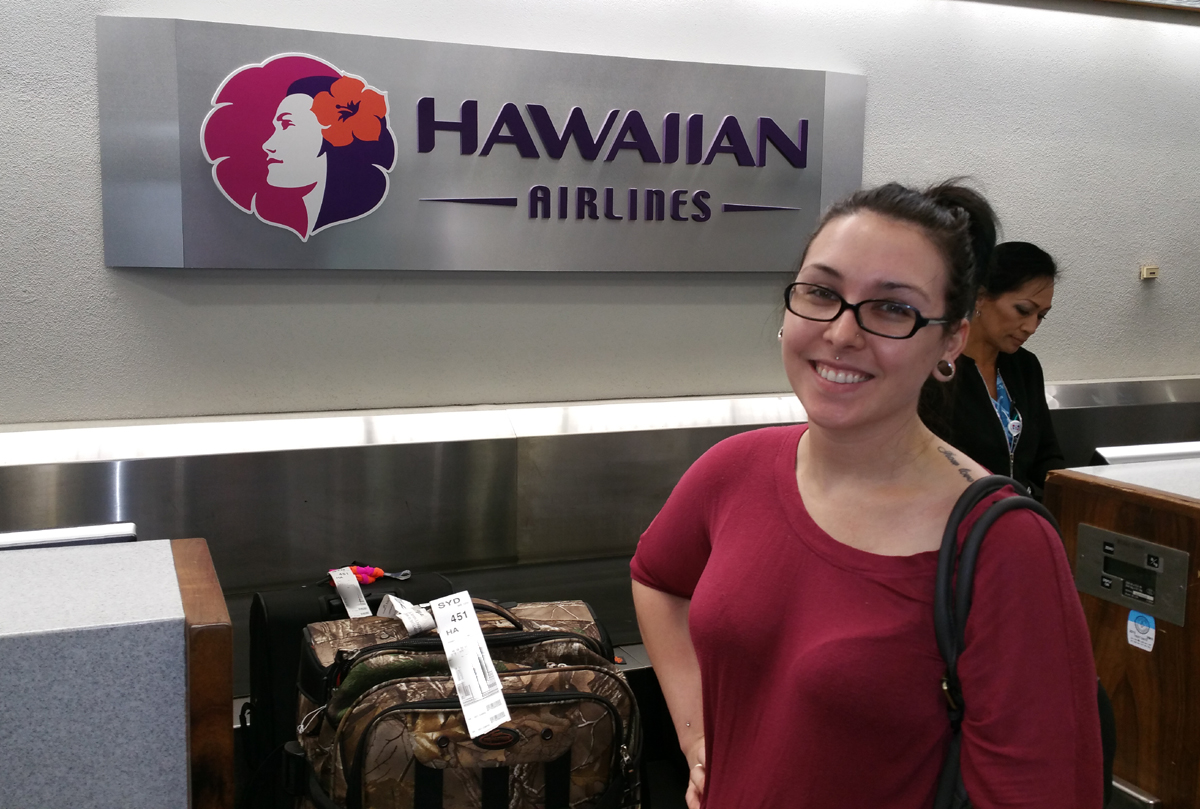 At the Hawaiian Air check-in I jokingly asked if First Class was available...no...but Extra Comfort was available for $125 each. Sold! We were assigned seats 11G & 11H....perfect We got our boarding passes and proceeded to TSA. Since we now had several hours until our flight, we wandered around the domestic terminal for a while. My daughter got a Starbucks while I checked out the planes on the tarmac and models in the display cases.

Sikorski S-38 model:
Hawaiian Air DC-9 models: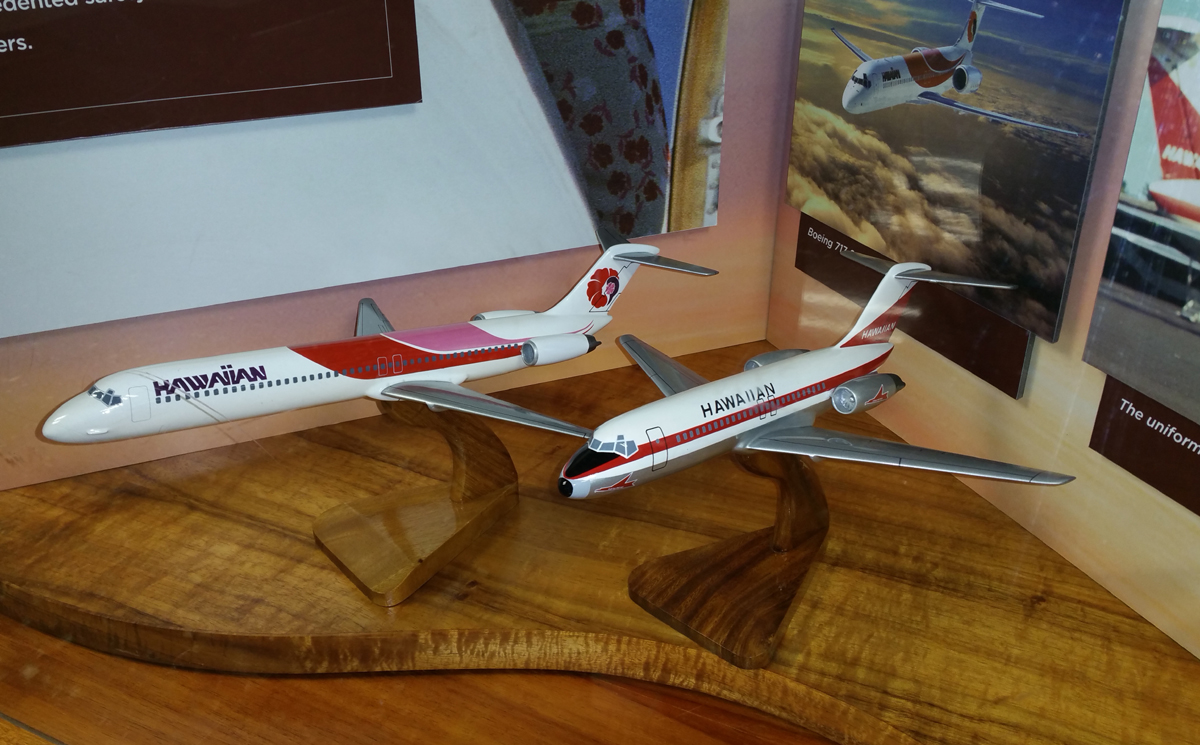 Hawaiian Air Convair 640 and DC-3 models: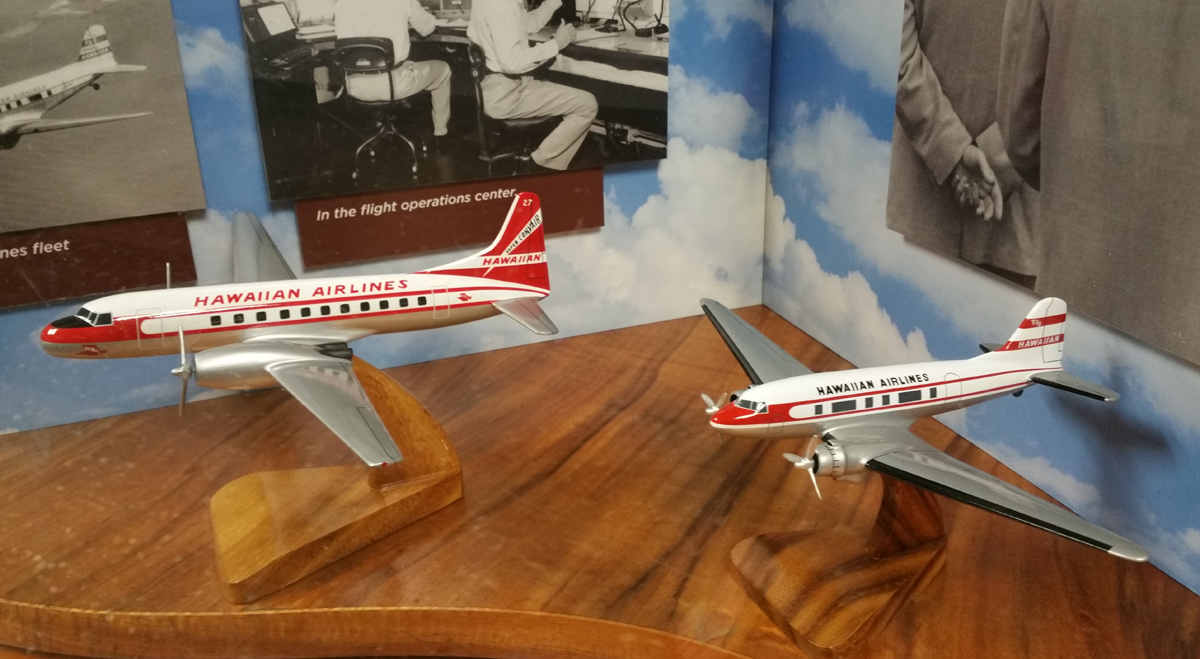 Hawaiian Air 717 receiving some maintenance attention: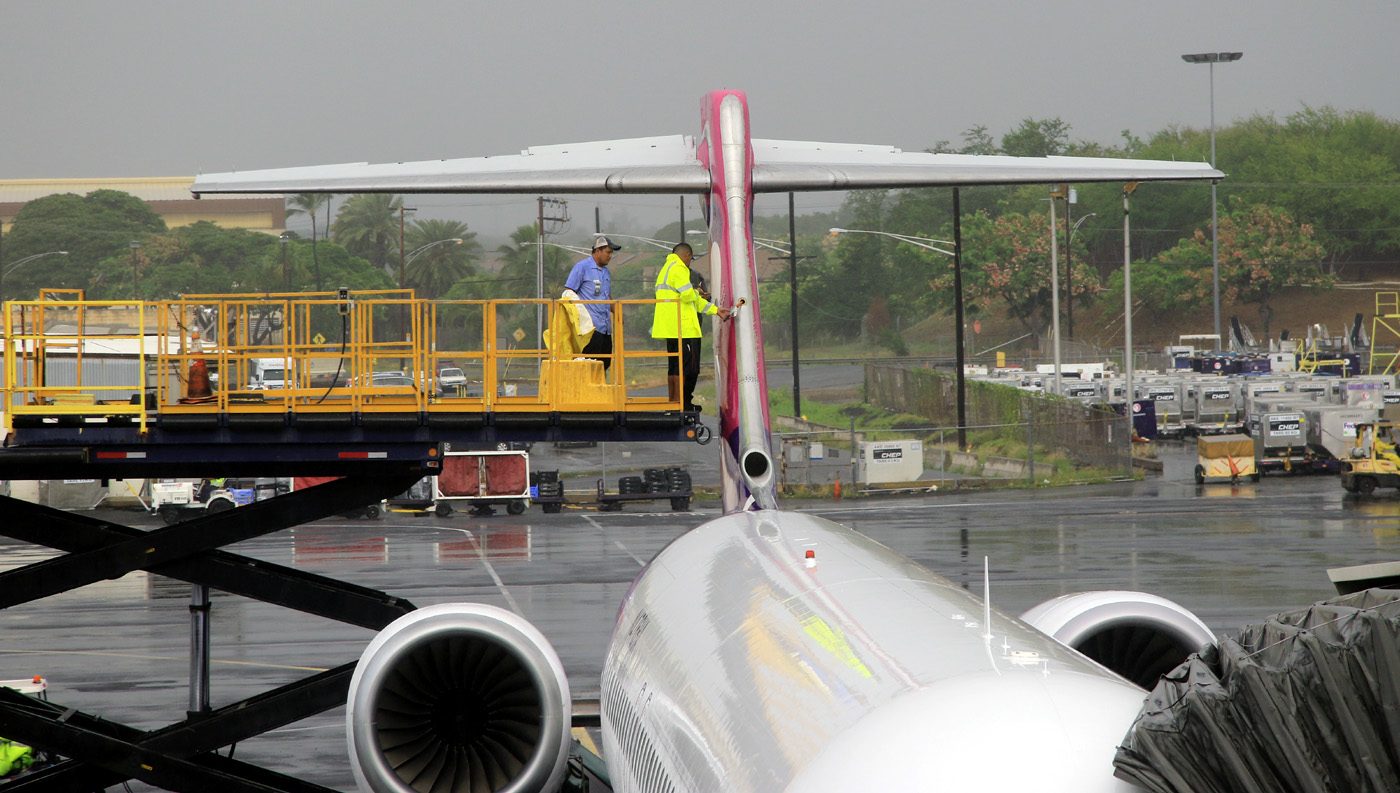 A couple of Hawaiian Air 717 tails: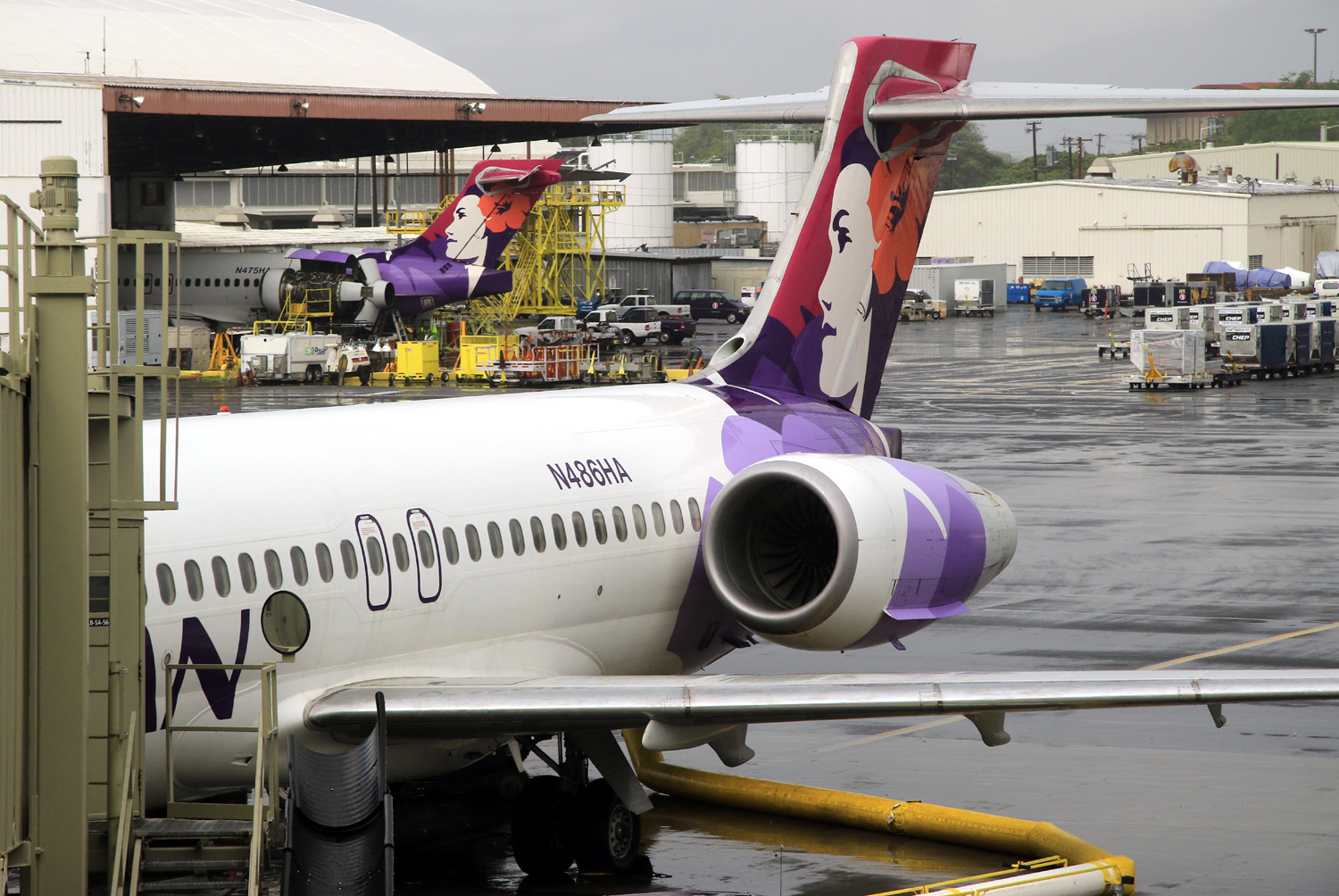 Island Air ATR-72-212 N944WP: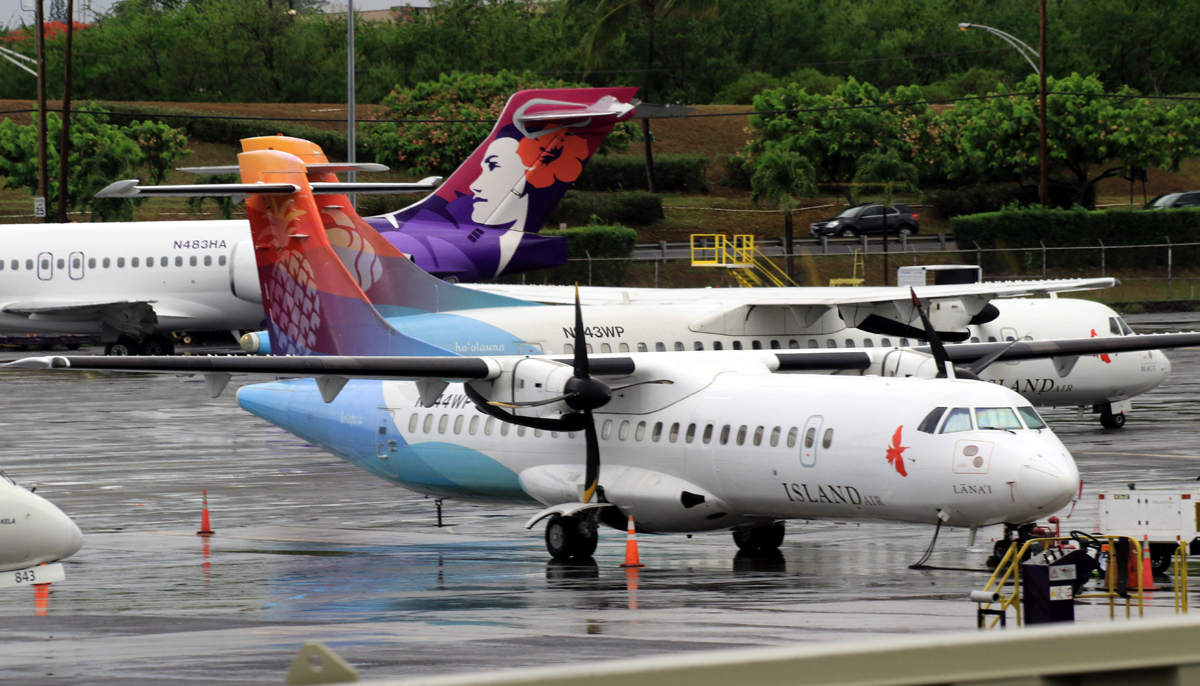 Aloha Air Cargo SF-340A freighter: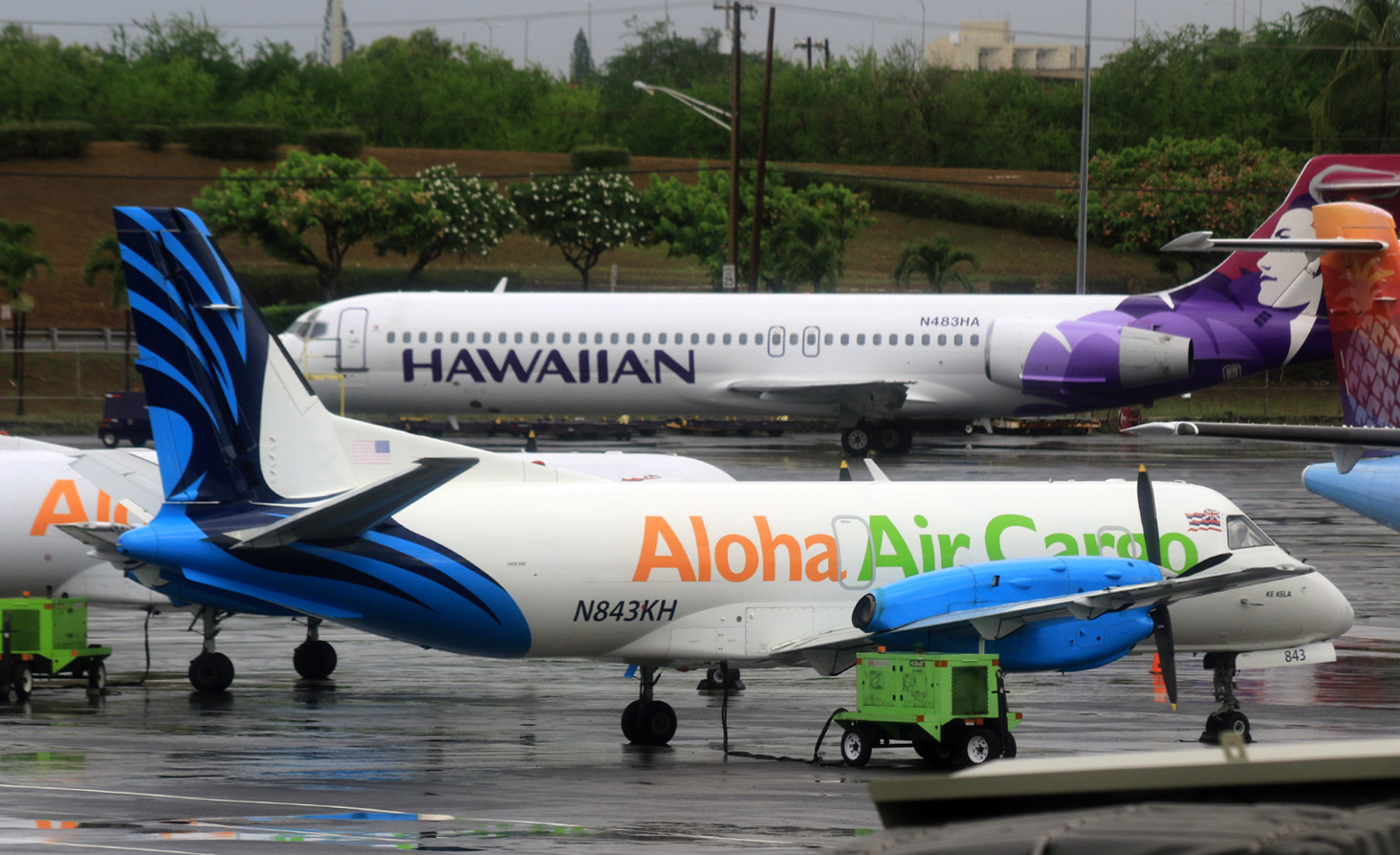 At some point we went our separate ways for a while so I could go watch planes from one of the other concourses while she went to our gate. The skies were fairly cloudy and the ramp was wet...at times it was raining as is apparent in some of my photos.

Japan Air Lines 777-246(ER) JA708J: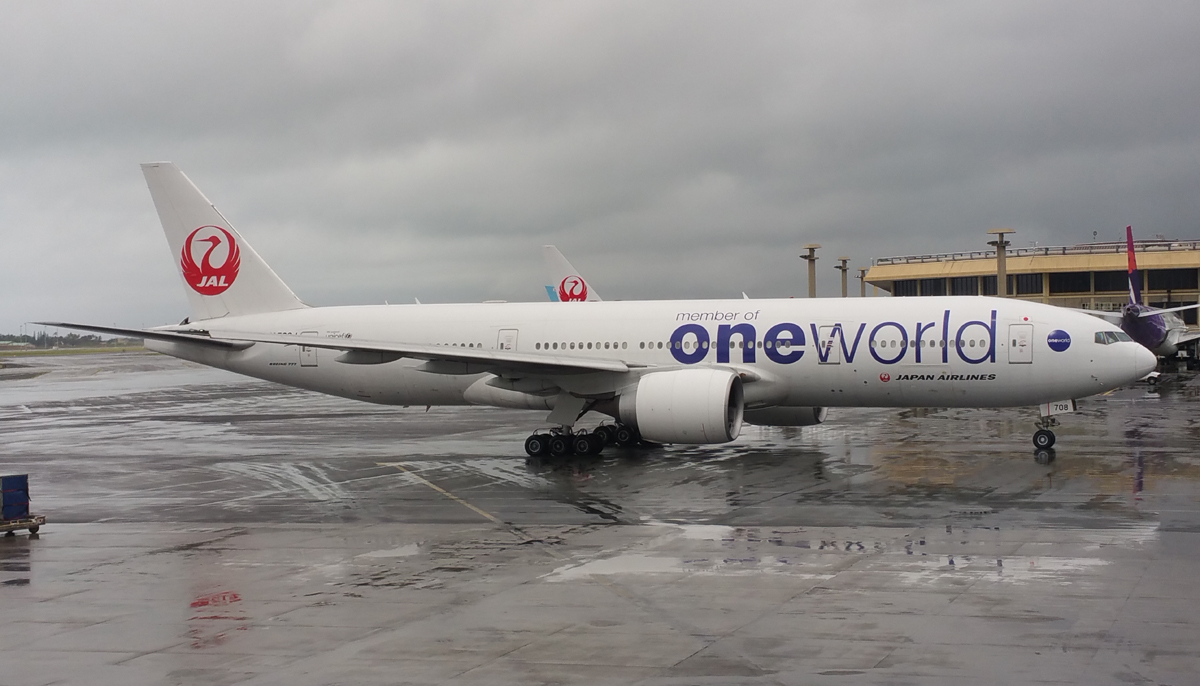 Delta Air Lines 747-451 N669US taxiing out for departure: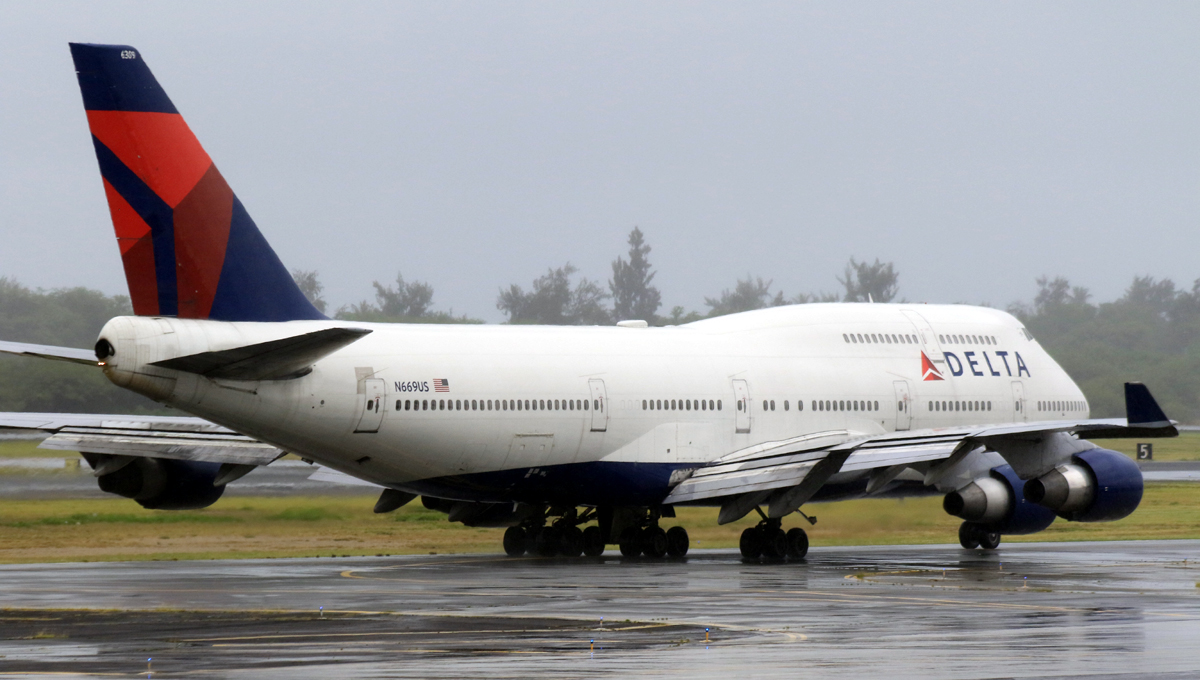 Jin Air 777-2B5(ER) HL7733 arrives: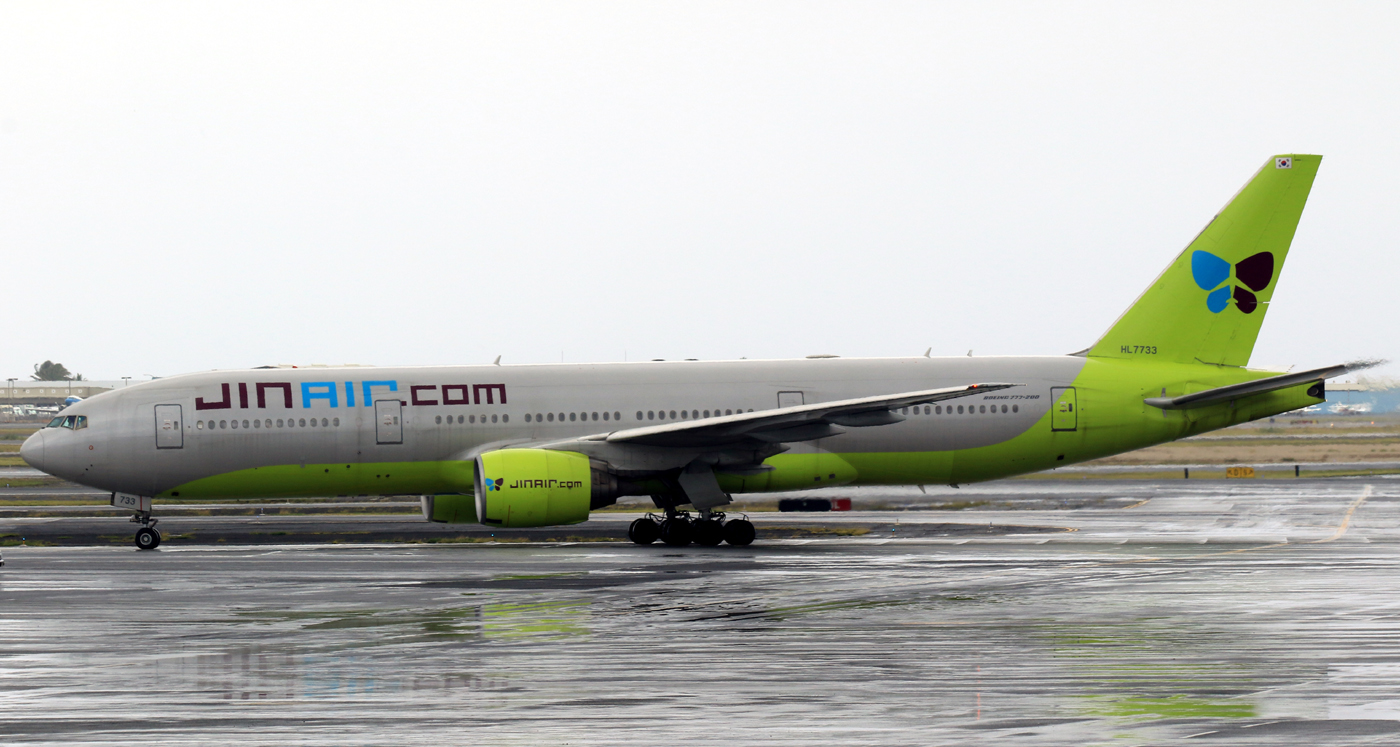 Hawaiian Airlines A330-243 N389HA arriving...she'll operate our flight to Sydney.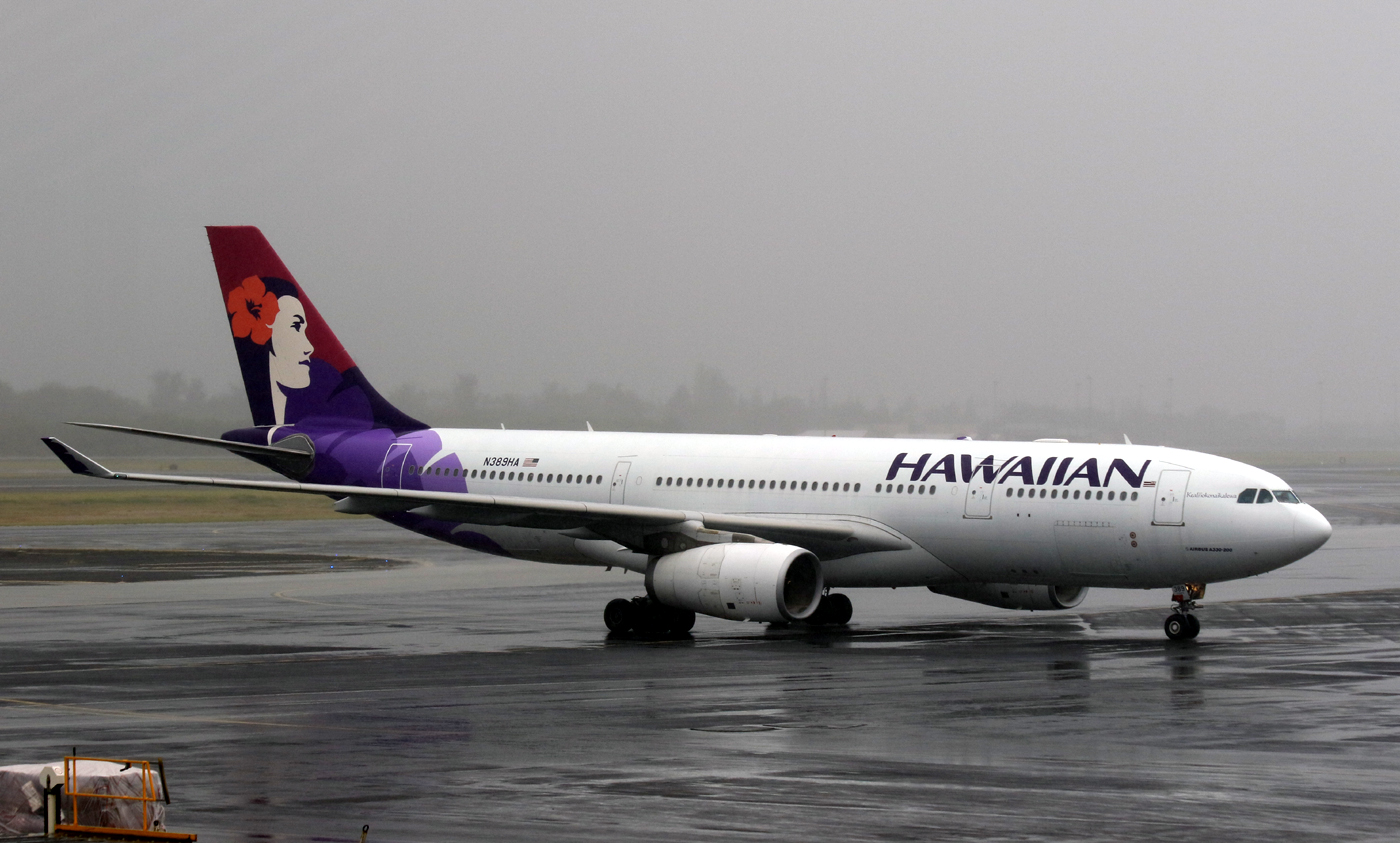 Transair Cargo freighter fleet: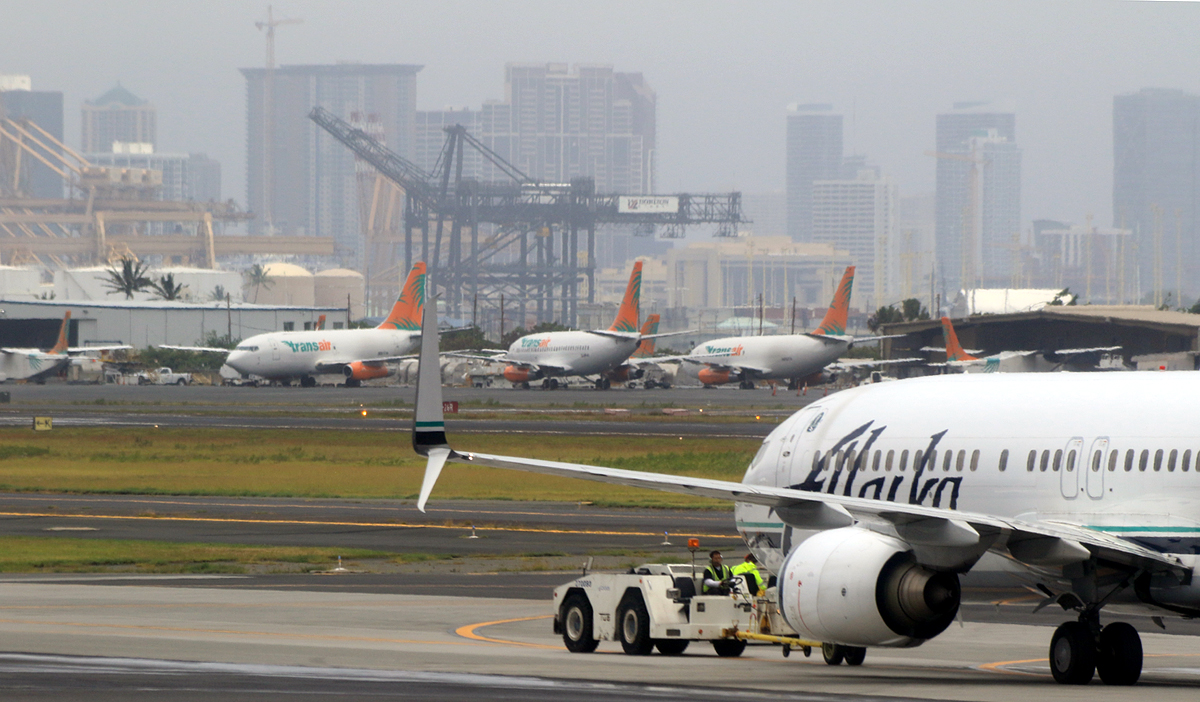 American Airlines A321-231(WL) N132AN arriving. FedEx operate a number of Caravans out of HNL: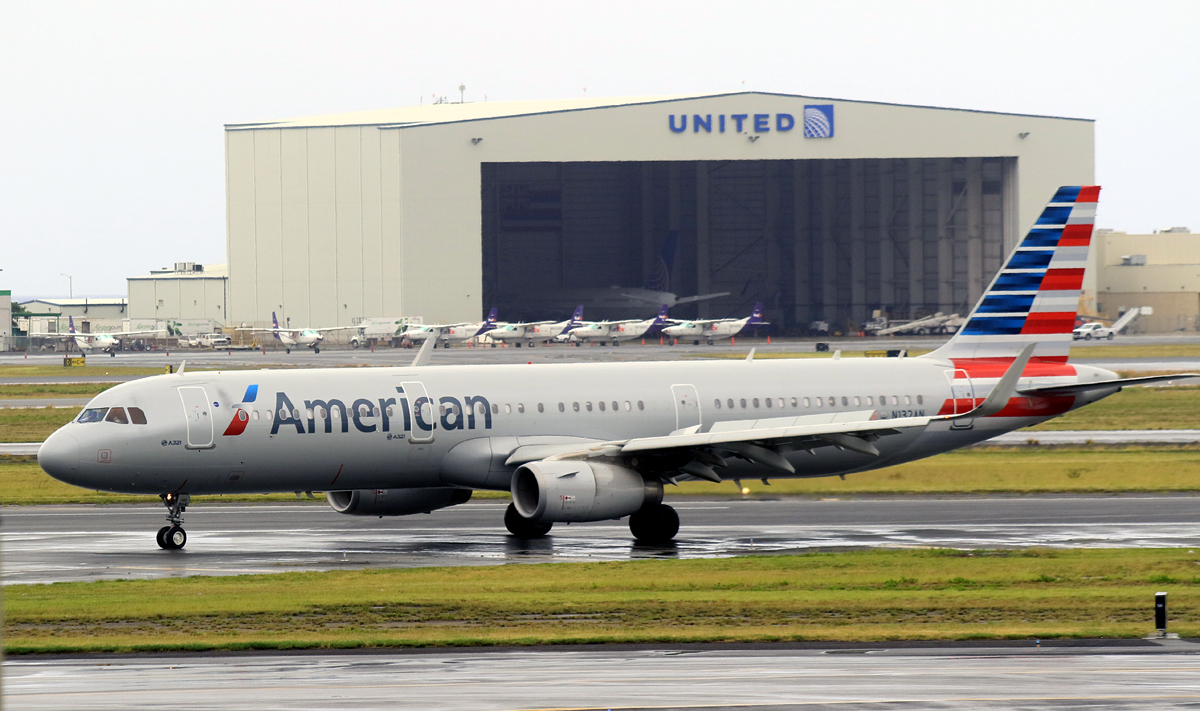 Hawaiian Airlines A330-243 N383HA departing for LAX...apparently fixed after our return to HNL yesterday: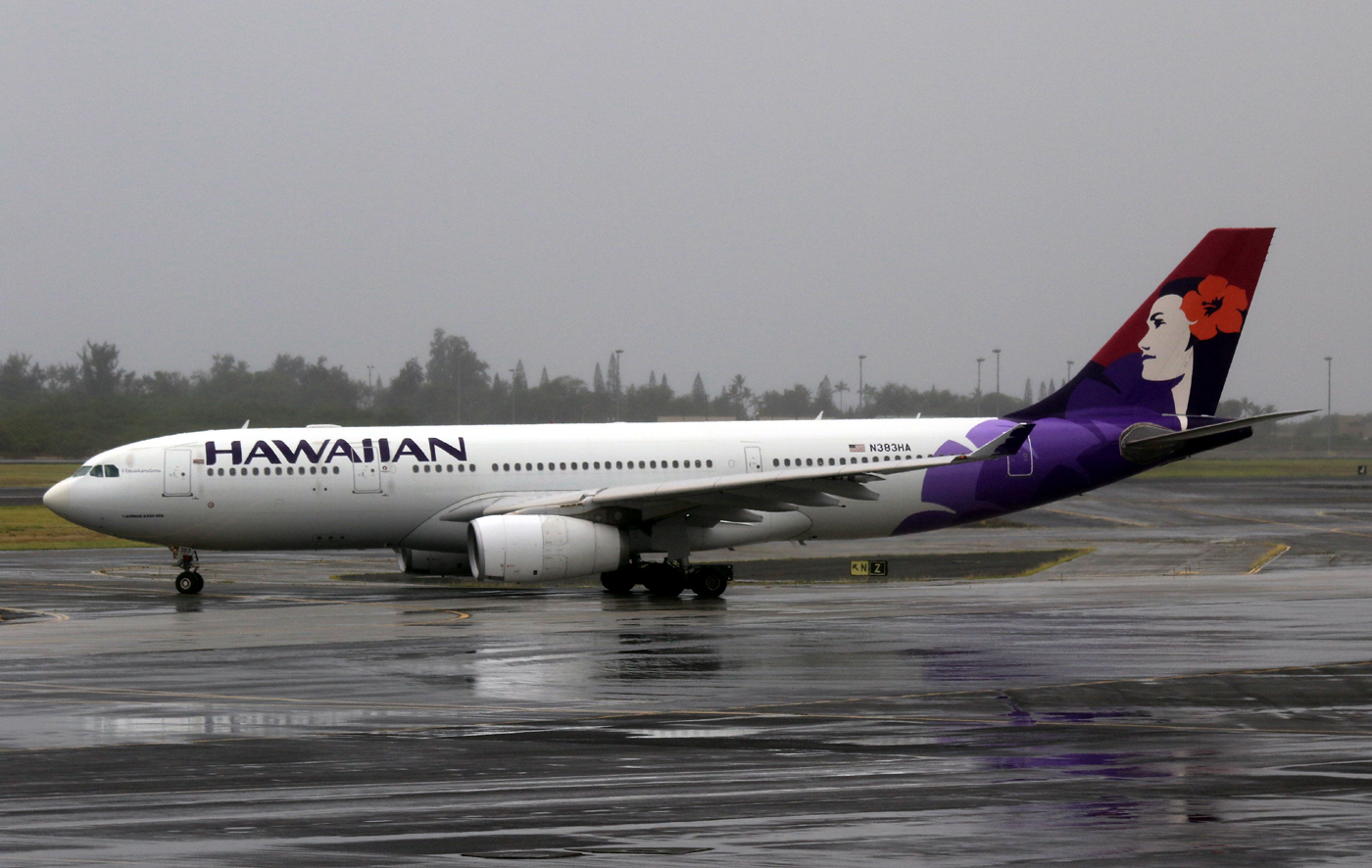 Delta Air Lines 737-932(ER)(WL) N853DN:
United Airlines 737-924(ER)(WL) N78506 pushing back: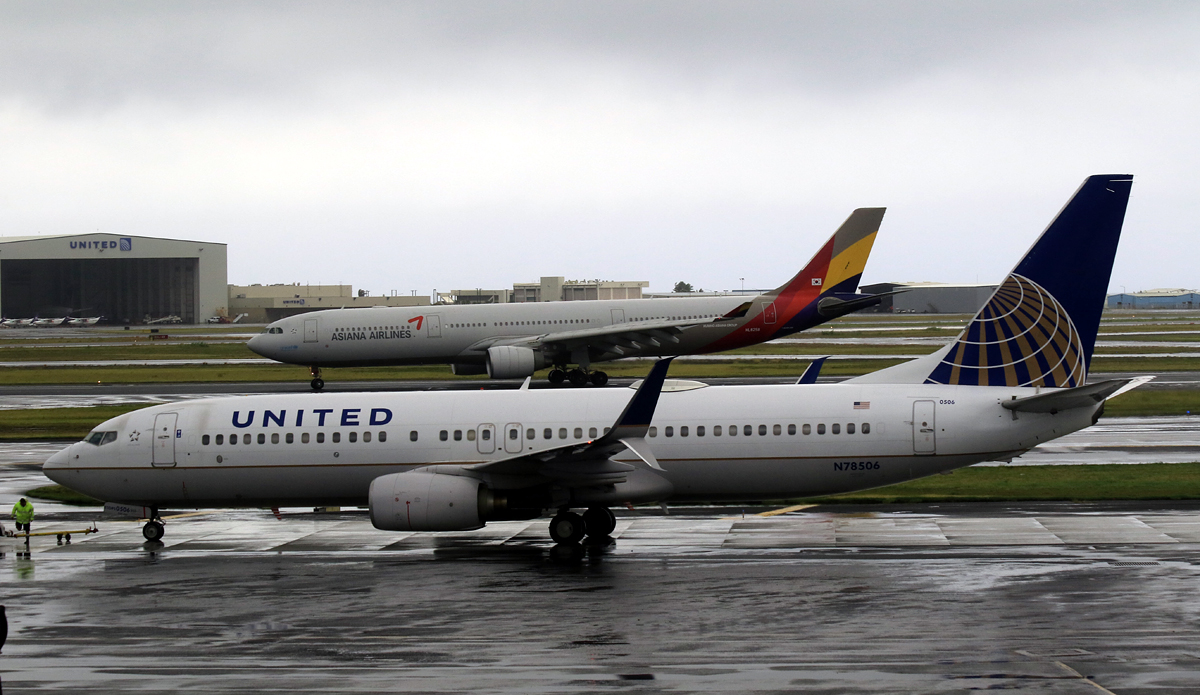 717-2BL N493HA taxiies past while A330-243 N373HA rolls out on runway 4R in the background: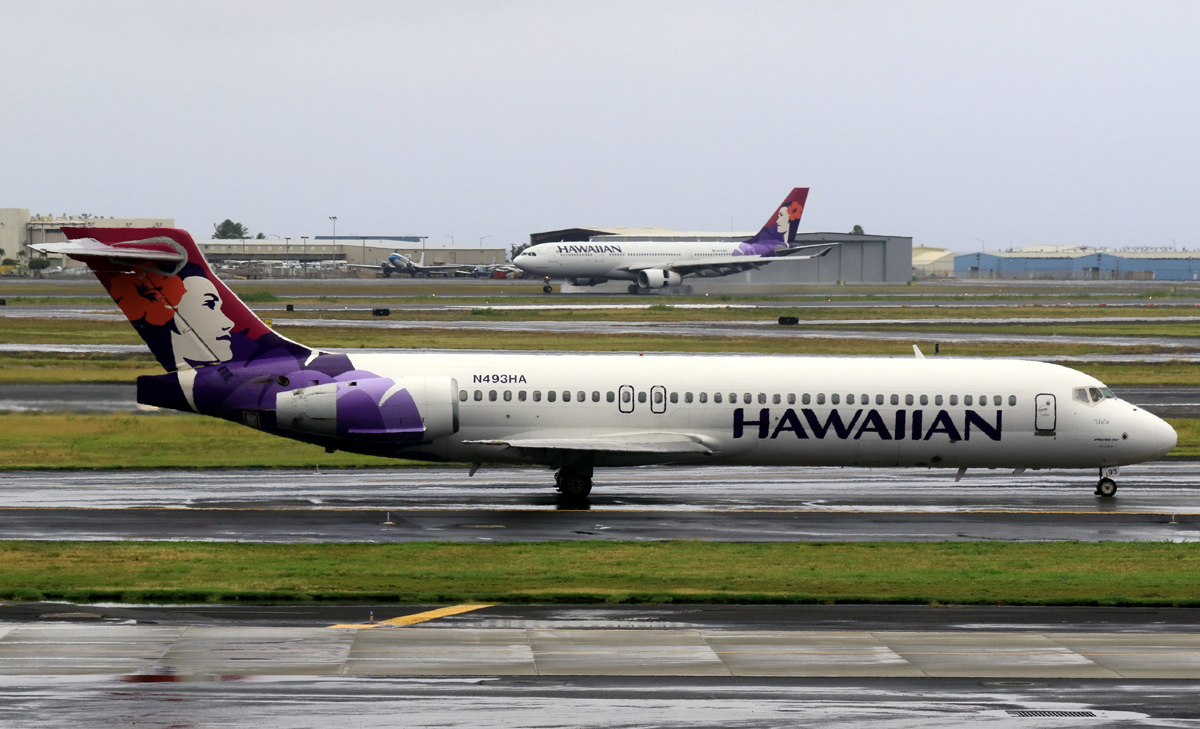 Philippine Airlines A330-343 RP-C8771: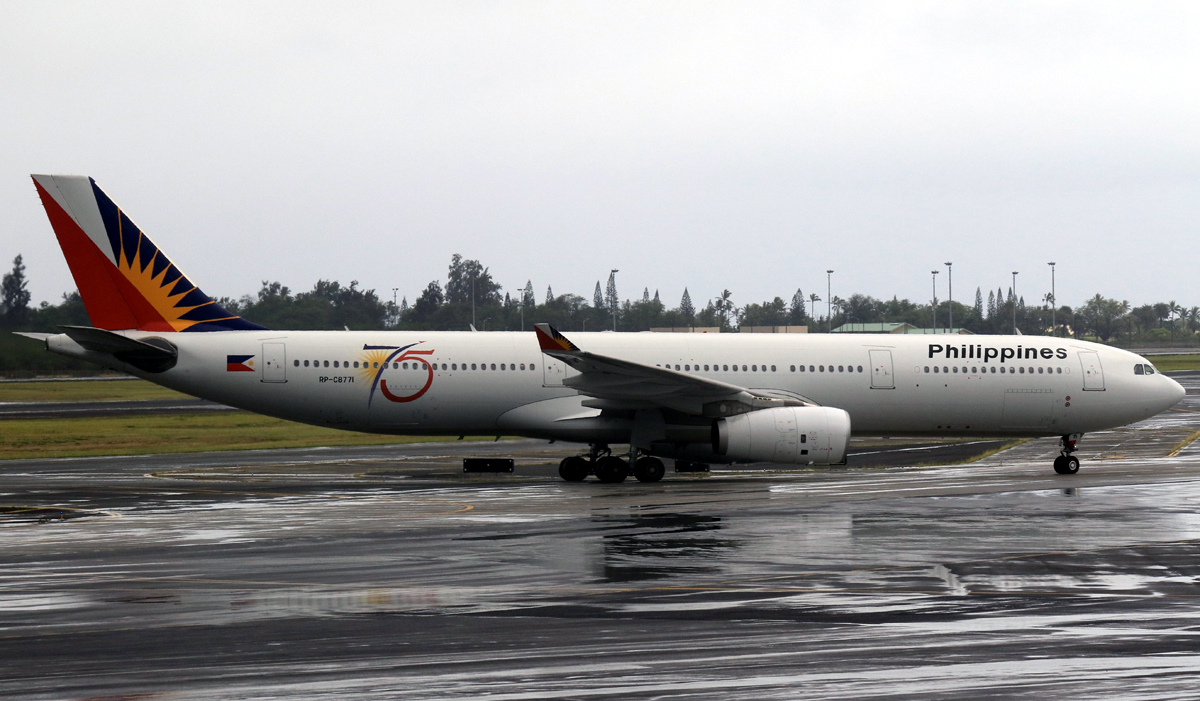 Some of the best looking tails in the USA: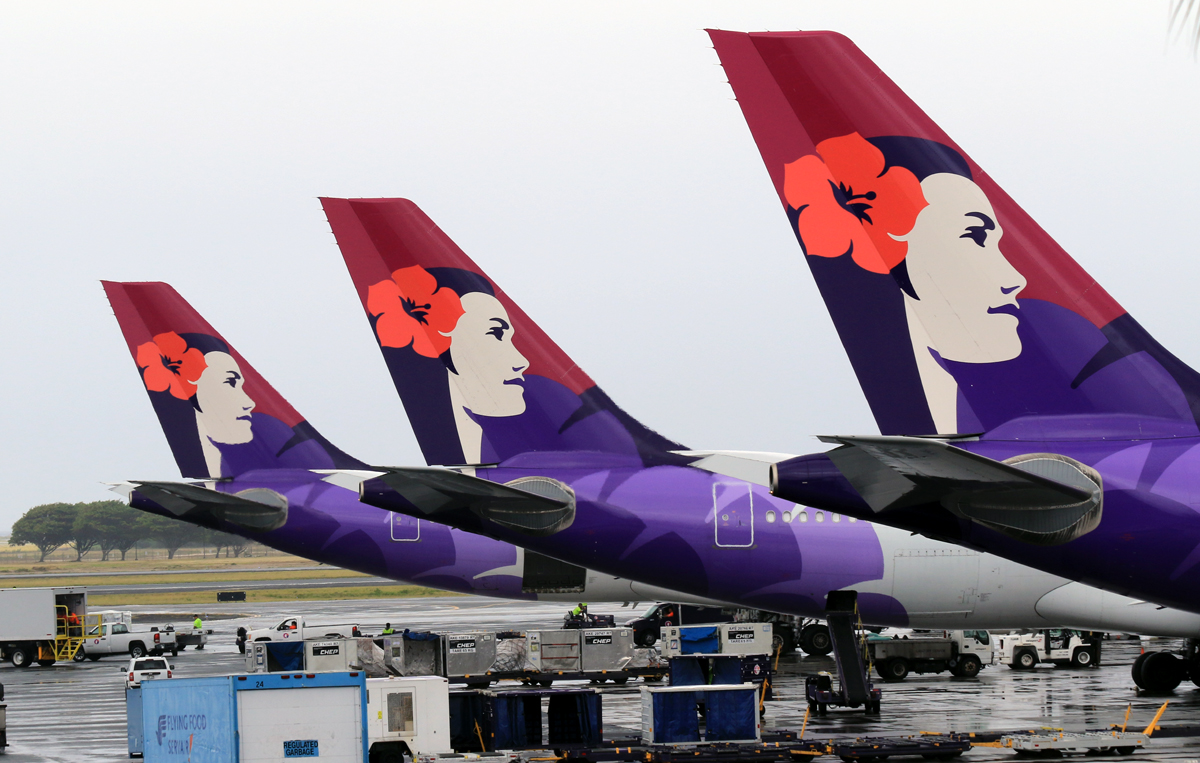 Flight 2, again:
24 July 2016
Hawaiian Airlines
HNL-SYD Flight # 451
Airbus A330-243 N389HA
STD: 12:35PM STA: 6:35PM +1
Seats: 11G & 11H

Time to board HA 451 for the second day in a row. We boarded with group 2 through door 2 and were directed to our row 11 seats...the first row directly behind the First Class cabin. Leg room was incredible and without a solid bulkhead in front of us we could stow our carry-ons under the seats a metre in front of us. My daughter allowed me the pleasure of taking the window seat so I could watch planes on the way out and video the takeoff. Besides, she wasn't too keen on looking out a window with nothing but clouds and Pacific Ocean for 10 hours.

Row 11 is right behind First Class: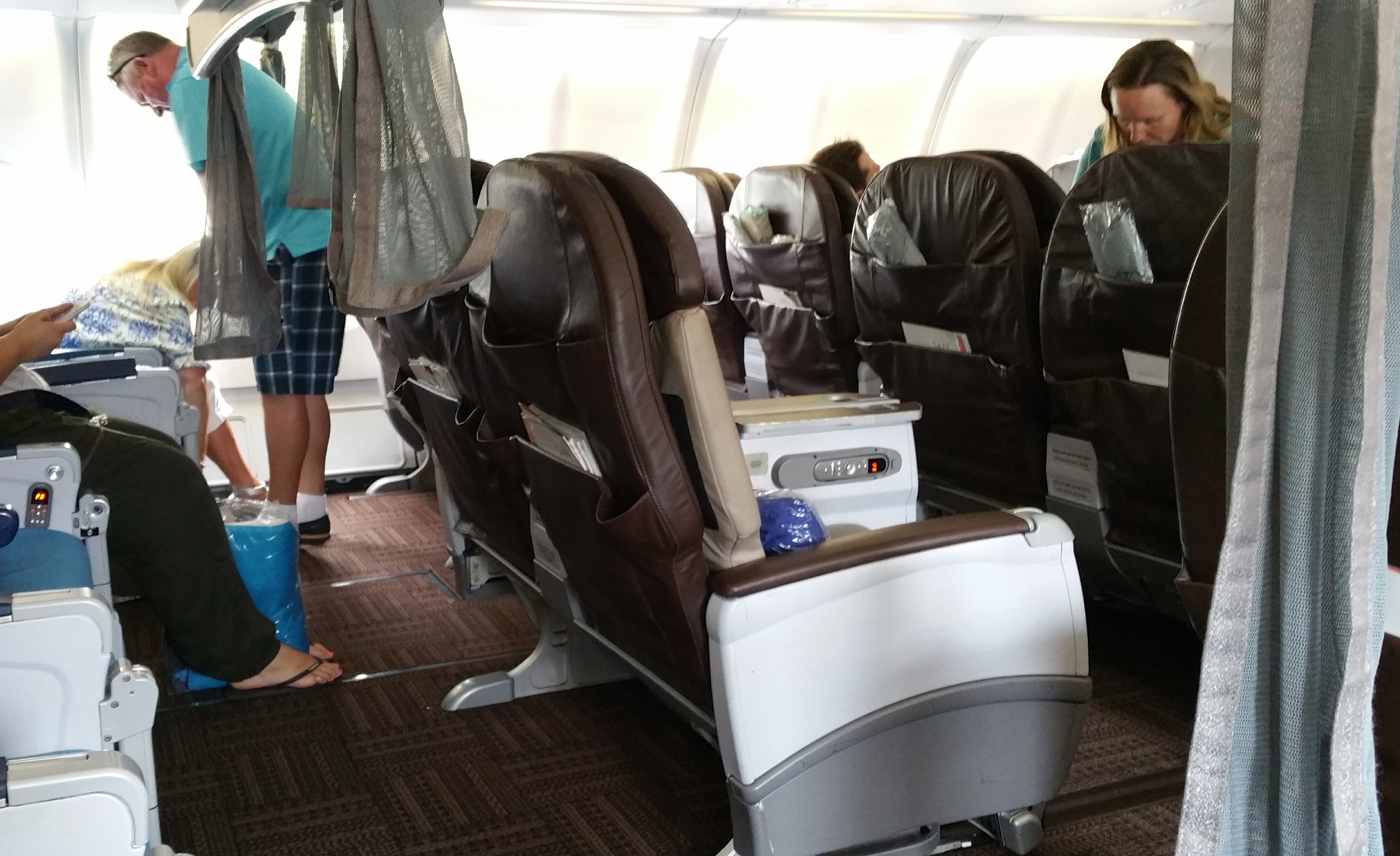 Getting settled in to our seats: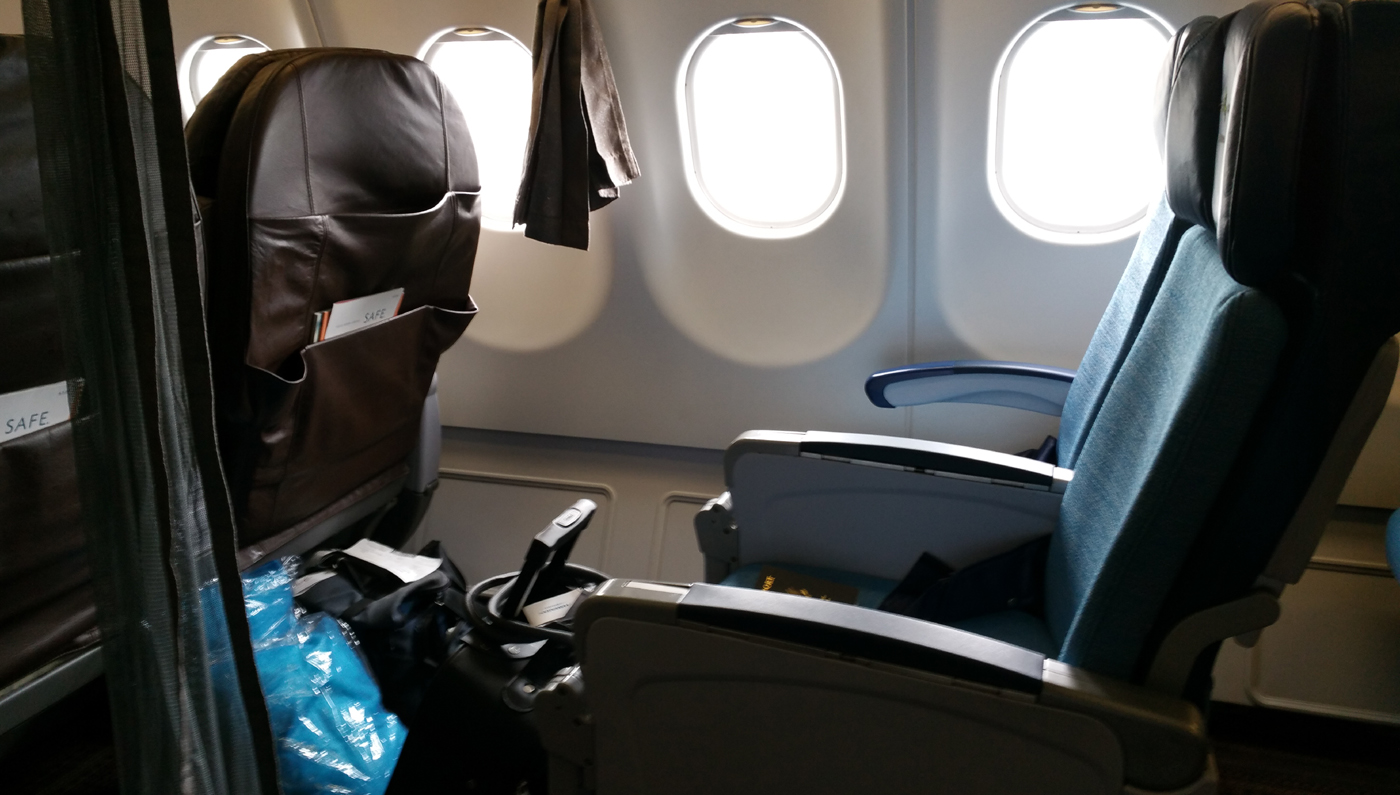 View out window at row 11: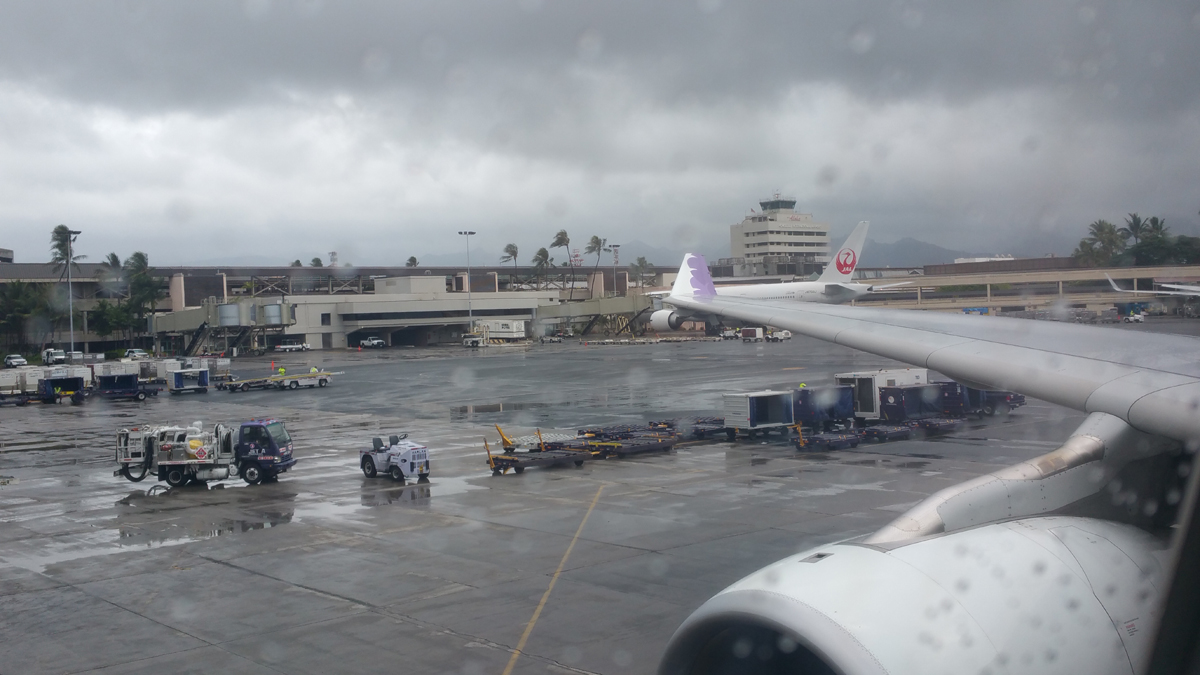 Getting settled in to our seats: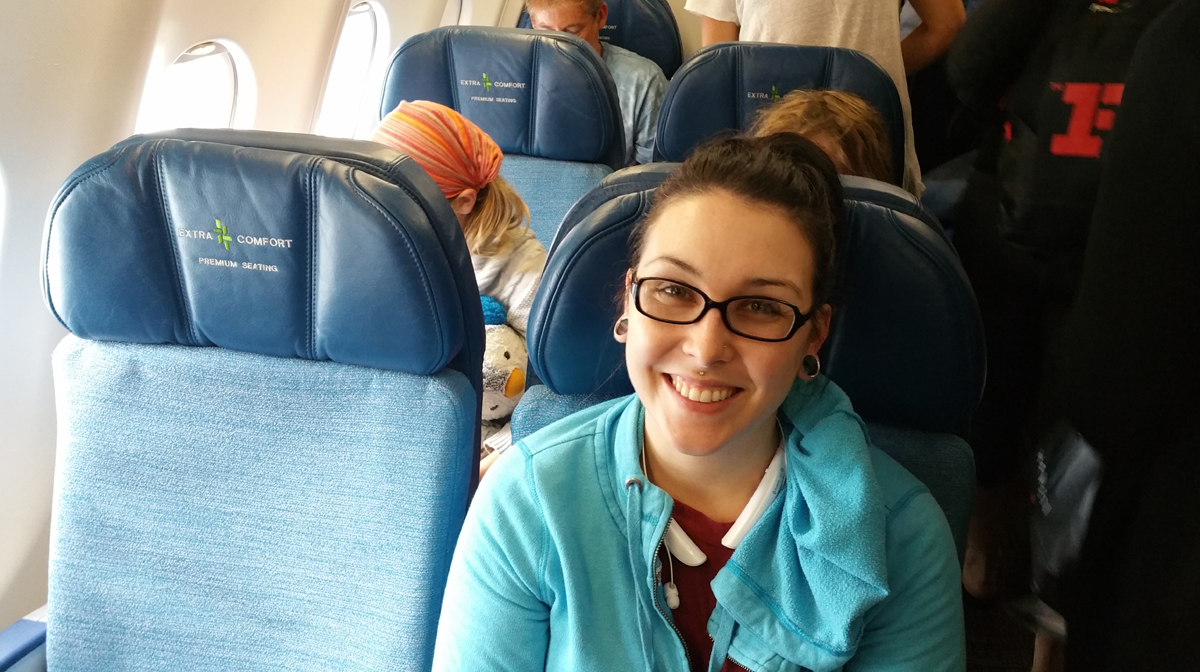 Third travel day of our trip and we haven't even left the U.S. yet...but we're making progress!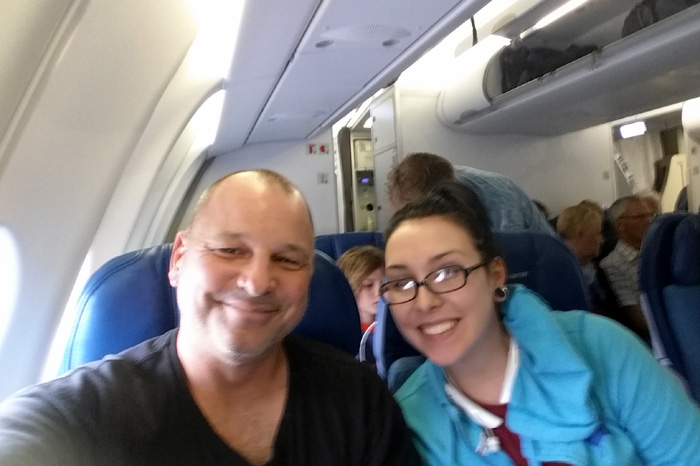 SB is ready to get the show on the road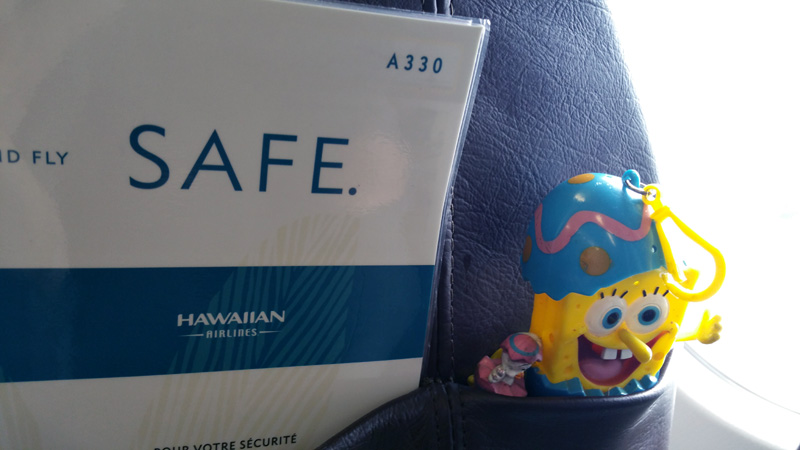 Northern Air Cargo 737-301(BDSF) N361NC looking kind of out of place: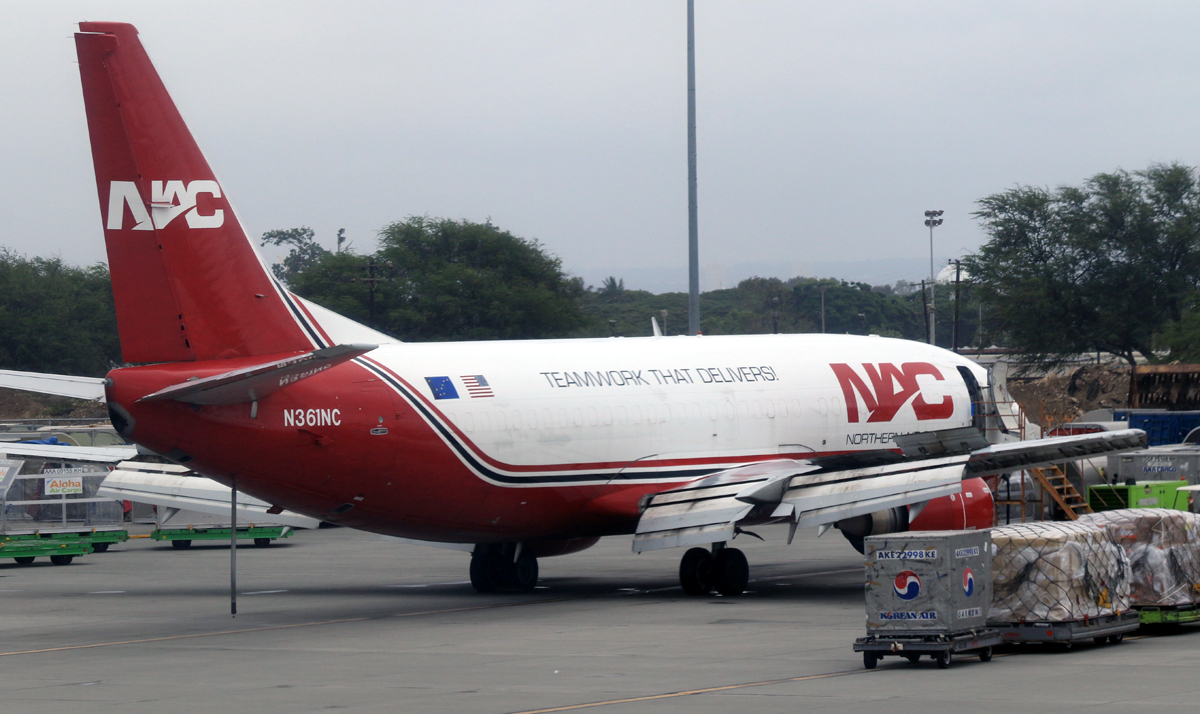 Aloha Air Cargo 737-319(SF) N303KH: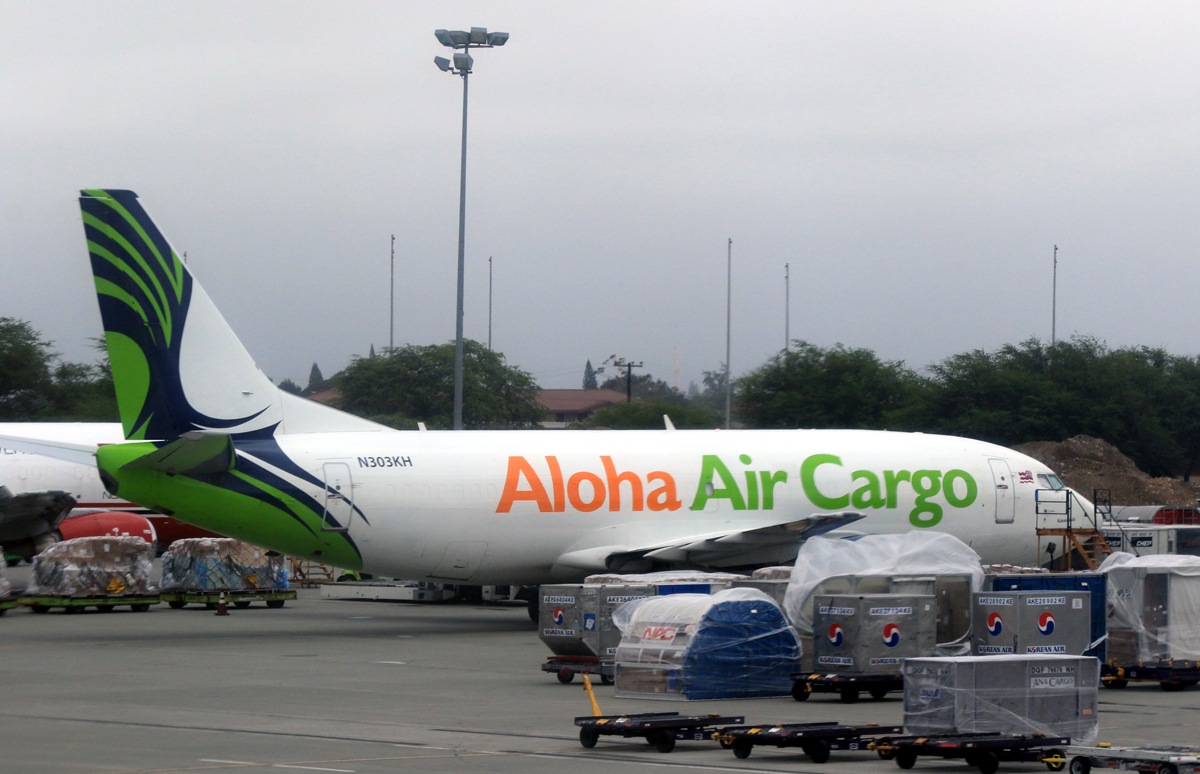 Aloha Air Cargo 737-330(SF) N302KH. N301KH is in the shed: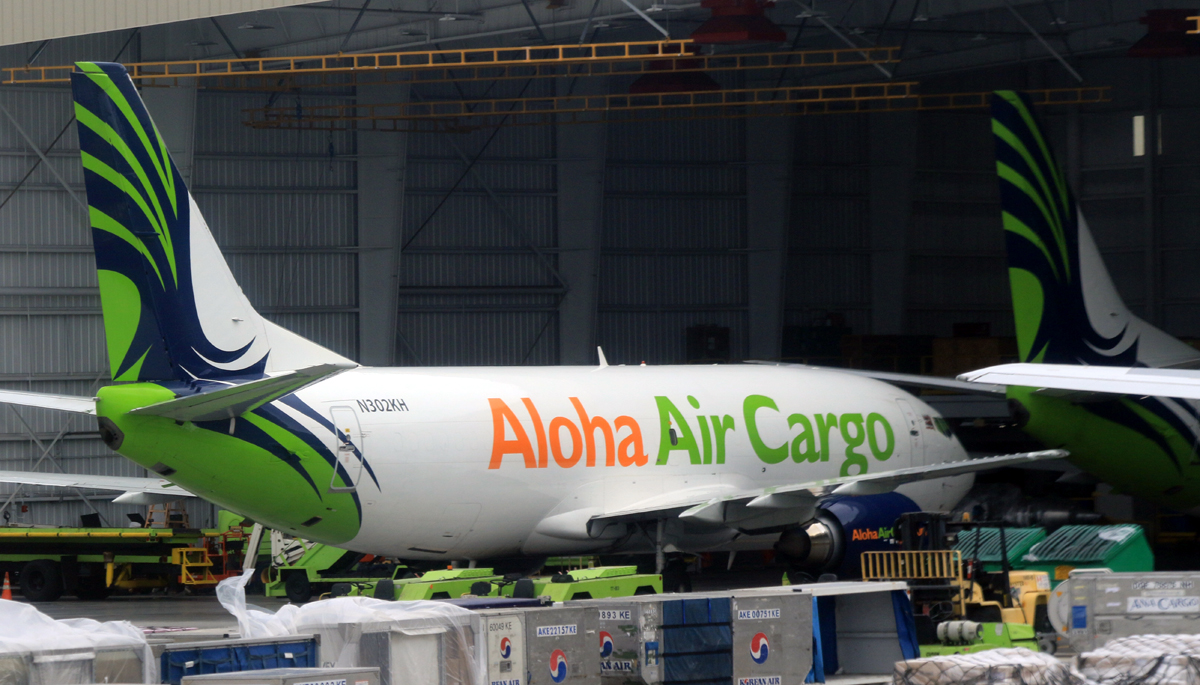 RAAF C-17A Globemaster III. Hopefully we'll beat it home.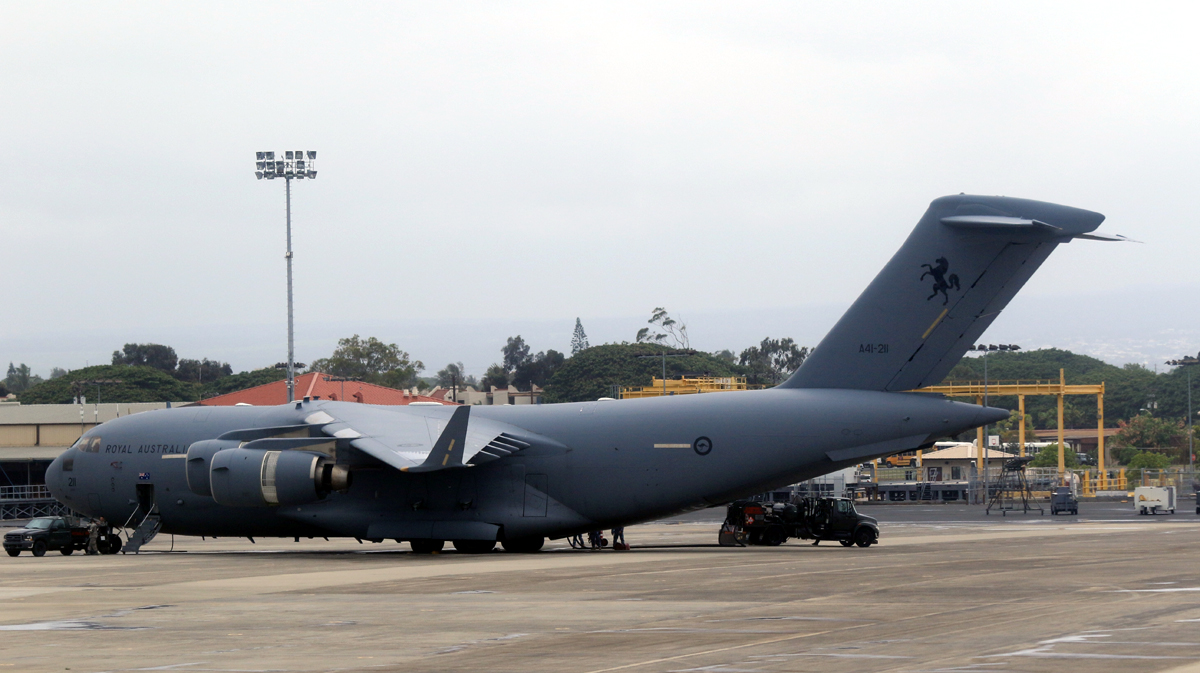 USAF E-3 Sentry plus P-3 Orions from three nations: Japan, Canada, and USA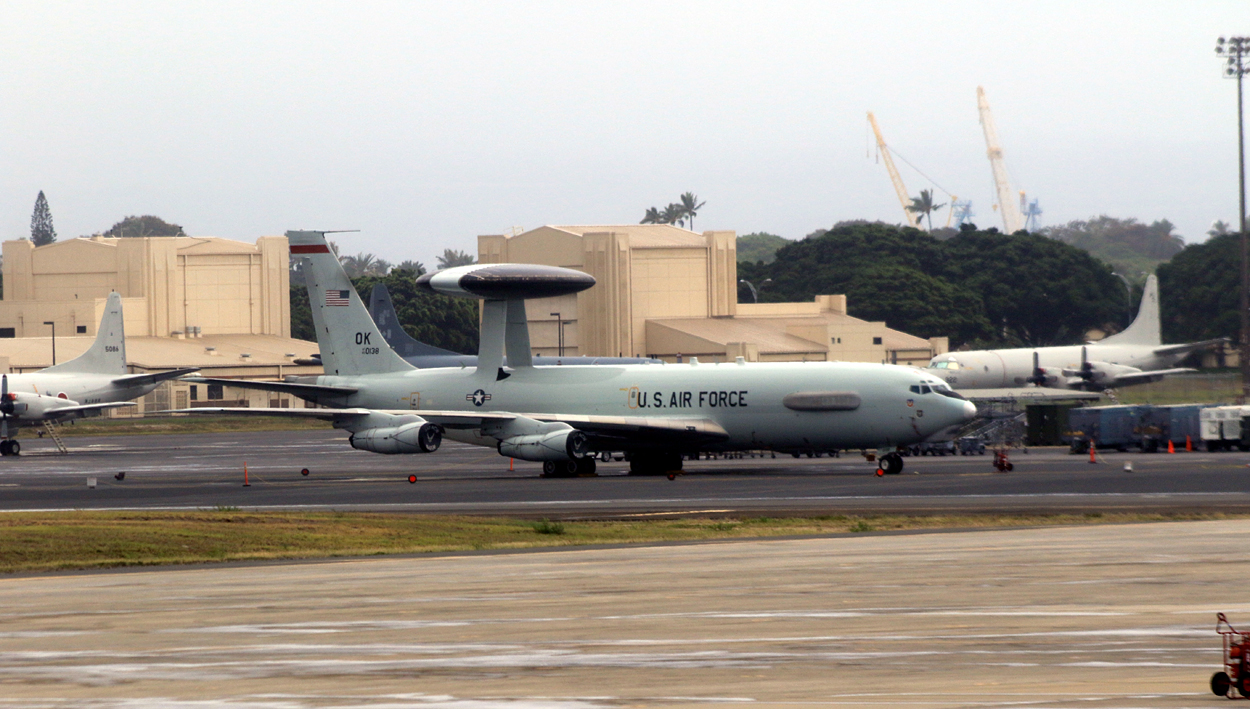 USAF C-17A Globemaster III assigned to Joint Base Elmendorf-Richardson, Alaska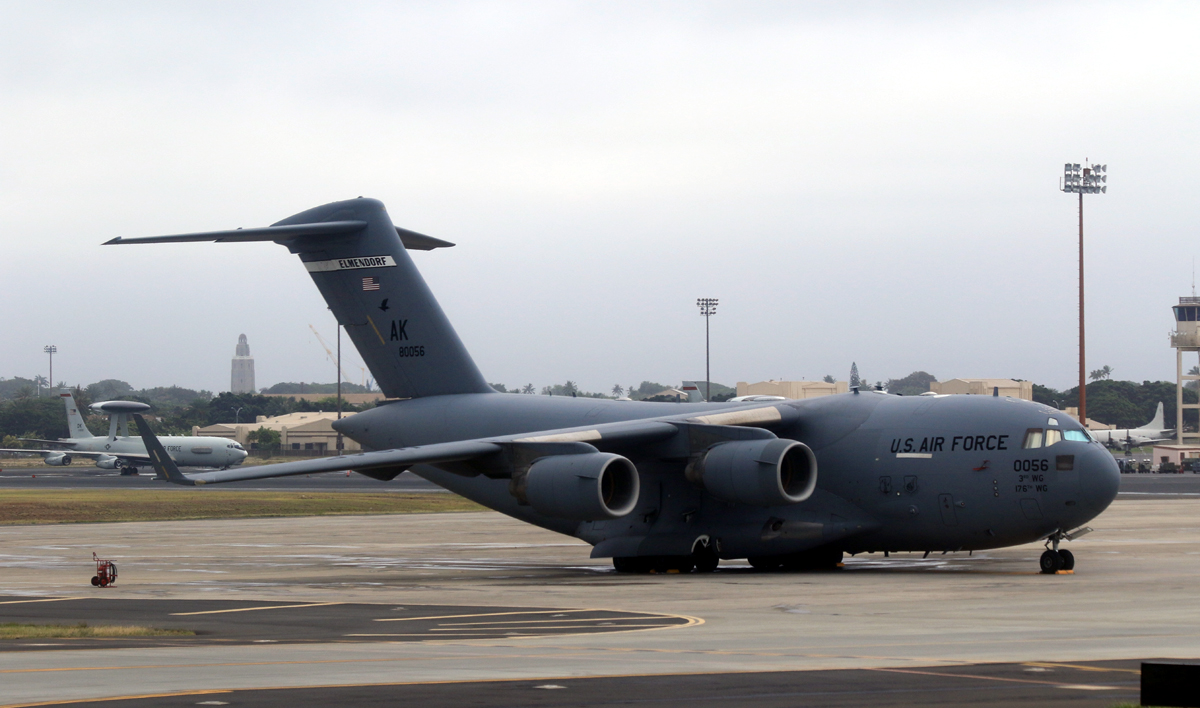 Omni Int'l 767-300 arriving runway 8L while we hold short:
We taxied to the reef runway 8R and took position. I used my phone to make a takeoff video...it is viewable

here
Climbing to cruise altitude: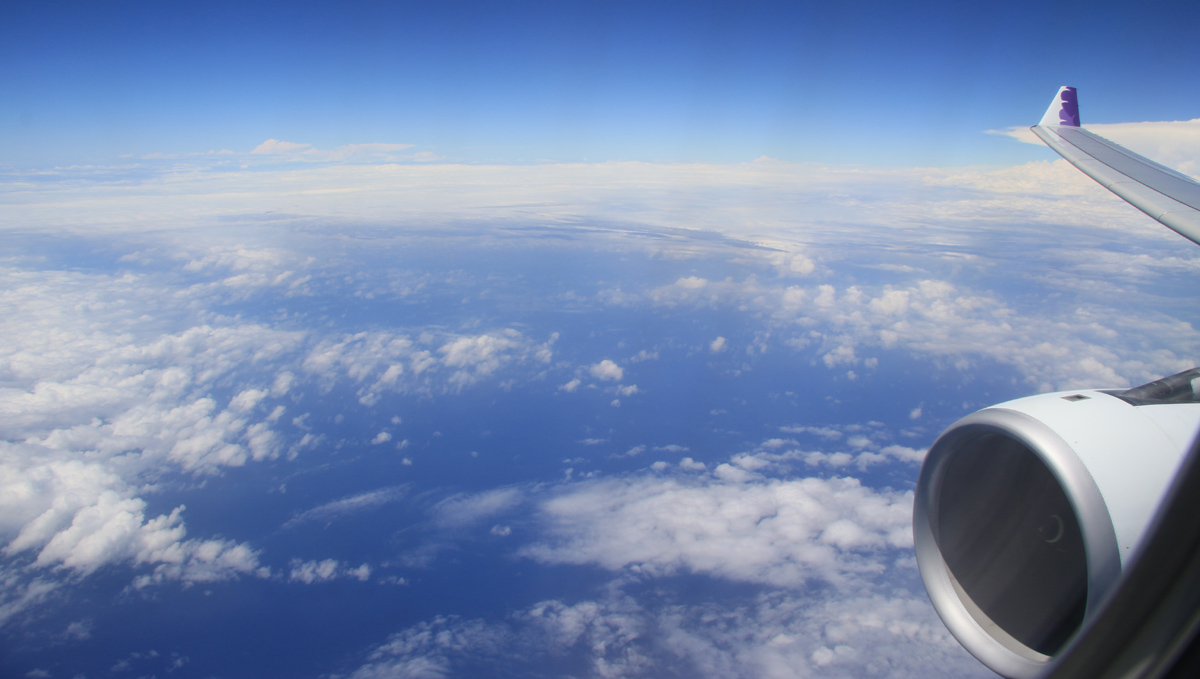 Meal...it was tasty and edible: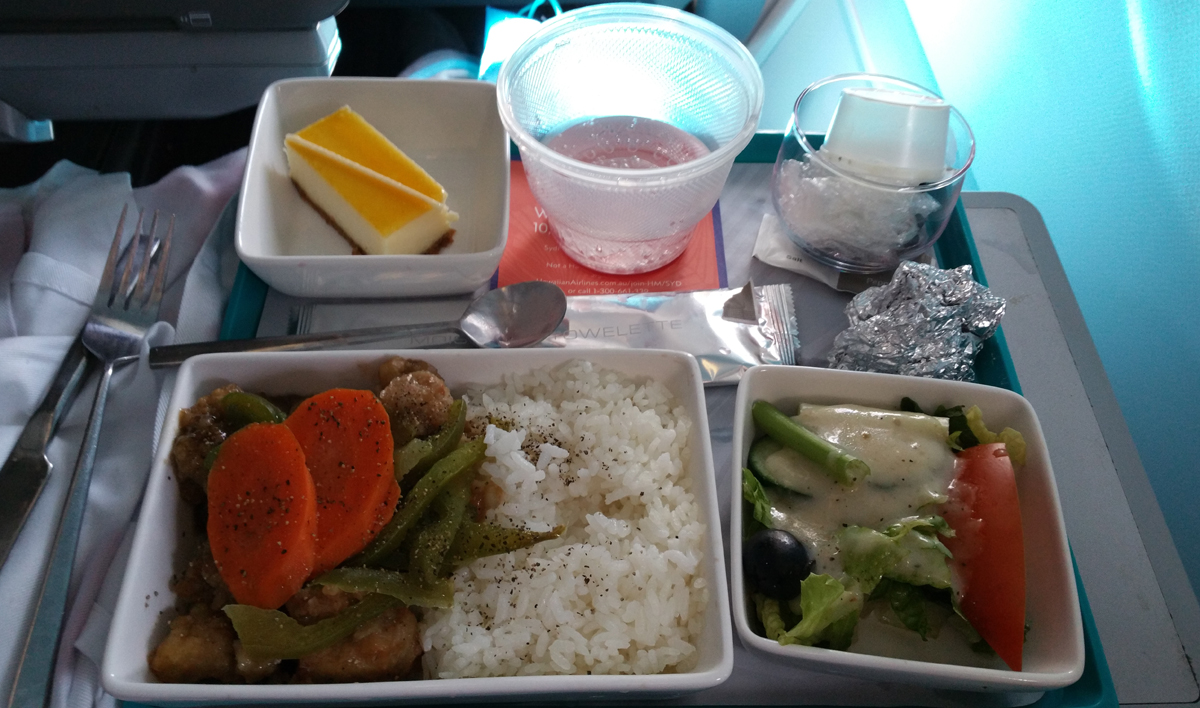 Not much separating Economy Comfort from First Class, except a metre of legroom!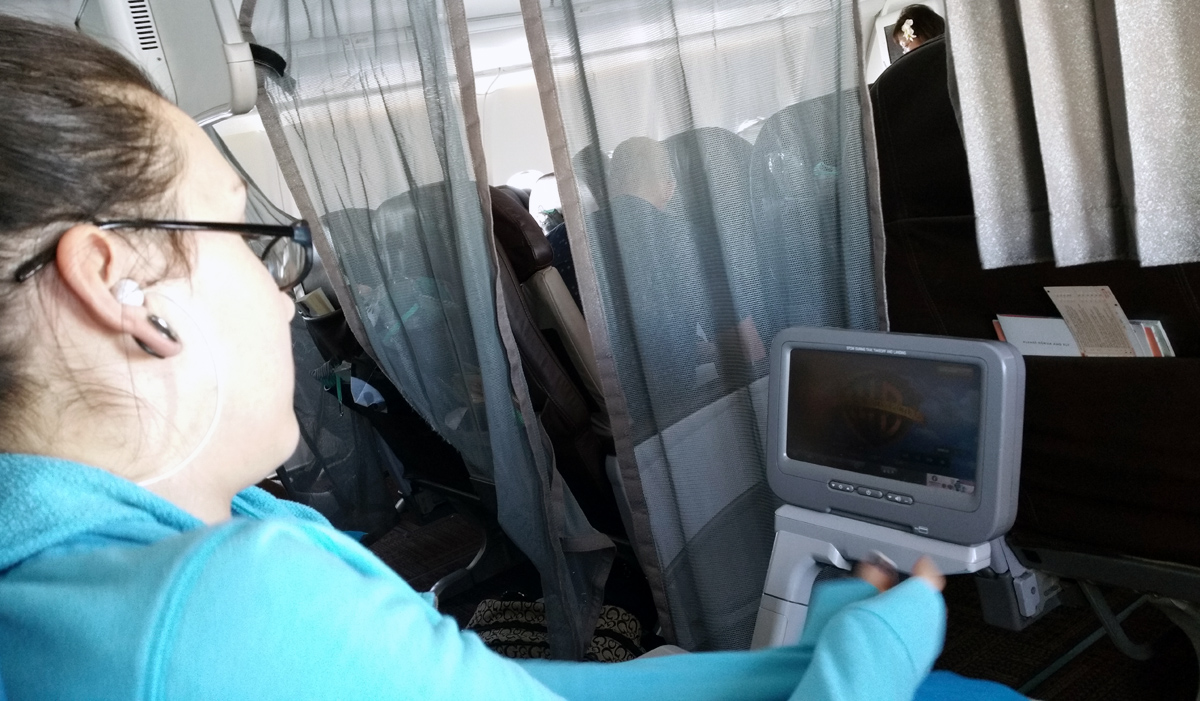 Crossing the International Date Line...finally!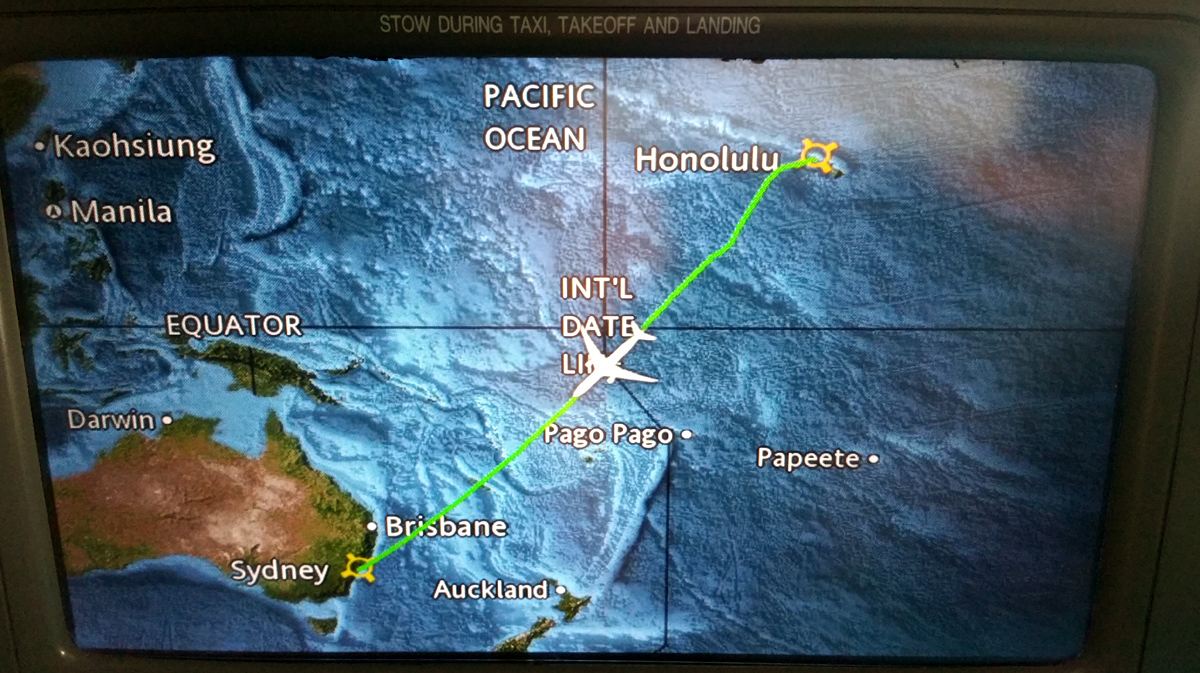 The immense expanse of the Pacific Ocean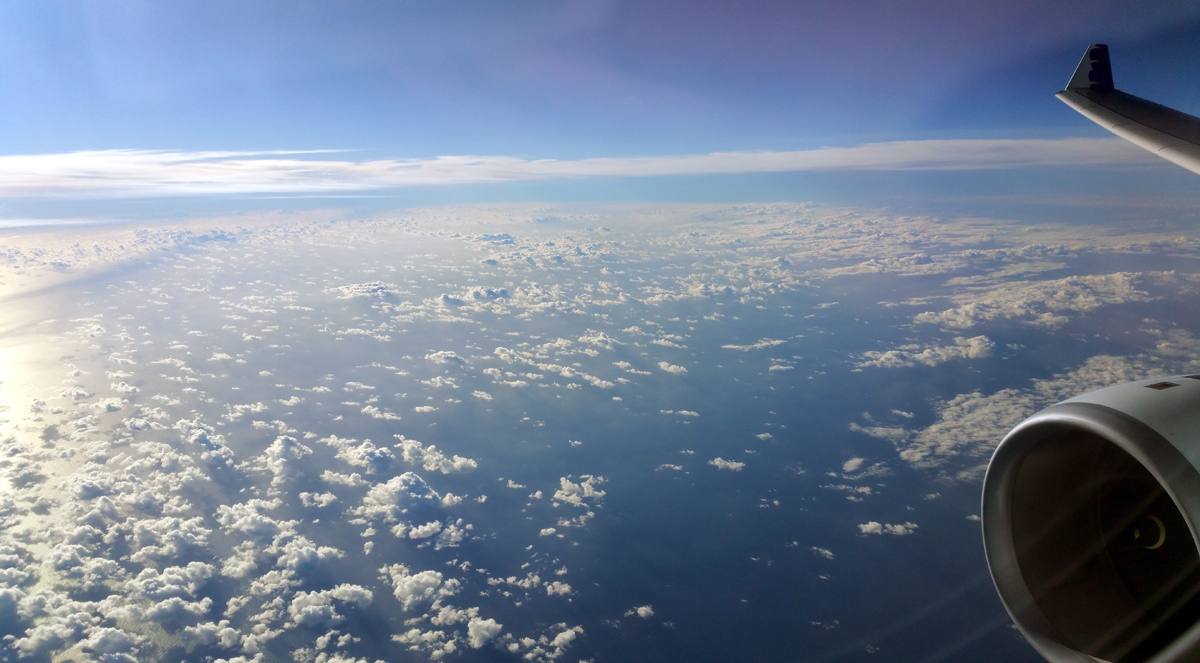 Flying to the southwest in the southern winter we had a nice sunset to watch for a while: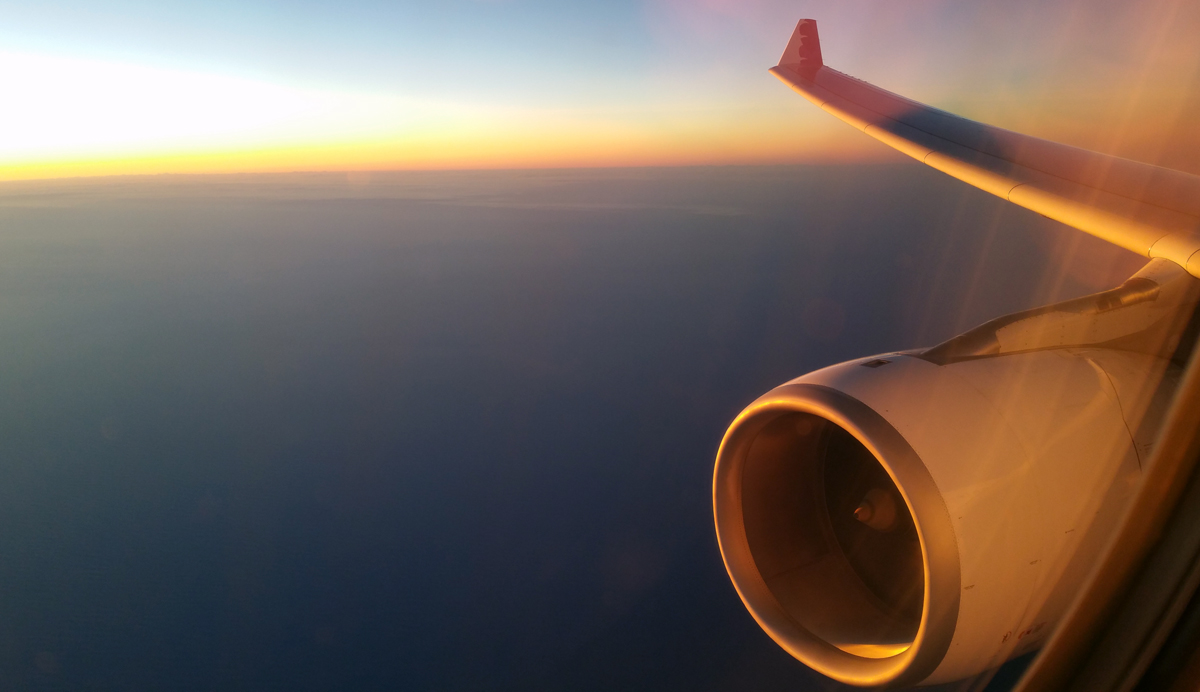 Flying to the southwest in the southern winter we had a nice sunset to watch for a while: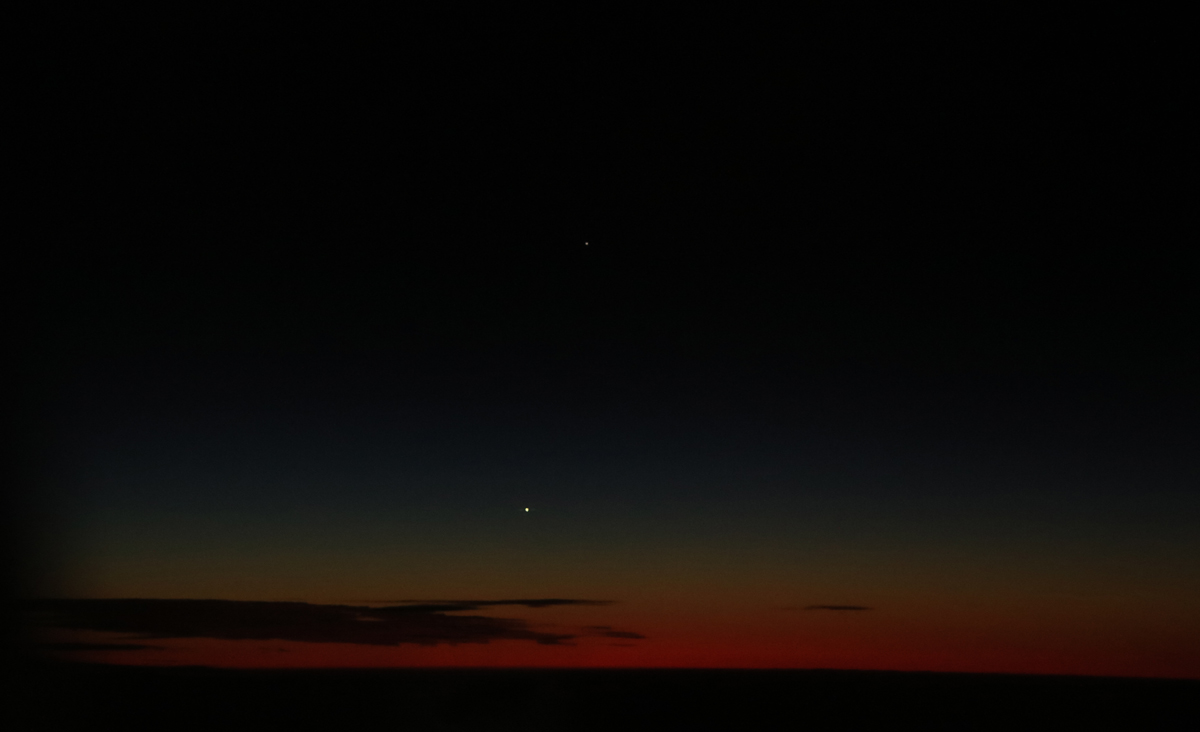 Flight Aware screenshot of the HNL-SYD flight:


Upon arrival at SYD we had to wait for the aircraft to be fumigated before deplaning...this took maybe 10-15 minutes. It was winter-time dark at 7:20pm on arrivalso I didn't have much opportunity to do plane any watching. We did park next to a 777 of an ME3 carrier...but I can't recall which one it was.

Customs and Immigration was fairly painless and before long we were greeted by my son-in-law. Weary as we were, I asked if I could get an iced coffee in the arrivals area. There was a McDonald's there so I got my first taste of an iced coffee from down under...not quite the same as in the U.S.

Once all packed up in the Jeep we headed towards Bowen Mountain. We made a late-nite stop at a grocery store to do some snack shopping...it was fun being in a foreign land again and seeing how products differ from what I'm used to seeing.

In due course we were pulling into the driveway of the parents of my son-in-law. I got out and looked up...I'd been anxiously awaiting the chance to see the southern night sky from a fairly dark location...it didn't disappoint.

Went inside and met some of the folks my daughter was now related to by marriage. Really nice folks they are to be sure, and it was going to take a bit of effort for me to comprehend some of what was being spoken. Same language but with differences of course...very nice.


Our shortened vacation in Sydney was awesome. Previously, the only time I'd spent in Sydney was in September 1997 during my South Pacific Adventure courtesy of Uncle Sam. During that trip we flew into RAAF Richmond from Travis AFB, CA via Hickam AFB, HI and Pago Pago American Samoa on a USAF C-5B. After a night in a motel in Windsor, NSW we flew out the next morning to Christchurch, NZ. I did manage a train ride into Sydney to visit SYD airport for some evening plane watching but no photgraphs. This trip was different as I had a lot more time to explore.

Coincidentally, my daughter's new father-in-law is in the RAAF who until recently (early 2018) was posted to RAAF Richmond. Small world really. They lived not too terribly far from the base, on Bowen Mountain, New South Wales. During our trip, we visited a few places out in the natural world, Circular Quay, Taronga Zoological Park, we did a short whale-watching boat trip. My daughter's mother-in-law took me to Windsor so I could "duplicate" the only photograph I took in Australia during the 1997 trip, as well as visit a couple of spots to photograph some bird life. I made a solo day trip into Sydney to visit some of the sites as well as spend a couple of hours plane watching at SYD. As someone with an interest in astronomy, I marveled at the southern sky from Bowen Mountain...going out on several nights and early mornings to do some snapshots with my DSLR on a tripod.

Laughing Kookaburras perched on a power line: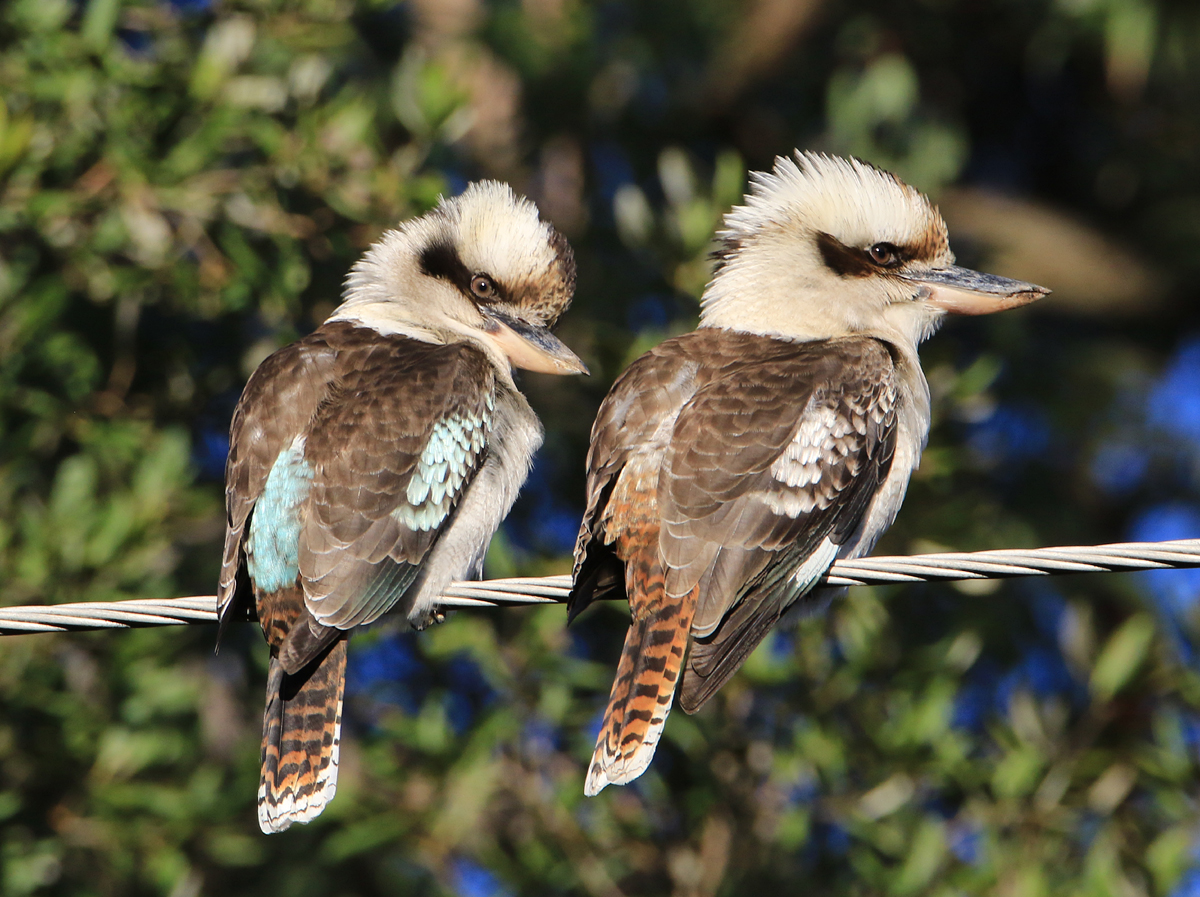 RAAF Richmond seen from miles away to the west: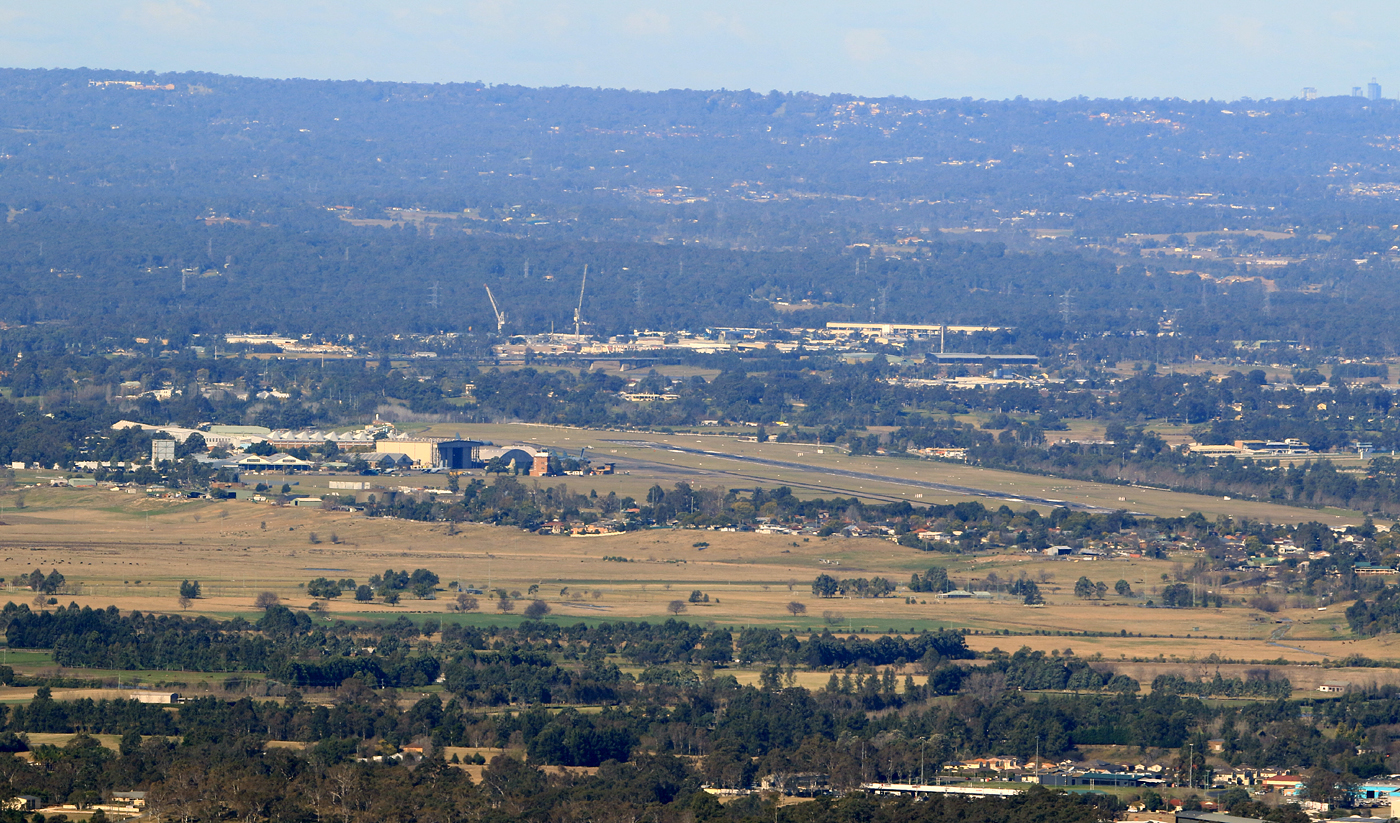 My daughter in the Blue Mountains: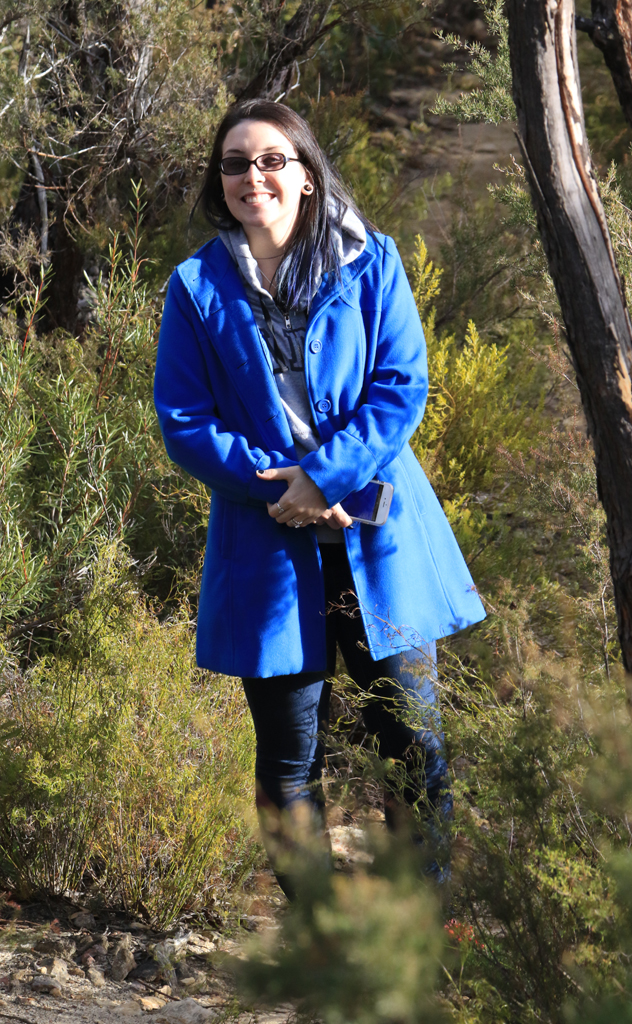 Windsor, NSW in September 1997...the only Australia photo I took during that brief trip. In 2012 I used Google Earth to nail the location based on the "Windsor Ice Creamery" sign on the building: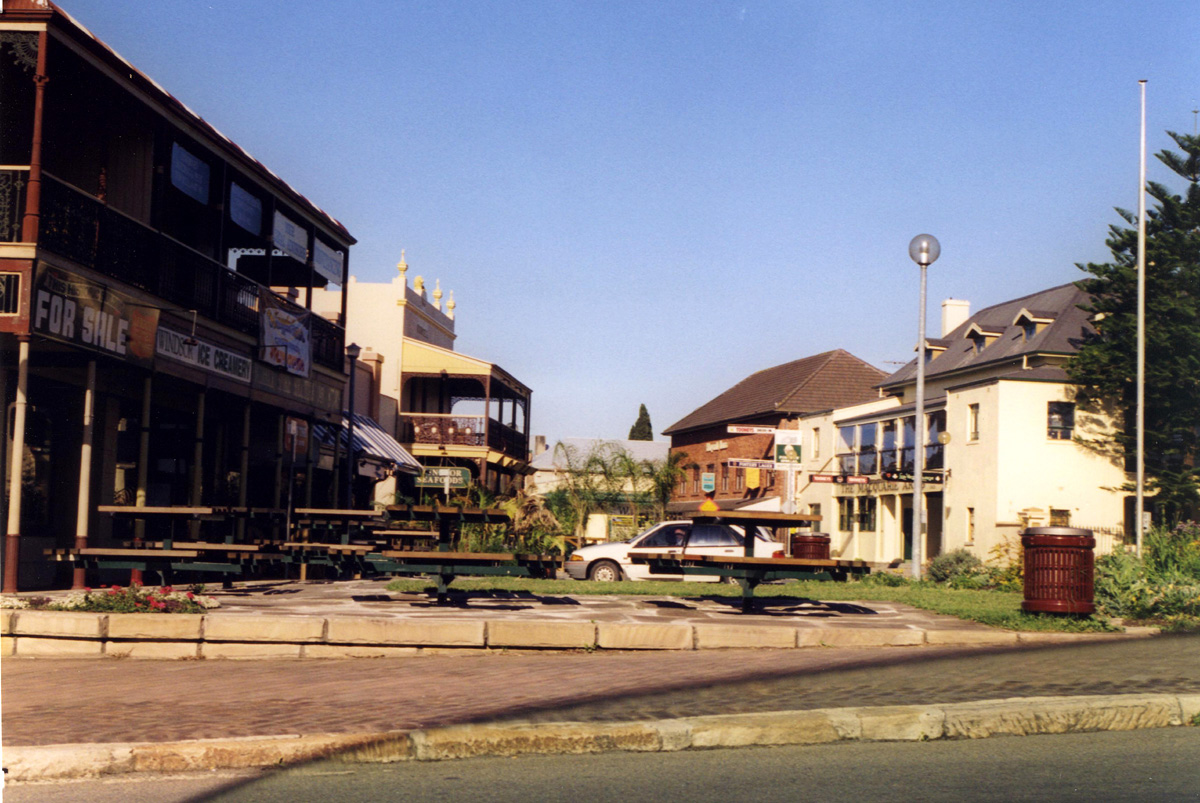 Moe in Windsor, NSW on 27 July 2016 at the 1997 location I snapped a photo from a taxi:
On my solo day out I rode the train from Richmond to Sydney, then to Circular Quay. I did a lot of walking around, crossed the Harbour Bridge on foot, took a boat trip over to Watson's Bay and back in search of birds, and just basically enjoyed being out and about. I then took the train to Sydney Airport for some plane watching.
Sponge Bob enjoying being out on the water near Watson's Bay: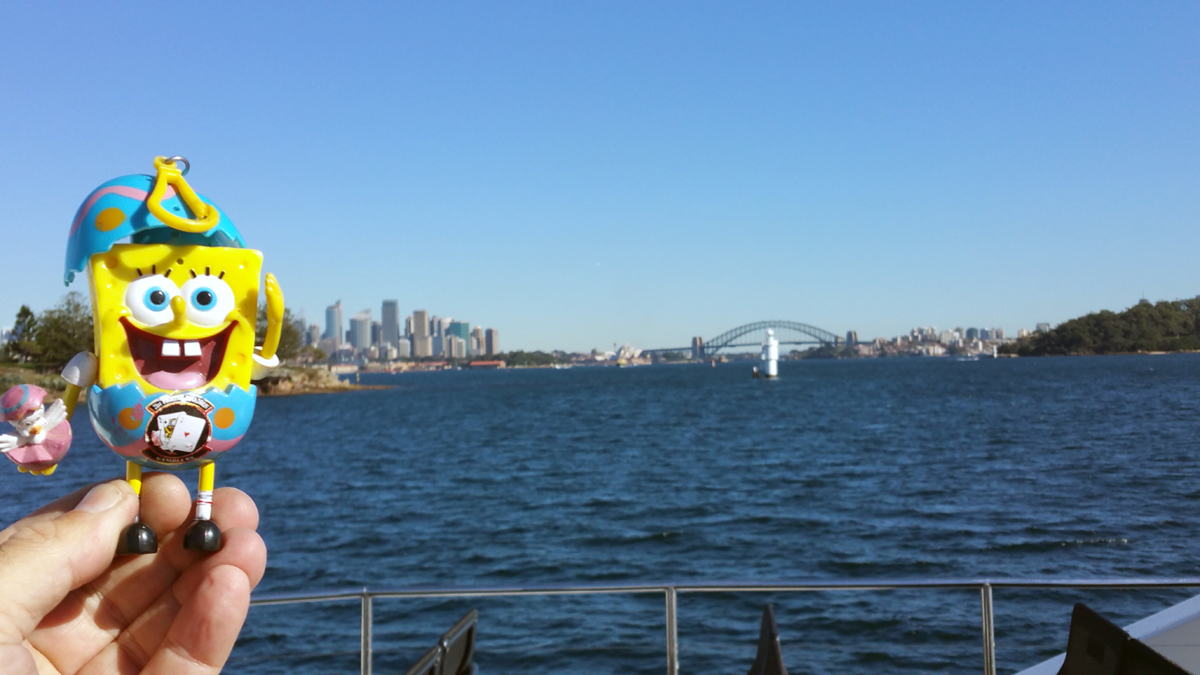 Opera House vicinity as seen from Harbour Bridge: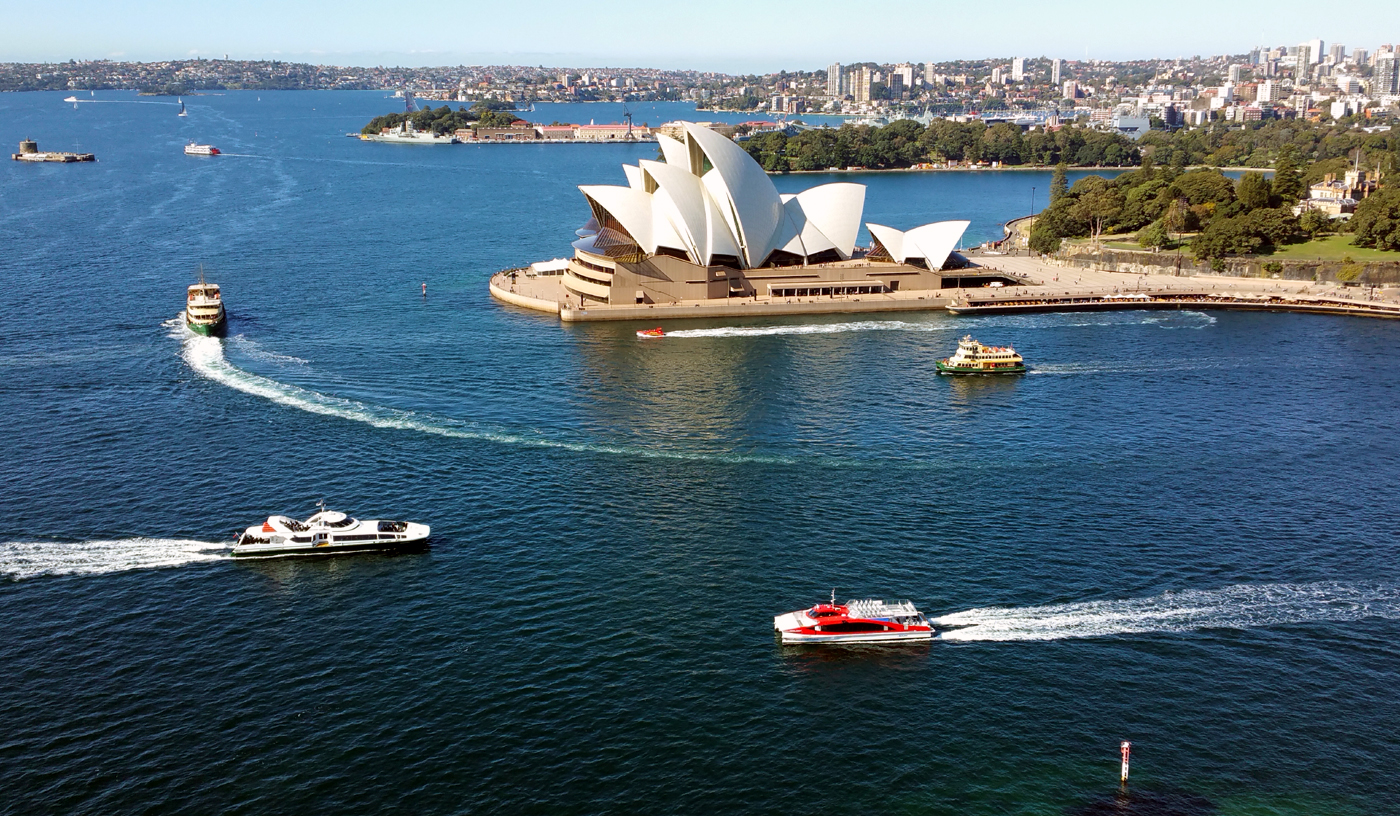 SB with the Sydney Opera House: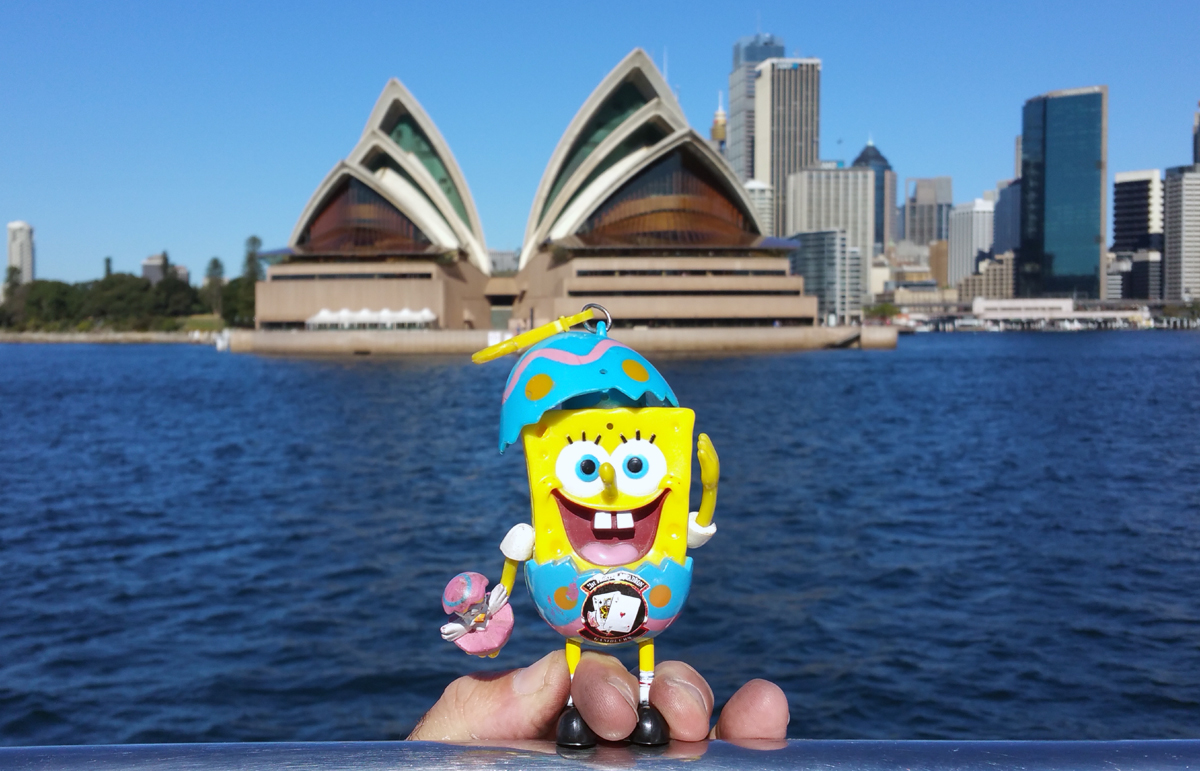 One of the trains I took to get to the airport: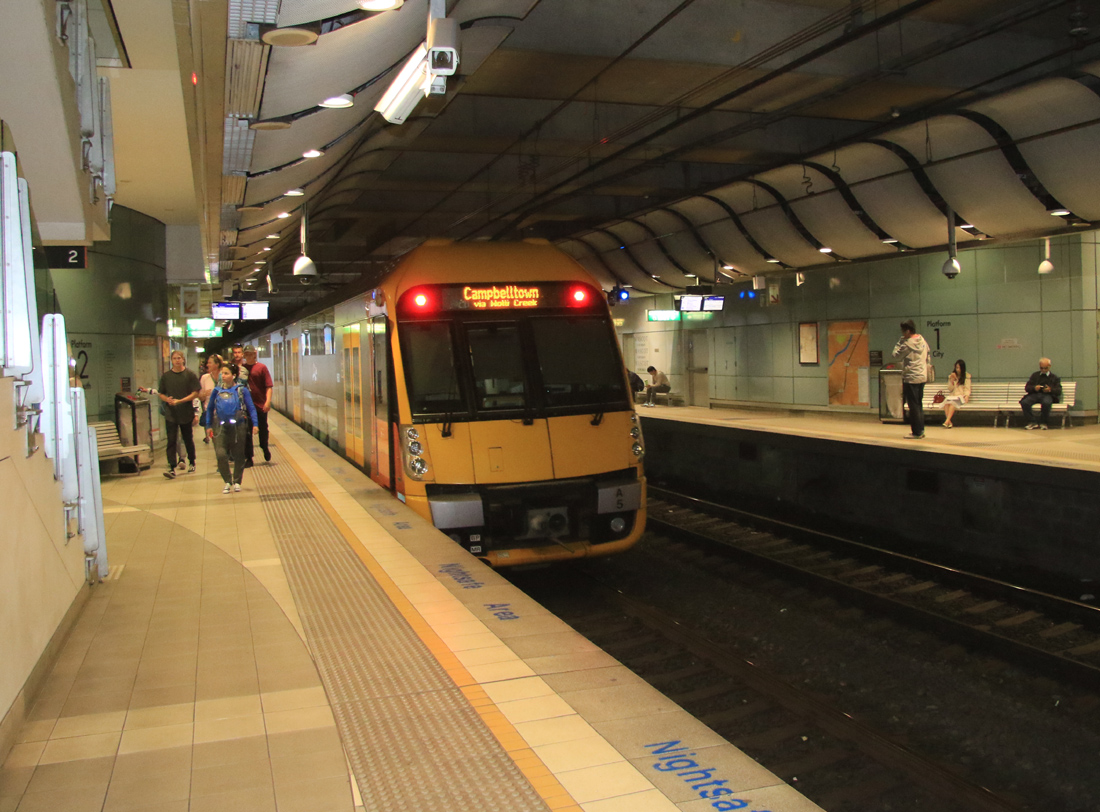 In a lift at the airport: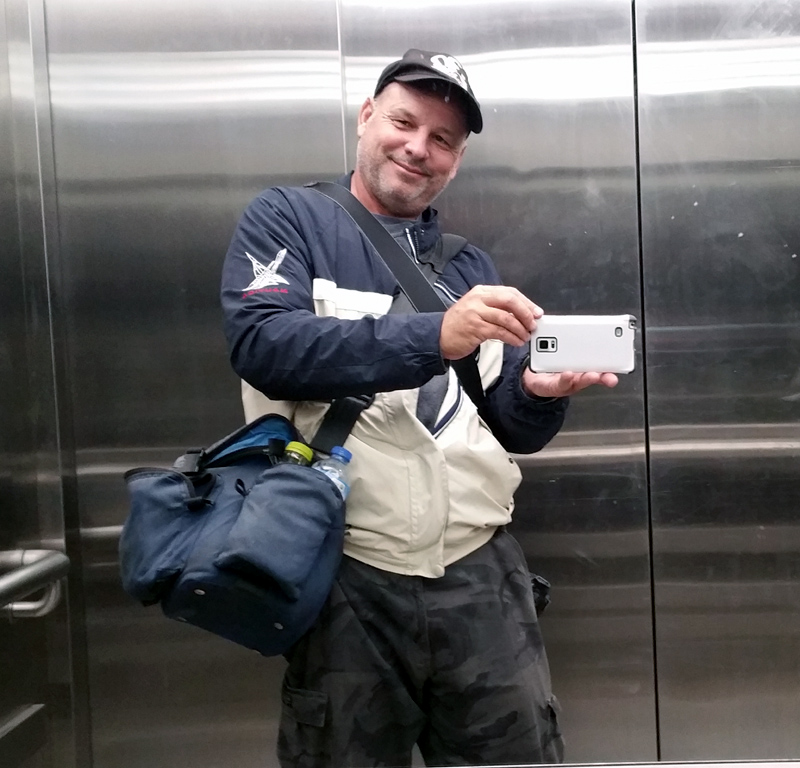 SB gets to log SYD!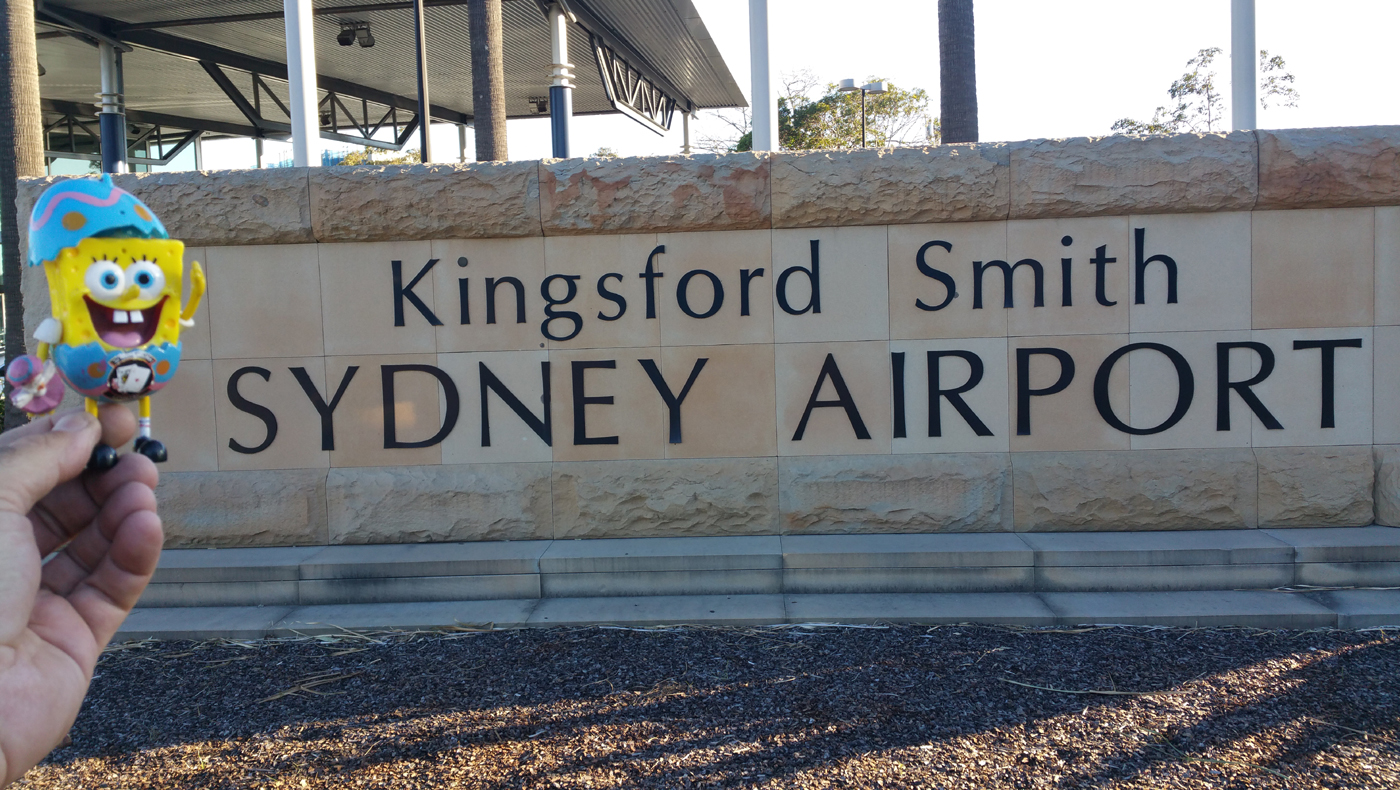 Sydney Airport as seen from a parking garage: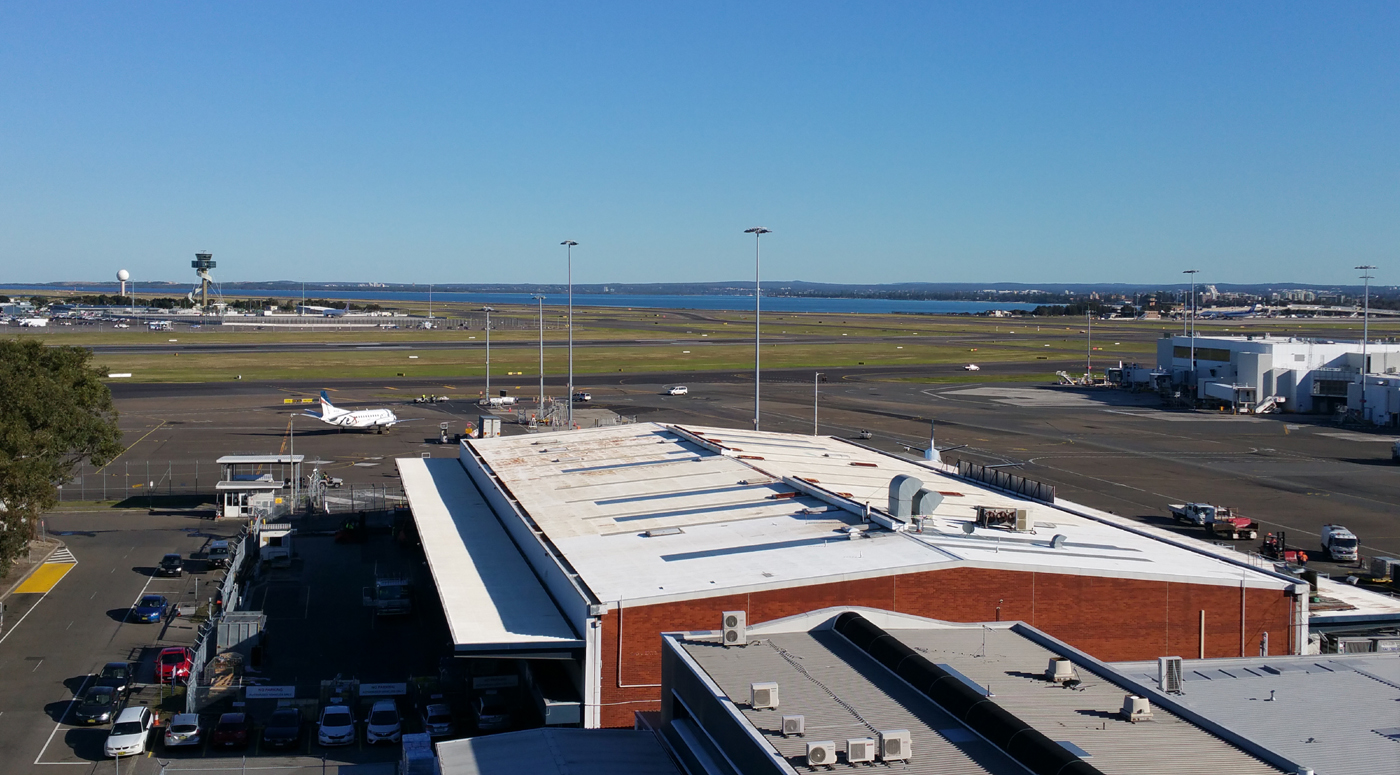 Sydney Airport as seen from a parking garage: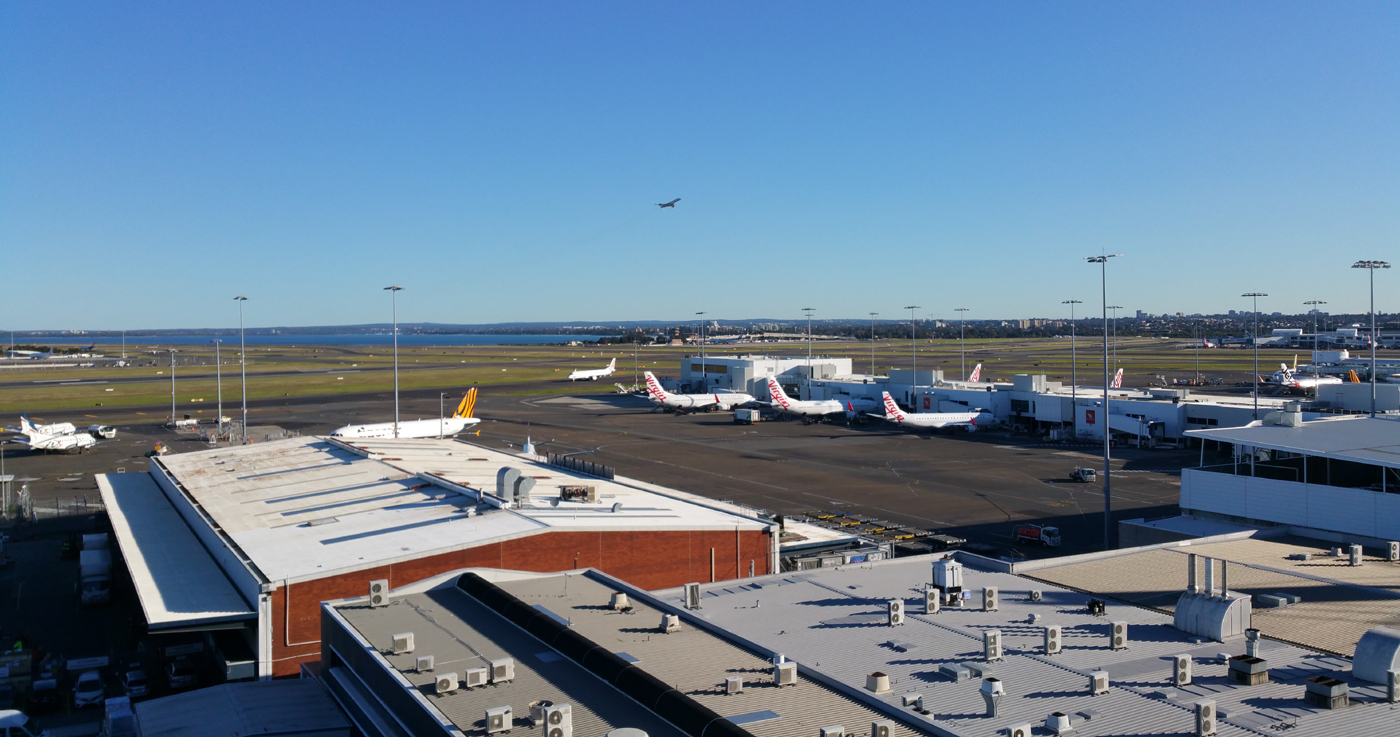 Sydney Airport as seen from a parking garage: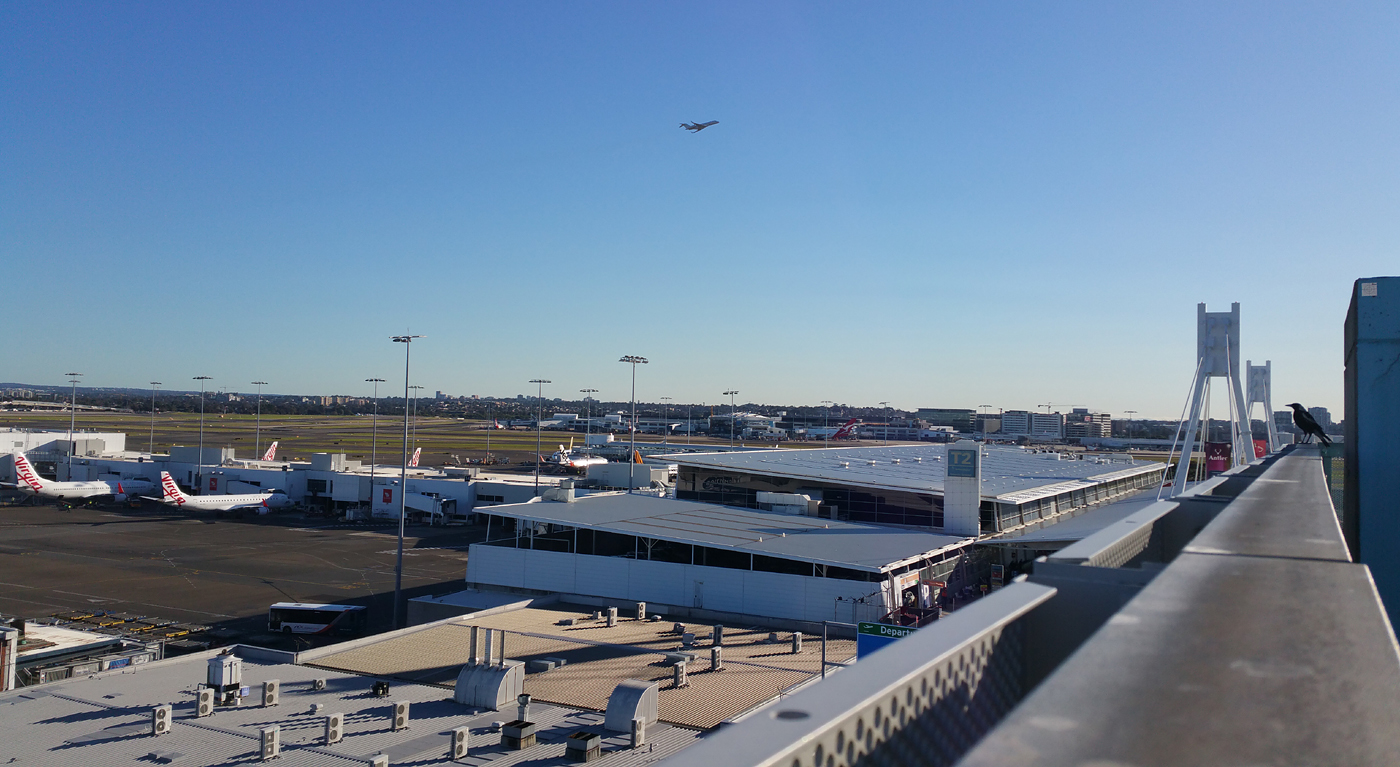 Some REX SF-340s and an Australian Global Express: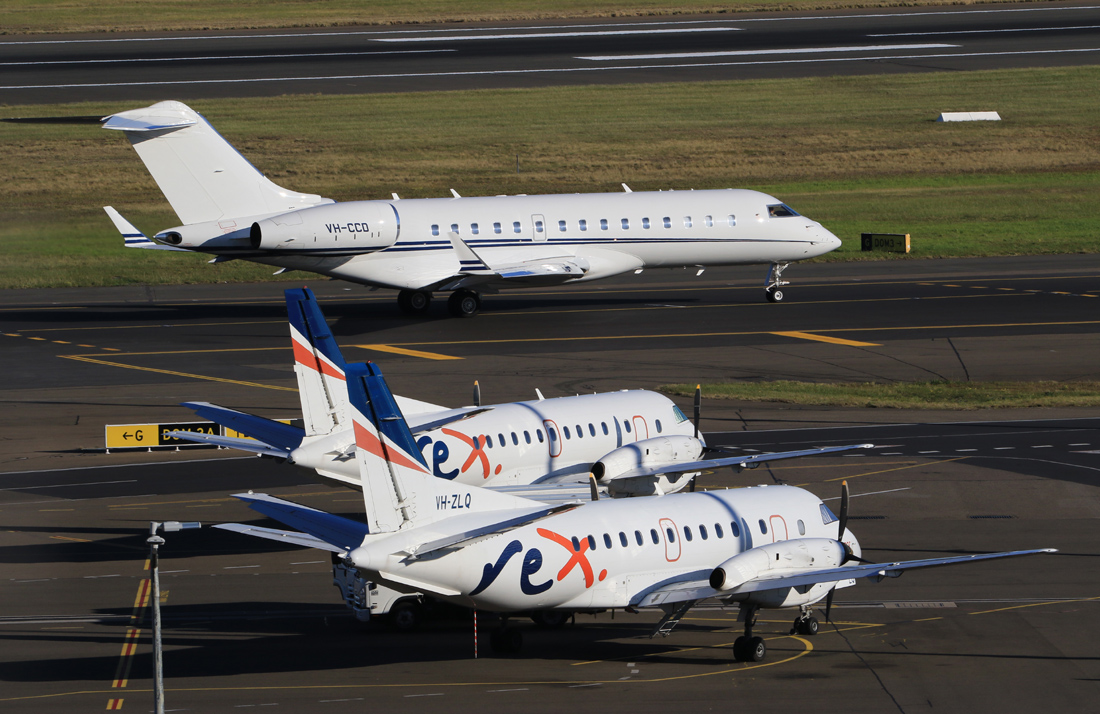 Jetstar Airways A320-232 VH-VQG: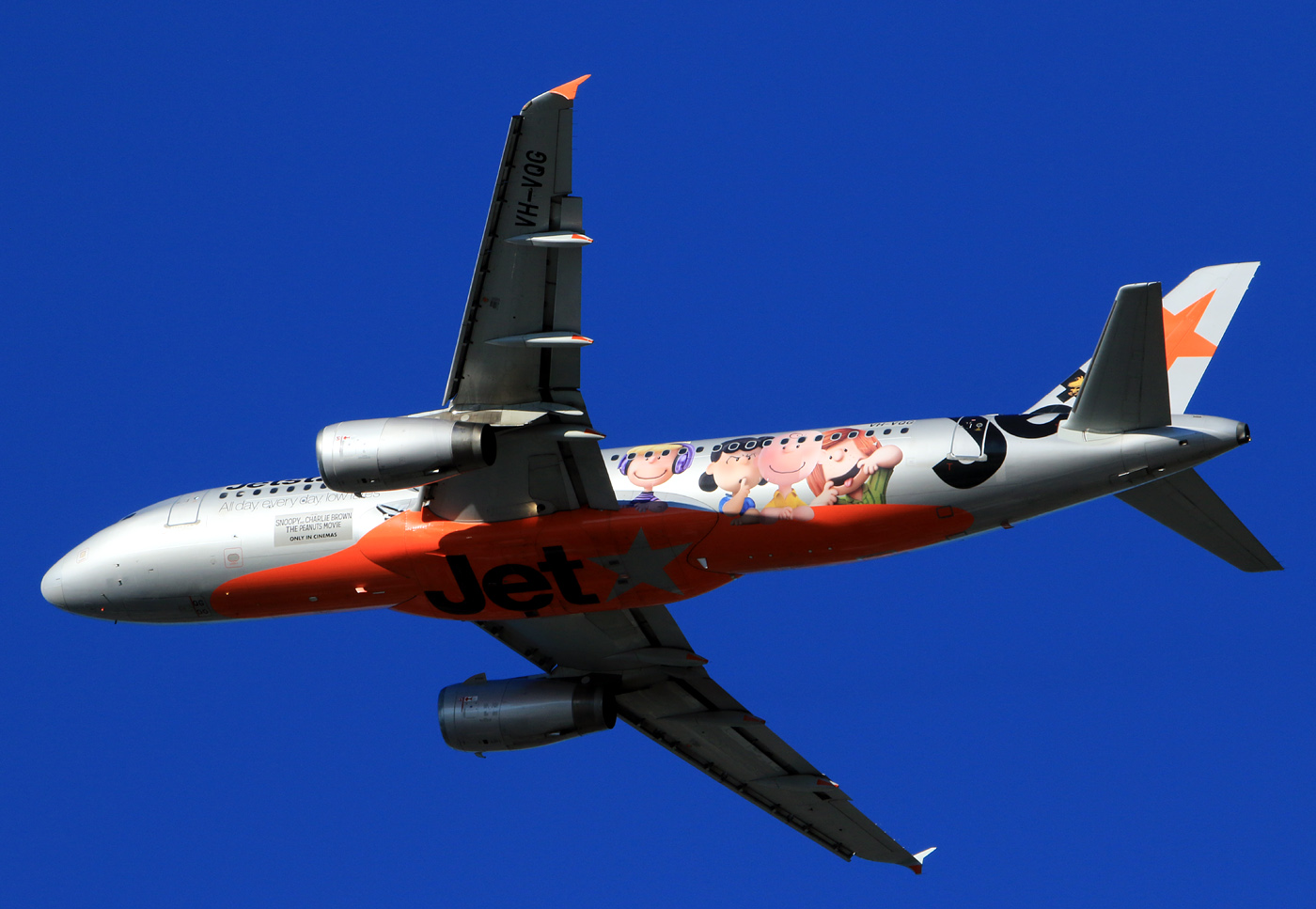 Virgin Australia 737-8FE(WL) VH-VUO: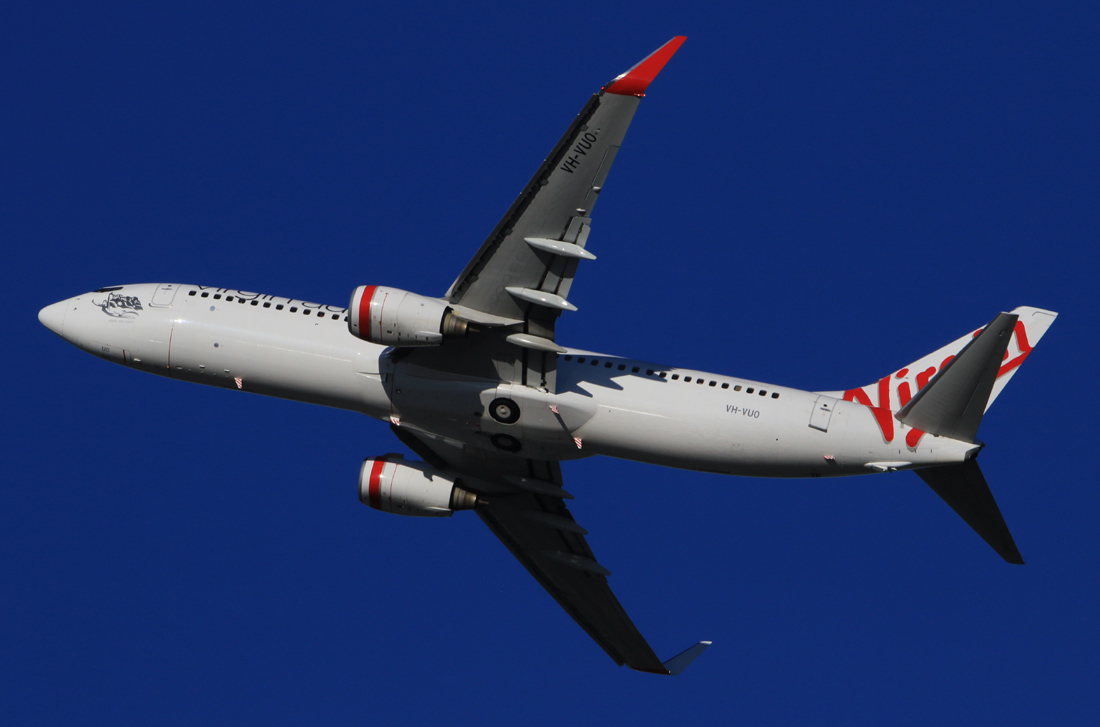 Tigerair Australia A320-232 VH-XUG: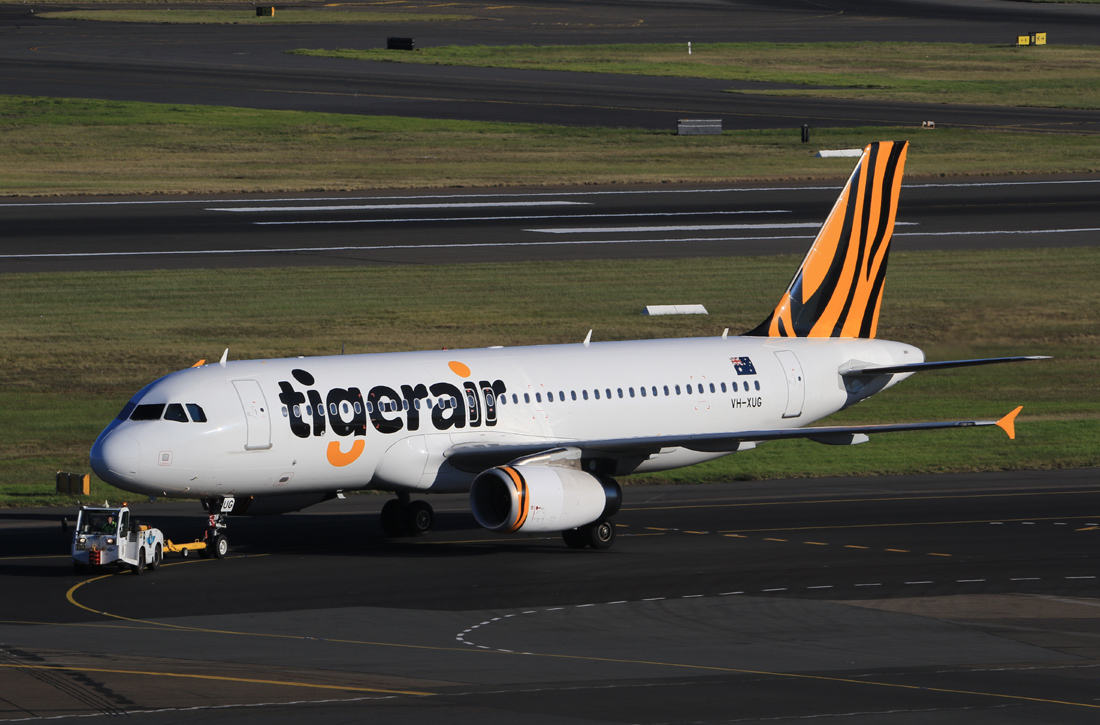 QANTAS Link DHC-8-315Q VH-TQZ: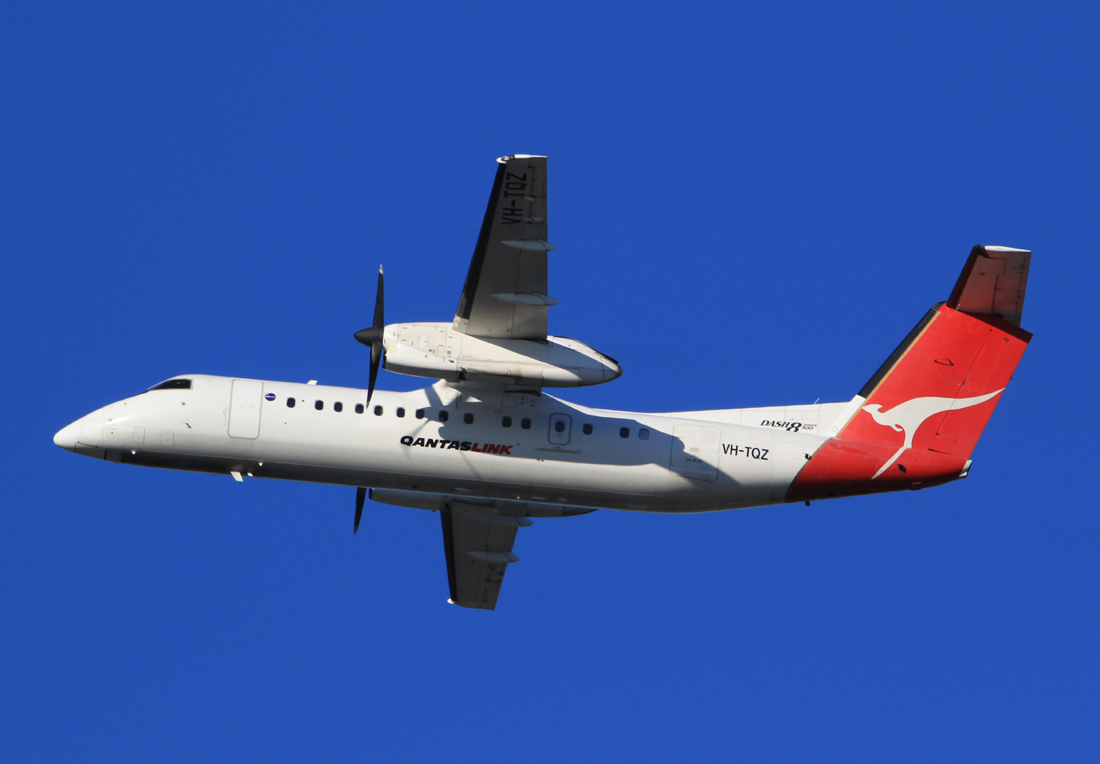 QANTAS Freight 767-381F(ER) VH-EFR: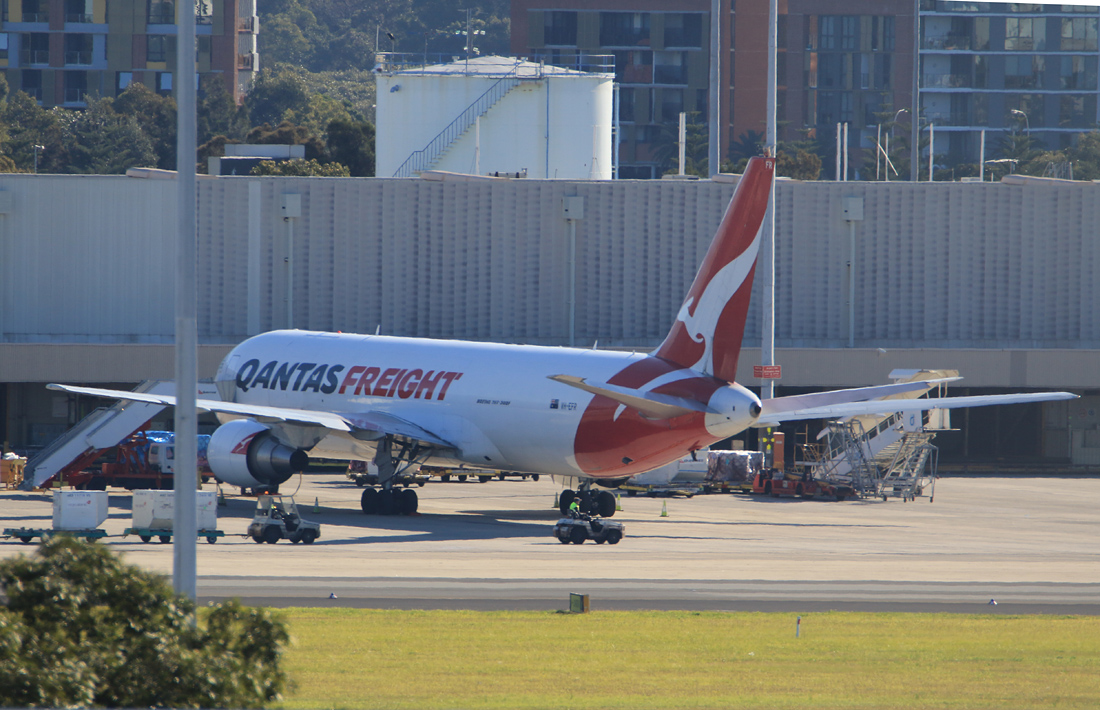 A couple of the days we had were days out for a trip to the zoo and for whale watching. Good times and beautiful weather to be sure.
During the whale watching trip: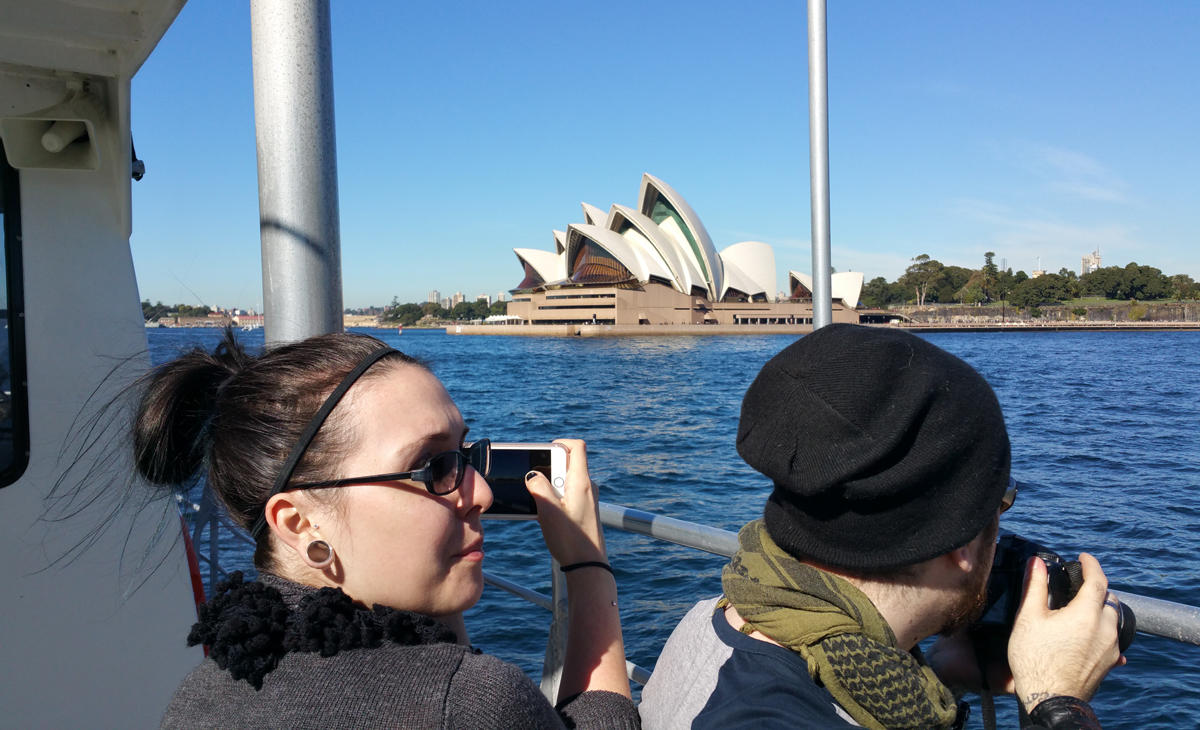 During the whale watching trip: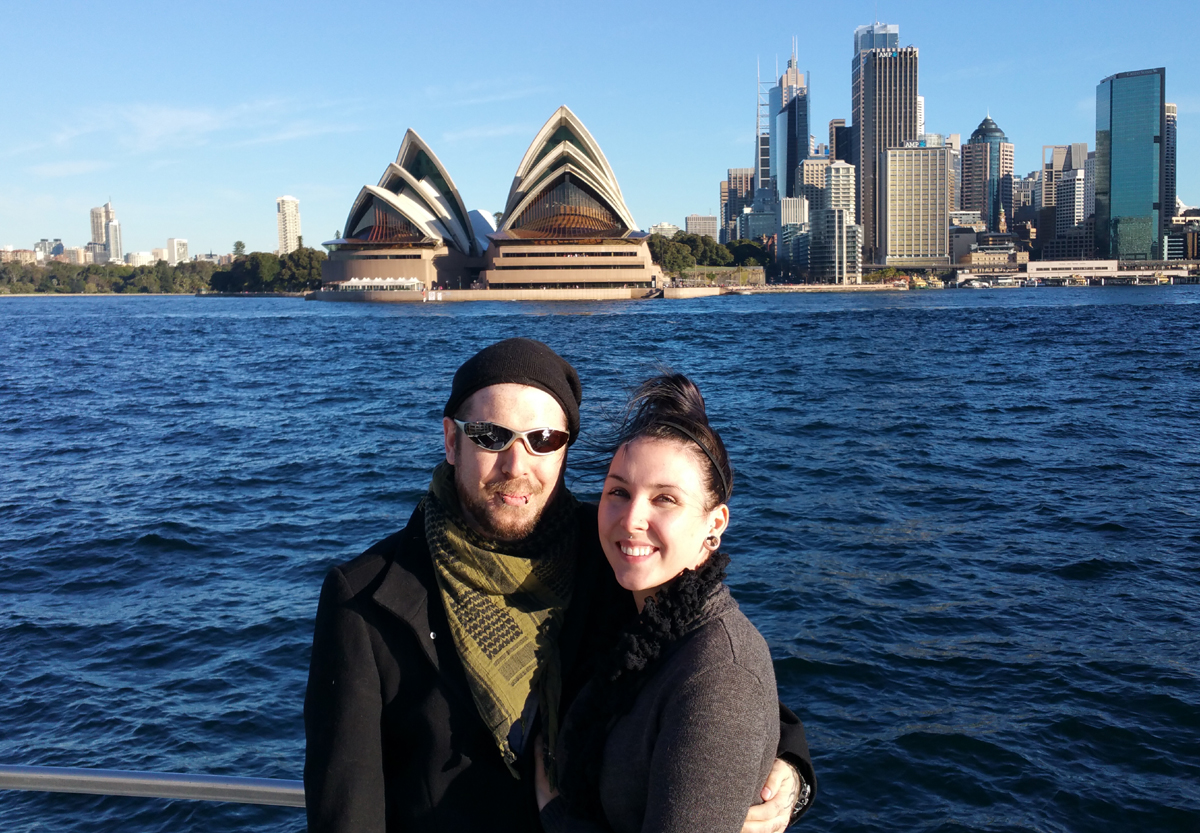 Passing Hornby Lighthouse to enter open sea: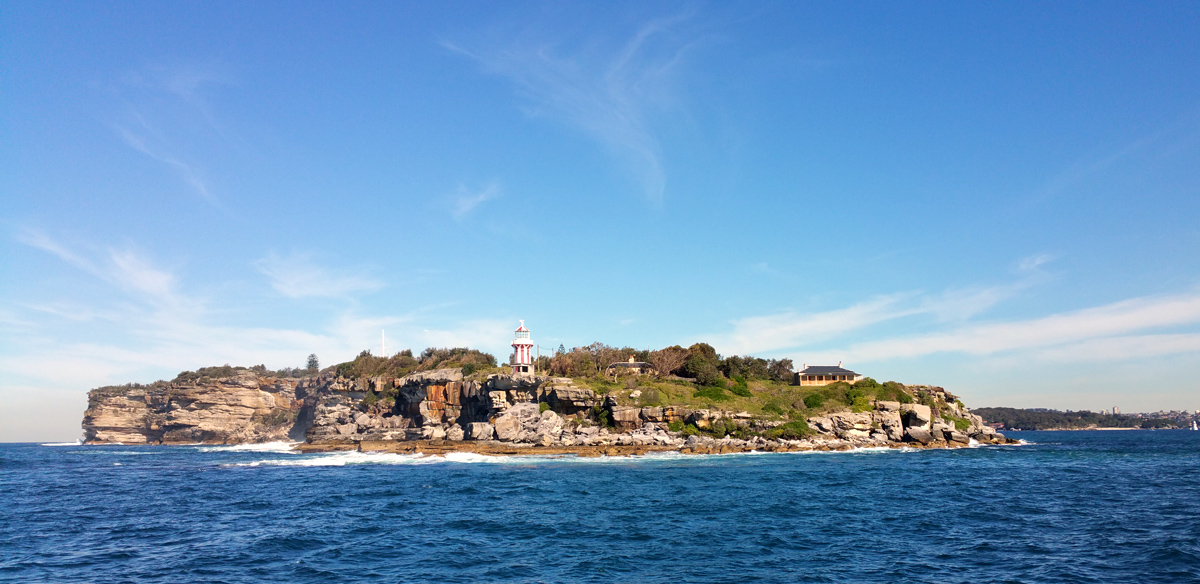 During the whale watching trip: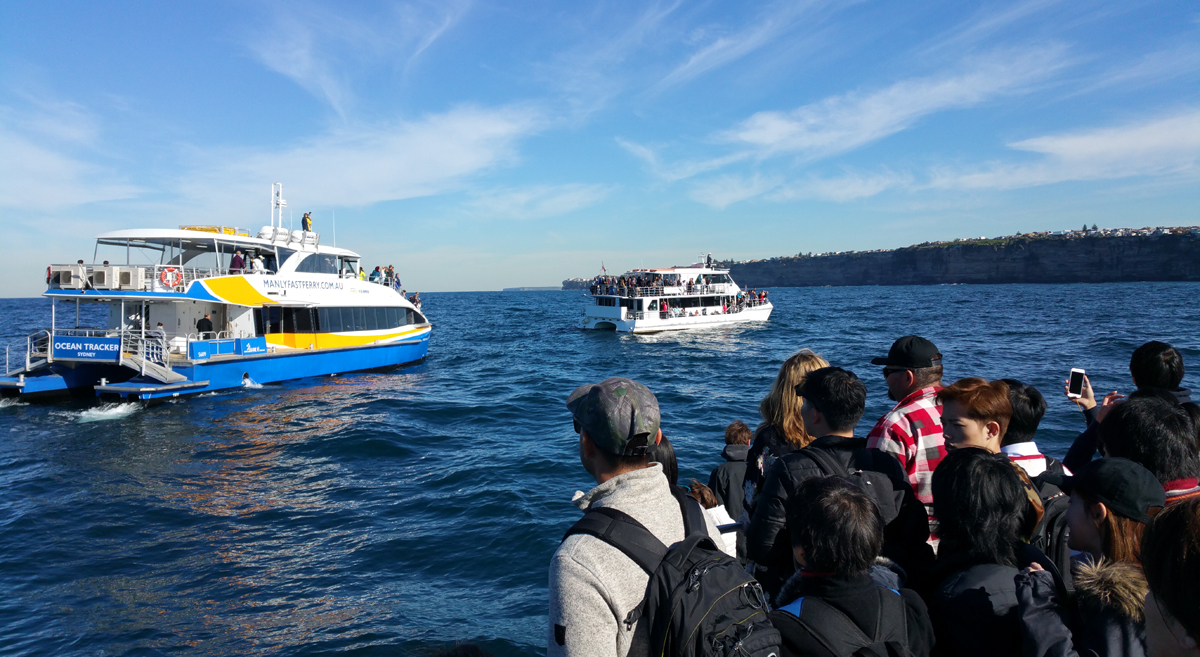 Humpback Whale during our boat trip outside the harbor: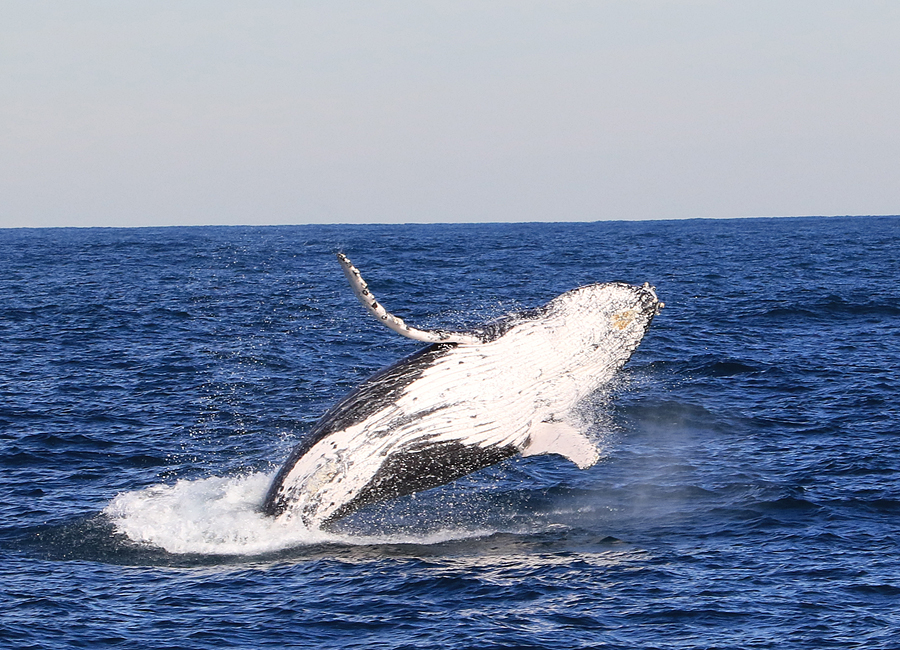 I always enjoy seeing a Beaver: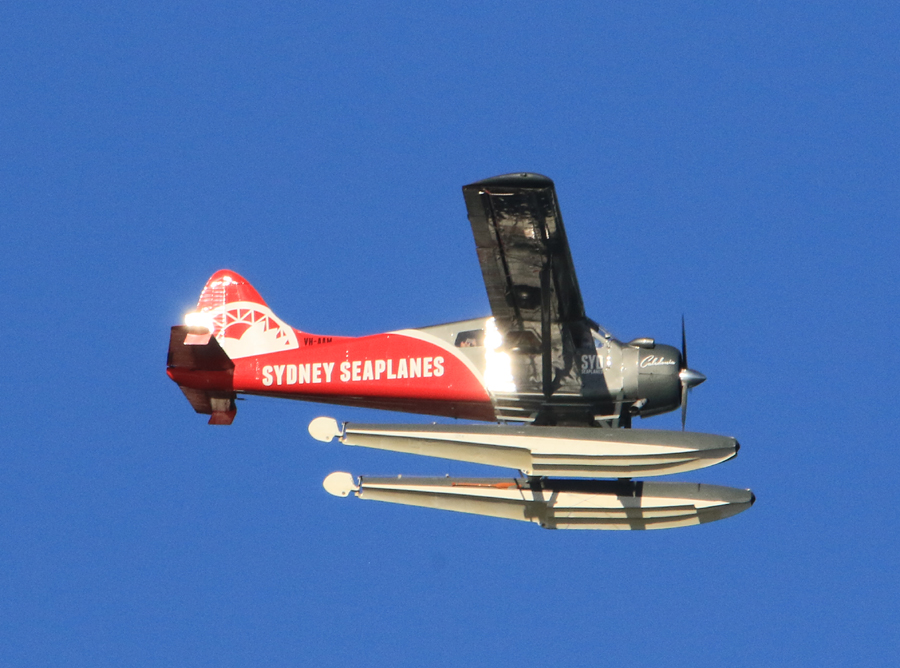 I always enjoy seeing a Beaver: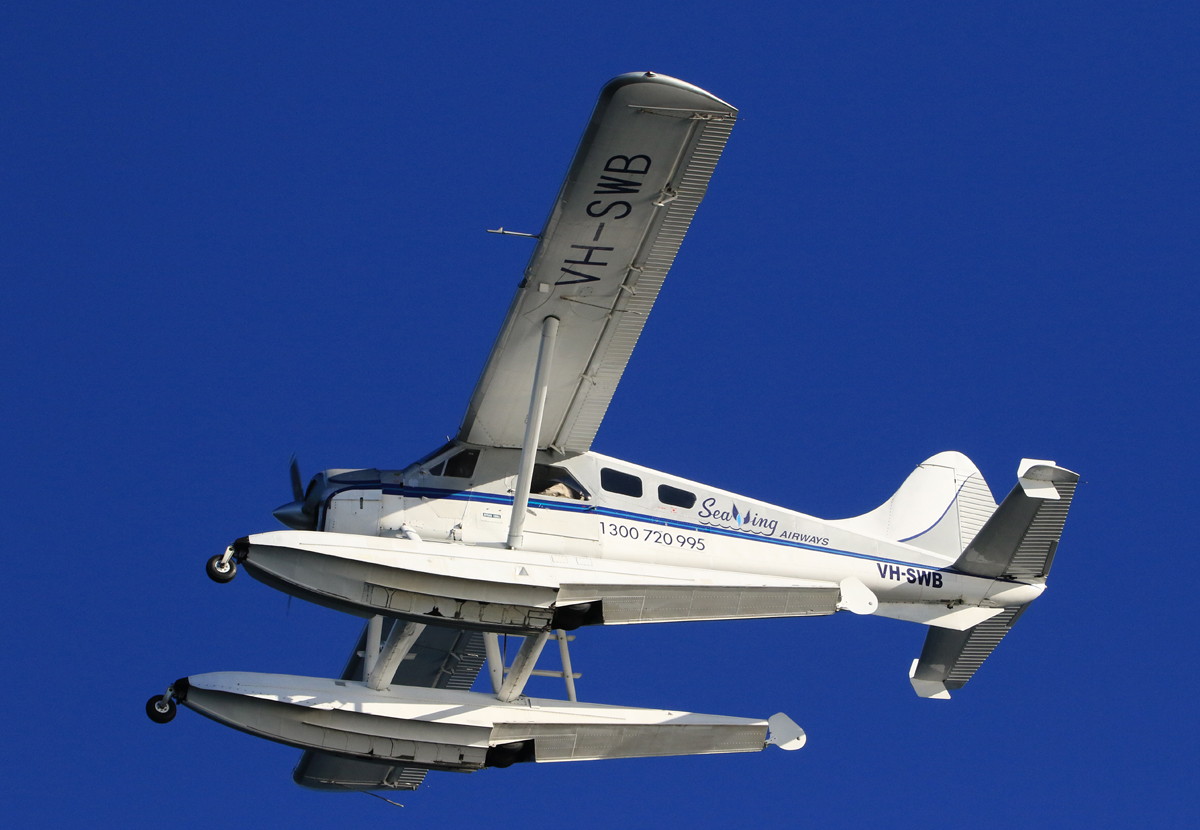 Lots of boats for sale!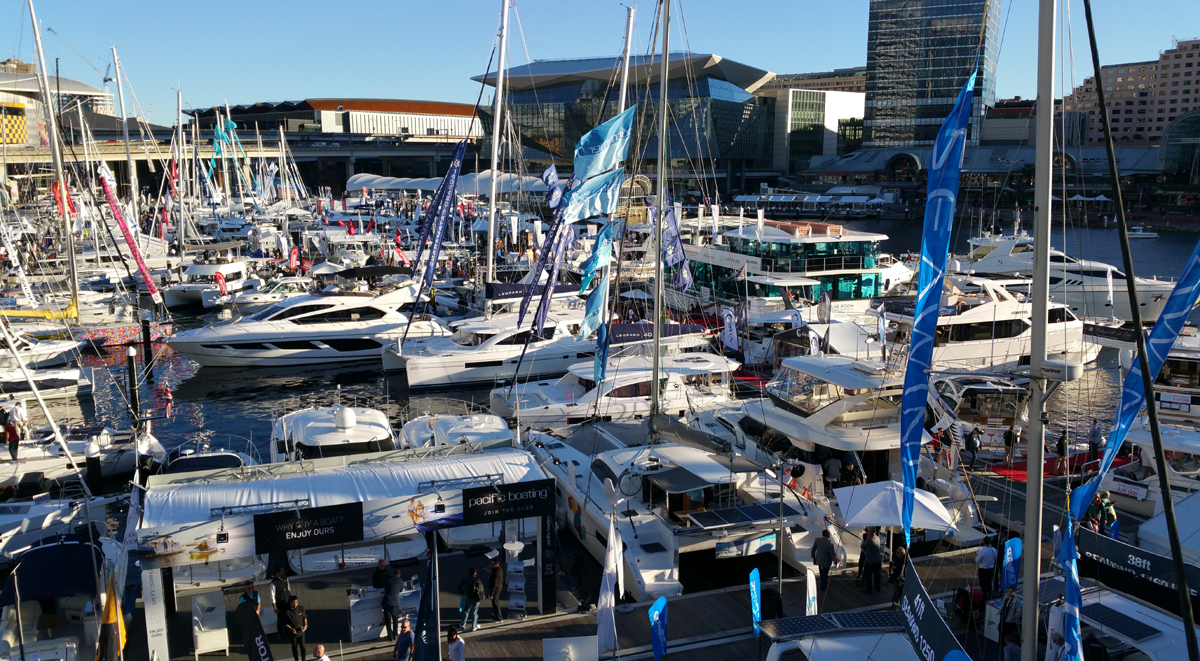 My daughter with Paul Hogan wax figure: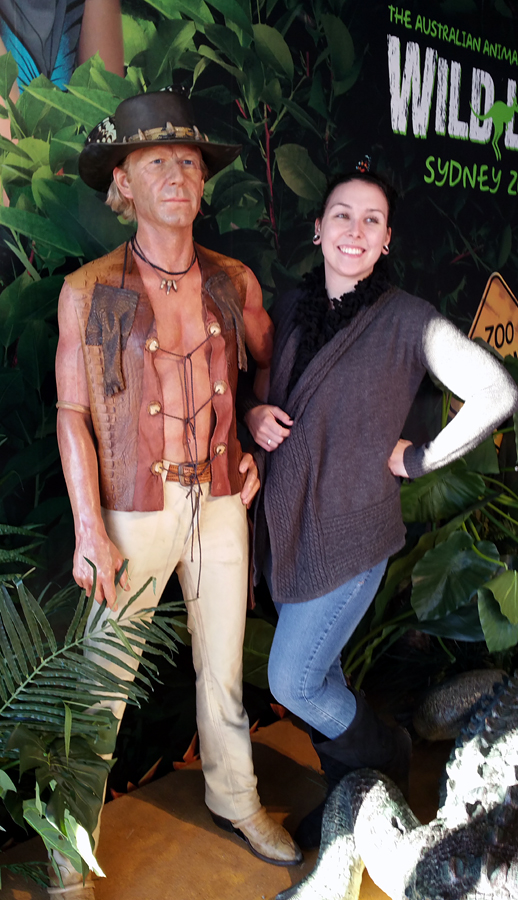 After our zoo day we had dinner at a Pancakes On The Rocks...here is desert I shared with my daughter: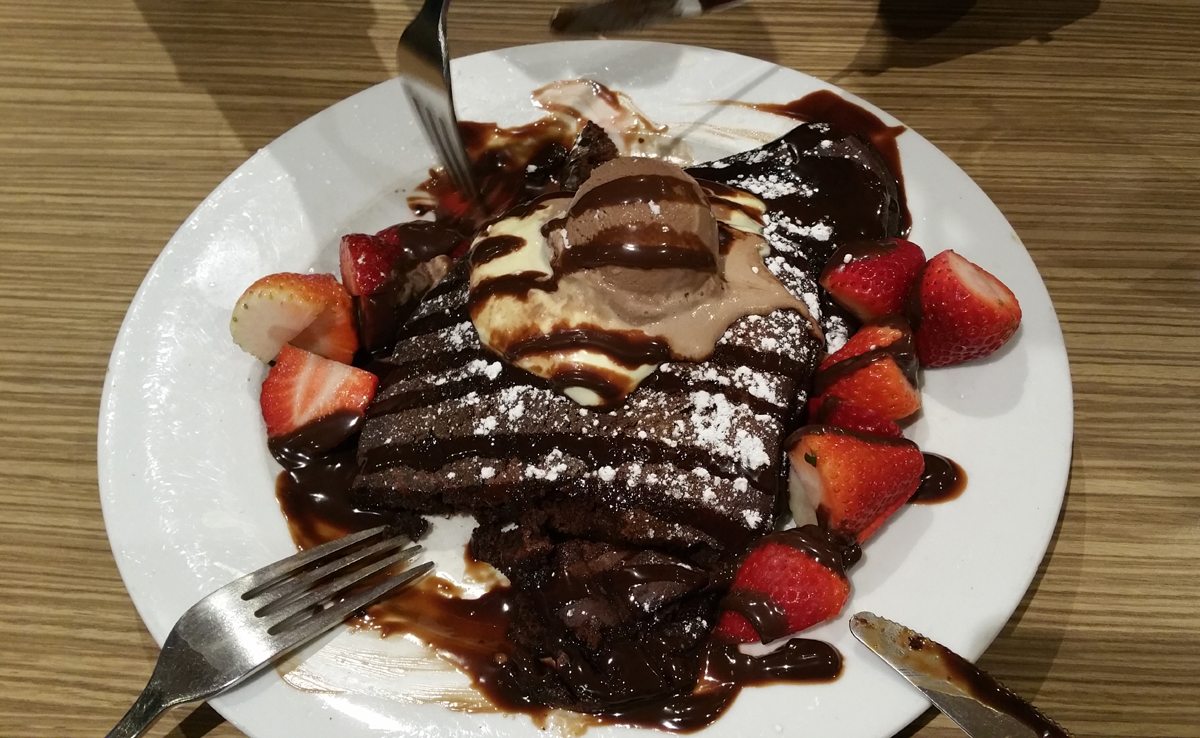 Southern Cross: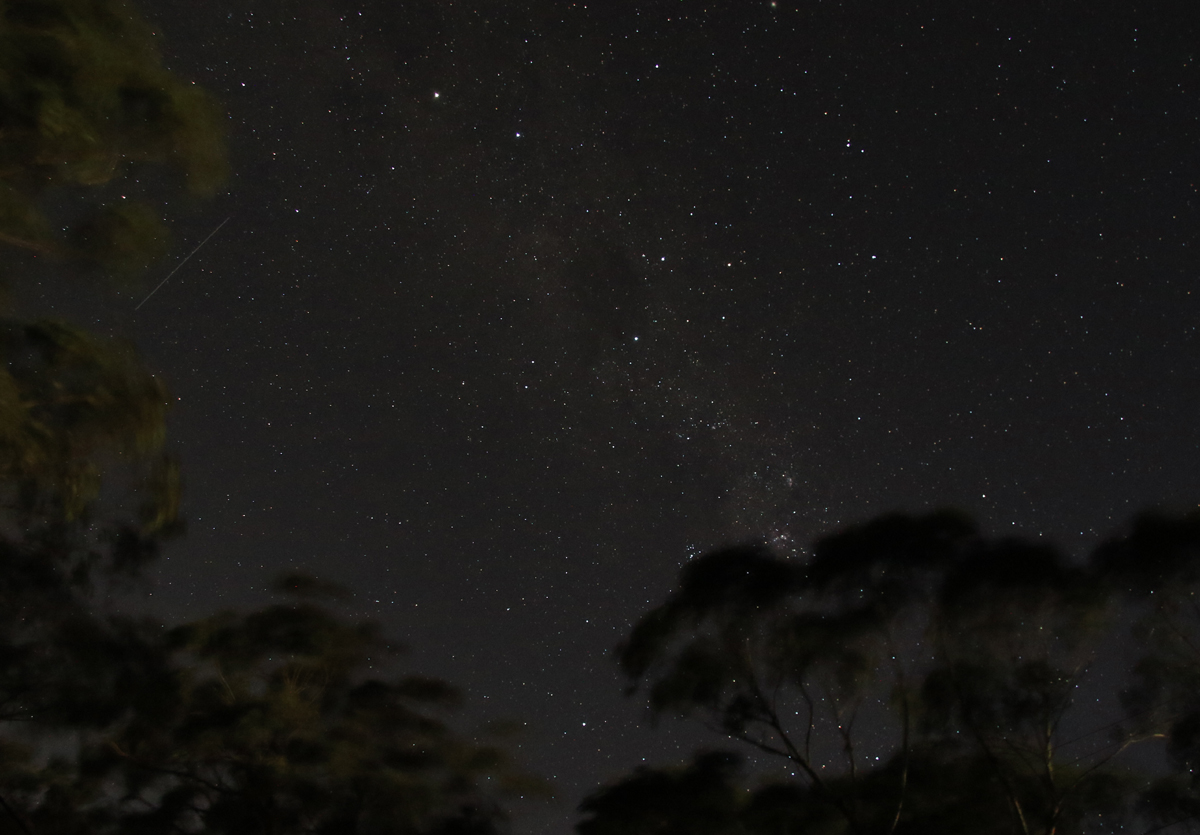 Annotated photo of Southern Cross: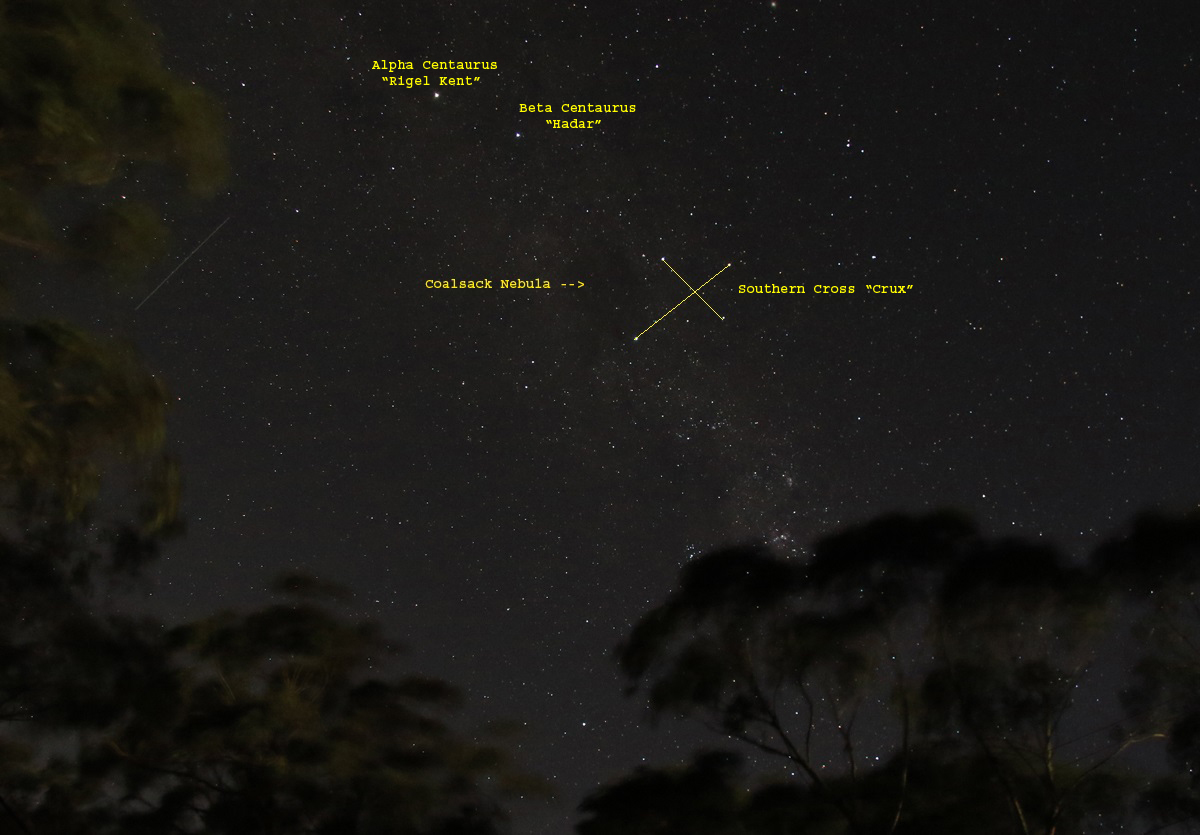 Magellanic Clouds: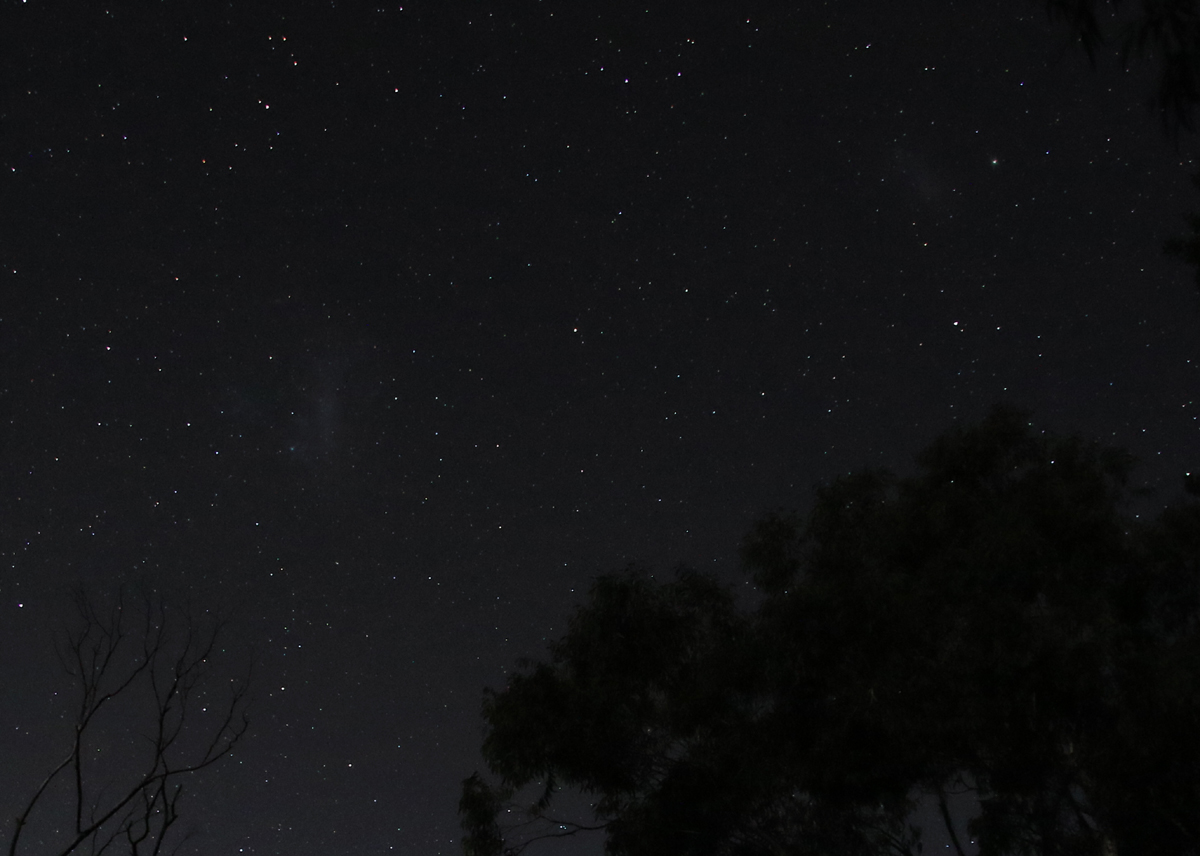 Annotated photo of Magellanic Clouds: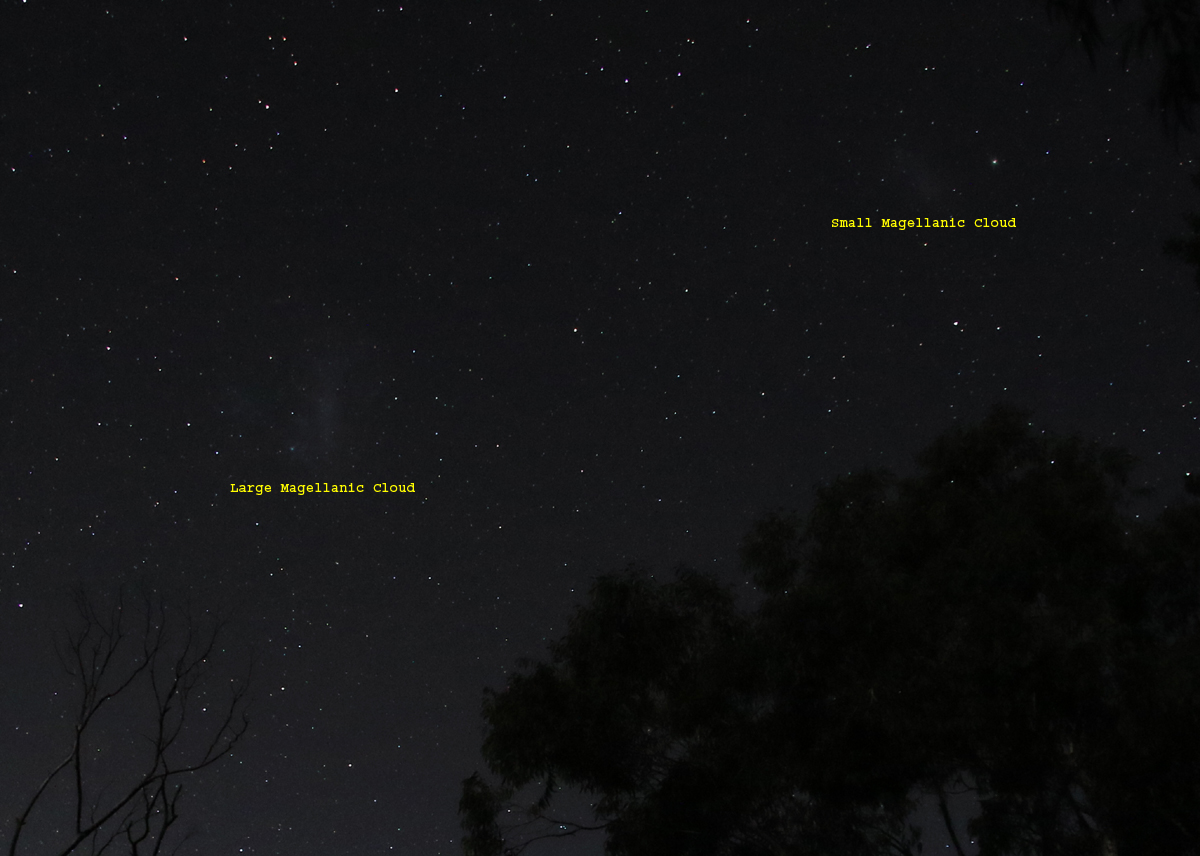 As our trip was coming to a close, my son-in-law booked a ticket on our flight and thankfully he was able to get into Comfort+ with a seat next to my daughter, in the row ahead of me. When it came time for us to depart, I opted to take the train into Sydney on the Sunday evening and stay at a hotel near the airport. I wanted to get checked in as soon as the ticket counter opened so I could spend a good couple of hours plane watching from inside the terminal before our departure. My daughter and son-in-law got a ride to the airport with her mother-in-law. I met up with them at the gate just as we were about to board.

The Ibis Hotel...within walking distance of the domestic terminal: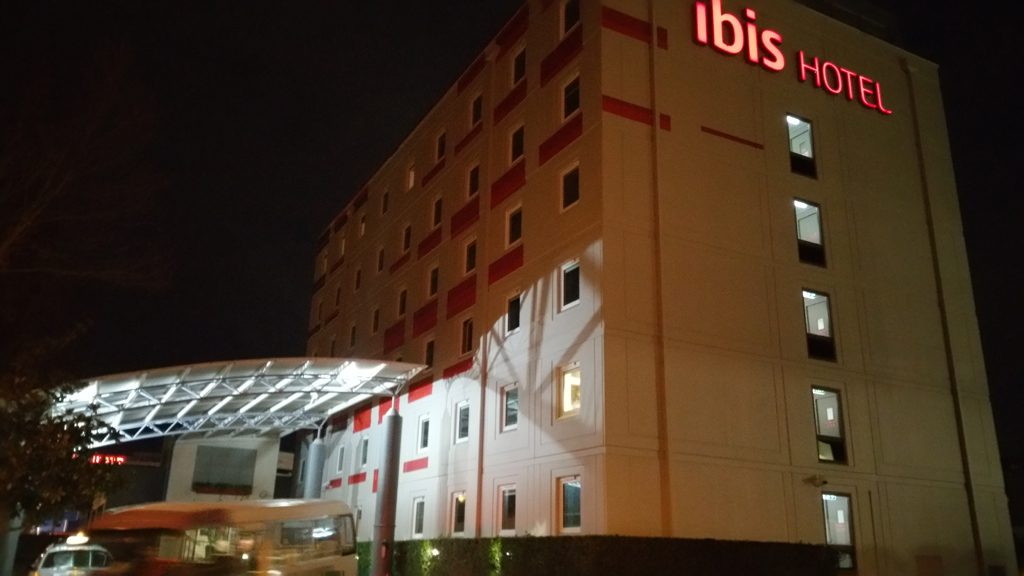 My room in the Ibis Hotel: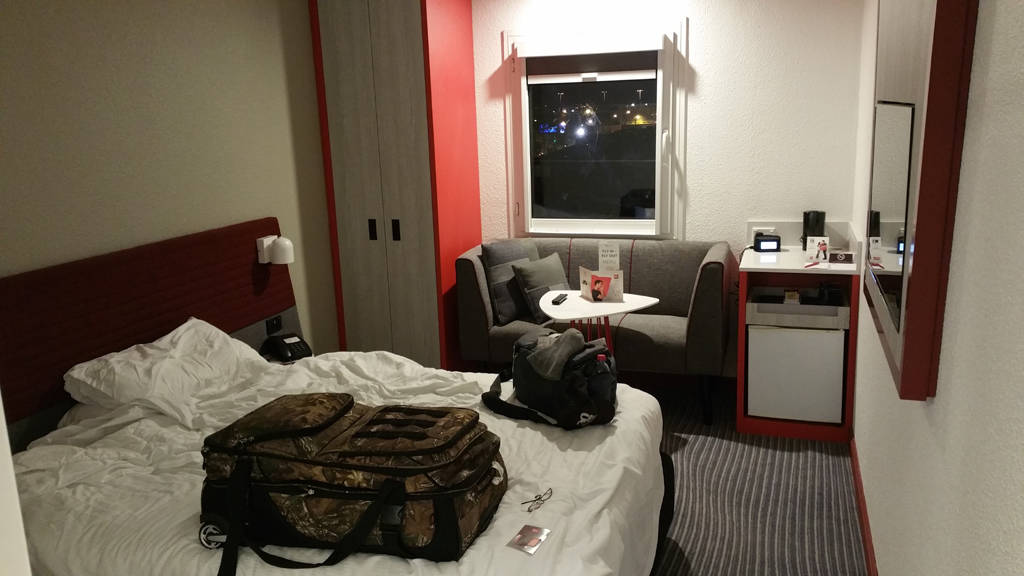 The anticipation of flying trans-Pacific meant I didn't sleep all that well over night. After a shower and shave I had some breakfast and arranged for the shuttle to the international terminal. We had to stop at a couple other hotels before arriving at the terminal. With bag in tow, I found the Delta check-in desk. A queue was forming but I was very close to the front. Finally I got checked in and made my way to security so I could get down to some serious plane watching for the next three hours.

I found a fairly comfortable spot near gates 36/37 where I could watch a lot of the action. It was nice to see a lot of the wide body airliners we typically don't see in America, not to mention the regional narrow bodies. I hadn't been to the Eastern Hemisphere in nearly 20 years so many of the airplanes I saw were new for me.

QANTAS A330-303 VH-QPG: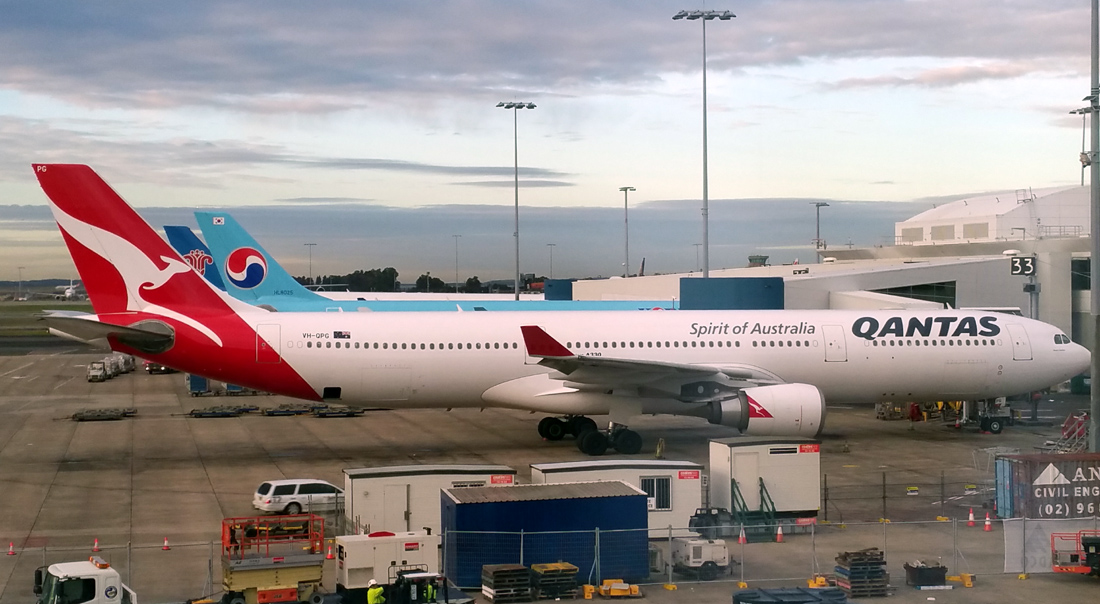 QANTAS 747-438(ER) VH-OEH: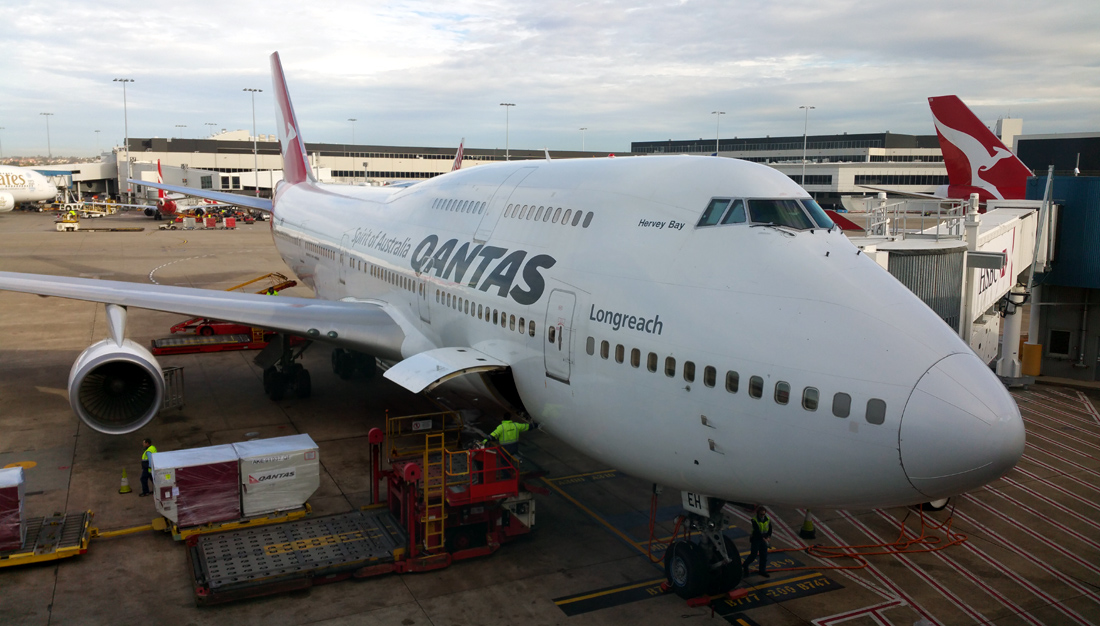 Three QANTAS 747-438(ER) on the gates: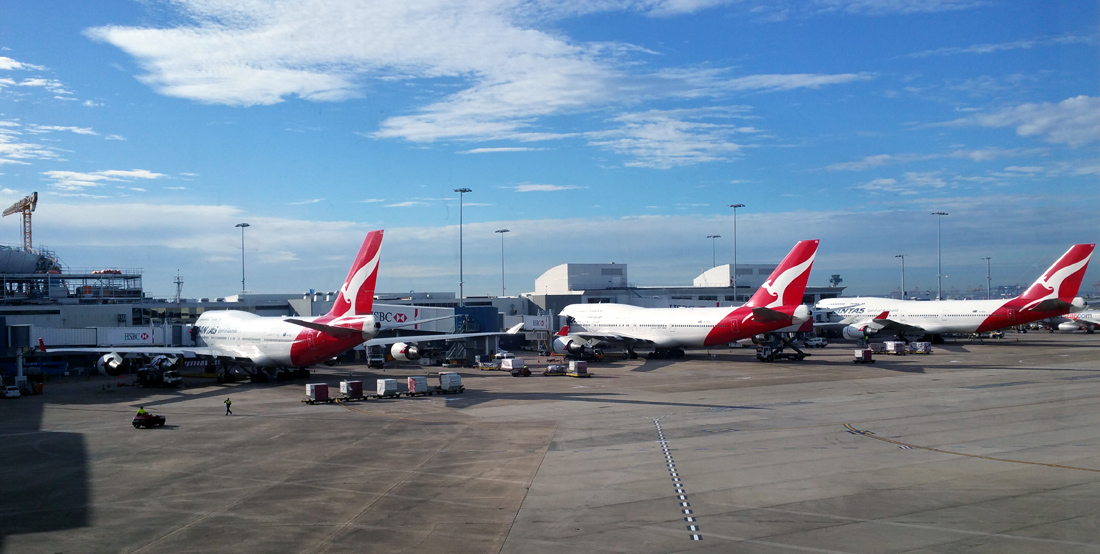 China Southern A330-343 B-6112: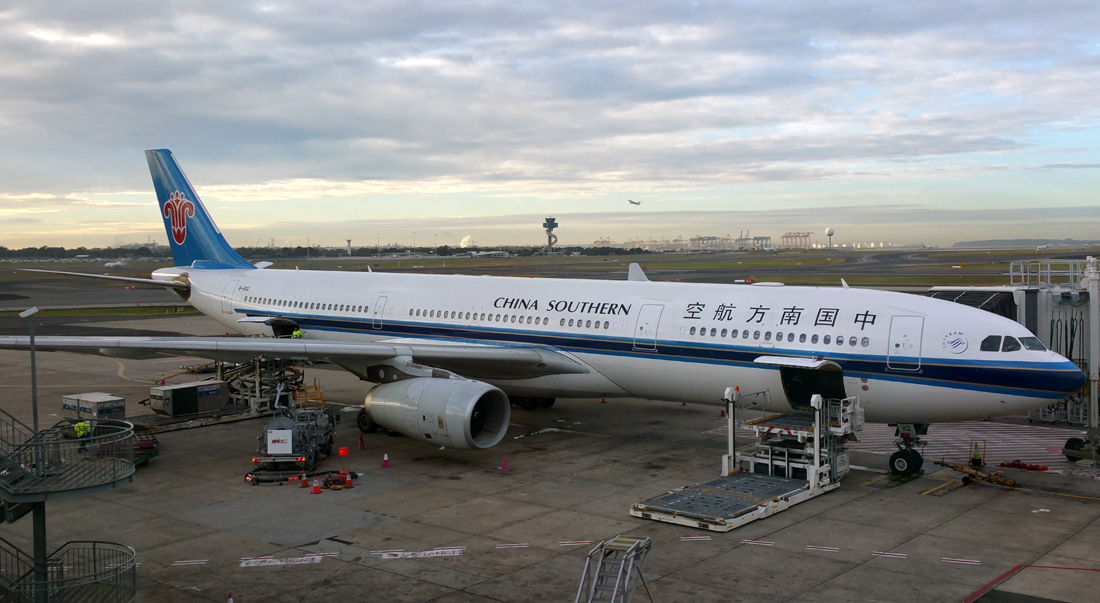 Airlink Beech 1900D VH-RUE: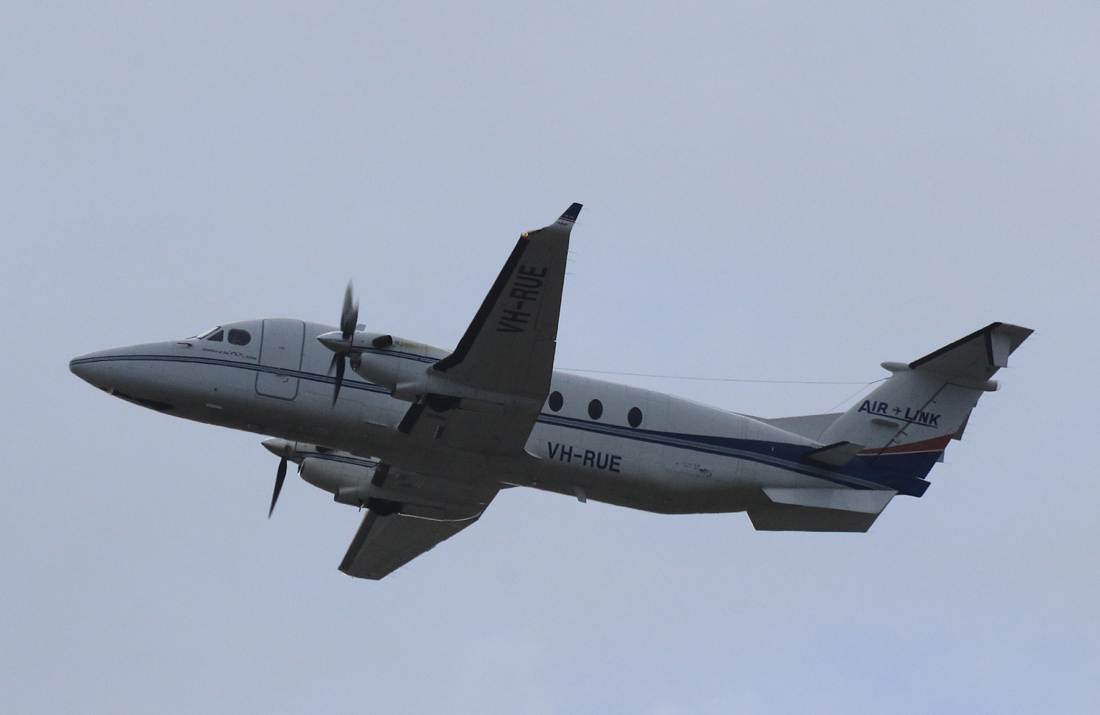 Vietnam Airlines 777-2K6(ER) VN-A144: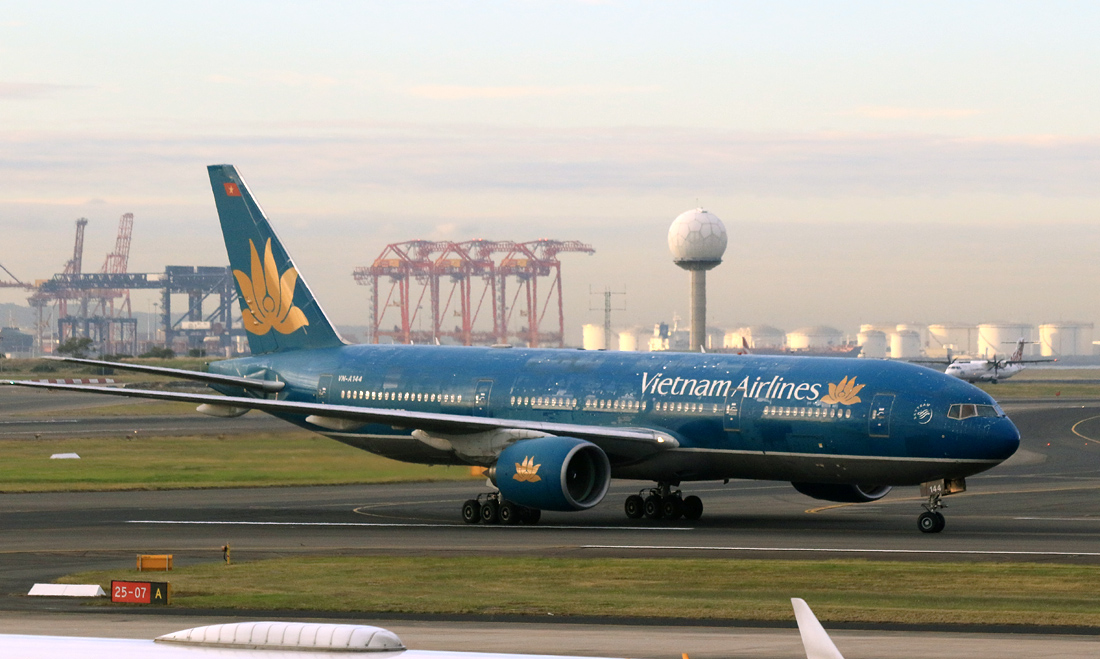 Korean Air A330-323 HL8025: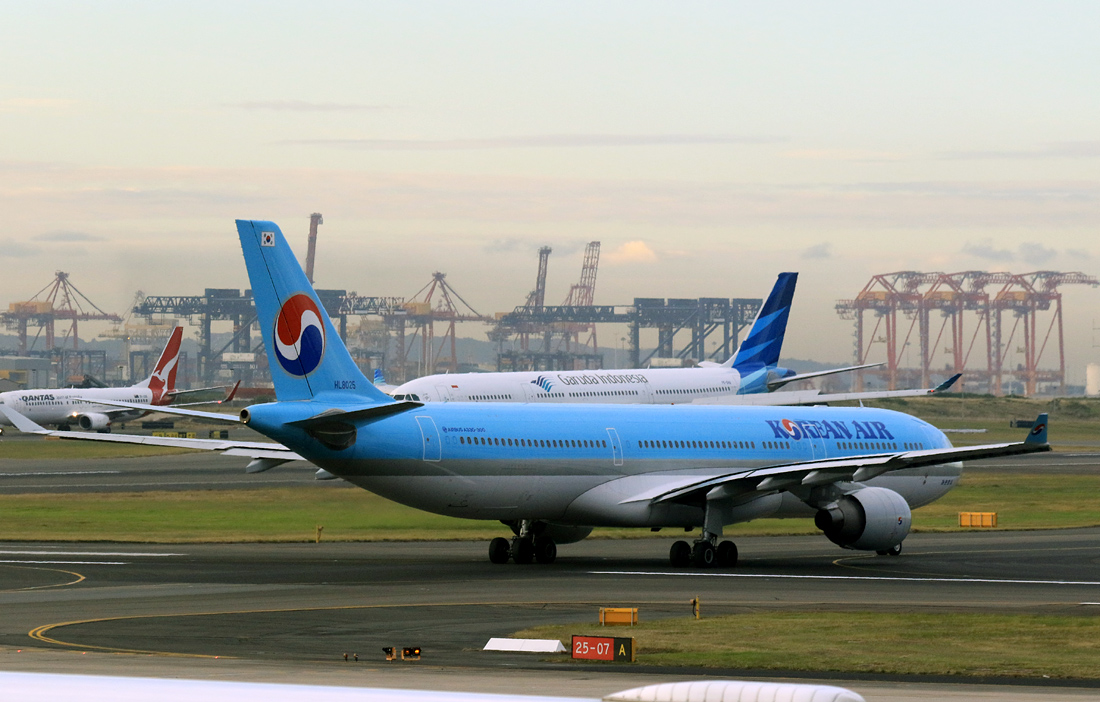 Virgin Australia Regional ATR-72-600 VH-VPJ: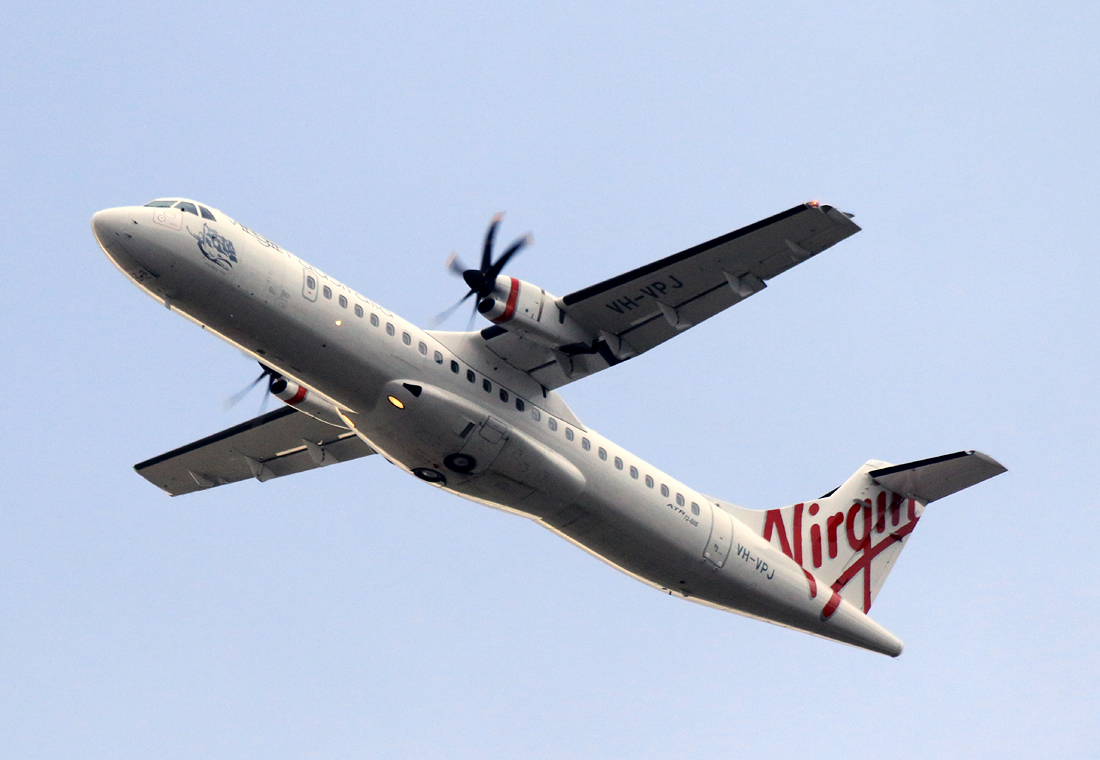 QANTAS A330-303 VH-QPH: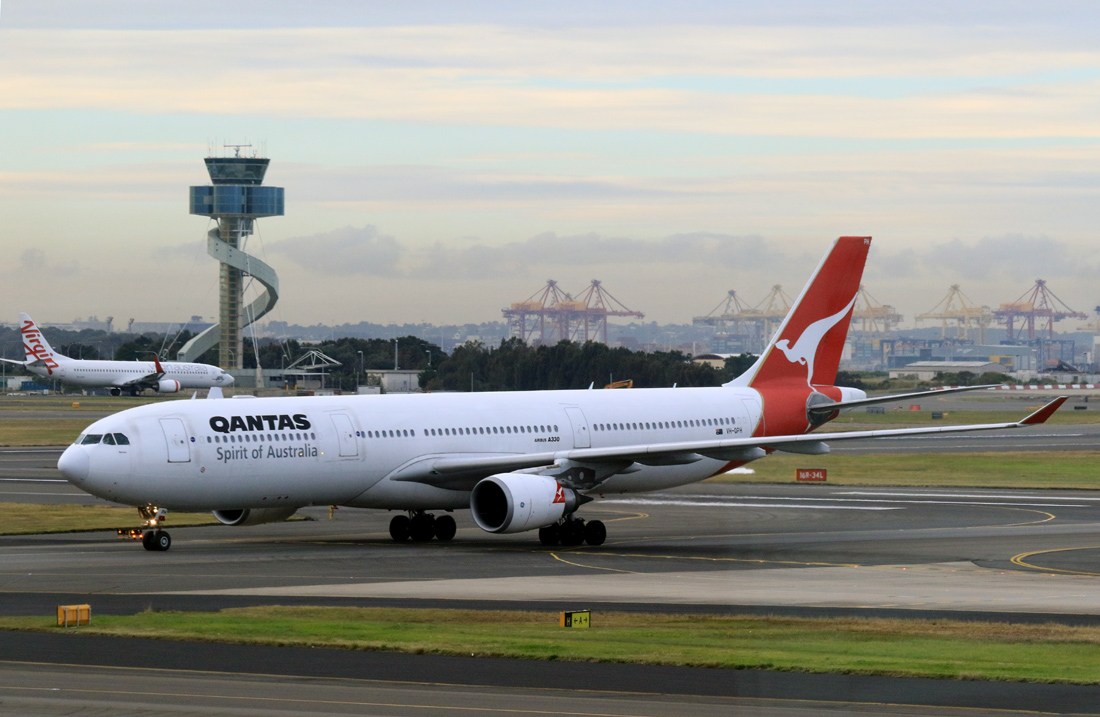 China Eastern A330-243 B-5952: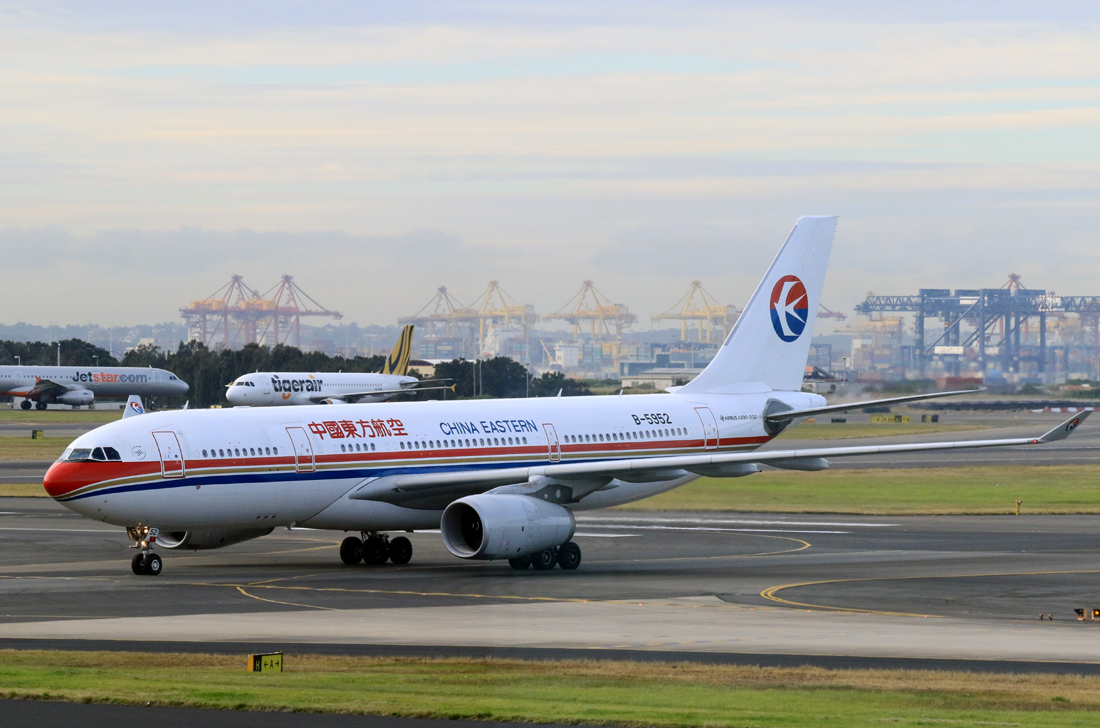 Air New Zealand 767-319(ER)(WL) ZK-NCI: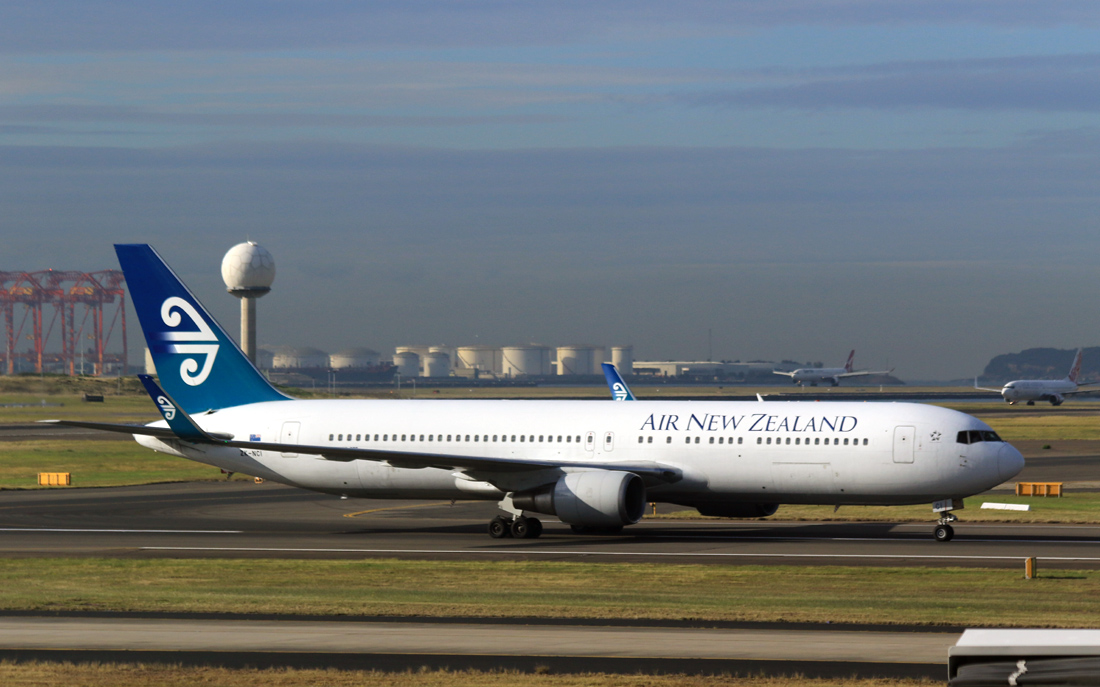 China Southern A330-323 B-5922: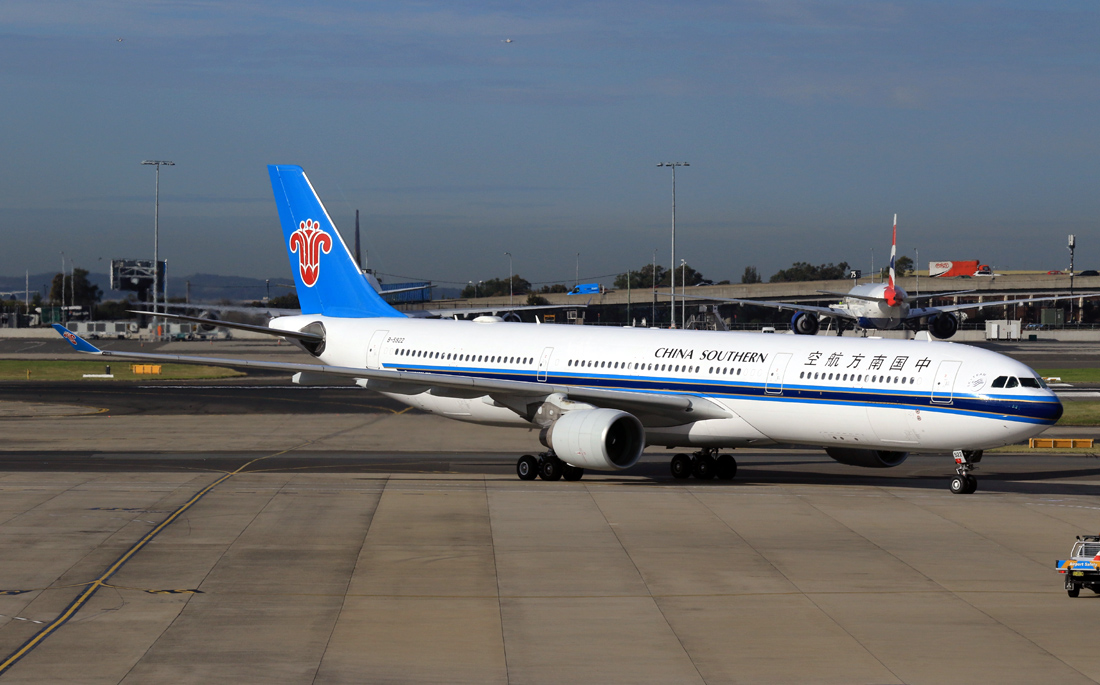 Time to head to the gate for boarding. It took me a few minutes to walk to gate 56. My peeps were there waiting for me and glad to see that I'd arrived the airport. Before too long we were boarding...this would be my first 777 ride since May 1999. 777s are just not an airplane I go out of my way for unless for a specific reason. I'd much rather fly an 8-abreast Airbus long haul than a 9- or 10-breast 777. IMHO Airbus A330/A340 family aircraft are just better looking planes than the bland 777s.

Flight #3:
1 August 2016
Delta Air Lines
SYD-LAX Flight # 40
Boeing 777-232(LR) N702DA
STD: 10:00AM STA: 06:45AM (same day)
Seats: 30J & 31J
My photo of N702DN at gate 56 at SYD: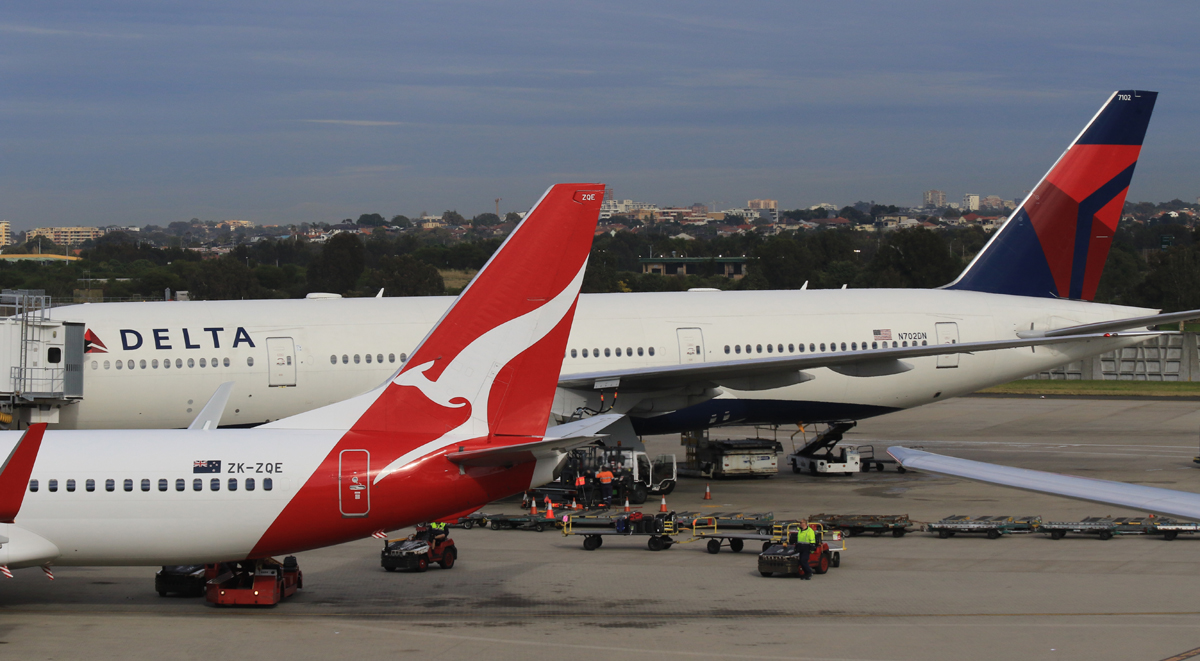 Jetconnect 737-838(WL) ZK-ZQE: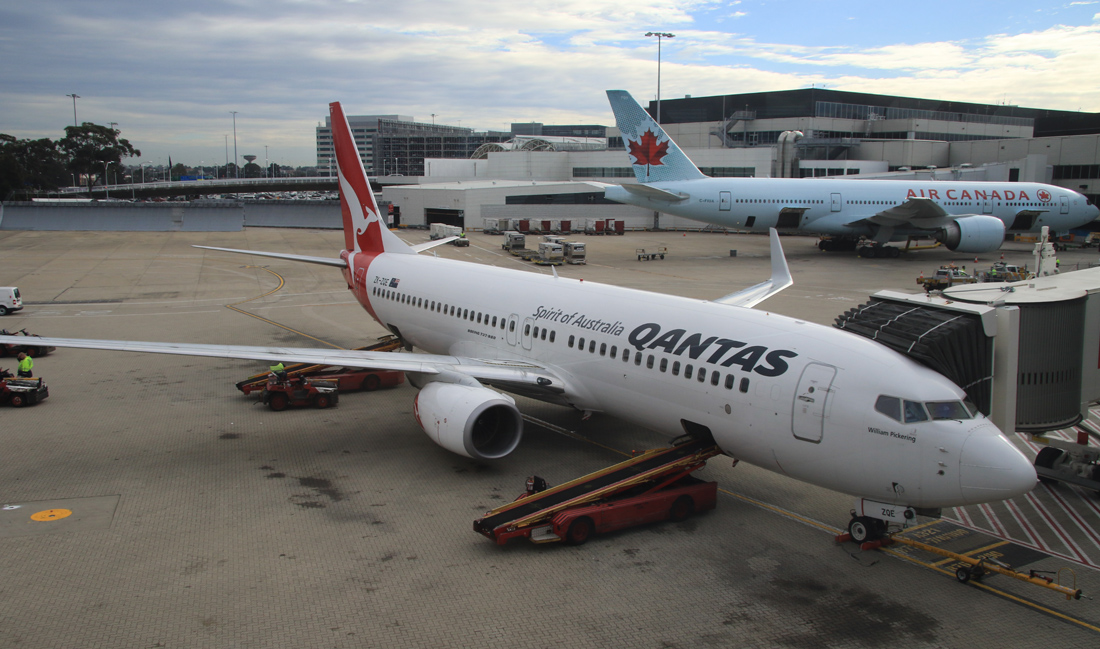 Asiana Airlines A330-323 HL8258: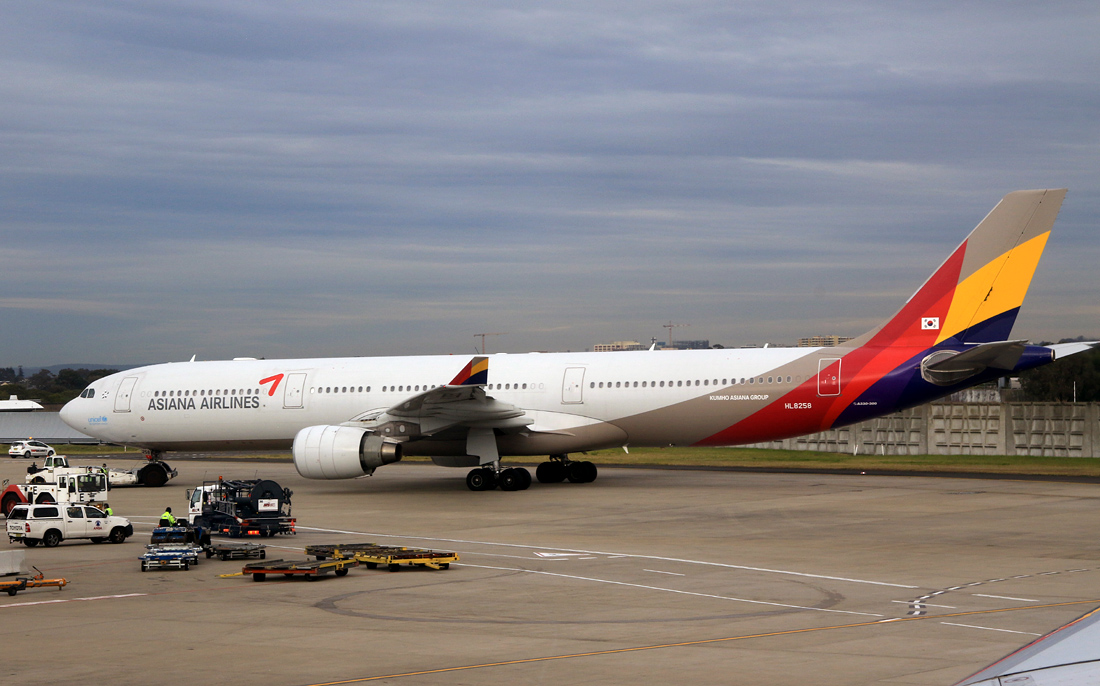 Xiamen Airlines 787-8 B-2761 arrives: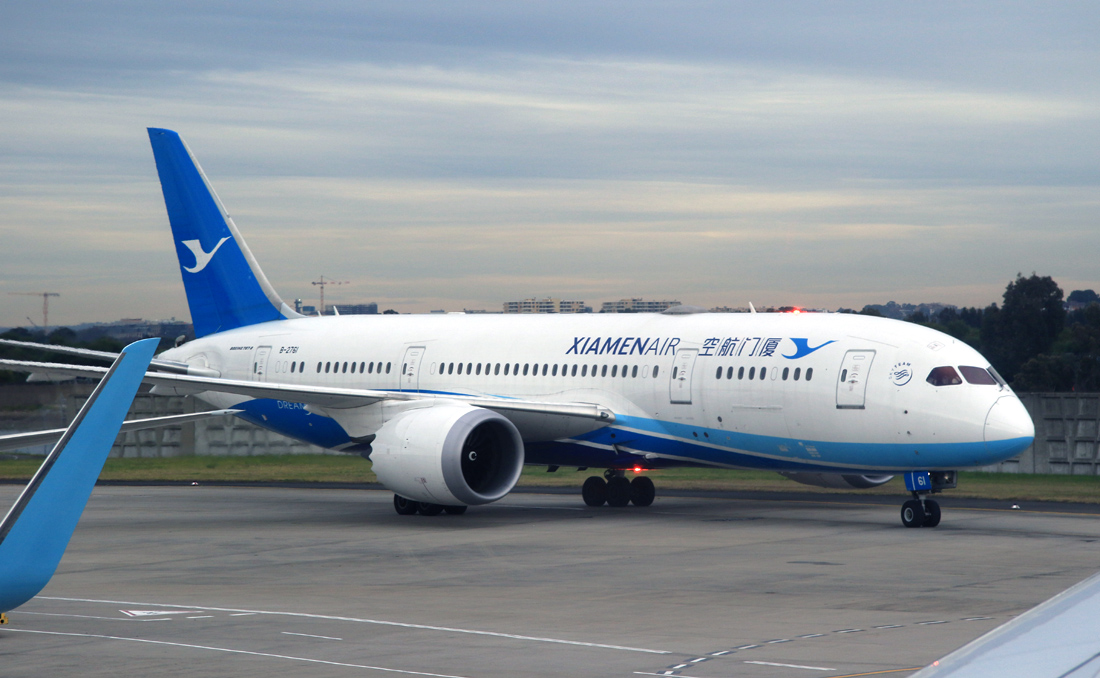 Air Vanuatu 737-8SH(WL):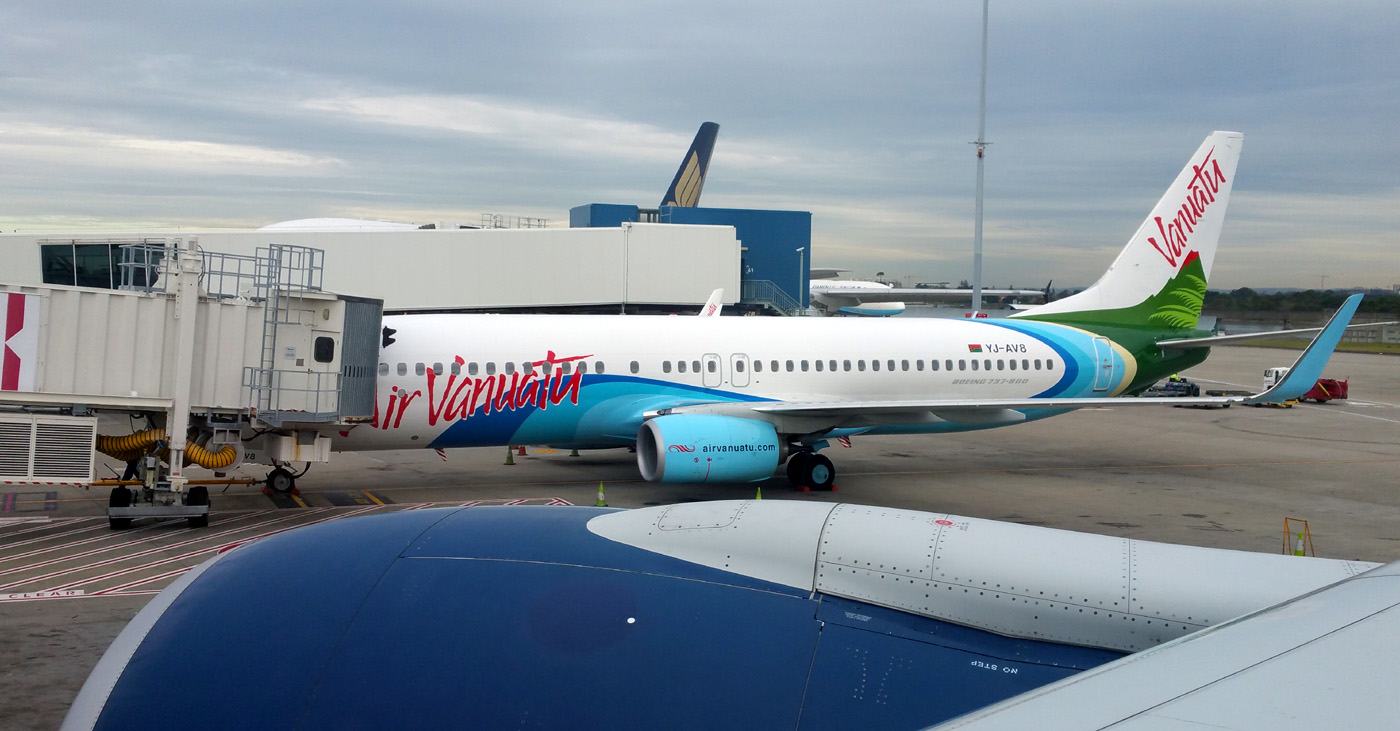 Air Asia X A330-343 9M-XXC: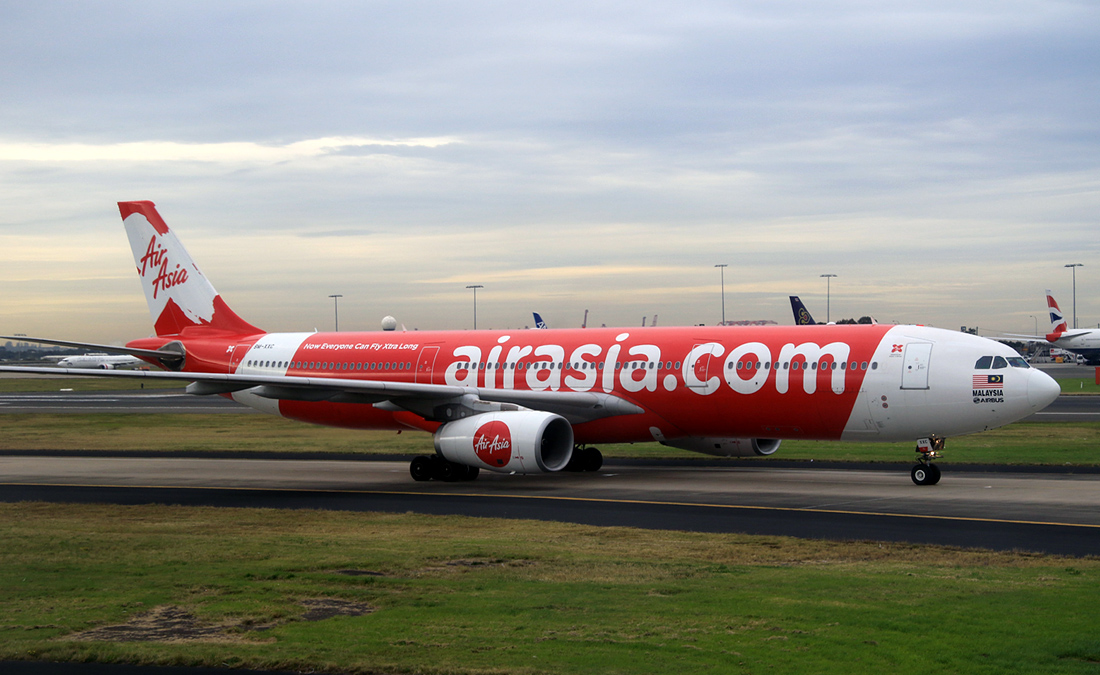 Thai International 747-4D7 HS-TGF: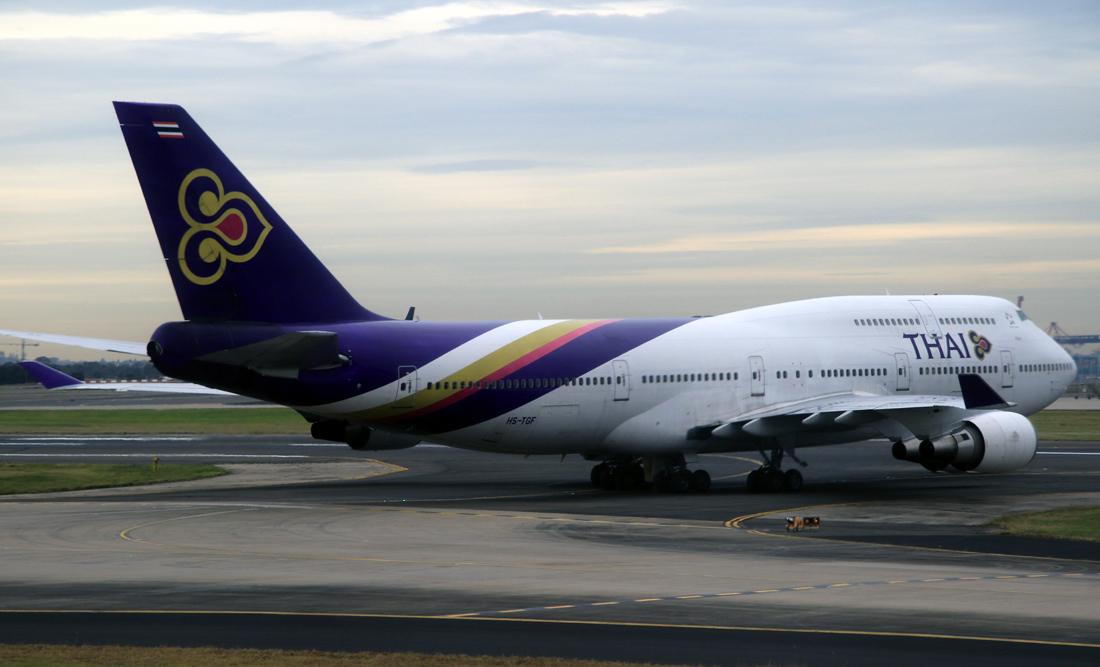 Lining up on 34L: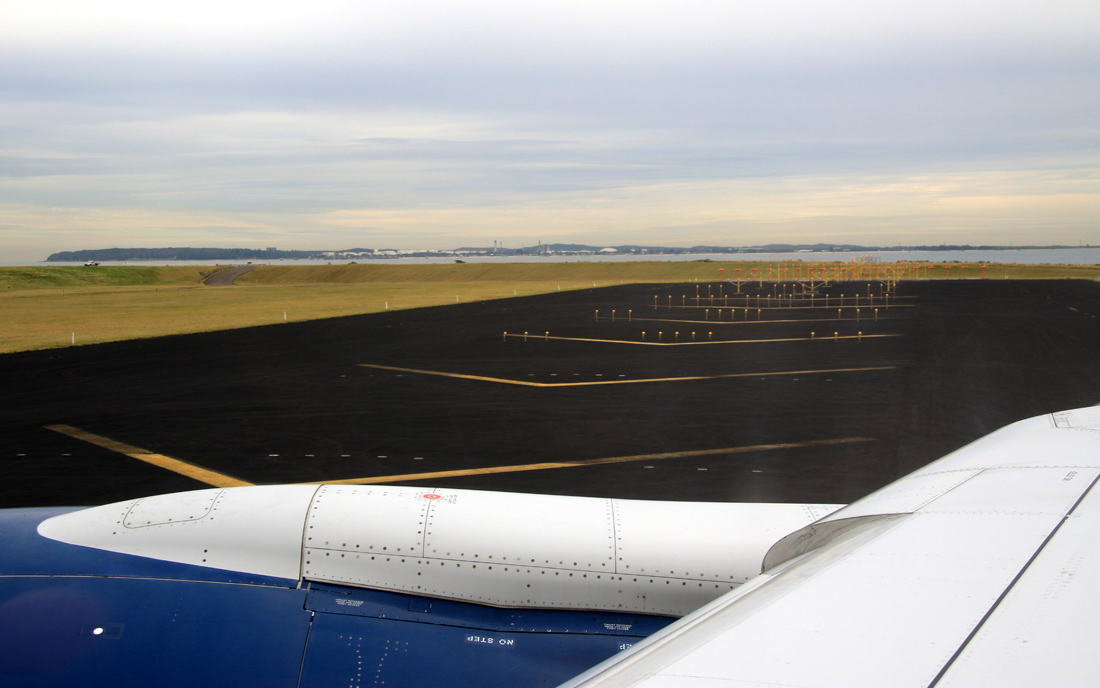 Climbing out over Sydney Harbour: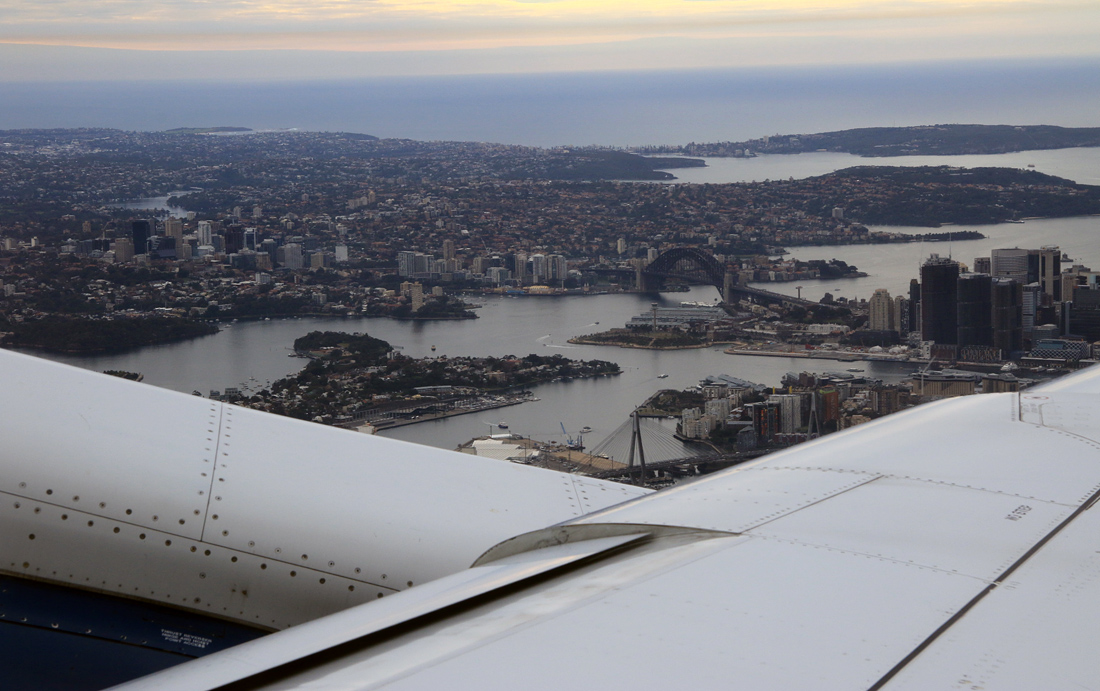 Climbing out over Sydney Harbour: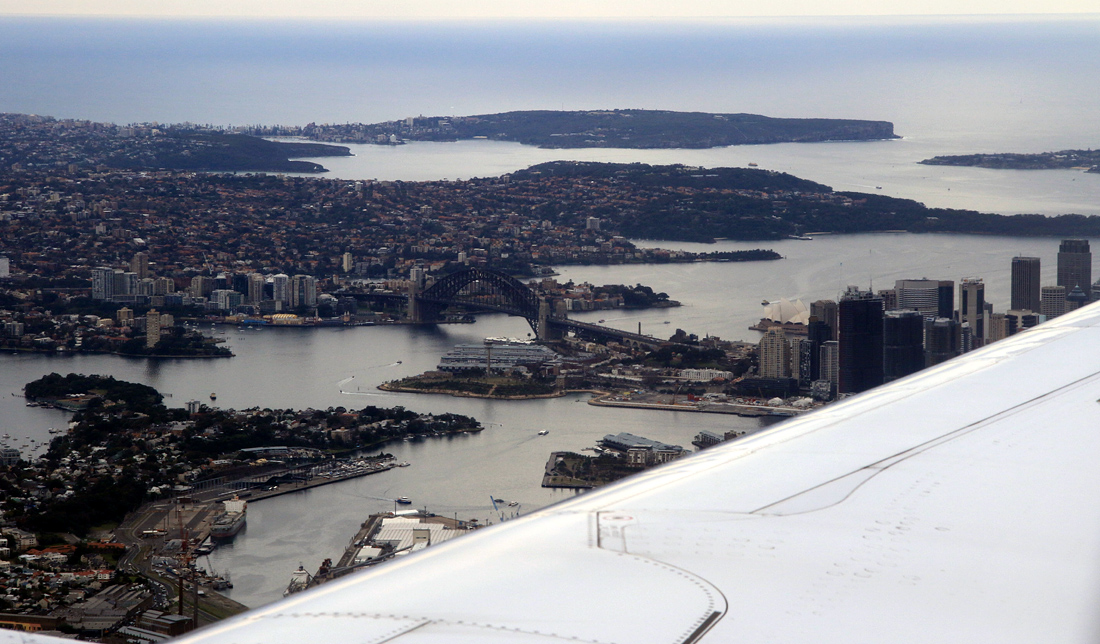 AVOD screen showing us 27 km from origin: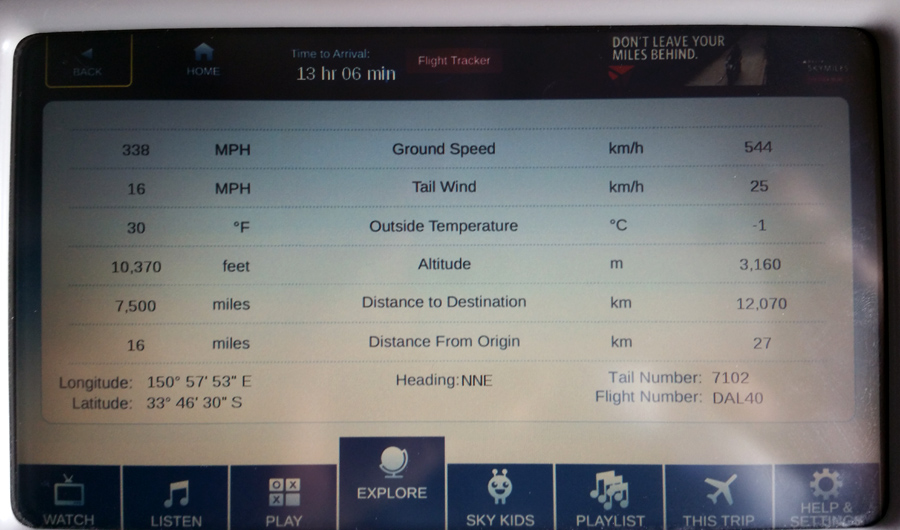 We're speeding towards sunset:
Approaching the California coast: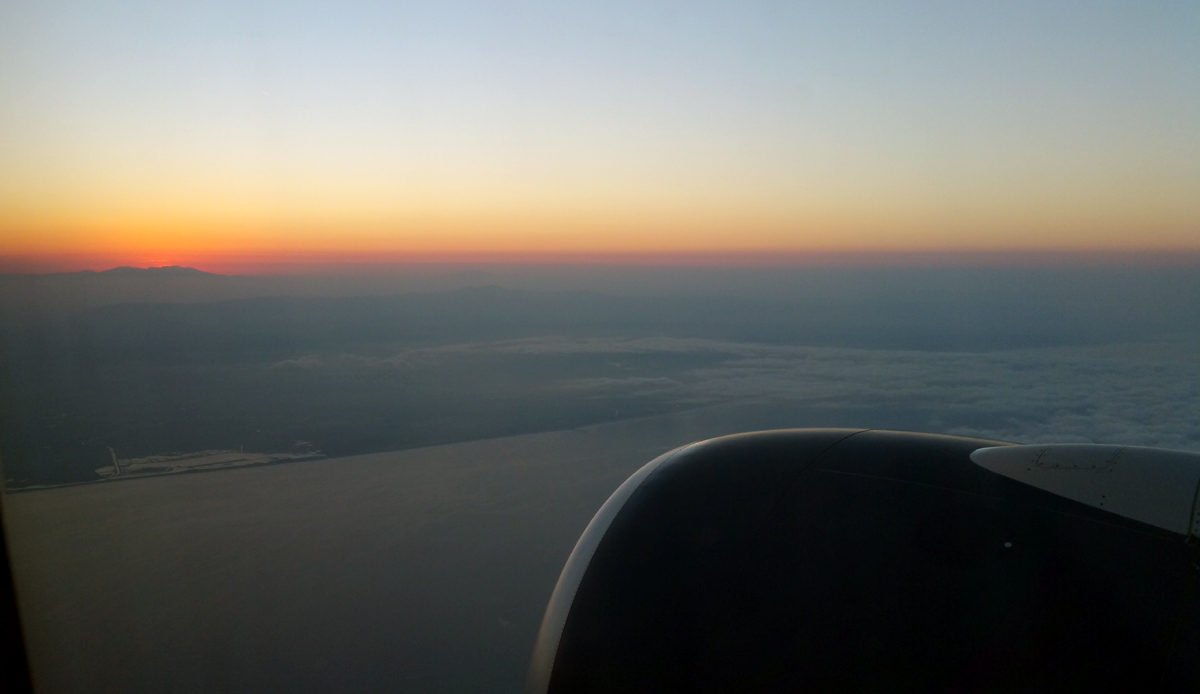 My second sunrise today...descending for LAX: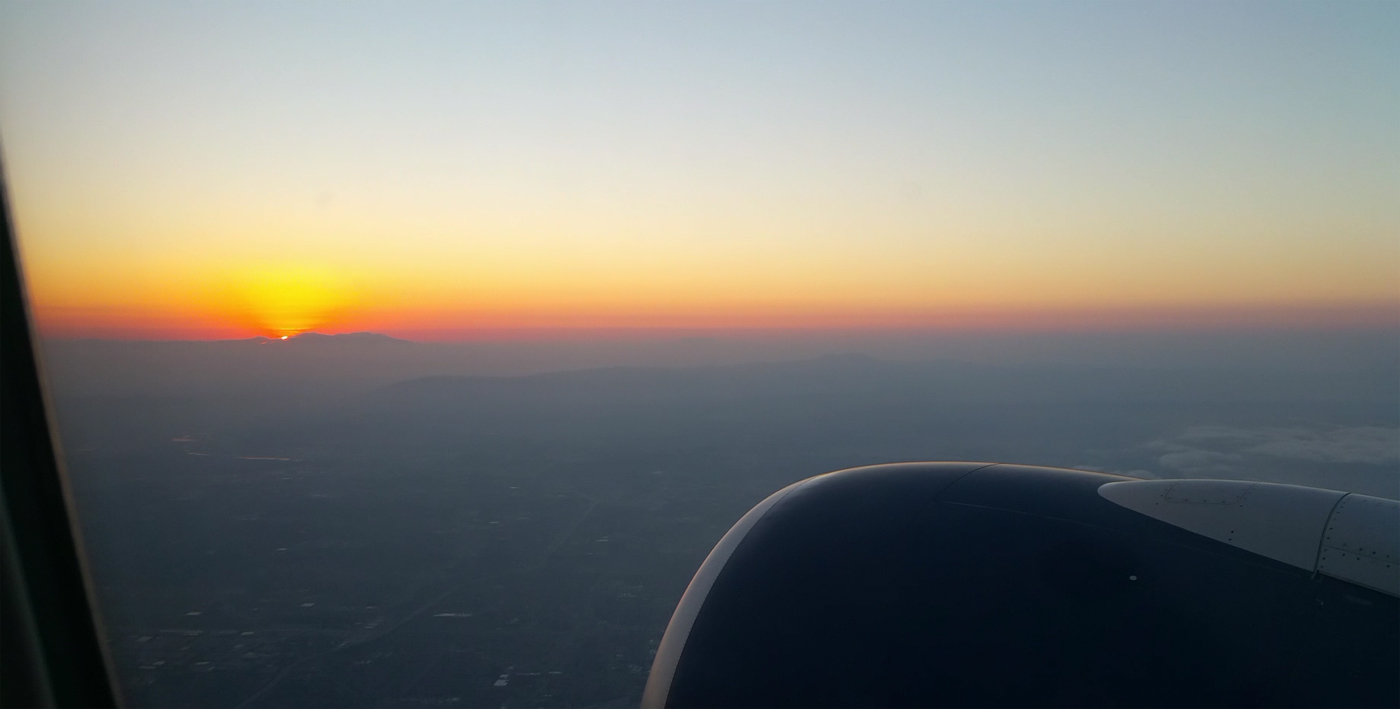 My arrival video made with my Canon DSLR is viewable

here
Flight Aware screenshot of the SYD-LAX flight:


Our arrival at LAX was about 20 minutes late and we didn't have a lot of time until our connection to PHX. We had to wait a bit for our luggage and then transit customs and immigration. Since my new son-in-law had accompanied us it took a little longer than normal as he is a foreigner.

We had to re-screen through TSA but at least our checked bags went through the transfer desk. So all-in-all doing an international-to-domestic connection at LAX wasn't too painful, at least at this early hour. My main concern was getting to the connecting flight on time. The "kids" had the rest of the day to chill after arriving in Phoenix...the old man here was going in for a work shift once I got home, showered and changed! This was going to be one very long Monday for me.

The final flight of this odyssey was on an Embraer like we were supposed to start out the trip with.

Flight #4:
1 August 2016
Compass Airlines / Delta Connection
LAX-PHX Flight # 5778
Embraer 175LR N621CZ
STD: 08:15AM STA: 09:43AM
Seats: 15A & 16A
My photo of N621CZ at gate 56 at LAX: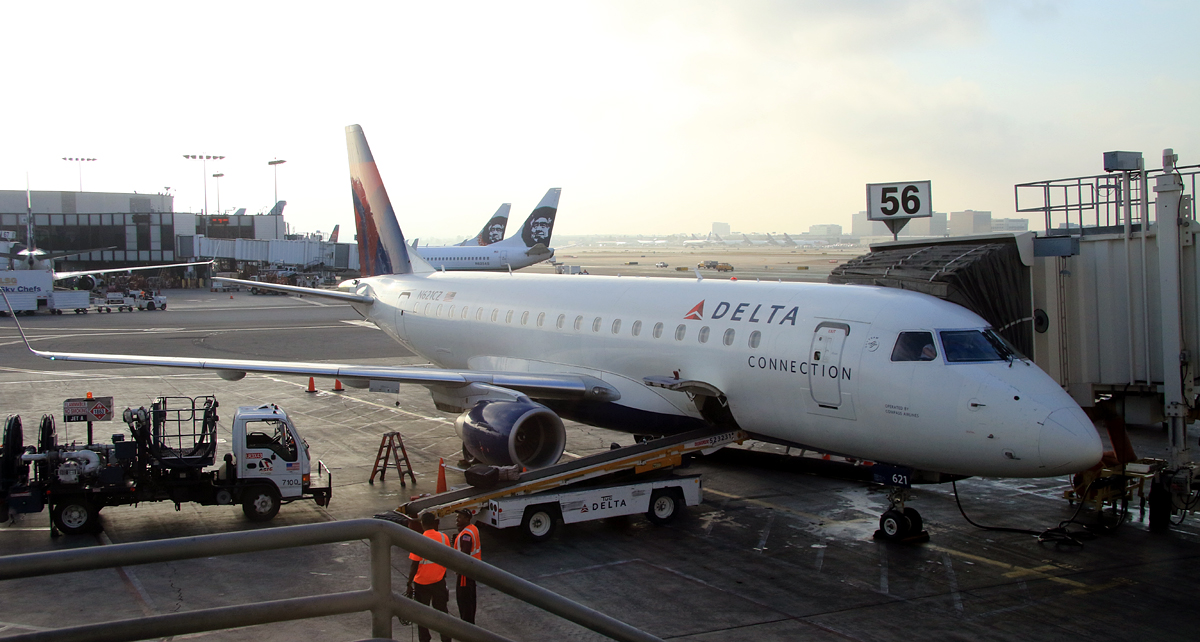 Air Bridge Carriers 747-8F VQ-BLR: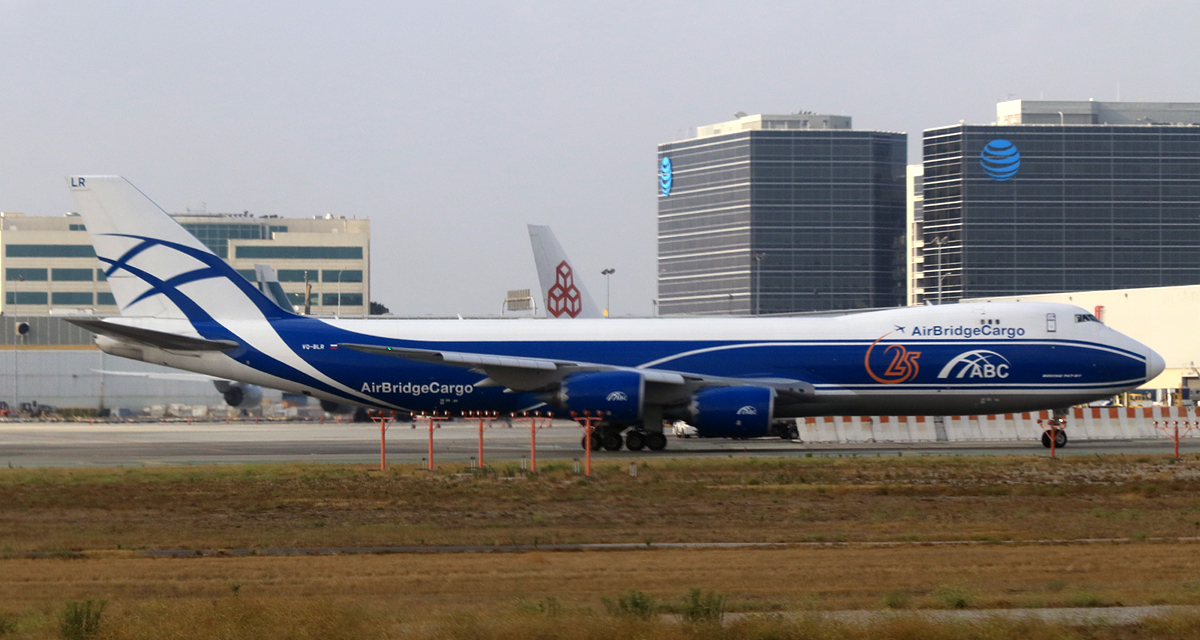 Qatar Amiri Flight 747-8 A7-HHE: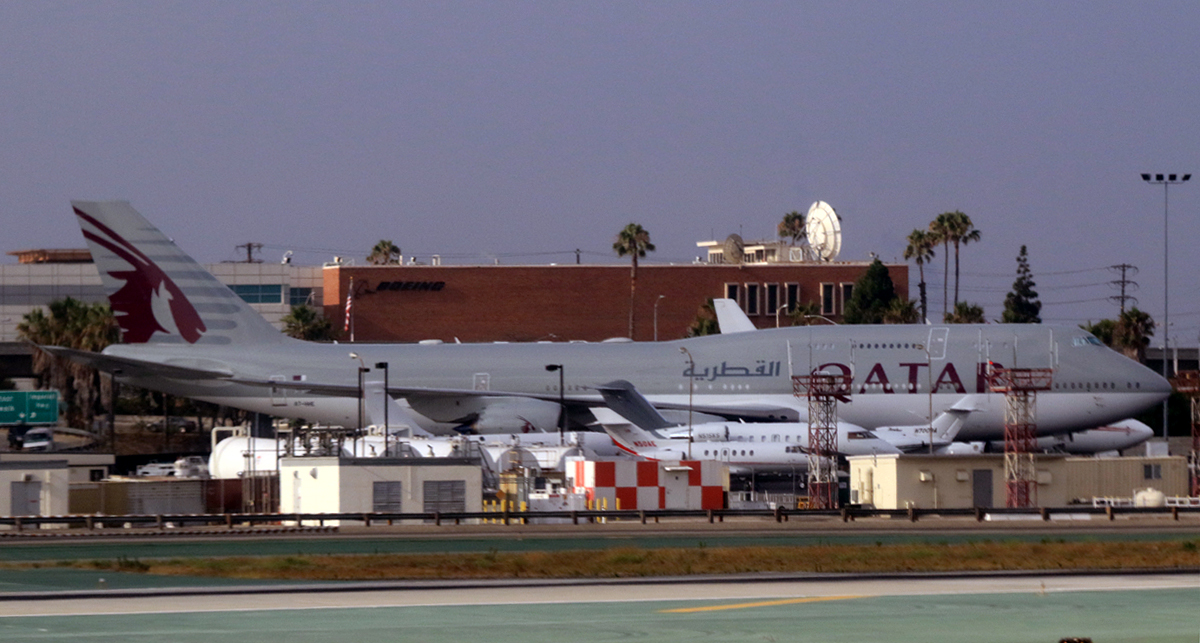 Port of Los Angeles: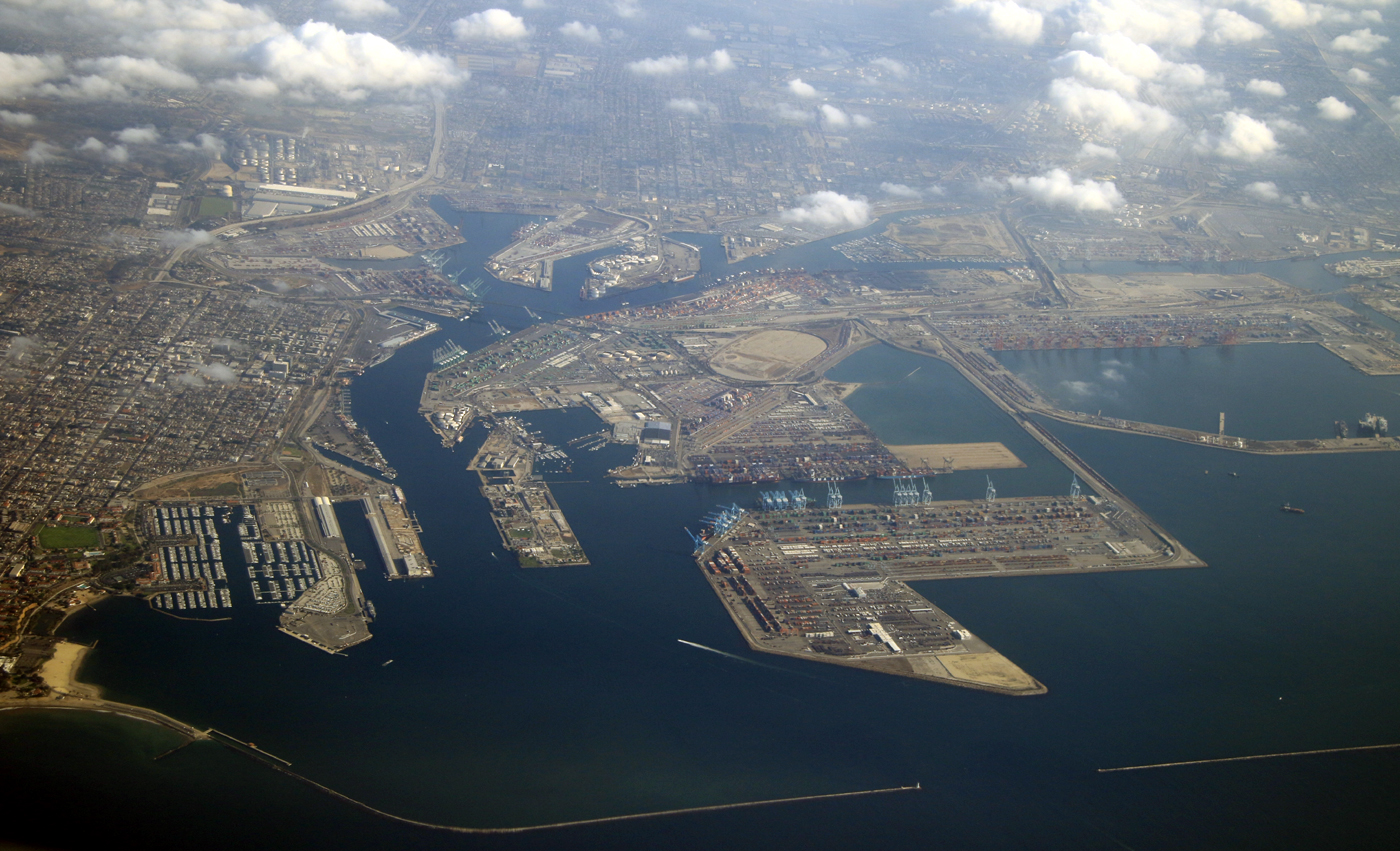 Long Beach Airport: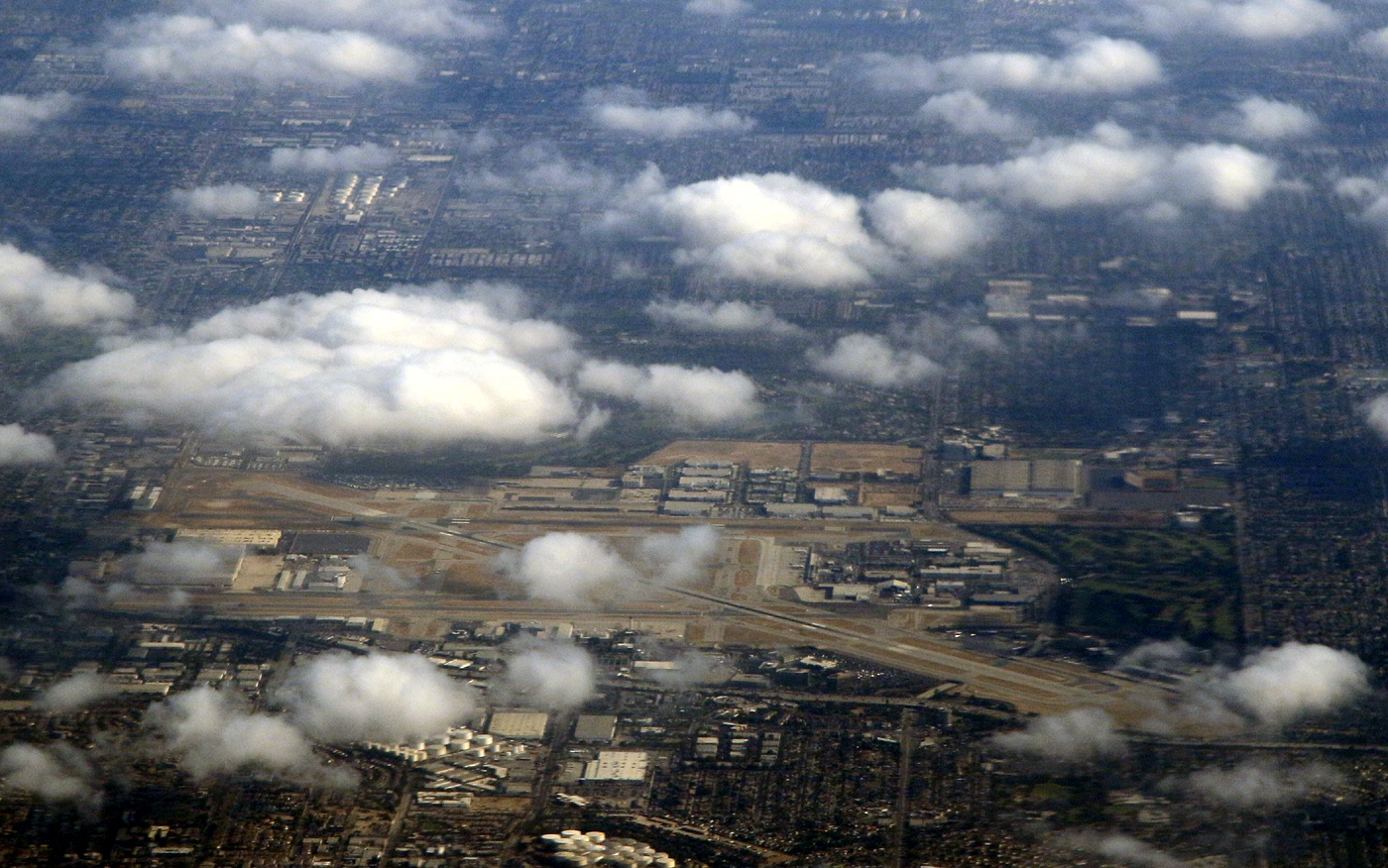 Palm Springs Airport: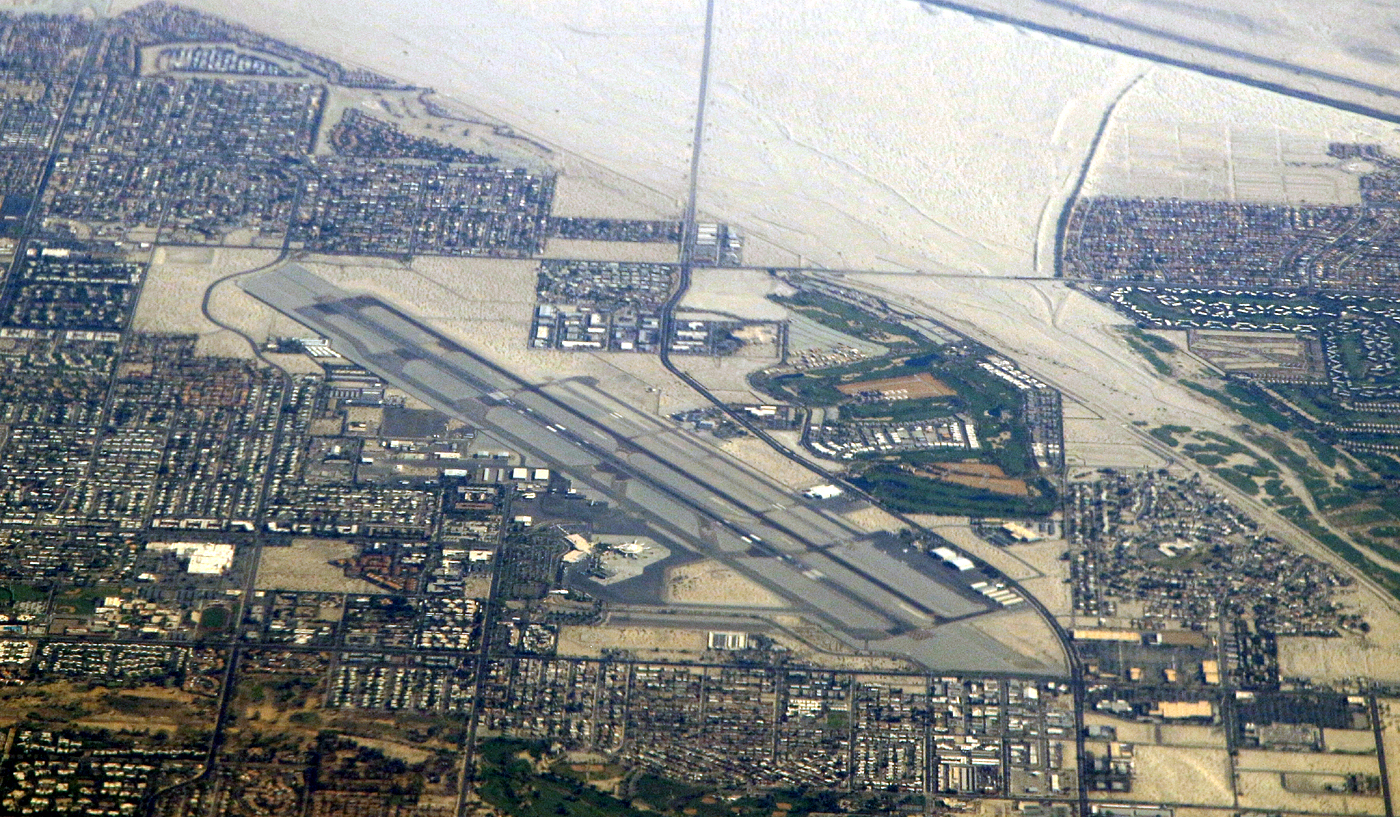 Palm Springs general area: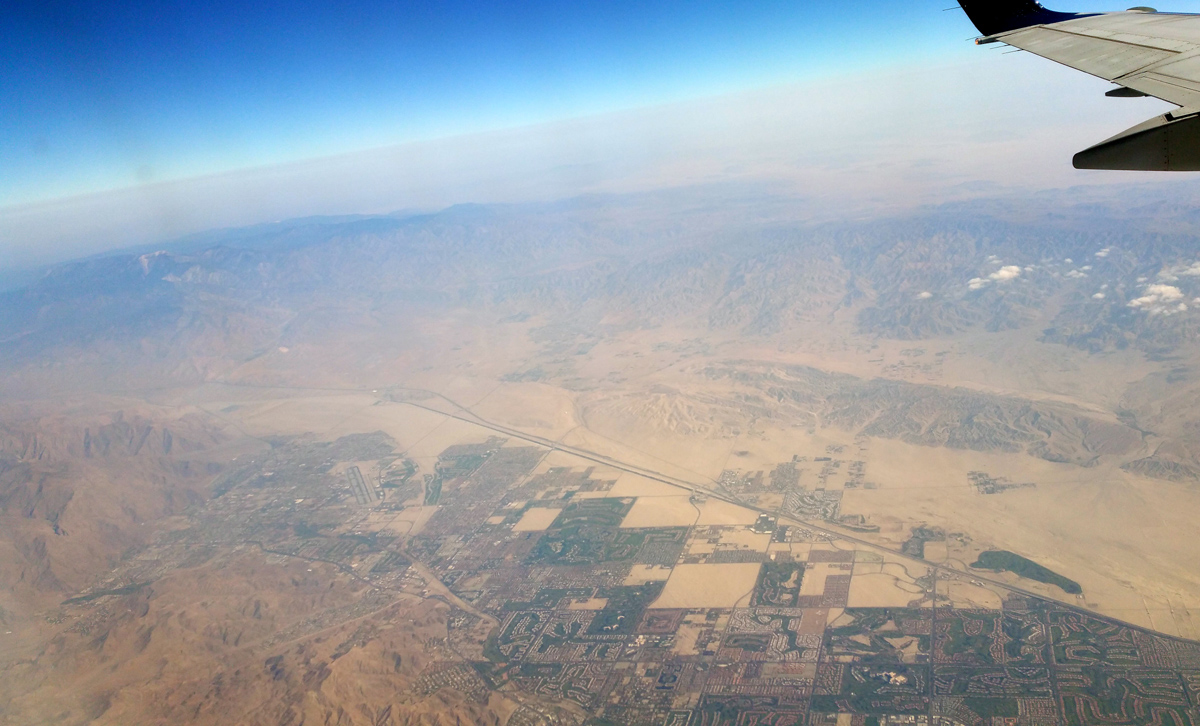 Remnants of Luke AFB Auxiliary Airfield #6 at the intersection of W. Yuma Road and S. Verrado Way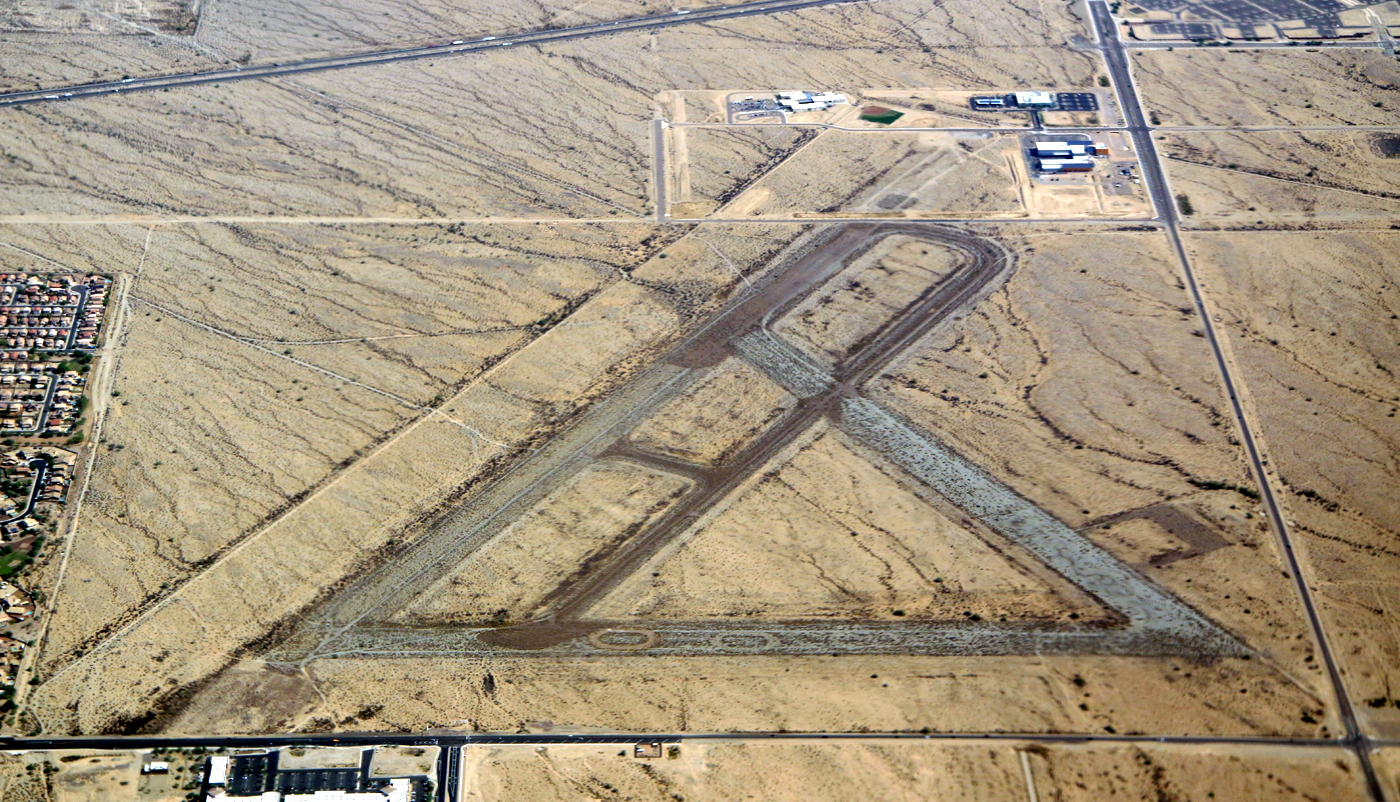 Luke AFB: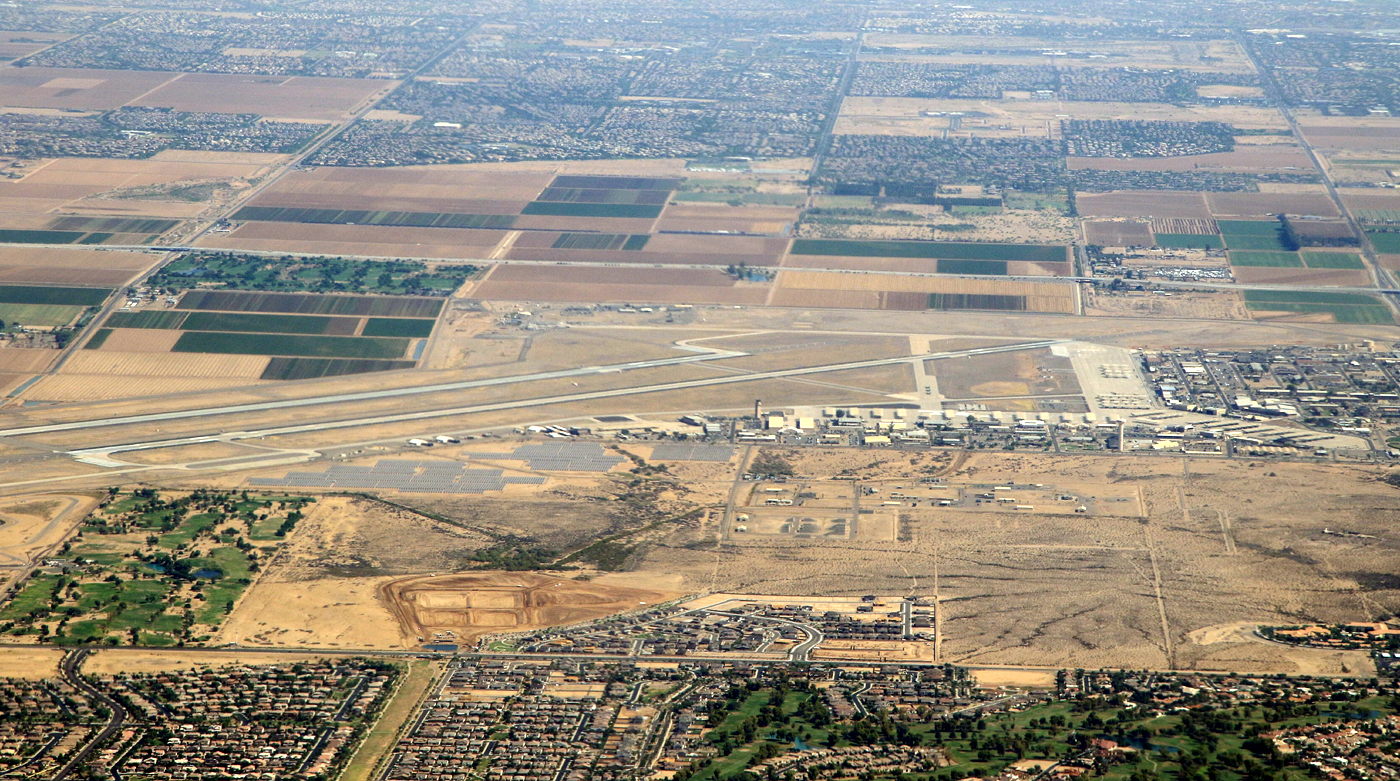 BNSF Mobest Yard: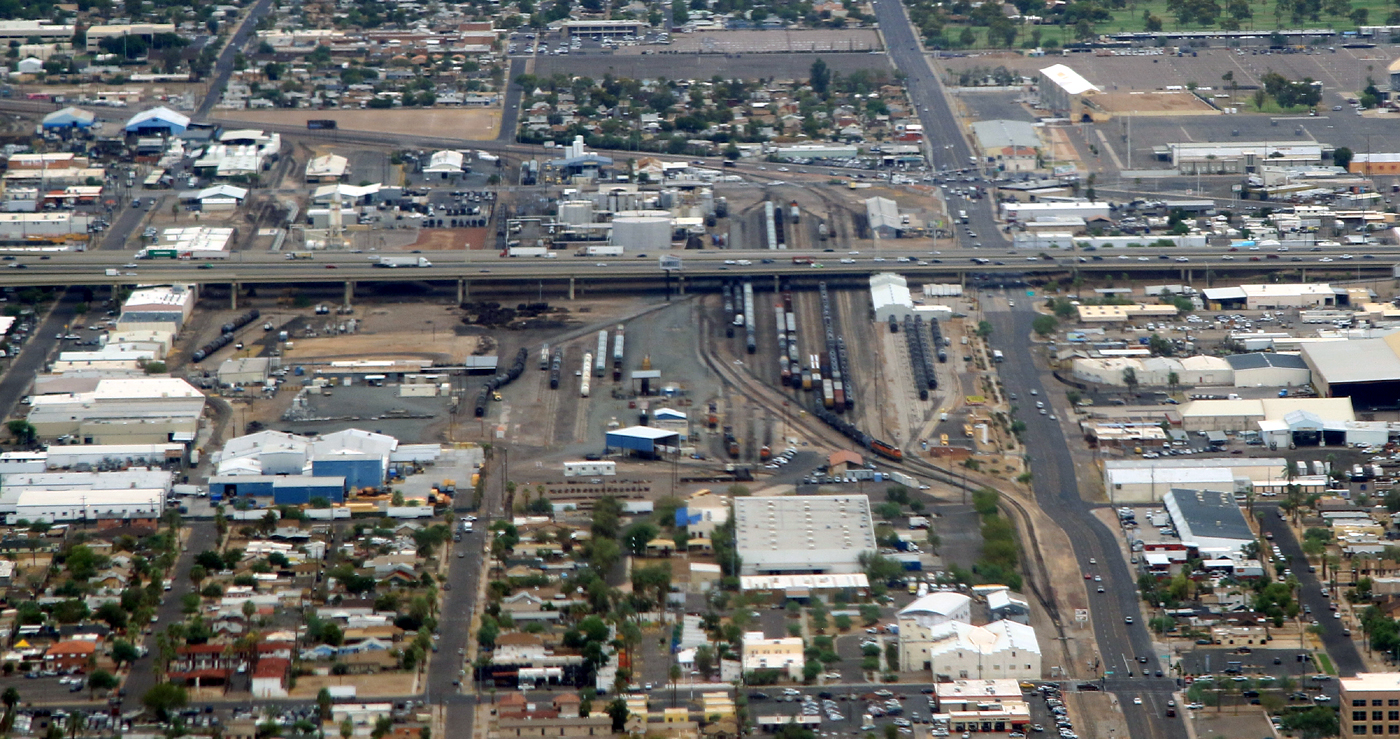 Downtown Phoenix: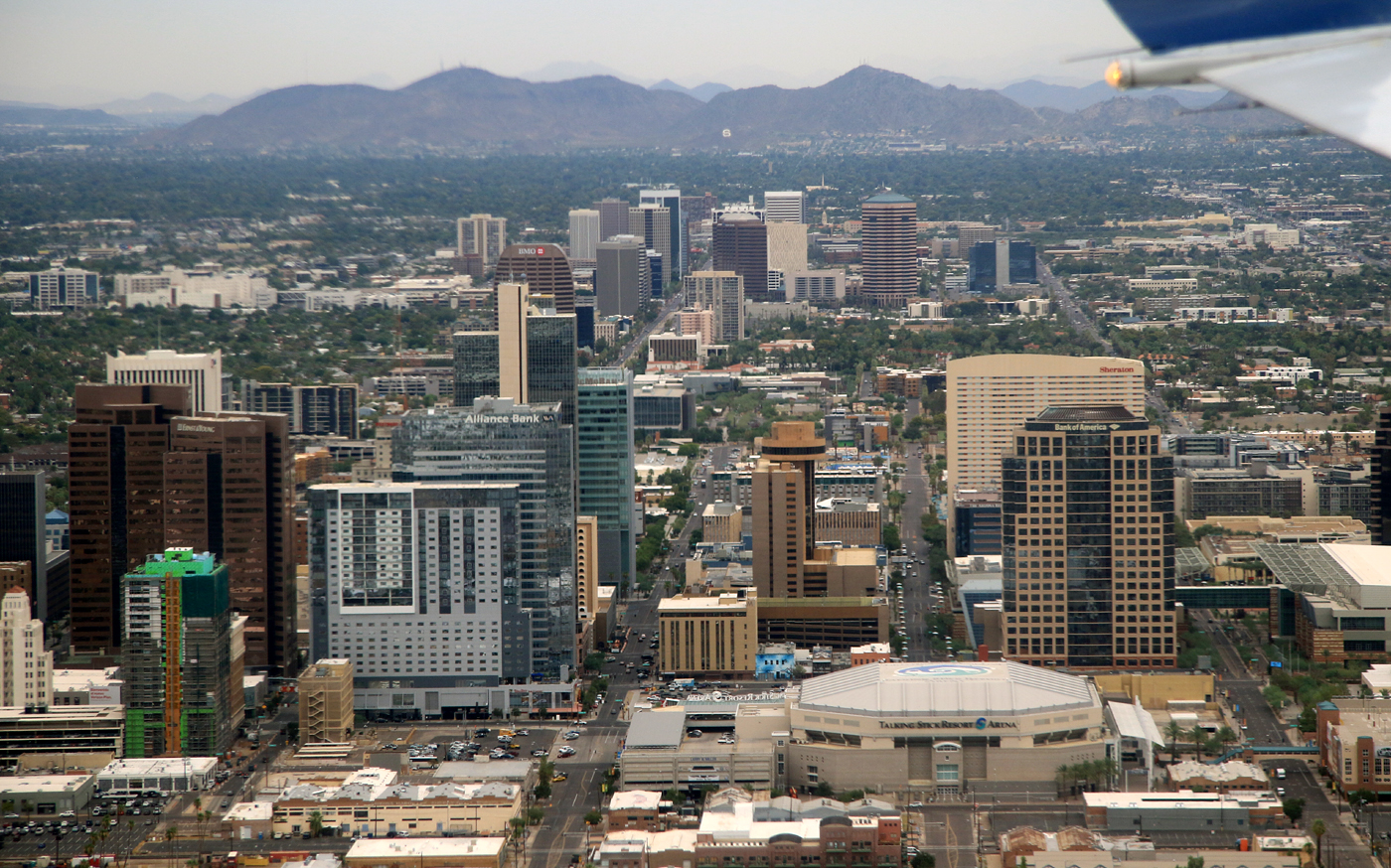 Phoenix Union Pacific Yard: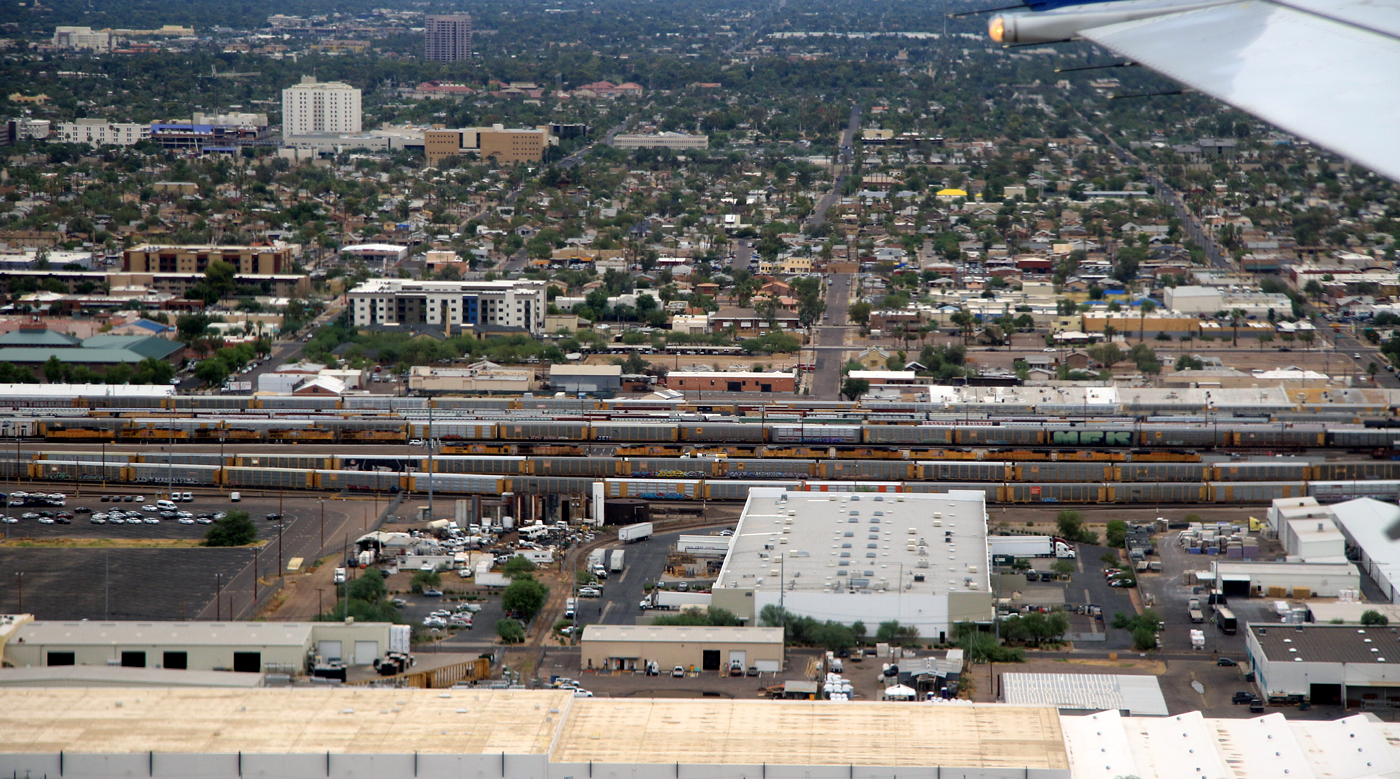 Phoenix Sky Harbor Airport: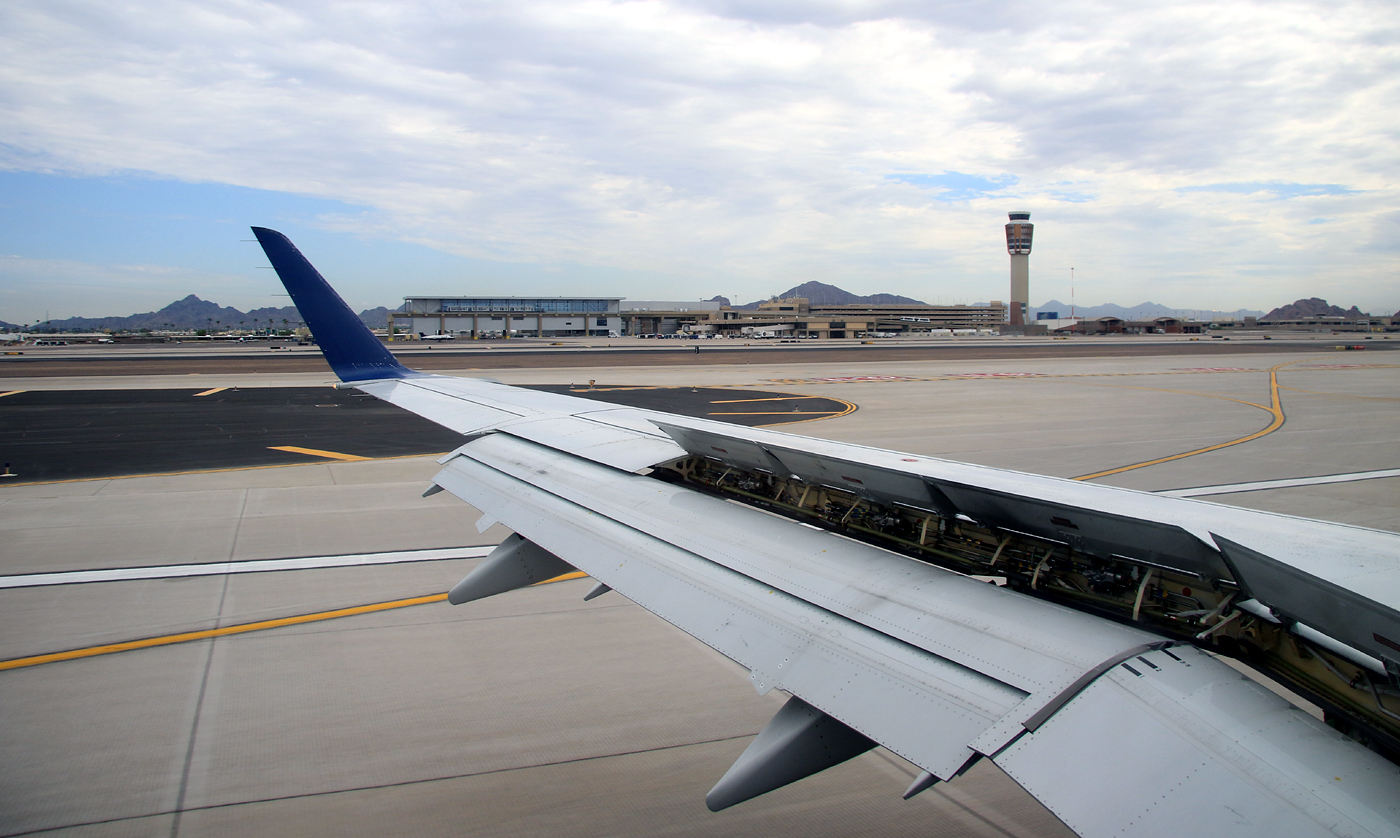 Frontier Airlines A320-214 N210FR: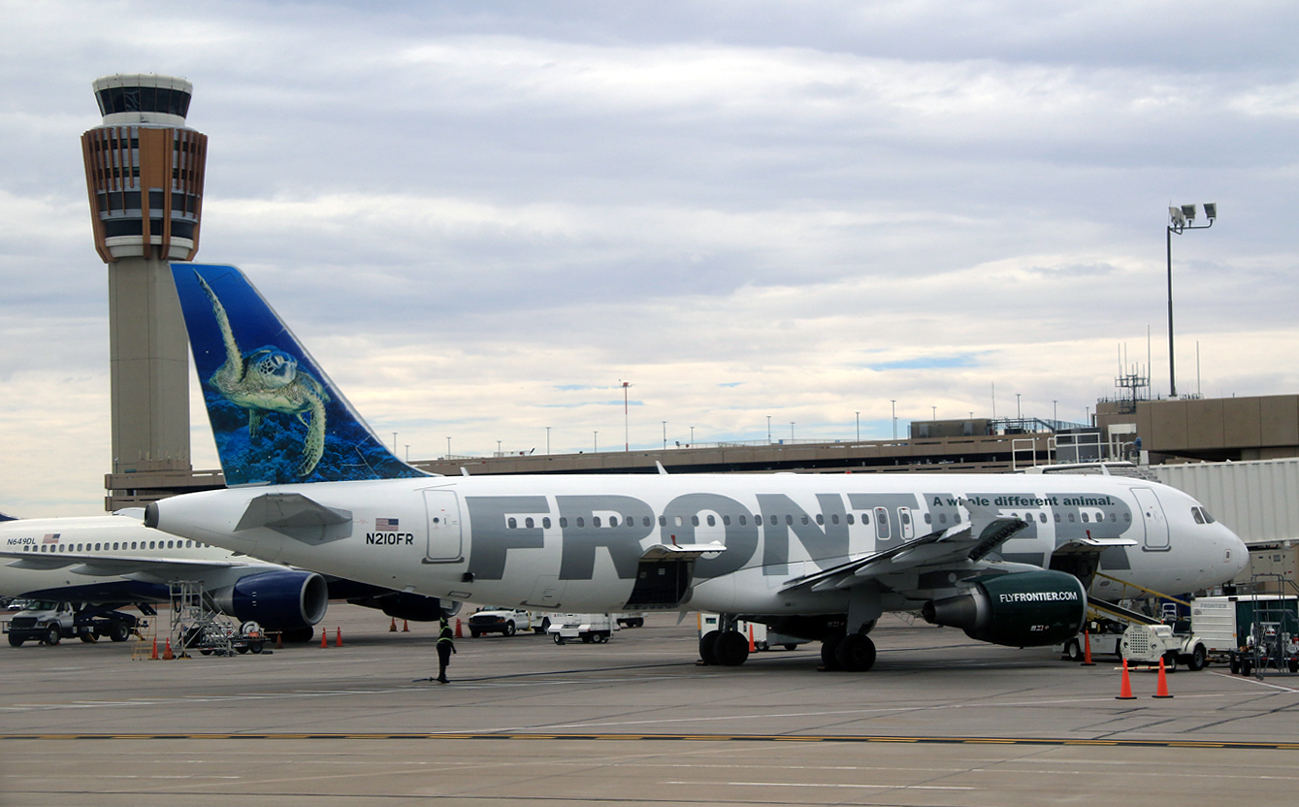 My photo of N621CZ at gate 16 after arriving PHX: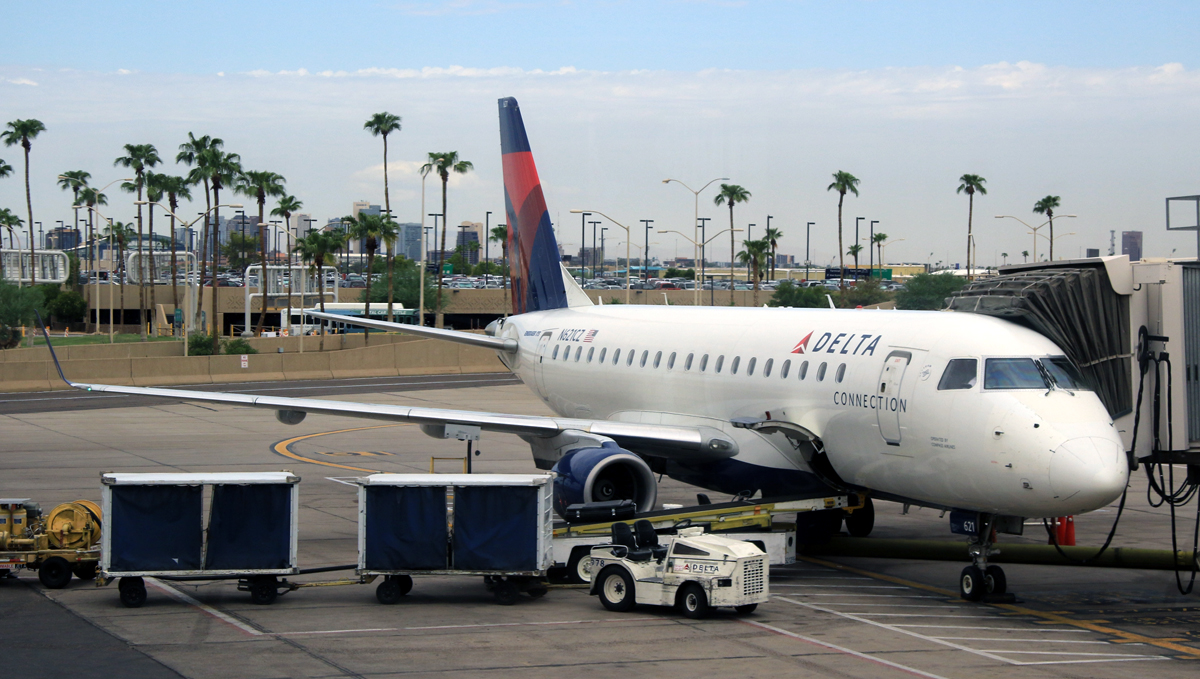 Southwest as seen from the PHX Sky Train: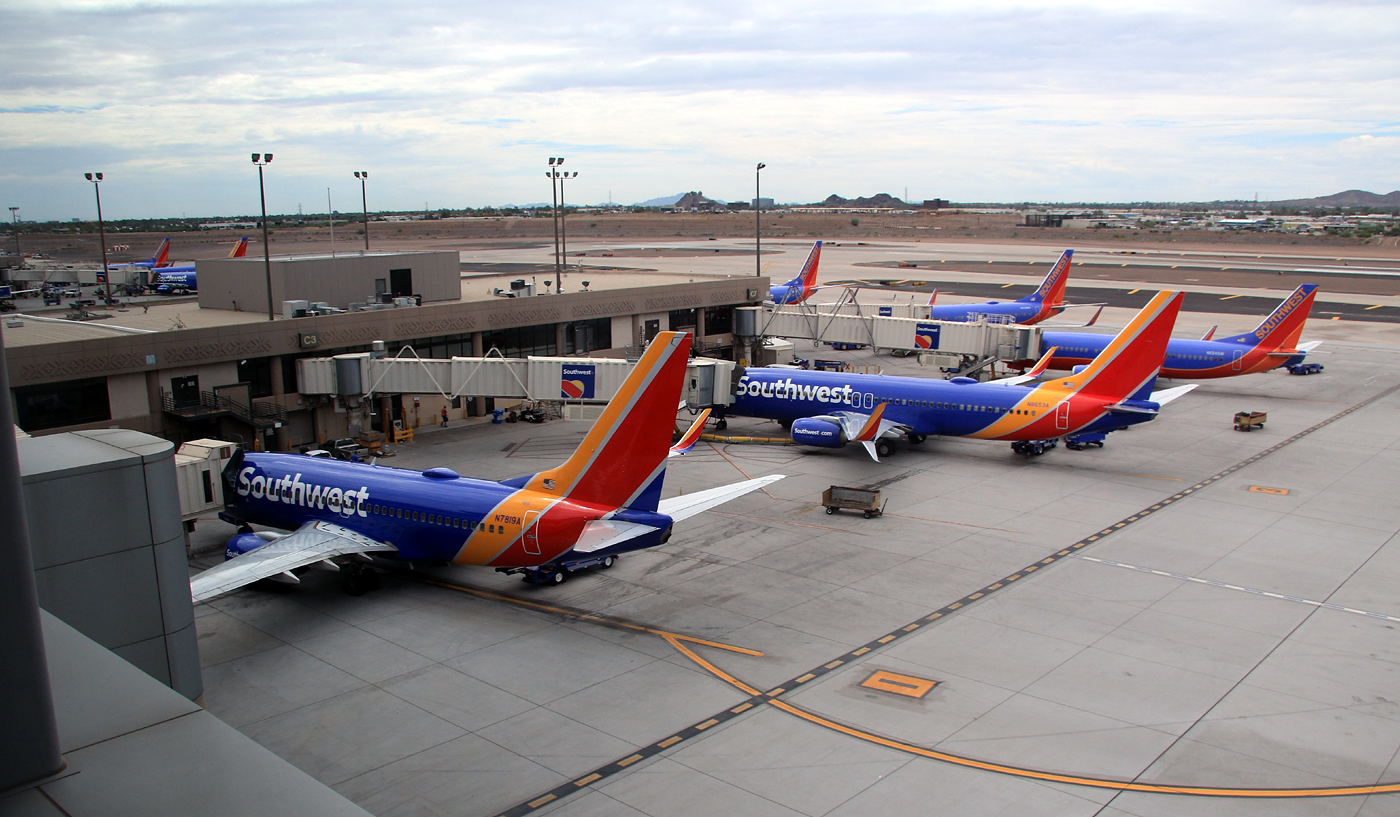 Southwest as seen from the PHX Sky Train: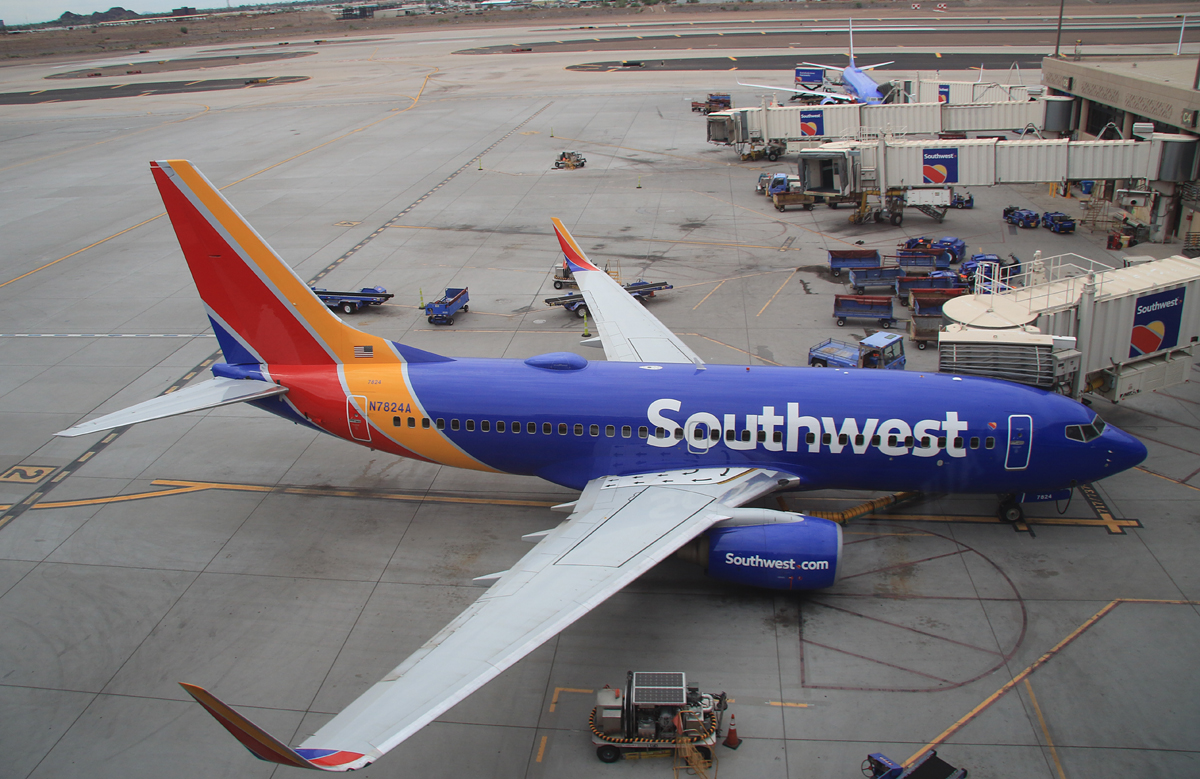 Flight Aware screenshot of the LAX-PHX flight:

Flights taken during this trip: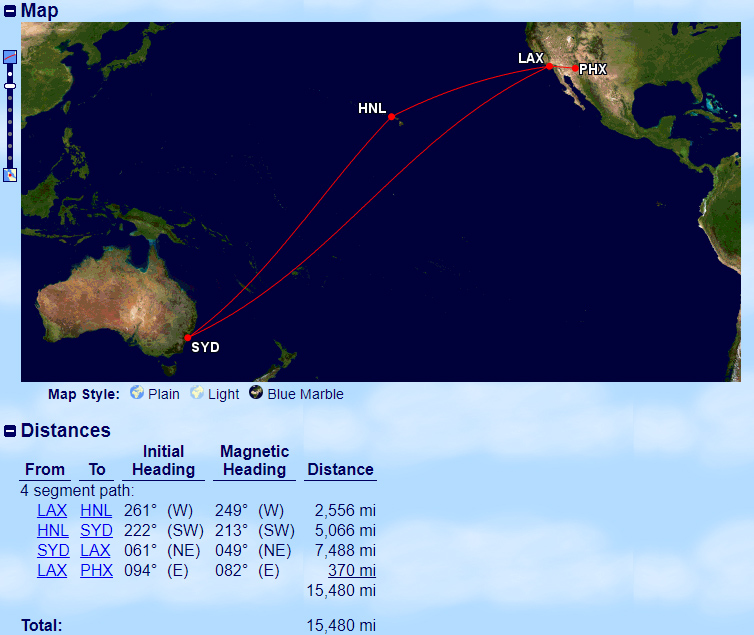 Map generated by the Great Circle Mapper - copyright Karl L. Swartz

So, all-in-all it was a very nice trip to Sydney for us. Despite losing two days (should've arrived Sunday morning...arrived Monday night) we were able to make the best of it. The weather was fantastic, meeting new family was awesome, and the little bit of New South Wales we were able to take in was very rewarding.

Delta came through in a pinch and got us re-booked the best they could. Later, they actually refunded me half of the Economy Comfort fares ($300 refunded) since we didn't get it all the way to Sydney on Delta. Hawaiian Air on the other hand handed out a voucher for $400 because of the diversion back to Honolulu but later they wouldn't honor it. In my case I don't suppose it's surprising after all we were flying on them because Delta rebooked us on them. Hawaiian Air never did give me a specific reason and I didn't press the issue. From my point of view I did get a "free" ride on a Hawaiian Air A330 for 8 hours, then another ride on a Hawaiian Air A330 for 10 hours, so for me personally it was a victory. Of course my daughter could've done without all the drama of getting there and I'm sorry her time in Australia was two days shorter than it should've been.

If anybody out there cares, Sydney will "host" a total solar eclipse lasting nearly four minutes on July 22, 2028...yes 2028. The centerline of path of totality will cross downtown Sydney and if the winter weather is anything like I experienced during July 2016, it should be a magnificent event, with enormous crowds to enjoy the spectacle.
General circumstances of Total Solar Eclipse of 22 July 2028. The red lines indicate limits of totality while the blue line is the centerline. You must be within the red lines to experience a total solar eclipse. The closer you are to the blue line, the longer the total solar eclipse you will experience. Trust me, you want to be as close to centerline as possible.

Incidentally, the further west from Sydney along the eclipse path, the longer totality will last. For example, at "Maximum Eclipse" in Western Australia (where the little black & red eclipsed sun icon is along the path) totality will last 5 minutes, 10 seconds along the centerline. If you go further west still from the Maximum Eclipse point...out over the water...length of totality will shorten. Google will give you many search results with lots of information.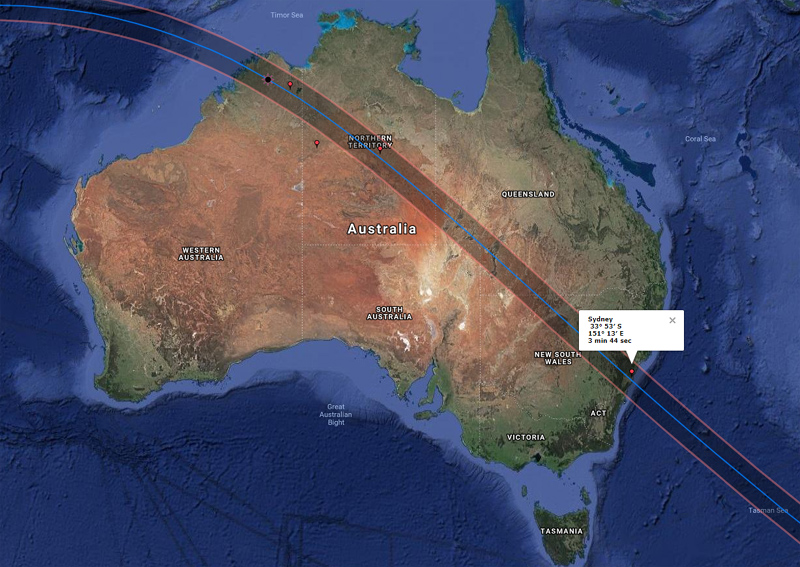 Centerline of totality for the total solar eclipse goes right through Sydney: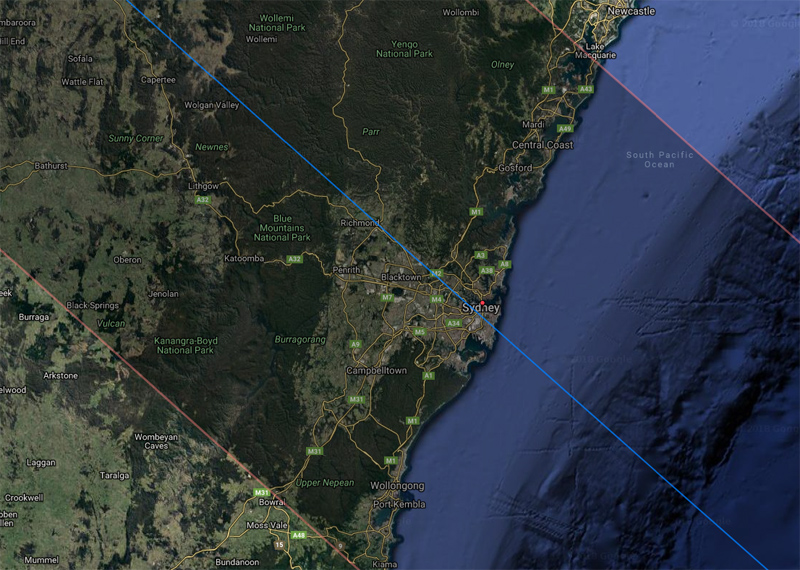 Maps courtesy
Xavier M. Jubier

I hope you've enjoyed reading about this trip to Sydney as much as I've enjoyed reliving it and writing about it.

Moe