BACKGROUND
Snowy mountains, temperatures well below zero and icy pavements, Korea in January seems a world away from the golden deserts and sandy beaches of Dubai.
One mid-January evening after trudging through the neon lit streets I arrived back at my nicely heated apartment. After removing my coat, gloves and scarf I checked my phone to find I had a message from my parents. It had been decided that there would be a family reunion in Dubai in April 2017 which would coincide with my university Easter holidays. With my parents living in the UK and my sister living in Dubai the city seemed the geographically logical choice. Excited at the prospect of visiting a new city and of course flying across Asia, I wasted no time in looking for flights. Considering I was only able to depart Korea on Wednesday and I had to be back in central Seoul for 0900 on Monday morning, only relatively direct flights could be considered. For those with an unlimited budget, the most obvious choices would be either Emirates' daily A380 service or Korean Air's daily A330-200 service. However not falling into that category I fired up good old Skyscanner to begin the interesting process of searching for flights.
Cathay Pacific offered relatively short journey times as did Air China with stops in Hong Kong and Beijing respectively however prices for both of these options were still a little too high plus all flights on both airlines were operated by A330s (a nice aircraft to fly but I wanted a little more variation). Prices on Thai Airways were good and I had had good experiences with the airline before, although the journey times offered were a little too long and coming back I would have a long stopover in Bangkok. I then turned to look at the big two Chinese Skyteam giants – China Eastern and China Southern. China Eastern offered good prices and reasonable journey times from Gimpo, an airport far more convenient for me due to its location within Seoul although these flights would have to see me travel between Hongqiao and Pudong on the same day which I thought was a little too risky. However, at time having never tried MU I was eager to try them. I finally did this a month later on a return trip from Seoul to Okinawa – the return journey would see me arriving in Seoul over 24 hours late. Having flown China Southern a trio of times the previous year, I knew what to expect from them – a mediocre level of service, varying degrees of comfort on board their aircraft and little by way of inflight entertainment. What they did offer however were some interesting routings on a smorgasbord of aircraft and departures from the convenient Gimpo Airport. In the end I settled for a geographically direct route that would essentially follow the same path as a direct flight between Seoul and Dubai, Gimpo-Beijing-Urumqi-Dubai, with the first flight operated by a comfortable Korean Air Boeing 777-200ER, the second by a mundane China Southern A321 and the final by a rare China Southern Boeing 757. My return journey would see me flying a Dubai-Guangzhou-Beijing-Incheon routing, with the first flight being on a modern China Southern A330, the second on one of the company's massive A380s and the final flight again operated by a Korean Air Boeing 777-200ER.
BOOKING
Having used China Southern's website last year to book flights I felt confident that this time like the last I wouldn't receive too many hurdles in the process. The actual booking process went smoothly bar the fact that I could not add my Korean Air Skypass number to the booking. My only real trouble occurred when I tried to select seats for the flights, every time I attempted to do this I received a 'reservation failed' message. This was a little surprising considering I was able to select my seats at the time of booking when I used their website in 2016. After booking, the trip remained at the back of mind as the months that separated me and this long-haul trip flew by. During those months I had been fortunate enough to do quite a bit of travel however after a trip from Okinawa to Korea via China on China Eastern had left me arriving in Korea around 24 hours late, I began to wonder of the chances of a similar event happening on this short trip.
As I sat alone in my room studying on a bright but chilly Friday morning five days before my departure date my phone suddenly began to buzz. I noticed it was an international number although in my startled state I did not put two and two together and assume it would be China Southern. I picked up the phone and answered 'hello' before someone in broken Korean told me that my flight from Beijing to Urumqi had been rescheduled. Without telling me the new flight times they asked me if this was okay, assuming that it was I blindly confirmed I was happy to take these flights. I then got a new confirmation for my new booking which went exactly like this:
'We apologize for the inconveniences this change might cause. Your current reservation information is as follows:CZ4504 2017-04-12 GMP(JINPUGUOJIJICHANG)--PEK(BEIJING) 0920 1030CZ6931 2017-04-13 PEK(BEIJING)--URC(WULUMUQI) 0740 1150CZ6069 2017-04-12 URC(WULUMUQI)--DXB(DUBAI)'
The eagle eyed amongst you will realise that they had rescheduled my middle flight to the day after my Urumqi flight was scheduled to depart. I thus immediately picked up the phone and after a short wait I found myself speaking to someone who didn't really understand my problem, eventually I was able to convey the message that I wanted to rebook onto a flight that would allow me to make my connection in Urumqi and I was offered a seat on the 1250 Beijing to Urumqi flight departing five minutes before the flight I was originally booked on. I have absolutely no idea why I wasn't rebooked onto this flight in the first place! Anyway, after confirming my name, passport number and contact details again I was told to expect an email confirming my new travel details within four hours. A day passed and I didn't receive anything plus the China Southern app still claimed that I was scheduled to fly my second leg the day after flying the third. After a couple of days, I decided that it was unlikely that I would receive an email from them any time within the next one hundred years and so I gave their service centre a call. After a short and painless conversation, it turned out they had emailed my new itinerary to the wrong email address. A few hours after ensuring they sent it to the correct email address I sure enough finally received my new itinerary. The positive side to all of this was that my itinerary change allowed me to fly the PEK-URC on one of the elusive Boeing 757s as well as the leg to Dubai, although the scheduled aircraft for the middle leg changed to an Airbus A321 the day before departure.
The Journey
After the long wait and the drama before I had even stepped out of my room, I was happy when the departure day finally rolled around. Having never caught an international flight from Gimpo, I was uncertain as to how much time I should allow for check in, security and immigration at the international terminal. Allowing plenty of time for these and an unreasonable amount of time to soak up the whole airport experience I departed my house in central Seoul at 0540 and lugged myself up the cold, early morning pre-sunrise streets. I then caught a Gyeongui Line train bound for the border town of Munsan however I alighted a couple of stops later in Digital Media City where I transferred onto an Incheon Airport bound train, arriving at Gimpo Airport just over thirty minutes after leaving my home.
Those who have flown from Gimpo will know it's a fairly lengthy walk from the station to the terminal, requiring three up escalator rides before even reaching the station's ticket barriers. After a few minutes I finally arrived at the international terminal and was greeted with a large, spacious terminal – the height of 1970/80s luxury with a few modern additions. Landside, the airport seemed to be spotlessly clean and featured what seemed to be a relatively low number of passengers. Also, I should mention the landside toilets seemed to be perhaps some of the best public toilets I've ever had the pleasure of using in my life.
Departures that morning
At the Korean Air check in desks an army of staff were waiting, eagerly guiding people to use the self-check-in machines instead of heading to manned desks. Almost completely certain I would not be able to use one of these magic machines I insisted on going to a manned desk however I was pulled aside and taken to a machine. One thing I've noticed in Korea as that these check in desks cannot really be described as 'self check-in' machines as usually the ground staff will insist on operating these machines for you. After reacting with my ticket to Dubai with a little bit of a surprise, the staff member entered my details and, as expected, an error message flashed up and I was advised to go to a counter. It is fair to say that the staff member seemed to be a little stumped that my middle flight was still showing as departing tomorrow whilst my third flight was shown as departing today. Fortunately thanks to the staff members' mission to detract passengers away from these desks, they had no queues and so I walked straight up and explained my situation. After a while of waiting at the desk, I was asked to prove I had a UAE visa, although being a British citizen this is not required (as it is with a Korean citizen). Unfortunately, it took some persuading to make the check in staff believe me however I imagine that there are relatively few passengers that check in at the Korean Air desks to fly to Dubai from Gimpo and so she cannot be blamed. After a waiting for a bit, my boarding passes for my first two flights were printed out. I could not be checked in for my final leg at the airport although this was no great problem as I had three hours in Urumqi and lacked checked luggage.
Afterwards I headed to security and immigration, five minutes later I was airside. Unlike the spacious landside area, airside the terminal is small and features low ceilings which creates a sort of cramped feeling, especially during the busy morning rush and lacks the high number of facilities of today's gateway to Korea, Incheon, featuring only a couple of cafes, duty free stores and a book shop. I still find it how to imagine how this small terminal was once Korea's international hub. Despite its shortcomings, the terminal was clean and tidy with free wifi available that seemed to work well for those unable to pass the time by simply looking out the window at the departing jets. As the morning marched on, the terminal gradually became busier with flights to Haneda, Beijing, Shanghai, Taipei and Osaka on ANA, Japan Airlines, Asiana, Jeju Air, Korean Air, Air China and Eastar Jet. Considering Gimpo's role as a central airport I had expected many of passengers to be business people. However, I was a little surprised to find a much broader spectrum of passengers, many of whom seemed to be leisure flyers. Most passengers were Korean. However, there were also several passengers from China and Japan. Announcements were only played in Korean and English with the false assumption that all non-Korean passengers would be able to understand the latter – a misconception I feel is common in Korean society. At 0840 I heard a sudden stampede of paparazzi and the continuous snap of cameras as a Kpop boy band marched past me on their way to Tokyo. After some research I discovered they were the international band NCT, consisting of members from Canada, China, Japan, Korea, Thailand and the US.
A sleek looking ANA 788
The Boeing 777-200ER that would take us over to Beijing
As is the case with Korean Air departures over at the domestic terminal, boarding for the flight was not scheduled to begin until 20 minutes prior to departure. However, it wasn't until 0850 that our aircraft pulled up to the gate. Shortly afterwards, knew things were starting to go pear shaped when a ground staff member ran towards me and asked me to hand my Beijing to Urumqi boarding pass to her with little explanation, only informing me I had to re-check in in Beijing. Boarding was called at 0855 however five minutes later an announcement was made informing us that our flight was delayed by an hour and a half with no reason given. After which all passengers at the gate area were given a meal voucher worth 10000 KRW which could be spent in either of the airport's two now crowded cafes. To be fair I was surprised to receive this as it was the first time I had received such a voucher for a relatively short delay.
As I waited, there was very little I could do, bar plan my course of action upon arrival in Beijing, assuming that I was not pulled aside and rerouted before then. Boarding was called exactly on time (sort of) at 1020 at gate 38. Two jet bridges were connected to the aircraft, being an economy class passenger I made my way down the second and over the massive engines of our Boeing 777-200ER. My aircraft for the relatively short hop across the Yellow Sea would be Gimpo based nine-year-old HL7765. Well technically, the aircraft was to have its birthday four days later. In the week prior to my flight the aircraft had flown 26 flights, covering around 14200 miles between Gimpo and Beijing, Jeju, Osaka Kansai and Tokyo Haneda. According to the Aviation Herald, the aircraft experienced no notable incidents during its life. I was given a warm welcome at the door by two cabin crew members, from there it was only a short walk to my seat, 31A. The cabin appeared to be clean and tidy with pillows placed on each seat. As expected the legroom was fantastic and the seats were comfortable. A plug socket and USB port could be found underneath each seat. The PTV screens remained off during boarding however these could be switched on and used by the passengers. As well as the usual safety card and sick bag, the seat pockets contained a disease risk area map, Korean Air's Morning Calm magazine, a Chinese version of this magazine, the 'Beyond' entertainment guide and the 'Skyshop' duty free catalogue.
Old style-ish business although looks more than comfortable for this short flight
A quiet economy cabin
Headphones
By 1030, boarding was complete and the crew made a welcome announcement in Korean, English and Chinese. Earphones were then distributed, which were a different type to those offered on the A380 when I flew from ICN-CDG in 2016. Following this Chinese landing cards were also handed out. As it turned out, our delay was due to congestion at Beijing Airport. The dated Korean Air safety video played in Korean and Chinese with English subtitles. At 1050 it appeared as if the jet bridge was being reconnected to the aircraft. Five minutes or so later and this was again disconnected. We finally pushed back at 1055 we were then tugged forward a long way past the international terminal past the delayed Air China PEK bound 737 and Xinhua News liveried Shanghai Honqiao bound China Eastern A330 before we pulled into remote stand 231.
Away we go…
…maybe not
At this point it was revealed to us that Chinese air traffic control had asked us to delay our departure and we would depart in 25 minutes. Fortunately, the staff handled the delay well and allowed passengers to visit the bathrooms and came around with water. They also gave me permission to move to another seat and so I moved to unobstructed 50A. Shortly after stairs and a bus were brought to the aircraft and I assumed that we were to be asked to disembark. Although a short while later at 1116, we pushed back for a second time and this time our engines were started. By this time a Japan Airlines 788 had arrived at our gate and an ANA 788 at the neighbouring one. At exactly 1120, two hours after our scheduled departure time we began our taxi to the runway passing two Gulfstreams and the crowded domestic terminal and maintenance areas. At 1131 as an Asiana A321 came into land on the parallel runway, our engines roared into life and we began our powerful takeoff roll, rotating very quickly up into the clear blue sky.
ICN from 10,000 feet
We continued to shoot upwards up over Incheon and were at 10000 feet before reaching the Incheon Airport. Upon reaching this altitude the seatbelt signs were switched off and the cabin crew performed an announcement advising us to keep our seat belts fastened and not to smoke or disturb the crew during the flight. I then decided to have a play around with the IFE, selection seemed to be pretty good and the screens themselves were responsive, however as with my last international flight with KE the selection of Korean films was poor at only four however this was slightly better than the two available on my ICN to CDG flight. Upon reaching our cruising altitude of 32000 feet, the captain performed his welcome announcement. According to this, we were to land at 1220 Chinese time, 35 minutes before my scheduled departure time and so assuming this flight was not delayed, I assumed I would miss this.
By 1150 Korean time the meal service reached me, on this flight only one option was offered (or perhaps they had ran out of the other by the time they reached me), this consisted of a main dish of pork bulgogi with rice, a mozzarella salad, a bread roll with butter, a slice of pineapple and a cup of Jeju water all served with metal cutlery. Drinks were offered before and after the meal. I have to say, the quality of this meal was very good, the meat was sweet and not too fatty, the rice had just the right texture and the salad seemed to be fresh. Top marks for this Korean Air! As soon as one of the cabin crew members had noted that I had finished my meal, she offered to take my tray away.
After leaving the Korean islands the scenery beneath us remained blue bar from the occasional cargo ship until we stumbled across some islands south of Dalian. After that the scenery remained blue until we made landfall. We began our step descent 190 miles away from Beijing whilst still over the Yellow Sea. Just before commenced this, I decided to make a trip to the toilet. These were simple but clean and well stocked with soap, tissues and toilet paper. Beneath us the blue sea changed to a shade of brown and land came into view. Offshore a flotilla of cargo ships could be seen, presumably waiting to enter port. We finally made landfall near Tianjin and held at 17000 feet until we were fifty miles away from Beijing. Fortunately the weather wasn't too smoggy that day allowing us good views of the land beneath us. Our approach took us over the industrial and residential areas of Beijing and offered of good views of our destination airport on the downwind leg of the approach.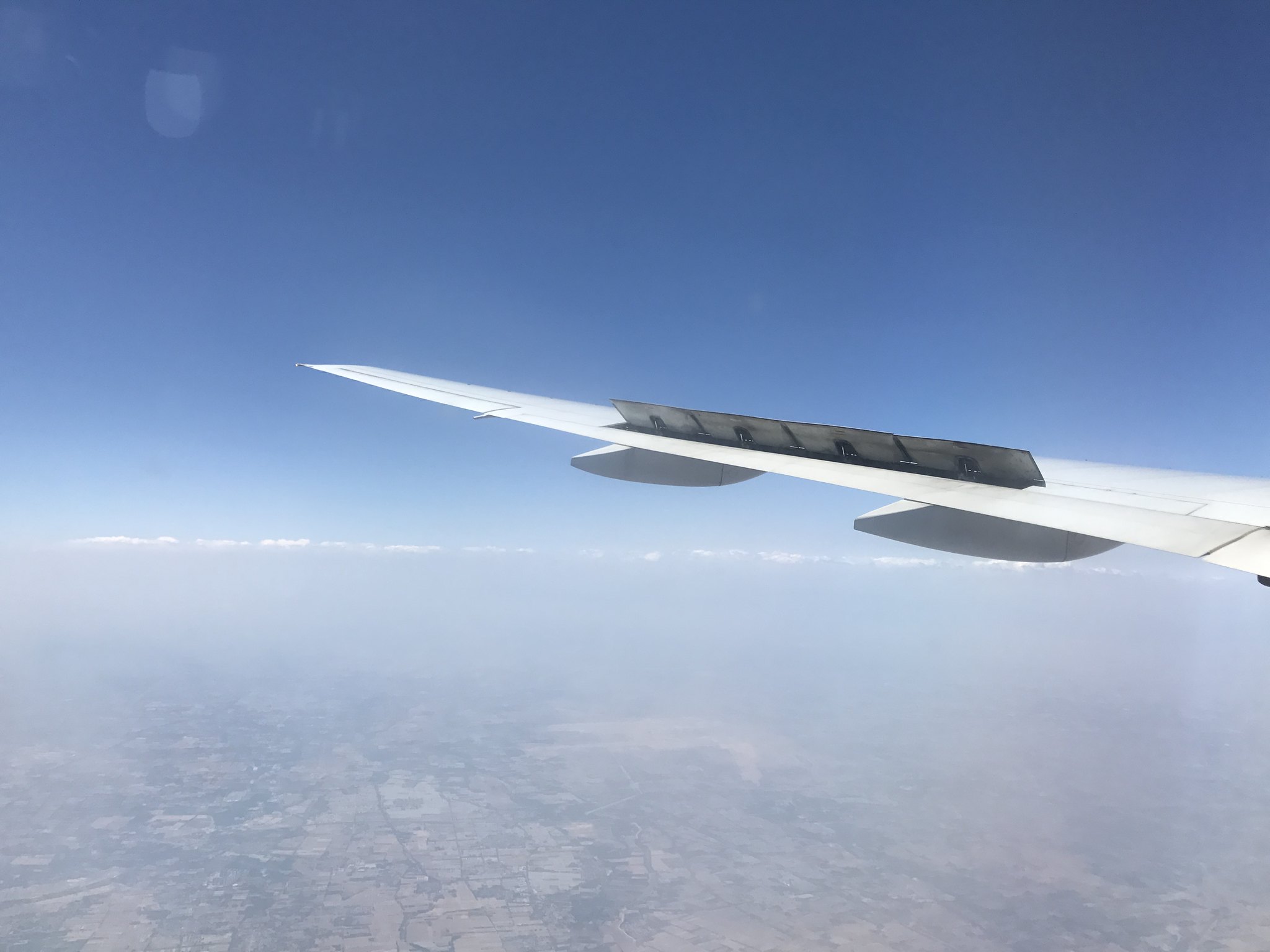 After floating down gently at 1221 we came back to earth with a large bump which was followed by some incredibly harsh breaking. This harsh braking however meant a short taxi and six minutes after touching down we pulled into gate 208. The lack of passengers meant there was no chaotic rush to disembark, after thanking the crew I headed up the jetway. Waiting at the end of the jetway were Korean Air ground staff members with signs for the Urumqi/Dubai and Guangzhou/Sydney flight. After making myself known to them, the friendly gentleman advised me that my ticket needed to be changed as I was going to miss the flight. After immigration he escorted me to the China Southern ticket desk where he worked tirelessly running about juggling his phone and radio.
Overall, top marks to this fellow. He worked hard to rebook my flight and provided a friendly level of service. It's a shame that he didn't exist when I had similar problems with China Eastern in Kunming. After disappearing for 25 minutes, he eventually returned to tell me he was checking to see if there was a Beijing to Guangzhou ticket available for today and a Guangzhou to Dubai ticket available for tomorrow. He also let me sit behind the counter whilst he worked on rearranging my booking. After a while he came back to tell me I could transfer in Guangzhou or Shenzhen, with the Shenzhen flight arriving in Dubai a little earlier and so I picked that one. However I certainly couldn't recall seeing any Shenzhen to Dubai flights and given the flight times he gave me (departing Shenzhen at 1225 and arriving at 2055) it certainly wasn't a direct routing. Two hours after landing in Beijing, I had new flights. I was to depart Beijing at 2100 and fly to Shenzhen. Stay a night there (in a complimentary hotel) and then fly on to Dubai via Wuhan the next afternoon. After giving the man my Gmail address I decided how to spend the next few hours. With no food voucher or accommodation provided by China Southern and with a minimal amount of Chinese money I was pretty much confined to the airport.
I spent the passing hours milling about around terminal 1 and 2. I also thought it best to ask the China Southern ticket desk about transit hotel accommodation in Shenzhen, however it took twenty minutes and three different people to finally understand my question of 'will China Southern provide a hotel for me in Shenzhen?', to answer to which was 'ask the staff in Shenzhen'. I had been reassured that despite the late arrival time, staff would still be on hand at the transfer desk and so I wasn't too worried.
The hours passed slowly and before I knew it it was 1800, three hours before departure and so I decided to attempt to check-in. The check-in machines didn't seem to recognise my passport or ticket number and so I had no other choice but to queue for one of the desks. When I reached the front I was told the flight was delayed and advised to come back in an hour. An hour later and I was told the exact same thing. During this time, the FIDS indicated that there were no delays to my flight. However assuming that it was the China Southern A321 traveling from Shenzhen to Beijing that I had caught sight of on FR24, it was estimated to arrive at 2130, half an hour after our scheduled departure time. At 2000 I queued once again, this time facing a longer line. I had checked in by 2010, surprisingly my boarding pass still claimed boarding would commence at 2015.
Dusk and still in Beijing
After check in I headed straight to the crowded gate area. Despite the boarding pass and FIDS claiming there were no delays to our flight, a board had been put up at the gate claiming our flight was in fact delayed. To be precise it was delayed due to bad weather, it would arrive at 2145 and the departure time was unknown. At this point there was little for me to do bar take a seat and wait. One by one flights left to destinations across China however our Airbus A321 remained firmly on the ground without passengers. By 2305 an angry crowd of passengers had formed around the gate whilst a single staff member was failing to take charge of the situation and make himself heard. Whilst I myself would never partake in an angry mob, I do sympathise with those unhappy passengers. We had been kept in the dark about the delay, no announcements regarding our flight were made and our departure time on the board continued to be shown as 2100.
'departure time unknown' that doesn't sound good
Suddenly at 2340, a crowd formed although this wasn't for boarding, but rather for a snacks being handed out. Unfortunately by the time I reached the snacks only a few cartons of apple juice were left. Little did we know that only a short while later boarding would finally be called. We all wearily shuffled down the jet bridge and onto our 3 cabin A321. The interior seemed to be clean, tidy and lacking any visible wear and tear. The legroom on the aircraft wasn't too bad and the seats were rather comfortable. The seat pocket contained the usual mish mash of magazines as seems to be the norm in China. Today this included an edition of Men's Health.
Too late
By 2350 all passengers were aboard and it appeared as if the two seats next to he would remain empty. In fact the load on the flight was only around 50%. At 2356, the boarding music stopped and shortly after the crew performed a safety demonstration which was followed by the safety video. At 0015, the purser made an announcement informing us that we would remain on stand until air traffic control permits us to depart which was expected to be 30 minutes later. During this time the screens lowered and played car adverts before beginning to show a film, coincidentally the same one that China Eastern was showing when I flew with them to Okinawa in February. This was then followed by a round of drinks. Suddenly at 0100 I was awoken by a short jolt indicating we had pushed back. This was indeed the case and fifteen minutes later after holding for a company A320 to land we began our long takeoff roll down runway 36L. When we were finally airborne, the climb seemed remarkably shallow and gentle.
A good thirty minutes after departure, the seat belt signs were switched off and the lights suddenly came on, disturbing the majority of the cabin who were sleeping. Snack boxes containing bread, a croissant type pastry, picked vegetables and a yogurt were handed out and the drinks service commenced. After which the lights were once again turned off and the cabin fell asleep. Like most passengers, I slept for the majority of the flight. Only to be disturbed by the occasional (and pretty violent) patch of turbulence.
I awoke with around thirty minutes to go, shortly after which the cabin crew made their approach announcement and we began a descent that seemed to go on forever. Unfortunately the smog outside meant views of the ground were largely obscured until we were on short final and thus the only way to gauge how close we were to landing was by looking at the flap position. At 0412, we finally made a bouncy touchdown on runway 34 which was followed by some gentle breaking and a twelve minute taxi to an international gate.
Hello Shenzhen
After disembarkation onto the jetway we were led outside and onto a bus for the short journey to domestic arrivals. Here a China Southern staff member was waiting holding a sign saying 'transit', and although he didn't really speak English I was able to convey the fact that I was transferring. He then escorted me through Shenzhen's spacious and modern looking arrival area, upon reaching the land side area, I was advised to wait 10 minutes. True to his word he then escorted me ten minutes later outside where we were waiting for another ten minutes until a people carrier came to pick me up. Forty minutes after my arrival in Shenzhen I arrived at the neon-lit slightly shabby looking China Southern hotel on the fringes of the airport. The check in staff here seemed to speak English and after showing them my boarding pass I was advised that a bus would come to collect me at 10am. The inside of the accommodation was pretty worn and old fashioned although it was good enough for a five hour stay. Inside, everything was branded with China Southern's flower logo. Overall this 'overnight' transit experience was a better than the one in Kunming with China Eastern which took almost four hours from aircraft to airport hotel.
CZ enthusiast's paradise?
Four hours after falling asleep, I awoke and prepared for the final and longest leg of my journey to the UAE. At 1000 on the dot. I found myself being rocketed away on what seemed to be a crew bus with a few other passengers. Which meant I arrived at the airport at 1010. Now, as my flight was going to be stopping in Wuhan, I was a little unsure whether to check in and the domestic or international check in desks. I decided to head to the former CZ desks first however I was told to head to the international counters. Upon my arrival, only the Ho Chi Minh City bound flight was showing on the screens above the desks although fortunately they were still able to check me in. As well as the usual boarding pass, I was also given a card advising me to go through domestic security gate 36 and that immigration would be conducted in Wuhan.
An impressive roof
Security instructions
When I reached the security area, my heart sank, the queues were absolutely massive. However upon reaching area 36, I found that this was a relatively empty VIP security area. When I reached the desk, the officer looked a little puzzled as if I should be heading to immigration, even after showing her the card. However after a phone call she allowed me to advance and I was airside within twenty minutes of arriving at the airport. Shenzhen Airport is big, modern and relatively clean. Interestingly, as I waited for my flight I noticed a few birds flying around the terminal! As I waited, my throat began to feel store and my head began to ache – I was definitely coming down with a cold
Air China 777-300ER bound for PEK
The aircraft taking us to Wuhan and Dubai
Boarding began ahead of schedule at 1150 and it appeared that the flight was going to be full. As I stepped aboard, I found that just like on my Istanbul-Urumqi and Beijing-Guangzhou flights CZ A330 flights, I would be flying on one of the airline's PTV-less Airbus A330s for my long journey to Dubai. As one would expect, the seat was covered in China Southern's blue with gold pattern fabric, the seats themselves seemed to be identical to on their Airbus narrowbody fleet and thus lack a headrest. As with most airliners in China, a fabric headrest cover was provided and covered with an advertisement. The tray table also featured an advertisement sticker relating to marble floor tiles. The legroom was ok, certainly not perfect although it did seem to be better than that of the last two China Southern A330s I had taken thanks to the lack of a footrest. My seat for the journey an aisle seat located at the rear of the first economy cabin and opposite the large spacious disabled toilet. The flight turned out to be completely full. My seat mate for the flight appeared to be a suited business person.
My home for the long journey
By 1210 it seemed as if all passengers were aboard and we made an on time push back. The cabin crew conducted their usual announcements and then the long safety video played. We made what seemed like a long and slow taxi to the runway which was then followed by a long and slow takeoff and typical A330/340 shallow climb out. As per usual with Chinese flying, the seat belt signs were not switched off until we reached cruising altitude. When such an altitude was reached the crew jumped up and the screens came down. These played what appeared to be a review of the 'Rogue One' film and a short piece about the Silk Road, headphones were not provided and it didn't appear as if too many passengers were interested in this on the short hop up to Wuhan. A short while later the crew came around with incredibly dry hot rolls filled with a slice of cheap tasting meat, I think beef. Fortunately bottles of water were also provided which meant these could be easily digested.
Not too long after we began our slow step descent down into Wuhan, eventually we made a bumpy touchdown and taxied off to a remote stand. Upon our arrival we were instructed to follow the instructions of ground staff, however after the doors opened we were then instructed to wait on the aircraft. After all the Wuhan bound passengers disembarked, the eight heading to Dubai were told to disembark although when we reached the front of the aircraft we were told to return back to the cabin also this was then followed by the command to get off the aircraft.
The view whilst on stand
One by one we shuffled down the steps in the warm sun and boarded a waiting business class luxury bus. On the other side of the apron we could see Wuhan's big, new, shiny terminal where a sleek CZ Skyteam liveried 77W, a Skyteam liveried Xiamen Air 738 and a sharkletted Air China A320 were resting. Assuming we were headed for there, I was a little surprised when the bus stopped at what I thought was an airport administration building. We filed off the bus and waited in the pleasant heat for several minutes whilst our chaperones attempted to get someone on the inside to let us into this mysterious building. Eventually, we found ourselves being led through the arrivals hall and into the crowded departure area. Fortunately customs and immigration didn't take too long although once airside there was very little to do in this small international terminal.
The luxury bus
The small international terminal
Once through security one can enjoy the delights of a single cafe and shop. Aside from these there is very little else to do. Free wifi is provided but this cannot be used unless you have a Chinese mobile number. If you don't like the smell of cigarettes, you probably won't like the terminal. Surprisingly, there is an impressive number of international destinations one can fly to from the small terminal, on the FIDS during my time there were Taipei, Hong Kong, San Francisco, Bangkok, Kota Kinabalu, Kaohsiung, Dalat and of course Dubai. By 1513, the terminal was already rather crowded and I suspected that our flight to Dubai would be full. All passengers, bar three including myself appeared to be Chinese. From what I saw, four new crew members boarded the aircraft here in Wuhan, two pilots and two flight attendants. The rest of the crew were to consist of those who had been working the flight since Shenzhen.
Before bidding Eventually the time came to board once again and an messy line of passengers formed ready to board the busses that would take us to the waiting A330. I managed to squeeze myself onto the first economy passenger bus and after some waiting we departed on our short journey to the aircraft. As soon as we pulled up in front of the aircraft the passengers piled out. It seemed as if the majority of passengers on the flight were leisure flyers on tour holidays to Dubai, furthermore there was quite a commotion at the bottom of the aircraft steps as many passengers stopped to take photos of the aircraft, selfies with the aircraft and photographs taken by others in front of the aircraft before boarding. It's fair to say many of the passengers were in a joyous holiday mood which made for a nice change plus the security staff didn't seem to have a problem with anyone taking photos.
Upon entering the aircraft I was greeted by the same crew members that had greeted me a few hours before in Shenzhen and I made my way back to my original. This time, blankets and pillows had been placed on each seat and a set of headphones had been placed in the seat pocket. As expected, the aircraft had been well cleaned during its time on the ground in Wuhan. A short while later the second bus arrived and the aircraft really started to fill up. My seat mate on this leg appeared to be a middle aged woman on a group holiday although she moved once the doors were closed to a seat next to one of her friends. The passengers on this flight seemed to make significantly more chaos during the boarding process than the passengers of other flights I have taken within China, this combined with the amazement of the aircraft gave the impression that many of these passengers were not regular flyers. After a short while of waiting, the cabin crew made their usual announcements and we began to push back. Our taxi to the runway was long and took us past two retired Unitop Cargo Boeing 747-200s. We then made another less than powerful takeoff taking up much of the runway before making a shallow climb upwards.
Pillow and blankets placed on the seats this time
In true China Southern fashion, the seat belt signs and entertainment did not begin until we reached cruising altitude. Shortly after this, the crew came handing out wet wipes and making a drinks round before the first meal service began. This consisted of Chinese style rice with chicken or Western style fish with potatoes. I opted for the former and I think I must have been one of the last passengers to receive this. This was served with a salad, a cream based desert, butter but no bread! In my opinion the taste of meal was pretty good although the passengers around me who had been forced to choose the fish didn't really seem to be enjoying their meals. After the crew collected the trays the crew came around asking passengers to close their window shades and from a few hours after departure we remained chasing the sunset until the sun finally set as we neared Dubai.
The inflight entertainment on the flight consisted of the programs shown on the overhead screens. The first of which was 'Collateral Beauty' which played twice followed by 'Hacksaw Ridge' which was cut off half way through before 'Rogue One' began on repeat for the rest of the journey. My headphones seemed to work well although I wasn't too concerned with watching the entertainment provided. Most of my fellow passengers didn't seem to bother by this too, in fact on two separate occasions, a late middle aged middle seat occupier stood up and looked for buttons to retract the overhead screen above her seat, after accidentally pressing the call button, she pushed the overhead screen back into the ceiling herself, obviously this came right back down. She appeared to be a little annoyed by this and tried two more times before giving up. She did however try this again an hour or so later. The lack of an inflight map meant the only way to have a rough idea of how long we had left was by looking at your watch. I slept for much of the flight however many of my fellow passengers stood up, played cards and happily chatted the time away on this holiday flight.
Around two hours prior to landing, the cabin lights were once again switched on and hit towels were handed out. To my great surprise there was to be a second meal service on the flight! A short while later the crew rolled down the aisles offering the passengers noodles or rice. I opted for noodles and in a breakfast style these were served with some watermelon, a yoghurt, orange juice and a croissant. It did feel a little odd eating breakfast at early evening in Dubai and late night in China! After this meal service I had a short nap and before I knew it the crew were announcing the closure of the toilets. Talking of which, these were well stocked although their condition seemed to get progressively worse through the flight.
As we progressed by cold began to worsen and by the final few hours I seemed to be constantly holding a tissue to my nose, I really just wanted the flight to end. Eventually we sank down over the desert and arrived in hot Dubai. Our taxi to terminal two seemed to last forever but eventually we pulled up to the terminal. After which disembarkation was quick and I found myself in Dubai's relatively clean and modern T2. After catching the train to the landside area I was met by what seemed to be horrifically long queues at immigration although these moved fairly quickly and within an hour and ten minutes of arriving I was in a taxi on my way to Dubai Marina. Very tired and one day late.
My return journey went somewhat more to plan, barring having to convince one of the check in agents in Dubai of the validity of my Korean ID card and having to wait nearly an hour to takeoff in Beijing. Plus, when I arrived back in Incheon, despite the fact that I was well on my way to recovering from the cold I had come down with in Shenzhen I answered the health questionnaire with full honesty. This honesty meant that I struck fear in the hearts of the airport quarantine workers who whisked me away after arrival to the airport's health centre on suspicion of contracting MERS. Eventually after about an hour of questioning, multiple temperature takings and numerous phone calls to healthcare professionals I was realised and headed to immigration when only one officer could be found manning the passenger-less Korean border. After asking me where I had come from as there had been no arrivals for over an hour I told him my story which he seemed to find slightly amusing before passing into Korea and making my way to the bus stands for my journey into Seoul.
The newer, PTV fitted A330 that took me from DXB to CAN
My ride from CAN to PEK
When I took this photo I had no idea that in a short while I too would face a real risk of being quarantined
Happy to be back - almost
The end of my journey
To close, after much waiting China Southern claimed that they would offer me nothing in terms of compensation, despite being delayed nearly 24 hours, pointing the finger of blame at Korean Air. Likewise Korean Air also refused to give any compensation advising me to direct my complaint at China Southern.
Thank you for reading!
OTHER TRIP REPORTS
Please note, the photos of many reports seem to no longer be working however these photos can be viewed on my blog
Forever in Y
Korea Domestic
Asiana Boeing 767 Gimpo-Jeju
Air Busan A320 Busan-Jeju
Jeju Air Boeing 737-800 Busan-Jeju
Jin Air Boeing 777-200ER Jeju-Gimpo
Korean Air Airbus A330-300 Jeju to Busan
Korean Air Boeing 747-400 Gimpo to Jeju
Korean Air Boeing 787-9 Gimpo-Jeju
Short Haul
Bek Air Fokker 100 Almaty-Astana
China Southern Airbus A321 Beijing-Xi'an
Cityjet Avro RJ85 London City-Cork
Far Eastern Air Transport MD-80 Taipei Songshan-Makung
Jeju Air Boeing 737-800 Daegu-Beijing
Joy Air Xian MA60 Yantai-Dalian-Yantai
Meridiana MD-80 Olbia-Gatwick
Lucky Air Airbus A320 Lijiang-Kunming
Southern Sky Airlines Antonov 24RV Almaty-Balkhash-Astana
Thai Airways Boeing 777-300 Bangkok-Phuket
Tibet Airlines Airbus A320 Kunming-Lijiang
Ukraine International Airlines Boeing 737-800 Kiev-Istanbul
V Air Airbus A320 Taipei-Busan
Medium Haul
Air India Boeing 787-8 Incheon-Hong Kong
China Eastern Boeing 737-800 Incheon-Kunming
China Southern Boeing 777-200 Urumqi-Beijing
Korean Air Boeing 737-800 Incheon-Kunming
SCAT Boeing 737-500 Xi'an-Almaty
Vietjet Airbus A320 Ho Chi Minh City-Taipei
Long Haul
China Southern Airbus A330-200 Istanbul-Urumqi
KLM Cityhopper/KLM Fokker 70 and 747 Combi Humberside-Amsterdam-Seoul Incheon
Korean Air A380 Seoul Incheon-Paris CDG
Oman Air Airbus A330-300 and Boeing 787-8 Heathrow-Muscat-Bangkok
Thai Airways Bangkok-Karachi-Muscat
Vietnam Airlines Airbus A350 and Boeing 787-9 Heathow-Hanoi-Seoul Incheon