Welcome back to a new trip report!
This time I flew on KLM from MAD to AMS and back to MAD. I spent 3 days in Utrecht and came back home.
KLM had some great fares the day I was flying to Amsterdam, beating both Air Europa and Iberia Express, plus, since KLM has many flights a day to MAD the schedules were the most convenient. Also, since they are part of the Skyteam alliance I got to earn a few Delta Skymiles.
I was excited to be flying again in KLM. The last time I flew with them was back in 2013 when I got to try their 747-400M that got me from Amsterdam to Chicago. It is one of the trips that I remember the most. It was my first 747 ride and, on the way back, Delta upgraded me to Business class on my ATL-MAD flight. So, I had high expectations prior to this trip.
As usual, I got to the airport on the subway. KLM departs from the E gates in Terminal 2, that's where Air Europa, and other Skyteam partners (as well as other airlines) depart from, allowing them to make connections under the same roof.
The check in process was easy. I did the online check in first. I confirmed my DL Skymiles number and purchased a bag to check in. It was cheaper doing it online rather than paying it at the airport. Lucky me I got a window seat!
Today we were leaving from gate E69. The E-pier of T3 in Barajas is completely renovated. It is quite nice. But Terminal 2 sure needs some repairs.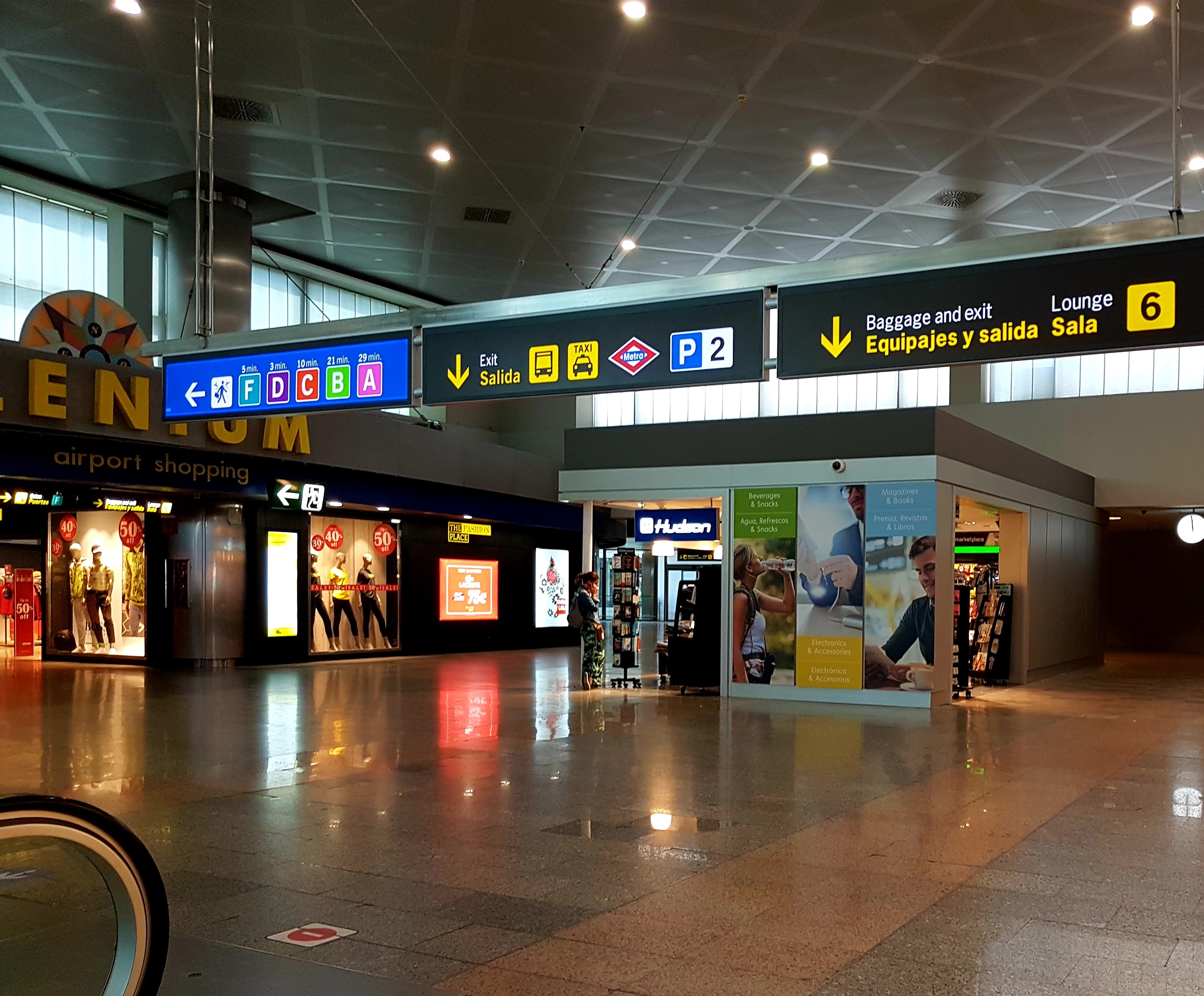 As always, I did some spotting inside the terminal. I got lucky getting to see the United B777 arriving from Newark. It came more than 2 hours late. I'm sure passengers inside were not happy campers!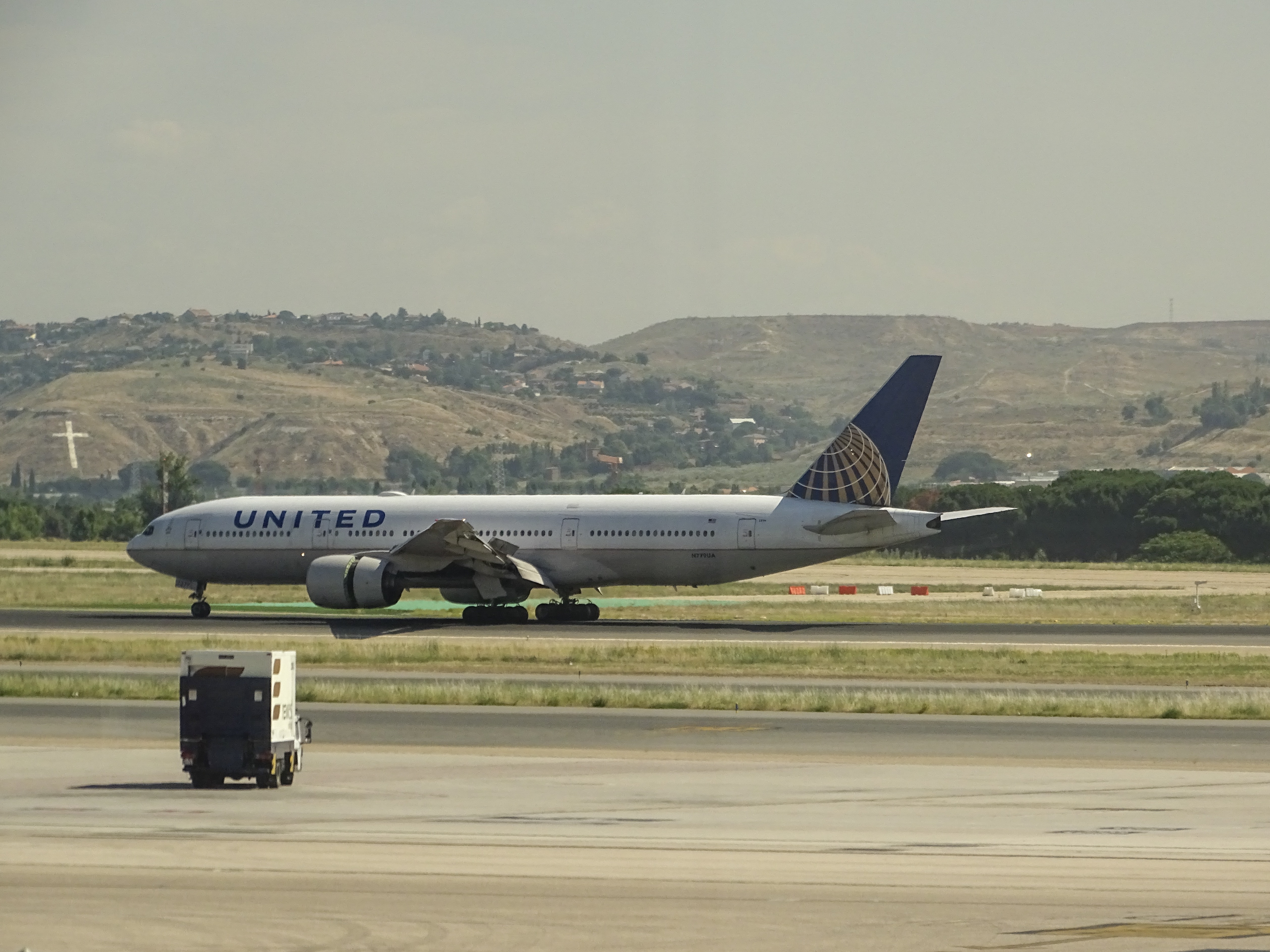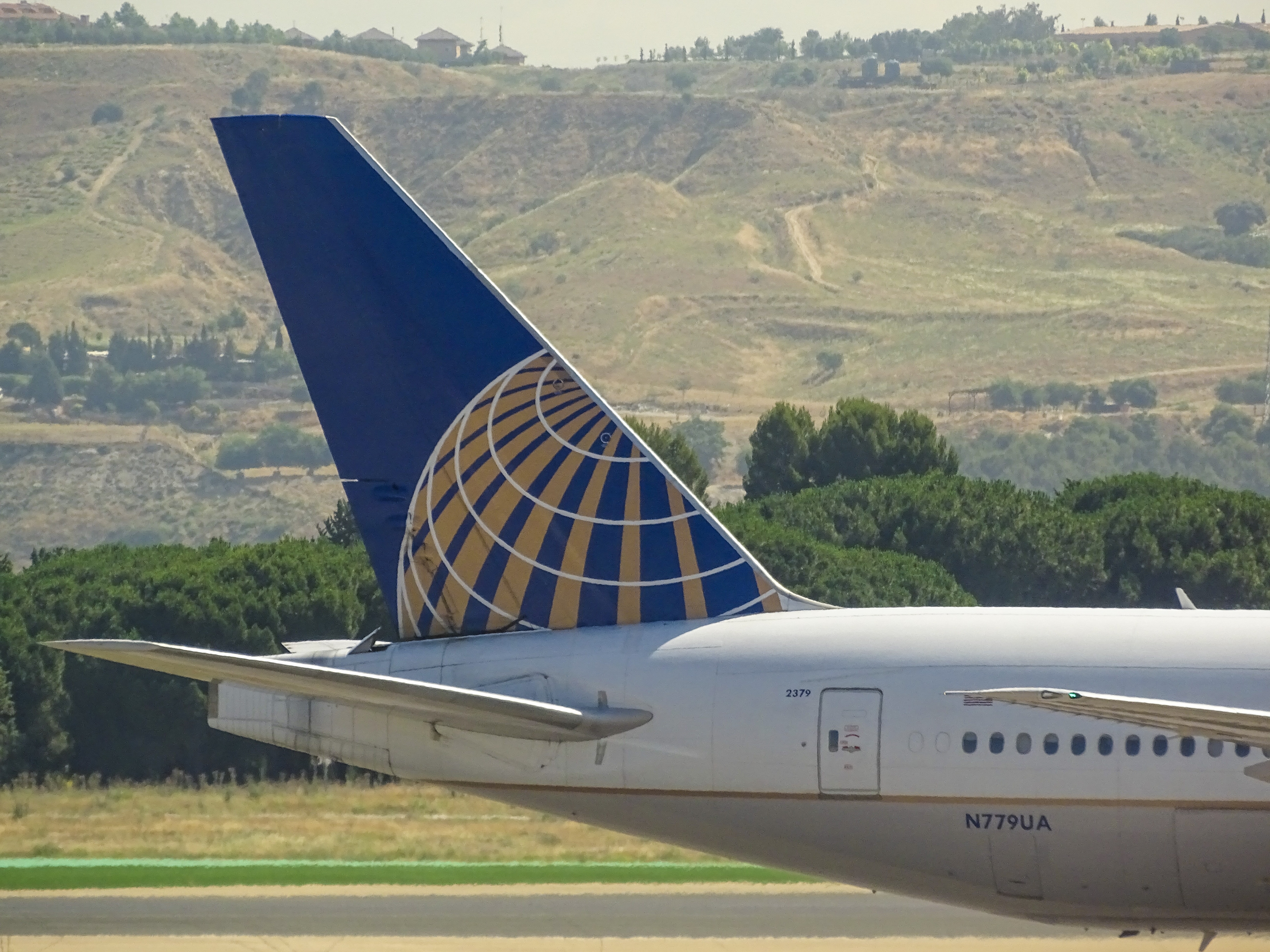 Here was our nice B737-800 that would take us to AMS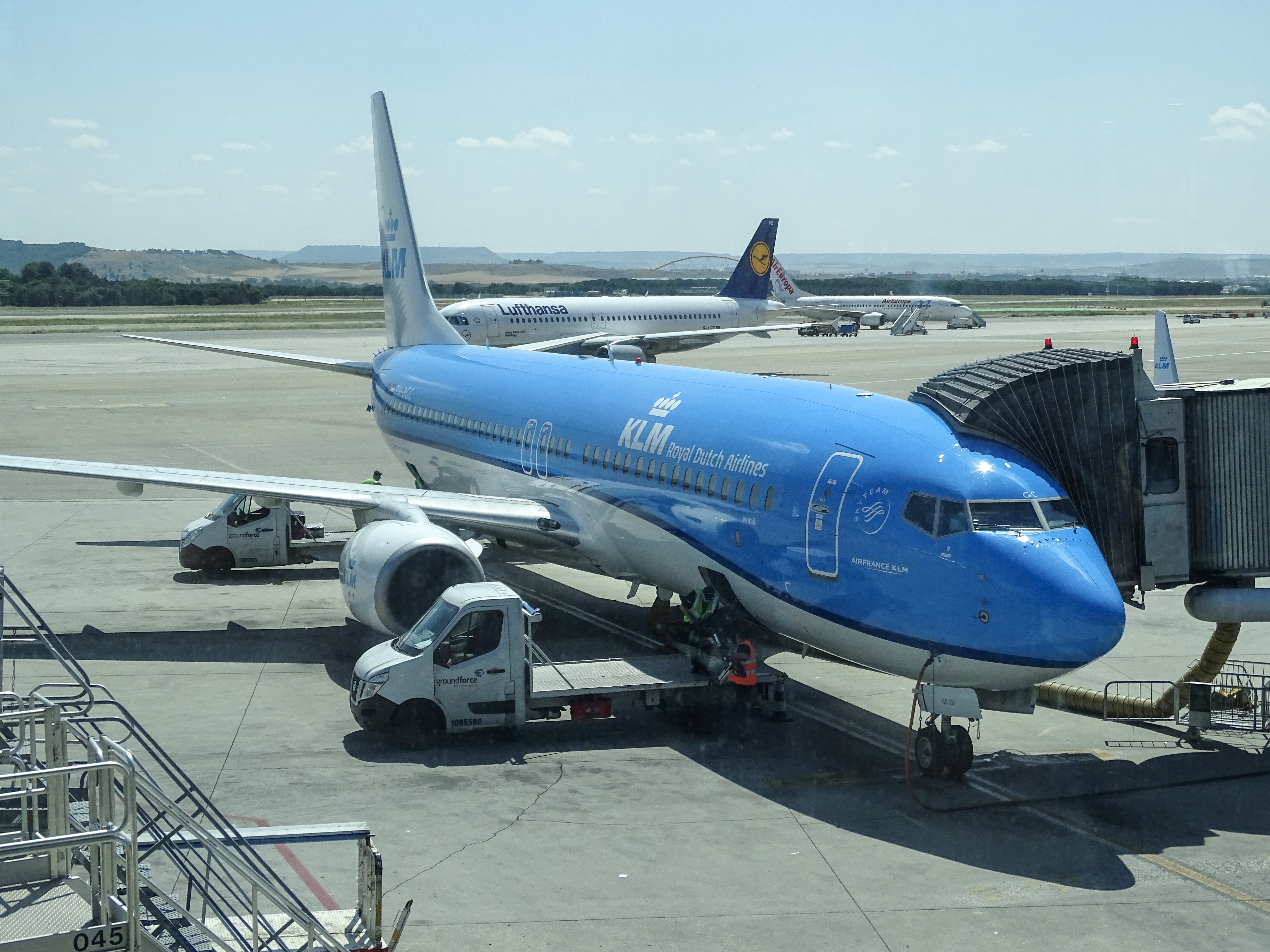 Boarding was very organized and soon we were in our seats. The plane was very clean.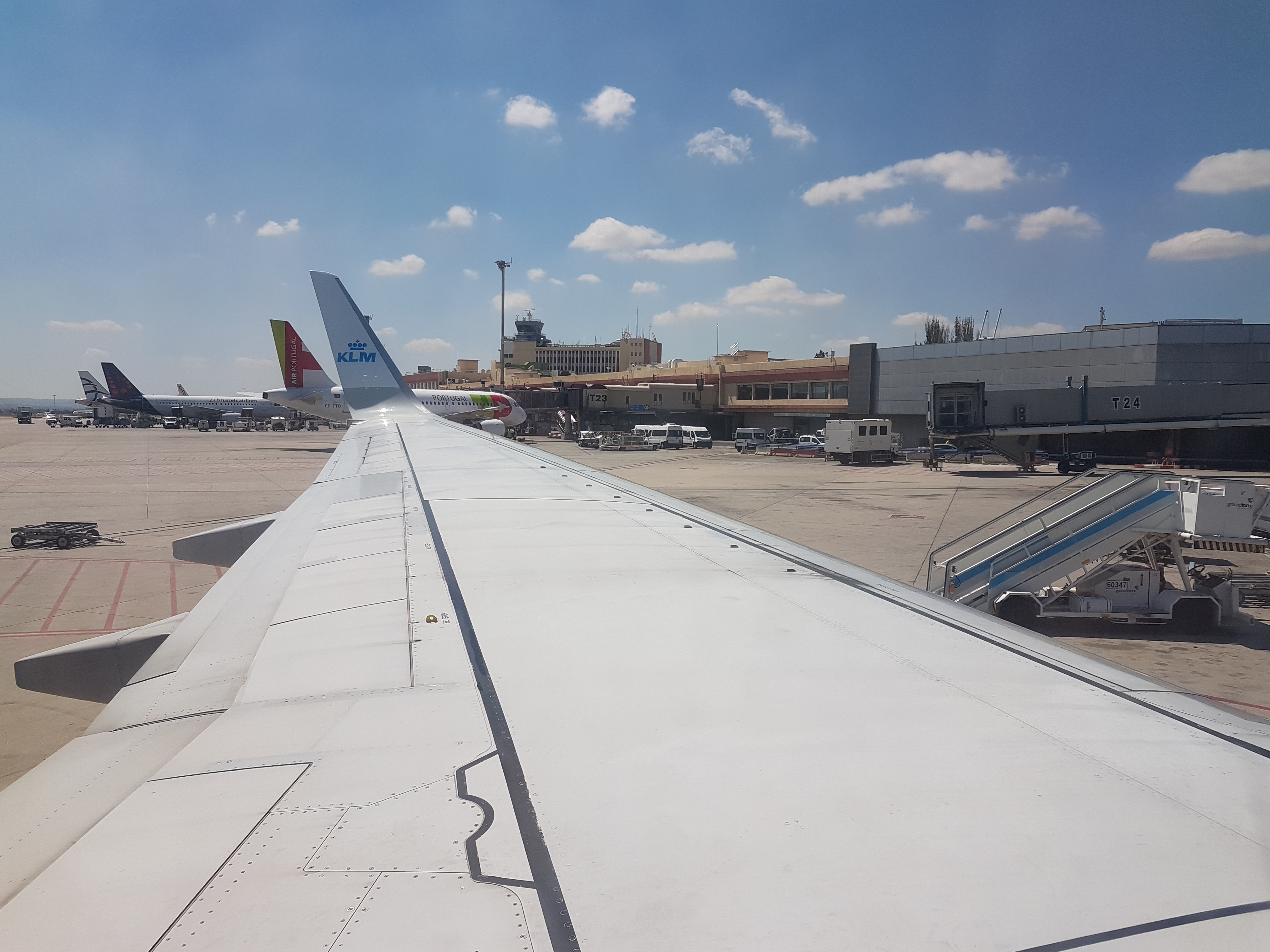 Flight Nº1:
KL1702 MAD-AMS
Seat: 17A
Aircraft: B737-800 PH-BGC
Flight time: 2h 5 min.
Boarding was done very quickly. The flight was 100% full. The captain announced that we would be departing a bit late. ATC was changing the runway configuration of Barajas. Finally, we departed 20 minutes late. While taxiing towards runway 14L I noticed a whole lot of Wamos planes at T4S that are helping out LAN while their Dreamliners get repaired. And of course, I couldn't resist not taking a picture of the beautiful A340-600.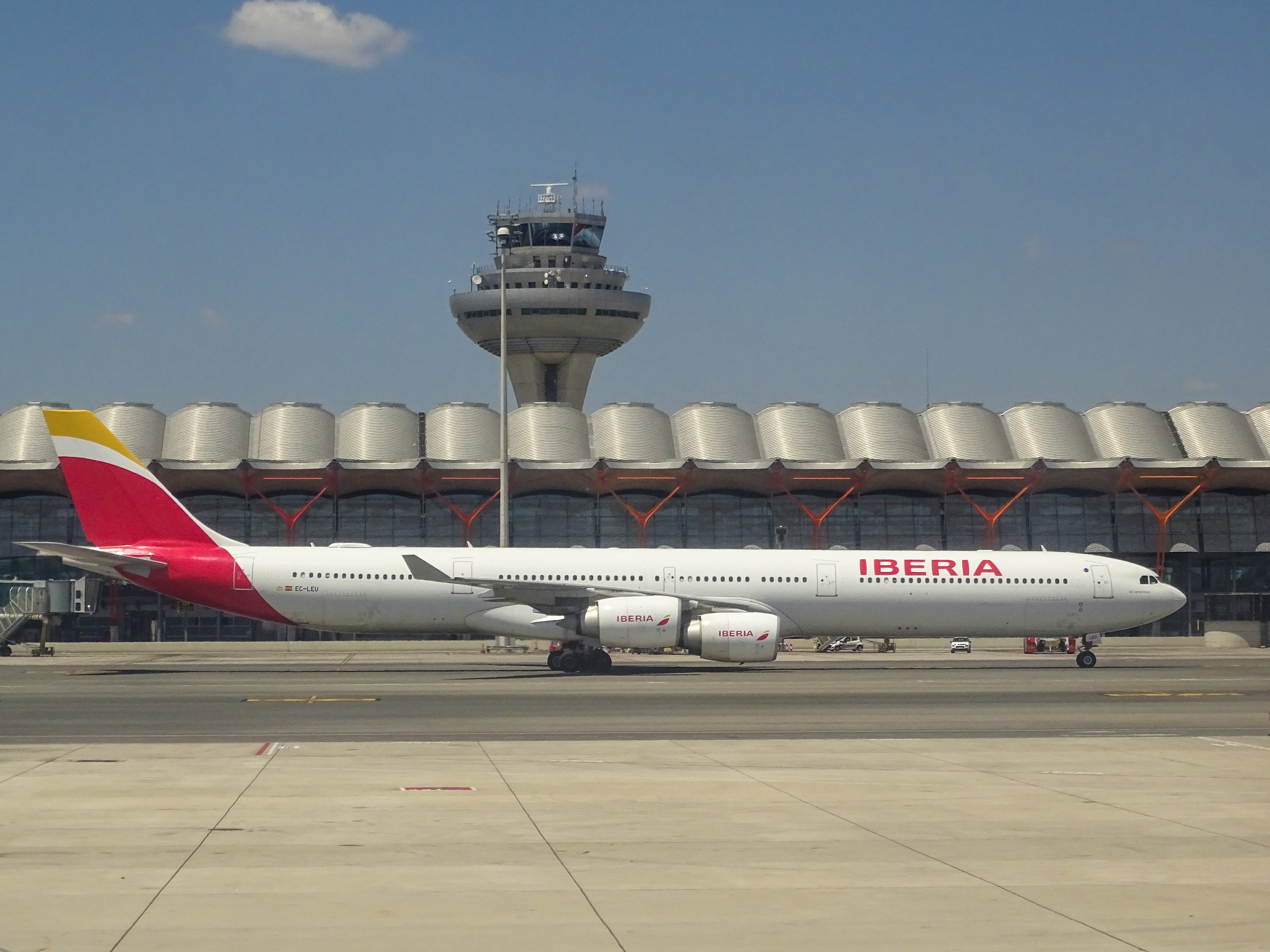 We had a long take off roll. It was quite hot in Madrid. As soon as we were airborne the flight attendants came by offering lunch. I was surprised to see that it was a hot meal (pasta with zucchini). After that, they came by taking drink orders and gave us a little muffin as the dessert.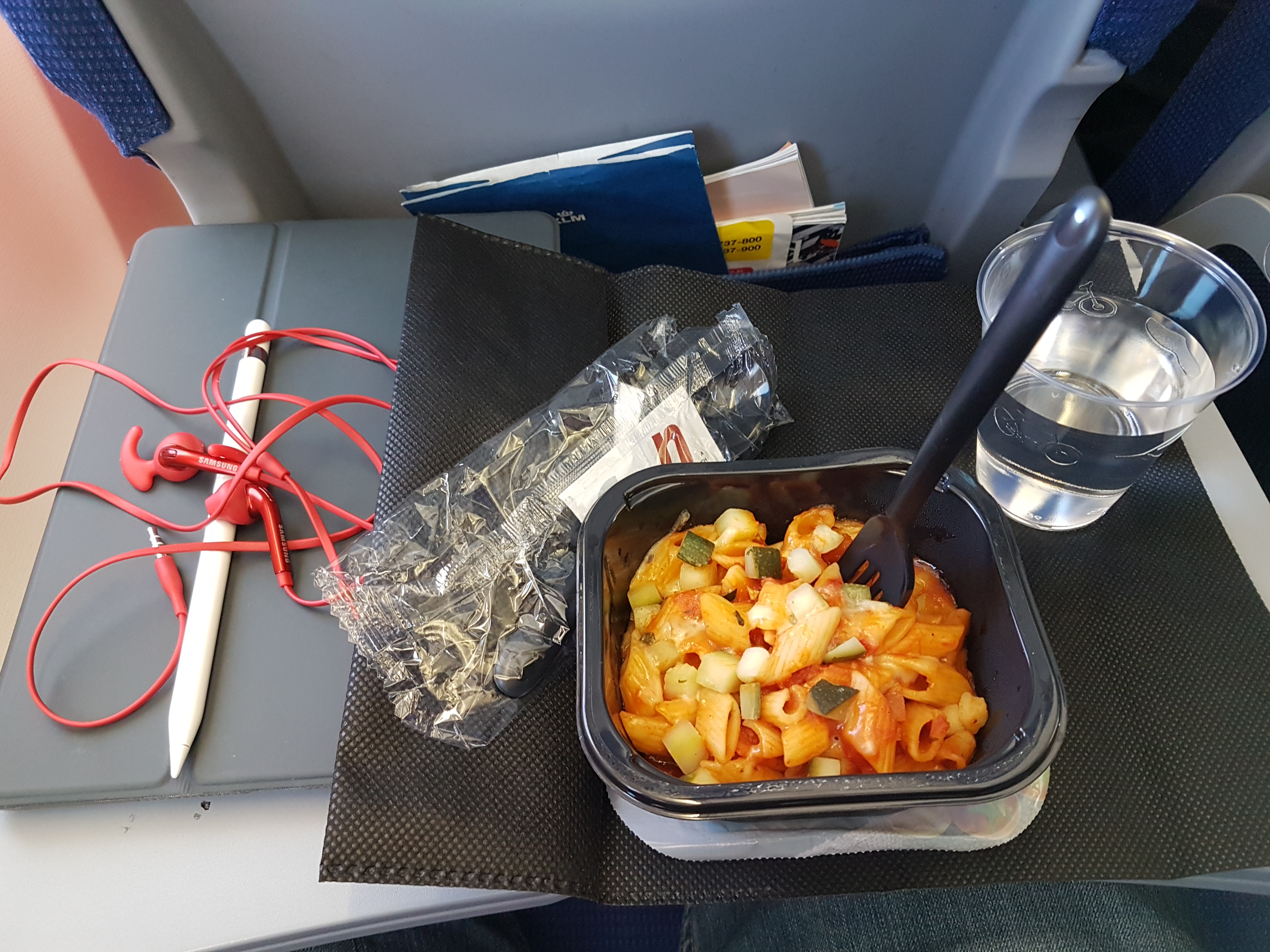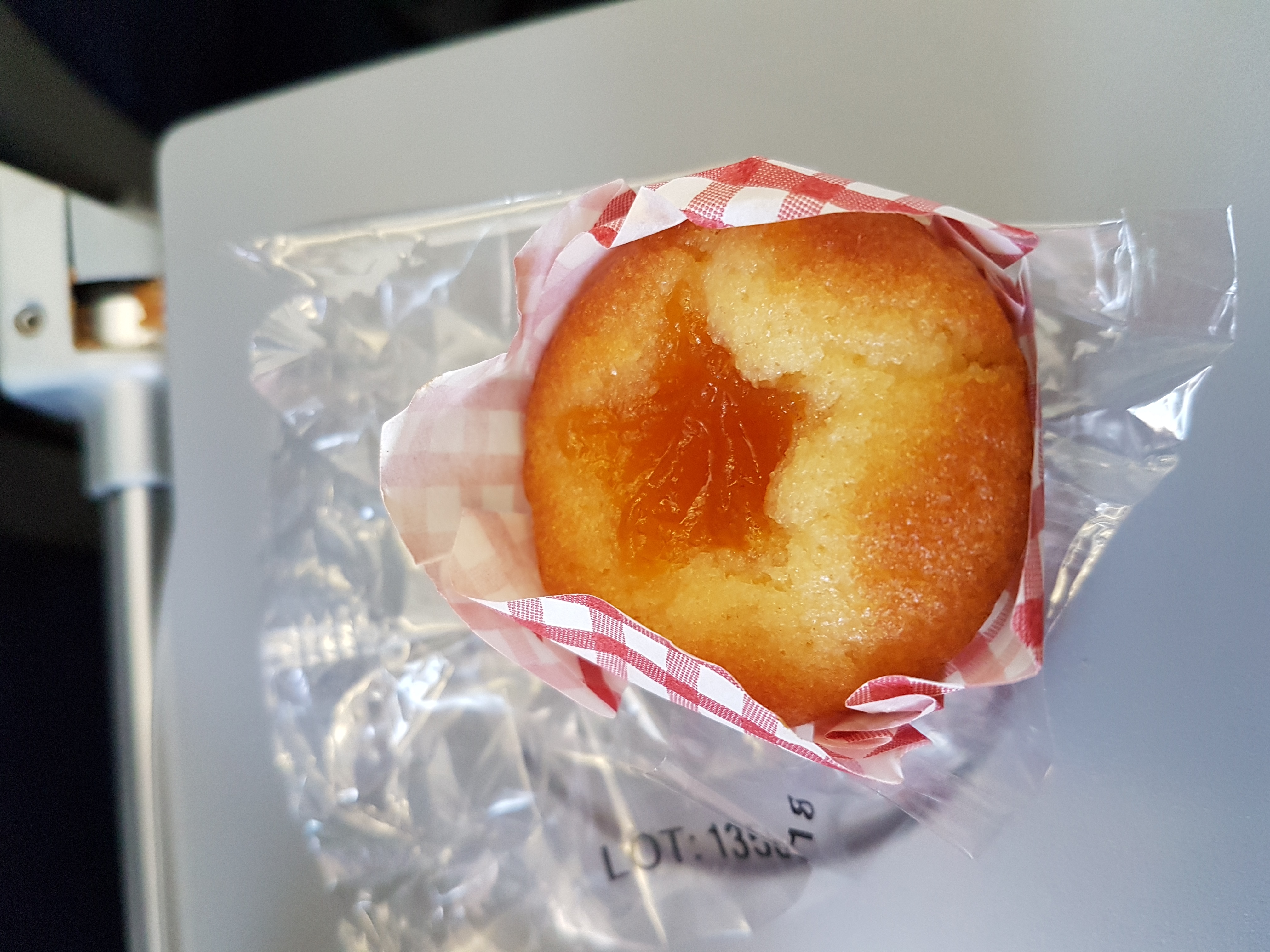 I was impressed KLM!! Flight attendants were also very nice and polite. The dessert was given to us by the captain who was extremely friendly and even talked to some of the passengers onboard.
The route that we took was not the most usual one. We went up all the way to London, there we turned right to go directly to AMS. Here is a winglet shot while airborne.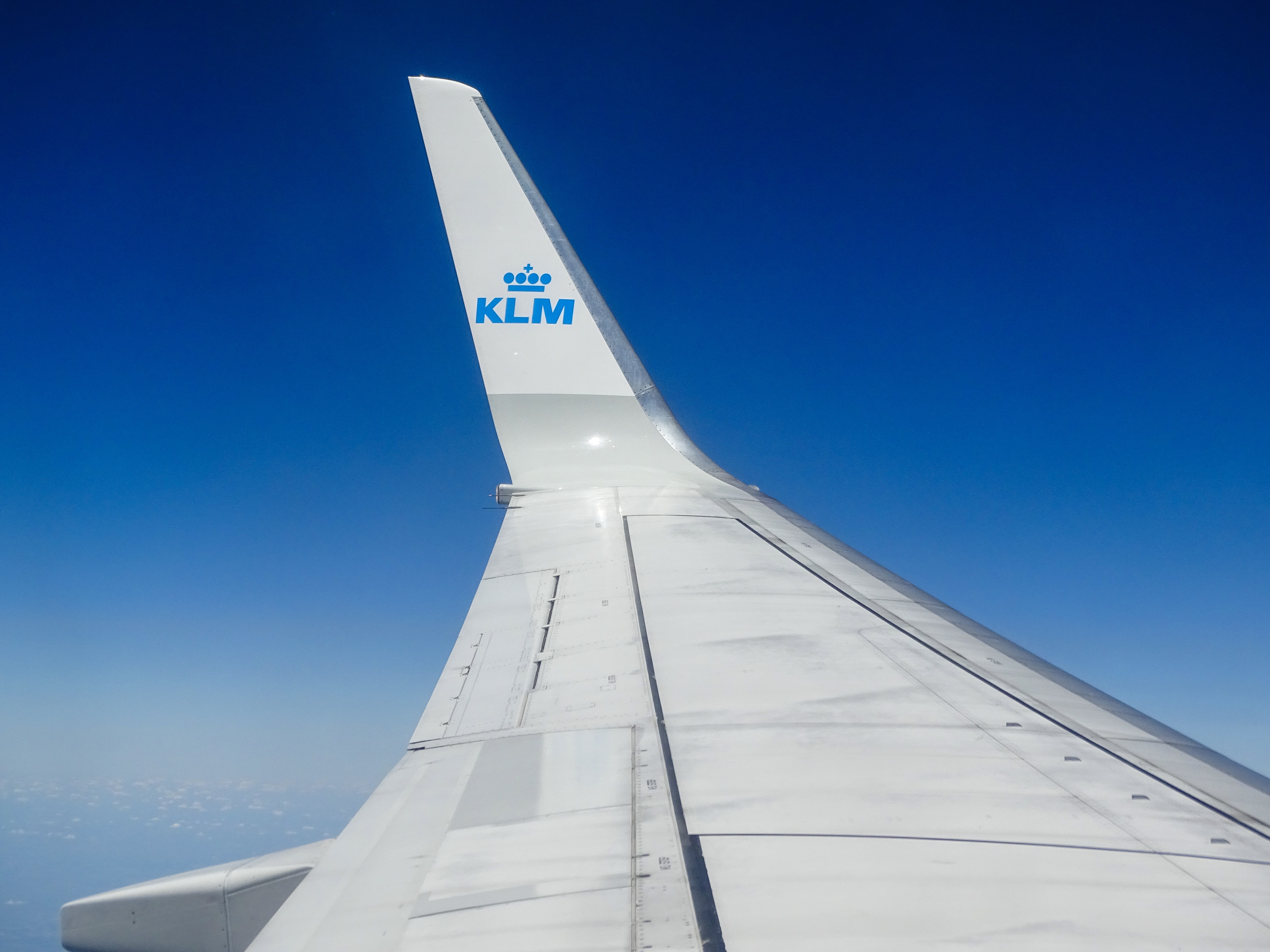 The flight went by quickly and we were soon landing at Schiphol airport. It was a very good flight.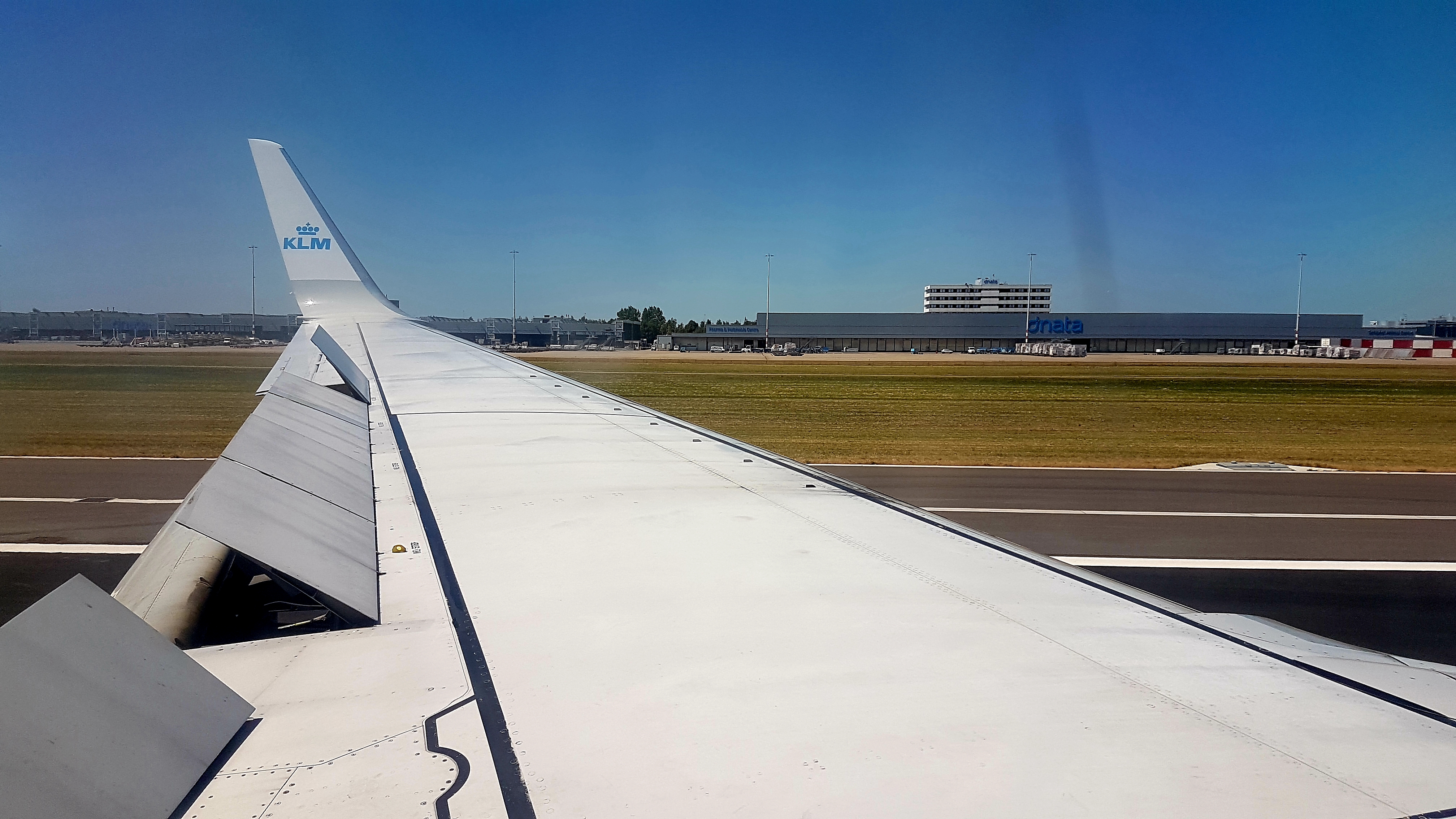 We arrived at gate C4. Our KLM plane was surrounded by many Transavia 737s. Once we got off the plane many passengers headed to the Transfer desks. Today I wasn't transferring to any other flight. I arrived at the baggage claim. In approximately 10 minutes all bags started to come out.
After that I headed to the train station at Schiphol airport to purchase my ticket to Utrecht. Everything was easy, and we got to Utrecht in no time. Something that I noticed was that the public transit system at Utrecht didn't have any signs in English. Not even any translation. I think they should at least put some general notices in English.
We stayed at the Ibis Hotel in Utrecht. It was the cheapest option and it had free breakfast. It was ok for the price that I paid. The restaurant was very good.
Utrecht was charming at its own. The city center had many canals and you could rent a boat or take a tour if you wanted. There were many shops around the canal. Then, in Utrecht you can also walk below the Dom tower which was impressive.
Here are some photos of Utrecht.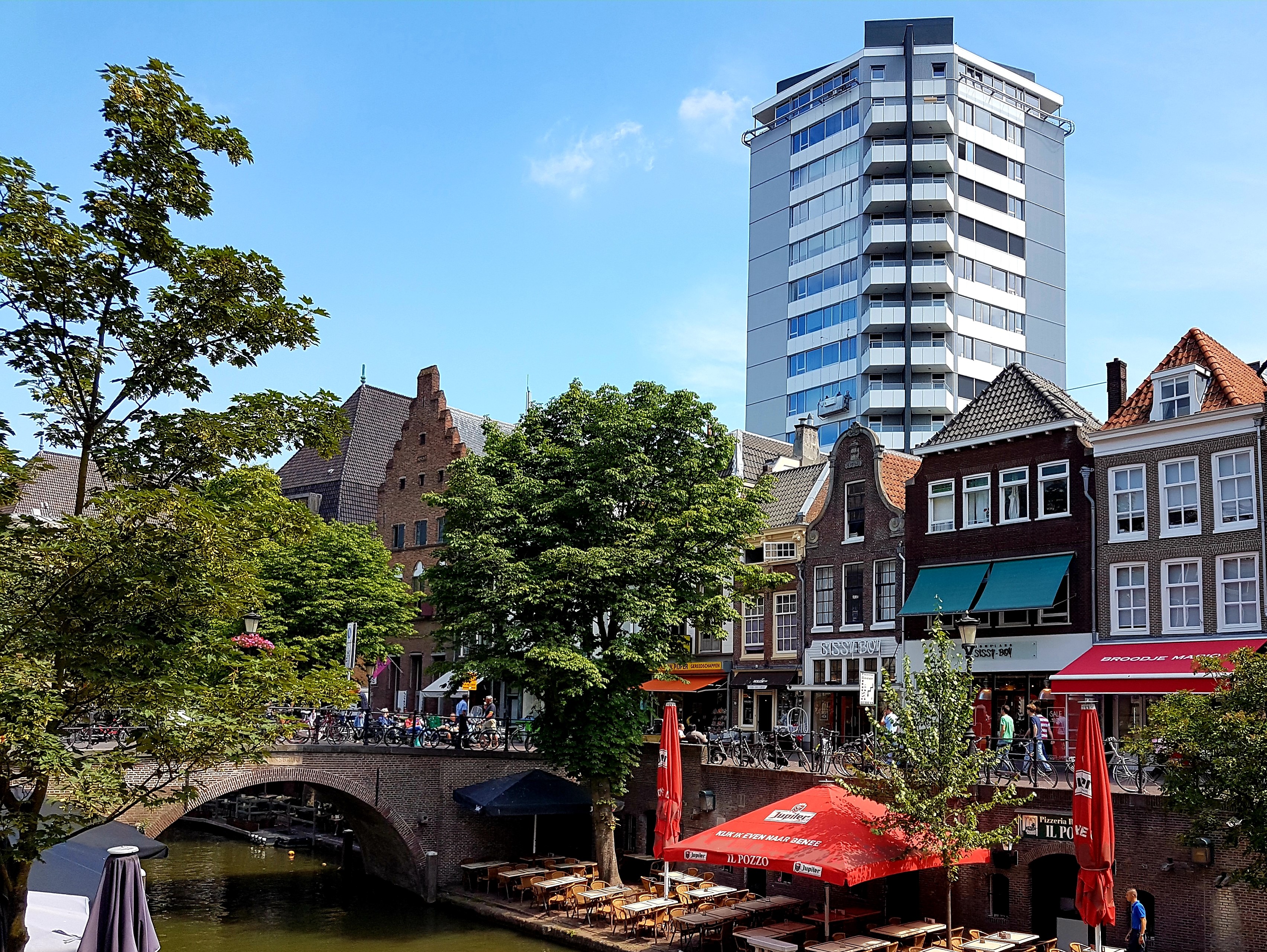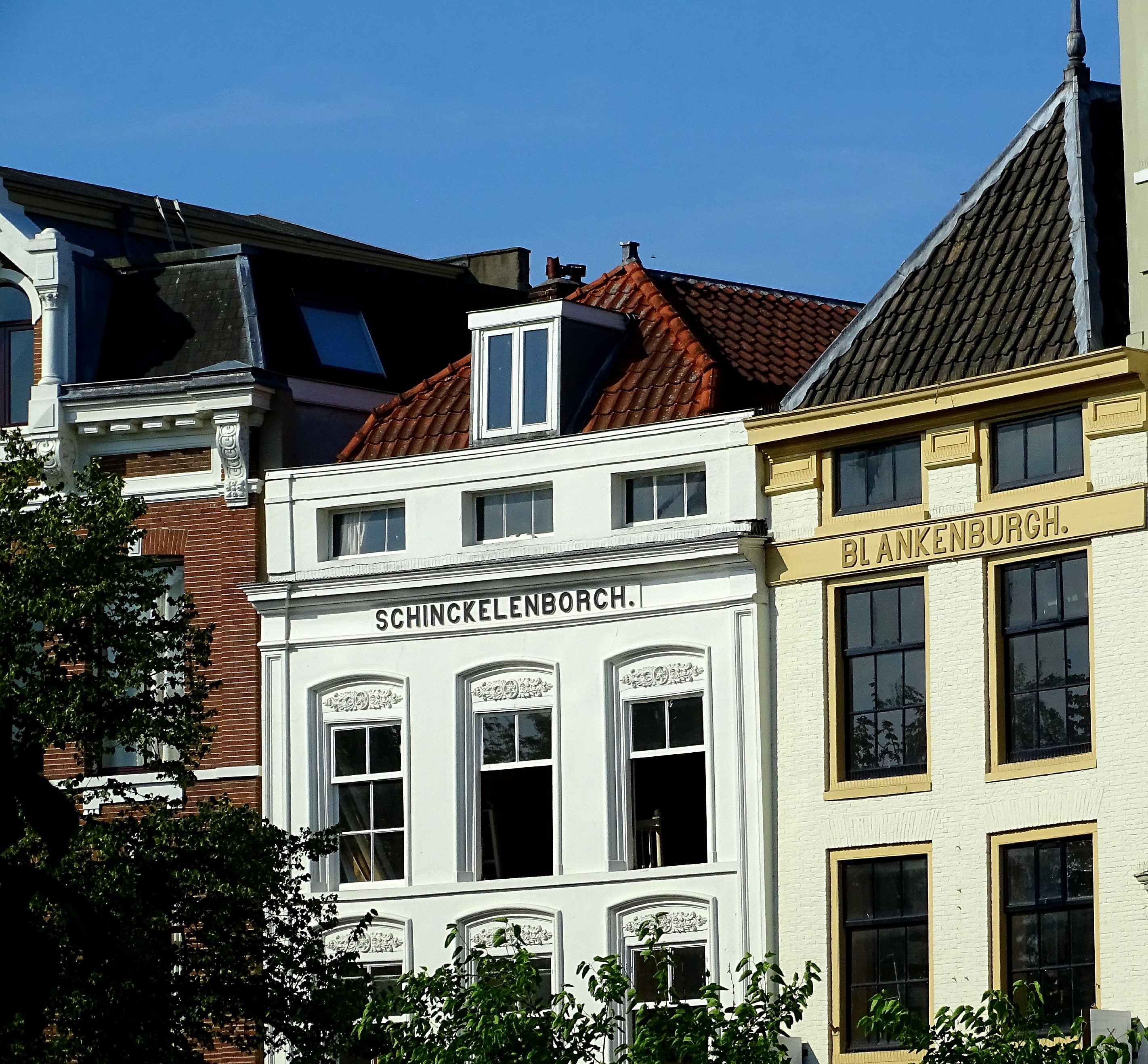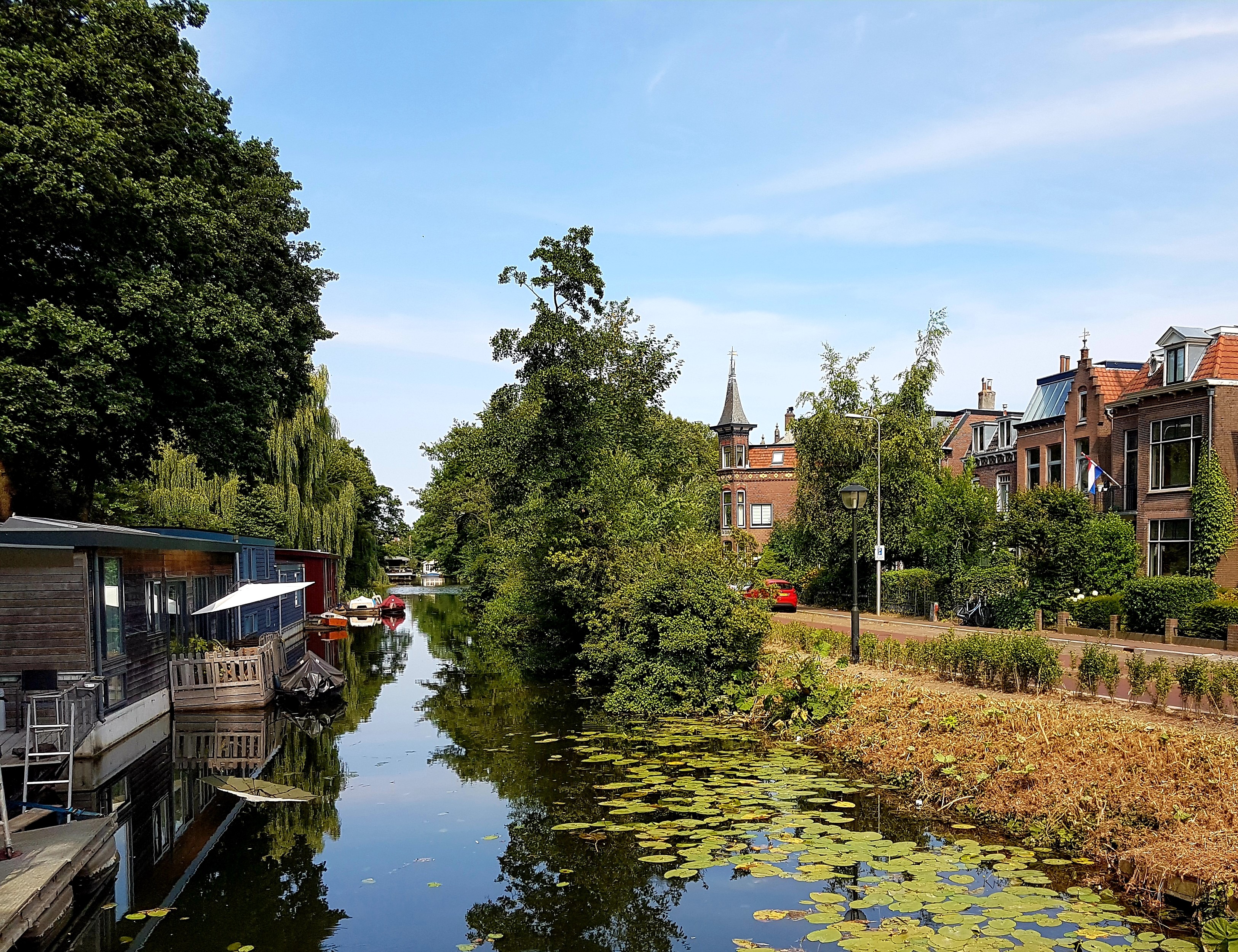 Time passed quickly (as it usually does when you are out and about) and we were back in the intercity train that would take us to Schiphol.
And I was reminded of why I always recommend flying through AMS. It's such a well-organized airport with so many shops, cafes, restaurants… and for an avgeek, the "panorama terrace". I was in "airplane heaven" for a few minutes at Schiphol.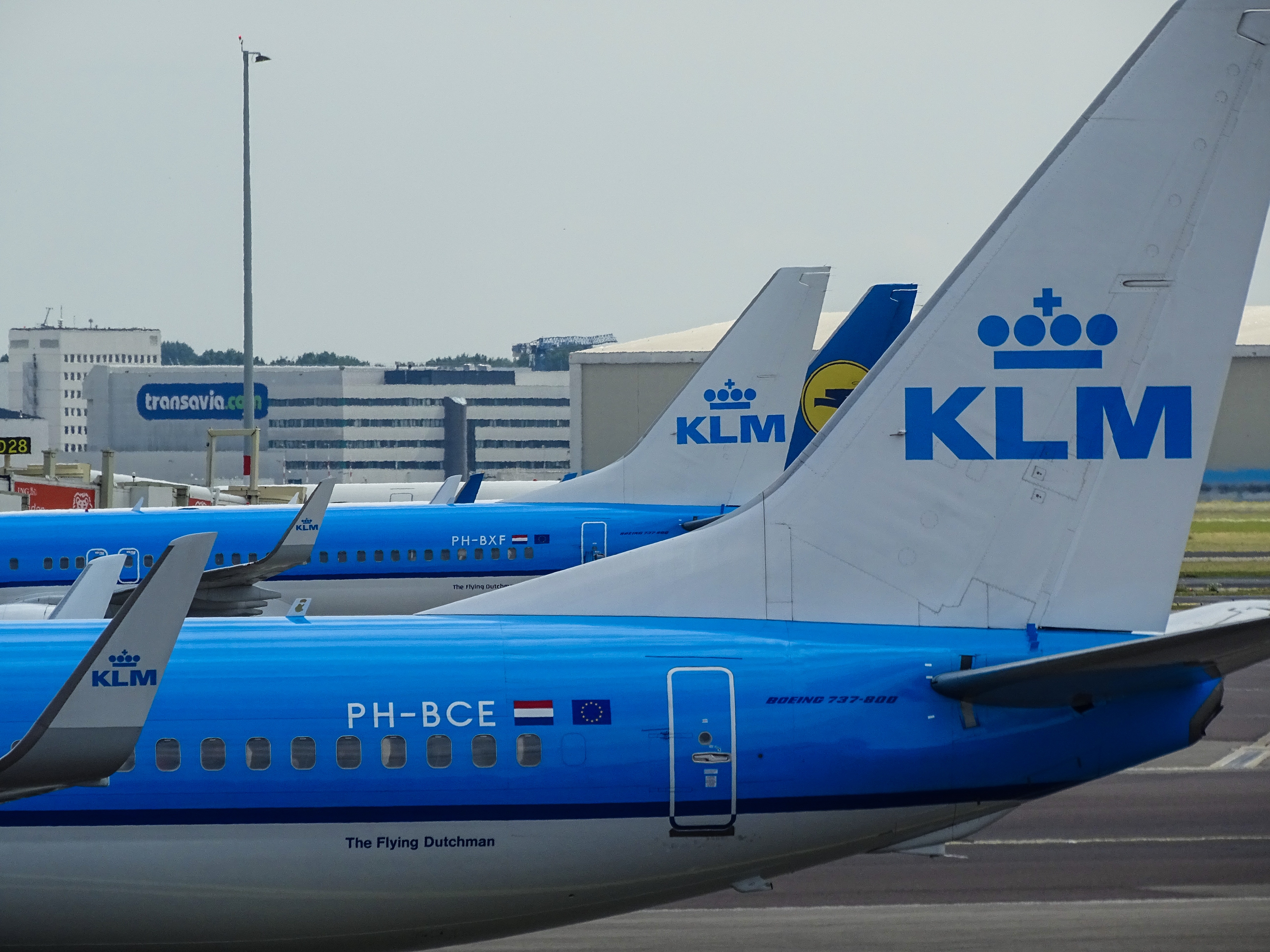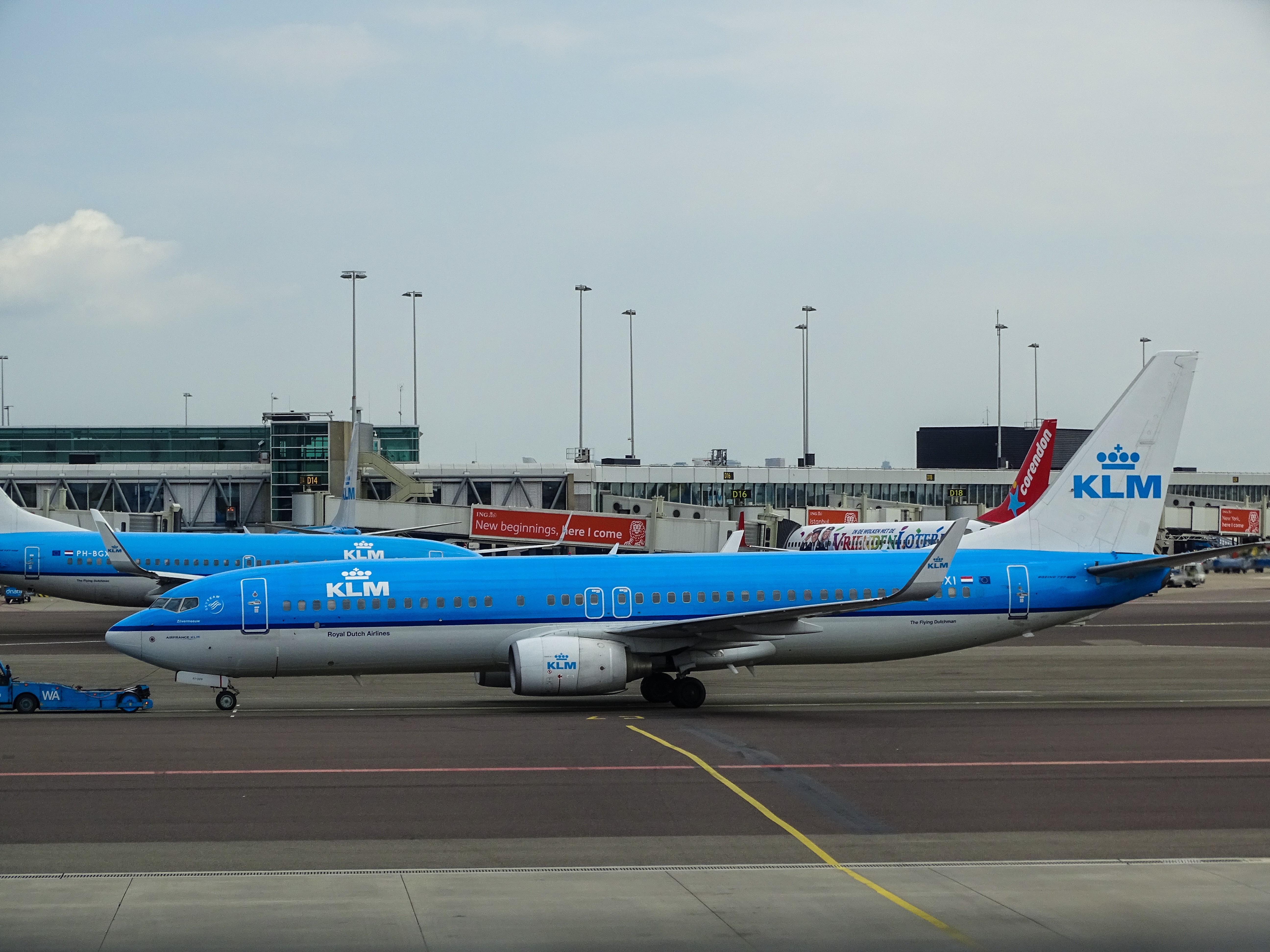 Oh, I should say that security took about 10 minutes. The officers where super polite and helpful. No nonsense going on like in other places. Ah, and the check in process was super-fast, we printed out our boarding passes and went right to check our luggage to MAD.
Flight Nº2:
KL1703 AMS-MAD
Seat: 10F
Aircraft: B737-800 PH-BXH
Flight time: 1h 55 min.
Boarding was punctual to the minute. First went the elites and then general boarding started. We all were in the plane in 20 minutes. The captain told us that we would be departing a few minutes late due to some baggage arriving to our plane late.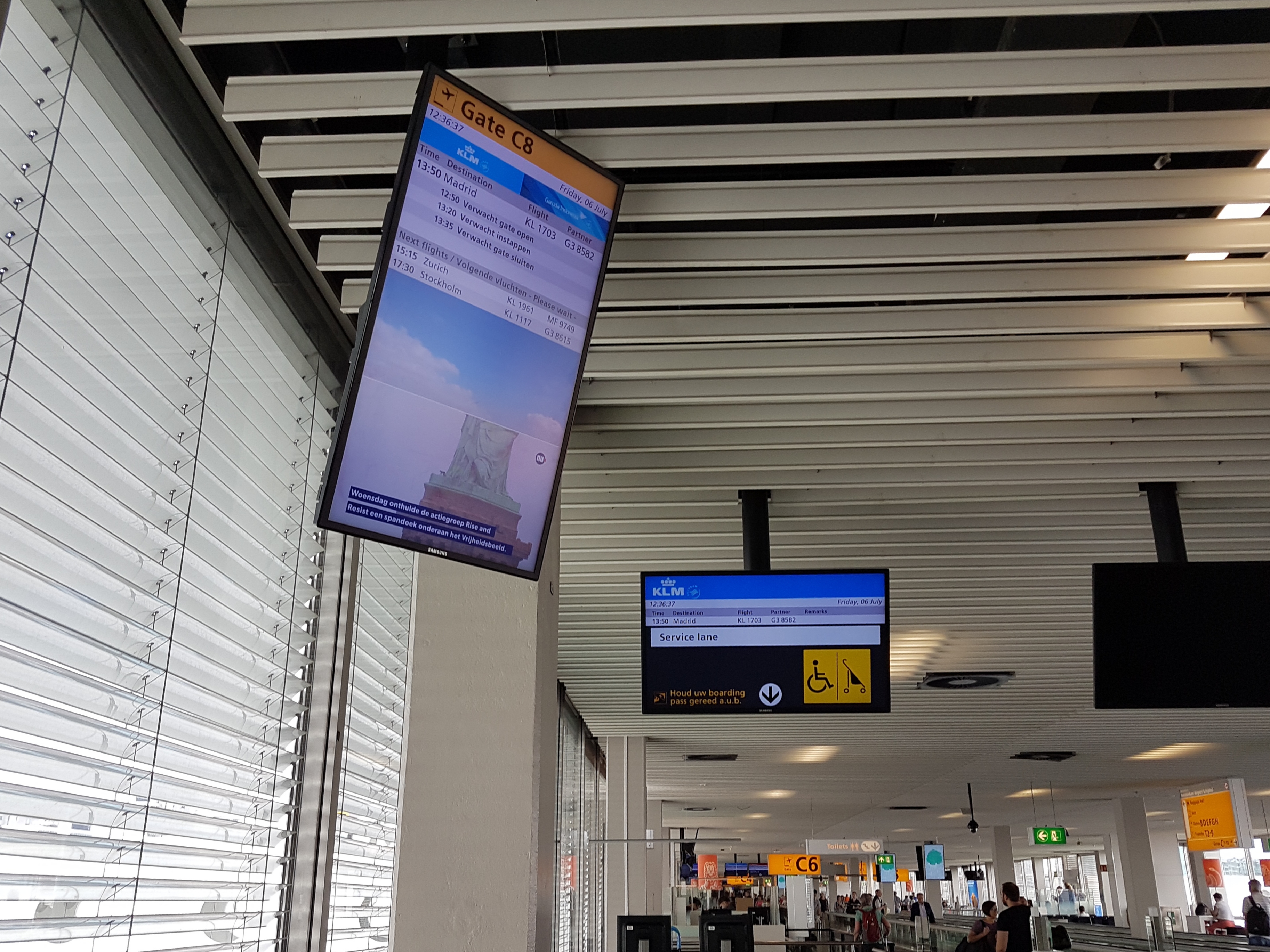 Our plane was 18 years old, and, it was kept fairly good. I wouldn't say it was a brand-new airplane, but it was clean and didn't have any stains in the airplane walls. I will say that my window, the one on seat 10F, was very dirty.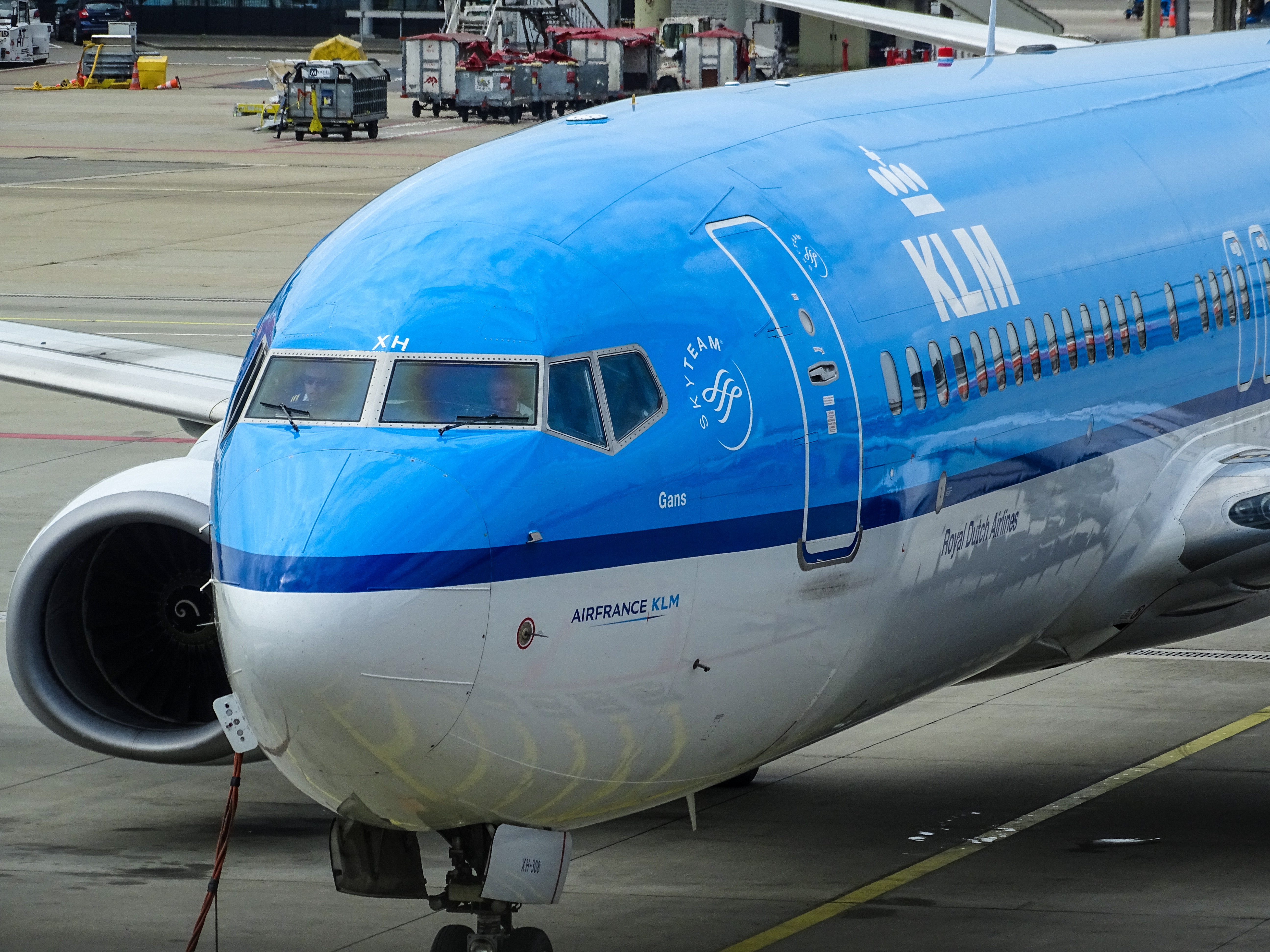 (A photo of the window)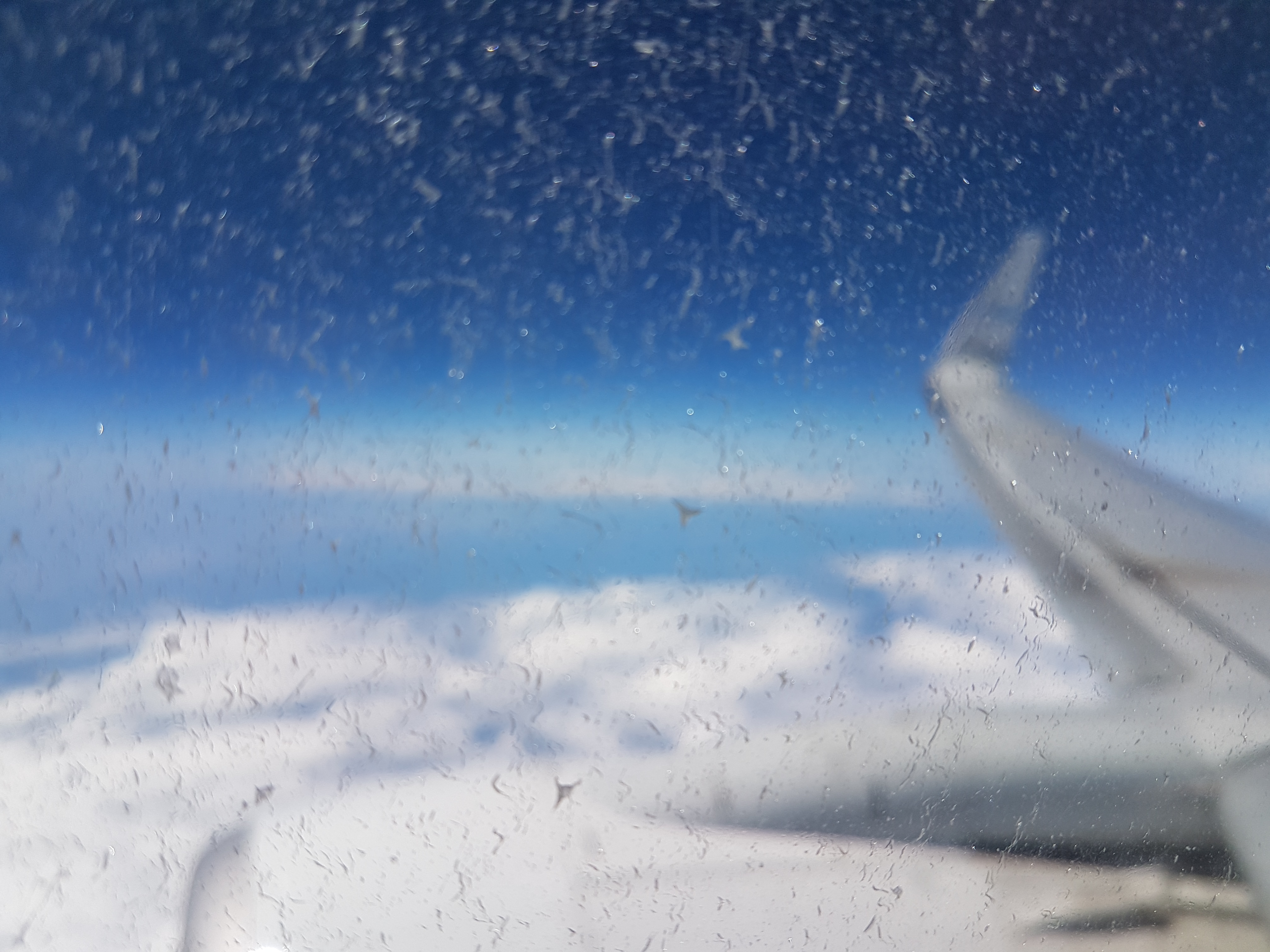 We took off and while flying we encountered a Norwegian plane flying above us. It's also worth mentioning that our route took us over CDG and ORY airports. (I like to call this "airport trivia from above" lol)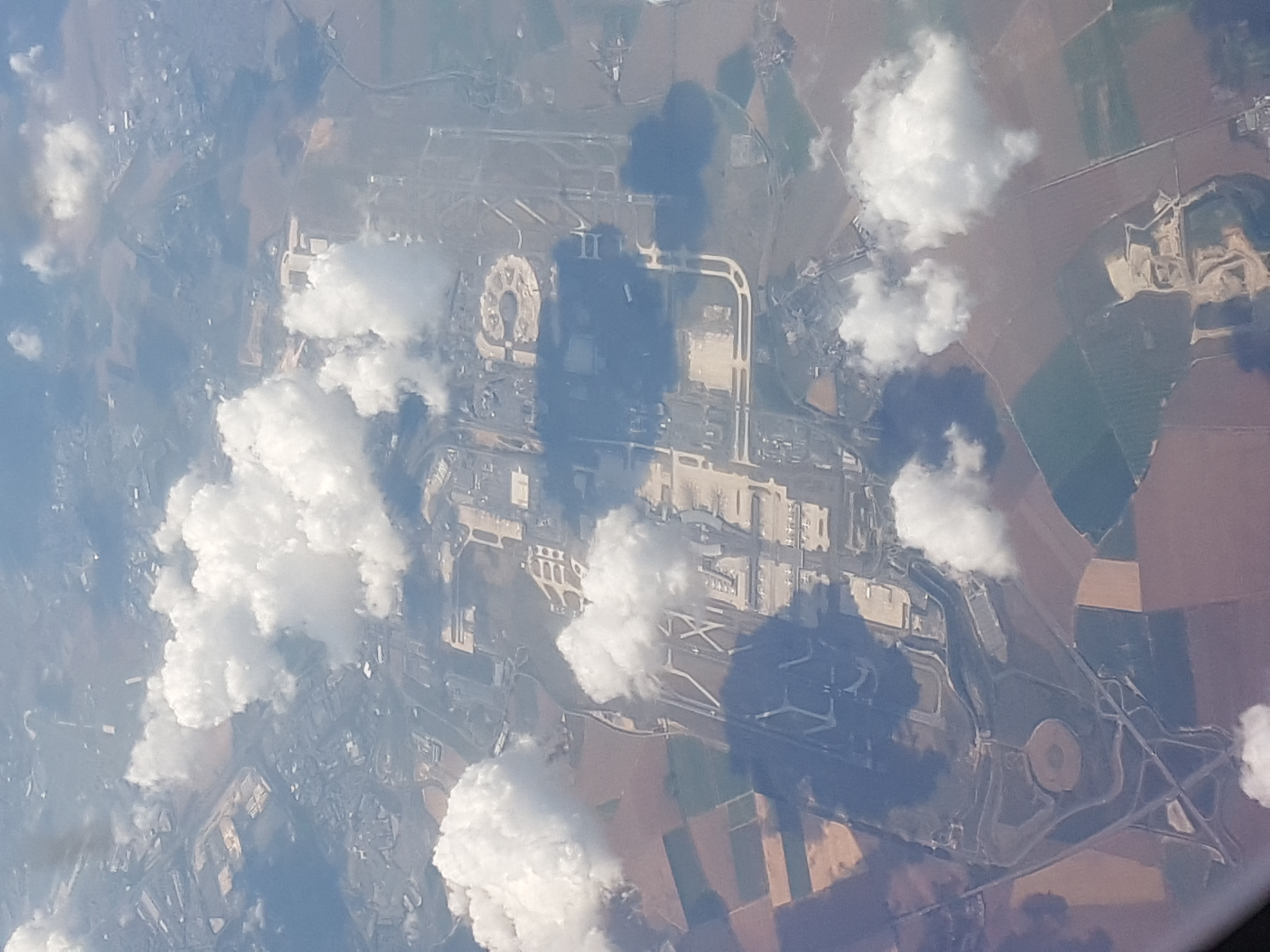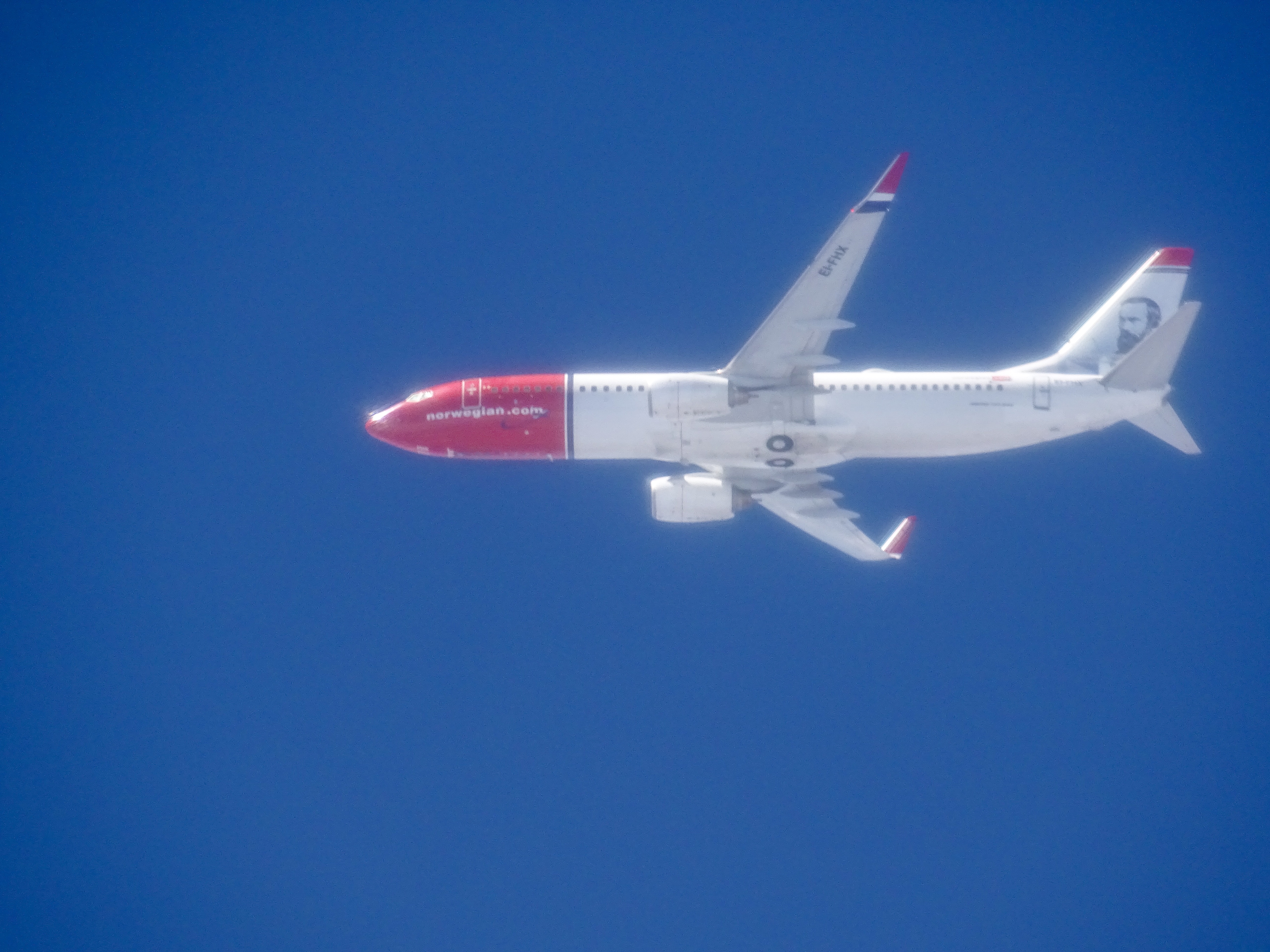 The food was the same that we had on our first leg of the trip. Pasta with zucchini. The passenger seating next to me asked the flight attendant if the food was free, he replied, only if I get a smile in return! The flight attendants in this flight were also very polite.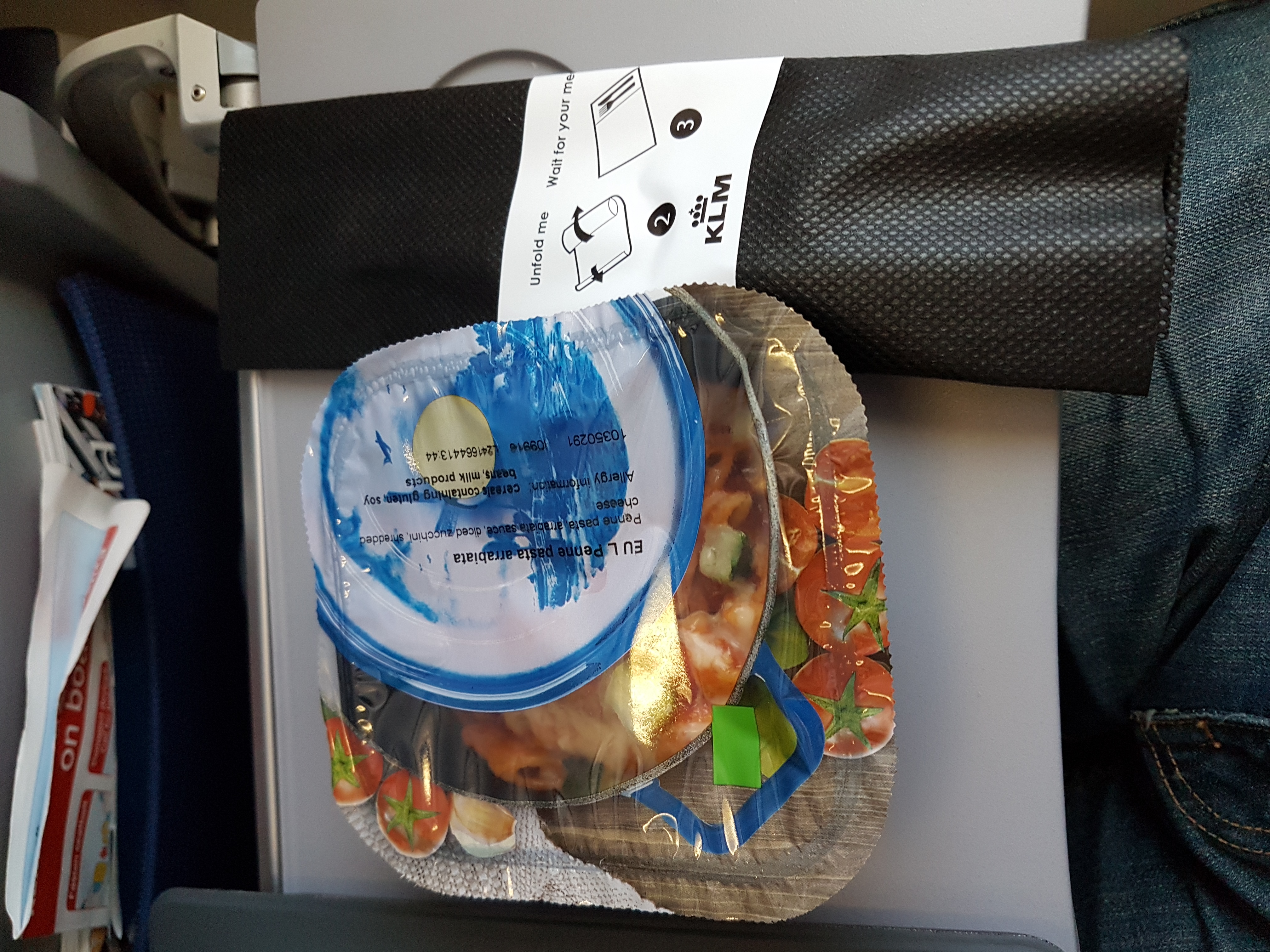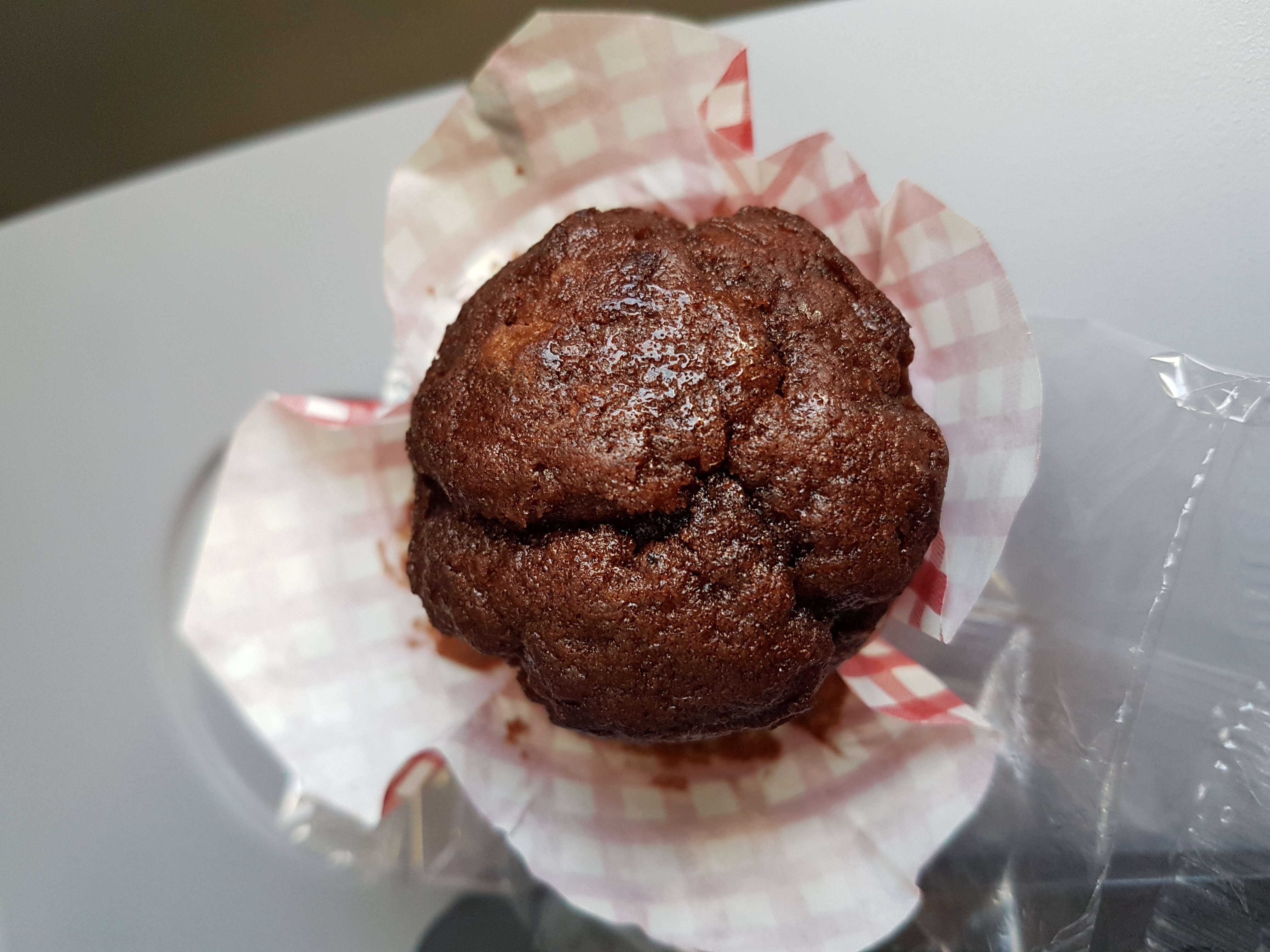 I bought some Stroop waffles at Schiphol and thought to myself, why on earth is United getting rid of these?? They are so good.
The 2 hours that separated us from MAD "flew by". The approach was super bumpy, (typical MAD conditions in the summer). We arrived at T3 at MAD and went to collect our luggage. Our bags took almost half an hour to come out. I don't get what the problem is in Barajas. At T4 bags take forever, no matter if you are coming from a domestic flight or an international flight (One time I arrived from Chicago and bags took more than an hour to come out). And this time at T2, (where distances are much smaller), the same thing happened.
To summarize everything, I will keep recommending KLM to everyone that asks me. They are usually a bit higher in price than the competition. (That's why It has taken me so long to fly back with them) but the service is also better (in my opinion).
Thank you, KLM, for a wonderful trip!