Trip Report : Kuala Lumpur - Singapore on Malaysian Airlines
Flight Details:
Airlines: Malaysian Airlines
Flight :MH609 KUL-SIN
Reg : 9M-MMD
Aircraft :
Boeing 737-4H6
Dep - SIN : 2245
Arr - KUL : 2340
Flight time :0 h 55 m
Distance : 307 km or 191 miles
Trip Video: Malaysian Airlines 9M-MMD MH609 Kuala Lumpur - Singapore
Do watch the video to experience the Boeing 737-400.
https://www.youtube.com/watch?v=GOEiShccq1k
Introduction
This report is from flight in Dec 2010. After arriving from Shanghai on Malaysian Airlines, Was transitting through Kuala Lumpur, see the Trip report:
Malaysian Airlines 9M-MRO MH389 PVG-KUL
The Shanghai flight arrived at the Satellite Terminal, After deboarding the aircraft at 22:10 , took bus ride to the Main Terminal Building [MTB], The inter-terminal AeroTrain was shut for maintenance in those days. Had to rush as the flight to Singapore was at 22.45.
Closed AeroTrain
Towards the bus gate C5
Was happy to be in the warm humid weather after days of freezing weather in Shanghai. Bus was full as many flight had arrived. Took sometime to board the bus.
View from the bus
Arriving at the MTB
Checking the gate number as the transit time was short
Flight Schedule
Indicator had Pintu Baru [New Gate] , Flight was to depart from gate H6
Heading Towards the gate
On reaching the gate, Boarding had commenced. Since most passengers had boarded the queue for security check was short, Passed through security check.
Malaysian Airlines Boeing 737-4H6 9M-MMD
Malaysian Airlines Boeing 737-4H6 9M-MMD was operating MH609 KUL-SIN.
Aerobridge
Boarding pass and passport was checked before being allowed to board the aircraft. Queue on the aerobridge.
Boarding
Boarding pass was checked by the crew. Was directed to head straight and seat was after the business class on the left.
Business Class
Seating 2-2
Window View
Economy Class
Boeing 737-400 with single aisle and seating was 3-3
Take off
Soon after the flight was boarded, push-back commenced. Took a long taxi to runway 32R, waited for a Malaysian B737-800 ahead to take off before rolling to take off to Singapore. Watch Video to experience the Boeing 737-400 lift off.
Cabin view
Flight was full as seen below. After take-off, on attaining cruising altitude. Cabin service began.
Tray Table
Since was sitting in the first seat behind the business, tray table was folded in the side.
Child Bassinet Holders
Since there were no infants on board got the seat, it had enough leg room.
Cabin Service
Crew first handed peanuts and then juice - options guava or orange juice.
Inflight Magazine with peanuts
Malaysian Kargo and Firefly Fleet Information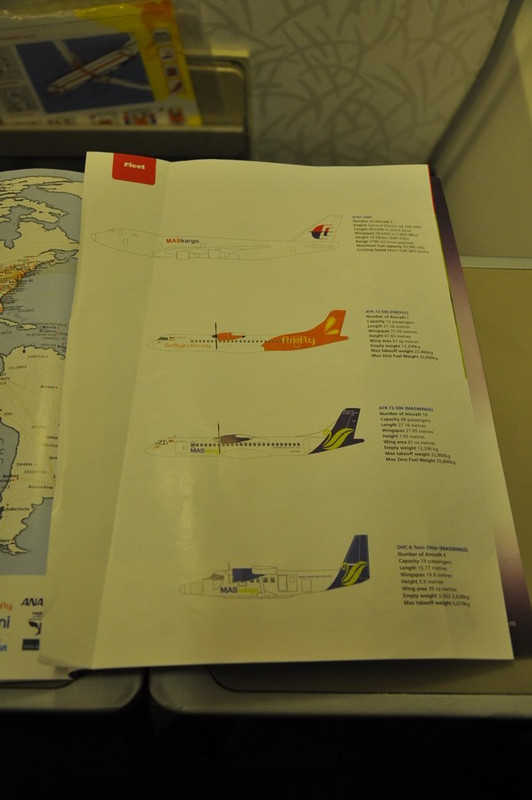 Route Map
Malaysian Airlines Route Map in 2010
Malaysian Airlines B737-400 Safety Card
Front
Back
Entertainment
None on board. Not that I needed any being a short flight. Read the inflight magazine.
Cabin View
Being a late in the day flight, most passengers were resting after the service
Landing
Being a short flight, it was soon time for landing. Approached from the East Coast towards Tanah Merah to land at Changi Airport
Taxi to Gate
After a long taxi, arrived at the gate in Terminal 2
Terminal 2
Immigration
Immigration was quick as I didn't require visa.
Baggage Collection
After completing immigration, headed to collect the bags which were loaded in Shanghai
Baggage Carousel 31
As the immigration was quick, bags dispatch had not started
Flight indicator
Transport Details and cost
Exiting the Terminal
After collecting the bags, was happy to head outside in the warm and humid Singapore, took a taxi to the hotel.
Hope you enjoyed the trip, Thanks for reading.
End of Trip

Other Trip Reports
Qantas VH-OJD QF6 SIN - SYD
Qantas VH-OGI QF520 SYD - BNE
Air India VT-SCP AI517 HYD - PNQ
Air India VT-EVA AI965 BOM - HYD
Air Pacific DQ-FJK FJ911 NAN - SYD
Thai Airways International HS-TGZ TG475 BKK - SYD
Singapore Airlines 9V-SYD SQ421 BOM - SIN
LAN Airlines CC-CQF LA801 AKL - SYD
Thai Smile HS-TXC WE335 BKK - BOM
Thai Smile HS-TXR WE336 BOM - BKK
Malaysian Airlines 9M-MLH MH610 SIN - KUL
Qantas VH-QPF QF51 BNE - SIN
Malaysian Airlines 9M-MRO MH389 PVG - KUL
Air Asia 9M-AFW AK703 KUL - SIN
Air Asia 9M-AHQ AK702 SIN - KUL
Singapore Airlines 9V-SKI SQ222 SYD - SIN
Singapore Airlines 9V-SYL SQ825 PVG - SIN
Shanghai Airlines B-2563 FM9108 PEK - SHA
Hainan Airliners B-6510 HU7606 SHA - PEK
Air India VT-ANK AI308 DEL - MEL
Air India VT-PPV AI866 BOM - DEL
Air India VT-PPN AI805 DEL - BOM
Etihad Airways A6-APB EY454 AUH - SYD
Jet Airways VT-JBE 9W584 BOM - AUH
Etihad Airways A6-APG EY204 AUH - BOM
Etihad Airways A6-APH EY455 SYD - AUH
Air India VT-ANU AI301 SYD - DEL
Aerolineas Argentinas LV-ZRA AR1183 SYD - AKL
Singapore Airlines 9V-SVJ SQ826 SIN - PVG
Singapore Airlines 9V-SYD SQ421 BOM - SIN