From my Archives Project
Working as an EMT this summer I have a lot of down time in between calls. Because of that, I have decided to turn some of my old notes on past trips into trip reports. These reports will mainly focus around trips where things went wrong, or airlines where there are not a lot of reports on them. Because of how long ago these trips were, I would like to apologize if these are slightly less detailed than my other trip reports. I would also like to apologize if the photos are not of a high quality/the normal orientation for airliners.net, mainly because they were not originally meant to be posted. As always, feedback is appreciated.
Background Information
As a kid I attended a Jewish overnight camp. For campers entering the 11th grade, they would send them on a trip to Poland and Israel. Historically the tour operator for the Israel trip was known for booking the outward leg to Poland on LO, and then booking LX (one of my favorite carriers) and LY for the other flights. Starting with my year though, they began to use LH for all the flights. As such, they booked on LH 423 BOS-FRA on June 22, and LH 1364 on June 23rd going FRA-KRK. Traveling to Israel they booked us on LH 1351 departing on June 26 to fly WAW-FRA, follwed by LH 694 FRA-TLV. While I was disappointed that I would not be trying out LO, I was excited to be trying out LH and getting my second flight on a B744, second flight on the B733, and first flight on an A321, along with trying out FRA, WAW, KRK, and TLV.
LH 422

At BOS
Because our group was getting together for the first time in a year, we all met met up at the airport 4 hours early. Because my parents had to continue onwards to a wedding on the Cape, I got there early, had lunch, and then joined my group. Once check in opened we all approached the desks and began to check in. While I was unable to get a window seat on the flight to FRA, I was able to get one for the short hop to KRK. Once everyone was checked in we proceeded to go through security and then went to the gate. While everyone fanned out to get duty free and food for the flight, I went and did some plane spotting, which got a strange look from most of my group members.
EK B772 with IB A330
DL
B6 E190
BA B744
My LH B744 going to FRA.
About an hour before departure time, boarding was called by the same LH station manager who also helped us to check in. Boarding was very organized, and soon I was onboard and making my way towards the middle seat next to one of my counselors that I had been assigned to for the flight.
Onboard
While the LH seat might not have been as comfortable as the BA seat, it was still quite comfortable for the full length of the flight. The legroom was also spacious enough for a flight of this length. The seat also had a good pillow and a functional set of headphones on them.
The seat.
Because I didn't have a window seat I began to explore the IFE system. I found that it had a good, diverse selection of music, tv shows, and movies. A couple minutes after departure time we began to push back as the LH safety video played.
A few minutes before 17:00 we executed a smooth takeoff and began our trek towards FRA. Once over 10,000 feet keeping with my tradition I selected a kids movie (I forget which one). Soon after reaching cruising altitude the flight attendants began to come through the cabin with a beverage service. I selected a water, and enjoyed the plane themed snack mix that the flight attendants handed out.
The snack mix
The planes.
After about an hour the flight attendants began coming through the cabin with dinner. For some reason half my group got kosher meals before the dinner service began while others (including myself) did not. Once the flight attendants got to me I got the chicken option.
The meal tray
The entree.
The salad consisted of some crisp but bland fancy salad greens. The main course consisted of some pieces of moist chicken in a bland gravy with some grainy instant mashed potatoes and steamed carrots and green beans. The desert was artfully presented for an airline desert, and while I didn't eat the chocolate cake I did like the fake whipped cream that came with the meal. The bread roll was forgettable, and it came with a pat of butter.
Shortly after the dinner cart came through the beverage cart reached me and I selected a glass of water. Shortly after that the flight attendants came through the cabin with tea and coffee. After that they collected the trays. Once my movie had finished I leaned back and tried to sleep. Unfortunately, many of my friends did not realize that on red eye TATL flights you are supposed to try to sleep. Instead of quieting down after dinner was over they continued chatting, creating a bad environment for sleeping, leading me to only get 45 minutes of sleep during the flight- a record low for me on a flight like this.
Somewhere over Ireland the flight attendants began coming through the cabin with breakfast. For some reason I ended up getting a kosher breakfast instead of the normal cold breakfast.
The only image I got of the breakfast.
The breakfast consisted of a forgettable bagel with cream cheese and a chocolate rugellach, which I did not have. Soon after collecting the garbage from breakfast we began our descent into FRA and the flight attendants began to prepare the cabin for arrival. Throughout the flight they provided a good, professional service.
At about 5:30 local time we executed a smooth landing at FRA before taxiing into our gate at terminal 1. Roughly on time we pulled into the gate and began to disembark.
Overall Weighted Score
3.7/5
Note: the sleep quality score was adjusted to 3 because they could not control what my friends were doing. It was adjusted to 3 to take into account the slow speed of service leaving a shorter amount of time to sleep.
At the Airport
Once we had disembarked at FRA we followed flight connections to an empty German immigration checkpoint. After a couple questions I was stamped into the Schengen area. Once the entire group was cleared to enter we passed through a carryon bag customs checkpoint and then headed towards our gate. Once in the general area of the gate, most of my friends went and got an overpriced breakfast while I found a window and began to plane spot.
LH A388's
TK A320
TG A388
MH B772
Boarding was called roughly on time through a bus gate. During the bus ride I got in a little bit of spotting.
DL B764
While I wasn't able to get a photo of my plane, I did find one on Anet.
LH 1364
Once onboard I proceeded to my seat. The seat itself was not comfortable or uncomfortable- mainly because it was so thin. The perk of the thin seat was that it provided a very large amount of leg room.
The seat.
Once I got settled in I began to planespot.
LH B744
LH A388
At approximately 8:36 we pulled straight out of our parking space and began to taxi.
XQ B738 with assorted LH
SQ A388
At about 8:40 we began a smooth takeoff from FRA.
The view of FRA from above.
Due to the lack of entertainment on this short hop, I spent the flight looking out the window.
Frankfurt metropolitan area
German countryside
20 minutes after takeoff the flight attendants began coming through the cabin with a breakfast snack and beverages. Instead of being the sandwich I was expecting it was a muesli with yogurt. Seeing as I don't like yogurt I passed on it.
Muesli with yogurt
The rest of the flight passed uneventfully and we soon began our descent into Krakow.
Apartment blocks in Krakow
At approximately 9:48 we executed a smooth landing into KRK.
DY taking off
U2
Assorted aircraft.
Shortly after 9:55 local time we pulled into the gate. After a short bus ride we arrived at the terminal to our bags waiting at the baggage claim. Once everyone had their bags we went to the bus to begin our tour of Poland.
Overall Weighted Score
4/5
At WAW
After an intense 4 days touring holocaust sites in Poland it was time to change the tone of the trip and head to Israel. Our tour bus dropped us off at WAW over 3 hours before our flight was scheduled to depart. Using the check in kiosks I was able to easily check in to the flight and select window seats for both of the flights. Once the entire group was checked in we proceeded to enter security. One of my friends decided to play a "prank" on security, so this trip through security would not be one to miss.
Once I was through security I lollygagged while repacking my bag. One of my friends was dared to wear a thong through security. Between his suspicious attitude and something that he had "forgotten" to take out of his pocket he was selected for additional screening. Once the screener began to wand him down, he saw the thong and backed away with an undescribable look on his face, while all of us who saw began to laugh.
Once the entire group was through security we proceeded to the gate area where I got in some plane spotting.
AF A319
LO E170
LO
KL B738
LO B788
W6 A322
SK
LH A322 (not mine)
LO E170
AY E190
E4 A322
Right on time boarding was called and our group began to herd the cats onto the bus to the plane.
Onboard
Once onboard I made my way to my window seat. The seat was similar to the seat on flight to KRK, but it was better padded. The tradeoff for this better padding was that this seat had slightly less leg room than the previous seat. Once I was settled in I began to planespot
The seat
A few minutes before the scheduled departure time we pushed back from the gate and began to taxi to the runway.
K2 DH8D
W6 landing on the parallel runway
At 18:42 local time we entered the active runway. Shortly after that we executed a smooth take off and began to climb out of WAW.
Polish country side
25 minutes after takeoff the flight attendants began coming through the cabin with half turkey salami sandwiches.
The sandwich.
The sandwich consisted of whole wheat bread with a good portion of turkey salami, a Mexican style spread, and a slice of cheese. While it was not as filling as what I had experienced earlier the same year with KL it was still a good snack which tided me over until dinner on the flight to TLV.
For the rest of the flight I looked out the window and enjoyed the scenery.
The countryside
Soon after the flight attendants finished collecting the trash from the sandwiches we began our descent into FRA.
The River Rhine
Soon we executed a smooth landing into FRA and began to taxi to our bus gate.
LH A346
LH Technik
NH B788
OU
AI
CA
LA B773
XQ B738
OK A319. 4 years later this aircraft would operate my flight from CDG-PRG
We pulled into the gate at 20:26, approximately 4 minutes early. Once in the gate we quickly disembarked from the plane and boarded the buses back to the terminal.
Overall Weighted Score
4/5
Connecting at FRA (Again)
EY
EN E195
LG DH8D
Assorted FRA aircraft
SA A346
Due to a tight connection once we got to the terminal we immediately began the connections process. After a long walk following the flight connection signs we emerged at the German exit passport check. After a quick wait we were all stamped through and proceeded to the security checkpoint. Flights to TLV get additional security screening in a dedicated gate. After a very thorough screening (including both the metal detector and a wand), I was through. Unlike in Poland the screeners did not find my friend's prank to be that funny.
When we got to the gate boarding had already begun and I proceeded to board the aircraft. Due to the tight connection I was unable to get a photo of the plane, so I have attached a photo from anet below.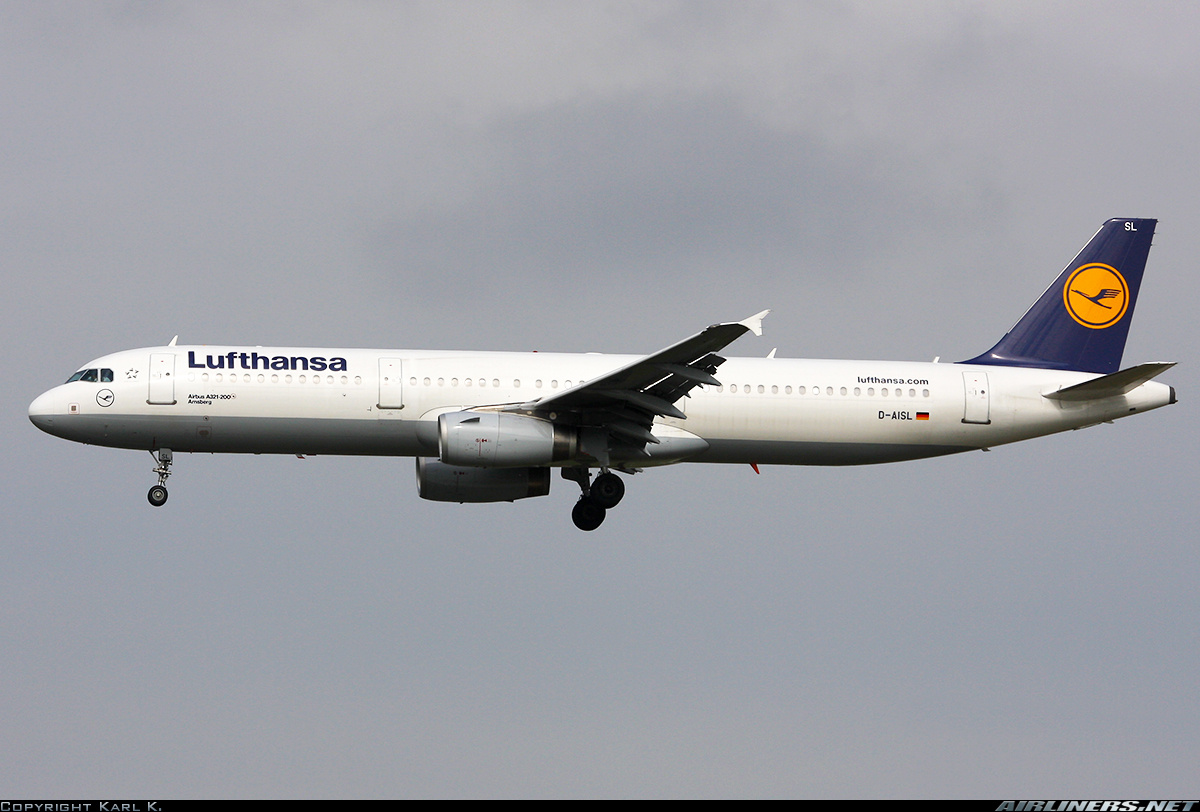 My LH A321
Onboard
Once onboard I made my way towards my window seat. The seat was comfortable for the flight and it had plenty of leg room available. The seat also came with a pillow and a blanket, which while I did not use them were a very nice touch. Once settled in I began to planespot.
The seat
QR B788
ET
Once boarding was completed we pushed back and began the long taxi to the active runway
EI
Shortly after 21:55 we began a smooth take off and started to climb out of Frankfurt.
LH A321's do not have entertainment onboard, so once we had ascended above 10,000 feet I took out my Kindle and began to read. Roughly an hour after taking off the flight attendants began coming through the cabin with dinner. Due to the large volume of kosher meals that were ordered they had one cart for Kosher meals, one cart for regular meals, and then one cart with beverages. For some reason I ended up getting a Kosher meal, even though I did not order one. The flight attendant manning the kosher cart also poured everyone a glass of water, saying that it would take a while for the beverage cart to reach them.
The meal tray.
Unfortunately, I did not take a photo of the actual meal. It started with a meat loaf slice with rice. While tasty, it seemed a little heavy for an appetizer. For a main course the meal had a tasty, mild chicken curry also served with rice. The meal also came with a slice of chocolate cake which I did not have, and 2 rolls: one for eating and one for mazonot (Jewish ritual that allows an observant Jew to make the blessing over bread without washing their hands).
After all three carts had come through the aisle, the flight attendants began collecting the trays. Once they were completed, one of the French flight attendants on the flight came over and had a long chat with myself and some of my friends where they finally realized the difference between North American and European flight attendants.
45 minutes out from TLV the flight attendants came over the intercom announcing that Israeli law required all passengers to return to their seats and fasten their seat belts.
Shortly after this announcement we began our descent into TLV and the flight attendants came through to prepare the cabin for arrival. At approximately 23:35 we made a smooth landing into TLV and began to taxi to our gate.
PS B738
Roughly on time we pulled into a bus gate at TLV and began to disembark. Israeli immigration was packed with multiple flights that were arriving at the same time. After a long wait we were through, picked up our bags and exited to begin our tour.
Overall Weighted Score
4.3/5
Summary
While I was not thrilled with LH's long haul product it did a good job of transporting us from point A to B in a reasonable level of comfort. While I would not go out of the way to fly them, I would use them again. On the other hand, their short and and medium haul products were good, and I would gladly use them again.
As always, I have attached a copy of my logbook
here