Hello everyone! A long intro, but feel free to skip and go directly to the trip report if you like.
In the summer of 1980 when I was a 14-year old geeky kid, I began my freshman year of high school at Highland High School in Bakersfield, California. I was quite surprised to find that German Language was not only offered, but it was offered for four years – which I did. I took four years from Herr Melvin (my fantastic teacher), worked my butt off, and got an A every semester. It was not going to be a matter of "if" I would eventually get to speak the language in Germany, Austria, and Switzerland – it was a matter of "when". And being an airplane geek even before this, I knew the trip over would be as much fun!
My grandmother in Arkansas visited us every year, flying from Tulsa to Los Angeles, the closest city pairing with a non-stop or no-plane-change flight. Visiting LAX was absolute nirvana and sensory overload to me – seeing the entire universe coming and going was just beyond incredible.
And then the day came when I watched a Lufthansa 747 pass by.
It was a sign.
It was then I vowed that my first trip to Europe would begin right here at LAX, on a Lufthansa 747, to Frankfurt. From there, everything else was negotiable. But that I promised myself.
Unfortunately, in the intervening years, Europe never happened. I regret that I couldn't make it happen (different circumstances each year), but in late 2016, many things aligned very quickly to ensure that my husband and I understood it was time to go. Friends of ours – one of whom is a German citizen – moved from San Diego to the Stuttgart area, and invited us over for a few days. Coupled with 2017's premiere Condor/Edelweiss Air non-stops to Europe, we decided to make it happen.
But not from San Diego – at least not to depart. No, that would have meant "only" a Boeing 767-300, and I have many of those on my "I've-Flown" list. Getting the exact itinerary that I wanted was a crapshoot, but for the less-than-24-hours this airfare was available, we grabbed it and were able to upgrade significantly on what we saved! Most importantly, it (a) fulfilled the requirement of LAX-FRA on a 747, (b) got us where we wanted to go on the days we wanted to go, and (c) saved us $600 per person!
The journey began with the noon train on Amtrak (business class, of course!) to Union Station and the FlyAway bus to the Tom Bradley International Terminal. It always works, but one always holds one's breath while driving through Los Angeles, mentally preparing for a possible traffic jam and long delay. Only minor slowdowns today, and we were dropped off at the Tom Bradley International Terminal, and herein lies the actual trip report – thanks for reading!
SEGMENT 1: LAX-FRA, June 20, 2017
Lufthansa flight 451
Boeing 747-8(31)
D-ABYD "Mecklenburg-Vorpommern"
Business Class Upper Deck, Seats 85J / 85K
Because there were multiple upgrades and different classes of travel for different segments I wanted to have, the lovely Lufthansa reservations person that I first spoke with laid it out very efficiently for me: If you buy your ticket over the phone, there's a fee. If you buy the base fare online, we'll upgrade you to whatever you want without a phone fee. Done! I purchased online, got the confirmation code, and upgraded the trip over to business class. I had to call Edelweiss Air separately (VERY non-Teutonic to have such inefficiency in accepting more of a customer's money!), and they very cheerfully upgraded our return flight to Premium Economy (not available through Lufthansa's website).
One of my top bucket list items has always been to fly on the upper deck of a 747. Let's be honest: that was tough 40 years ago, and it's getting tougher all the time – however, this was Lufthansa flying the 747-8, and we were flying business class, and just like that, we're booked into upper deck! Best part of the whole deal was the fun I had with the reservation agent, who told me most people have NO idea where any seat is when they call in – this was quite unusual!
I surprised my husband with this video, showing him how we are going: business class from LAX, upper deck and all. It's amazingly detailed, but feel free to skip:
https://www.youtube.com/watch?v=Mpti4xE1lIY&t=1s
From the the Star Alliance lounge at LAX to boarding the 747-8 and climbing the stairs to the exclusive upper deck, to sitting on the right side of the plane, to the exquisite food served on board – our experience matched Stefan's to literally 100% accuracy. I'm sorry I didn't get any of my own pictures, but sensory overload on this airplane geek short-circuited the part of my brain telling me to do so.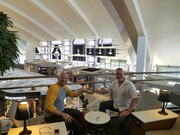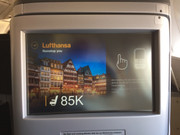 This is us in the Star Alliance lounge, thoroughly enjoying the experience, and the one picture I myself took as evidence of "I was there".
Lufthansa business class seating is just insanely comfortable. Pre-flight drinks, check. Exploration of the seat functions before taking off, check. Take-off and subsequent second round of champagne before dinner, check.
Appetizers:
My husband had the seared Pacific diver scallops, and I had the charcuterie. Flawless in quality and presentation, as was the subsquent salad before the main course.
Main Course:
My husband had the Ranch Filet with Burgundy sauce, and I had the mushroom ravioli. Both entrees were equally as amazing, as was the wine with dinner. The cabin crew was quite numerous up here – there were at least four and possibly six (at some times) making their way through the upper deck throughout the entire trip!
When it was time to sleep, I reclined the seat into a bed 90 degrees flat, and was out like a light. If we could all sleep like that on planes, people would be a LOT nicer to others in airports! But I digress…
Morning came and we awoke from a wonderful deep sleep to find ourselves the most dehydrated we'd been in a long time. Yep, craving that liquid – and there was the cabin crew, ready with water and orange juice. Good coffee, too – and a lovely light breakfast that we really only kind of picked at; only though because we were still full from dinner before.
Landing was from the west, and we taxiied to gate Z69. It was tough to say good-bye, knowing that I might never be back on one of these beautiful birds, but now, actually being in Germany, it was time to let THAT fun get started!
SEGMENT 2: FRA-STG, June 21, 2017
Lufthansa CityLine Flight 134
CRJ-900
D-ACNH "Barbara Klein Hochspeyer"
Business Class, Seats 4A / 4D
ORIGINAL ITINERARY: We missed the ICE train from Frankfurt airport to Stuttgart (on a Lufthansa ticket). The line for customs was just too long, and too many families without their passports in order slowed the line down to where we knew we weren't going to make the train. We ended up going to the Lufthansa ticket office, and explained what had happened. The courteous and efficient agent put us on the next plane to Stuttgart, and insisted we wait in the lounge. Note to Frankfurt airport: there are a LOT of business and first class passengers at your airport – and that lounge was PACKED!! Very quiet, but very occupied - expansion needed
schnell!!
At the appropriate time we arrived at gate A50, and our group headed outside and walked out to a bus, which took us to one of the remote stands immediately north of the beginning of runway 07C – how may aviation geeks get a sight-seeing tour and a walk on the tarmac of a big part of the airport on their first trip?
Business class on these birds means that only the window seat is occupied. I sat on the left, Jeff on the right. For a 93-mile flight we were both served a shrimp salad, which we knew would be the last of the "taken-care-of" food for a while. By the time we were finished, we were landing at Stuttgart.
At STG we parked at one of the close-in remote stands, and we walked into the terminal. Our luggage arrived, and we took the bus into Esslingen, where we met up with our German friends, and the first portion of our trip was done.
In the Stuttgart area, we visited Bietigheim-Bissigen, Stuttgart, Esslingen, Bad Wildbad (Schwarzwald), Langensteinbach, and the castles of Lichtenstein and Hohenzollern. We eventually said good-bye to our friends, and we took the IC train to Munich for two days, then the RailJet train to Salzburg (including a day trip to Kehlsteinhaus in the Alps), and then came our one and only non-Lufthansa segment:
SEGMENT 3: SZG-TXL, June 30, 2017
airBerlin flight 8511
Bombardier Q400
D-ABQD
Coach Class, Seats 18E / 18F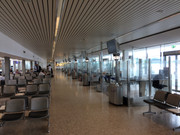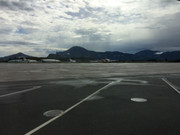 A couple of views of the charming Salzburg airport.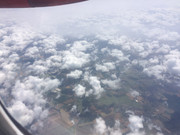 Overflying Prague on our way to Berlin.
The efficient bus system in Salzburg got us to the airport right on time, but it is a bit of a walk from the drop off point to the gates. Not sure why they couldn't go in closer, but that's for another discussion. Check-in was simple and quick, security was easy and friendly. And, like everything else in Austria, the views were incredible. When it was time, we took a bus across the tarmac to our plane, and boarded. Friendly staff, but literally no sign of them during the flight at all. No drink service, but we got a chocolate upon departing the plane.
Using seatguru.com, I selected 18E and 18F, as it said they are the farthest from the engines, and the vibration is less towards the rear of the plane than it is in the front. We found this to be true – the rear of the plane was fairly quiet and vibration-less. It was a very smooth flight over the Czech Republic, and our descent into and landing at Tegel was easy.
But what a drive around the airport! It seemed like we taxiied forever – but eventually we did get to our remote stand gate on the extreme east side of the east terminal. It felt like a holding pen area at an arena somewhere more than an airport – but it's well marked, and we found our luggage, and we were off to our next adventure, Berlin!
We explored Berlin and rented a car and did a Cold War-era tour out to the former Checkpoint Alpha. The Ford Focus RS loaned to us by Hertz at TXL had over 300 horsepower – at one point we got it to 250 kph on the Autobahn! And three days, by the way, is not NEARLY enough time to see Berlin – we definitely will plan on a week on our next visit.
All good things must come to an end, and our time in Europe came to a close. Now, to get that fantastic airfare I mentioned before, the return route HAD to begin from Frankfurt. Not any other city in Germany, not any other city in the EU, only Frankfurt. And my desired itinerary of coming back to San Diego via Zurich on Edelweiss Air was included in that airfare.
What this means is that the Lufthansa group paid us $600 EACH to fly on an airplane. Had we not used that flight – and gotten to Zurich on our own, thus beginning the journey home from ZRH – our airfare would have been $1600 instead of $1000.
If someone is going to pay me $600 to occupy an airplane seat, I'm going to do it.
SEGMENT 4: FRA-ZRH, July 3, 2017
Swiss International 1069
Airbus A320
HB-IJR "Avenches"
Coach Class, Seats 11E / 11F Emergency Exit Row
I highly recommend the Hilton Garden Inn at the Frankfurt Airport – the room was quite nice, and the proximity to the train station and the airport check-in is unbeatable. We were up early and through security easily, where we boarded our flight to Zurich.
Because were being paid to fly this airplane, we decided to take whatever seats we were assigned for this short flight – but somehow we were assigned exit row seats. Okay, thank you! In this day and age, one assumes that frequent fliers get those seats, but not today! Like our flight from Frankfurt to Stuttgart, we used the newer runway 18 and departed to the south. One cup of coffee was all there was time for on this extremely short flight, but it was delicious, and gratefully acknowledged. Less than an hour later, touchdown, arrival at gate B31, and hello, Switzerland!
We decided that instead of leaving the airport in our nearly four-hour layover, we would just wander Zurich airport, and we did. The amount of duty free that is available at this airport absolutely boggles the mind – it reminded me of the Beverly Center in Los Angeles. I bought a Swiss watch (of course), and we emptied out the chocolate duty free, and when we were just about done with shopping, it was time to board our flight home to San Diego.
We had initially been expecting our flight to San Diego to leave from the E gates (the big separate international terminal), but our flight today was departing from gate D31on HB-JMG. We realized very quickly that this was the exact same gate we used on the Swiss A320, with the difference being only the access point to the gate: our U.S. bound flight had separate security requirements, so when it was time to head to the non-Schengen gates, we "checked-out" of the EU, and headed downstairs for the final boarding clearance. Another check-in, another boarding pass, and when called, we boarded our final leg to return home: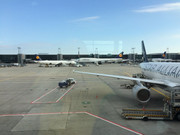 We ran into our original airplane into Germany on our way out!!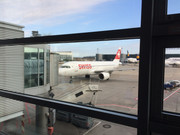 Our plane to Zurich.
SEGMENT 5: ZRH-SAN, July 3, 2017
Edelweiss Air flight 18 (Swiss 8018)
Airbus A340-300
JB-JMG
Premium Economy Class, Seats 2J / 2K
This photo is of our very flight! However, we were seated on the other side, so if you can see someone waving, it's not us.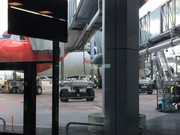 The "D" gates at Zurich are located directly beneath the "B" gates. "D" gates are non-Schengen; "B" gates are Schengen. Same parking location for the plane, but completely different access, depending on the need. VERY efficient!!
If you get the opportunity, the best seats in the house on this particular aircraft are in the very front of the plane, and they are worth every penny. We took row 2 so we would have the additional underseat storage, but row 1 has more than enough overhead bin space, so we could do those seats next time. It's extremely quiet up front, and other than the seats, the service was at business class level. Unlimited alcohol, a snack, another round of drinks, a full meal, and frequent cabin service in between. We were also able to go up and get a snack or a drink if we so chose, and occasionally we did. Our flight attendants were fabulous and friendly – and excited about their first four-day layover in San Diego!
At the end of a 12-hour flight, it was heartwarming to know that our plane was turning to line up with San Diego, and not Los Angeles – we would be home after clearing customs! The old international terminal was in use at the time, and although very old and dated, we were among the first people through to customs – another good reason to fly in the front! The only hard part was waiting for the luggage: everyone on our flight was through and fully in the room before the luggage conveyor started, but for nearly thirty minutes we watched as another flight's luggage spun endlessly around the facility, in and out. Not sure what that was about, but finally our luggage arrived, we checked out, and were home within two hours of landing.
Overall, no problems (other than the missed connection, which was handled flawlessly), no issues, and superb on-board service. The Lufthansa Group more than met our expectations.
I can say for certain that I know EXACTLY the last time I was awake for 24 hours – our waking time at Frankfurt was 6:00 AM, which corresponds to 9:00 PM in California. We made our journey from Frankfurt to San Diego, and went to bed at 9:00 PM – exactly 24 hours after being awakened by the hotel alarm clock!
Next Europe trip: We are hoping to return to Europe in late September/early October of 2019 and visit Holland, Hamburg, Berlin (SO much more to do and see there!), and Switzerland – this time venturing out from the airport! And just like before, Lufthansa outbound and Edelweiss air returning, but this time to and from SAN.
Thank you for reading – I hope you enjoyed!!