British Airways BA142
New Delhi Indira Gandhi International, T3 (DEL/VIDP), India to London Heathrow International, T5 (LHR/EGLL)
January 6th 2018
Departure 0320 hours IST, Arrival 0735 hours GMT
Seat 51B, World Traveler
G-CIVA, Boeing 747-436, 24.9 years old
3rd flight on British Airways
5th flight on Boeing 747-400
8th flight on Boeing 747 family
Altitude: 30000, 32000, 34000, 36000, 38000 feet
Flightaware History


The video trip report is right here, the 80th one

INTRODUCTION
Well, the
first step was done nice & easy
. I had made it to New Delhi just fine, the TAFs called for 0.2 miles visibility which was just enough for the heavies to depart, and a 24.9 years old G-CIVA was making great strides towards New Delhi as BA143: this plane was solely doing the LHR-DEL-LHR runs for the past few days.
A little bit of a backstory: BA were not sure if this flight was going to be a 747 past January 1st, downguaged to a B777-200ER for sometime. However by the time I booked the BA tickets the B747 was loaded on to the systems for BA143/142.
This guaranteed a B747 for me for the fifth year in a row.
Not bad for someone who didn't fly much internationally prior to this.
Web check in was done with no issues (no SSSS - hooray!), and I for once decided to gamble on some window seats being open for selection - bypassing a needlessly expensive pre-booking of seats. And thankfully I got one of the 2-4-2 seats all the way at the very back, and for LHR-JFK was it was the last of the 3-4-3 window seats. And finally, I decided to play around with the meal options: Muslim (Moslem) meal for DEL-LHR and a Hindu Meal for LHR-JFK. I was looking forward to this.
DEPARTURE DAY
Anyway, back to the fifth of January 2018 - my second trip report of 2018. I had made it to New Delhi - and the weather was looking alright for an on time departure back to Heathrow, with the layover being a solid 3 hours 45min thanks to various JFK departures out of Heathrow. However
JFK was in all sorts of doldrums
, but flights slowly resumed in and out of NYC area.
I had to wait and see what the fate of the rest of my trip would be.
To relax a little bit I headed for one of the arrival lounges. Suffice to say these are FANTASTIC. They might be a little on the pricey side and may be full a lot of the time ( I checked with the domestic part before running over to the international part for the one room that was around), but to get a shower, some snacks and a solid 3.5 hour nap before a trip with significant amounts of uncertainty ahead? I felt like I was a lot relaxed after having being in this sleep room.
Maximizing my time in the sleep room, I set a telephone wake up for 0015 hours. A 0320 departure time was right in the middle of New Delhi's international rush hour. I gave myself about 3 hours to start checking in & stuff.
CHECK IN & IMMIGRATION
Busy up at departures
Lo and behold - it was a long snaking line at British Airways' counters, I had 2.5 hours before departure. A little *too* close for my liking. Check in itself took 5 minutes because of USA-related questions - the prescreen interview of sorts. The nice check in agent saw my Aerospace sweater and wondered what I'd do next - well, the front office is always the hope!
Immigration was next - a loophole meant that even if the Indian diplomat passport lines had no people in it but officials were taking regular passport holders here too. It took a solid 12 minutes from end of check in to end of immigration which was not bad given how crowded it was.
Nice & quick immigration
ADVENTURES OF DELHI'S SECURITY
Security however, was a nightmare. There were several lines heading to nowhere. The lack of organization meant that even if you were in line, you were probably way behind than you actually were. I just followed some people around hoping I wouldn't get yelled at by some other fellow passengers. Thankfully none of that happened,
however an IndiGo employee got yelled at by the CISF
folk because they broke open the line to let passengers on 6E47 to Dubai. A yelling match occurred between the two as the IndiGo employee took it to the CISF superiors. Amongst all of this 2 entire sections of scanners were closed and disused. Having them open would've reduced this mess. However, once the line made it to the organized maze of Hell and it moved fast. The procedure itself did not take long - but end of immigration to end of security was 45 minutes long.
Winding through the duty free & other shops, I decided to get some quick spotting done before heading to gate 9. Fog made for some tricky situations but some real good stuff was around: Jet Airways VT-JET to Amsterdam, the lovely KLM B747 that made me smile reminding me of the first time I flew to India as a college student,
PH-BFL from Amsterdam a B747-400
.
After security it felt good to not be claustrophobic
Winding through duty free
Spotting - 9W to AMS
Heading to the gate
Best I could of the KLM 747.
Heading to gate 9
And as is very often with New Delhi - there was no good view of the Queen taking me over to Heathrow.
And as is very often with New Delhi - there was no good view of the Queen taking me over to Heathrow. The gate filled up about an hour before departure: they all showed up one after the other after the dismal security. Boarding would be soon, but not before I was on a call from work - they knew I'd be awake, but they didn't know I was at the airport!

IMG_4728
Boarding pass
BOARDING
Sitting around for a little bit I was obviously getting anxious, but I knew the ground staff had their work cut out setting up G-CIVA to take me to London Heathrow. 35 minutes before departure (0245 hours) boarding was called. I knew it wouldn't be possible for them to board a 747 in 35 minutes so I anticipated a 15-20min delayed, albeit unannounced.
I wasted no time to get onboard and make myself comfortable. At 9hr45min this was going to be longest flight of this trip, so it was critical I get onboard asap. Boarding from back to front of the airplane, I was one of the first to jump in line. On the way to some were pulled aside for secondary screening (most were in groups…), but I was onboard just fine at 0255 hours IST, 25minutes before departure.
ONBOARD
As was the case with the inbound flight many of the flight attendants were of Indian origin with the thickest British accent. The rear of the cabin was largely empty as I walked towards my seat, 51B. While it was nice to be in the midst of a 2-4-2 part of the plane the huge gap between the fuselage and me felt like I was in for a long one: I like to rest my head on the walls.
Towards the end of the jumbo...
Plenty of space to store bags around - but it was far away from the wall so resting my head would be tricky...
Parked next to me was a Alitalia A330-200 - which I still am surprised they are able to make a Milan flight last. (Air Italy barely lasted on Rome - Mumbai…). In the background, a delayed Thai Airways B777-300 from Bangkok operating TG315.
NICE CREW?
The usual reminder announcements of where to store baggage and whatnot. These were in English & Hindi. One of the crews at the back, Piya (Indian origin) showed her skill & experience nicely placing and repacking an overstuffed overhead bin efficiently and being able to close it. A round of applause from some of us sleepy passengers as we made her embarrassingly smile for something so minor.
Are you seeing this, United?
The Captain came over the PA system to give us some information 3 minutes before departure time. Thanking us for boarding promptly, they mentioned we were waiting for some more passengers (Delhi security….), introducing the crew & seatbelts. It would be a smooth 9hr15min flight to London, and I was anxious to get this going. I didn't know what lay against me:
will BA143 depart?
Time would tell…
For some reason IFE would not work till after we took off as the ground staff advised against turning it on ground. Oh well - what's the worst that can be, a 9hr15min flight without IFE? They were old anyway: in other reasons to dislike seat 51B was the angle. Obviously a 2-4-2 meant that one of the seats in front of me did not have a TV screen but the one that did (aka my PTV screen) was on 50B -
so a really weird angle rendering half the view black.
Good thing I planned on sleeping during this flight…
DEPARTURE
Before any big delays, push backed occurred at
0336 hours, 16 minutes late
. Engines took their time to fire up and it took even longer to set flaps and test the spoilers. My mind wandered off places again thinking we'd be pulled back in to the gate to fix something. But we started taxiing just fine after 9 minutes of angst.
Air India A320 family - awaiting morning domestic runs or just laying around?
Right behind was a rival monster, the Lufthansa A380 to Frankfurt, also departing just fine & a little delayed.
Taxied to runway 11 which wasn't too long - visibility was fine as well because I saw a really pretty Aeroflot A330 land just before we rolled on to the runway. With the Lufty A380 hot on our heels, power rolled up as the mighty queen thundered down the runway 38 minutes late.
Take off video
https://youtu.be/Q2iAqQKJdV8
Took to the skies a minute before it struck 4am local time, course was soon set northwest for London Heathrow. It was just 2 minutes in flight before the IFE was turned on for us. Not many takers for this - most of them wanted to sleep!
INFLIGHT
The weird angle PTV screen...
Pillow & blanket for all
Not a fan of this... I hope the sleep helps!
Some more announcements later the cabin crew sprung in to action with the distribution of special meals…..
….which meant it was me! For once I'd my meal before anyone else haha. I was interested in seeing what their iteration of the MOML would be. And suffice to say, at the end of it all I was surprisingly content with it!
There was chicken curry, rice & daal for the 0430 hours dinner. This tasted really good and was wholesome. I loved it. Apologies for the low light because of odd angle of seats.
Dessert consisted of a 5 star chocolate bar & mango yogurt - the well cooked meal in addition to these desserts meant that it was indeed Indian catering onboard this flight.
And since BA had a full bar service at this time of night/morning, I couldn't resist another vodka & ginger ale to get the sleep going. I eventually stayed up only for the first hour and a half of the flight - waiting till the crew members cleared service items up.
What followed next was a long sleep as planned: no, it wasn't very comfortable given my preference for the head against wall life, but I guess one learns somewhere, sometime. The guy beside me also struggled with this a little and I had to push him away a couple of times. However, 4 hours of nap time meant that we were 5.5 hours in to 9hr15min flight. This had gone by pretty quickly. For the times I was awake and looking around at things absolutely bewildered I noticed the cabin crew members walk down the aisles with drinks and checking on passengers. Amazing, and this was despite what I have beard about BA on several occasions.
Headed to the restroom real quick making my one and only move during the flight more than half way through it. It was pretty OK, nothing too major to report.
Cabin lights were dimmed all the way down for everyone to sleep as the mighty Queen was now well over the cold skies of Europe.
I could see some blue and a faint line of orange in the back chasing us as the big Boeing kept sunlight at bay for as long as it could.
Following another nap I noticed that the sun started to catch up: but with just a Kolkata - Mumbai flight time remaining (aka 2hr20min) I knew that this flight had so far been more than survivable. Got some solid views over Belgrade as the sun slowly crept up.
So that's where Mr. Djokovic is from!
Making progress...significant progress!
2 hours to go, cabin lights on, everyone headed for the lavatories. Lines grew longer while the cabin crew negotiated through this with breakfast. I knew I was in for a treat if BA143 was anything to by…
Morning, cabin!
Everyone's rushing to the back
…and a (surprising!) treat it was! With the MOML being a specially reserved meal it came to me pretty early on. And I for one was happy with the selection since the others were just the normal airline breakfast eggs, or a Indian vegetarian option of paratha and curry.
Breakfast started with some fruit: the usual grape, pineapple & papaya. There was a pre-packaged bun with mixed fruit jam. Packaged orange juice as well.
Curd was placed in the cup. And finally, before the main course even I was quite excited about the pastry they had with strawberry jam. This was surprisingly the favorite part of the meal for me

The main course was pretty decent, but nothing exemplary again. With BA its all about mediocre food but hey this was just fine. Scrambled eggs, a vegetarian (hara bhara) kebab with paratha was for the main event, it was pretty alright.
However the main star of breakfast was the views outside: we were flying over the Swiss Alps - I have always tried to find them but they were clouded over, but on this winter's day it showed up and I enjoyed the views.
Forty minutes before landing the first officer came around to give us information on arrival: this happened as traffic flew south underneath us, one of several intra-Europe flights I imagine, we were overflying Brussels, Belgium. Easterly winds awaited us along with mist, low clouds and 1C. Typical British winter/summer/every season.
Wait, what time is it in London?

And how about that headwind!
During the first officer's announcement - this showed up. Busy day over Brussels!
DESCENT & ARRIVAL
Descended down pretty quickly & uneventfully and got in the traffic pattern nice & quickly. Flew in the downwind for quite some time as some of the departures happened.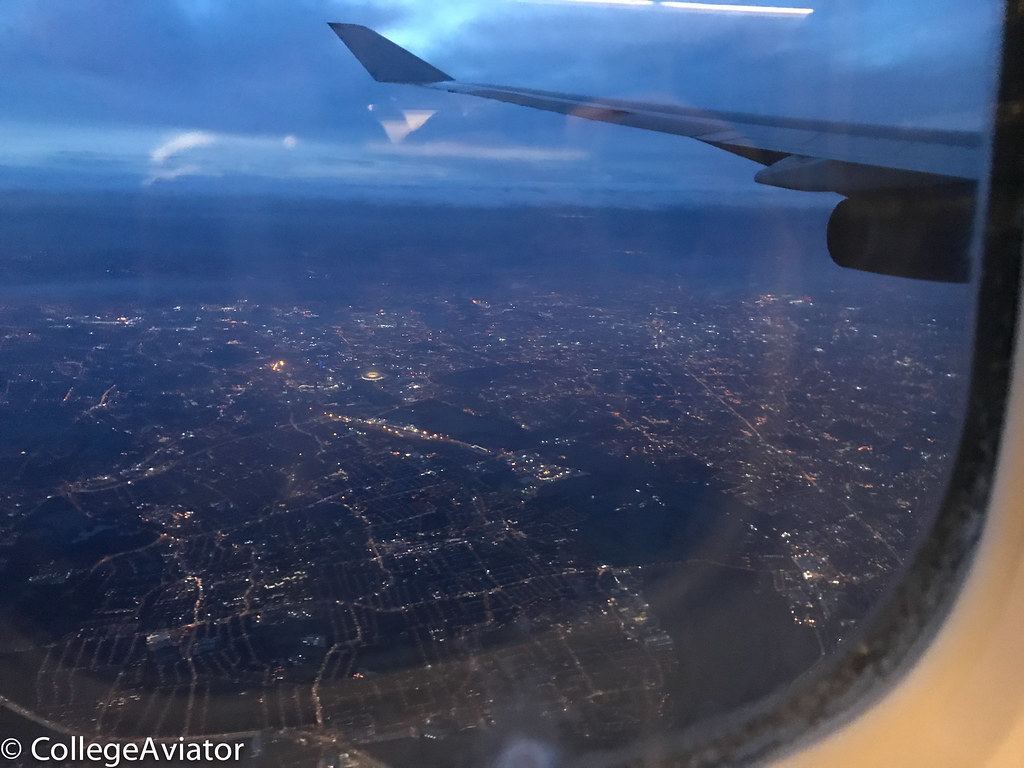 Quite cloudy
Touchdown nice and smooth at 0747 hours, a little behind schedule on Runway 9L, while 9R was in use for departures.
Landing video
Quite the long taxi to what eventually was gate C54. Most of it was by several long haulers being prepped for morning departures: British Airways 747s as always catching my eye, about 4 of the 4 engined 747s clustered around T4.
Some Americans and Cathay's were around, too. I found it funny when the purser in their goodbye announcement mentioned that
'if you are traveling further which is pretty much all of you on this airplane'
…. wow, this flight is not designated for O&D it would seem! And that makes sense, too. A fluent announcement in Hindi followed, too.
Docked at gate C54 at 0754 hours. 19 minutes late, but that's okay: my connection was now down to 3hr21min,
or so I thought.
I waited around for all passengers to disembark, because of all that time I had to kill. Going through the completely trashed cabin, some passenger lost their passport in there, and the cabin crew were assisting them with this regard.
As per FlightRadar24, this plane would continue the Delhi trend and head back as BA143 about 3hr20min later.
Exiting the jet bridge
IMG_4873
I thanked the crew for the flight, headed out and waited around a little: there was no good view of G-CIVA, so I had to suffice with this other B747 that was around, looking elegant and pretty as ever:
THE NERVOUS LAYOVER
Connecting to the WiFi my heart was beating way too fast to be helpful. I did not know the situation across the pond, I did not know if BA173 would even depart. And then, the penny dropped: thanks to Google getting flight status' is really simple, but may be inaccurate at times.
Red. It was all red.
The red titles on the status made my mind think it said CANCELLED; but in reality
BA173 was only delayed by 1 hour, rescheduled to depart at 1230 hours.
Okay, well, that isn't so bad, but this meant I had a whole 4 hours to kill at London Heathrow. What do I do? Where do I go? I also knew from past experiences that
trusting estimated delays is a bad thing to do, especially in the USA.
But I tried to remain calm. Step 2 on the trek back went fine, but it was now on to the crucial step 3….
CONCLUSION
And with that, that's 75% of my flights on British Airways, and of course all on B747s, with another one to go. The return trip in general had so far been quite smooth, but this 1 hour delay made things a little uncertain so holding my nerves was crucial. As for BA itself - the little delay meant nothing for me, the crew were really nice (taking care of passengers, walking down the aisles even when most were asleep), the special meal(s) were fantastic. IFE was whatever, I did not use much of it because it was broken to begin with, but fun to test my Hindi reading abilities (haven't lost my touch

), but the seat's placement was all over the place and I wasn't very comfortable. Thankfully the vodka and general tiredness put me right to sleep for just about half the flight. One final big one to go - I was eager to get this done!!
And finally,
the video trip report
, once again

Until the next one,
CA
My other trip reports:
2018
Wobbly Winter '17/18 (7): Vistara's amazing Business Class! (UK778 CCU-DEL A320 Jan '18, pics & video TR)
(video trip report)
2017
*NO FLIGHTS* Wobbly Winter '17/18 (6): Himalayas, Palam Air Force Museum, Heavily Delayed Rajdhani Express
Wobbly Winter '17/18 (5): Fly Smart? Not quite: The GoAir Debut! (G8128 CCU-DEL A320 Dec'17, pics & video TR)
(video trip report)
Wobbly Winter '17/18 (4): Efficient Air India! (AI401 DEL - CCU B787 Dec'17, pics & video TR)
(video trip report)
Wobbly Winter '17/18 (3): Elegantly British? (BA143 LHR-DEL B747-400 WT Dec'17, pics & video TR)
(video trip report)
Wobbly Winter '17/18 (2): A British Concorde, A British Queen! (BA116 B747-400 World Traveller Dec'17, pics & video TR)
(video trip report)
Wobbly Winter '17/'18 (1): Insane tailwinds to the Big Apple! (DL A319 MSP-JFK Dec '17 Y, pics & video TR)
(video trip report)
A (slightly) unlucky summer '17 (10): Software glitch'd? (SkyWest Delta CRJ-200ER, MSP-GFK, Jun '17, w/pics & video TR)
(video trip report)
A (slightly) unlucky summer '17 (9): Yet no CRJ-700 for you! (IAD-MSP UA E175, Y, Jun '17)
(video trip report)
A (slightly) unlucky summer '17 (8): A tale of 2 Etihads - electronics BANNED! (B77L/B789, BOM-AUH-IAD, Y, Jun '17)
(video trip report)
A (slightly) unlucky summer '17 (7): Jet's extended range B737 (9W472 CCU-BOM, Y, pics & vids)
(video trip report)
A (slightly) unlucky summer '17 (6): Delays galore, inefficiency ensues! (SpiceJet, B737-900ER, SG517 BLR-CCU, Y)
(video trip report)
A (slightly) unlucky summer '17 (5): Missed opportunity with Jet's A330 (BOM-BLR, Y, B73H, May '17) [pics & video TR]
(video trip report)
A (slightly) unlucky summer '17 (4): Short flight on the Etihad A380! (AUH-BOM, Y, May '17) [pics & video TR]
(video trip report)
A (slightly) unlucky summer '17 (3): Elegant Etihad? (JFK-AUH, A380 Y, May '17) [many pics & video TR]
(video trip report)
A (slightly) unlucky summer '17 (2): No MD-88 for you! (MSP-LGA, DL Y, May '17) [pics & video TR]]
(video trip report)
A (slightly) unlucky summer '17 (1): No CRJ-700 for you! (GFK-MSP, SkyWest Delta) [pics & video TR]
(video trip report)
Spring Break 2017 - To the Pacific Northwest! (AMTRAK, BC, Idaho, NO flights!)
Winter Break 2016/17 (9): The Final Hop Home (AA Eagle ERJ-145, ORD-FAR, Jan '17, Y)
(video trip report)
Winter Break 2016/17 (8): Ultra long haul with Etihad (AUH-ORD, Y, Jan '17)
(video trip report)
Winter Break 2016/17 (7): Enticing Etihad to Abu Dhabi! (CCU-AUH, Jan '17, Y)
(video trip report)
2016
Winter Break 2016 (6): My last flight on Jet Airways' ATR (GAU-CCU, Y, Dec '16) + Scintillating Sunderbans
(video trip report)
Winter Break 2016 (5): Konnecting to Kaziranga (S24363 B73H CCU-GAU Y, Dec '16)
(video trip report)
Winter Break 2016 (4): Take us home, Qatar Airways! (QR540, DOH-CCU, Y, Dec'16)
(video trip report)
Winter Break 2016 (3): Long haul middle seat - our first flight on Qatar Airways! (QR28 MAN-DOH, Y, Dec'16)
(video trip report)
Winter Break 2016 (2): Pencil Jet across the Atlantic (AA54 MAN-ORD, Y+, Dec'16)
(video trip report)
Winter Break 2016 (1): The Frozen Embraer Delay - missed connection! (FAR-ORD, Dec '16)
(video trip report)
Thanksgiving '16 in the Sin City - My Allegiance with N891GA, to divert or not to divert (LAS-GFK Nov '16)
(video trip report)
Thanksgiving '16 in the Sin City - My Allegiance with Allegiant! (Part 1, many pictures)
(video trip report)
The day I flew the world's most popular plane (GFK-FAR-CKN-GFK, C172)
Summer '16 trek back home - Part 14: Delta Connection, a quick hop in the Midwest! (MSP - GFK, Aug '16)
(video trip report)
Summer '16 trek back home - Part 13: Super old, Super 80, Mad Dog Across the Midwest! (AA ORD-MSP, Aug'16)
(video trip report)
Summer '16 trek back home - Part 12: Flying the Friendly Skies... (United Munich to Chicago, Aug '16))
(video trip report)
Summer '16 trek back home - Part 11: Epic Lufthansa, Epic A340! (Delhi to Munich, Aug '16)
(video trip report)
Summer '16 trek back home - Part 10: Konnect, Lite, Delight...(S2 B73H CCU-DEL, Aug '16)
(video trip report)
Summer '16 trek back home - Part 9: Take me home, Vistara! (DEL-CCU, Jul '16)
(video trip report)[/color]
Summer '16 trek back home - Part 8: Vistara's INAUGURAL flight out of Kolkata! (CCU-DEL, Jun '16))
(video trip report)
Summer '16 trek back home - Part 7: Efficient IndiGo! (Mumbai to Kolkata, A320, May '16)
(video trip report)
Summer '16 trek back home - Part 6: Big delays, cracked windshield, angry passengers (SG CCU-BOM B73J)
(video trip report)
Summer '16 trek back home - Part 5: Air India's domestic Dream)liner (DEL-CCU May '16)
(video trip report)
Summer '16 trek back home - Part 4: Nearly First Class - stories of the empty A380! (LH FRA-DEL May '16)
(video trip report)
Summer '16 trek back home - Part 3: World's longest jet, Lufthansa's B748i! (ORD-FRA May '16)
(video trip report)
Summer '16 trek back home - Part 2: ChicaGO on United's A319! (MSP-ORD, May '16)
(video trip report)
Summer '16 trek back home - Part 1: Sun rise onboard the long range CRJ (DL GFK-MSP CRJ-900, May '16)
(video trip report)
The pencil jet(s) for spring break! (+ Iron Maiden bonus): Delta MSP-FLL-MSP, March '16
(
DL1608 video trip report
,
DL2027 video trip report

)
De-iced & Delayed, cold onboard a CRJ! (ORD-MSP-GFK on Delta, Jan '16)
(ORD-MSP video report)
(MSP-GFK video report)
Delta's aged B767-300ER across the Atlantic! (CDG-ORD in Y, Jan '16)
(
video report
)
Air France's NEW Economy (B777-200ER, Bengaluru to Paris, Jan '16)
(
video report
)
Delays and despair: stressed out in the middle seat! (Jet Airways B737 Mumbai - Bengaluru, Jan '16)
Air India's hybrid babybus from Kolkata to Mumbai (Jan '16, Y)
(
video report
)
2012
South Africa 3: 12 days in Scintillating South Africa (Kruger, Kulula and Rand Airport, Apr' 12, LONG!)
South Africa 2: Elegant Emirates Economy! (DXB-CPT, B77W, Apr '12)
South Africa 1: My first flight on Emirates, my first flight on the 777 (CMB-DXB, Apr '12)
2011
International transit with Jet Airways (BOM-MAA-CMB, Oct. '11)
Konnecting to Bhubaneswar (9W BOM-BBI-BOM, Jul '11)
Three trips between India and Sri Lanka (9W BOM-CMB-BOM: Jun '11, Jul '11, Oct. 11)
To India's Orange City: Mumbai - Nagpur - Mumbai on Jetlite & Tadoba National Park (May 2011)
My last flight on Kingfisher Airlines (and 2 other Jet flights, May '11)