Contour Airlines is regional airline based in Tennessee with a small fleet of Embraer EMB-135s and Jetstream 31/32s linking between smaller cities and major cities. Its major routes including Macon and BWI, and Tupelo, Missouri and Nashville, and on the West Coast, it flies between Crescent City Del Norte Country Regional Airport and Oakland International. Santa Barbara is its latest West Coast destination, with daily flights to Oakland and five weekly flight to Las Vegas. The EMB-135s typically just sit in Oakland the whole day before flying back to Crescent City in the late afternoon. Soon the aircraft will fly six sectors five days a week. Contour Airlines is actually more like a boutique airline that targets smaller but well to do regional cities, and has basically taken a row off the EMB-135 to provide a comfortable 30 seats cabin. Each seat has at least 36 inches of legroom. Checked bags are included in the air fare. The service is personal and every one from check in agent to flight attendant is friendly and aims to know each guest well. I read about the Santa Barbara inaugural at airliners.net and happened to be free that day, so I decided to give it a try. While it was nothing like a JetBlue or Virgin American's inaugural parties, there are more personal welcomes. CEO of Contour, Matt Chaifetz, was very hands on, and was ever serving passengers on the inaugural flight to Santa Barbara. I hope that their service to and from Santa Barbara will be a success.
Full Album link
http://s1213.photobucket.com/user/Carfi ... aInaugural
Check-in:
I arrived Oakland International Airport about an hour and forty-five minutes prior to departure.
Contour Airlines uses Terminal One, as expected.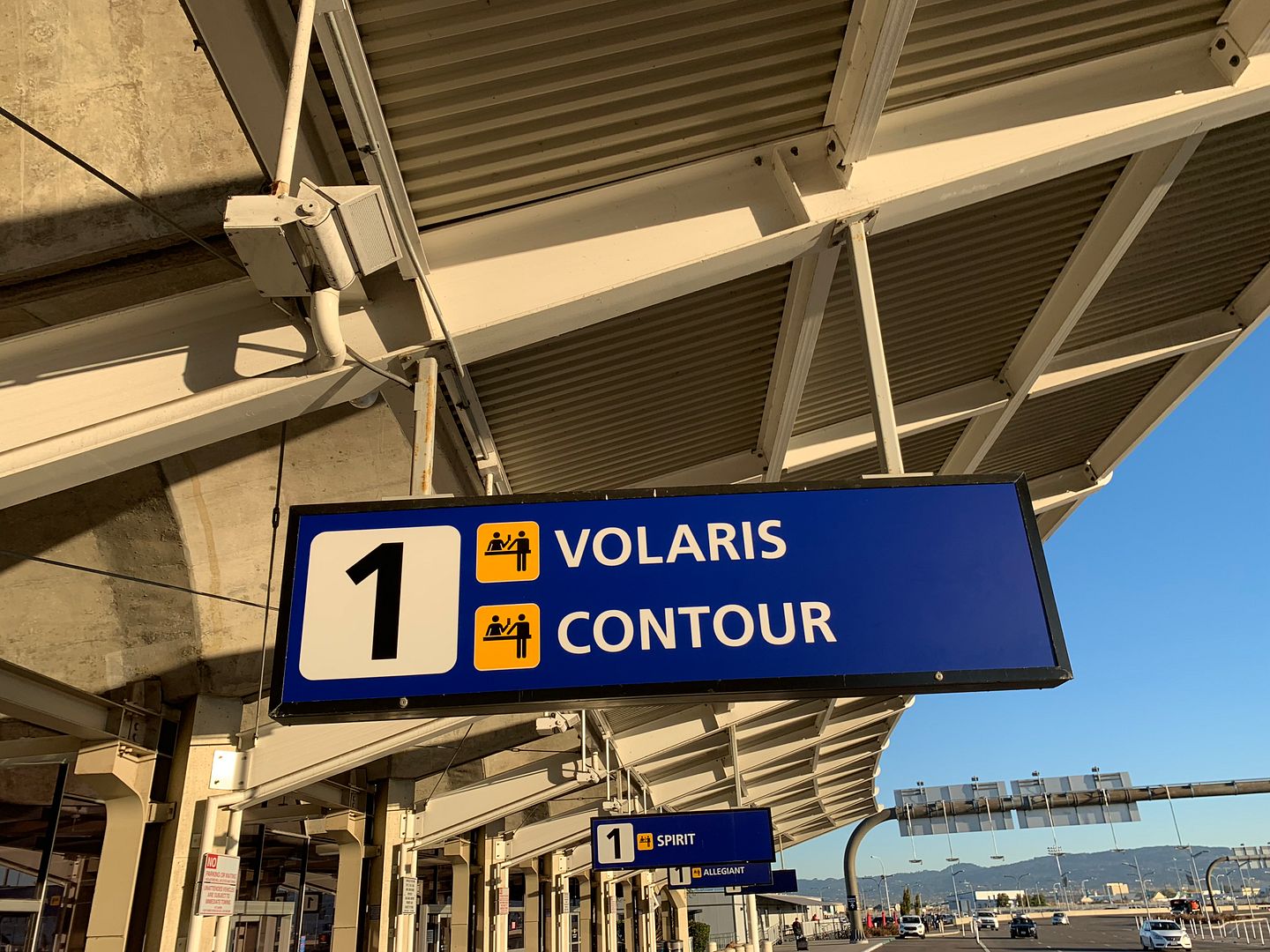 Its check-in counter hides behind Volaris, which only operates in the evening hours.
Tammy was the agent working both the check-in desk and gate later. This kind of one-person show is fairly typical for this small regional airline operation.
Contour Airlines is part of the TSA Pre Program but you have to remind the agents to enter your Pass ID onto your record. You can't do it when you book the ticket online.
It uses gate 5 most of the time, except when there are more than one Norwegian flights departing in the evening. The other gate they use is gate 12.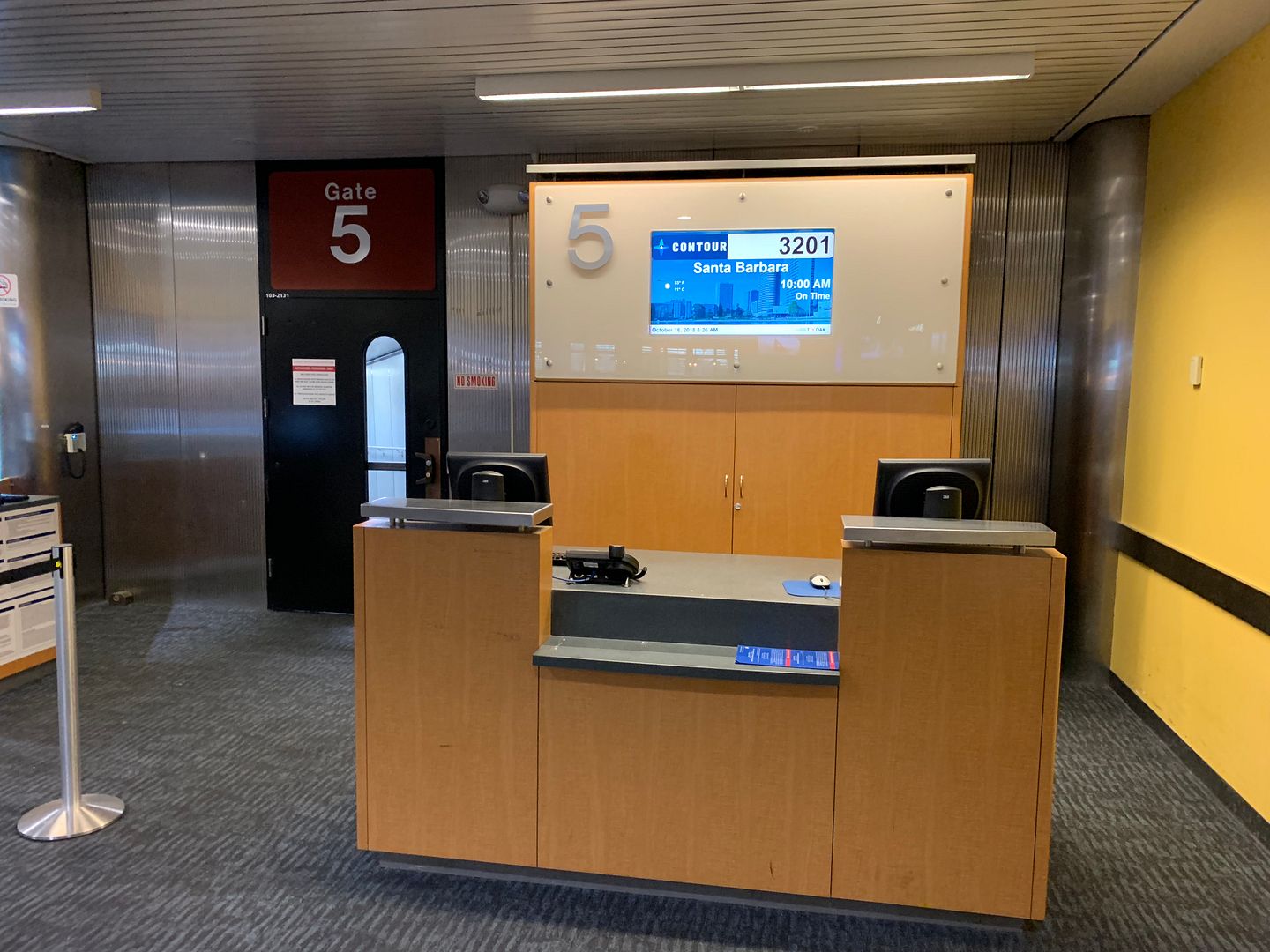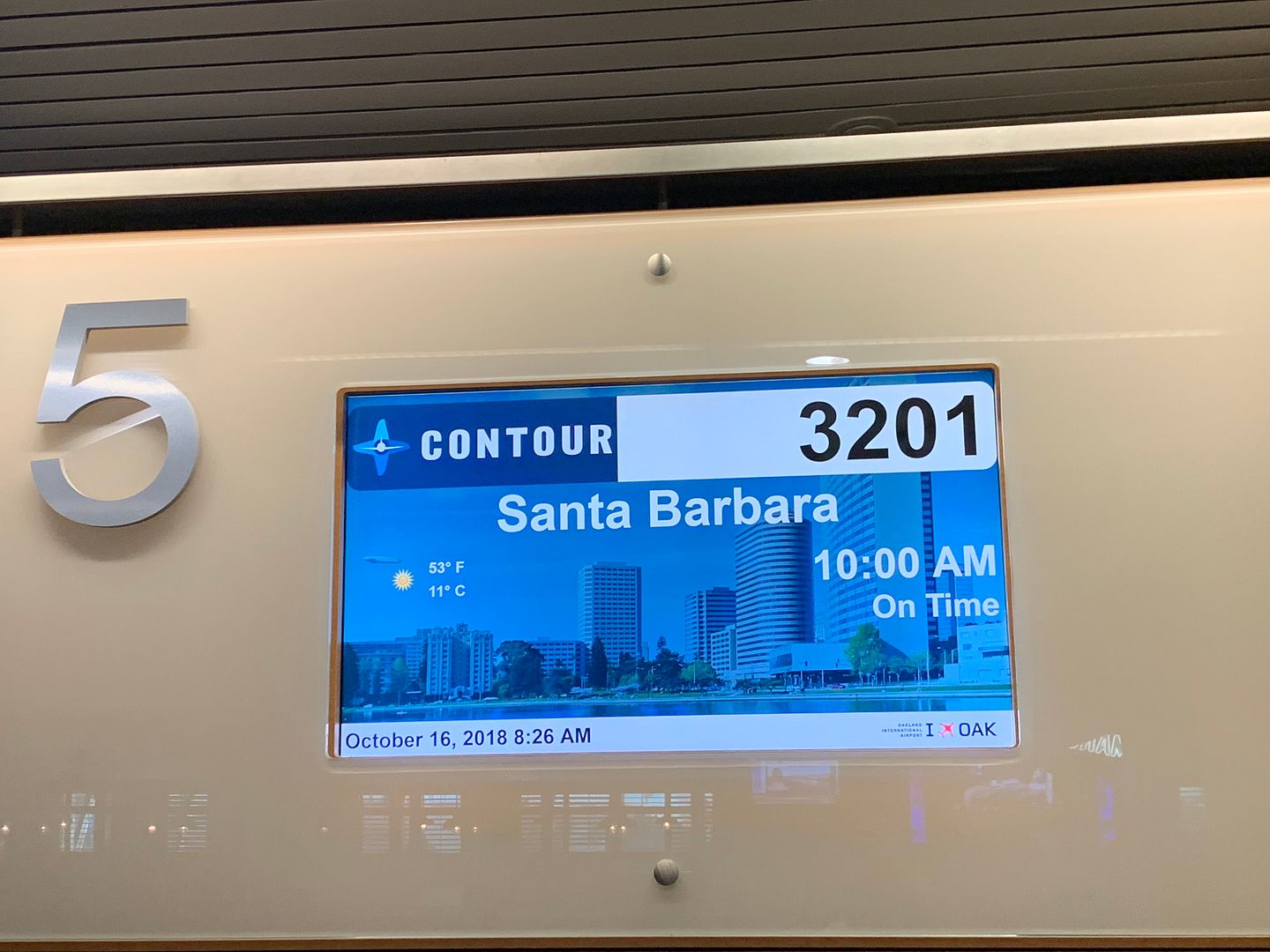 N11526 is a former ex-United Express EMB-135LR and is mostly based in the West Coast. I presume that a second EMB-135 will somehow rotate in, especially these planes will work more flights. Contour has a quite number of EMB-135 regional jets and Matt, the CEO, said that they were trying to get more planes. With the major airlines retiring their EMB-135/145s, I can see them getting more planes.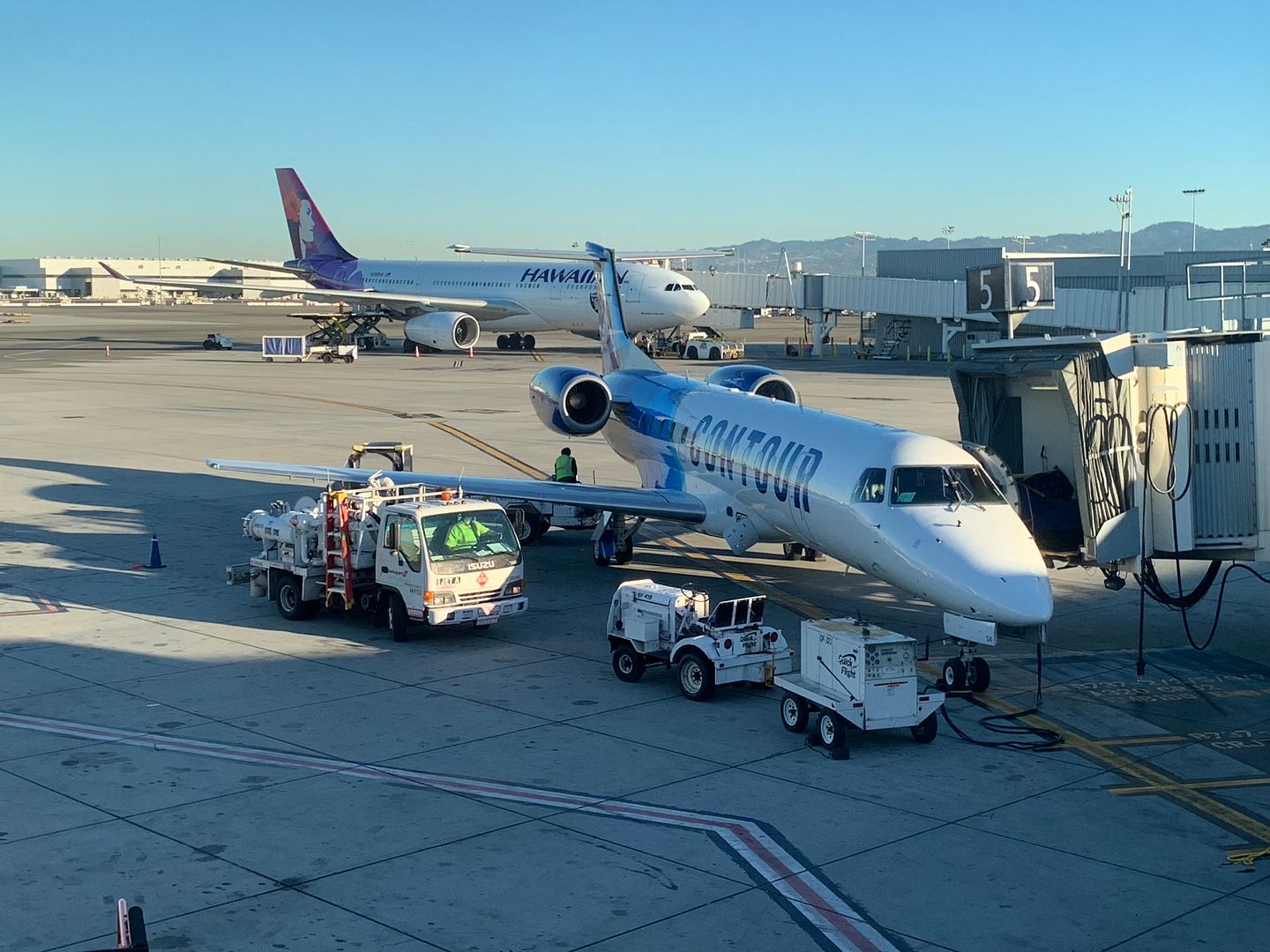 There was a small celebration at the gate with bottled water and cookies.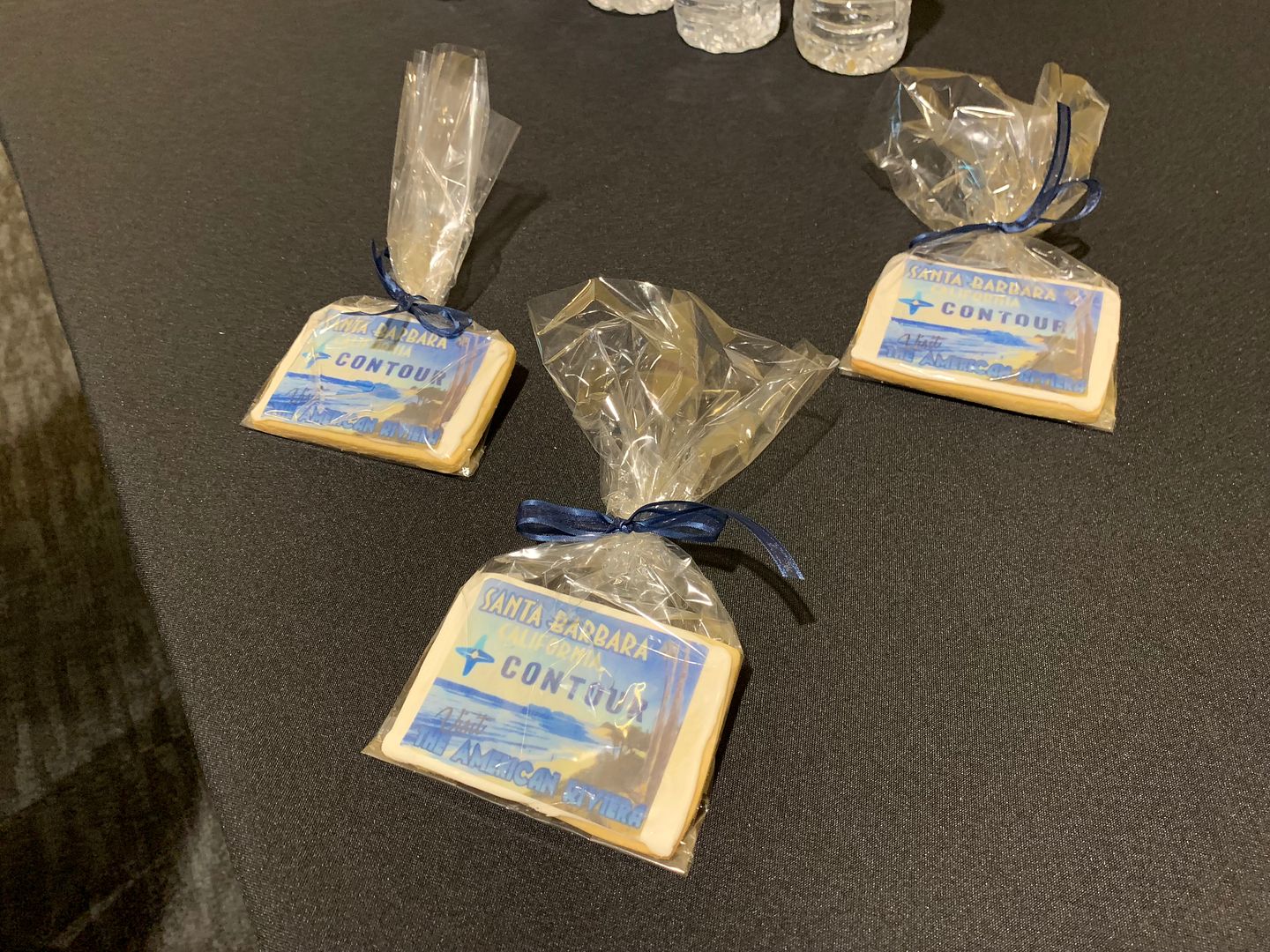 Boarding began around 9:38am, and Contour Airlines' CEO, Matt Chaifetz, was there welcoming all passengers and amall number of OAK guests. Matt was very friendly and professional, and was on this inaugural flight to Santa Barbara this morning.
Mr. Chaifetz was announcing the boarding for LF 3201.
The load was a bit on the light side but typical for inaugural flights. Many passengers though were not aware that today was the first flight. They were pleasantly surprised.
As I said earlier, the cabin was reduced from 37 seats, a typical all-economy cabin configuration, to 30 seats, with ten rows of three abreast seats with 36 inches of legroom. It reminds me of JetSuite X's cabin but Contour Airlines keeps the overhead bins, since it operates more like a commercial airline, rather than private jet.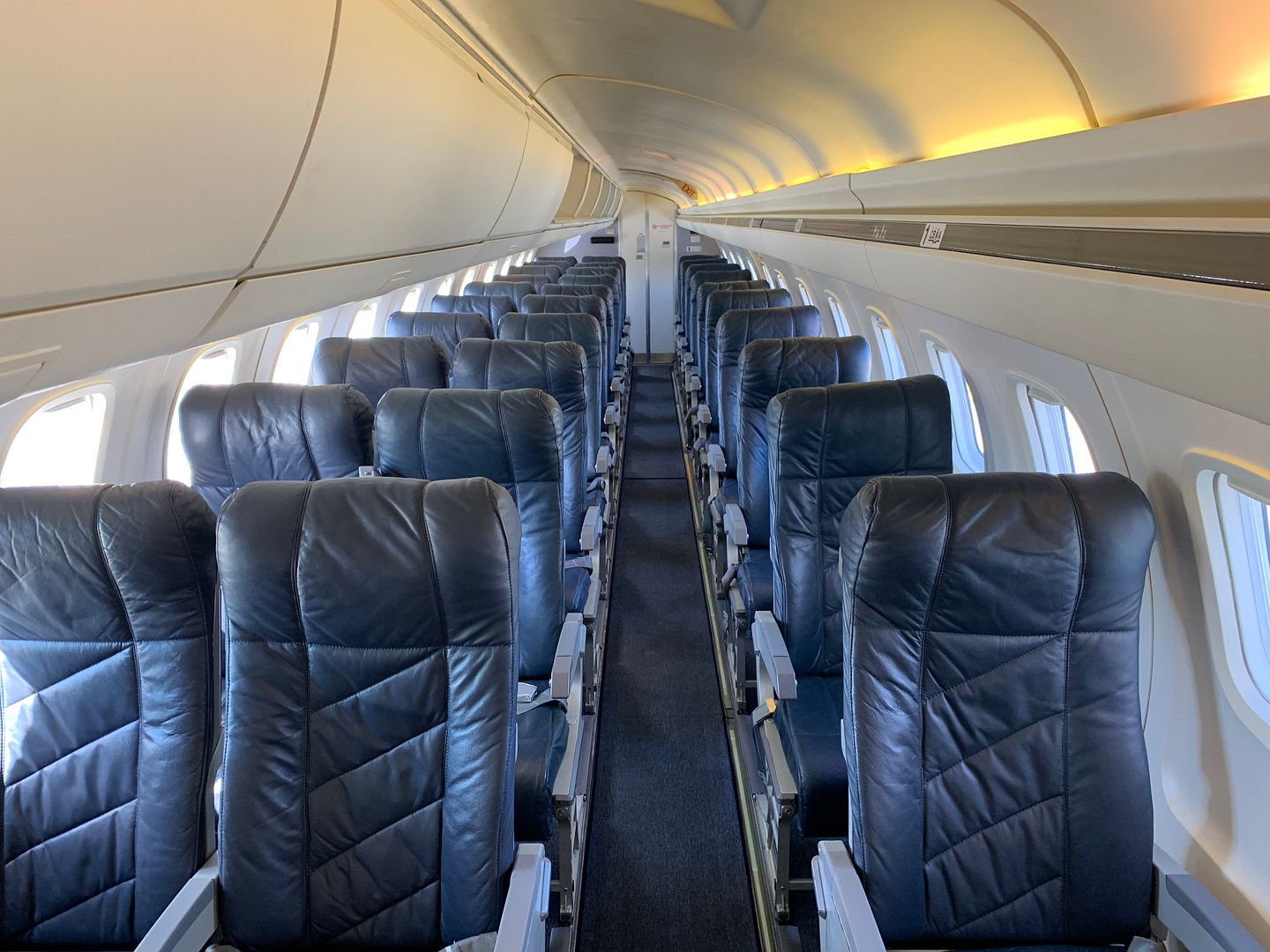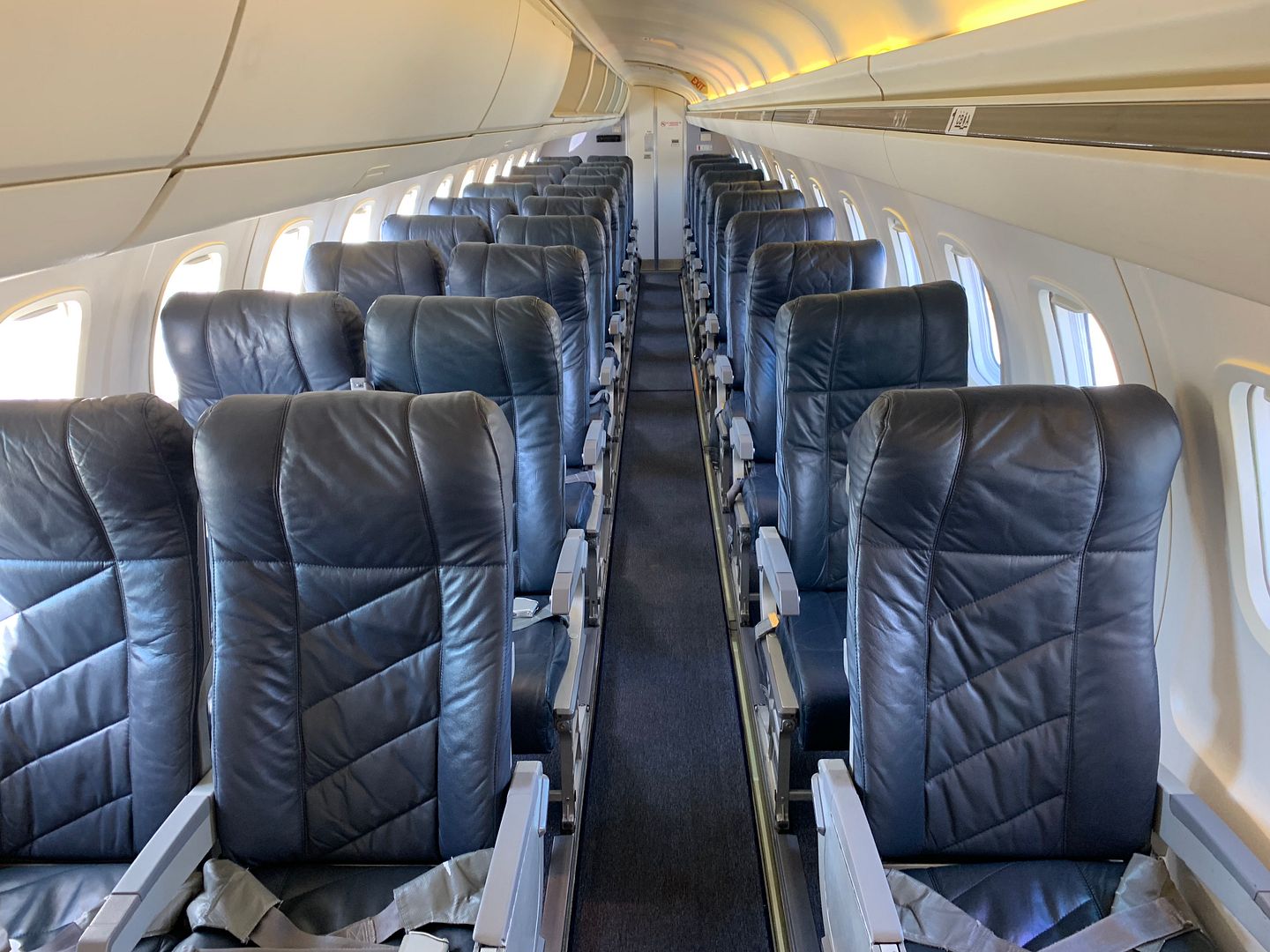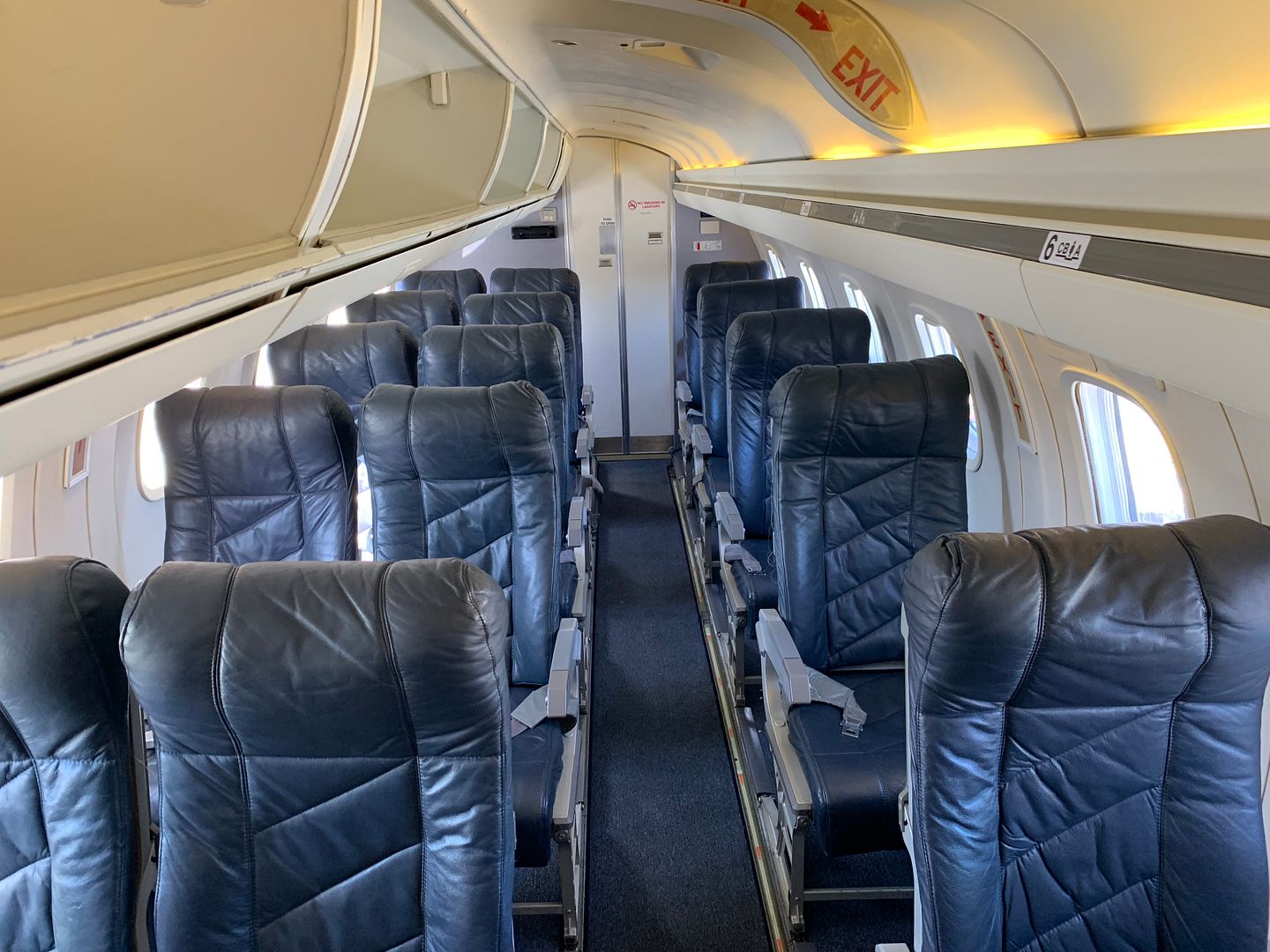 Best seat of the house is 1A with the unlimited legroom.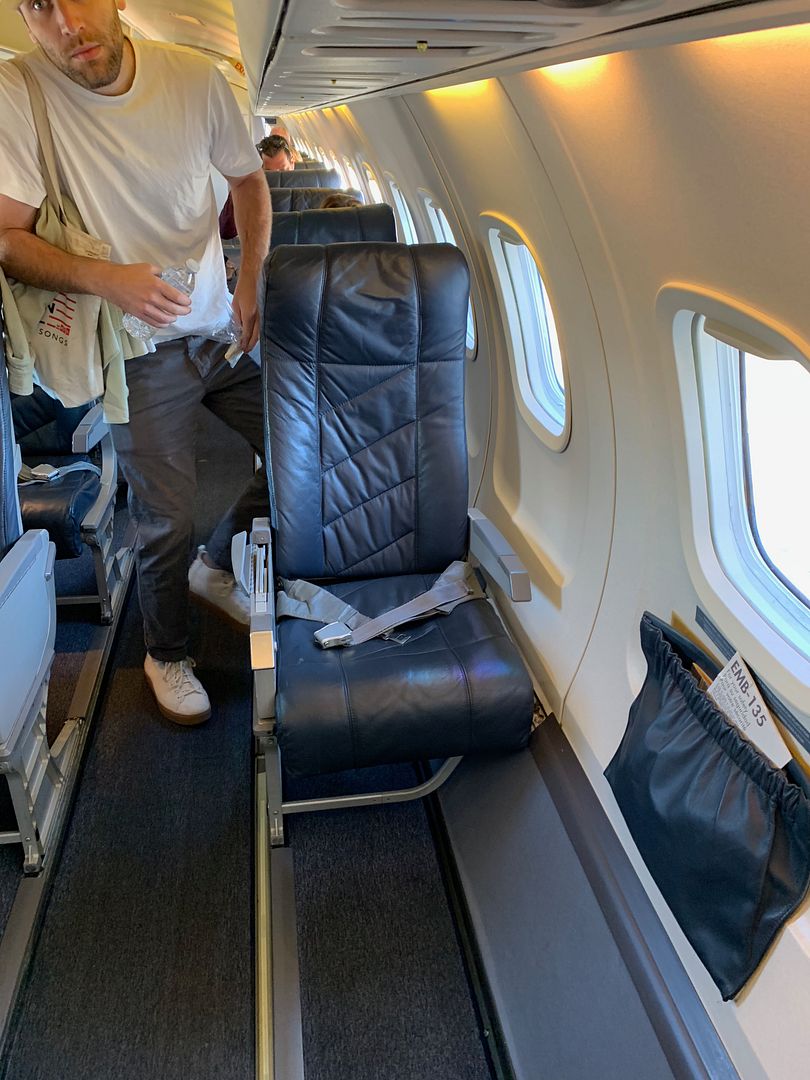 1BC was not bad.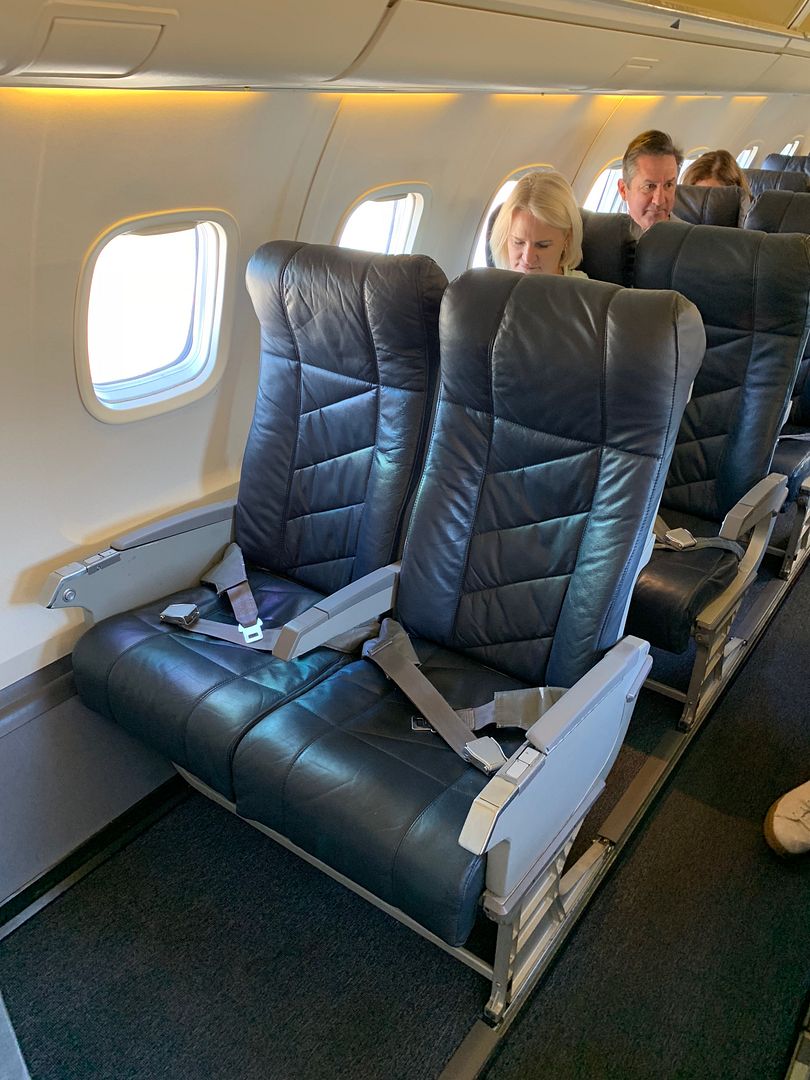 Exit rows have a bit of extra legroom but since the average seat pitch is 36 inches, the exit row is not as important as other flights.
Regular seat pitch – 36 inches
Even the last row was okay!
10A
10BC
Powerful AN AE3007/Rolls Royce AE 3007 turbofan engines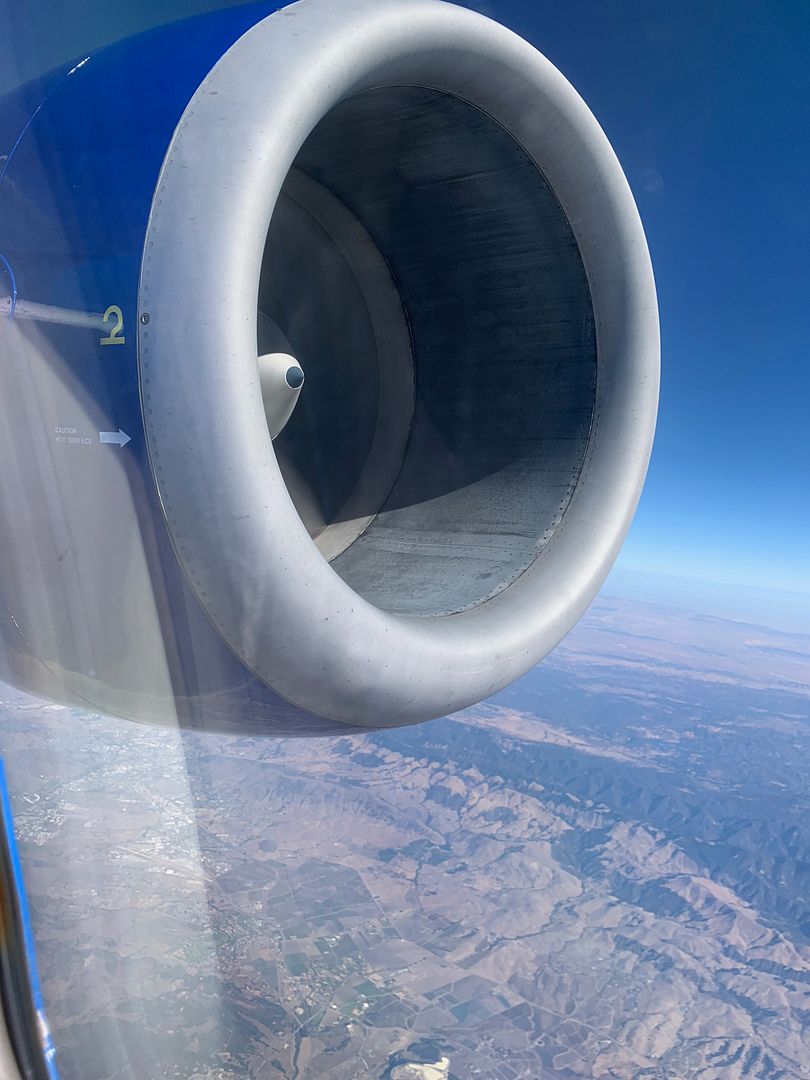 Galley shots:
Door was closed early at 9:49am and Oakland airport was not that busy at this time of the day.
We pushed back at 9:53am and headed towards R/W30 for takeoff.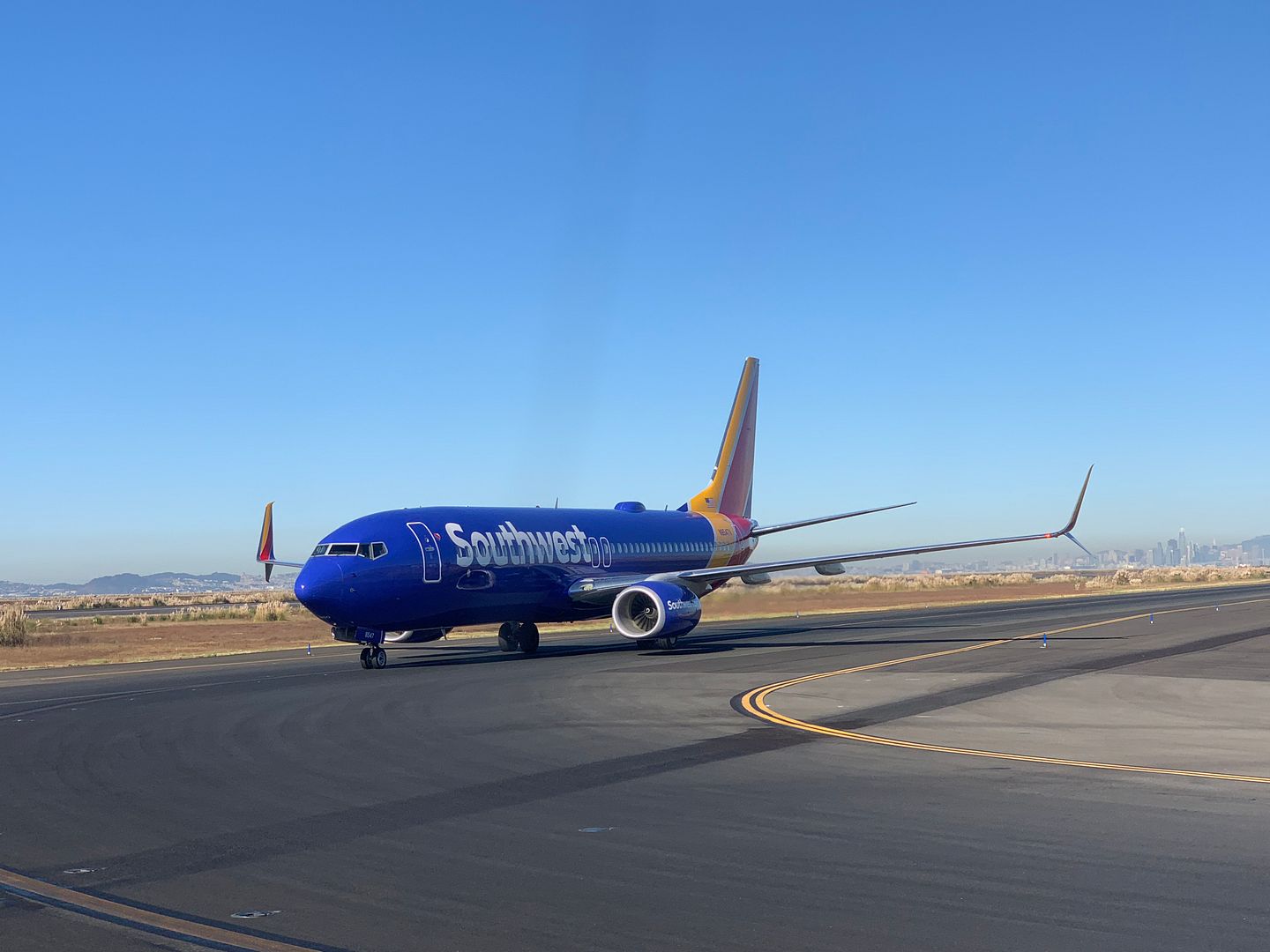 We were number one on queue for R/W30. We took off at 10:03am for a shorty forty-eight minutes flight to Santa Barbara with a cruising altitude of 25,000ft.
Beautiful day to fly…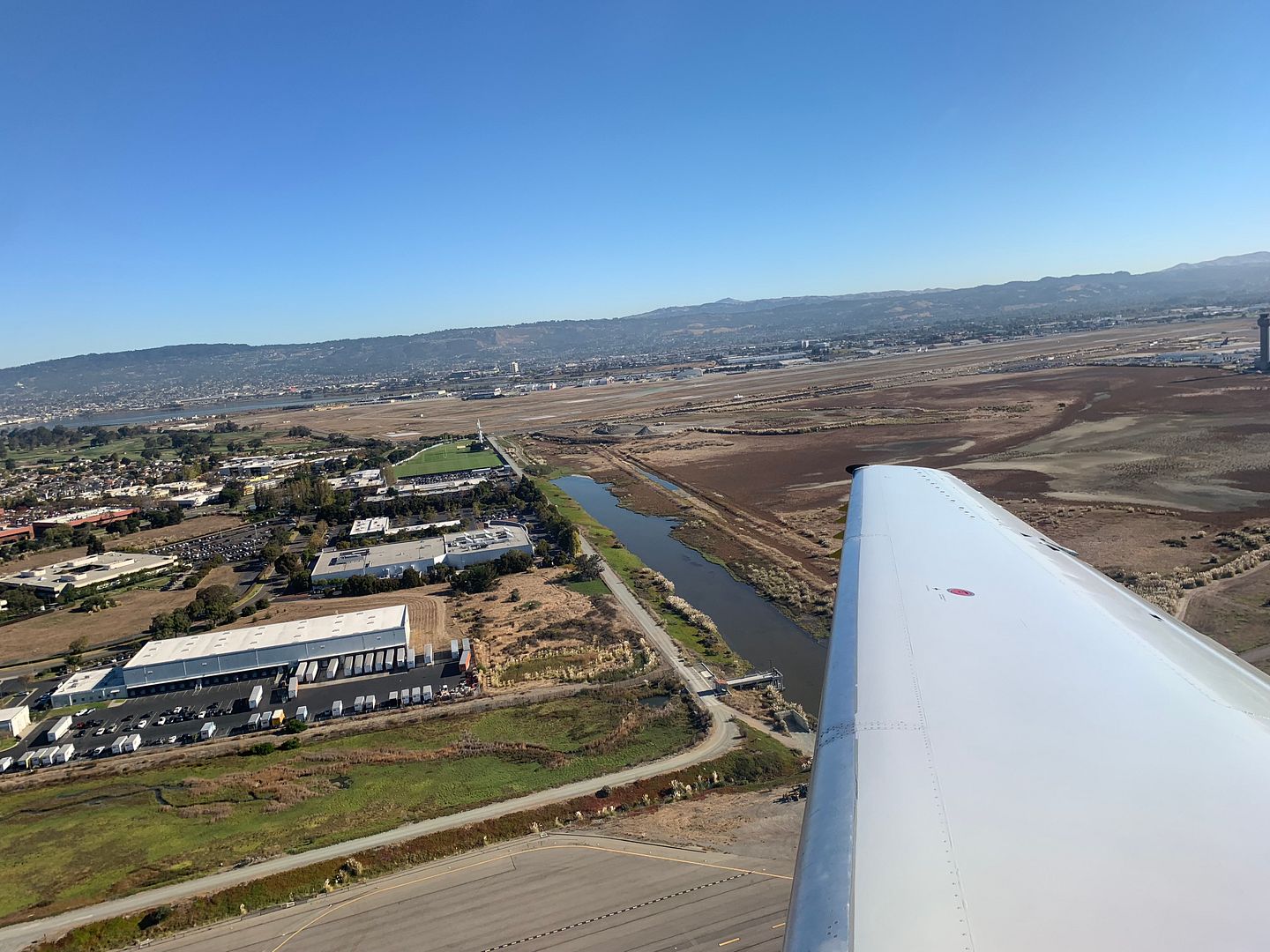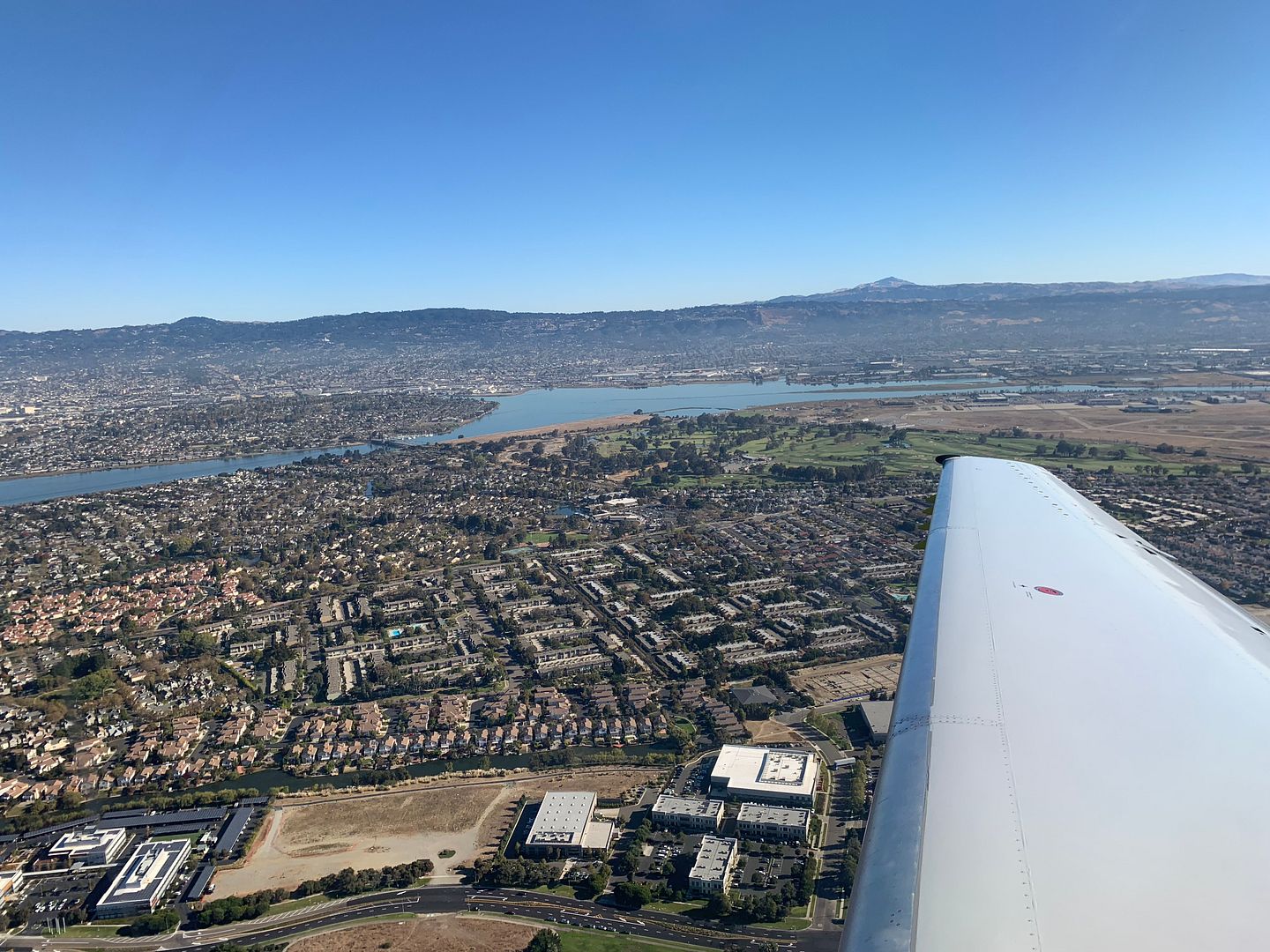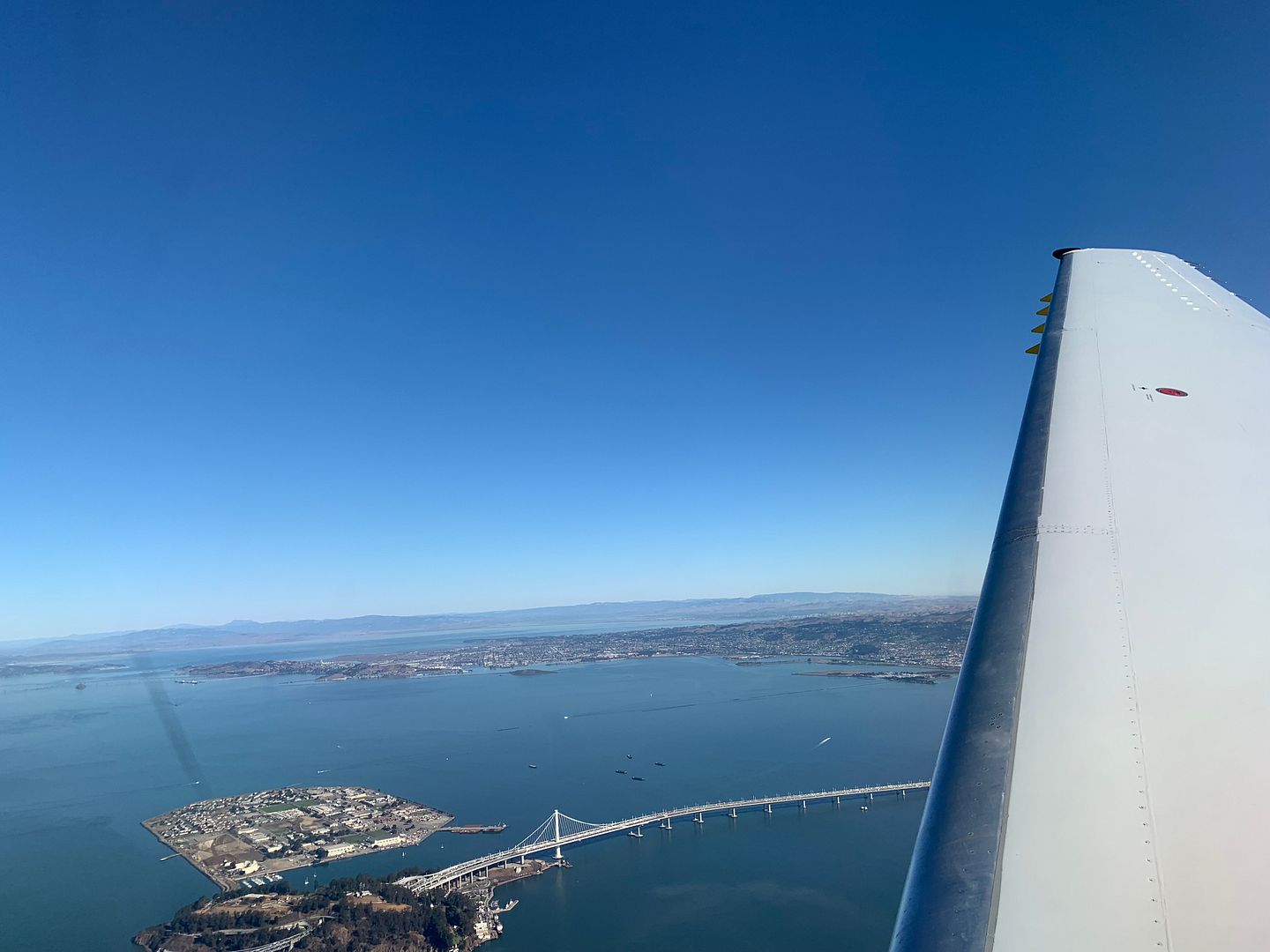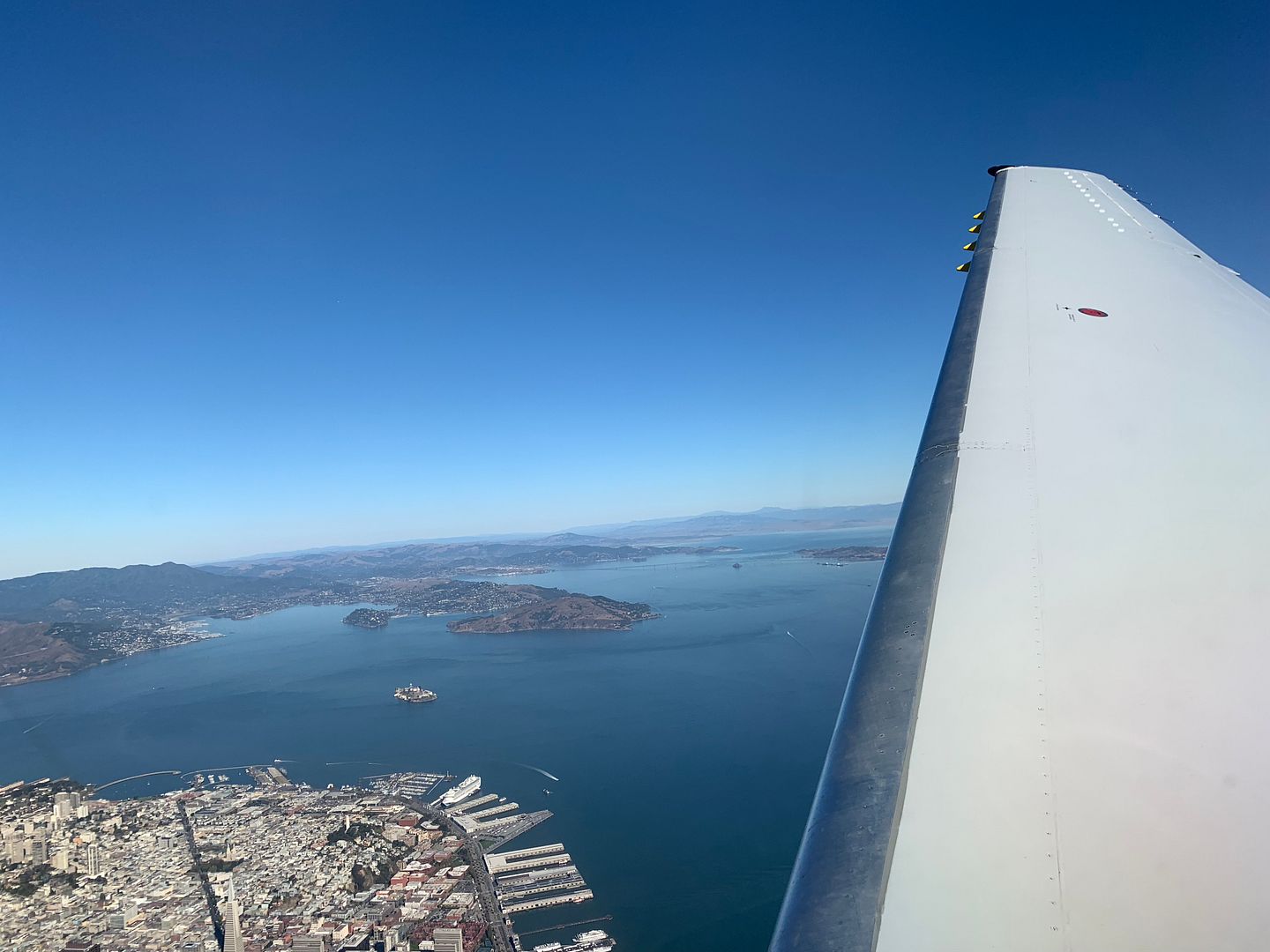 Golden Gate Bridge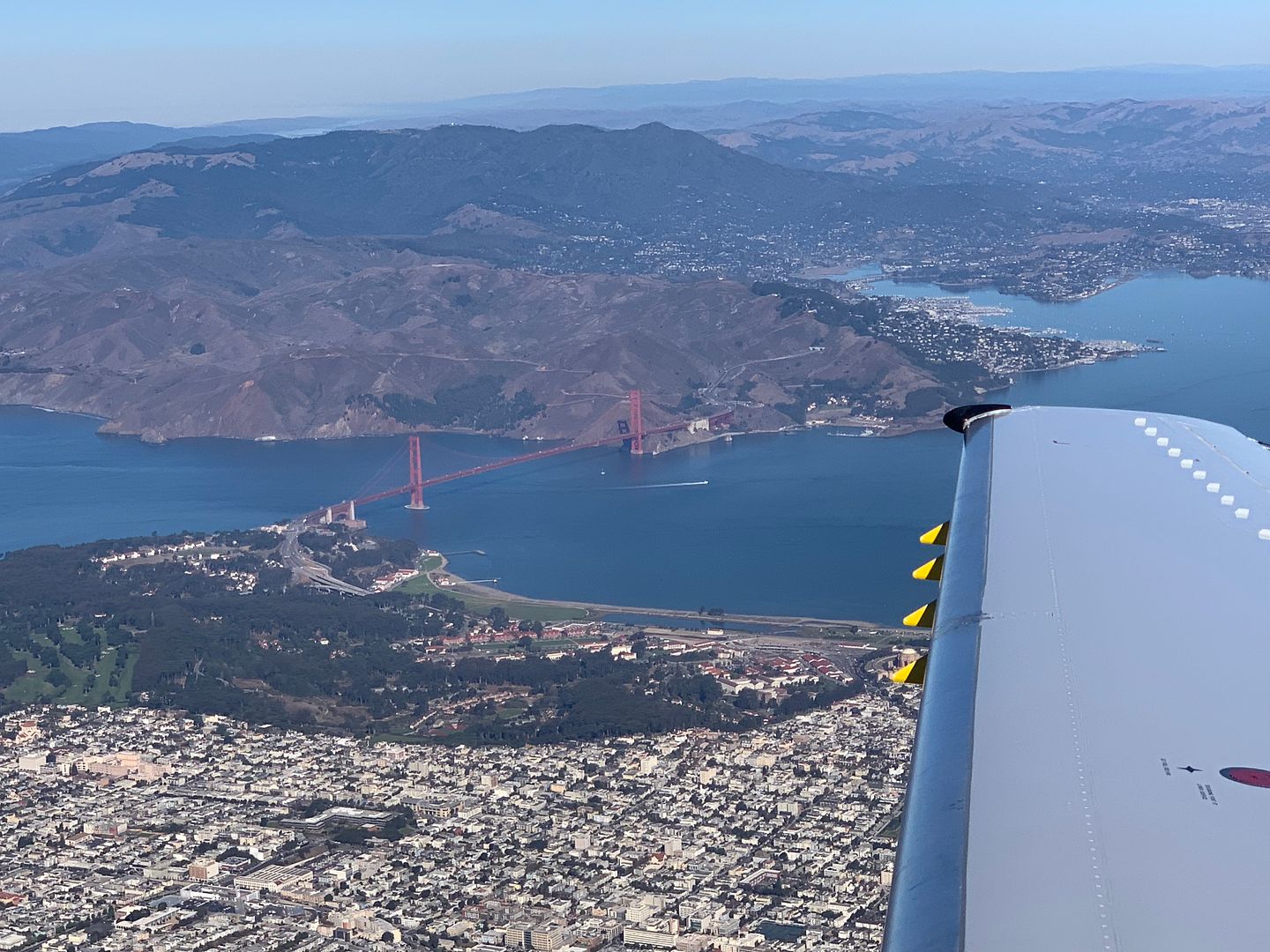 Contour Airlines offers complimentary non-alcoholic beverage and pretzel service for its normal flights. But today, there was sparkling wine and Bloody Mary offered too. Alcoholic beverages are provided for free too on the return flight. Mr. Chaifetz was helping Janine with the cabin service this morning.
I took a Mimosa.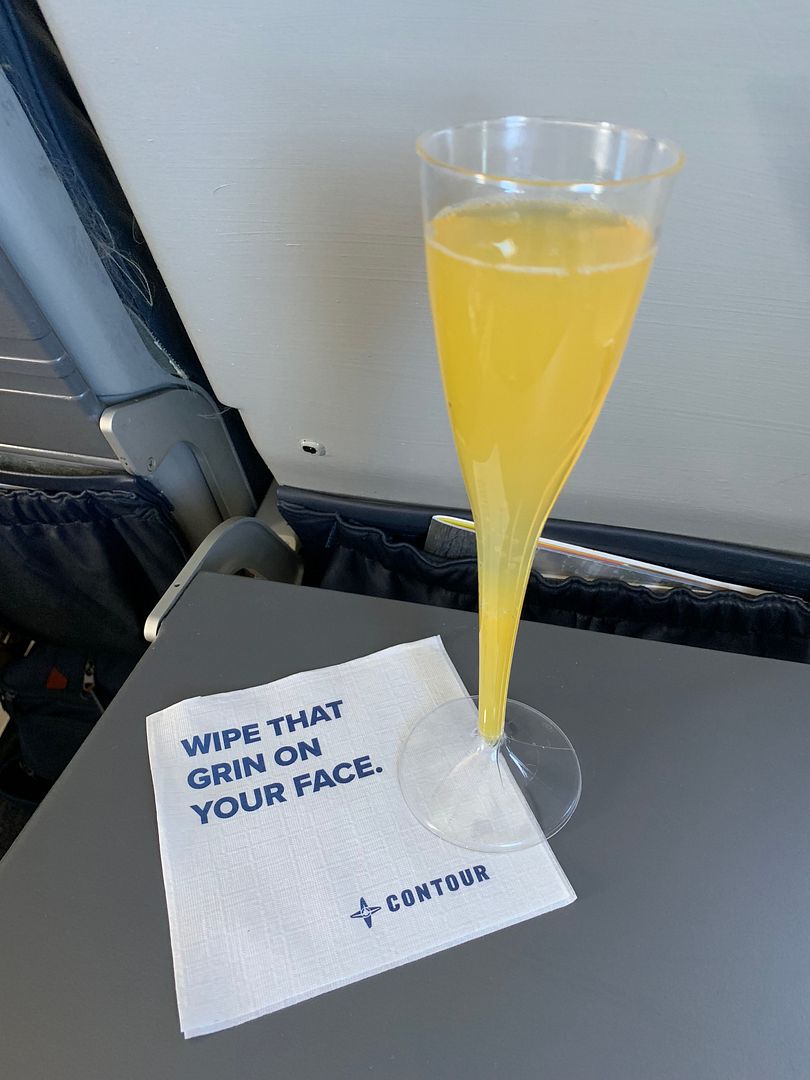 I love the napkin!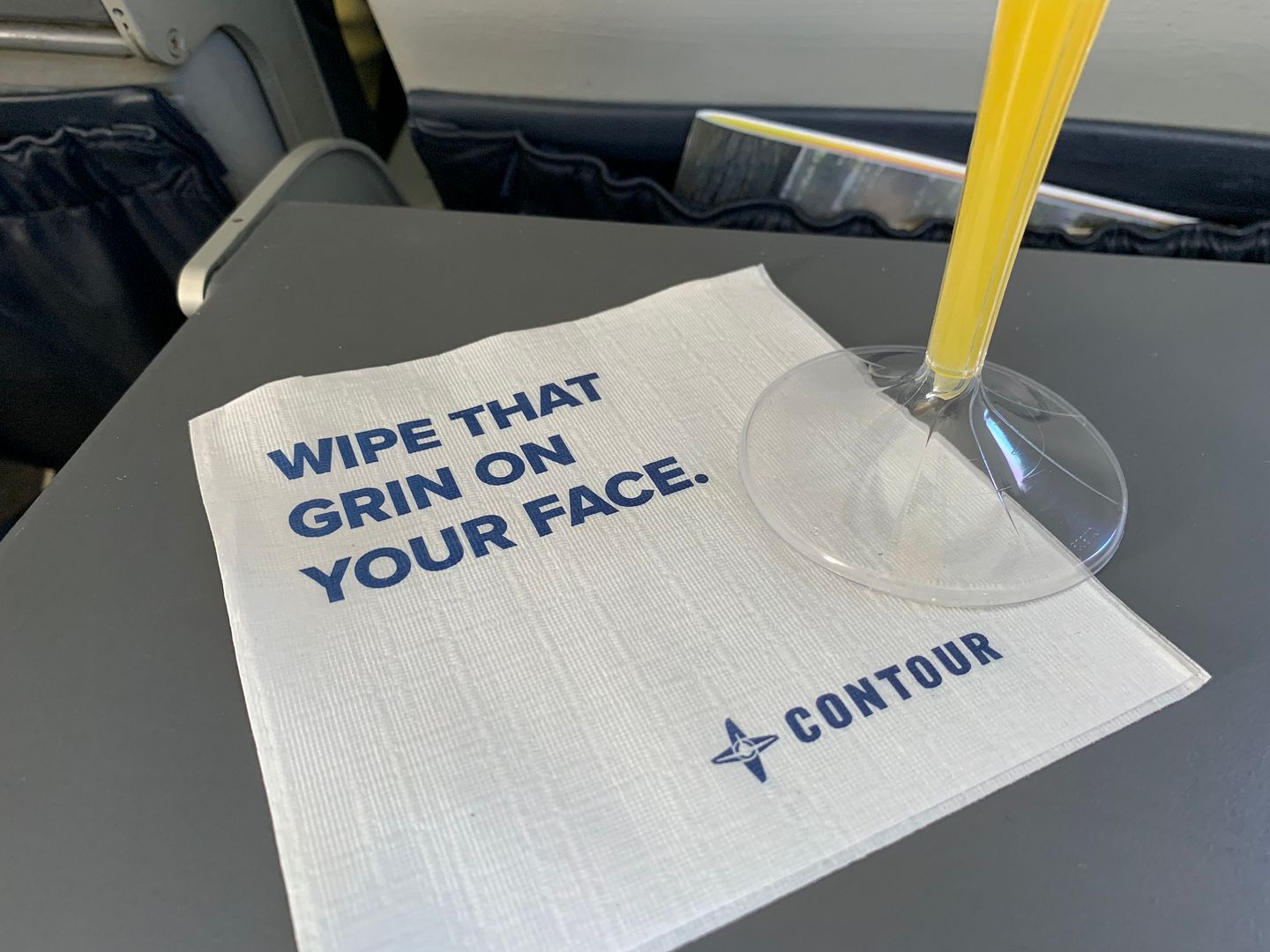 Mini breakfast muffins were also offered too this morning. I was not sure if this was the normal service or not.
Pretzels (Contour Airlines branded) were offered, too.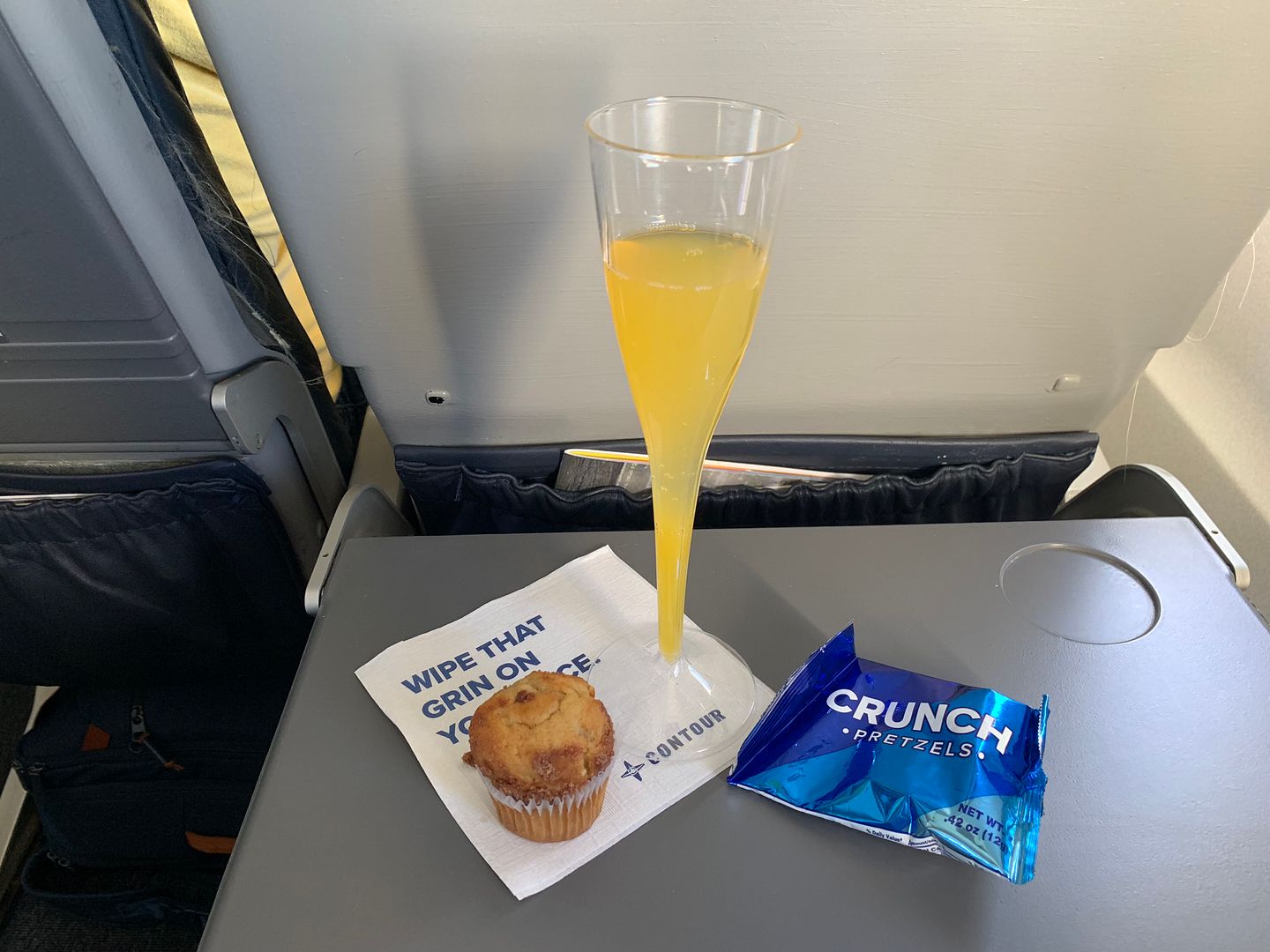 Throughout the short flight, CEO Matt Chaifetz was in the aisle talking to passengers.
From what I gathered, the flights were doing very well. These inaugural flights featured the lowest load this week and the flights to Las Vegas were doing very well. The Friday flight to LAS and Sunday return flight was already sold out.
Descent soon began at 10:36am.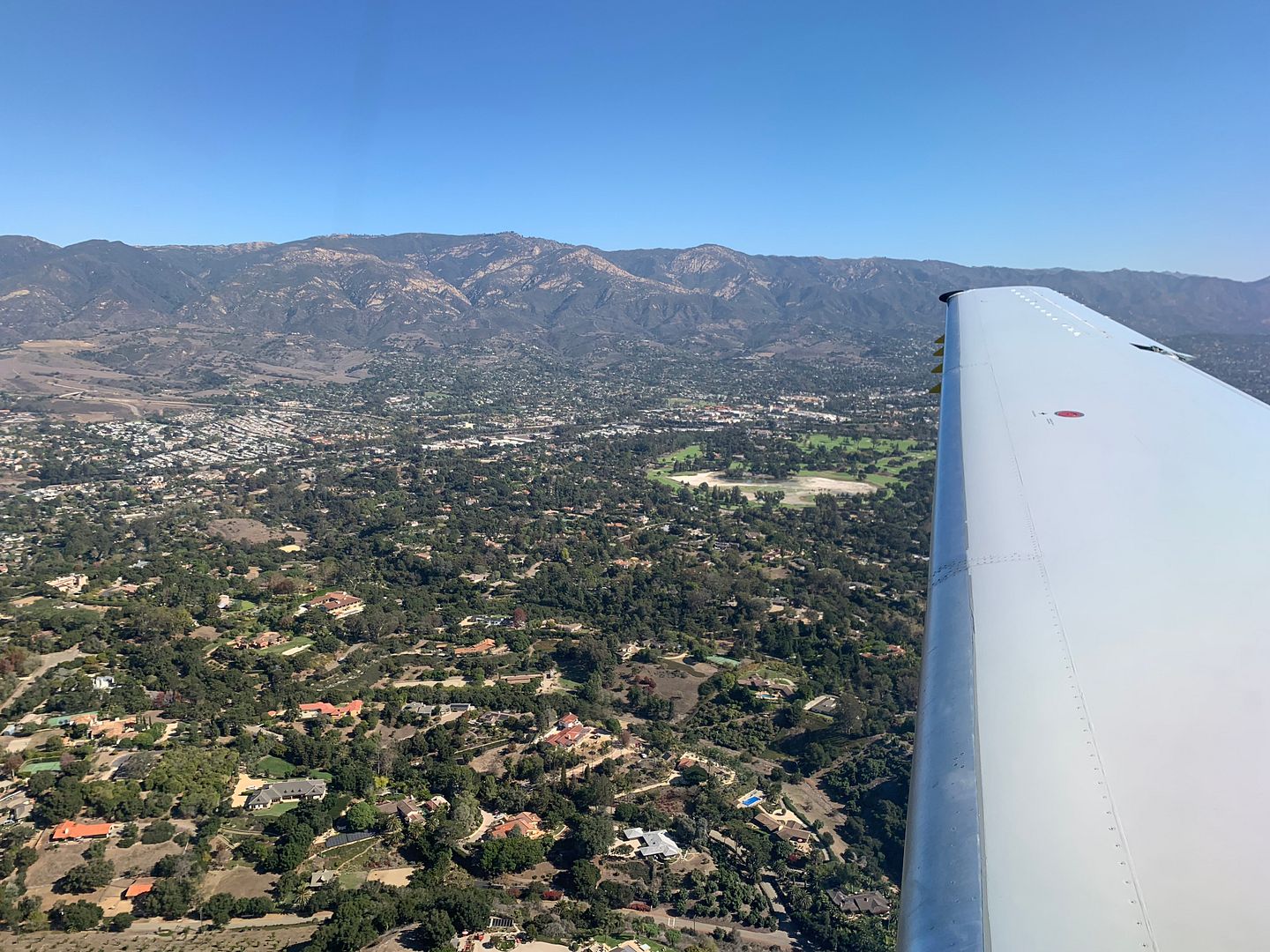 We landed on R/W25 at 10:51am.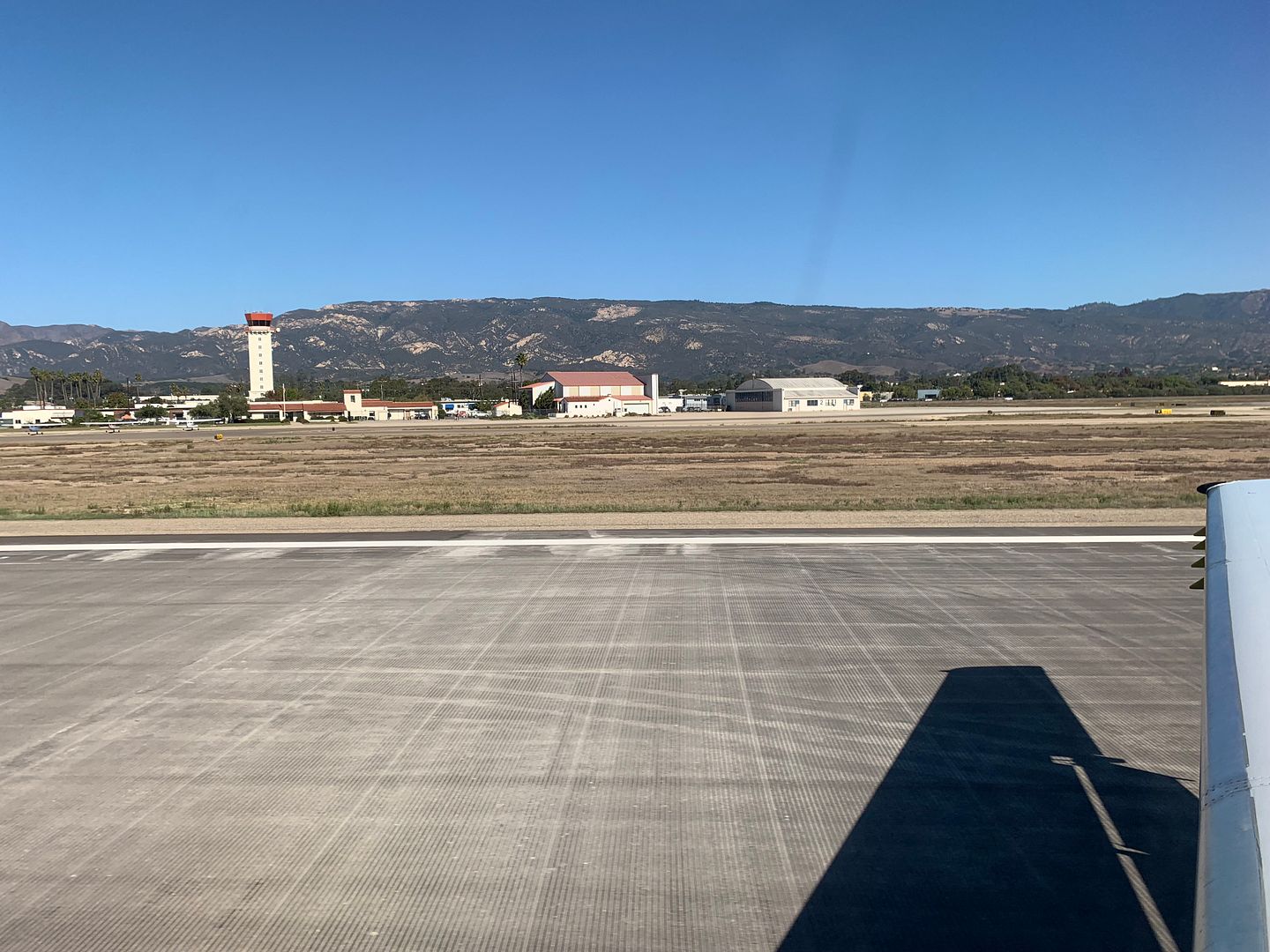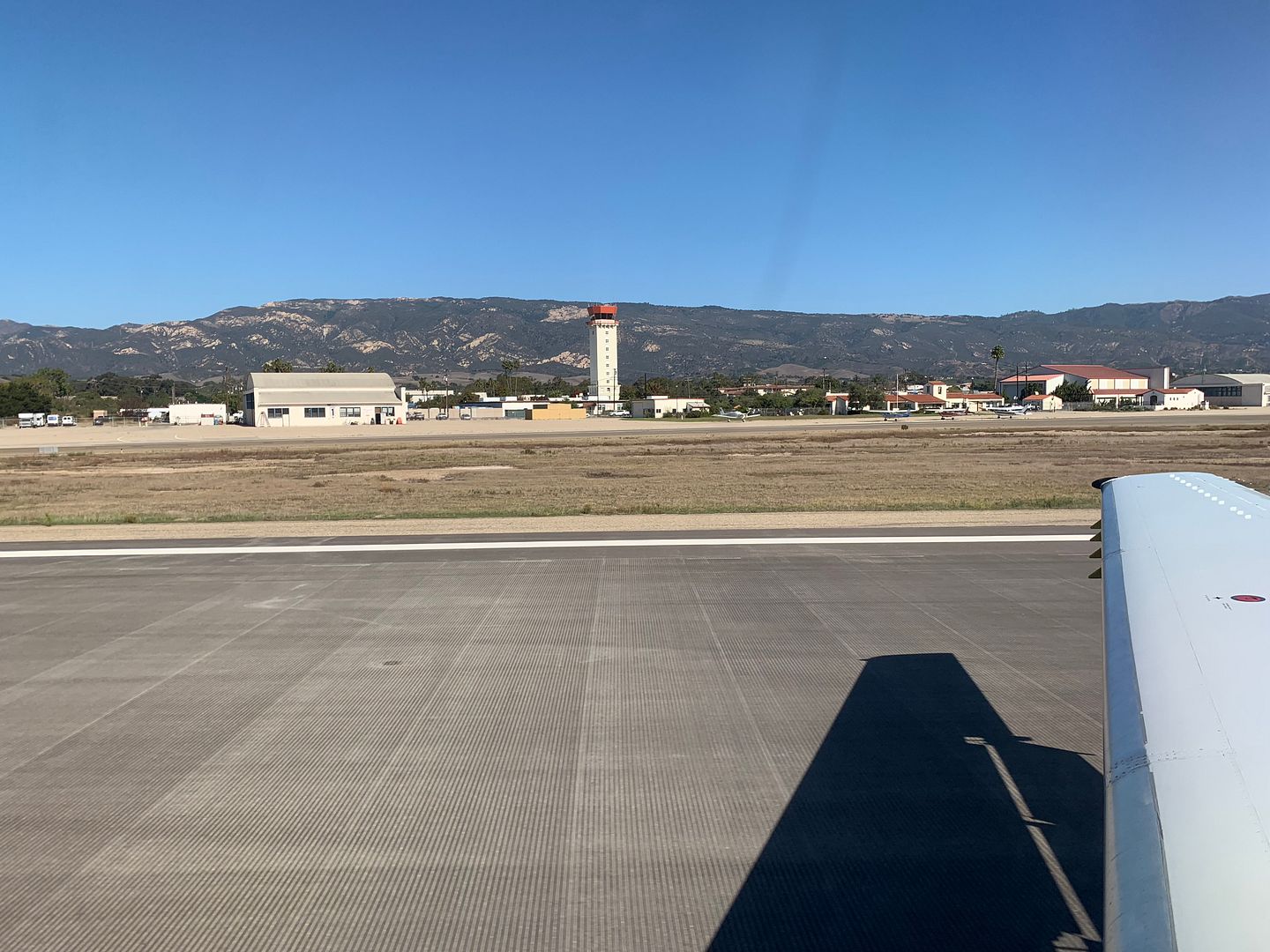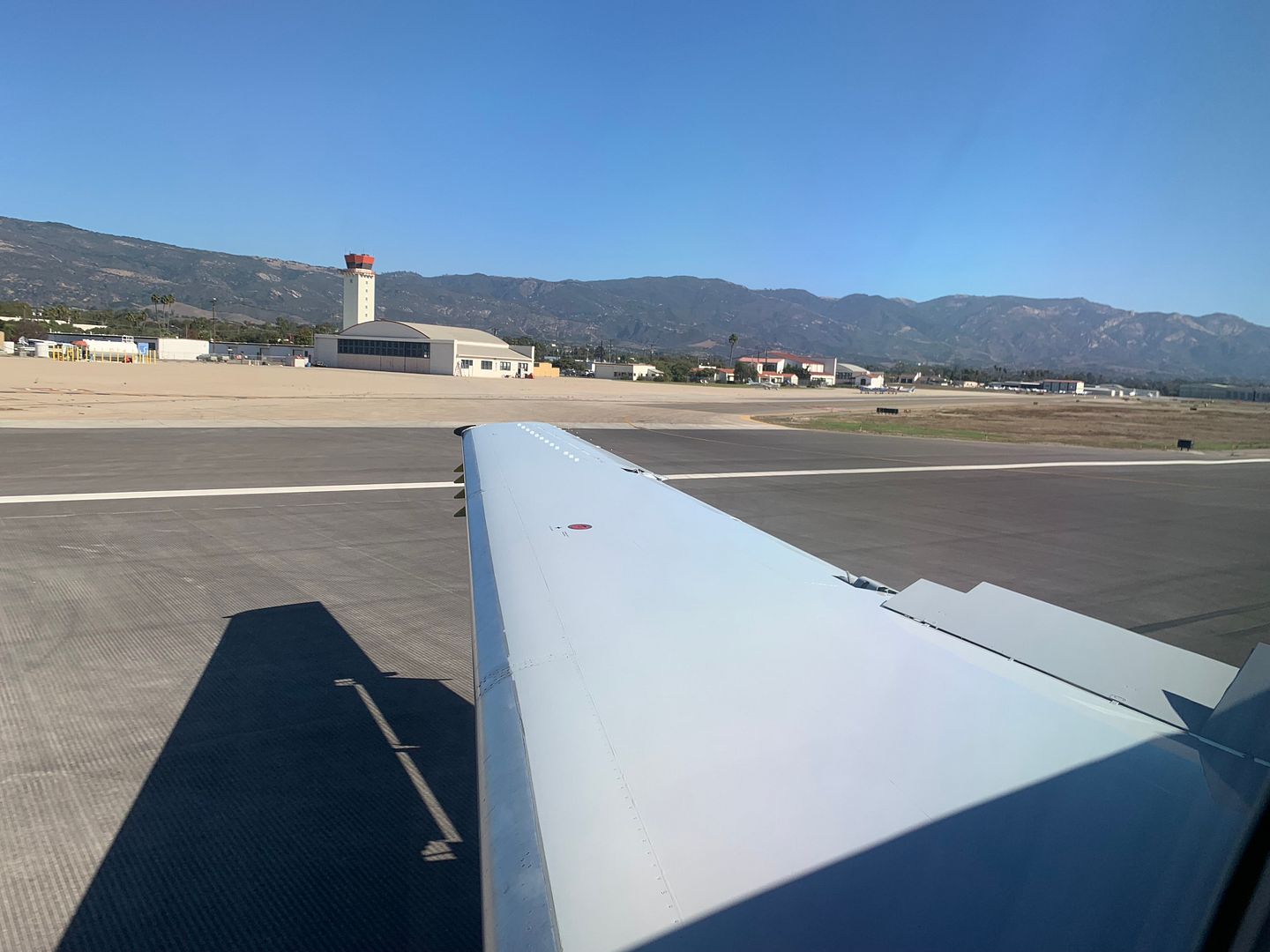 We got a real gate for this flight, as we parked at Gate 2 at 10:57am. It took a while for them to attach the jet bridge to the plane, but since we were early, nobody was in a rush.
Once arrived, we got welcomed by local airport staffs with a gift bag.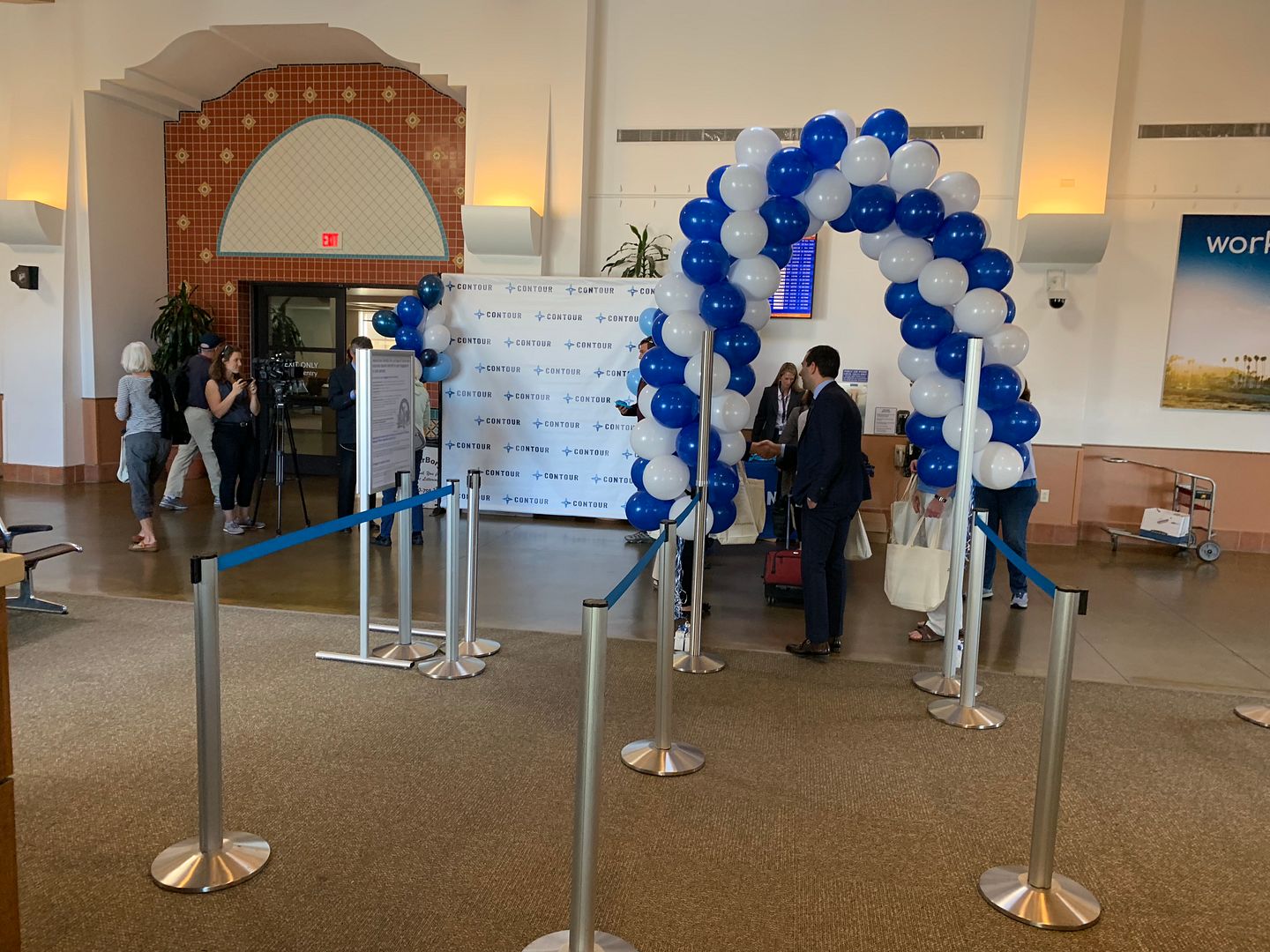 There was a small continental breakfast spread featuring these beautiful contour-decorated blue donuts and bottled water, juice and coffee. There were some local media interviewing passengers.
I love these Contour-themed donuts!
Gift bag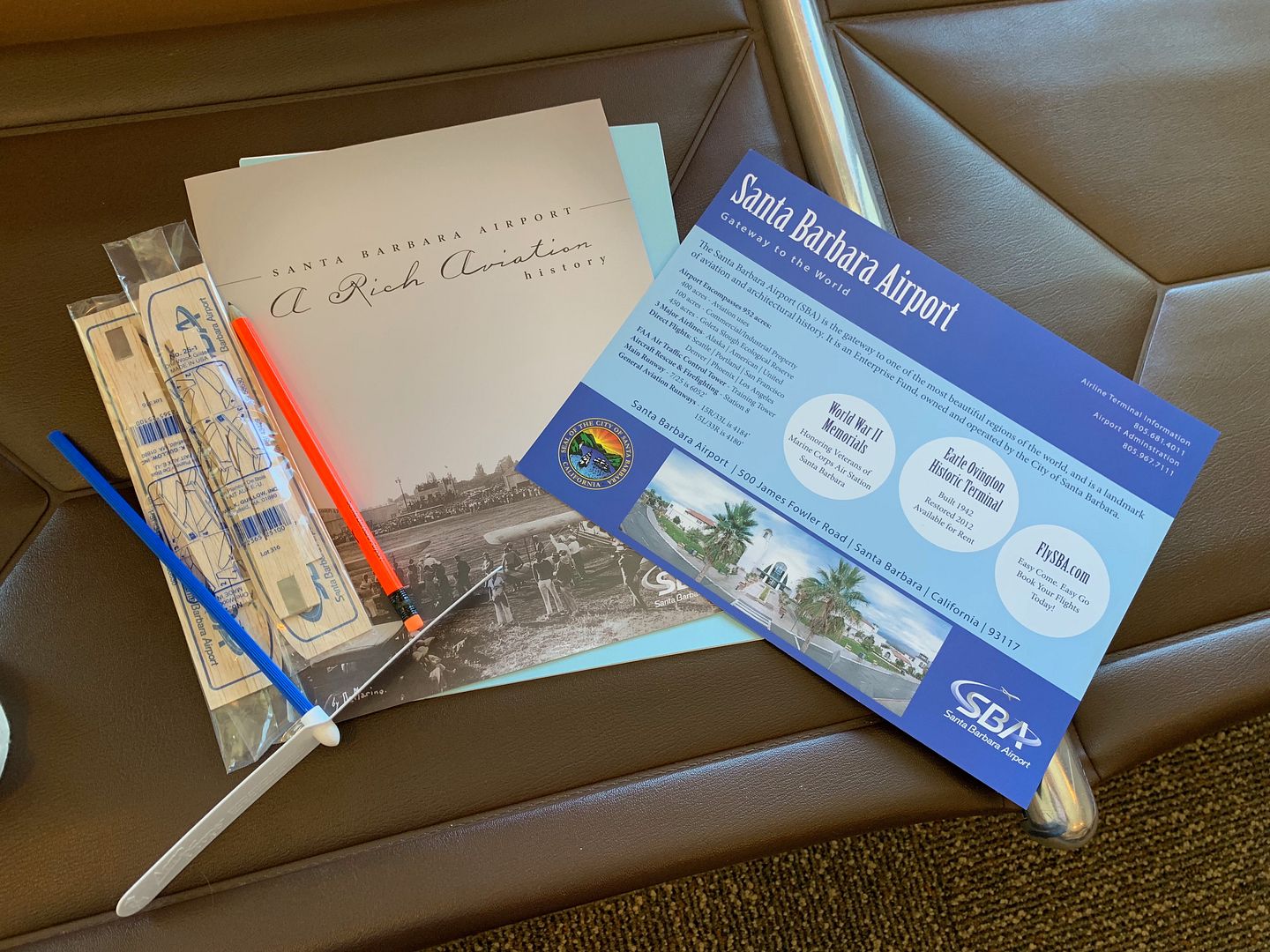 Contour Airlines' branded souvenir
Some plane-spotting notes here:
Frontier A320 heading to Denver (they had just resumed service to Santa Barbara and don't use those jet-bridge equipped gates)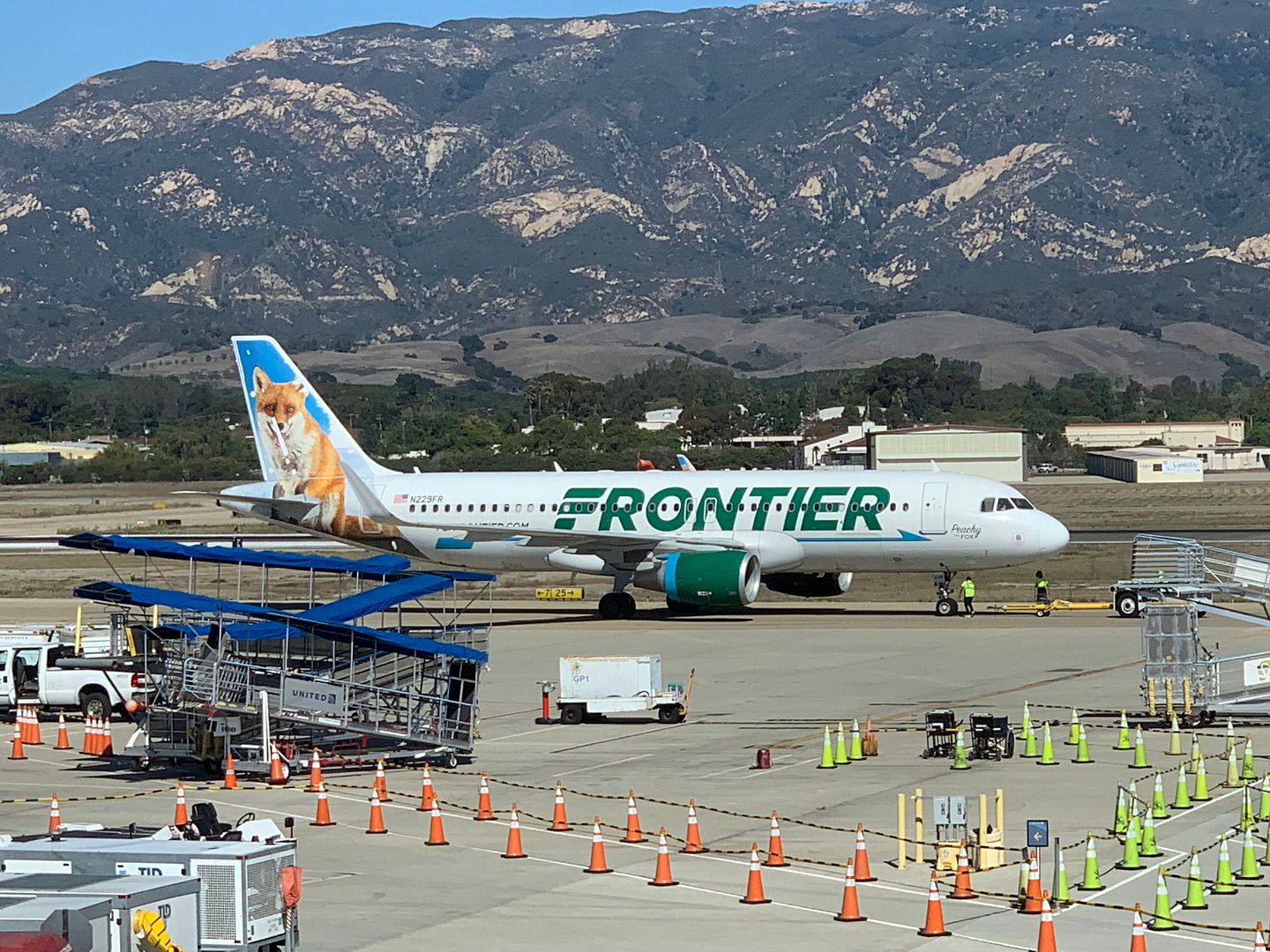 Our aircraft being towed to a nearby stand for the three hours rest in between flights, as other American Eagle and United Express flights use our gate.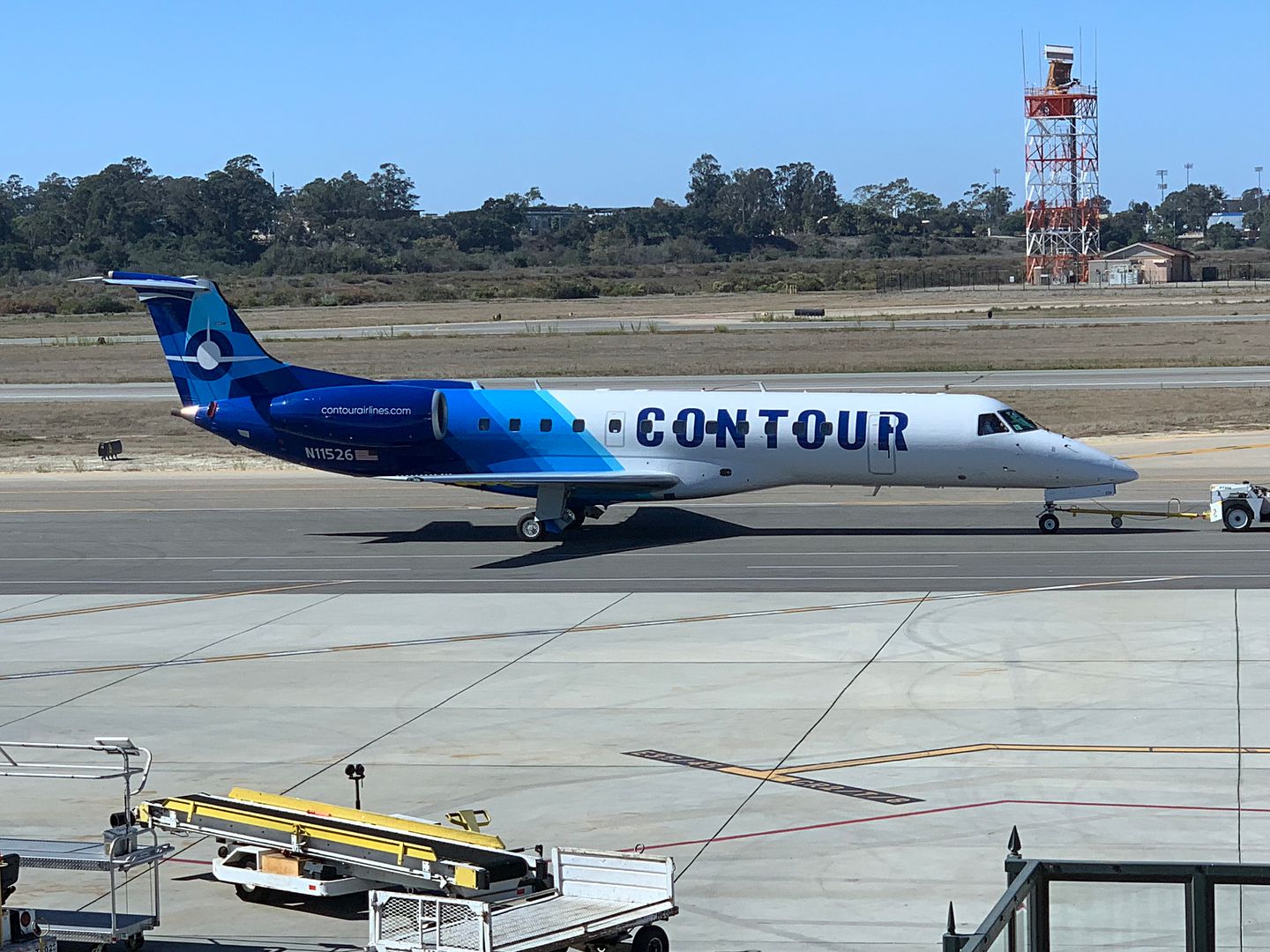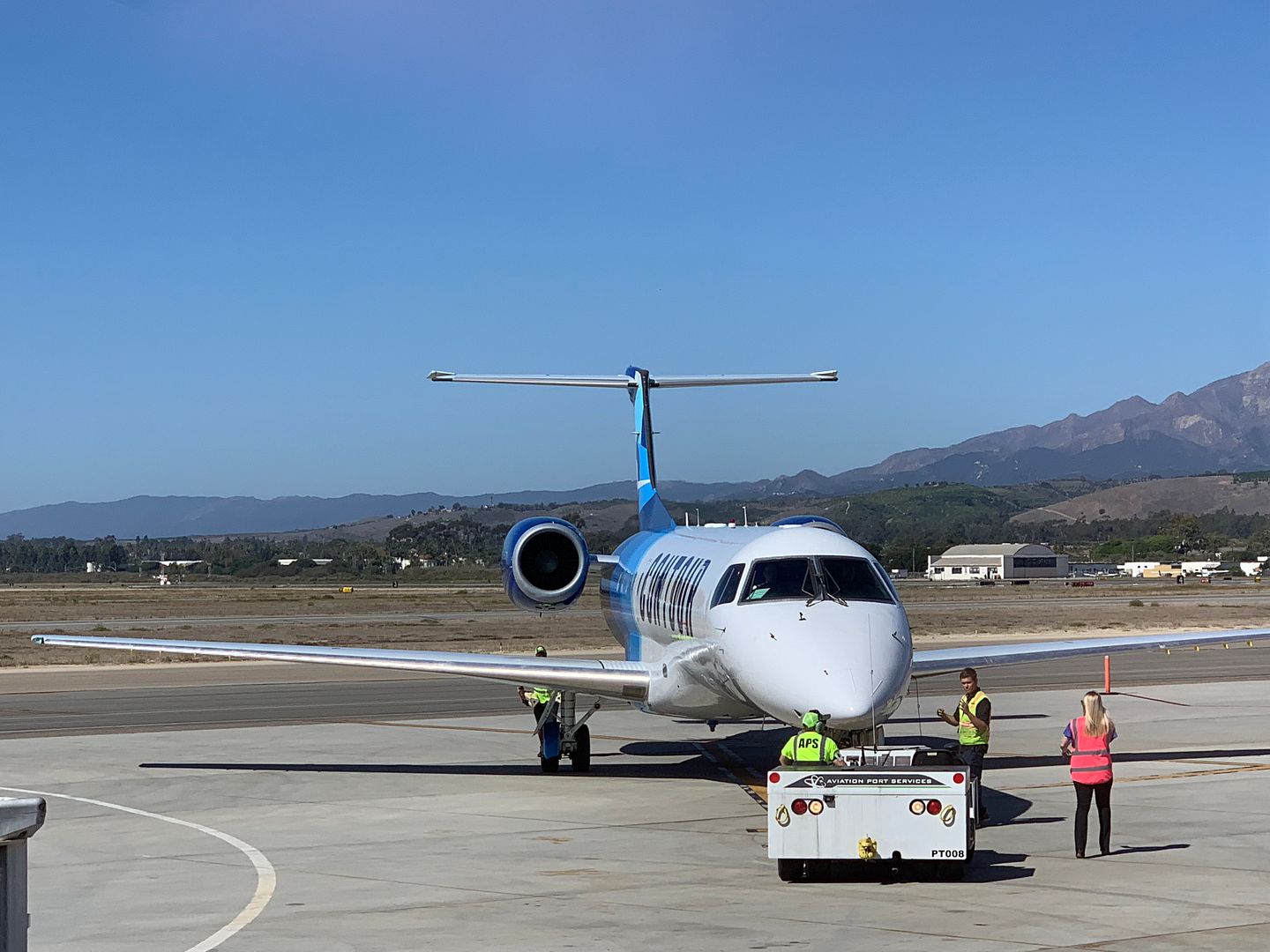 Santa Barbara Airport is quite a nice regional airport with a unique terminal building. It is a big more unique than your typical sterile looking airport terminal.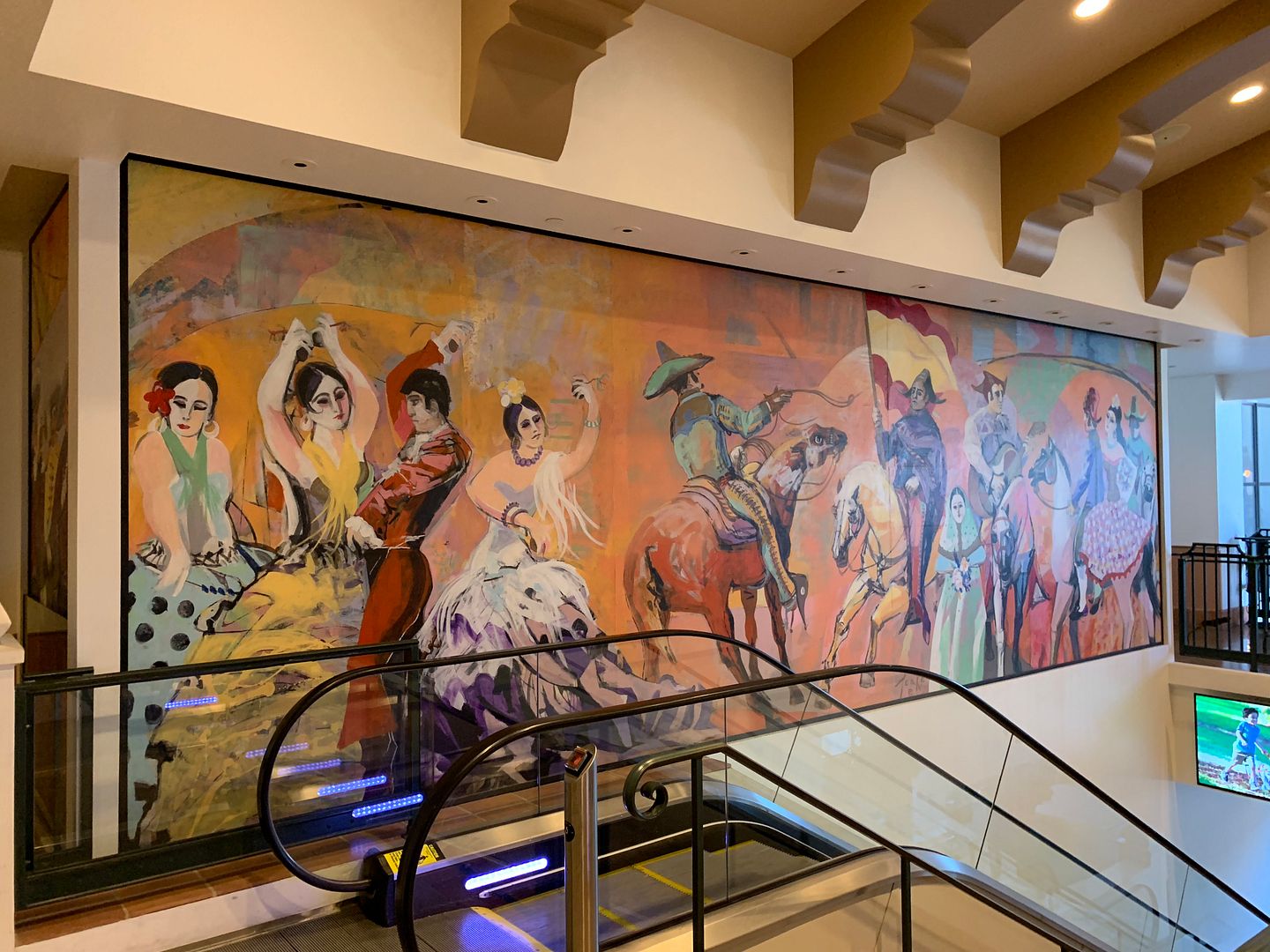 Entrance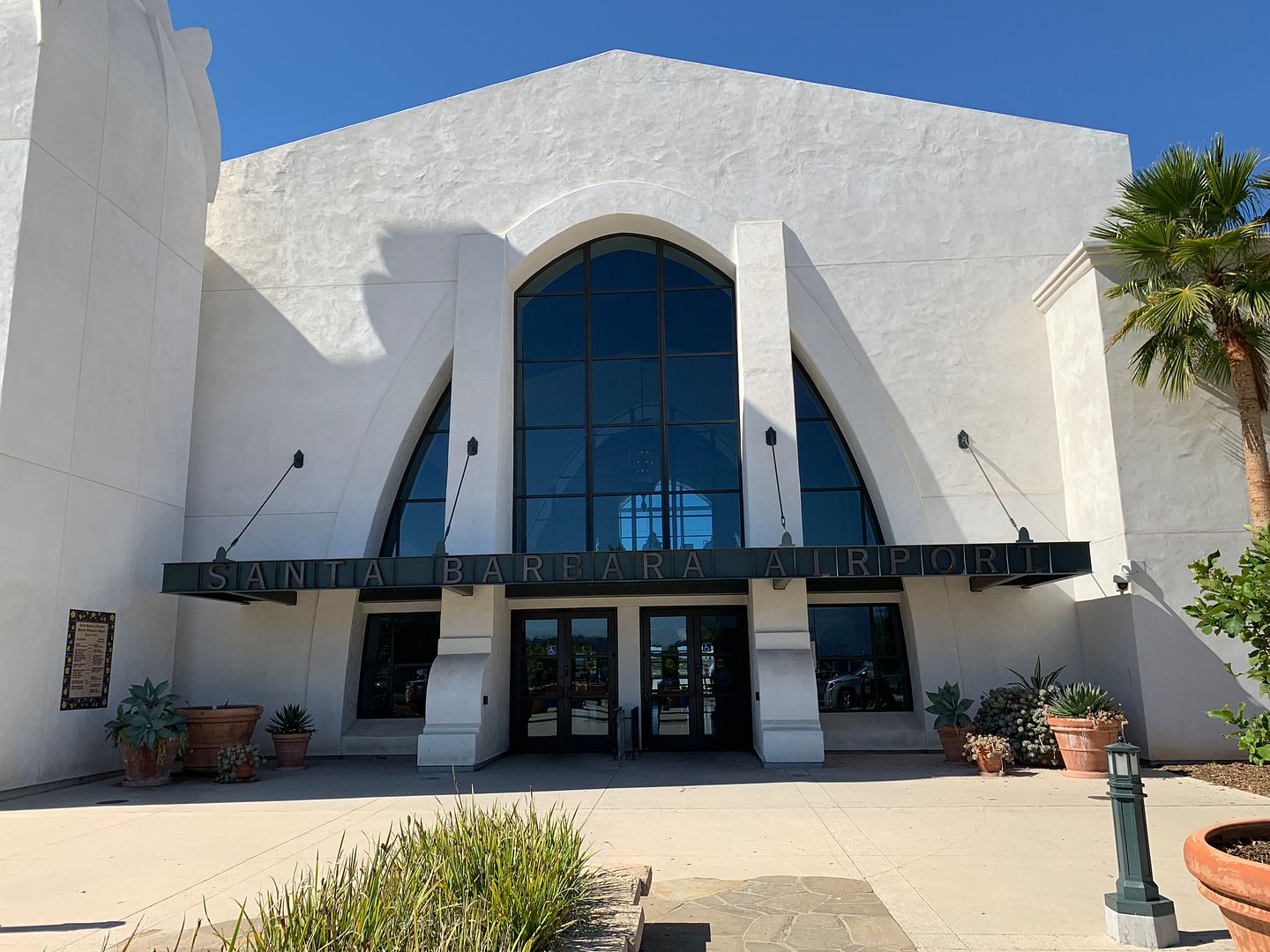 Beautiful flowers decorated the building
Contour Airlines check-in counter – all the way towards the end of the check in area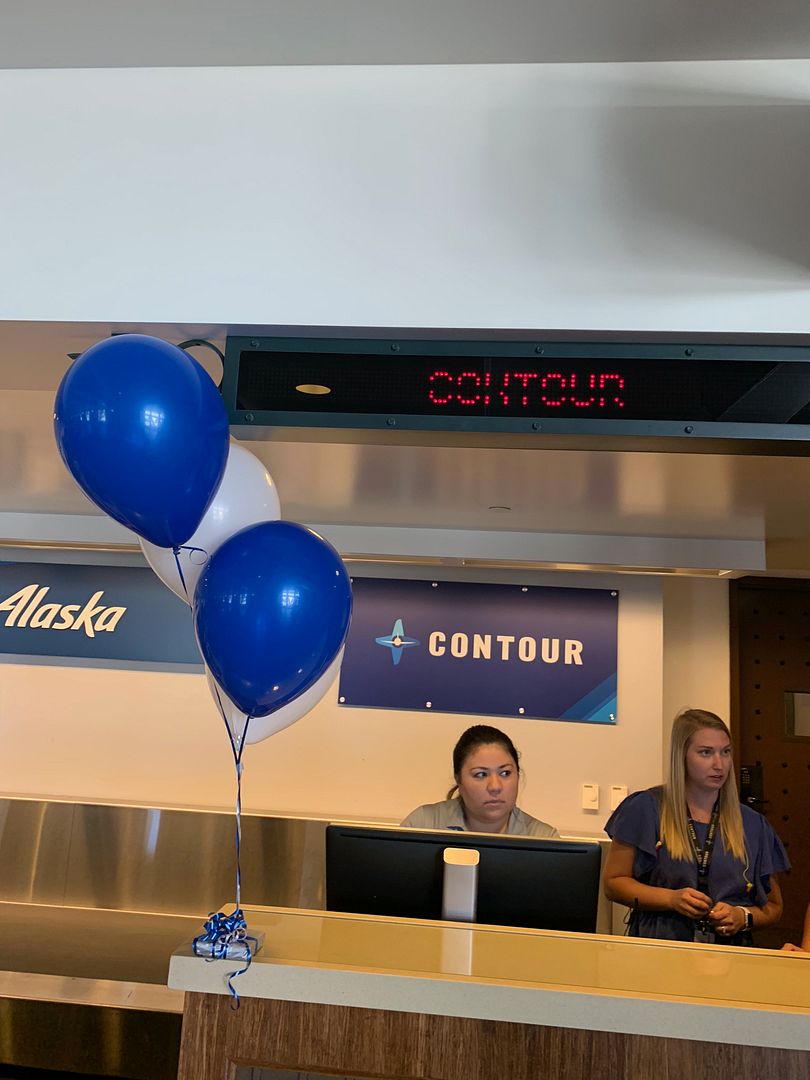 Sign celebrating the new flight
I headed to the downtown for an hour or so, since there was really nothing much going on at the airport. There was basically just one casual bar/eatery in both the public and restricted areas. The observation deck was cute but there was not much to see. Plus, it was very hot yesterday.