EVA Air's Boeing 787-9 Inaugural Trip Report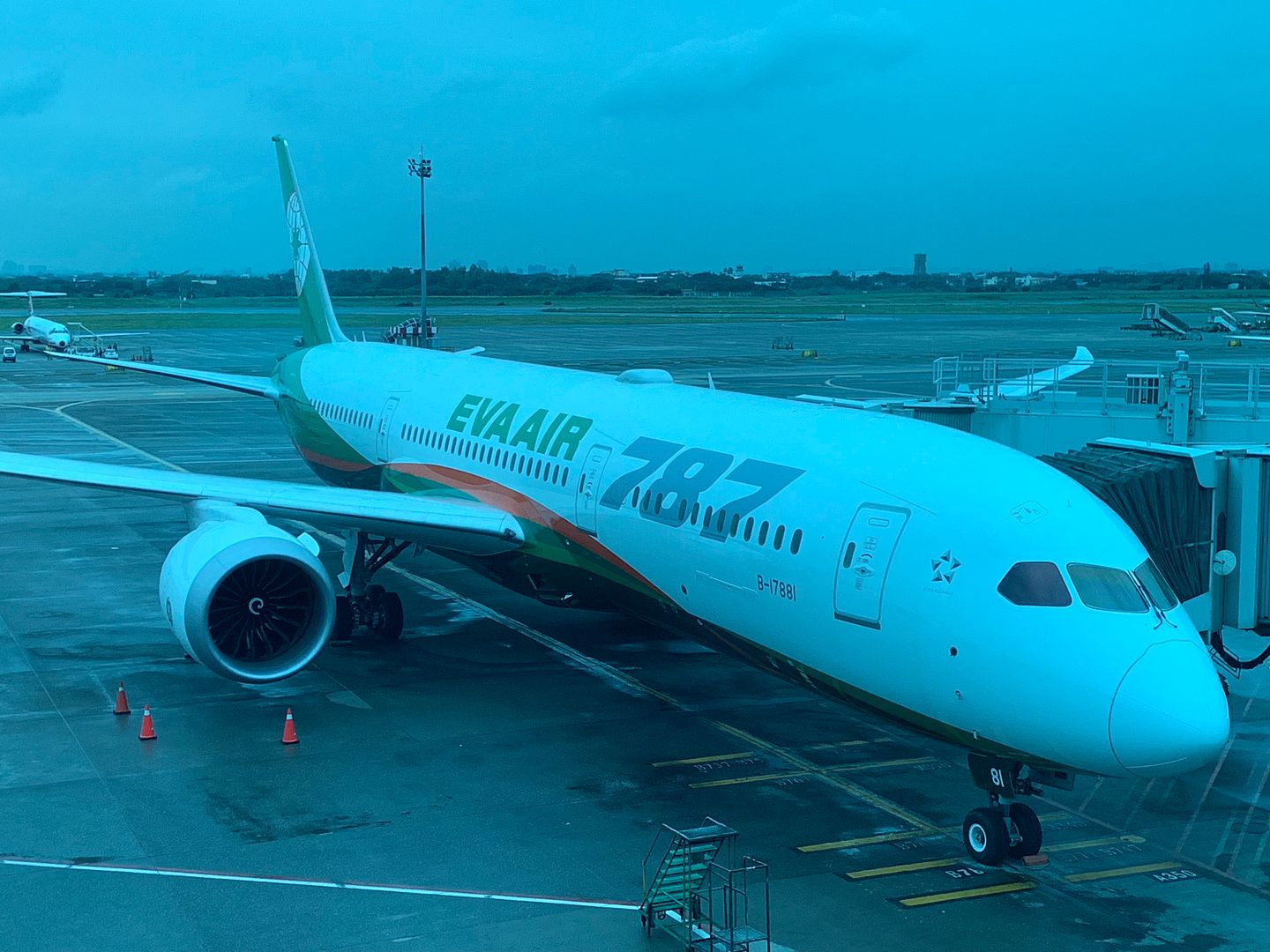 To give EVA Air's credits, these BMW designed Royal Laurel/Business Class seats are excellent and innovative. I really think BR has just become one of the top Asian airlines that offers a good business class product. Now if they work on their lounges, especially those awful ones at its base, Taoyuan Airport, that resembles a tired-looking night club, and can easily overtake Singapore Airlines. The seats are fantastic. The décor of the cabin is good. I love the "smile" slogan, as the curve of the 787 wing resembles a smile. The flight attendants are friendly and polish. I actually did not plan to attend this Dreamliner's inaugural, as EVA Air really has not released any schedule due to the licensing delay. I just happened to be Taipei on November 1 for the StarFlyer's inaugural a few days earlier (and the report is coming soon). I just cancelled my much cheaper Hong Kong Airlines' ticket and got one of the last two business class seats in the cabin. Thankfully EVA Air finally released two bulkhead window seats 48 hours prior to departure! Fortunately, I got 1K.
November 1, 2018
BR 867 TPE-HKG Lv1010 Arr1210 Boeing 787-9 B-17881
Full Album Link:
http://s1213.photobucket.com/user/Carfi ... 9Inaugural
A gloomy day at TPE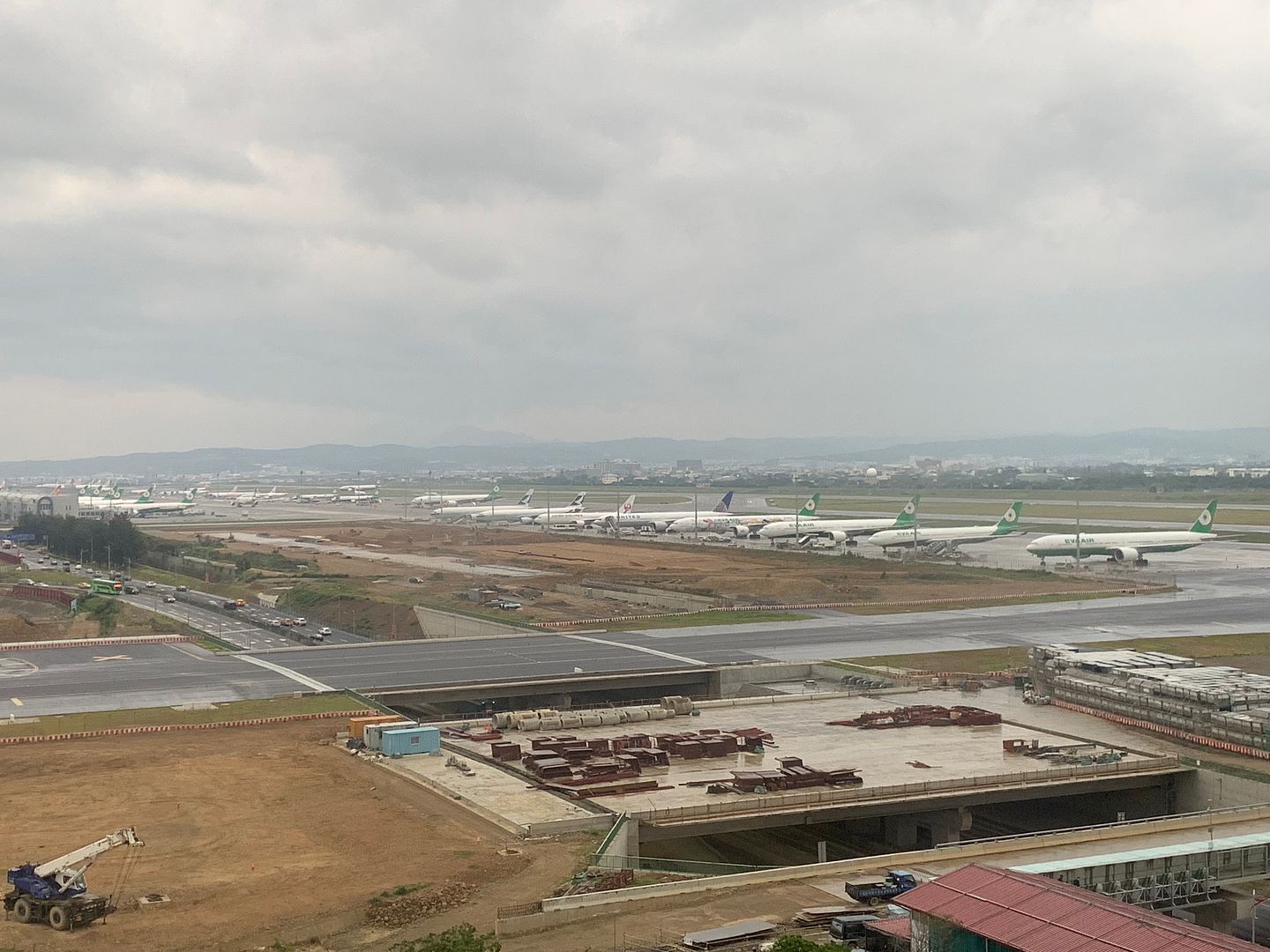 I arrived at Taoyuan Airport about two hours prior to departure and the airport was quite a mess as usual because of the morning rush. Check in was fine, as the priority check in lines were well staffed and even the baggage handlers helped with my bags. The security line was long, but at least it was moving along. I can use the e-channel so it made the process relatively easy. I did not go to the lounge because I am not a fan of it. Plus, I have a three hours layover the following day on my flight back to the US, so don't miss "the Infinity" much.
Gate C6
B-17881 was already parked at gate C6 when I arrived around 8:15am. There were many enthusiasts and I got a few early shots of this beauty. Unfortunately, the windows at TPE were tinted.
Love the Proud 787 logo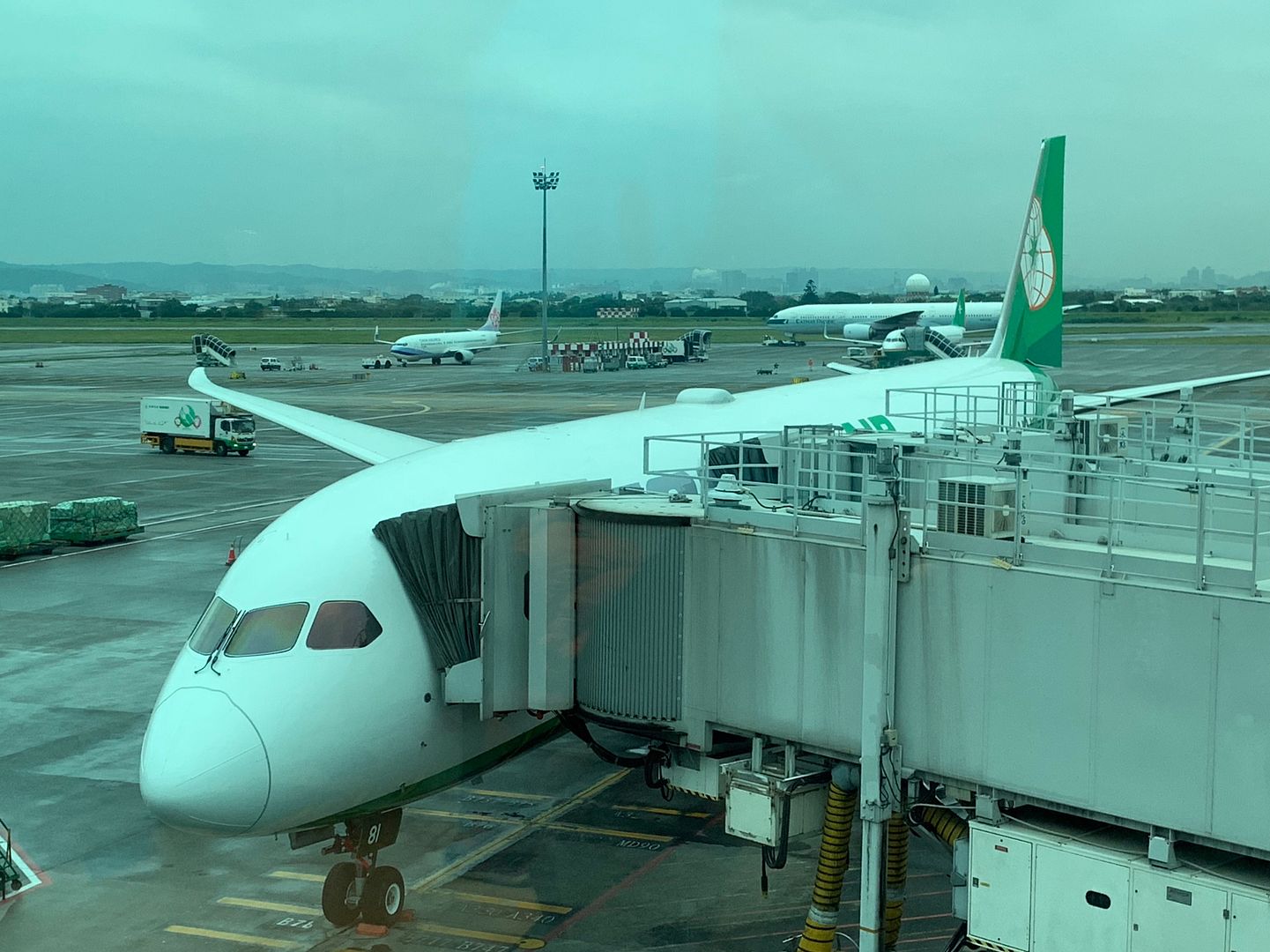 Since they need some time to set up a stage in the gate area, they opened the gate area a bit later than usual. Once the door was opened, everybody was glued to the window!
A better angle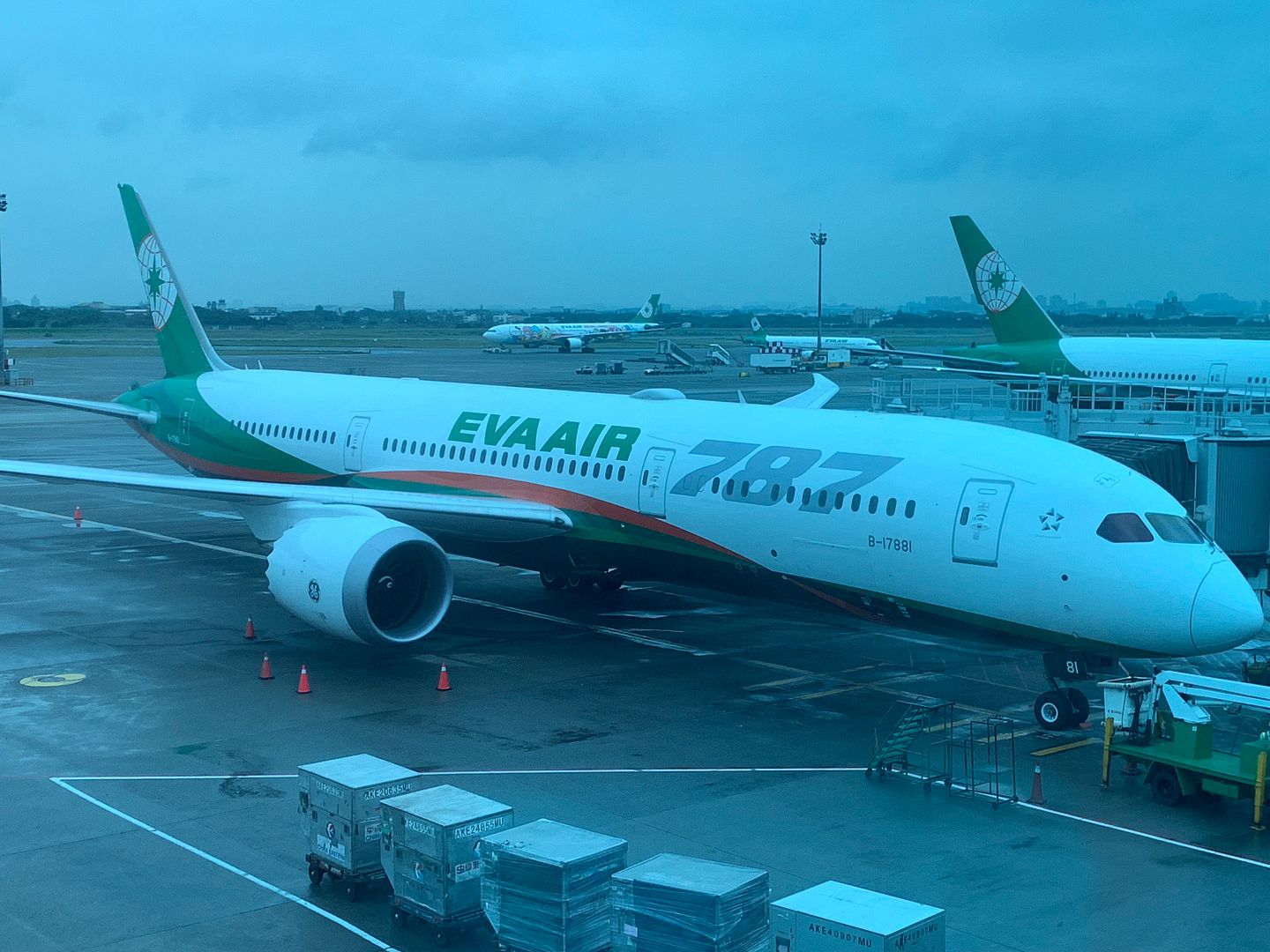 From the lower floor: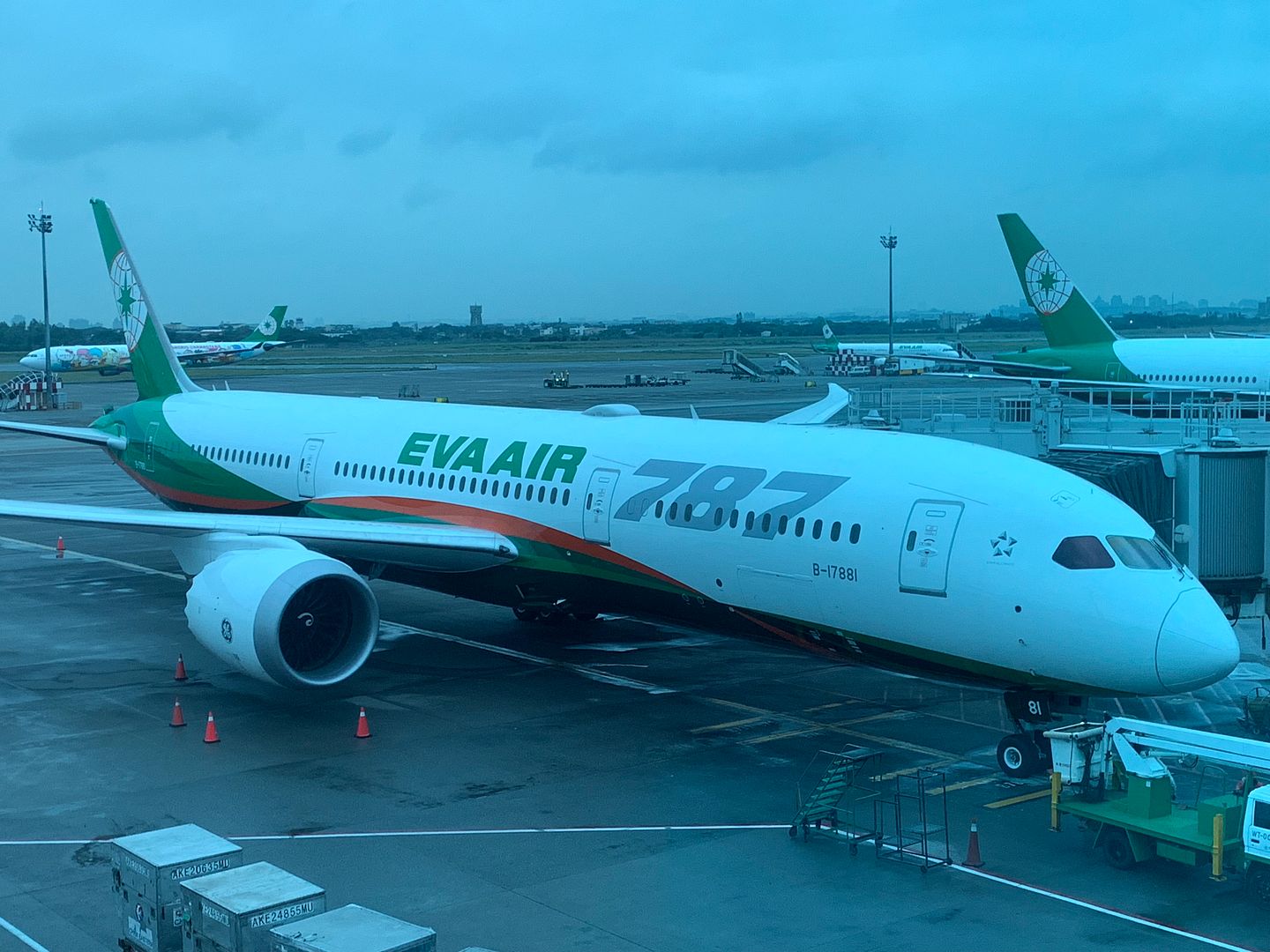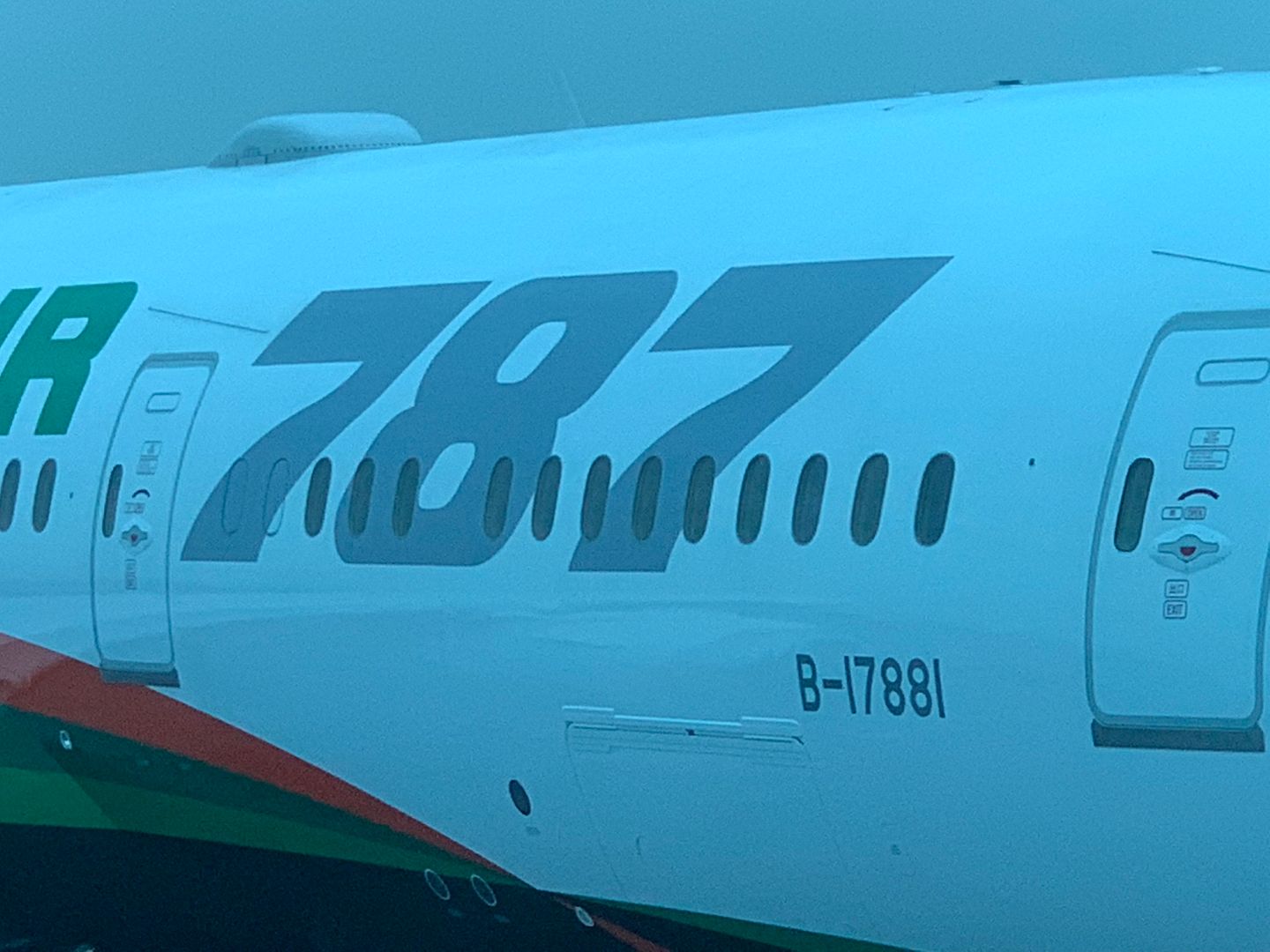 Since the curve of Dreamliner resembles a smile, EVA Air uses it to promote its 787. Given the time we are in, we can use more smiles. A main stage is set up with 787's curve.
I love this picture for obvious reasons.
According to EVA Air, they are going to digitize all the photos they took during this event (and obviously for everyone who gave BR the rights to use the photos) and put together a digital picture or portfolio. They will email every passenger with that souvenir.
Instragram Photo
Gate C6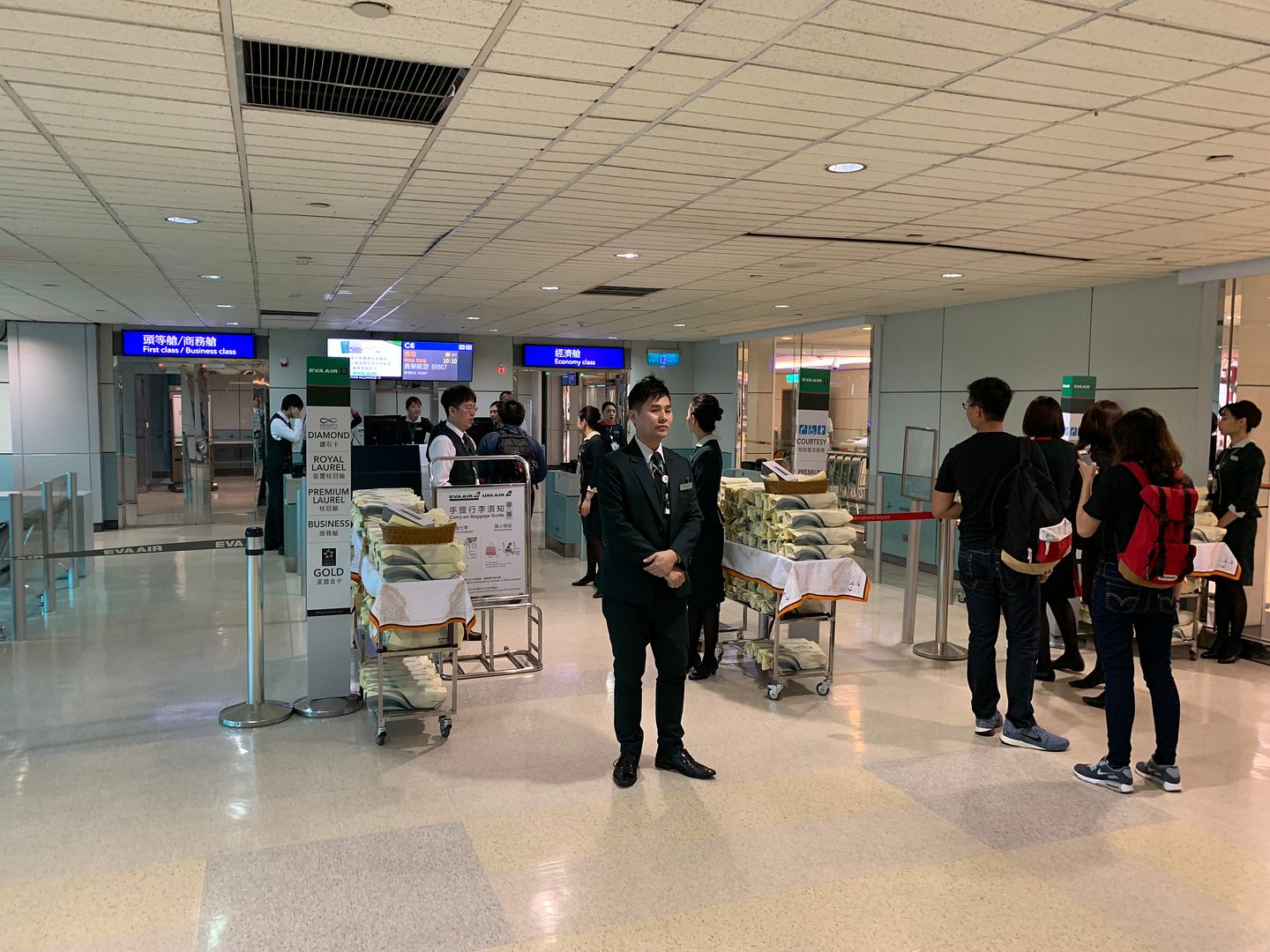 There was a more casual ceremony replacing the usual ribbon cutting ritual.
CEO/Chairman of EVA Air
Then all the honored guests joined Chairman Lin and took a few photos waving the slogans and "smiling"!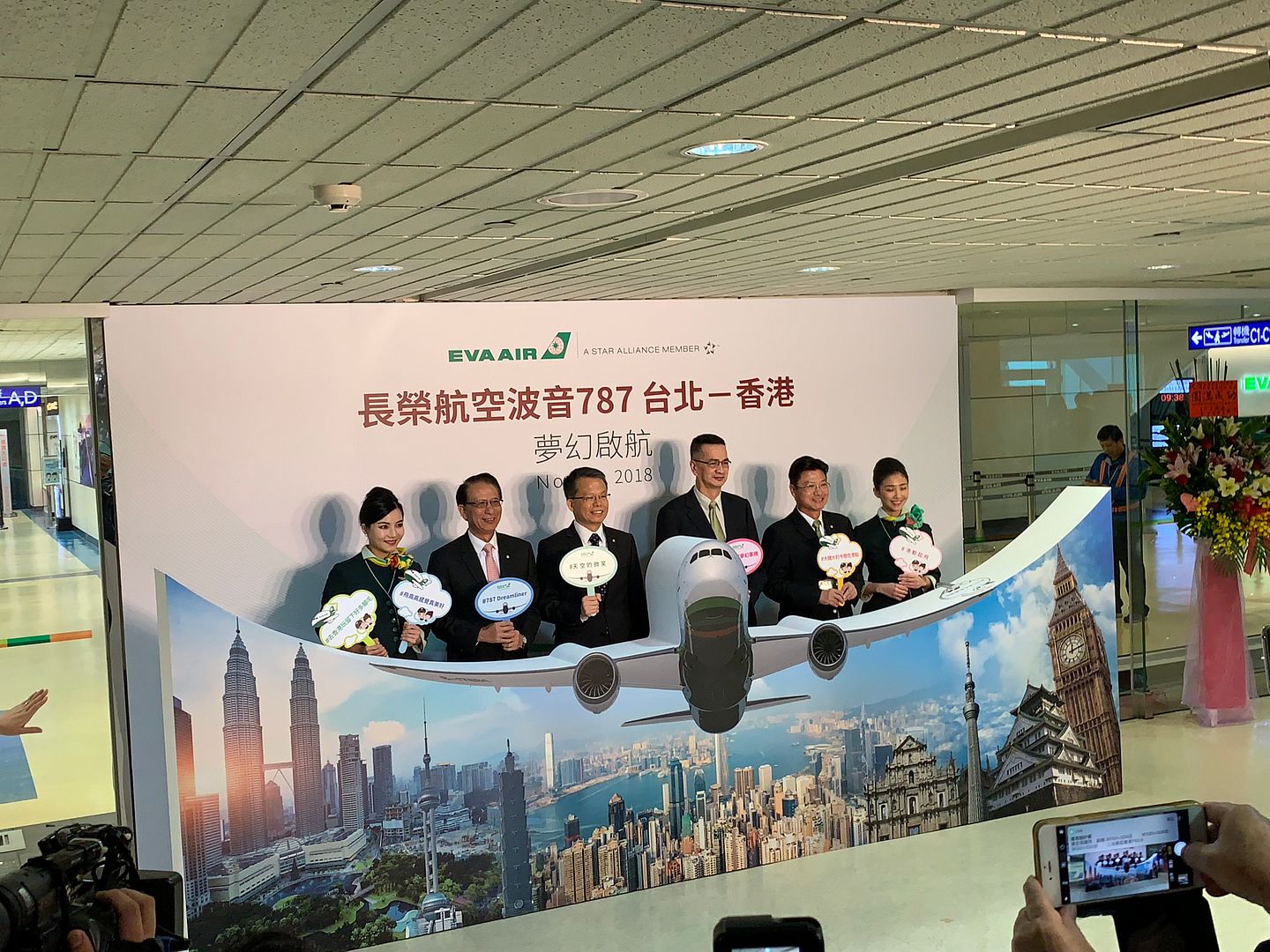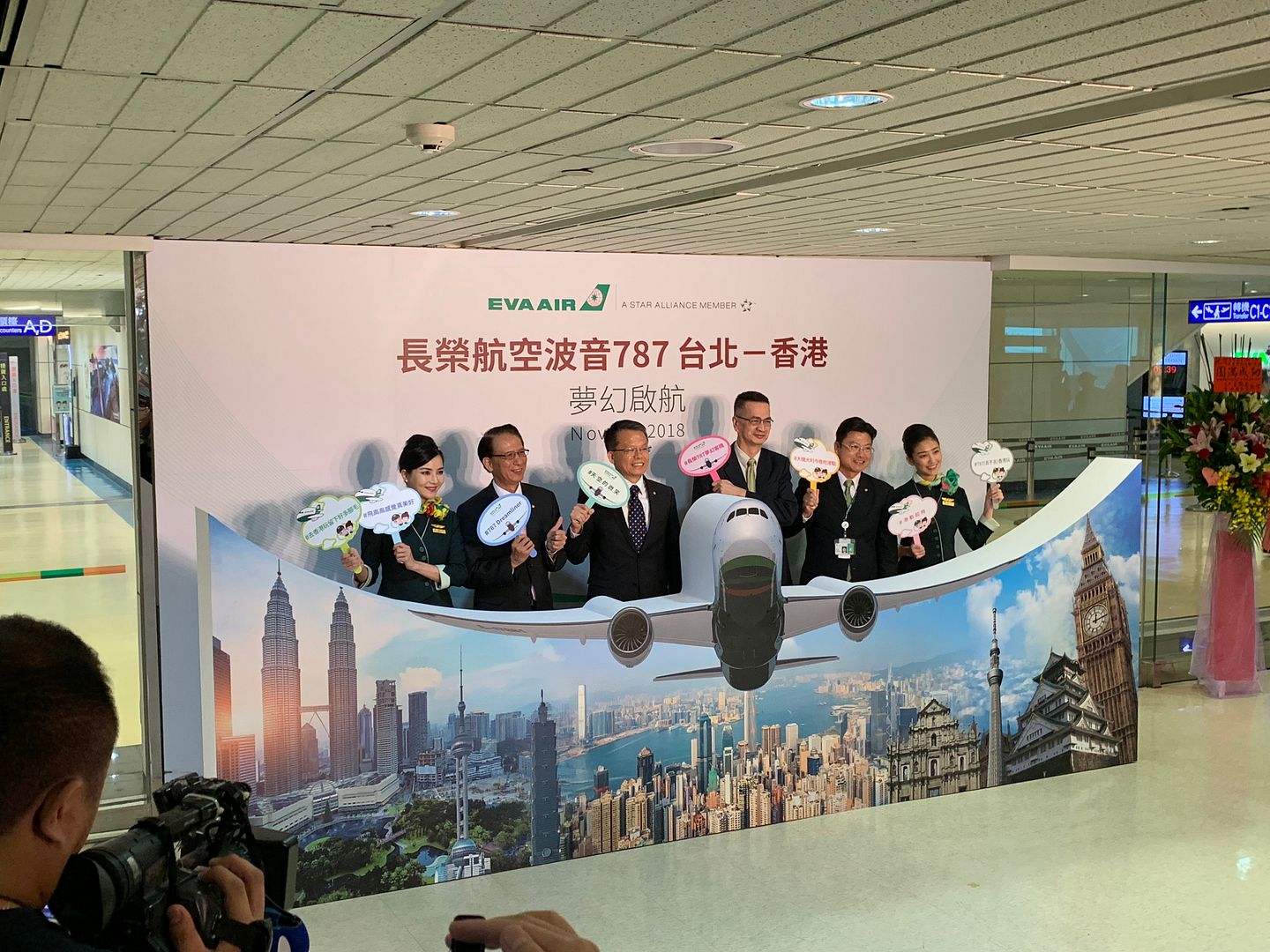 At 9:42am, boarding began and off duty flight attendants were handing out gift to every single passenger!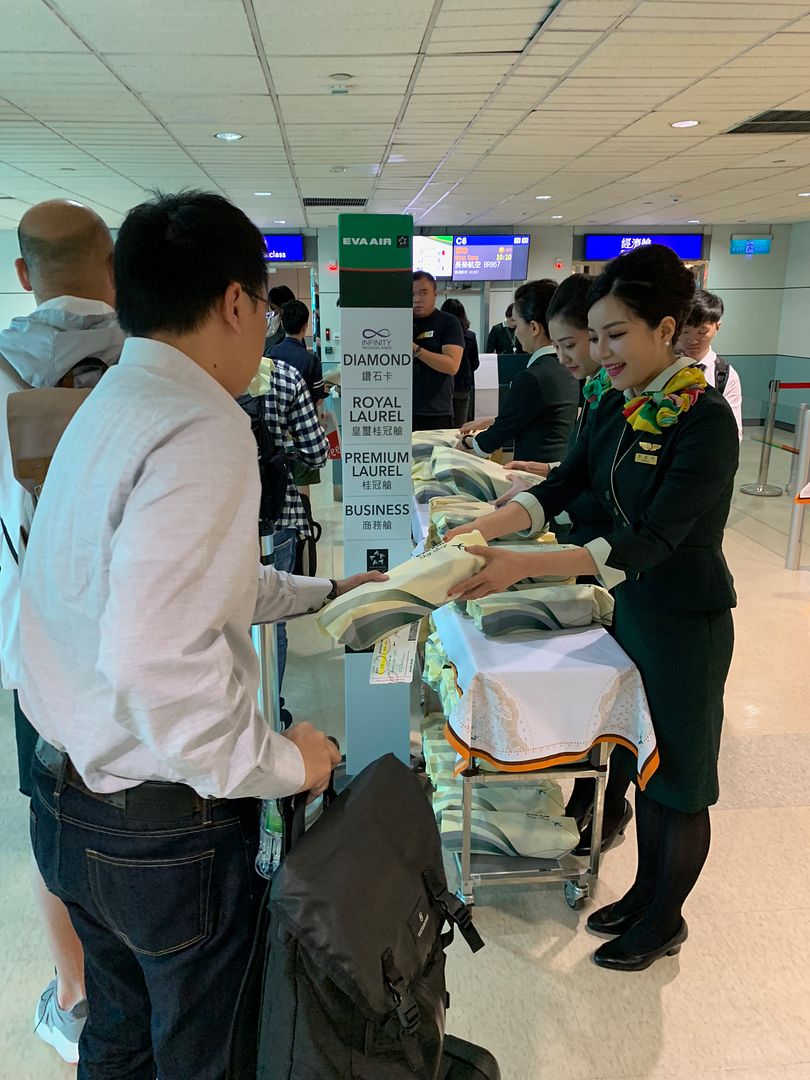 Inaugural gift – Stainless Steel Vacuum Bottle with the EVA Air 787 logo – very Asian type gift
The purser was greeting passenger at the door
Front galley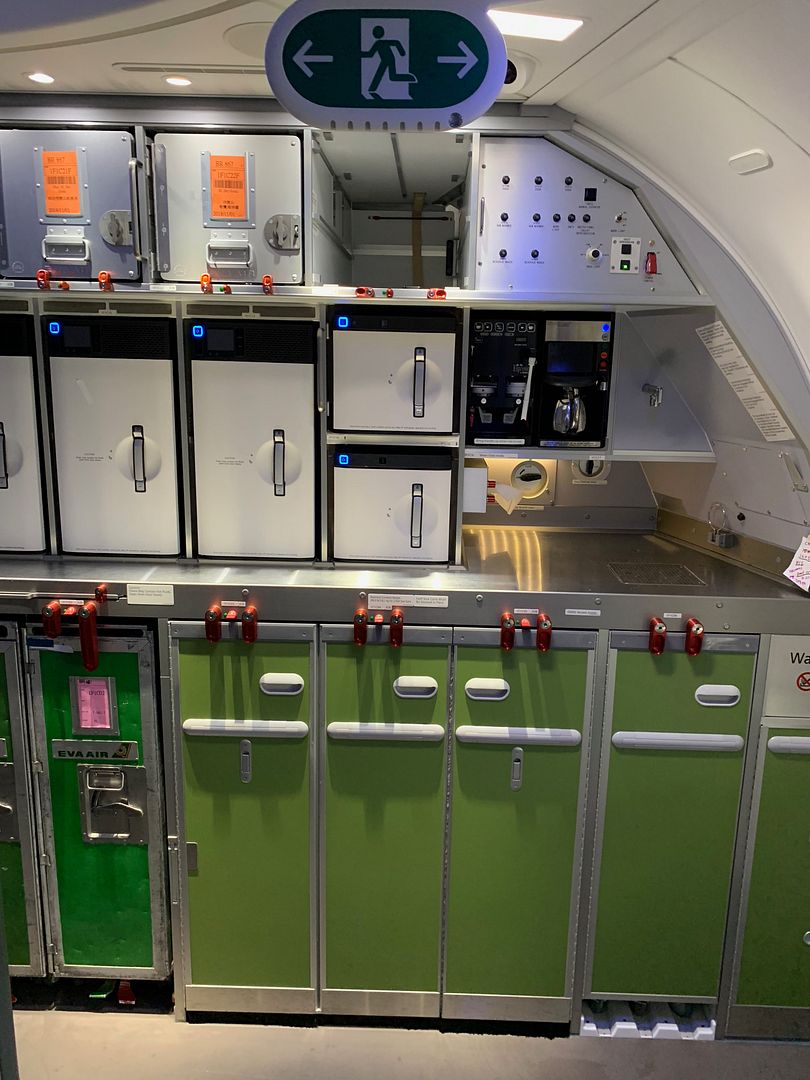 My seat 1K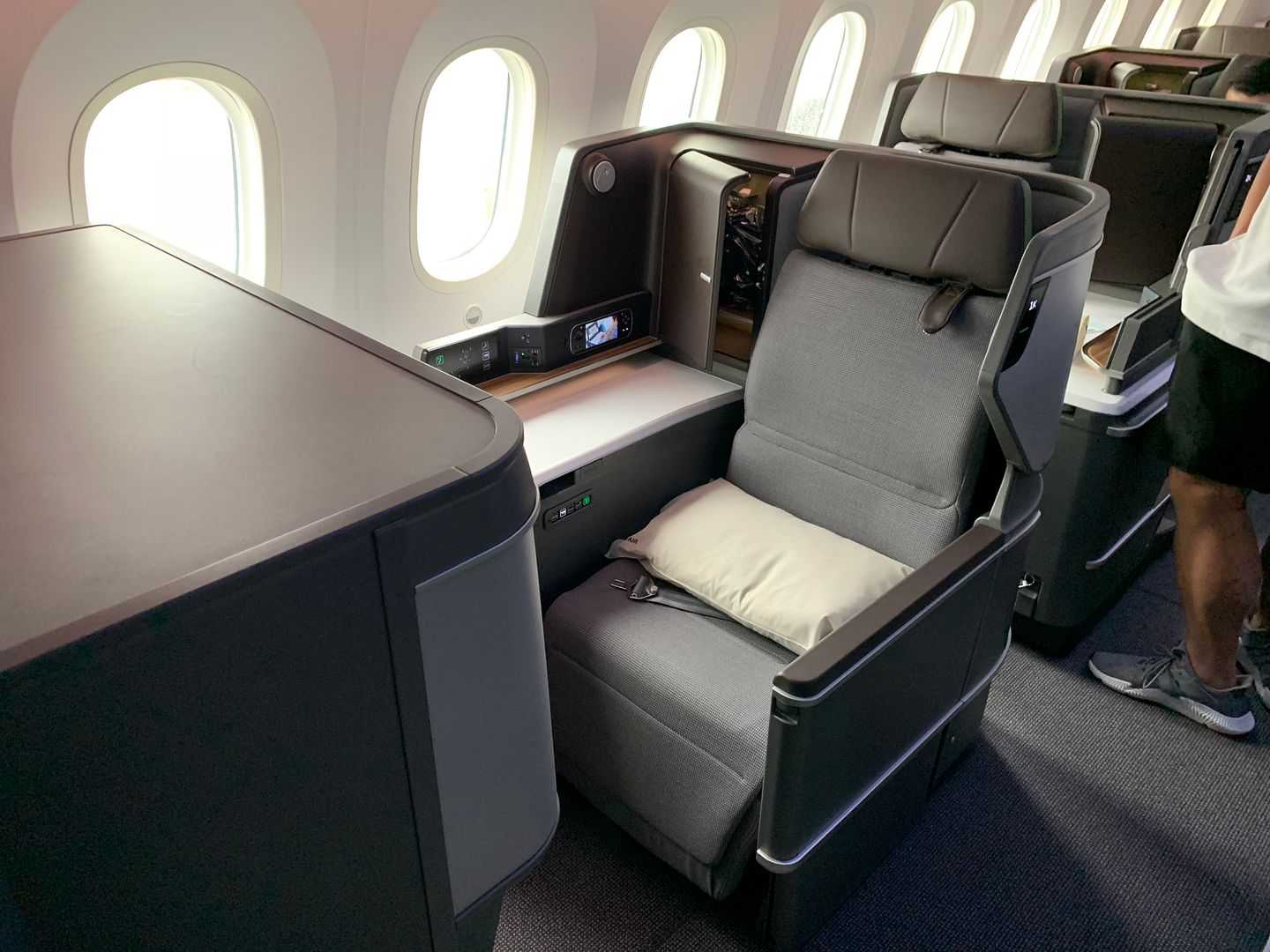 My cabin shot – very limited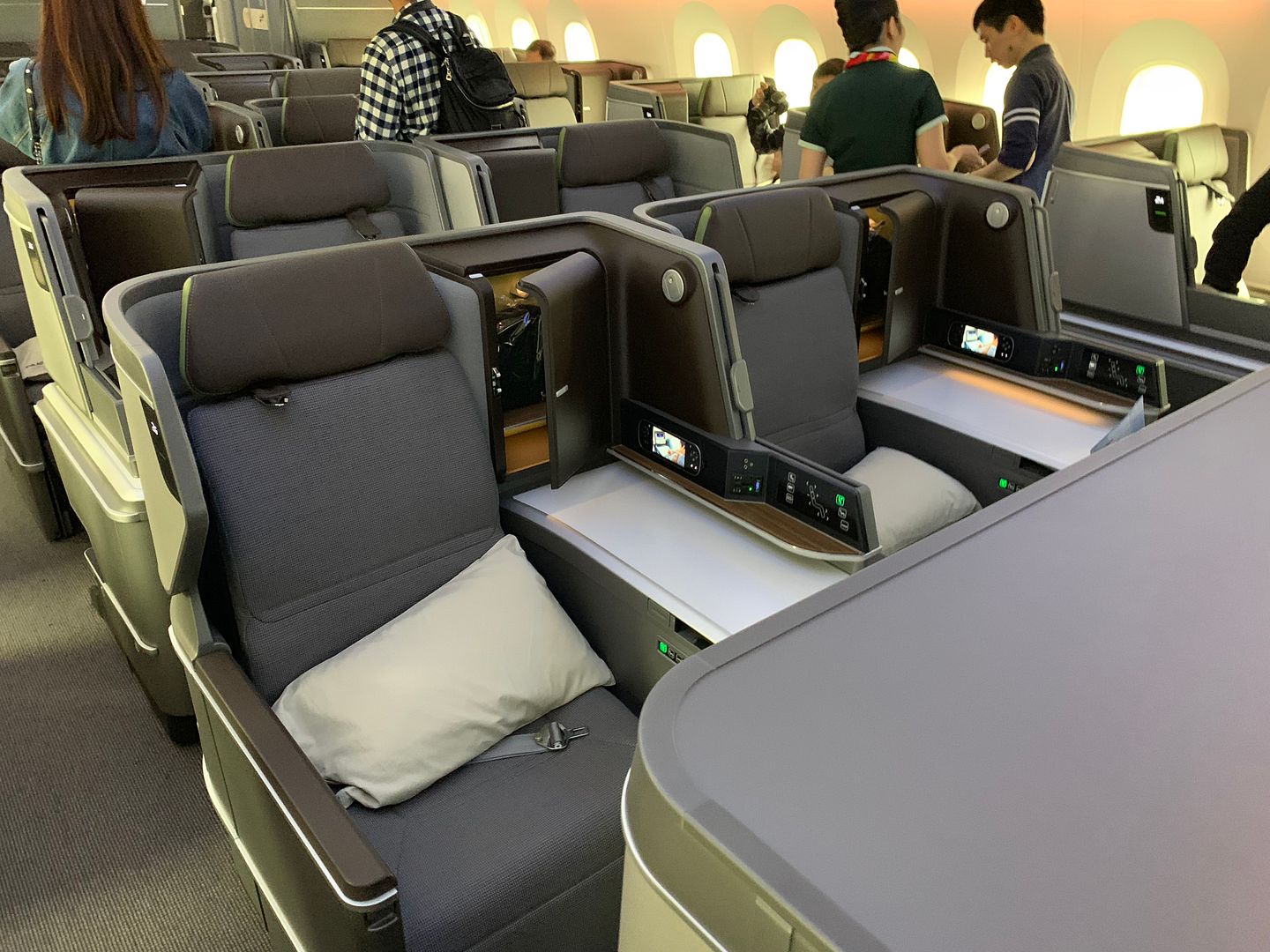 The cabin was very busy so I chose to look at this brand-new seat designed in conjunction with BMW. The seat itself is a Thompson Vantage XL seat, which is used by a few airlines, including Delta on its new A350s, but EVA Air customizes the seat with the help of BMW.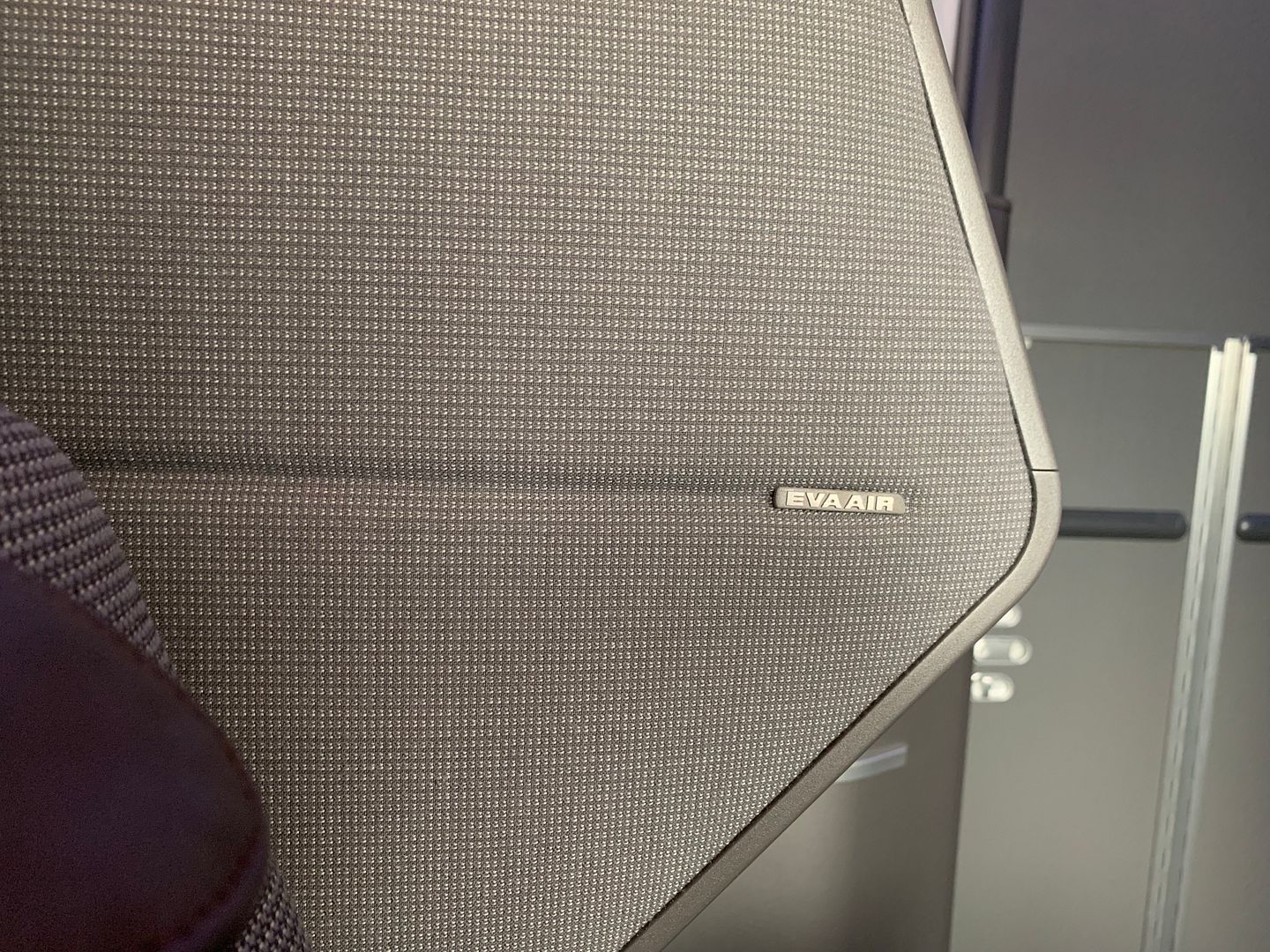 Side drawer – where EVA Air pre-places the headsets and there is a lower open drawer place that you can put small electronic items like cell phones or power chargers too.
Side lamp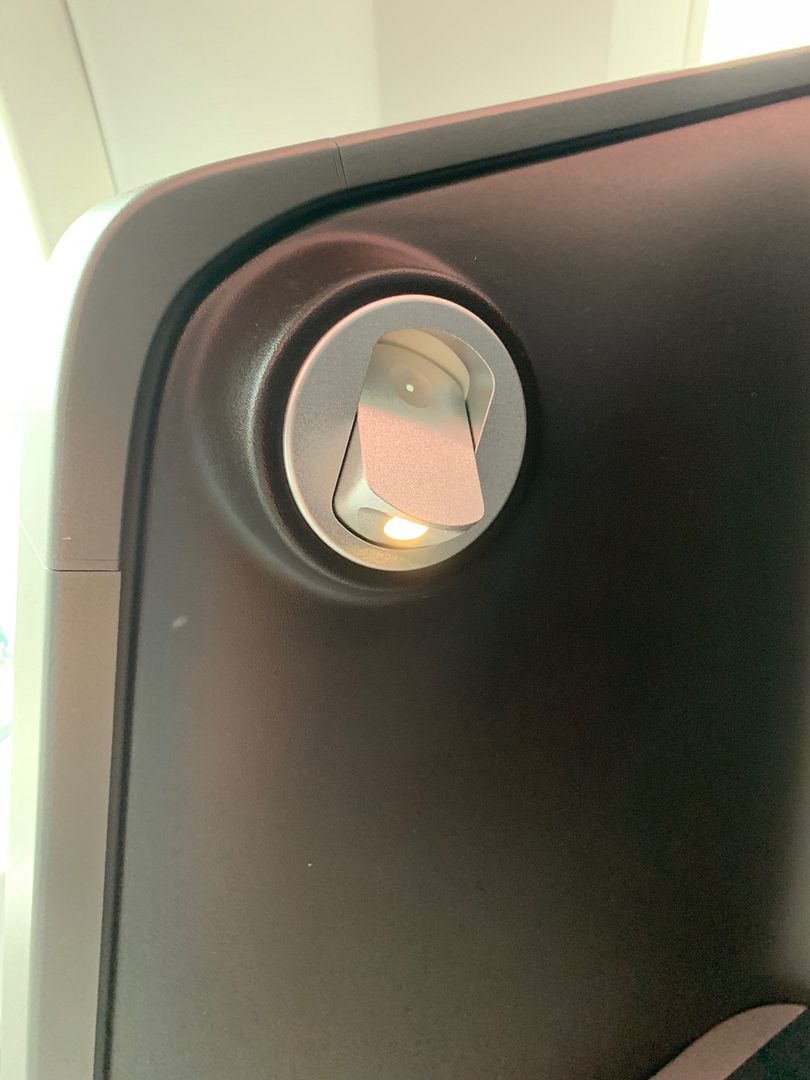 Entertainment control console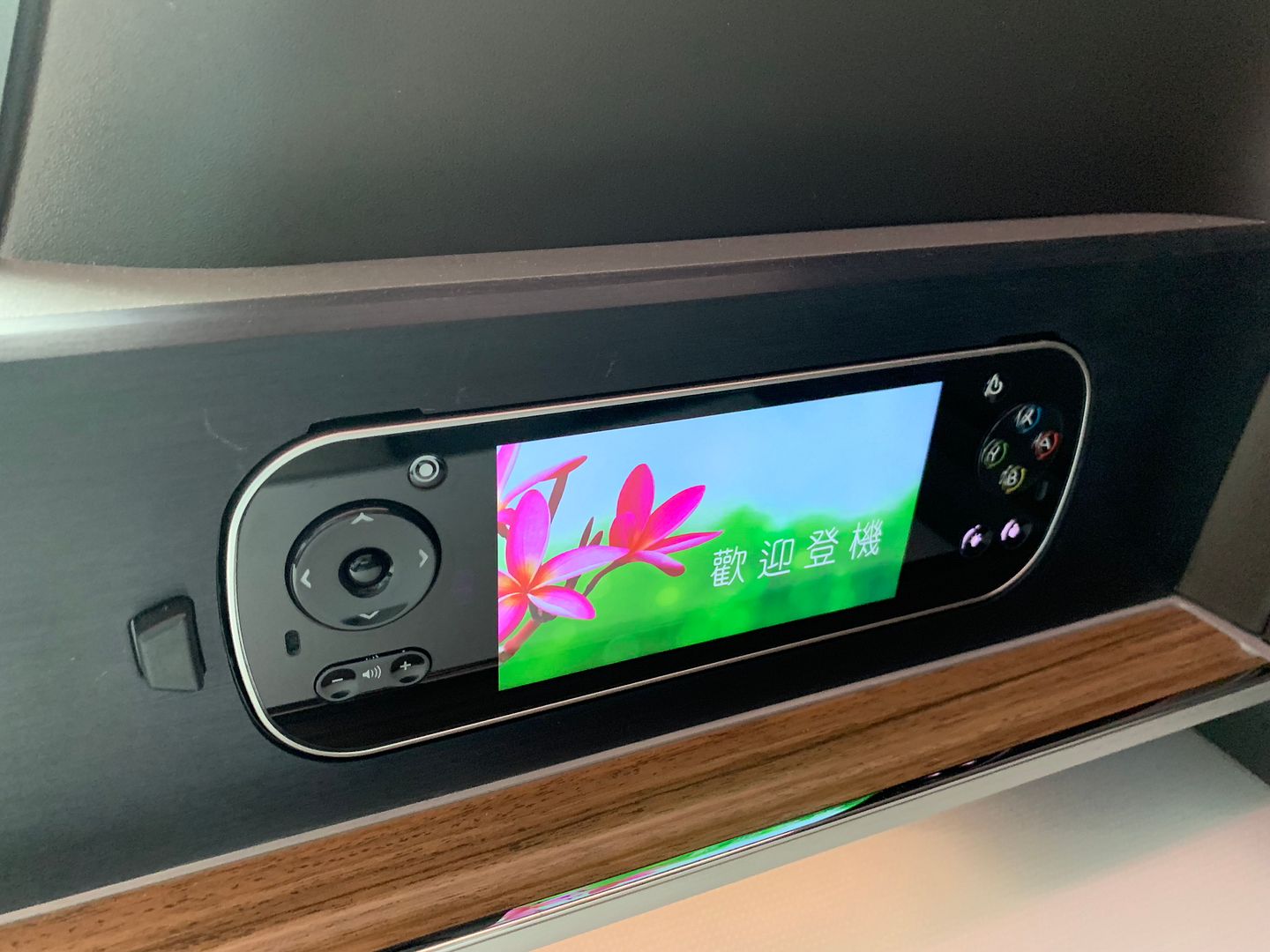 Power outlet and USB Charging Port
Seat control console – there is a message console, as well as a "Do not disturb" sign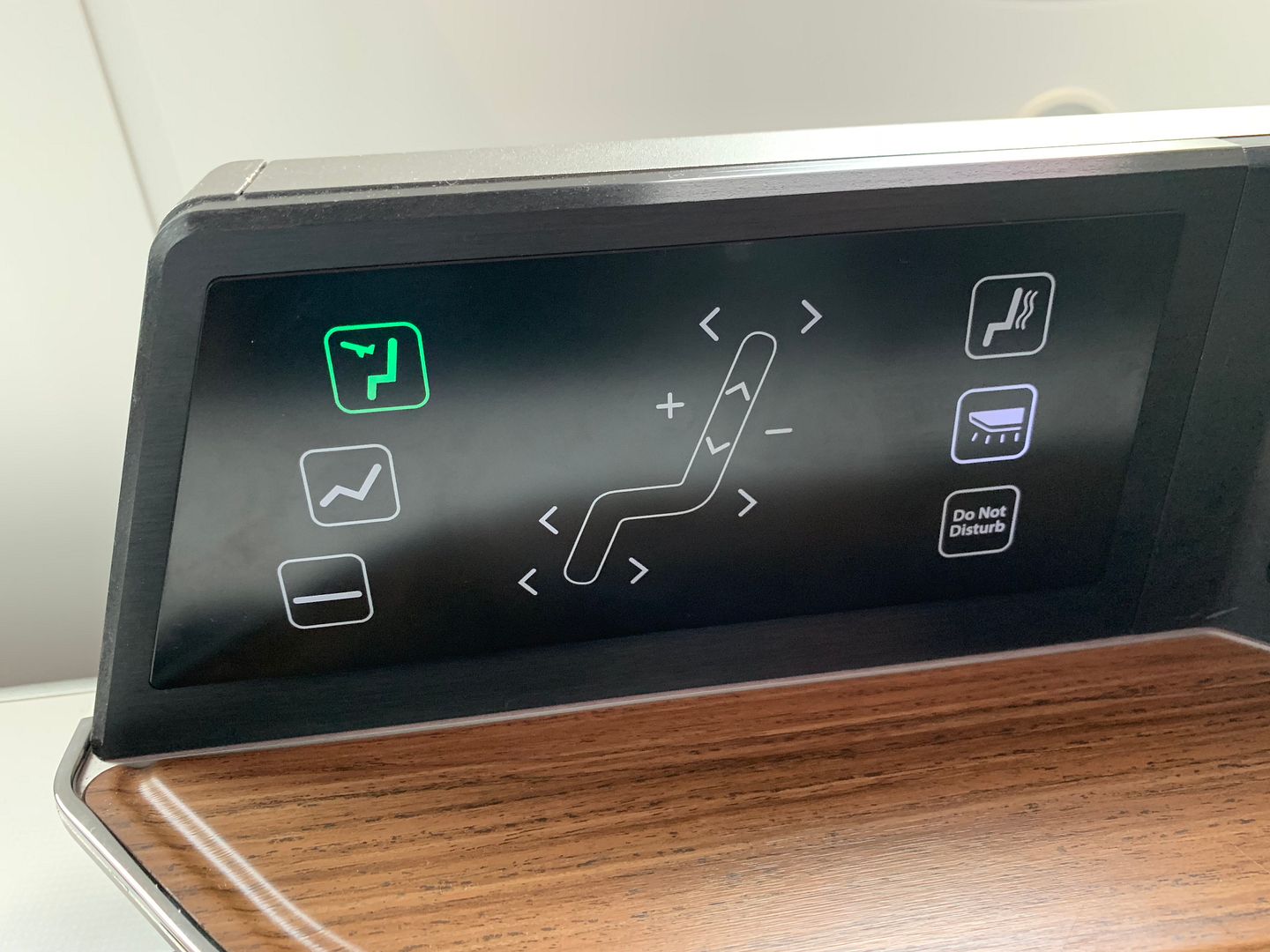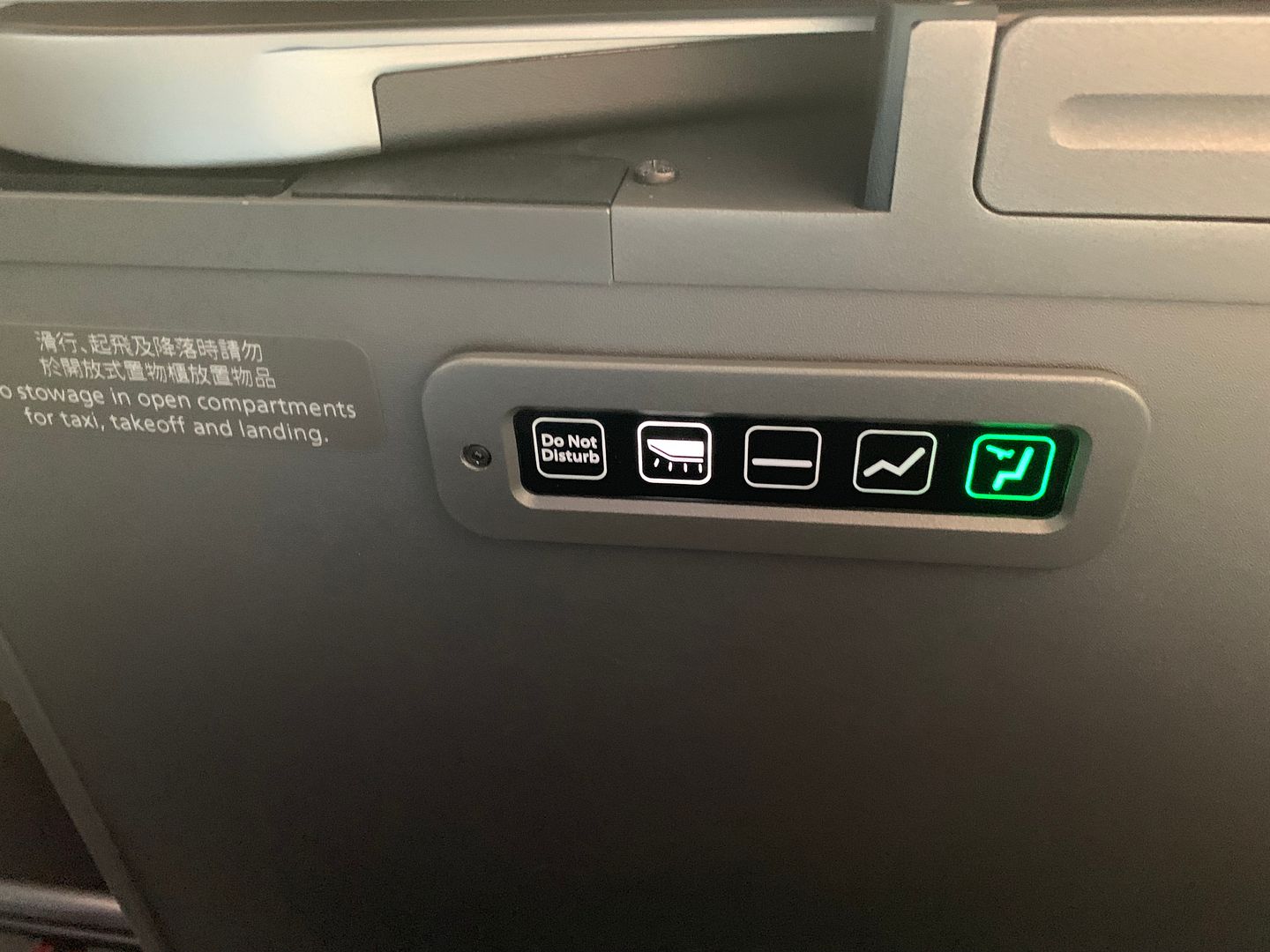 Tray Table – cannot be rotated
Footwell
Side Storage Bin
Moveable Armrest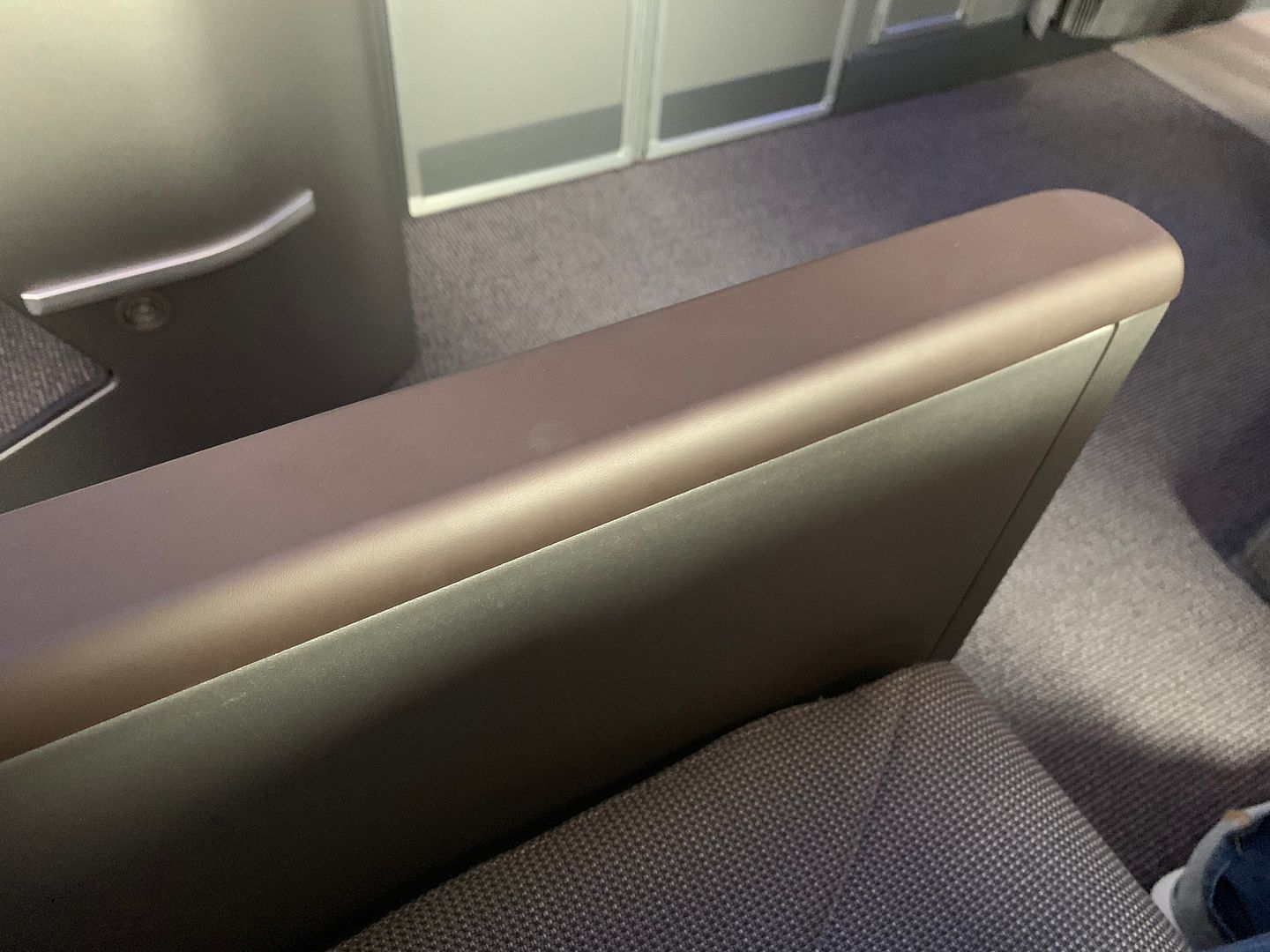 Literature pocket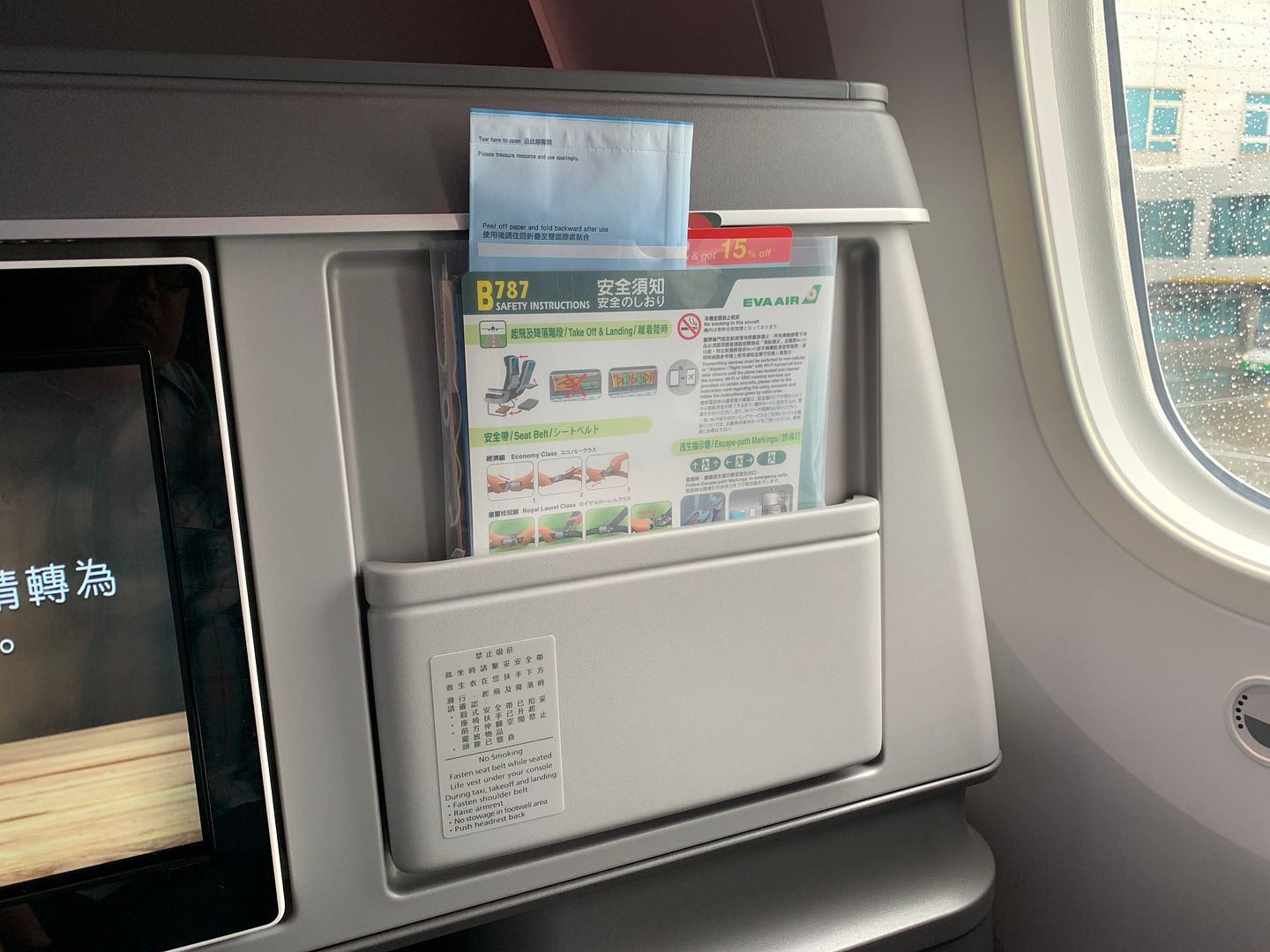 Adjustable headrest
I really love the finish and the upholstery of the seats.
Menu
Safety Card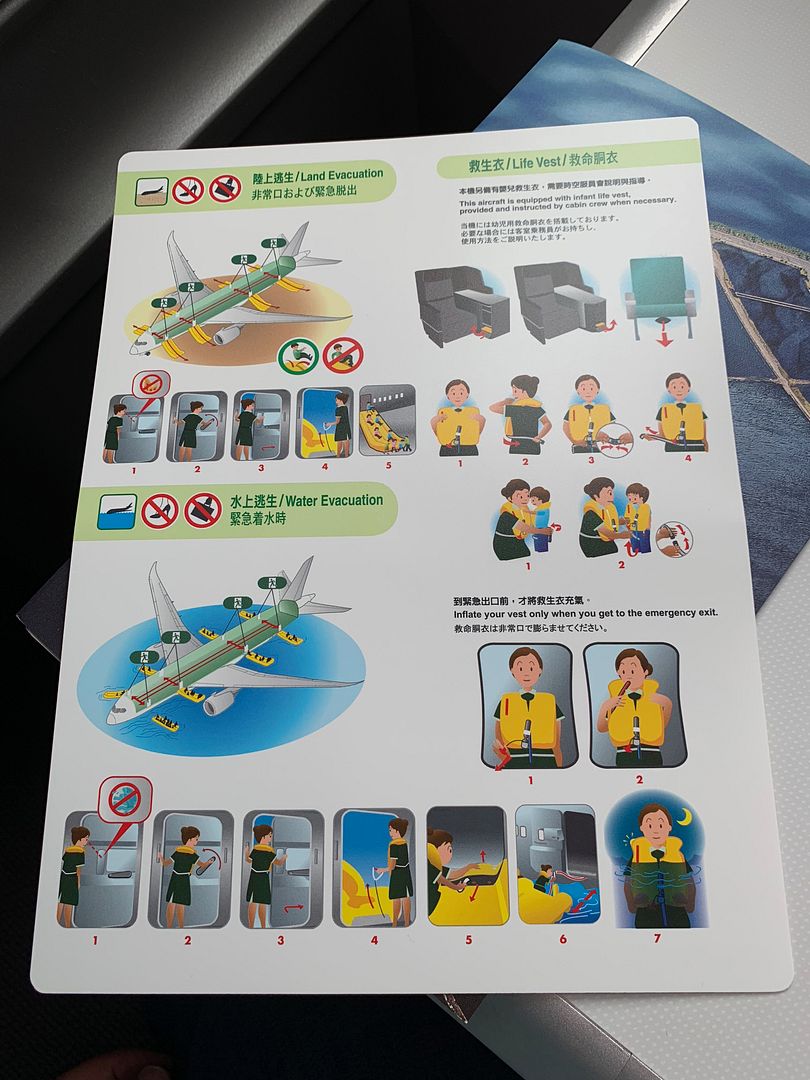 Pre-takeoff beverage – my choice – pineapple juice and of course hot towel
787 Napkin
Door was closed at 10:04am and we pushed back five minutes later. There was a water canon salute/sendoff but due to the rainy situation, I did not get any good picture.
Staffs waving goodbye with many ground staffs looking over us.
We took off from R/W5R at 10:34am for the one hour and twenty-four minutes flight. The routing was fairly typical – Taoyuan over to Makung and then towards Hong Kong. We climbed all the way to 40,000 feet. Despite the weather, the Dreamliner handled this turbulence very well.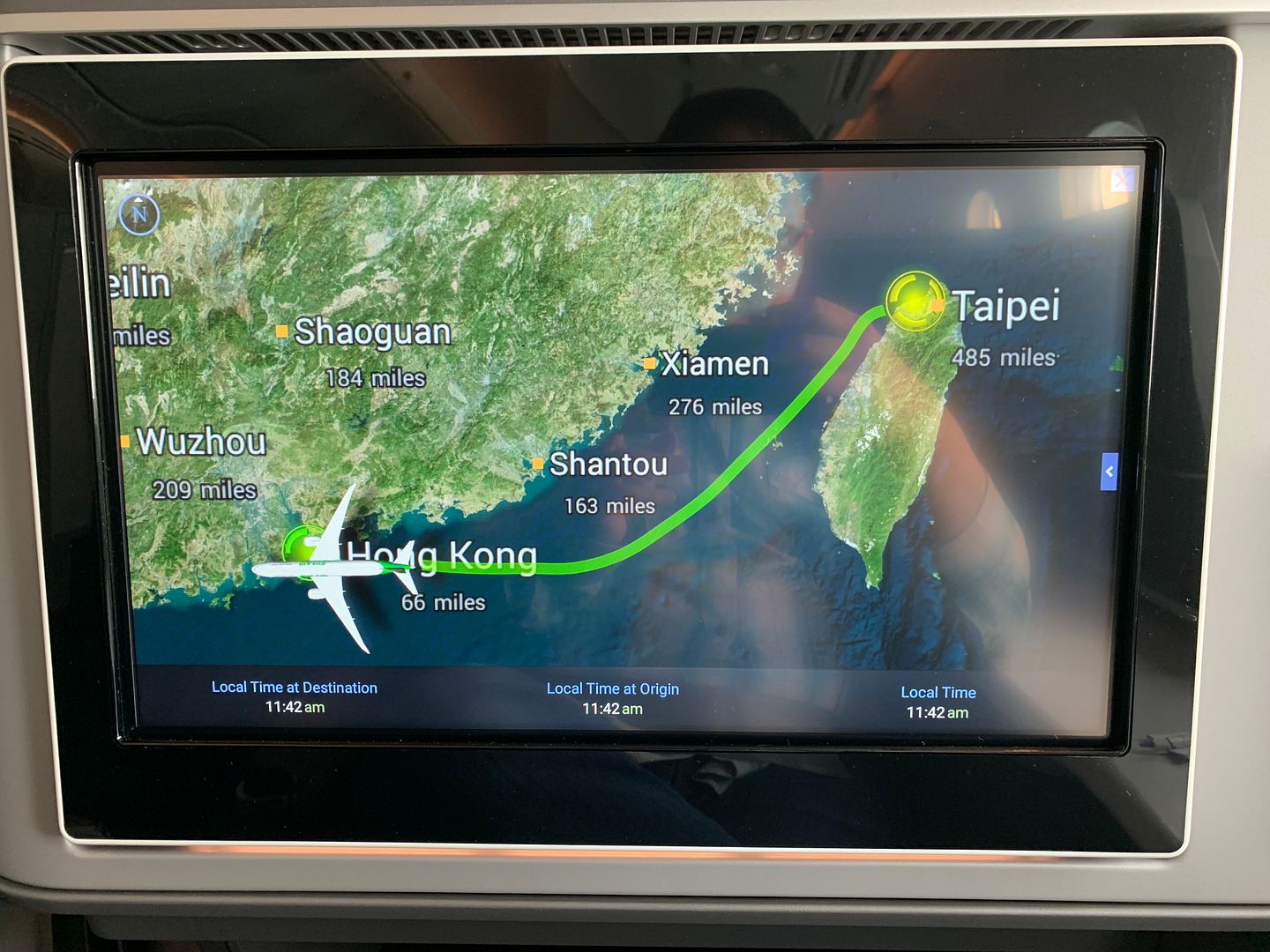 Due to the turbulence and being in a new plane, the service was a bit slow to start, so I took advantage of photographing the seats in two pre-set positions – lounging and full flat!
Lounging
Full Flat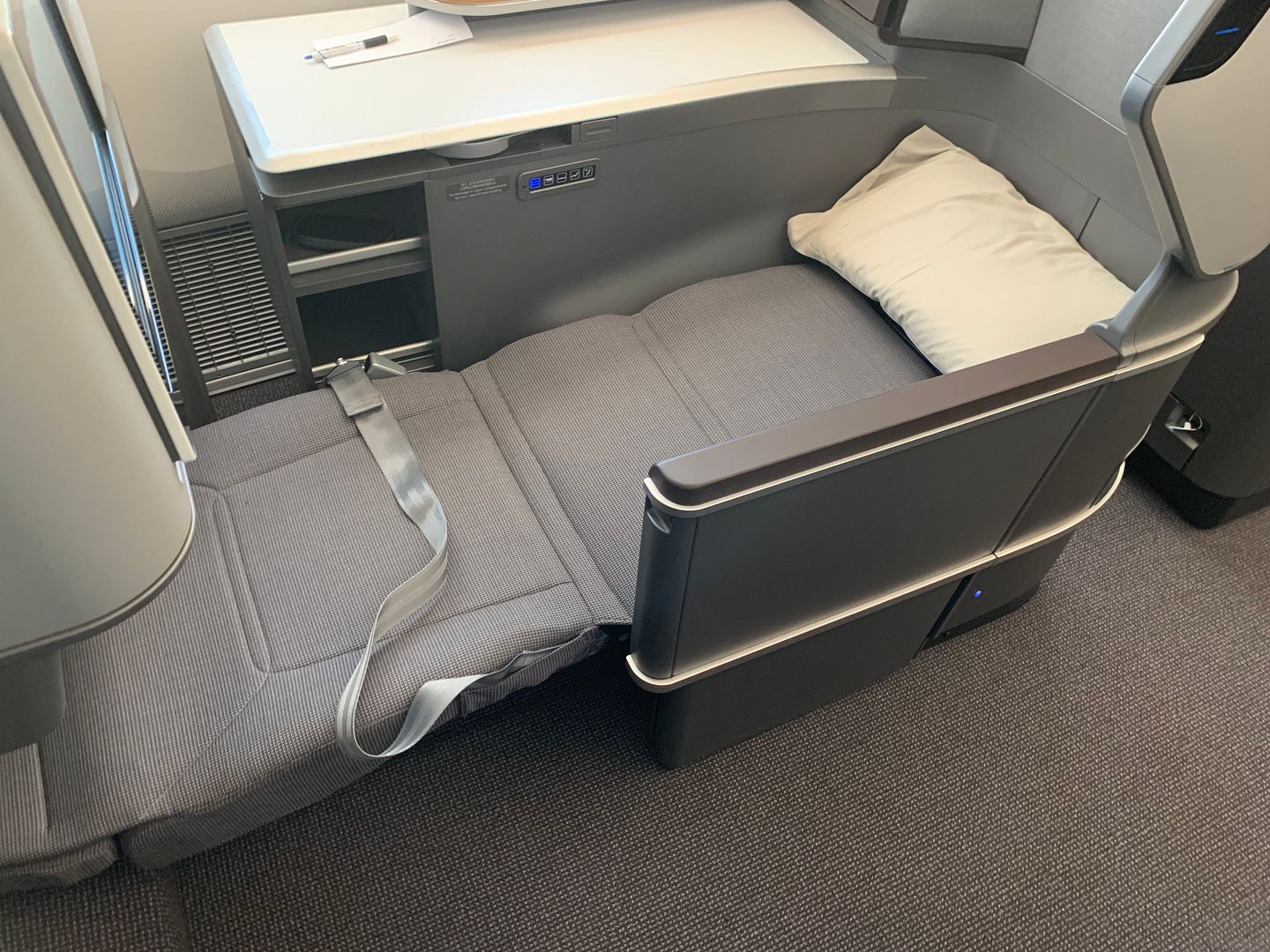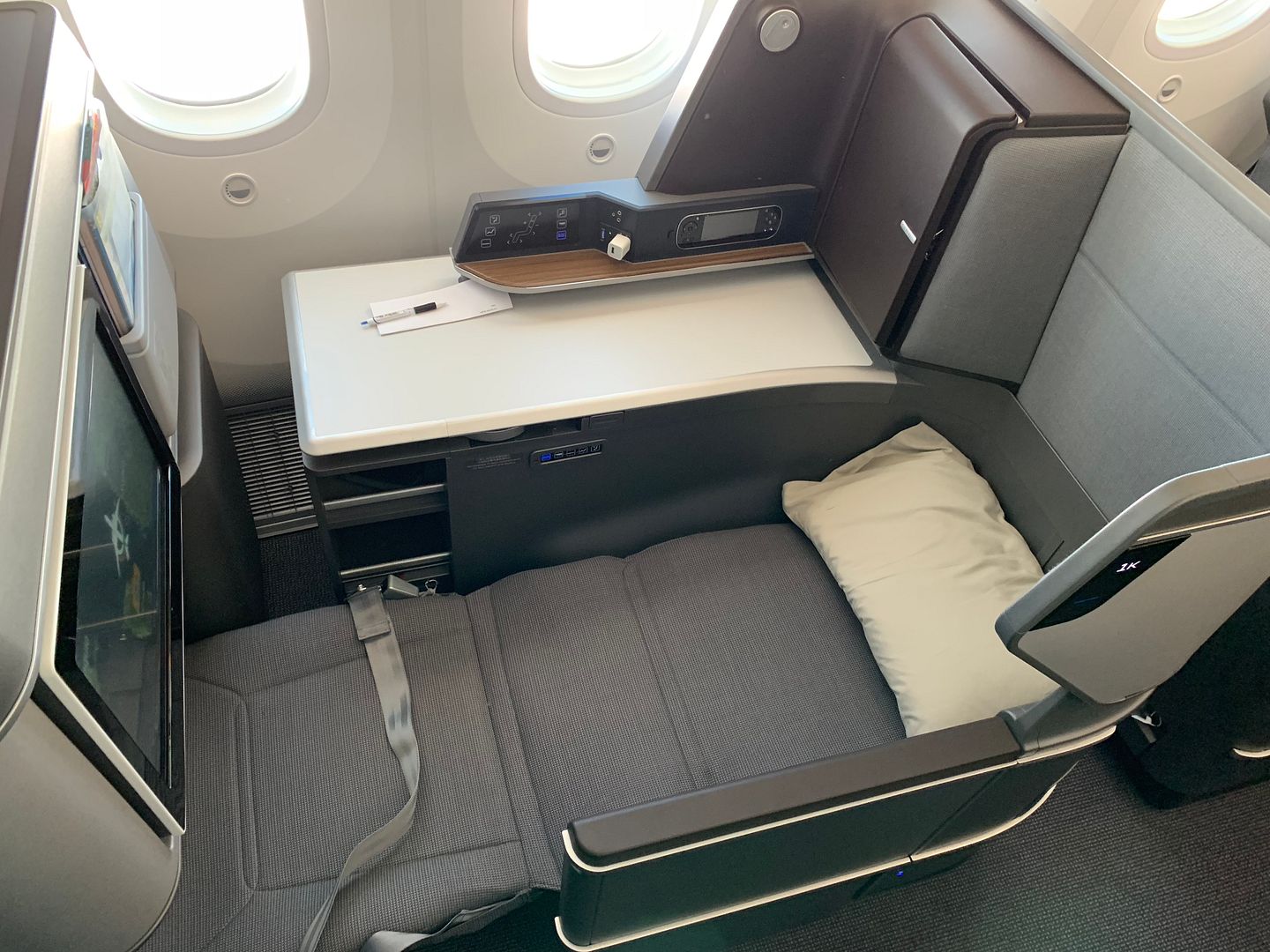 Full Flat with armrest down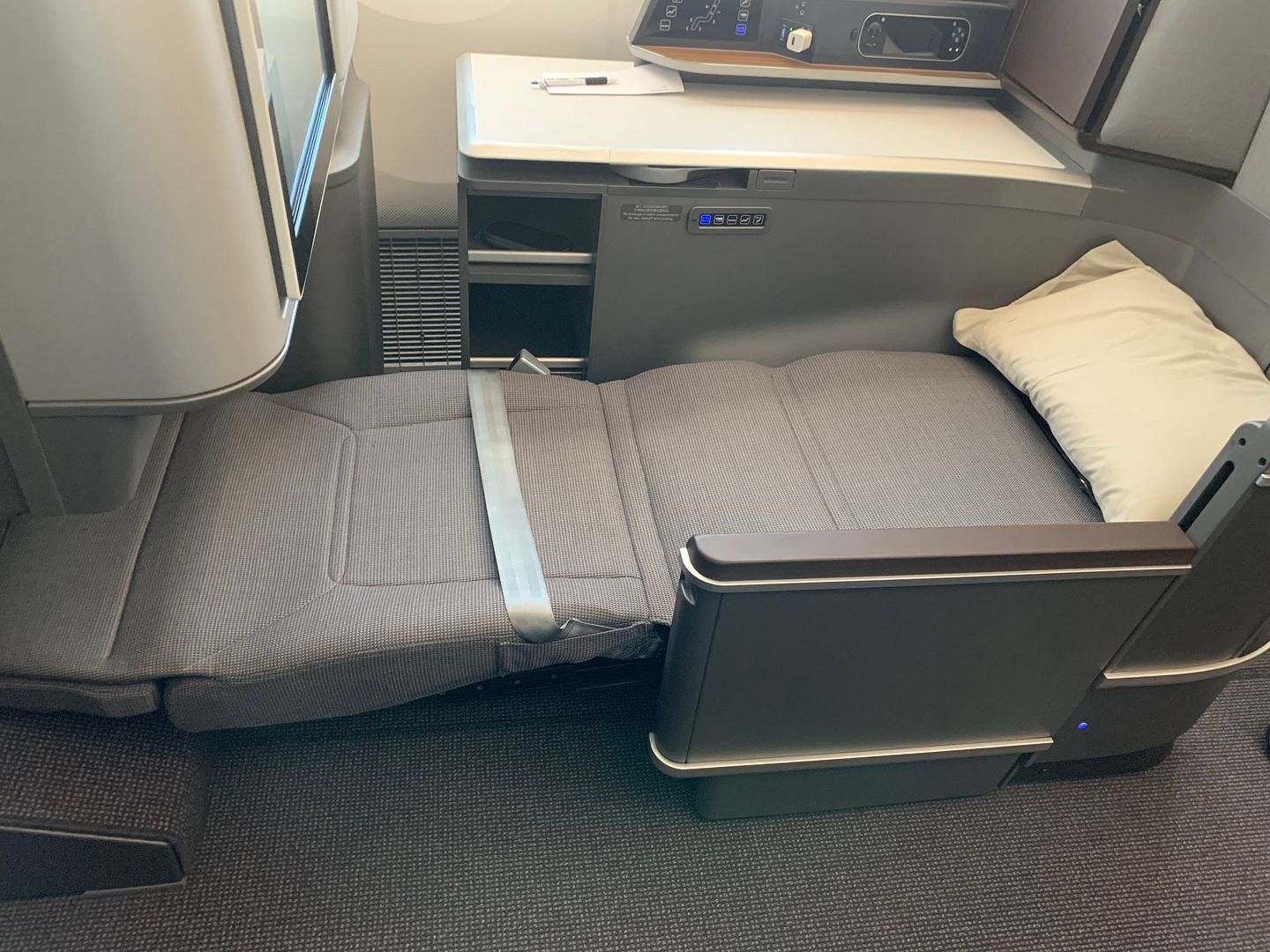 Here is the transcript of the wine list and menu:
Wine List
Champagne
Champagne Delamotte Blanc de Blancs 2007
New Zealand White Wine
Wairau River Sauvignon Blanc 2017, Marlborough
German White Wine
Ockfen BOCKSTEIN Riesling Kabinett 2016, Mosel
French Red Wine
Chateau Le Monteil d'Arsac 2014, Haut-Medoc, Bordeaux
Argentina Red Wine
Aguribay Malbec 2016, Mendoza
Fortified Wine
Cuesta Fino Sherry
Taylor's LBV Port
Sky Gourmet
Hors D'oeuvre
French Meat Pate and Cajun Spiced Scallop with Apple and Tomato Salsa
Main Course
Honey Glazed Chicken
Mixed Vegetables
Steamed Rice (Chishang Premium Grade Rice)
Or
Beef Bourguignon
Sautéed Mixed Vegetables
Pan Fried Cheese Polenta Cake
Sweet
Fruit
Coffee/Tea
20181001-D-TPE-HKG.MFM-TPE
Linen
Light Meal – my choice for entrée is honey glazed chicken
Starter
Fruit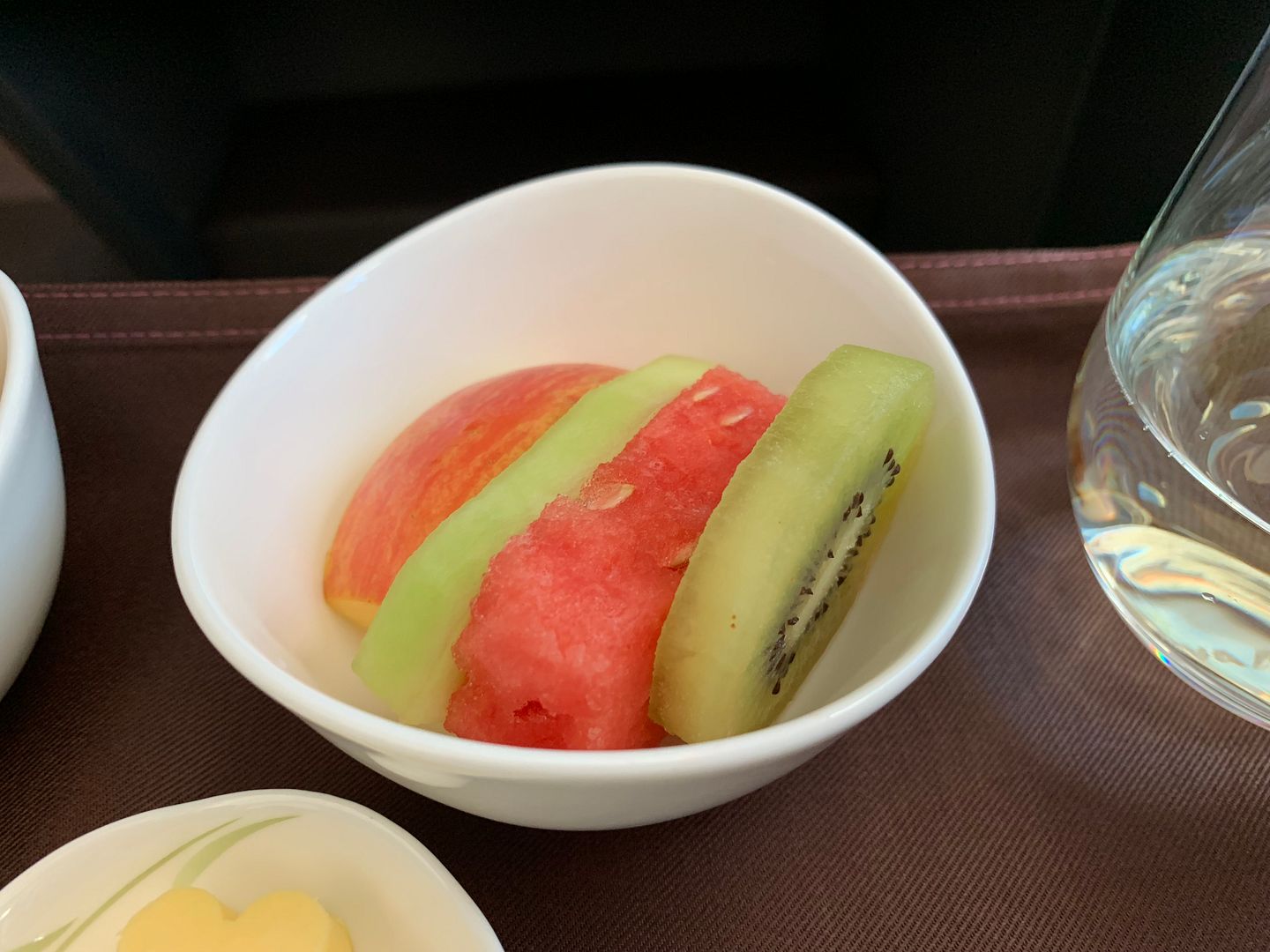 Chicken entrée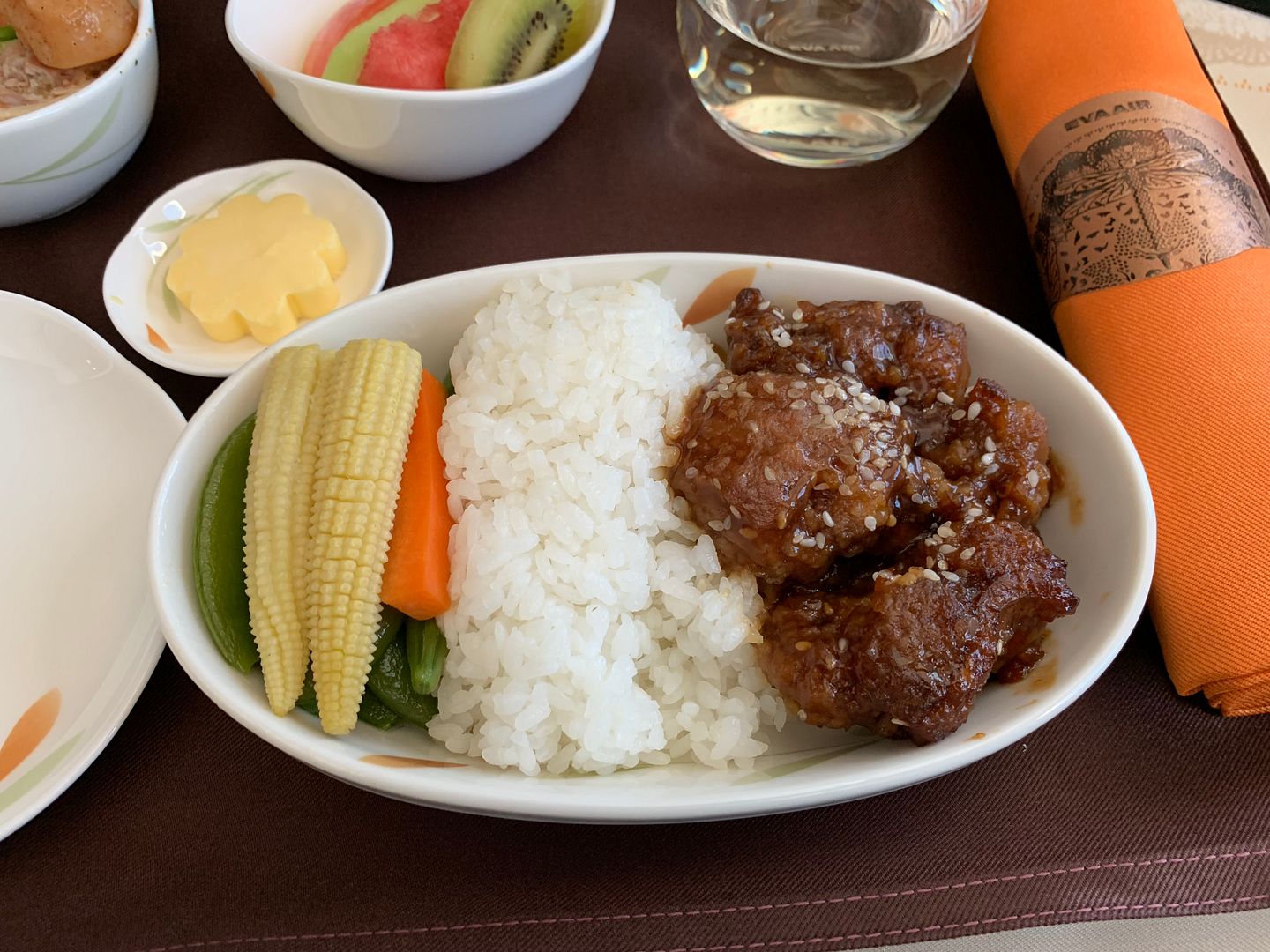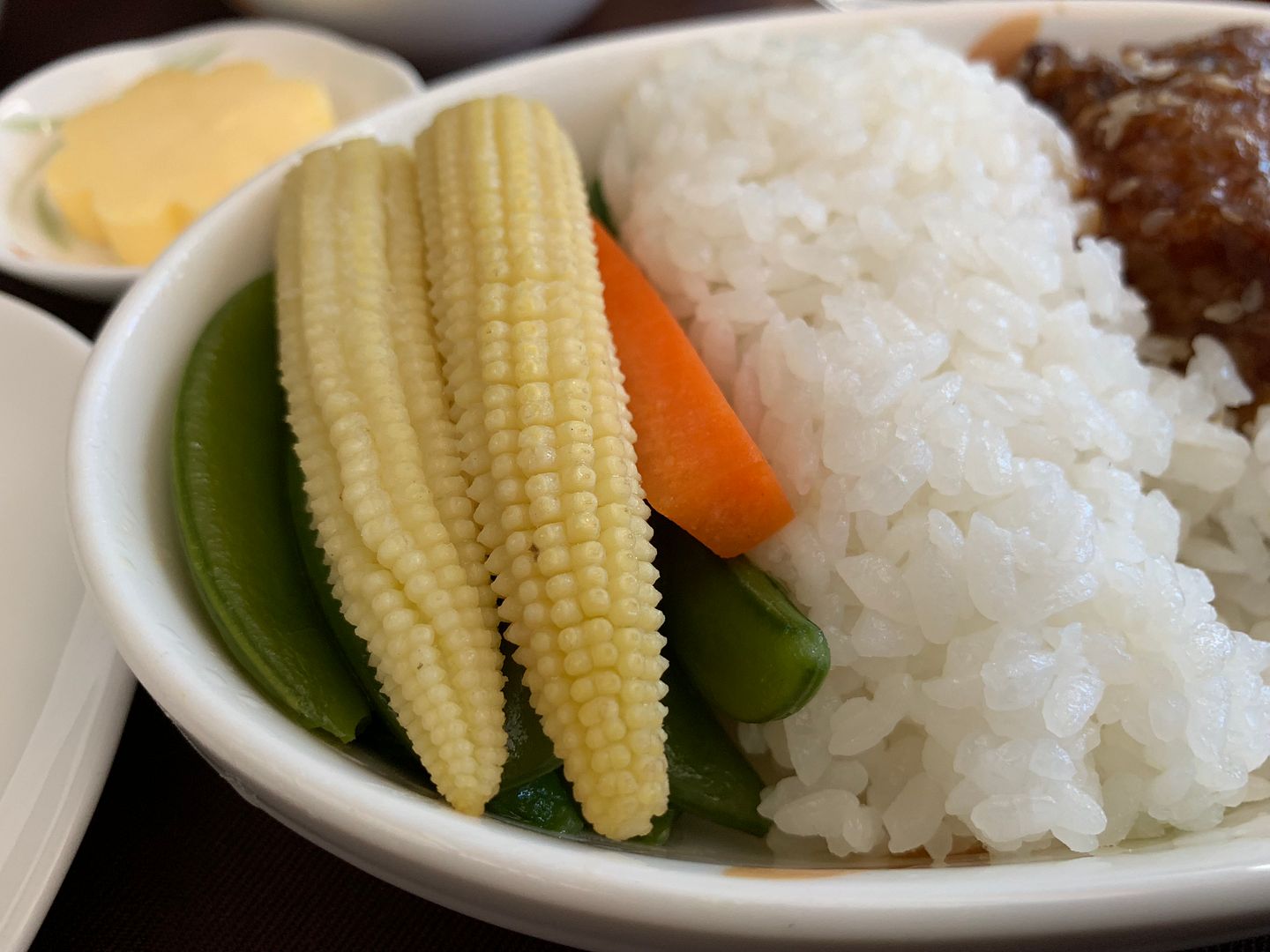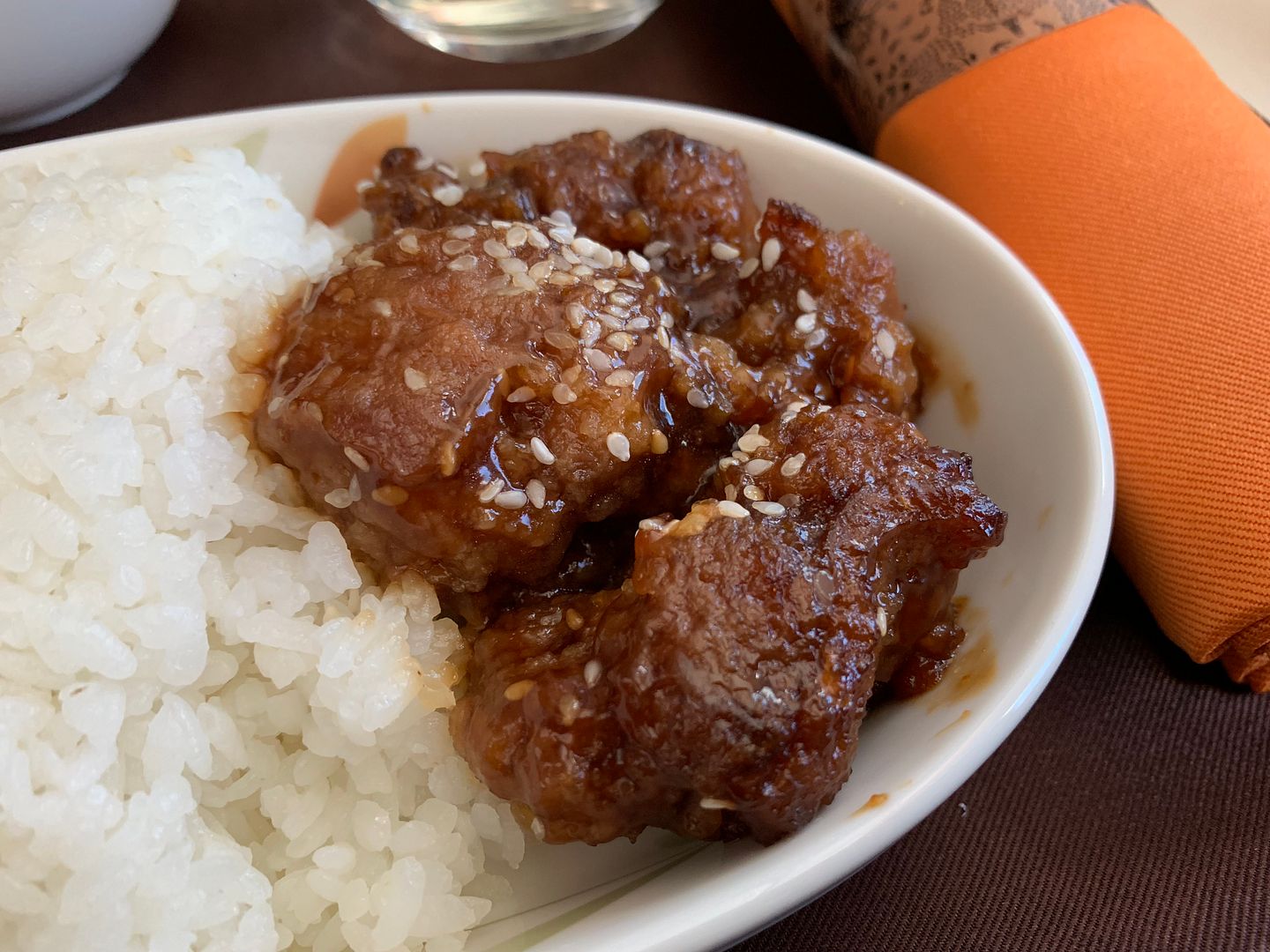 There is a unique 787 coaster.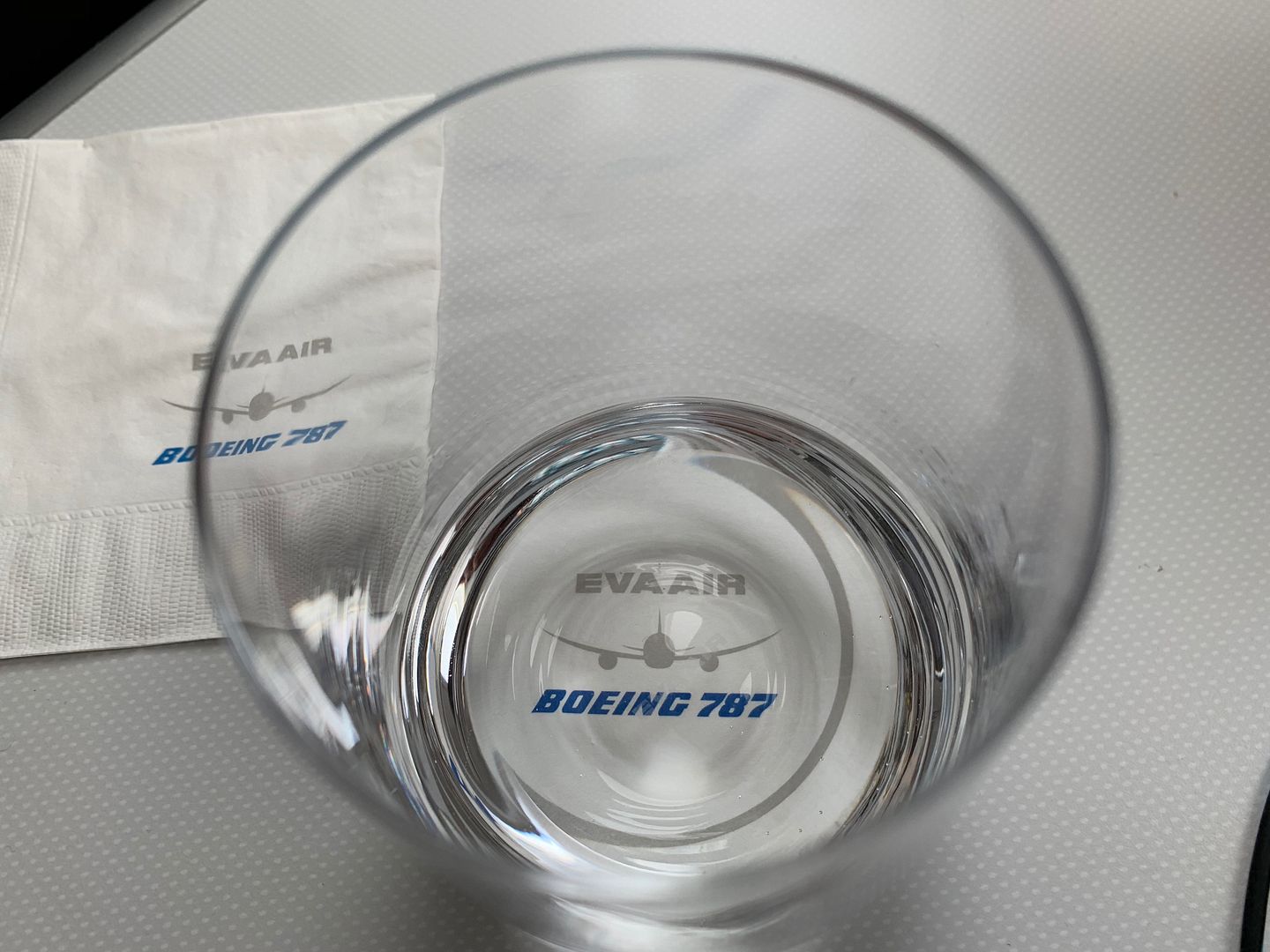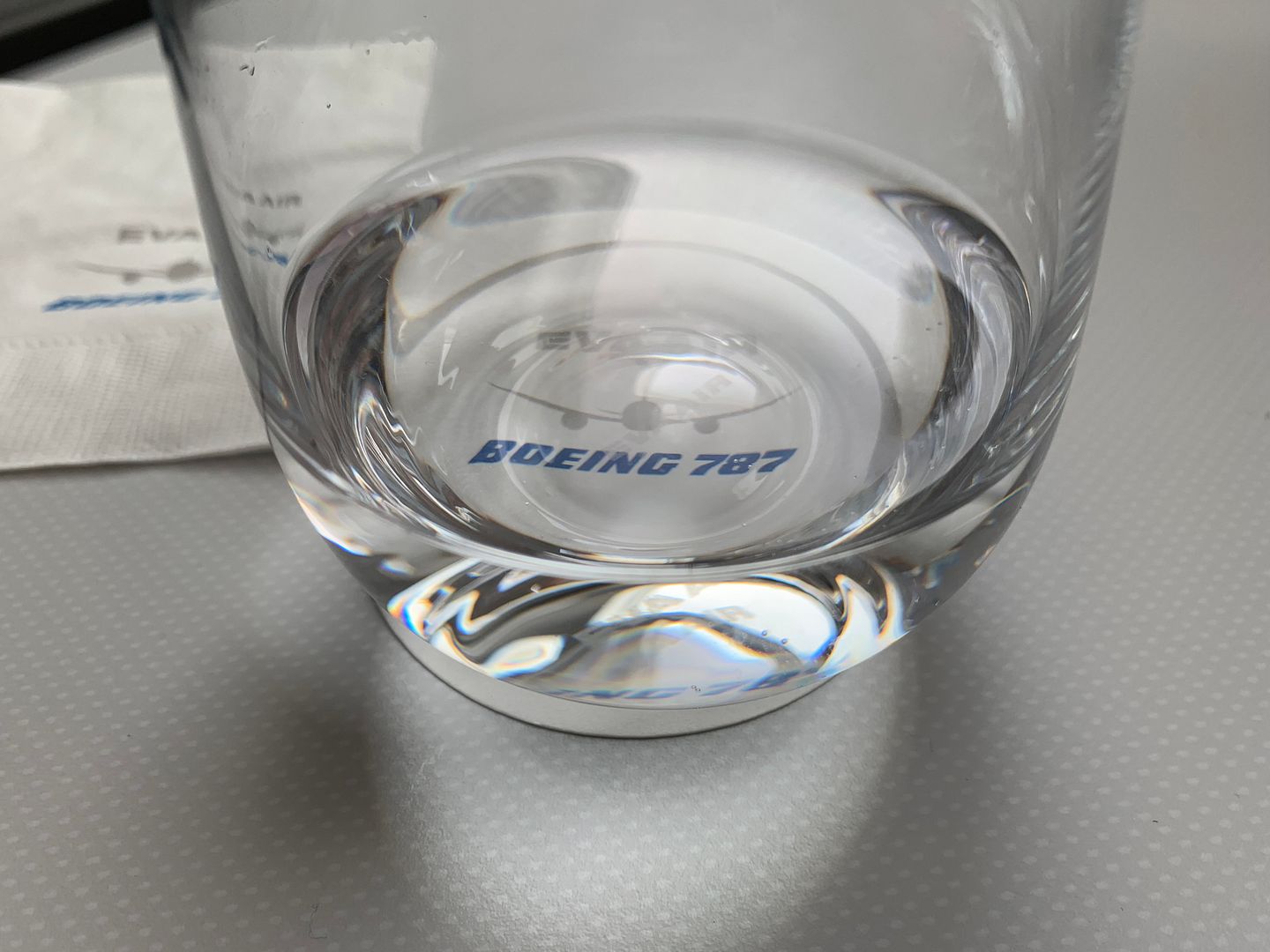 Bathroom break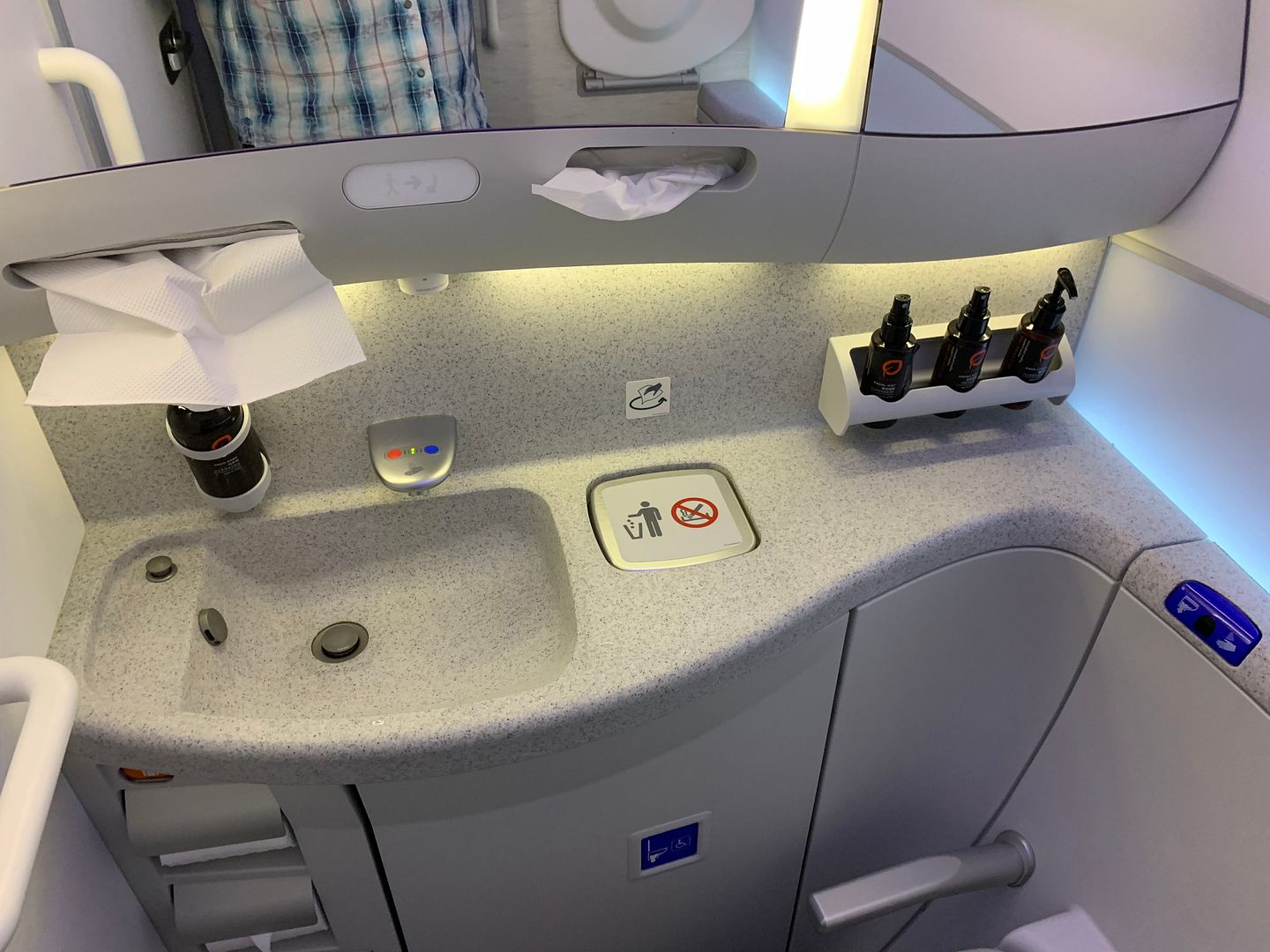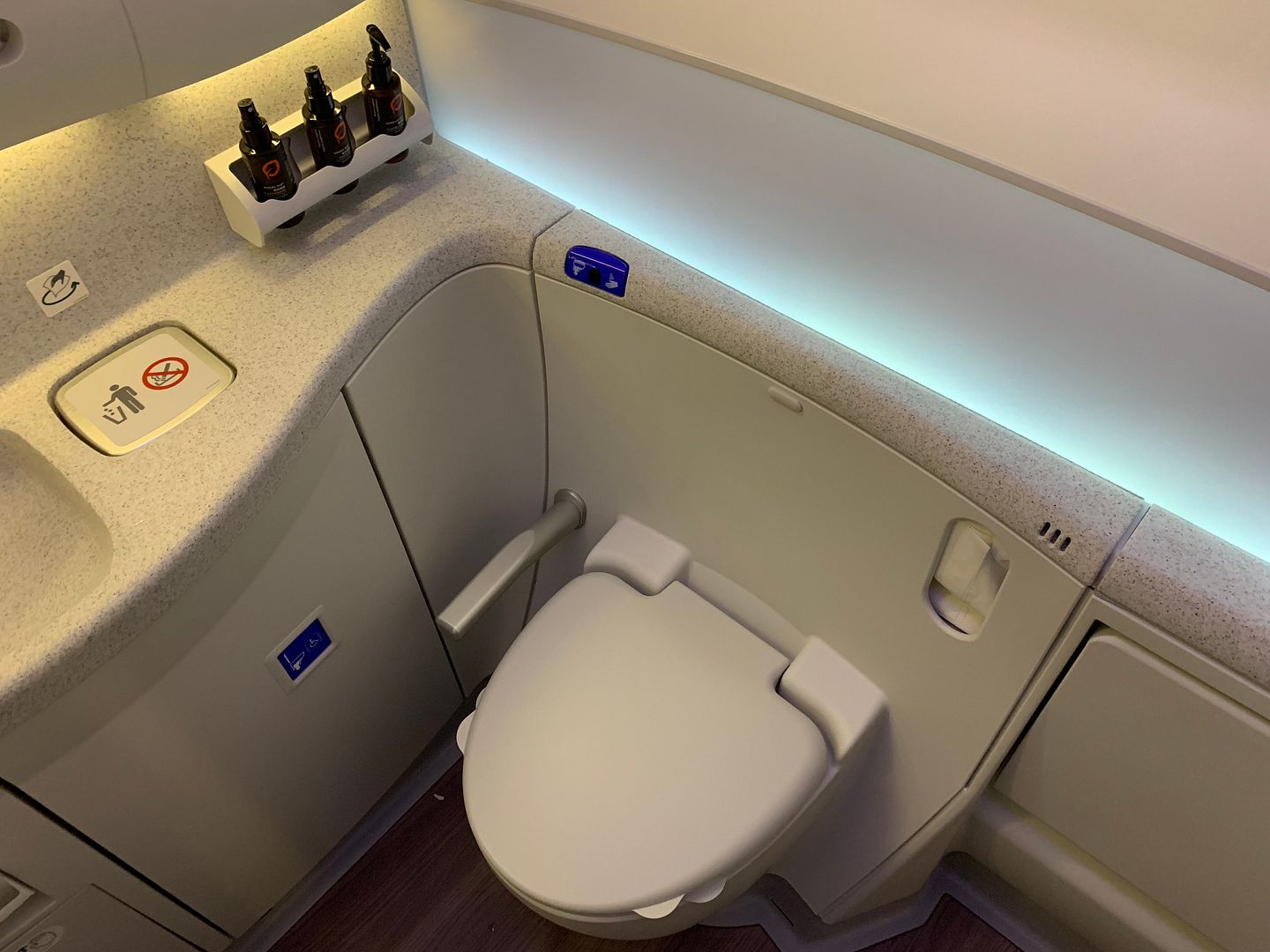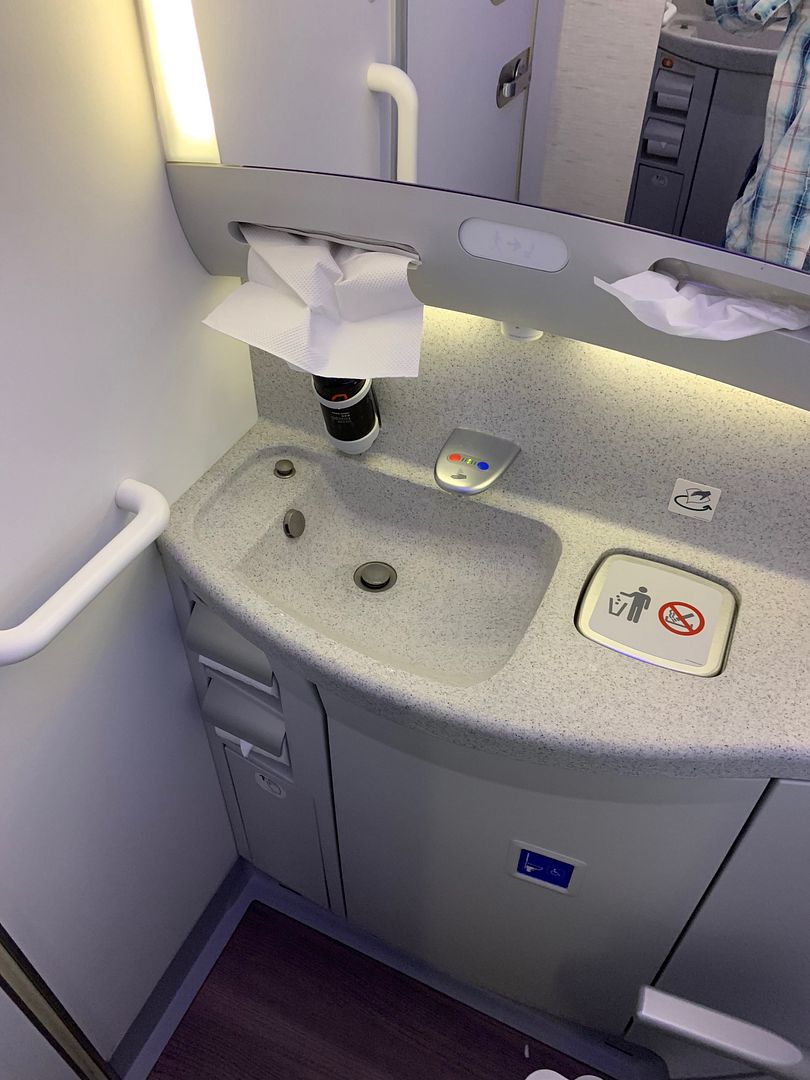 Cabin shot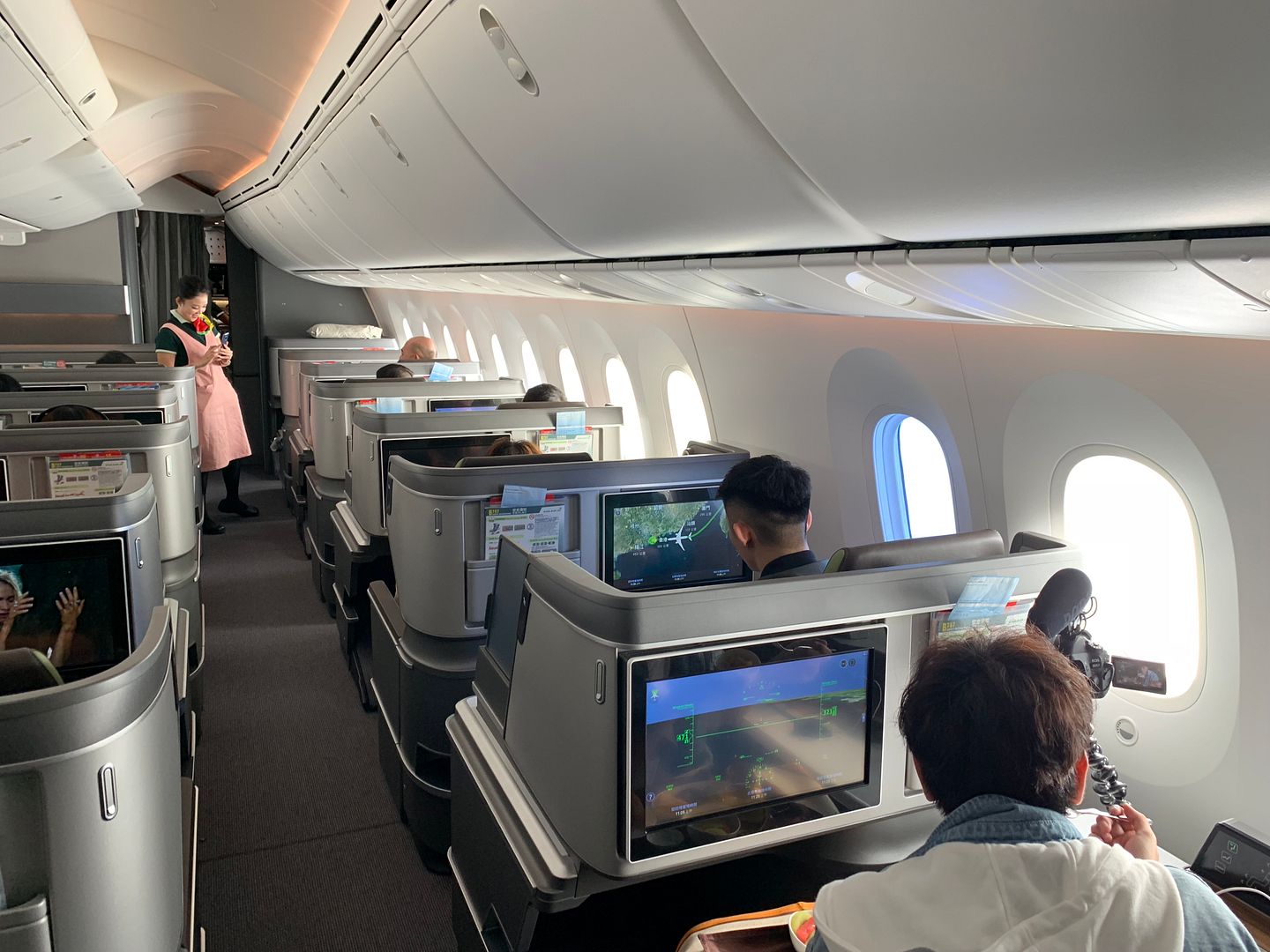 EVA Air front
Candies prior to arrival
Descent began at 11:21am and you did not really feel it much.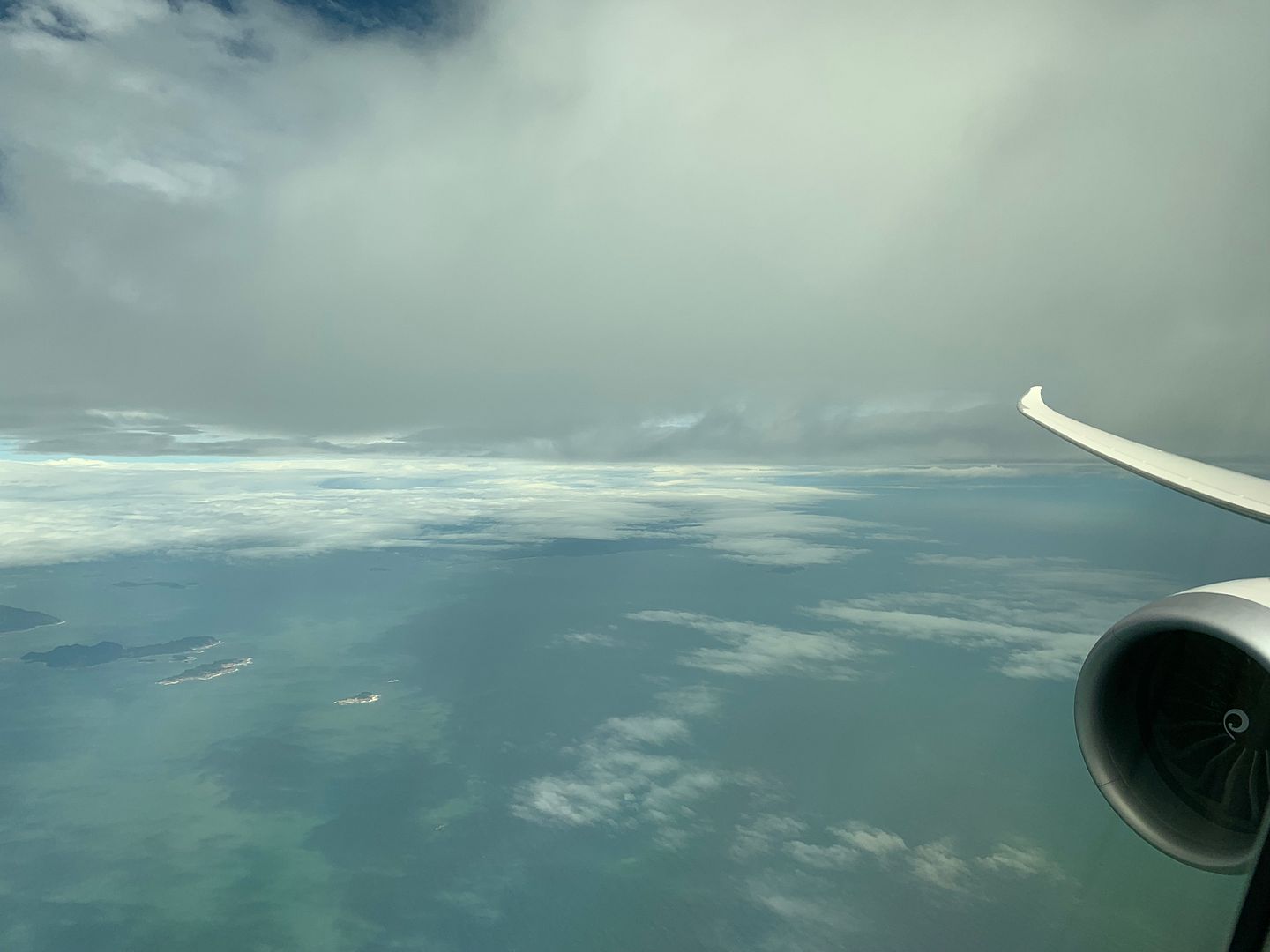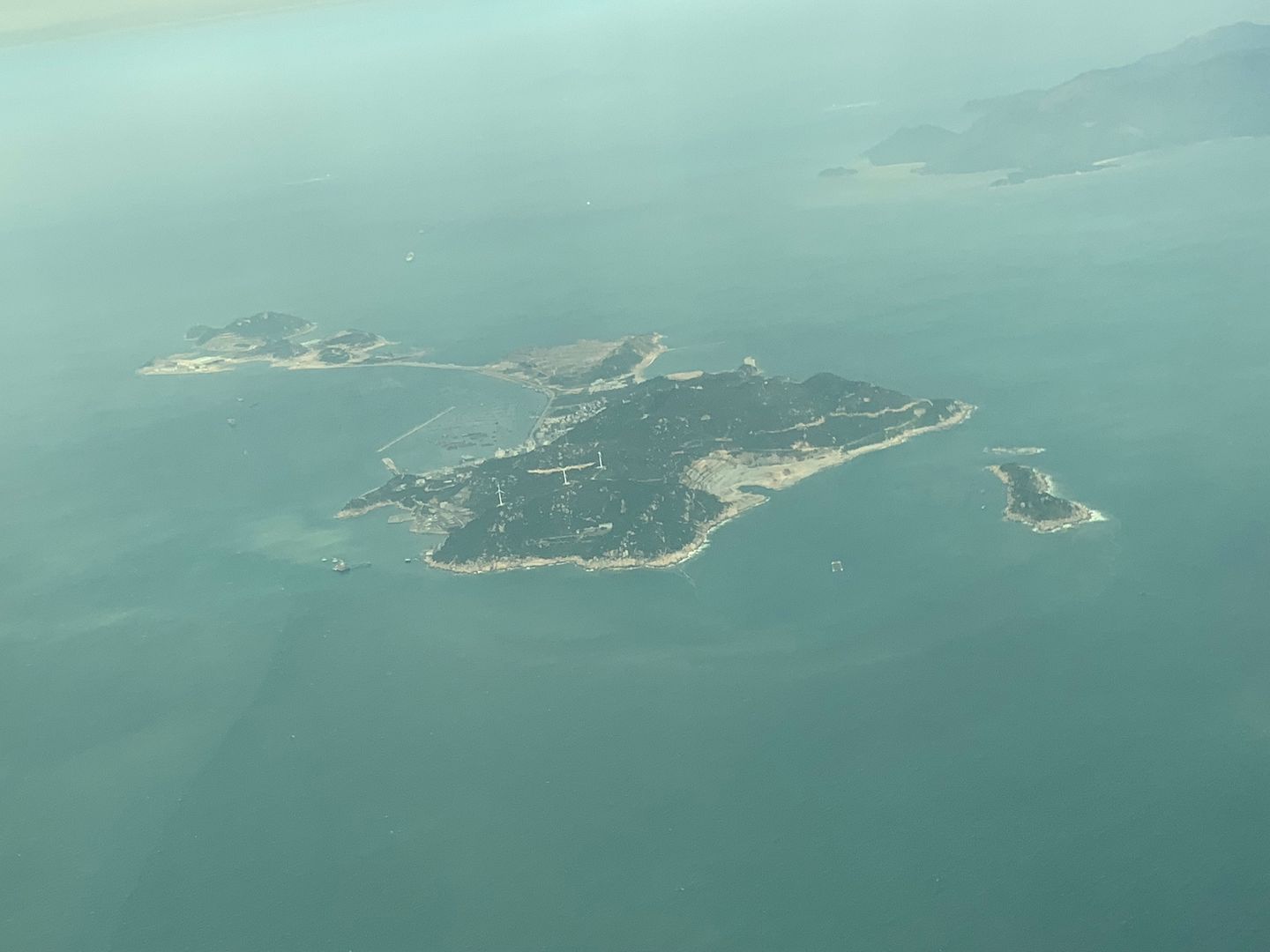 The flight attendants were pretty amazing because they worked nonstop during those two hours, especially given that they were new to the planes too. They maintained their smiles and I got to give them credits.
We landed on R/W7R at 11:58am.
Another water canon salute, as we taxied into gate 28.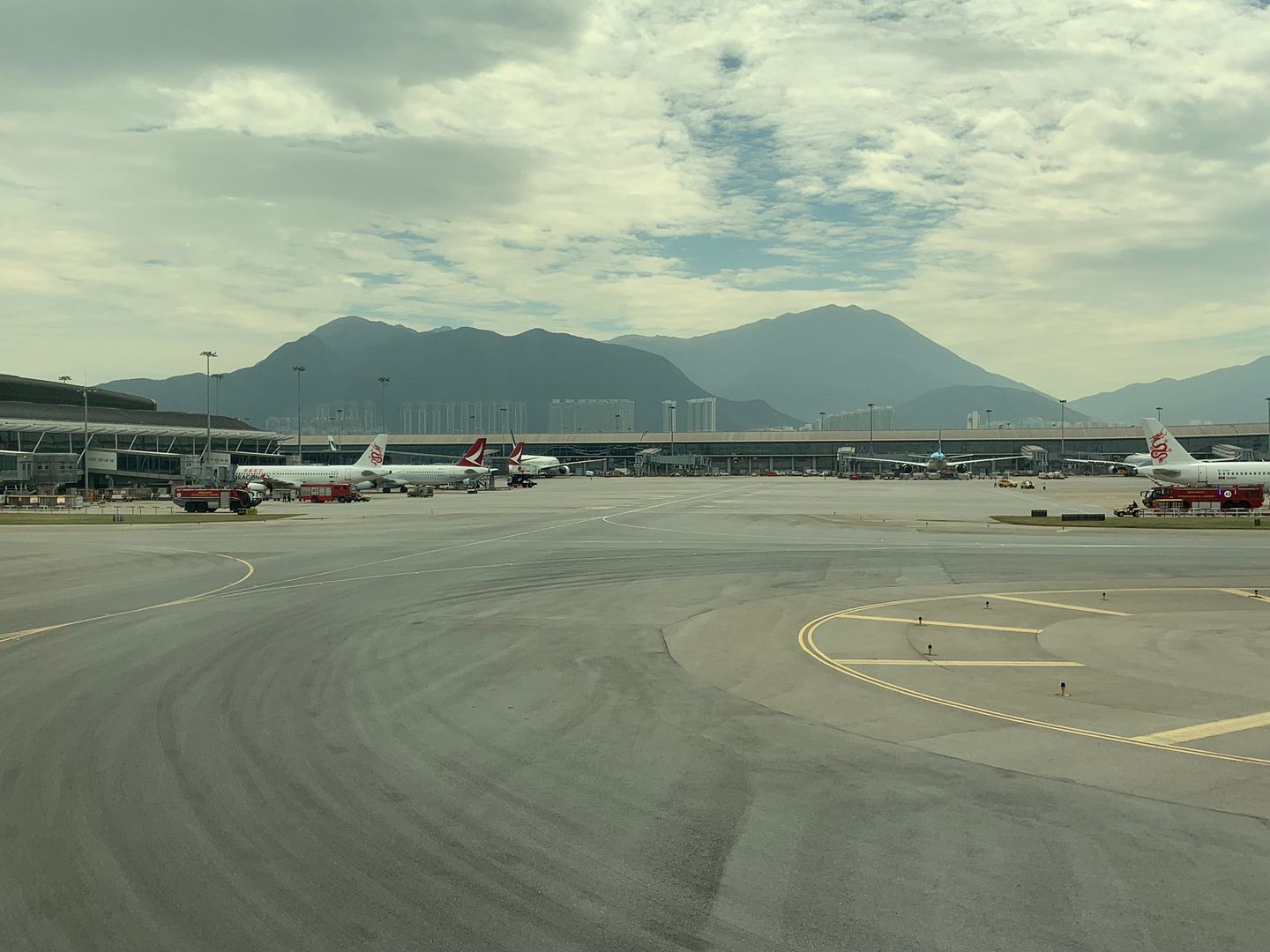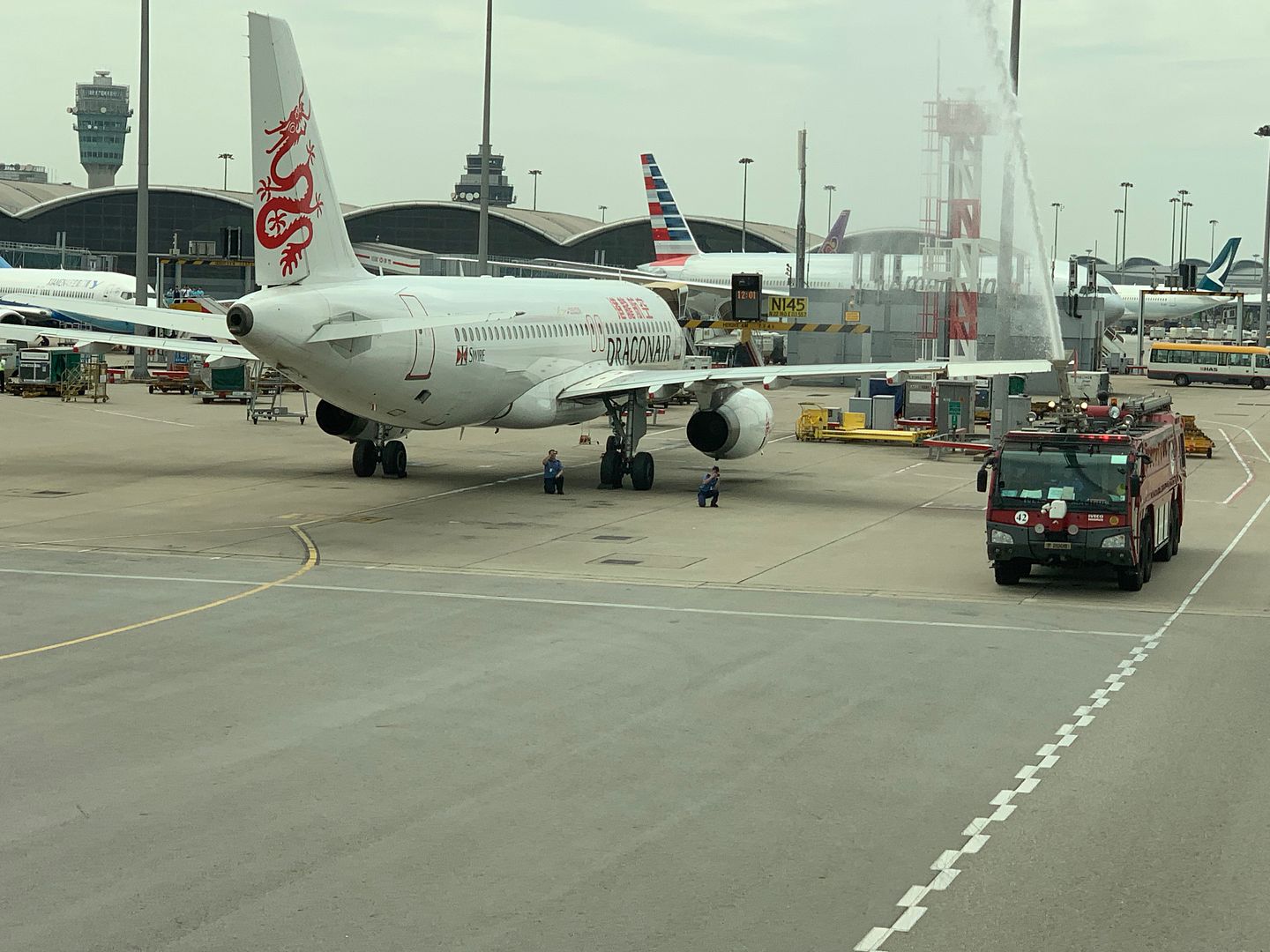 Korean Air B777-300ER next door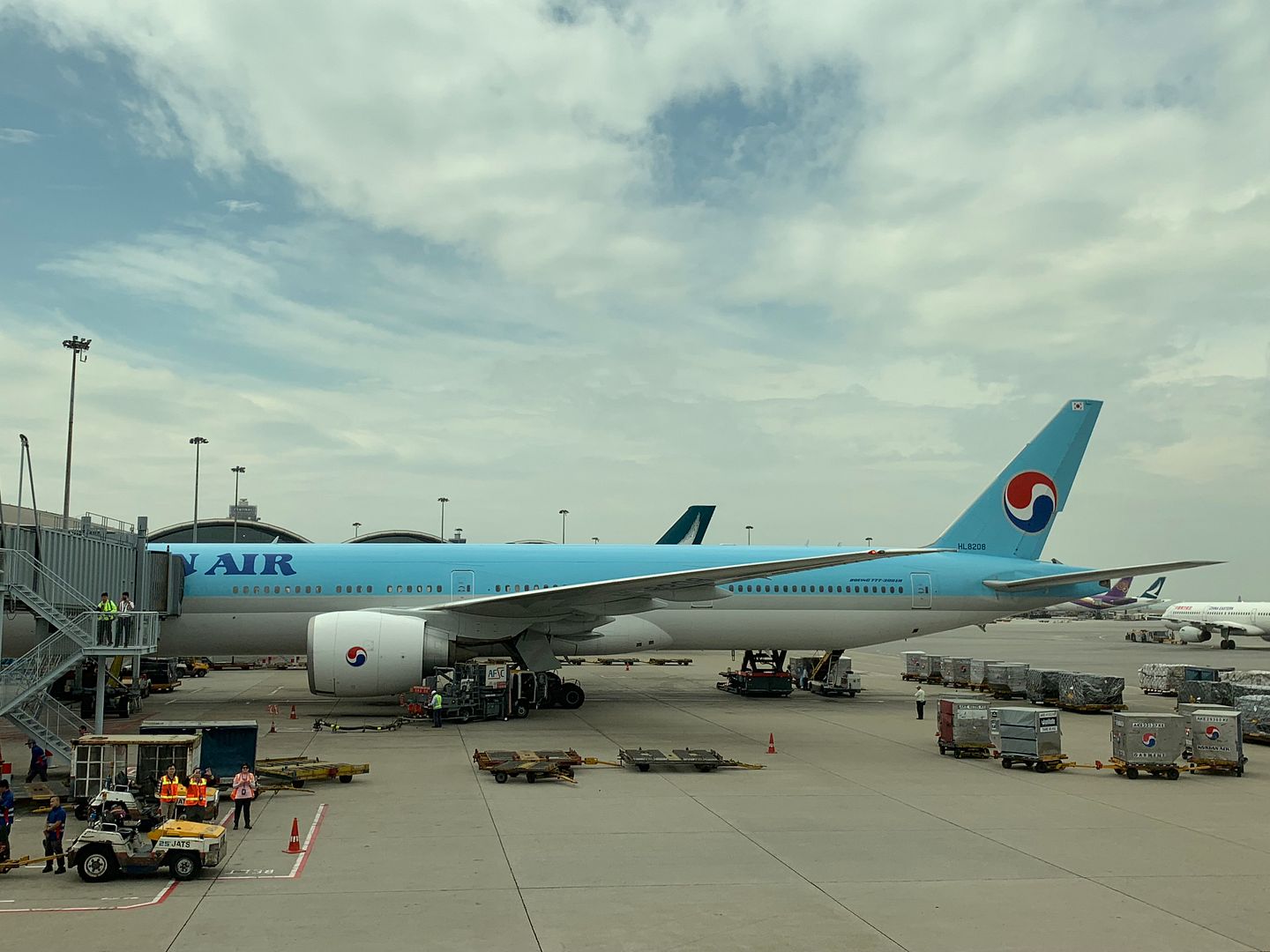 For some reasons, they only used door two for our arrival. So, I took the opportunities to take a few more pictures. Many of the passengers would turn back immediately, so I had some chances to take a few cabin pictures.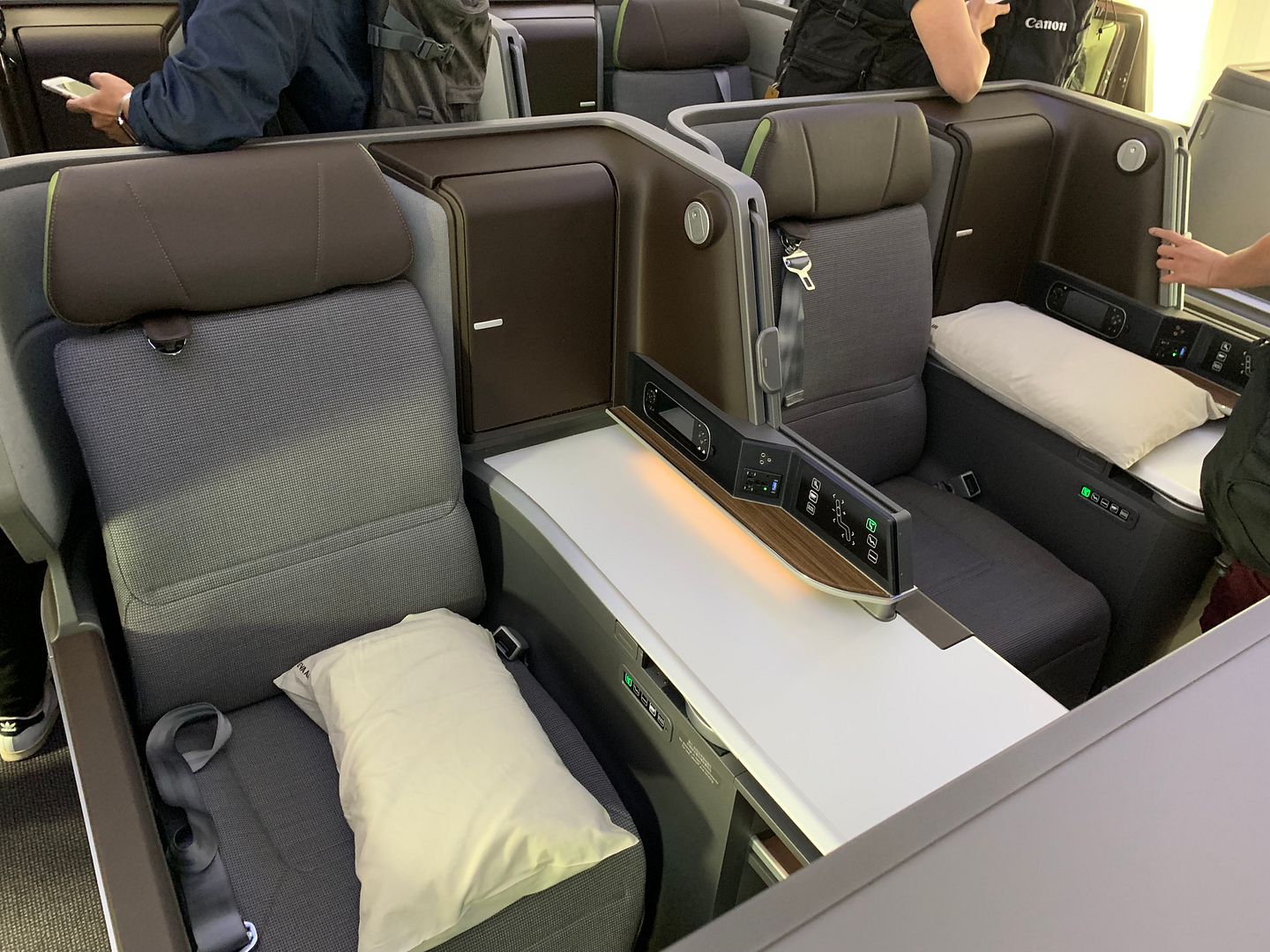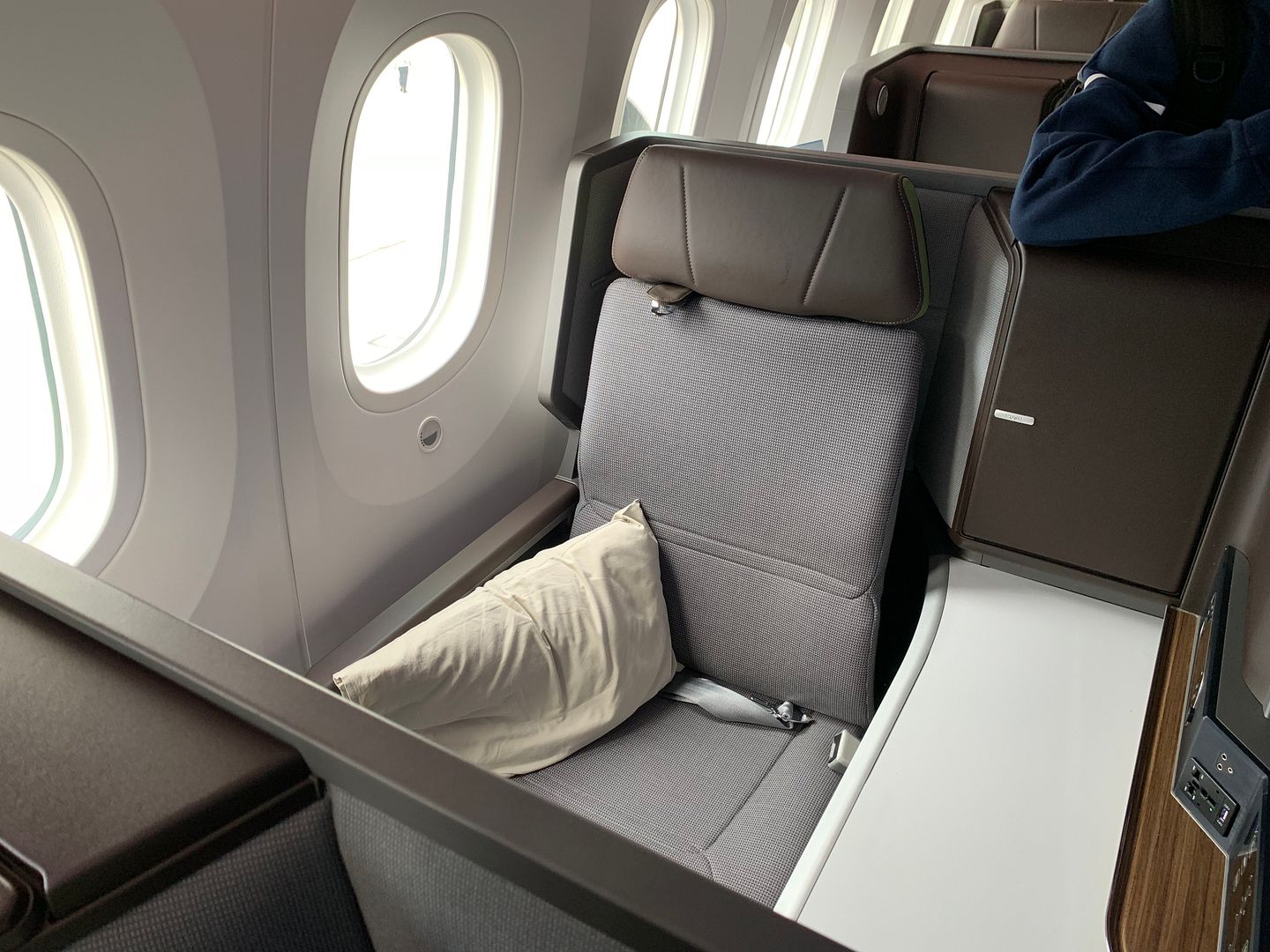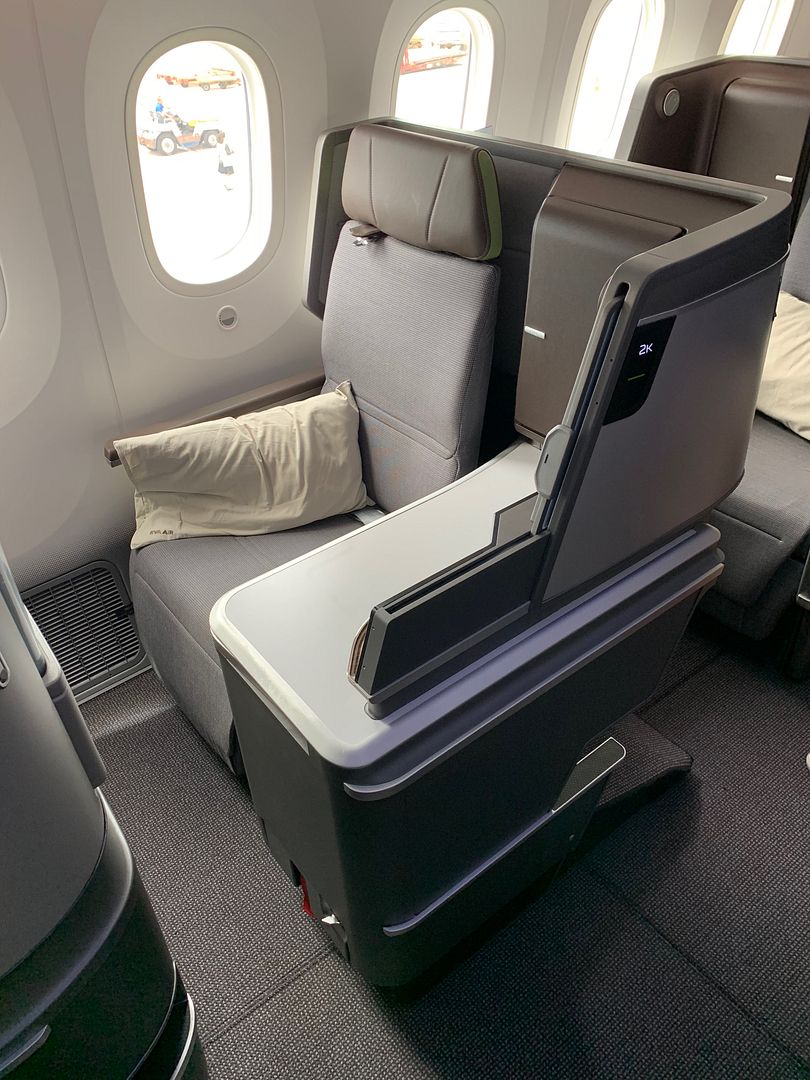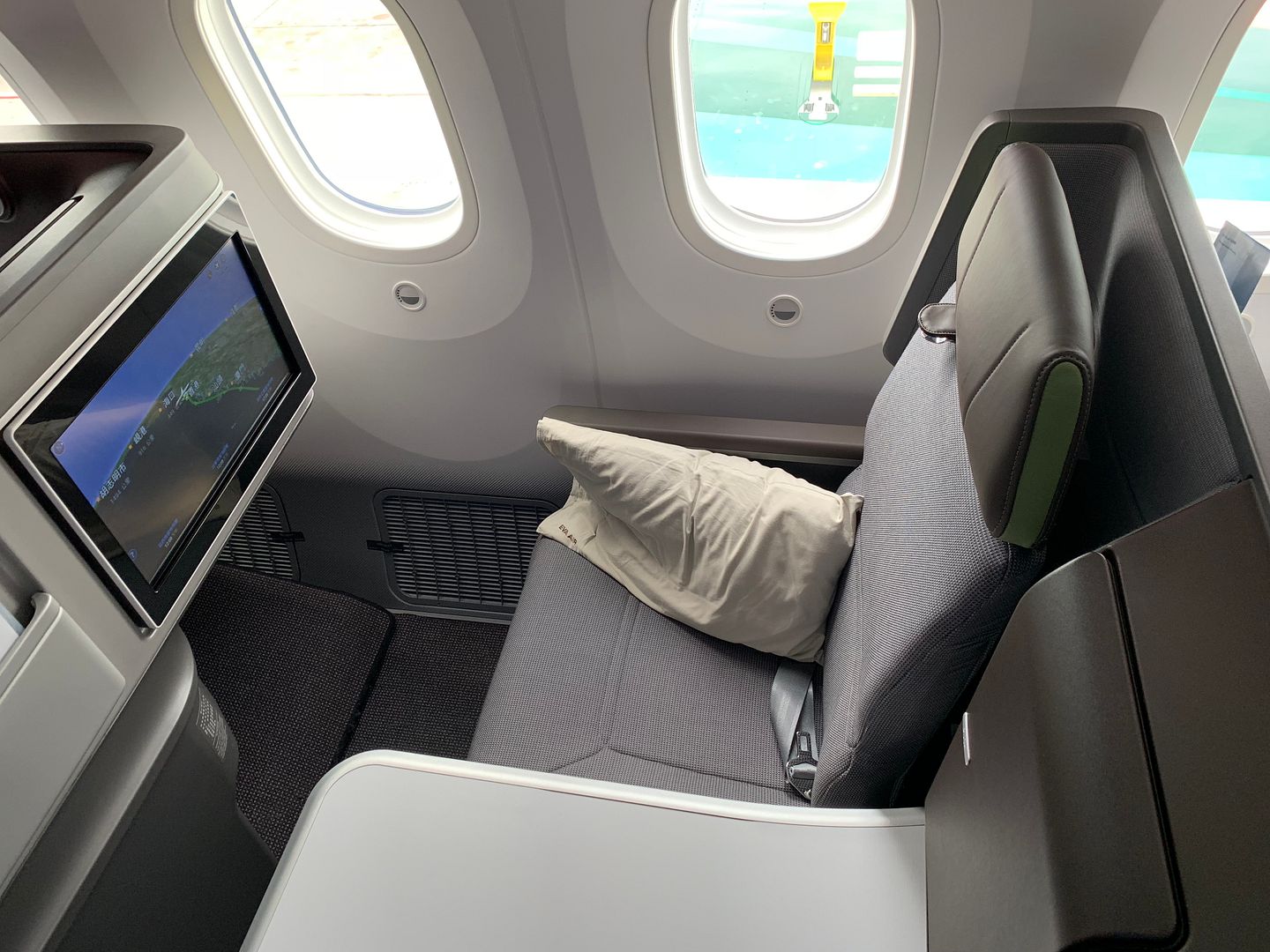 One final look at B-17881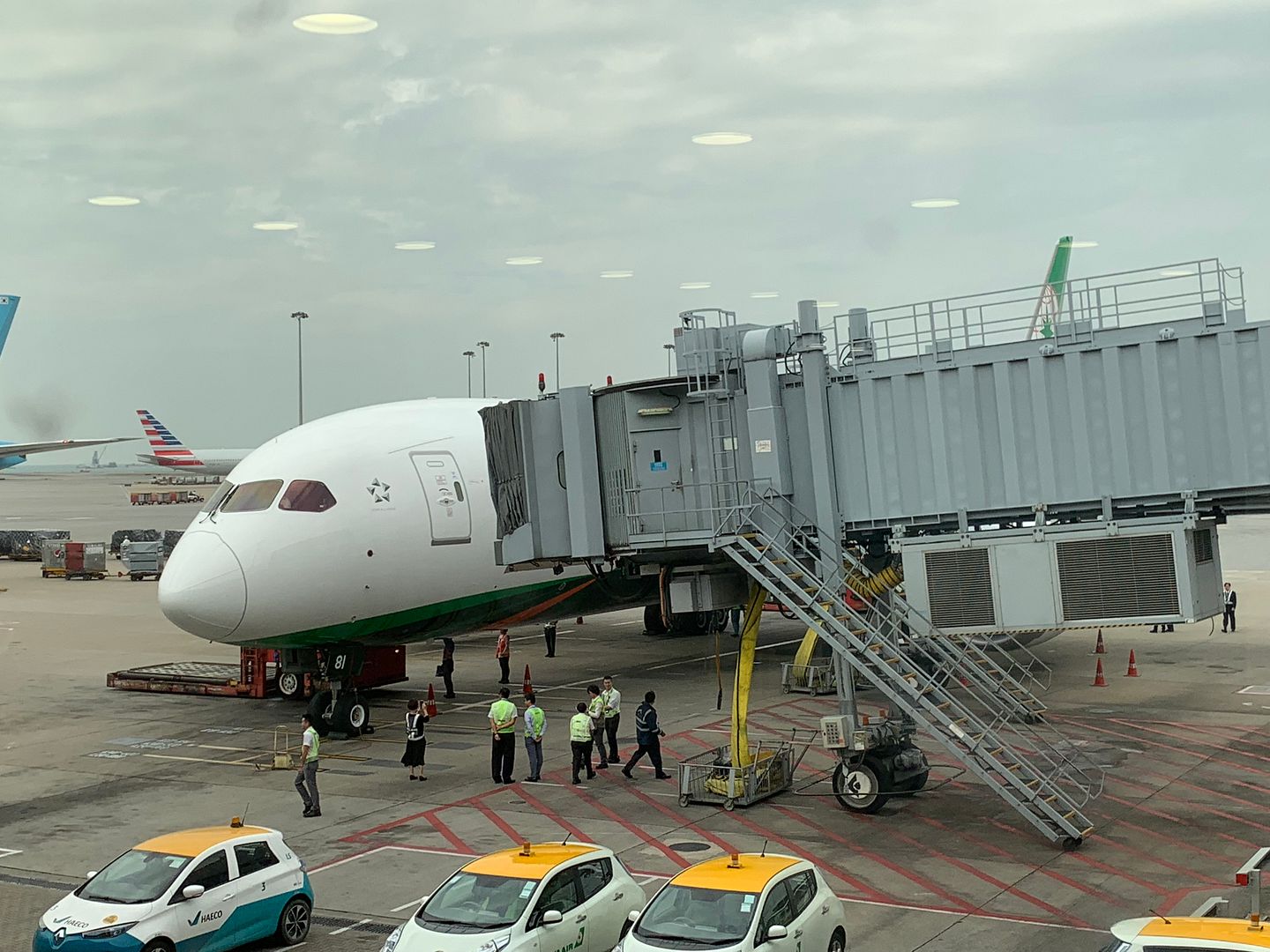 These 787s seem to be only used on regional flights and maybe to Australia, replacing EVA Air's A330-200s. Hopefully these Brisbane flights will soon get these nice business class suites, instead of those angled business class seats. I have a feeling that EVA Air is perhaps testing out the next generation of Premium Laurel seats too. I can see EVA Air putting these seats with a door in their new 777Xs and even in their newer batch of Boeing 777-300ER seats.
I hope you enjoy this trip report!
Carfield
PS. The StarFlyer's trip report will come soon.