Yep, I proudly hold that record! A piece of history I will hold onto forever, as I was the last person to be scanned into the last plane ever to depart from the Commuter Terminal.
With that in mind, here begins my reasons for making this short but historic journey: in mid-spring, 2015, SAN announced that the Commuter Terminal would be closing permanently after the last departure on Wednesday, June 3rd. As of Thursday, June 4, all flights on United and American would operate from Terminal 2, ending all split-operations forever at SAN. I figured this would be a HUGE local story, given that this was the site of PSA, San Diego's hometown airline, and that although sad to see this historic building be decommissioned and eventually removed, it was to make way for a world-class airport terminal. Nope! Not a word! I e-mailed a couple of stations about it, but no interest.
Undeterred by the lack of interest in my fellow San Diegans, I took it upon myself to become a witness to an important moment in San Diego history, booking a short trip to LAX to be there on the last flight, if I could. I looked at flight schedules, and saw that United had a the latest flight departure, meaning its last flight to LAX would technically be the last. However, it was more than $300 one way. The last American Eagle flight of the evening, flight #2883, left 15 minutes prior (8:14 PM versus United's 8:30 PM), but it was $69 one way. Done! I'd have to settle for being on American's last flight out of the Commuter Terminal instead of San Diego's, but I would still be part of history. I booked a room at the Concourse Hotel next door to LAX (before it became a Hyatt Regency, which it most definitely was not at that time!), and decided to take the train back home the next day, since I would have to play hooky anyway.
Here are some shots of the Commuter Terminal I took that misty June day: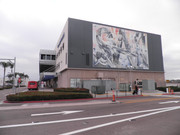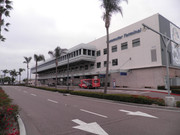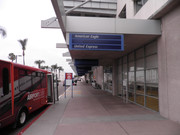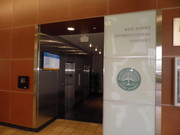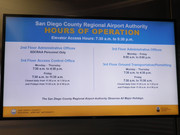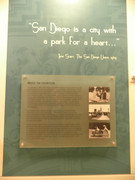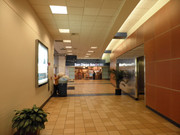 A couple of SeaPort Airlines planes visible from the Terminal: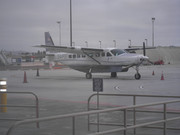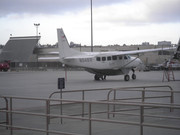 Turned out the airline/airport Gods/Goddesses were looking down at me and worked their magic in my favor - the incoming American Eagle flight from LAX was delayed by 45 minutes, and the United Express plane was on-time.
I WAS going to be on the very last plane!
So, the United Express plane boarded and departed, and now it was down to just one last flight - ours. Still no cameras or TV crew, still no fanfare, nothing. Well, I guess it's just me celebrating!
And our plane arrived. I have never been more grateful and excited that a plane was delayed, and I never will again. And the gate agent called for the flight to be boarded, and the auspicious moment arrived - time to be scanned!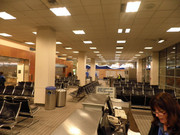 I waited off to the side as other passengers checked-in. When there was a lull, she asked me, "may I scan yours?" I replied, "yes, but I'd like to be the last if I could, please". Of course, she gave me a puzzled look. I immediately told her, "this will be the very last flight ever out of the Commuter Terminal, and I'd like to be able to say I was the last passenger". Immediately her eyes lit up, "oh, that's right! We're not coming in here anymore, are we? Oh, sure! I'll get everyone else checked-in!" She was delightful.
Which she did. And then it was my turn. Bleep! And I'm through. Time for one last picture, and off we go.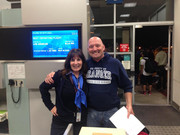 Then the lights would go out, the computer would be shut down, and an era would be over. While taxiing out, we saw the incoming American Eagle flight for tomorrow's 6:30 AM departure was heading for Terminal 2, giving us tangible proof that, yep, those days are gone. And once seated on the plane, I thought, "and just like that, it's over. Now I'm flying to LA and staying overnight. Okay, time waits for no one - let's get going!"
Here we are marching out to our plane: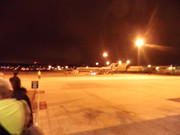 And getting settled: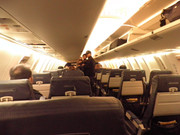 This marked other firsts for me: 1) flying SAN-LAX at night. A surprisingly clear night, and a direct approach into LAX, and 2) being in the Eagle's Next terminal. Back in 1993, my one and only time connecting on AA at LAX from BFL, it was all in the same terminal. This is my first and only time at the remote gates.
Oh, my, that bus ride - seeing all those plane so close from the tarmac was amazing. And at night, with everything lit up, even more spectacular!
The amount of traveling I had to do to get from my seat on the plane to the hotel room was as circuitous as I'm sure crossing from East Berlin was to West Berlin was in the Cold War era. Not really a far walk, just kind of ironic how close it is as the crow flies. And so that my OCD would leave me alone for a while, I let it create this map of the walking route: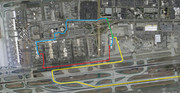 Yellow is the airplane, blue is walking, red is the bus, and green is the direct distance.
The hotel was perfectly adequate, but was in the process of being renovated and sold. Decent breakfast, then the FlyAway bus to Union Station, and home to San Diego.
When I was privileged enough to be able to move to San Diego in 1999 (not an easy thing to do for a school teacher at that time!), I took great pride in the fact that I had learned the layout and the history of the region, and through a twist of fate, I was one of the first people in the city to learn of the name of the new downtown baseball stadium would be Petco Park. I have a brick in the plaza at the stadium, and I always get a kick out of knowing that I was there at a moment in San Diego's history.
Thank you for letting me share my story. I would love to hear your feedback!!
Happy flying to all!! Scott