StarFlyer Venturing into International Service – Taipei Taoyuan Inaugural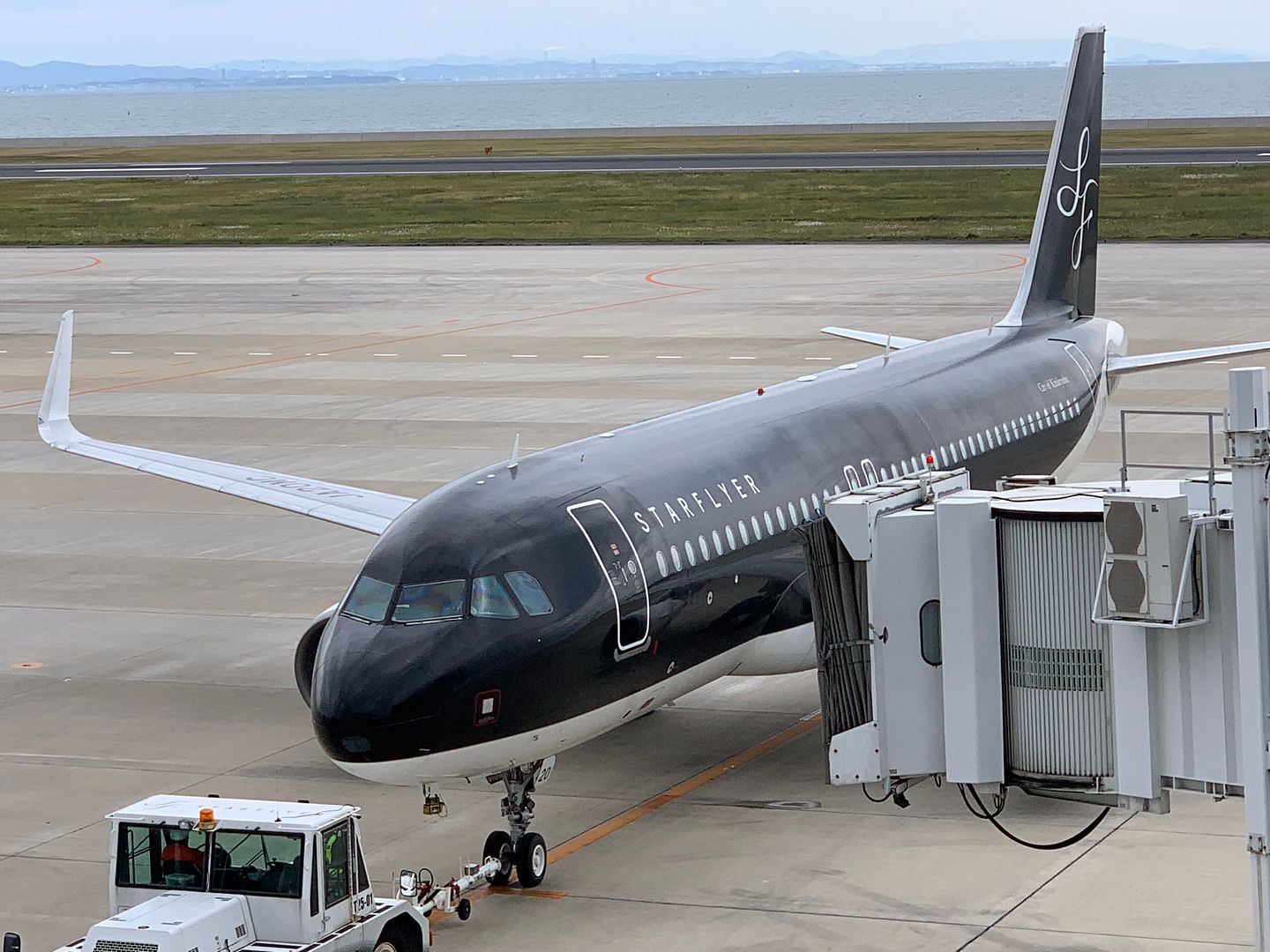 StarFlyer is a boutique airline based in the Japanese city of Kitakyushu. It operates a fleet of 12 A320s equipped with only 150 seats in a mono class configuration. Its main route is between Tokyo Haneda and Kitakyushu, but also flies a few trunk routes for ANA, one of its shareholders. It flew between Haneda and Kansai, as well as between Haneda and Yamaguchi Ube, and between Nagoya and Fukuoka. Indeed, you checked in with ANA for those flights. It has tried international flights before, which was a short 50 flights between Kitakyushu and Pusan, South Korea, but that flight did not last long. It has also tried charter work to Hong Kong and Seoul Incheon before. Finally, earlier this year, it announced that it will try international flights again, and Taipei will be its first chosen destination with expansion planned to Hong Kong and Shanghai in the future. Taiwan is a big tourist market, but is fairly saturated with both full service and low-cost airlines. Its original plan calls for three routes: Taipei to Nagoya, Fukuoka, and Kitakyushu. Their latest A320s, JA25MC and JA26MC, are equipped with Sharklets, as well a new cabin with a few updates on the galley, including ovens. They also feature only one over-wing window, instead of two over-wing windows. They are also hiring Chinese speaking flight attendants too. When it finally announced the inaugural dates, I was determined to fly the inaugural flight. I also want to note that Fukuoka is no longer on the plan because of slot issues. The plane basically begins the day in Nagoya with a morning flight to Taipei, and then an early afternoon roundtrip to Kitakyushu and back, and then a late evening flight from Taipei to Nagoya. It is clear that the Nagoya flights target Japanese tourists and the Kitakyushu flights targeting Taiwanese tourists. In the end, I decide on doing the Taipei to Kitakyushu inaugural because it is truly a unique flight and I expect more celebration on this flight linking to its hub. I hope you will enjoy this trip report on this unique boutique airline.
Full Album link:
http://s1213.photobucket.com/user/Carfi ... iInaugural
This is a huge album because I include my other flights done during my three days in Japan. If you want to find out more about Fuji Dream Airlines, you can find pictures of the airline including its interior and service items. I will only share a few pictures here but feel free to go through the album.
October 28, 2018; Sunday
7G 800 Taipei to Kitakyushu Lv1135 Arr1435 Airbus A320-200 Sharklet JA25MC
As expected, StarFlyer operates from the older but recently renovated Terminal One. EVA Air is its ground agent, as it actually handles a number of LCCs including Peach and Scoot. Aisle 1 is basically where you check in flying all these airlines. The aisle area was quite busy because Peach was still handling check in for its morning bank to both Osaka Kansai and Okinawa. Later, both Scoot and Peach's early afternoon flights to Sapporo were also using the counters in this aisle, which result in many confusions. In the end, things are sort out and I was the second passenger checking in.
Outside sign
Busy Aisle 1
Meeting before check-in began – two and half hours prior to departure
A very Chinese cultural thing to celebrate the inaugural – flower bouquets with celebratory cards
StarFlyer does not offer online check in for now but the line was processed fairly quickly, especially today was the first day. StarFlyer is a boutique airline offering certainly services expected from full-service airlines, such as free seat assignment including exit rows, complimentary food and beverage (more limited than traditional airlines), and free baggage allowance (20-30kg depend on your fares). However, its mileage program is limited to Japanese residents or people with a Japanese address.
I headed to gate B5 after passing immigration and security check, as I wanted to check out the set up.
Without knowing it, I actually walked into the rehearsal of the inaugural ceremony. I was very impressed because it was not just a run through. All the staffs, executives, and honorary guests actually went through the whole inaugural ceremony.
Gate B5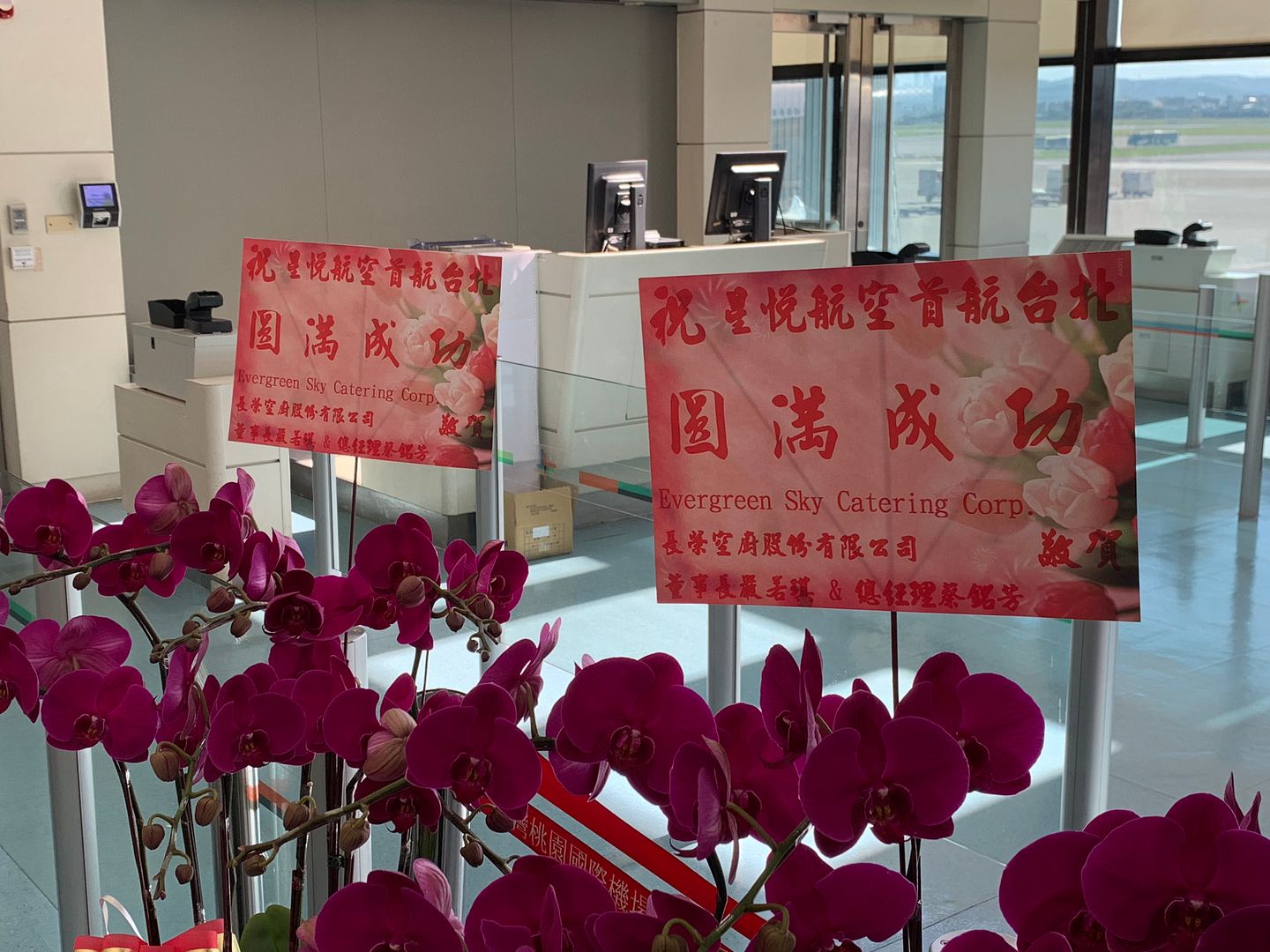 There was no beverage & food buffet like those organized by Singapore Airlines and other US and European Airlines, but there was a formal podium set up. Passengers were taking pictures with various signs promoting the new service. There were many staffs helping passengers snapping pictures.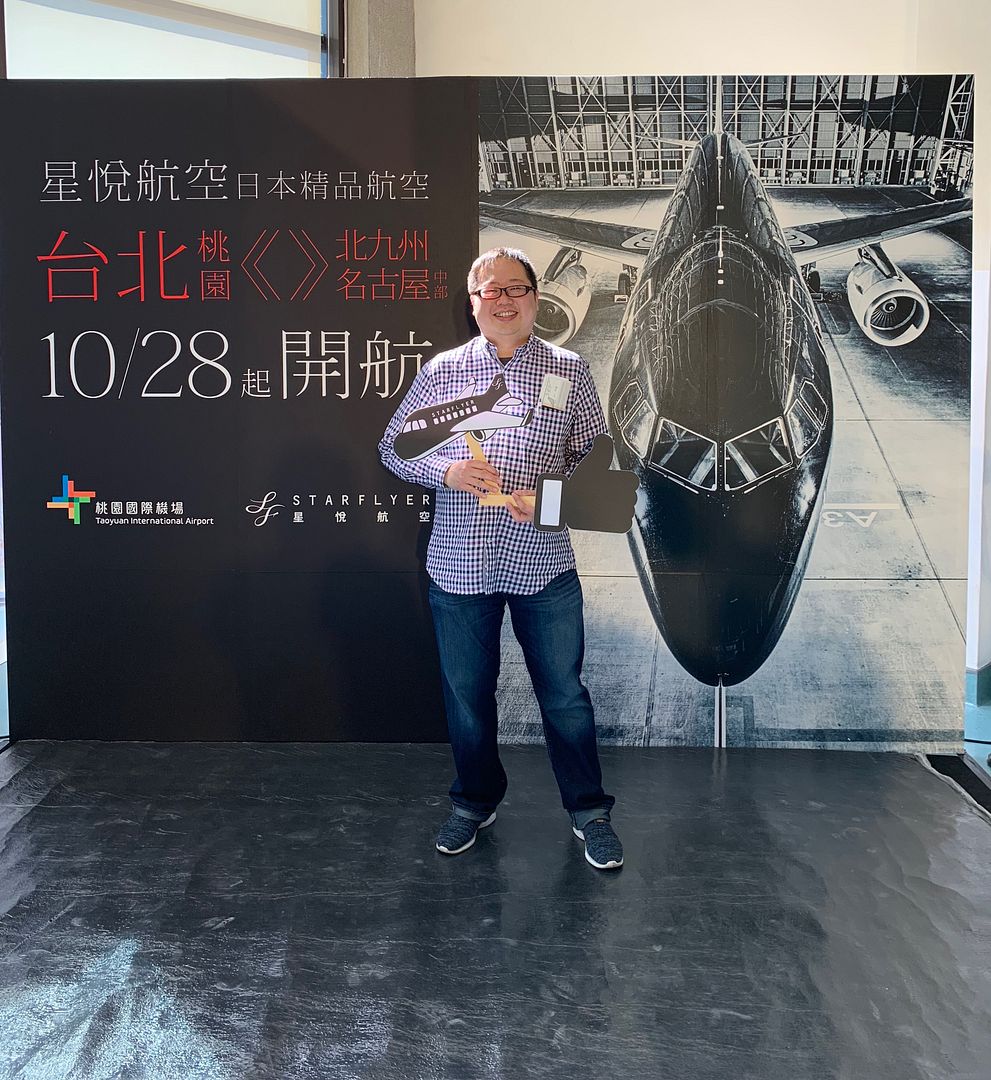 Plane not here yet but the fire engines are making sure that they would be shooting water, not foam!
The first passenger-carrying StarFlyer flight arrived from Nagoya at 10:31am, and there was a water canon salute. Everyone was glued to the windows.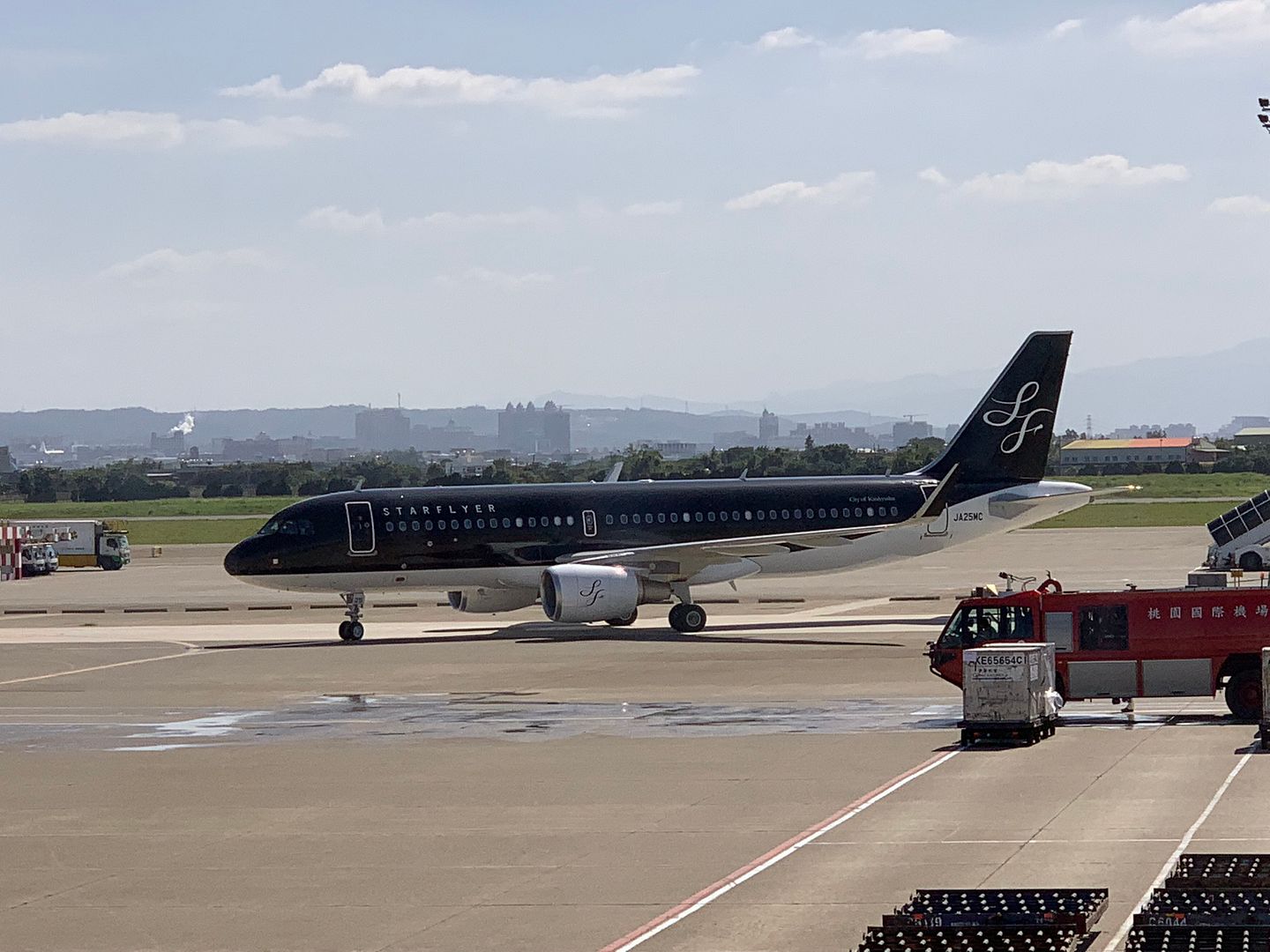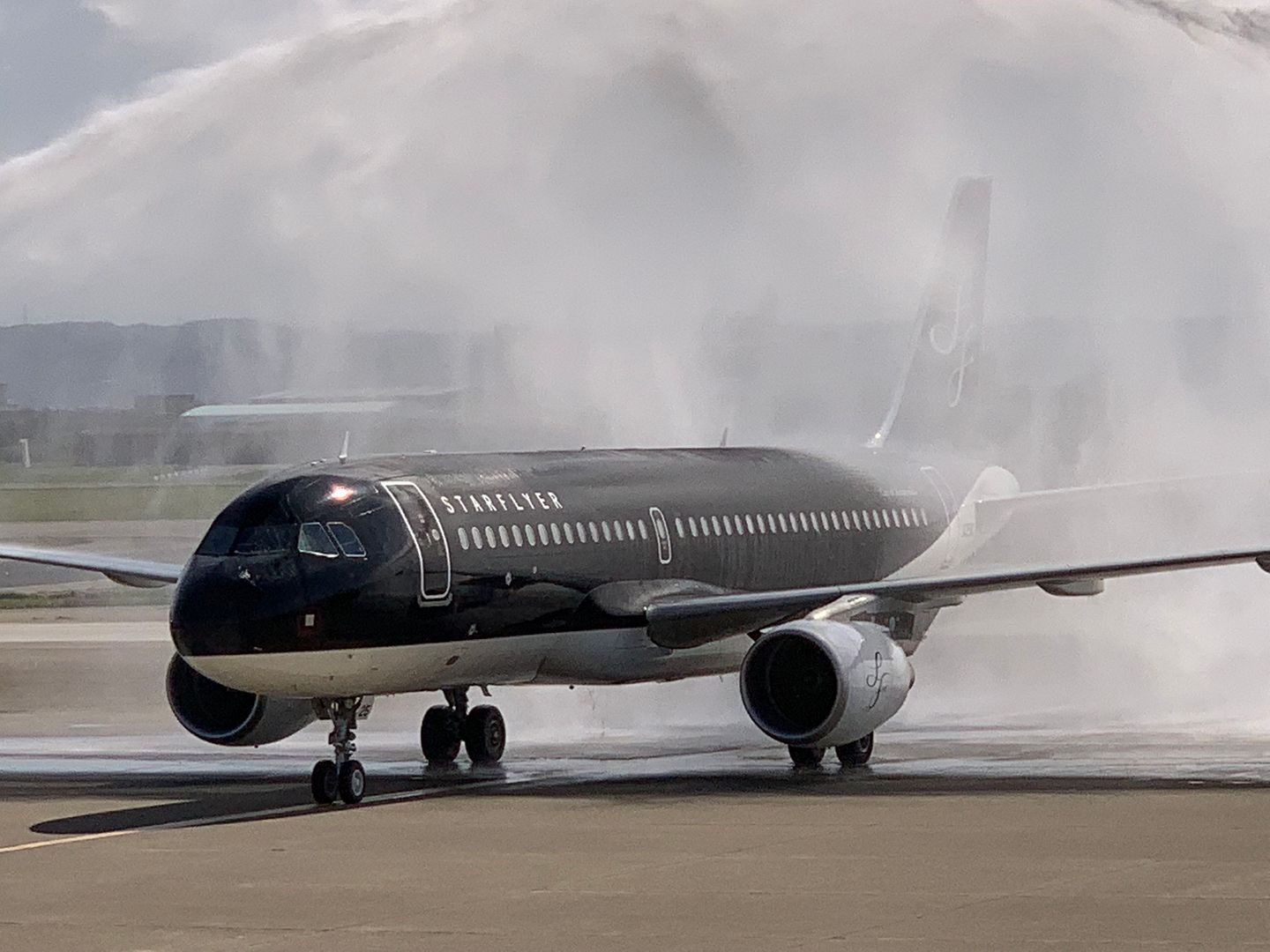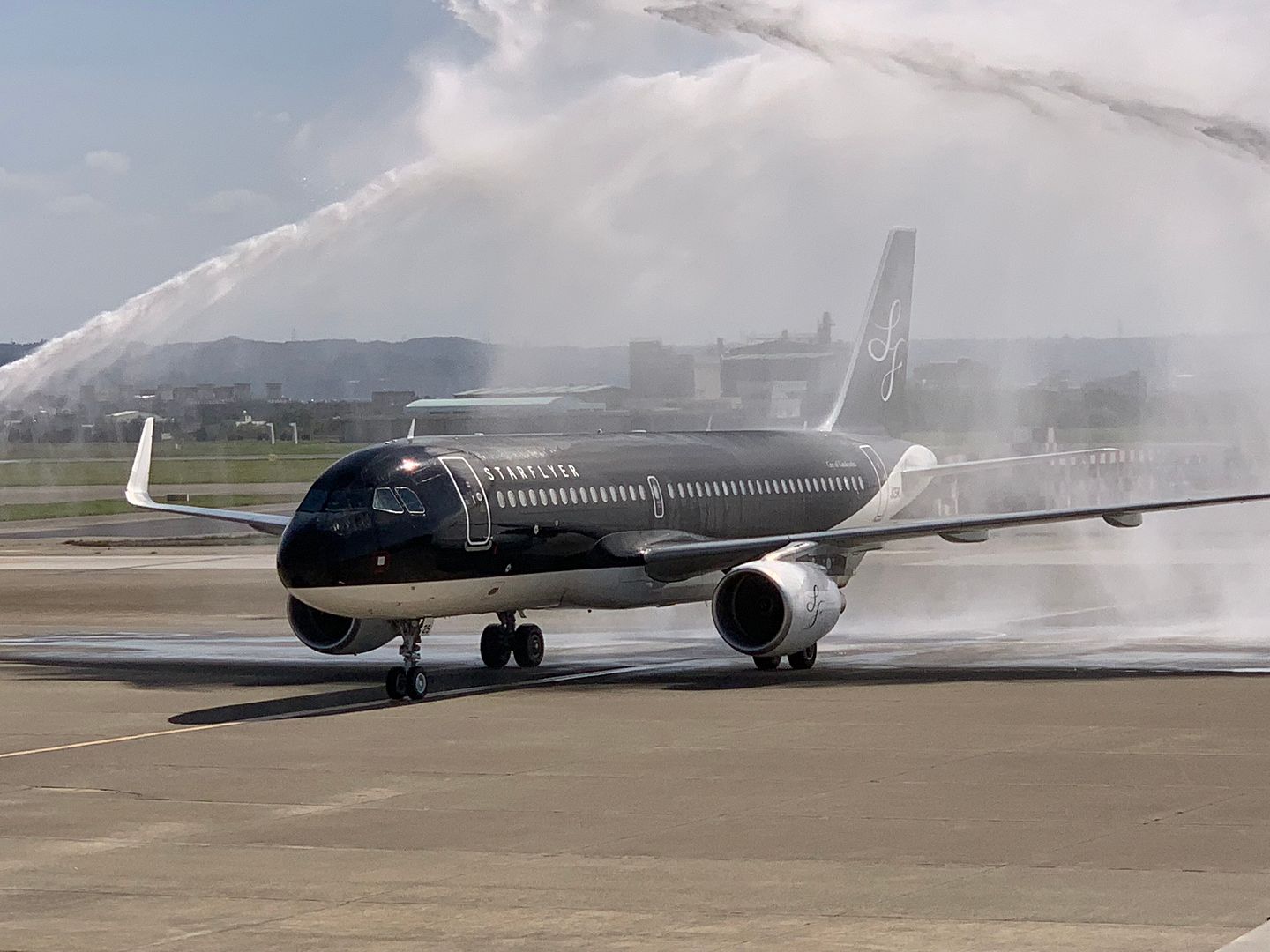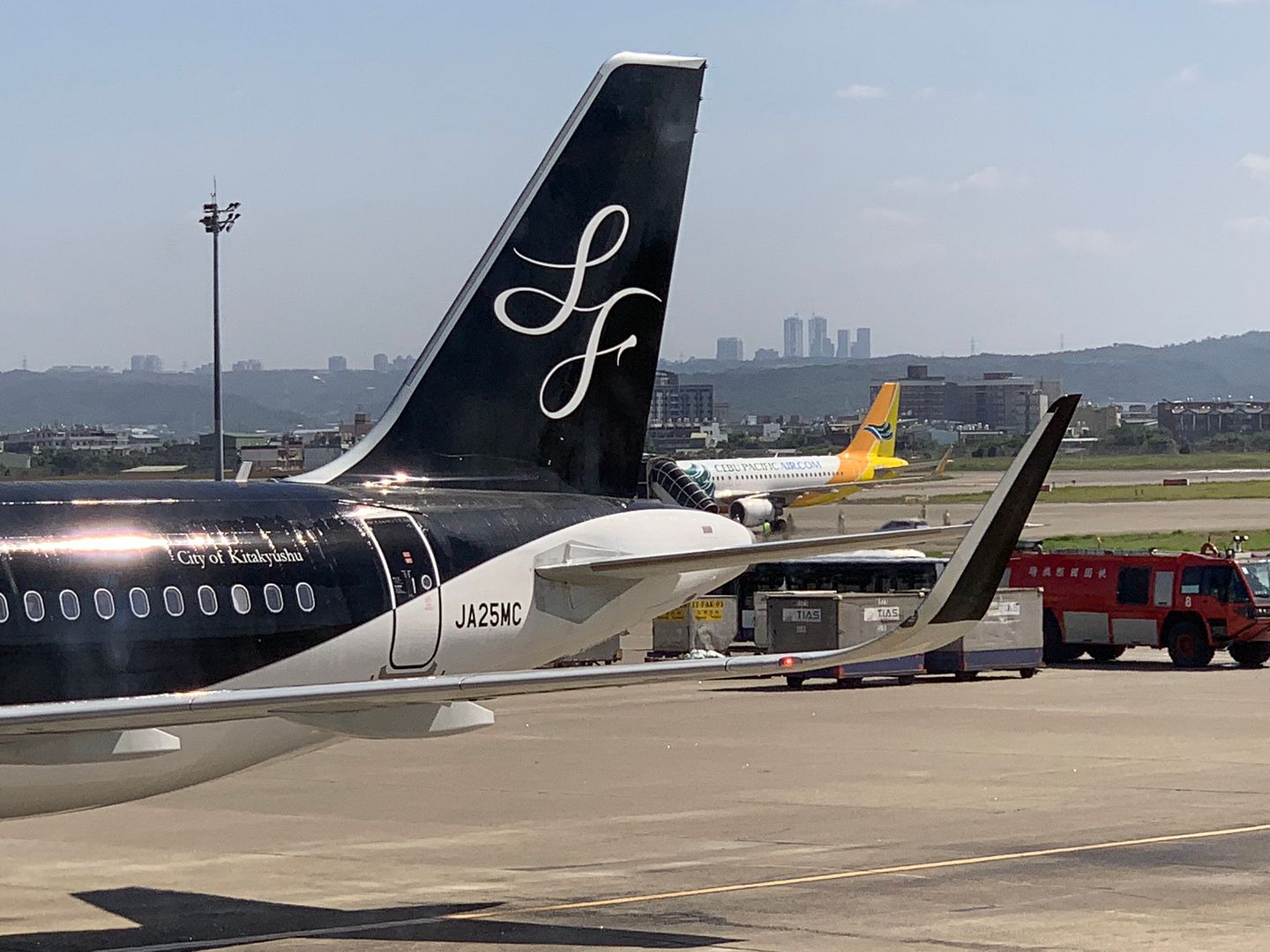 After the inbound was parked, the ceremony began with MC introducing the President of StarFlyer.
Here is the MC.
President – Makoto Takahashi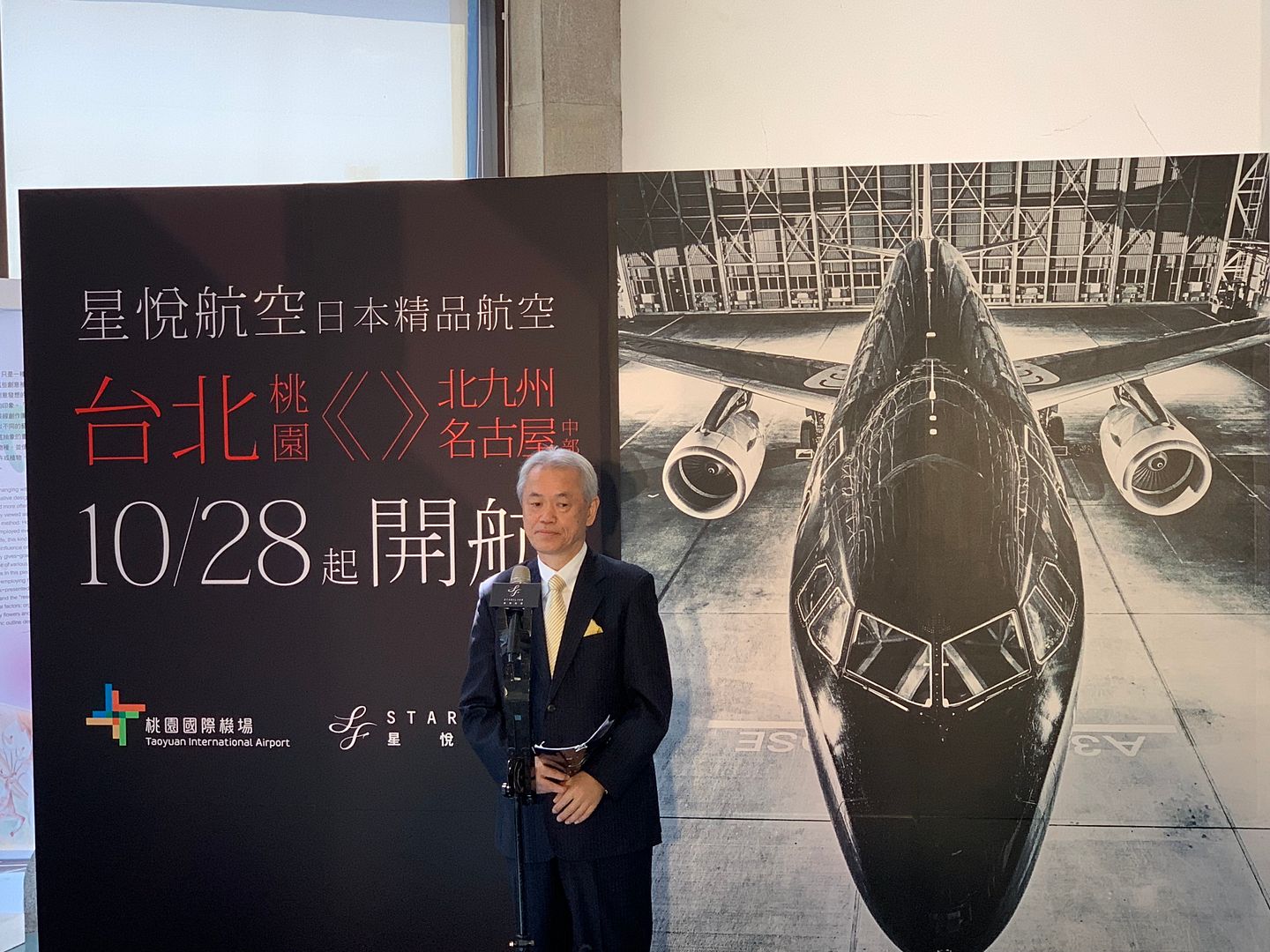 Representative from the Japan-Taiwan Exchange Association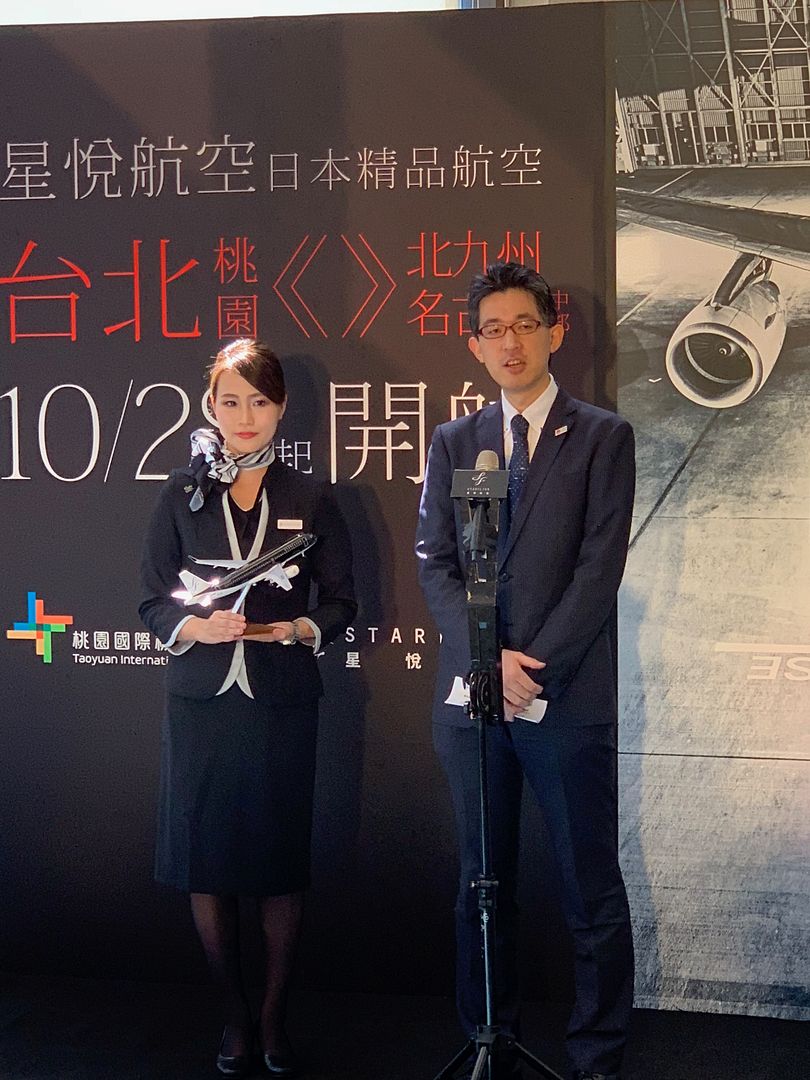 Ribbon Cutting Ceremony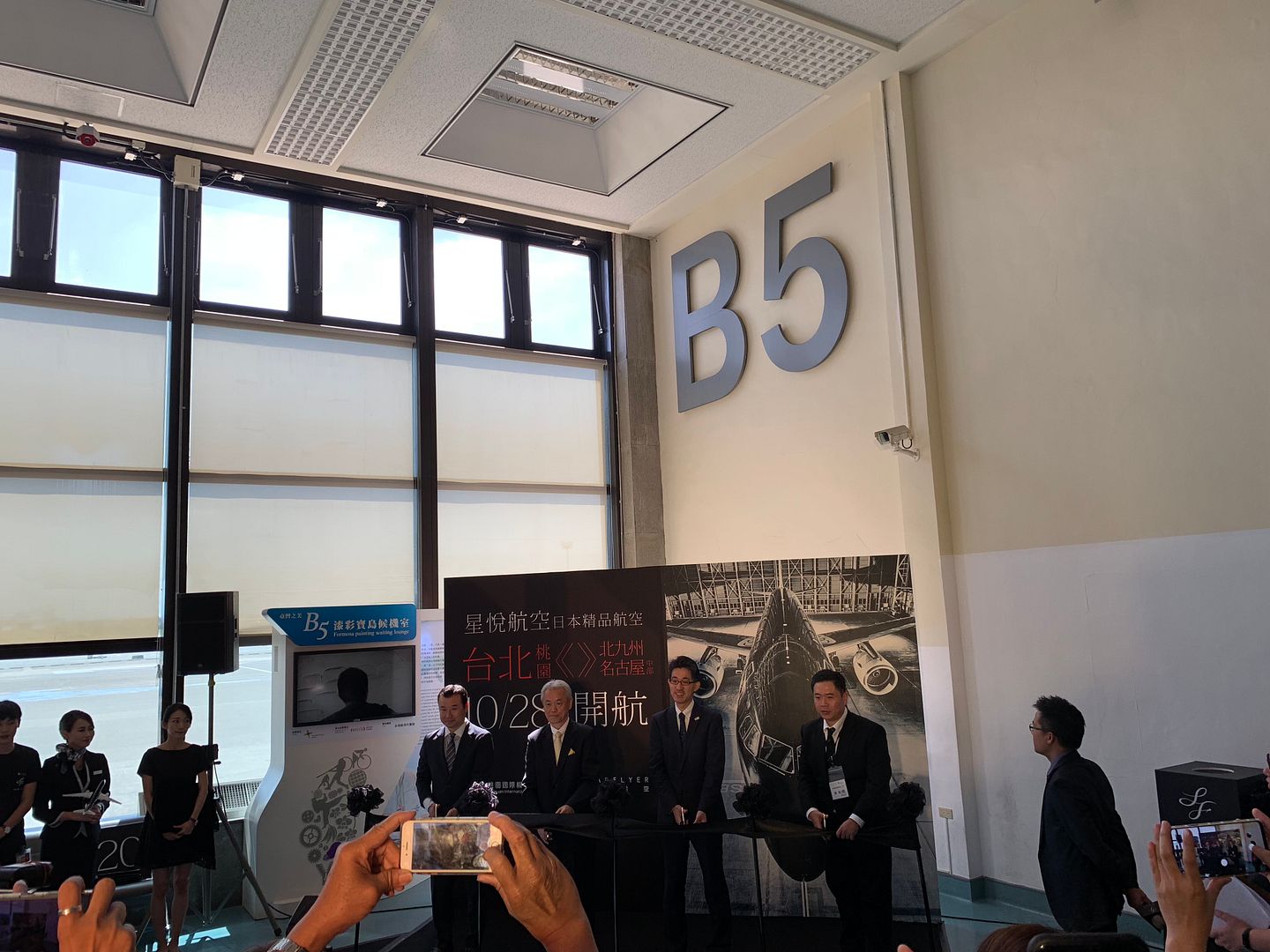 Lucky Draw – stationary sets as gift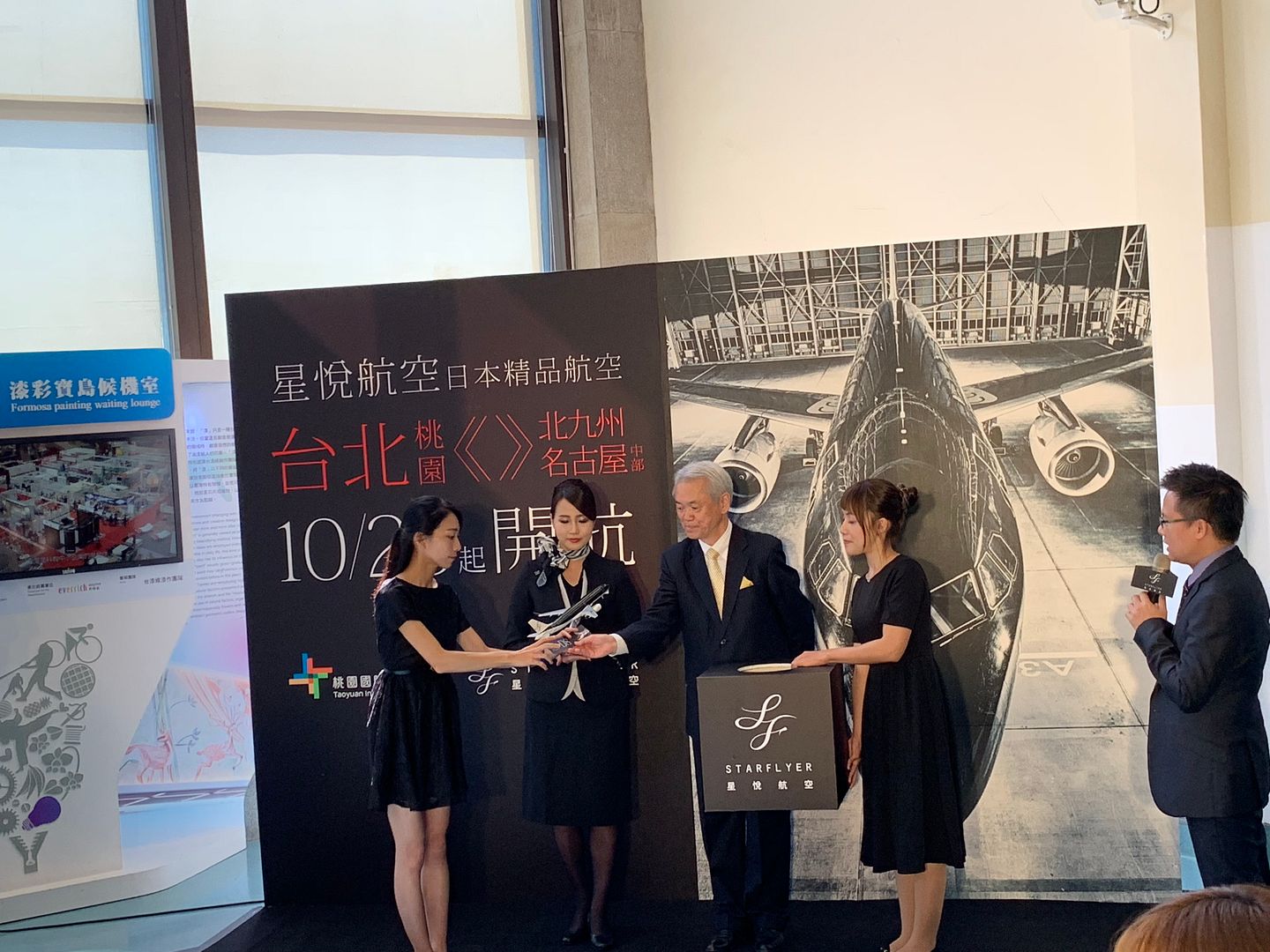 Black Carpet
Boarding soon began at 11:18am, and each passenger got a gift bag.
Purser welcoming passengers – basket of headsets and blankets are available too
Cabin shot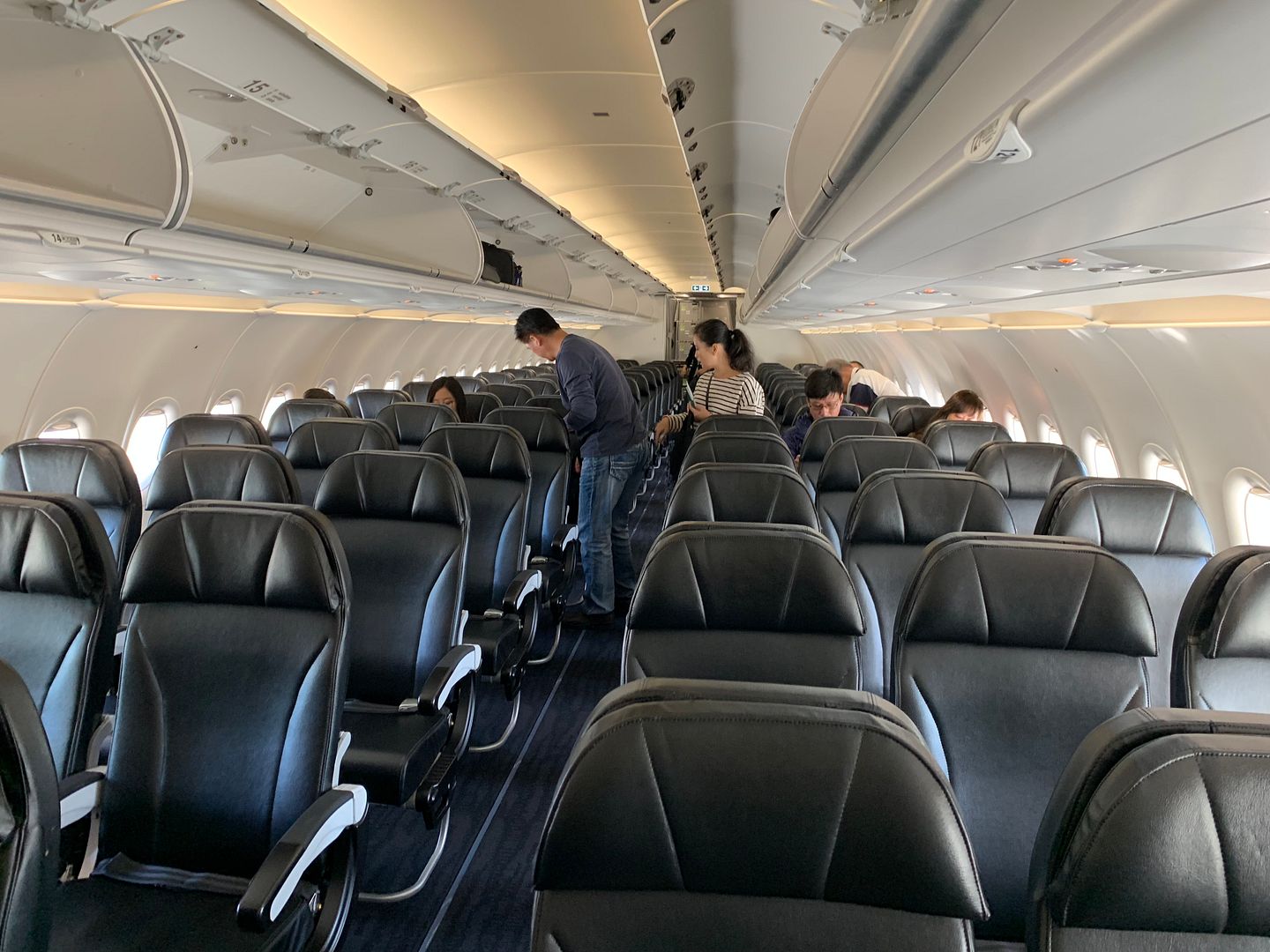 Really smart looking seats with generous legroom
Exit row for the first leg – Row 11 – there was only one over-wing exit on these new deliveries of A320s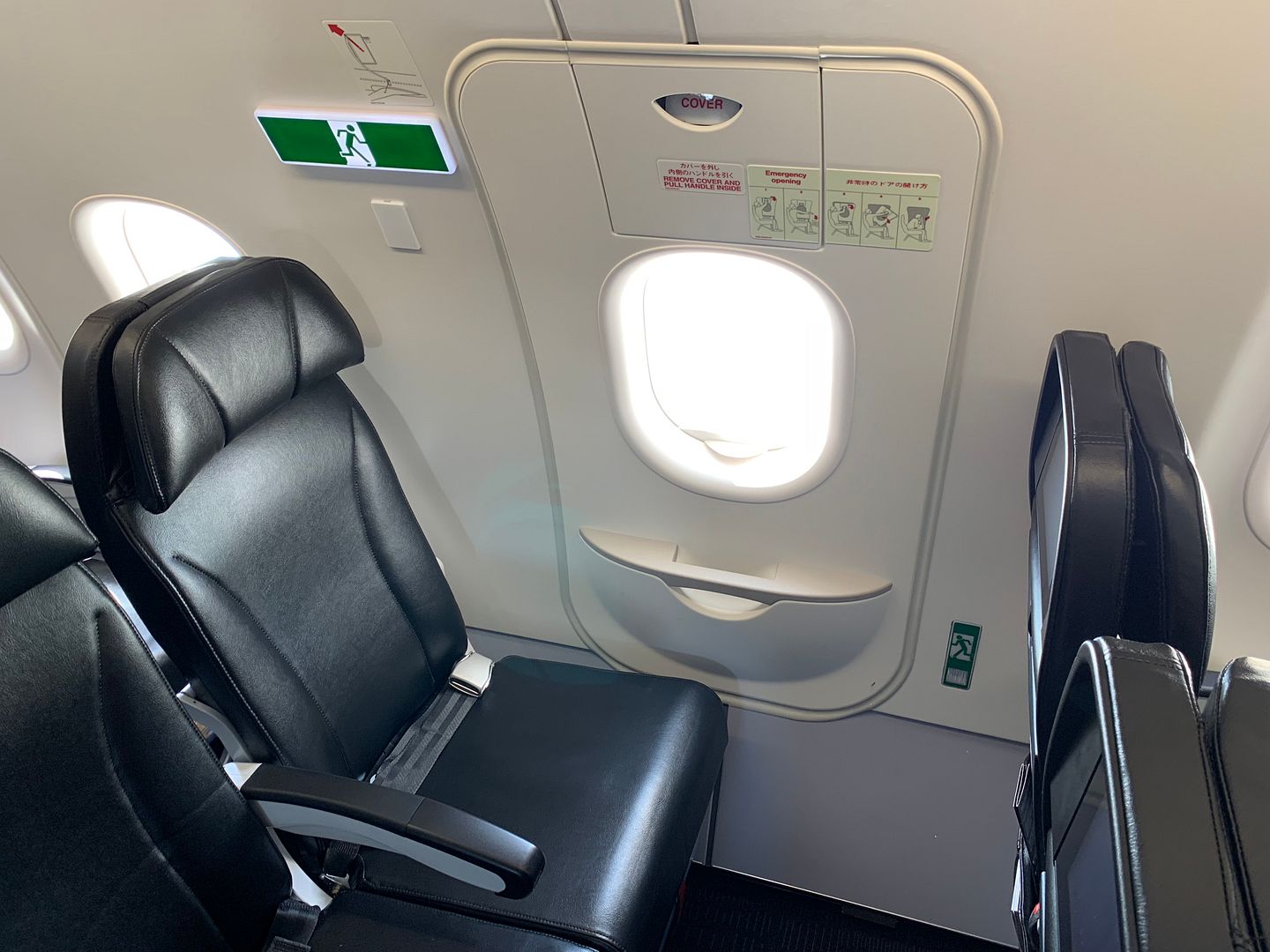 Let took a look at the inaugural gift bag: Model plane, luggage belt and some kind of cloth
For these new A320s, each seat has both universal power outlets and USB charging ports, as well as adjustable legrests. I have better pictures on the return flight.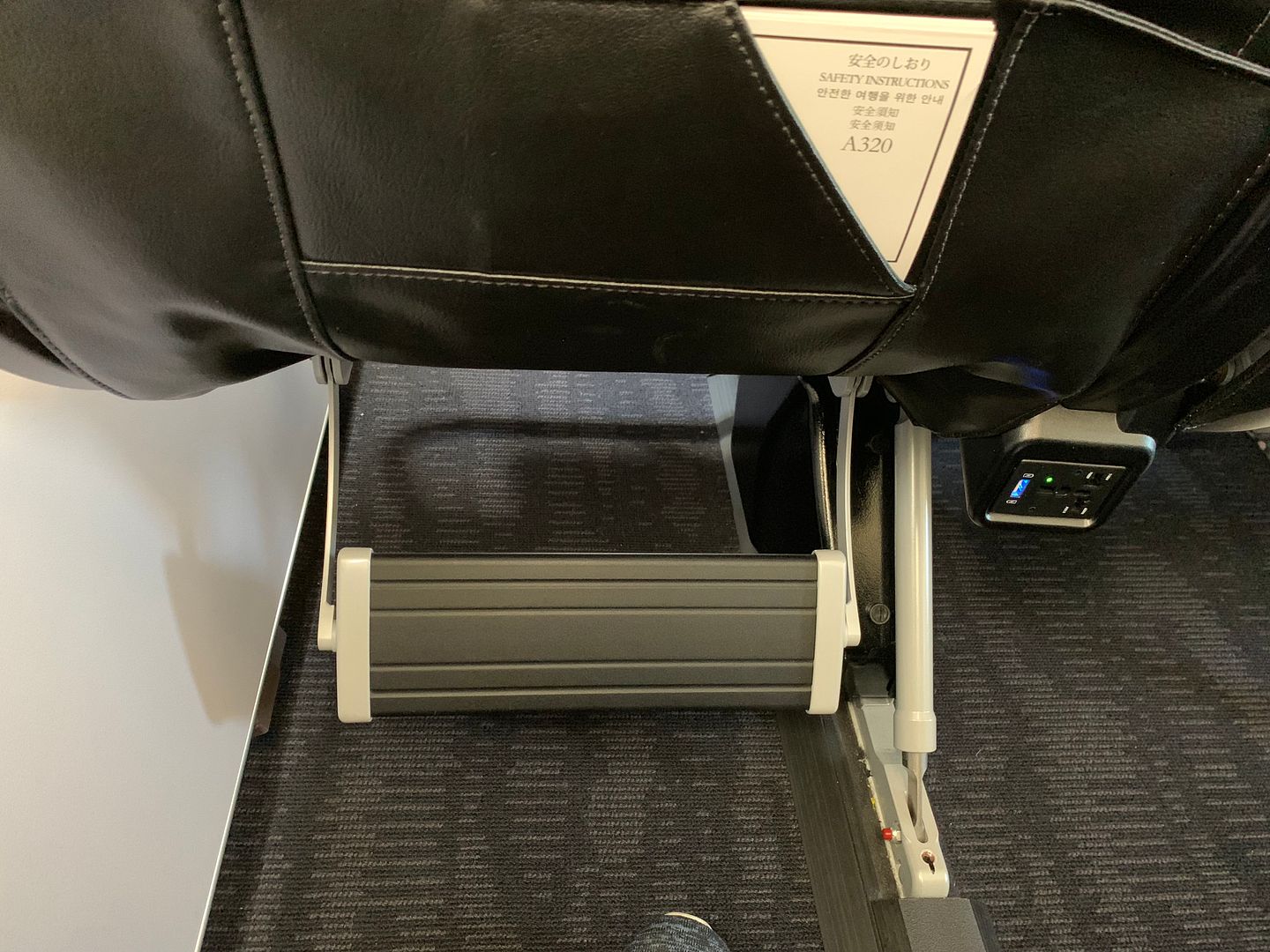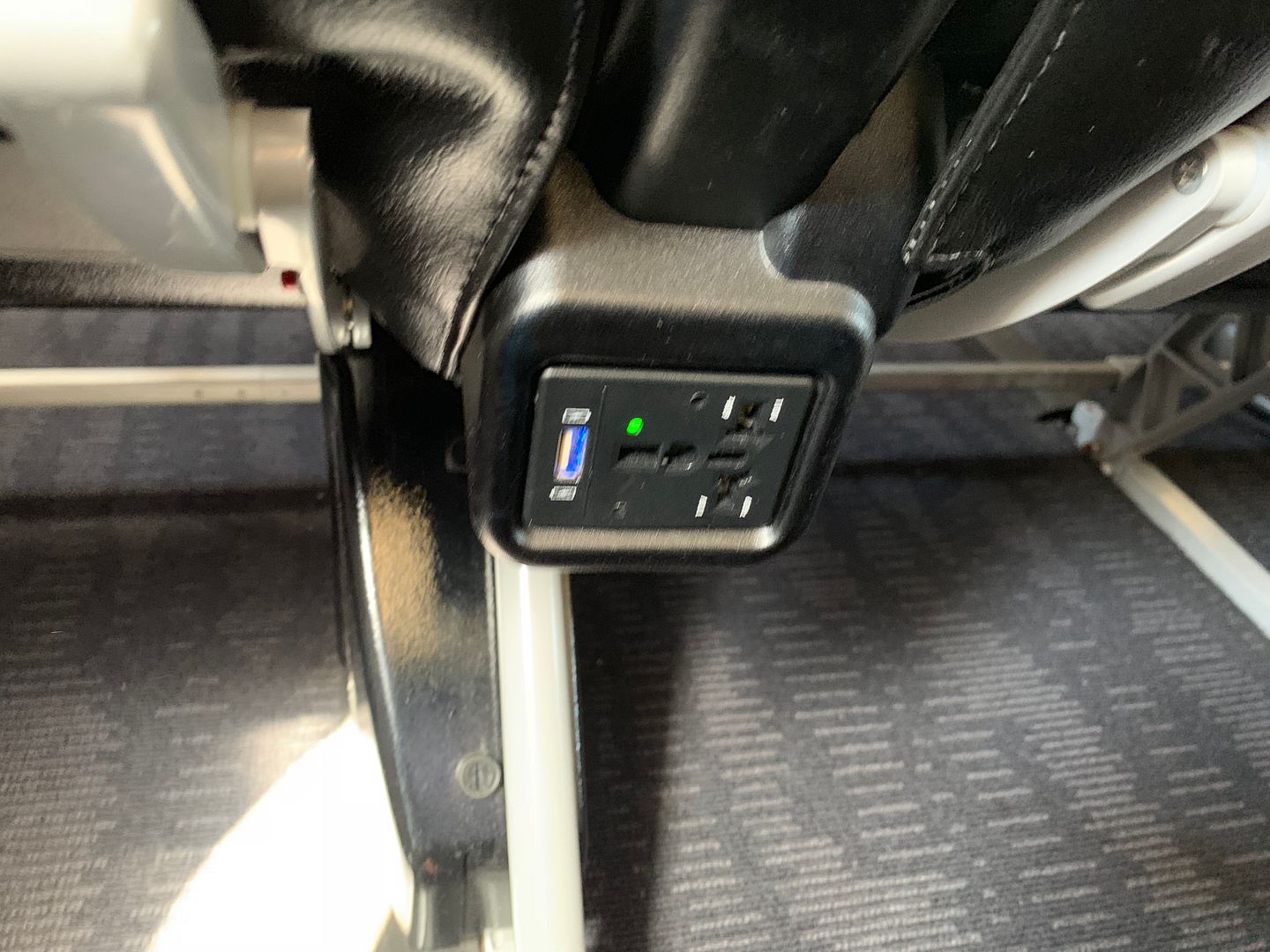 Inside of magazine pocket, there are the in-flight magazine, sanitary bag, and safety card.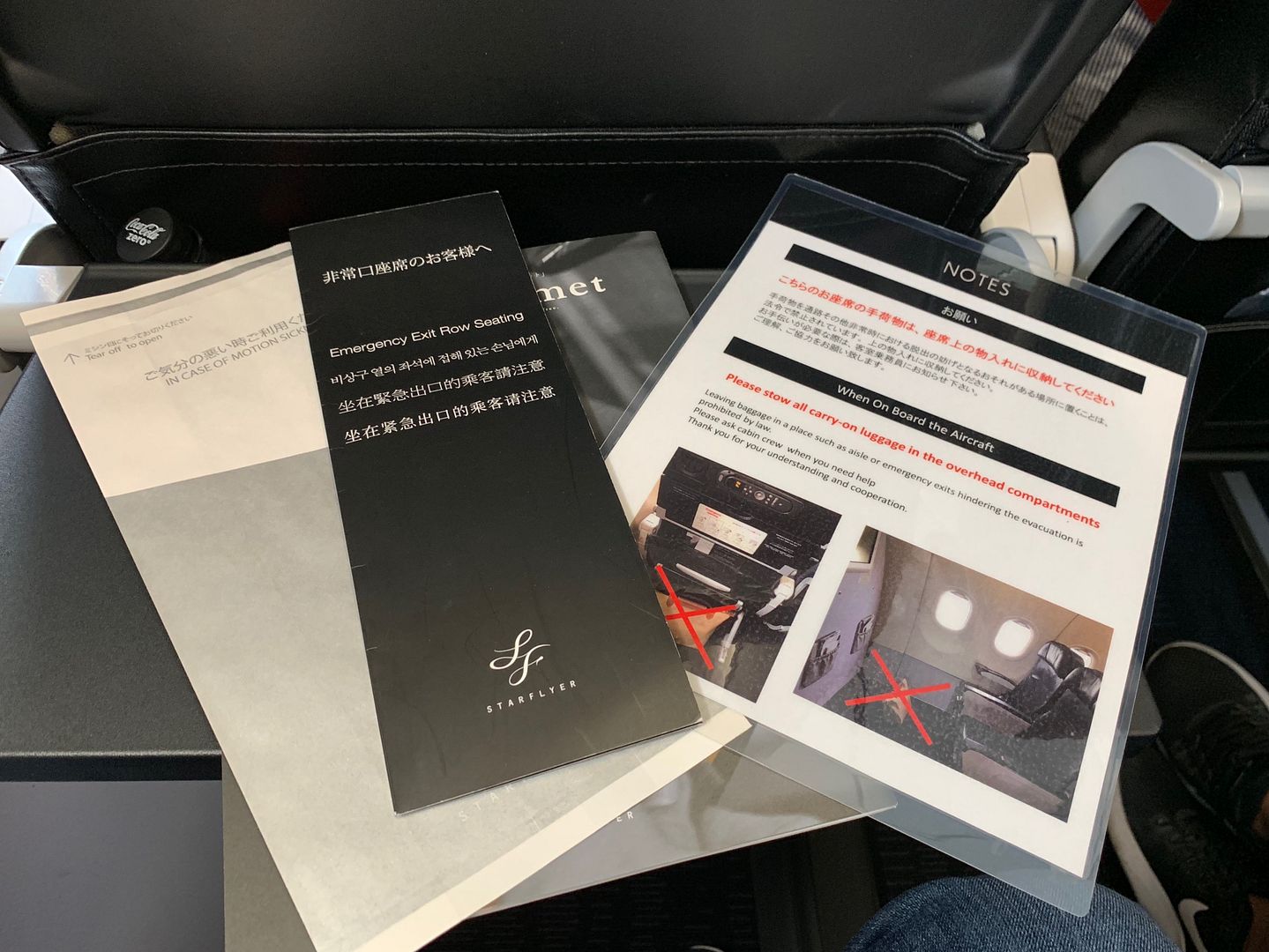 The flight was 100% full and many tour operators blocked seats on this inaugural flight. It was quite a nightmare to buy tickets for these inaugural flights. Despite of the load, everyone was quickly seated. However, we had some delays due to paperwork, as the maintenance staffs were walking back and forth between the cockpit and the jet bridge. For the first flight, it was understandable, and the 50 minutes turnaround time also did not make sense for a new airline flying to a new city. Thankfully it was an inaugural flight and everyone was in the festive mood and folks just took the opportunities to take pictures and post things on social media.
Door was finally closed at 11:57am and we pushed back at 12:05pm. There was a Chinese speaking F/A and all announcements were made in three languages – English, Chinese and Japanese.
We finally took off from R/W5L at 12:27pm. Flying time was an hour forty-five minutes at 35,000 feet. We later descended to 33,000 and then further to 31,000 feet, as we face some major turbulences.
Routing: Jinshan-350-330-310-Nagashima Island-Ueshima Island-Shimibara Bay-Omuta-Dazaifu-Iizuka-Yukuhashi-KKJ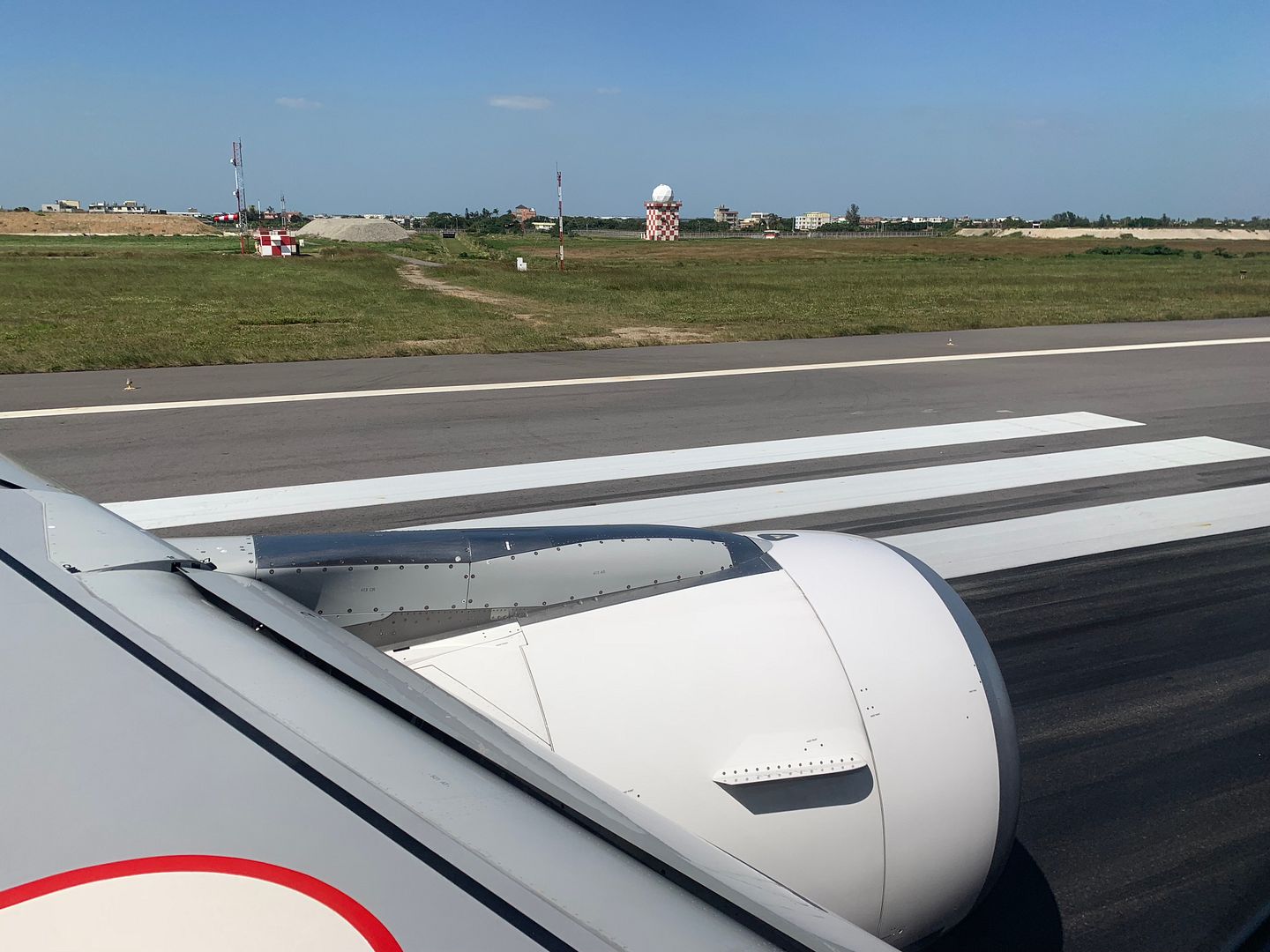 Leaving the Taiwanese coast
As I wrote earlier, StarFlyer offers limited but complimentary food and beverages on its new flights to Taipei. I also notes that four different bentos are offered on these four different routes. The bentos will be warmed on the two flights departing from Japan. The return bentos are served chilled.
F/A first rolled out the meal cart and passed out the meal. Each tray came with the bento, the dessert, a menu card (Japanese and Chinese only), and a mini bottled water. For this flight, the first meal tray was passed out at 12:50pm.
Beverages are served later at 1:10pm, and ironically, the F/As were already collecting the finished food tray at the same time.
Menu for this segment
The lunch bento featured Chicken teriyaki, salt grilled salmon, Gomoku (five vegetable) rice, Boiled shrimp, pea pod, pumpkin, Burdock, Yam Cake & Egg Omelet, accompanied by a packaged pineapple cake. It was delicious and I cleaned up the tray. It was a nice snack for a two hours flight.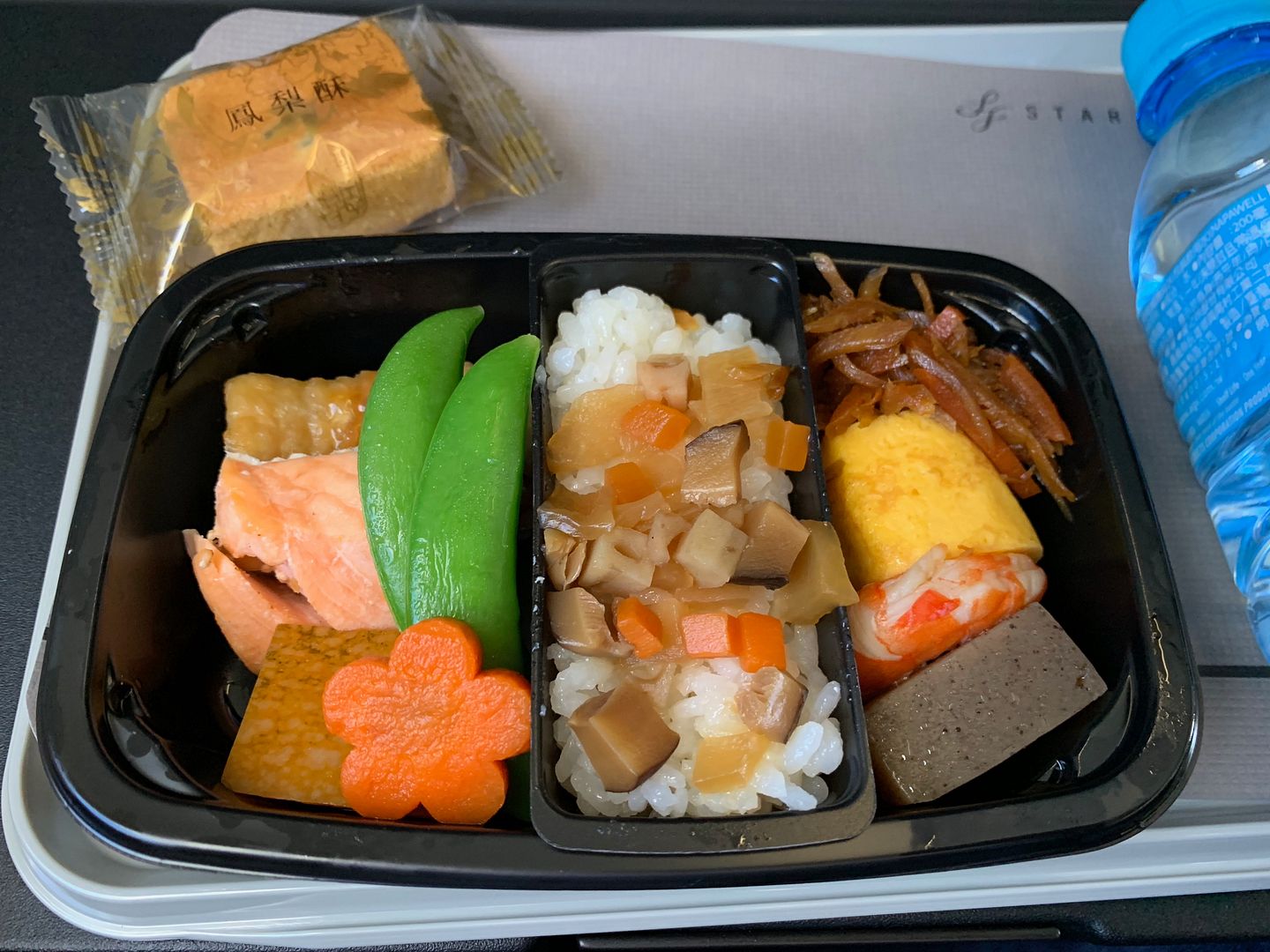 Chicken teriyaki & salt grilled Salmon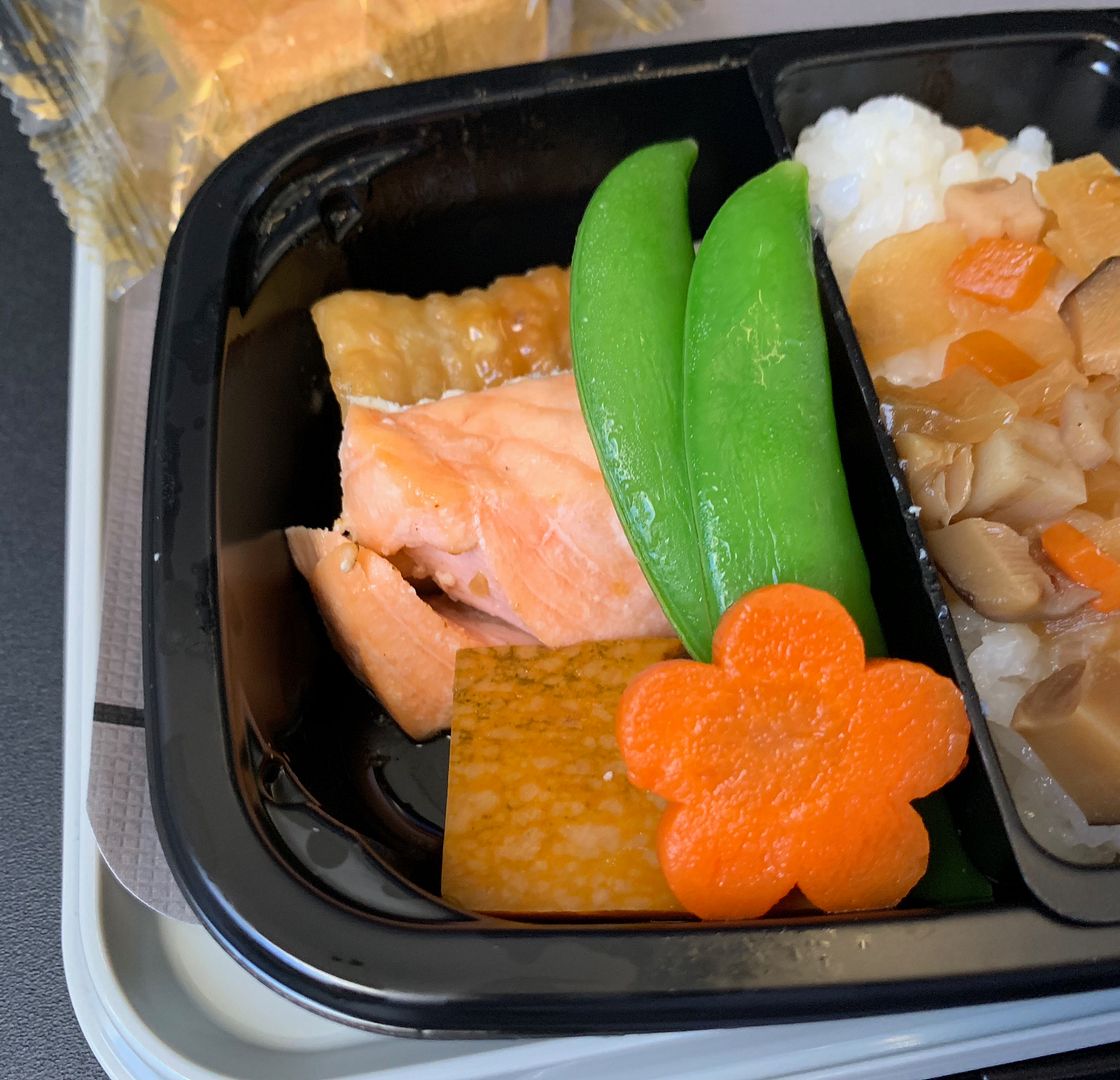 Gomoku (five vegetable) Rice
Pineapple cake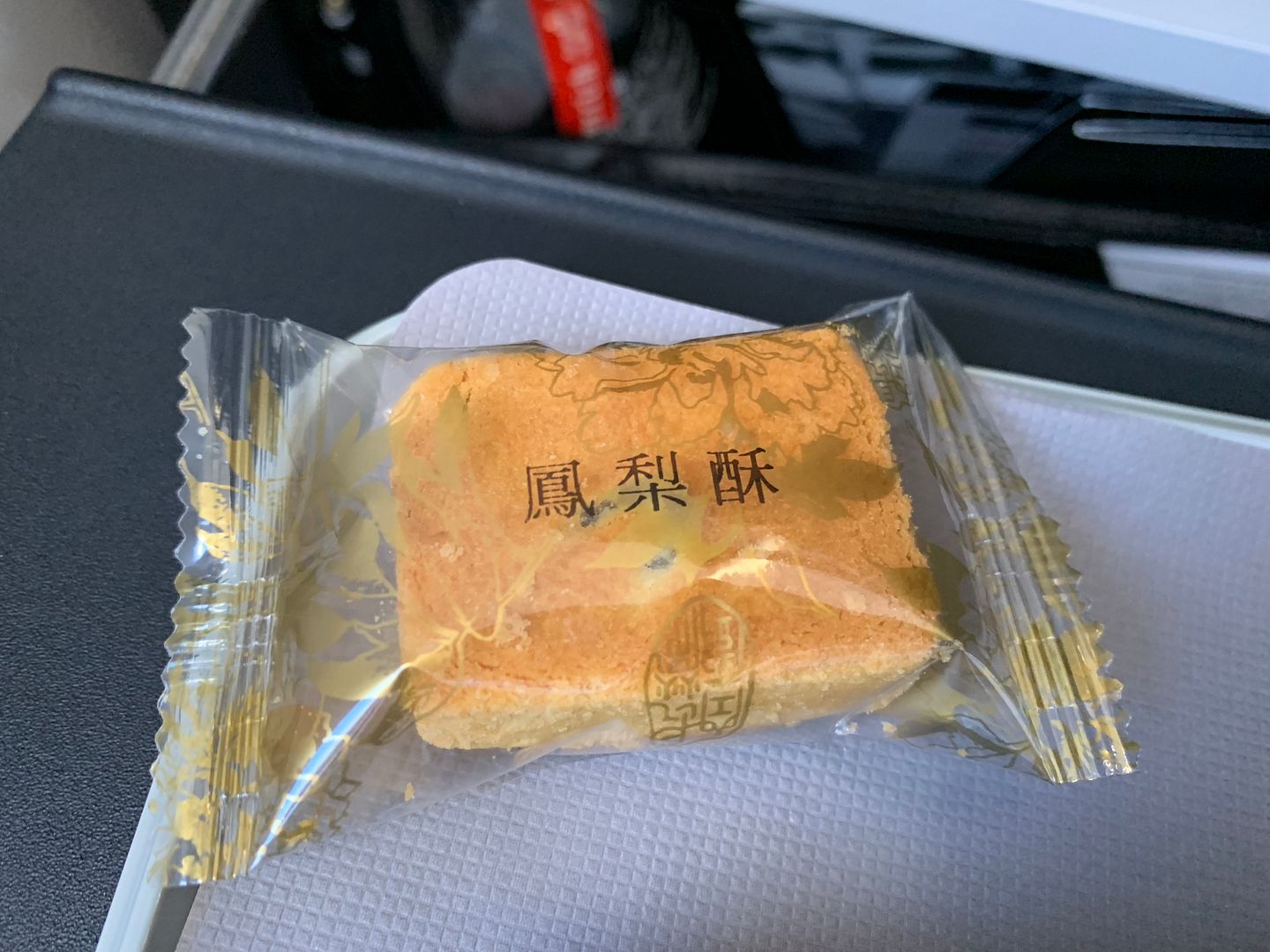 Beverages are complimentary but are limited to the following items:
beer – Asahi & Kirin, "Kibou No Sizuku" apple juice, mineral water, ice & hot green tea, and coffee
Green Tea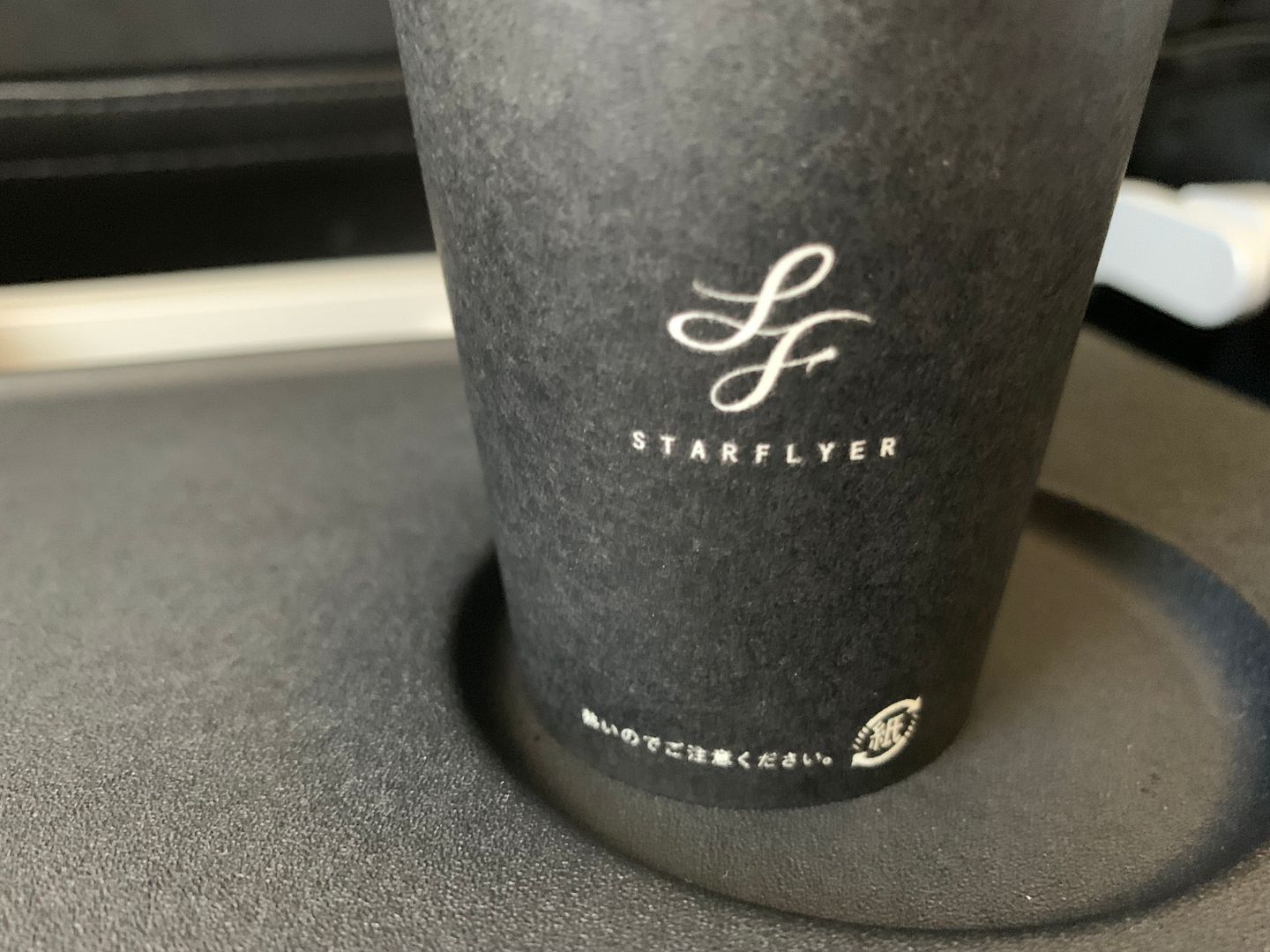 As you have possibly noted, each seat comes with a personal TV, which include mostly Japanese television programs, along with BBC News and a few English documentary. There are no movies, since their flights are quite short. There are also audio programs and they are heavily promoting Mariah Carey's collection album. I mostly stick with the map channel.
Here is the link to the list of channels:
https://www.starflyer.jp/int_jp/inboard/program/
After lunch – nice winglet shot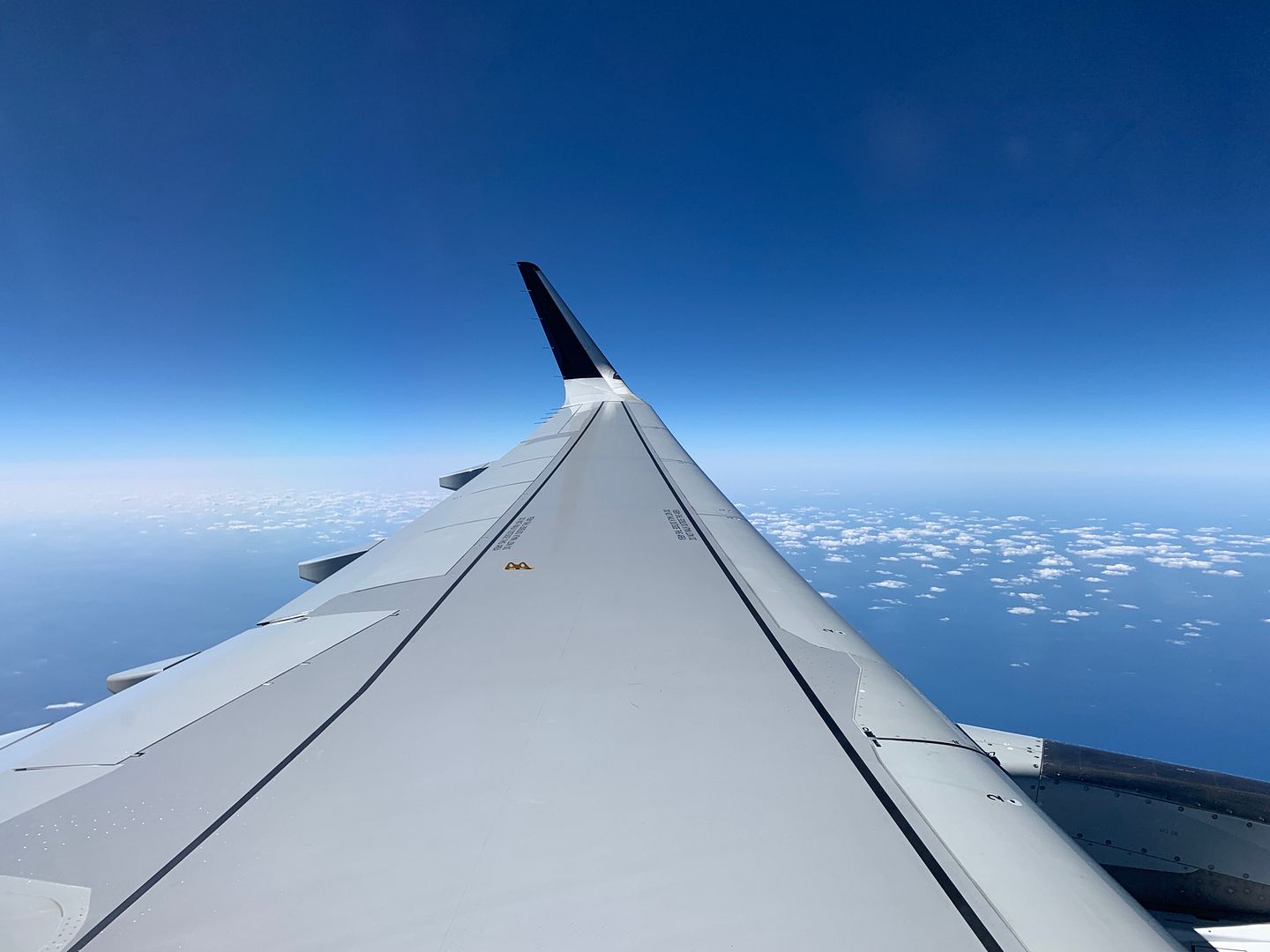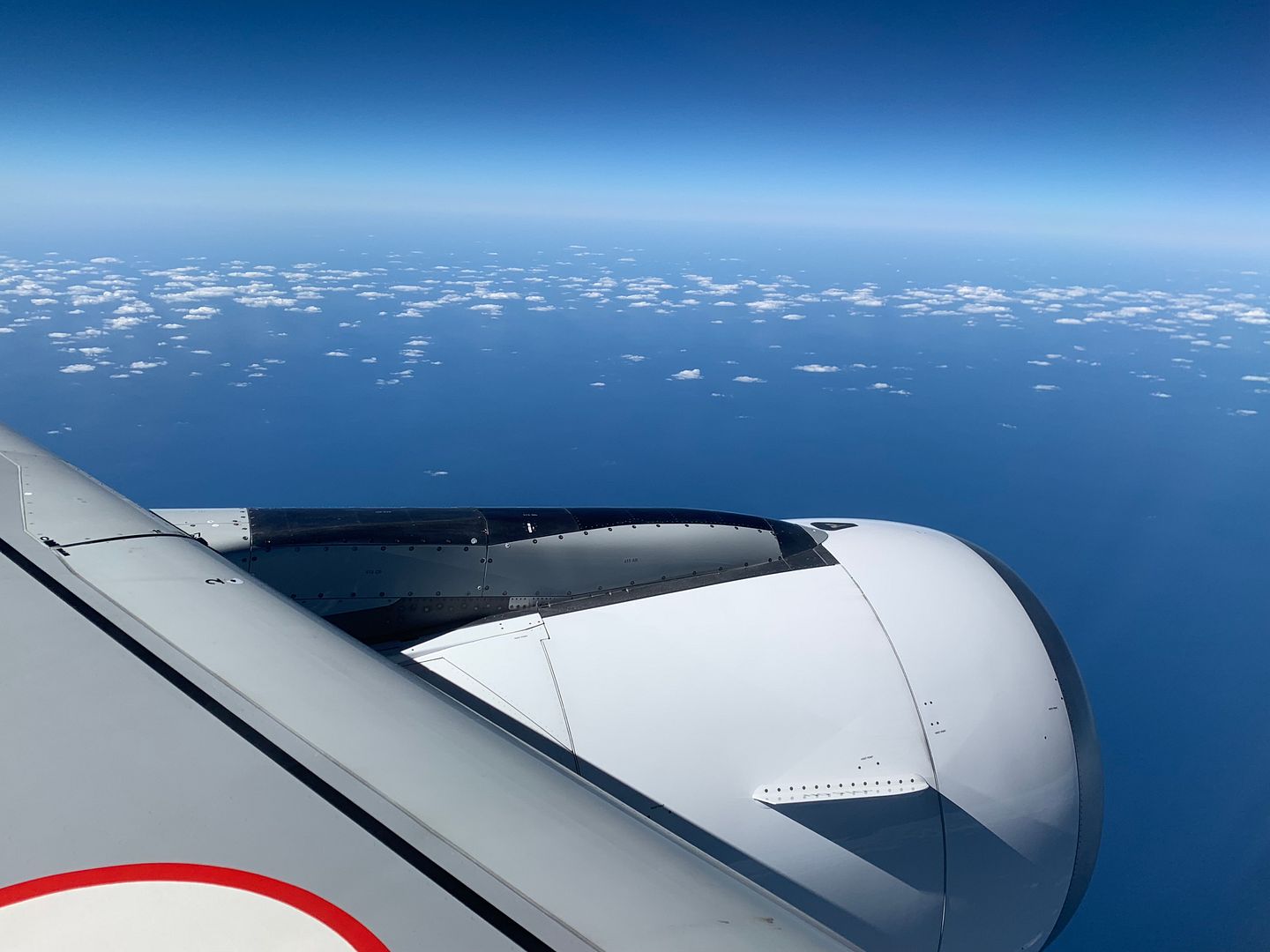 Destination Maps were passed out after meal service.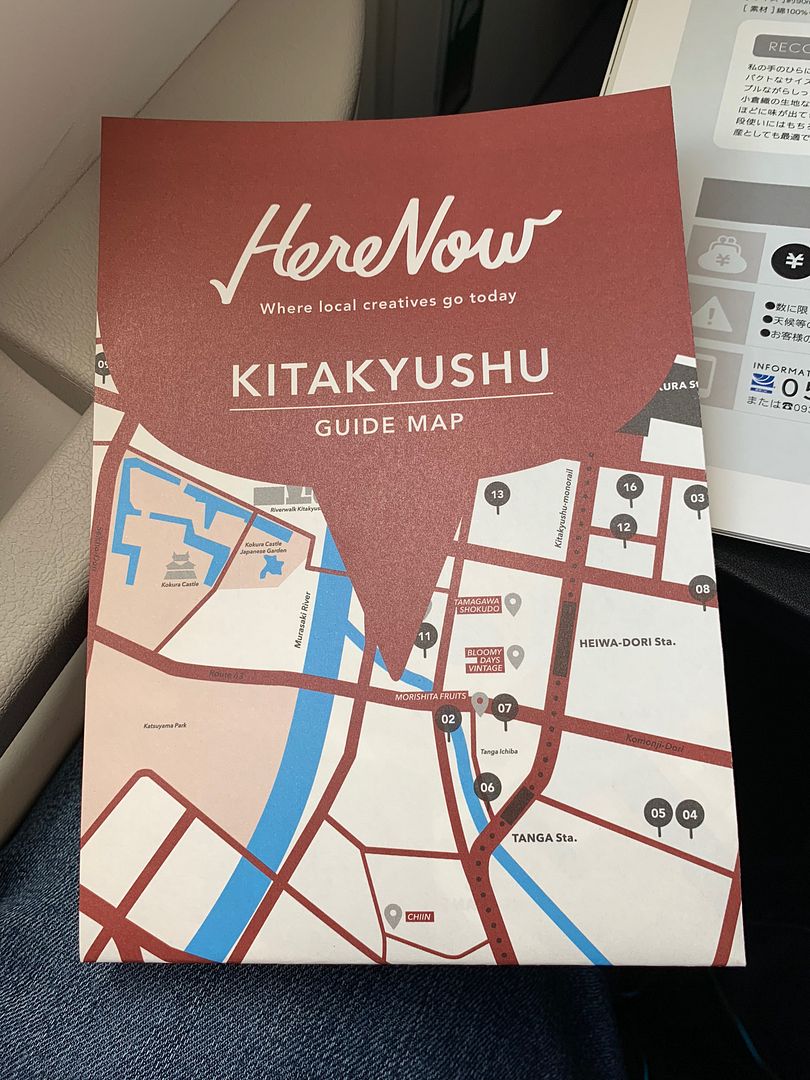 Finally seeing land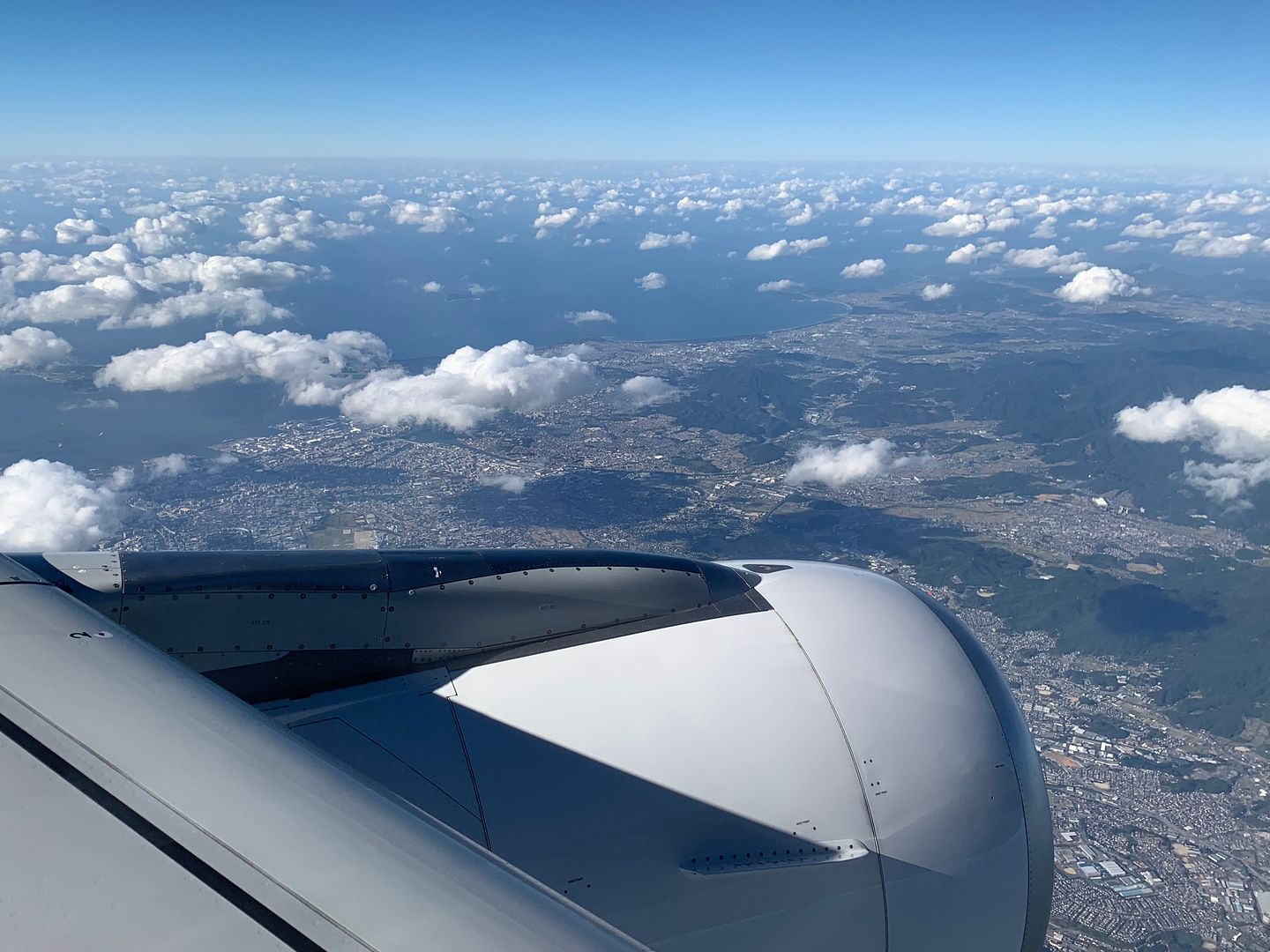 Final decent – Kitakyushu Airport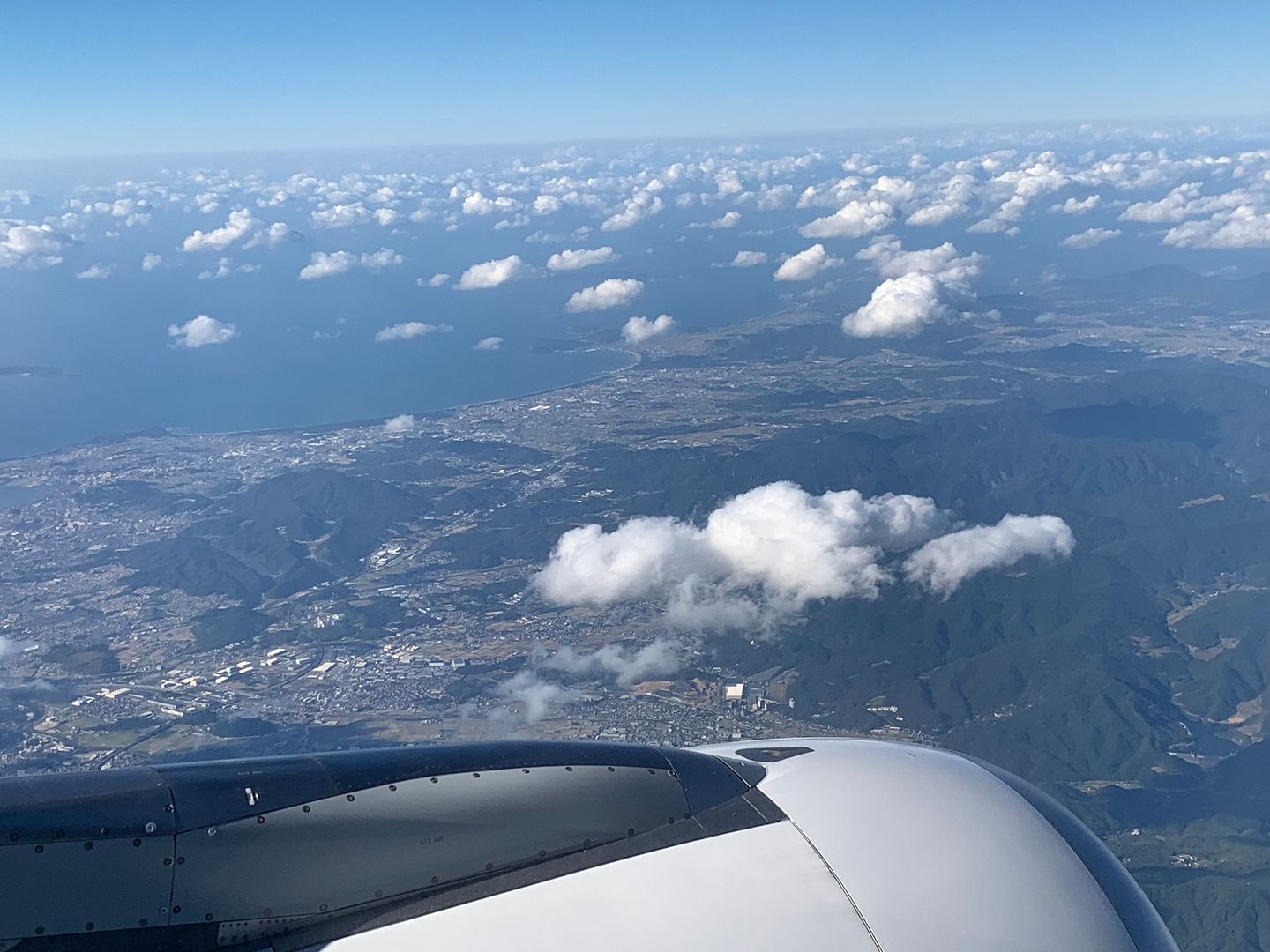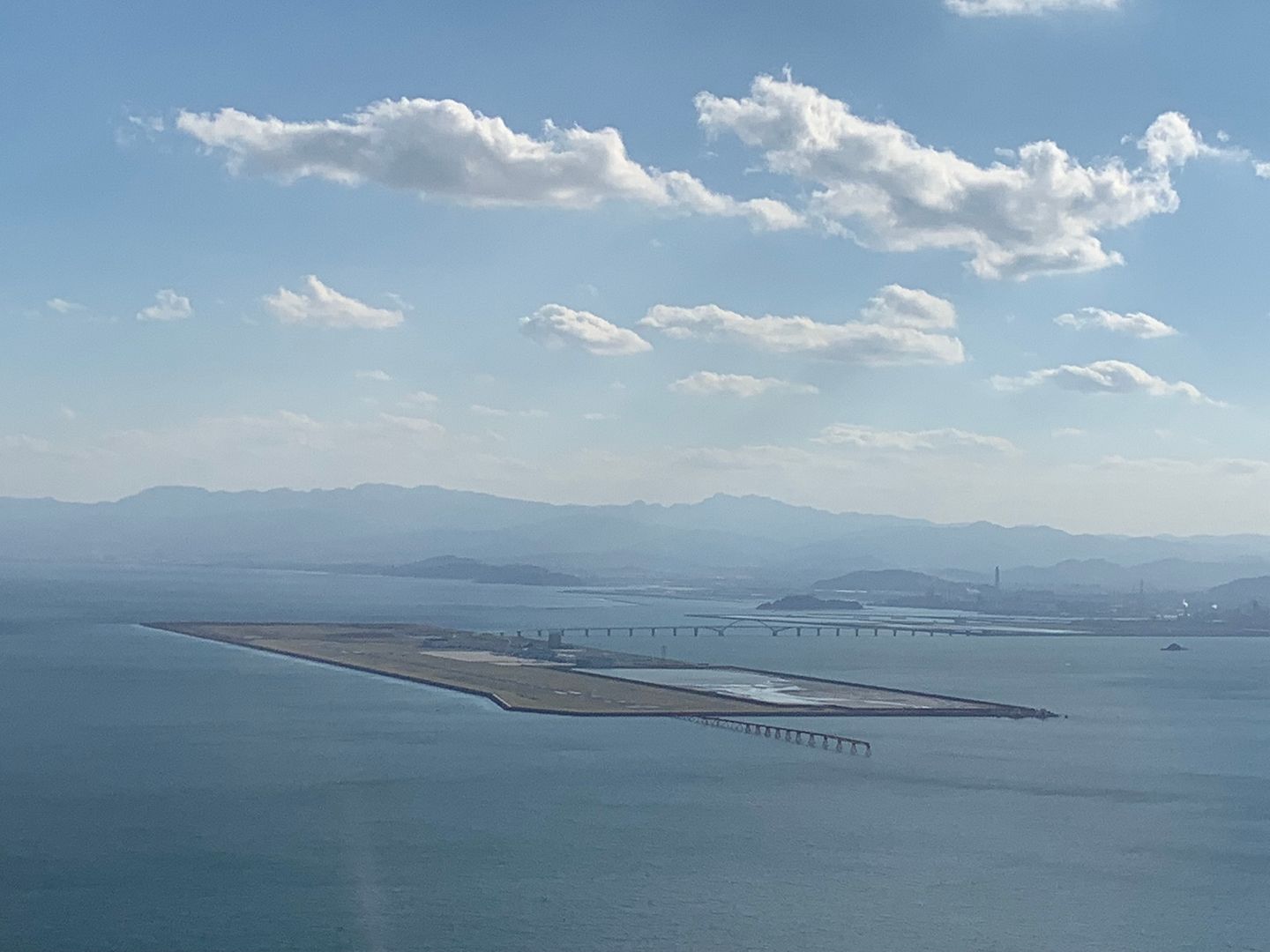 We landed on R/W18 at 3:12pm.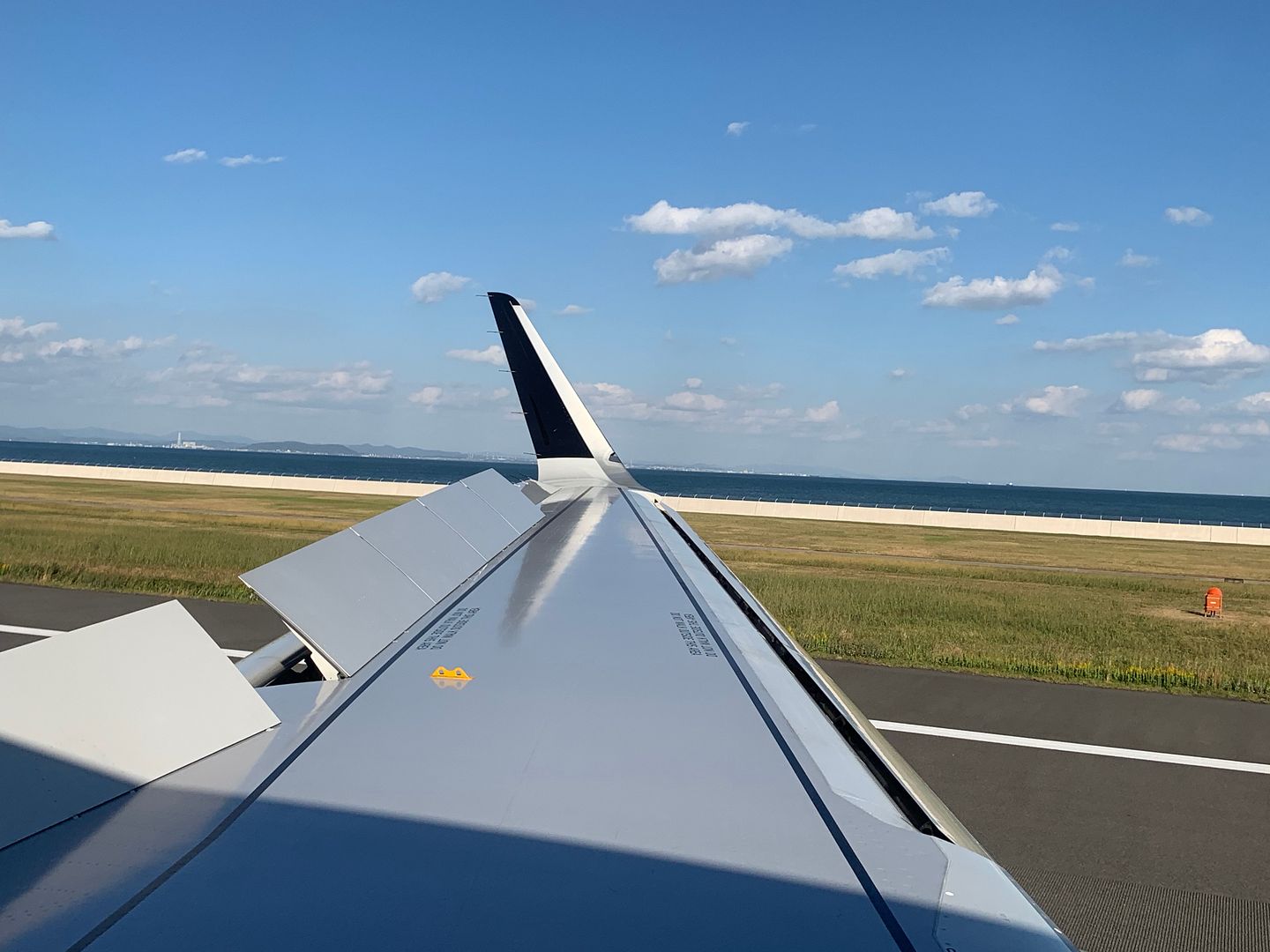 We immediately got another water canon salute, as we exited from R/W18.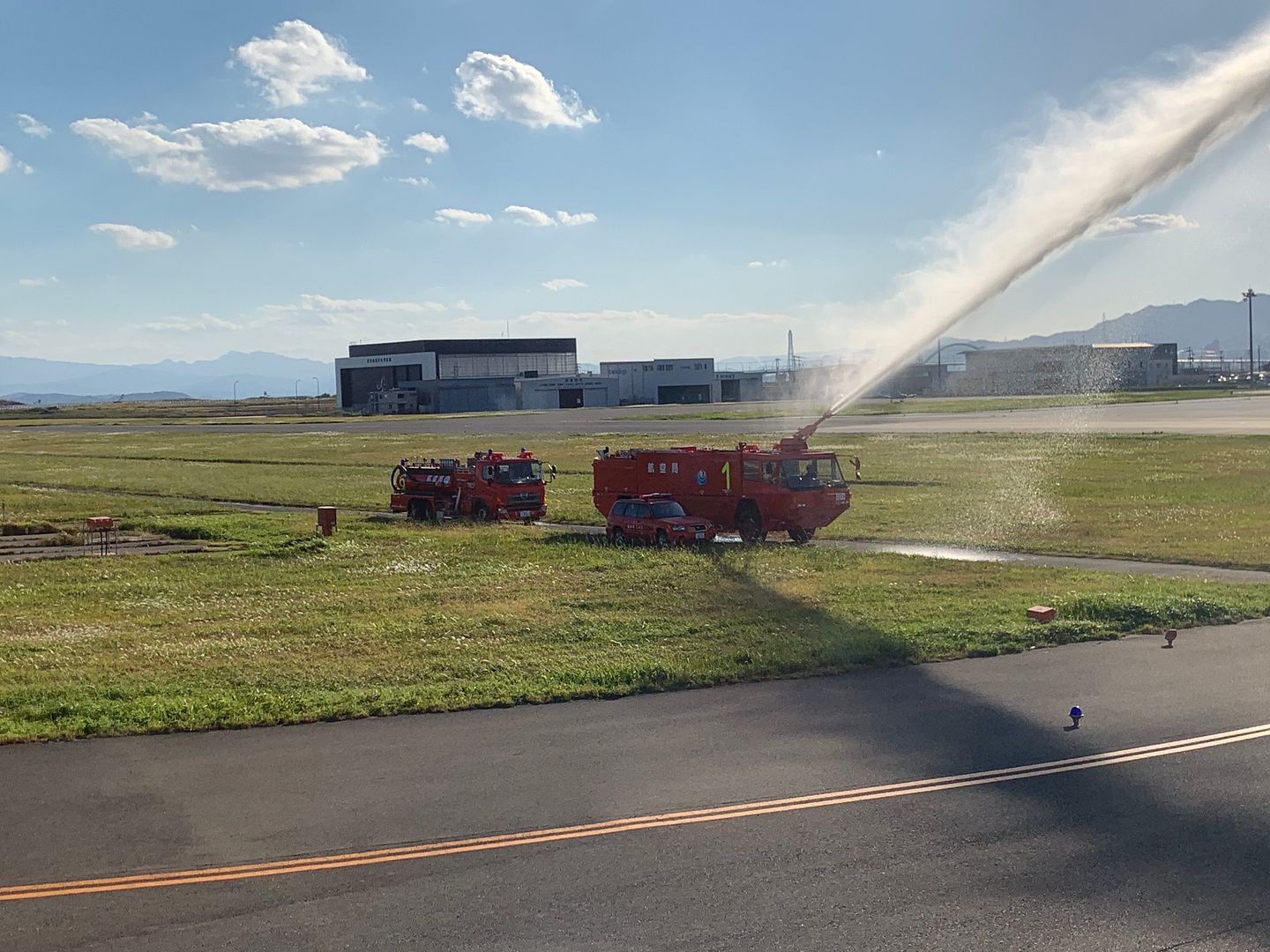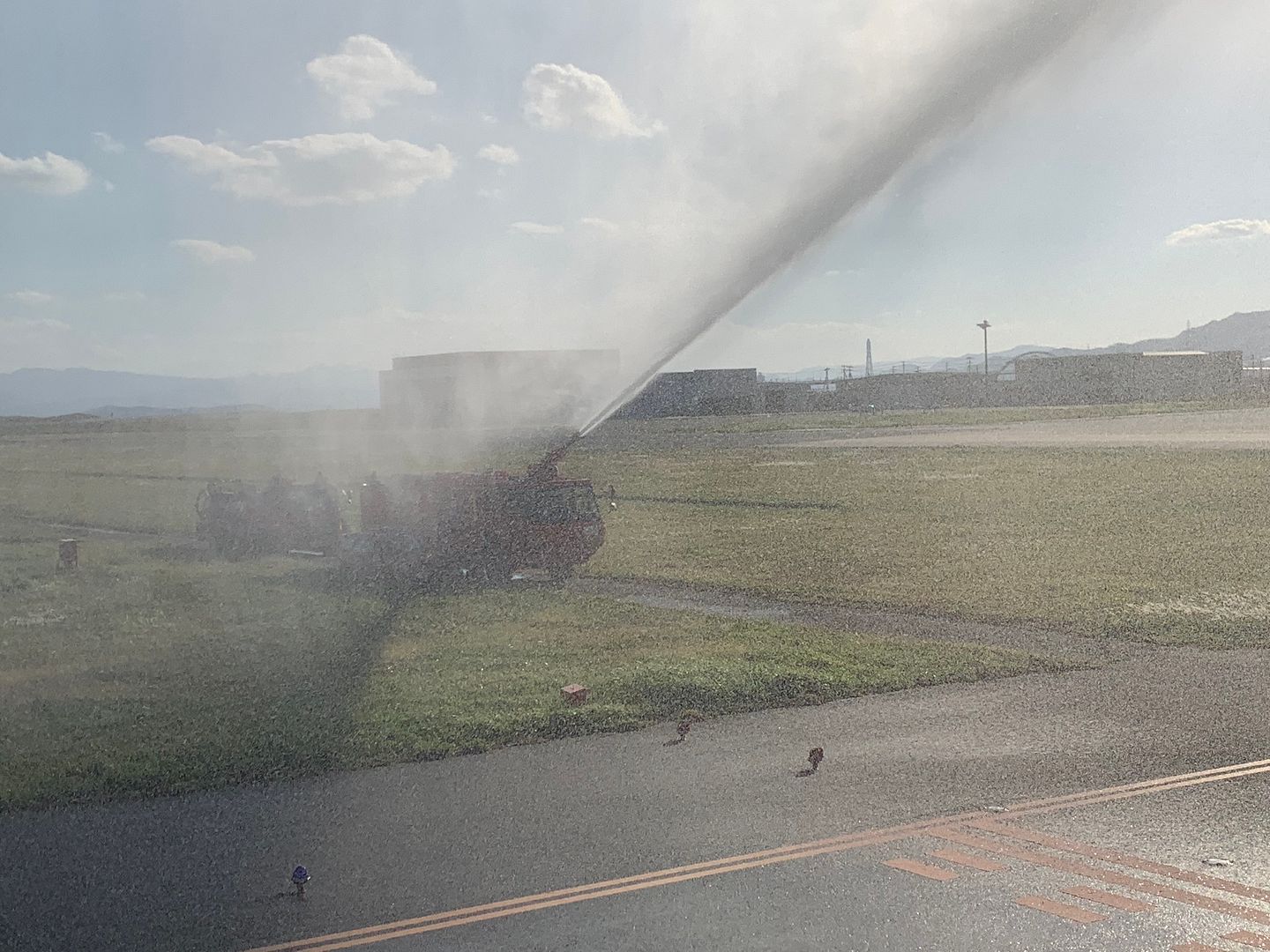 I was the last one who left the plane, which was a big mistake, but these shots are worth it.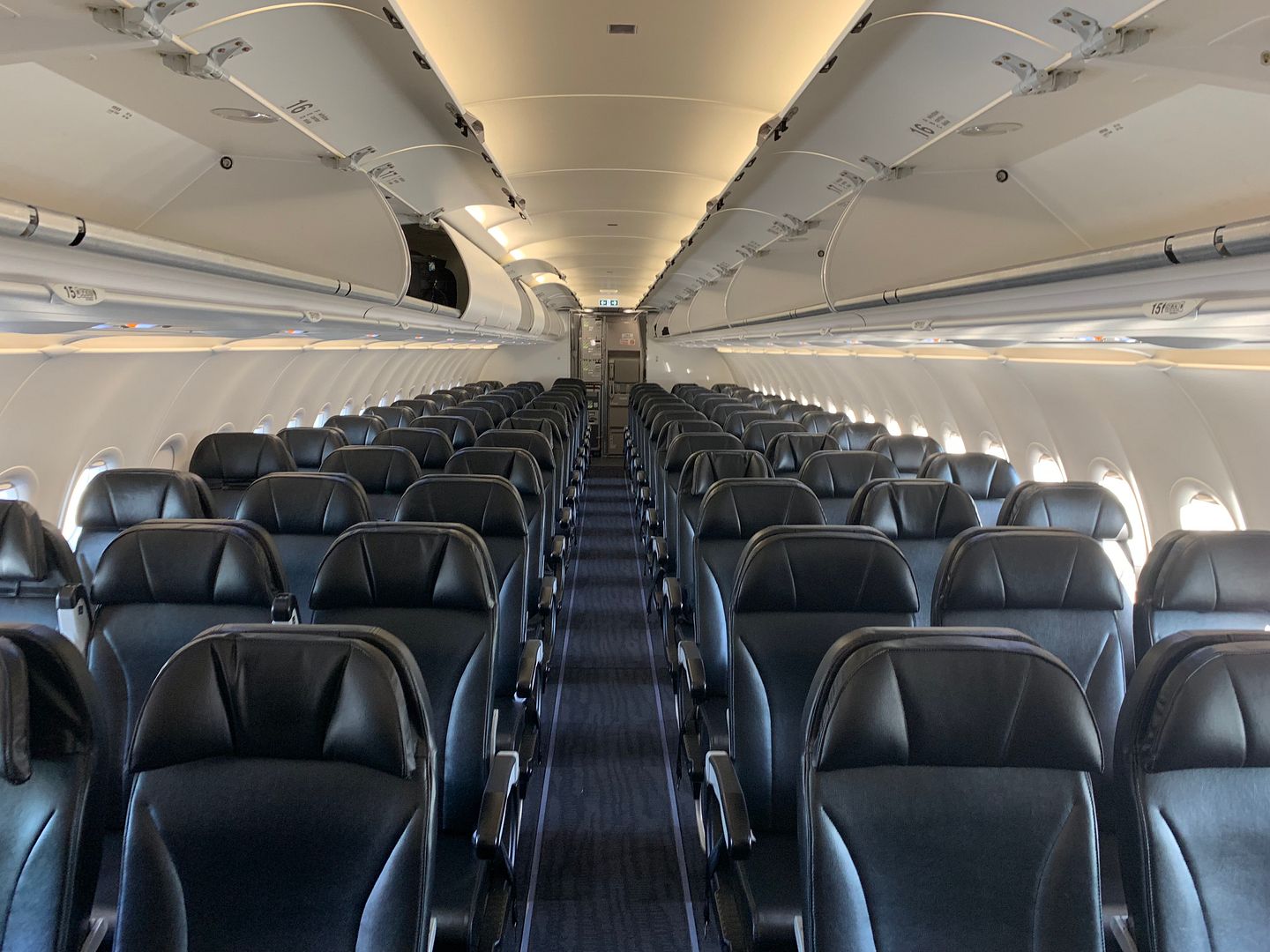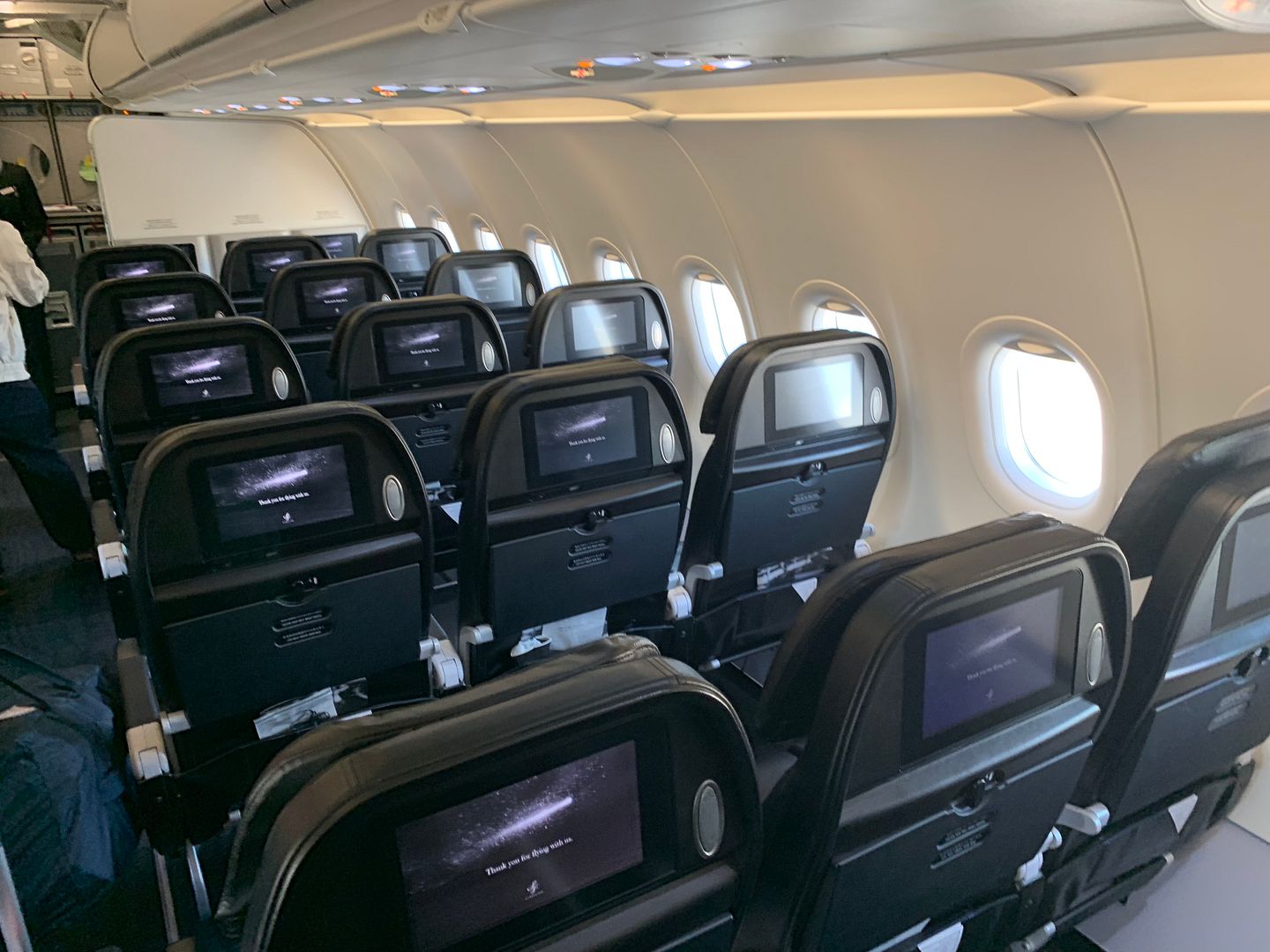 We parked at spot 3 four minutes later at 3:16pm. Unfortunately, the other international flight, a Jin Air's 737 from Pusan landed ahead of us. The small immigration hall could not handle two planes arriving at the same time.
It was a very frustrated arrival experience, as it took an hour to exit from immigration and custom hall. Since some people are known to smuggle gold into Japan from Taiwan, the custom check was pretty thorough. I finally exited at 4:15pm.
Another welcome party by local Tourism Board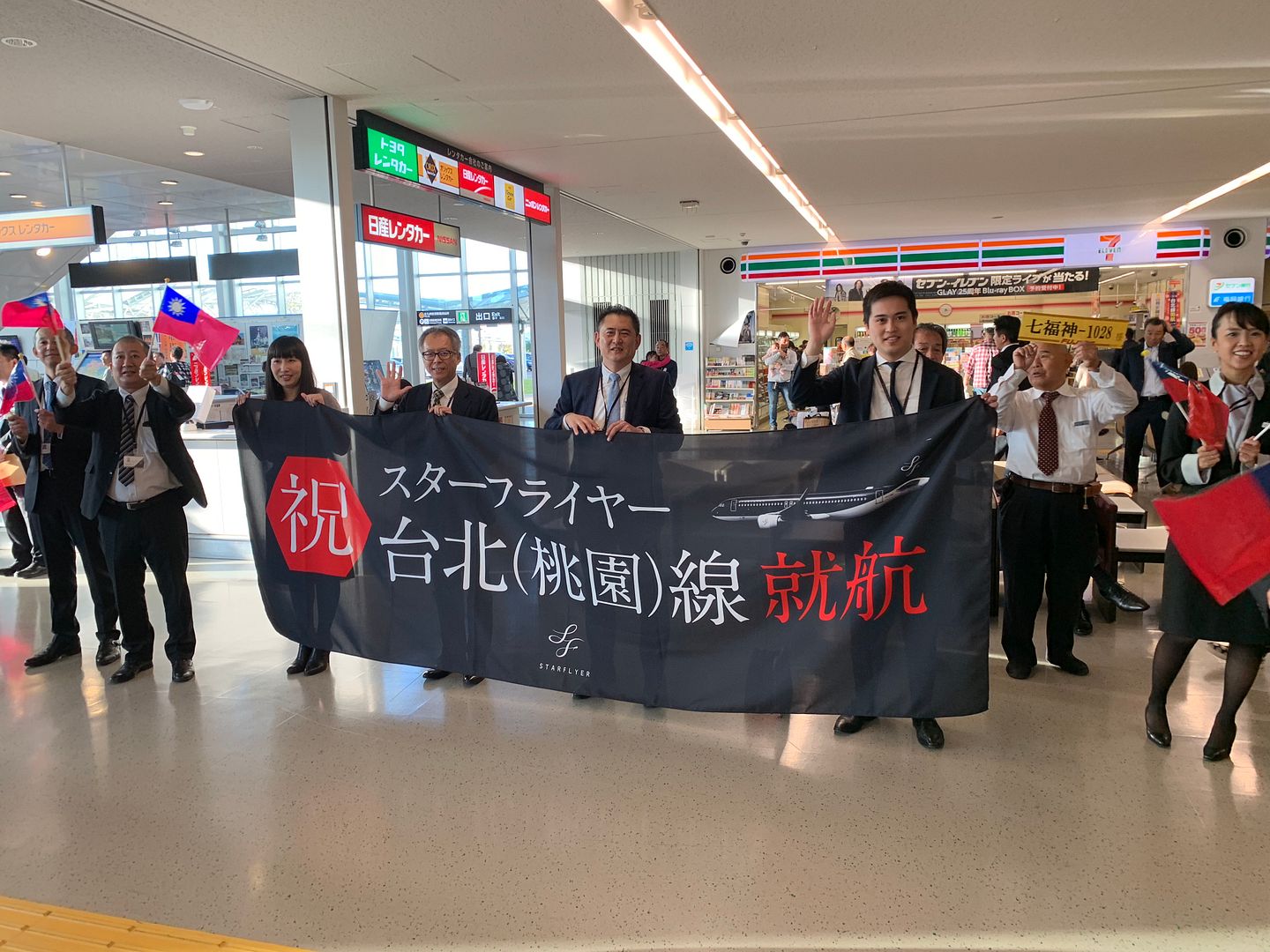 More gifts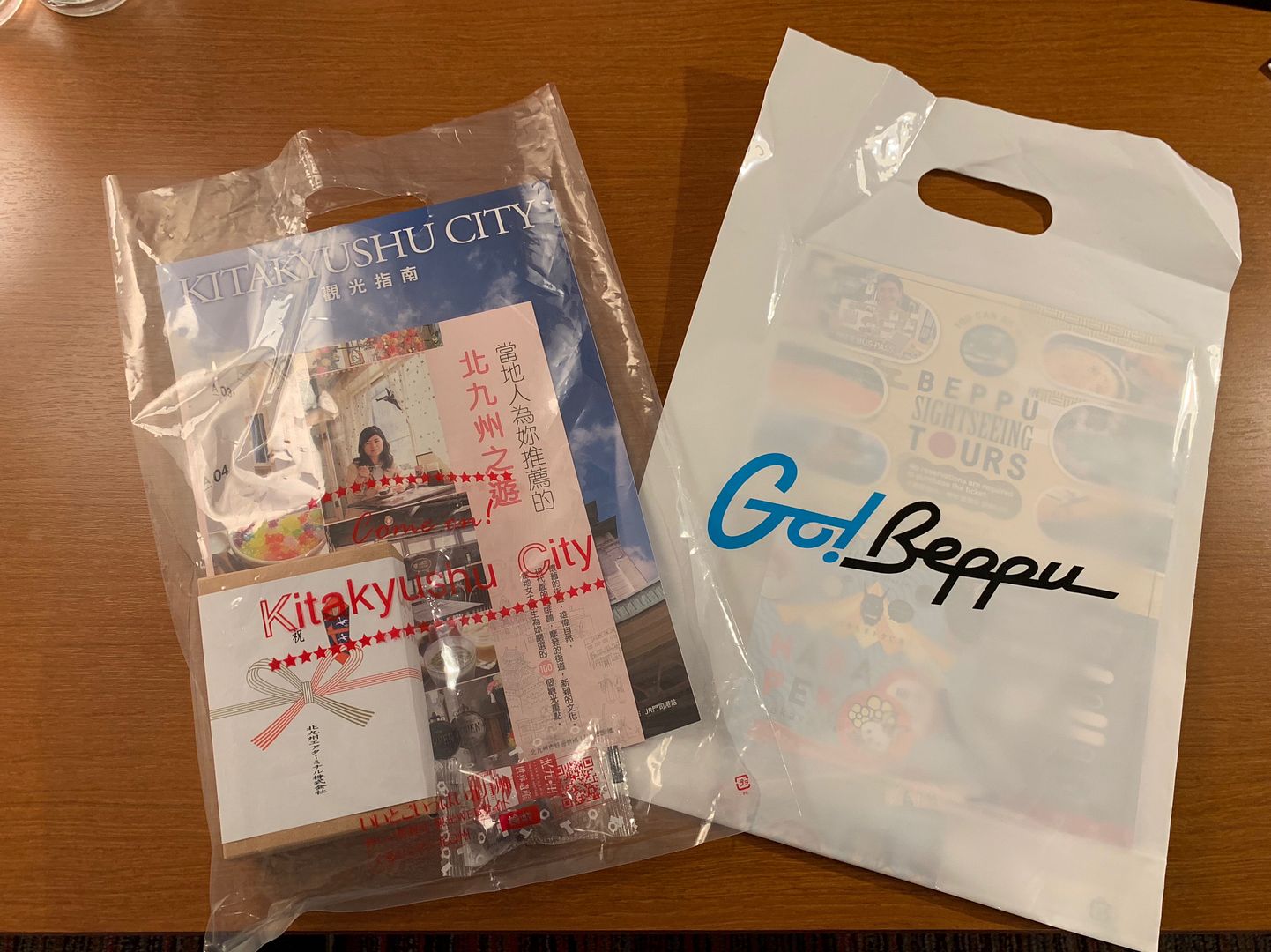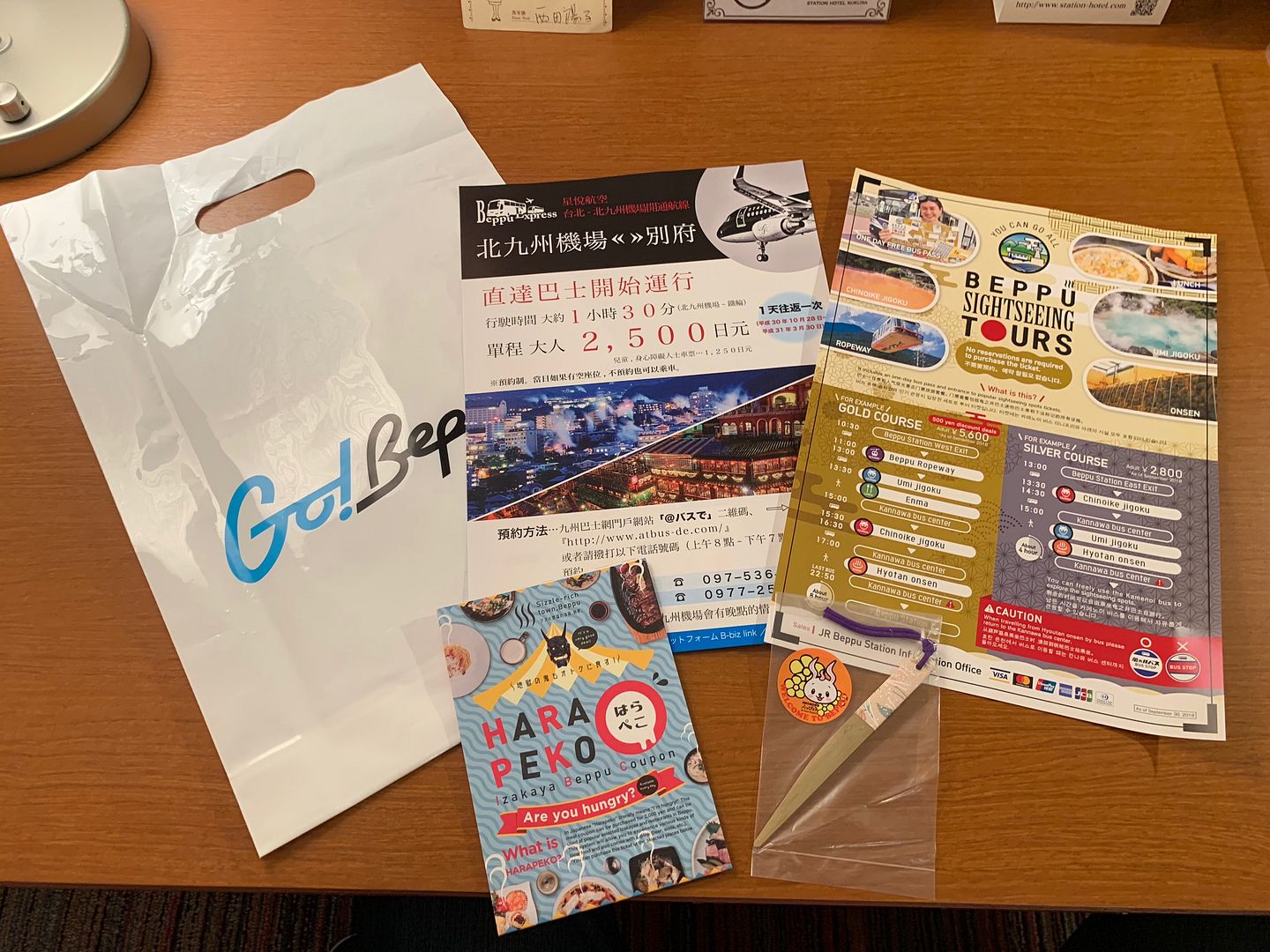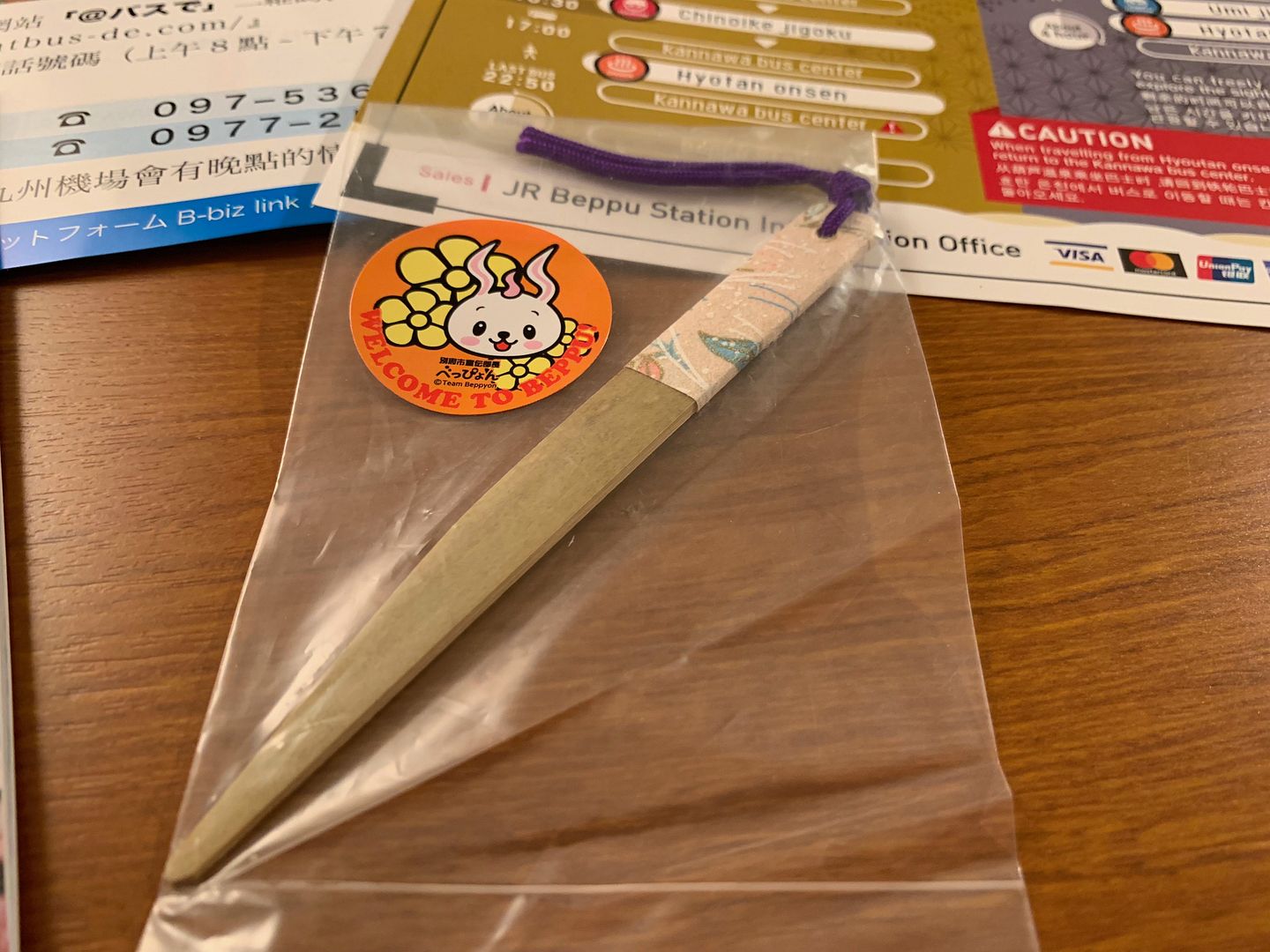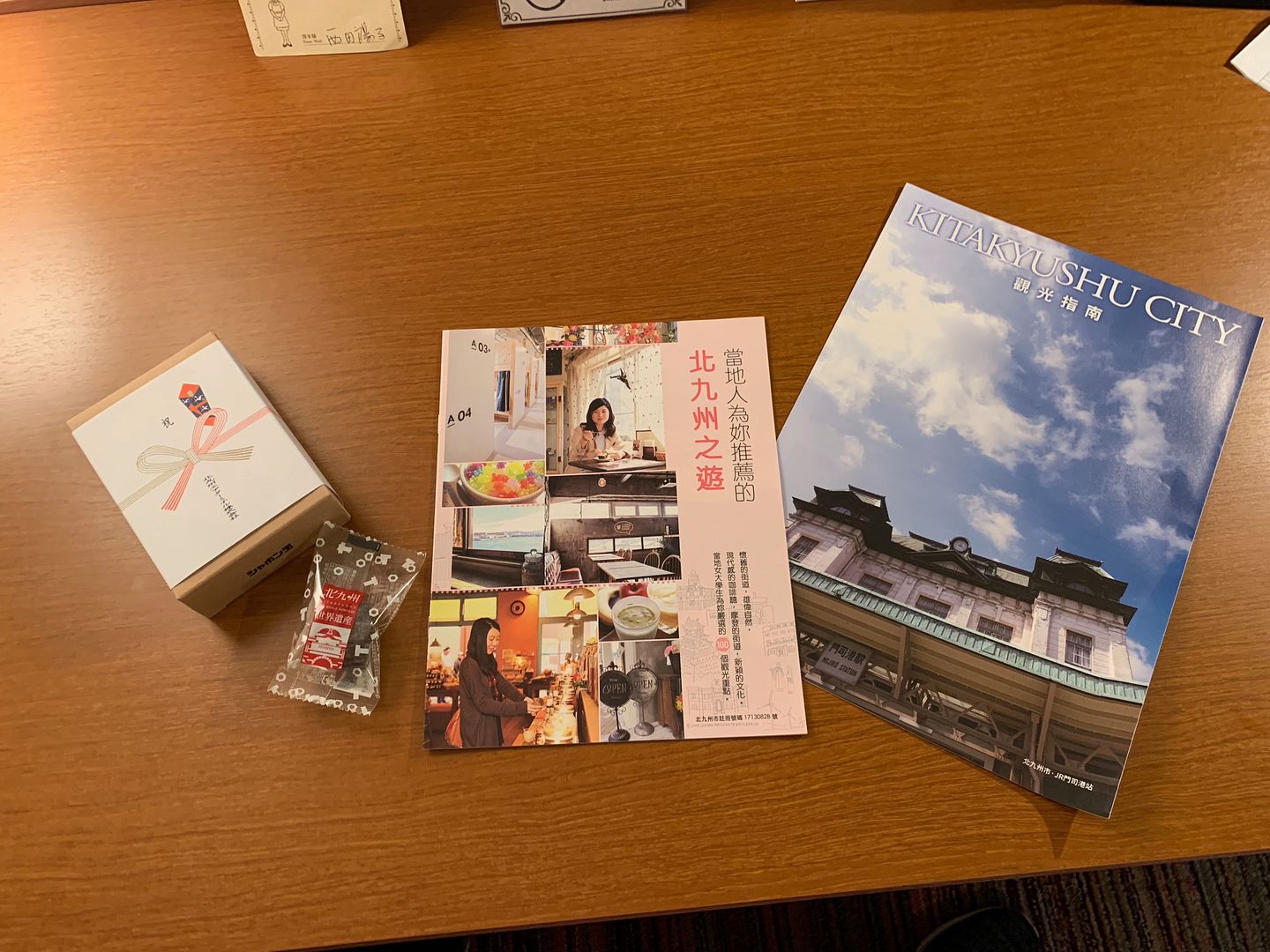 Famous "corkscrew" chocolate
Soap