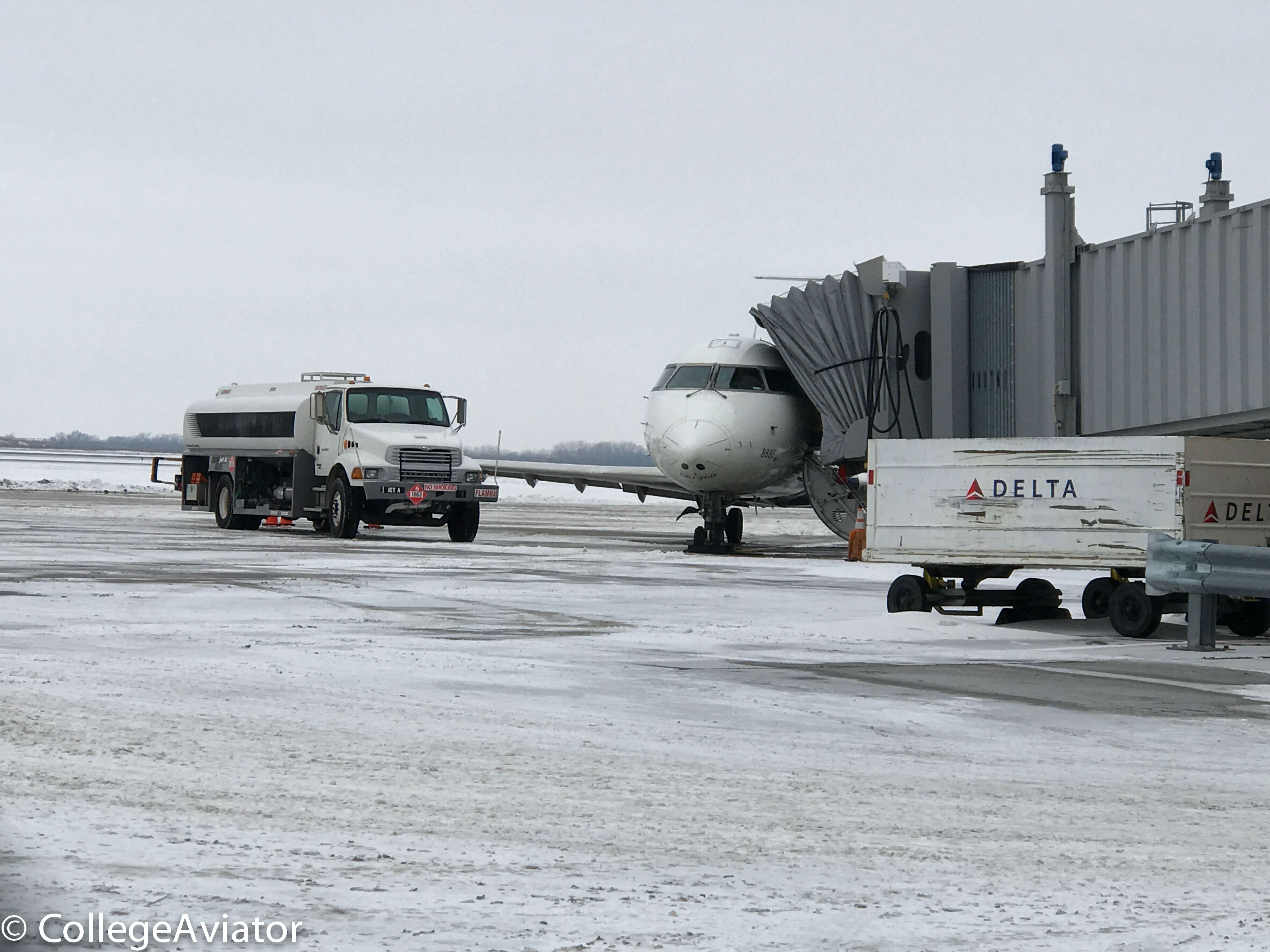 Delta Connection, Endeavor Air DL3896/9E3896
Minneapolis/St. Paul International Airport (MSP/KMSP) MN to Grand Forks International Airport (GFK/KGFK) ND
January 7th 2018
Departure 1310 hours CST, arrival 1441 hours CST
Seat 4D, Main Cabin
N8888D, 14.1 years old CRJ-200LR
3rd flight on Endeavor Air
9th flight on a CRJ-200
10th flight on a CRJ aircraft
Route: BRNRD GFK
Filed altitude: 24000 feet


Flight aware link




YouTube video trip report.
INTRODUCTION
A trip with a no-go flight thanks to snow. A trip with the inevitable rebooking. A very intoxicated self. A closed international airport. A historically very delayed flight. A last minute change in plans. A snowstorm. Another closed & crippled international airport. An uncertain delay because of the closed & crippled airport. And finally, in the midst of all this, some smooth flights. This is the story of what was a wobbly winter 2017/18 as I made the 2nd of my bi-yearly trips back home to India. I was in Minneapolis, awaiting a smooth & uneventful flight back home. That is all I needed.
I present to you - the last of 11 flights of this report.

JANUARY 7TH 2018 -
Following brunch of nuggets & a big mac,
it was looking like a smooth sailing deal from here
. There was however no time to go up to the observation deck. The delay from JFK meant that this was not possible, unfortunately.I decided to take the tram about 1hr45min before departure -
but of course this tram was closed for maintenance.
I was a little disappointed to be honest - it is Snapchat tradition amongst the friends & I to share a quick snippet of being onboard the tram. It was a slight walk to Concourse B - given that Concourse C is light years long…. (25 gates

).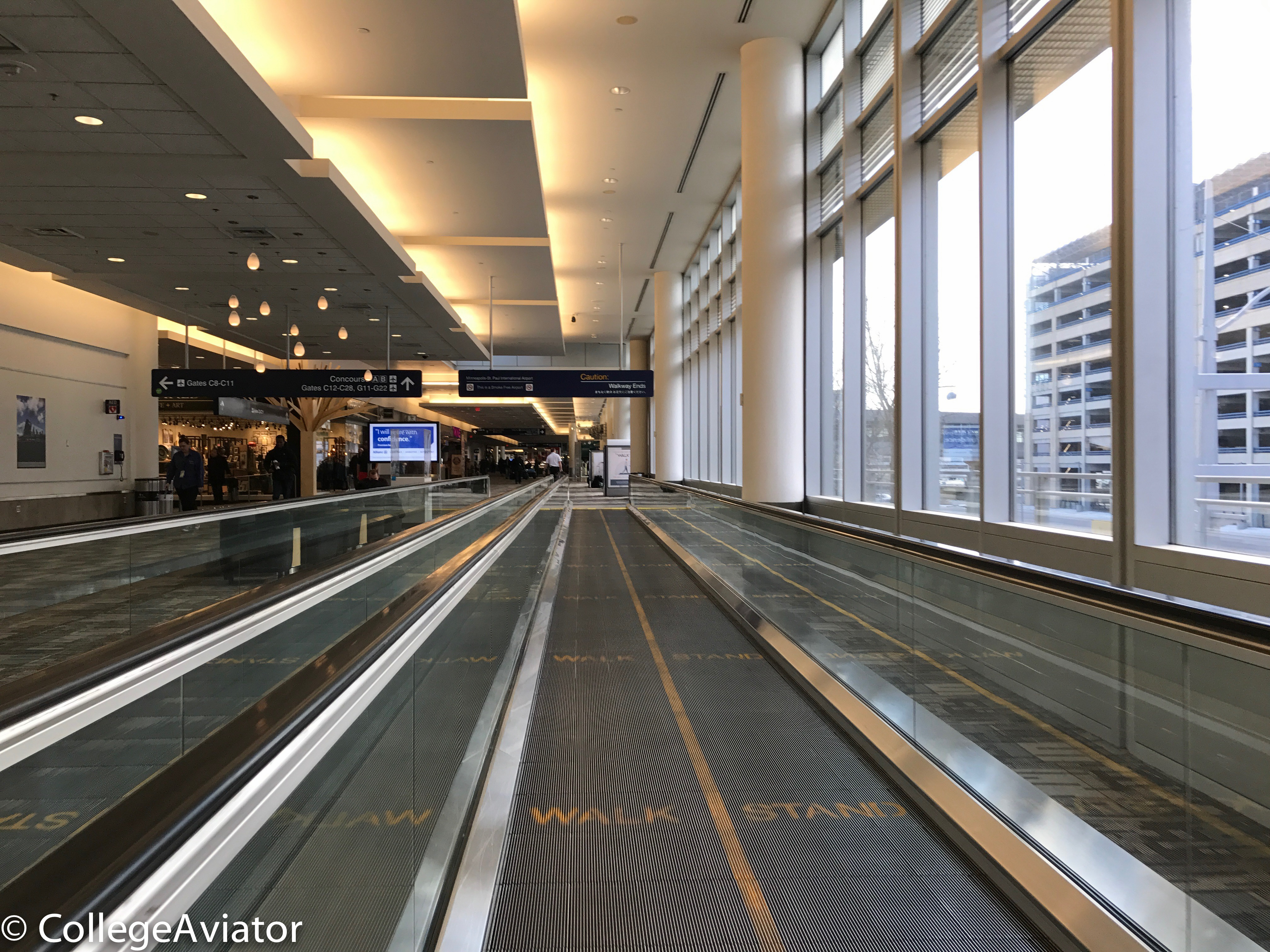 A quick bathroom break along the way because British Airways' meals were still disagreeing with my stomach. The McDonalds probably did not help either…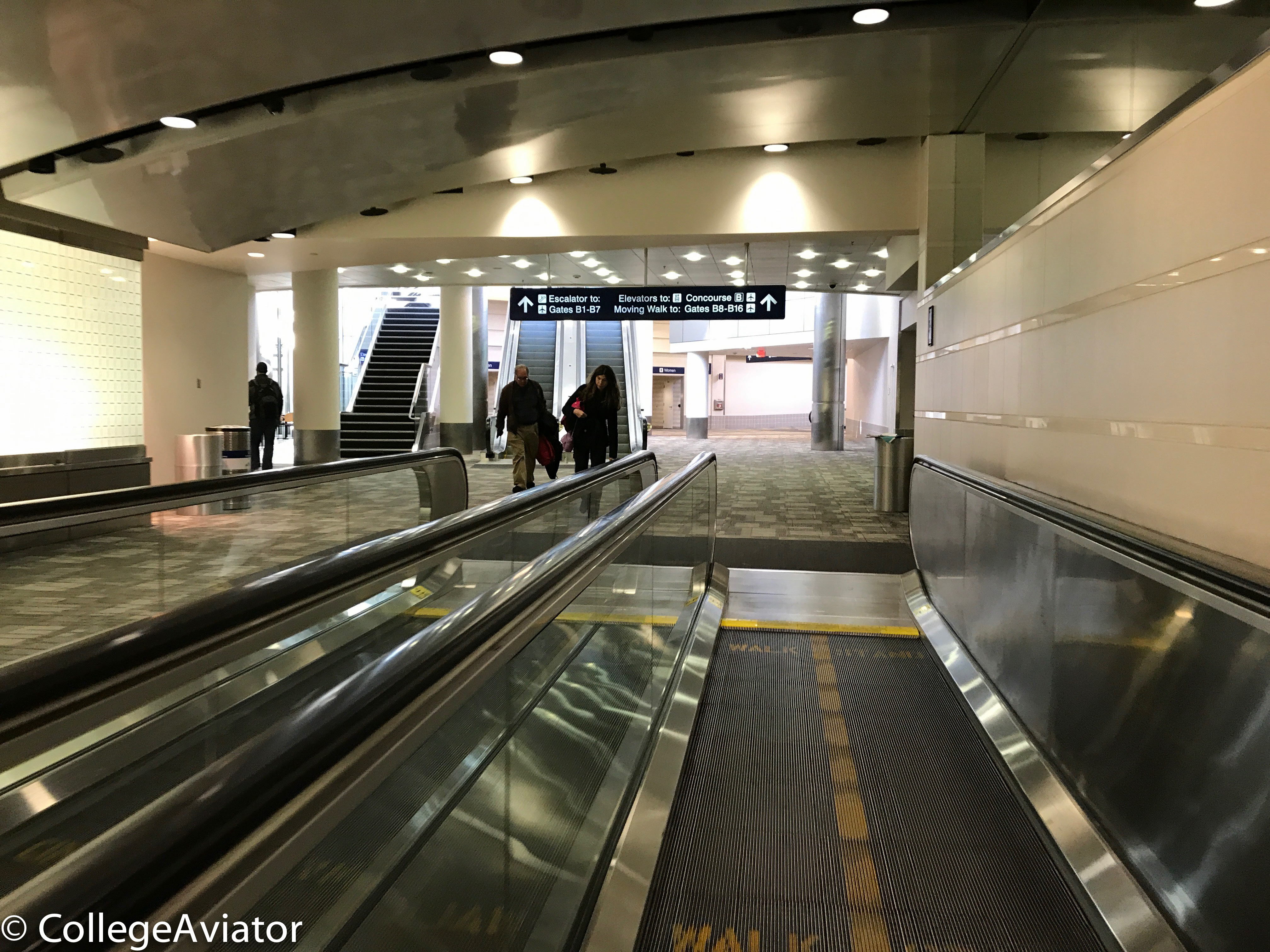 THE CRJ-200 CONUNDRUM
Now let's be honest: not many people like the CRJ-200. We just don't.
They're small, they're uncomfortable, they're cramped - they even take a long time on final slowing things down for ATC.
It is however the plane that has pretty much redefined Essential Air Services - seeing this tiny planes scoot across the taxiways in the major hubs connecting small cities to pretty much the rest of the world. Despite that, I am dedicated to take as many pictures possible to make my reports worth something…. but even on this day Concourse B was quite empty, or a CRJ-200 hiding behind inconveniently placed windows. There was something going on at Concourse A though, with airport police & a fire truck showing up….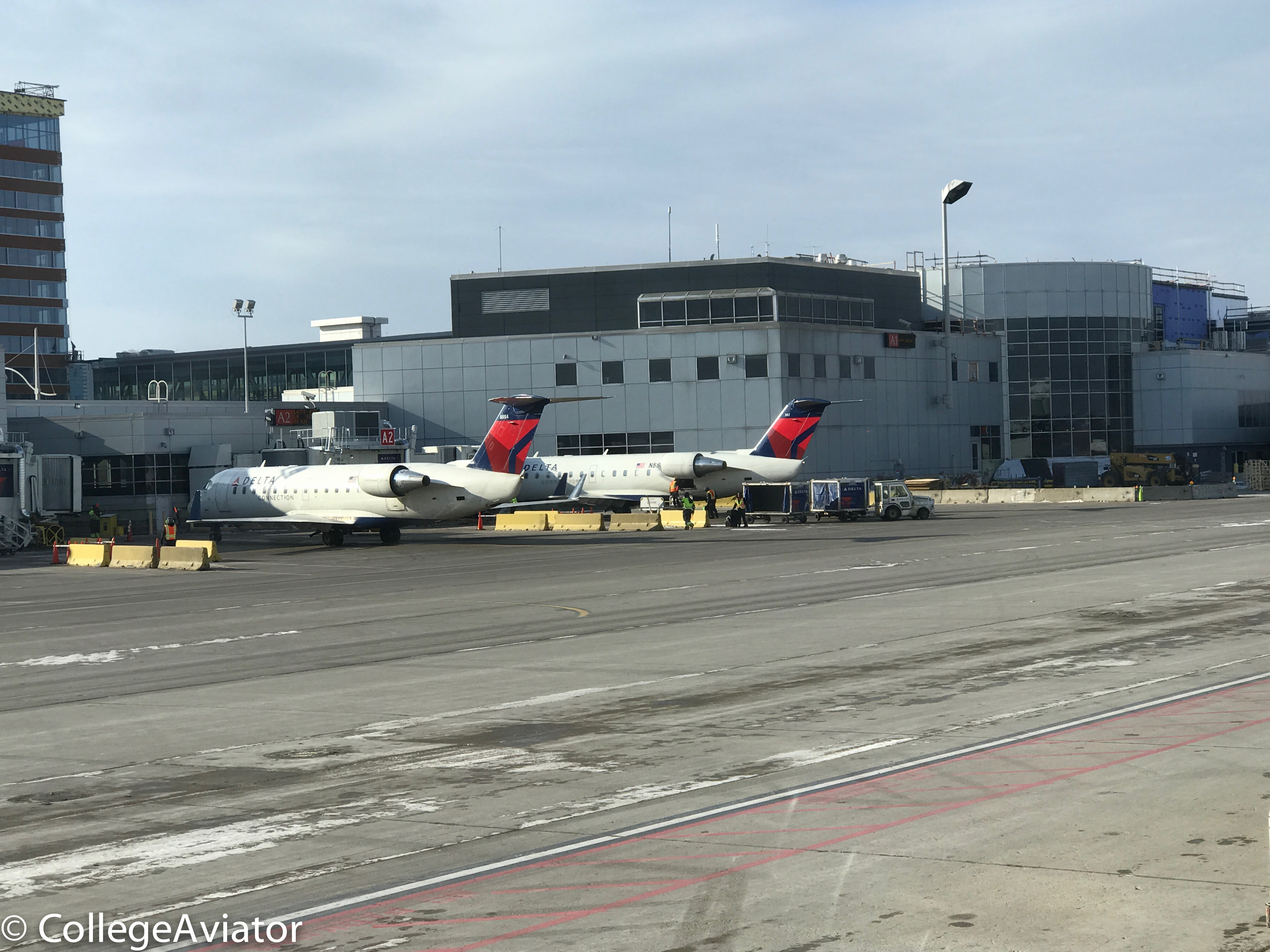 Hmm, what's happening here?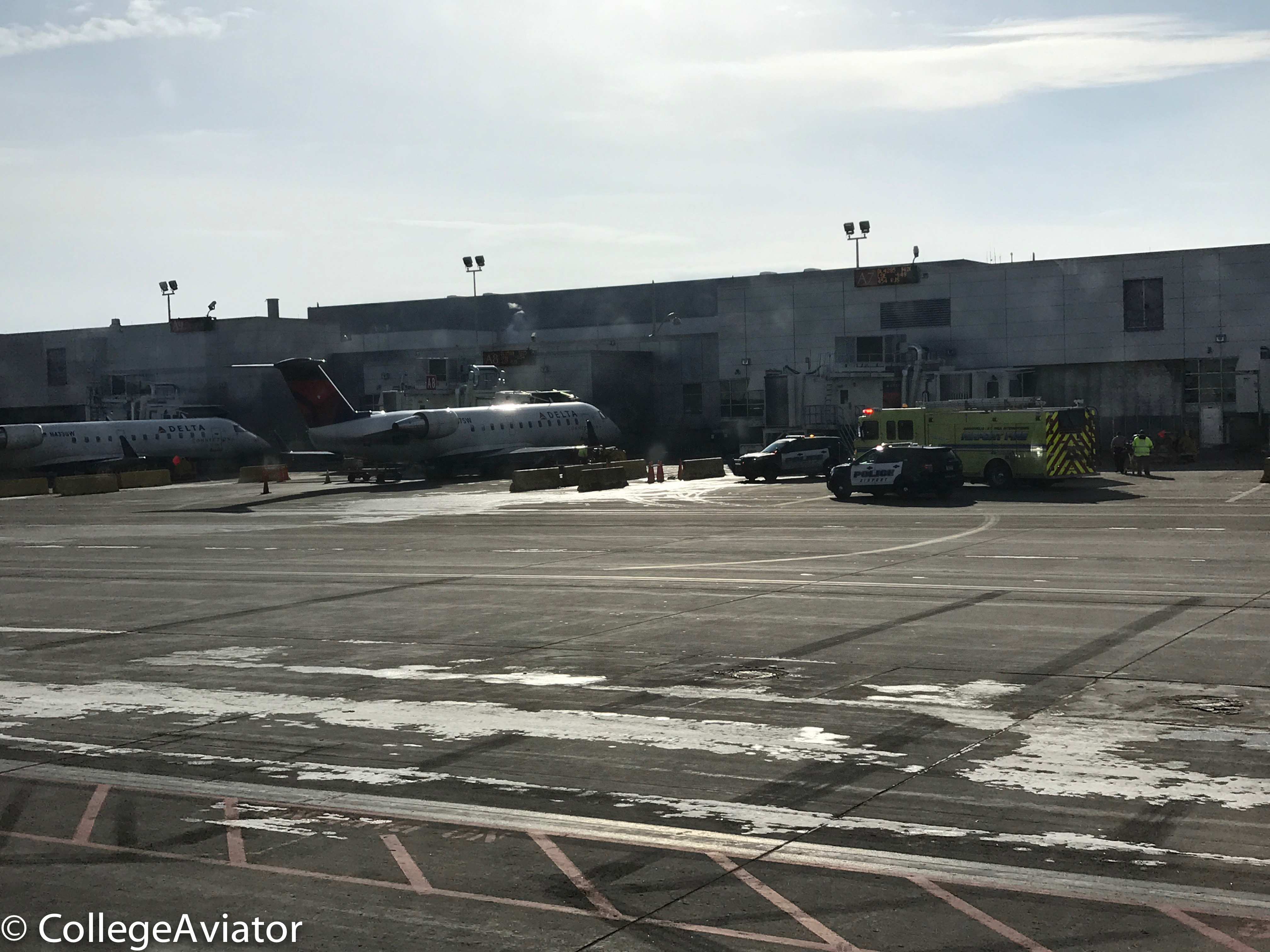 Most of the CRJ-200s depart from here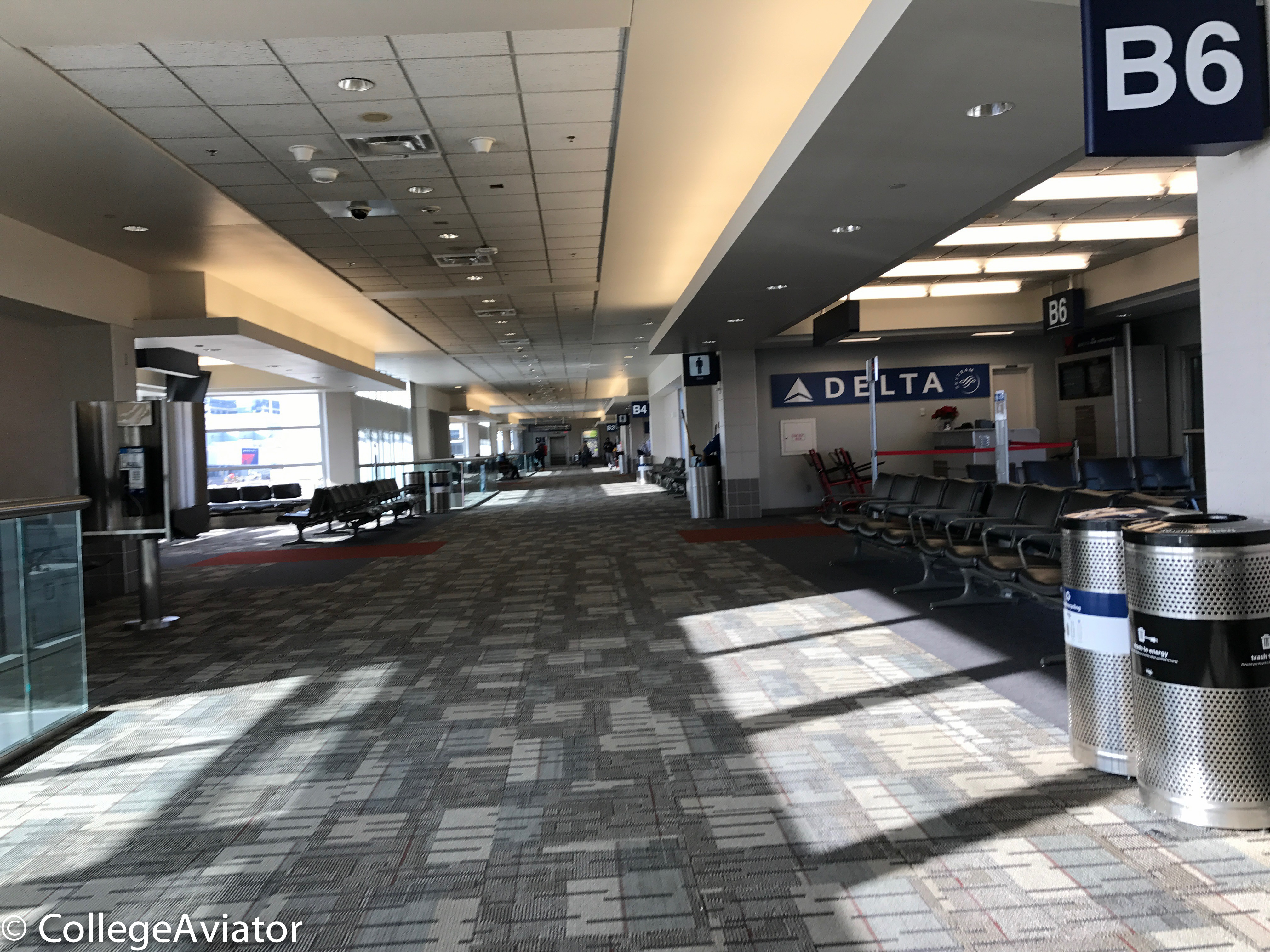 The best I could for spotting at Concourse B -
Waiting around by Gate B2, another full flight to middle-of-nowhere North Dakota. It was looking good for everything to of on schedule, thankfully.
However, this flight was indeed oversold - vouchers of up to $800 were being offered.
It was quite tempting, however I did not take on this. I wanted to get back to Grand Forks just fine, the 2hr layover at MSP sufficed just fine and that another 4 hours added to that would be no fun.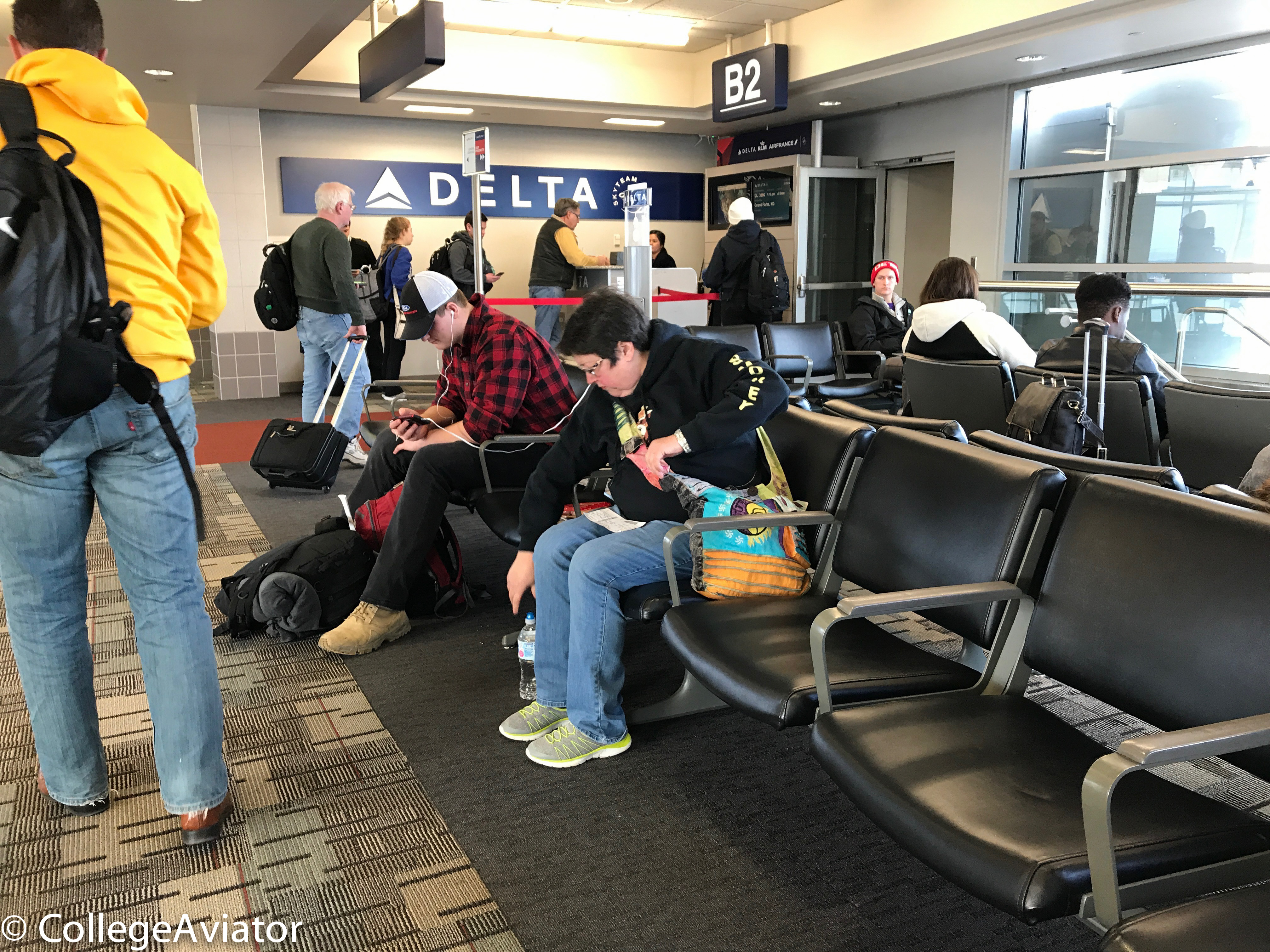 The plane taking me would be N8888D, a 14.1 years old CRJ-200ER. It's rotation for the day was:
-overnight at GFK-
Grand Forks - Minneapolis DL3918 0750 0920
Minneapolis - Grand Forks DL3896 1310 1441
Grand Forks - Minneapolis DL3896 1515 1641 ....
..... and it would overnight. That's it. Quite the utilization, eh?
BOARDING
Boarding started right on time, 35 minutes before departure time. All too familiar sights and sounds for me as I boarded the CRJ-200 for the 6th or 7th time at MSP,
with a predictable crew member who was quite obviously pissed off about the fact that he had do his job.
Oy vey.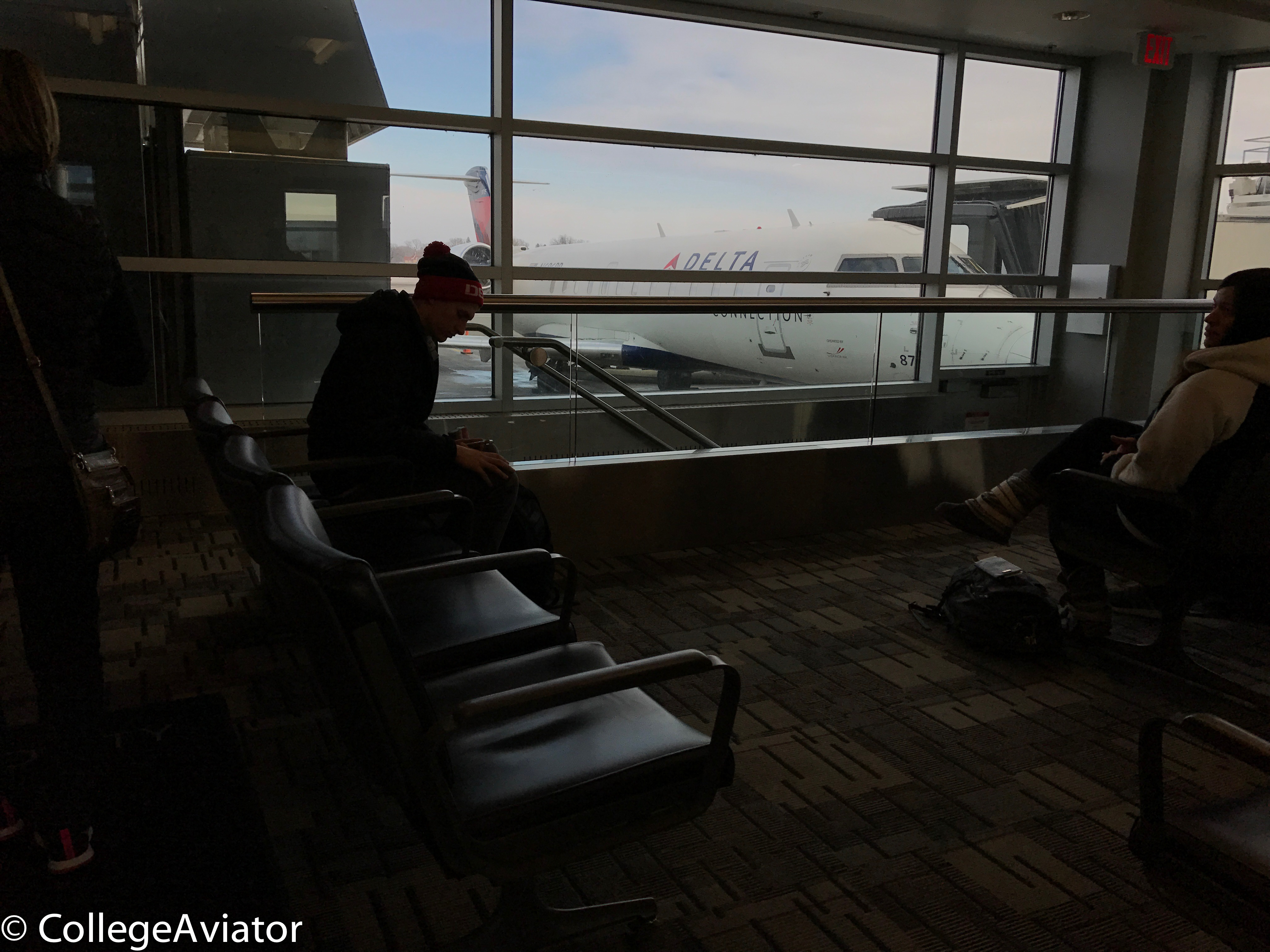 Took my seat 4D - only for 4C to be taken by a big-built gentleman with several layers.
This was going to be a tight squeeze of a flight for me, oh was I glad this was going to be 45 minutes long. A huge space crunch on these tiny regional jets
.
View from the seat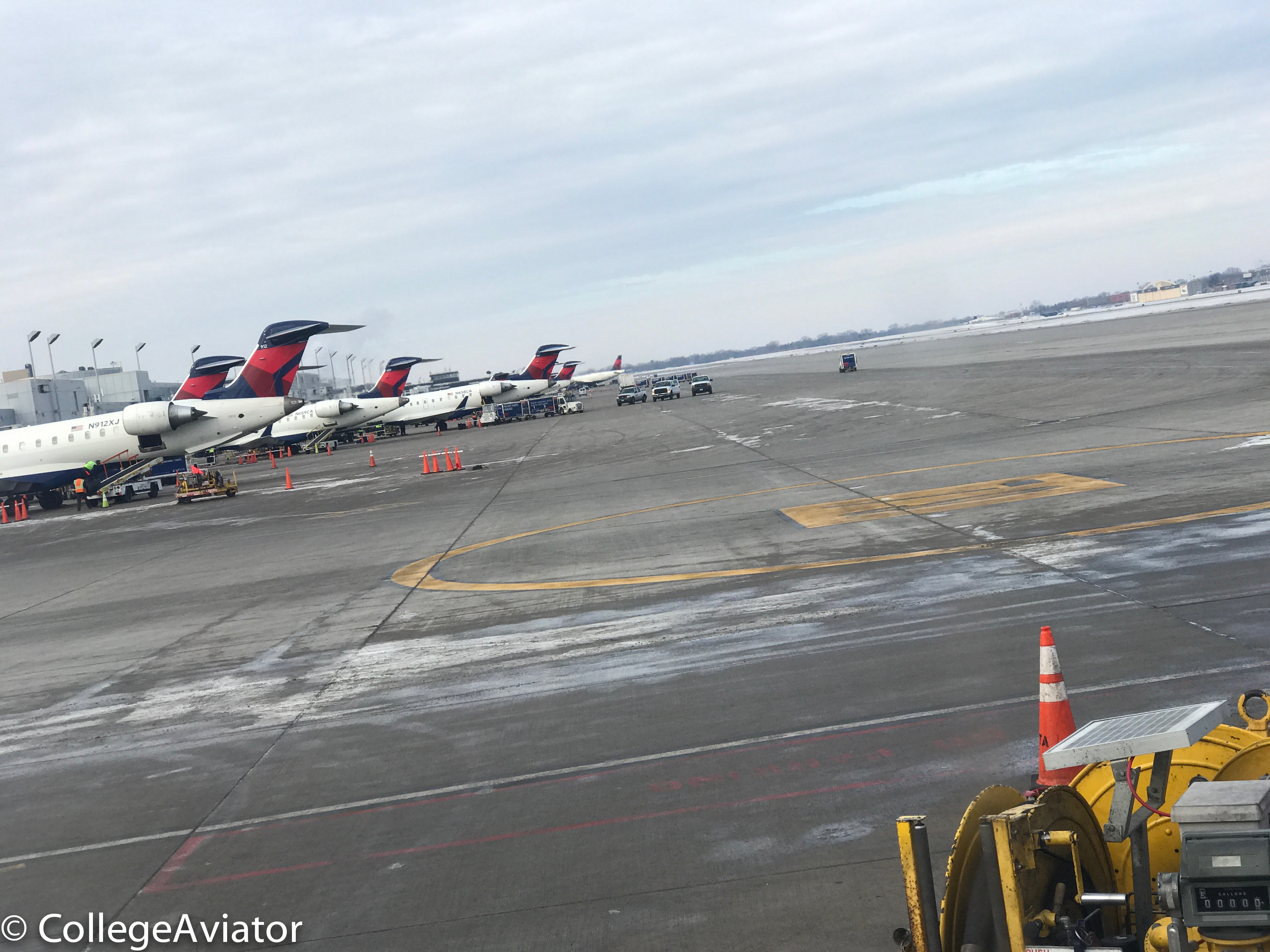 Unsurprisingly the flight attendant's
announcements sounded more like commands than anything else.
A quick word from the cockpit: it would be a slightly bumpy flight, gusty winds & overcast skies in Grand Forks, aka a typical winter's day. Waited for the last few passengers to board as there were some other delayed connections as well.
Cabin view - cramped cramped crammed!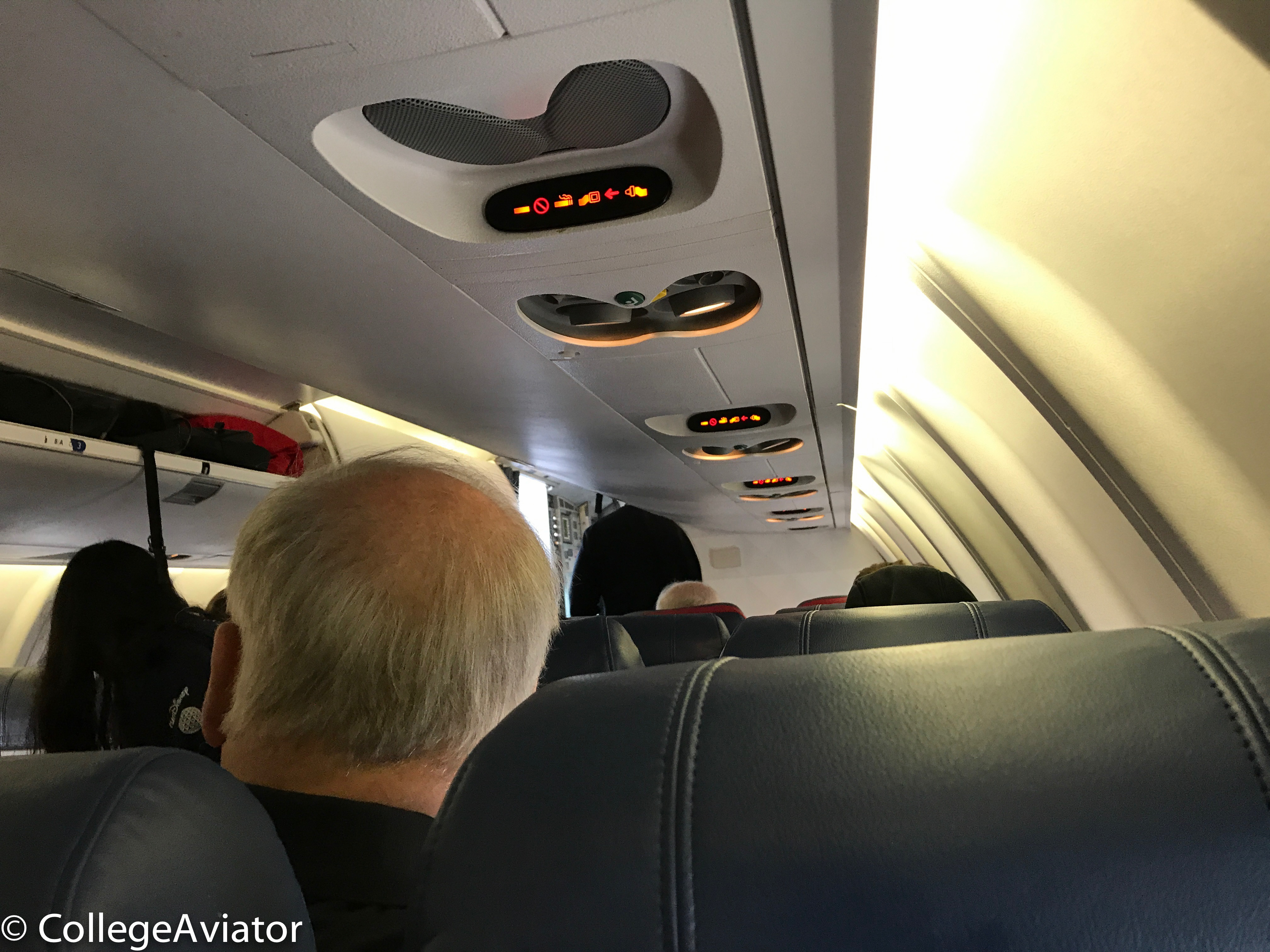 A bigger CRJ - the -900s and -700s share Concourse C with the big(er) planes: A320s, MD80s, B737s, etc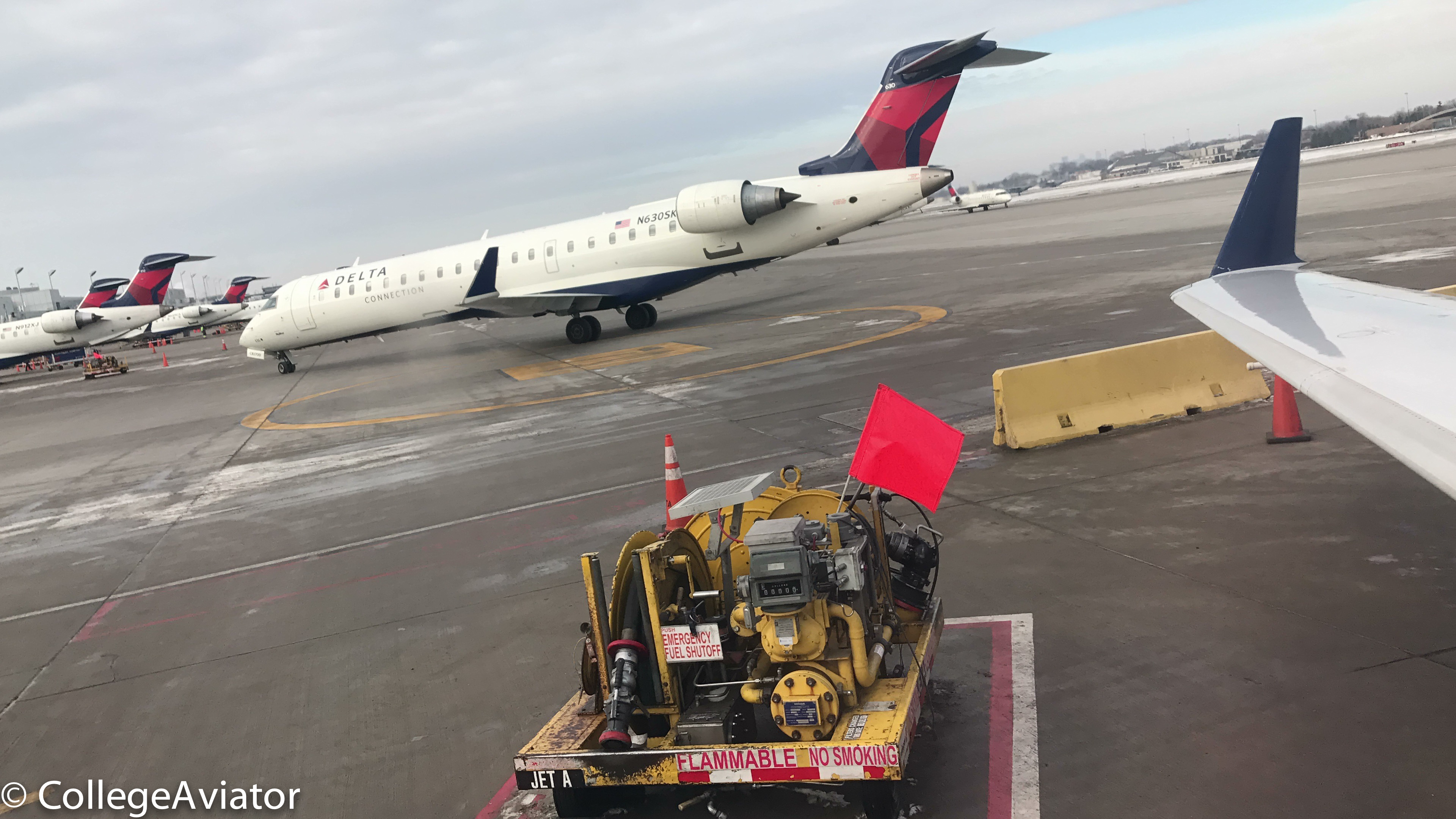 DEPARTURE
Despite the delayed connections, we pushed back just fine at 1312 hours just 2 minutes late. Both engines were fired up without too much of an issue, taxied to Runway 12L, the same runway I had landed on.
Pushback!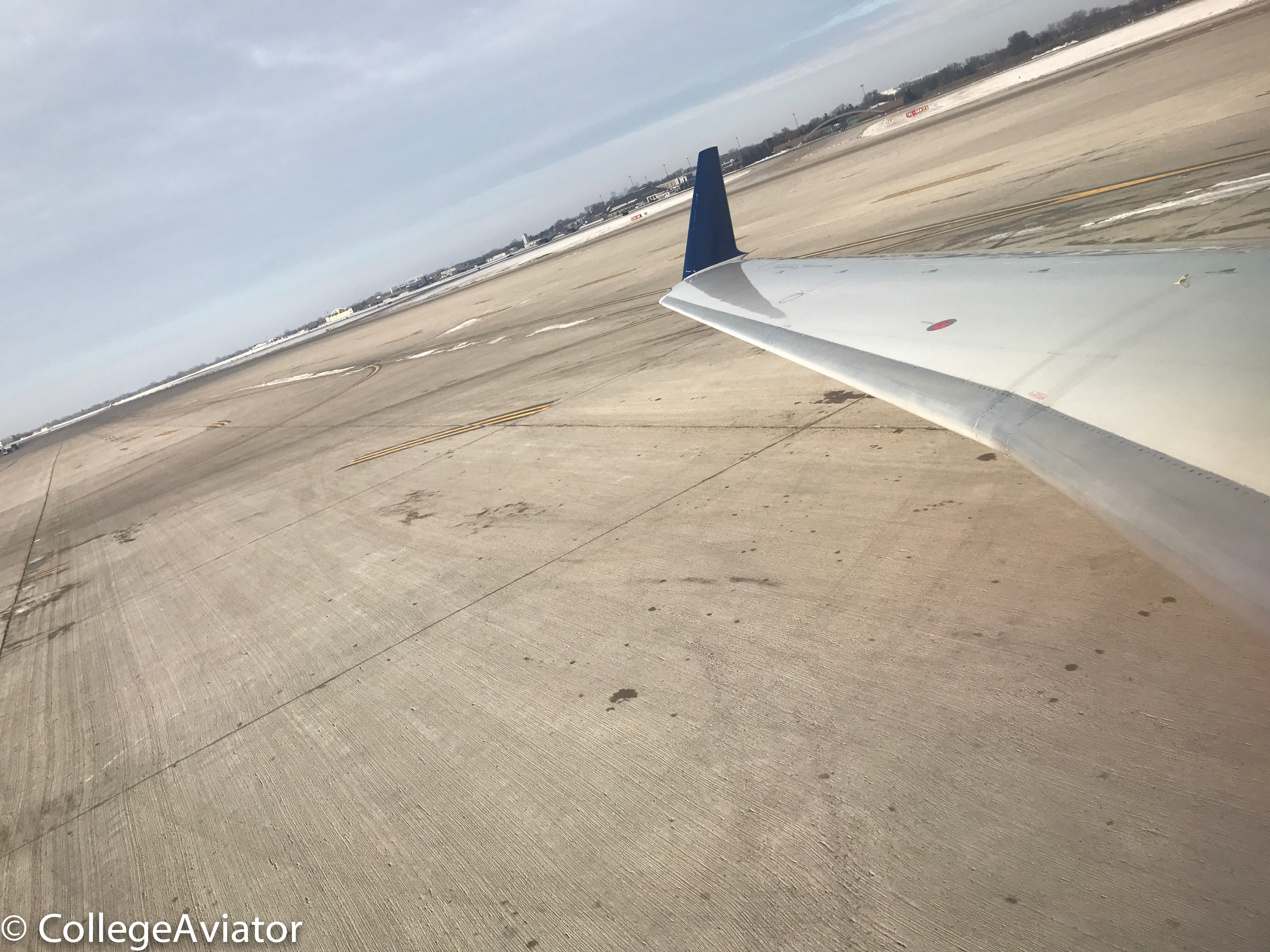 Pushback & start up
So far looking so good for an uneventful final flight of the trip. It was a rolling taxi all the way on to the runway before the tiny CF34s were powered up all the way and we took to the skies just fine at 1320 hours, 10 minutes behind schedule. The airport looked quite empty - the arrivals would be flying in soon before the ultimate 1500 hour rush at MSP began. Course was set Northwest for Grand Forks.
Take off video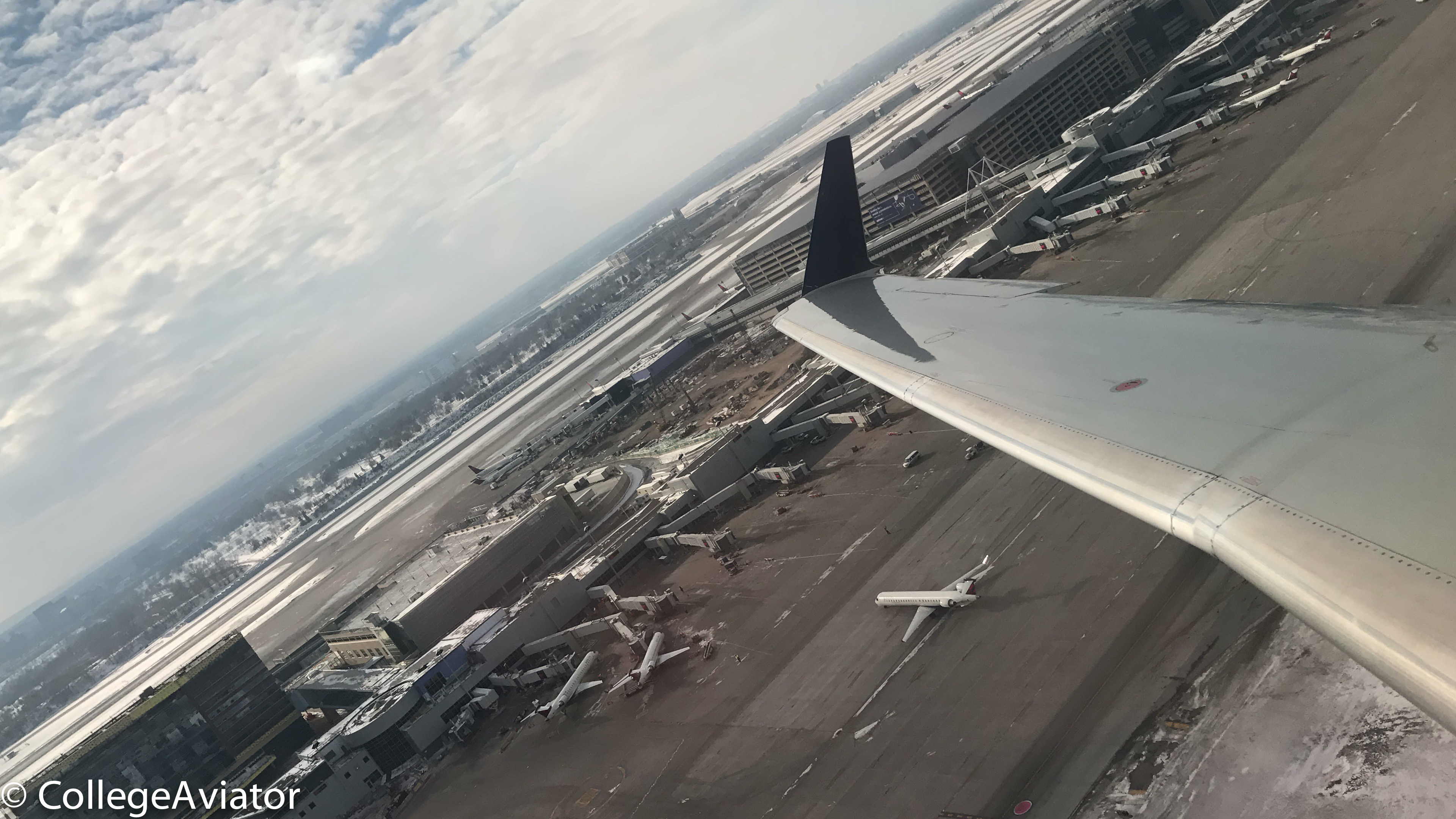 Flew over the St. Paul Downtown Airport that goes alongside the Mississippi River - quite cool given that hopefully some day I will be able to fly in there….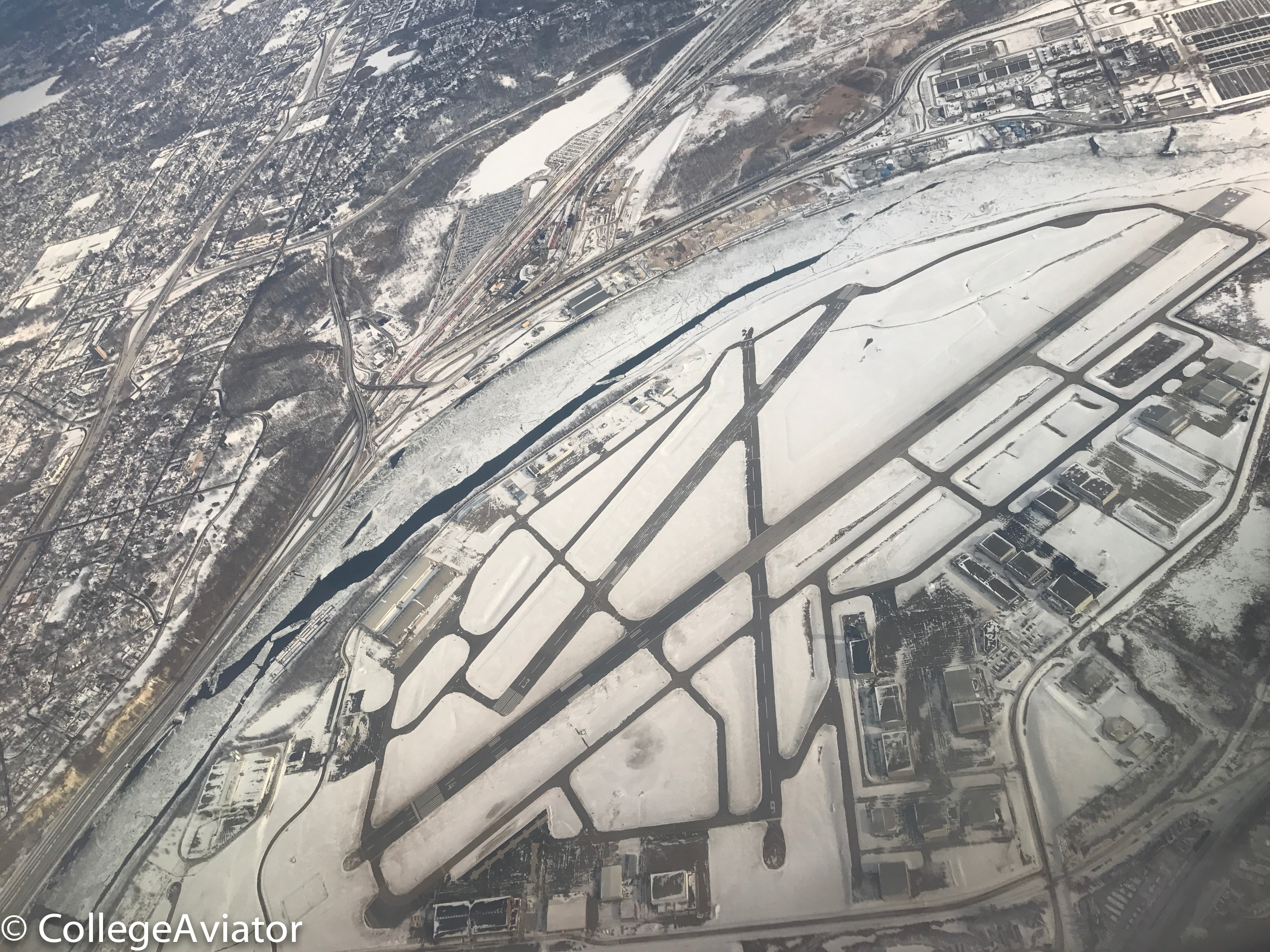 INFLIGHT
The disinterested flight attendant gave us more orders & commands, quite unwelcoming if anything.
A huge sign of cost cuts: there was only water or coffee on offer, in addition to just pretzels and cookies.
Wow, this was quite sad….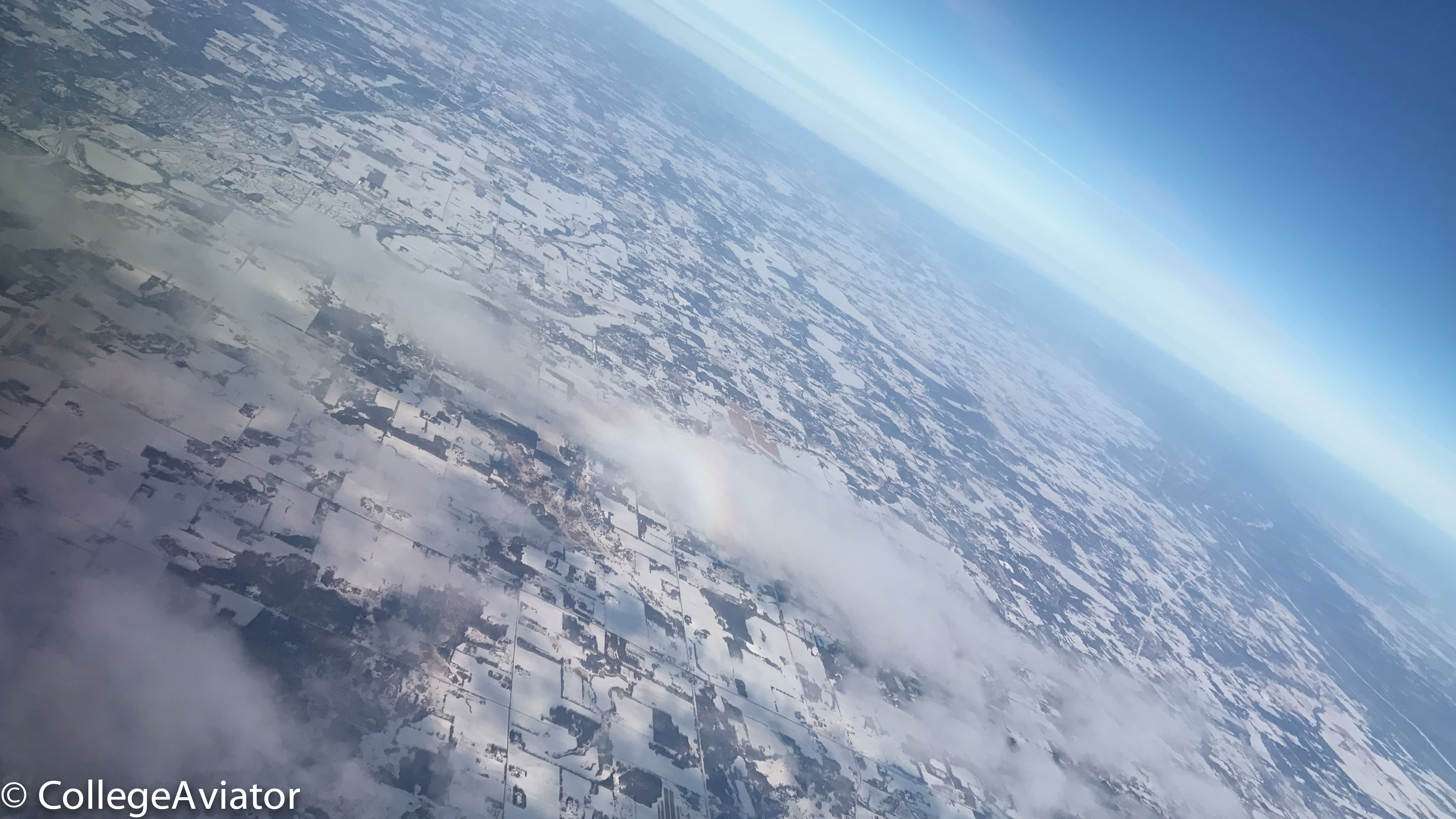 'Service' started of sorts with the FA having absolutely no emotion,
no fucks given
, 'paired perfectly' with 2 phrases: water or coffee, and pretzels or cookies. I went for water and pretzels…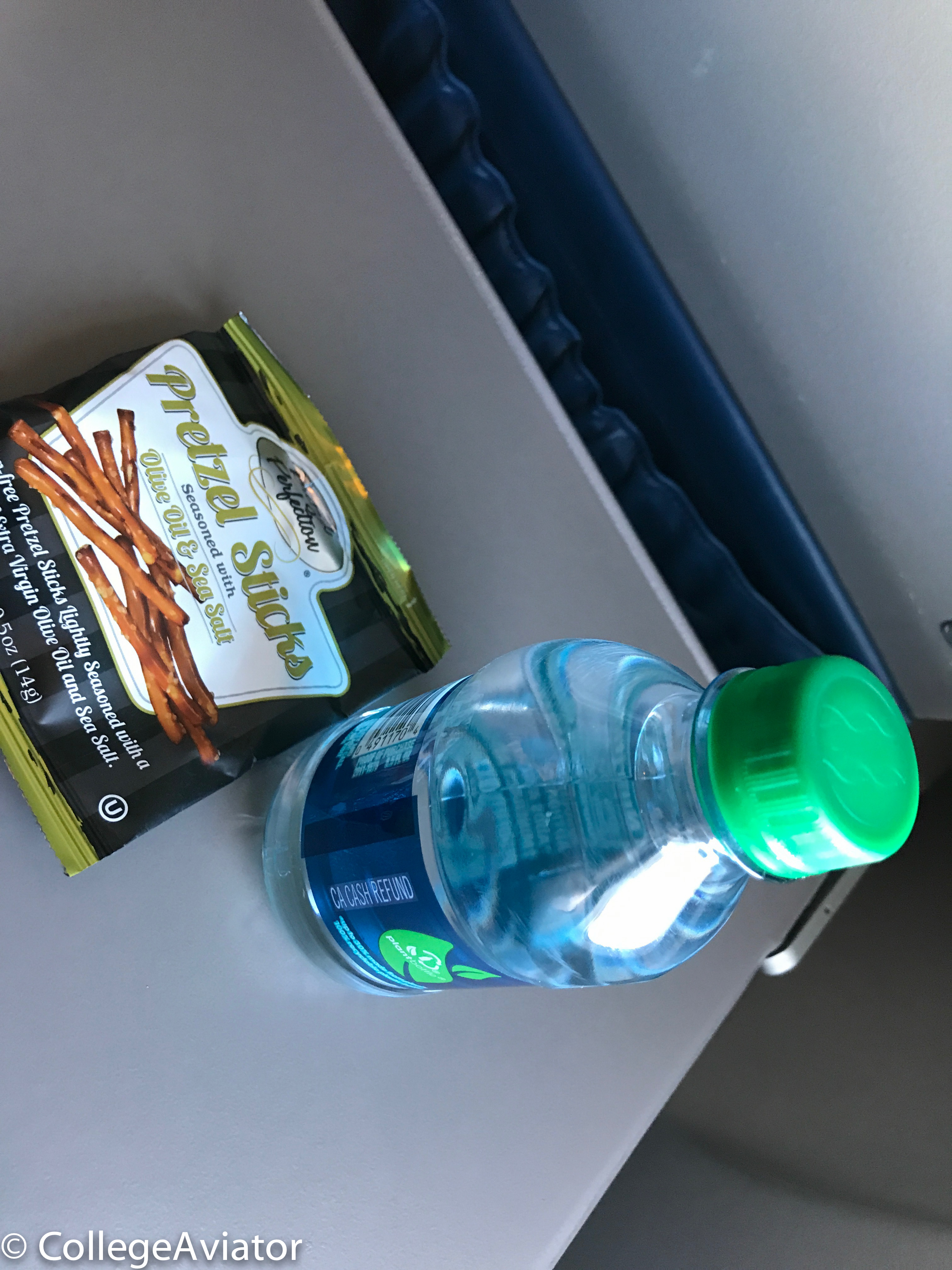 33 minutes in to the flight the first officer came around with latest weather from GFK: WNW winds at 16mph, 31F and overcast but clearing clouds, we'd be down in about 15-20 minutes.
This was quickly followed by the FA's orders
of throwing trash away, seatback upright, etc etc.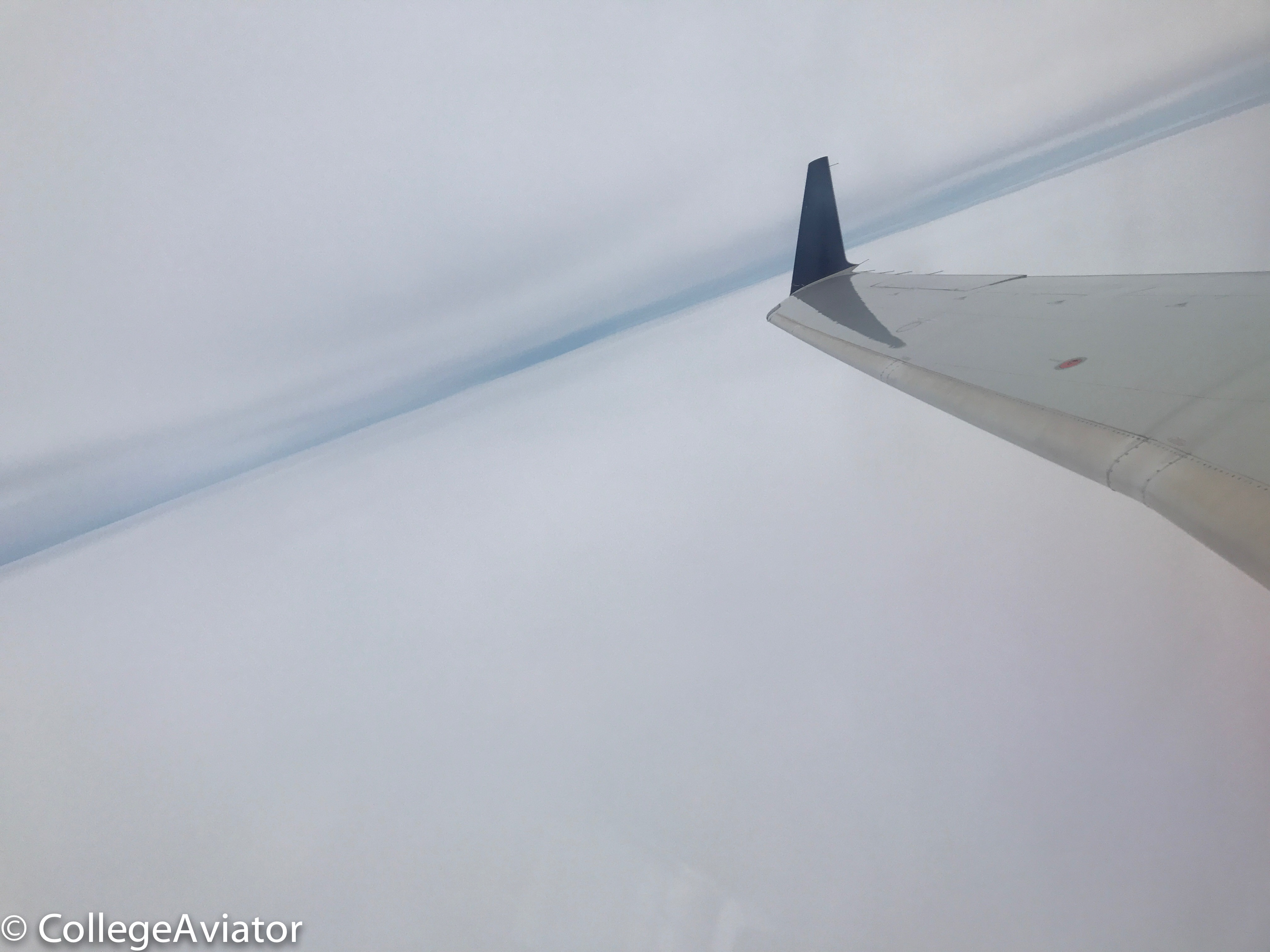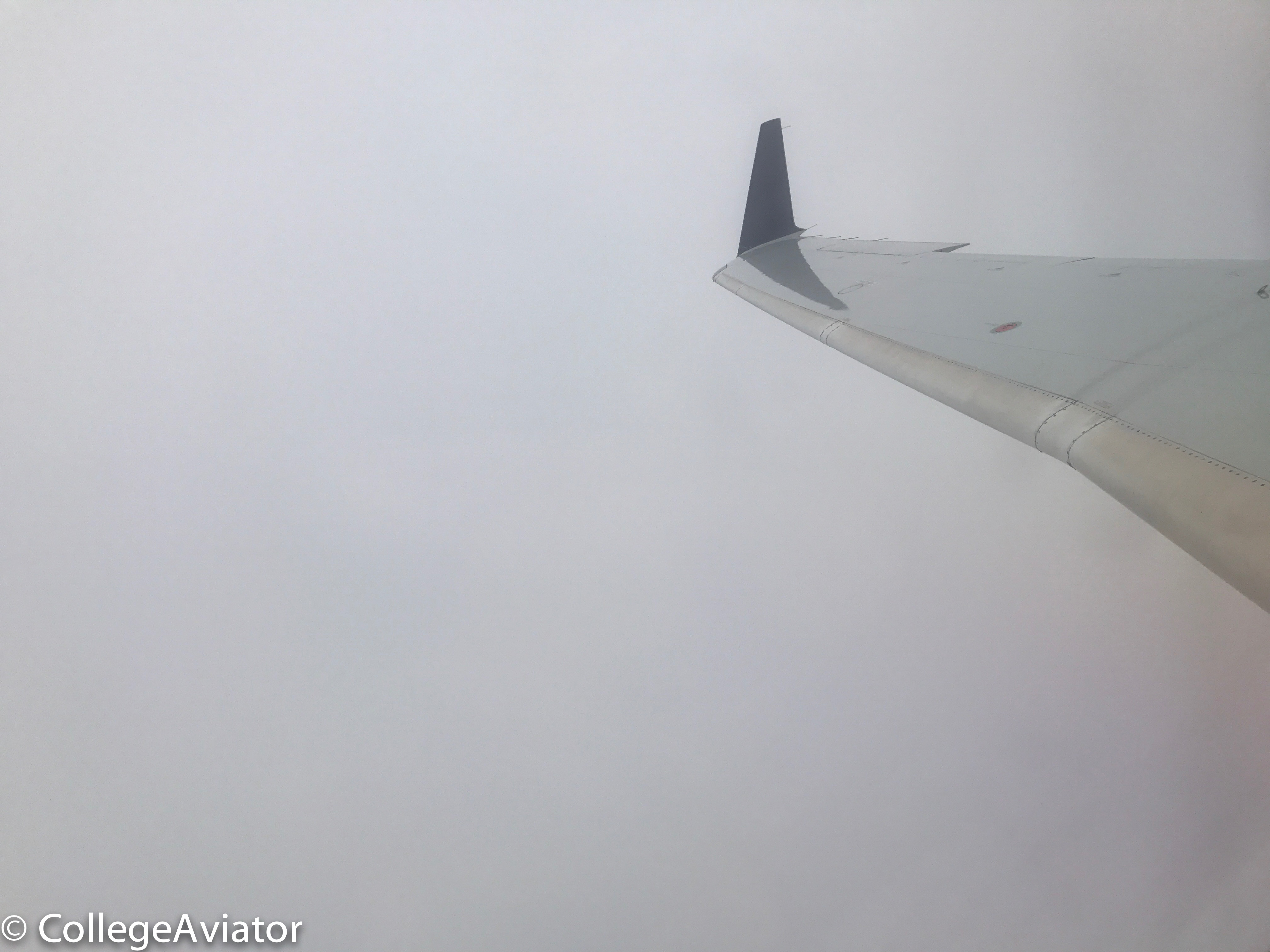 DESCENT & ARRIVAL
Descended and lined up with Runway 35L - the 7351 feet runway as we lovingly call it. It was fun chopping through the clouds, didn't really break out till we were about 800 feet off the ground. Such was the perfect timing of my arrival the lovely girlfriend managed to get a picture of N8888D on short final: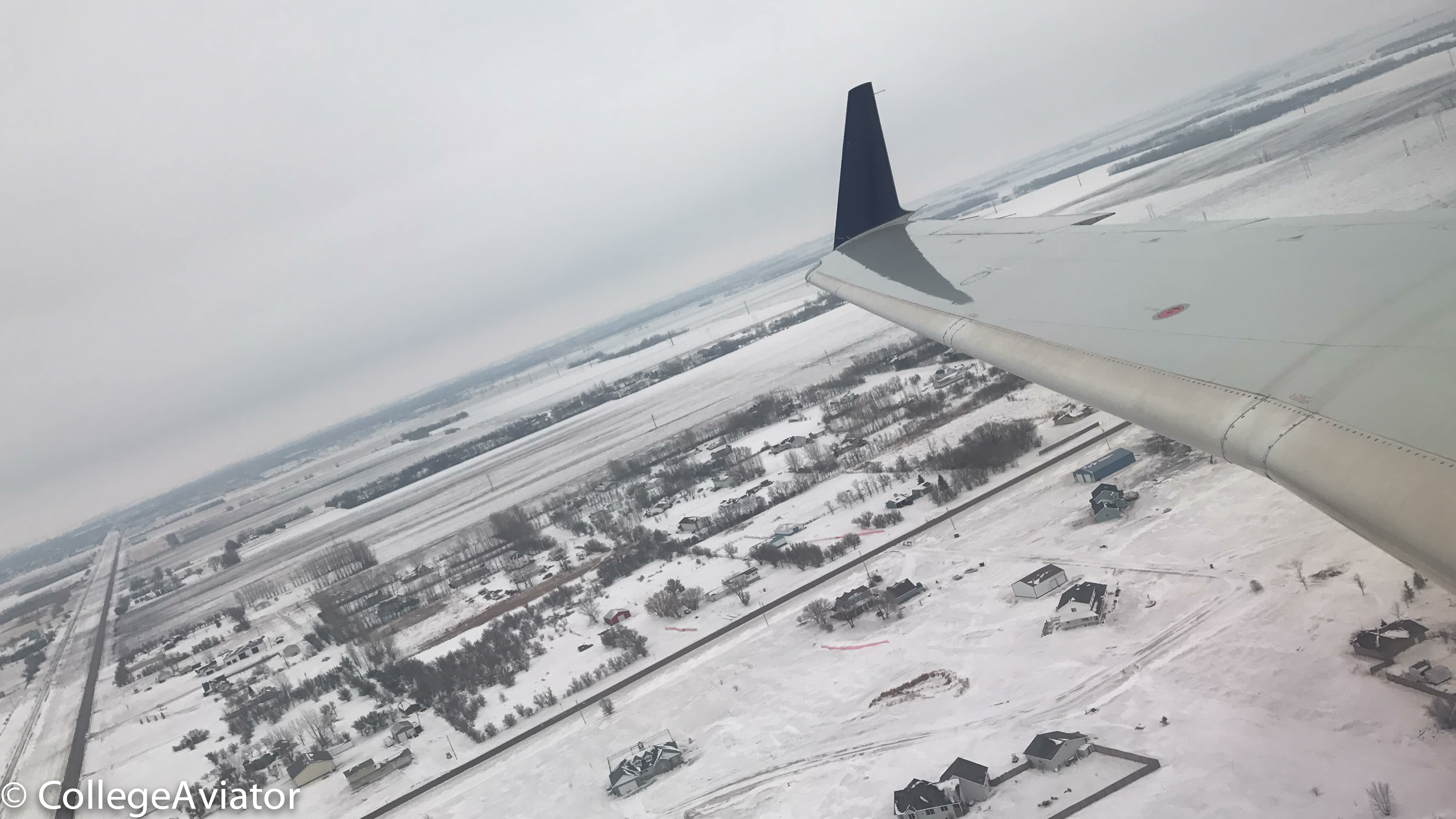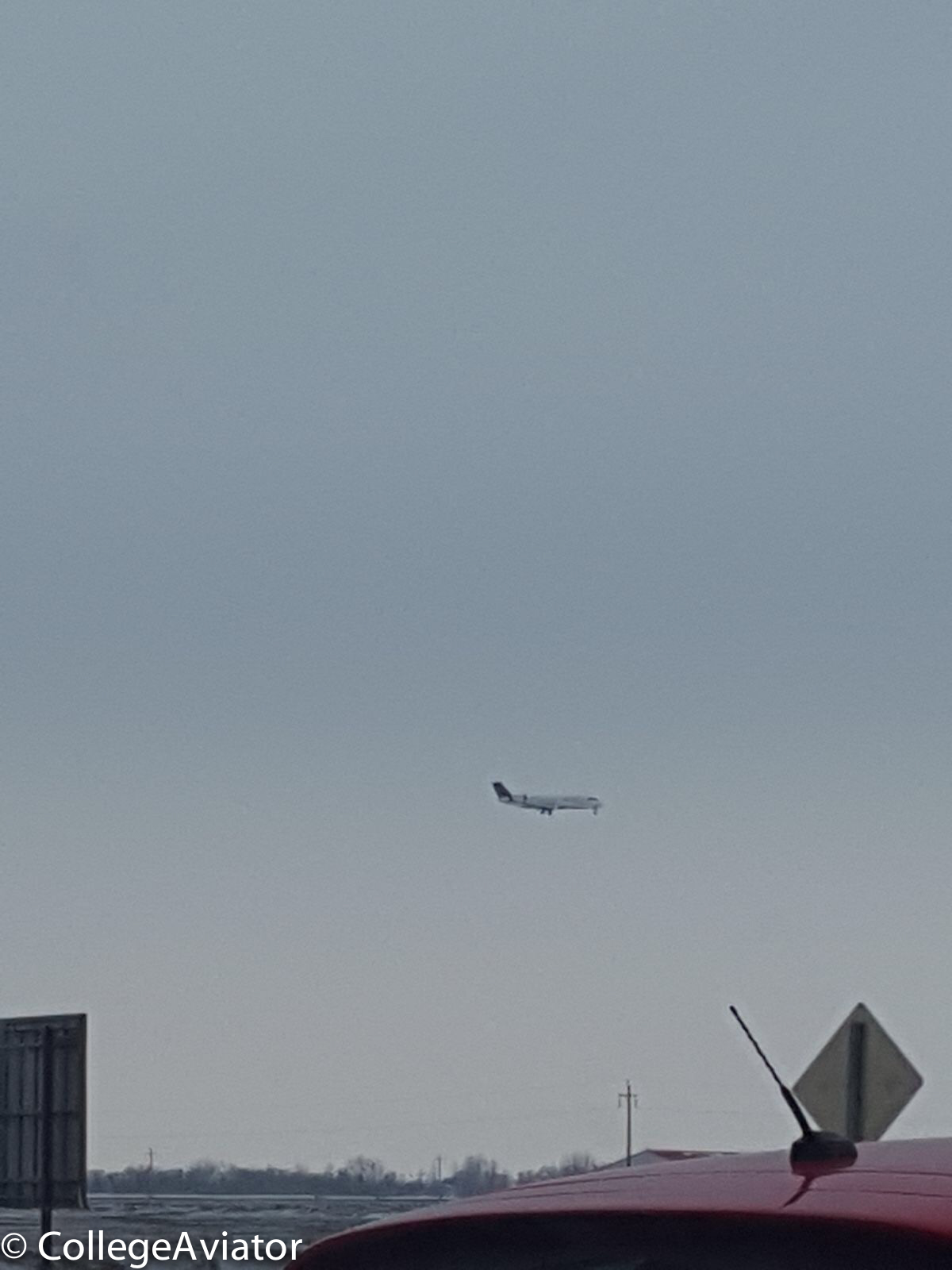 Touched down at 1412 hours, after 53min in flight. A pretty brave Cessna 172S in the distance took off, doing some traffic pattern work. We pretty much went down the entire runway and taxied off on to Runway 9L/27R.
Landing video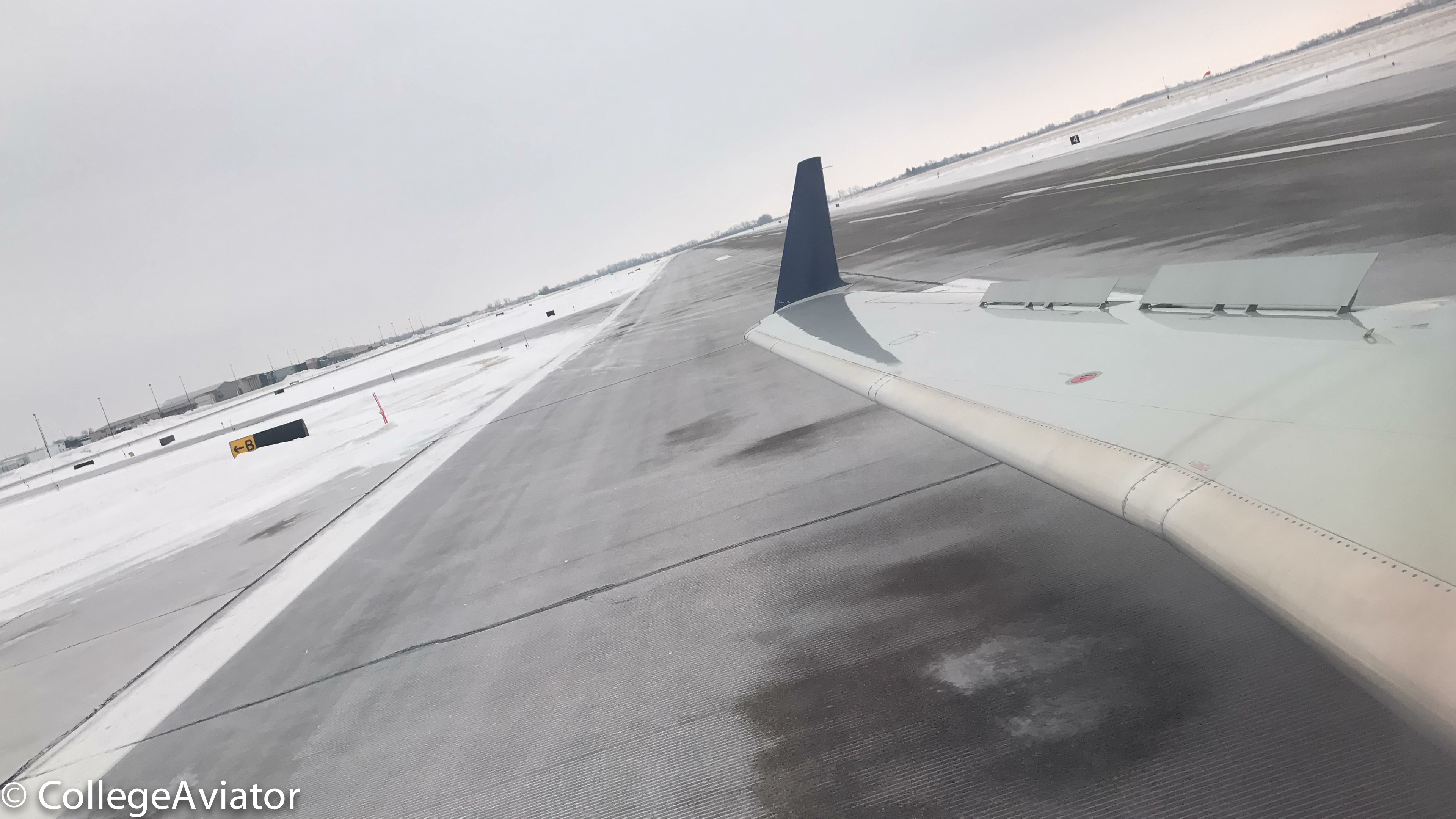 For the final act of the disinterested flight attendant -
he welcomed us to Grand RAPIDS. Amazing.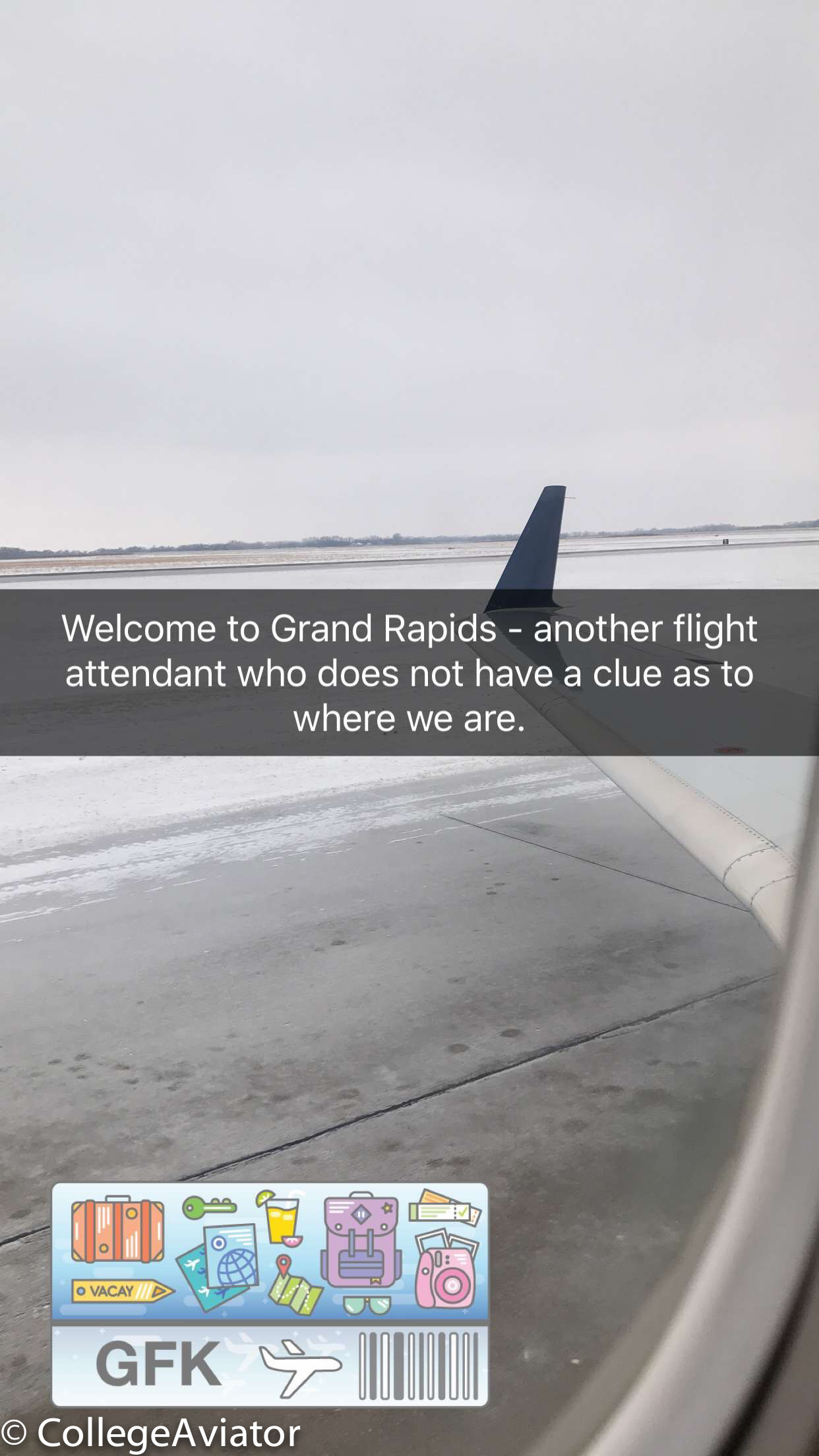 Pulling in to the terminal area, there was no one to assist our taxi in, and rightfully so!
We were so early the DGS folk weren't ready for us yet.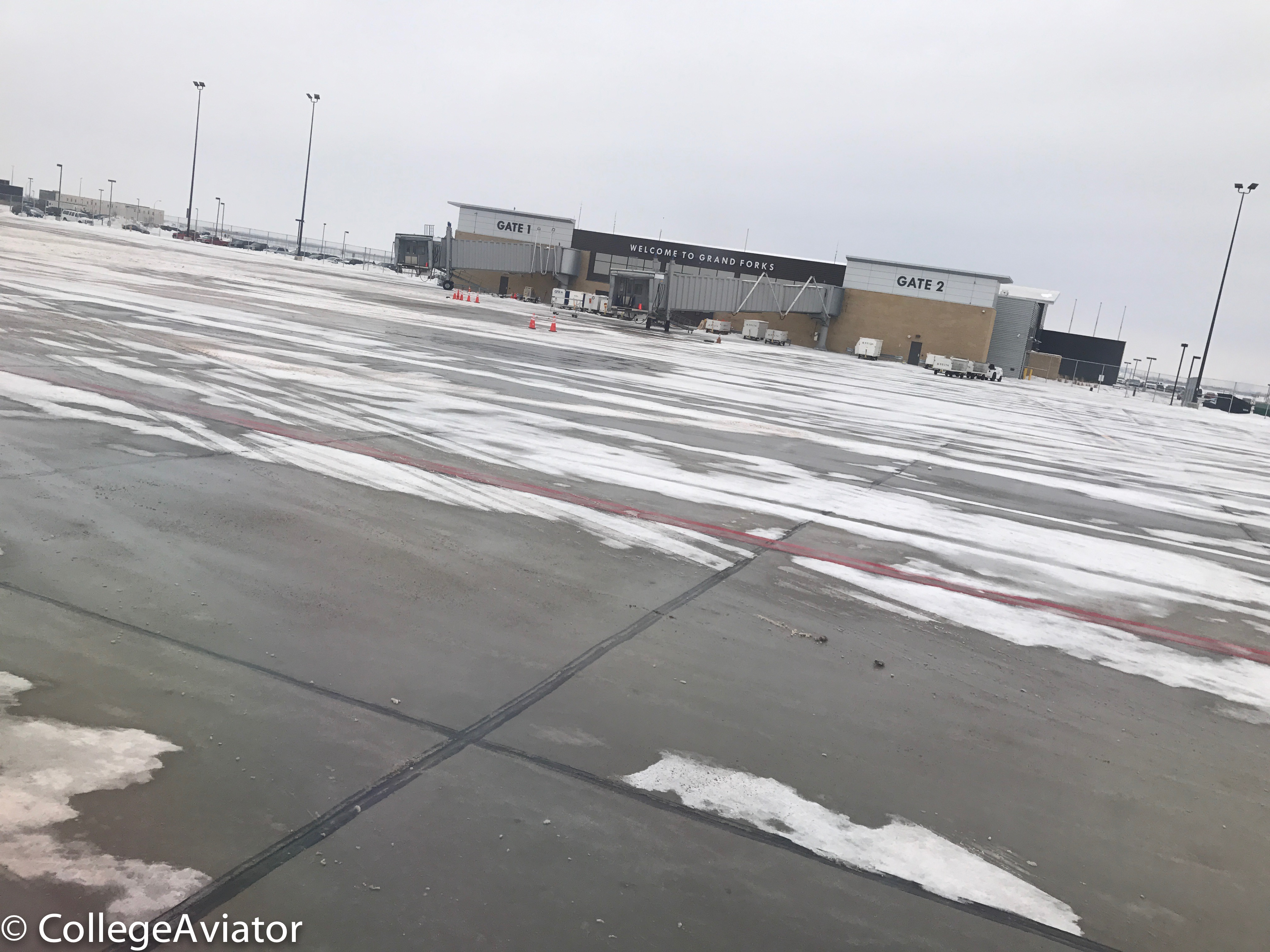 However, it was a pretty short wait, pulled in to gate 2 and engines off at 1419 hours, 23 minutes before time. Disembarked, got my baggage after a slight wait, and then headed out for a parting shot with N888D: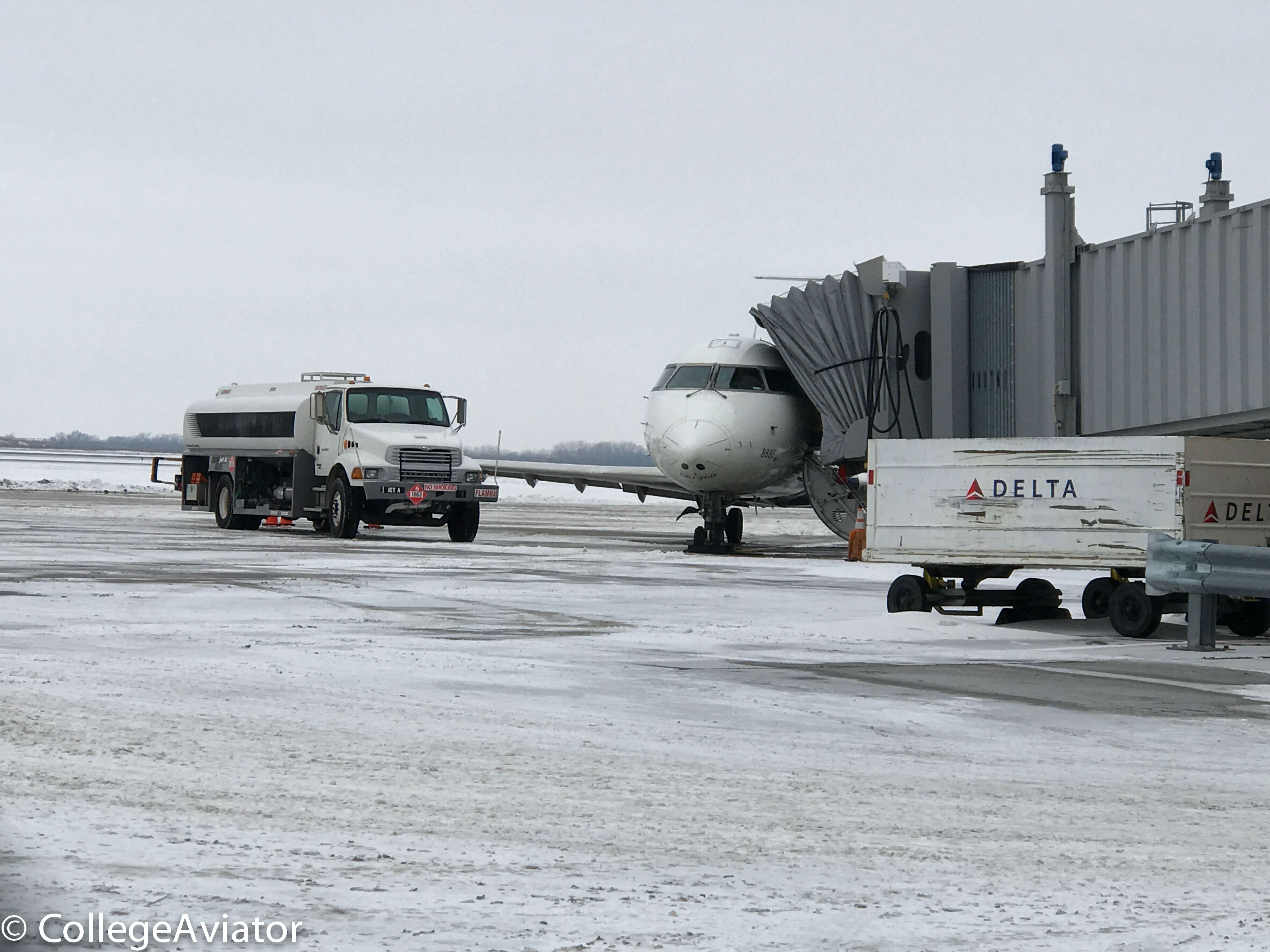 CONCLUSION
Well, all's well end's well (again!). What started out as a very tired & jet lagged me walking around JFK, to going nowhere for the next 2 hours due to a frozen fuel truck, to this uneventful flight, but not without a side of uncomfortable - this flight really made me hate the CRJ-200 a lot more (as a passenger) because of how long I had my nose on the window pretty much. Not to mention yet another flight attendant who really couldn't give much of a damn, and the beverage selection was pretty appalling compared to past experiences. Sad. Here I was hoping Endeavor Air was usually a tad better than SkyWest, but I suppose it is what is, and there's not much to choose from. But here is the
YouTube video trip report
anyway. On the plus side (if any), my 3nd attempt at a *FK-*FK worked out as I pulled off the JFK-GFK trip successfully despite the wobbles. Summer 2017 was washed out as the MD-88 on MSP-JFK was significantly late so I took a MD-90 to LGA, and GFK-MSP was snowed out on this occasion....
And yet another trip with delays, with uncertainty, with me changing plans at the last damn minute because I simply can't seem to plan ahead properly. In hindsight, should've just stuck to Air India with the return. Delta caused quite the headache at the beginning with an awful lot of confusion and a sleepless night on the way out. British Airways were OK for the most part, nothing extraordinary but the 2nd meal on the TATL legs were horrible. Meals on the LHR-DEL-LHR flights were fantastic, though.
My other trip reports:
2018
Wobbly Winter '17/18 (10): Frozen Fuel Truck - uncertainty ensues! (DL461 JFK-MSP, B717-200 Jan '18)
(video trip report)
Wobbly Winter '17/18 (9): BA's logo jet, the uncertainty of NYC's winter storm! (BA173 LHR-JFK, B747-400 Jan '18)
(video trip report)
Wobbly Winter '17/18 (8): The Red Eye 747! (BA142, DEL-LHR, B747-400 Jan '18, pics)
(video trip report)
Wobbly Winter '17/18 (7): Vistara's amazing Business Class! (UK778 CCU-DEL A320 Jan '18, pics & video TR)
(video trip report)
2017
*NO FLIGHTS* Wobbly Winter '17/18 (6): Himalayas, Palam Air Force Museum, Heavily Delayed Rajdhani Express
Wobbly Winter '17/18 (5): Fly Smart? Not quite: The GoAir Debut! (G8128 CCU-DEL A320 Dec'17, pics & video TR)
(video trip report)
Wobbly Winter '17/18 (4): Efficient Air India! (AI401 DEL - CCU B787 Dec'17, pics & video TR)
(video trip report)
Wobbly Winter '17/18 (3): Elegantly British? (BA143 LHR-DEL B747-400 WT Dec'17, pics & video TR)
(video trip report)
Wobbly Winter '17/18 (2): A British Concorde, A British Queen! (BA116 B747-400 World Traveller Dec'17, pics & video TR)
(video trip report)
Wobbly Winter '17/'18 (1): Insane tailwinds to the Big Apple! (DL A319 MSP-JFK Dec '17 Y, pics & video TR)
(video trip report)
A (slightly) unlucky summer '17 (10): Software glitch'd? (SkyWest Delta CRJ-200ER, MSP-GFK, Jun '17, w/pics & video TR)
(video trip report)
A (slightly) unlucky summer '17 (9): Yet no CRJ-700 for you! (IAD-MSP UA E175, Y, Jun '17)
(video trip report)
A (slightly) unlucky summer '17 (8): A tale of 2 Etihads - electronics BANNED! (B77L/B789, BOM-AUH-IAD, Y, Jun '17)
(video trip report)
A (slightly) unlucky summer '17 (7): Jet's extended range B737 (9W472 CCU-BOM, Y, pics & vids)
(video trip report)
A (slightly) unlucky summer '17 (6): Delays galore, inefficiency ensues! (SpiceJet, B737-900ER, SG517 BLR-CCU, Y)
(video trip report)
A (slightly) unlucky summer '17 (5): Missed opportunity with Jet's A330 (BOM-BLR, Y, B73H, May '17) [pics & video TR]
(video trip report)
A (slightly) unlucky summer '17 (4): Short flight on the Etihad A380! (AUH-BOM, Y, May '17) [pics & video TR]
(video trip report)
A (slightly) unlucky summer '17 (3): Elegant Etihad? (JFK-AUH, A380 Y, May '17) [many pics & video TR]
(video trip report)
A (slightly) unlucky summer '17 (2): No MD-88 for you! (MSP-LGA, DL Y, May '17) [pics & video TR]]
(video trip report)
A (slightly) unlucky summer '17 (1): No CRJ-700 for you! (GFK-MSP, SkyWest Delta) [pics & video TR]
(video trip report)
Spring Break 2017 - To the Pacific Northwest! (AMTRAK, BC, Idaho, NO flights!)
Winter Break 2016/17 (9): The Final Hop Home (AA Eagle ERJ-145, ORD-FAR, Jan '17, Y)
(video trip report)
Winter Break 2016/17 (8): Ultra long haul with Etihad (AUH-ORD, Y, Jan '17)
(video trip report)
Winter Break 2016/17 (7): Enticing Etihad to Abu Dhabi! (CCU-AUH, Jan '17, Y)
(video trip report)
2016
Winter Break 2016 (6): My last flight on Jet Airways' ATR (GAU-CCU, Y, Dec '16) + Scintillating Sunderbans
(video trip report)
Winter Break 2016 (5): Konnecting to Kaziranga (S24363 B73H CCU-GAU Y, Dec '16)
(video trip report)
Winter Break 2016 (4): Take us home, Qatar Airways! (QR540, DOH-CCU, Y, Dec'16)
(video trip report)
Winter Break 2016 (3): Long haul middle seat - our first flight on Qatar Airways! (QR28 MAN-DOH, Y, Dec'16)
(video trip report)
Winter Break 2016 (2): Pencil Jet across the Atlantic (AA54 MAN-ORD, Y+, Dec'16)
(video trip report)
Winter Break 2016 (1): The Frozen Embraer Delay - missed connection! (FAR-ORD, Dec '16)
(video trip report)
Thanksgiving '16 in the Sin City - My Allegiance with N891GA, to divert or not to divert (LAS-GFK Nov '16)
(video trip report)
Thanksgiving '16 in the Sin City - My Allegiance with Allegiant! (Part 1, many pictures)
(video trip report)
The day I flew the world's most popular plane (GFK-FAR-CKN-GFK, C172)
Summer '16 trek back home - Part 14: Delta Connection, a quick hop in the Midwest! (MSP - GFK, Aug '16)
(video trip report)
Summer '16 trek back home - Part 13: Super old, Super 80, Mad Dog Across the Midwest! (AA ORD-MSP, Aug'16)
(video trip report)
Summer '16 trek back home - Part 12: Flying the Friendly Skies... (United Munich to Chicago, Aug '16))
(video trip report)
Summer '16 trek back home - Part 11: Epic Lufthansa, Epic A340! (Delhi to Munich, Aug '16)
(video trip report)
Summer '16 trek back home - Part 10: Konnect, Lite, Delight...(S2 B73H CCU-DEL, Aug '16)
(video trip report)
Summer '16 trek back home - Part 9: Take me home, Vistara! (DEL-CCU, Jul '16)
(video trip report)[/color]
Summer '16 trek back home - Part 8: Vistara's INAUGURAL flight out of Kolkata! (CCU-DEL, Jun '16))
(video trip report)
Summer '16 trek back home - Part 7: Efficient IndiGo! (Mumbai to Kolkata, A320, May '16)
(video trip report)
Summer '16 trek back home - Part 6: Big delays, cracked windshield, angry passengers (SG CCU-BOM B73J)
(video trip report)
Summer '16 trek back home - Part 5: Air India's domestic Dream)liner (DEL-CCU May '16)
(video trip report)
Summer '16 trek back home - Part 4: Nearly First Class - stories of the empty A380! (LH FRA-DEL May '16)
(video trip report)
Summer '16 trek back home - Part 3: World's longest jet, Lufthansa's B748i! (ORD-FRA May '16)
(video trip report)
Summer '16 trek back home - Part 2: ChicaGO on United's A319! (MSP-ORD, May '16)
(video trip report)
Summer '16 trek back home - Part 1: Sun rise onboard the long range CRJ (DL GFK-MSP CRJ-900, May '16)
(video trip report)
The pencil jet(s) for spring break! (+ Iron Maiden bonus): Delta MSP-FLL-MSP, March '16
(
DL1608 video trip report
,
DL2027 video trip report

)
De-iced & Delayed, cold onboard a CRJ! (ORD-MSP-GFK on Delta, Jan '16)
(ORD-MSP video report)
(MSP-GFK video report)
Delta's aged B767-300ER across the Atlantic! (CDG-ORD in Y, Jan '16)
(
video report
)
Air France's NEW Economy (B777-200ER, Bengaluru to Paris, Jan '16)
(
video report
)
Delays and despair: stressed out in the middle seat! (Jet Airways B737 Mumbai - Bengaluru, Jan '16)
Air India's hybrid babybus from Kolkata to Mumbai (Jan '16, Y)
(
video report
)
2012
South Africa 3: 12 days in Scintillating South Africa (Kruger, Kulula and Rand Airport, Apr' 12, LONG!)
South Africa 2: Elegant Emirates Economy! (DXB-CPT, B77W, Apr '12)
South Africa 1: My first flight on Emirates, my first flight on the 777 (CMB-DXB, Apr '12)
2011
International transit with Jet Airways (BOM-MAA-CMB, Oct. '11)
Konnecting to Bhubaneswar (9W BOM-BBI-BOM, Jul '11)
Three trips between India and Sri Lanka (9W BOM-CMB-BOM: Jun '11, Jul '11, Oct. 11)
To India's Orange City: Mumbai - Nagpur - Mumbai on Jetlite & Tadoba National Park (May 2011)
My last flight on Kingfisher Airlines (and 2 other Jet flights, May '11)