JetBlue's Bozeman Inaugural December 13, 2018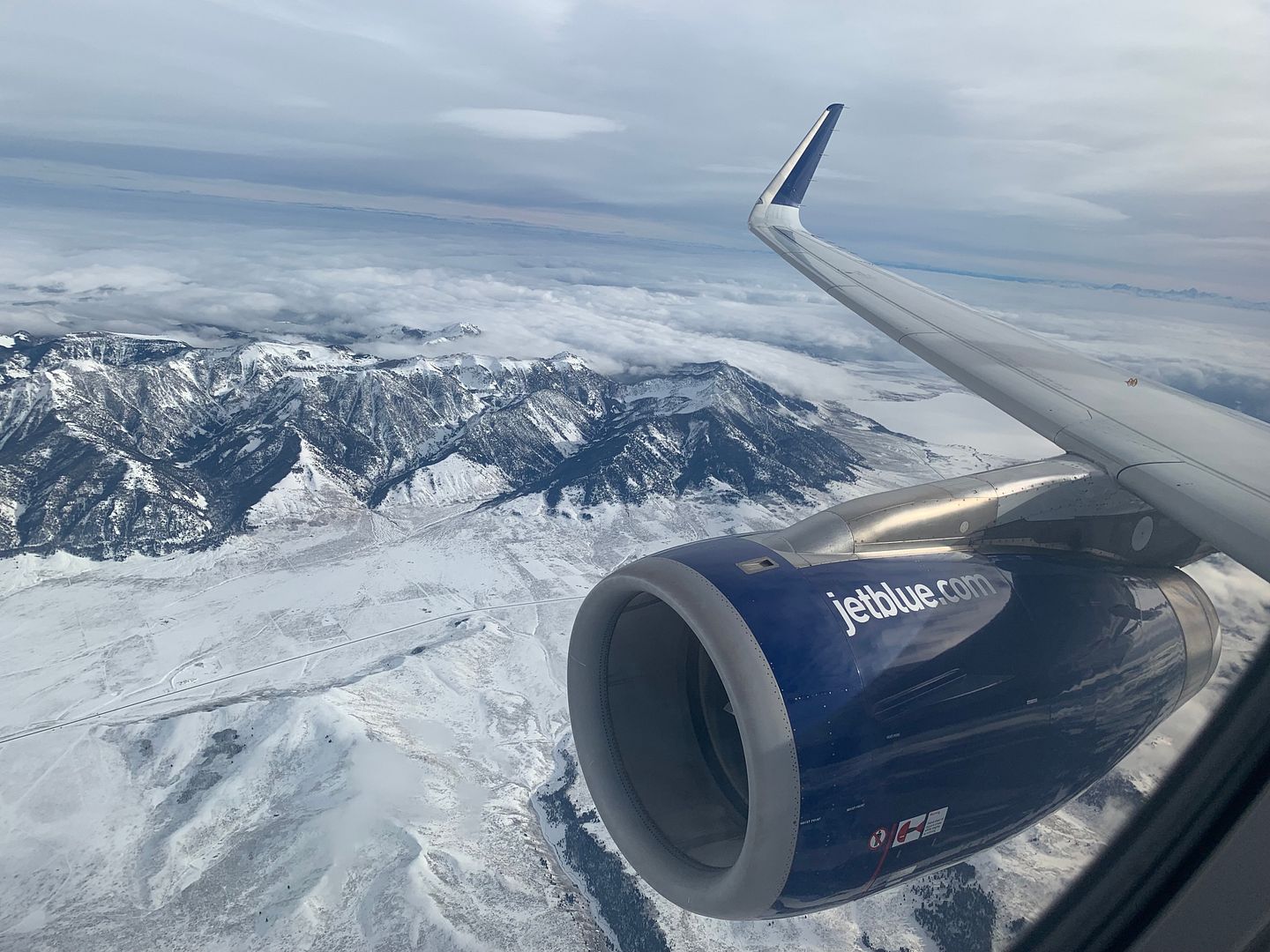 As a JetBlue's fan, I could not pass on the opportunities to fly its inaugural flight to Bozeman, Montana, from Long Beach, my home base. I was tempted to link it to its inaugural to Steamboat Springs on Saturday, but since I need to be back in HK for the holidays, I have to pass this time. JetBlue's new seasonal flight to Bozeman Yellowston International Airport will operate every Thursdays and Sundays, and the flight will fly in both winter and summer season with a few months' hiatus in the summer. The airline will reexamine the future of the flights after the summer operation. Being an armchair CEO, I have a feeling that the new Airbus A220 (former C Series 300) will be good for this market too, but not sure if JetBlue will station the A220 here in Long Beach though. Despite the seasonal nature of the flight. the JetBlue did not spare anything for the new Bozeman's flight. There was a good party at Bozeman involving many local communities and Bozeman's chamber of commerce. The load was a bit weak for this pair of inaugural flights but hopefully it will become better once the news about the flights spread. I am sure the upcoming ski season will attract many LA based passengers too. For those who don't want to read the report, I have included the link to the full photo album.
Full Album:
http://s1213.photobucket.com/user/Carfi ... 0Inaugural
Local news report
https://youtu.be/1zXqQJHGbI8
December 13, 2018
JetBlue flight 10 LGB-BZN Lv1050 Arr1423 Airbus A320-200 Sharklet N805JB "You Had Me at Blue"/Barcode
I arrived at the airport about 100 minutes prior to departure and there was a short wait in the Mosaic line. I just wanted to get a "real" boarding pass for the inaugural flight, as well as the boarding pass for the return segment.
Promotion about the Bozeman flight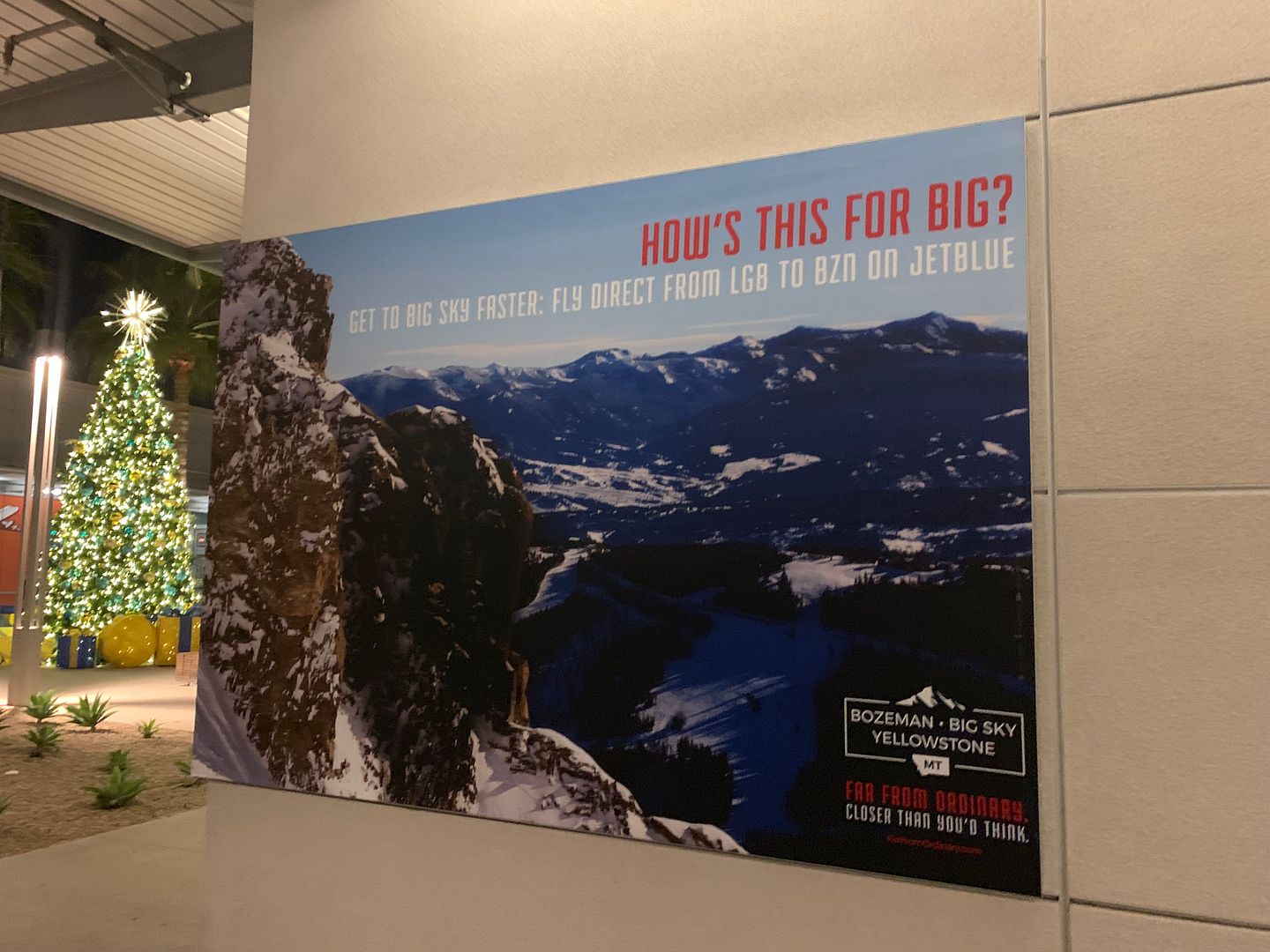 Despite the aircraft was parked at spot 9, the boarding took place from gate 10, which seems to be the designated inaugural flight gate at Long Beach. It is a bit more spacious than other gates. There was a nice continental breakfast buffet and they set up a podium for a few speeches by JetBlue's and Long Beach Airport's representative.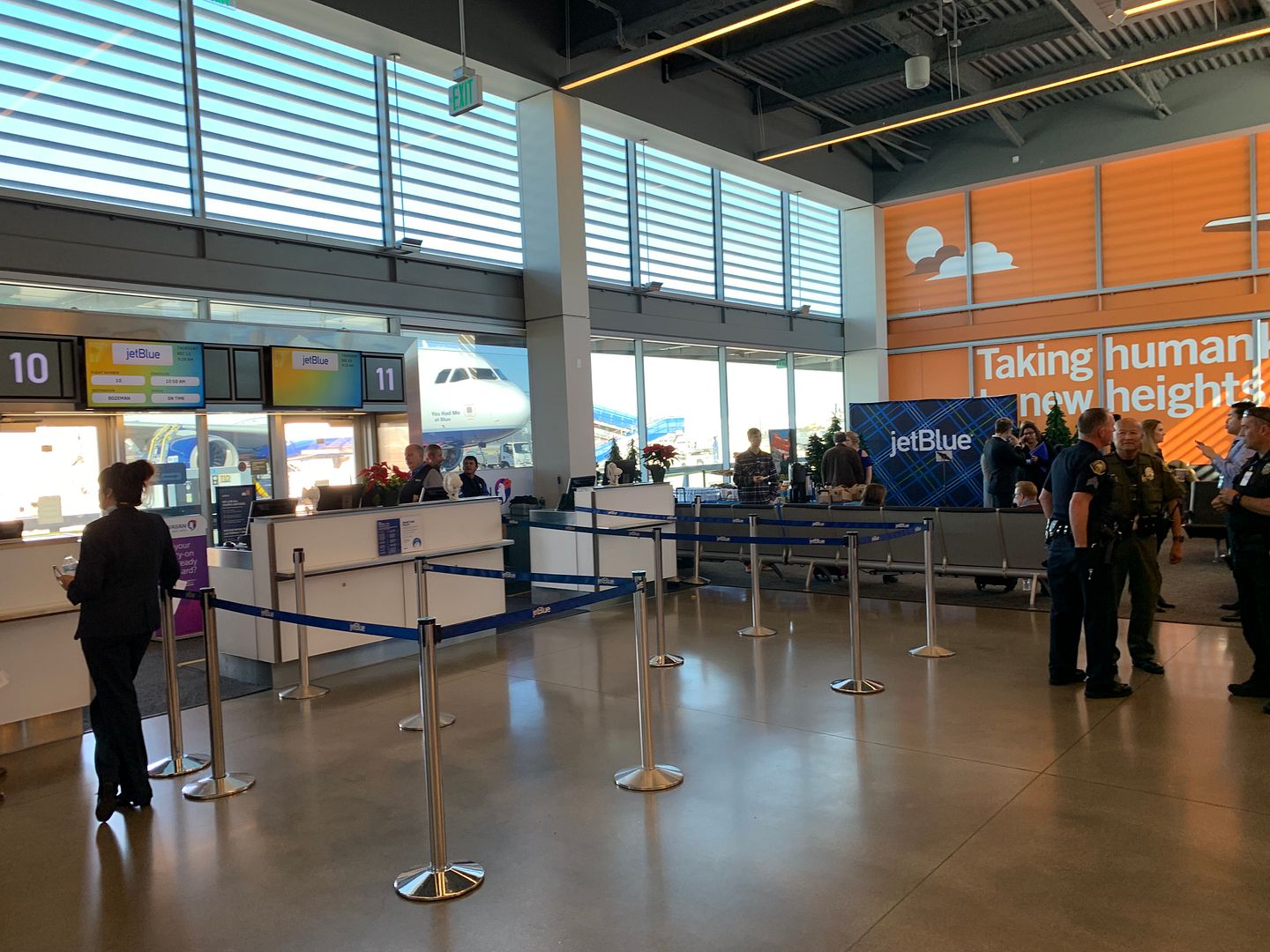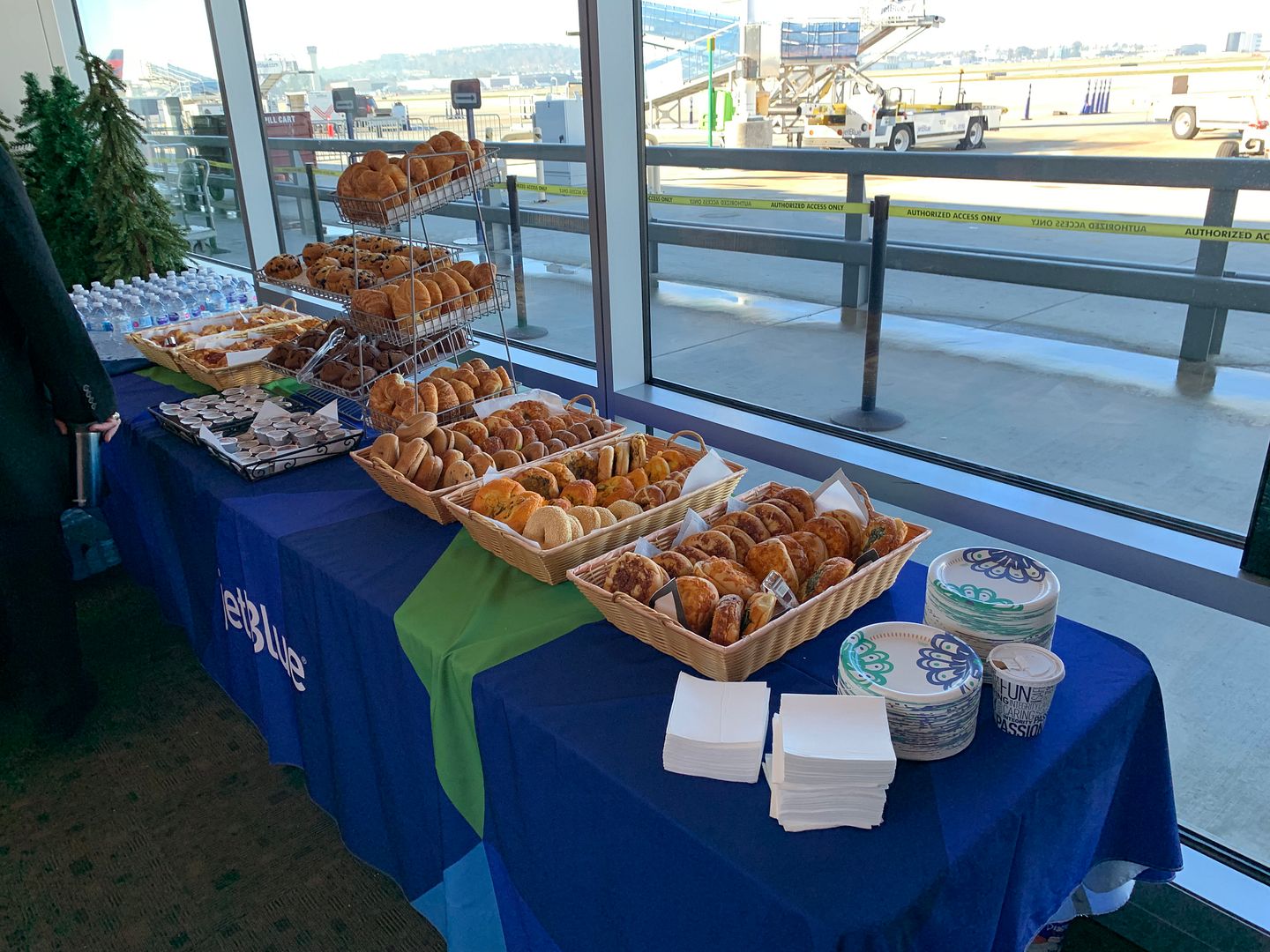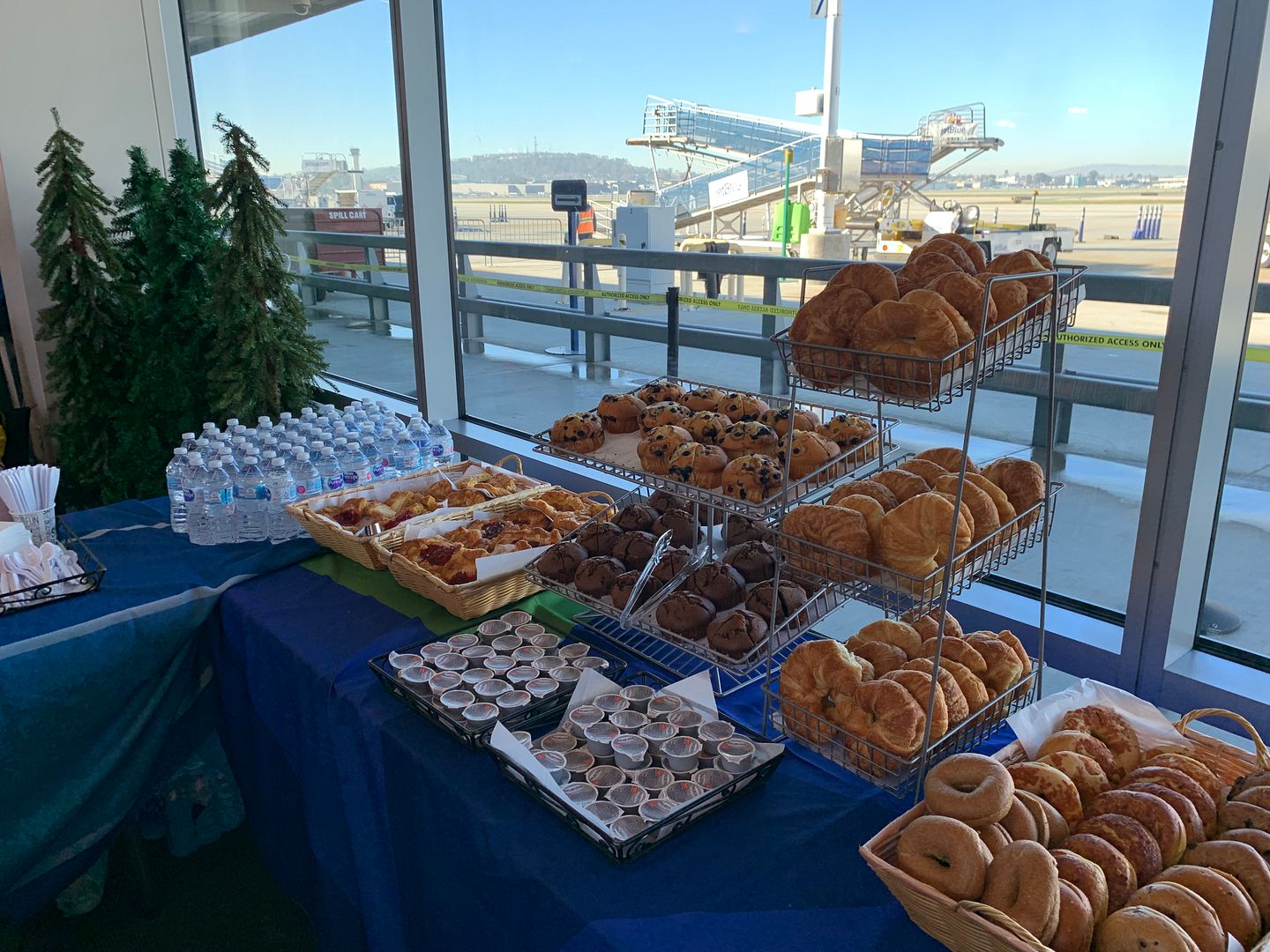 There was a ribbon cutting ceremony by cabin crews operating today's flight – Angie, Kim and Jaime.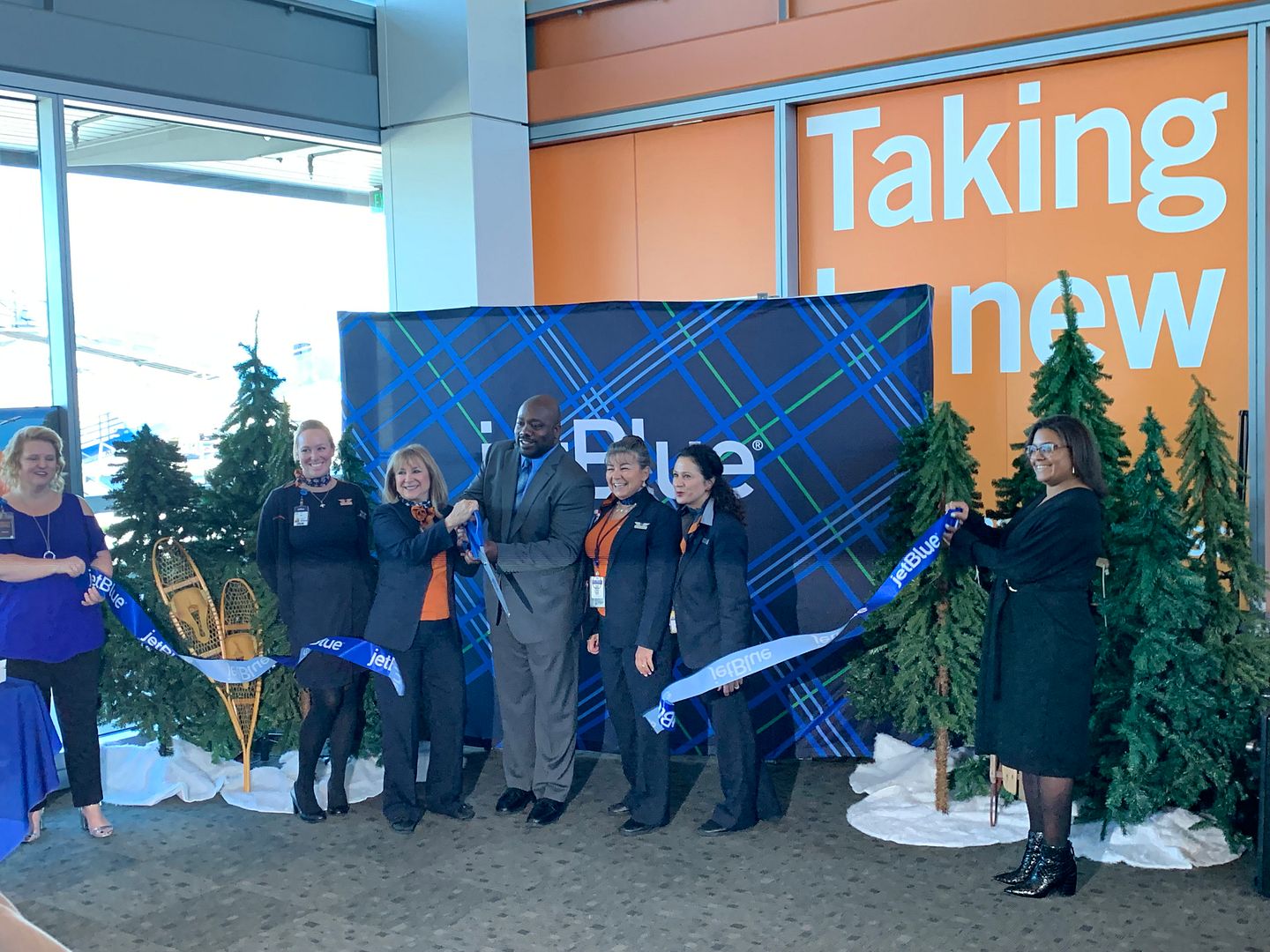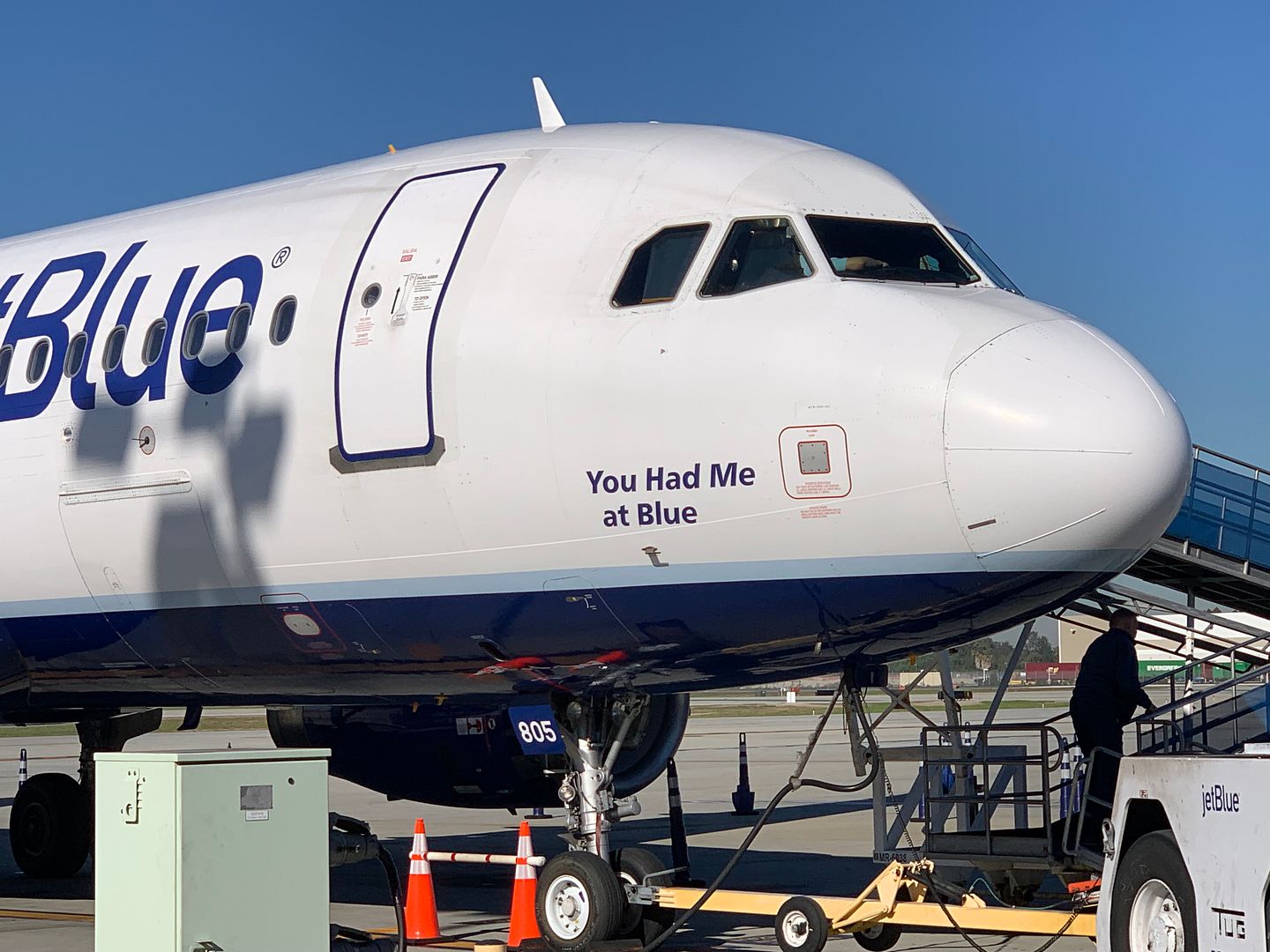 Boarding began at 10:19am, and Angie, the leading flight attendant, was greeting passengers. She immediately addressed my Mosaic status and greeted me after boarding was completed. She also moved me to a window seat with an empty middle seat. I was told that I was the only Mosaic passenger on this flight but getting a bit of recognition is always nice.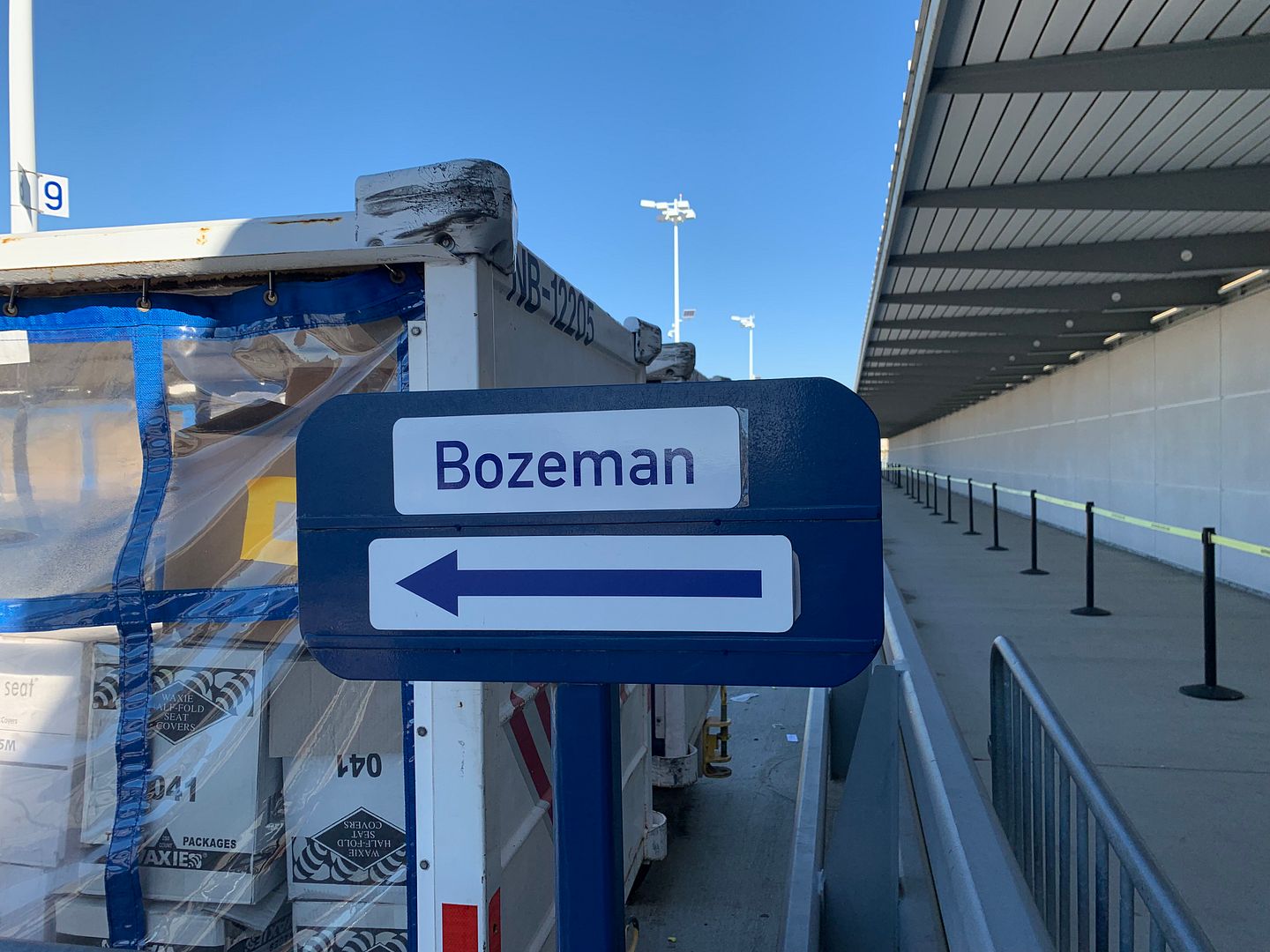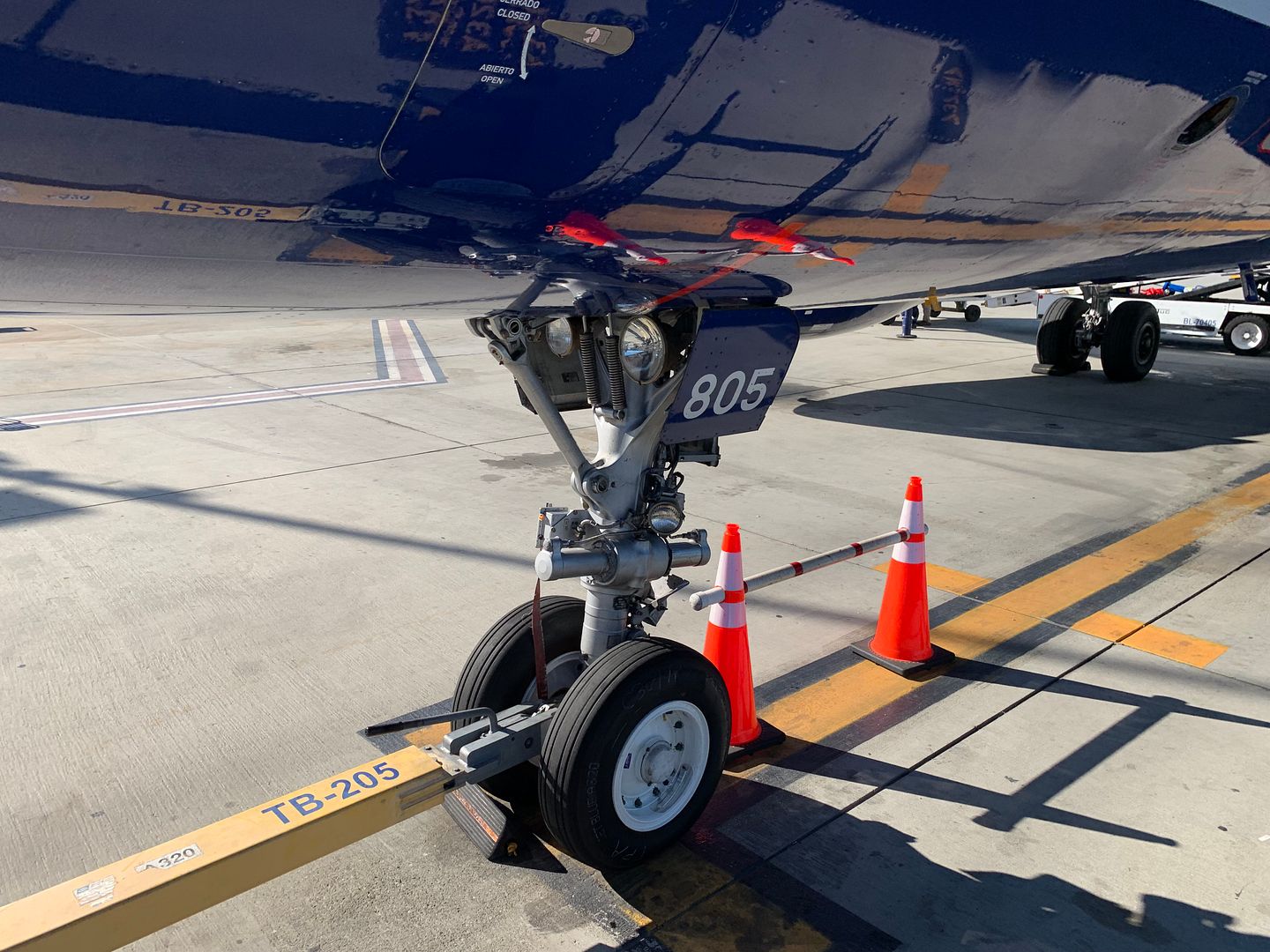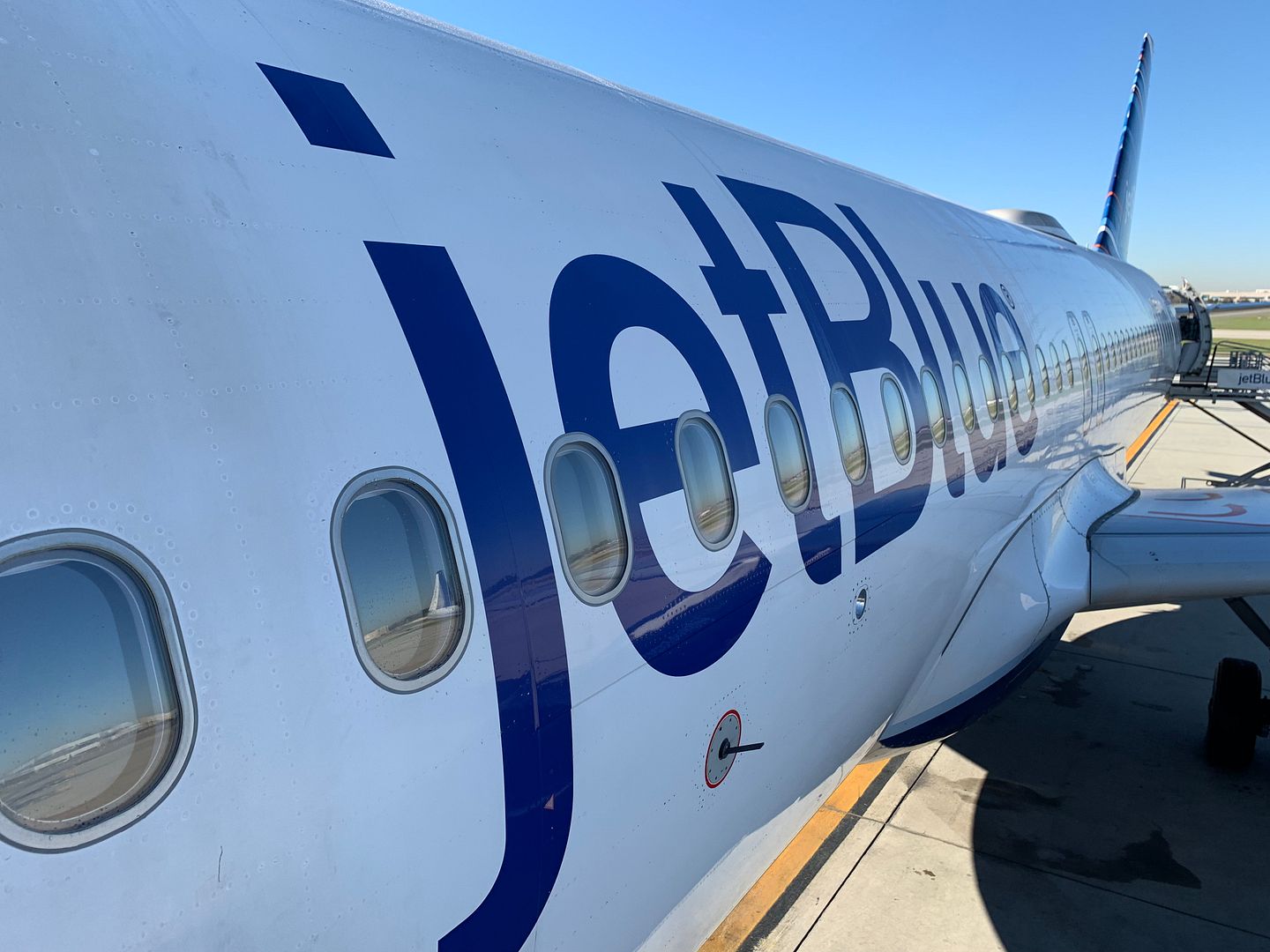 Cabin shot – I was surprised that they did not send out of the A320s with the latest cabin products and the space flex lavatories. JetBlue usually likes to show off their new cabin products on these inaugural flights. However, this A320s were well maintained. It did not fly to anywhere this morning, so it got a deep cleaning here.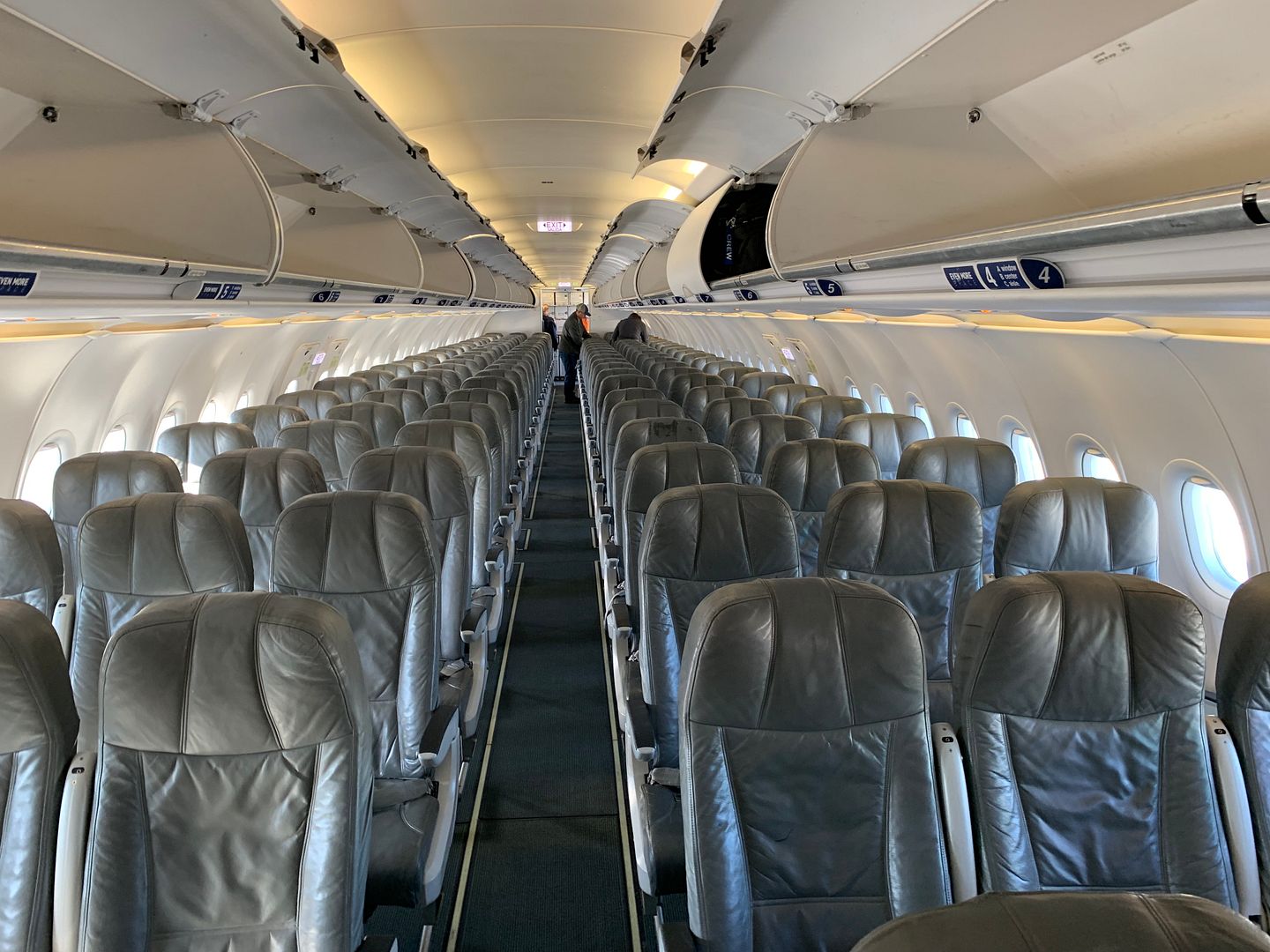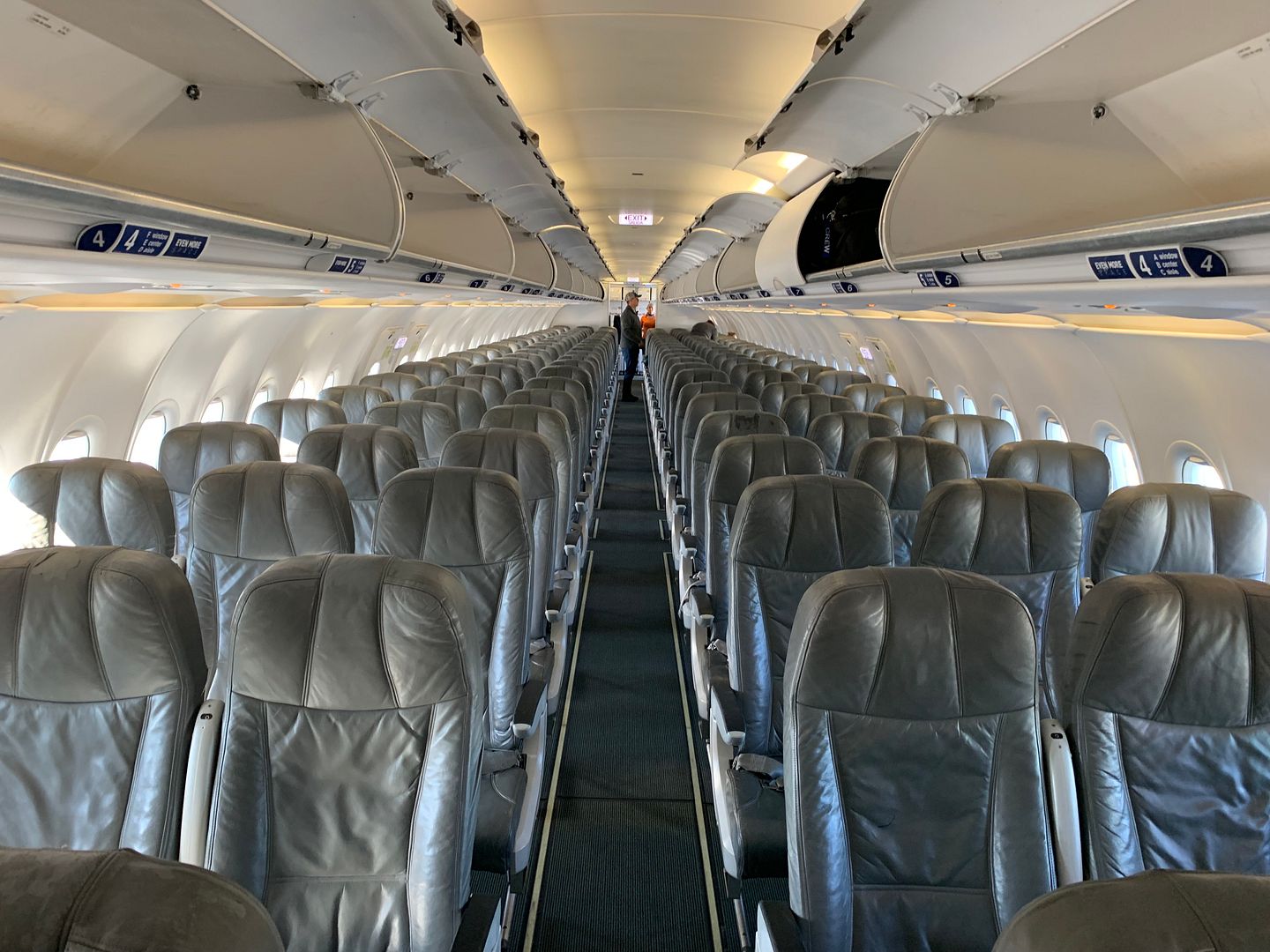 Even More Space (non-exit row seat)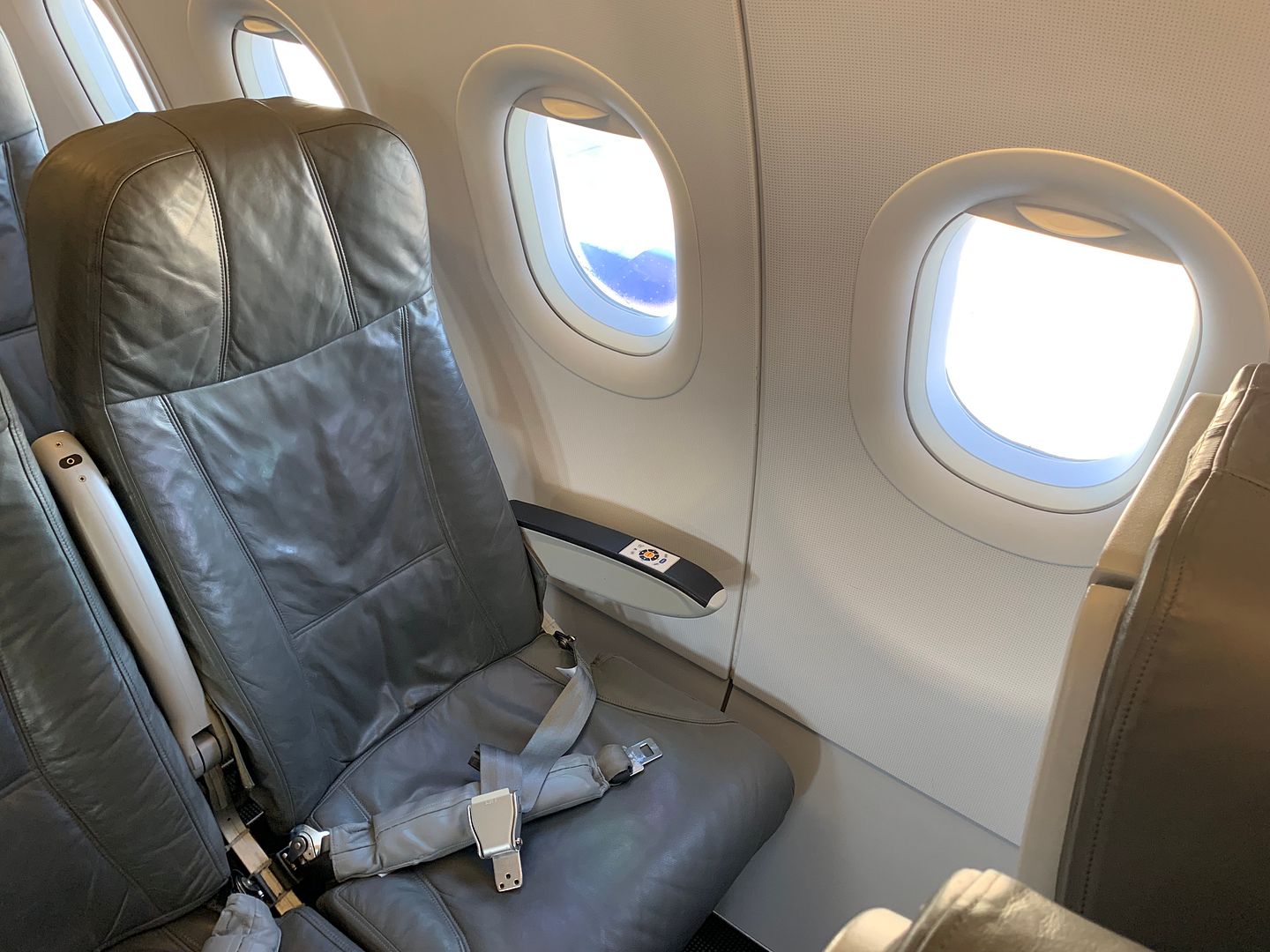 Captain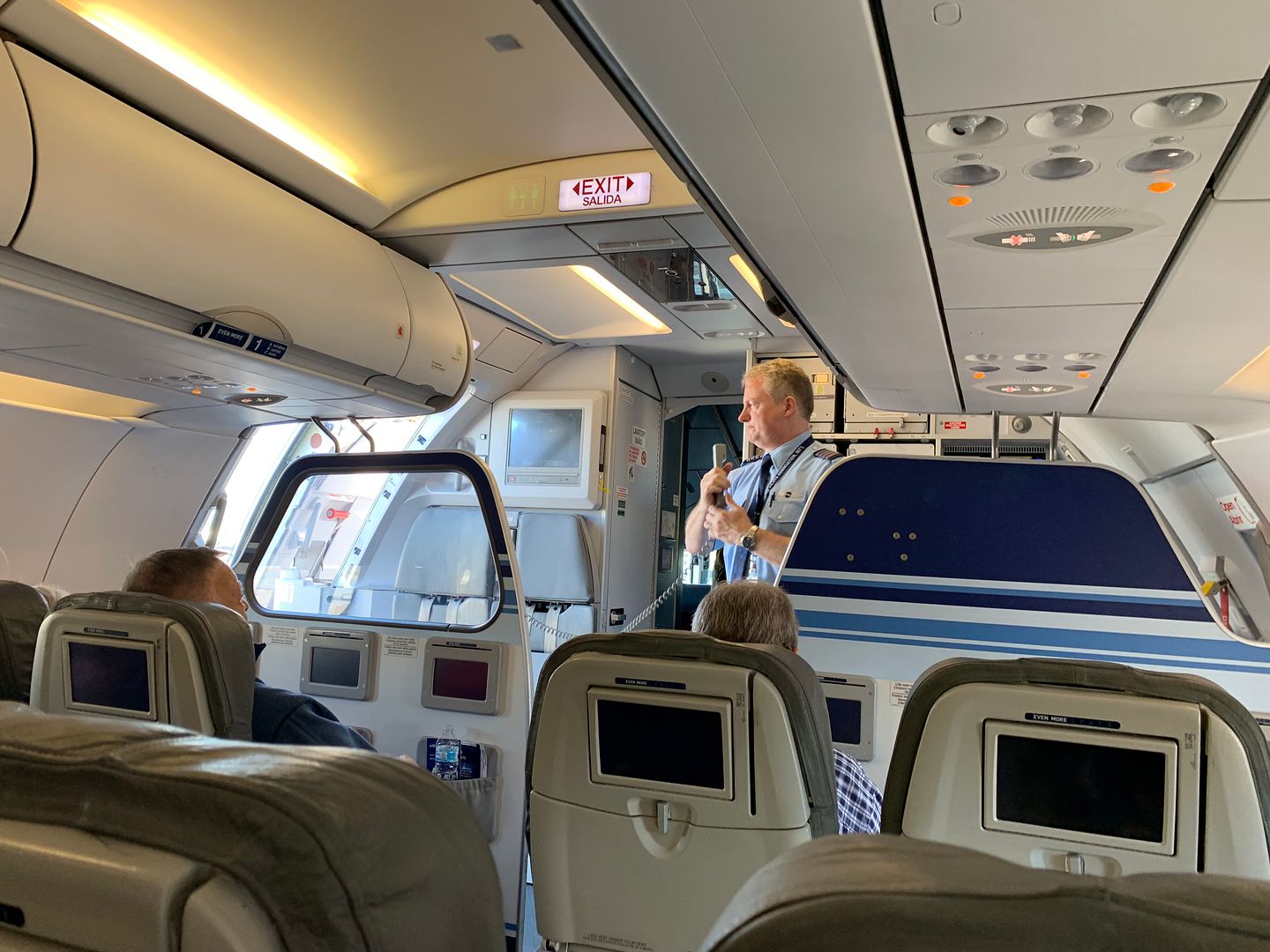 Angie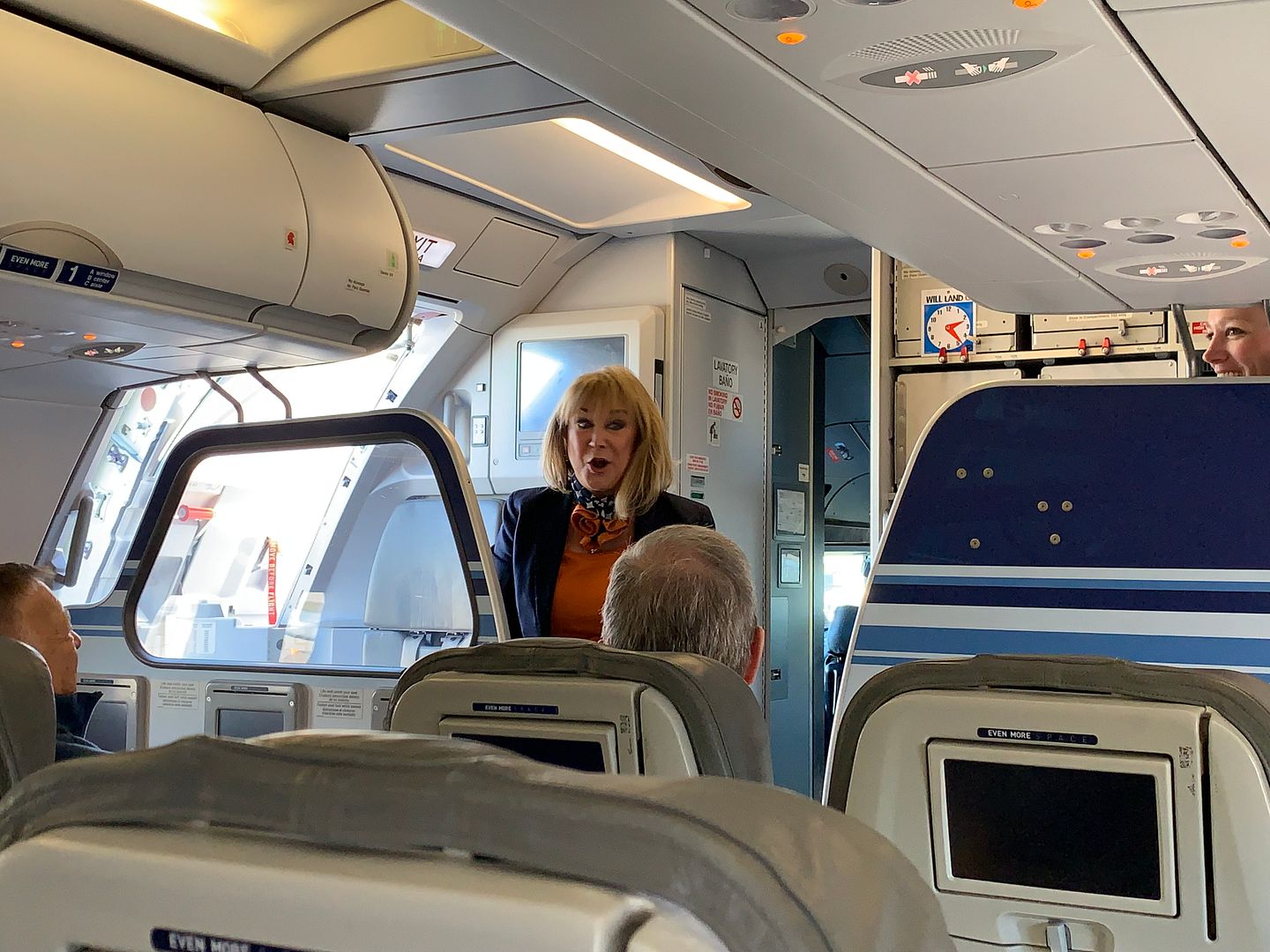 Door was closed at 10:40am and we pushed back at 10:43am.
Angie first recognized the military and first respondent personnel flying today, as well as passengers celebrating birthday. She told a lame joke and get the passengers in festive mood.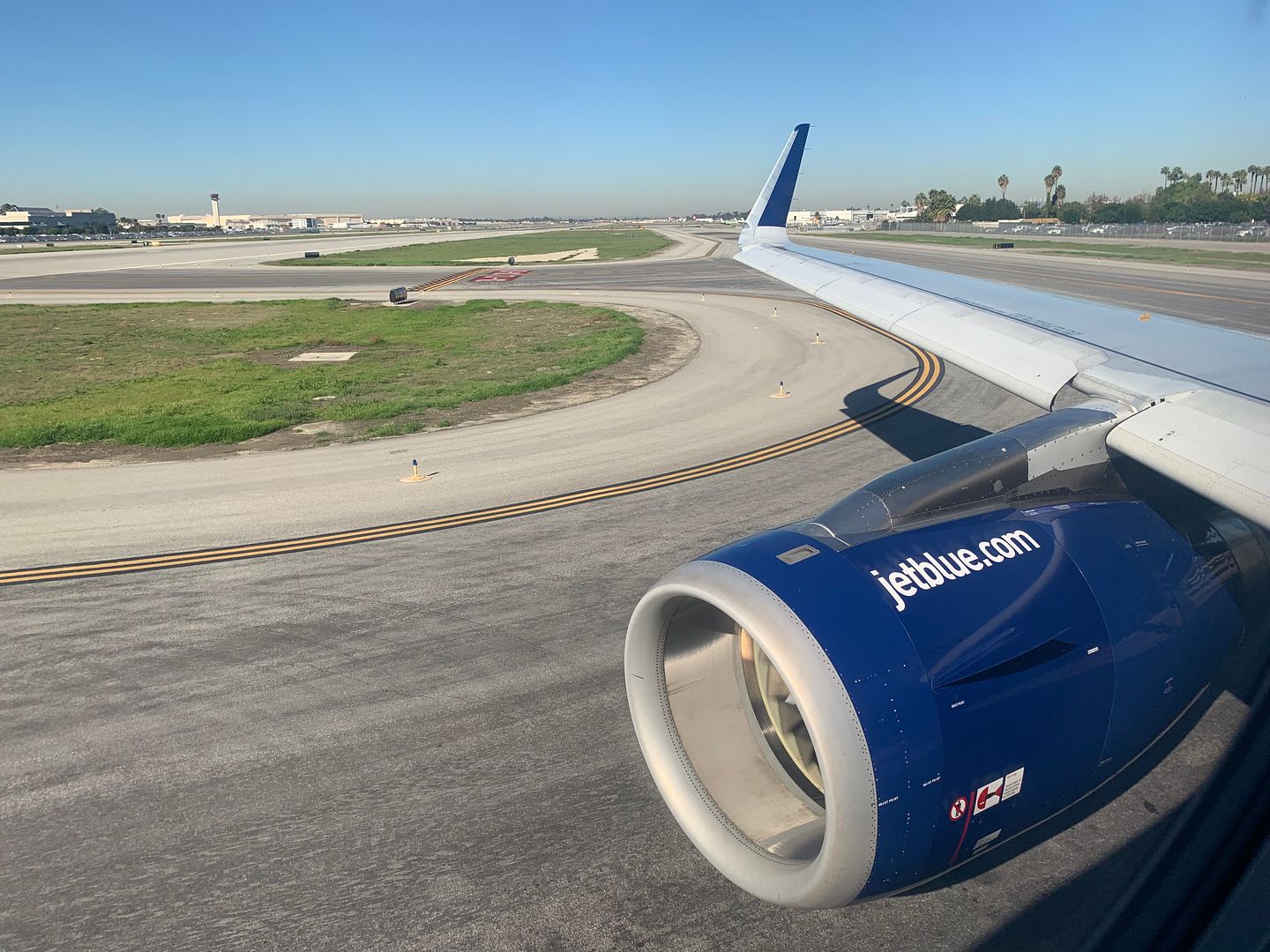 Traffic was light this morning and we took off from R/W30 at 10:53am.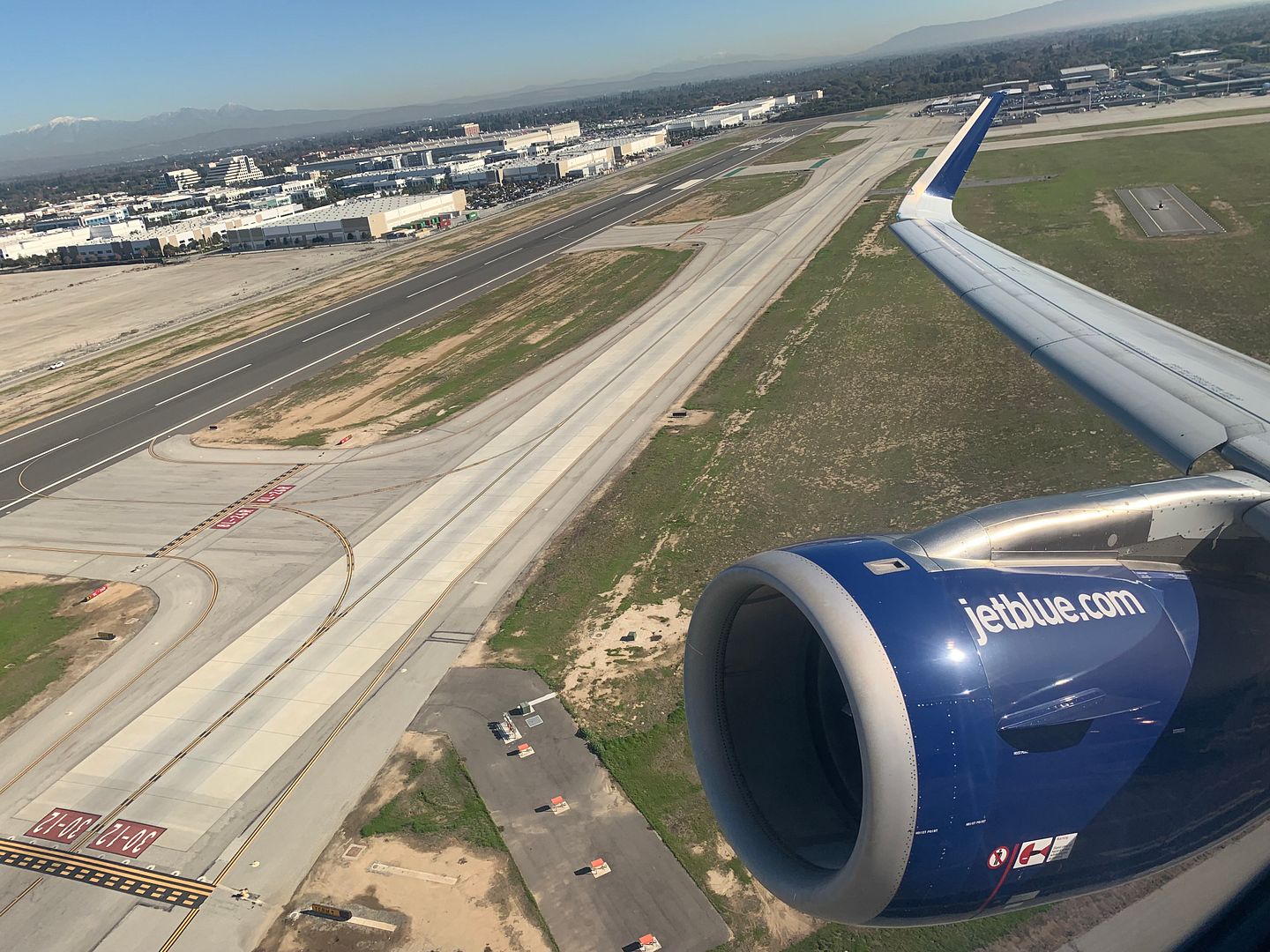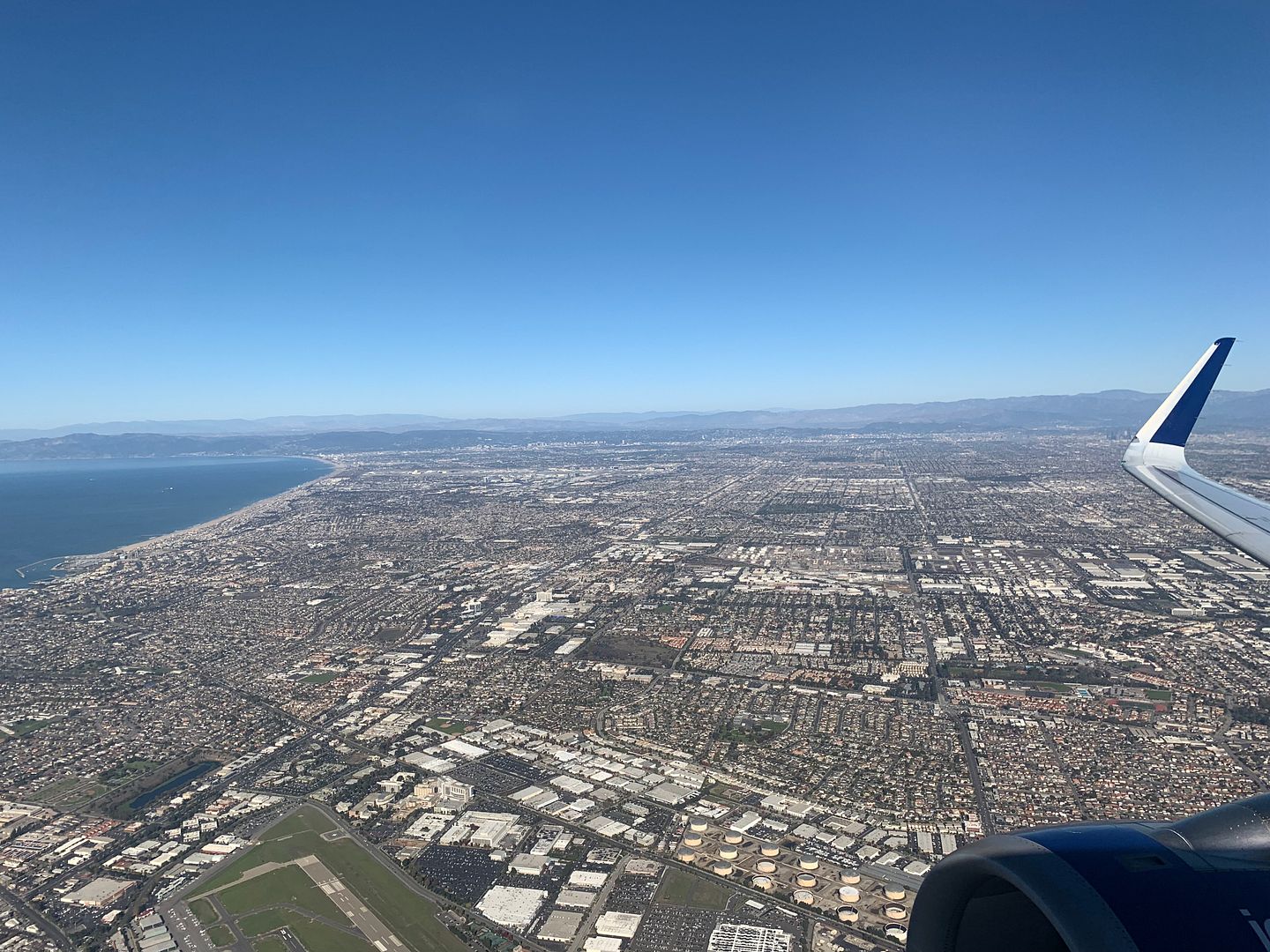 Over my neighborhood – Torrance and Rancho Palos Verdes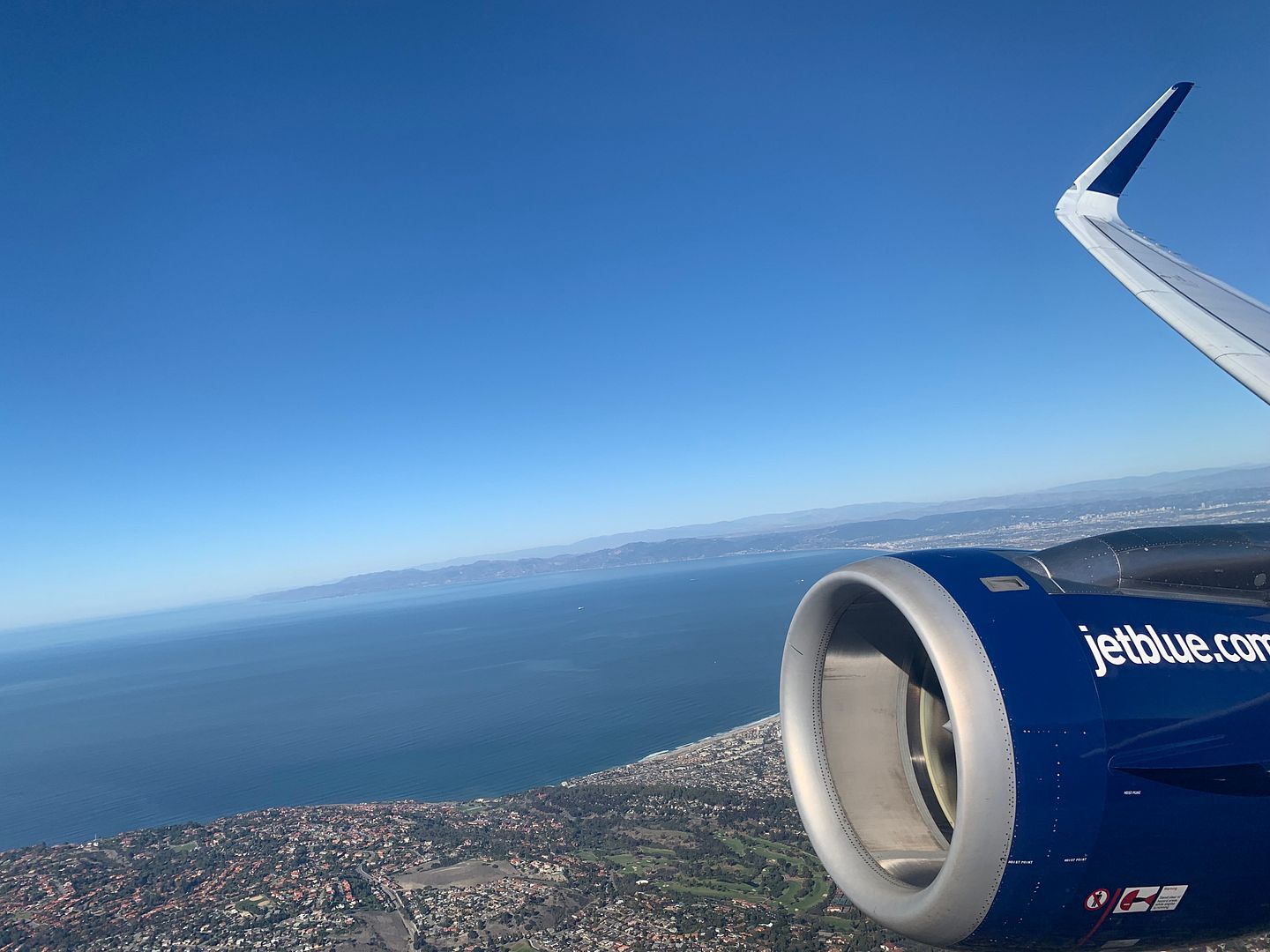 The routing took us over Torrance regional airport, Lomita, Rancho Palos Verdes, and then we made a turn back towards Long Beach Downtown, and then we reached our 35,000 feet, which was our cruising altitude. We flew towards Afton, Las Vegas McCarran Airport, Paradise, Motoqua, Beryl Junction, Delta, Salt Lake City, Bountiful, Logan, St. Anthony, and then turn left over Trident and straight towards R/W12 of Bozeman Yellowstone International Airport.
Flight Map – aka JetBlue Live TV edition
Cabin service was fairly typical with sales of buy on board products, including headsets, pillows, blankets, and snack boxes, and then the beverage cart made its appearance, and followed by the snack basket.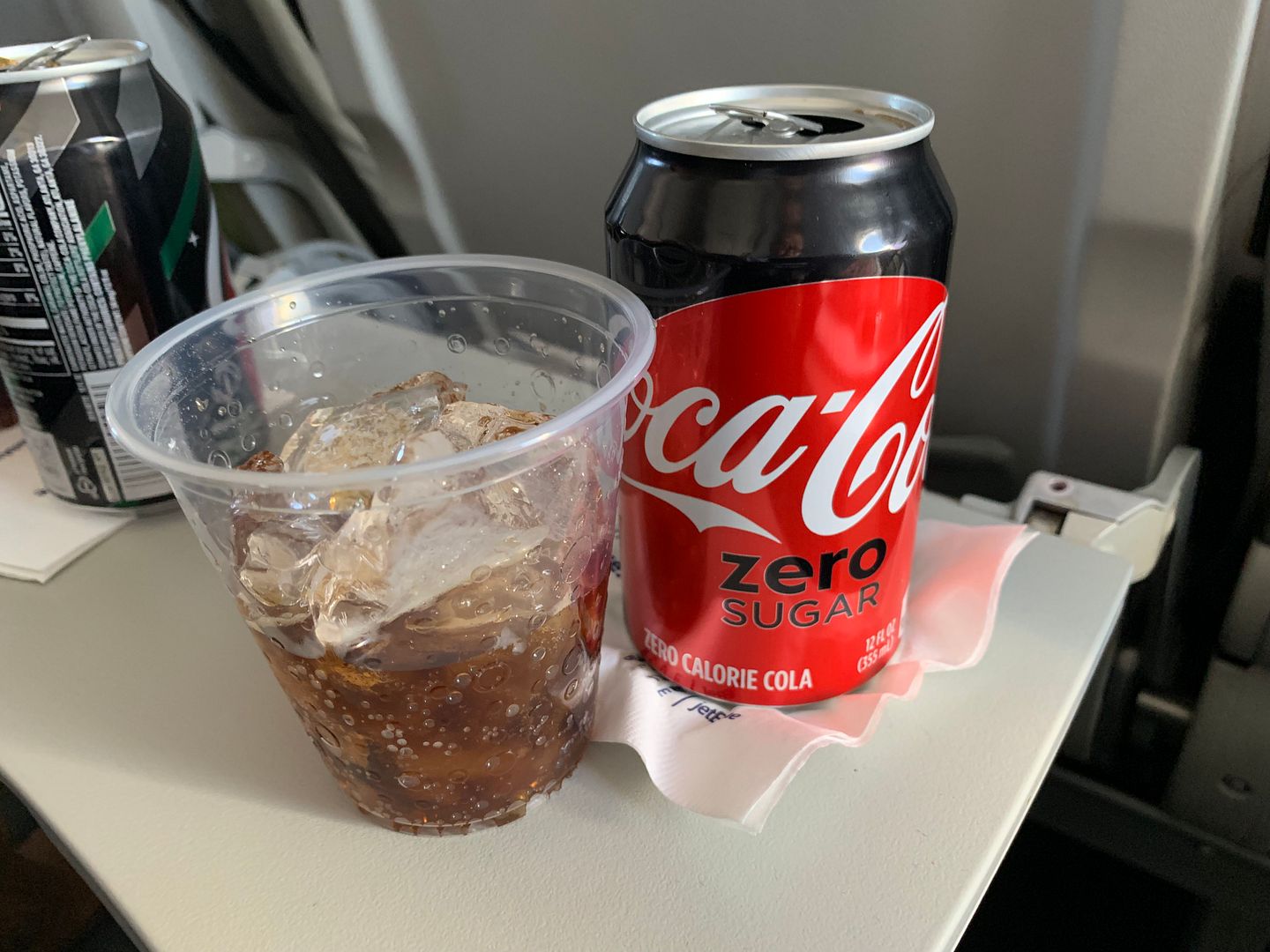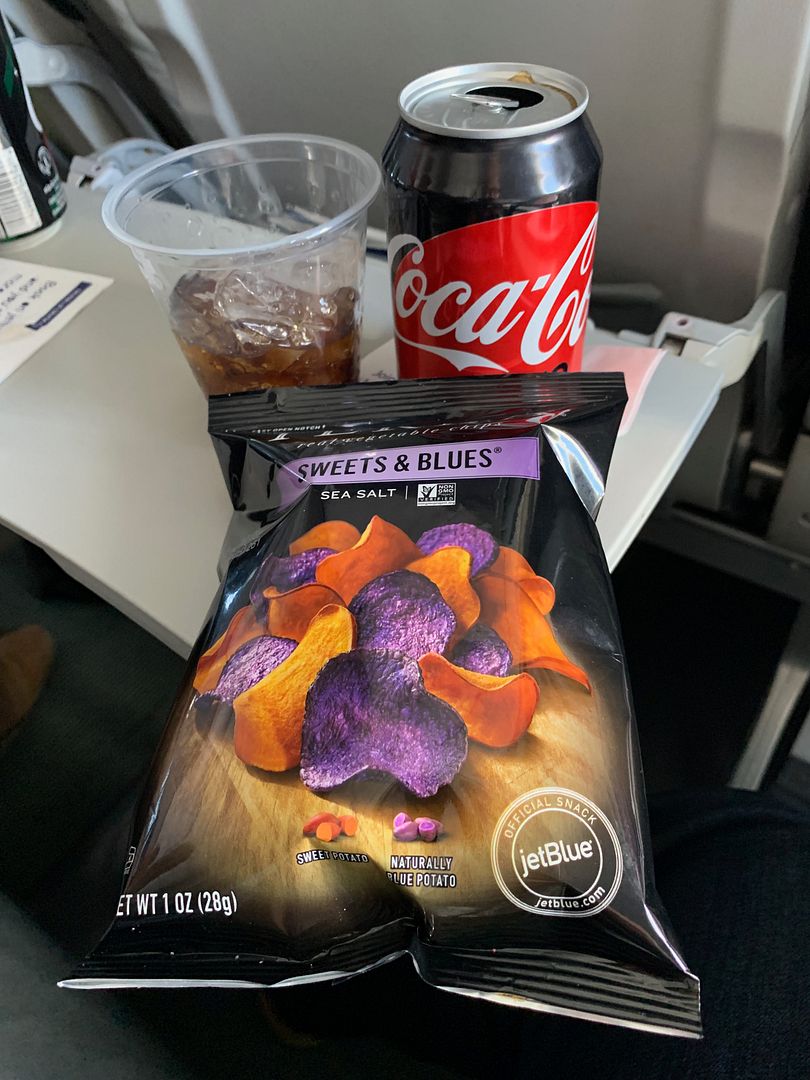 Angie also did her duty by promoting the JetBlue's credit cards.
Over Utah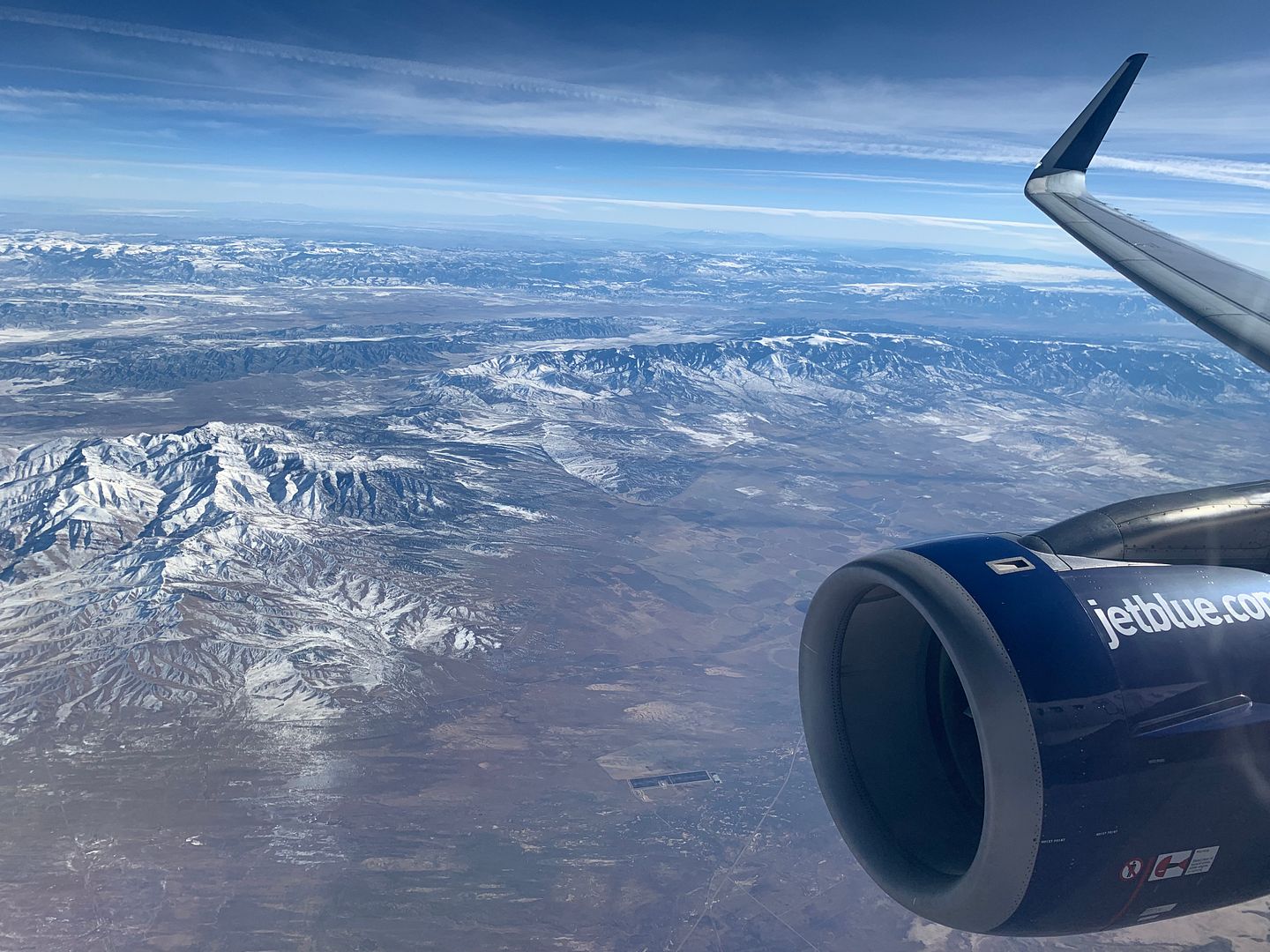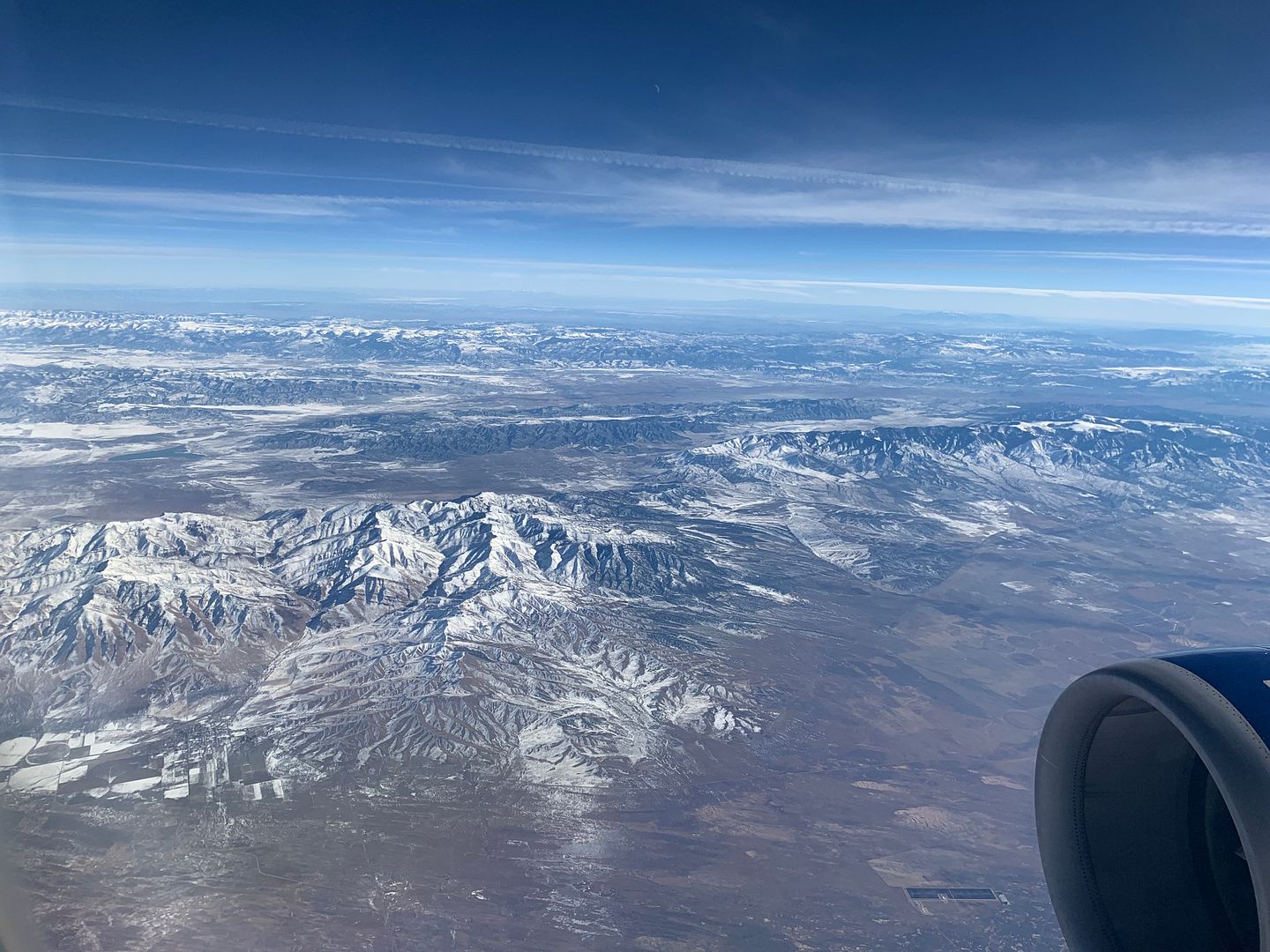 Then we had the traditional lucky draws that took place on JetBlue's inaugural flights. They used to do trivia but now they just do seat lotto.
Gifts include mostly coupons to Bozeman's restaurants including Naked Noodles, Santa Fe Reds, and City Brew Restaurant, along with hotel stays at the Lark hotel (two nights) and the Elements Hotel (two nights) with dinner at Squire House included. Of course, the highlight is the pair of free tickets to anywhere JetBlue flies to. But today's special prize includes five cash prizes of $100, courtesy of Yellowstone Bank. This is a new one for me and I really could not recall cash prizes after flying so many inaugural flights with JetBlue.
Thank you, Yellowstone Bank!
Descent began at 1:40pm local time and we on the right side were treated to these spectacular sights of wintry scenes. Just amazing!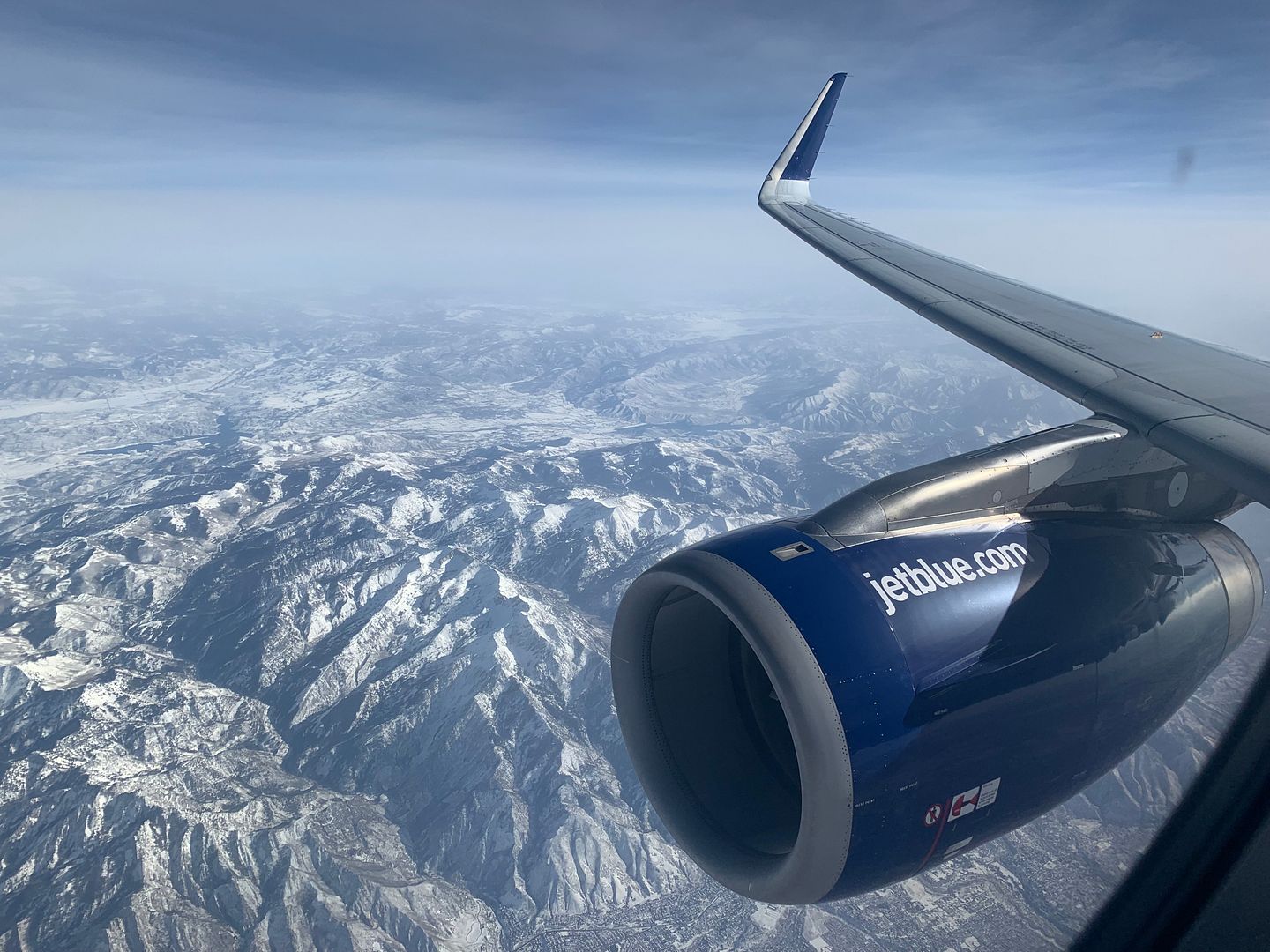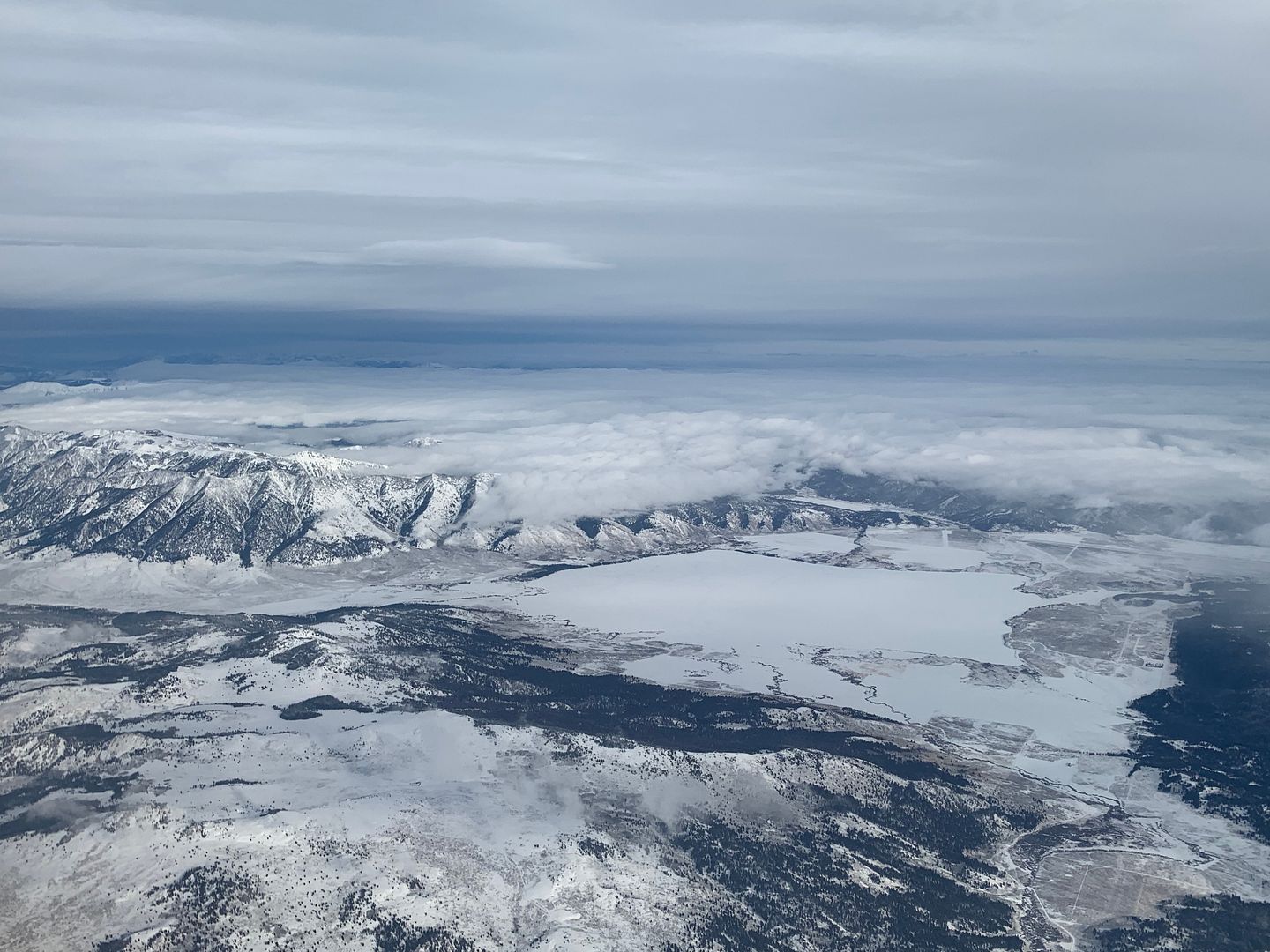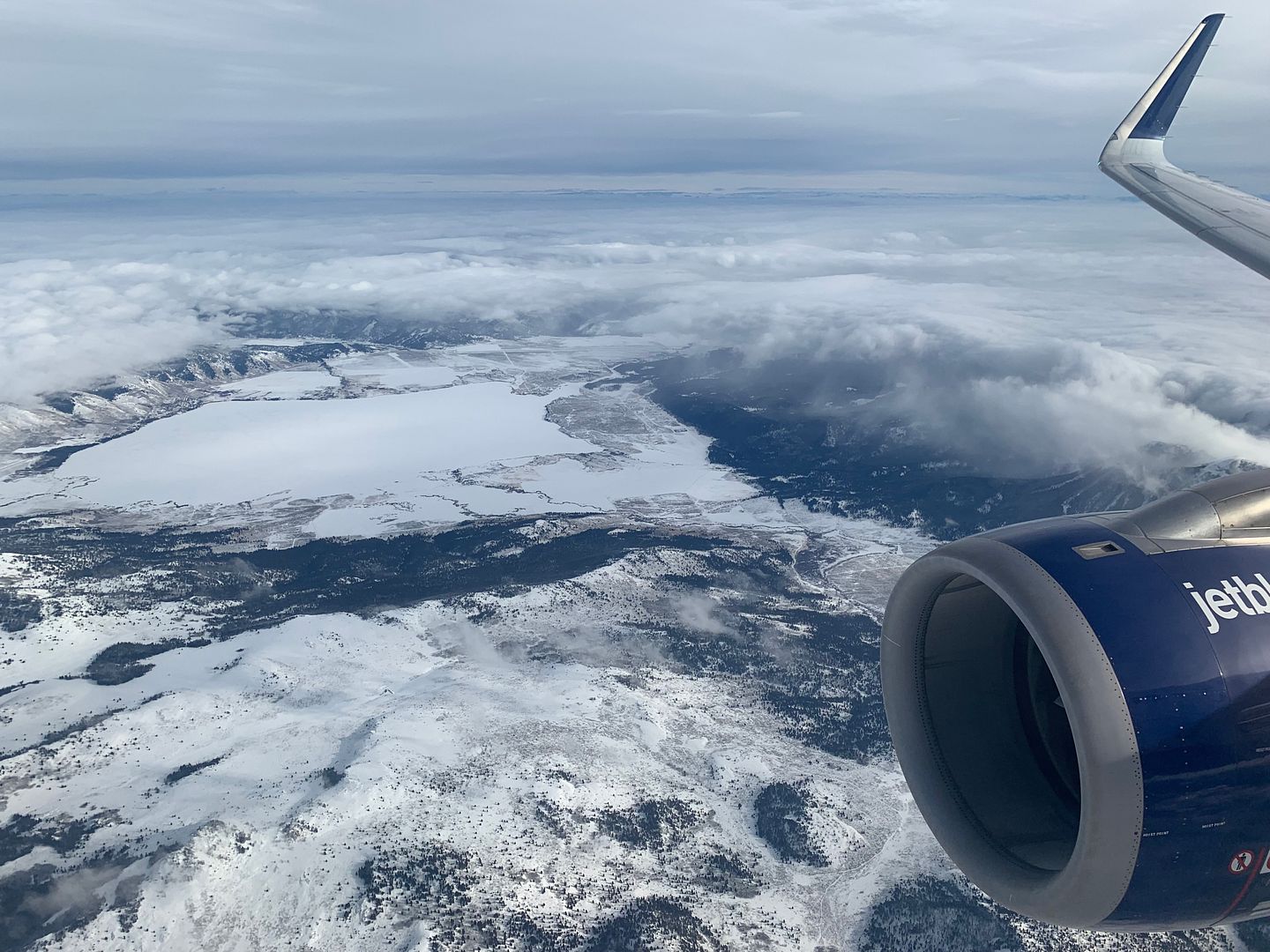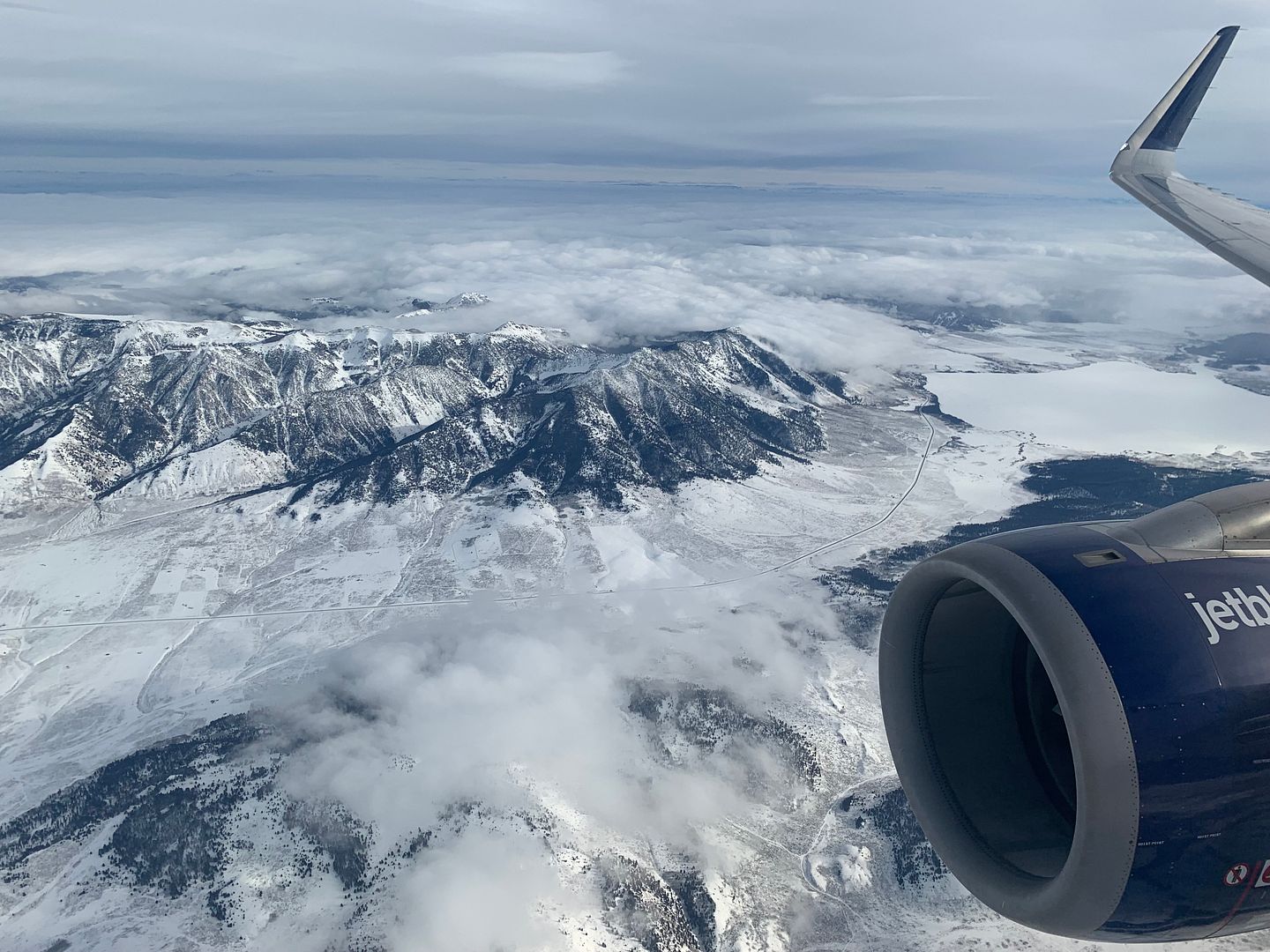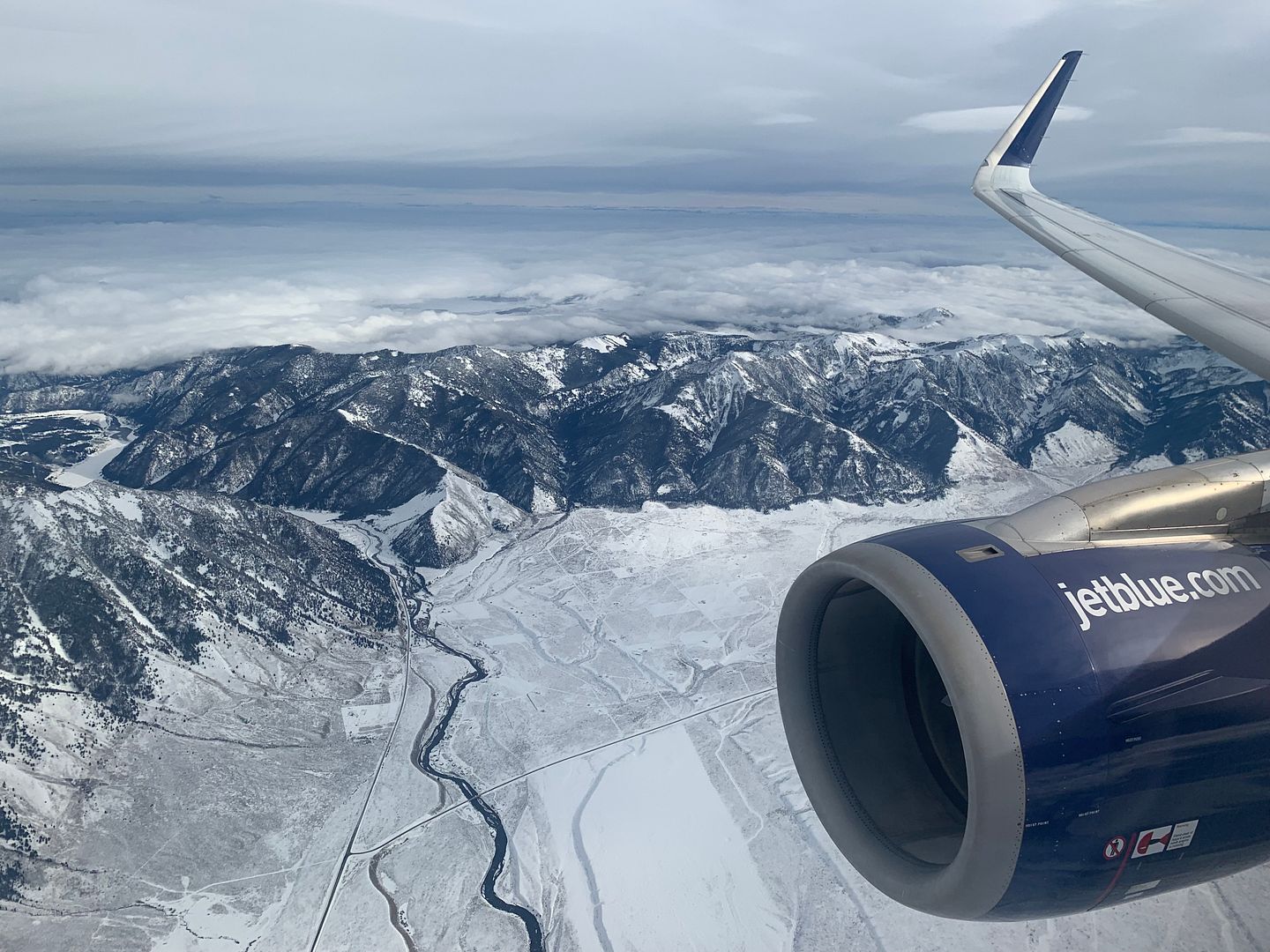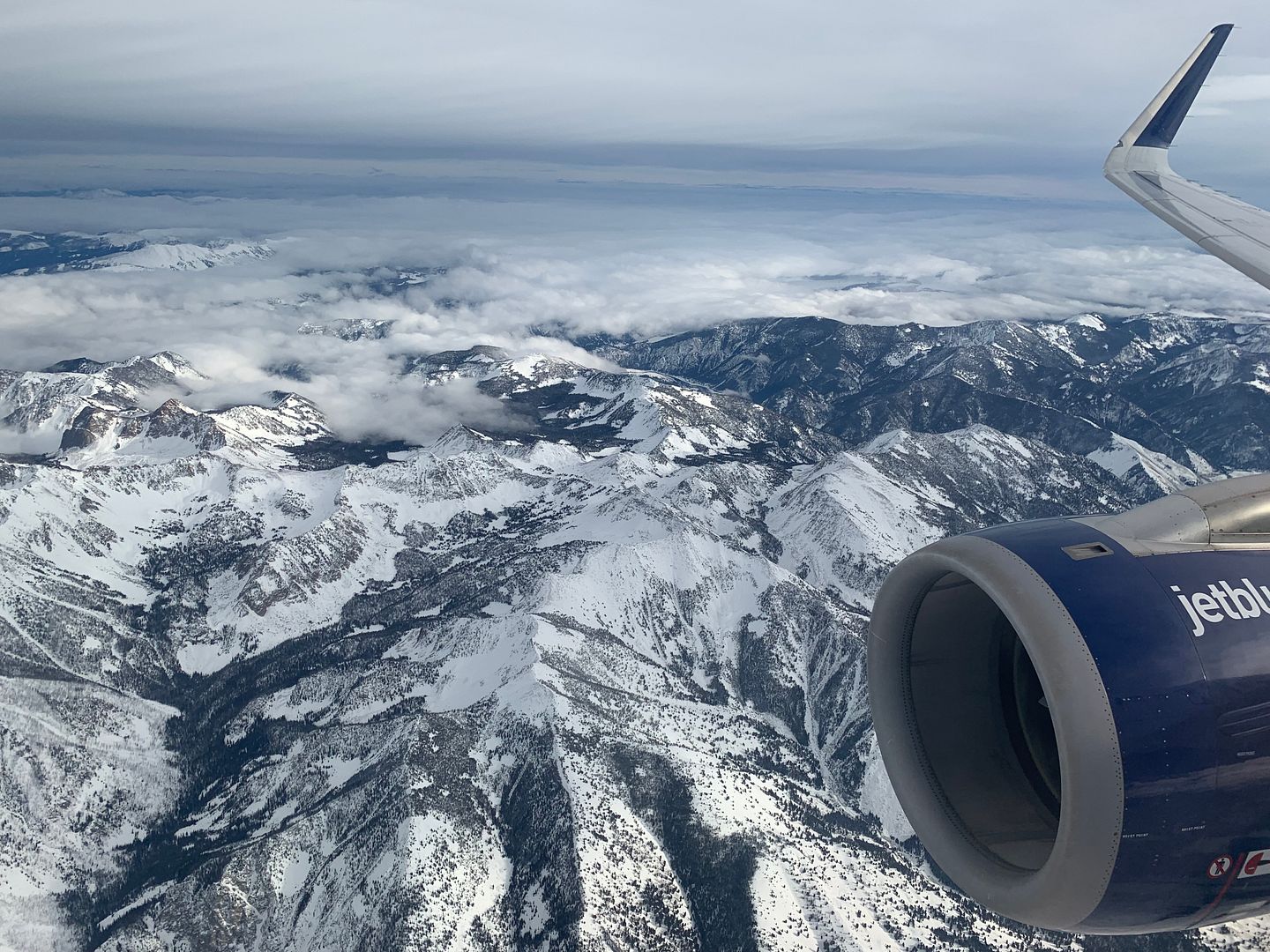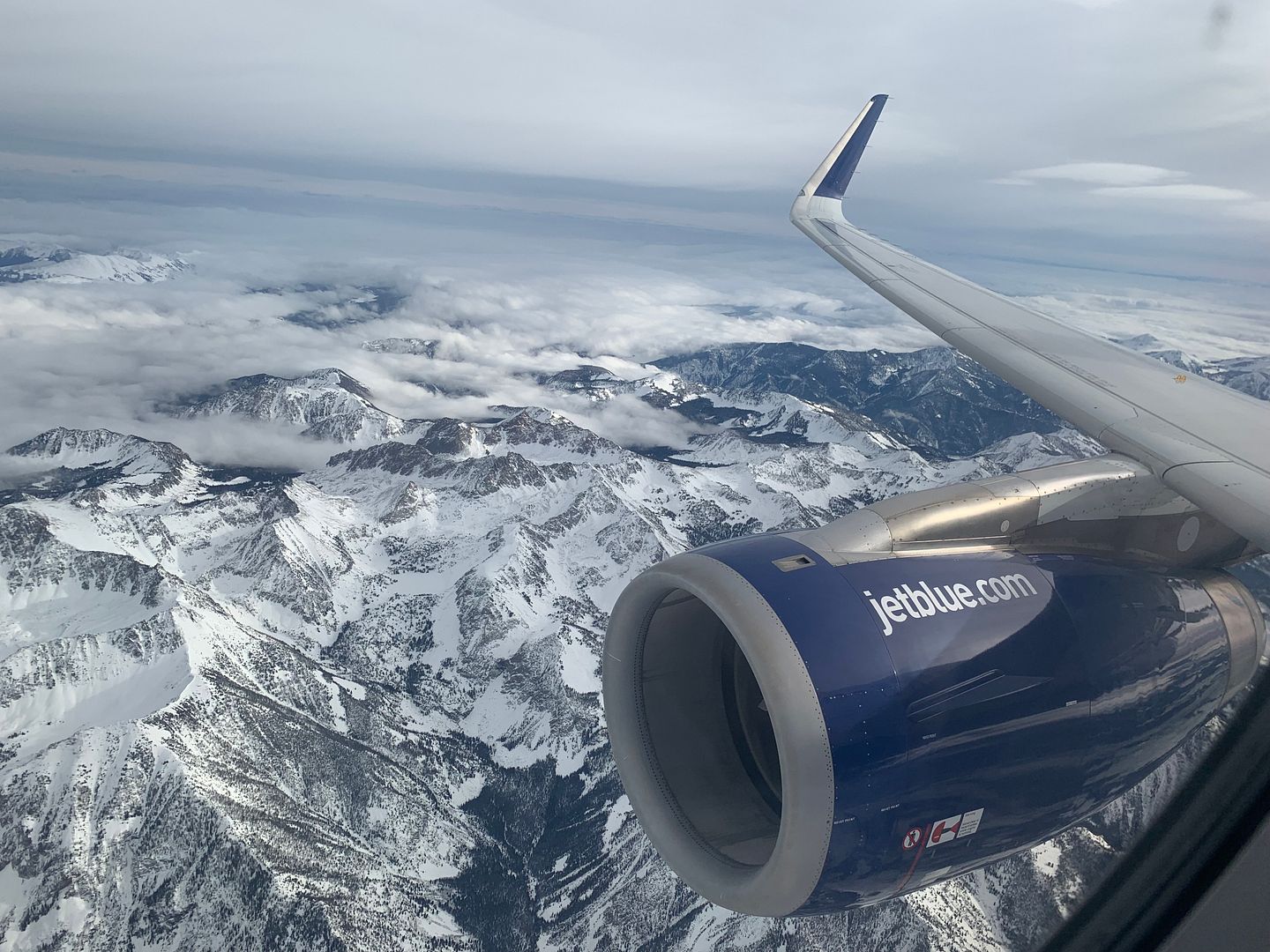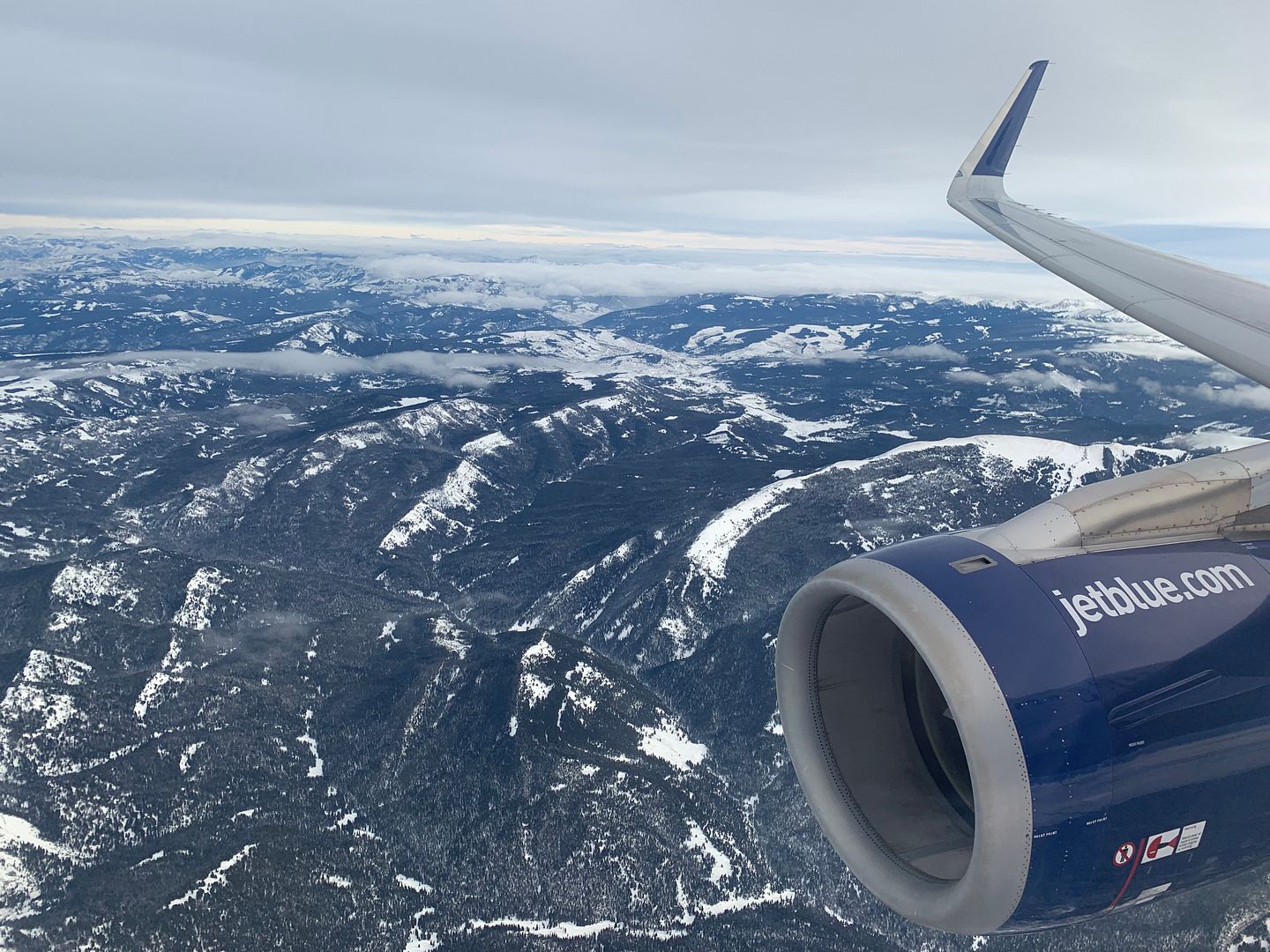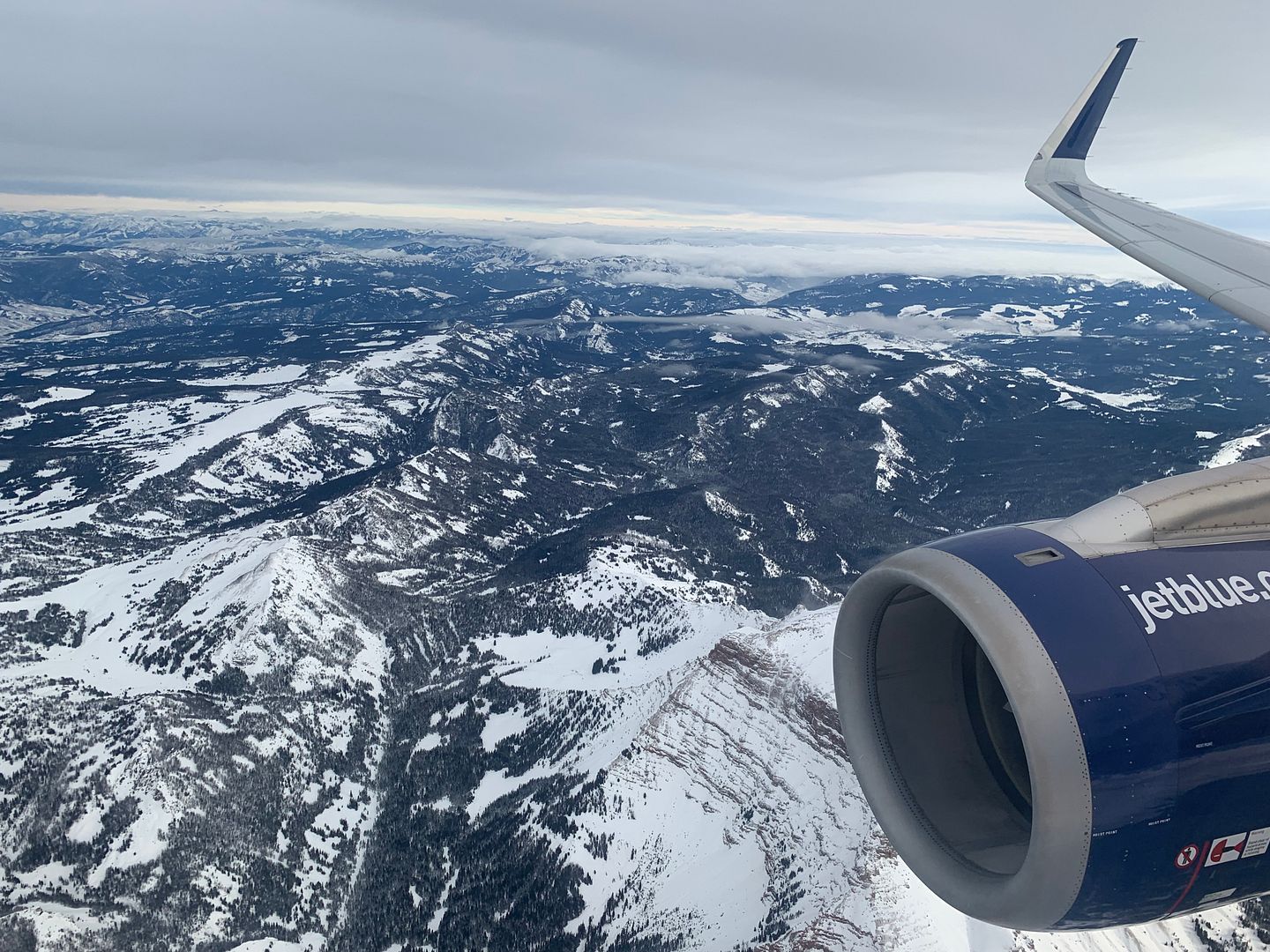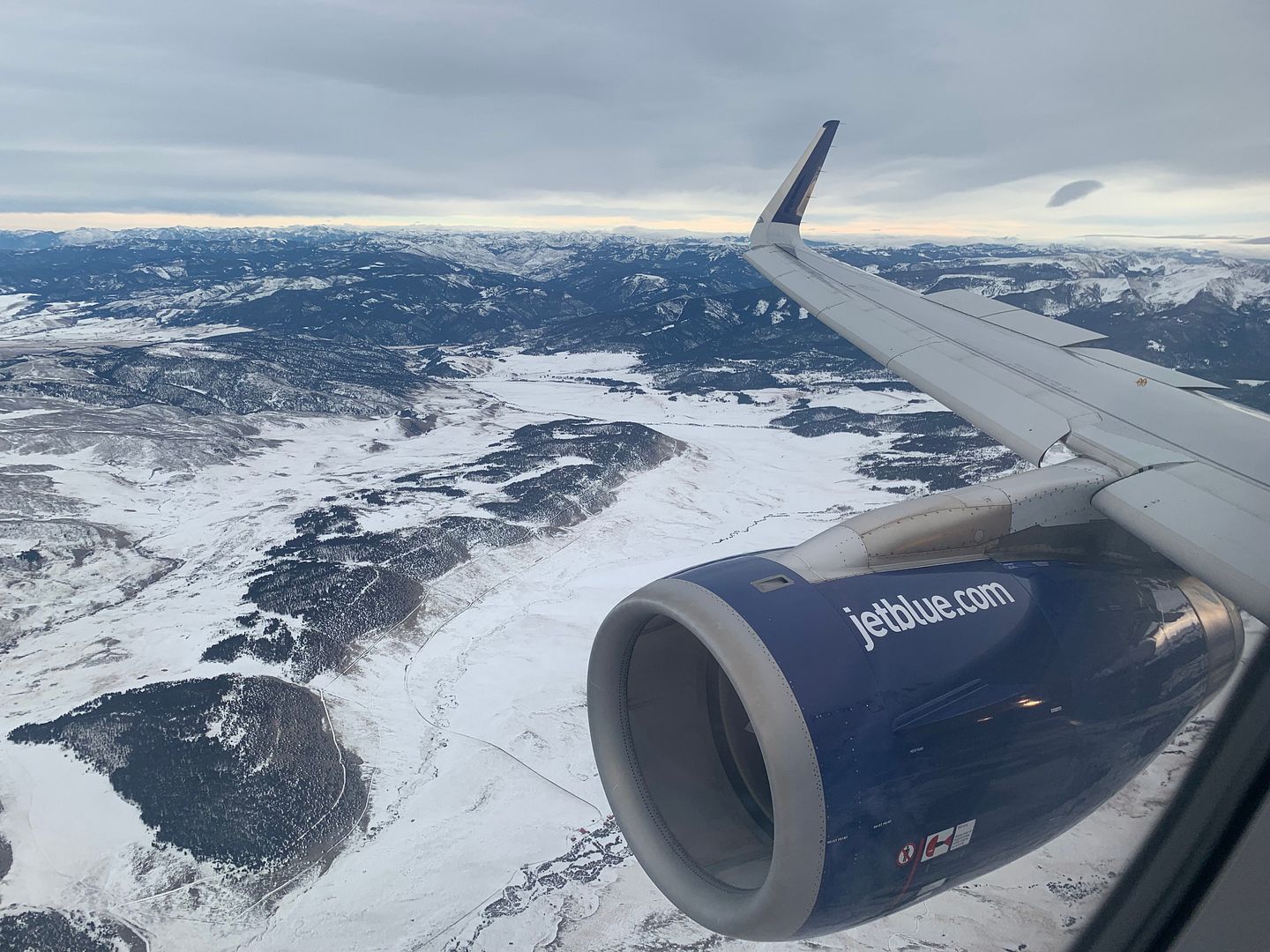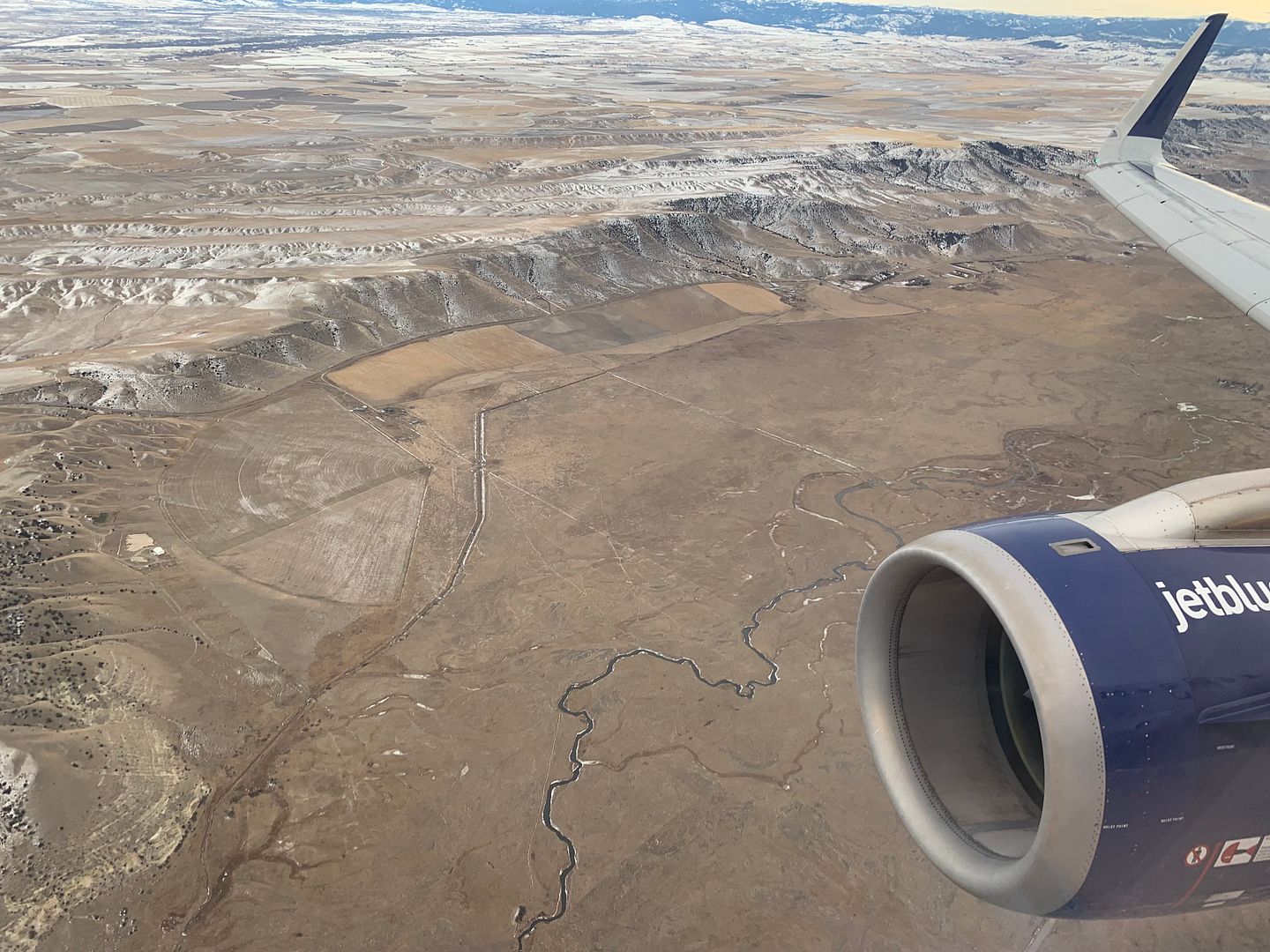 We landed on R/W12 at 2:18pm local time and our flying time was two hours and twenty-five minutes.
United flight 452 – Airbus A320 N434UA heading to Denver
We parked at Gate 2 at 2:22pm.
[URL=http://s1213.photobucket.com/user/Carfield76/media/Winter%202018-19/JetBlue%20Bozeman%20Inaugural/IMG_3887.jpg.html]
[/URL