United Express/ExpressJet Airlines UA4082/EV4082 'ACEY 4082'
Fargo Hector International Airport (FAR/KFAR), ND to Chicago O'Hare International Airport T2 (ORD/KORD), IL
March 13th 2018
Departure 1120 hours CST, Arrival 1315 hours CST
Seat 21D, Economy
N14904, 16.7 years old Embraer ERJ-145LR
1st flight on ExpressJet Airlines
2nd flight on United Express
3rd flight on ERJ-145
5th flight on Embraer aircraft
Route: FAR RWF ZZIPR FYTTE4
Filed altitude: 35000 feet
Flight aware link


YouTube video trip report, the 84th!
YET ANOTHER SPRING BREAK TRIP!
Ah, spring break. A holiday that's longer than Thanksgiving to actually go somewhere and have some fun, but not long enough worth it to go all the way back to India, be jet lagged and miserable. Fares for the latter are quite cheap, however. Past spring breaks took me to Florida in 2016 where I logged in my first B757-300 flight, and 2nd B757-200 flight. 2017 took me to British Columbia, and a debut on AMTRAK.
This 5 series trip report features a quick trip to New York that I did with my lovely girlfriend
, who makes her appearance for the first time in my trip reports since January 2017 - when she came home to India with me.
So, why New York? Two reasons: the first of which being my desire to return there after a quick visit
on the way to India in December 2017, cut short due to the snowfall delays in GFK.
The second being my girlfriend's family's various cancellation of proposed trips, many of which included New York. Other places in consideration for us included Chicago, New Orleans, Seattle, San Francisco, to name a few. But once NYC was decided, it was on to the airfares:
train to MSP? Drive to MSP? Or just look at options from Fargo?
The latter worked better, for time & money purposes.
THE SEARCH FOR A PRICE
But for sh*ts and giggles anyway I decided to check for GFK-NYC fares.
With those in the vicinity of $600, we laughed it off.
Fargo it was: a city that allowed for more options thanks to the legacies sending their ERJs and CRJs through the affiliates. American or Delta to either JFK/LGA/EWR, or United to EWR. I was more inclined towards EWR because of it's proximity to Manhattan, given my cousins live quite close to Penn Station.
UNITED, OH UNITED - HOW YOU SMILE AT US!
And then came the downer: prices were a little too much for our budget: in the $500 range. We were a tad sad given so much planning was about to go down to waste. Be me, one who is pretty bad in managing time studying for exams, was up nice & early at an ungodly 0300 hours on a cold February morning. I played around with the dates, maybe cut a day or two here and there. This worked beautifully: all hail United for coming up with a $390 per head fare via Chicago! Of course, this meant it was an itinerary involving Newark. And then it got better: there were two outbound options, one with a 1hr30min layover on to a B737-800,
the other with a 2hr45min layover on to a B777-200ER!
I wasted no time availing United's fare lock option because payday was about a day away. This worked just beautifully! Now I have in the past mentioned of my dislike for United, ever since the
2016 flight from Munich to Chicago.
I did however fly United (kind of) again the following summer with a flight from
DC to Minneapolis on a ERJ-175 operated by Mesa Airlines.
However, despite all the passengers-being-dragged, pooches-being-killed and peacocks-denied-boardings, we decided to on our best behavior on these flights.

The itinerary looks like this:
UA4082 (op/by ExpressJet) FAR ORD 13MAR18 1120 1315 E145
UA1995 ORD EWR 13MAR18 1600 1915 B77E
UA2139 EWR ORD 17MAR18 0515 0650 A320
UA4851 (op/by Air Wisconsin) ORD FAR 17MAR18 0845 1049 CRJ2
… amazing, 4 major aircraft manufactures in one trip, on the same airline(s), not bad at all! Y
es, this is is where I draw inspiration for the title of this series 'A, B, C, E of airplane manufacturers, Airbus, Boeing, Candair & Embraer.
But hey - remember the last time we tried to board a 777 from Chicago after a flight on a ERJ-145?
December 2016 rang a bell
, but I knew circumstances were going to be quite different this time around, and confident of the initial flight going just fine: FlightRadar24 and United.com confirmed this.
A few screenshots from United's pain free booking process:
THE 777 LOGBOOK
Be me, having flown on every single passenger 777 barring the original -200 (so the -200ER/LR, and and the 300/ER), was a tad unfortunate to see a -200ER operate this flight. The 3-4-3 config wasn't going to matter on such a short flight anyway, but I guess the novelty of being on a wide body for such a short flight is one that's always fun. The wait for a -200 continues. The 6-day rotation of this plane would be: Chicago O'hare - Hong Kong/Beijing - O'Hare - Newark - Sao Paulo - Newark - O'Hare, therefore guaranteeing one flight as a wide body each way on United's hub to hub route.
WHICH ONE WOULD IT BE THEN?
With spring break dawning on us I kept a close eye on UA1195's rotation, around that time it would be UA895/896 operating to & from Hong Kong that would continue on to Newark. And there she was,
scheduled for our flight would be N218UA - also known as one of the many Star Alliance logo jets in United's fleet!!!
Amazing, going 20+ years without a logo jet, then
BA gives me G-CIVI in early 2018,
and now this. It is these small joys that make anything & everything so much better.
After work the night before, both of us scrambled to get whatever packing we could do: plan was to avoid paying $25 for the checked baggage, and it was cheaper to buy a normal economy ticket (vs BASIC bullshit economy) and select seats for free with the ability to gate check our carry ons. Who knows what seats we would've gotten on a (presumably) full 777.
NOR'EASTER, BUT OF COURSE!
There was (as always) the threat of weather: yet another big blizzard had passed through New York, and the weather predictions called for several delayed & cancelled flights. This made for not one, but two of us quite jittery in the build up to this trip.
Not helped by the fact that United sent an emails saying any changes to our itinerary would be waived off for free.
The weather app on my phone, Google weather, RADAR, METAR, all the good stuff showed there wouldn't be too much of a storm for when UA1995 would get to EWR, if anything the worst of it done by 3am, followed by the slow but sure dissipation by noon. We were confident of everything going fine, but of course we wouldn't admit to each other of the nagging voice at the back of our heads….
But of course, there was the minor matter of getting TO Chicago for that. The first flight of this trip, the first of 4 manufacturers, Emrbraer. The ERJ-145. N14904, a 16.7 years old ERJ-145LR would take us over to Chicago. Meanwhile, online-check in was pretty pain free as well, in addition to a rather ad-filled boarding pass in the end of it...
DEPARTURE DAY!
We set out from Grand Forks at 8am in the morning after grabbing some breakfast from Burger King. It was an uneventful drive down to Fargo, but in the mean time I was more than relieved to find out N194904 had departed ORD just fine & before time.
The I-29
We got to Hector International Airport at 0944 hours, one minute before we had planned. Things were going just swell & smooth.
The terminal was pretty much empty which is not a surprise given that the morning bank had all departed, and this mid-morning early afternoon bank was about to get started. United to O'Hare & later to Denver, Delta to Minneapolis (2 of them), and Allegiant to Phoenix, American to O'Hare & later to Dallas would be some of the planes around.
CHECK IN, TSA... SPOTTING?
Unlike American, United's kiosk check in is located right at the baggage drop off counter itself. In fact, United's were the only counters with staff around: they were nothing too special, but got our IDs checked, and boarding passes handed out. And by boarding passes I mean the real deal: not your typical toilet paper mall receipt crap that you get from the kiosks! Nice nice!
A real boarding pass?! What is this a crossover episode?!
On the way to TSA were a few minions, Yoda & SpongeBob on a replica of the Wright Flyer, the Kitty Hawk, where else but at Hector Intl:
TSA was pretty quick as well, except for the fact that new TSA screening procedures took some time,
but the granola bar(s) had to be scanned. Twice.
However, it all took a total of 10 minutes from getting out of the car to airside. UA4009 from ORD was well in to it's descent. Not bad at all!
Empty for now...
In the meantime, a Delta Connection (SkyWest) CRJ-200ER pulled in from Minneapolis/St. Paul, a nice & quick 35 min flight from the big midwestern hub. There was a UND Seminole & Archer in the traffic pattern - were we really in Fargo?!
Following the DL CRJ's arrival we proceeded towards Gate 5: from what I have gathered Gate 1 is shared between DL & AA, Gate 2 is exclusively DL, Gate 3 is exclusively AA, Gate 5 is exclusively UA, while Gate 4 is just there, for extras. Usually for UA.
And before I knew it, the ExpressJet ERJ-145 N14904 from Chicago O'Hare showed up, nice & early. If anything, she needed a quick paint job for the nose. Some other passengers had the same comment.

While passengers disembarked, the T-minus 10min to pre-boarding announcements were made, requesting us to drop off larger carry ons because we were on a smaller RJ: remember the E145 has overhead bins on just the one side, starboard. I duly picked up two tags for our two bags. (<- I should become a poet after that one

)
They also reminded us that if you were in Group 5, aka Basic Economy, you're kinda shit outta luck with baggage. Oh well…
COUNTING DOWN TO BOARDING...
A quick & easy turnaround for the ground staff. Meanwhile, the two of us took our respective bathroom breaks, before boarding was called a while 42 minutes before departure time. There were about 40 passengers on this flight, some open seats. We duly boarded with 34 minutes to departure, dropping off our baggage at the end of the jet bridge, seeing it get loaded on to the plane just fine.
As is the case with the small RJs, just the one flight attendant onboard. The seats looked a little tired, however it was nice to see two different colors of seating (blue & brownish yellow, the United colors) on this plane. Window shades pulled down at the very end of the plane confirmed the fact that were only 25 or 30 people on the inbound flight.
We made ourselves comfortable on seats 21C and 21D:
I mentioned to my girlfriend that I had generously given her the aisle seat. Given the 1-2 configuration, she was not impressed by this fact, and whacking my gut accordingly
. The seat itself had pretty reasonable legroom, in addition to well padded seat although like I said the seats did look a little tired. The big tray table was quite dirty, too.
A Polar Air B747 crossed overhead, the announcements happened.
The First Officer came around with some more details: a 1hr27min flight across at 33000 feet, light snow, overcast clouds and 5SM visibility was in the forecast.
DEPARTURE
Compared to the last time we were on a ERJ-145 out of Fargo, things were quite different on this. No misinformation of a cancellation on the FIDs, check in & TSA was quick, a plane that was airworthy, and no delays….
in fact we pushed back a solid 23 minutes before time, 1102 hours
, and got the engines fired up in no time. I noticed the ground staff launch their devices in to the distance after pushing us back. Edgy!
Fargo's departure METAR was as follows:
KFAR 131553Z 28003KT 10SM CLR M07/M12 A3046 RMK AO2 SLP332 T10721117
Start Up
The 2 RR AN AE3007 engines were fired up without a hitch, and we commenced a quick taxi to Runway 18. Without a stop, without the use of brakes, we rolled on to Runway 18 at 1110 and rolled down the Runway for a quick take off. We were in the skies in no time!
Taxiing to 18:
Take off Video
Rotate!
Perhaps…its just one of those things of being in a flight over the midwest, but I heard no less than 3 people mention that they could see their house from up in the sky. Interesting, haha!
INFLIGHT
United thankfully still requires the flight attendants to do the announcements. No robots to deal with on this one!! These were done quickly & efficiently. We reached up to our cruising altitude, up where it would be a pretty smooth flight across the midwest.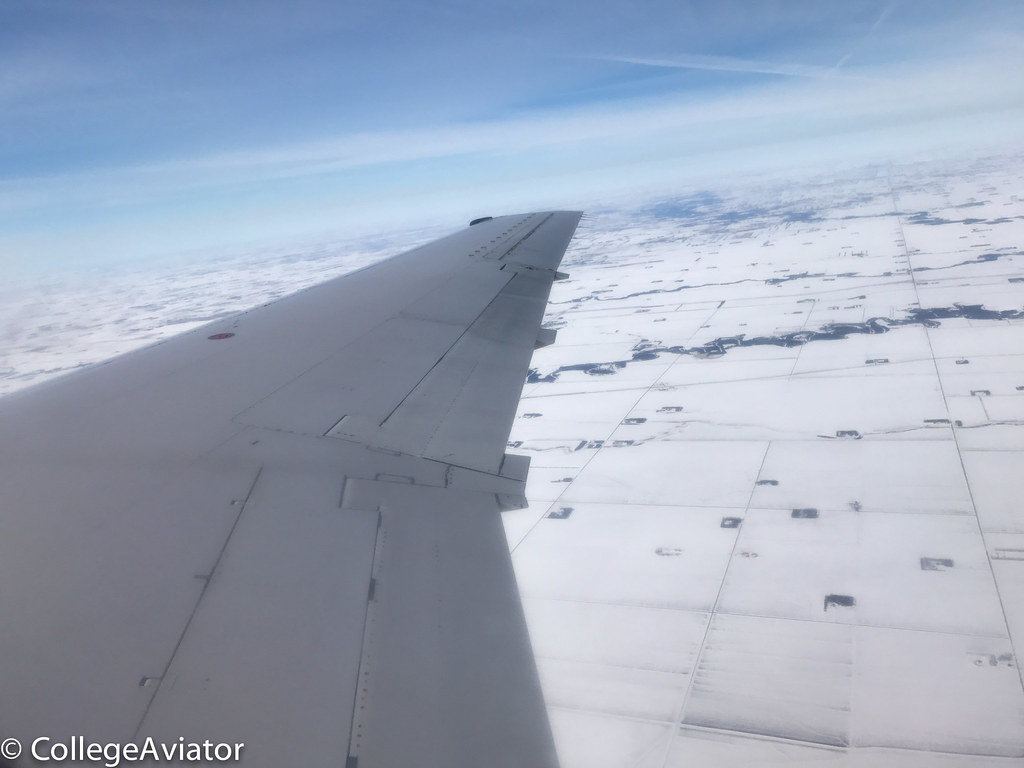 Seat pocket contents:
UA hubs
The smallest planes in UA's fleet...
And now, the best of UA flies to India!
USA domestic network
Inflight
Service started promptly: while there were no options on the snack, the time suggested of day suggested that it would only be United's fantastic Stroopwaffels on offer. Hey, I wasn't complaining, and soon enough neither would be my girlfriend. While he did take his time, there was never a frown on his face, neither was there any sign of hesitation. Good on you, ExpressJet! 32 minutes in flight we got a stroopwafel each, while my request for a Coke was greeted with them handing me a full can of Coke - wow, this is something I haven't had on any US domestic flight!! I like the marketing on the napkins, too…
EVIL WAYS TO ENTERTAIN YOURSELF...
(
**warning: do not try this at home**

)
In a rather evil game that I played with my girlfriend, I decided to have some fun in what was a rather uneventful flight thus far. She was well in to reading her book. Classwork, some nerds I say. I nudged her, looked her in the eye and asked:
'hey are you sure we are on the right plane, what if we are actually going to Denver?'
Her eyes got bigger. She sat there, silent. She panicked & got out her boarding pass to ensure we are on the flight to Chicago, and she duly showed it to me.
'That doesn't mean anything. Maybe the scan didn't pick it up correctly, you know how technology messes up time to time'.
It looked like she was on the brink of crying - and it was at this time that I received my 2nd gut-punch of the flight. This one being more deserved….
I spent the rest of the time looking at the magazine: it always amazes to me see the sheer size of fleets in the USA, especially with the legacies, thanks to the aftermath of the 2nd round of mergers, and their Connections/Expresses/Eagles/Horizons. Also interesting to see the
USB3 finally realize the importance of raising their game on the big planes to take on the MEB3, and/or Asian airlines.
Decided to run to the lavatory real quick, it was interesting to see something a little on the old side….and finding the ELT on a plane that's not a Cessna Skyhawk or a Piper Archer!

DESCENT & ARRIVAL
An hour in to the flight, less than 30min to go: the front offices' briefing for arrival. We were expected to land a good 40 minutes before scheduled arrival time, and taxiing taking another 15-20 minutes to get to the gate thanks to Chicago O'Hare's legendarily long ground taxi procedures. They assured us that all our connections would be made. Hey I had nothing to worry about - in fact we'd arrive at around the same time as UA896 from Hong Kong! Some weather was in store for us however: 10 mph (16kmph) winds from the north, broken clouds, light snow & 30F. Visibility was rapidly changing, too.
Cabin:
We came down pretty quickly as the flight attendant prepared the cabin. Most passengers hadn't moved an inch so everyone was just there anyway. We cut through some pretty thick clouds while the sun peeped at times: this was the last time I'd see the clouds.
Lined up with Runway 09L: also known as the northernmost runway within O'Hare's parameter, and the furthest away from the terminal(s).
Touchdown a little firm at 1234 hours CDT - 1hr24min in flight & 41 minutes before schedule, taxied off with great speed.
Landing video
Being the furthest away is also a good thing, in a way. What is possibly more fun than looking at other planes as you taxi around one of the world's busiest airports? Passed by some fire training planes, the American Airlines hangar (787s and 737s present), a NCA B748F departing, and raced another ERJ of a rival: a Delta Connection E175.
We were quite happy to be in Chicago very early, and had a gate assigned to us to disembark. Unlike the last time on a ERJ-145 in to Chicago from Fargo, we didn't have to wait a good 30 minutes to get a gate, we didn't have to see our connecting plane see it's door closed, and eventually depart.
Delta is usually at T2:
Taxied right to Terminal 2 (I think), in to Gate E4. Docked at 1247 hours, a solid 28 minutes before time, doors opened a minute later. The one thing that did concern me a little bit was the light snow that was picking up a little bit. Visibility dropped to barely 2.5 or 3 statute miles from what the eye could see. None of this was accumulating or sticking, not just yet.
Since we were (un)fashionably before time (for ORD at least

) we decided to wait around to be the last passengers to get off. Our 3hr45min layover peaked just north of 4 hours now. Waited in line to big up our baggage, and my eyes were set on FlightRadar24: but of course, with the
weather rolling in for whatever reason N218UA operating the long haul from Hong Kong had to go missed,
adding another 20 minutes to their flight, and maybe delaying ours a little bit, too.
Waiting for our baggage
In the terminal one could see the snow pick up, little by little, bit by bit. We walked around T1 & T2 looking at some of the RJs before finally deciding on what to do for the next couple of hours…..
New Air Canada livery looks really strange....
N14904 will head to Birmingham, AL with the same flight number (UA4082), but with a significant delay. Luck finally smiling?
CONCLUSION
Well, so far so good, nothing at all to complain about! Kinda unfortunate it wasn't on a winglet-equipped ERJ-145XR, but it is what it is. With these regional planes which are unfortunately not the most comfortable it comes down to getting there on time. And ExpressJet/United Express did just that, if anything, 28 minutes before time. Procedures at Fargo's small airport were just fine, seat was okay, service was nice & efficient, while the crew member did not just disappear when it was all done. The excitement however, was just about to begin….
Folks, I would highly appreciate it if you saw the
YouTube video trip report, the 84th!
A HUGE THANK YOU to those of you who have subscribed, and helped me reach the milestone of
9000 subscribers!!!
My other trip reports:
2018
Wobbly Winter '17/18 (11): The cramped CRJ conundrum (DL3896 MSP-GFK, CRJ-200LR Jan '18)
(video trip report)
Wobbly Winter '17/18 (10): Frozen Fuel Truck - uncertainty ensues! (DL461 JFK-MSP, B717-200 Jan '18)
(video trip report)
Wobbly Winter '17/18 (9): BA's logo jet, the uncertainty of NYC's winter storm! (BA173 LHR-JFK, B747-400 Jan '18)
(video trip report)
Wobbly Winter '17/18 (8): The Red Eye 747! (BA142, DEL-LHR, B747-400 Jan '18, pics)
(video trip report)
Wobbly Winter '17/18 (7): Vistara's amazing Business Class! (UK778 CCU-DEL A320 Jan '18, pics & video TR)
(video trip report)
2017
*NO FLIGHTS* Wobbly Winter '17/18 (6): Himalayas, Palam Air Force Museum, Heavily Delayed Rajdhani Express
Wobbly Winter '17/18 (5): Fly Smart? Not quite: The GoAir Debut! (G8128 CCU-DEL A320 Dec'17, pics & video TR)
(video trip report)
Wobbly Winter '17/18 (4): Efficient Air India! (AI401 DEL - CCU B787 Dec'17, pics & video TR)
(video trip report)
Wobbly Winter '17/18 (3): Elegantly British? (BA143 LHR-DEL B747-400 WT Dec'17, pics & video TR)
(video trip report)
Wobbly Winter '17/18 (2): A British Concorde, A British Queen! (BA116 B747-400 World Traveller Dec'17, pics & video TR)
(video trip report)
Wobbly Winter '17/'18 (1): Insane tailwinds to the Big Apple! (DL A319 MSP-JFK Dec '17 Y, pics & video TR)
(video trip report)
A (slightly) unlucky summer '17 (10): Software glitch'd? (SkyWest Delta CRJ-200ER, MSP-GFK, Jun '17, w/pics & video TR)
(video trip report)
A (slightly) unlucky summer '17 (9): Yet no CRJ-700 for you! (IAD-MSP UA E175, Y, Jun '17)
(video trip report)
A (slightly) unlucky summer '17 (8): A tale of 2 Etihads - electronics BANNED! (B77L/B789, BOM-AUH-IAD, Y, Jun '17)
(video trip report)
A (slightly) unlucky summer '17 (7): Jet's extended range B737 (9W472 CCU-BOM, Y, pics & vids)
(video trip report)
A (slightly) unlucky summer '17 (6): Delays galore, inefficiency ensues! (SpiceJet, B737-900ER, SG517 BLR-CCU, Y)
(video trip report)
A (slightly) unlucky summer '17 (5): Missed opportunity with Jet's A330 (BOM-BLR, Y, B73H, May '17) [pics & video TR]
(video trip report)
A (slightly) unlucky summer '17 (4): Short flight on the Etihad A380! (AUH-BOM, Y, May '17) [pics & video TR]
(video trip report)
A (slightly) unlucky summer '17 (3): Elegant Etihad? (JFK-AUH, A380 Y, May '17) [many pics & video TR]
(video trip report)
A (slightly) unlucky summer '17 (2): No MD-88 for you! (MSP-LGA, DL Y, May '17) [pics & video TR]]
(video trip report)
A (slightly) unlucky summer '17 (1): No CRJ-700 for you! (GFK-MSP, SkyWest Delta) [pics & video TR]
(video trip report)
Spring Break 2017 - To the Pacific Northwest! (AMTRAK, BC, Idaho, NO flights!)
Winter Break 2016/17 (9): The Final Hop Home (AA Eagle ERJ-145, ORD-FAR, Jan '17, Y)
(video trip report)
Winter Break 2016/17 (8): Ultra long haul with Etihad (AUH-ORD, Y, Jan '17)
(video trip report)
Winter Break 2016/17 (7): Enticing Etihad to Abu Dhabi! (CCU-AUH, Jan '17, Y)
(video trip report)
2016
Winter Break 2016 (6): My last flight on Jet Airways' ATR (GAU-CCU, Y, Dec '16) + Scintillating Sunderbans
(video trip report)
Winter Break 2016 (5): Konnecting to Kaziranga (S24363 B73H CCU-GAU Y, Dec '16)
(video trip report)
Winter Break 2016 (4): Take us home, Qatar Airways! (QR540, DOH-CCU, Y, Dec'16)
(video trip report)
Winter Break 2016 (3): Long haul middle seat - our first flight on Qatar Airways! (QR28 MAN-DOH, Y, Dec'16)
(video trip report)
Winter Break 2016 (2): Pencil Jet across the Atlantic (AA54 MAN-ORD, Y+, Dec'16)
(video trip report)
Winter Break 2016 (1): The Frozen Embraer Delay - missed connection! (FAR-ORD, Dec '16)
(video trip report)
Thanksgiving '16 in the Sin City - My Allegiance with N891GA, to divert or not to divert (LAS-GFK Nov '16)
(video trip report)
Thanksgiving '16 in the Sin City - My Allegiance with Allegiant! (Part 1, many pictures)
(video trip report)
The day I flew the world's most popular plane (GFK-FAR-CKN-GFK, C172)
Summer '16 trek back home - Part 14: Delta Connection, a quick hop in the Midwest! (MSP - GFK, Aug '16)
(video trip report)
Summer '16 trek back home - Part 13: Super old, Super 80, Mad Dog Across the Midwest! (AA ORD-MSP, Aug'16)
(video trip report)
Summer '16 trek back home - Part 12: Flying the Friendly Skies... (United Munich to Chicago, Aug '16))
(video trip report)
Summer '16 trek back home - Part 11: Epic Lufthansa, Epic A340! (Delhi to Munich, Aug '16)
(video trip report)
Summer '16 trek back home - Part 10: Konnect, Lite, Delight...(S2 B73H CCU-DEL, Aug '16)
(video trip report)
Summer '16 trek back home - Part 9: Take me home, Vistara! (DEL-CCU, Jul '16)
(video trip report)[/color]
Summer '16 trek back home - Part 8: Vistara's INAUGURAL flight out of Kolkata! (CCU-DEL, Jun '16))
(video trip report)
Summer '16 trek back home - Part 7: Efficient IndiGo! (Mumbai to Kolkata, A320, May '16)
(video trip report)
Summer '16 trek back home - Part 6: Big delays, cracked windshield, angry passengers (SG CCU-BOM B73J)
(video trip report)
Summer '16 trek back home - Part 5: Air India's domestic Dream)liner (DEL-CCU May '16)
(video trip report)
Summer '16 trek back home - Part 4: Nearly First Class - stories of the empty A380! (LH FRA-DEL May '16)
(video trip report)
Summer '16 trek back home - Part 3: World's longest jet, Lufthansa's B748i! (ORD-FRA May '16)
(video trip report)
Summer '16 trek back home - Part 2: ChicaGO on United's A319! (MSP-ORD, May '16)
(video trip report)
Summer '16 trek back home - Part 1: Sun rise onboard the long range CRJ (DL GFK-MSP CRJ-900, May '16)
(video trip report)
The pencil jet(s) for spring break! (+ Iron Maiden bonus): Delta MSP-FLL-MSP, March '16
(
DL1608 video trip report
,
DL2027 video trip report

)
De-iced & Delayed, cold onboard a CRJ! (ORD-MSP-GFK on Delta, Jan '16)
(ORD-MSP video report)
(MSP-GFK video report)
Delta's aged B767-300ER across the Atlantic! (CDG-ORD in Y, Jan '16)
(
video report
)
Air France's NEW Economy (B777-200ER, Bengaluru to Paris, Jan '16)
(
video report
)
Delays and despair: stressed out in the middle seat! (Jet Airways B737 Mumbai - Bengaluru, Jan '16)
Air India's hybrid babybus from Kolkata to Mumbai (Jan '16, Y)
(
video report
)
2012
South Africa 3: 12 days in Scintillating South Africa (Kruger, Kulula and Rand Airport, Apr' 12, LONG!)
South Africa 2: Elegant Emirates Economy! (DXB-CPT, B77W, Apr '12)
South Africa 1: My first flight on Emirates, my first flight on the 777 (CMB-DXB, Apr '12)
2011
International transit with Jet Airways (BOM-MAA-CMB, Oct. '11)
Konnecting to Bhubaneswar (9W BOM-BBI-BOM, Jul '11)
Three trips between India and Sri Lanka (9W BOM-CMB-BOM: Jun '11, Jul '11, Oct. 11)
To India's Orange City: Mumbai - Nagpur - Mumbai on Jetlite & Tadoba National Park (May 2011)
My last flight on Kingfisher Airlines (and 2 other Jet flights, May '11)