Seriously, Boeing and flight crews, WARN US ahead of time that we aren't going to hear nearly as much engine noise! "Like'da scared me to death!"
I apologize for the lack of any pictures on board, but if you are reading this, thank you. I will endeavour from here forward to get as many pictures as I can in future trip reports.
In June of this past year, I took a family trip to XNA airport, not the closest airport to the traditional family home in Charleston of Fort Smith (FSM), but given that AA no longer flies between BFL and XNA or FSM without double connecting at PHX and DFW (at least for the time being), we have become a United family: mom flies BFL-DEN/SFO-XNA, and my husband and I fly SAN-IAH/DEN/SFO-XNA. We're okay with mom going by herself, but it's always better when we fly back with her, at least part of the way.
On this particular trip last June, mom flew BFL-DEN-XNA. Boy, is she getting to know the east end of DEN Terminal B! If all goes according to schedule, her flights are timed so that she spends less than an hour on the ground before catching her connecting flight, and is door-to-door home-to-family in less than six hours. And although she hasn't traveled in seriously inclement weather, all of her DEN connections, no matter how brief, have always been handled perfectly.
Her flight was a few days earlier than ours, and by the time we arrived, she was staying with her sister Sarah in Charleston, AR. When we flew a couple of days later, we rented a car, and drove to Charleston and later the Pottsville area. We visited family and took in the spectacular scenery of the Ozark and Ouachita mountains, crossing the Arkansas river several times.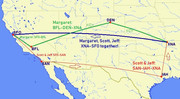 SEGMENT 1: SAN-IAH
United #2091 737-9MAX
N37502 Seats 32 E/F
Absolutely scared me to death for a split second on take-off: holy s*** these planes are FREAKISHLY quiet! Once I realized we were still climbing, I was fine. But the entire flight was disturbingly free of engine noise – what an advancement!!
Service was good and efficient, but smiles were lacking. But otherwise, all was just fine. The seats were very comfortable – even in the middle seat, I didn't feel squished. The horror stories of the bathroom are absolutely true – a truly sadistic design. But that's not Boeing's fault…
3½ hours later, and we began our descent into IAH, and without any circling or waiting, we were on the ground and off to find our connecting gate.
The last time I was at IAH was in September, 2013, SAN-IAH-MEM, and both MEM flights were from the remodeled B gates, on the south side. This time we were directed to gate B70-something, in the western banjo, on the north side. In our transit time, the gate had changed, which we discovered after getting to that area. No problem, plenty of time, and it's now departing from the other banjo, at B87.
SEGMENT 2: IAH-XNA
United #3587 ERJ-170
N722YX Seats 22 C/D
This time I had the window seat, and I got a couple of shots of Fort Smith, Arkansas, where we were eventually heading. Again, very comfortable seats, and being 2x2, window/aisle for everybody! Soon enough we boarded, and off we went.
Same comments about seat comfort and service – comfortable and efficient, if not much on the smiles. And don't get me wrong – they weren't unfriendly or rude in the slightest. But just a bit more on the smiles would have made a really good trip great.
And just like that, we're circling over the middle of nowhere in the Ouachita foothills, and all of a sudden appears XNA. We circled and landed heading south, taxiied to our gate, and I got my first look ever at Northwest Arkansas airport. What a gem!! Cute, efficient, easy, but way the heck out in the country!! I had planned the route out ahead of time, but even someone like me who has been in and out of this part of the country over the last forty years is always astounded at the amount of growth here. I find the infrastructure around the airport to be very poorly developed; however, it is well marked, and we're not exactly talking the highest volumes of traffic here. We picked up the rental car, headed out, and enjoyed five wonderful days with family.
Overflying Texarkana. Of course I would be the kind of person who does this: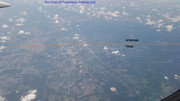 Overflying Fort Smith: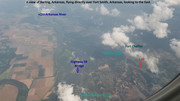 NOT TO BE MISSED IN THE NORTHWEST ARKANSAS AREA!!
The Catfish Hole on West Weddington Road in Fayetteville. Incredible catfish and hush puppies. Get the boneless filets - unless you're an expert, it's worth it.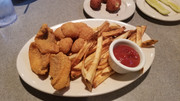 The AQ Chicken House in Springdale, on North Thompson. This is the original location, and it is considered the better of the two. The lemon pepper grilled is beyond description.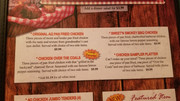 Because our outgoing flight departed so early from XNA, we stayed at the Wingate by Wyndham at XNA – one word for you: DON'T. I don't care how close it is to the terminal; it's a dump. We thought it was still under construction, due to SO much being unavailable, but no – it's permanently that way. Doors don't close, towels are more valuable than water, and "construction" dust (well dust of some sort, anyway!) filled every nook and cranny of the public places. Bleach! But we survived, and the next morning we turned in our key, drove to the airport, returned the rental, went through security, and boarded our plane for the trip home.
SEGMENT 3: XNA-SFO
United #5550 ERJ-175
Seats 12 A/B/C/D N139SY
As we all know, when playing "Airline Airfare Slots", you pull the wheel, and see what kind of deal comes up. Well, since mom was the instigator of this particular trip, her ticket was purchased first. She might be a woman in her late 70's; however, she has navigated her way through LAX from the Bakersfield bus (to and from!), and has no problem connecting at either DFW or DEN. Denver, however, is now her preferred transfer point, because she can fly out of BFL, transfer at DEN, and arrive at XNA to be picked up by family. And this is what we got for the outbound trip.
However, for some reason, United insisted that to save literally hundreds of dollars, she had to connect at SFO for the return, with a 2+ hour layover. I had no problem with sending her home via SFO, however, she has never been to SFO. But when my husband and I bought our tickets on UA a couple of days later, the same XNA-SFO flight with a similar layover was available at the cheapest price. Done! Now there would be three of us, at least as far as SFO.
Make that four. My cousin Lisa bought her own ticket and flew back with us, returning to Arkansas at a later date. Three different reservations, four people, one family.
And on this early morning, we finally got the flight attendants to laugh!! They were friendly getting us boarded, and they were certainly busy getting us all settled, and as we were pushing back, we got the welcome aboard speech, which ended with, "our flight time today will be one hour and fifteen minutes".
I've never seen an entire plane lift their heads in unison and kink their ears. "Huh?" we all thought? As we were looking around, giggling, she got back on the PA, "yeah, it's early folks – it's more like three-and-a-half hours!" A round of applause, smiles all around, and the ice was melted.
I LOVE the 2x2 seating – and on a long flight like this, it was probably more comfortable than the 3x3 of mainline jets. We talked across the aisle a lot, and then we began to descend. The entire trip had been a virtual straight line, but now our approach was taking some unusual turns, which had to have been to position ourselves for arrival. Poor Lisa was hoping to see the Golden Gate Bridge, but no views today. We arrived and taxiied to our gate.
Because all four of us had a long layover, we sat in the circular area of Terminal 3 at the food court. Kind of surprised that the food wasn't better…but we had a nice leisurely meal, chatted, and then had to say good-bye to mom, as her flight to Bakersfield was departing from one of the upper 70's gates, and we were departing from 85.
SEGMENT 4: SFO-SAN
United #497 737-924ER
Seats 26 A/B/C N38424
For some reason, this perfectly smooth, comfortable, and relatively short flight struck me as a subway car. Maybe it was the completely sold-out flight. Maybe it was heavier on carry-on luggage than our other segments. Maybe it was because it was a one-hour shuttle flight filled with a lot of business flyers. In any case, the flight was perfect - a fourth flight in economy in a comfortable seat – the service was good, but very abbreviated. I can't imagine trying to service that many people in less than an hour. You're up, you're level, you're down. This crew worked it like a precision drill team – they knew their job, they knew their time, and boom! It was done.
Thank you, United, for a wonderful trip for all of us, and a tip of my hat to all the crews – professional, courteous, efficient. I just wished for a drop more to have made it perfect. "Smiles, everybody, smiles!"