The Flight At A Glance:

Aircraft: Airbus A350-900
Origin: San Francisco International Airport
Destination: Hong Kong International Airport
Flight Time: 14h
Date: March 22, 2019
Class of Service: Business Class
Airline: Hong Kong Airlines
Satisfaction: 8/10
Flight Number: HX61
Seat Number: 18A
Time of Departure: 12:45 PM PST
Time of Arrival: 6:45 PM GMT
Departure Terminal: Terminal A
Aircraft Tail Number: B-LGA
Pre-Flight:
We booked a roundtrip ticket in Business Class on Hong Kong Airlines for around $600 per person when they offered the mistake fare last August. Prices don't very often come by $600, and the price for the itinerary that we took is worth a few thousand. We booked a roundtrip ticket from San Francisco to Shanghai (PVG) via Hong Kong, flying on the Airbus A350 three times. Unfortunately, we always flew on Hong Kong Airlines' old A350 configuration with staggered seats and never got to fly on their new one with reverse herringbone seats. I then headed to the A Pier in the International Terminal to get our boarding passes and head through security. We didn't have to check our bags, but getting our boarding passes and lounge access card at the Hong Kong Airlines desk still took about 10 minutes.
We then headed through security. We had access to the premium lane, but not TSA Pre-Check (Hong Kong Airlines isn't a member airline), and it took about another 10 minutes to get through. I then walked around the terminal to take pictures of various airplanes before heading to the lounge.
I then visited the only lounge that is available to Hong Kong Airlines business class passengers – the Air France Lounge. In one word, the lounge was pretty dismal. It was way too small for the number of passengers in it, had no outside windows, had seats that were way too small and cramped, didn't have a good food selection, the lounge attendant accidentally took my boarding pass when she let us into the lounge instead of the lounge card, and the lounge most definitely was not run by Air France (it was contracted). It really wasn't much better than the main terminal. I thought I took a better picture of the lounge, but the only one I could find was this one here, of the buffet.
After a short visit to the Air France lounge, we headed over to our gate, A4 for boarding. San Francisco Airport's Terminal A is funny in the way that you have to take an escalator down to all gates from the main terminal area with seating and shops, and that most of the gate areas are individual and are not connected to each other. We went down to the gate and stood in the business class line to the right. Exactly on time, boarding was called, and I headed on the the aircraft, excited that I would finally be able to fly on the Airbus A350 for the first time.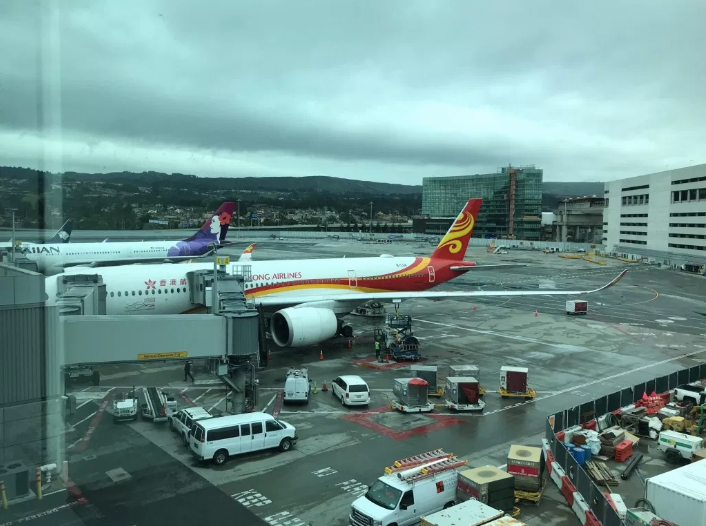 The Hong Kong Airlines Airbus A350-900
The Flight:
We boarded the aircraft, and the friendly purser showed me to my seat, 18A. This flight was operated on one of Hong Kong Airlines' "older" A350s that were delivered with standard Stelia Solstys seats. Hong Kong Airlines' newer A350s have been delivered with newer and better Rockwell Collins Super Diamond seats (reverse herringbone). The seats are in a staggered 1-2-1 configuration. There are two types of window seats and two types of aisle seats. First, half of the window seats are closer to the window and are separated from the aisle by a little side table and therefore are "true" window seats. These seats are much more private than any other seats, and I'll get more into the details about them later in this review, as I sat in one of the true window seats. The other aisle seats are closer to the aisle and are seperated from the window by a side table. These seats aren't very private, and I'll get more into them in my second review of Hong Kong Airlines' A350 where I flew in this type of seat.
In the center, there are seats that are close together and can almost turn into a double bed and are nicknamed "honeymoon seats." If you don't know the person sitting next to you, there are dividers that can come up from under the seat to divide the space. If you are traveling together with a spouse, these are probably the seats to get. To get to these seats, you have to walk through a little gangway in between the side table much like the first type of window seat. The second type of middle seats is very similar to the second type of window seat that I mentioned, in that the seats are close to the aisle and are semi-exposed to the aisle. Overall, if you get a true window seat or a honeymoon seat, then the experience will probably be much better than if you don't as you have much more privacy in those types of seats.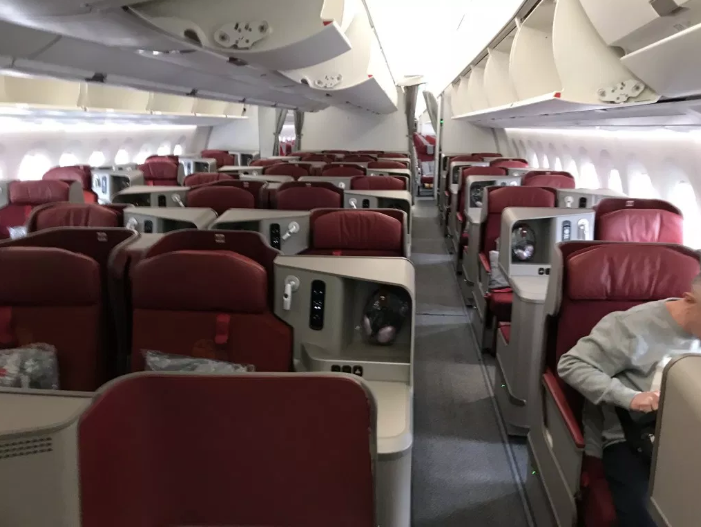 Hong Kong Airlines A350 Business Class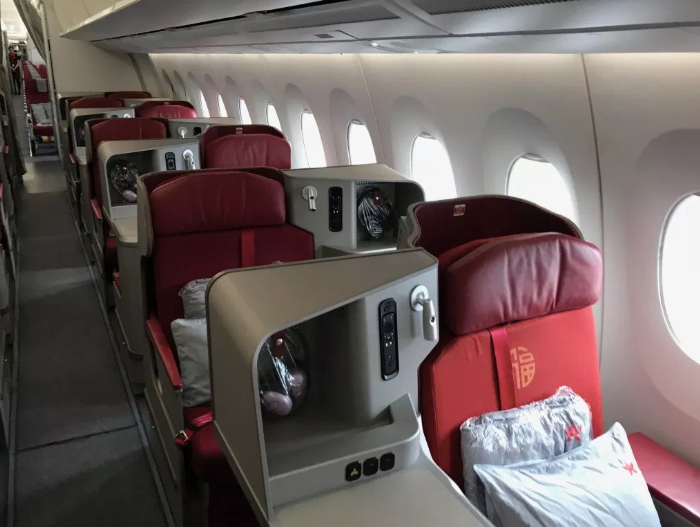 Hong Kong Airlines A350 Business Class Window Seats
I settled into my seat, 18A, a true window seat. My seat was very private as there was a gangway that you had to take to get to the seat in between the side table which gave the seat a lot of privacy when in lie-flat mode. Unlike many other business class seats, there actually isn't a leg rest. Instead, there was a large and long footwell where you could put your feet that joined up to make a bed with the top area of the seat when putting it in lie-flat mode. The seat could also move forward and backward using the seat controls. When the seat was in the upright position, it was easy to put my feet onto the footrest.
Additionally, another feature that only true window seats have is that when you put it in lay-flat mode, the armrest went down and joined a side panel that joined up with the rest of the seat to create additional width to the seat, which made it much more comfortable. This makes the true window seats some of the widest staggered business class seats in the world. Also, the seat had a large headrest, a reading light, a remote for the IFE (although not one of those modern touchscreens that you often find), a power outlet, and a USB port above the side table. The seat controls were intuitive and were located on the side table. Overall, the seat was pretty hard, although I personally didn't mind that and found the seat comfortable. In terms of storage, there was a large cubby in which you could put a small bag in underneath the footwell.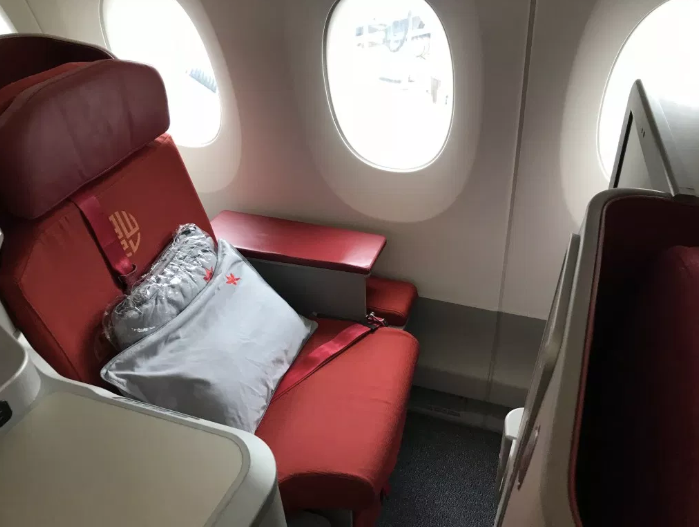 My Seat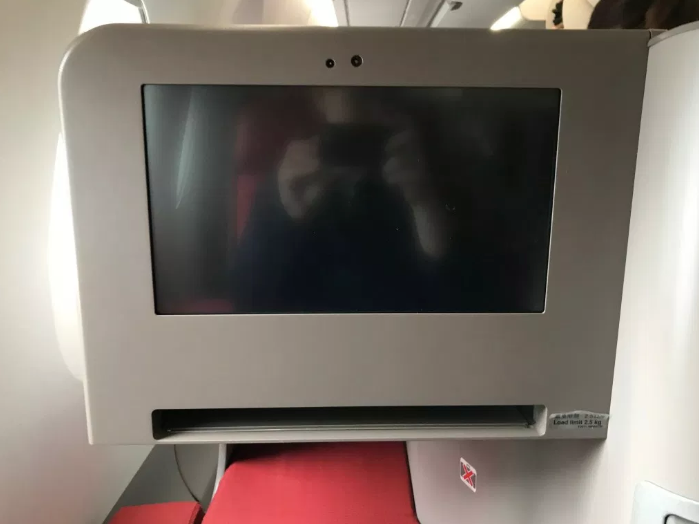 The IFE Screen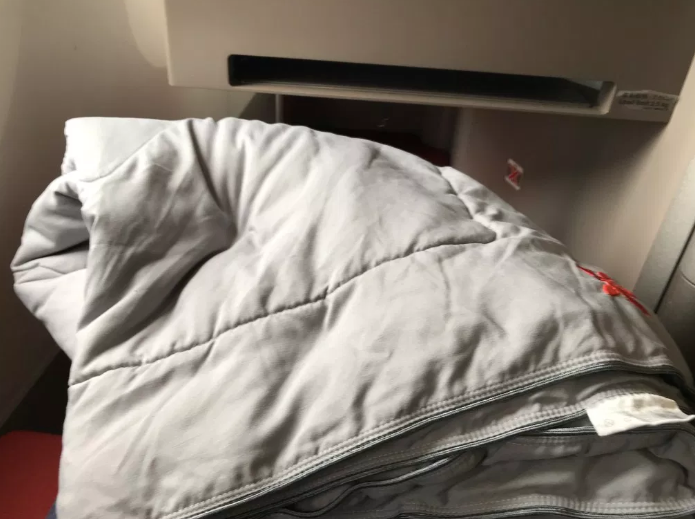 The Bedding
I would have preferred it had they had individual air nozzles – sometimes the cabin was a bit on the warm side.
Hong Kong Airlines' bedding isn't amazing compared to some other airlines' long-haul business class bedding, such as United's, as they didn't provide a mattress pad or a second pillow. However, Hong Kong Airlines provided a plush and comfortable pillow and a blanket that wasn't too thin or too thick, which were both perfectly fine for a long-haul flight. At that point, the flight attendants came around and passed out amenity kits, which were also pretty standard and featured an eye mask, earplugs, a toothbrush, toothpaste, lip balm, and hand cream. Also at the seat were headphones which were low quality. While I did receive a pair of slippers on the flight back from Hong Kong, we didn't receive any from the crew on this flight.
The crew came around with pre-departure drinks (water or orange juice), where I selected water. They also came around with in-flight menus for the flight. We would receive lunch after takeoff and then would also be served a smaller pre-landing meal of dinner.
At that point I checked out the in-flight entertainment selection. Hong Kong Airlines has about 100 movies in its entertainment selection, which isn't the best in the world, although still perfectly adequate. They also had a large selection of TV shows, music, and games. The aircraft was also equipped with tail and landing gear cameras, which was a feature that I found pretty cool. For a brand new aircraft, the actual entertainment screen kind of looked a bit outdated, although the actual entertainment system overall was very responsive
At that point, the Captain announced that the flight time would be a bit over 14 hours and that we would be pushing back soon. We taxied to Runway 10R. If you aren't familiar with SFO, Runway 10R is just about at the opposite end of the airport as Terminal A is, meaning that we had to taxi around every terminal, which took a good 20 minutes. To make matters worse, it just then started raining, so I couldn't get a good view out of the window at some of the other planes.
At that point, we took off from Runway 10R over the San Francisco Bay, and then soon banked leftward towards Hong Kong. I have to say, the Airbus A350 is an extremely smooth and quiet plane, and I was extremely impressed with it, being my first time on an A350.
At that point, I indulged myself in the Entertainment selection, and watched a movie. The crew then about 20 minutes after takeoff came by to put the tablecloth onto the table with a selection of nuts. The tray table is unique in the way that it folds out of the back side of the seat in front of you and comes down. That made it extremely hard if not impossible to be able to get up out of the seat while the tray table was down.
About 20 minutes after that, they came around again with the starter which consisted of shrimp and a side salad, which I didn't like, although I really am not a shrimp fan, so I can imagine that others would have enjoyed it. What I found ridiculous was that it took about another 15 minutes just for them to come around with bread (I'll talk more about the service later in the review). I selected both a white and dark bread roll, both of which were warmed up and pretty standard. Then, they came around with the soup, which I personally skipped. After that, it took yet another 30 minutes just for them to clear the appetizer and come around with the main course.
I selected the roasted pork belly with lotus root, rice, and seasoned vegetables. I personally found the pork to be a bit fatty, but still delicious and not dry at all. The rice and vegetables were also fine but weren't anything to write home about. About 25 minutes later, the crew came around with dessert; I selected chocolate Haagen Dazs Ice Cream, which wasn't served in a bowl but was served in the cup. Please note that this was the same exact dessert that I had in United's economy class from Munich to DC earlier this year. It wasn't high quality, but I still do love chocolate ice cream, so I don't have any complaints. Overall, it took about 2 hours and 15 minutes for the entire meal service to be done, which wasn't a problem on such a long flight, although preferably would have been faster.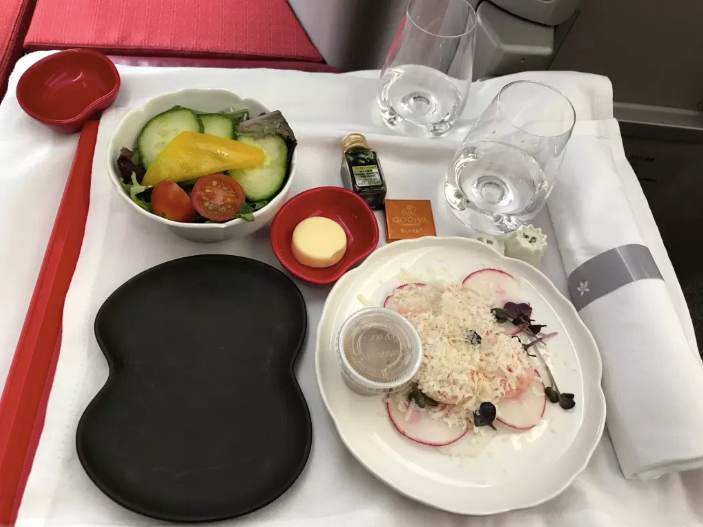 Shrimp – The Appetizer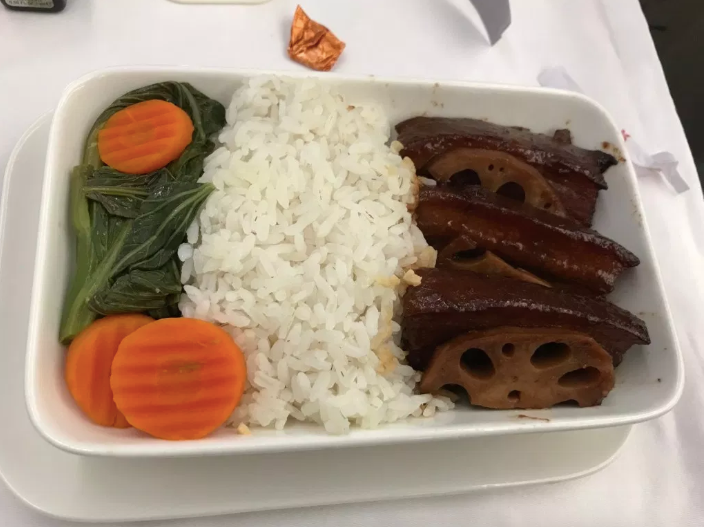 The Pork with Lotus, Rice, and Vegetables
At that point, I reclined my seat into a comfortable position and started watching another movie, which I did for a bit over an hour. At that point, there were about 10 hours left to Hong Kong. I put my seat in its lie-flat position and tried falling asleep. I have to say, the extra width and privacy of the true window seats do make it much easier to fall asleep than if I didn't have one. I fell asleep after about 45 minutes of trying to and slept for a bit over 6 hours, which was really good for someone like me, who doesn't fall and stay asleep on planes well.
The seat in its fully reclined position
At that point, I woke up and there were about 3 hours left until landing. The flight attendant came around asking passengers if we would like a snack off of their mid-flight menu (a sandwich, dim sum, or cheeses). I personally declined, as they would be serving a landing snack in only 1 and a half hours and I wasn't that hungry. Please note that it said that they would put a snack basket into the galley in the menu, although the crew never did that. About 1.5 hours before landing, a flight attendant took my order for the pre-landing meal service, for which I ordered the chicken in a corn and poblano cream sauce with a butternut squash puree. It also came with fruit and a chocolate mousse cake. The chicken was also not too dry and the sauce was delicious. Also, the fruit and chocolate mousse were both tasty. Again, it also toook the crew awhile to come around with bread.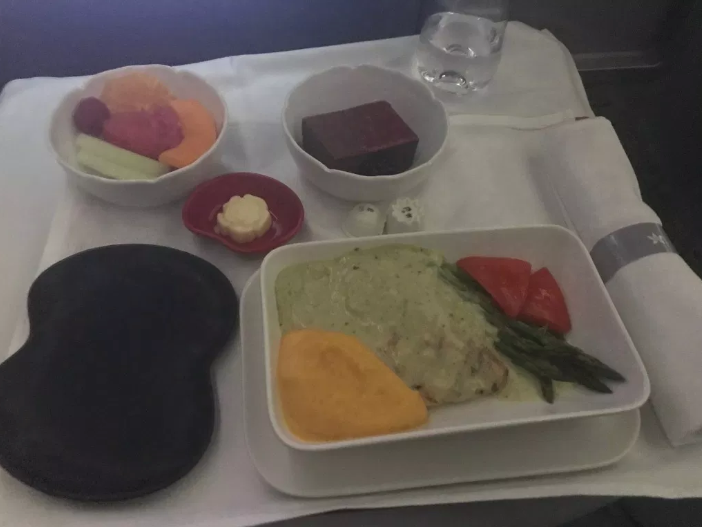 Pre-Landing Meal
I haven't talked much in this review about the service because I wanted to talk about it as a whole. The flight attendants were all very friendly, much more so than you sometimes get on United where often the flight attendants just seem to hate their job. They all always had a smile, were friendly to the passengers, and all seemed to be trying their best at their jobs. They also did something that I rarely ever see on a US airline – they actually cleaned the lavatory every time someone used it. But the service was simply unorganized and way too slow. Firstly, they walked around the cabin while taking orders with a sheet of paper instead of just memorizing what each passenger wants, which occurs on most other airlines in business.
Also, the service just was way too slow. It took over two hours for them to finish the meal service on the flight and on the flight back from Hong Kong to SFO it took over three hours, which is simply unacceptable. Also, since the FAs brought each meal out individually to each passenger, it took about 20 minutes for them just to bring out an entree for the entire cabin. And there were 4 flight attendants working business class. This just goes to show how unorganized the flight attendants were. Also, it happened multiple times (once on this flight and also on the return flight) that they forgot to serve bread to me – I had to remind them that I didn't receive bread. The thing is, all of the flight attendants just seemed inexperienced at their jobs, which isn't so surprising given that they were all in their early 20s (they don't have as much experience as UA or AA's generally older flight attendants).
Now, all things considered, this didn't result in any issues; it just was a bit annoying that the service was so clumsy. But then again, the flight attendants seemed to at least semi-enjoy their jobs and were also apologetic when they messed up, so I wouldn't call the service all bad. What I found funny is that the meal service was quick on both short-haul flights I took on Hong Kong Airlines, and the long-haul flight only had one more course – it almost seems as if they put their worst and slowest flight attendants on their long-haul flights and put their better and quicker ones on the short-haul flights.
About 20 minutes later, the captain announced that we would be landing soon in Hong Kong. Then, a pre-landing video was played showcasing Hong Kong Airport and attractions in Hong Kong. The cabin soon prepared the cabin for landing, and we then entered thick fog above Hong Kong before landing. We had a relatively smooth landing in Hong Kong, considering the heavy winds and rain there. We then taxied for about five minutes until we reached our gate at Hong Kong Airlines' home at the Midfield Concourse.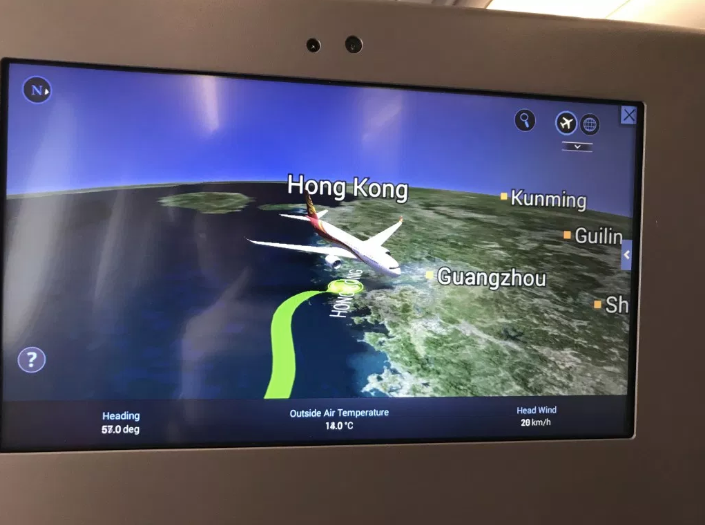 The Flight Map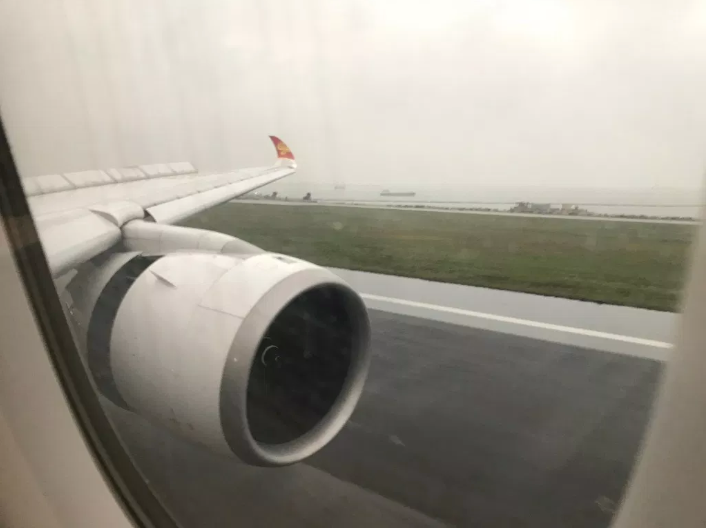 Landing in Hong Kong
We exited the aircraft and headed towards the transfer area where we had to go through security before we could head up to the departures area of the midfield concourse to visit the Hong Kong Airlines Club Autus before our flight from Hong Kong to Shanghai Pudong Airport.
Conclusion:
Given that this flight only cost $600 (actually it cost about $200 because the $600 took into account all four flights I flew on Hong Kong Airlines), this flight probably was the best flight I've ever been on for the price it cost. I had a great flight, although there are still a few areas where Hong Kong Airlines could improve. First, the seats are very unequal to each other, although their newer A350s have better reverse herringbone seats. Second, the bedding, while not awful, certainly could use some improvement. Third, the service just wasn't organized and had the result of the meal service taking too long. However, the flight attendants were friendly, the meals were all great, and the seats were lay-flat and had all aisle access, all things which factored into me having a good flight with them. I also got to experience my first flight on an A350, an amazing aircraft. Overall, Hong Kong Airlines offers a solid transpacific business class product on its Airbus A350s.
For more pictures about this flight, please visit the original posting of this review on my blog:
https://airtravelanalysis.com/review-hong-kong-airlines-a350-sfo-hkg/