Double TAP Air Portugal Inaugural – San Francisco and Washington DC Dulles
TAP Air Portugal has been on a major expansion mode, since David Neelman becomes one of its owners, and in June, TAP began flights to Chicago, San Francisco and Washington DC Dulles. I have always had my eyes on the inaugural SFO flights because it will be operated by the new Airbus A330-900NEO. However, TAP did not announce the new North American flights all in a row, and they started with Chicago and Washington DC Dulles first. At that point, I saw a good one-way business class fare from IAD to London City via Lisbon and Porto including one overnight, so I immediately committed to that flight. Then after a week or two, TAP also announced the San Francisco flight, and I just could not pass up the bigger opportunity to fly another inaugural flight plus a new aircraft type. That is the reason why I ended up in two TAP inaugurals back to back. Just for your information, these inaugural flights are also my first-time flying TAP, so everything is sort of new to me. While the TAP reviews have been mixed online, my experiences on two obviously special flights are mostly positive. The flight attendants were friendly and patient with many first-time passengers. Even on my connecting flights on both mainline TAP and TAP Express flights from Portugal to London, service was pretty good. Catering, however, is a bit of mixed batch, and the food on the Portugal to UK flights was pretty unimpressive, especially on the E-190 flights to London City. BA actually did a better job. For this trip report on the eastbound transatlantic flights, the menu is identical on both flights but San Francisco obviously features a four-course experiences given its longer flying time and a late afternoon departure time. Dulles is a late-night departure so meals are more simplified. The surprise was that both flights feature a similar breakfast and the SF flights did not feature a hot breakfast, as expected on this longer transatlantic flight. Some people tell me that it is a cultural thing and Portuguese is really not a big breakfast country. Most Portuguese just have toasts or bread with ham and cheese to last them until lunch. However, I think they need to serve a hot meal on these longer flights to and from US West Coast. I found a leftover menu from LIS to SFO, and I was shocked that they only serve a cold meal on all their longer daytime flight from Lisbon to West Coast and Brazil. [Transcript here:
https://www.flyertalk.com/forum/31193026-post2187.html
]. There was also no snack basket that was commonly found on these longer daytime flights from Europe to West Coast, but there were sandwiches wrapped in plastic wrap left in the galley for the SFO flights for both cabins. In terms of seats, the Airbus A330-900NEO feature a newer generation of suites but TAP really squeezes many seats in the cabin. The cabin felt really crowded especially during boarding, but the seats were more comfortable in sleeping positions than their business class seats on its Airbus A330s. While I enjoy the storage and spaciousness of the throne seats, I could not sleep in the full flat position because of the tiny foot spaces.
For obvious reasons, TAP sent the same operating and PR teams to these two inaugurals, and I actually saw the same Portuguese staffs in both occasions. Honestly, I actually prefer the IAD inaugural to SFO, despite the SFO inaugural was more important to TAP because of the Portuguese population in the Bay area. The logistics were simply better for IAD because the flight at IAD has a three-hour layover, while the SFO flight only has two hours. Getting caught up in a heat wave and a baggage system meltdown did not help. Even though we got to see Neelman in SFO, I actually enjoyed the Dulles inaugural much better. For those who did not want to read further, here are the photo links to both inaugurals.
SFO Inaugural
http://s1213.photobucket.com/user/Carfi ... 0Inaugural
IAD Inaugural
http://s1213.photobucket.com/user/Carfi ... 0Inaugural
June 10, 2019
TAP Air Portugal TP 236 San Francisco to Lisbon Lv1610 Arr1125 Next Day
Airbus A330-900N CS-TUF
I arrived at the airport fairly early because these afternoon hours were usually horribly busy because everyone seems to want to leave at the same time. TAP's check-in is located at Aisle 3, which is next to the really busy Air China's area. There was already a crowd at the TAP check in area when I arrived, so I was glad that I arrived early. I was first in line to check in in the premium line. There are three lanes in all TAP outposts' check-in area: premium, online baggage drop off only, and economy class check-in. Swissport is their agent here. Counters was supposed to open at 1:15pm but since everyone was here, they started early.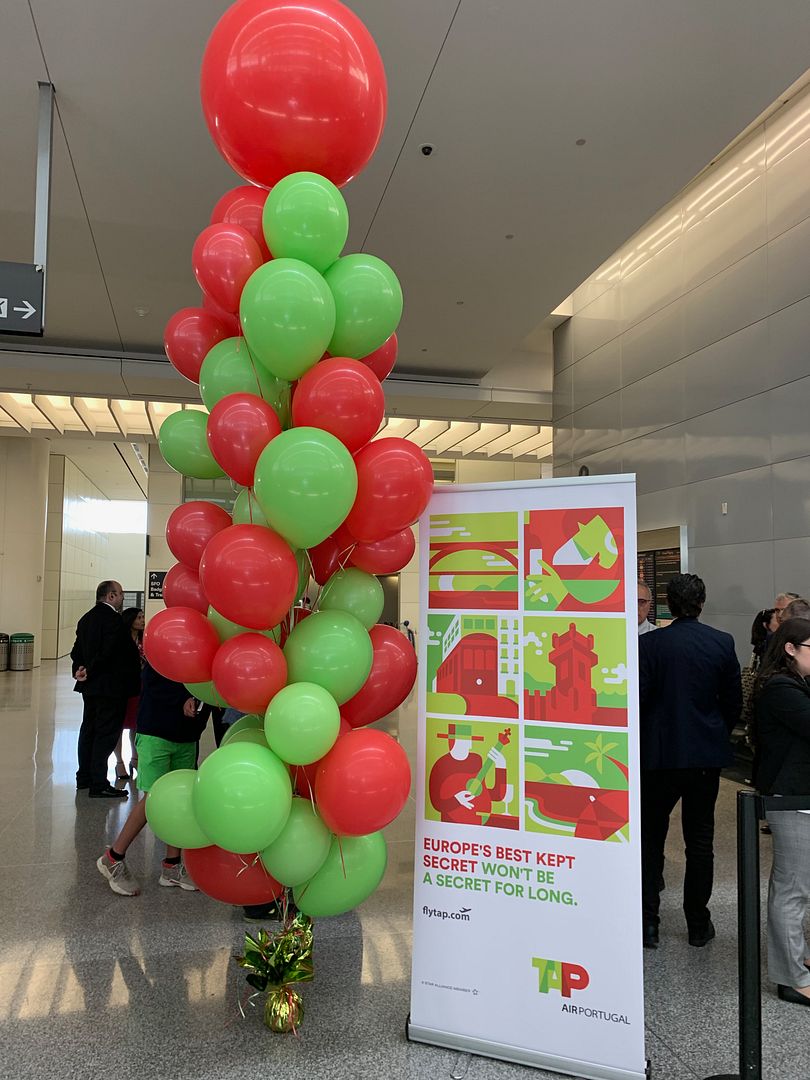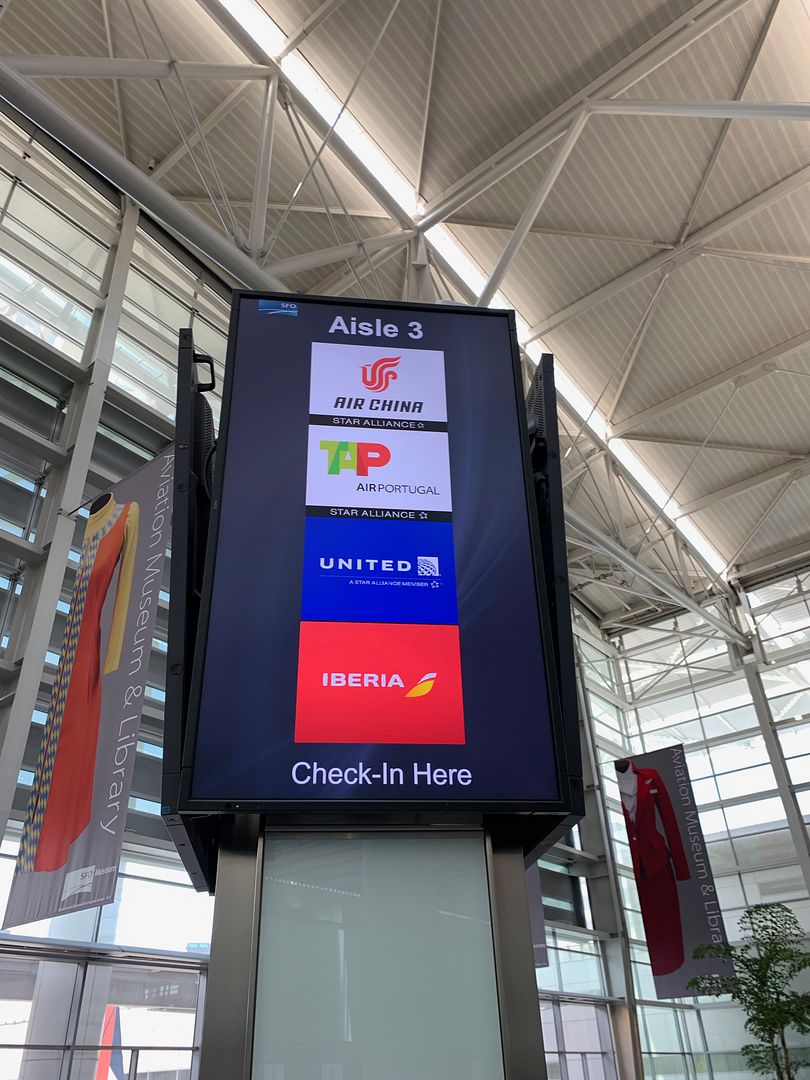 Gerado, a very friendly agent, checked me in, and it took him a while to finish the check-in because they were still new to the system, and since TAP's online system did not allow passengers to enter the PASS ID for TSA Pre, the agent had to learn how to do it. I am pretty sure that they all know how to do it by now, given how many passengers were asking them to add their PASS ID. TAP does not issue separate boarding passes for connecting flights so I am thankful that Gerado reminding me that I need to keep the boarding pass all the way till I arrive in London.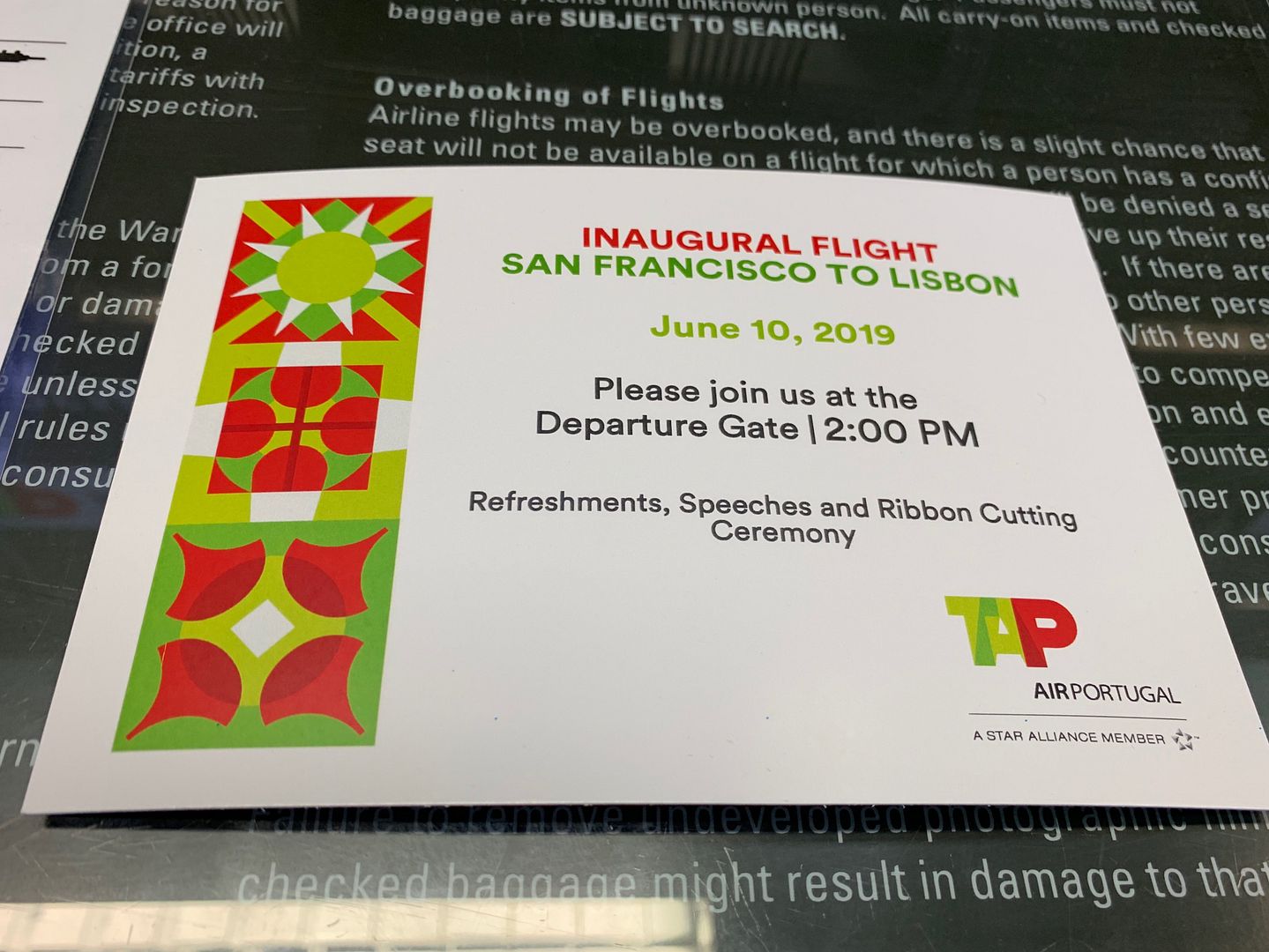 Check-in area – packed
Without knowing the yield, it is hard to gauge how successful the flight is. However, it was definitely a good sign, when your first flight went out 100% full.
Despite having access to United's Polaris Lounge here, I chose not to do it because I wanted to focus on the actual plane today. The inbound flight would arrive at 2:20pm, so I chose to grab a quick bite in the food court and then heading to the security, which was always busy.
TSA Pre was a nightmare this afternoon because a Lufthansa A380 crew decided to go through security at the same time as me. Nonetheless, it was still better than the regular line.
One of the annoying aspects about most of the windows here at SFO are these smart windows. I understand the environmental aspect, but it makes taking pictures impossible. However, I am also glad to find out that there is now an observation deck. Since it was so hot today, the deck was empty.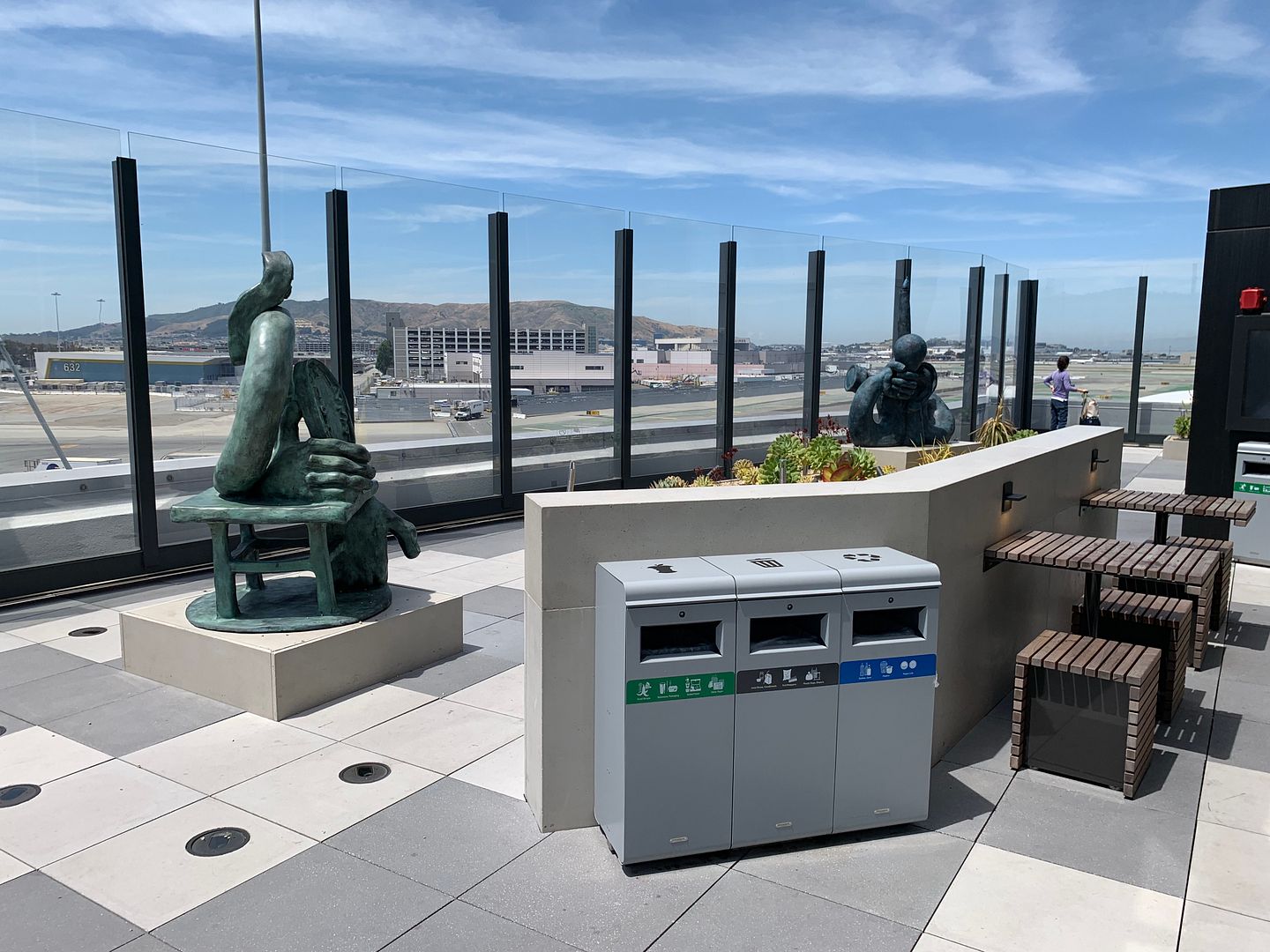 That's why I manage to get some decent pictures of this beauty – Airbus A330-900N CS-TUF:
The plane was just a beauty to look at.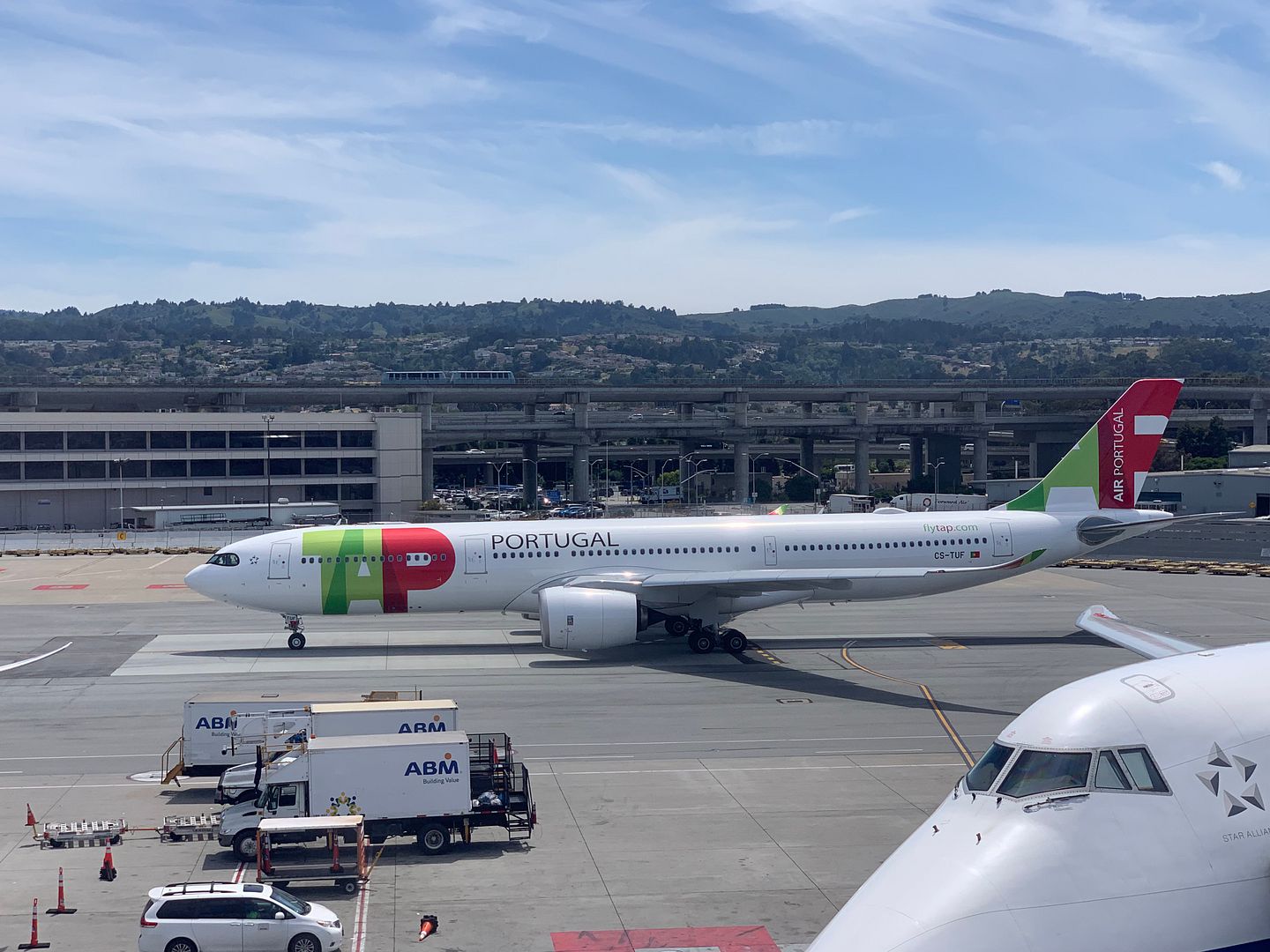 Since water is very precious here in California, traditional water canon salute is becoming rarer now on flights from California, especially Southern California. Since the Dulles inaugural got a water canon salute, I had a feeling that the lack of one in SFO was not because TAP being cheap.
G93 was our gate this afternoon and the gate was already set up with many TAP branded hanging paper decorations, a stage, and a buffet featuring Portuguese food. There was also a duo performing traditional Portuguese music at the stage.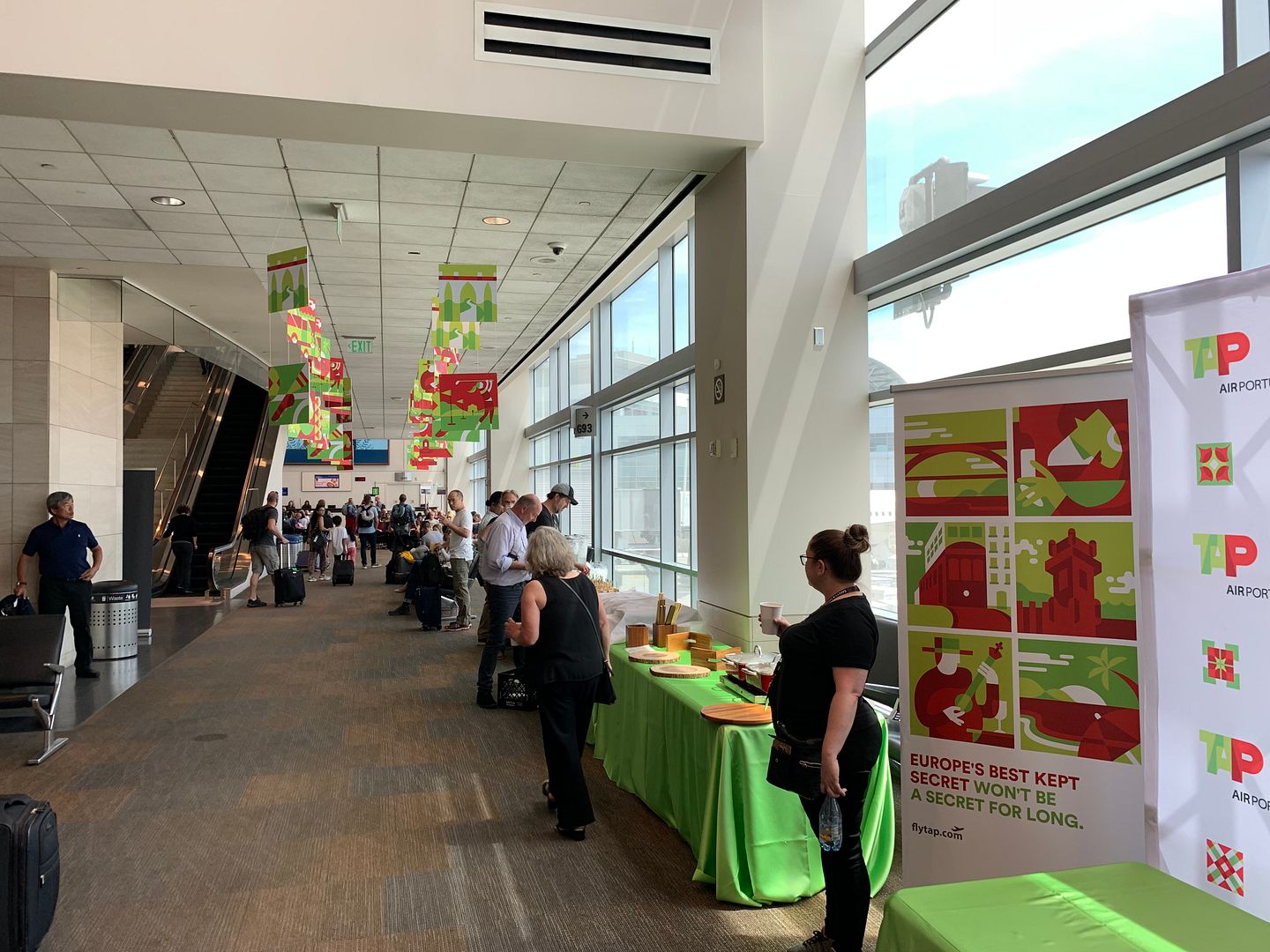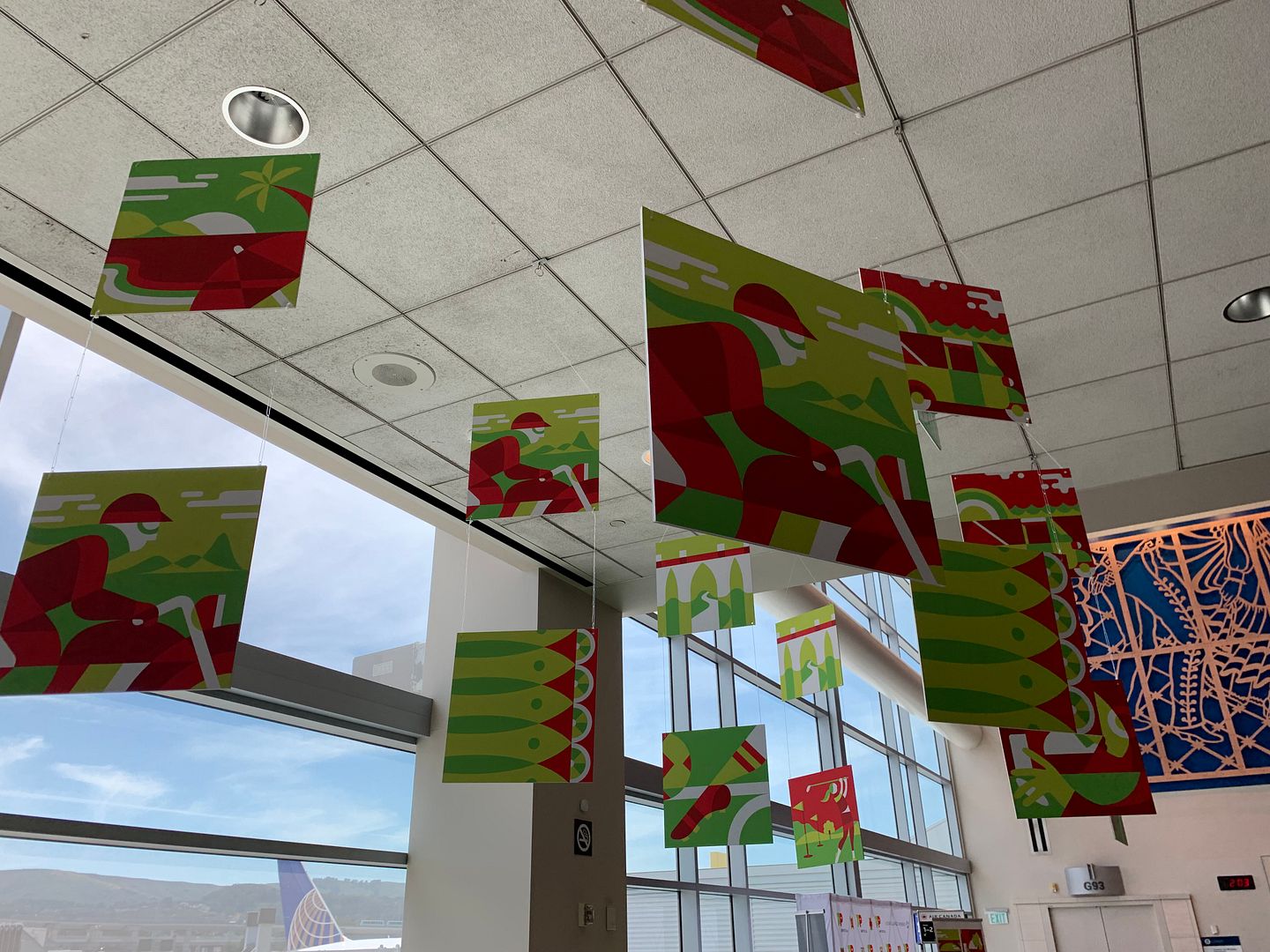 Buffet – the food was excellent with a nice cold cut and cheese plate, along with some Portuguese tapas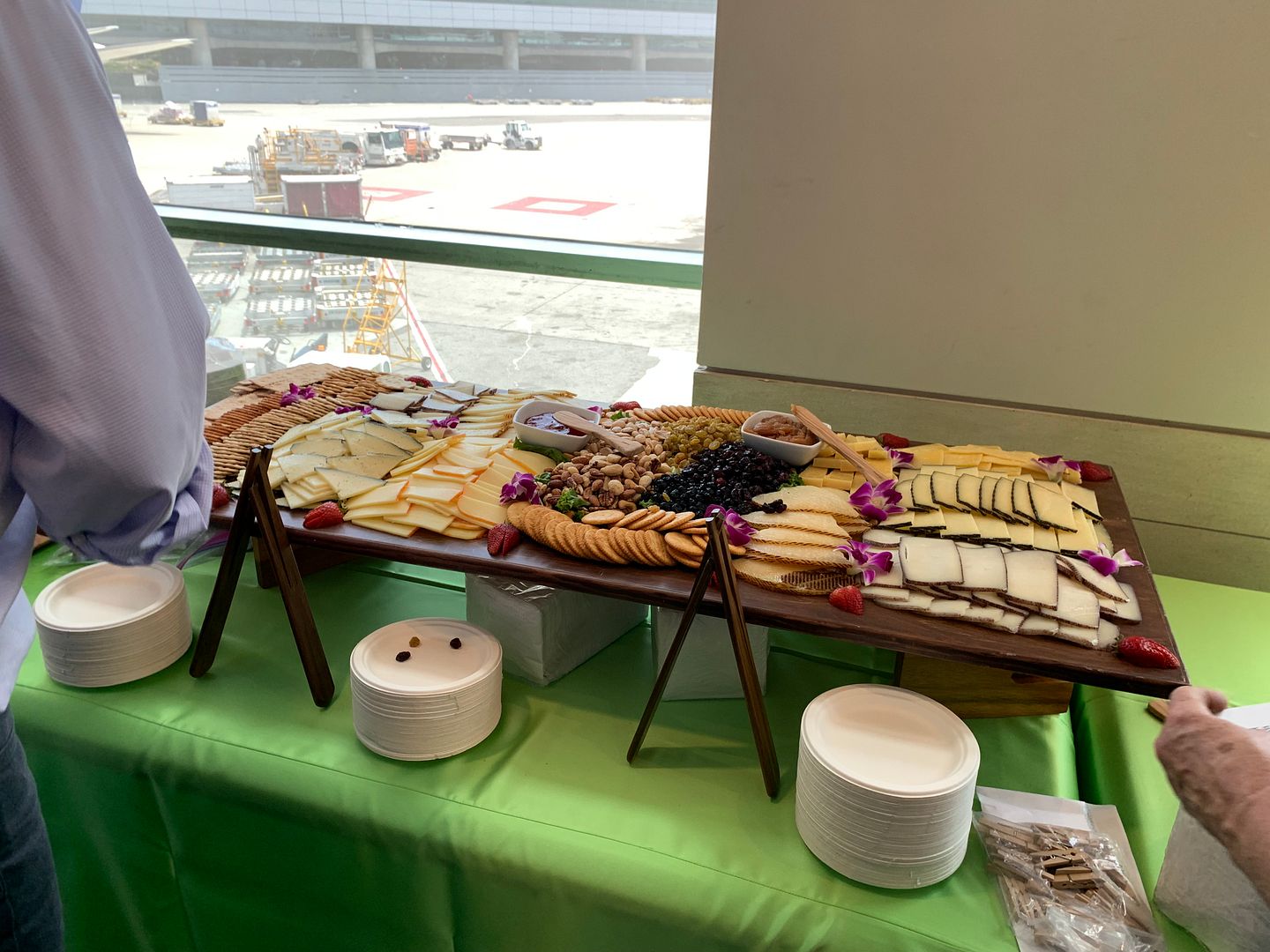 Lovely Cake
David Neelman was obviously the star today. Here was a picture of him conducting an interview.
The ceremony was fairly typical with speeches by SFO CEO, Portuguese Consul General Mario Joao Lopes Cardoso, TAP Chairman, Miguel Frasquilho, and of course, David Neelman, a major stockholder of TAP. Then Neelman introduced the crews to the stage and then there was various ceremonies, including cake cutting, ribbon cutting, Madeira wine toasting [wines were only provided to special guests, not passengers], and gift exchanges. The most interesting comment was that Neelman said that a flight to the Azores, which had a huge population here in the Bay Area, is also in the making, but I will believe it when I see it. That will be an interesting inaugural flight to take though but I am not sure if the A321LR has the range, but A321XLR will be perfect for it.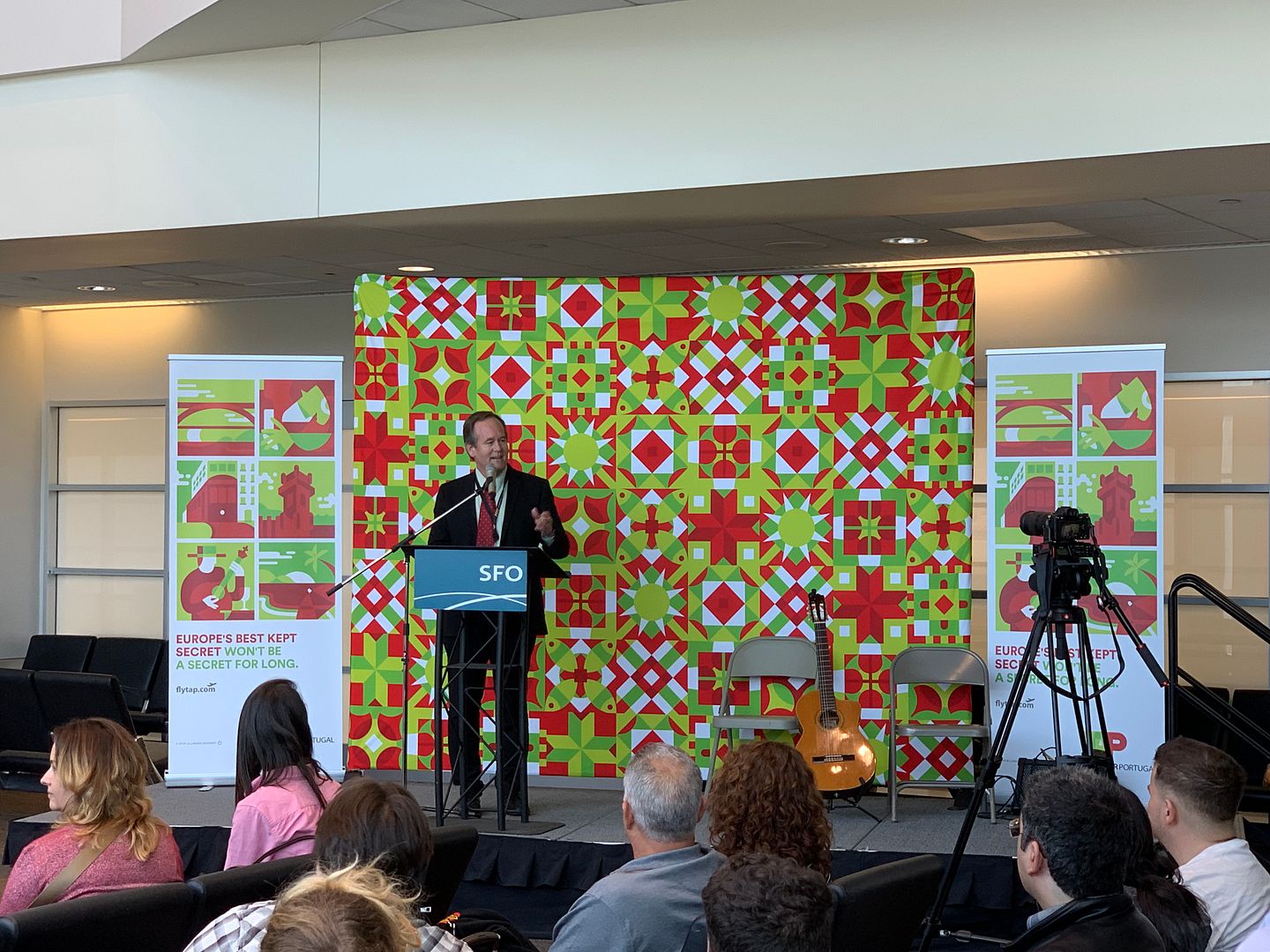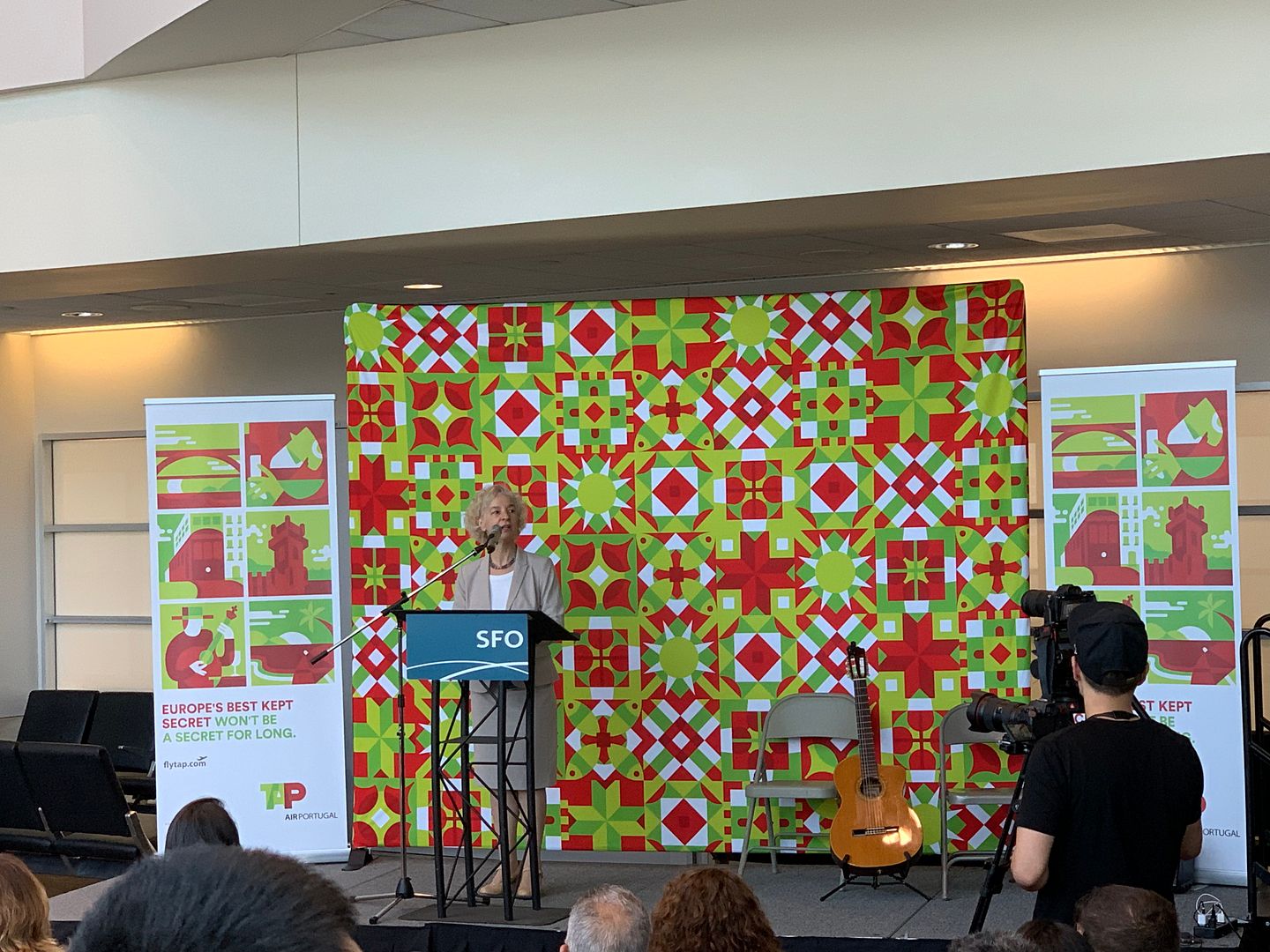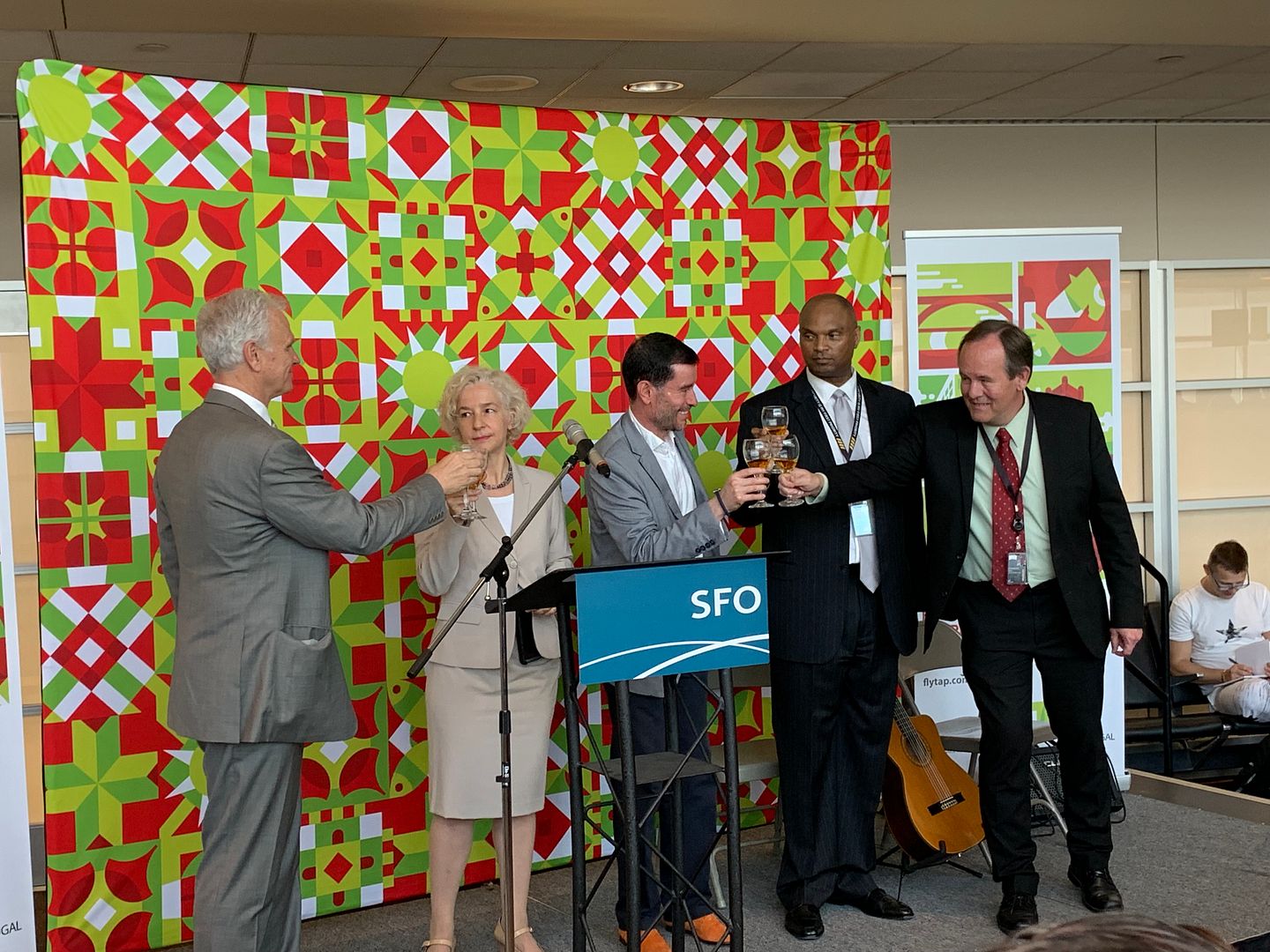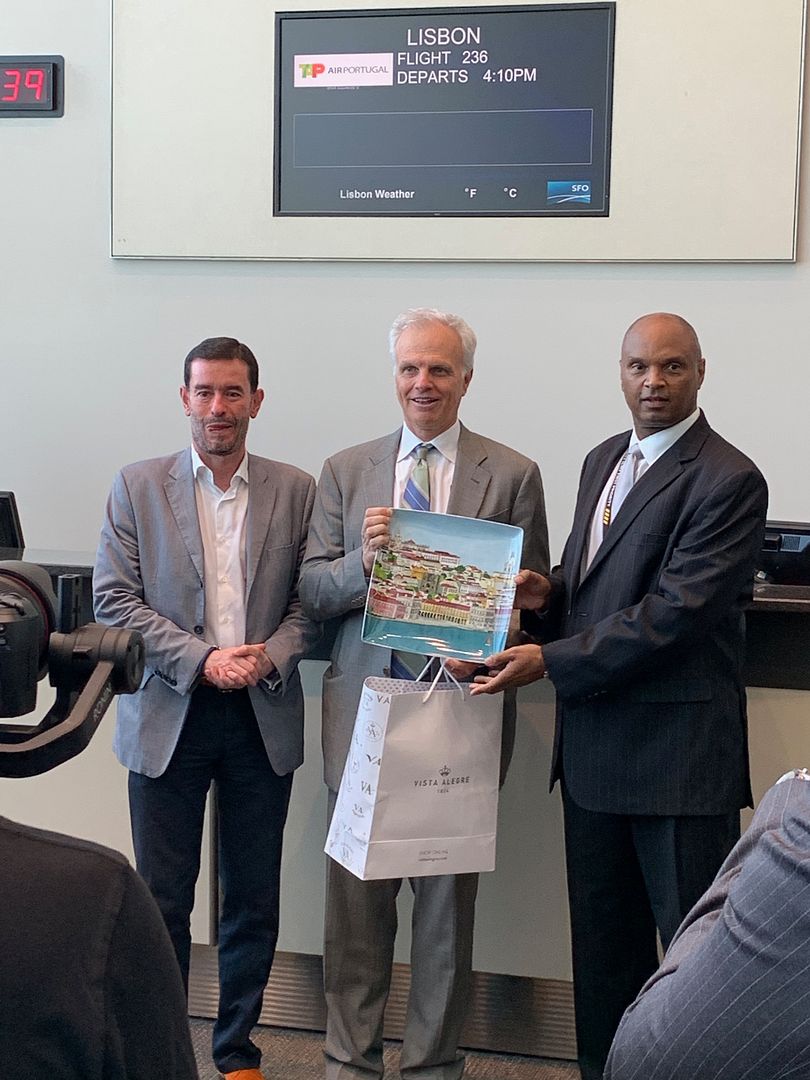 Boarding was supposed to begin at 3:30pm and the gate was extremely packed given to the full load, and lots of seating were not available due to the buffets and stages. Soon the agent finally announced that there was a delay because the baggage system here at the airport broke down. They could not process any bags. Boarding was be delayed till 4:30pm.
I debated if I should go to the Polaris lounge but given that boarding could start at any time, I decided to stay put.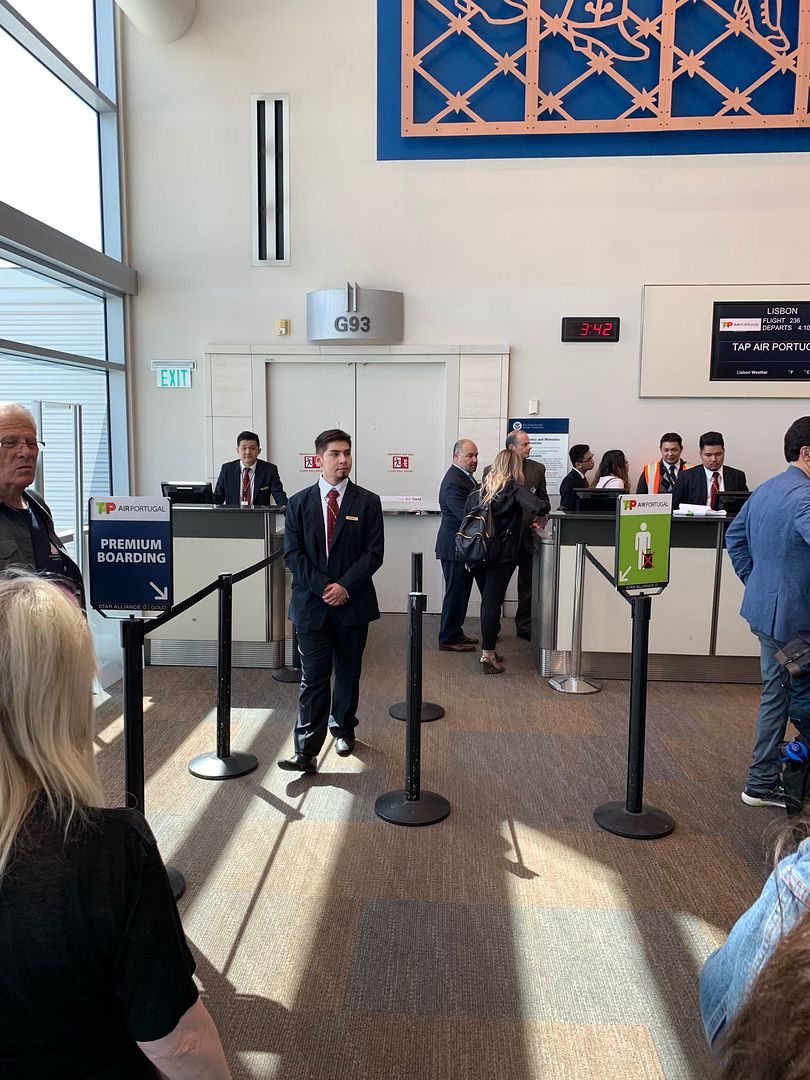 Boarding finally started at 4:25pm. Two male cabin staffs were checking boarding passes and welcoming passengers.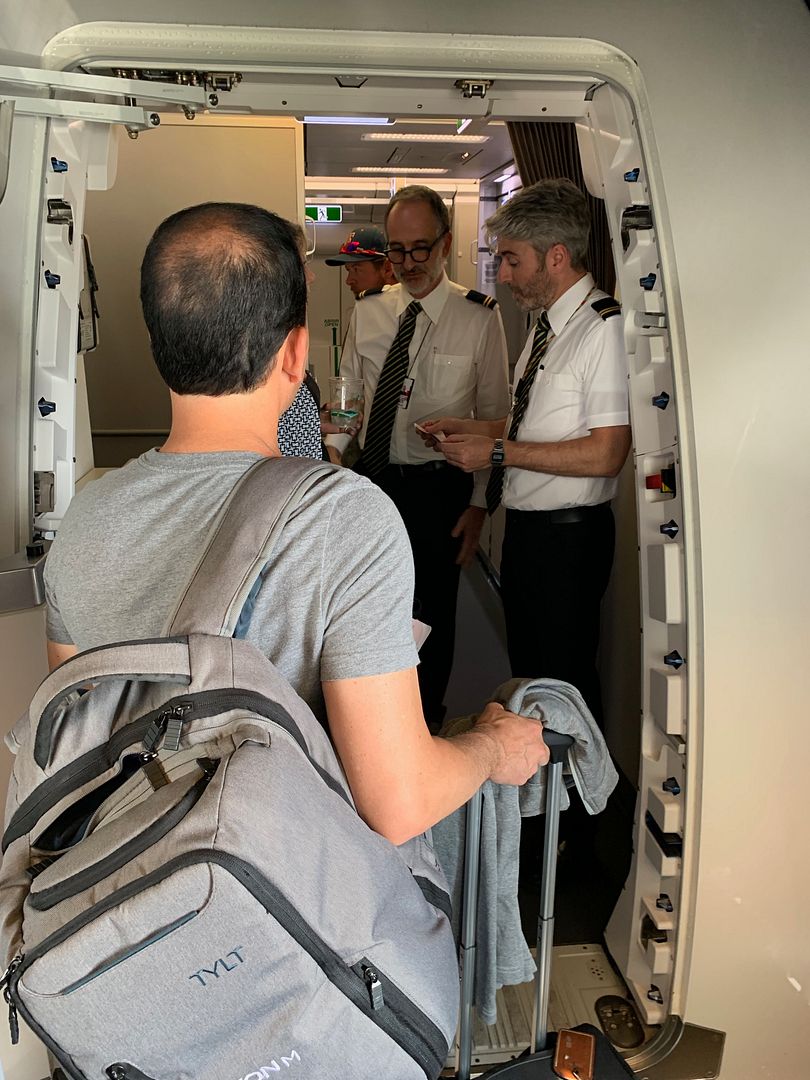 Economy class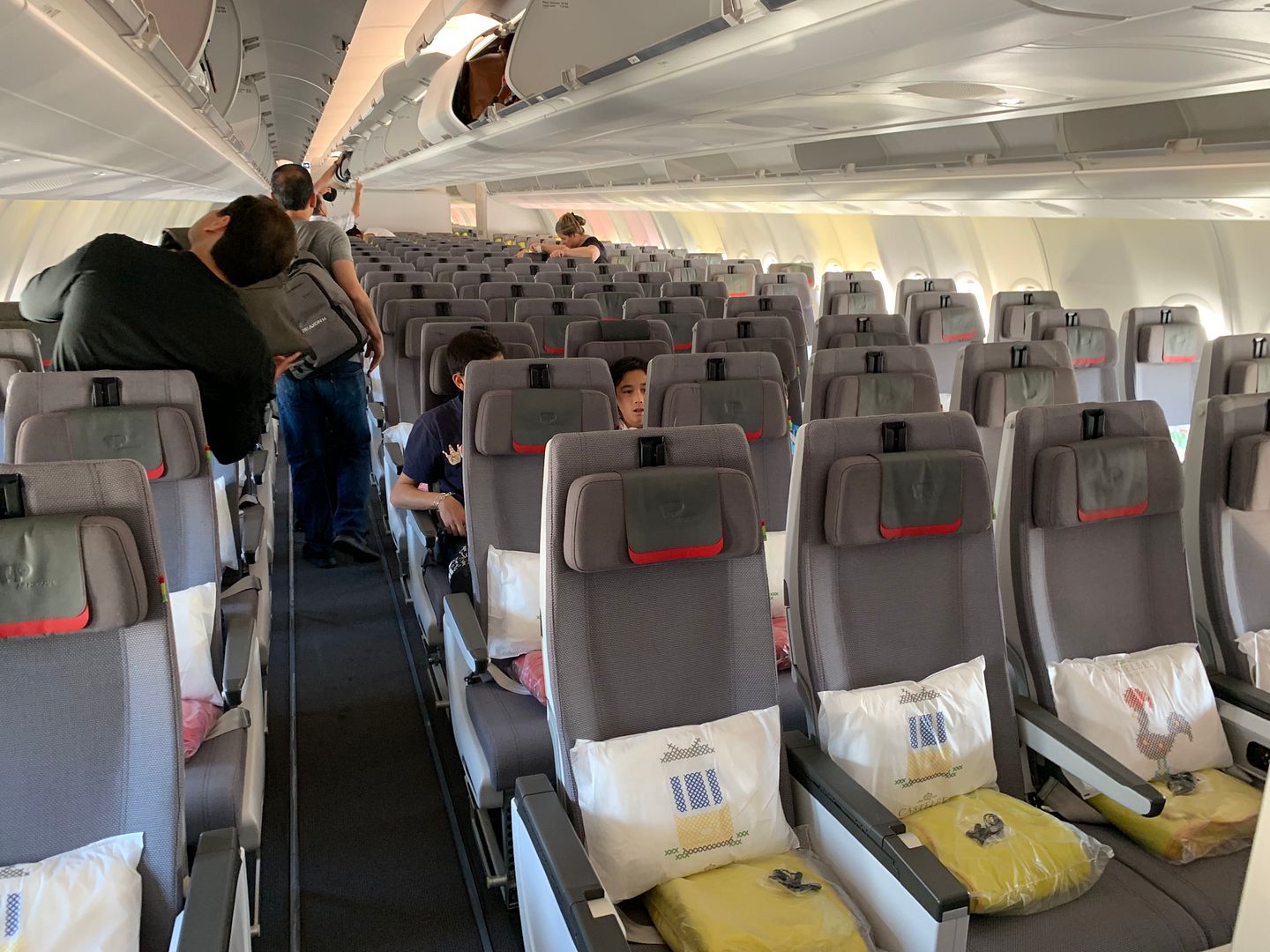 Business Class featuring Recaro 6710 seats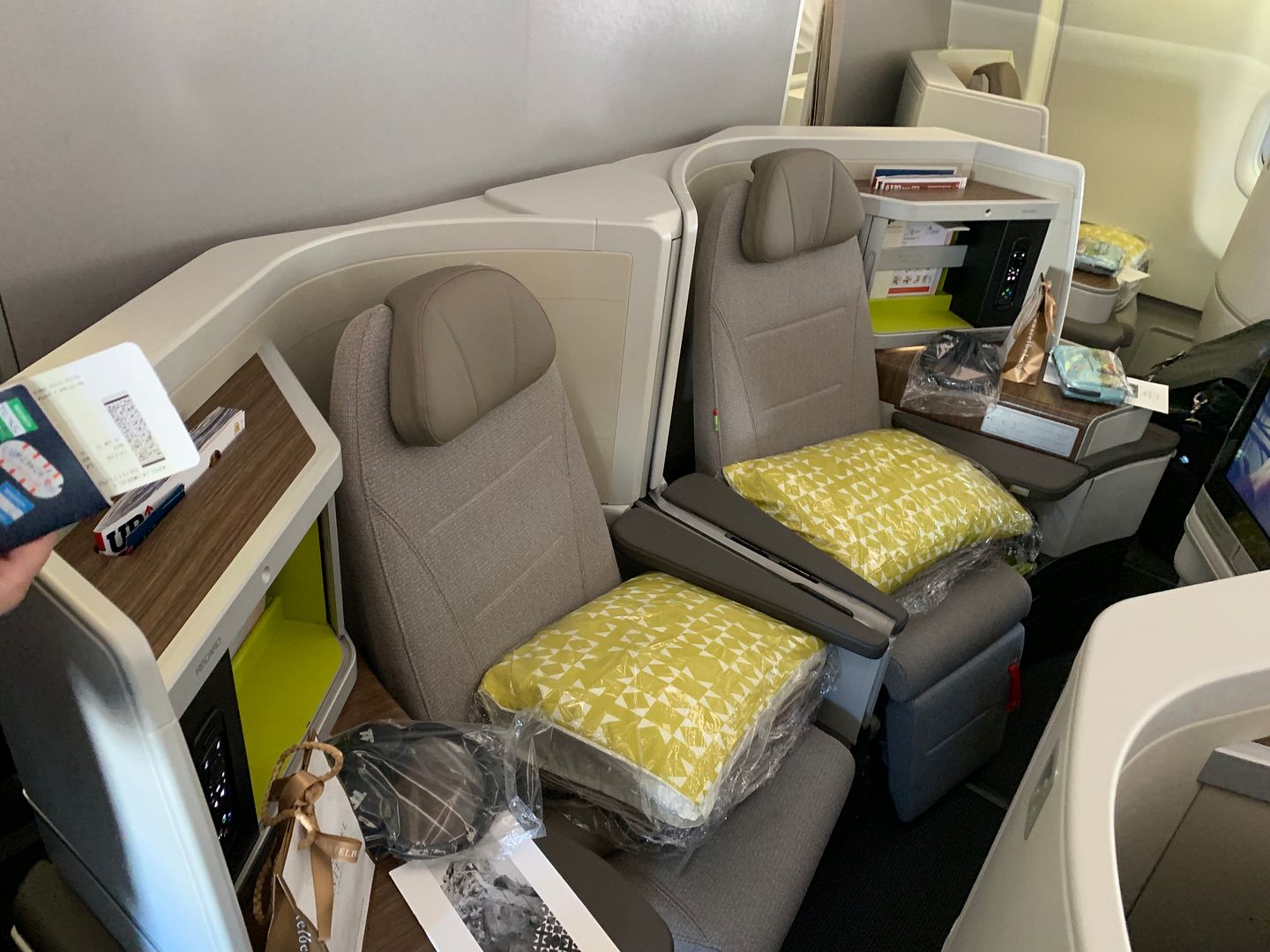 9K – last row has no window
An amenity kit, an inaugural gift only for business class passengers, headphones, and menus were already pre-placed at each seat.
The gift was an aromatic soap from Castelbel, the same company that made the amenity kit.
You can now enter a code from your boarding pass to the PTV, which in theory would provide connecting flight information for you. However, it did not work on this flight.
The festive atmosphere made the rolling delays tolerable, and the F/As offered a pre-takeoff beverage, which was typical – orange juice or champagne, and I was thankful for the bag of Sunbites' fruit and nut mix though.
Door was finally closed at 5:11pm, and we pushed back at 5:20pm for our ten hours and thirty-four minutes flight to Lisbon.
We passed some interesting evening lineups here at International Concourse G, including this special "Panda" welcoming sticker on this SAS's A340.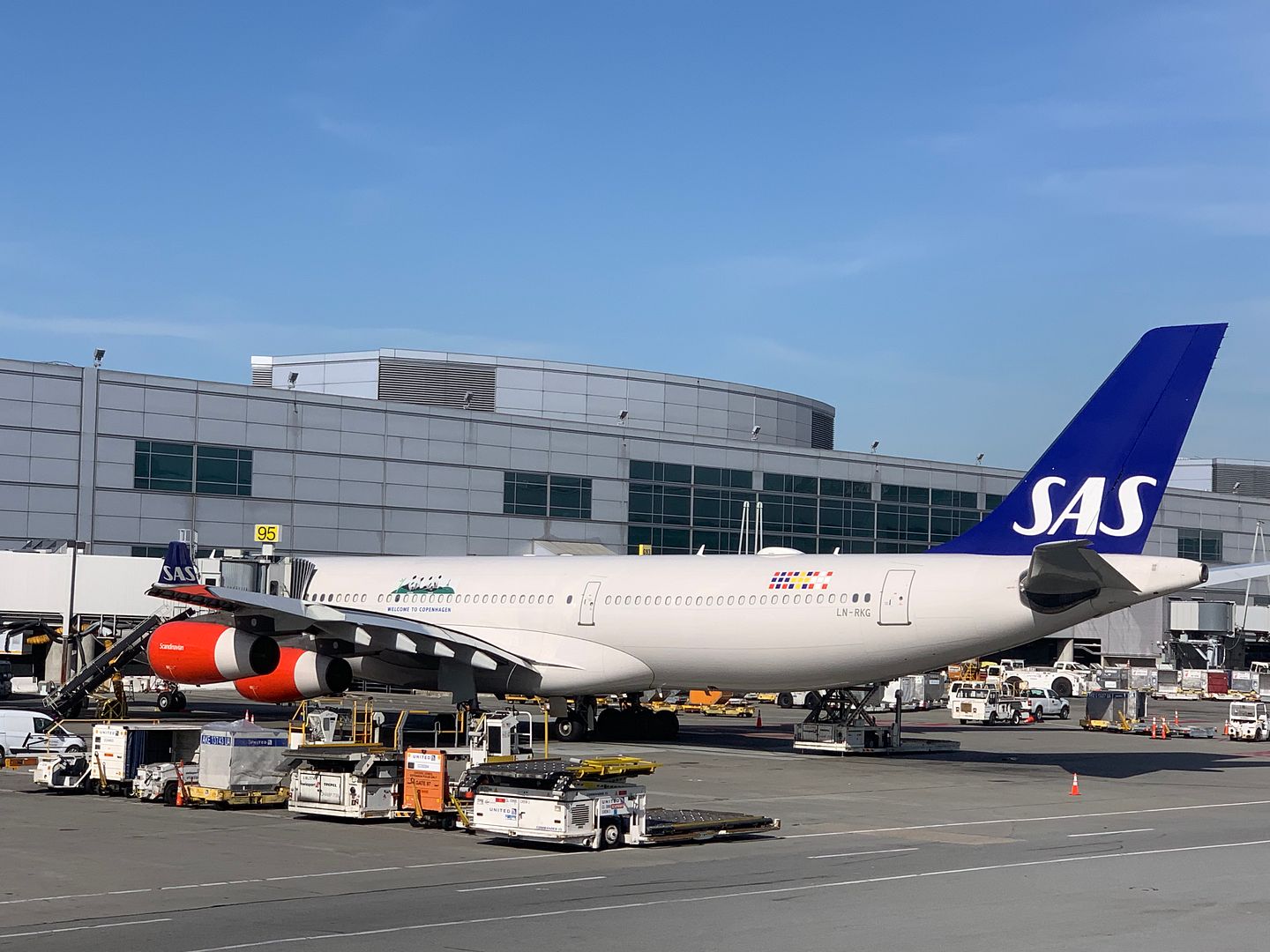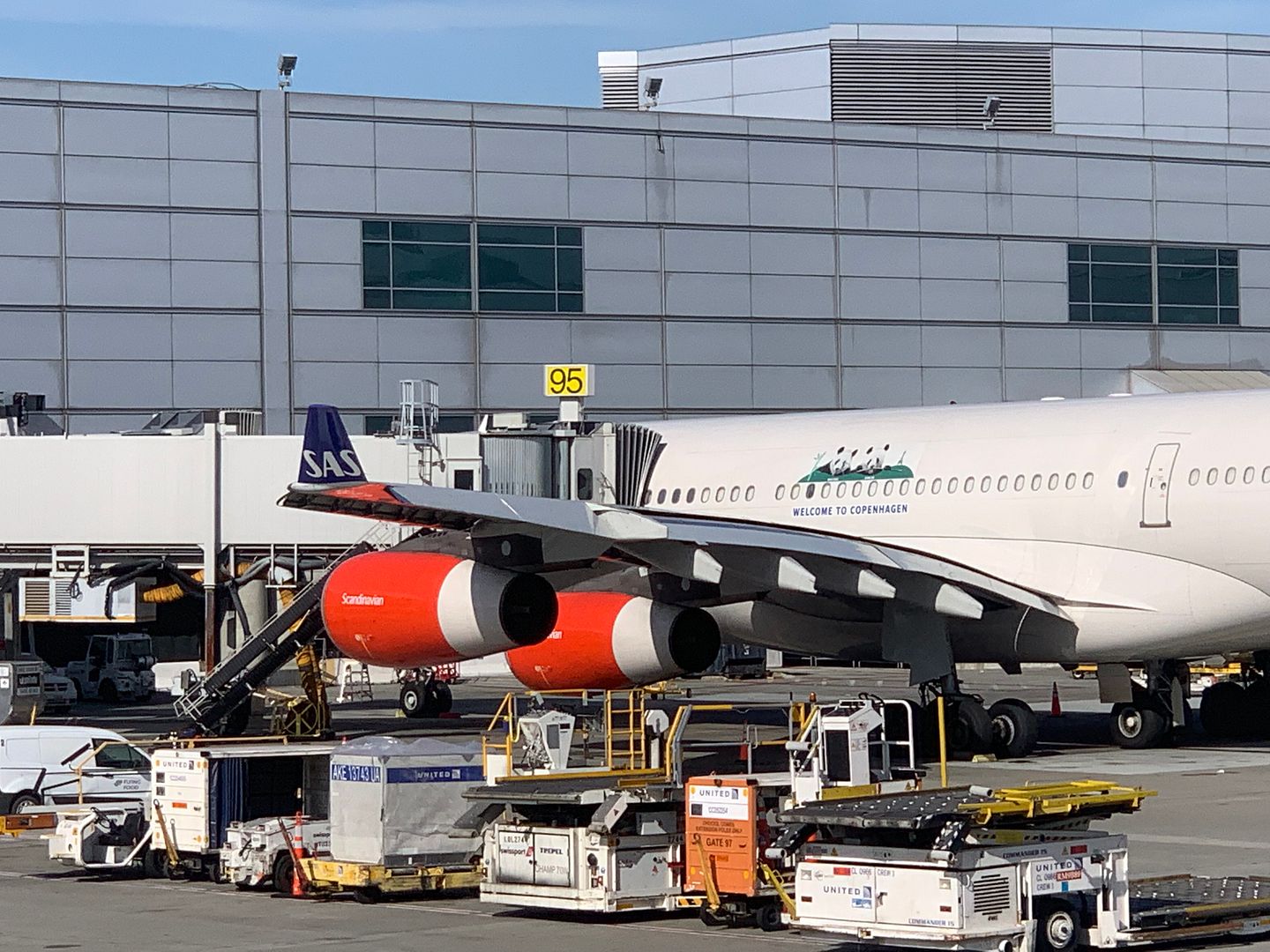 COPA's 737 resting here before going back to Panama City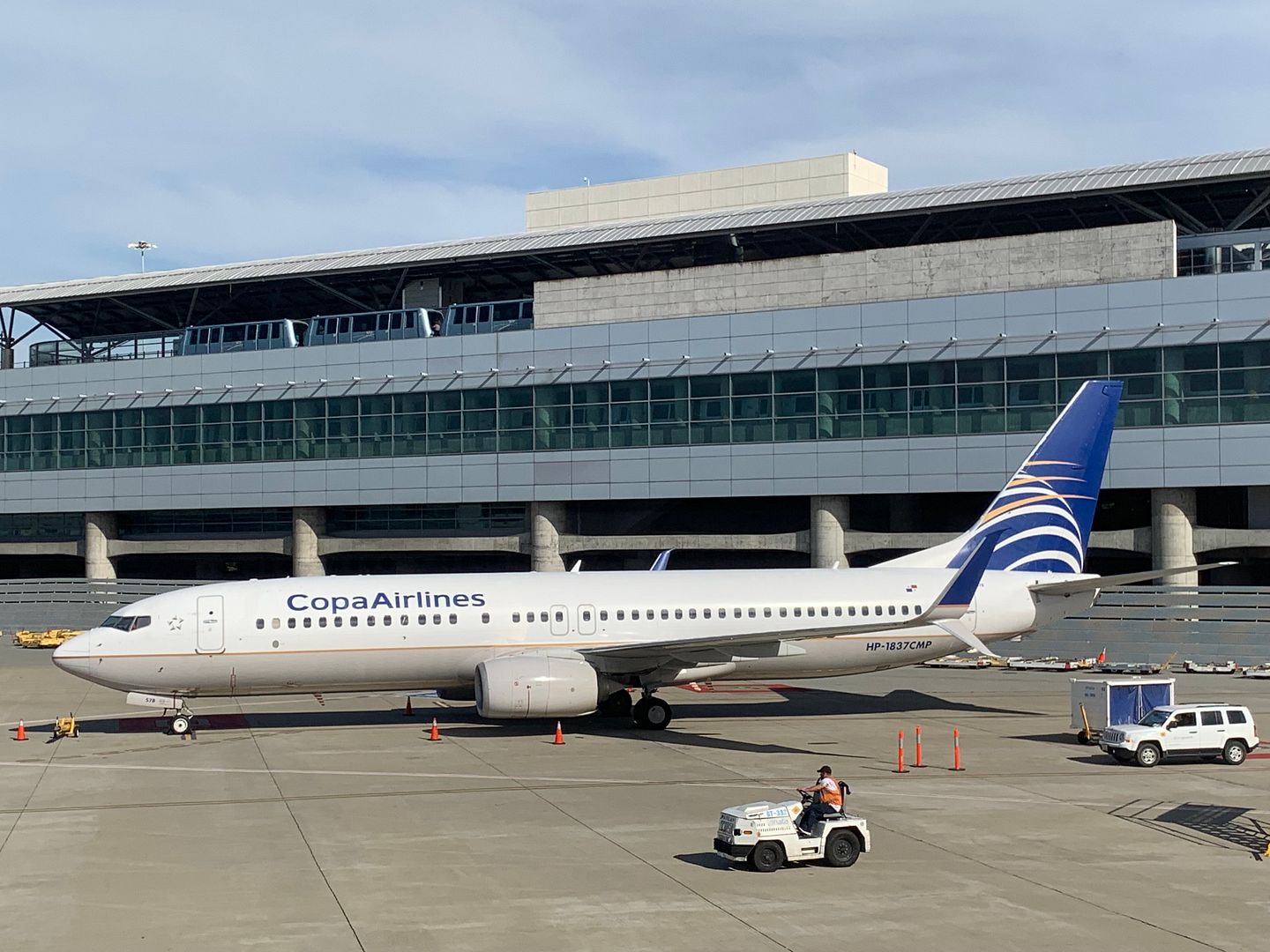 Trio 777-300ERs – Turkish, Swiss and United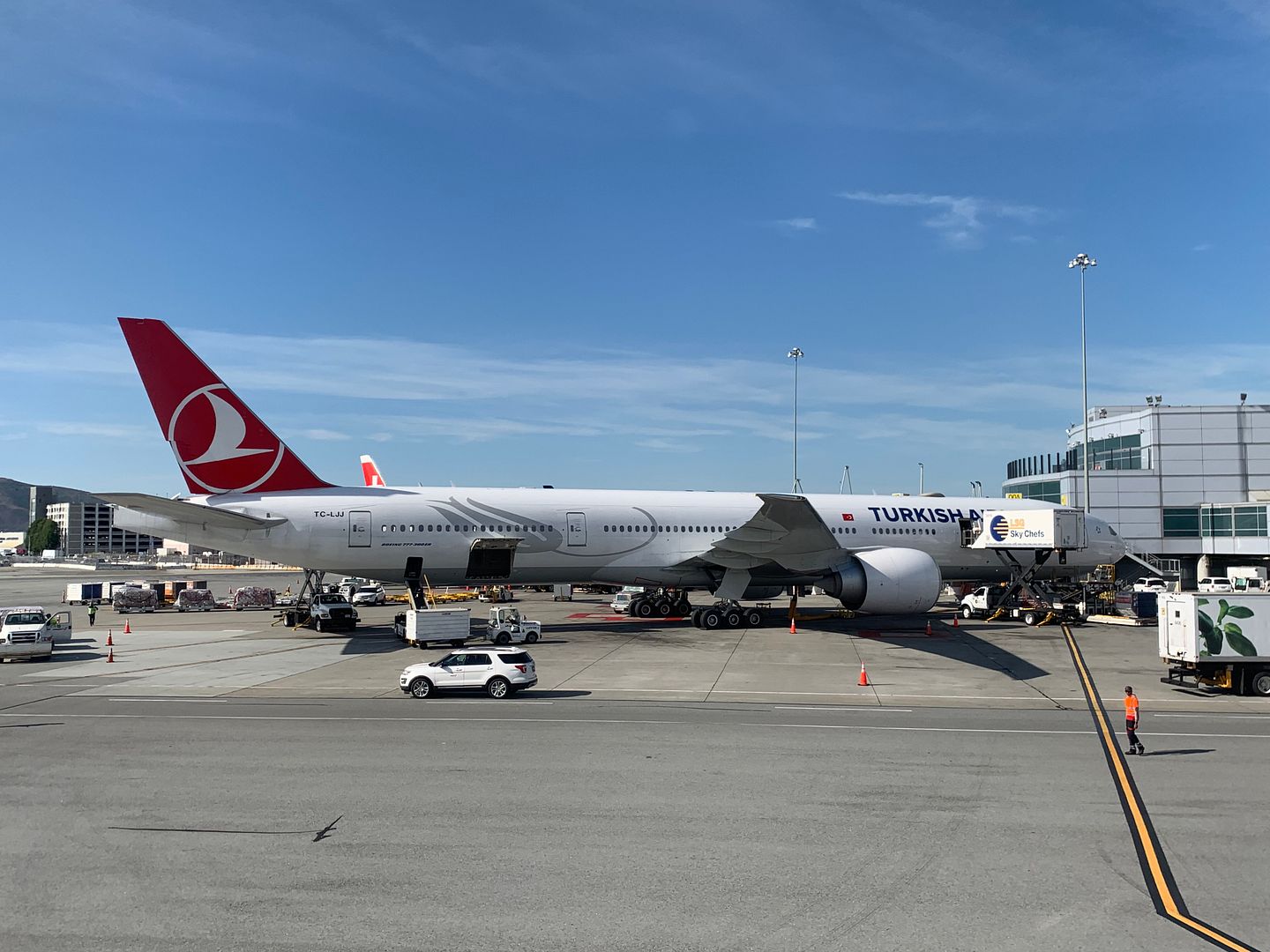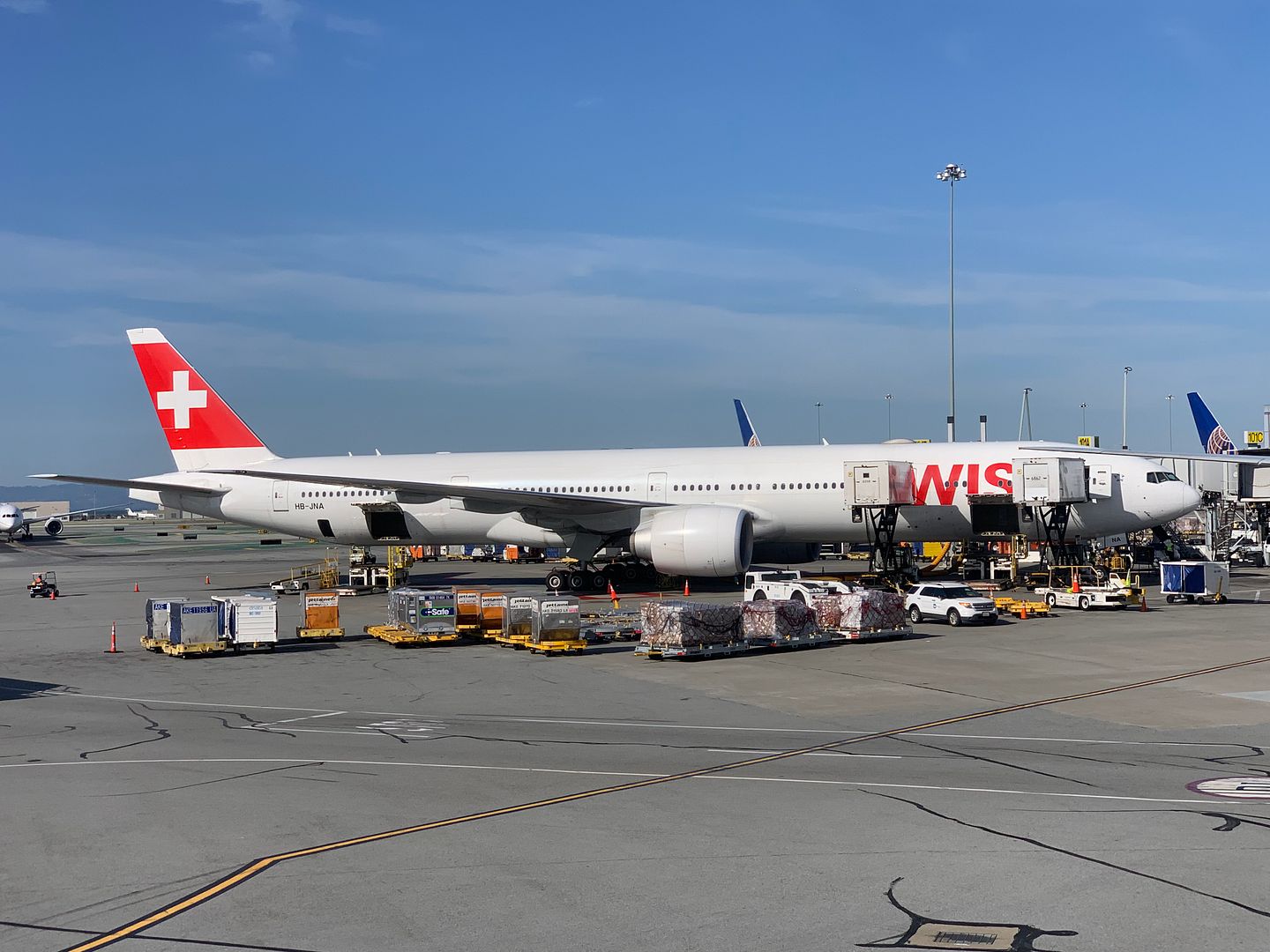 We took off from R/W28R at 5:47pm and it was a beautiful day in the Bay Area despite the heat. We had a good view of downtown San Francisco and Golden Gate Bridge on our climb out.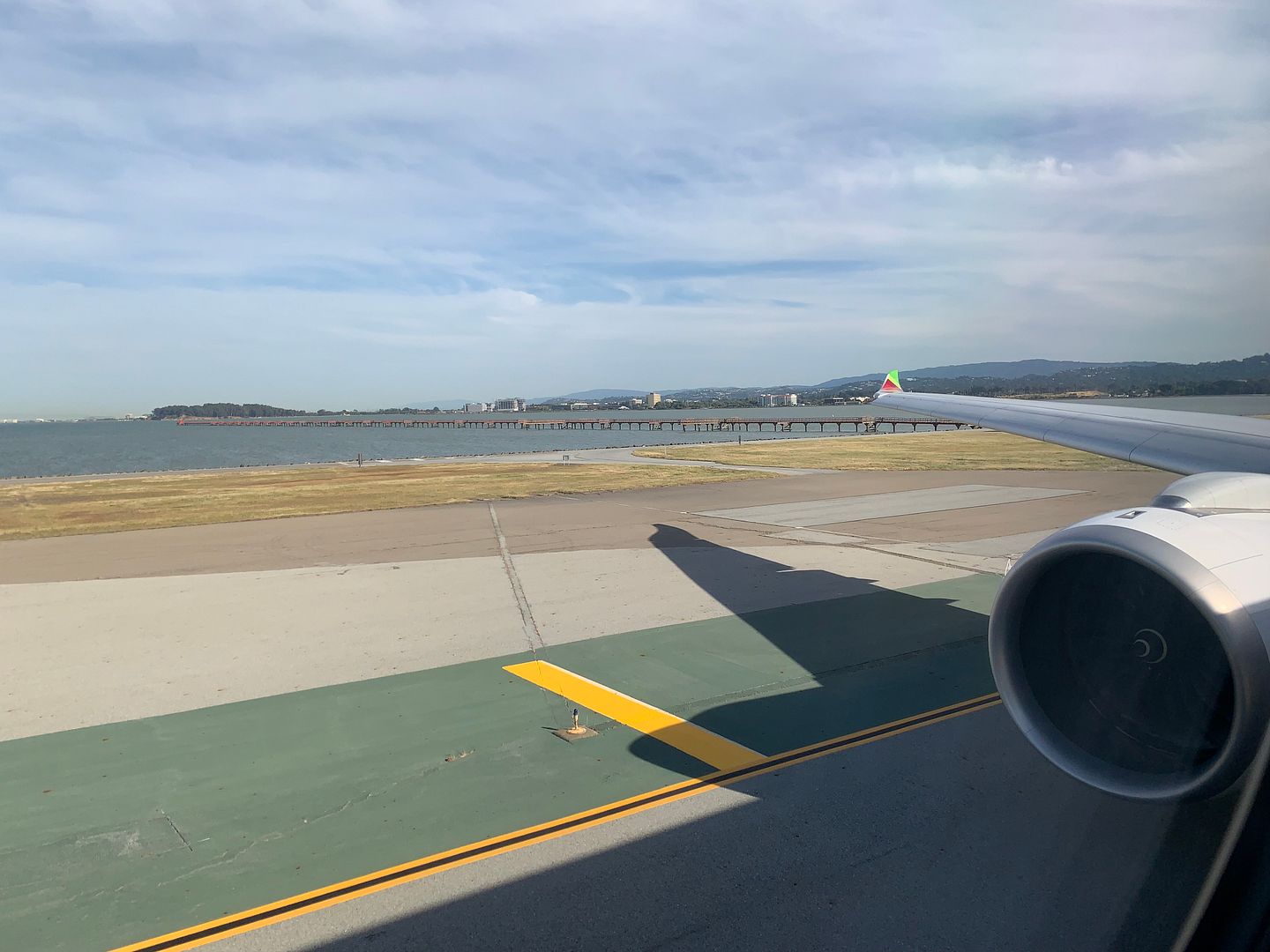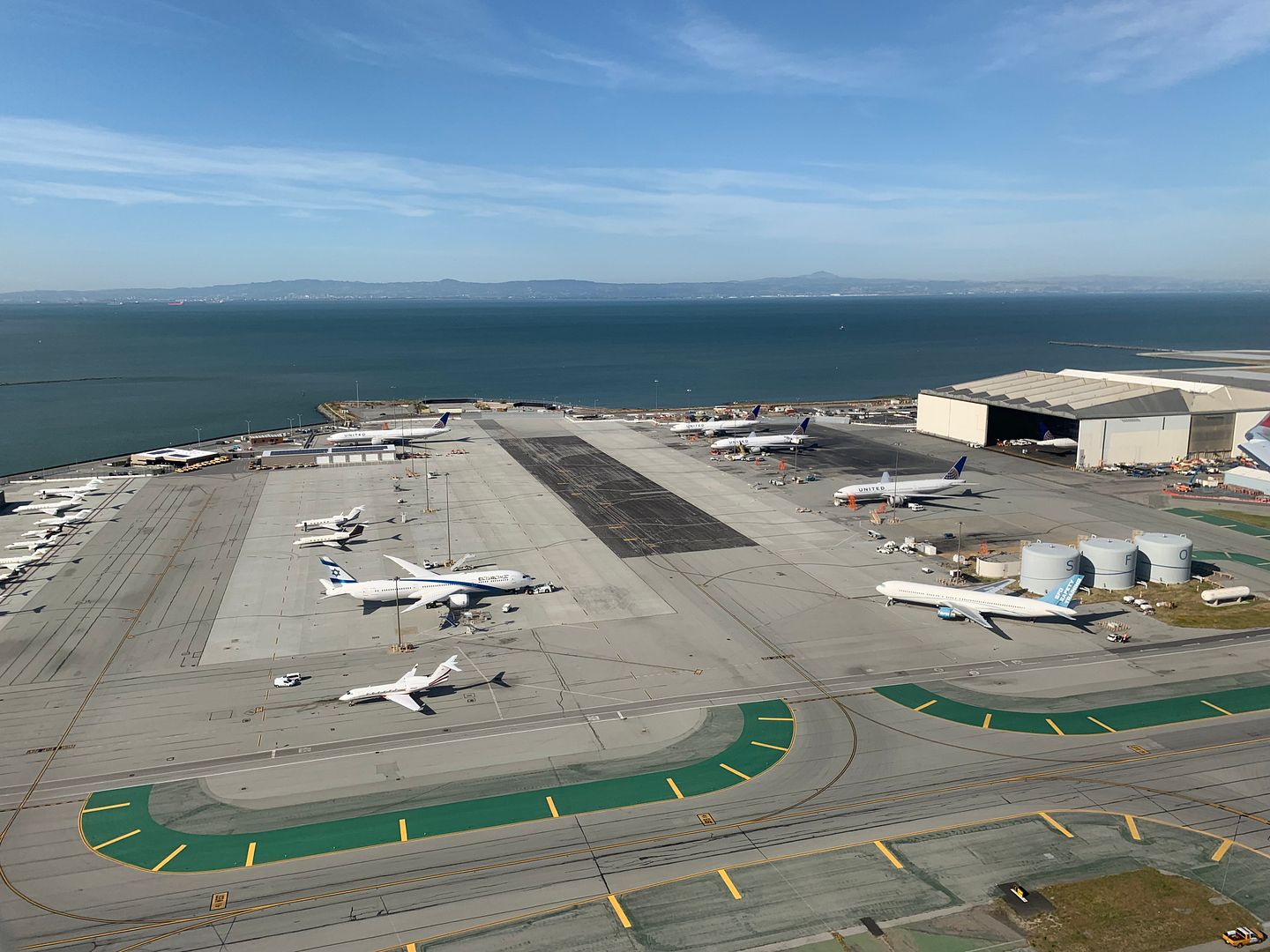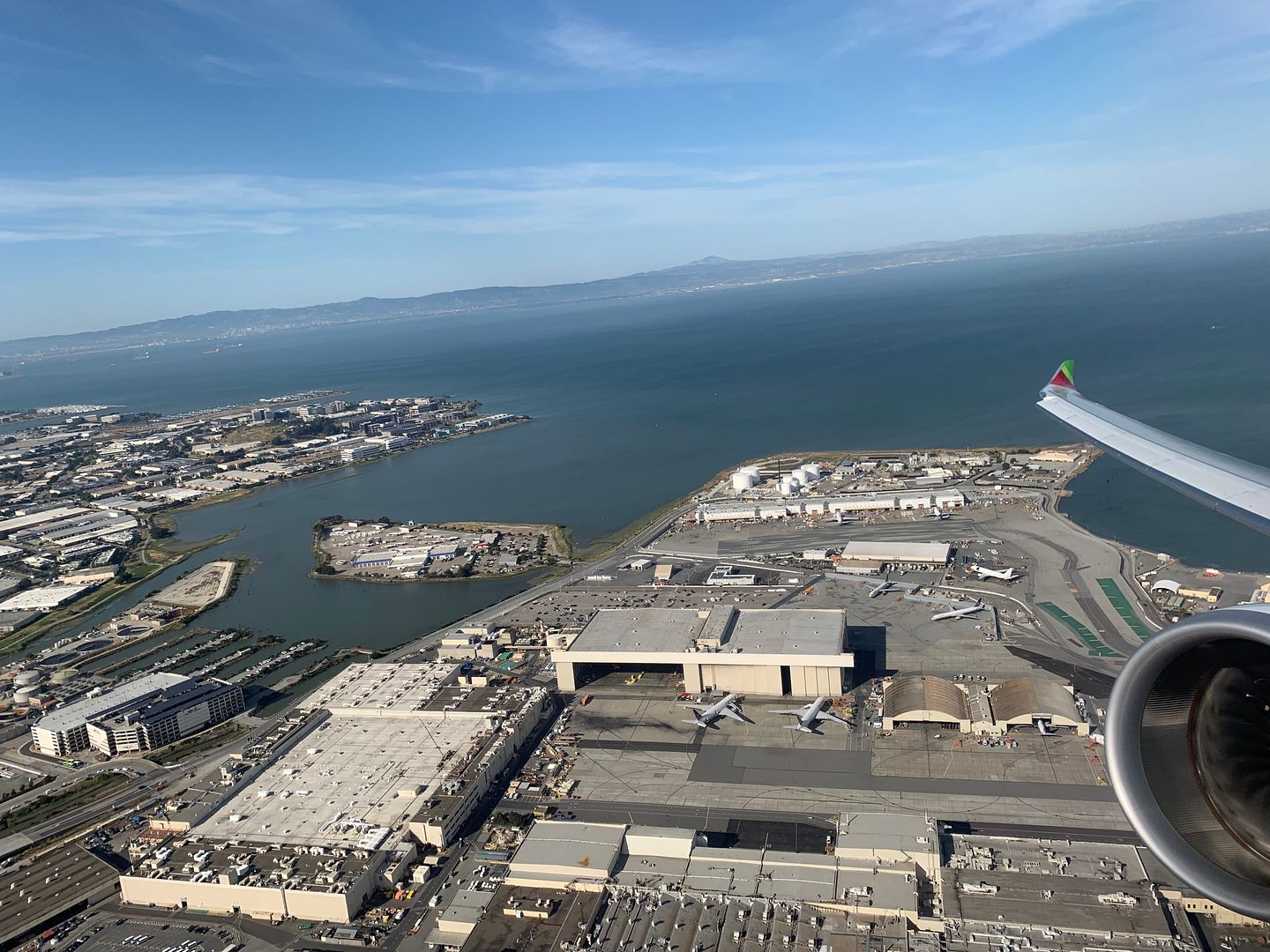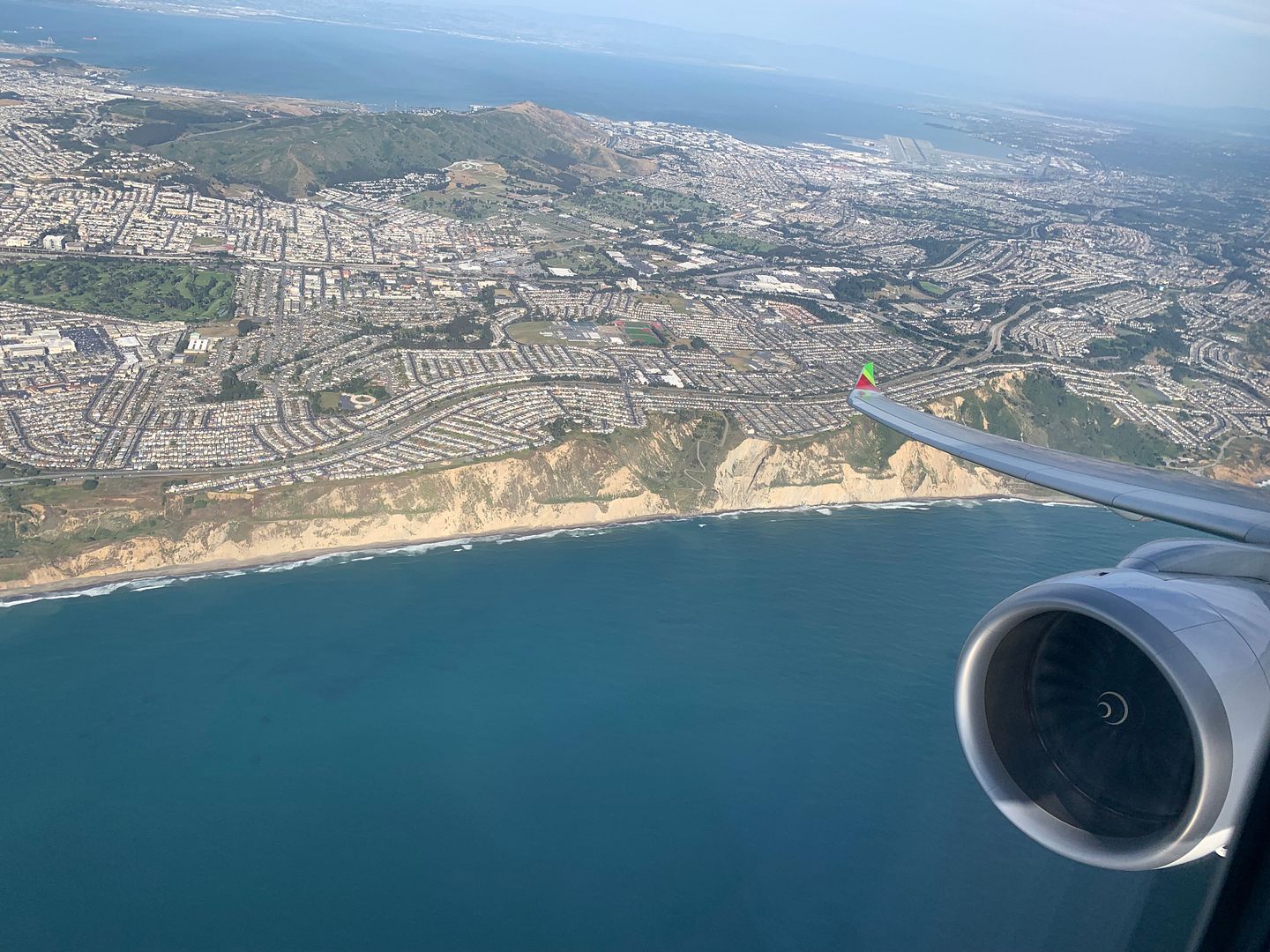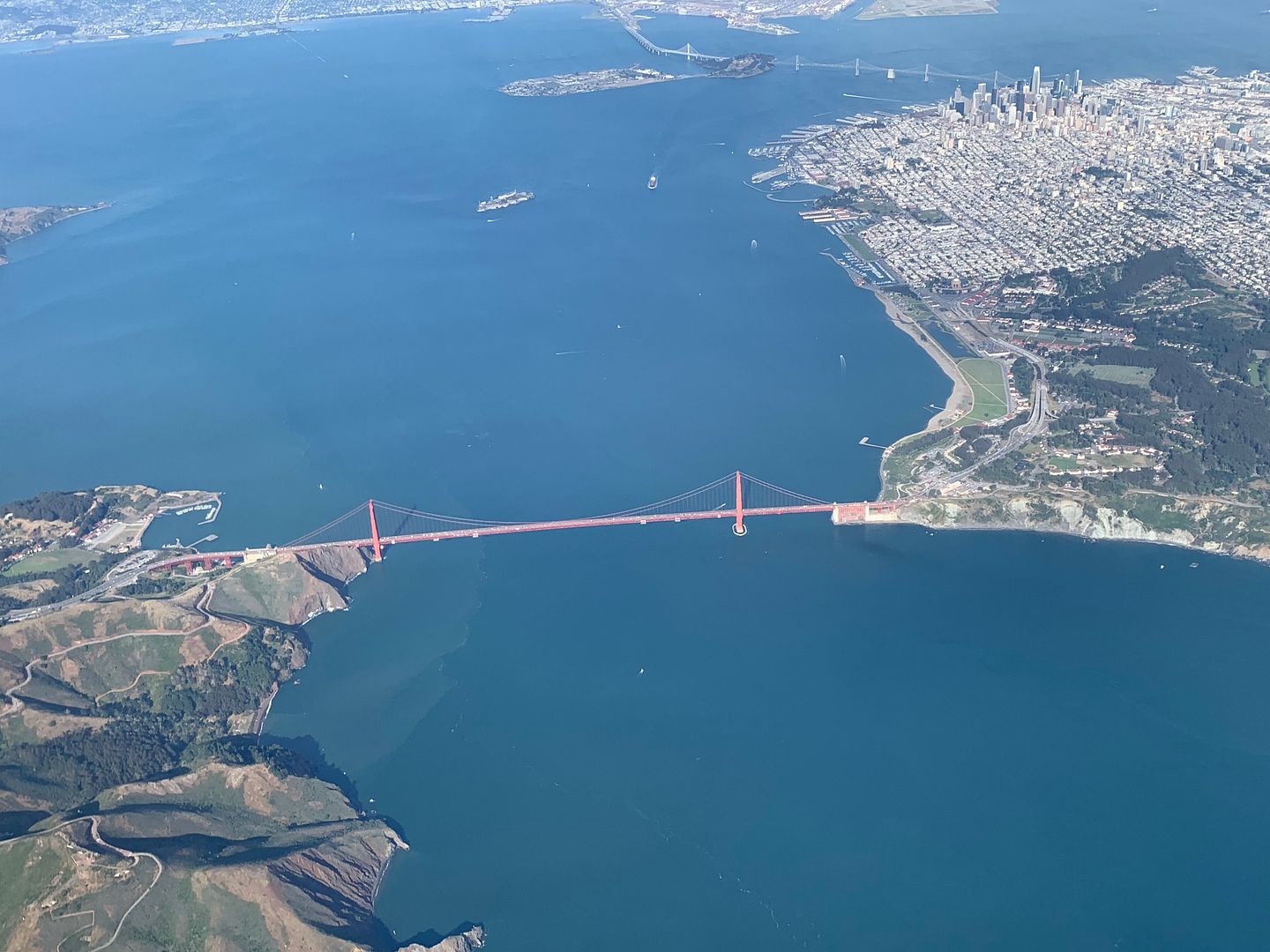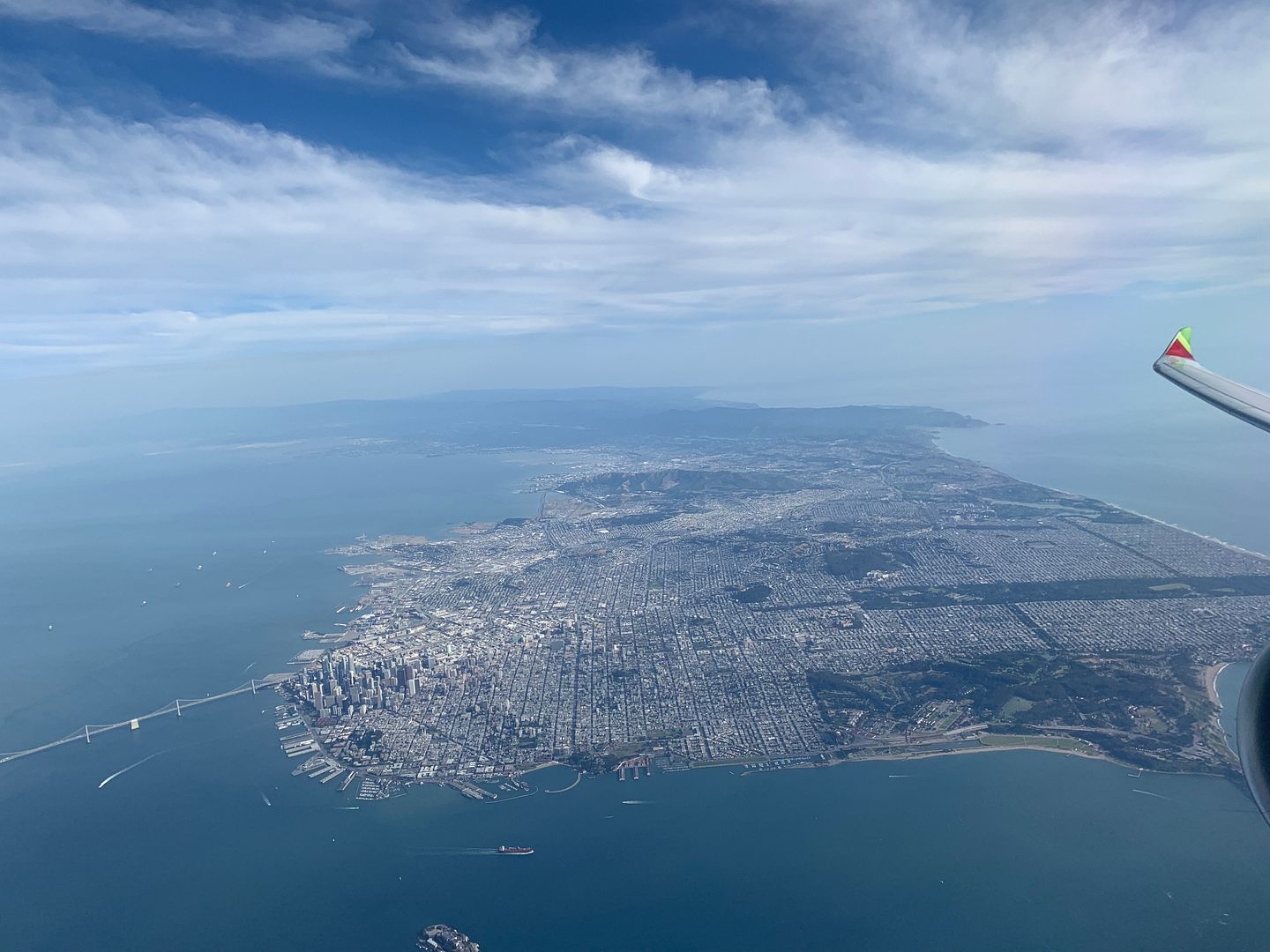 BTW, I really like this new generation of animated flight map.
The routing today took us over Richmond, Concord, Placerville, Homewood, Lake Tahoe and Fernley, NV, before reaching 35,000ft. Then we passed Elko airport, Halleck, Montello, and Lucin, Utah, before climbing to 37,000ft. We then passed Opal [WY], O'Neill [NE], Le Mars [Iowa], West Bend, Madison, Milwaukee, Muskegon airport, Flint Airport, Sarnia Chris Hadfield Airport in Ontario, London and Milford [Ontario], before climbing further to 39,000ft. Then we entered back to the US airspace, as we passed the Maine cities of Skowhegan and Bangor, and then back into Canadian airspace through passing the Dartmouth/Halifax in Nova Scotia. Then we began our long trek over the Atlantic Ocean, and eventually reaching our final altitude of 41,000ft later.
I first checked out the literature pocket, and to no surprise, San Francisco is featured in the inflight magazine this month.
Safety Card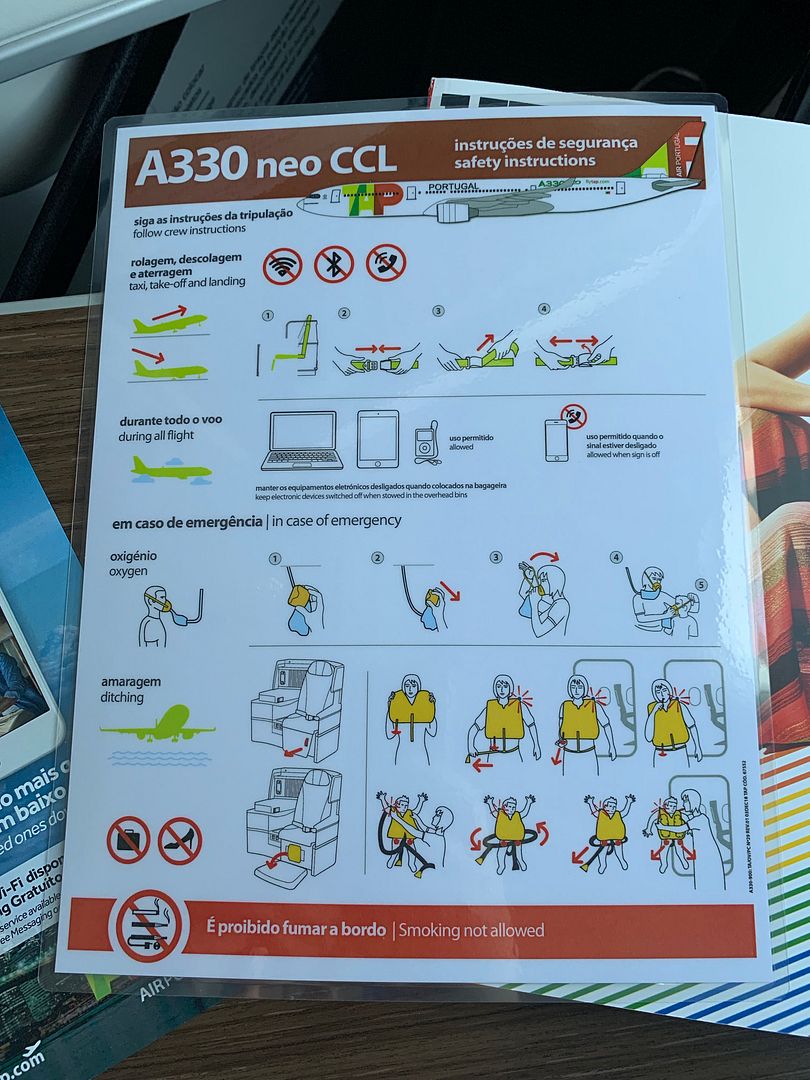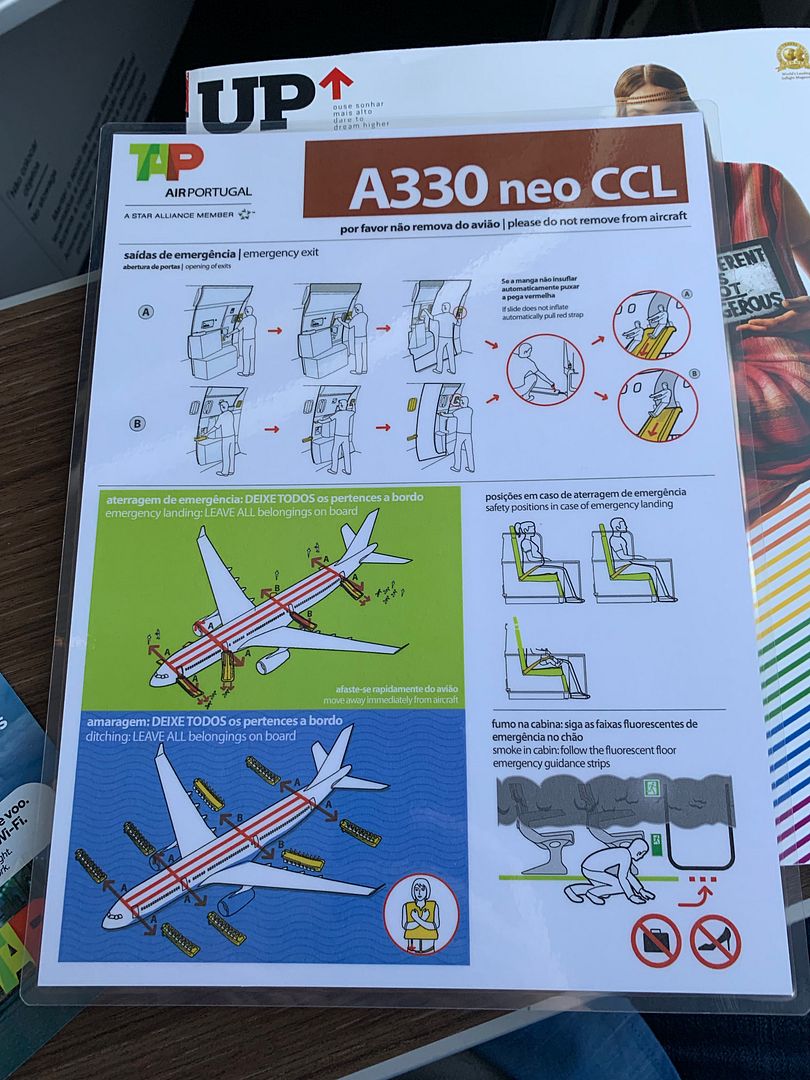 Then WIFI brochure…
Here is the WIFI plan featured on this flight, as well as the speed test I conducted after I logged in.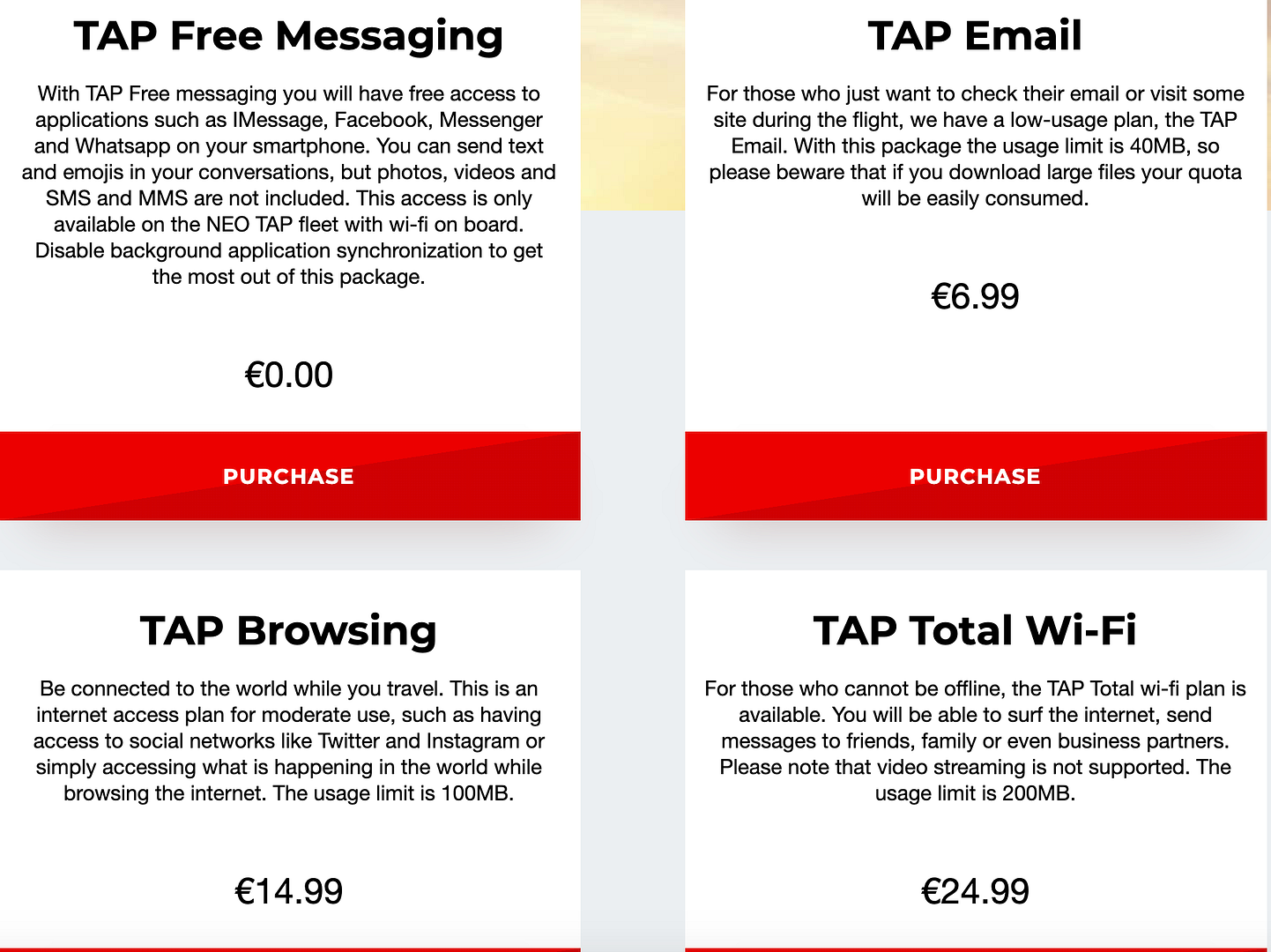 To be honest, the WIFI worked fairly well and I managed to track my own flights at flightradar24, as well as downloading a few MSNBC podcasts as the evening proceeds. It was acceptable. However, the price was expensive and I had to subscribe to the top plans twice. I usually would not do it but since the flight was delayed, I had a connection flight to London Gatwick. I was tracking our flights, as well as researching options, and saw if TP has changed my reservation. I was glad that I did it because I found out that they indeed had rebooked me, despite I actually would be able to catch the Gatwick flight. However, TP reservation team did not realize that our flight was catching up some times and saw us landing at a much later time than the reality. I actually saw the aircraft operating my Gatwick flight, when our flight was heading to the parking bay. I saw that ex-Aigle Azur A320 at gate 26. However, the agent just falsely told me that the flight has left, and I had to fly the Heathrow flight. They had already printed the boarding pass, and so I headed to gate 26 after passing the security to the non-Schengen gates. There was no wait there, compared to the nightmare at the immigration. The flight was not even boarding when I showed up at the gate. However, I was told that it was too late to change back. To add insult to the delay and rebooking, there was no lounge in the Non-Schengen area. So, I just saw the Gatwick flight left and spent my transit time moving my overnight hotel from Gatwick to Heathrow. [Thankfully I paid for a flexible rate for Sofitel Gatwick, which allowed free cancellation till 2pm local time on day of arrival.] Anyway, enough ranting… back to the flight…