The Flight At A Glance:
Aircraft: Boeing 767-300ER
Origin: Washington Dulles International Airport
Destination: São Paulo Guarulhos Airport
Flight Time: 9h 15m
Date: June 19, 2019
Class of Service: United Polaris
Airline: United Airlines
Flight Rating: 89/100
Flight Number: UA861
Seat Number: 7A
Time of Departure: 10:20 PM EST
Time of Arrival: 8:35 AM BRT
Departure Terminal: Terminal C
Aircraft Tail Number: N648UA
Pre-Flight:
First off, welcome to my new review series which entails a trip that I am still on through South America, Africa, and Europe! That does mean that as of the time this article was written, some of the flights I plan on reviewing I have not taken yet and thus are subject to change. The first two segments of this trip were booked with 80,000 United miles and included United's new 767 Polaris from Dulles to Sao Paulo and South African's A330-200 Business Class from Sao Paulo to Johannesburg. That did mean that my parents (who I am traveling with) and I had a day layover in Sao Paulo. We didn't go out into the city as we had another day layover in Sao Paulo three years ago, and traffic in the city is really bad. We, therefore, stayed in the Star Alliance Lounge all day, which ended up being okay.
United Polaris Check-In
About two days before departure, United e-mailed me that there had been an aircraft swap and that I had been assigned a new seat. The flight was originally scheduled to be on one of United's 767-300s with their old business class in a 2-1-2 configuration. However, it got swapped to one of their new planes with their new Polaris seats in a 1-1-1 configuration. I was very excited about this flight as I had not flown on United's new Polaris product before (although I was close last year when my plane got swapped for a new one, although my upgrade didn't clear). I arrived at the airport three hours before the flight and headed to check-in at Dulles Airport. I somehow hadn't been able to check-in online because I was ultimately traveling to South Africa, so I had to check in at the counter. Overall, it took about ten minutes for all three of us to check-in and check our bag. Then, I headed over to security where it took only a few minutes to go through TSA Pre-check.
Afterward, I headed towards the Aerotrain. At Dulles Airport, Terminals A, B, and C (where the gate C8 was) are connected to the main terminal by the Aerotrain, although Terminal D is accessible by Mobile Lounge and Terminal Z is connected to the main terminal. The Aerotrain ride took about five minutes to reach the Terminal C station via Terminal A. Then, one has to walk in an underground tunnel quite a ways to get to the actual Terminal C from the train station, as it was built where the replacement Terminal C was meant to be built, although no plans for a replacement terminal have been made yet.
I headed towards the United Club at Terminal C which is adjacent to my gate, C8. Unfortunately, United doesn't have a Polaris lounge open yet at Dulles, which I would have had access to. United plans to open one at Dulles in 2020, so until then, Polaris passengers only have access to the United Club. The United Club at Dulles is pretty standard, as far as United Clubs go. It had the standard beige lounge chairs at United Clubs and had a decent food selection that included salads, cookies, brownies, and soup. It's probably not enough for a good sized dinner, although a couple mini brownies and an oatmeal raisin cookie could bring me through to a late dinner onboard.
United Club Washington Dulles Airport
After staying in the lounge for about 1.5 hours, I started heading toward the gate. Fortunately, C8 was right across from the lounge, and I was first in the Group 1 line in order to get the best pictures possible. Boarding was called on time at about 9:15pm, and I was excited to get my first true onboard Polaris experience.
The Flight:
Unfortunately, there was a family who was able to pre-board before Polaris because one of them was 1K, meaning that I couldn't get unobstructed views of the cabin. However, I immediately loved the Polaris cabin on the 767. I was flying on one of United's retrofitted 767s that have a smaller cabin of 30 Polaris seats, although some of their newly retrofitted 767s have a whopping 46 seats in Polaris!
The cabin felt brand new, even though the plane was almost 30 years old! The recent retrofit made the cabin feel almost as fresh as if I were on a brand new 787, with new overhead bins, new lavatories, and a refreshed galley. Immediately when I entered the cabin, there was a United branded sign. Then, I finally got to experience the new Polaris seat, which was ranked the best US business class seat by Skytrax (although the Delta One Suite is most likely better). The cabin features a 1-1-1 configuration with fully flatbed seats – it is almost undoubtedly the best business class cabin on any airline on a 767. The seats have new blue finishings and also have grayish headrests.
Like most staggered configurations, not all seats are created equally in Polaris. On the sides of the aircraft, there are two types of seats – one that is closer to the window and one that is not. To get to the seats that are closer to the window (or true window seats), you have to walk through a little corridor next to the side table. These seats are by far the most private as there is more space from it to the aisle. Other seats on the side are facing towards the aisle. They aren't as private as the true window seats, and the side table is between it and the window, meaning that one doesn't have a good view outside and the window is a bit obstructed. Also, since they are closer to the aisle, they are not as private as the true window seats. The same configuration is also in the middle section, with one seat facing the aisle and one seat not (although the equivalent of the true window seat that faces forward in the middle section is not as private as the true window seats).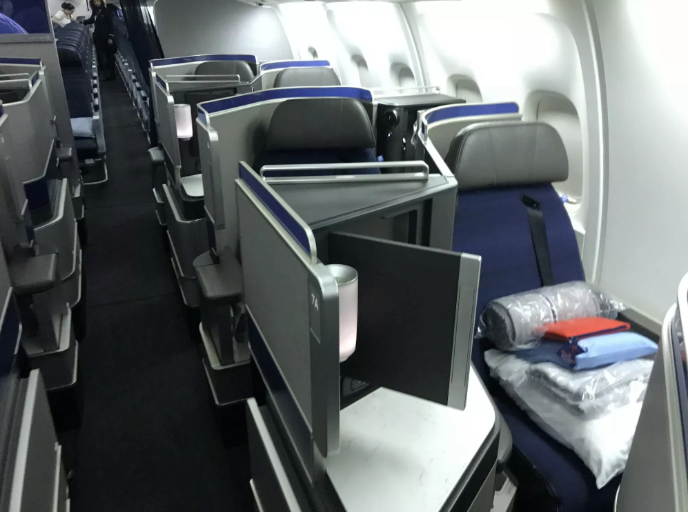 United 767 New Polaris
United 767 New Polaris
The seat has a ton of storage and quite a few extra features. On the side of the seat is a granite table, which is great for putting drinks or your phone during the flight. Above the table was a lamp, which was probably more for aesthetics than for light as it didn't convey much light. On the other side of the seat is a panel which controls the seat. There is a sliding knob that puts the seat in the upright or bed position. Next to that are pre-made settings for the upright and lie flat positions. There also was a control for lumbar support and for the seat massage. Finally, on the side panel, there also was a control for the lamp and the do not disturb sign on the outside of the seat.
On the side of the seat, there also was a little storage compartment which was where the headphones were stored. Inside of it also is a mirror, and it is great for storing small electronic devices or the amenity kit for the flight. In terms of additional storage, there was an area to put shoes and blankets underneath the foot cubby, and underneath the screen, there was a small table area big enough for an iPad. There also was a reading lamp to the side of the seat. Finally, to the side of the seat, there was an armrest that had the seat pocket in it. It could slide down to provide more room to sleep in when in lie-flat mode if you would like.
The in-flight entertainment screen was large and responsive. As always, United has a great entertainment selection with hundreds of movies, TV shows, and games. The retrofit also included a new in-flight entertainment map, which has many different views. I decided to watch The Lego Movie 2, which was unsurprisingly awful. The new Polaris seats disappointingly and surprisingly don't have touchscreen remotes (rather they have their older remotes) which their 787-9s do, which is probably one of my only complaints about the seat. On the side of the seat, there was a power outlet and underneath the IFE screen was a USB port. United also provides noise canceling headphones which were pretty good, although weren't amazing quality. The seat also has a coat hanger and (rather an old style) and individual air nozzles, which I greatly appreciate because I like the cabin colder than most people.
United Polaris IFE Screen
Overall, the seats are a massive step up from the B/E Aerospace Diamond seats that they have on most of their 787s, 777s, 757s, and 767s. The seats are pretty private, give direct aisle access, are very comfortable, and overall are very well designed. I would say that the seats are a big step up from the similar staggered Stelia Aerospace seats that I took in March on Hong Kong Airlines.
The best thing about United Polaris is definitely its bedding. United probably has the best (or at least the best in the US) bedding out of all airlines in business class. Firstly, United provides two pillows. One is a regular plush pillow, but the other is a smaller "cool gel" pillow. The cool gel pillow is supposed to stay cooler during the flight than the other pillow, which it certainly does. However, it is a bit firmer at first, although ultimately was extremely comfortable.
United also provides a light day blanket which wasn't the full length of the seat (although I didn't mind). They also have a full duvet which is extremely comfortable while sleeping. Finally, United also offers on-demand mattress pads. I requested one before sleeping, and it made the bed much more comfortable and was soft. Overall, United's bedding is where Polaris shines most, as altogether, it created a bed that was almost more comfortable than some of the beds I've stayed in. FYI, all of United's bedding comes from Saks Fifth Avenue and is available for purchase online.
The one unfortunate thing involved United's amenity kits. United has a deal with the Spider-Man franchise (I think there's a new movie???) where the amenity kits are all Spider-Man themed. The amenity kit itself, the socks, the eyeshades, and everything else in it is Spider-Man themed. United's awful new safety video is also Spider-Man themed. I know that some people might like it, but I find it extremely unprofessional to market premium cabin items with movie logos all over it. I really hope that this Spider-Man phase for United is over sooner rather than later (as you can probably tell, I'm not so fond of Spider-Man). As for the amenities themselves, they were pretty standard for long-haul flights, with eyeshades, earplugs, a toothbrush set, socks, and various gels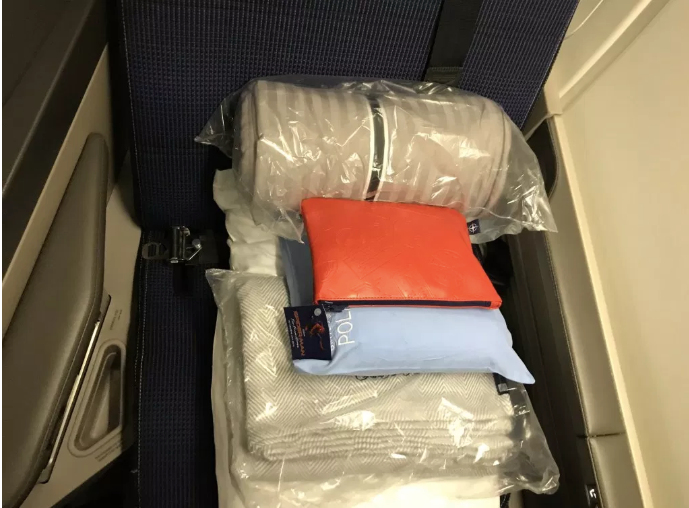 United Polaris Amenities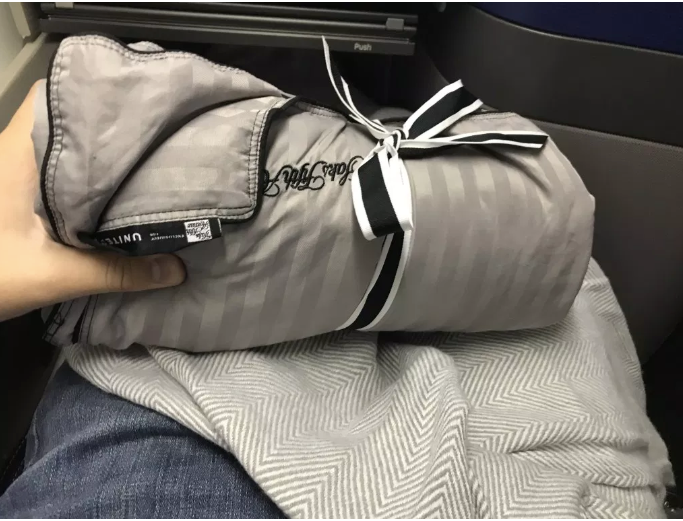 United Polairs Bedding
Soon after take-off, the secondary Polaris flight attendant took my order for a pre-departure drink (I selected water) and also presented me with the menu. On this flight, two meals were served – dinner and breakfast. I had already had a snack at home and in the lounge, and I wanted to maximize sleep, so I opted for the express meal service. With the express meal service, one first gets a nut service, and then you get the starter, salad, main course, and bread on one plate. United has been having the express meal service for some time now, but also recently trialed on a few late night transatlantic flights out of Dulles (to London, Lisbon, Frankfurt, and Dublin) making the express service mandatory. I personally enjoyed it as I was able to go to sleep earlier, although some people probably want the "full" Polaris service with individual courses served separately.
About ten minutes before pushback, the wonderfully friendly older male purser came to take my order. But first, he did something that is pretty rare for US airlines in premium cabins, especially on United. He came to everyone's seat, shock every passenger's hand, introduced himself, and addressed every passenger by name. He then took my order for dinner (thankfully, my first choice was available), and very friendlily asked whether I would want the express dining service, which I said yes to.
He then asked whether there was anything else that he could do to make the flight more enjoyable for me. I answered that eventually, I would request a mattress pad, to which he said that he would get one for me once I want to sleep. He couldn't have been more friendly, and truly seemed to care about his job and that every passenger is satisfied onboard. I haven't had a flight attendant who cared that much about their job and going above and beyond on United in a couple years, so I really appreciated that.
Soon after, the (Spider-Man) safety video screened, and we pushed back and headed for runway 30. After a quick taxi and a wait behind a few planes before us, we were soon off to Sao Paulo.
We quickly turned left to head south towards Sao Paulo. About 20 minutes after takeoff, the (amazing) purser came around with nuts and asked me for what I would want to drink – I selected water. Unfortunately, at that time, the captain came online to say that some people's IFE screens were unresponsive and that they would have to restart them. They were out for about 5 minutes, and then I had to fast forward to get to the same place in my movie. The purser then came around with the nut service, which was fine.
About 30 minutes after takeoff, the third flight attendant for business class (who seemed to handle all of the meals) came around and asked whether I had ordered the express meal option (which I had). I then accepted it and began to eat the feast of a meal that was all on one plate. Firstly, it had two pieces of bread on it (one white role and then one other spiced bread), both of which were okay. One downside to the express dining option is that you can't choose the bread. Secondly, it had a salad on it, which was pretty standard.
Thirdly, it had the appetizer on it, which consisted of smoked duck, farro salad, with dried cranberries, brined carrots, and whole grain mustard. The duck was tasty, although I thought was a bit dry. For the main course, I ordered the seared short rib with jasmine rice and various vegetables. The short rib was delicious and was not overcooked but rather was very juicy. The rice and vegetables were fine, although were not exceptional.
The Express Meal Service
At that point, I was pretty tired and wanted to go to sleep. I don't think that dessert was included with the express meal service and I didn't need an ice-cream sundae. I could have waited until the end of the regular meal service, although that would have been counterintuitive to the express meal service. I then asked the purser for a mattress pad, and he happily obliged (they seemed to have about 8 of them onboard in one of the overhead compartments). At that point, I visited the lavatory, which was spotless (and retrofitted) and had Cowshed amenities.
About 90 minutes after takeoff, I switched off the IFE screen and went to sleep (it was a bit annoying that the lights would stay on for another 45 minutes). I have to say, the Polaris bedding is one of the best, possibly the best of any airline in business class in terms of comfort. The mattress pad was soft and made the bed quite a lot more comfortable as it also got rid of some of the wrinkles in the seat. The duvet and day blanket were both also very comfortable, and the second pillow helped a lot with comfort. I fell asleep about when the lights were turned off and got about almost 5 hours of interrupted (crying babies…) sleep, which is pretty good for a 9.5-hour flight.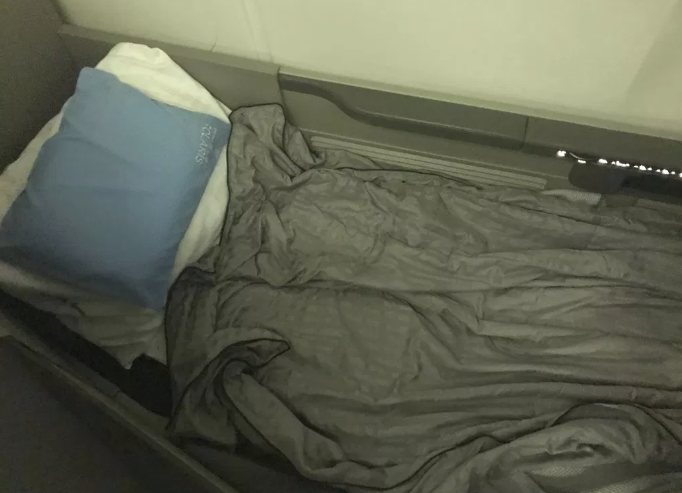 United Polaris Bed
I woke up about 1 hour before landing. Once I was clearly awake, the purser immediately came over to me asking if I would want breakfast and if I would want the omelet or fruit plate. I chose the fruit plate. The fruit plate meal also included Raisin Bran cereal and milk, along with warm croissants being served. The fruit itself consisted of pineapple, orange, grapes, and watermelon. Overall, I'd say that the fruit platter was pretty good and fresh, although I wasn't a big fan of the cereal that was served.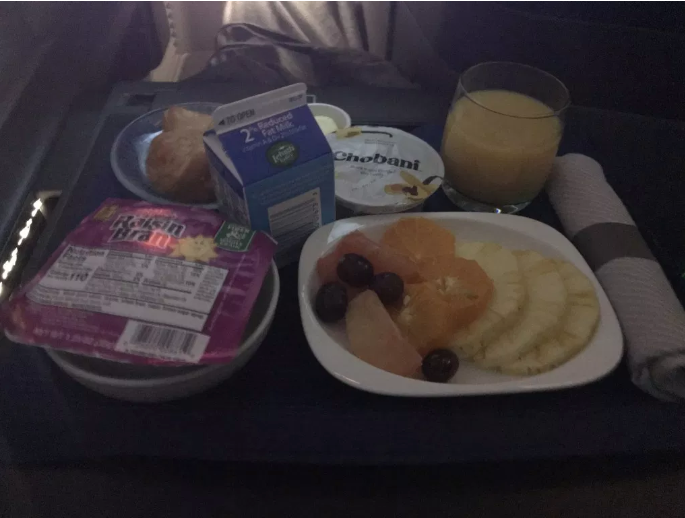 United Polaris Breakfast
At that point, we were only 30 minutes away from Sao Paulo. I opened my windows and turned on the airshow. Soon after, the purser also came around again to everyone, individually thanking them for flying United, which was much appreciated. We first flew around Sao Paulo Airport and then turned around to line up with the runway after seeing some of the beautiful mountains around Sao Paulo.
We landed a bit early at 8:35 AM. We had a short taxi to our gate at Terminal 3. Fortunately, we then got a real gate and didn't just park at a remote stand. After dropping passengers off, our plane headed to a remote stand for parking all day until it would depart to Houston that night It seems a bit of a waste for most airlines to have their long-haul jets parked all day in South America (all US Airlines do it at most southern South American airports) without flying. Afterwords, I headed towards international connections (you don't have to clear immigration) and through security (where there was no line) up to the Star Alliance lounge, where I would spend most of the day before my connecting flight on South African Airways.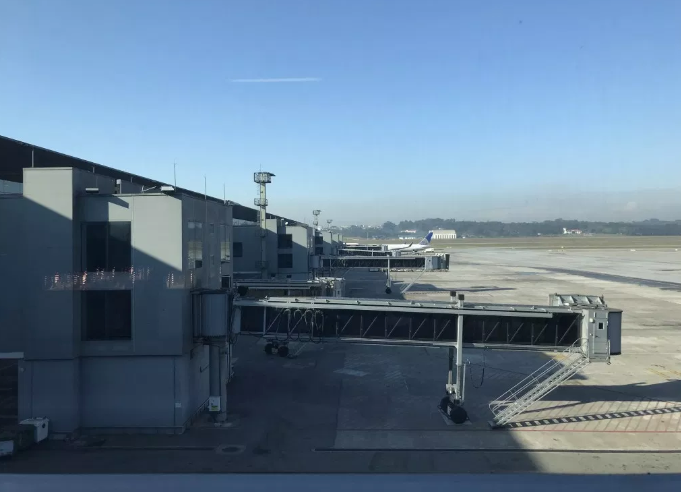 View of the Plane in Sao Paulo
Conclusion
This was probably one of my best (if not the best) flight I've ever had on United. Firstly, the flight length was perfect – there was no jetlag arriving, it wasn't too short to get a good night's sleep, and it wasn't too long either. Additionally, I was impressed with United's new Polaris seats (this was my first time trying them) – the seats were a massive improvement over United's older seats, they have a lot of privacy and storage, and they have all aisle access. The food was also ok, although it wasn't world class by any standards. What made this flight stand was the exceptional and caring pursor (I feel bad that I didn't catch his name – I would have praised him in one of United's feedback forms) that actually made me feel like I am valued, and not like other flight attendants that just begrudgingly drop food on your tray. Overall, this was one of the best flights that I've had in a while on United!
For more pictures and other related reviews, please visit the original posting of this review on my blog:
https://airtravelanalysis.com/review-united-767-300-new-united-polaris-from-washington-to-sao-paulo/