Background: Flying into the Future
During my senior year of college I am also applying to medical school. While the majority of the schools that I am applying to are within driving distance of my college in Albany, NY, 9 of them are far enough away that I would have to fly. The trip reports for this series will cover these schools. The number of trip reports that I write for this series will ultimately be variable based on how many of these further away interviews I attend and also based on how much time I have to put out these TR's. As always, feedback is appreciated, and the results of the interview will be posted in the comments once I find out. This first trip report covers my very first interview which was at the Wayne State University School of Medicine located in downtown Detroit.
Booking
ALB has nonstop service to DTW via DL. I initially looked into booking this roundtrip via the DL website, but because my interview ended at 14:15, I would have had to wait at DTW until the 22:30 flight to ALB. Because of this, I switched over to Orbitz and was able to find an itinerary that would allow me to take the 13:10 DL nonstop to DTW and then return on AA with a tight connection in PHL, that would get me back in time for a good night's rest before my longest day of class (where my last class ends at 21:00). Doing it this way also saved me approximately $150 vs booking the DL nonstop both ways, and it also allowed me to get complimentary seat selection, which I used to select window seats for all 3 legs. From an aviation geek perspective, this trip would give me my first CRJ9 (after I missed it on AC), my first ride on AA completely post merger, my first rides with OO and PT, my second A321, and my third E145.
DL 3781

Online Check In
24 hours prior to departure I logged into the Delta app, checked in for my flight and downloaded my electronic boarding pass to my phone. Once I had the boarding pass, I confirmed that I had my preassigned widow seat (15D). I also saw that I did not have TSA precheck.
At the Airport
After dropping my car off in the long term parking lot, I was in the terminal at ALB by 11:30. I proceeded directly to the security checkpoint, where I found that the line was longer than I expected, but still manageable (it only took me like 10 minutes to get through it). The TSA screeners were being extremely thorough- using the full body scanner, almost everyone getting some sort of pat down (including myself). They also ended up flagging my backpack for a manual search (I think it got flagged because I had a couple soft things crammed next to my sandwich). Once done with security I walked around and planespotted.
F9 A320
There wasn't a lot going on while I was walking around, so after a little bit I headed to the gate area, which was fairly packed between my flight and the delayed departure for ATL. Once back at the gate I continued to planespot while I ate my prepacked lunch (a sandwich and homemade Israeli style pasta salad).
delayed DL MD88 pulling into ALB.
UA E145
N805SK, my 13.3 year old CRJ9 pulling into gate B5 at 12:25.
While passengers were deplaning from the inbound flight, one of the gate agents came around and put "gate valet" tags on all the bags that were too big to fit into the overhead lockers. While she was tagging my bag, the gate agent commented that my pasta salad: "looked pretty good", which was a well appreciated comment.
At 12:40 preboarding for the flight began, and shortly after I joined the mass that was surrounding the gate. DL uses a convoluted boarding sequence with way too many groups, and eventually, my group (Main 2) was called. At 12:46 I boarded the aircraft, and the guy in front of me forgot to drop his gate valet bag off at the end of the jet way, causing confusion as I entered the aircraft.
Onboard
Once onboard I made my way to seat 15D. Stepping onto the CRJ9, I really liked how DL had upholstered the seats in a manner that made them similar to the seats on their mainline aircraft- I felt like it gave them a more unified brand image vs the last time I flew them on a regional jet, where I got an aircraft with a generic upholstery which was not similar to what they used in their mainline fleet.
The seat had a surprisingly generous amount of leg room. While manageable, it was also a little narrow and the padding was just OK.
The seat
I don't normally do these, but here is a leg room shot
At 13:02 the captain made his welcome aboard announcement, gave a flight time of 1 hour and 14 minutes, and a smooth flight with a cruise at 30,000 feet.
At 13:05 the door was closed, and 2 minutes later the flight attendants began their manual safety demonstration. As the demonstration started we began to push back from the gate and then taxi.
AA E145
Sutton Forwarding B727
Busy general aviation ramp
At 13:13, the flight crew announced a 7 minute ATC delay. Exactly 2 minutes later we pulled onto the active runway and executed a smooth takeoff. As we climbed out of ALB, we did hit some turbulence but it dissipated as we climbed through the clouds.
Fluffy clouds.
At 13:22 the FA made her welcome aboard announcement, and I began to check out the WiFi based entertainment. It had a broad selection of movie and tv shows, but no music or live TV. It also seemed pretty slow to load, and was so slow that I could not even load the flight information or a tv show. Because the entertainment system wasn't working, I pulled out my laptop in order to review my application and remind myself what I had written in it. While it was a tight squeeze, I was able to fit my laptop in the allotted space. While I worked the FA began the inflight beverage and snack service.
At 13:40 the seatbelt sign was deactivated and no announcement was made because the FA's were busy running the service.
Around 13:54 the FA reached me, and offered a choice of biscoff cookies or almonds. I chose the cookies and skipped the beverage (I had filled up my water bottle before the flight. Immediately behind the flight attendant running the service was another flight attendant who was collecting garbage.
The biscoff cookie. Too bad mine was cracked.
Once done reviewing my application I switched on my music and looked out the window at the countryside.
At 14:08 we began our descent, and the captain made his announcement with the weather, gave our arrival gate as A43, and stated we had 26 minutes to landing. 3 minutes later the FAs began to prepare the cabin for landing, and soon after the seatbelt sign was reactivated.
Approaching over farmland
At 14:27 the gear came down, and 3 minutes later we had a nice landing (not overly smooth or firm) into DTW, followed by some awful sounding braking as we decelerated.
After a short taxi, we pulled into the gate at 14:36- 21 minutes early. As we pulled into the gate, the FA began to make an announcement reminding people to remain seated until the Captain deactivated the seatbelt sign. In the middle of her announcement, the seatbelt came off and she said "nevermind".
Throughout the flight the FA's performed a good, polite, though not exceptional service.
Disembarkation was fairly quick, and my suitcase was waiting for me in the jetway by the time I came off. Once off the plane I made my way through the maze of DTW (I didn't feel like the signage was super clear) and made it to the municipal transportation center, where I had to wait 20 minutes for my bus into downtown Detroit.
Overall Weighted Score
3.7/5
AA 1927

Online Check In
About an hour after I arrived at my hotel, I checked in for my AA flights back to ALB using the app and downloaded my e-boarding passes.
At the Airport
After a surprisingly enjoyable interview experience (even though I was stressed out at times), it was time to return to ALB to start the semester. While I had originally planned on taking mass transit to the airport, I ended up taking my first Uber because it was going to rain and I did not want to have to transfer buses in the rain. While the Uber drove me to the airport, I logged in to the app and saw that my flight to PHL was delayed by 10 minutes, which started to get me a little worried because my connection in PHL was only 40 minutes.
Security was fairly quick (even though they only had one person manning the podium). Due to my slightly brain-dead status after a day of interviewing, I forgot to remove my key-carabiner from my belt loops, and because of it was yelled at like a criminal by the TSA agent manning the full body scanner.
By 15:25 I was through security and I began to walk around to both planespot and look to see if their was anything good for dinner.
NK A320
F9 A320
LH A346
After I finished a full lap of the terminal, I went to the gate and settled into a seat to relax and continue plane spotting
AA old livery ERJ145
After a little bit I did another lap of the terminal and decided that I would just get dinner in Albany after I got back (I wasn't super hungry and didn't find anything that really appealed to me).
Once I was back in the gate area I plugged my phone in. At 17:06 the gate agent made an announcement offering a complimentary gate check of any bags that people wanted to check through to their final destination, and several people (mainly those connecting onwards to QR) took advantage of this.
At 17:20, N927UW, the 4.3 year old A321 that would be operating my flight to PHL pulled into the gate. It came in a little late for an undisclosed reason.
N927UW approaching gate D28
At 17:27, the gate agent working my flight introduced herself, and boarding began another 10 minutes later, using another convoluted group system. Because the flight was fairly empty boarding proceeded quickly and in no time at all my group (group 6) was called to board
Onboard
Once onboard I made my way to seat 17A, the seat that I had self assigned myself. Due to how empty the flight was, I had the entire row to myself.
The seat
The seat itself was one of the worst that I have ever encountered- it felt like their was no padding in it and that their was something hard sticking into my back. If this is what they have on the A321, I don't even want to know how bad the much maligned Oasis seats are. The seat also had a good amount of leg room that at least partially offset the hard nature of the seat.
At 17:54 prepare for departure was called and the doors were closed (meaning that we were only delayed by 3 minutes). 2 minutes later the seatbelt sign was activated. At 17:59 the lead FA made her announcement, gave flight crew names and a flight time of 1:11. A minute afterwards the manual safety demonstration began and then as it started we began to pushback from the gate.
A few minutes after pushback we began to taxi and at 18:12 we pulled onto a deactivated runway. After a 4 minute wait, one of the pilots came on the PA and told us that we were delayed due to ATC in PHL and we should leave in 4-5 minutes. Shortly after this announcement we resumed our taxi and at 18:26 we pulled onto the active runway and began our takeoff. The takeoff did not feel very powerful but was very quick. Almost immediately after takeoff we ascended into the clouds with some pretty good turbulence.
At 18:30 the FA made her announcement, which focused on service offered during the flight and also selling the airline credit card. After the announcement I logged into the streaming WiFi service and found 12 free channels of TV, along with a good selection of TV shows and movies. I ended up choosing an episode of Young Sheldon, and as it started I sprawled across the row.
At 18:45 service started with 2 carts- 1 for BOB snack boxes and 1 for complimentary drinks and snacks. They were fairly quick in reaching me, and I skipped the beverage again and chose pretzels (the other option was Biscoff cookies).
The pretzels. I liked how they had the destination printed on the bag.
At 18:52 the captain announced that we were cruising at 37,000 feet and asked us to remain seated due to turbulence. He also announced a 5 minute late arrival.
Once I finished my tv show I turned to the AA app to see what the fastest route to my connecting flight would be. Once I had plotted out my route, I watched part of another episode of Young Sheldon.
At 19:23 one of the pilots announced 23 minutes to landing. After he finished his announcement I began to look out the window and captured this beautiful sunset photo.
At 19:31 prepare for landing was called, and 12 minutes later we had a bumpy landing followed by a quick burst of braking. As we taxied in, the FA announced that we had a Chicago based crew, and that they would have AA credit card applications at the front of the plane for those who were interested.
At 19:53 we pulled into gate B9, leaving me just 30 minutes to make my connection. Due to the light load, I was off the aircraft and in the terminal in no time at all.
Throughout the flight the Flight attendants provided a good professional service. They also made sure the captain signed a little kid's AA flight log and gave him a tour of the cockpit, which was a very nice gesture in my opinion.
Overall Weighted Score
3.05/5
Connecting in PHL
Once off the jetbridge I rushed towards the terminal F shuttle, and got there right on time, by 20:02. The bus ride was fairly quick, though we ended up getting stuck in a long line of buses, so it took a while before I was in the terminal. As I went through this line, I began to worry about missing my connecting flight, and I started to mentally think of the options to get me back to ALB in time for my first class of the day on Tuesday (which luckily was at 14:00). Eventually we got up to the entry to the terminal, and I bolted out for my flight. I arrived at the gate area right as the agent was about to close the gate. As I arrived she called out "Eugene", to which I responded with my actual name. This got a prompt apology and I was able to board the plane, after leaving my suitcase on the jetway to be gate valeted.
Due to the tight connection, I was unable to get a picture of the aircraft, but my aircraft was N641AE, a 19.9 year old E145. Below I have attached a stock photo from the Anet gallery.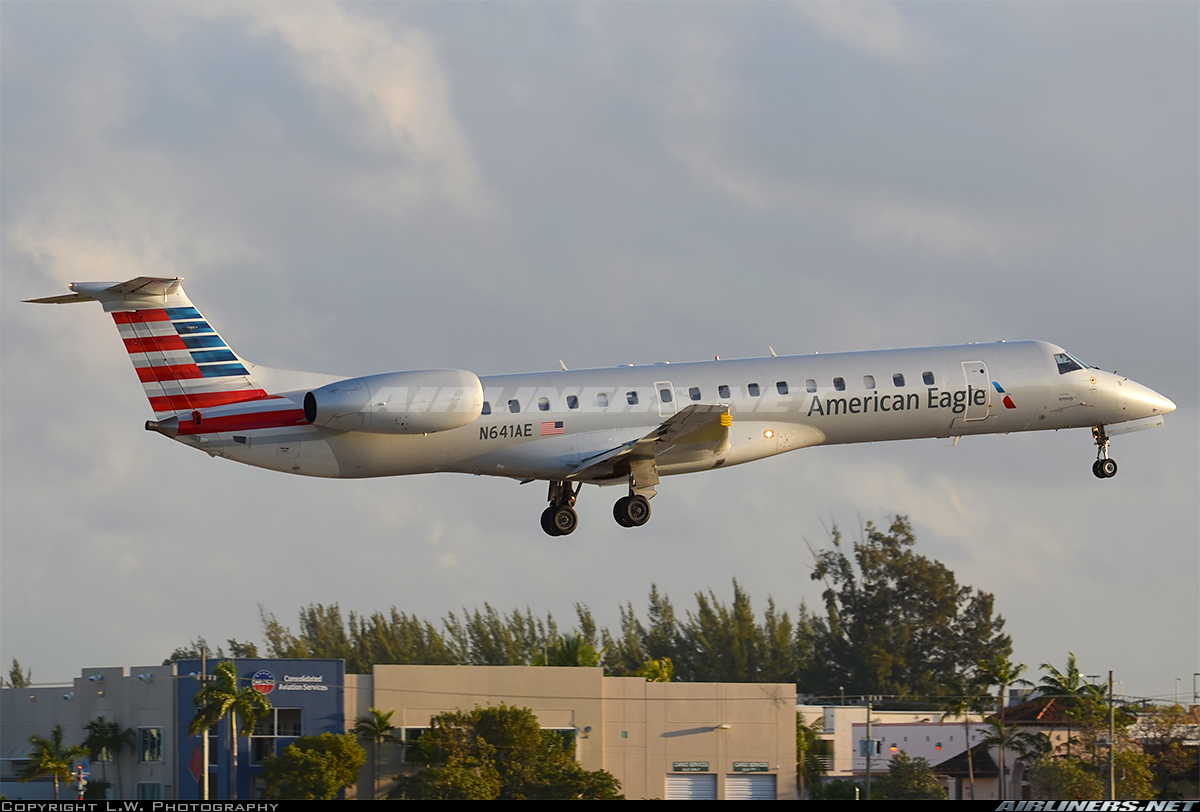 AA 4836
As I stepped onboard the aircraft, I was greeted with the sight of the bubbly, young FA playing "weight and balance roulette" with the passengers. As I reached my assigned seat (7A), I found that they had given that seat to another passenger, and after a little bit of discussion with the FA, I was assigned to seat 7C, which in some ways was an upgrade because I had an empty aisle seat next to me. Due to this weight and balance roulette I was unable to get a cabin photo, but similar to my DL flight, the ERJ's seats had been upholstered to look like an AA mainline cabin, which I appreciated.
The seat itself was slightly better than my previous seat on the A321, though it wasn't much better. The legroom was also just OK.
At 20:20 (about 2-3 minutes after I boarded), the door was closed, and 6 minutes later we began to pushback. As we pushedback, the engines roared to life and the manual safety demo began. After a couple minutes, we began to taxi, and as we taxied myself and the other passengers noticed that the brakes seemed to catch as they were applied.
At 20:35 the flight crew announced that we were number 1 for departure. 4 minutes later we executed an unremarkable takeoff from PHL. As we climbed out, I felt that our pitch was much more apparent on the E145 than on other aircraft.
At 20:44 the FA made her announcement, and once it was finished I switched on my music and spent the flight looking out the window. I do wish that she did at least a water run during this short flight, but I guess in AA's mind it was too short of a flight for that. At 21:05 we began our initial descent, and 10 minutes to landing was called. 6 minutes later the FA came through the cabin and began to prepare it for arrival.
I think the area around the glowing soccer field is my college
At 21:20 we landed into ALB. The pilots tried for a soft landing which kind of happened, though it didn't feel like the greatest landing. Within 2 minutes we pulled into B10 at ALB. After another 2 minutes the door was open and after a few minutes bags began to come off the aircraft.
By 21:35 I was picking up my car from the parking lot, and on my way to pick up dinner.
Overall Weighted Score
3.33/5
Summary
DL: Between my poor experiences with them on long haul and DL Connection, I had originally said that they were my last choice carrier. As the times have passed, DL has slowly become my favorite of the big 3 carriers- even if their experience is not as good as what I have had on WN. While its not high priority on my aviation bucket list, I would like to try out some of the changes that they have made to their long haul service, and see if it has improved since my poor experience in 2014.
AA: While the leg room was way better than I expected, their seats were one of the worst that I have ever encountered, making them replace DL as my least favorite US carrier, and one that I will only fly out of necessity.
Logbook and Previous Trip Reports
I'm trying something new with this TR. Instead of attaching my logbook, I am attaching a link to a
chart
generated from it containing each shorthaul flight, along with its overall weighted score. This chart should continuously update itself as a I create more trip reports. Let me know whether you prefer having access to the logbook or just the chart.
2019
Onwards and Upwards Part 2: Air Canada TLV-YUL-BOS
Onwards and Upwards Part 1: Swiss and El Al BOS-ZRH-TLV
The Milwaukee Way WN BOS-MKE-BOS
2018
Porting it to and from Toronto
Southwest to Milwaukee and Back (with a surprise)
Air France, CSA Czech Air, and Alitalia to Prague, Bratislava, and Budapest
2016
From my Archives: Summer '16 rescheduled and delayed with Iberia, Vueling, and British Airways
2015
From my Archives Summer '15 Shuttle America: Do they actually meet Delta's Standards?
2014
From my Archives: Summer '14 Returning from Israel One of the Only Ways Available El Al
From my Archives: Summer '14 Outward bound to Poland and Israel with LH
From my Archives: Winter '14 From Sunny Spain to Snowy Boston, KLM and Delta to Boston