Air Antwerp's Inaugural Day – Fokker 50 between London City and Antwerp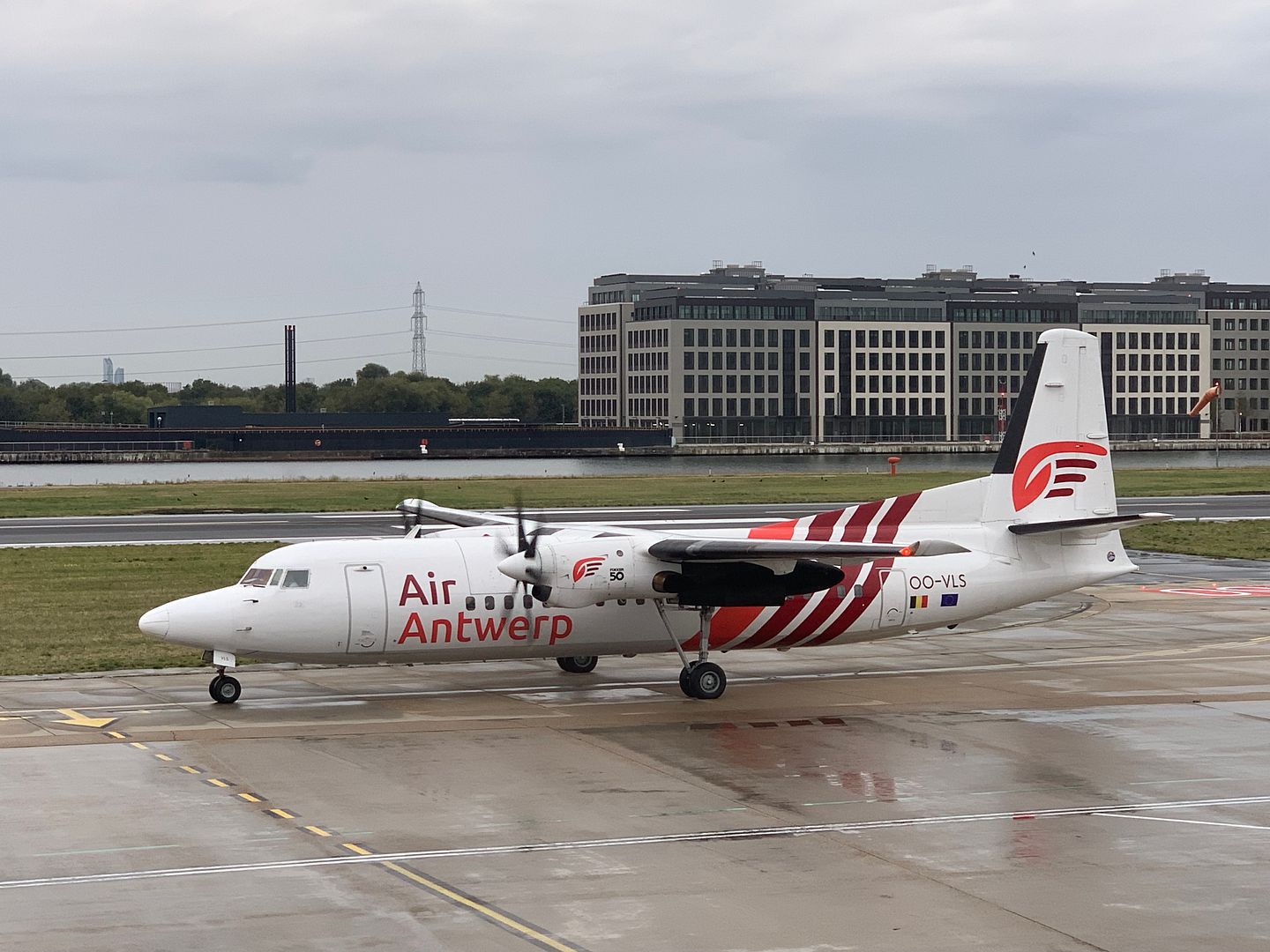 Many ex-VLM Airlines' executives and staffs have been trying to bring back this beloved boutique airline to the air, and their wish was finally granted earlier this summer with KLM joining the journey to bring back a full service airline based in Antwerp serving short haul routes using Fokker 50s. Around August 15, they announced their initial schedule with three daily roundtrips between Antwerp and London City on weekdays and a reduced weekend schedule because of closure of City Airport. Just for a pure coincident, I was actually scheduled to be in London on September 9 with no flight scheduled. Instead of a full day shopping and running errands for family, I chose to spend the morning flying a quick roundtrip to Antwerp on Air Antwerp's first day of service. I can't miss out a chance on flying the Fokker 50 again and my last flight was actually on VLM flying from Manchester to London City on Valentine's Day 2009 on OO-VLM. A decade later, these Fokker 50s are still good, despite a bit different from more current generation of turboprops. I was not expecting much in terms of celebration because European airlines tend to be more subdued, and London City Airport does not really have the space for any celebration or major ceremonies. In the end, I actually sort of pick the right flight. There was really nothing much happening in the morning with the real inaugural flight, except the pilot and F/A handling out a nice inaugural gift bag to each passenger. The official inaugural flight was actually the second rotation in the day, which makes more sense for logistics. Unfortunately, the inaugural ceremony in Antwerp was a press event taking place in the Antwerp business aviation terminal, but at least we saw the press when we boarded the flight at Antwerp and enjoyed a water canon sendoff.
Full album link:
http://s1213.photobucket.com/user/Carfield76/library/Summer%202019/AirAntwerpInaugural2019
September 9, 2019
WP 101 London City to Antwerp Lv0745 Arr0945
Going from Heathrow to City Airport was really no easy task on a Monday morning, so I took an Uber. Staying at the new Hilton Garden Inn T2 allowed me easy access to the car ride pick up at Level four of the Short-Term Car Park 2 easy too. The ride was an hour long and due to some diversion and traffic at LCY, I arrived a bit later than I have wanted.
Traffic was slow…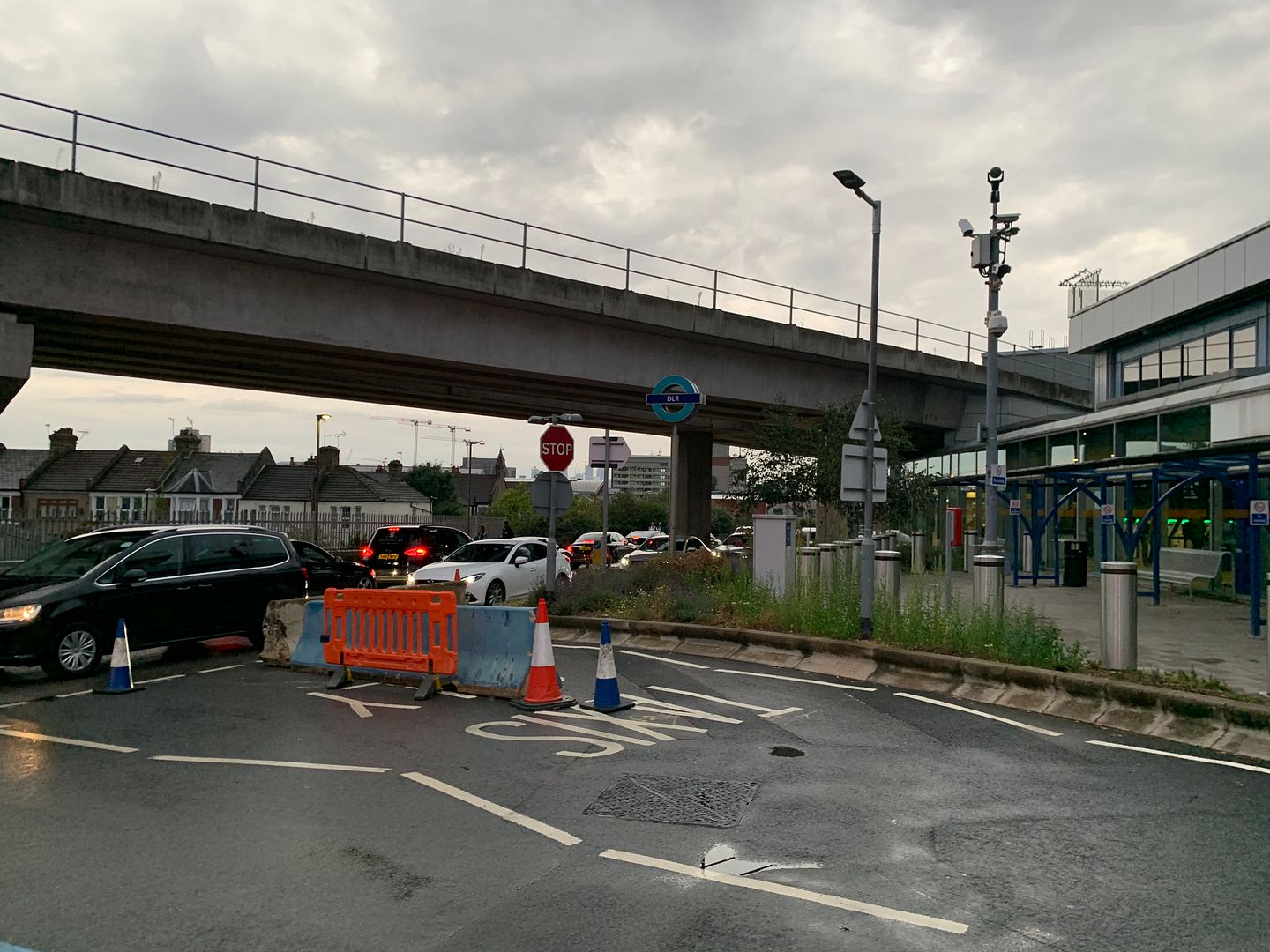 London City Airport on a gloomy Monday morning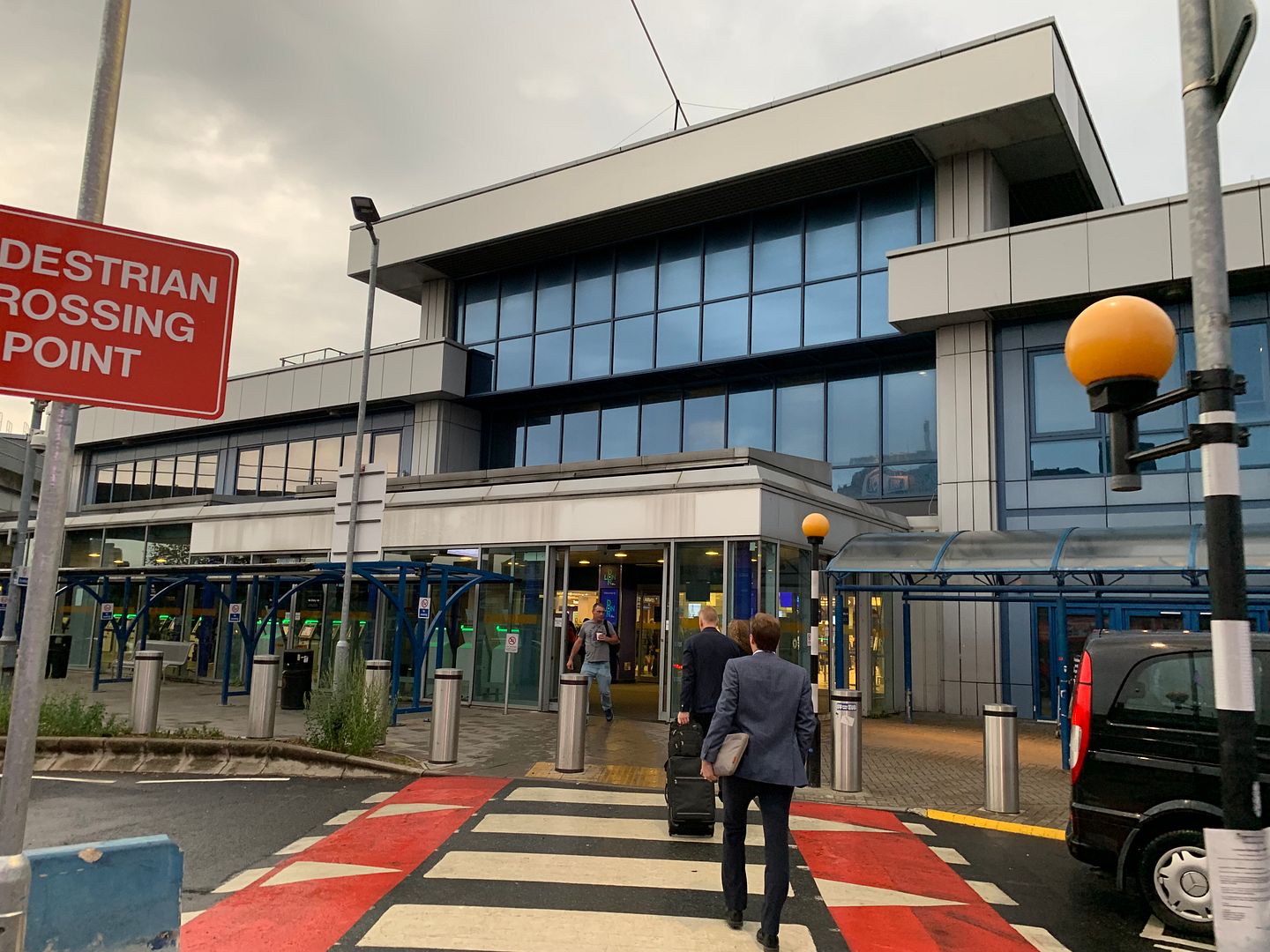 Check-in:
I bought the ticket through KLM and received a notification from KLM twenty-four hours prior to departure regarding online check-in. Of course, it did not work. Air Antwerp's own website is up and running too but without an Air Antwerp's code, I could not check-in online from that end too.
When I arrived at the airport, I tried the kiosk with KLM, but finally a staff directed me to Air Antwerp's sole check-in counter in Row 6. The agent was not particularly friendly but got me a window seat, so I was off to the security line.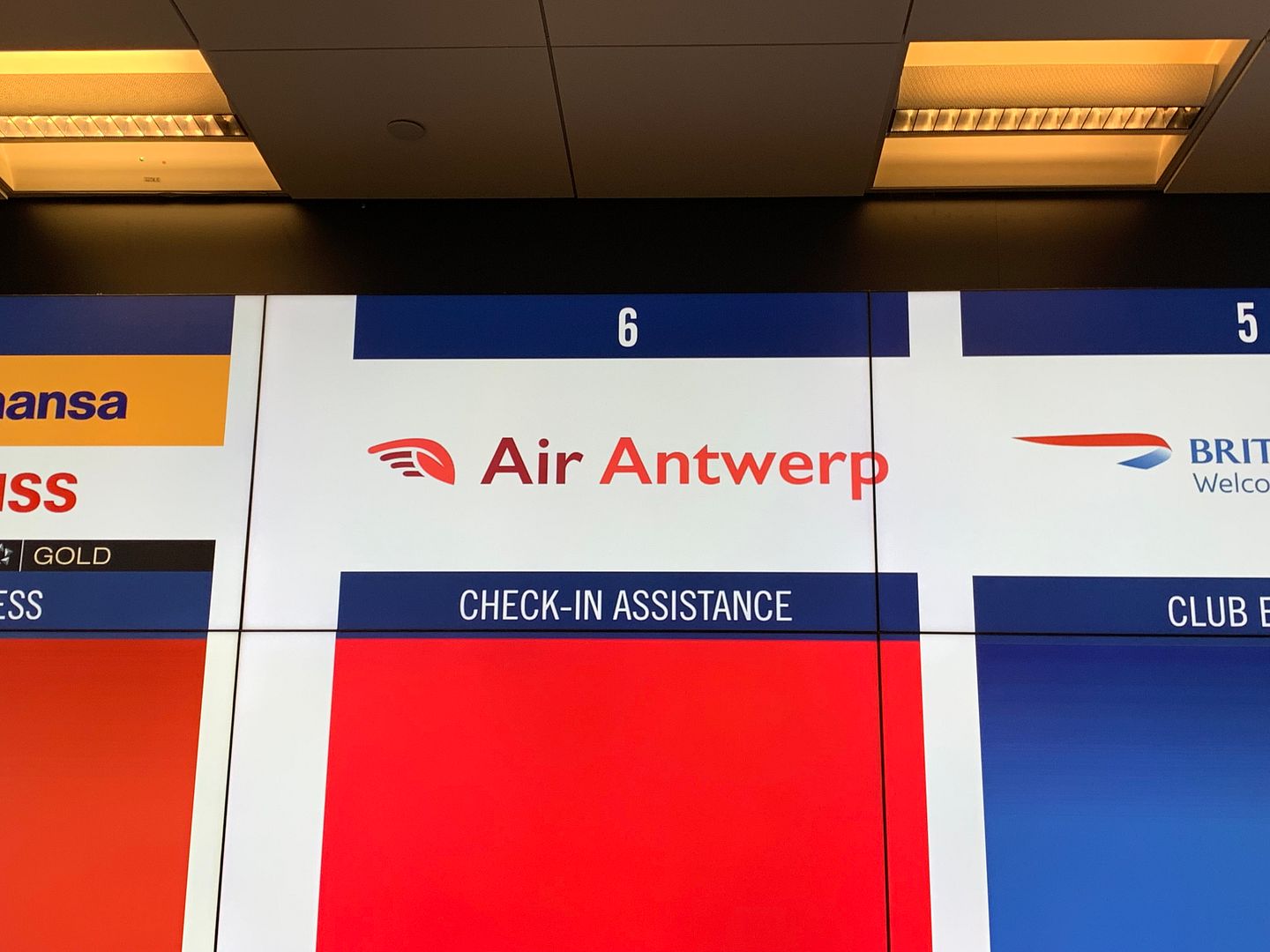 Gate 4:
London City Airport's main terminal was over-crowded and not necessarily the best place to hang out. There is no airline lounge, but what is good about it is the access to plenty of windows by the runway and apron. Everything was just so closed, and I patiently waited by the window for the arrival of the inaugural flight. My patient paid off, as I managed to take photo on OO-VLS landed at R/W9 in LCY again. This time, it has the fresh painted livery of Air Antwerp.
The aircraft was running a bit late, as the airport was very busy in the morning. The plane was placed in a holding pattern for a while.
Parking at gate 4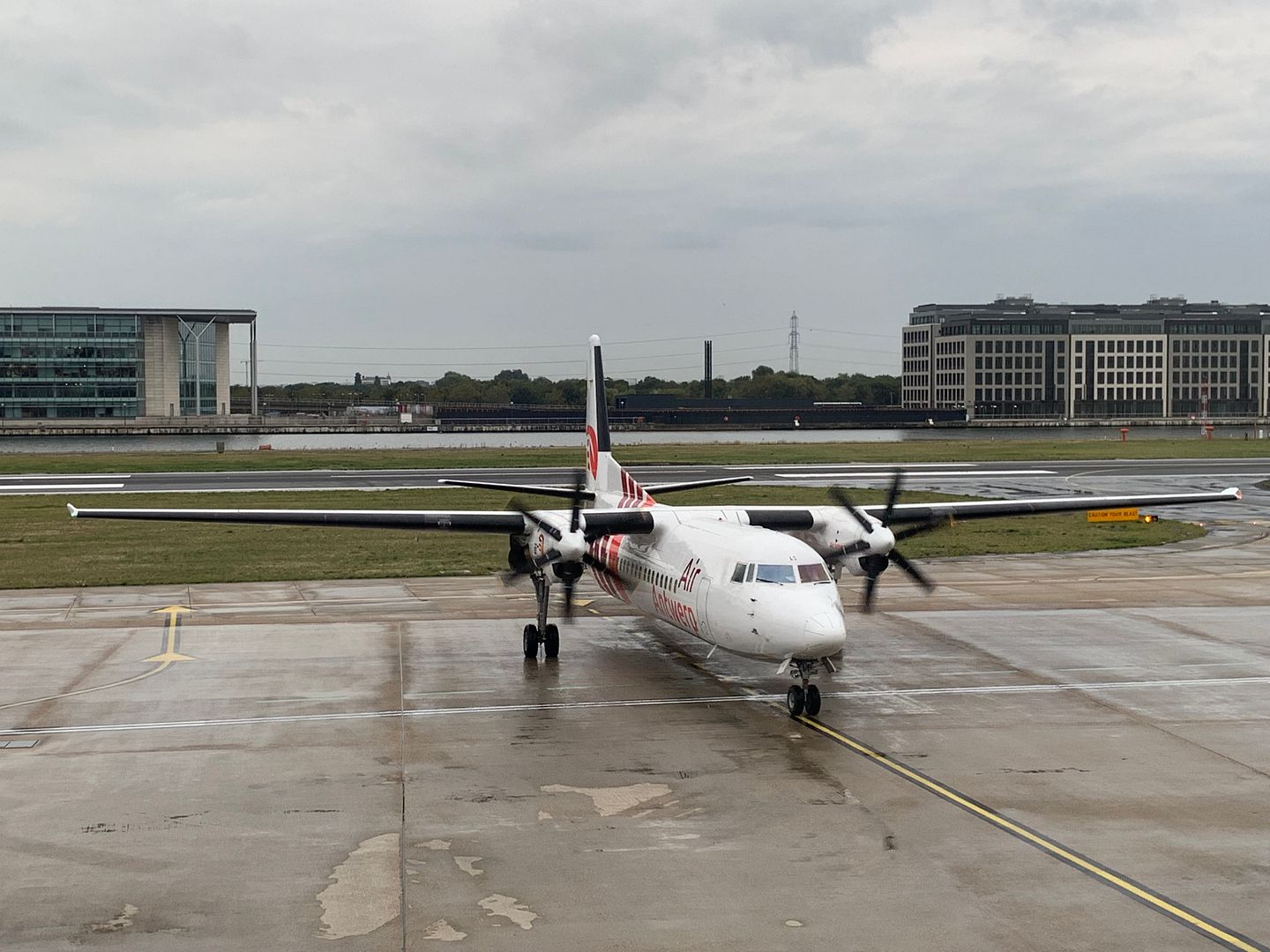 The Pilot was conducting a walkaround.
Since it was the first day of service, there were plenty of staffs at the gate getting used to the operations of a new airline in its first day of service. Things ran a bit slow but in general, it ran fairly smoothly.
The loading was fairly healthy too, given the flights did not go for sales till three weeks ago.
Boarding finally began at 8:01am.
What a beauty to look at! OO-VLS looked sharp with the coat of paint!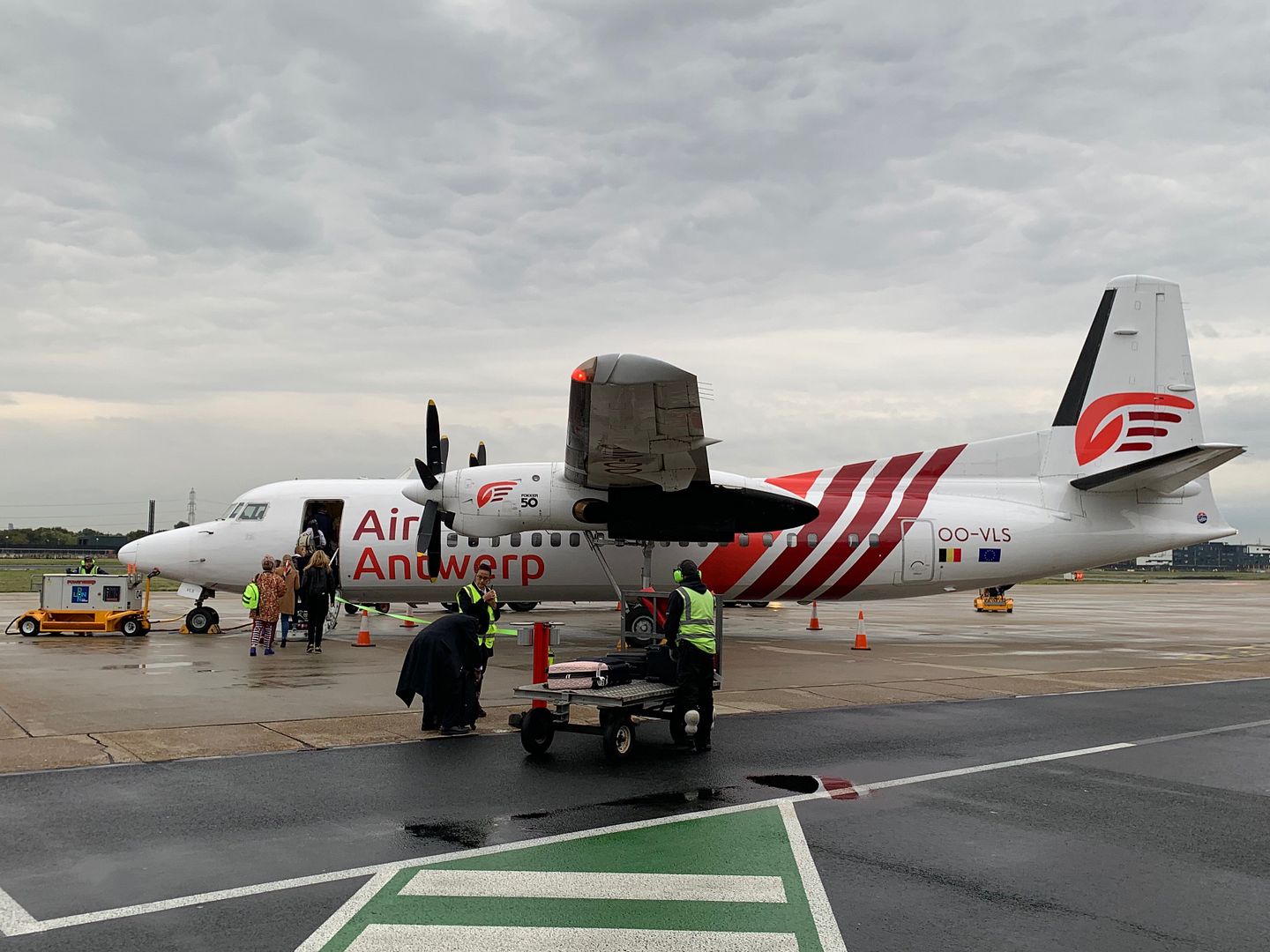 Close up of the propeller engine
Unique nose
The F/A and one of the pilots were welcoming passengers and passing out inaugural gift bag, as we boarded. Many passengers were not aware that today was Air Antwerp's first day of service. I think some of them think that they were flying KLM.
Contents of Gift Bags – pens from Air Antwerp and London City Airport, Antwerp Airport's travel folder, Air Antwerp's post-pads & key ring holder
Cabin shot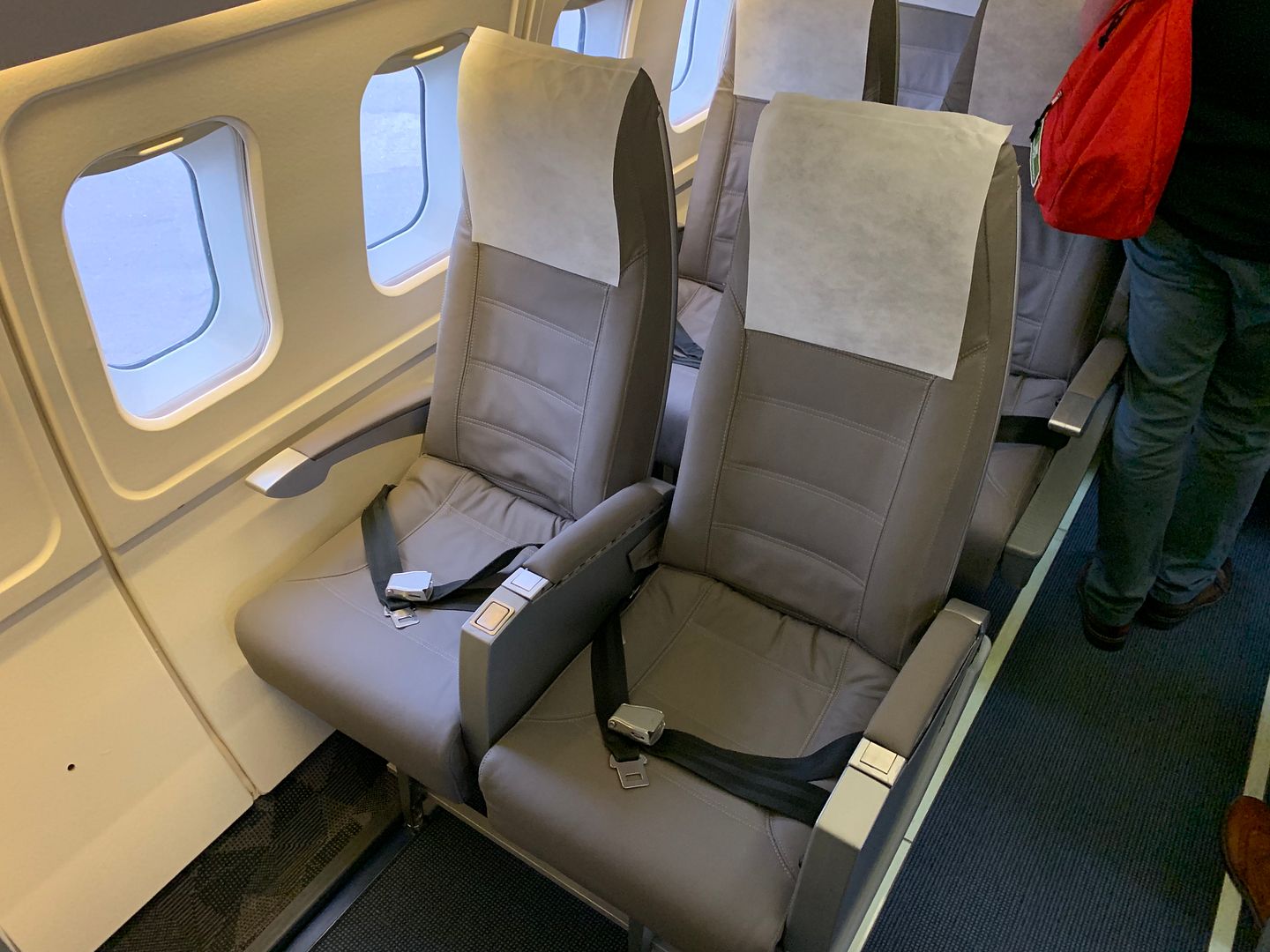 Overhead bin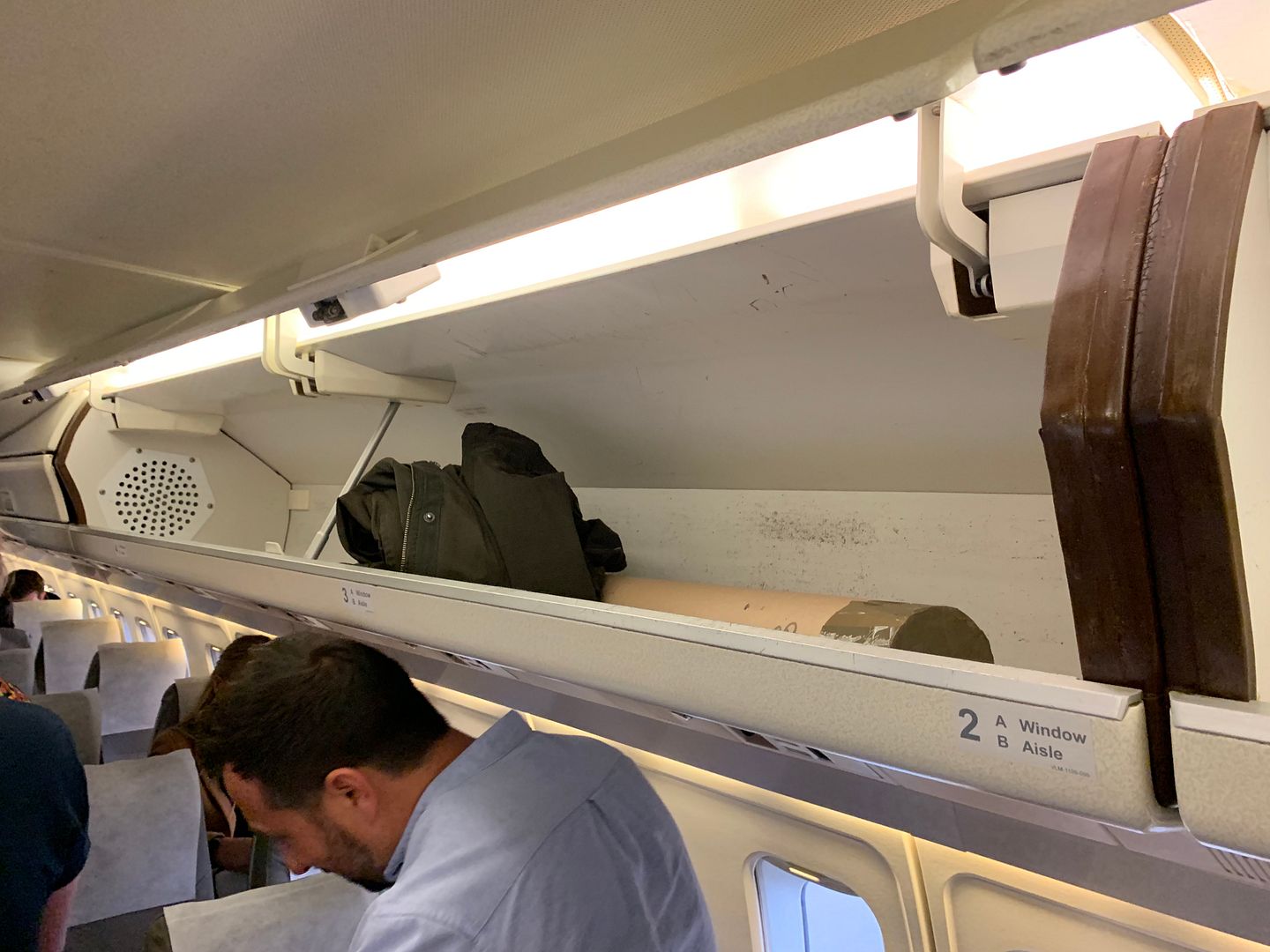 My seat 4A – legroom was decent and the front part of the plane seems to have slightly better legroom.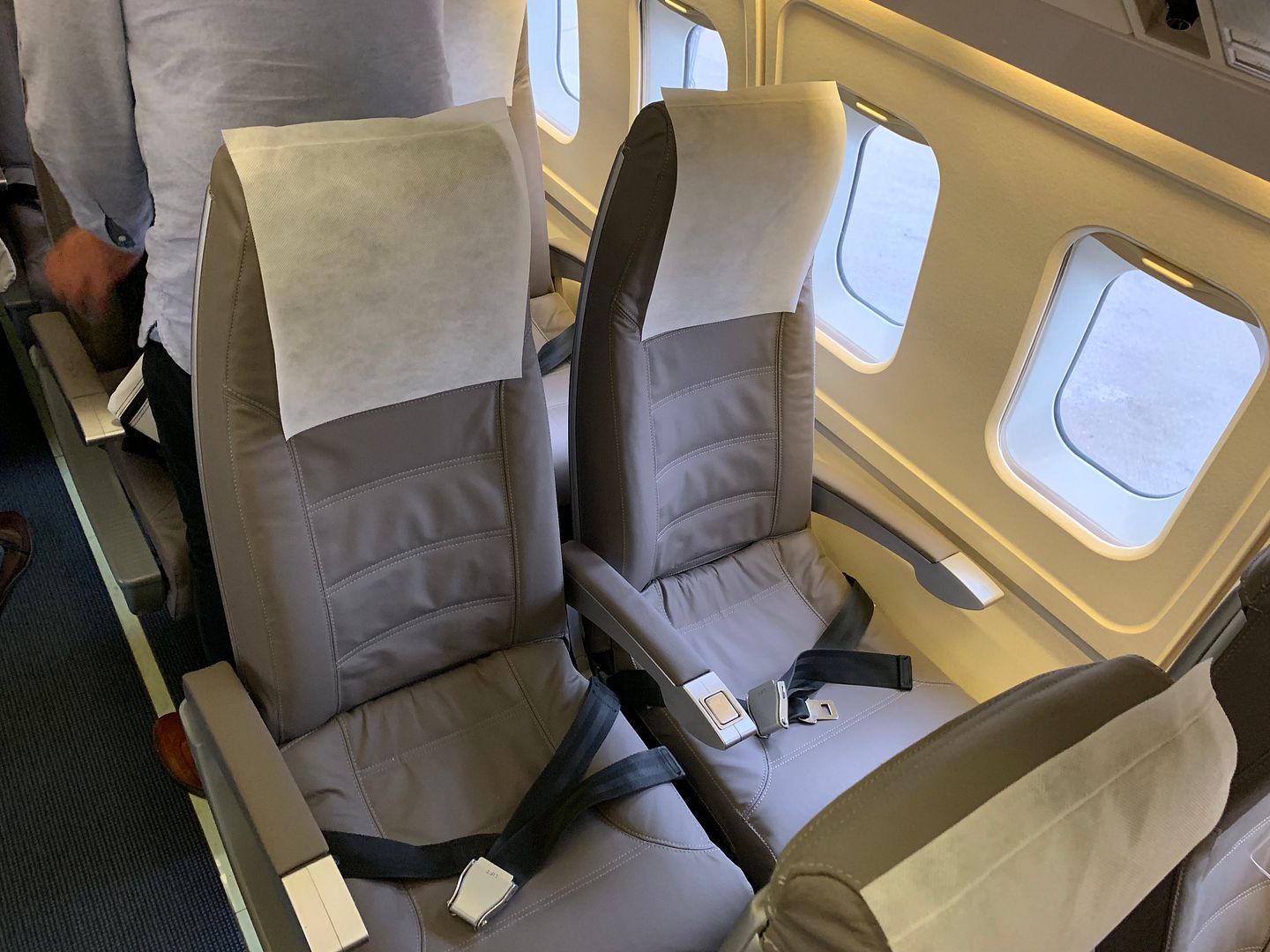 Legroom was pretty good and I felt that it was better than 10A on my return flight.
Safety Card
Overhead panel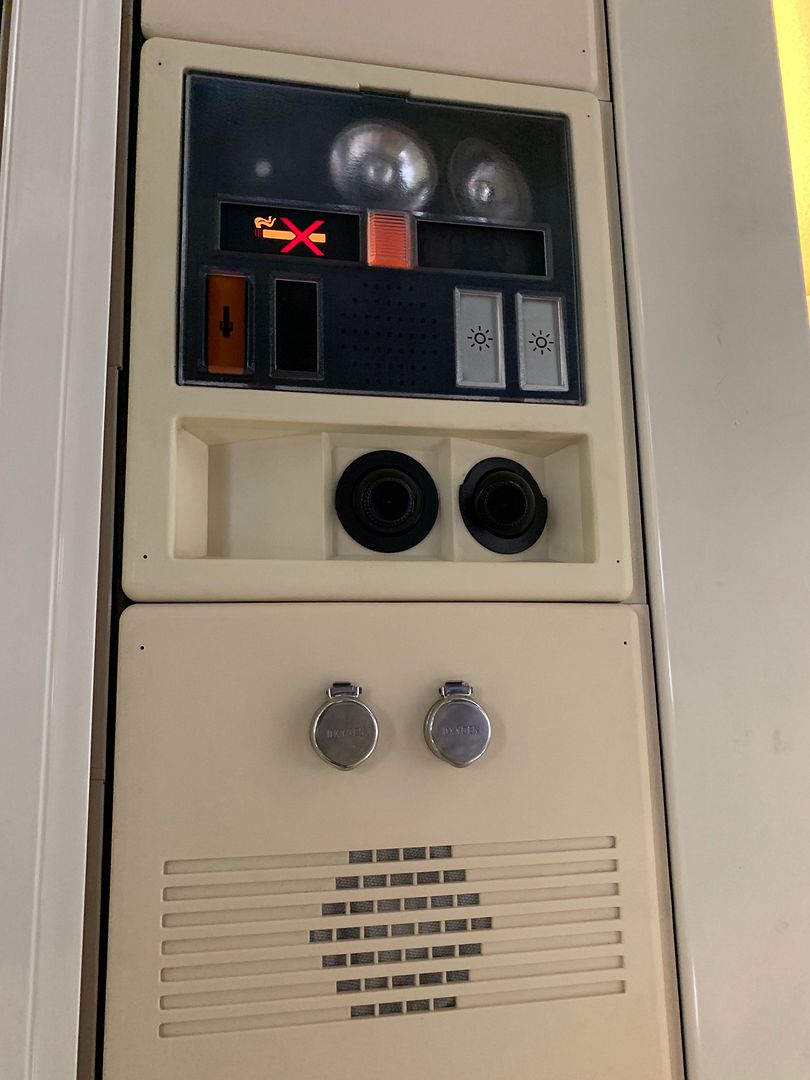 Door was closed at 8:17pm, thirty minutes behind schedule.
Due to ATC congestion, we did not begin our startup till 8:35am.
We finally took off at 8:43am from R/W9. Flying time was forty-nine minutes and our cruising altitude was 17,000 feet.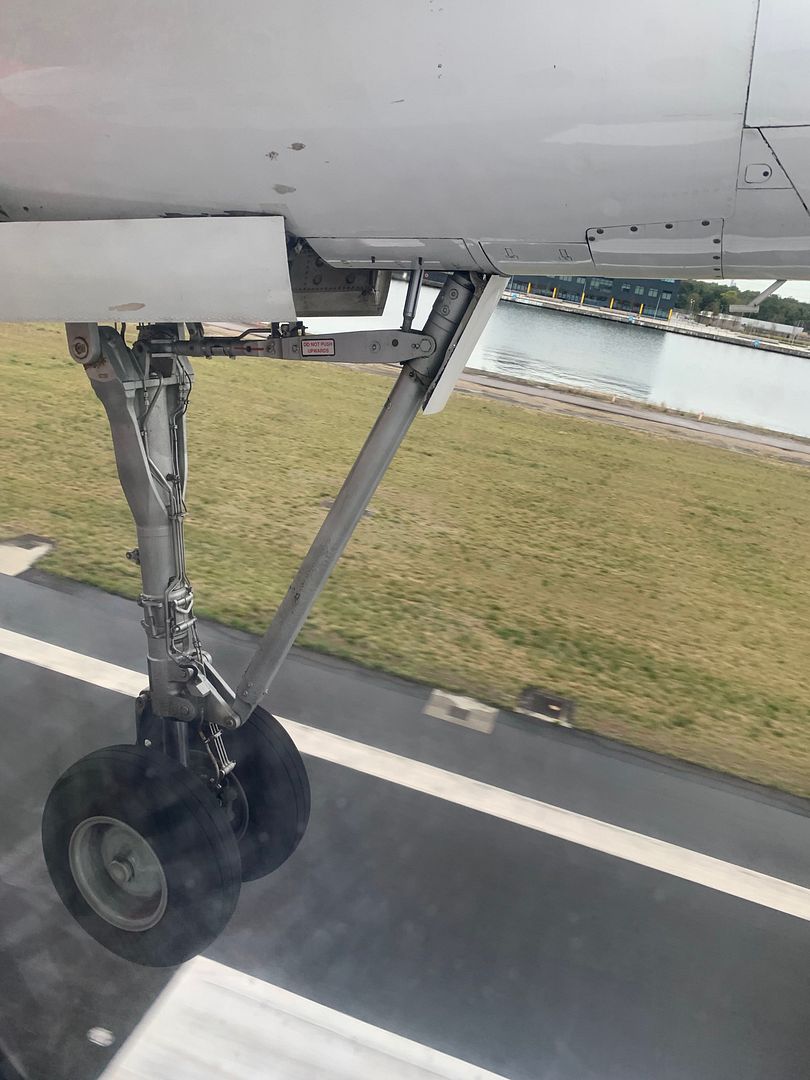 Gear Up…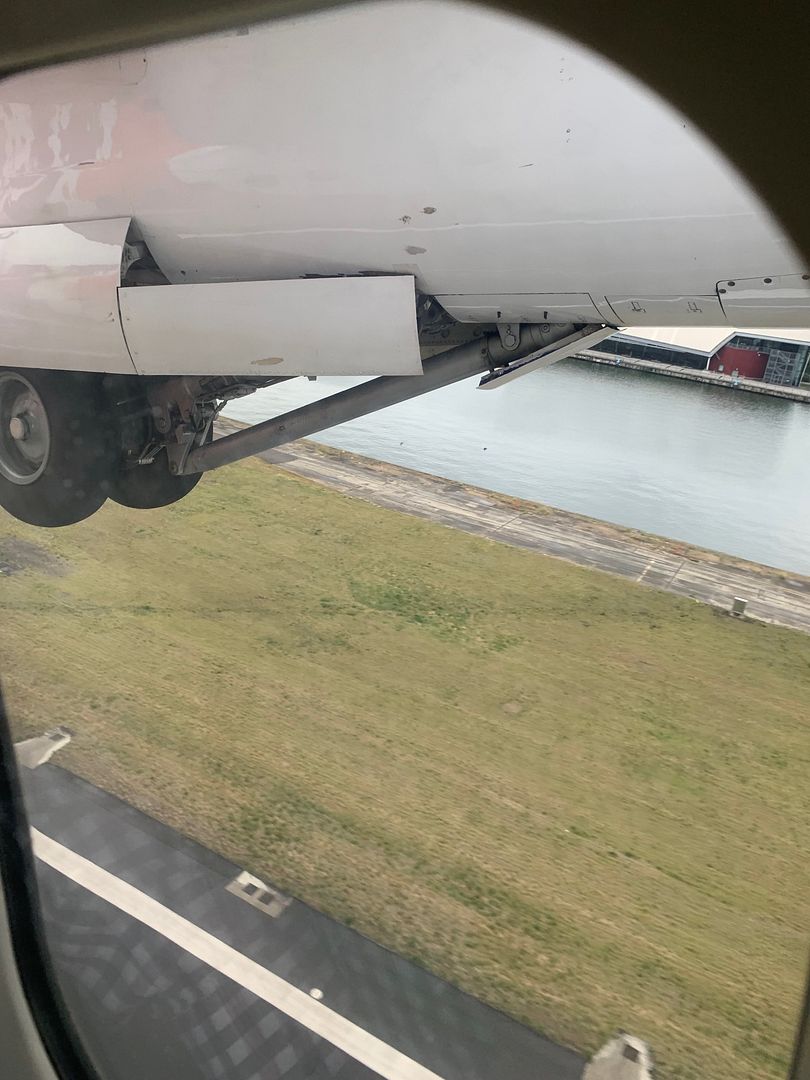 Cabin service was fairly simple – complimentary water, juice, tea and coffee with a piece of the Philip's biscuit, which is made in Antwerp. I actually bought a box of these biscuits in Antwerp Airport later, and this specific flavor offered is called "Antwerps Handje".
Descent soon began at 10:12am Antwerp local time, which was an hour ahead of London City Airport.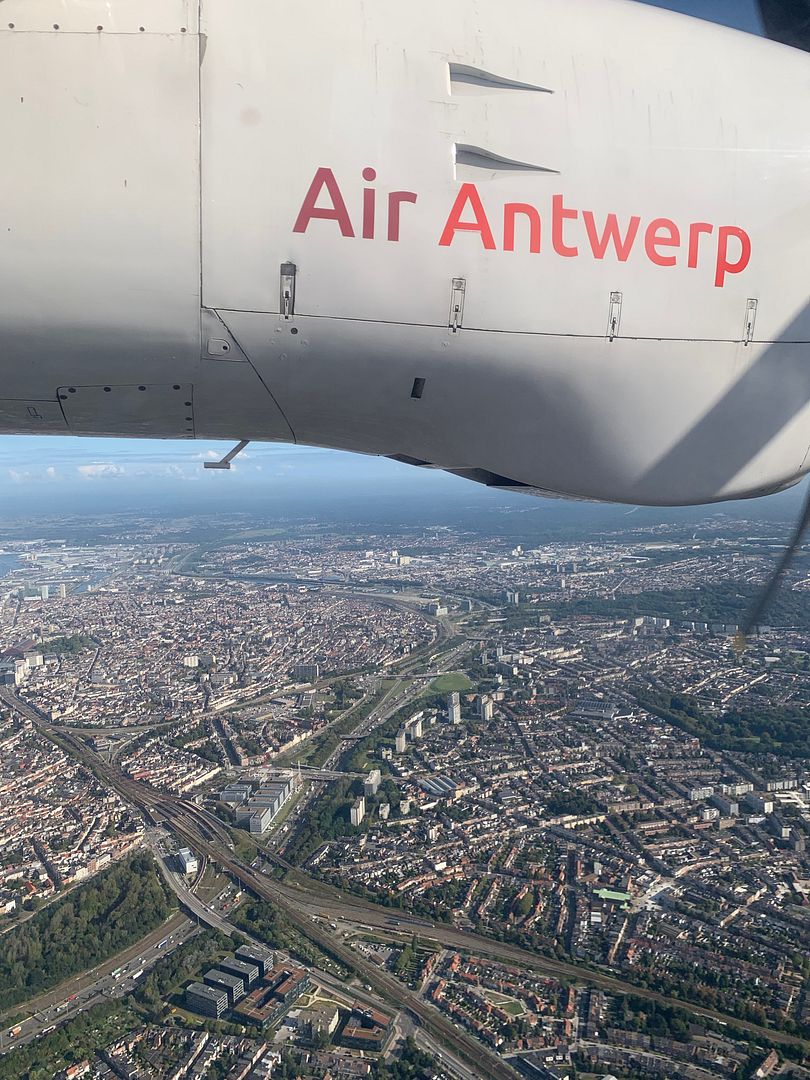 Gear Down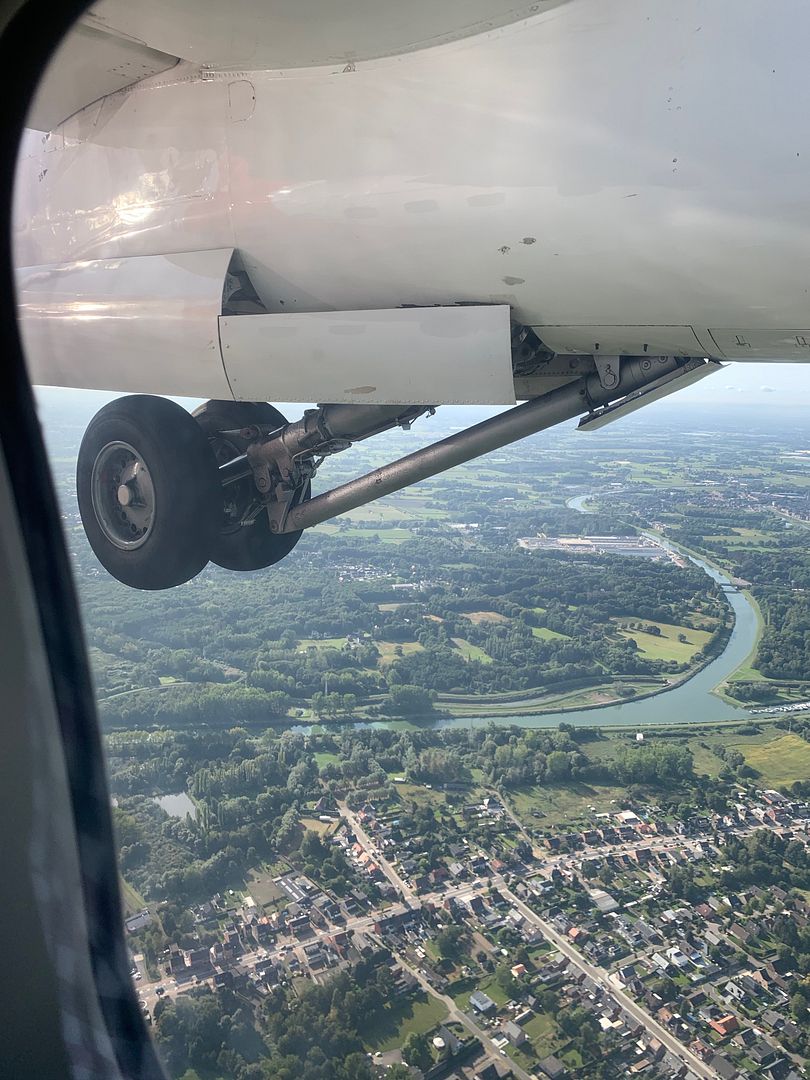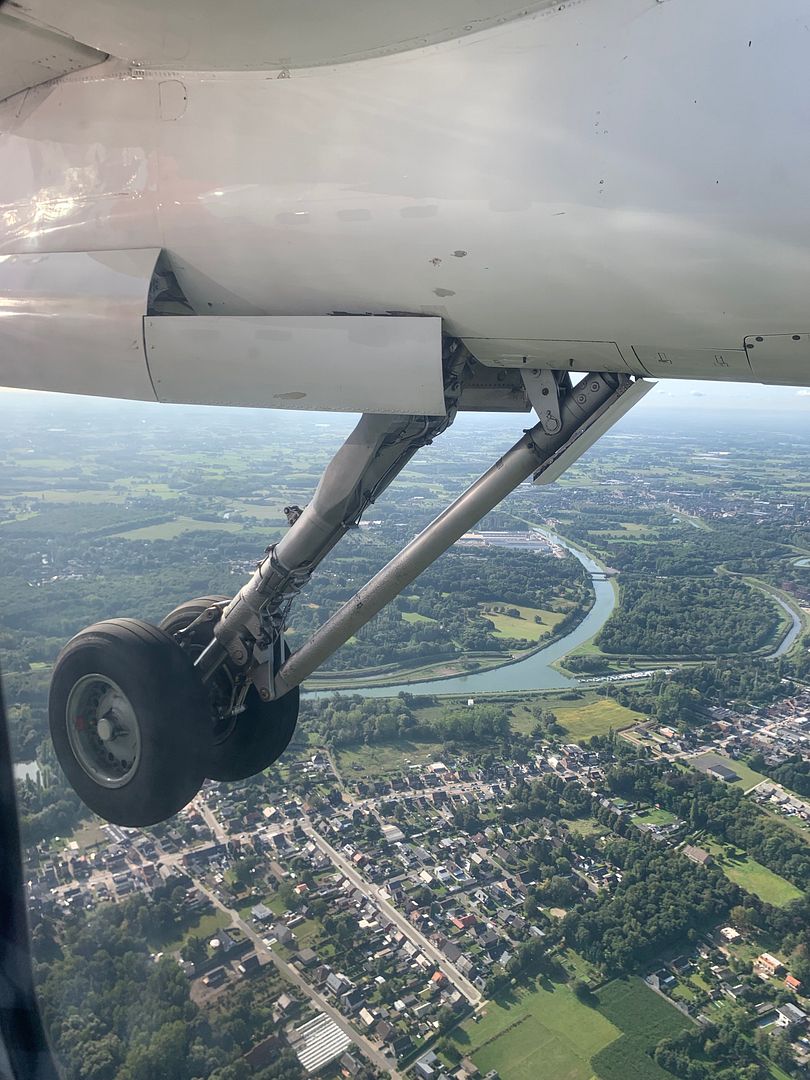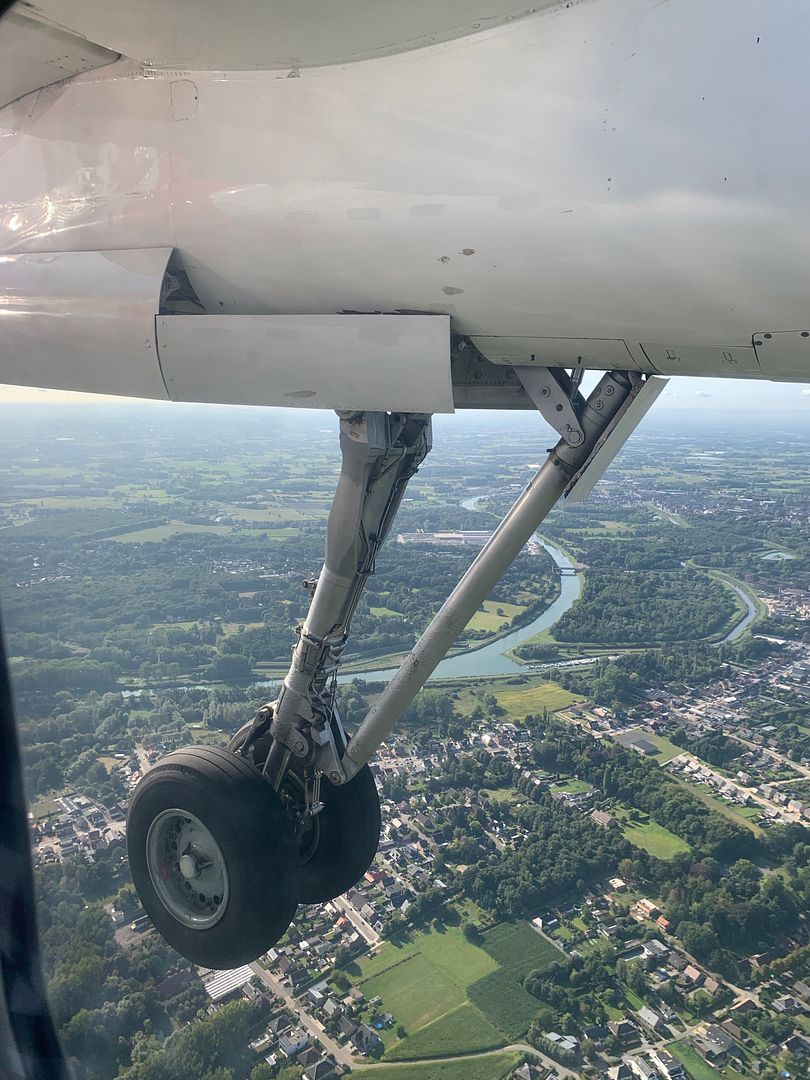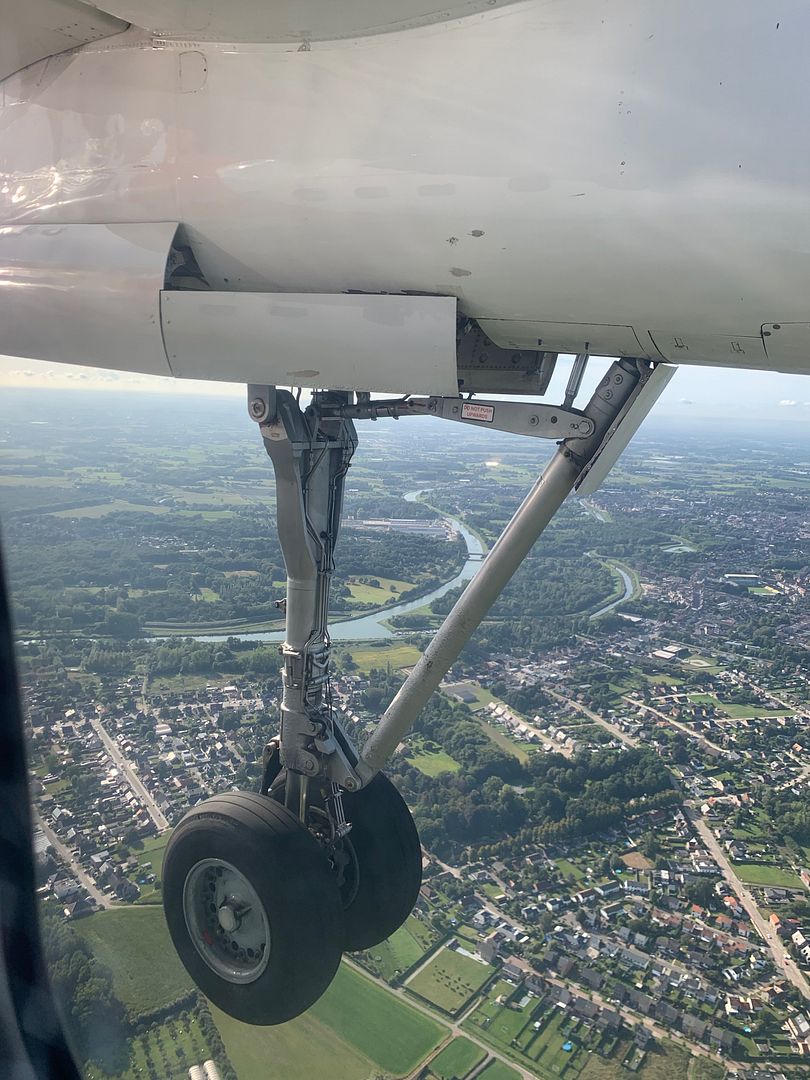 We landed on R/W29 at 10:32am, and initially I was a bit shocked that the plane parked so far from the terminal.
It was quite a walk to immigration and custom.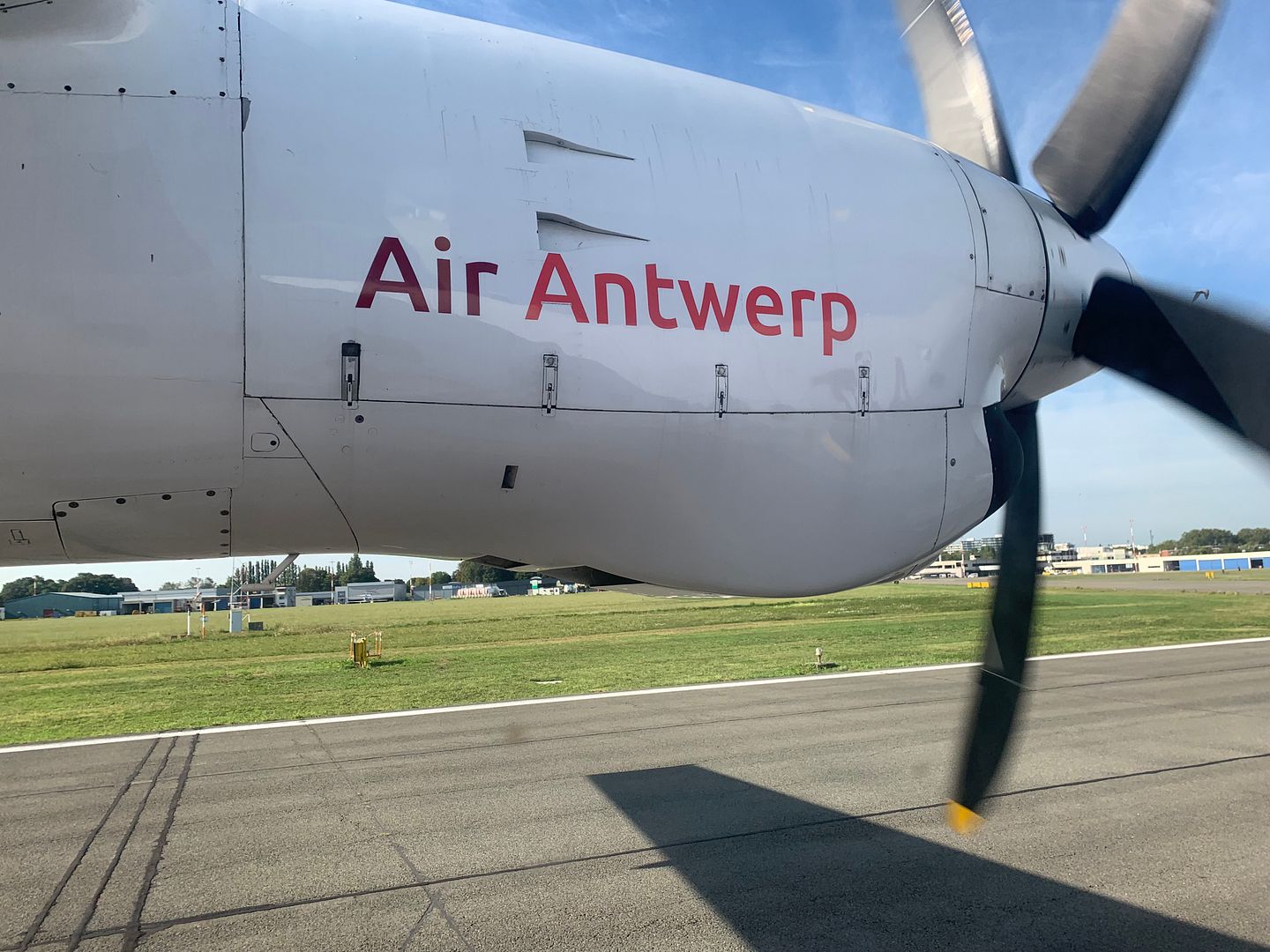 Some farewell cabin shot
The sun did not quite work to my favor now, but it made sense for the press at 2:30pm.
On my flight, there were two pair of Japanese couples, and the two immigration officers were having issues with their passports with not having a British entry stamp. Their limited English and the strong accents for these Belgian staffs did not help the conversation. I, in the end, stepped in and told the officials that you would not find any entry stamp in both my (US) and their (Japanese) passports because we are eligible to use the automated passport checkpoints in Heathrow now. I am still not sure if I totally convince them, but in the end, I showed him the return ticket. He was fine and said that I would see him soon on the departure immigration booths. At least he was cool about it. Of course, having another AV geek, who was doing the same turn, helped my case too. He was a British citizen, but at least the officer was aware that there were people who did the turn for "fun."
I was actually a bit disappointed that there were no Antwerp Airport officials greeting arriving passengers. Most Airport authorities will use this opportunity to promote the airport and tourism in the city. With such a small load, it would not be too difficult logistically to hand out some gifts too, even they had a press event at the business aviation terminal on the other side of the airport. The plane would be sitting here for another three and half hours.
Not a busy airport – only seven departures today
The airport itself was small. There was a coffee/gift shop, along with the typical rental car and airline check in counters. There are photos and horses' statues around the terminal, but the exterior looks pretty unimpressive. The only thing that caught my attention was this Antwerp Airport Aerial photo.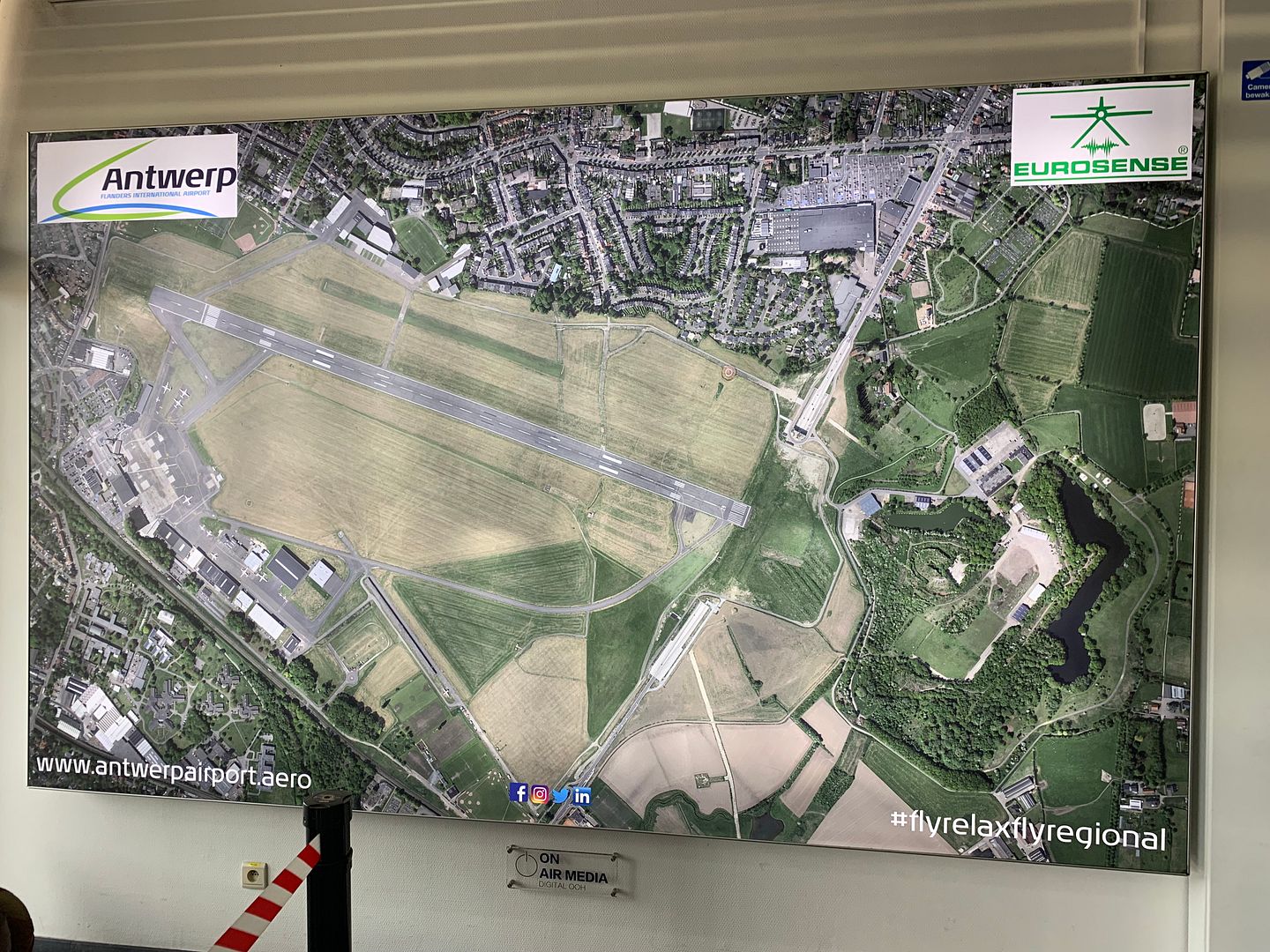 I tried to look for something to do nearby but there isn't really much going on. You have to take a bus to town, and I saw a supermarket in my iPhone, but that was closed for renovation. The nearby area here was mainly a business/industrial area with nothing much happening around. In the end, I just bought a beverage and a snack in the sole coffee shop, and stayed there and read till check in started for the return flight.