Singapore Airlines' Seattle Inaugural September 2019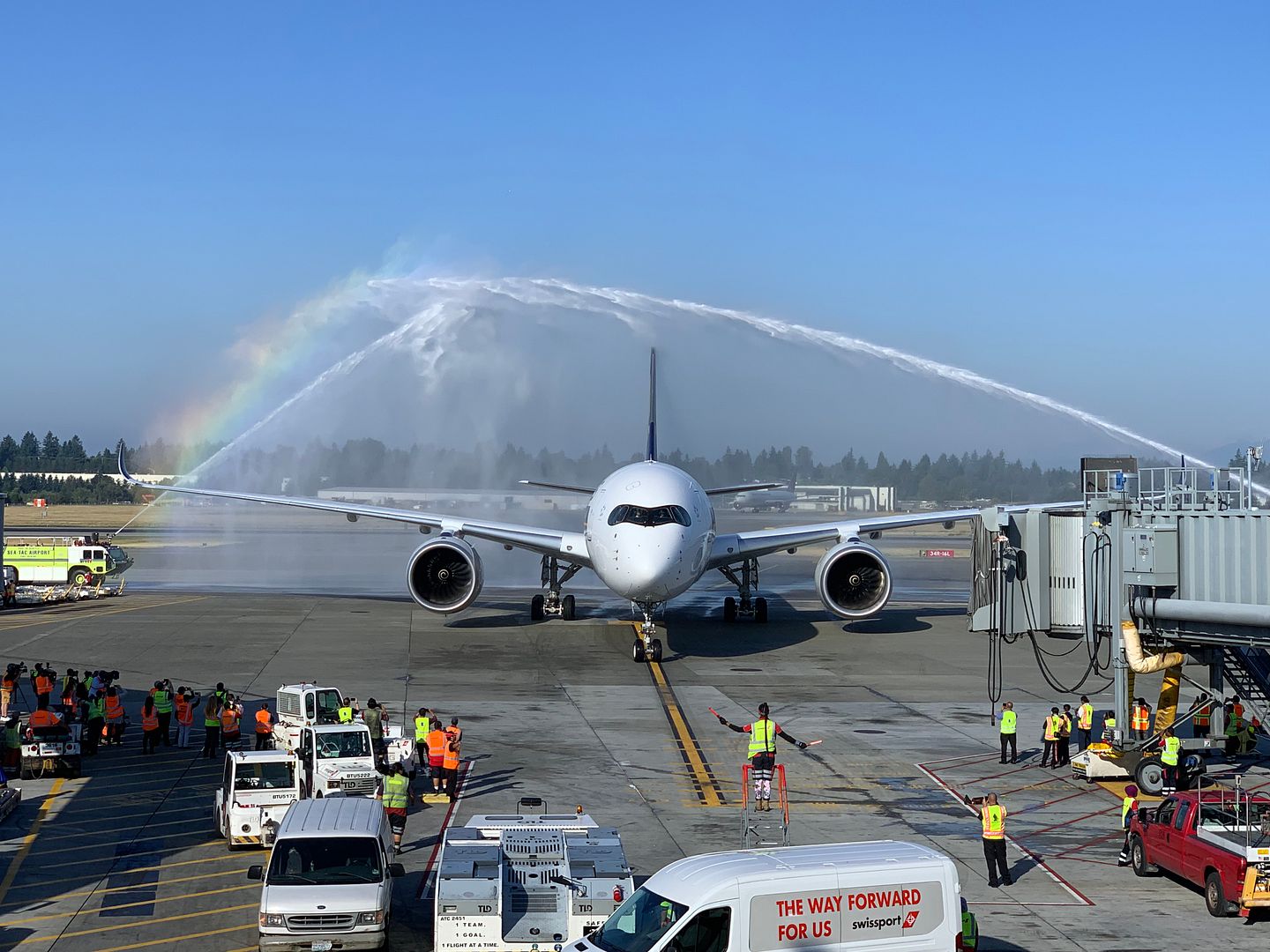 When Singapore Airlines announced their new North American destination, Seattle, in the summer of 2018, I immediately looked out for options to fly this inaugural flight. As typical with most SQ's inaugural flights, discounted business class seats were rarely available or at least available when bookings started. I decided to commence my journey in Colombo and flew the outbound from Singapore nonstop to LAX flying the new A350-900ULH, and then flew back from Seattle on the inaugural flight. I specifically choose to start my journey from Seattle because I have been to a few inaugural outbound from Singapore, so I want to fly the return inaugural back to Singapore. Despite being a higher fare category for the SEA-SIN segments, the fare is still very reasonable ex-Colombo. Everything went well until the attacks in Sri Lanka a few months ago. To give SQ credits, I honestly did not expect that they would allow me to scrap the Colombo segments, but after a few emails and also providing a copy that the State Department did not recommend anyone to go Sri Lanka, Singapore Airlines actually reissued the ticket without the CMB-SIN and SIN-CMB segments. After years of distrusting Singapore Airlines' customer relations, they did well this time. It is quite an achievement for an airline, which is known for its inflexibility.
Honestly, I am still not a fan of Singapore Airlines' ultra-long-haul service. The amenities are sparse and the onboard catering schedule made little sense. For a daytime flight, they offered a light lunch first, and then a heavy dinner two third into the flight. The mid-flight refreshment menus were almost useless because most items would be gone after mid-flight dinner. My 8am LAX flight was even more ridiculous, but at least for this Seattle to Singapore flight, the cabin was half full in business class, so the F/As were not as overwhelmed. Singapore Airlines got to figure out a better way to plan its meals. I know many of you don't believe amenity kits are necessary, but SQ needs to provide one, and perhaps pajamas for these ultra-long-haul flights. The Seattle flight uses the three-class A350-900 with business, premium economy, and economy cabin and there are plenty of reviews. I personally am also not a fan because of the small cubby space for the feet, and "flipping" the seats back and forth do not make sense.
Anyway, here is the full report, but if you just want to look at the pictures, here is the link to my photo album:
http://s1213.photobucket.com/user/Carfield76/library/Summer%202019/SQ%20Seattle%20Inaugural
September 3, 2019
SQ 27 Seattle to Singapore Depart at 10:40am Arrive at 5:30pm Airbus A350-900 9V-SMV
Check-in:
I arrived SEA-TAC around 8:15am, and as expected, Singapore Airlines is using the common check-in area towards the end of terminal along with most international carriers, and Swissport is the handling agent. There are plenty of SQ uniformed staffs today, as most staffs are still learning about the system. It was slower than normal, but for a first day, it was acceptable. The agent was friendly and I was also handed an invitation to a ceremony in the gate. The agent also reminded every passenger that we have to take the train to the South Satellite.
Invitation
Lounge:
Special cupcakes for inaugural flights
Singapore Airlines uses Club at SEA in the South Satellite for its premium and top elite members, which is pretty much the only option for a non-Delta airline at the South Satellite. I notice that the lounge is building some expansion, but I overhead from staffs that the new lounge will not ready for a while. At least the lounge is fairly quiet in the early morning hours, as Singapore Airlines will be one of the earliest non-Delta international departures. They have a continental breakfast spread including this peanut butter, jelly, cornflake banana rolls, which are delicious. You can also find the typical noodle cups, and they set up a small hot food station featuring Cheese Omelets and hot porridge.
[URL=http://s1213.photobucket.com/user/Carfield76/media/Summer%202019/SQ%20Seattle%20Inaugural/IMG_3
022.jpeg.html]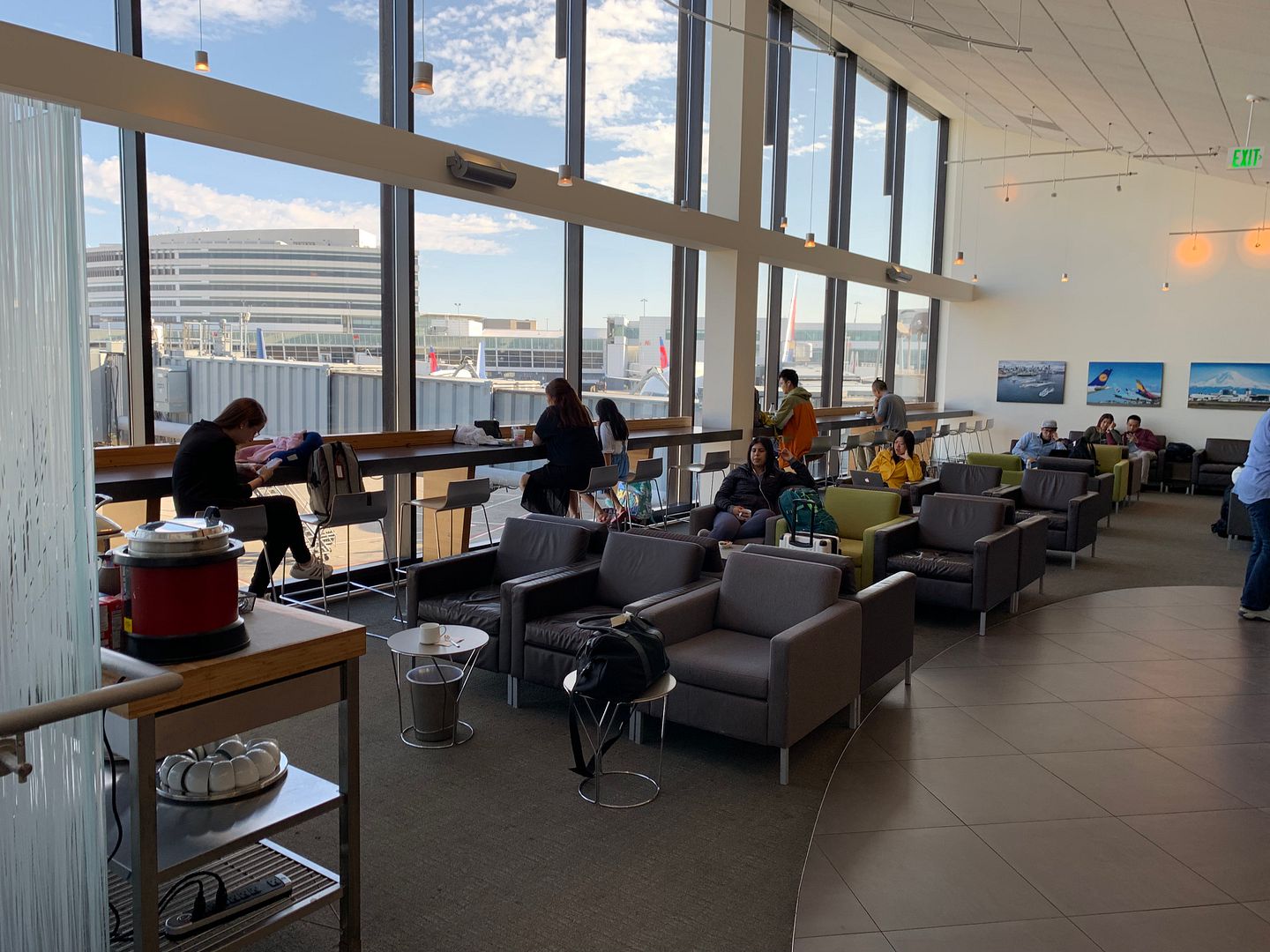 [/URL]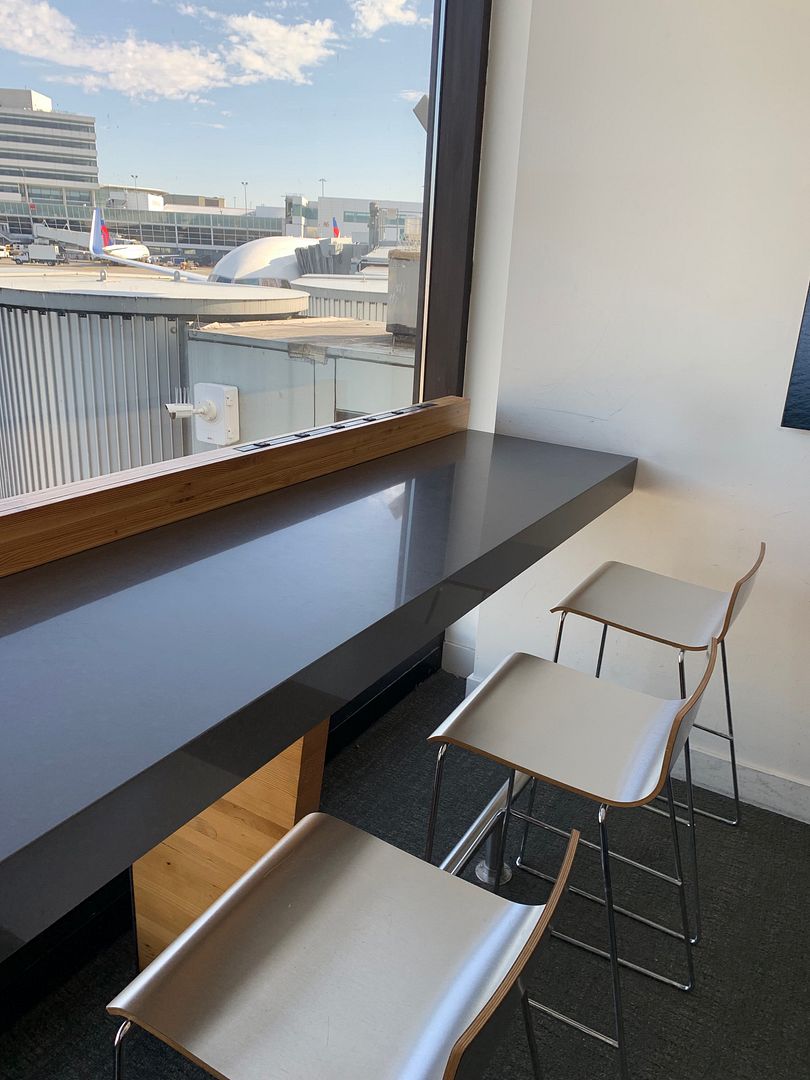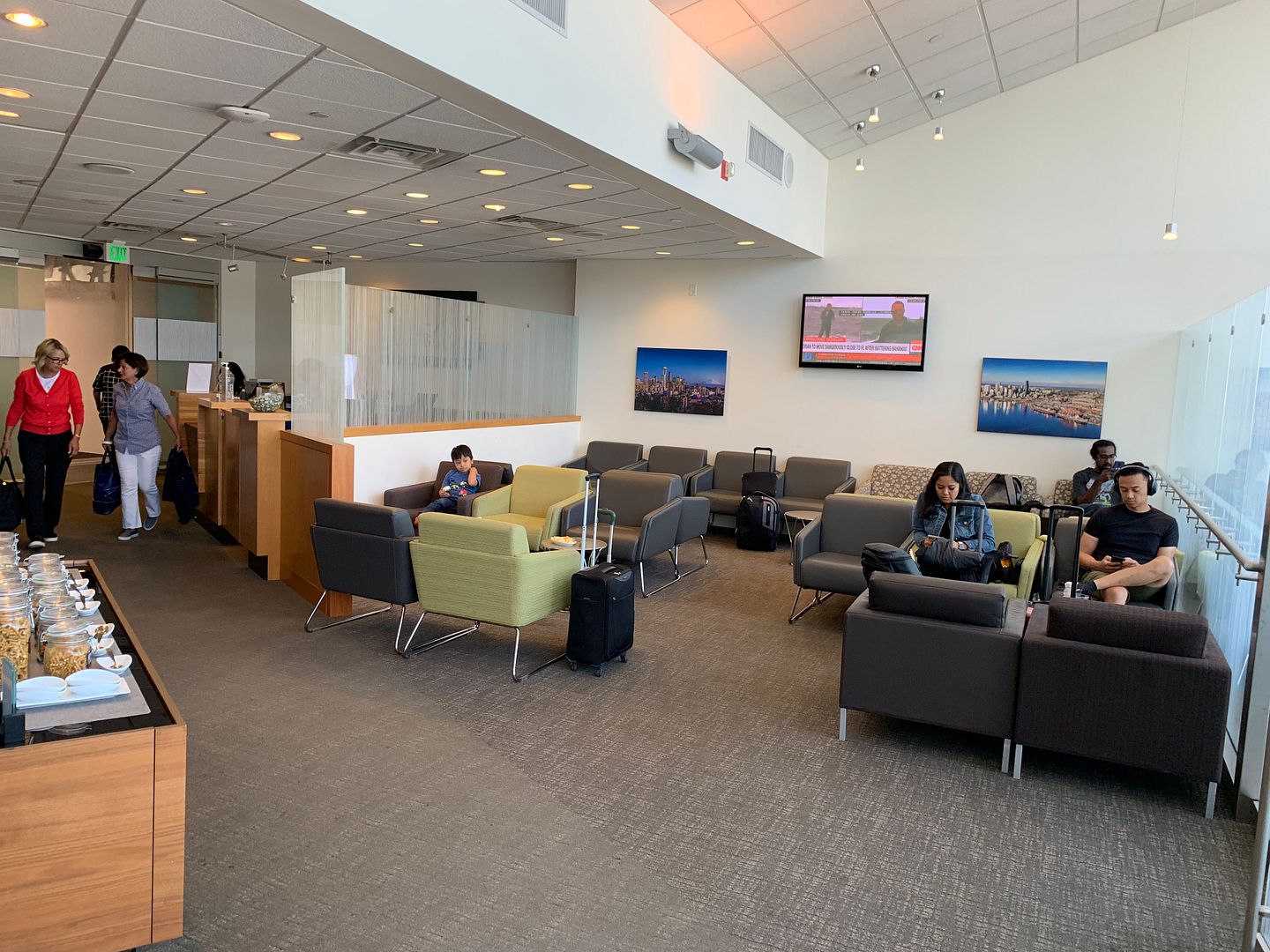 Bar – not self-service though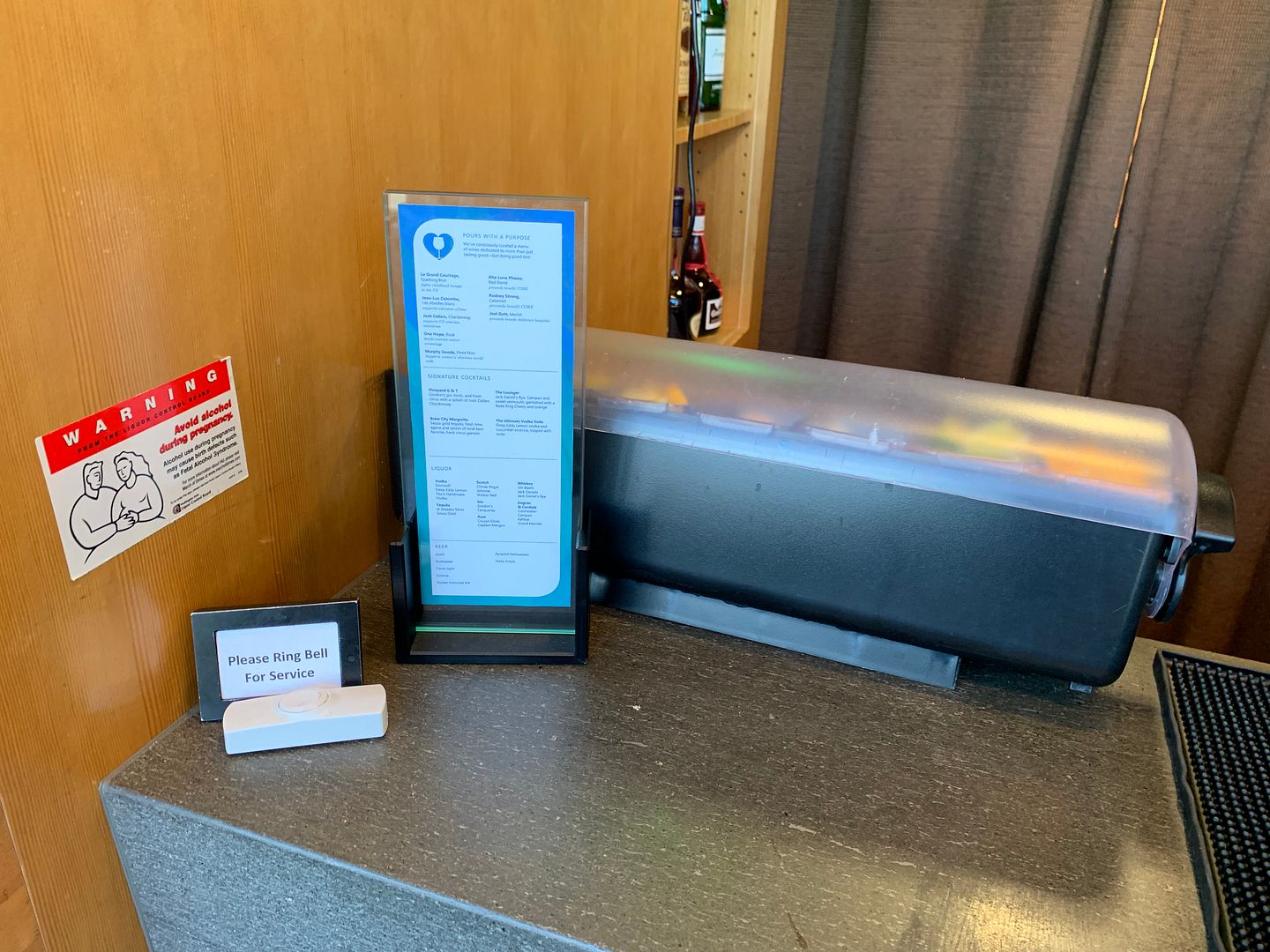 Hot food station
Plane arrival and water canon salute:
Singapore Airlines of course sent its newest 3-class A350, 9V-SMV, to this special occasion.
Just an interesting side-note, I flew 9V-SMV before, but when it was the registration to one of Singapore Airlines' Mega-Top, Boeing 747-400s.
Gate S12 was definitely not the best place for photo but I found a spot next door near gate S13 and the make-shift Peets' coffee bar.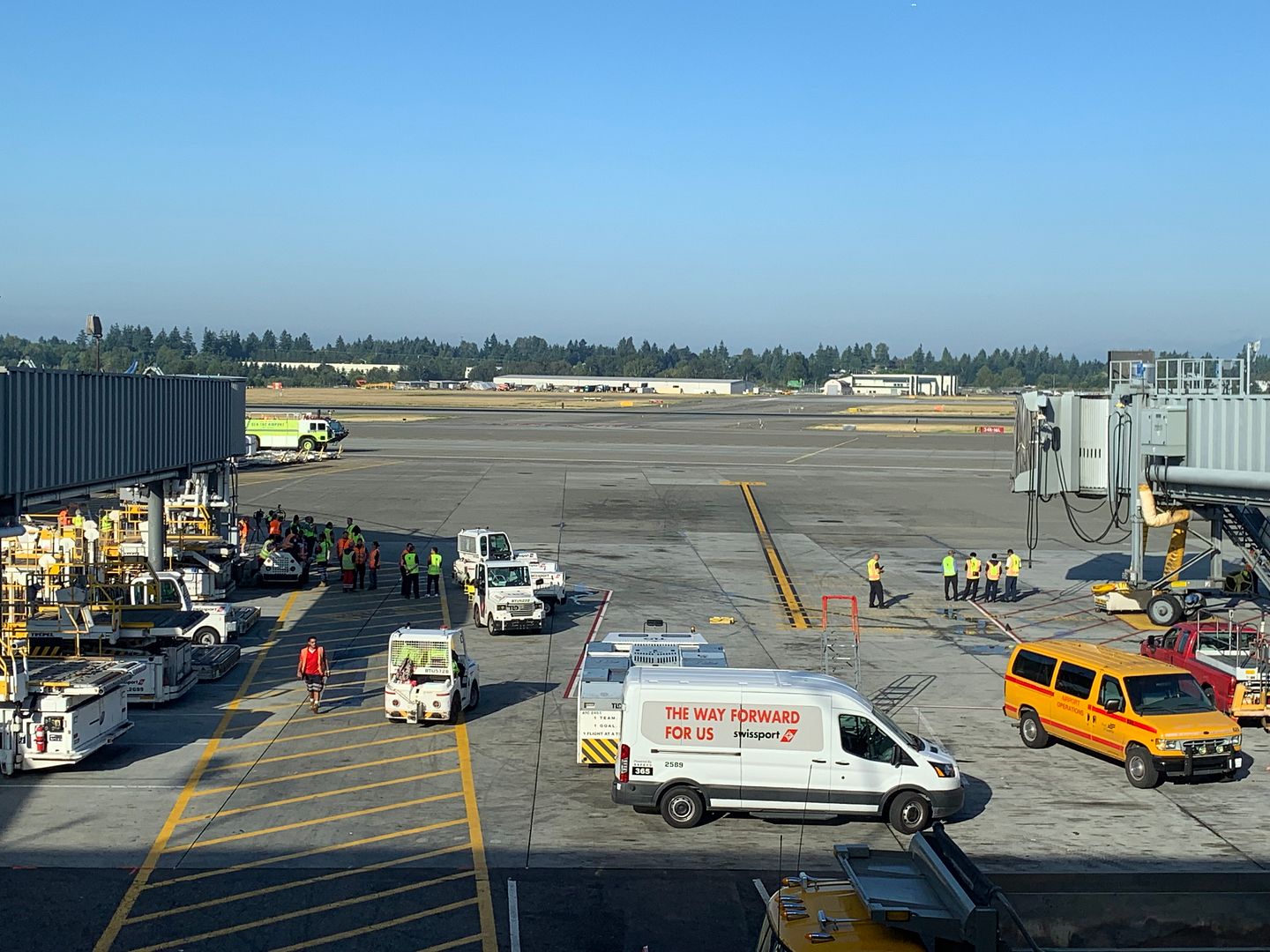 SQ 28 landed early at R/W16L at 8:57am and parked at gate S12 at 9am.
A very short taxi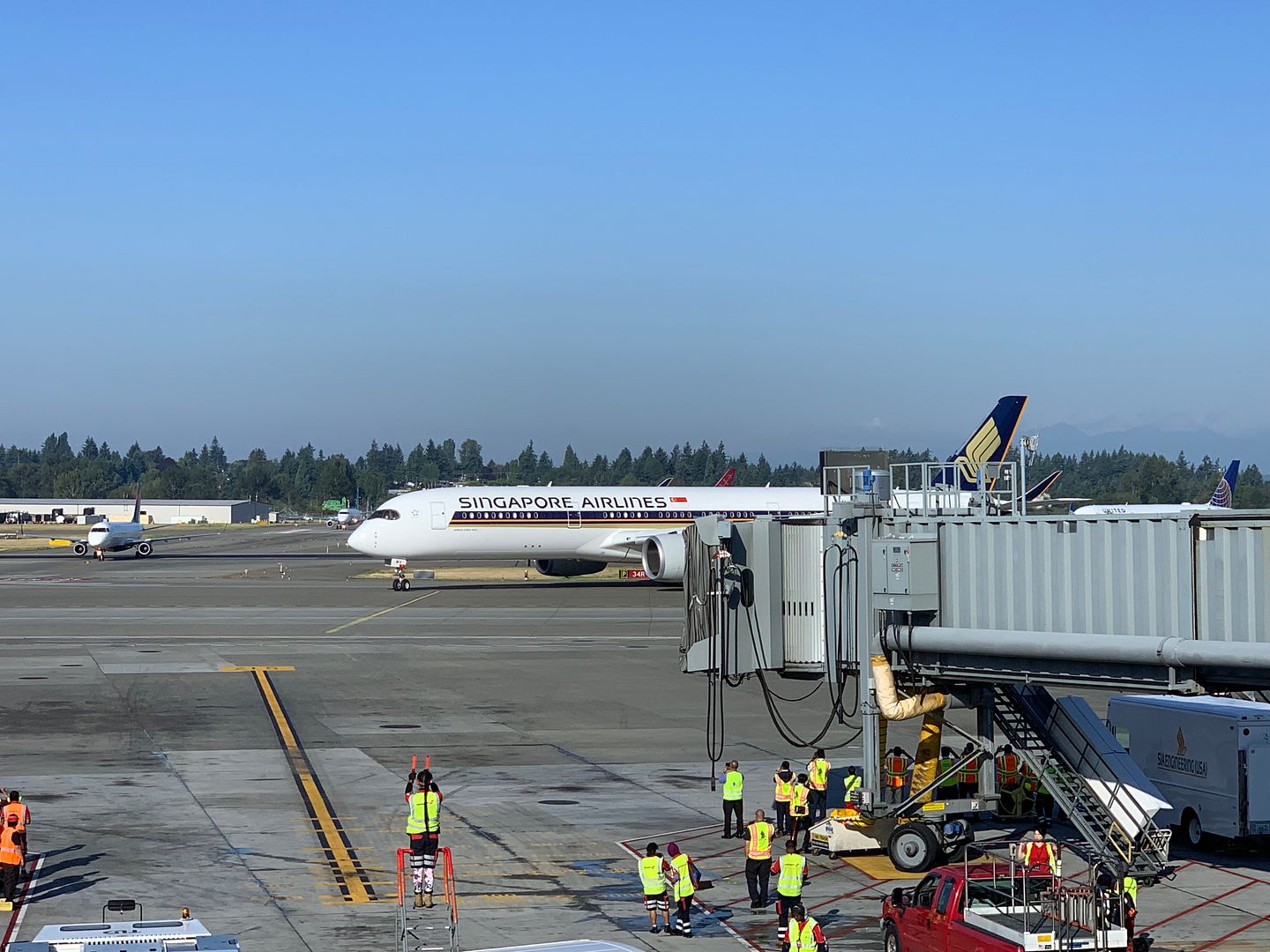 9V-SMV looked sharp on this sunny day here at Sea-Tac.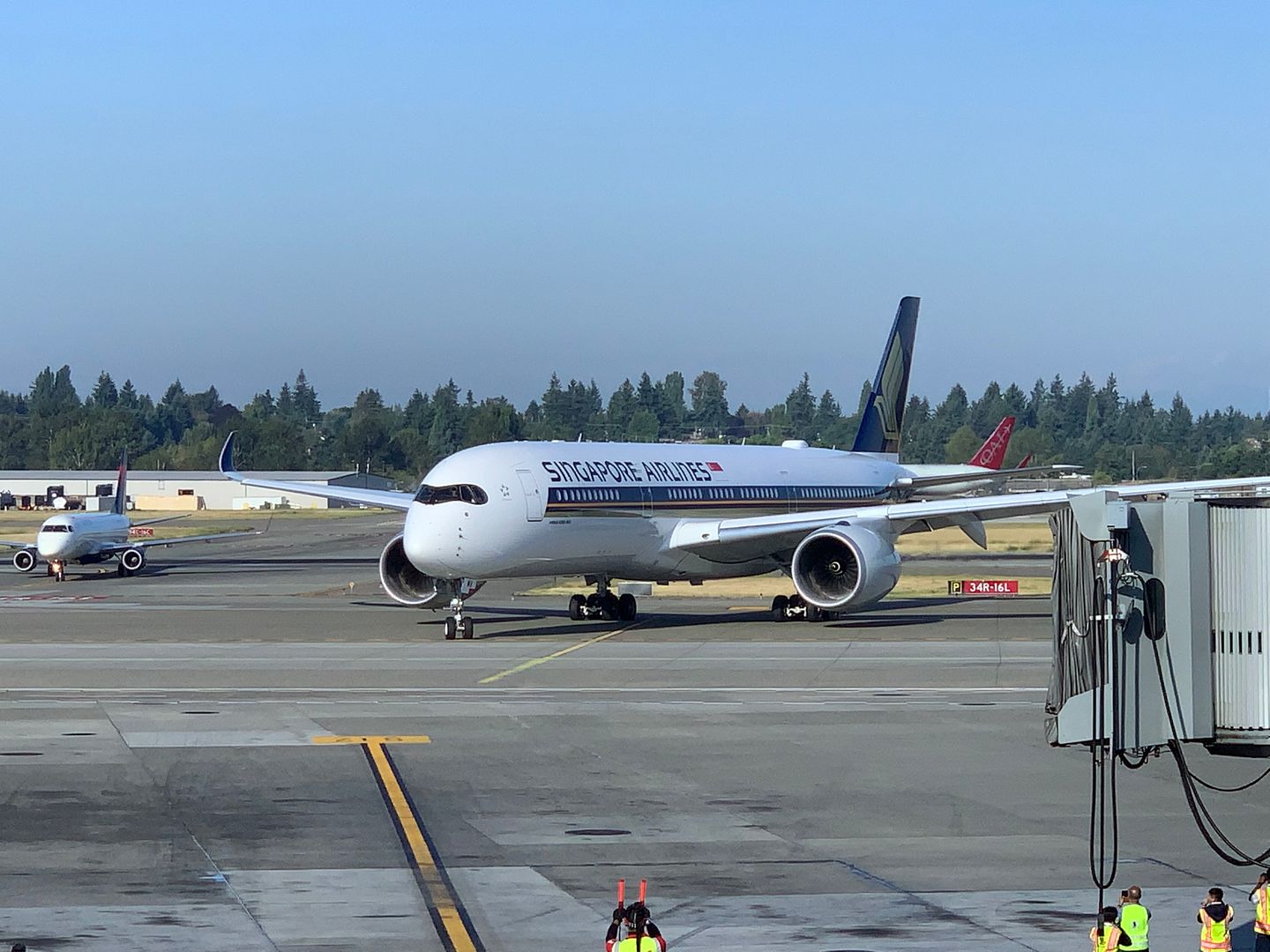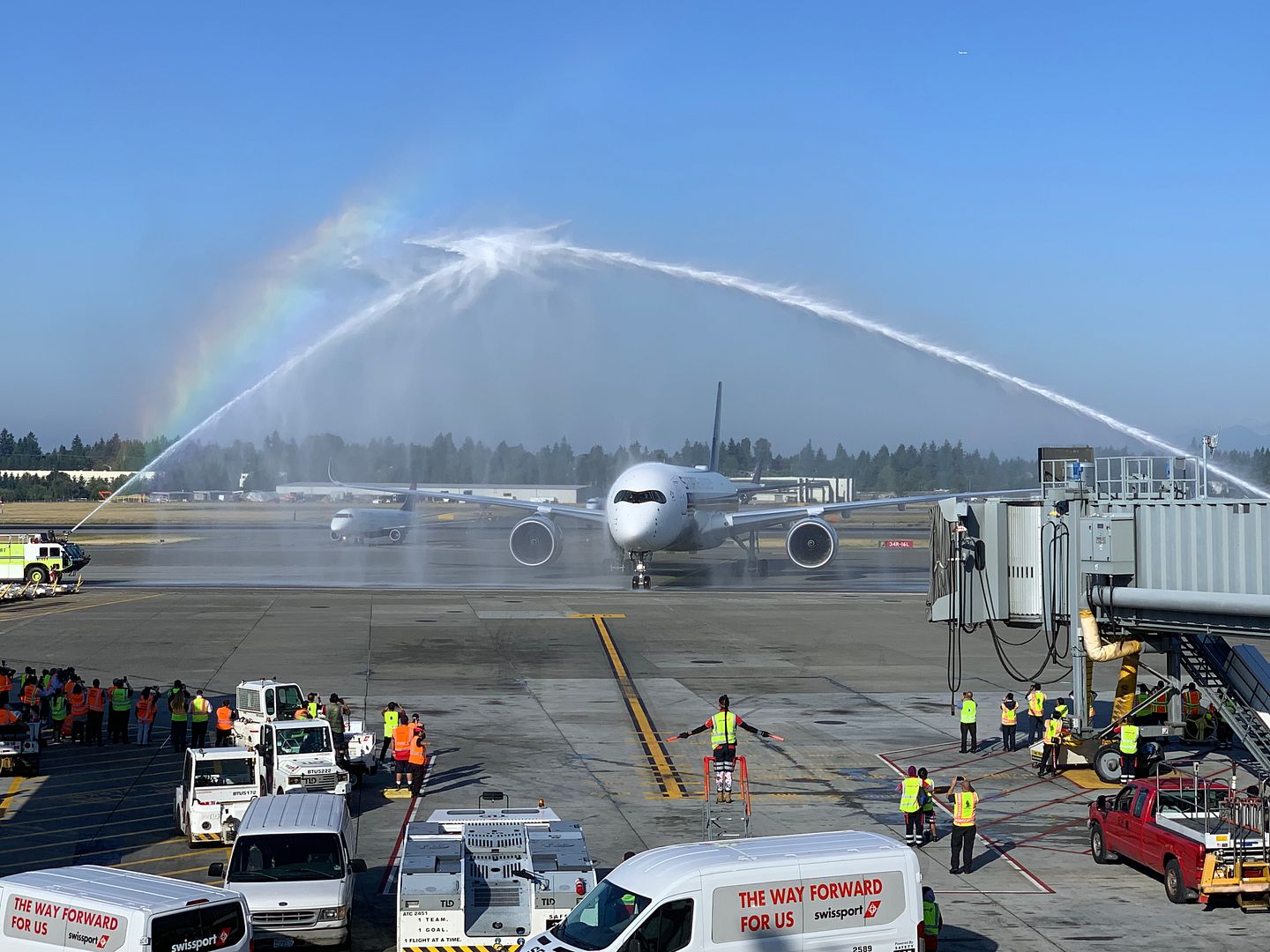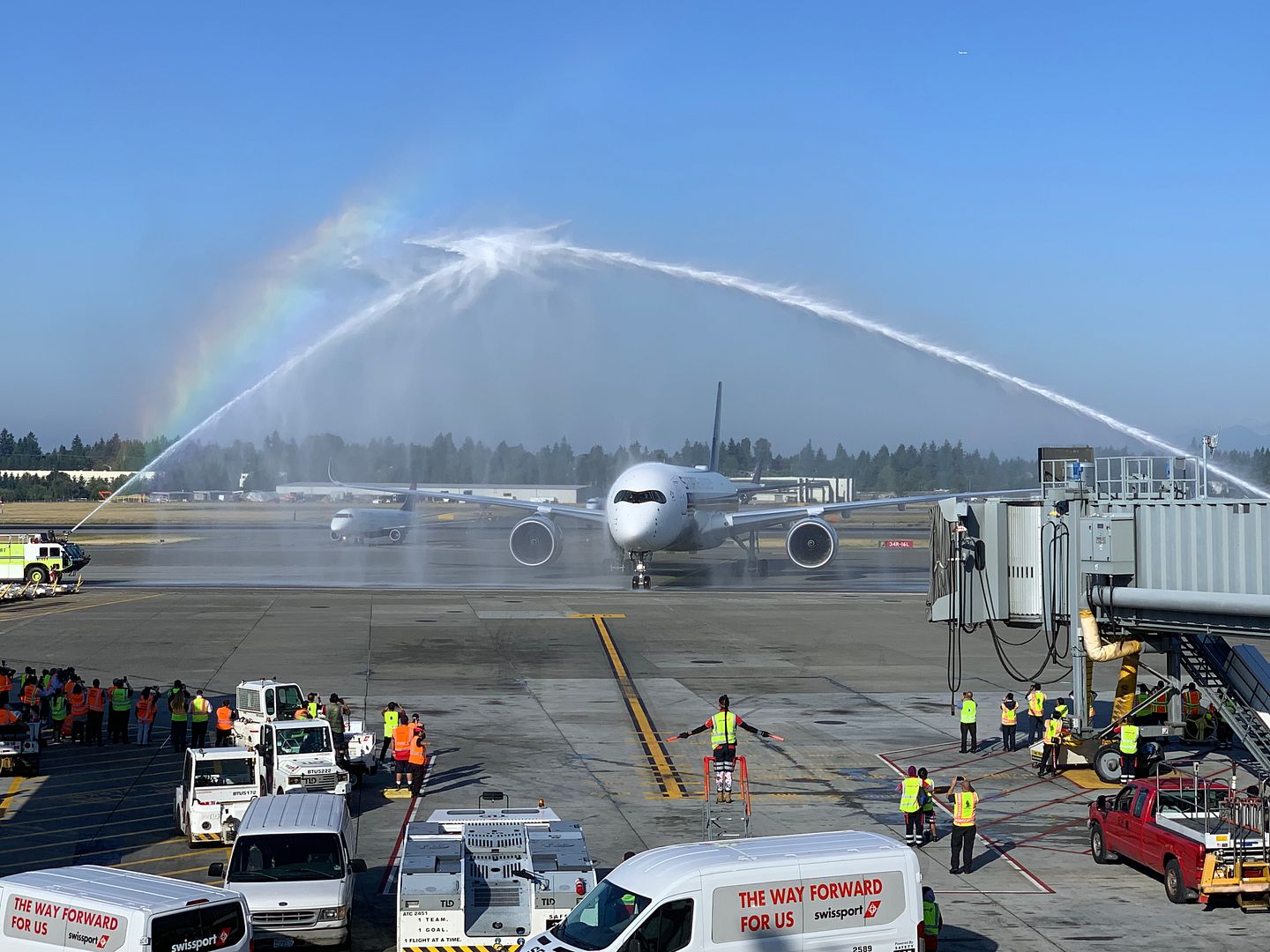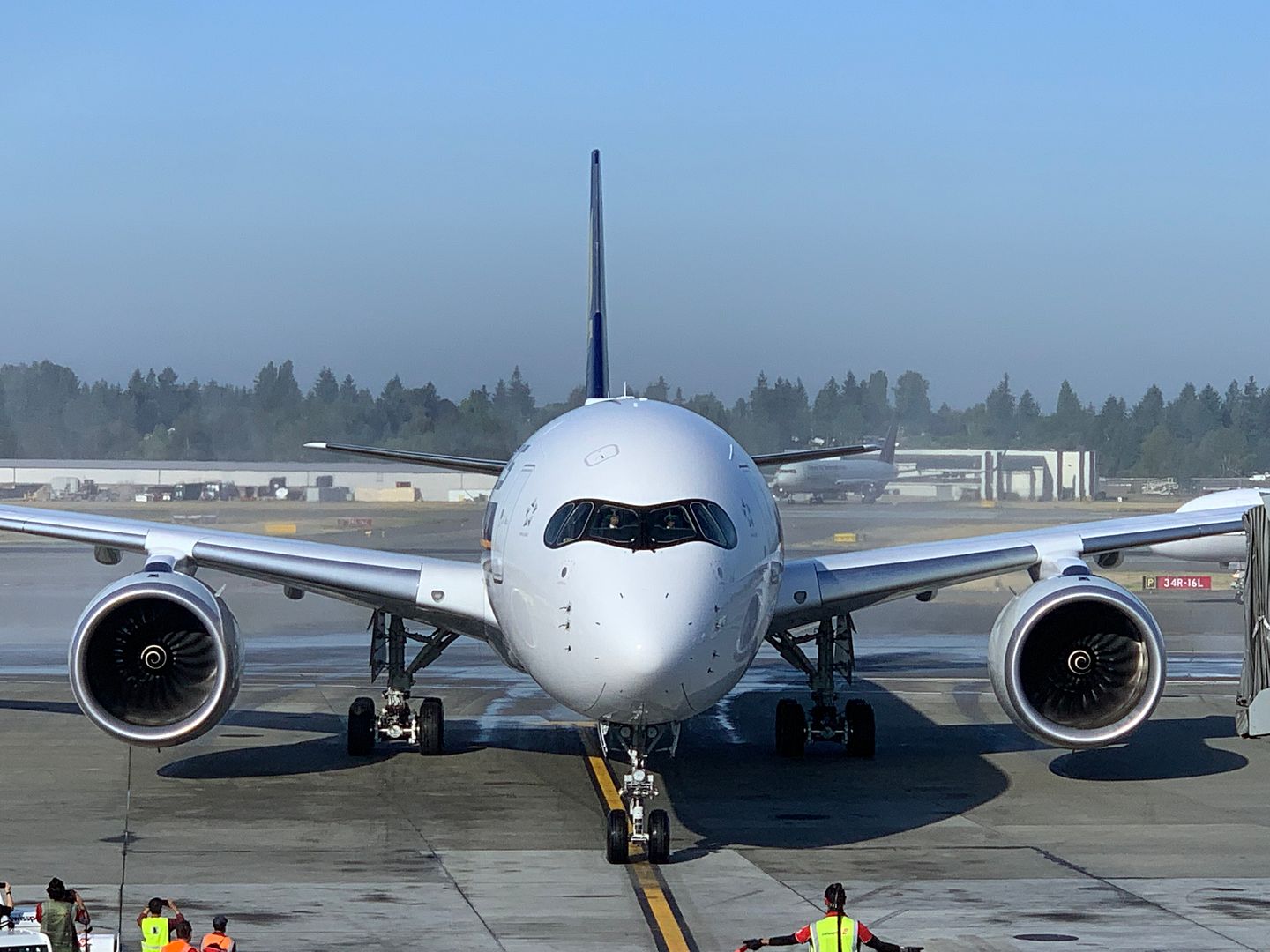 Ceremony
Given the limited spaces and constant constructions going on at the South Satellite, Port of Seattle and Singapore Airlines did a fairly good job in having a ceremony, a continental breakfast buffet, and a lion dance performance.
Podium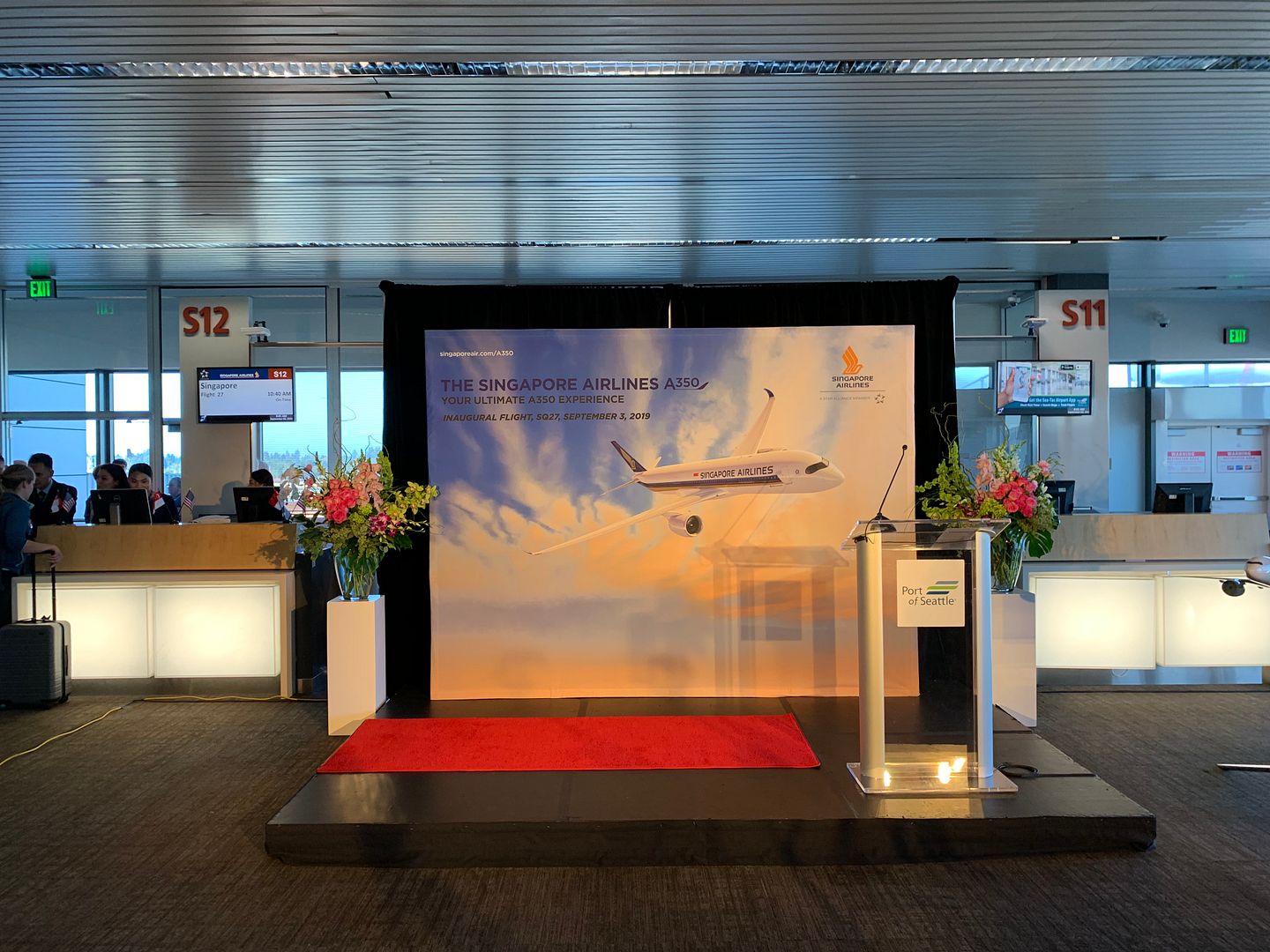 Singapore Airlines A350 model next to some advertisement for the new flight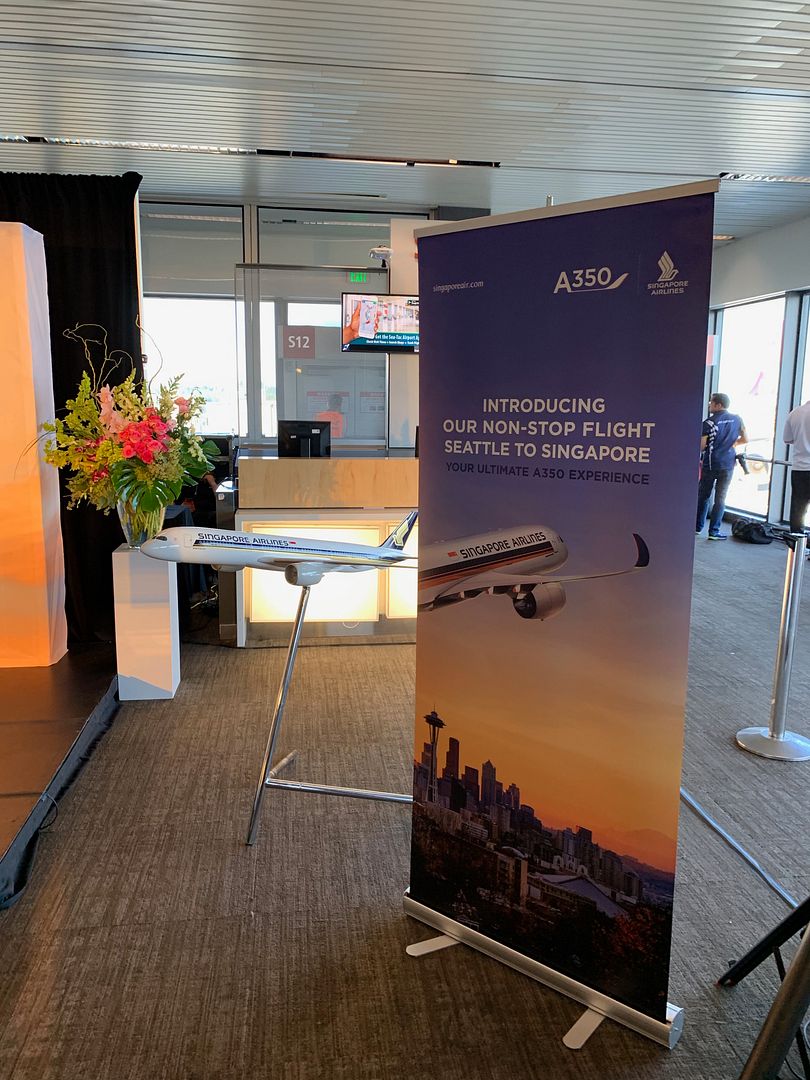 Busy Gate Area
The breakfast buffet was a bit simple, compared to SQ's usual buffet extravagant, but the South Satellite really has no place for caterers to provide hot food.
Cake of course…
To my pleasant surprise, Singapore Airlines finally has equal gender representation of the flight attendants. They usually have two women flight attendants, also known as the iconic "Singapore Girls," to take pictures of passengers and basically mingle with them. For this inaugural, there is finally a "Singapore Boy," which is great for selfish reason.
The ceremony was rather simple because there were so much going on around us. Hawaiian Airlines was boarding a 10am flight to Maui at gate S11, and the lion dance, which was the highlight of the day, did not take place till HA was almost done with their boarding. As some of you knew, Lion Dance involved drums and instruments that was loud. The local group did a good job and definitely a sign of good luck to the flights. The passengers and airport employees were happy.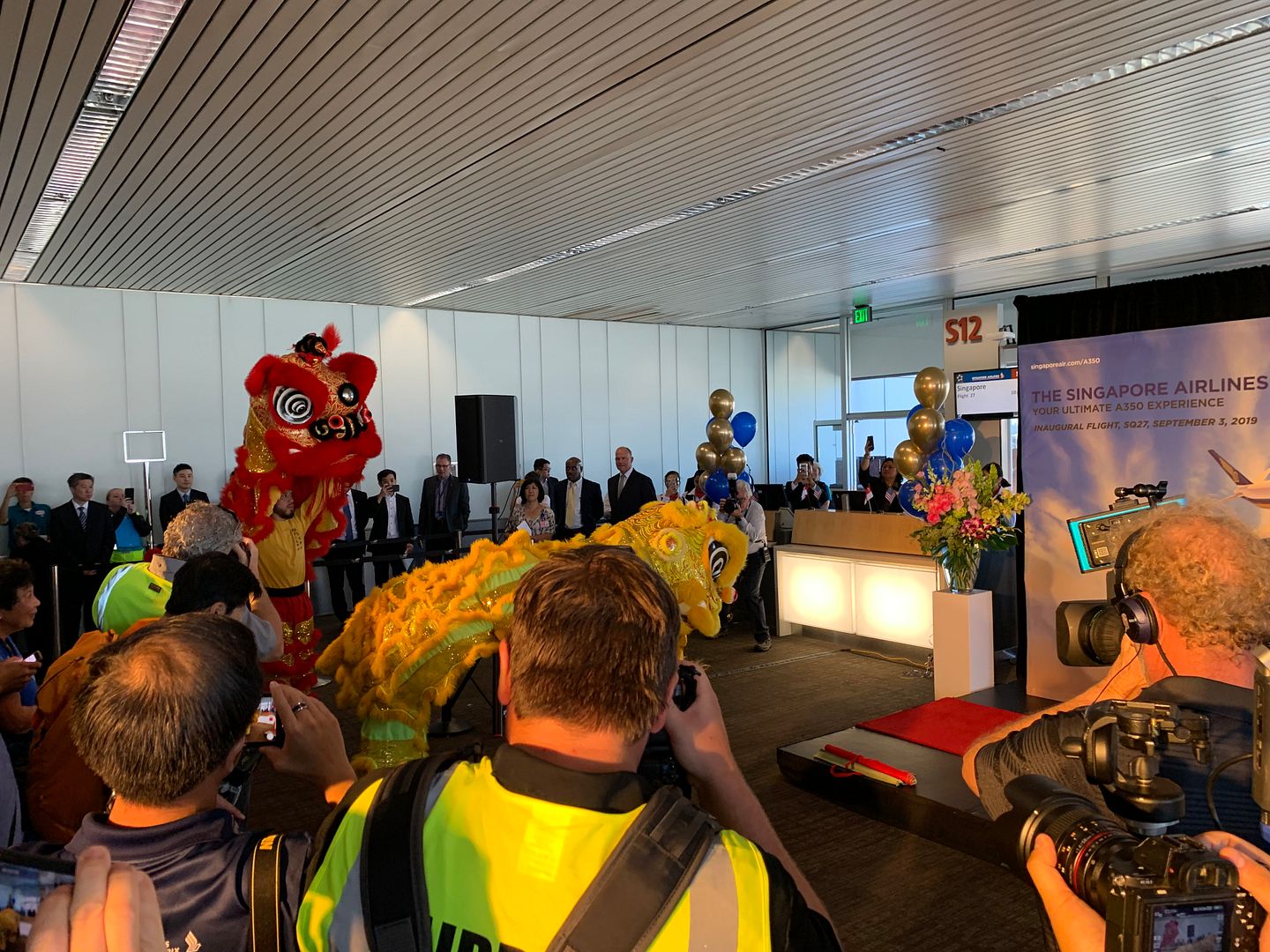 After the Lion Dance, there were two brief speeches given by Campbell Wilson, the senior vice president of sales and marketing for Singapore Airlines and Lance Lyttle, Sea-Tac airport's managing director.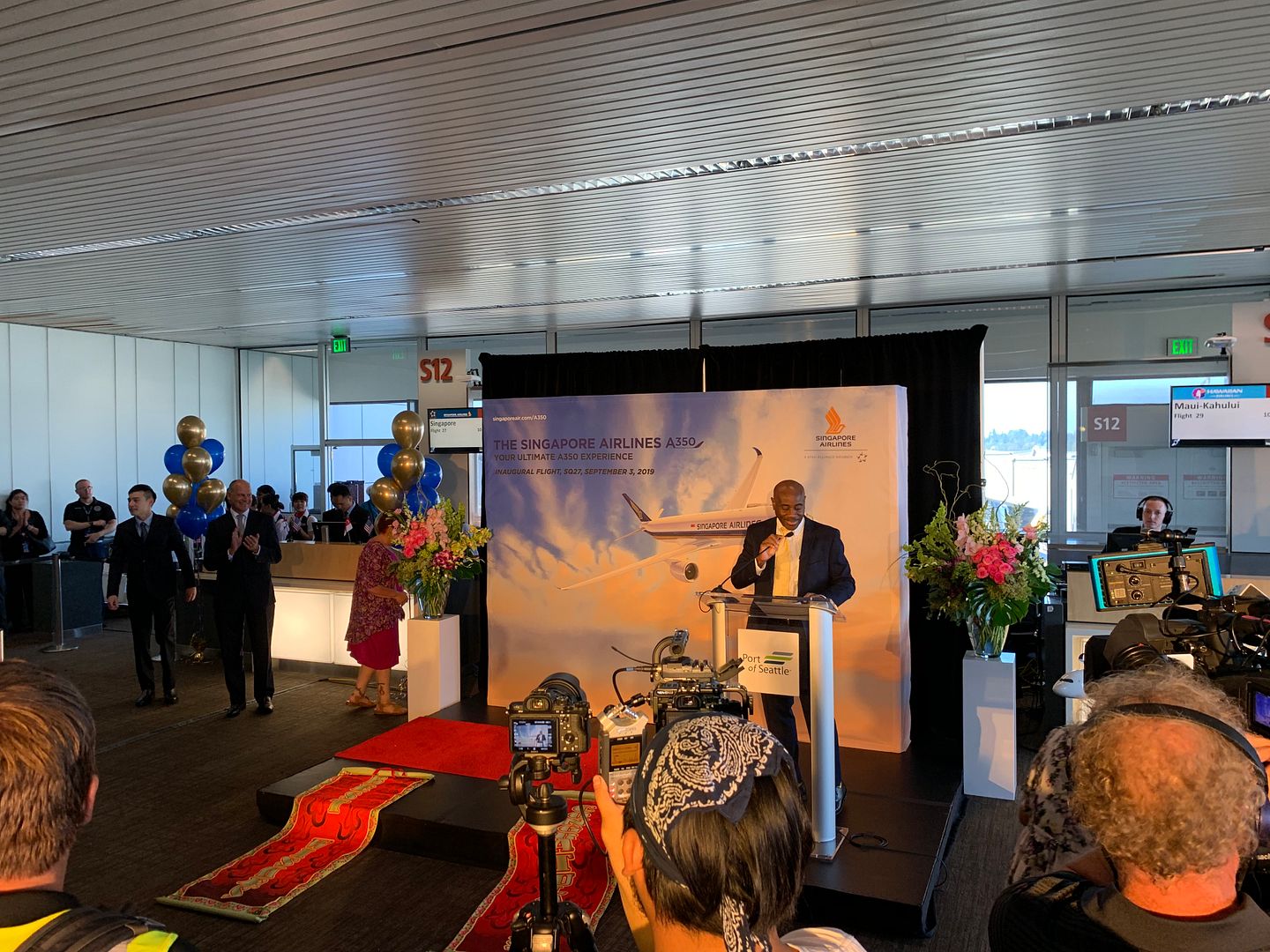 Lyttle gave Wilson a glassware, which was famous here in Washington State.
Then of course Wilson gave Lyttle a nice SQ A350-900 model.
Ribbon Cutting then followed and Sek Eng Lee, Regional Vice President for the Americas of Singapore Airlines, joined the ribbon cutting ceremony.
Boarding:
Singapore Airlines really schedules a rather tight turn, an hour and thirty-five minutes, in Seattle, which is definitely challenging especially for the first day of operations. Despite being arrived slightly early, boarding was further delayed because of TSA inspection. Some of the "bloggers" were rather unhappy with the delay, but as a seasoned inaugural traveler, it is sort of expected. Thankfully the airlines usually pad their schedule. Some of the Port of Seattle staffs I talked with were surprised with the tight turnaround but I am sure SQ will manage after they ran the flights for a while, or they will adjust the schedule accordingly. The schedule definitely aims for convenient connections to the evening bank of flights to Southeast and South Asia.
Boarding finally began at 10:50am, ten minutes after our scheduled departure time. The Singapore Boy and Girl were handing out gift bags.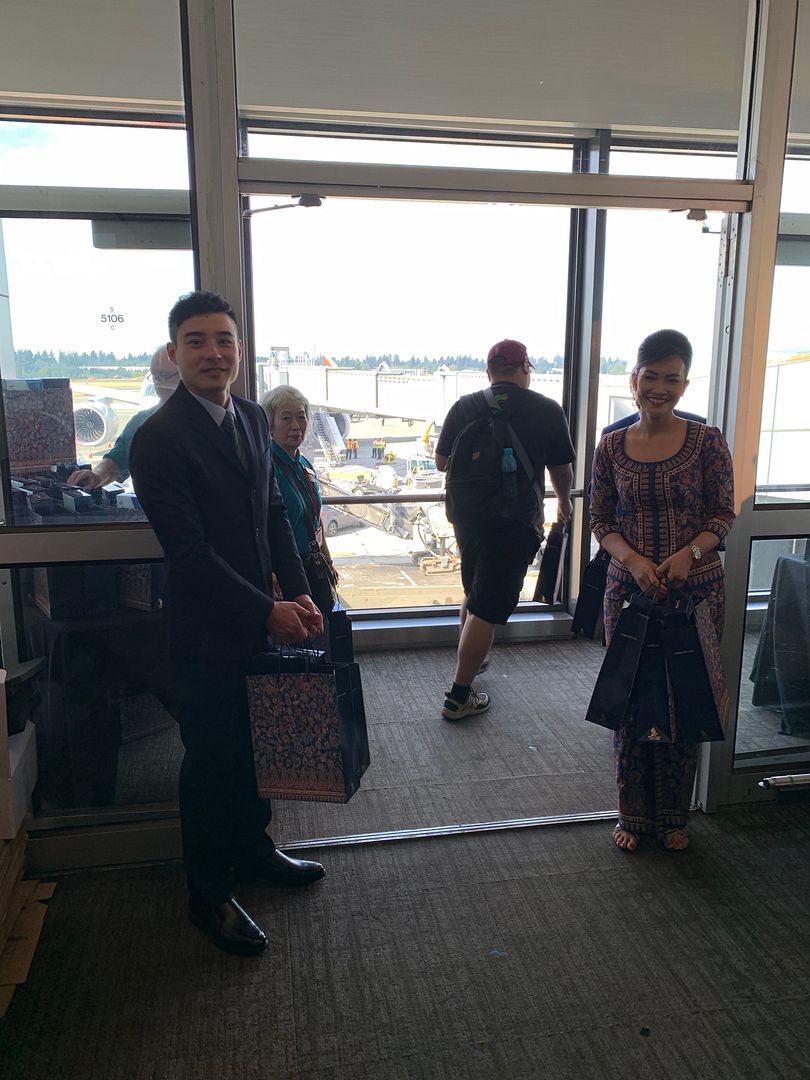 Contents of gift bags:
Singapore Airlines' A350-900 Model & Baggage Tag by Port of Seattle
Certificate – they cut back on the blue folder that they usually put the certificates
A SQ branded wireless charger stand
A few cabin shots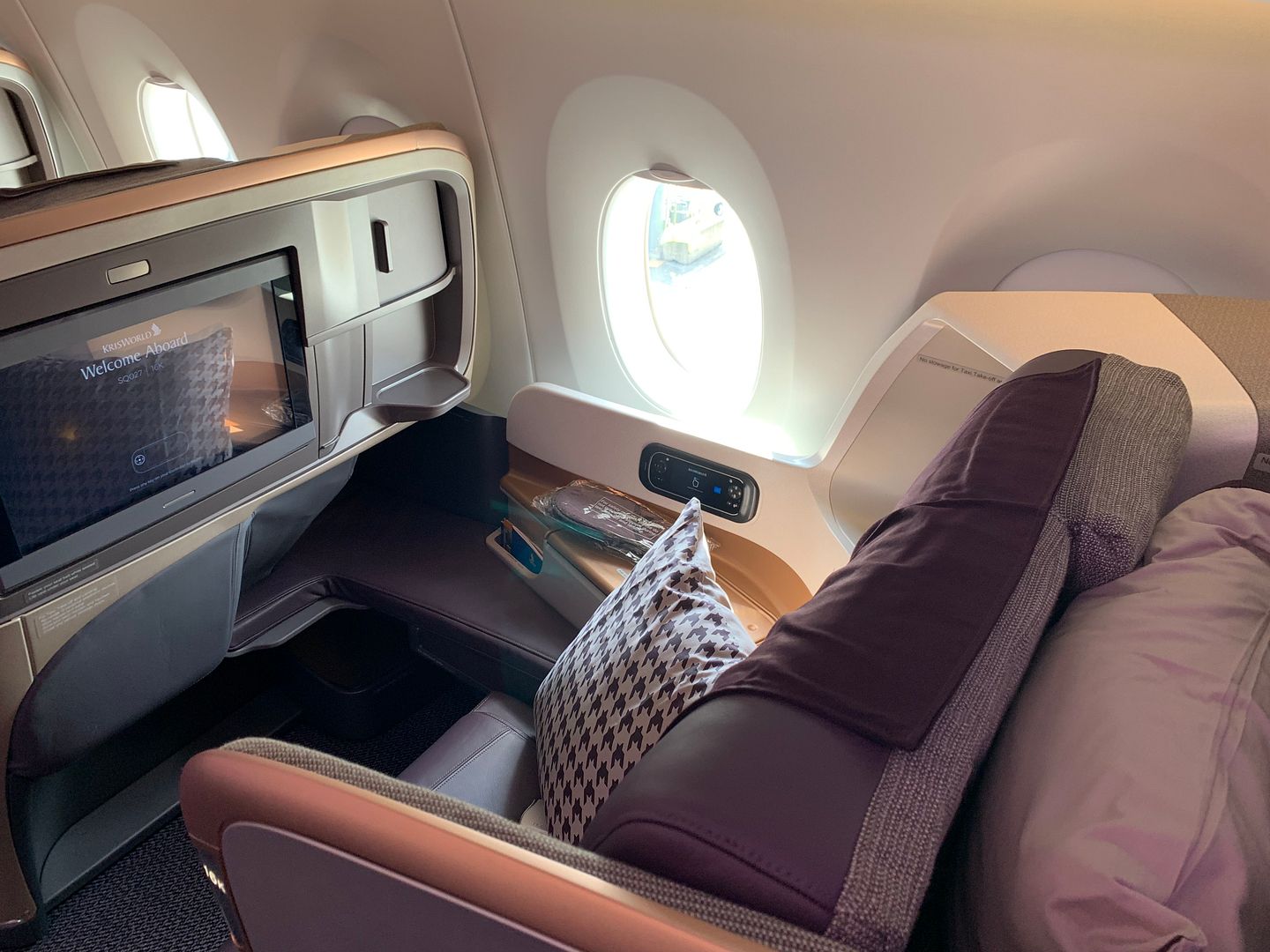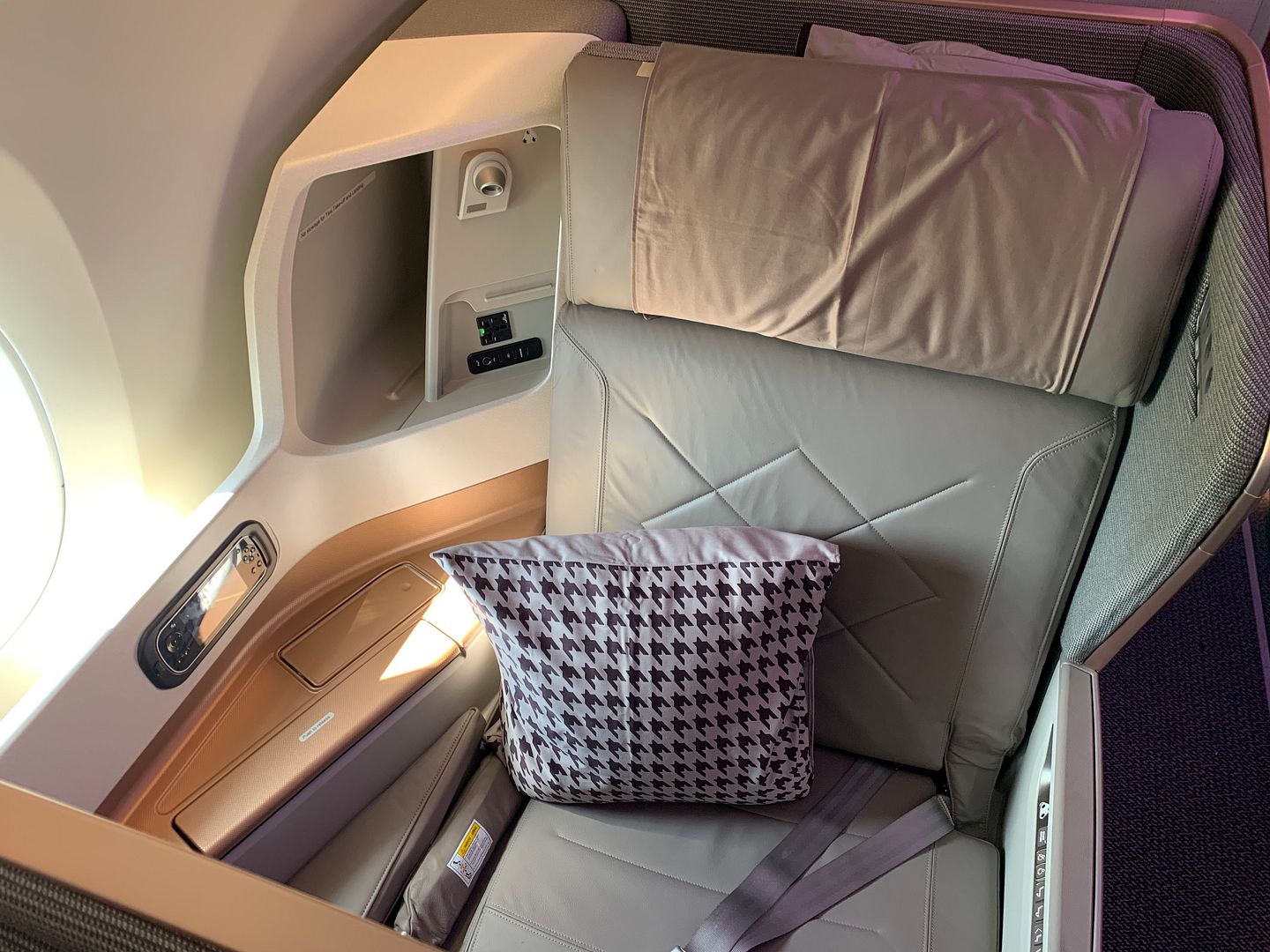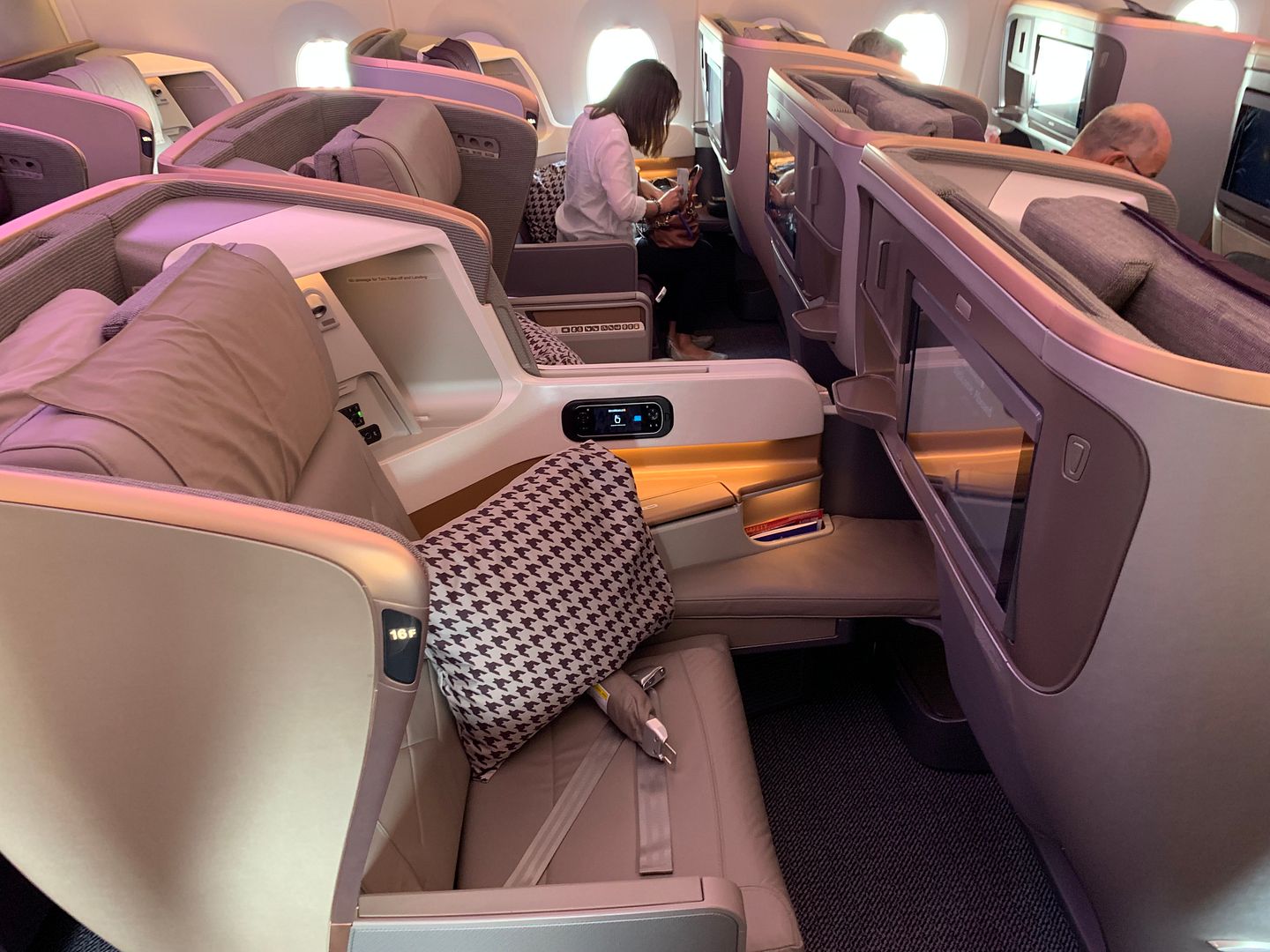 My seat 16K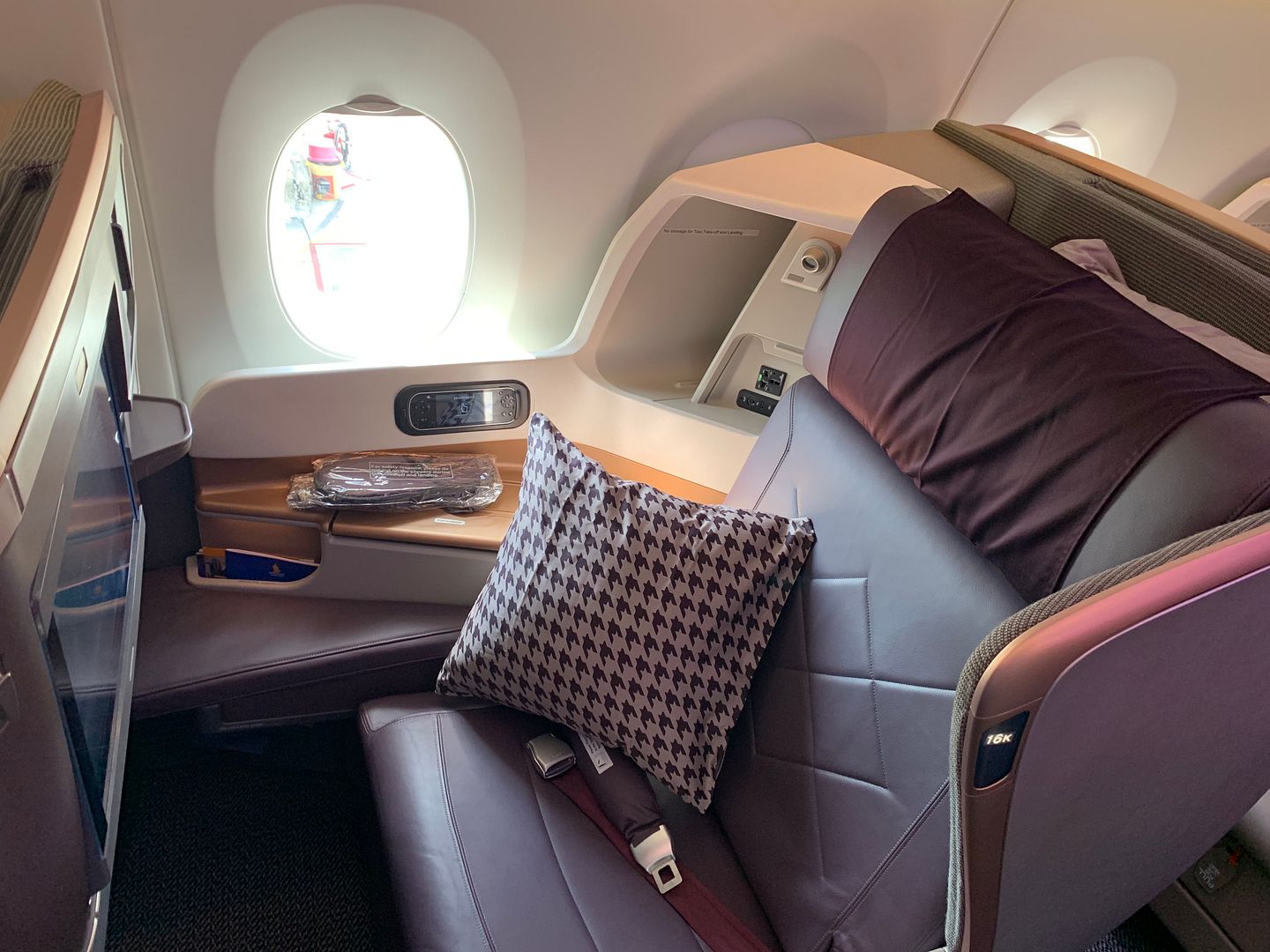 Pre-takeoff mocktail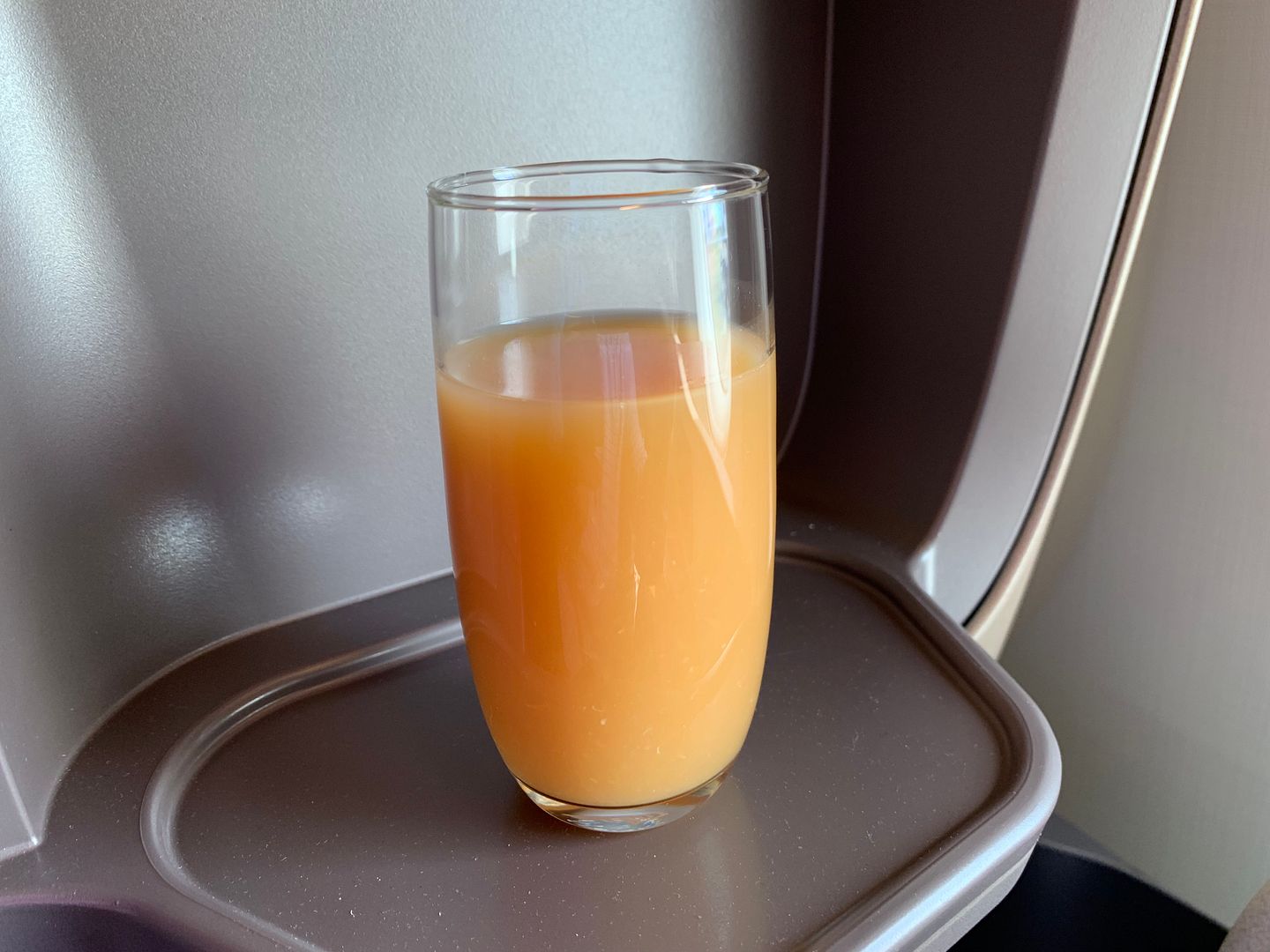 Typical amenities trio on Singapore Airlines – slippers, eyeshades and socks – I prefer a traditional amenity kit! I still think these ultra-long-haul flights deserve some extra amenities like pajamas.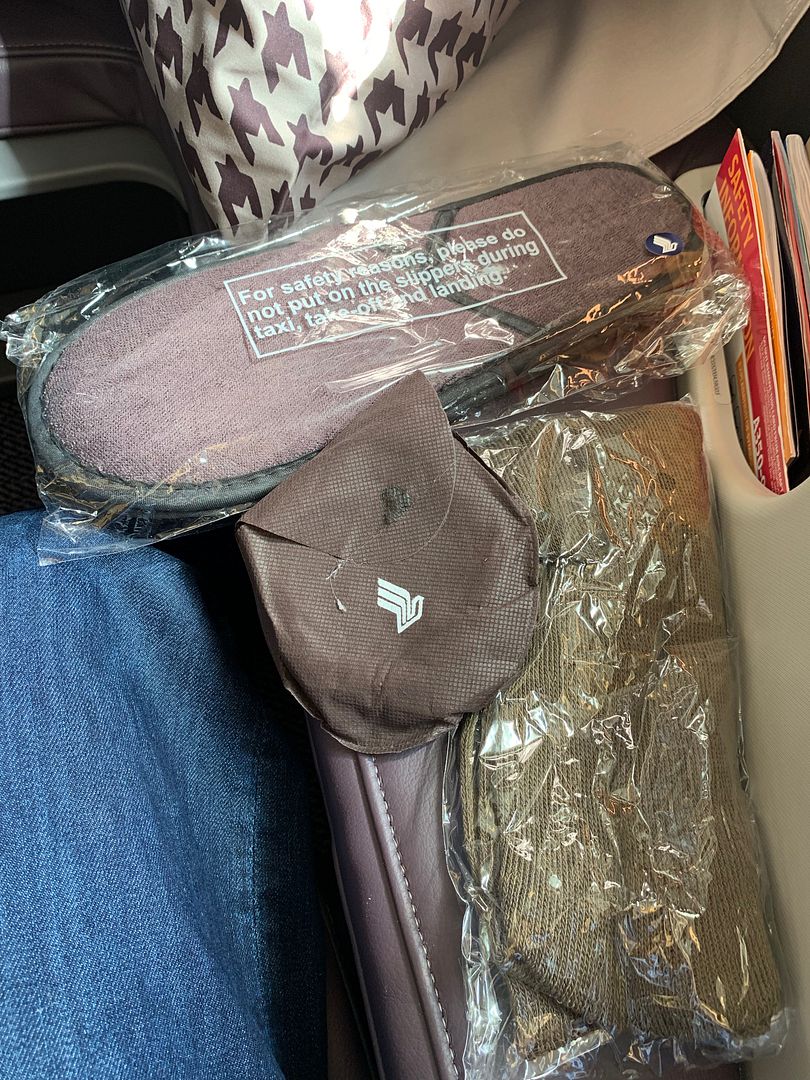 Cover of September's 2019 Silver Kris Magazine – Seattle
Business class was not full with no one sitting at the middle seats next to me, as well as the window seat behind me. There were two to three empty seats towards the front. I did not check out the aft business class cabin though.