The Flight At A Glance:
Aircraft: Airbus A330-300
Origin: Johannesburg O.R. Tambo International Airport
Destination: Accra Kotoka International Airport
Flight Time: 6h
Date: July 1, 2019
Class of Service: Business Class
Airline: South African Airways
Flight Rating: 90/100
Flight Number: SA209
Seat Number: 9A
Time of Departure: 6:30 PM SAST
Time of Arrival: 10:35 PM GMT
Departure Terminal: Concourse A
Aircraft Tail Number: ZS-SXM
Pre-Flight:
Firstly, to give some background, South African Airways has two vastly different configurations on their A330s. The older configuration is on their A330-200s (which I had flown earlier in the trip from Sao Paulo) that has slightly angled seats in a 2-2-2 configuration and is pretty outdated. Their newer configuration uses the fantastic Thompson Vantage XL seat model which is staggered and is in a 1-2-1 configuration and is South African's best business class product, which we would be flying that day.
We had arrived at Johannesburg Airport connecting to Accra from Windhoek. While we flew the first flight in economy class, we upgraded on the second flight to business class for a reasonable price. Since we were coming connecting from an international destination to another international destination, we did not have to exit the terminal to connect and did not have to clear immigration. After arriving on the flight from Windhoek, it was a very long walk to get to the transfer area. First, we had to walk through a long and grim-looking corridor and then found the signs for connections, that led us to a big room with all of the transfer desks with some chairs where connecting passengers could wait without having to deal with the big terminal. After that, we had to clear security again, and we were dropped off in the main area of the terminal.
Afterward, we headed to the South African Airways International Business Class lounge. I was actually pretty impressed with the lounge – I would say that it was a bit better than the Star Alliance Lounge in Sao Paulo that I had visited a few days prior. It was clean and had a lot of different types of seating, including a couple of massage chairs which were all taken at the time. It also had a fairly decent amount of food options, with some hot options that included rice, some kind of spicy beef, chicken, among other things, which all were delicious. They also had a bar (where all drinks had to be ordered from, even water) and multiple smaller buffets that had cold food options. I was very content spending about 2.5 hours there during my connection.
https://i32.photobucket.com/albums/d31/chrisju77/Screen%20Shot%202019-10-21%20at%205.13.46%20PM_zps2xagvael.png
The South African Airways Lounge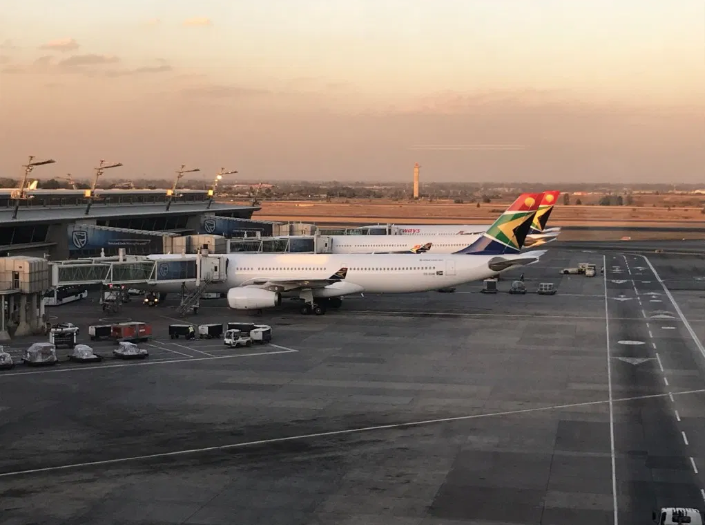 Our Aircraft – A South African Airways Airbus A330-300
After spending a good two and a half hours in the lounge, we decided that it was time to head down to the gate where our aircraft was departing from. We were departing from gate A11 which is a real gate and is not a hardstand gate. We were lucky to get a real gate there as most long-haul jets seemed to depart from remote stands (in fact, all three times I departed or arrived at JNB on this trip, I got a real gate, which is extremely lucky). Although I couldn't get to the gate without stopping by to see some more exotic aircraft!
I'm actually not that interested in this Lufthansa 747 at all. I'm much more interested in that Air Zimbabwe Boeing 767-200 (we don't see many -200s anymore!) right in front of that BA 747-400.
Now, our flight was actually departing to Washington Dulles Airport (my home airport!), although we were actually getting off only in Accra this time, the intermediate stop of South African's IAD flight. That meant that we had to go through additional US airport security, which involved personal inspections of carry-on bags, which actually took quite a while. However, luckily, we didn't have to go through the extremely long line for economy class passengers as there was a separate entrance to the security area for business class passengers. Our gate was sterile, which means that once we cleared the extra security, we couldn't go back out into the regular area. At about 5:45, boarding was called, and I was excited to experience South African's new business class product.
The Flight
Since we were traveling in business class, we boarded through the forward door, which actually didn't do any good as we were seated in the rear business cabin behind the second door. South African Airways uses the (fully flat – completely horizontal to the ground) Thompson Vantage XL seat model on their A330-300s, which is one of my favorite business class seats and is debatably the best off-the-shelf business class product and (in my opinion) is the best-staggered seat – even better than United's new Polaris seats. Some airlines even fit the Vantage XL with doors (Delta and China Eastern), although South African didn't opt do install doors. These are also the same seats as on SAS's A330s and A340s, Qantas' A330s and 787s, or Philippine Airlines' A330s and A350s. The seats are in a 1-2-1 configuration and are very private. I have to say, I do love South African Airways' finishings – I think that it fits them very well.
The seats on the side by the window are staggered so that some seats are closer to the window (and are much more private) and some are closer to the aisle (but still are fairly private, compared to some other staggered seats). The seats that are closer to the window are the ones to go for solo travelers. In the middle, the seats are also staggered, so that some are closer to the aisle and some are less close and more private. In these seats, it is easy to communicate with a companion, so I would recommend that you choose the center seats if you are traveling with a companion.
South African Airways A330 Business Class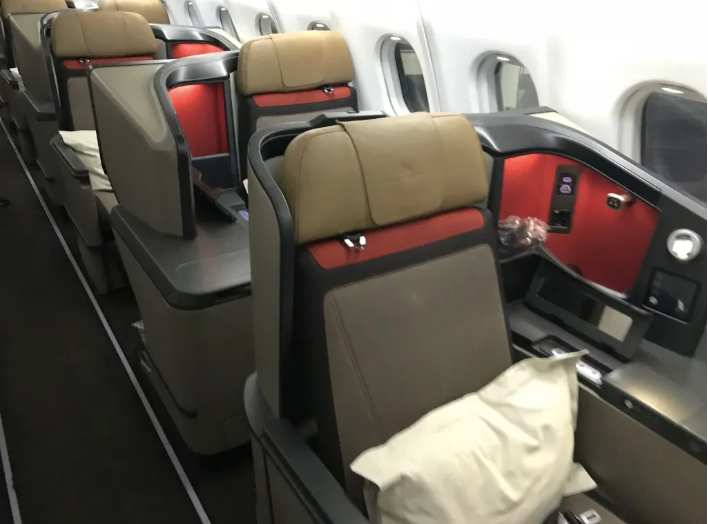 South African Airways A330 Business Class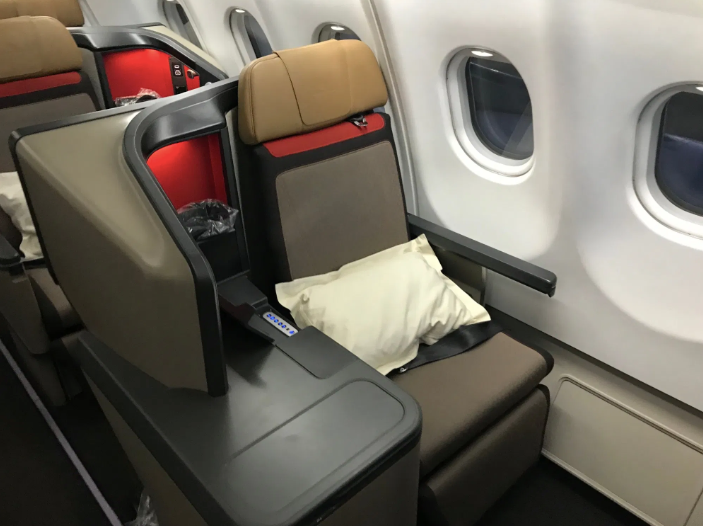 South African Airways A330 Business Class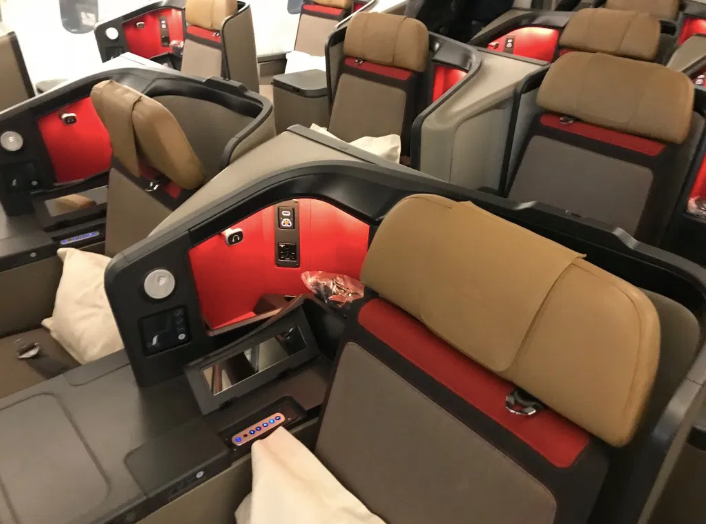 South African Airways A330 Business Class
After arriving in my seat, I wanted to check out all of the seat's features. The first thing I noticed about the seat was its footwell, which was HUGE. I was seated in the bulkhead seat, so it was expected that the seat would have a large footwell, but I've never seen anything this size in business class before! An added bonus was that the footwell also was a storage unit that could serve as a shoe cubby, which was much appreciated. A common concern with staggered seats is that the footwells often are small, although in this case, the footwell was almost twice the width of the seat! Overall, if flying on South African Airways' A330-300 business class, definitely choose a bulkhead seat as the footwell simply is massive.
https://i32.photobucket.com/albums/d31/ ... 6dhain.png
The Industry Leading Footwell
Beside the footwell was a literature pocket which had South African Airways' magazine and the safety card in it. There was a little wall in between the seat and the aisle, which was much appreciated and increased privacy by quite a bit. Also by the side of the seat was a storage cubby that had a holder for the headphones, a power port, and a USB port. Alongside the storage, cubby was a flip-out reading light. Underneath the reading light were the seat controls for the seat. It was fairly intuitive, although it wasn't very complex. The armrest could flip up and pose as a mirror, and there was a fairly simple controller underneath (I wish they would have installed those fancy touchscreen controllers instead). I was sad to see that there were no individual air nozzles, although the cabin was kept at cool temperatures throughout the flight.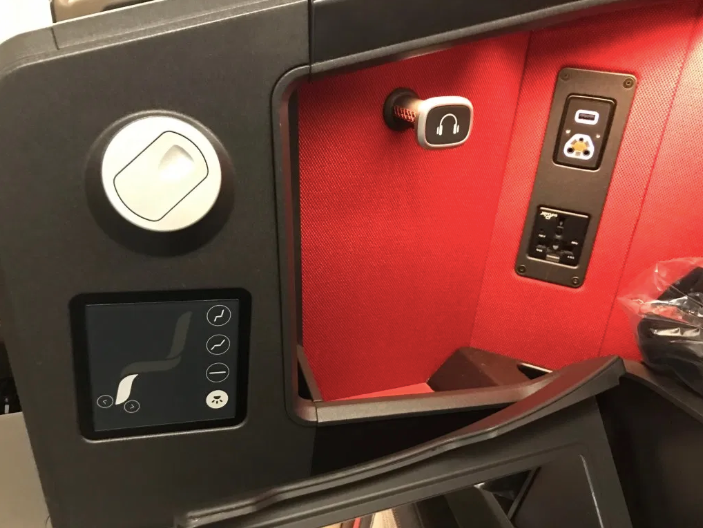 The Storage Cubby
There also were some seat presets next to the tray table
The in-flight entertainment system was modern and was highly responsive, both by touch and through the remote. There was an okay selection of TV shows and movies, although it was a far cry from other airlines' entertainment systems such as Emirates, Qatar Airways, or even United.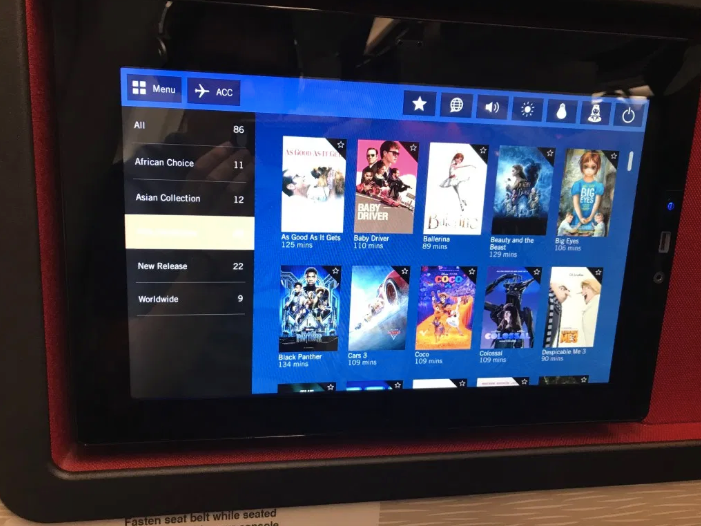 The IFE Screen
I find South African Airways to have pretty good bedding. While it's not industry leading by any standards, I found it to be very solid. South African Airways provides a pillow which I found comfortable, a great blanket (which was neither too warm nor too thin), and a mattress pad. For a medium haul flight such as this one, the bedding was perfect. South African Airways also provided an amenity kit which had a toothbrush set, eye shades, ear plugs, a comb, and hand lotion. I found the headphones to be perfectly acceptable (especially only for a 6 hour flight), although they weren't particularly high quality.
About 10 minutes after settling into my seat, the friendly flight attendant who took care of my aisle came around, introduced herself, and offered a pre-departure drink (I selected water). Unlike some other airlines, South African Airways hands out the in-flight menus after takeoff, which is not preferable for short red-eyes, but was fine for this evening flight. At about 6:30 PM local time, the captain came on the PA and announced that we would have a flight time of about 6 hours to Accra. We then pushed back and began our short taxi towards runway 12R, which we took off from.
About 15 minutes after takeoff, the flight attendant came around again and presented me with the in-flight menu. This flight would only have one meal, although the continuing flight to Washington would also have a light meal after takeoff in Accra and breakfast before arrival in Washington (the flight is a reverse redeye). I took pictures of both menus, although sadly I was only able to try the one meal of this flight.
About 30 minutes after takeoff, the flight attendant set the table. South African Airways uses trays for the meals instead of placing each course directly onto the tray table which I know bothers some other bloggers (as it makes the airline look less professional), although I didn't mind it at all. First up were the canapes, which included a potato, chicken, and beef and overall was pretty good.
About 10 minutes later, the appetizer was brought out. I ordered the charred sliced roast beef which came with carrots and tomatoes. It was actually surprisingly good and tasty. About five minutes after the appetizer was served, the flight attendant came around with a bread basket with multiple types of warm bread.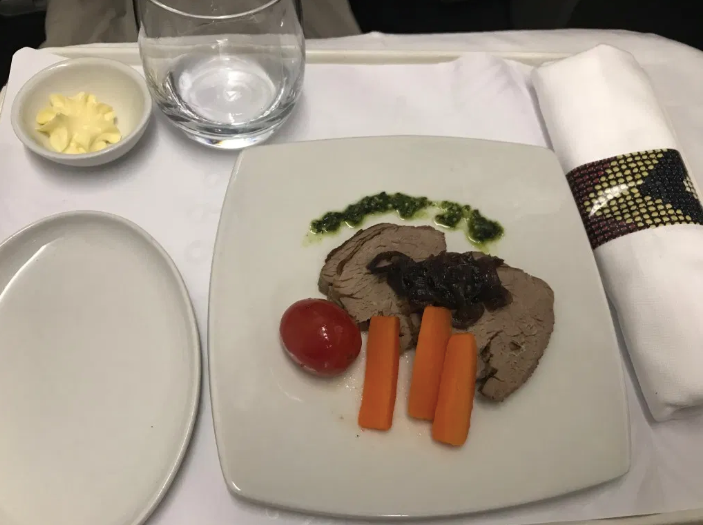 The Appetizer
About an hour after takeoff, the main course was served. I ordered the Grilled Rib Eye steak which came with potatoes and grilled vegetables. The steak was tasty and wasn't overcooked, although it wasn't really (good) restaurant quality either. The sauce was also actually pretty good, and the potatoes and carrots were also both fine.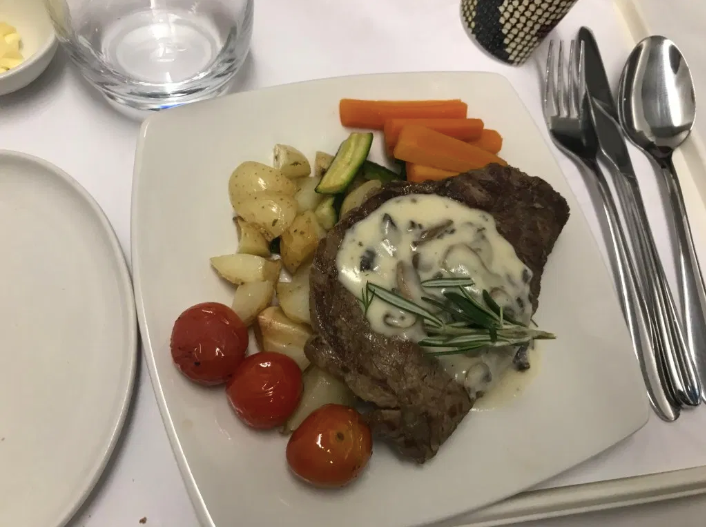 The Steak (I'm not really sure if it's a rib-eye though)
About an hour and twenty minutes after takeoff, the flight attendant asked me for my preference for desert. The options were a Malva pudding or ice cream – I selected the latter. Unfortunately, they only served packaged ice cream, which was hard as a rock – it was a far cry from the amazing chocolate cake I had on South African just days before. Afterward, they also came around with a box of chocolates, which was much appreciated.
The entire meal service was completed about 90 minutes after takeoff. I always hate it when a meal service drags out for over two hours, so I appreciated that they finished the meal service quickly. I then visited the restroom, which was clean.
The rest of the flight was really uneventful. After the meal service, I reclined my seat into the lie-flat position and watched a couple more movies and took a quick 30-minute nap to keep me through until we reached the hotel in Accra. I have to say, the bed was extremely comfortable – it was very wide, I had an extremely large footwell because I had the bulkhead seat, South African Airways had great bedding, and the seat had sufficient privacy.
Before I knew it, we began our decent into Accra Kotoka Airport. We landed on time at about 10:30 PM and had a short taxi to the airport terminal. I would say that most passengers were continuing on to Washington Dulles, but quite a few others also got off in Accra. After about an hour on the ground there, the plane picked up more passengers and a new cockpit crew and headed on the ~ 10-hour flight to Washington Dulles. I have to say, the new Accra Airport is surprisingly modern and clean as a new terminal was built less than a year ago – I might even go as far as to say that it might even be nicer than some of the worst US airports. I'll cover more about Accra in my next installment from Accra to Amsterdam in KLM Economy Comfort.
Conclusion:
Overall, I had a very pleasant flight on South African Airways. The Thompson Vantage XL seats were amazing (they are my favorite off-the-shelf business class seat), especially because I had the supersized footwell because I was seated in a bulkhead seat. The in-flight entertainment situation wasn't amazing, although it was perfectly fine for a 6-hour flight. The flight attendants were all very friendly and seemed very genuine, in a positive way. The food was perfectly acceptable for business class, although it wasn't world-class either. After flying in both their A330-200 and A330-300 business class, I can definitely say that there's a massive difference between both products – always choose the -300 variant if flying in business class as it is worlds better than the -200 business class. Overall, I wouldn't hesitate to recommend South African Airways if you are flying to Africa – the seats on the A330-300 are great, the food and service were both good, and the bedding is fantastic.
For more photos about my flight on South African Airways' A330-300 Business class or for similar reviews, please visit the original posting of this review on my blog (link below).
https://airtravelanalysis.com/south-african-airways-a330-300-business-class/