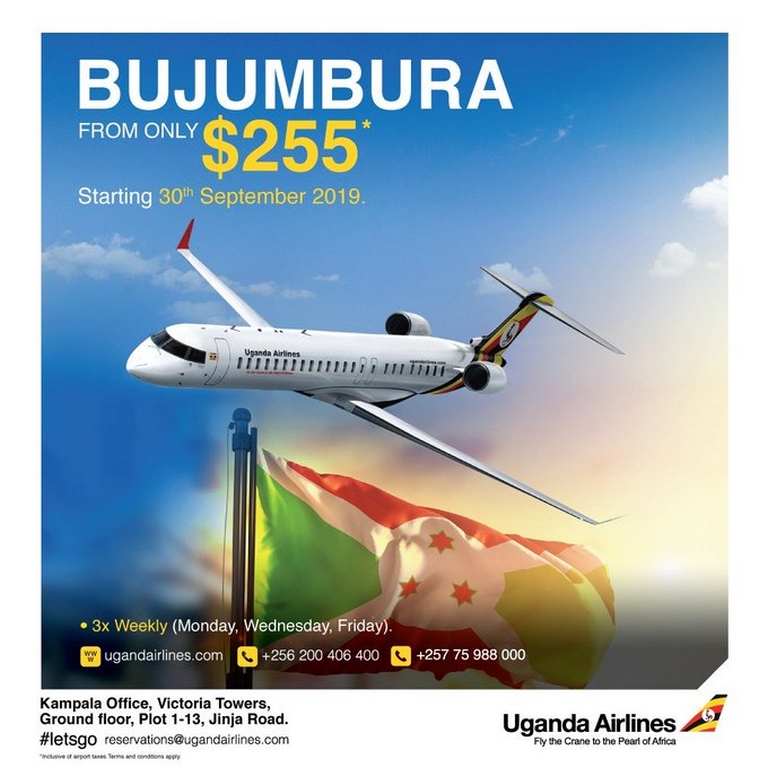 Good day A.net folks,
A quick trip report about a flight done last week between UR's hub and Burundian
former capital city - Bujumbura
. Earlier this year, a post on the
East African Aviation Thread
caught my eyes and prompted this journey.
Tickets bought online on the easy to navigate
ugandairlines.com
website for a reasonnable $157 (per personn) time limited promo fare with a $10 fee. The promo offer was due to expire two months after the first commercial service, however at this moment, anyone can still grab this deal and not only to BJM.
Surprisingly for a fledging carrier, moreover in Africa, payments with American Express card are accepted. If interested, here how
you can earn a 30,000 sign up bonus Amex AF/KL Platinum + up to 2 millions miles
to share (until the 30/01/20).
Tickets changed after for a more convenient Monday afternoon departure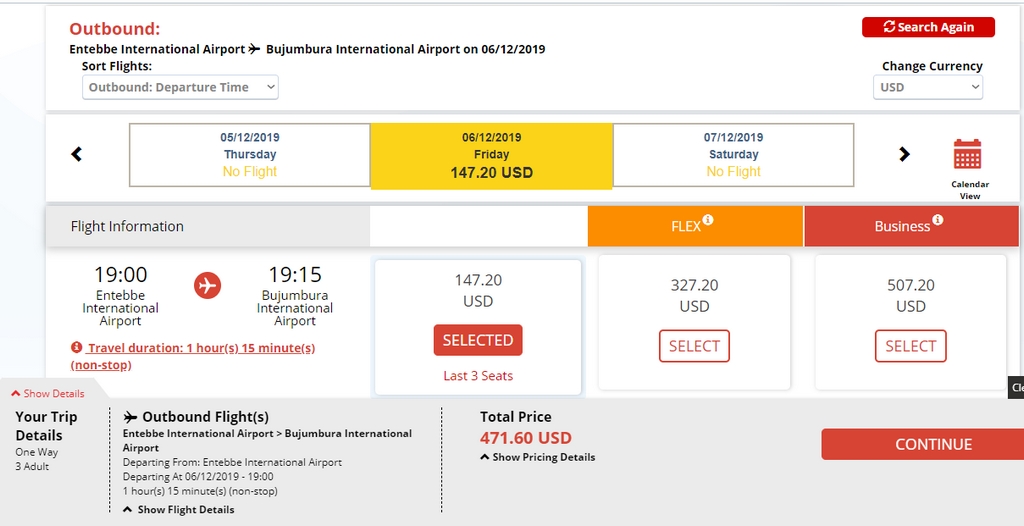 Arrived at 1pm so H-3 at Entebbe airport – undergoing phase I of its expansion which includes a
new terminal building
. Luggage allowance stipulated on the website mentions 1*23kg per person, thus 3 boxes had to be paid as excess luggage for $3 per kg (~ +46kg).
Upon reaching the ticketing office at the next building, upstairs following a screening, the lone agent (going on her lunch break?) locked the door while informing that bag allowance has now increased to 2*23kg instead. She said it would be no problem at check-in so no need to worry about.
Minutes later, a family of 5 Tanzanians supposed to fly to DAR on that day showed up at the office to postpone their travel at the end of week but the closed doors irritated them as their flight was about to leave in 2,5h – and she would not allegedly come back before 2pm.
Reaching the check-in desks was an utter chaos at the first check with only two x-ray scans installed yet.
An ordinary traveller used the left machine for his 7 boxes while some UN Peacekeepers pushed forward their goods there. The pax chose the right one for his personal belongings – clearly clogging up both scans, as QR, EK, ET and UN opened for departure gathered a large crowd with their heavies.
After a tiresome 20 min process there, the two Uganda Airlines desks displaying only Juba (South Sudan) as destination welcomed all travellers in fact.
The female employee expressed no greetings/nice word to welcome us. Truth be told her policy seemed like a no mercy or empathy to anyone, despite being not too busy compared to EK/QR with huge snaking lines:
1) She told us the obvious like 1box per person, either we should go (back again) to ticketing to pay for the 3 extra fees or leave the stuffs behind. And it was not part her job to call her colleagues to verify that what we stated were first hand info. (Long story short: while one of us looked after the boxes two others endured the extended queues back to the still closed ticketing office but displaying emergency phone numbers to contact. After many calls to the super nice agent, Harriett strongly urged us to deal directly with Uganda Airlines supervisor Clara to waive the fees – which was manually done in no time back to CI counters at the main building).
2) A lady who traveled with a standard lowcost carry on of 9kg (2kg above the limit) was forced to remove all valuables to check in the bag to Bujumbura, although the next pax could walk past her counter with one big rucksack plus a normal duffle to the plane without problem. What a confusing logic!
3) A smartly dressed Congolese business man told straight forward or maybe in a clumsy way to this agent "
I'm a frequent traveller with UR and you should upgrade me to business class for this flight
". Her harsch answer: "
Sorry, you are talking to the wrong person, you should buy another ticket in C instead. The office dealing with your requesting is outside turning left. What do you want to do right now Sir?
".
Also along with these facts, while we waited for the supervisor to manually waive the luggage fee, a few times she has been caught calling her BF and relatives while on duty at the counters between two passengers ops. Sweet nothings calls did not ease our life but professional ones at this moment could have for sure!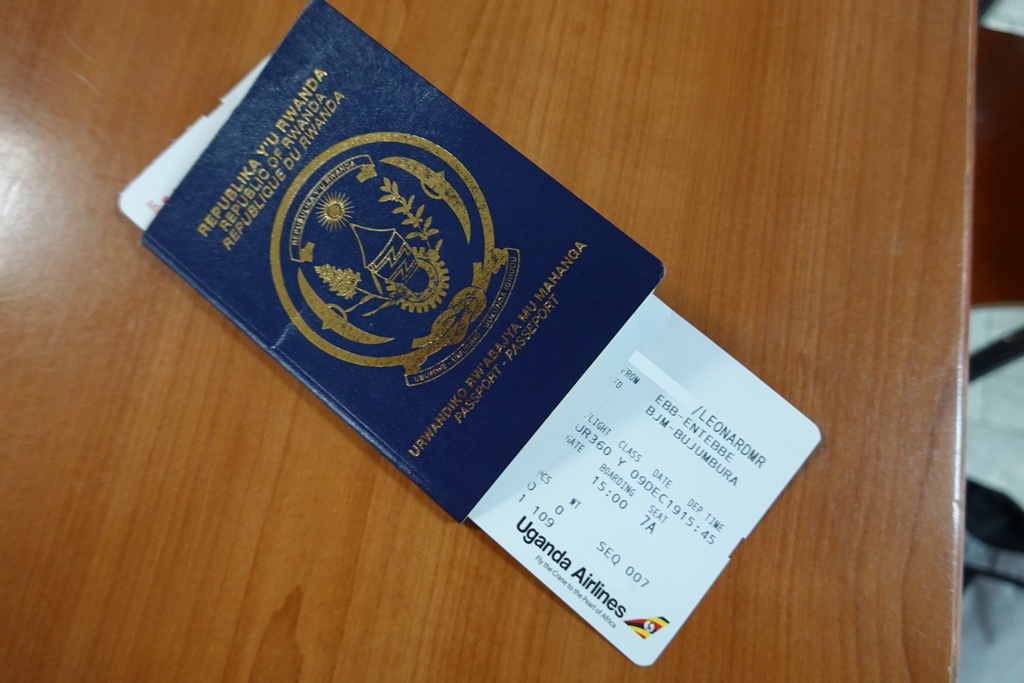 When we all received the second appropriate bag tag – again thank you very much
Clara
for solving this issue, BJM flight was closing check-in and time to go to immigration, busier than ever with 4 lanes that could not absorb the mass efficiently. Interestingly a wad of cash of nearly $4000 fell over at the immigration lines from the pocket of a German-Ugandan guy traveling to Dubai with RwandAir. It was really tempting to keep and share them

. He was very thankful for the gesture though!
Entering gate 3 via another security point showed a jam packed departure lounge – an encouraging sight?
Not really, UN to El Fasher, RwandAir and SAA ( operating an E90 from Airlink) shared this space too. When these 3 flights departed only a meager 12 pax were left behind to Bujumbura.
The Congolese guy from check in kept pushing UR staff for obtaining his free upgrade. Overhearing the discussion, one of the issue was the lack of J catering.
When boarding started, staff teared off his BP and printed a new one for a seat ahead of the curtain. Fascinating method – why not give it a try next time.
Gate staff did not wear the same uniform as check-in staff. Indeed the latter wore grey pullover with a
NAS logo
embroided. It might eventually explain why some of them are not as customer oriented as UR would like to...
A Canadian lady from Quebec in her mid forty told us that "
I (she) use(s) to fly to Burundi on larger aircraft like Boeing and DC10 plane via Paris or Brussels...
" which made me chuckle a bit. Either Sabena B744/MD11 prior collapsing or Air France 742 until year 2000 could ply this destination from Europe. Was she right?
Our boarding time was delayed by 15 min and started at 15:30 for quick bus ride to the northern part of the apron next to propeller planes.

~ Uganda Airlines UR360 ~
Entebbe – Bujumbura
Distance: 317miles, Time difference -1h
16:04 – 15:59 (0h55)
Bombardier CRJ900ER / 5X-KNP
Economy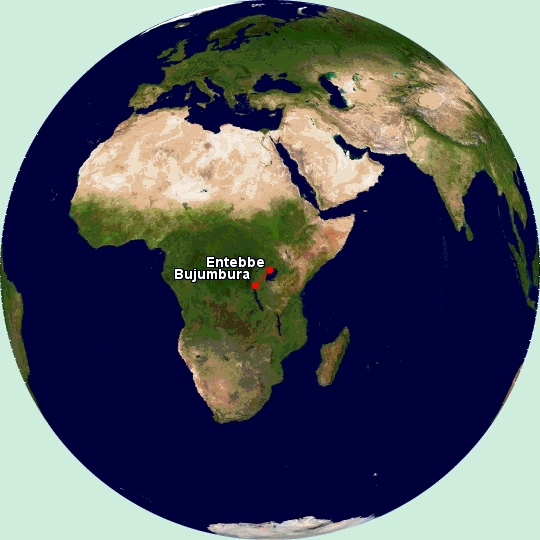 Finally, after 2 years of being a hot topic on social media, the Uganda Crane boarded its first commercial passengers from the Pearl of Africa to Nairobi (NBO) the 28th of August 2019. The regional expansion plan included also the launch of Juba in South Sudan, Mogadishu in Somalia, and Dar Es Salaam in Tanzania.
Bujumbura became the 6th destination the 30th of September
. Followed later by Mombasa, Kilimanjaro and recently Zanzibar.
Overseas markets of Dubai, London (LGW), Guangzhou and others will join the network when the brand new A330-800 neo will join the fleet in December 2020.
Warmly welcomed by an all male crew composed of 2 stewards and 2 pilots. If the striking livery truly represents the country flag and is simply lovely, the dark blue crew uniform with dark tie with tiny yellow and red strips looks too ordinary.
Due to the light load, we all took a seat before the wings and only one lucky pax in J....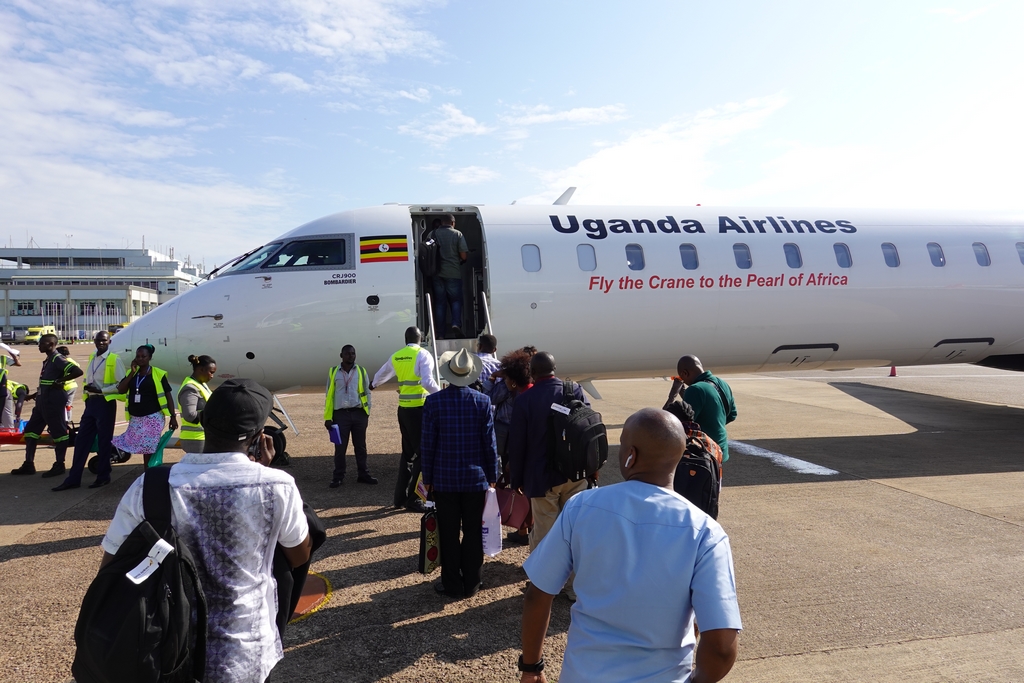 Uganda Airlines is the first carrier in Africa to fly the CRJ900 (currently operating 4 frames) with the new
"atmosphere cabin"
which gives passengers a more spacious and comfortable experience. Indeed the cabin ambiance is adjustable using the mood lighting for the different phases of the flight.
A 2-1 abreast C class with 12 comfy seats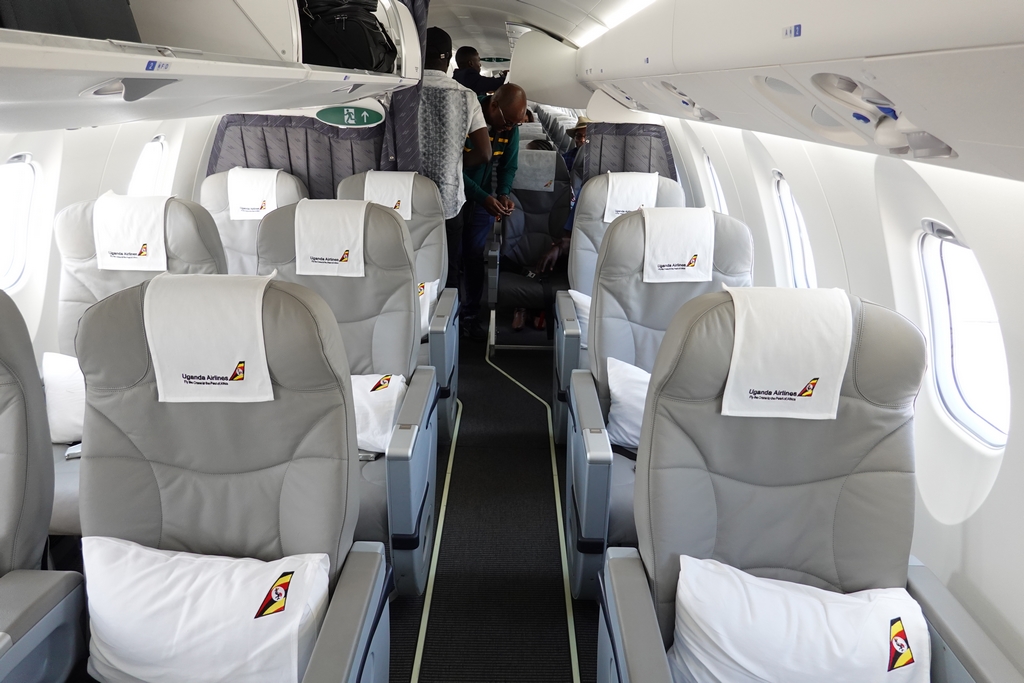 64 seats in Economy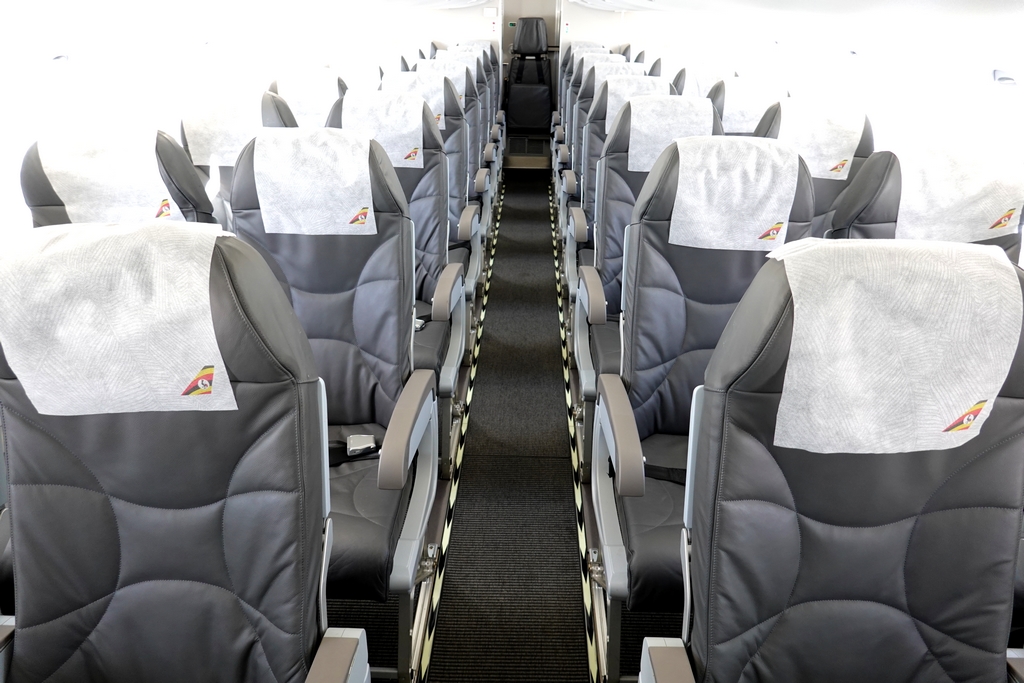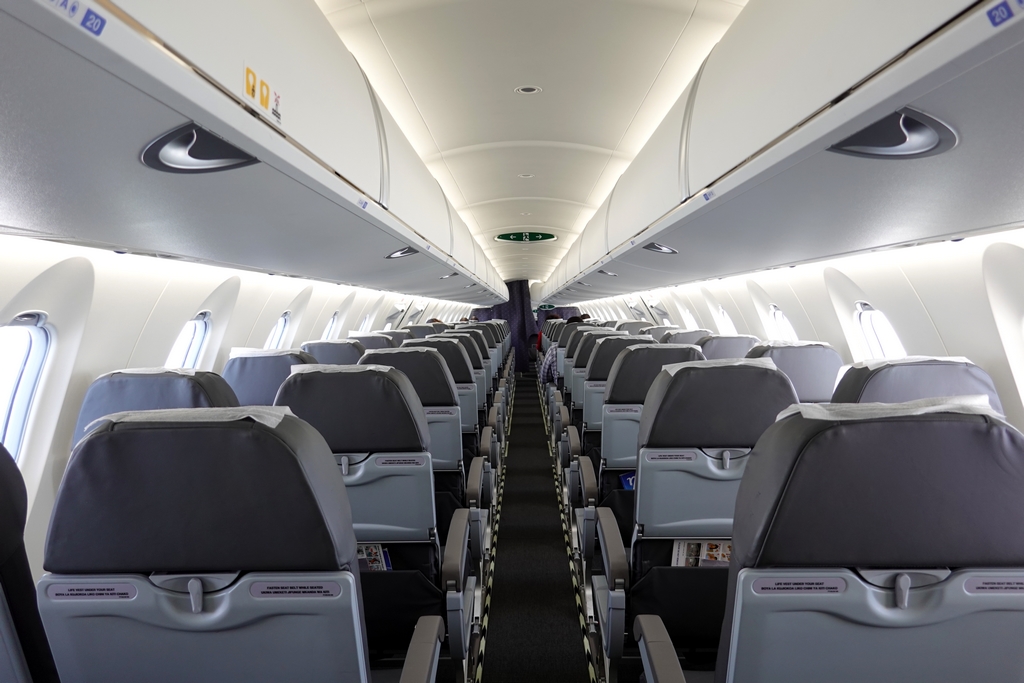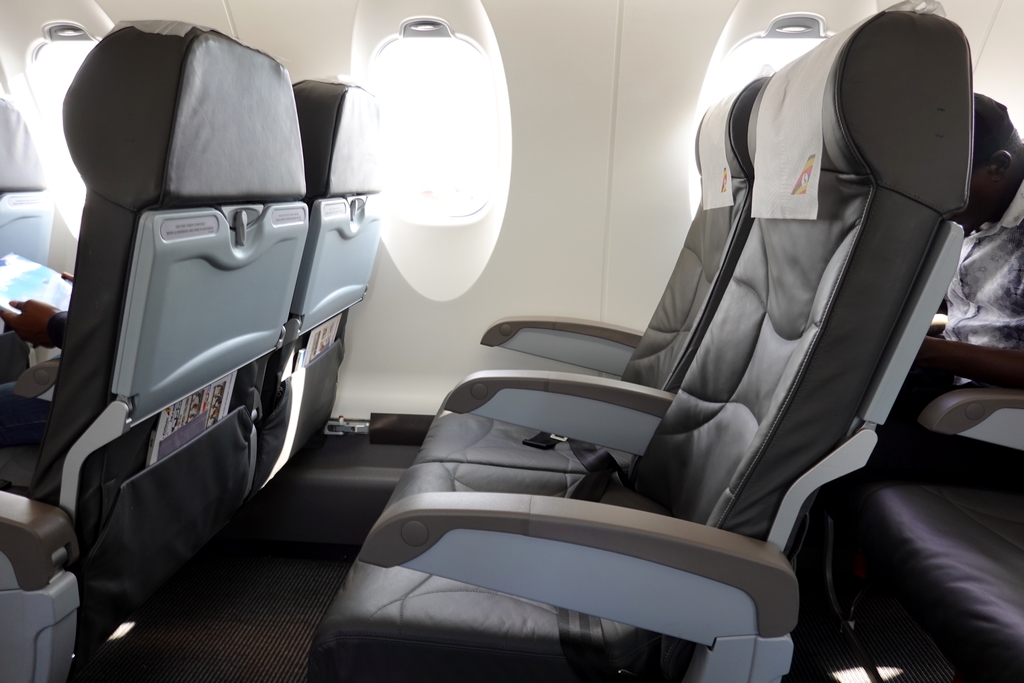 A very good legroom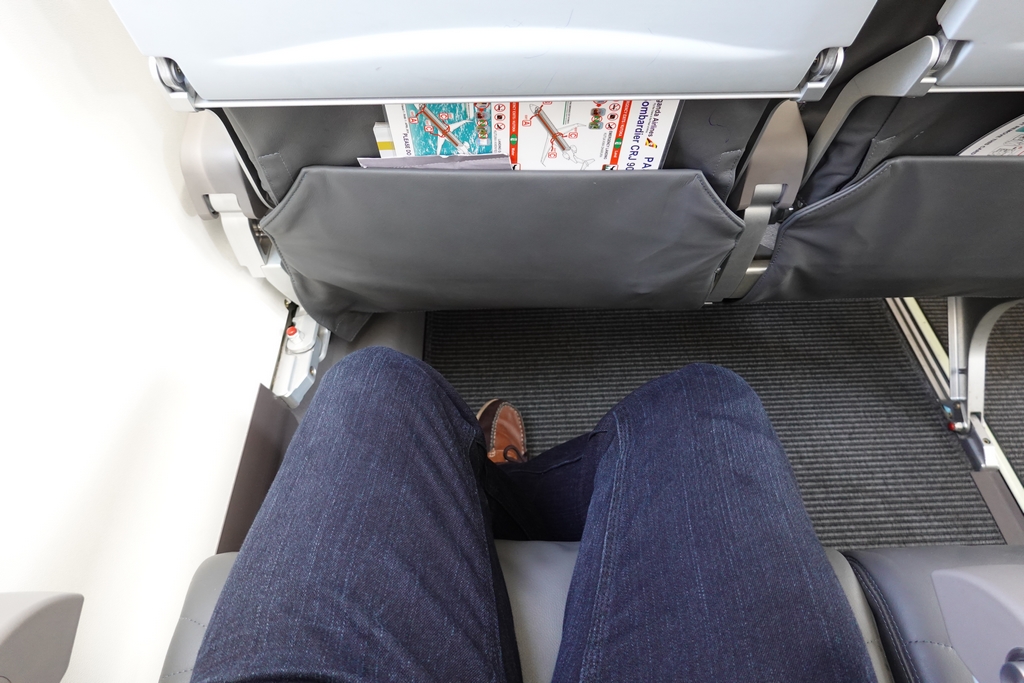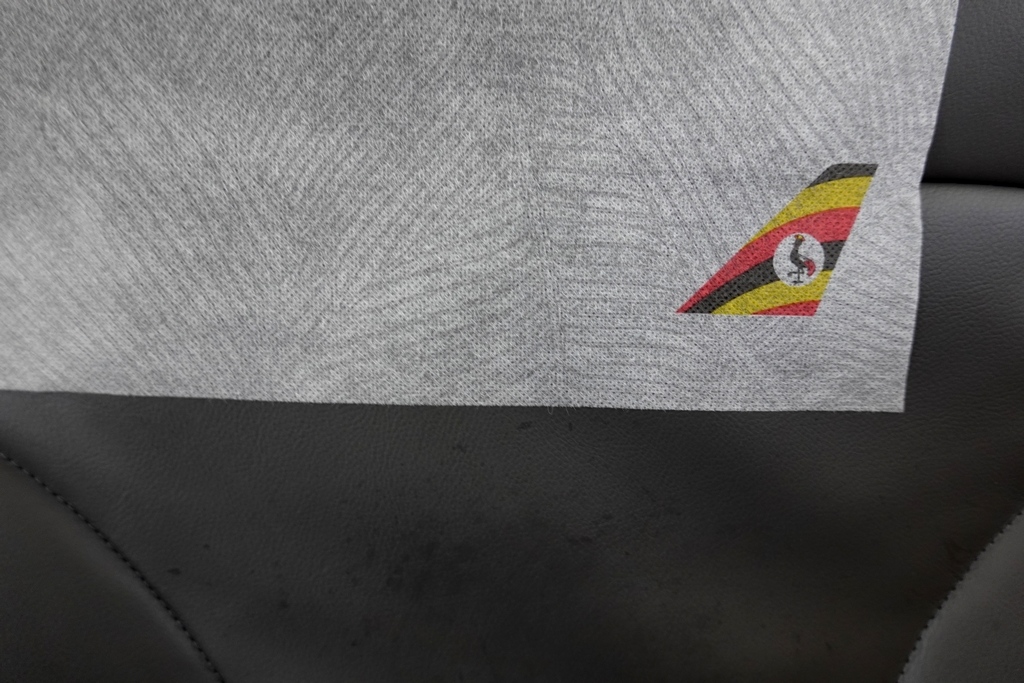 Annoucements made in English and Luganda. Before the take off roll, we let a sistership Uganda Airlines from Juba landing (visible on the video).

Take off video from entebbe
https://youtu.be/q-bGx_DLfmY
KQ sporting the special 900th Embraer livery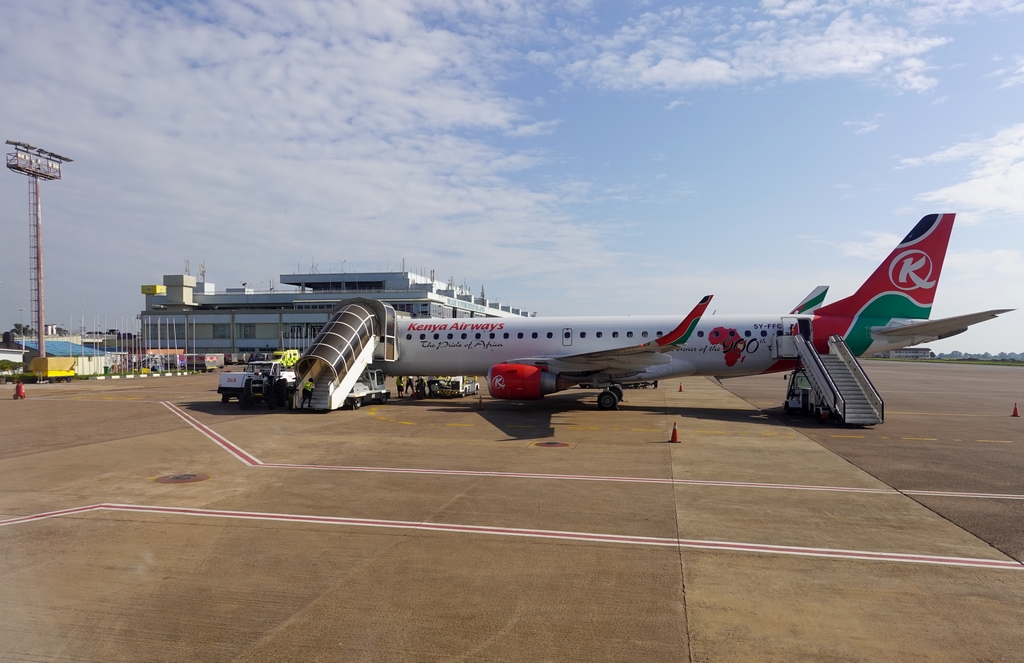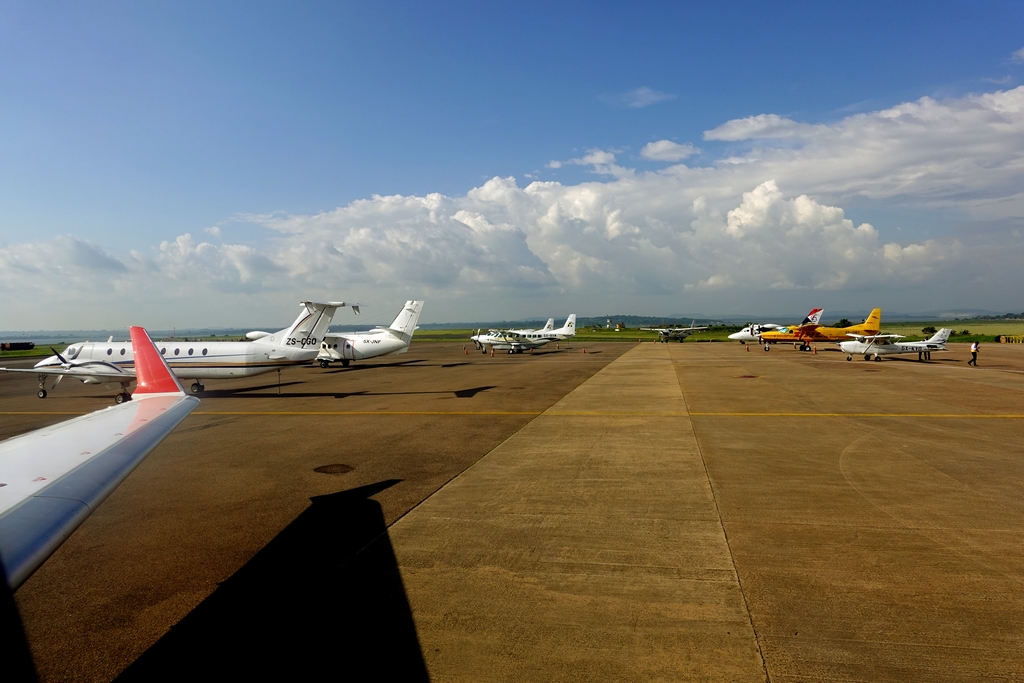 Seat pocket contents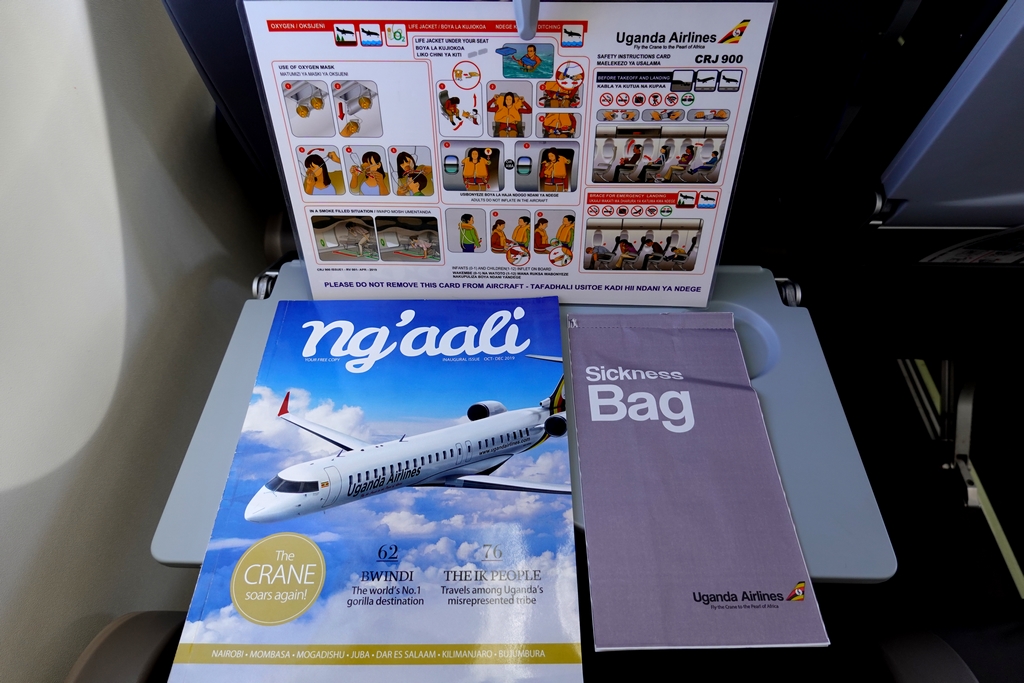 In English and Kiswahili (instead of Luganda)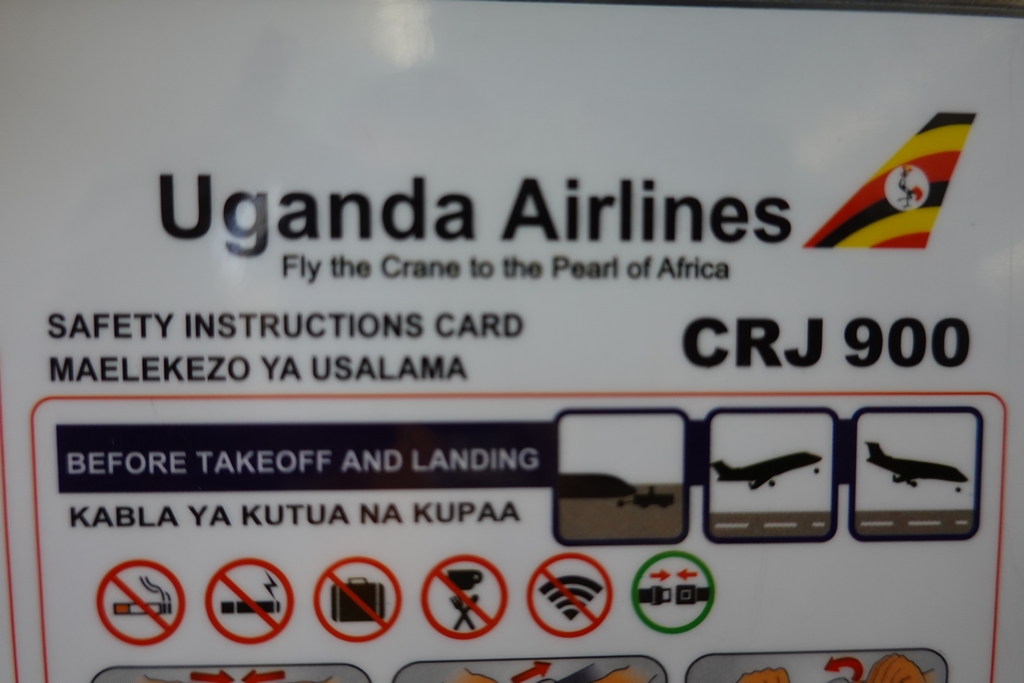 Ng'aali
derived from national language – Luganda, means Crested Crane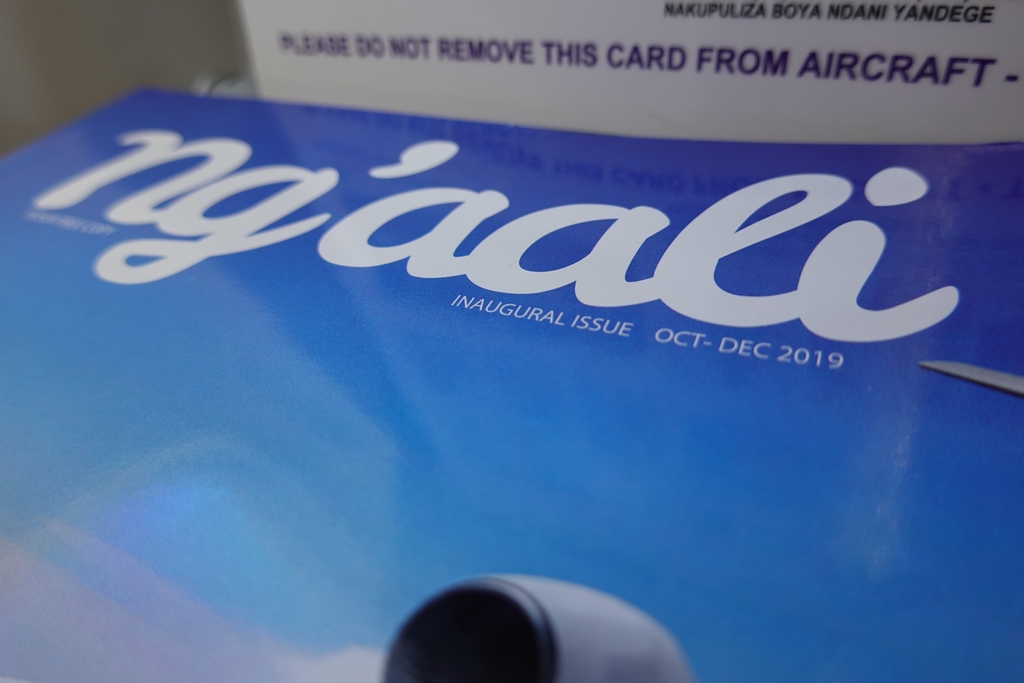 Current and planned network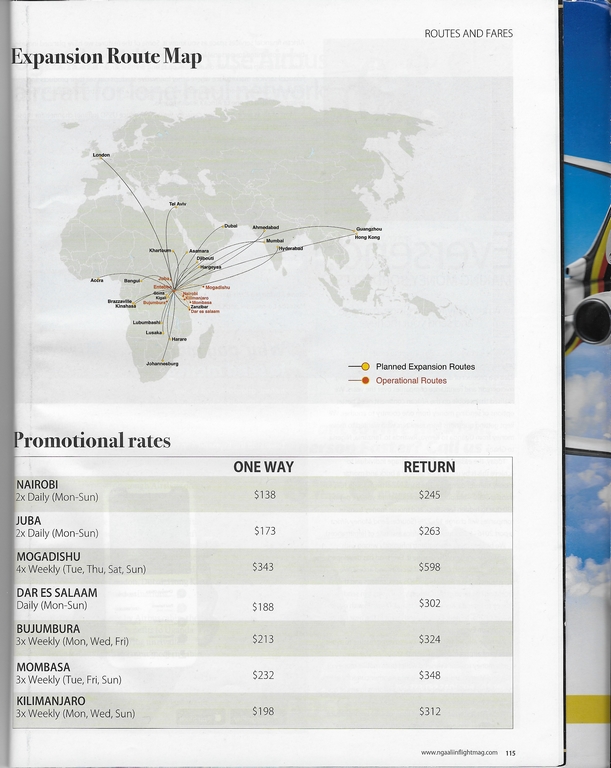 History of Uganda aviation, from Imperial Airways up to Air Uganda...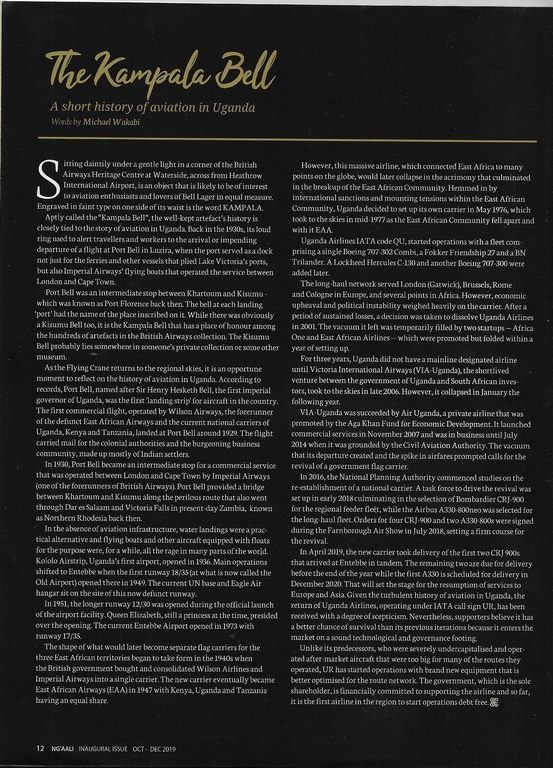 .... and two nice ads about 1) Burundi is a hidden gem...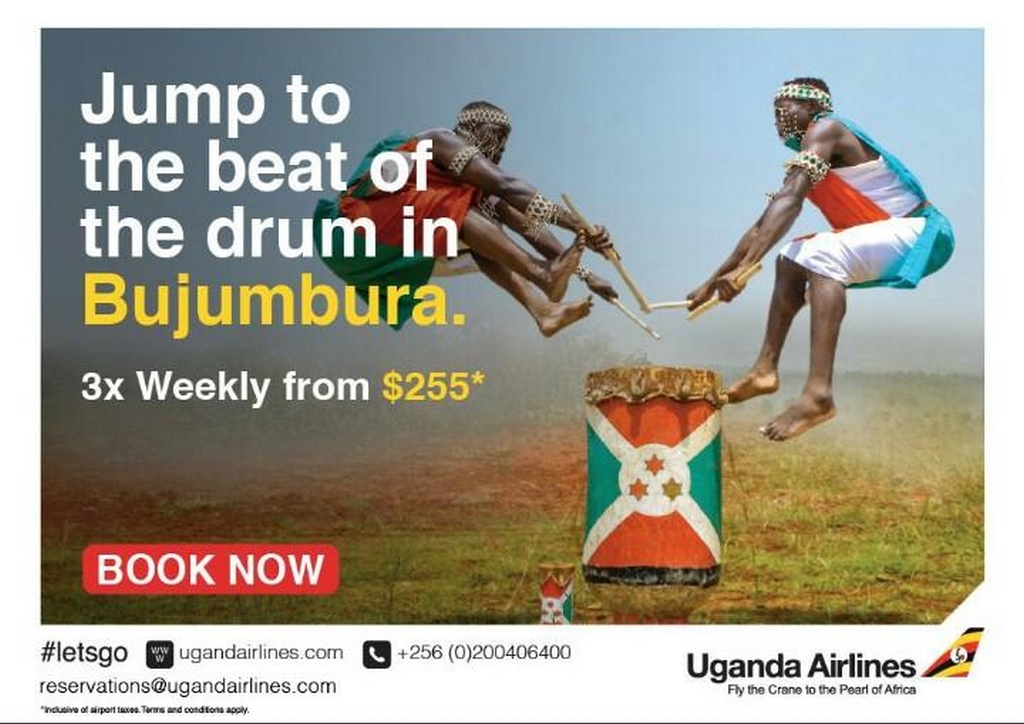 ...and 2) a national product widely available beyond the borders...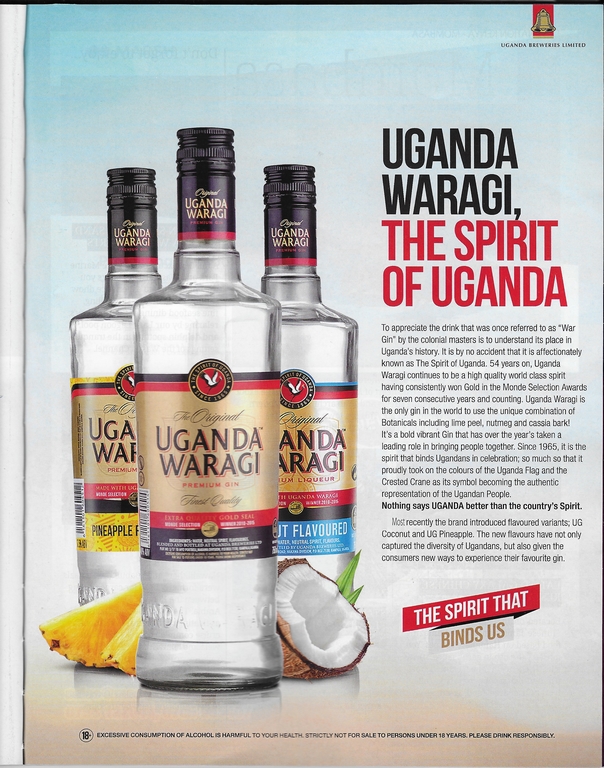 Lulamba islands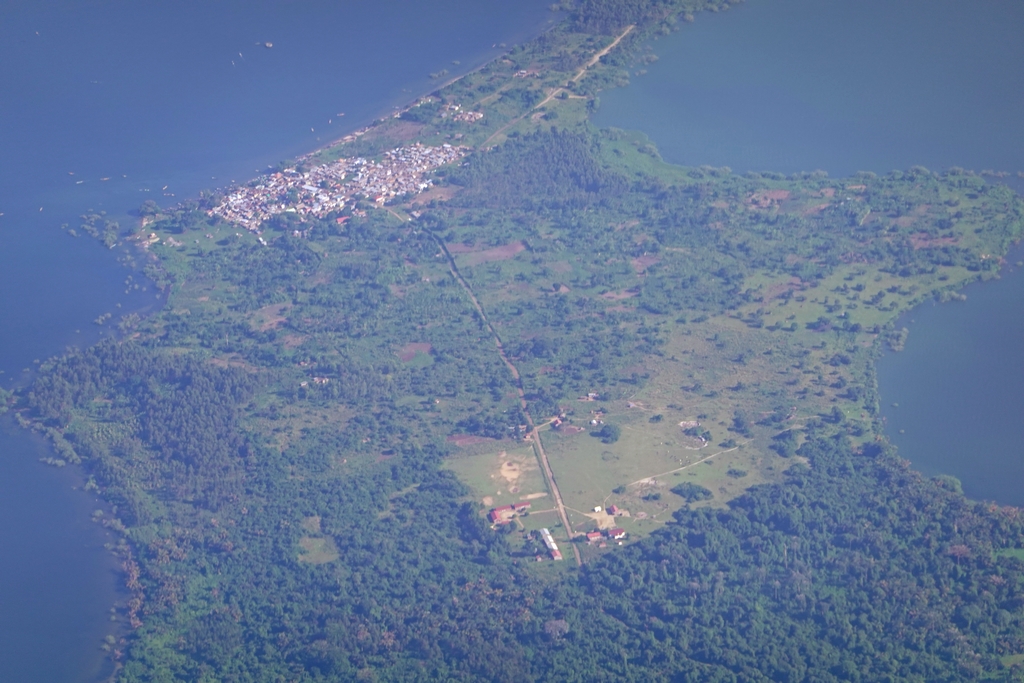 And more isolated islands to buy for a peaceful retreat or eventually more!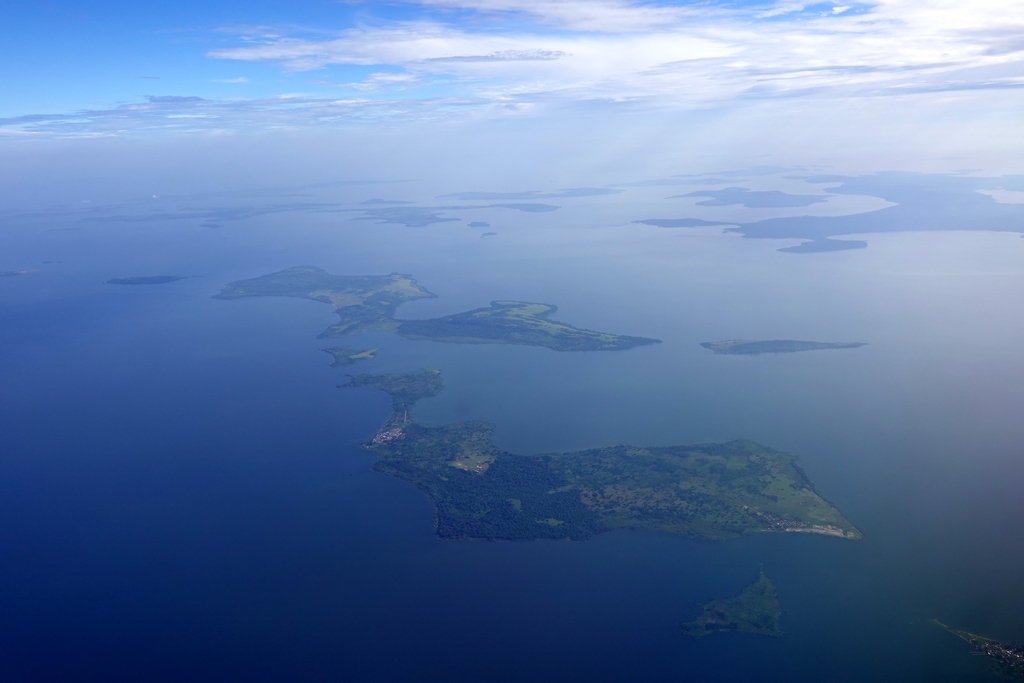 Expectations on this 1h long flight were high. Hey come on, the new kid on the block should undeniably raise the bar to divert customers from competitors.
Cabin crew quickly sprang into action to serve a hot snack (no choice) – but very tasty. The beverage cart suggested soft, hot drinks plus beer (0,5l can of Heineken and Tusker wow!).
Somewhere on social media – during an inaugural flight (not sure which one) one guy was mentioning that Ugandan Waragi must be available on every flight to promote the country, so after enquiring, our friendly crew went to the forward galley to grab the bottle and generously poured in a plastic glass. Cheers!
So far, Uganda Airlines has the monopoly on that route (flown by Air Uganda also for a short time before its demise in 2014), thus there are no benchmark yet. Anyway for what it matters, KQ on their East African routes viewed as domestic since one year now only serves cold sandwich, RwandAir a hot meal + a starchy dessert and Air Tanzania only nuts. For drinks, they all serve wine except Uganda Airlines.
The 2nd best view on any CRJ...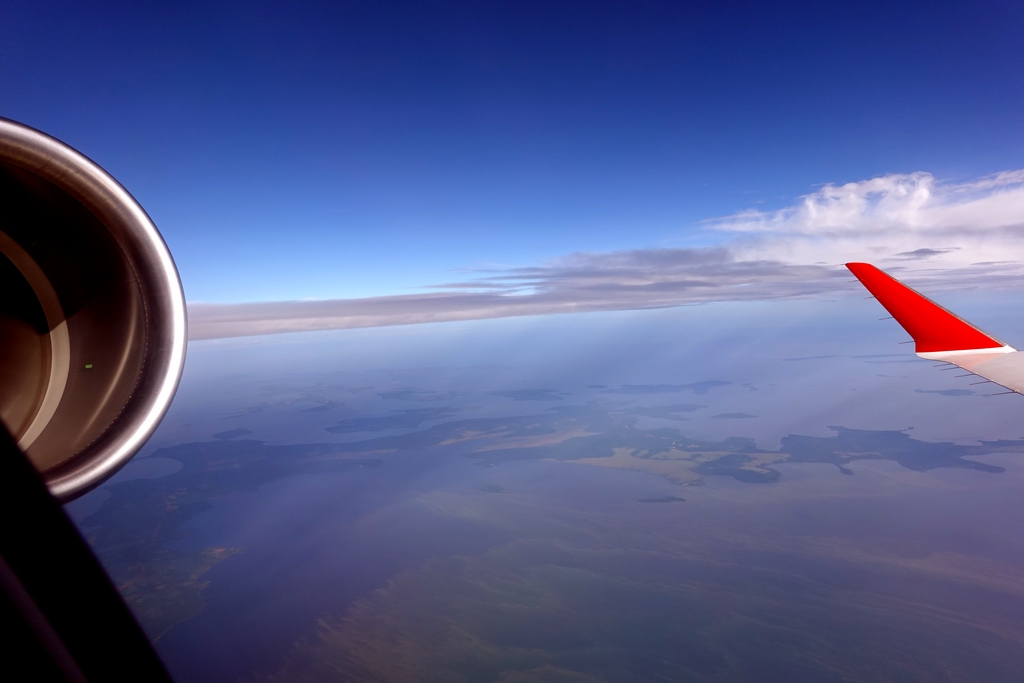 500ml cans of beer with 2 choices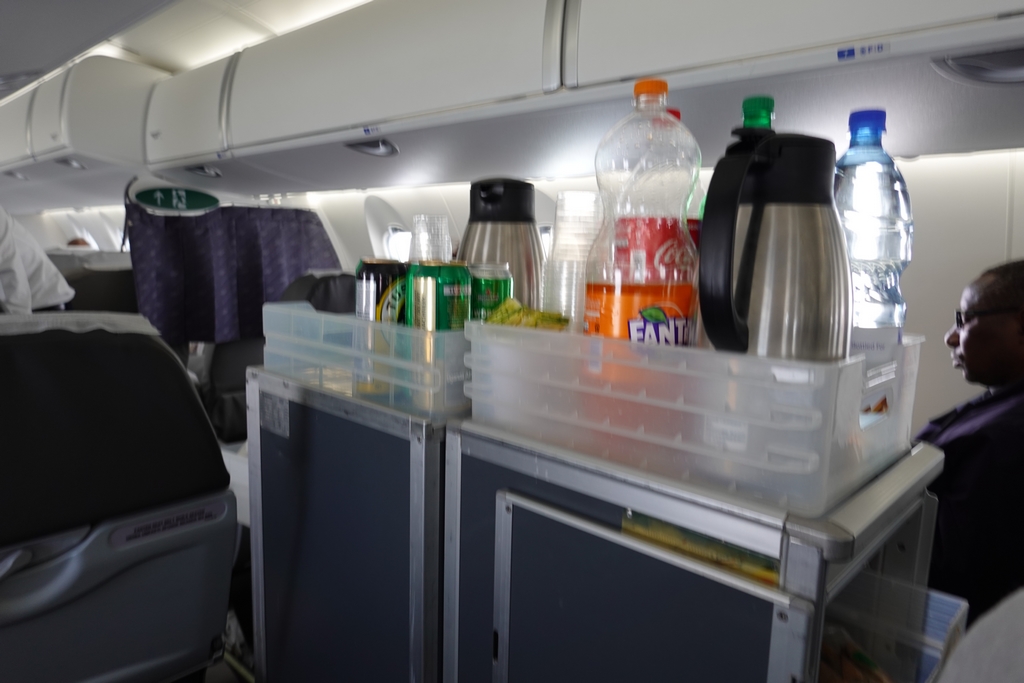 Waragi provided as advertised on the inflight magazine
Ng'aali
. Servair – a French company also at NBO.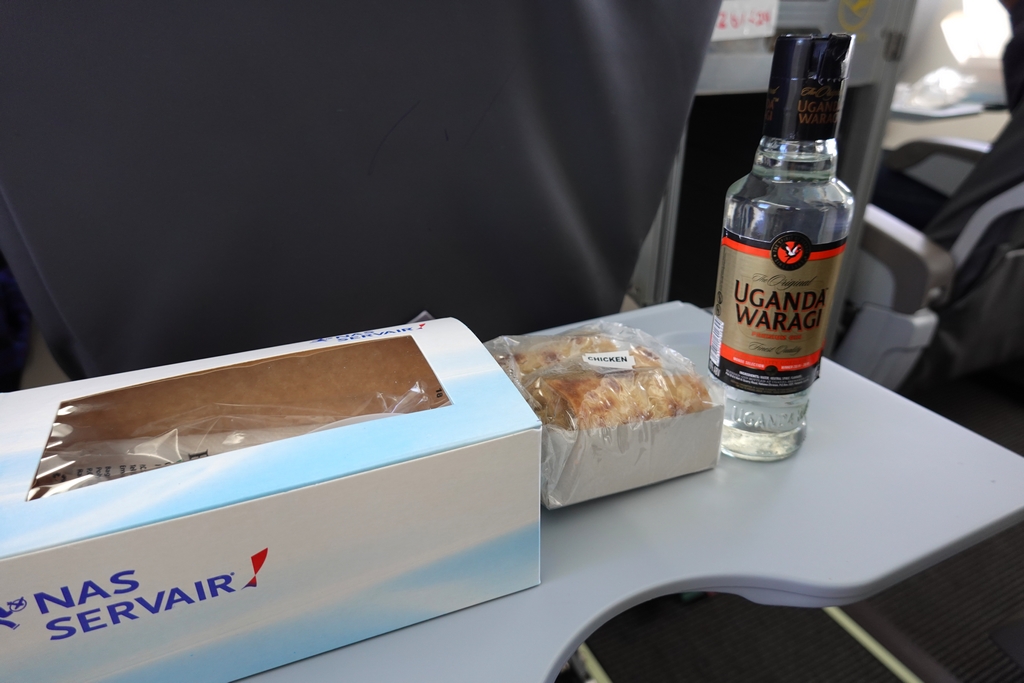 Hot chicken chapati roll along with a fruit salad – a rolex would be great too!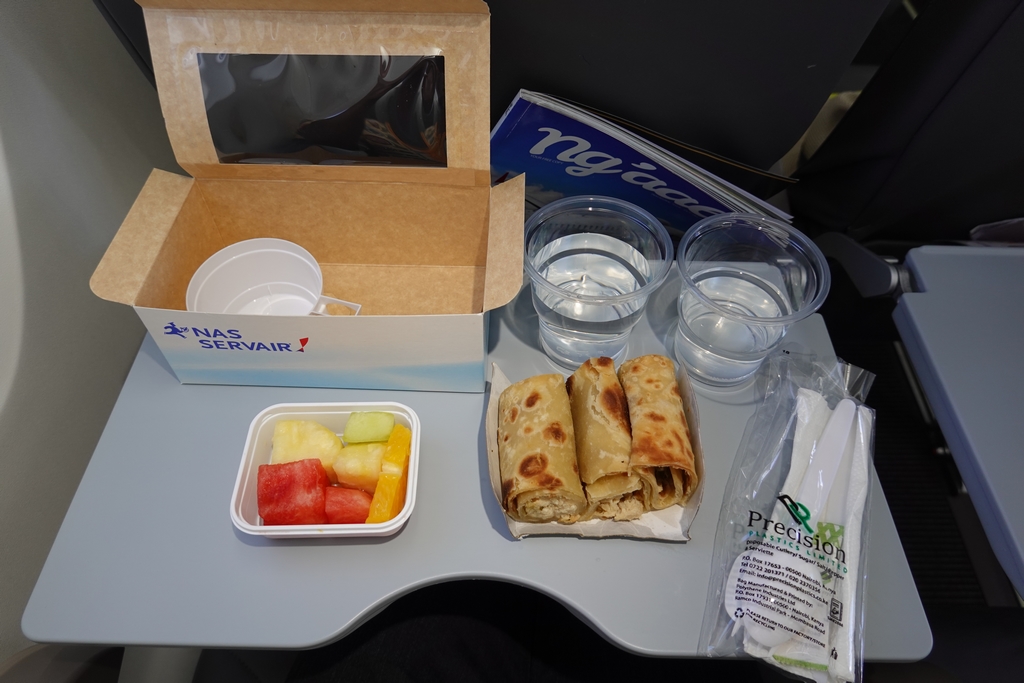 Zoom in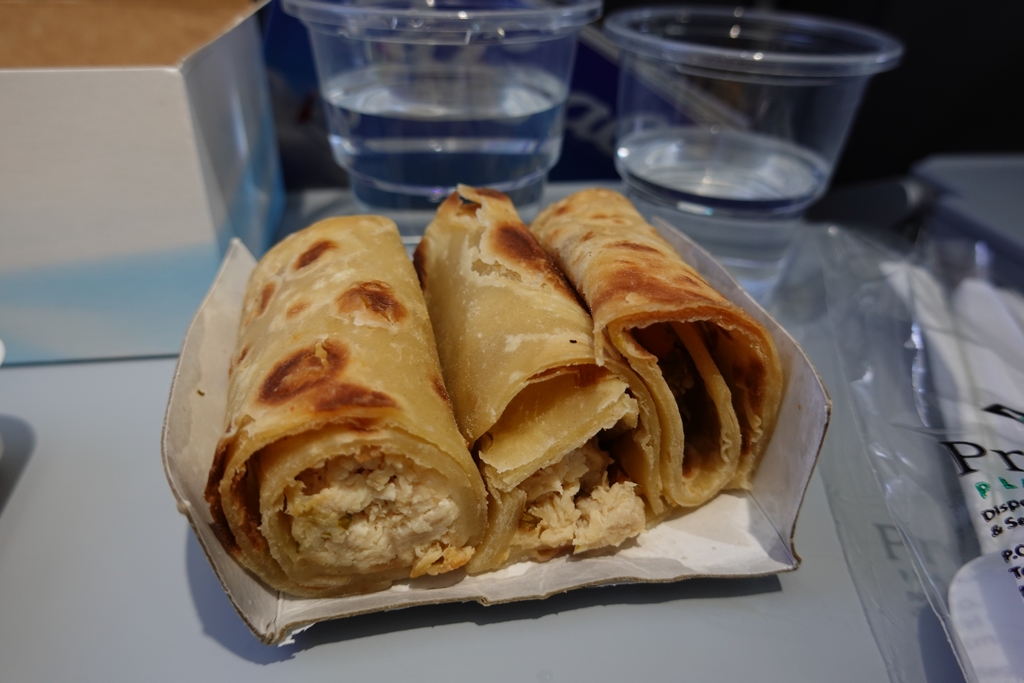 An enhanced Uganda Waragi. (FYI, small bottles sold in town are so hard to open lol)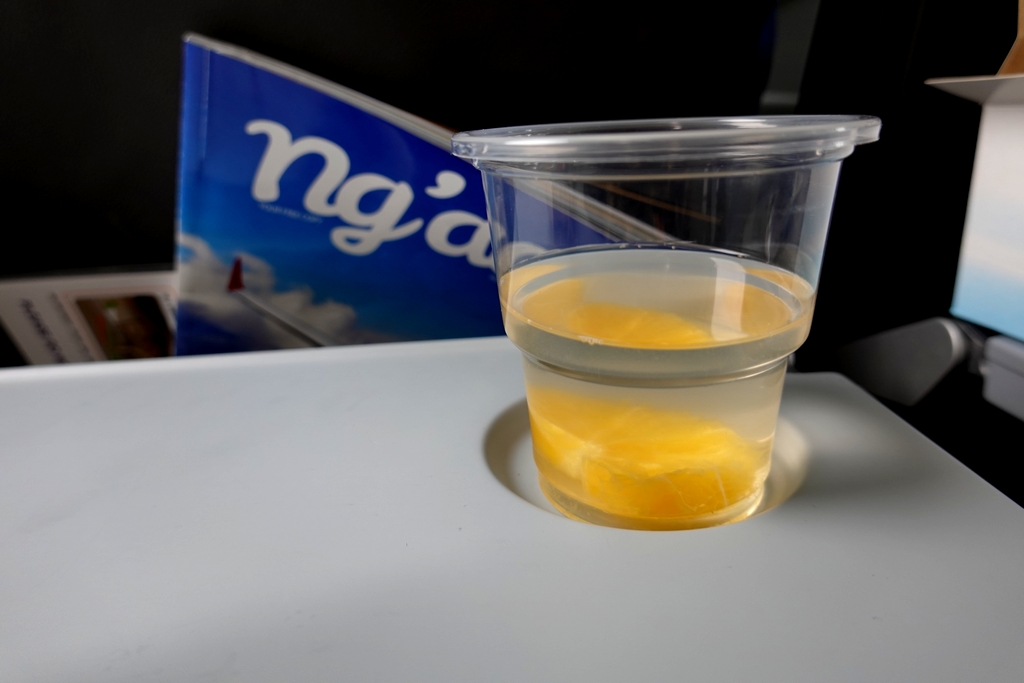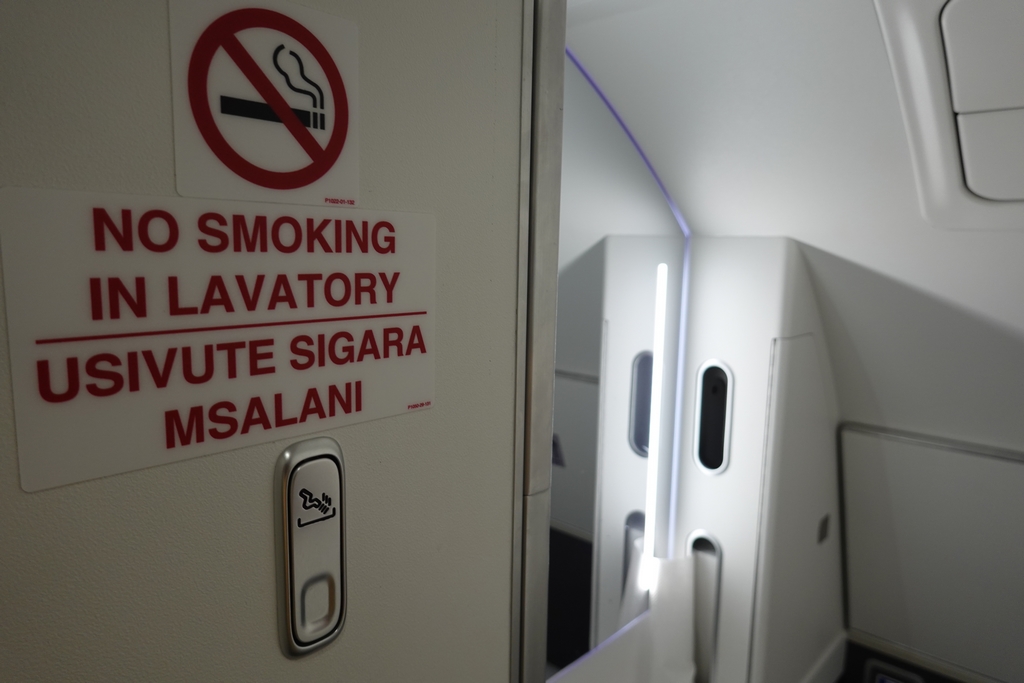 Immaculate loo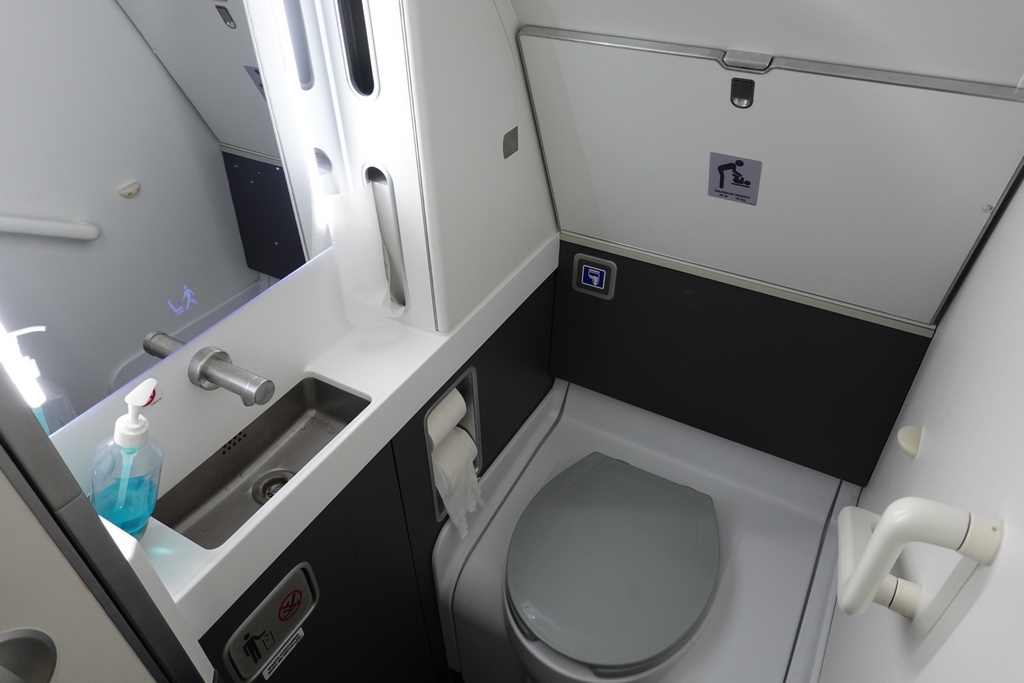 Akanyaru river, the natural border between Rwanda and Burundi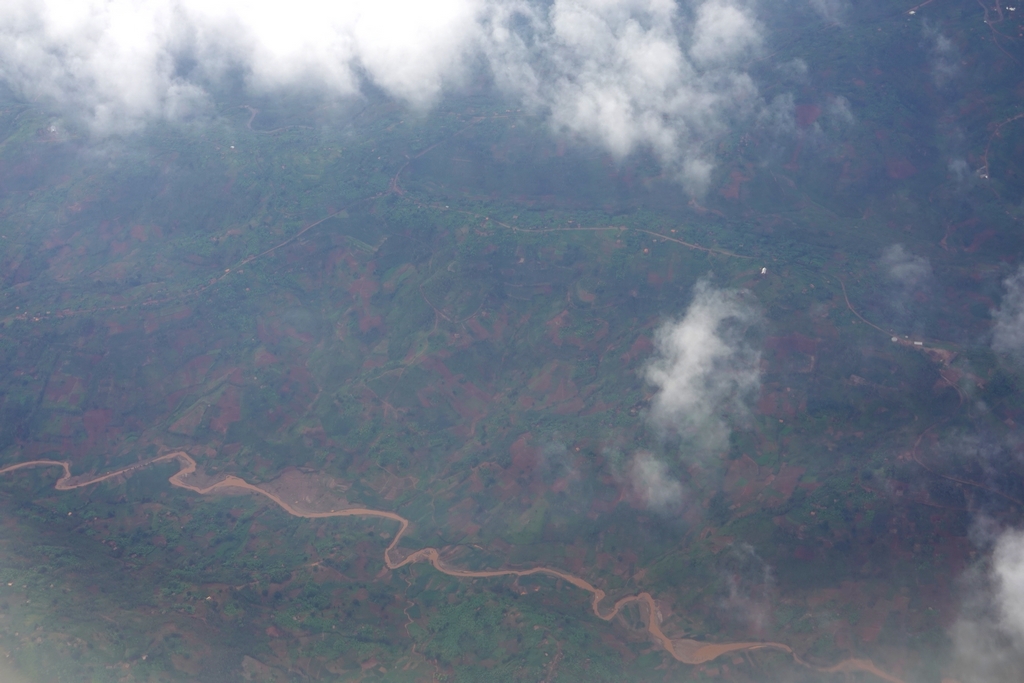 No duty free cart rolled out in the aisle as descent started like 10 min after reaching the cruising altitude of 32k feet. Due to the rainy season in East Africa that caused severe floods resulting in a death toll of
38 in Burundi
among the 265 in the entire region – Kenya being the most impacted, approach as bumpy as announced earlier by the pilot.
KNP touched down at 15:50 at Bujumbura airport recently renamed
Melchior Ndadaye International Airport
.

Video of landing at Bujumbura:
https://www.youtube.com/watch?v=9NdXFnq7BIg
Bags were delivered 17 min after while some JamboJet pax were filling out property irregularity report near the carousel.
Usual customs searches for all incoming boxes that added another 15 min and we all exited the terminal at 16:30.
JamboJet, Kenya Airways' low cost carrier spreading its wings to the region with rock bottom fares!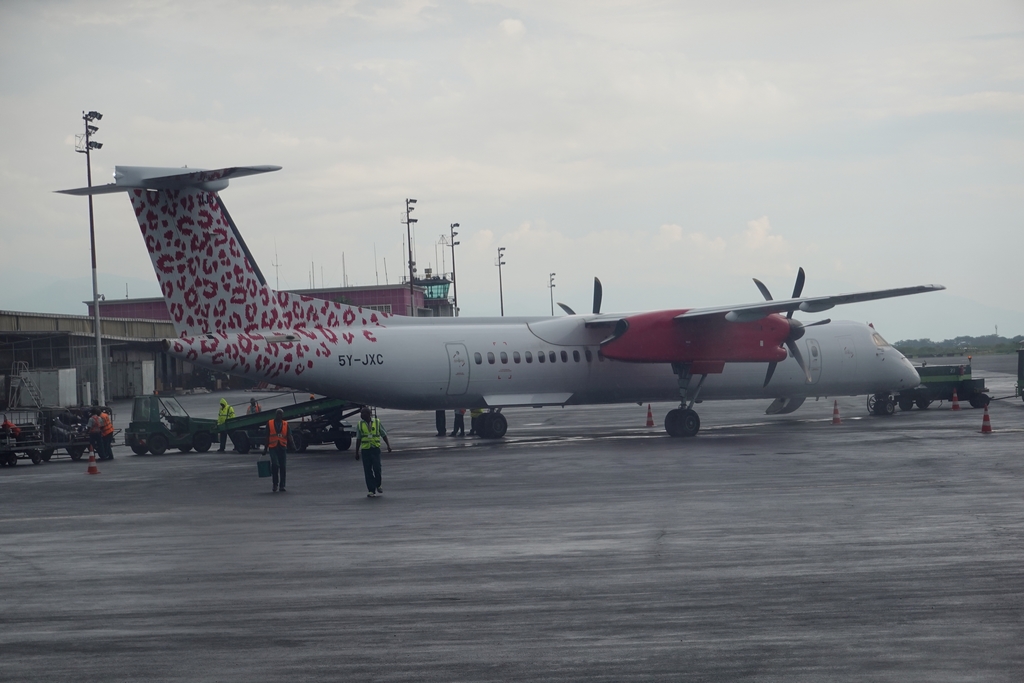 Bujumbura airport terminal – BJM with a new extended departure lounge/tunnel visible at the left of "the eggs" or rugos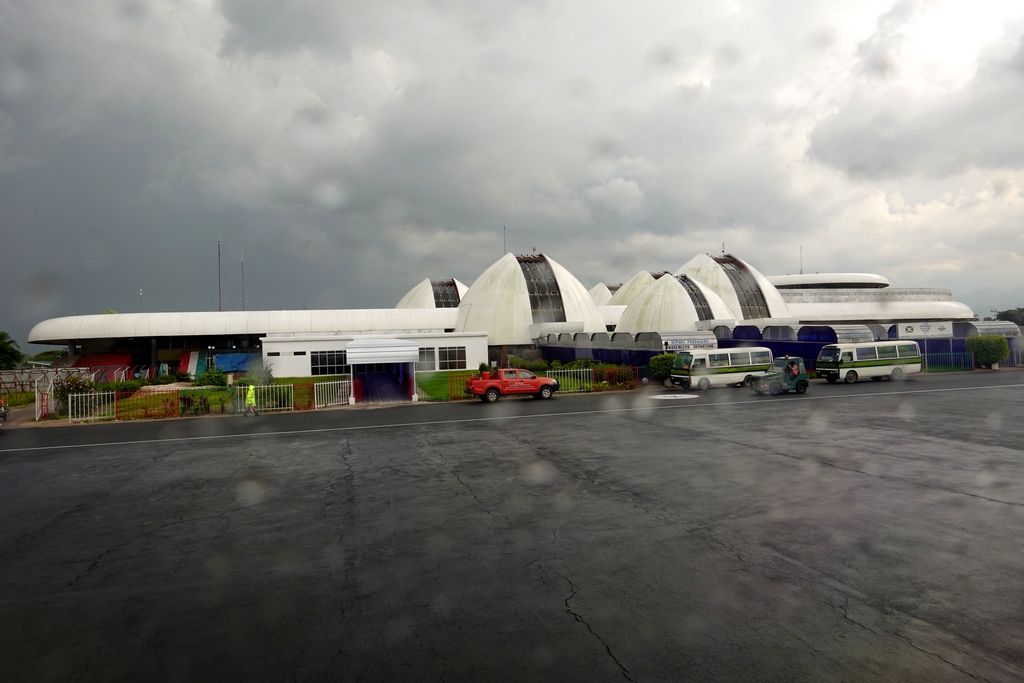 Welcome to Melchior Ndadaye International Airport. ( In the past, a visitor terrace was available at the right upstairs)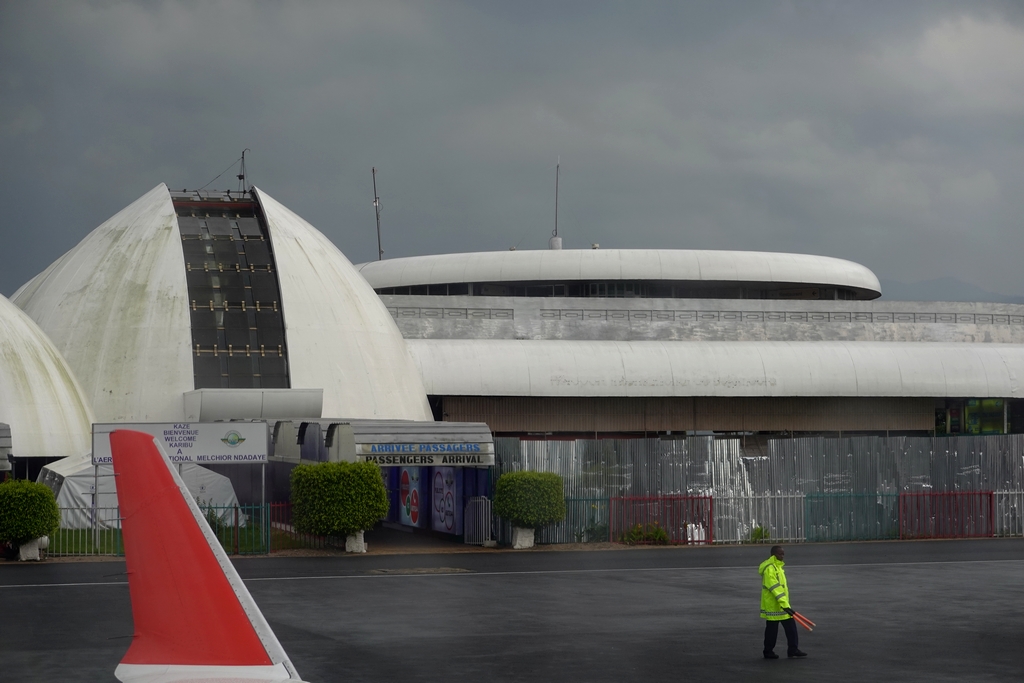 Uganda Airlines 5X-KNP, a 3 months old CRJ900 aircraft at Bujumbura airport - Burundi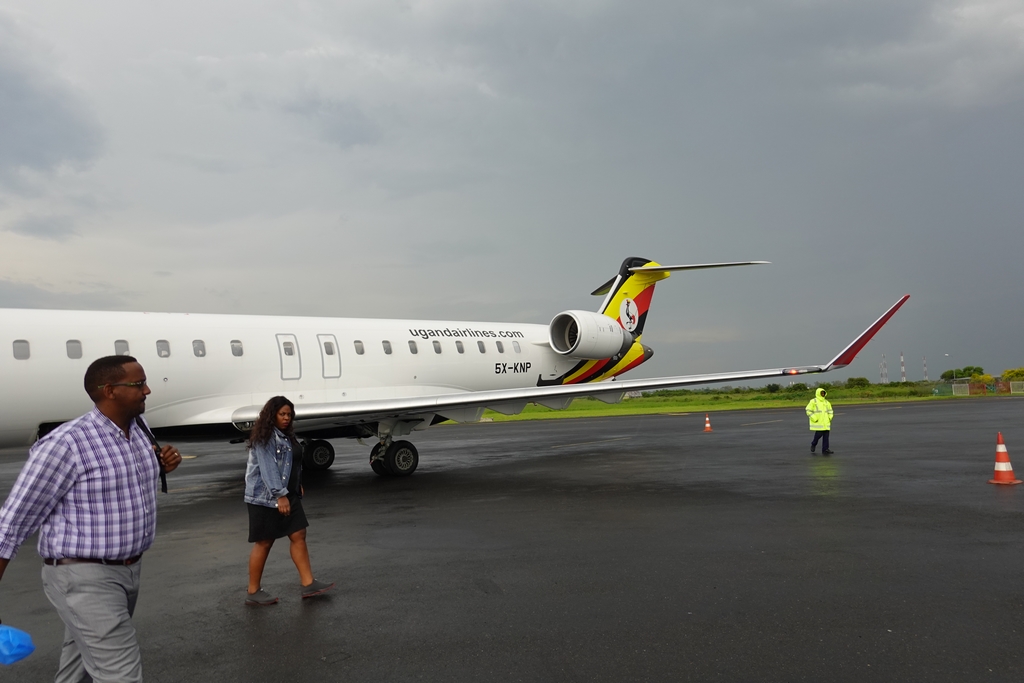 The newest and last CRJ900 plane of the fleet, delivered in October 2019.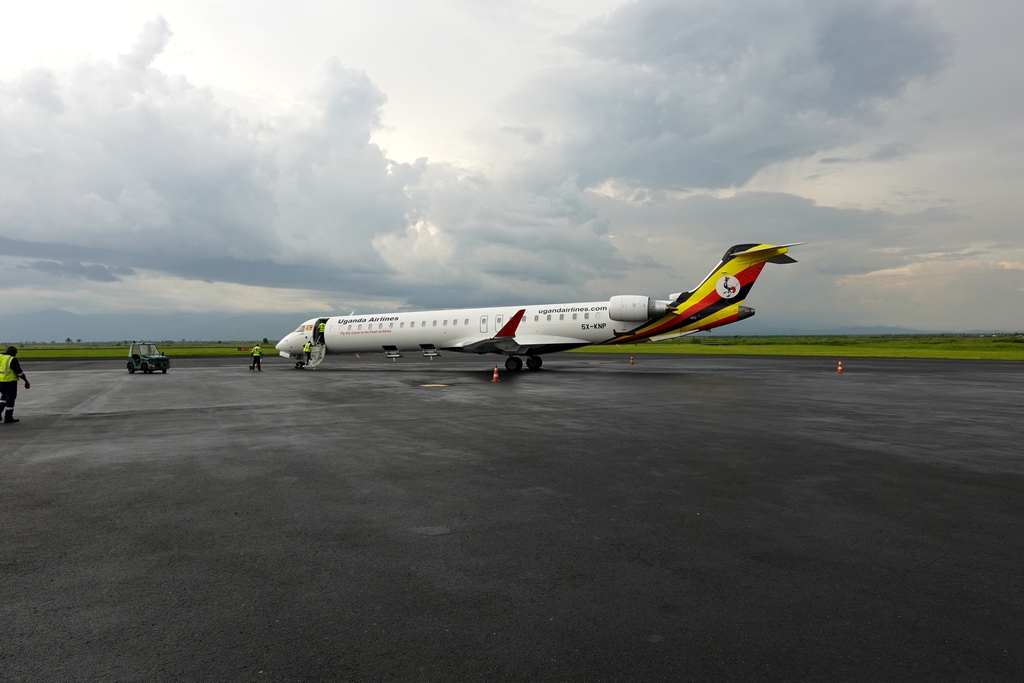 Bottom line
The only weak spot on that day is the contracted check-in employee that ruined every pax experience. Not by enforcing the rules obviously but with her attitude and behaviour. Uganda Airlines should recruit its own staff for these important positions especially at its own hub. God bless UR supervisor Clara that worked wonders afterwards

.
Entebbe airport faced the 2nd of its 3 peak times of the day at 1pm due to ME2+ continental flights departing between 3-4pm so except waiting for the new terminal opening soon – long queues and mess will still happen.
On Friday, Uganda Airlines showed a healthier LF with 34 pax at Bujumbura to Entebbe (or beyond).
Now like all of you await, when the Airbus will join the fleet, can the long haul routes keep the quality promise still high?
Flagship airlines ranking and (their main) advantage on Y short haul within the East African Community (E.A.C.):
1/ Uganda Airlines (generous 2*23kg allowance)
2/ RwandAir (Hot meals and fares)
3/ Air Tanzania (Brand new hub terminal)
4/ Kenya Airways (lots of frequencies)
Many thanks for reading, comments and corrections always appreciated!

Next TR, maybe, Air Tanzania inaugural to South Africa before trying some mayor legacies in West Africa (June 2020).
Finally, how Bujumbura looks like in Decembre 2019:

Little "Buja"! DRC mountains in the background, taken from Kiriri hill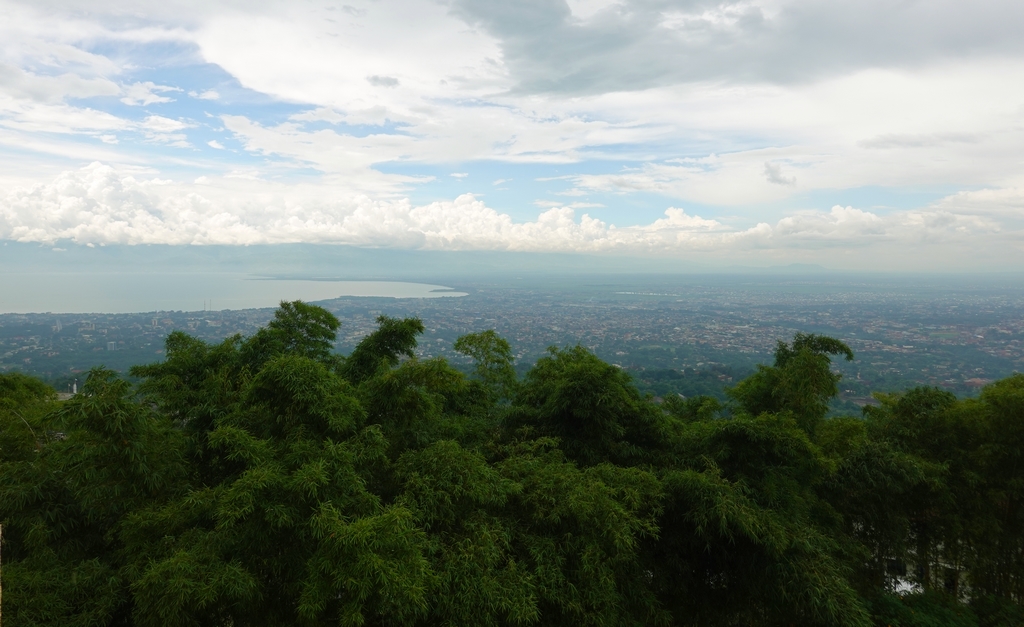 One of the houses of current president, different from the
newly built Presidential Palace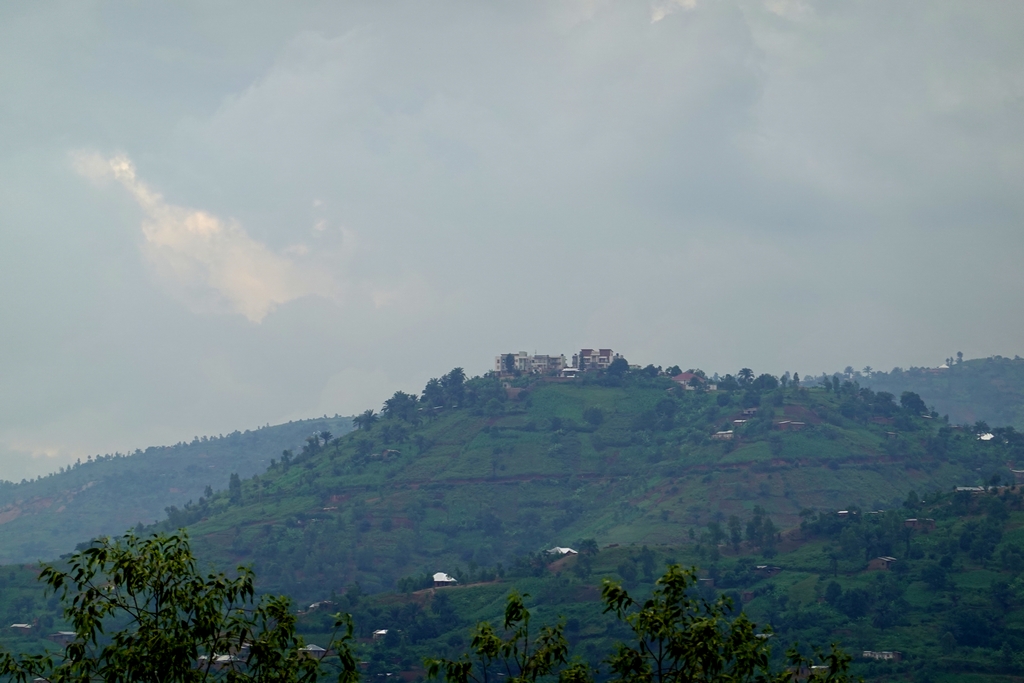 The best place for a safe and hassle-free weekday morning run within the city center in Rohero area: "
Public Garden
".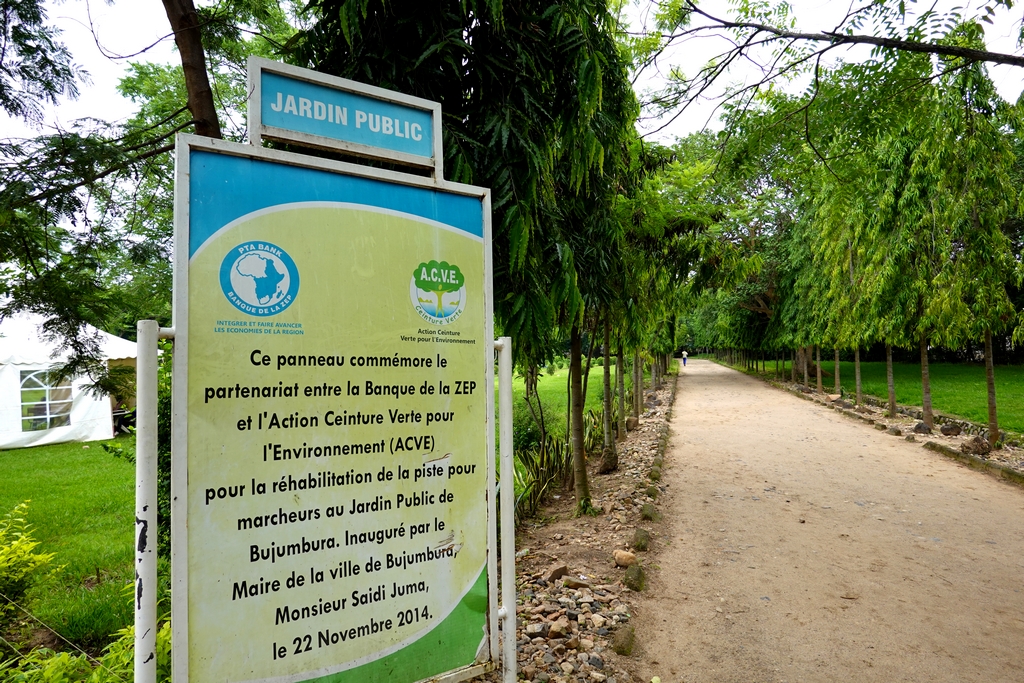 A brand new ferry
will link Bujumbura, Kigoma (Tanzania), Kalemie (DRC) and Zambia ports from 2021, replacing the antic and venerable 100 years old M.V. Liemba.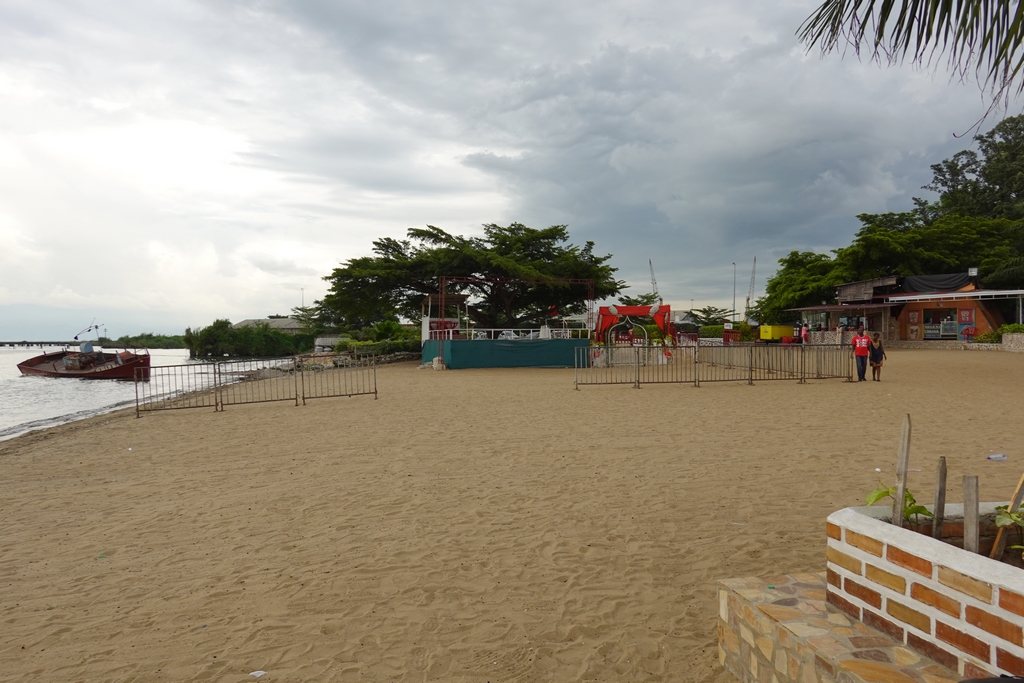 From Safi Beach near the port, with popular Bujumbura Yacht Club (left) and lively Zion Beach bar/restaurant (right, at the lighthouse – like building)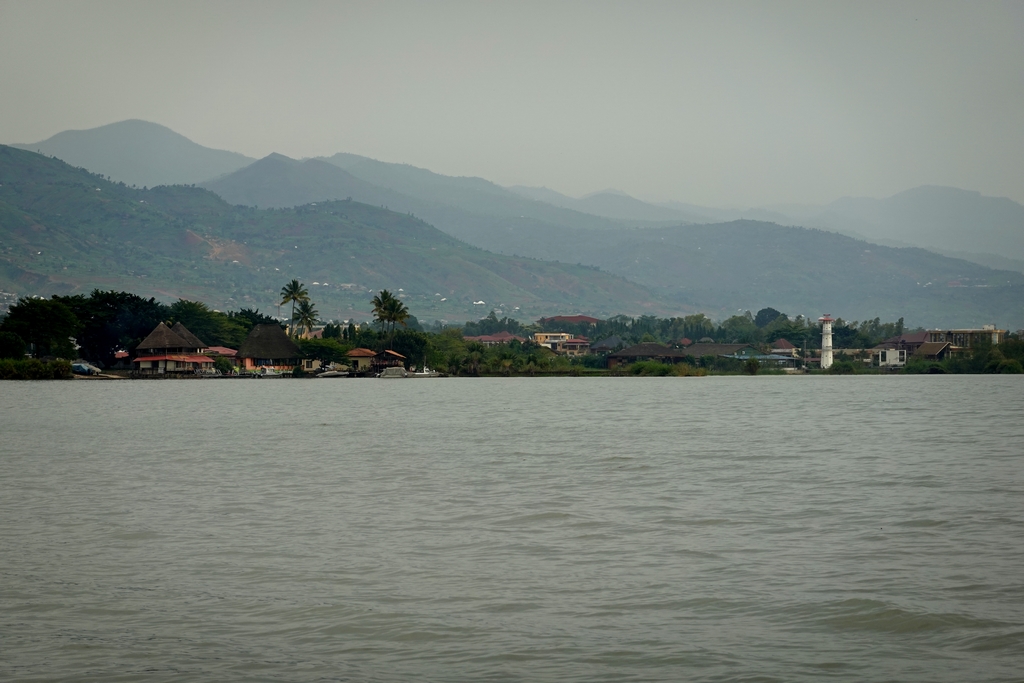 Bujumbura by night, from the 2nd floor of the
excellent Kangaroo Hotel
!