The Flight At A Glance:
Aircraft: Airbus A330-200
Origin: Dublin Airport
Destination: Washington Dulles International Airport
Flight Time: 7h 20m
Date: July 12, 2019
Class of Service: Business Class
Airline: Aer Lingus
Flight Rating 81/100
Flight Number: EI119
Seat Number: 6K
Time of Departure: 12:35 PM
Time of Arrival: 3:35 PM
Departure Terminal: Terminal 2
Aircraft Tail Number: EI-LAX
Check-In & Flight From Amsterdam to Dublin:
Firstly, this flight actually was booked on a ticket that started in Amsterdam. I was traveling on this segment with my mother; we booked this flight for 70,000 United miles per person (United has a codeshare with Aer Lingus, which surprisingly still is intact after they were bought by IAG aka British Airways/Iberia). We booked an itinerary from Amsterdam to Washington via Dublin, which pretty much is directly on the way between the two cities. Originally, I was going to review the flight from Amsterdam to Dublin, although that flight was too uneventful to do so and I didn't get many photos.
Since I am not doing a full review of the flight from Amsterdam to Dublin, I will only do a quick recap of the flight. We started off the journey at Amsterdam Airport and arrived at about 6:30am for our 9:35am flight to Dublin. We were booked in economy class on the flight as at that point, Aer Lingus didn't have business class on short-haul flights yet (although by now, they have introduced business class on some of their short-haul flights). Since we had already checked in for the flight online, we only had to drop off our bag at the counter, which was uneventful. We then cleared security and immigration and headed to the end of Concourse D, where our flight would be departing from. Once at the gate, the agents called for volunteers to gate check their bags if your final destination was Dublin. Since most people on our flight were connecting to North America, there weren't many volunteers. Our inbound flight was delayed by about 20 minutes, so we ended up departing Amsterdam at about 9:50am.
The flight itself was uneventful. I didn't end up eating anything as I had just had breakfast at Schiphol Airport, and I ended up sleeping for most of the 1.5-hour flight. The flight landed at Dublin Airport about 15 minutes late at around 10:35am. We landed on runway 28 and then had a very long taxi to the easternmost remote stand at the airport beyond Terminal 2. We then boarded a bus, which drove us around Terminal 2 until it dropped us off there. We then were directed towards the international arrivals hall, where we then found signs for international connections. The immigration line wasn't that long, although after that, we were directed towards another line where our boarding passes were checked. Overall, it took about 10 minutes from the time we were off the bus until we were in the standard international departures area, which was amazing – for FRA's standards.
Dublin is known for their United States Pre-Clearance facility. What that means is that you clear United States immigration at Dublin Airport, so you arrive in the US as a domestic flight. While this is great for people who have tight connections in the US, it makes short connections in Dublin harder, as you have to clear two immigration lines. The immigration (and extra security) lines at Dublin are extremely long, so make sure to plan for plenty of time at Dublin to clear the extra security for US-bound flights and immigration. Fortunately, since we were traveling in business class, we had access to the shortcut security line (the flights to the US require extra security) and we were able to cut the extremely long immigration line because we both have Global Entry. Overall, the whole immigration process to the US took about five minutes for both of us, although for travelers without Global Entry traveling in economy class, it could take up to an hour or possibly even more.
While we could have theoretically gone to the 51st & Green Lounge, which is the shared lounge in the US pre-cleared area of the airport, we opted against it as boarding was originally scheduled to begin at 11:30, which was only about 20 minutes from when we had arrived at the gate area. Our flight was departing from Gate 402, which was the first gate in the pre-cleared area. Some of the US pre-cleared flights depart from the lower level where then either you take an escalator up to the main level or depart from a bus, which was the area where our gate was departing from. Additionally, there is an area at the very end of the terminal that can be blocked off and temporarily becomes an additional area for pre-cleared passengers to board from. Later on in the day, after most US-bound flights leave, that same area becomes part of the regular international departures area.
An interesting thing to note is that while this was my first time actually flying on Aer Lingus, this wasn't actually my first time flying on an Aer Lingus plane. Some of you may recall that back in the early 2010s, United leased an A330 from Aer Lingus, which operated on their Washington Dulles to Madrid flight, which was operated by an Aer Lingus crew. I flew that flight in 2011 in economy class, but don't remember much about it.
Aer Lingus has one Airbus A330 which has an inferior business class product to the rest of its fleet. Specifically, Aer Lingus acquired an Airbus A330-200 (EI-GEY) from Qatar Airways last year that has angle flat seats in a 2-2-2 configuration as opposed to the flat Thompson Vantage seats in a 1-2-1/1-2-2 in the rest of their fleet. As it turned out, our flight to Washington was scheduled to be on that plane (most days of the week in the summer it is scheduled in the Washington route). However, as it turned our, the plane had diverted to Ottawa the day before until it flew on to Washington later that day and never flew back to Dublin, most likely because of a mechanical problem. Because of that, we ended up on a regular Aer Lingus plane with their normal business class seats, so in a way, we were twice lucky for being originally assigned the inferior aircraft but that it had a mechanical problem so we ended up on another plane.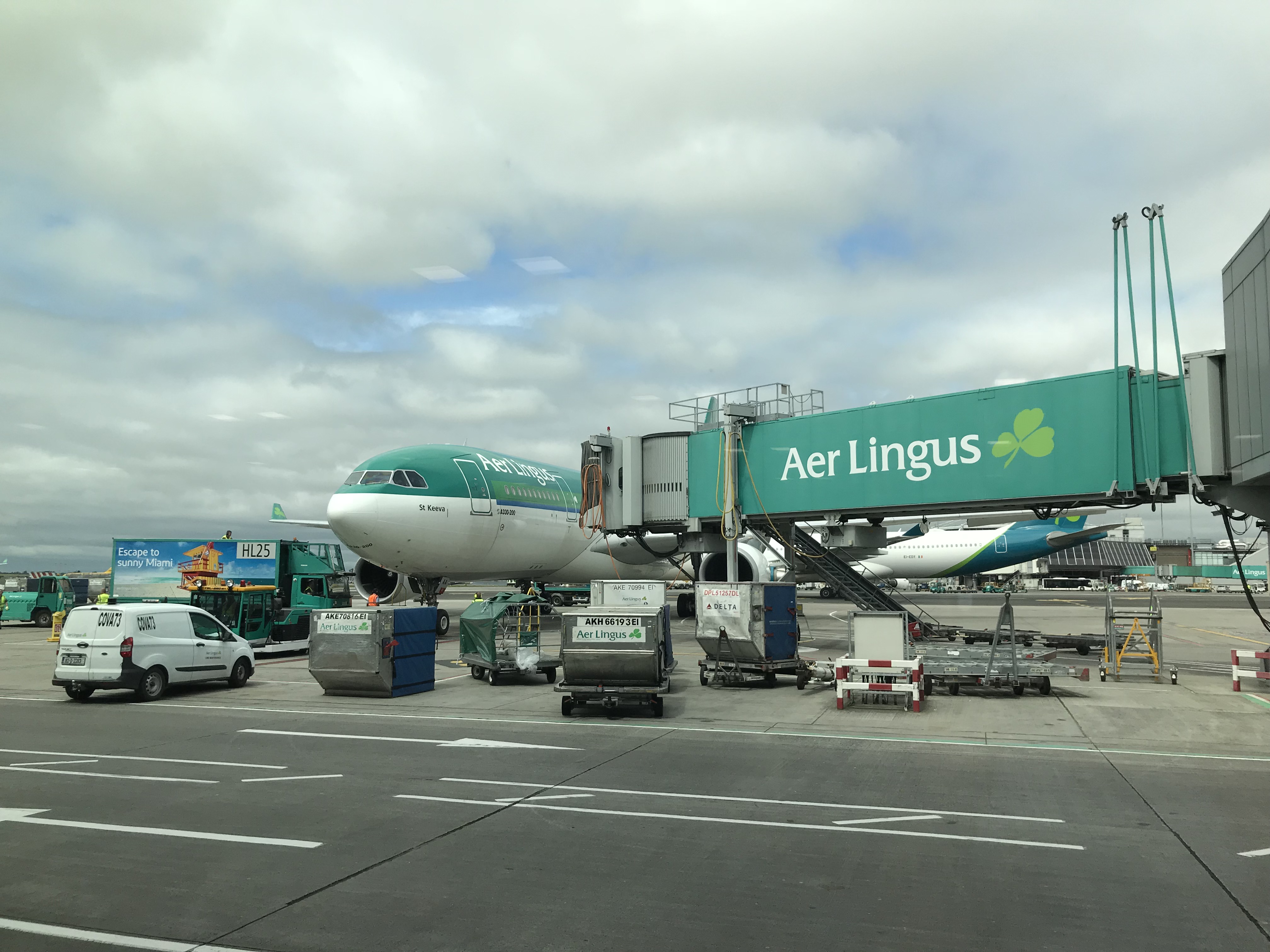 View of Our Aircraft
However, that meant that they needed to find another aircraft for us. It took a while for the plane to actually get to our gate, but we ended up on EI-LAX, an Airbus A330-200 which has the normal Aer Lingus configuration. Unfortunately, that meant that our flight was delayed by about an hour, so we spent over an hour in the line waiting when we could have been in the lounge. Well, I guess it was good to stretch my legs a bit before a 7 hour flight! We ended up boarding the plane at about 12:30pm, which was five minutes before we were supposed to depart.
The Flight:
We were greeted at boarding door L2 by a friendly flight attendant, who directed us to our seats on the starboard side of the aircraft. Aer Lingus uses the Thompson Vantage seat on all of their long-haul aircraft (besides the one A330 with inferior seats), which includes the A330 (-200 and -300), Boeing 757-200, and the A321LR. It is a very popular seat that also can be found on Austrian Airlines, SWISS, Delta Air Lines, and TAP Portugal, among other airlines. On the A330, seats are in an alternating 1-2-1 and 1-2-2 configuration. We were assigned seats 6H and 6K at check-in due to the aircraft swap. This did mean that I didn't have direct aisle access in seat 6K (one of two seats that doesn't on the entire business class cabin). I wouldn't have chosen these seats had we not been assigned them at booking, but I didn't mind, because I was traveling with my mother on this flight.
All of the seats are fully flat, and 87% of the seats onboard the plane have direct aisle access. The seats on the port side of the aircraft are in a staggered configuration, alternating between being closer to the window or closer to the aisle. There are then two seats in the middle which are also staggered. Then, on the starboard side of the aircraft, the seats alternate between having 1 and 2 seats per row. That gives the single "throne" seats on the starboard side of the plane have a lot more room and storage than other seats on the plane because it almost takes up the same amount of room as two seats would. Unfortunately, we were seated in the pair of two seats, which have the least amount of storage and privacy in the whole cabin, although, again, it didn't bother us much since we were traveling together.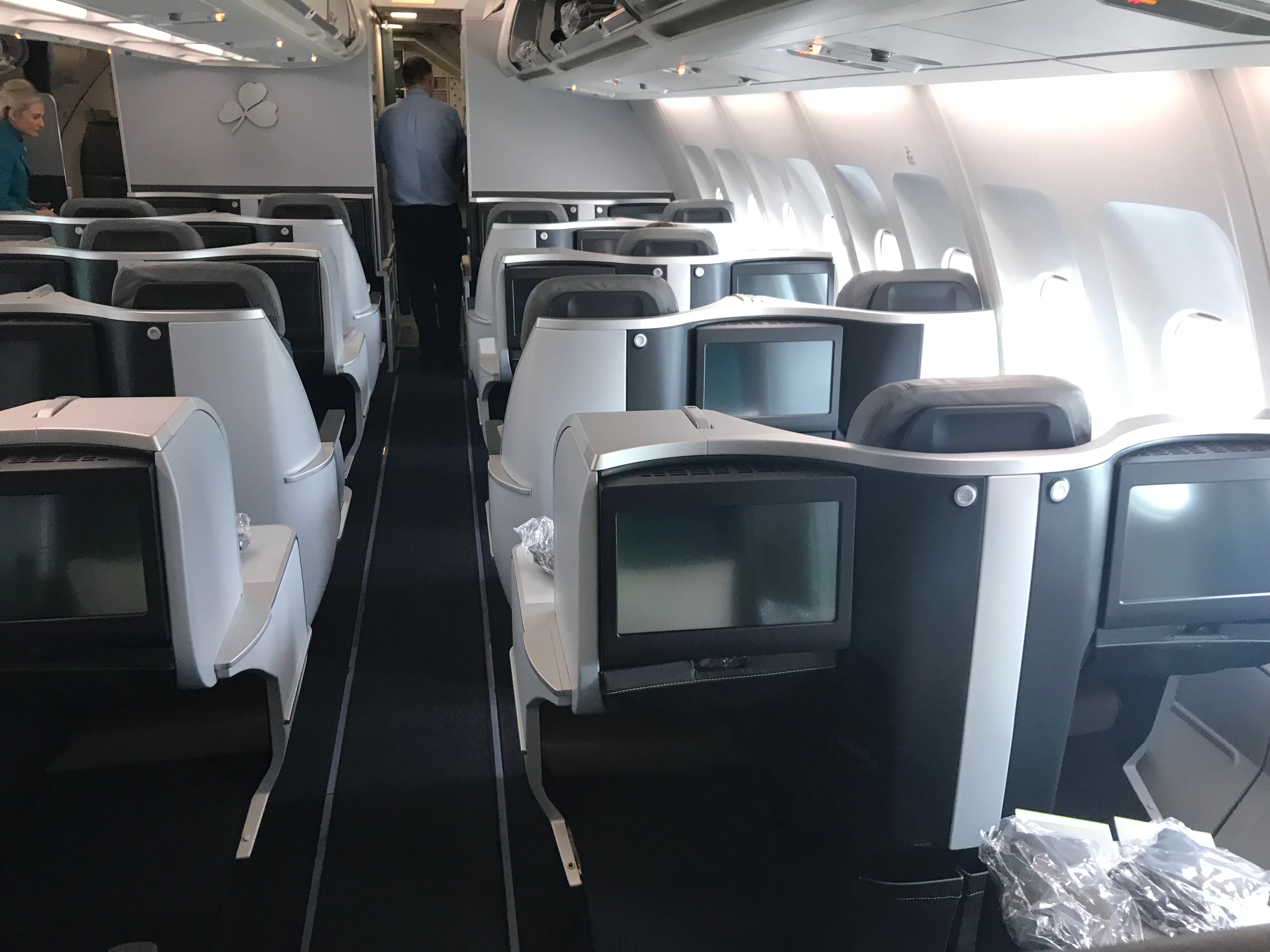 Aer Lingus A330 Business Class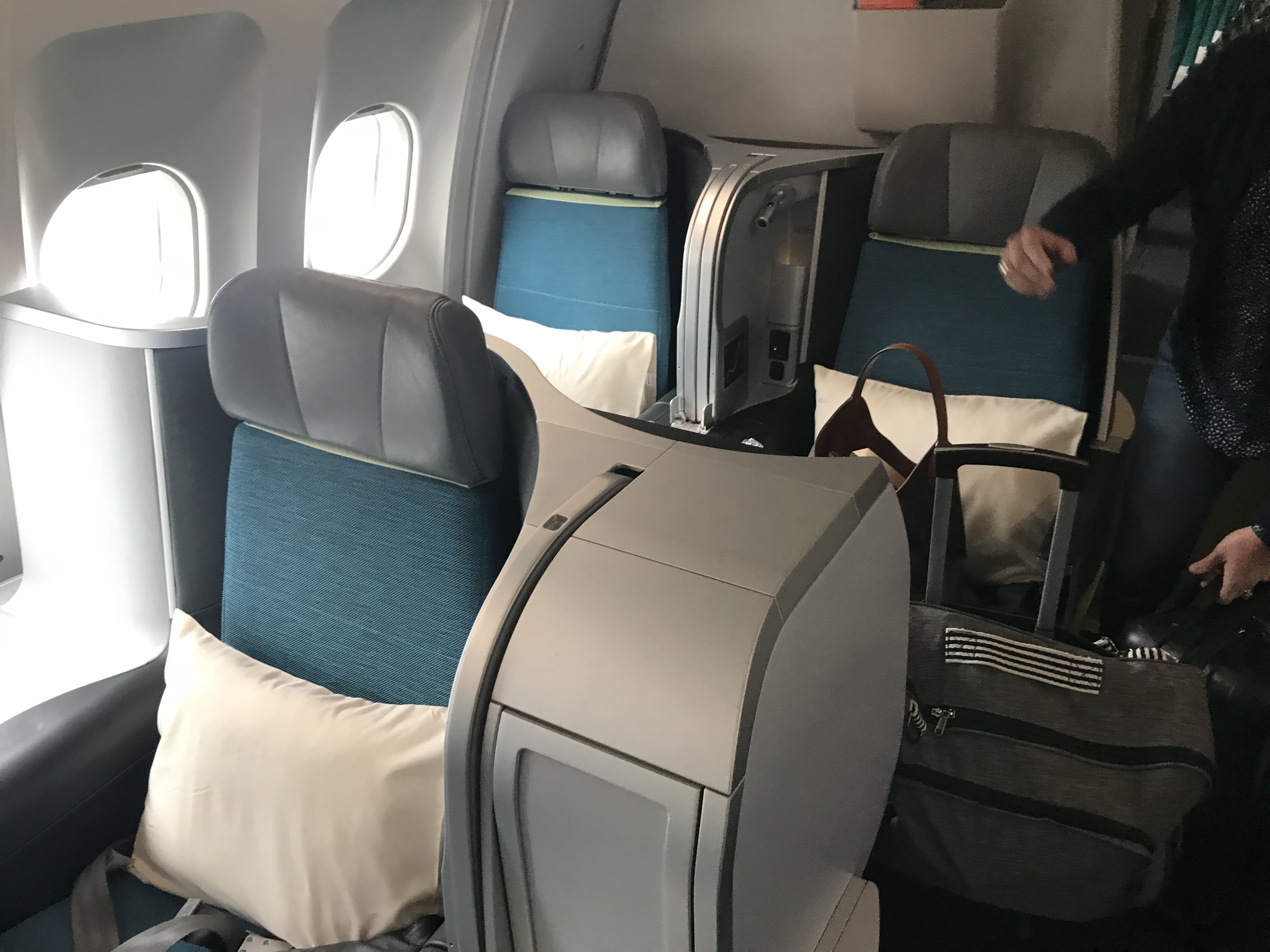 Aer Lingus A330 Business Class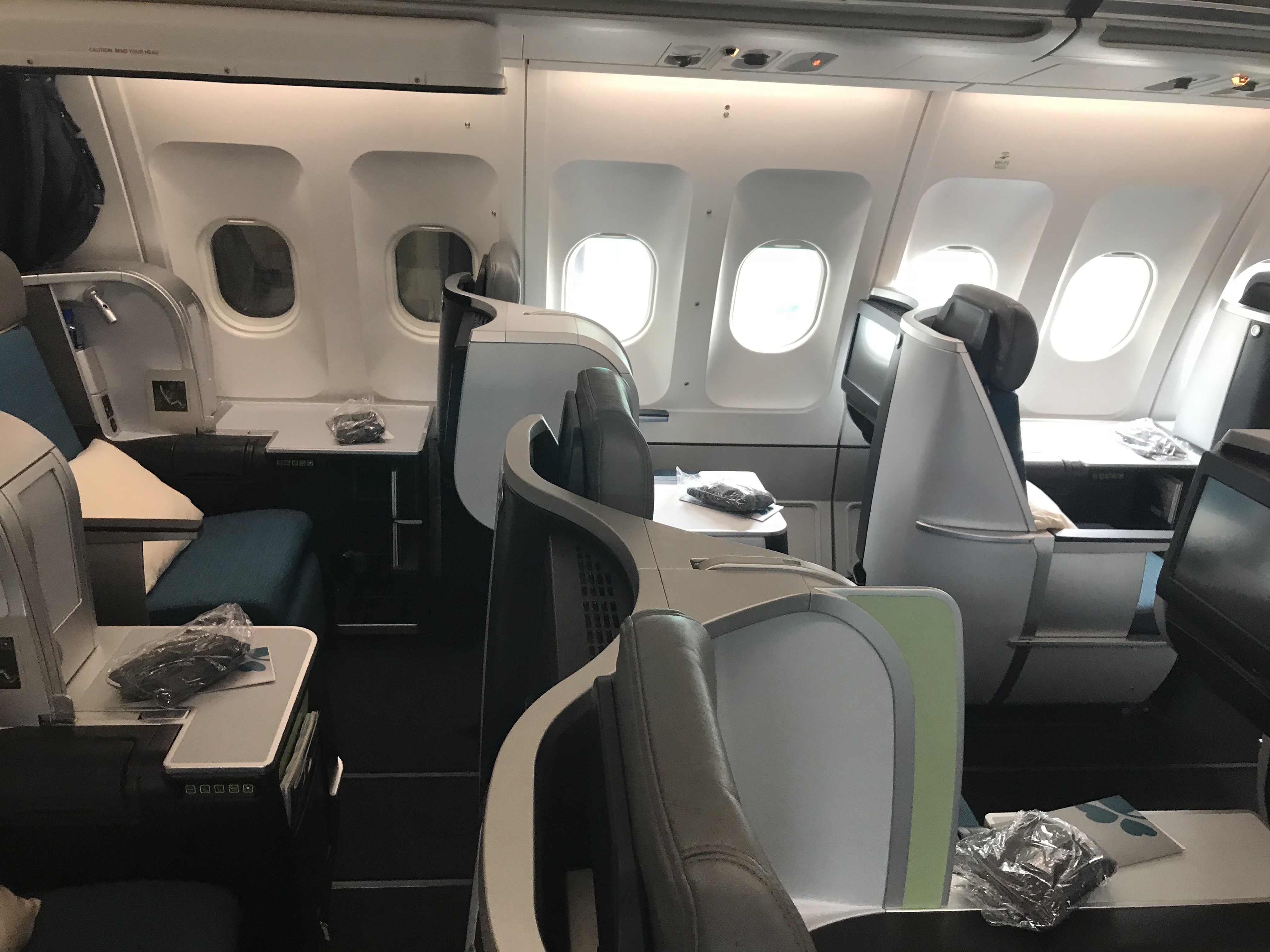 Aer Lingus A330 Business Class
The seats themselves were well padded and were pretty comfortable. It also had a headrest, which is something that some airlines don't put in business class because they don't think it's necessary, although I found it quite useful. In between our two seats was a privacy divider which was pretty small. Most other seats had more storage than our seats and had larger storage units, although my seat still did have a couple compartments. Firstly, there was a storage pocket which was right underneath the screen which was good for keeping small personal belongings or the amenity kit. There also was a shoe storage pocket in between the two seats, which was rather small. There was also a water bottle holder in the divider in between the two seats.
Many people complain that the Thompson Vantage is pretty tight and has footwells which are too small, and I would probably have to agree with them. The footwell was extremely narrow and was pretty restrictive, although I didn't mind that much since it was a day flight. Additionally, the seat was pretty narrow, which was a little bothersome when in lie-flat mode. Overall, the Thompson Vantage seat is pretty compact in terms of lie flat seats (I mean, they squeezed 23 fully-flat seats in an area where South African fit only 18 angle-flat seats), but, of course, these are all 100% first world problems
To control the seat, there was a larger panel in which you could control how far the seat leans back and to control the leg rest. The seat also had a massage function, which was a good feature. There also was a smaller panel which also had a few presets for the seat. By the seat divider was a power outlet, USB port, and a reading light. I appreciated that each seat had individual air nozzles (as I often get warm on planes, especially with business class bedding), although the plane was kept at a reasonable temperature.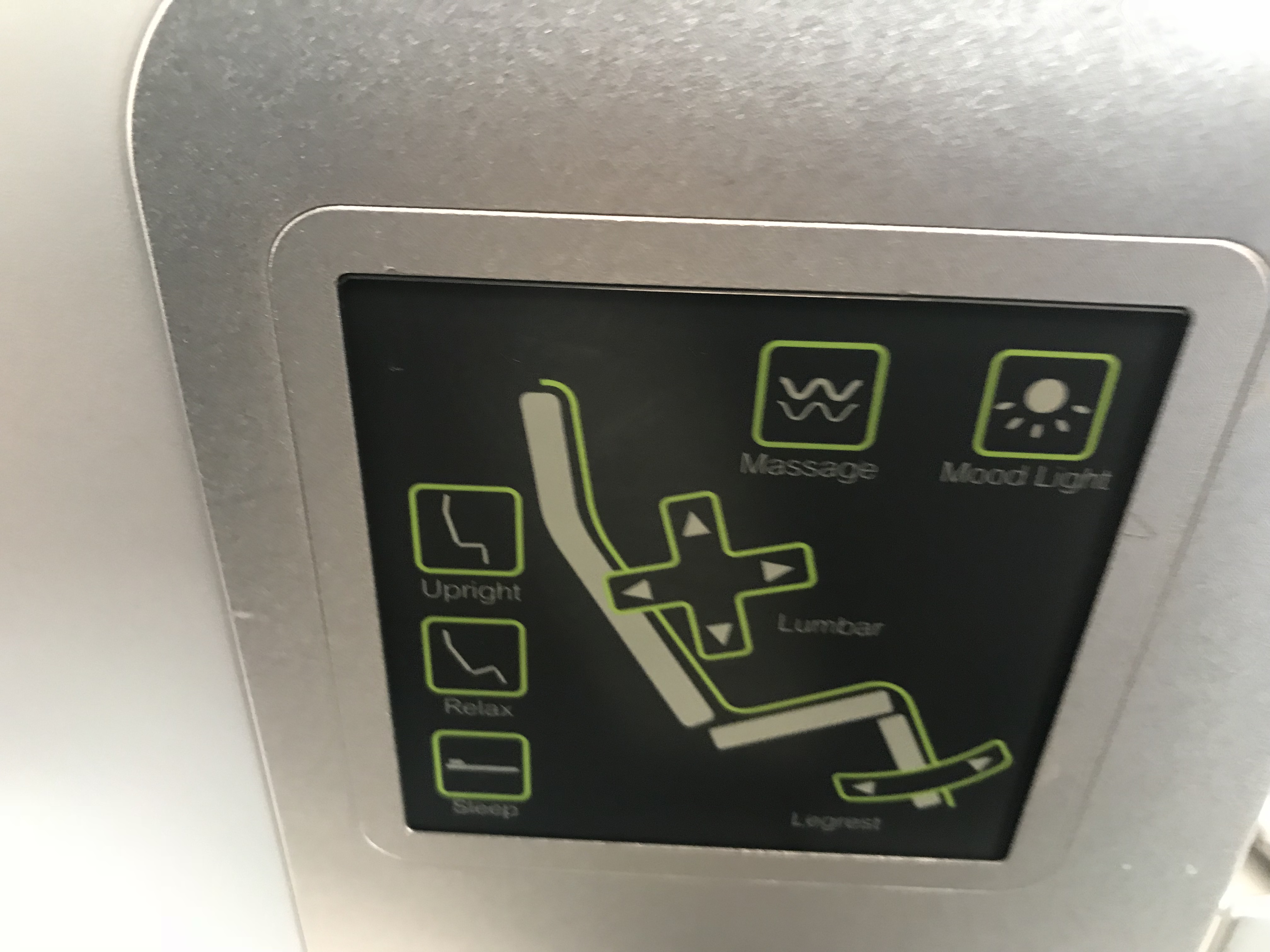 The Seat Controls
The remote for the in-flight entertainment screen was in a pocket in the armrest. We were provided with headphones which were pretty standard although were not noise cancelling. However, since the screen was relatively close to the actual seat, I ended up controlling the IFE mostly just through touch. Speaking of which, the in-flight entertainment was pretty good; I never was bored during the flight as it had a good amount of movies, TV shows, and games. The screen itself was pretty high definition, although it was hard to see the content when I had the seat in the lie-flat position. Aer Lingus also offers 400 MB of free WiFi to all of its business class passengers (and the WiFi was also pretty fast). I really wish more airlines would offer free WiFi (at least in business class), as 7+ hour flights are really long times to be disconnected.
Much like on South African Airways, Aer Lingus makes you store the blankets up in the overhead bins during takeoff and landing, which is pretty annoying. Aer Lingus provided pretty good bedding for a short transatlantic day flight, which included a pillow (that didn't flatten out immediately) and a very plush and comfortable blanket. They also provided an amenity kit which had all the basics such as a toothbrush kit, lip balm, an eye mask, ear plugs, and more. About 10 minutes after settling in, the male flight attendant who covered the right aisle of the business class cabin (who was extremely friendly) came around and offered us pre-departure drinks; I selected water. He then came around and offered us the menu. Onboard this flight, we would be offered a lunch service and an afternoon tea service before landing.
At about 1:15, the captain announced that we would have an approximate flight time of 7 hours and 20 minutes. The safety video (which was pretty bland) was then played and the aircraft pushed back and taxied to Runway 28 and took off towards Washington Dulles at 1:40.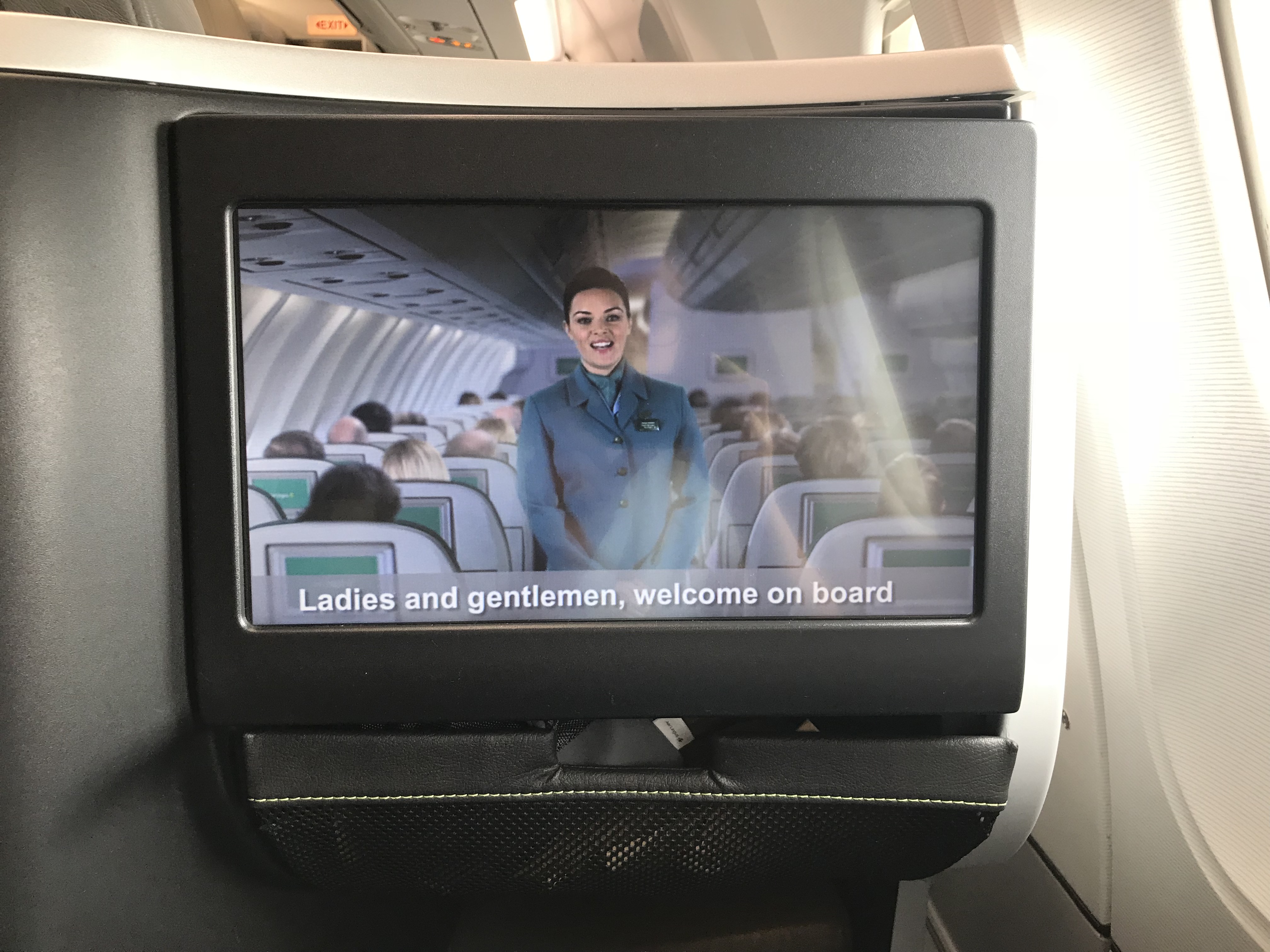 The Safety Video
At that point, I reclined my seat a bit and took advantage of the in-flight entertainment and watched a movie. The flight attendant then came around about 1/2 an hour after take off to set my table. At that point, I was extremely hungry as I hadn't really eaten since Amsterdam. About 40 minutes after takeoff, canapés were served, which included a small sandwich and shrimp. I also ordered water, and was given a water bottle.
A bit over an hour after takeoff, the appetizer was served. I ordered the smoked chicken, which was cold and pretty tasteless. The flight attendant then came around with a bread basket; I selected a dark and light bread roll.
About one and a half hours after takeoff, the main course was served. I ordered the filet of beef with potatoes and vegetables. The beef filet was perfectly cooked and still was juicy (which is often an accomplishment on airplanes) and the potatoes were also great.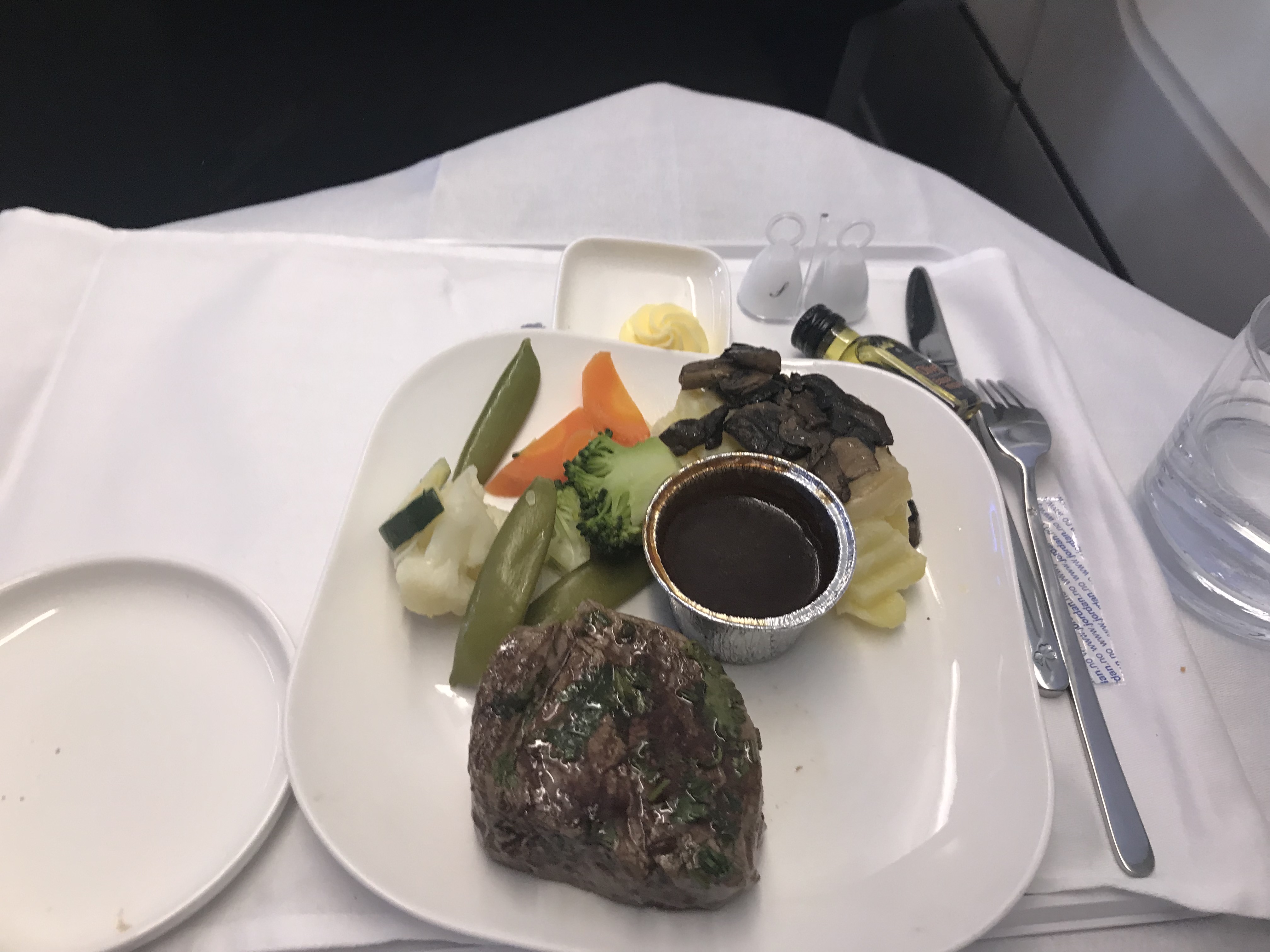 The Beef Filet
About two hours after takeoff, dessert was served. I ordered the chocolate gateaux cake, which to be honest, was probably one of the best desserts that I've ever had on an airplane.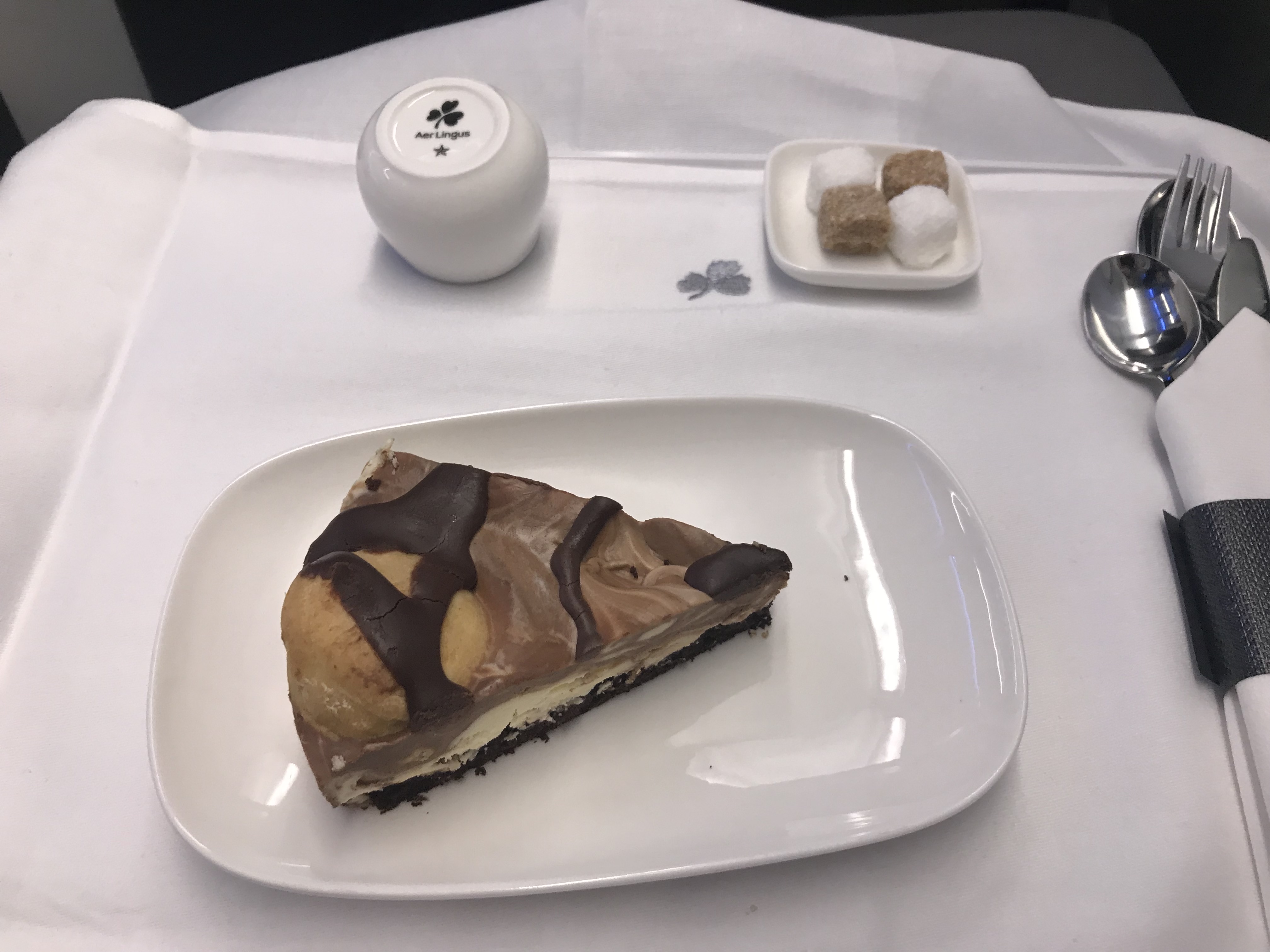 The Chocolate Cake
I have mixed thoughts about the meal service. On the one hand, the main course and the dessert were both excellent, while the appetizer wasn't amazing and the pace of the meal service was simply unacceptable, as it shouldn't take over two hours for a meal service to finish on a short 7-hour transatlantic flight. However, the flight attendant working my aisle was amazing. I forgot to catch his name, but he couldn't have been friendlier (in a very Irish way) and seemed to enjoy his job a lot and always asked how he could make our flight better.
At that point, the cabin lights were dimmed, and I went to check out the lavatory, which was pretty basic but also clean. I then reclined my seat into the fully flat position and took a very pleasant 30 minute nap which would get me through the entire flight.
After taking a short nap, I walked around the cabin and found that a small snack selection was set up at the beginning of the cabin which had chips, candy bars, pretzels, and nuts, which I greatly appreciated. It's worth noting that the flight attendant came around with the snack selection throughout the cabin about every thirty minutes. It's great when flight attendants actually make sporadic appearances throughout the flight to make sure if you need anything, as I hate it when all flight attendants simply disappear for the majority of a flight without. For the rest of the flight, I entertained myself using the IFE system and watched another movie and a couple of TV shows.
A bit over one hour before landing, the flight attendant came around with the afternoon tea service, which consisted of an egg sandwich, a chicken pesto sandwich, and two scones. I wasn't a huge fan of the egg sandwich, while the chicken pesto sandwich was great, and the scones were some of the best that I've had in a while (on the ground and in the air).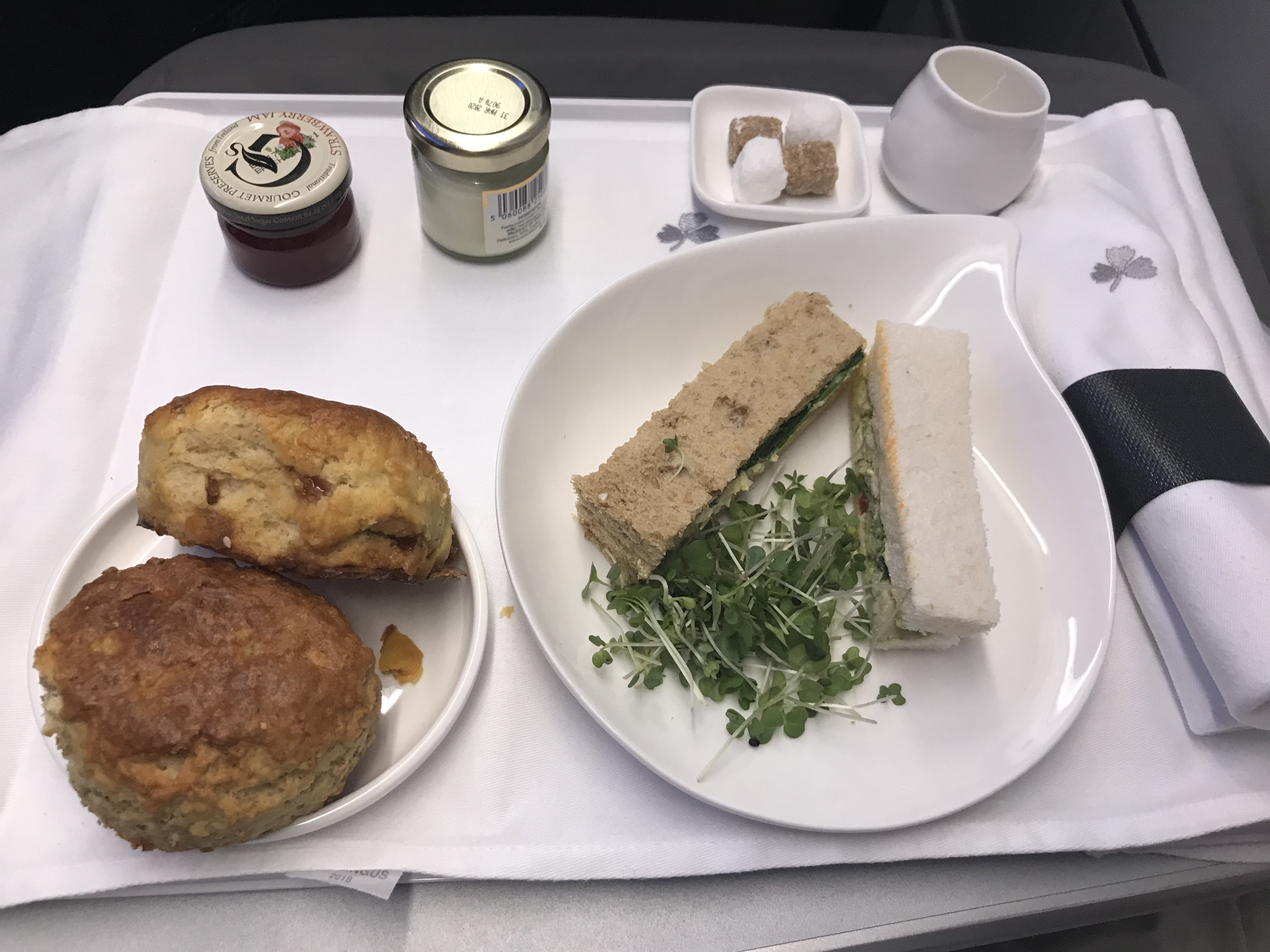 The Afternoon Tea Service
About 45 minutes before landing, the captain came on the PA and announced that we had started our descent into Washington Dulles Airport. About twenty minutes before landing, our blankets were collected, and we were instructed to put our seats into the upright position. We landed at Washington Dulles Airport at about 3:55pm, which was only about a half an hour late, which was a delta that I didn't mind that much.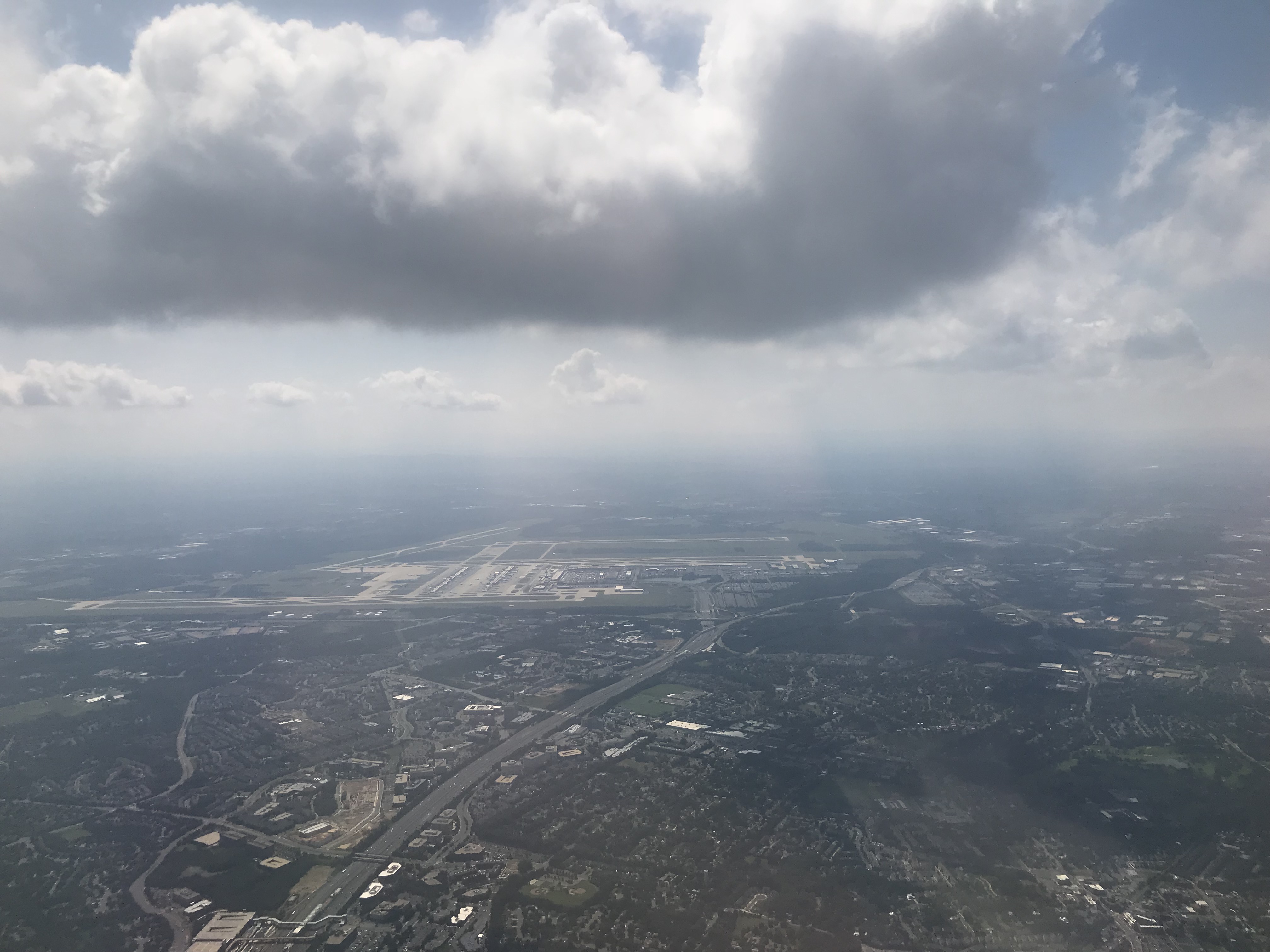 View of Washington Dulles Airport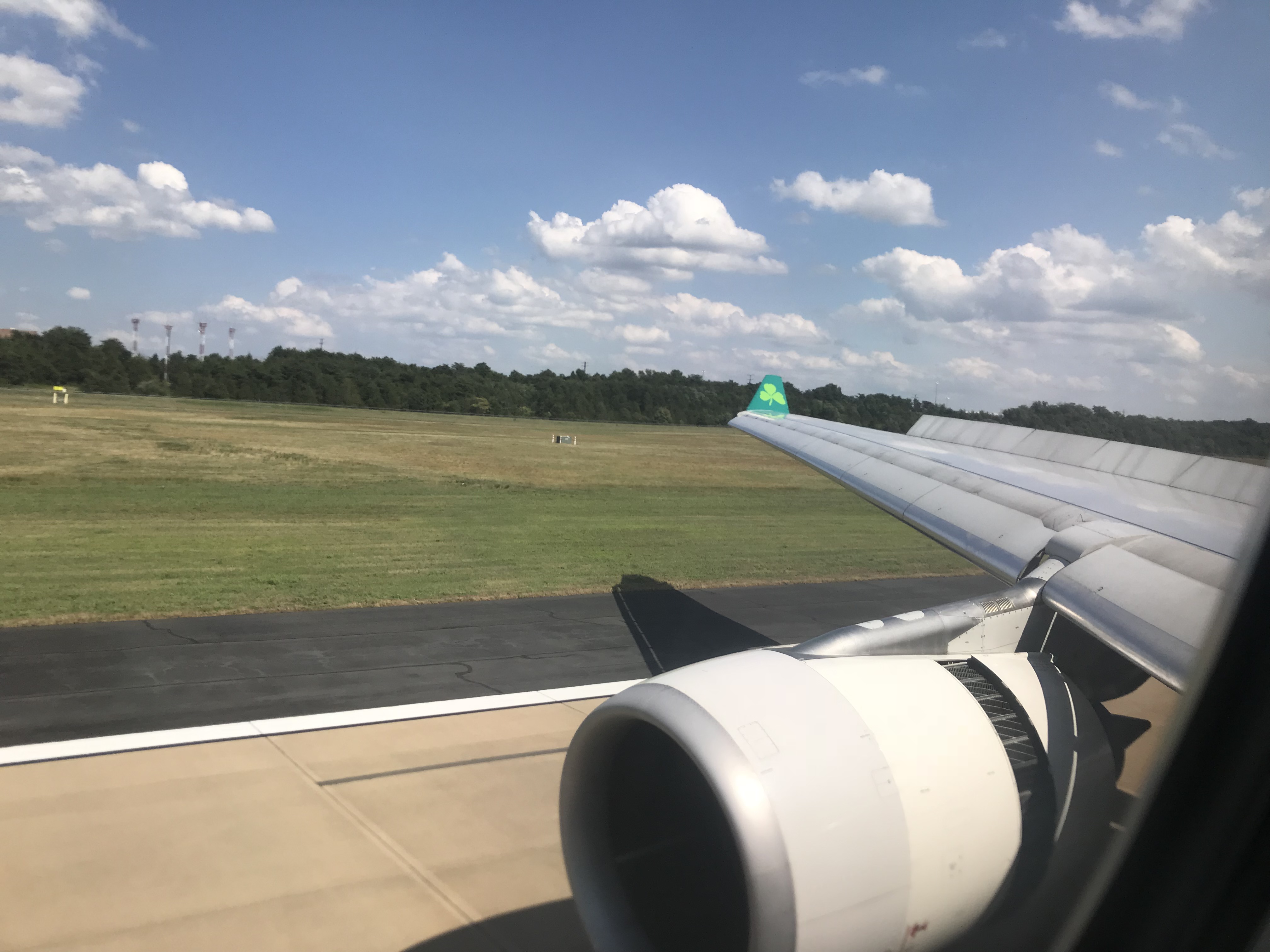 Landing at Washington Dulles Airport
We taxied around Concourse A and B and parked at our gate in the domestic section of Terminal B where most Delta and American aircraft park because we were arriving as a domestic flight. We didn't have to clear immigration since we had done that in Dublin and deplaned at the departures area and took the Aerotrain to the main terminal, where we would get our bags.
Conclusion:
Overall, I had a great flight on Aer Lingus. While I didn't have a chance to visit their lounge, the flight was very good. The seats weren't groundbreaking and were pretty tight, although they were completely lie-flat and had a reasonable amount of privacy – more than acceptable for a 7-hour transatlantic flight. I have conflicted views about the in-flight service, because while the flight attendant was amazing in terms of attentiveness and friendliness, the service pace was pretty slow. I also greatly commend the crew for dealing well with the sick child onboard. Additionally, the food onboard was very tasty. Overall, Aer Lingus presents a great way to cross the Atlantic in business class with good seats (better than British Airways' old seats) and an overall very good soft product.
For more photos about this flight, please visit the original posting of this review on my blog, Air Travel Analysis (link below).
https://airtravelanalysis.com/aer-lingus-a330-business-class-review/