Taos Air: A Unique Flying Experience into Regional Airports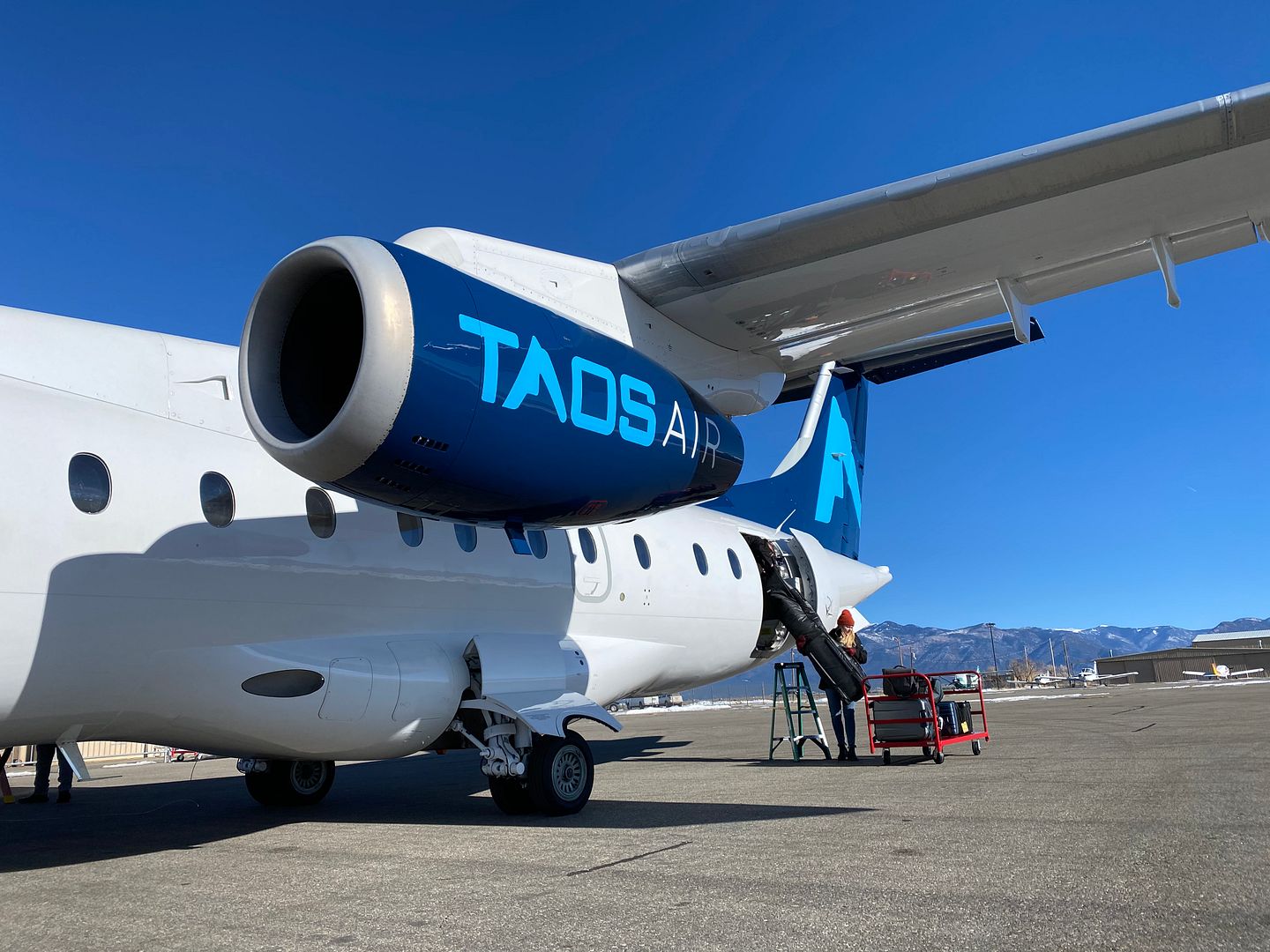 Full photo album link:
http://s1213.photobucket.com/user/Carfi ... anuary2020
Without airliners.net, I would never know the existence of Taos Air, which has been running winter seasonal flights between Taos, New Mexico, and Austin and Dallas, Texas since last year. On January 9, 2020, it has expanded its service to Hawthorne (Los Angeles) and Carlsbad (San Diego), California. Following the footsteps of boutique airlines like Jet Suite X, which is now known as JSX, Taos Air uses smaller regional jet, which has 30 and less seats for these scheduled charter flights. They operate in and out of private jet terminal and there is no TSA or baggage screening at all. It is really a cool concept. Taos Air is a virtual airline and Advanced Air is operating the flights for them this year. When I read the thread on airliners.net, I wasn't sure about it at first and worried about the price, especially I checked it basically more or less a week before. When I saw that they provide fare for thru flights, (the only thru flights are Hawthorne to Dallas via Taos and San Diego to Austin via Taos), I jumped on it especially $190 is a really good fare. For comparison, my return fare is $170 on Alaska. Taos Air allows one free flight change up to 7 days prior to departure, two free bags (they don't really check the weight), and complimentary snacks including ice cream on the flights to Texas, and non-alcoholic beverage, not to mention that you don't need to deal with TSA and can check in as late as fifteen minutes prior to departure. The flight experience could not be any simpler; however, I have to caution those who needs to make a connection at Dallas or Austin. Unlike JSX, Taos Air/Advanced Air does not offer complimentary shuttle to the main terminal, and these private jet terminals are often at the other end of the airport, and required an Uber/Lyft or taxi. However, I still recommend any AV geeks to give it a try. It is a really affordable way to experience a private jet-type experience.
My flights:
NM 295 Hawthorne Municipal to Taos Regional Lv0730 Arr1030 Dornier 328 Jet N192T
NM 195 Tao Regional to Dallas Love Field Lv1100 Arr1340 Dornier 328 Jet N192T
[Call sign is AN 90 for both flights, and I think they follow the actual aircraft. For their other Dornier 328 Jet, N192TS, the call sign is AN 92.]
Check-in at Hawthorne: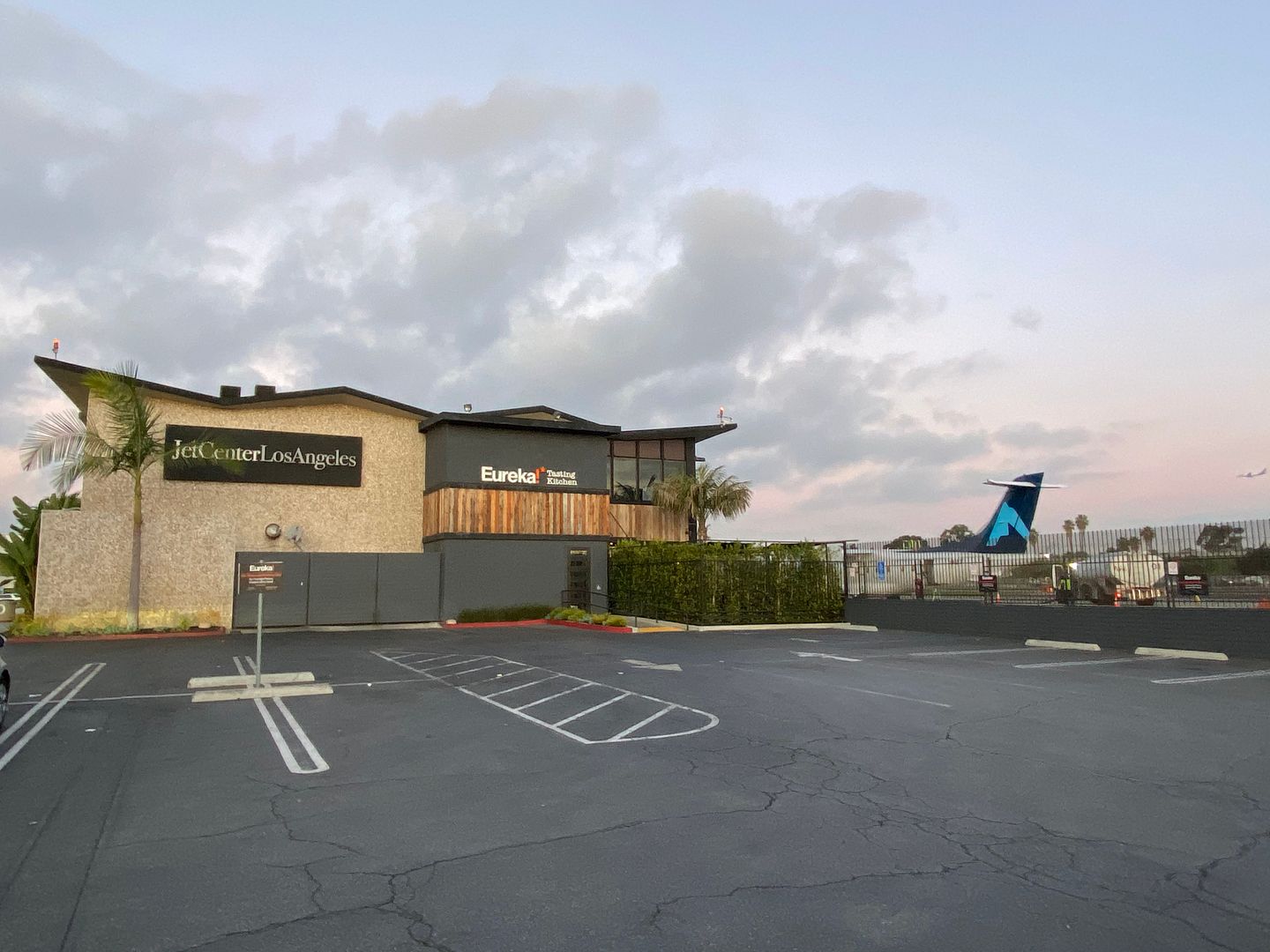 Jet Center Los Angeles:
My Uber driver had no issue finding the Jet Center Los Angeles, and there are plenty of signs showing "Taos Air" too. Surf Air also uses the same terminal. There is a restaurant above the private jet terminal.
Interior is similar to most private jet terminals in the US. There is no formal check in desks, and there is a receptionist answer question. She informed me that the flight attendant, Kimberly, would check us in, when we got closer to departure time. There are those valet carts that you typically see in hotel, which you put your check in bags, as well as skis for obvious reasons. The Taos Tourism Board and all these ski resorts heavily subsidize this service.
Reception desk:
Tea and coffee station
Plenty of Taos Air' magazines
Surf Air Check in counters
They have more drink selection and also cheese too. However, their aircraft don't have galley, so it makes sense for this setup.
Another great thing about flying private jet is that you can nicely ask the agent, and s/he will let you go outside and snap pictures of the planes. The pilots and staffs will chat with you.
The morning sun is just perfect for photos this morning.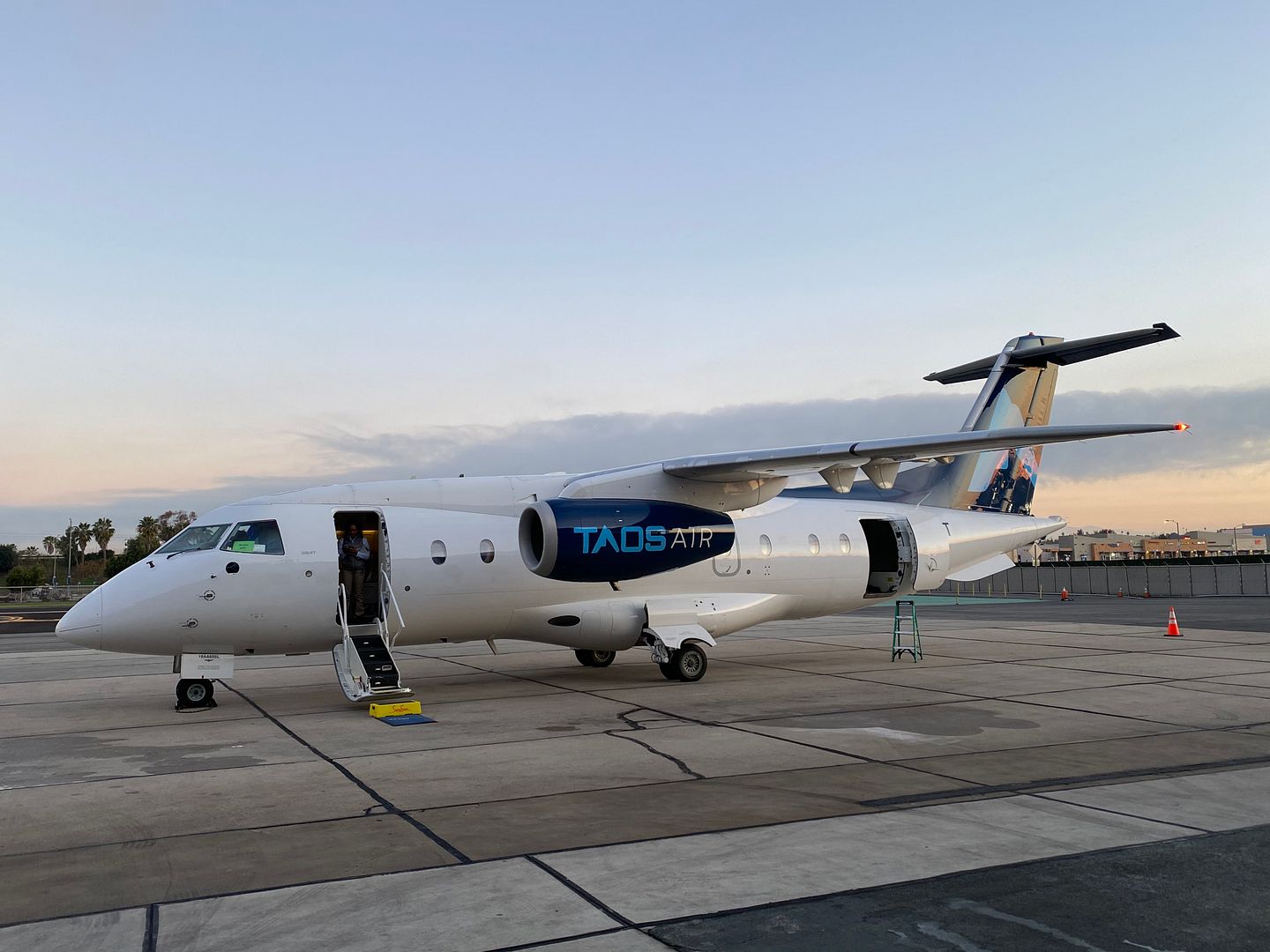 Kimberley showed up to check in eventually and she just verified your identity and the amount of baggage you are carrying. They do no weigh anything. However, you must use an official ID to verify your identity. There are no baggage tags. They just verify which bags do you want to check in and then they just loaded them onto the cargo hold.
Here is the boarding pass, but they recollect them as we board. I did not have one single piece of Taos Air's boarding pass or baggage tag at all.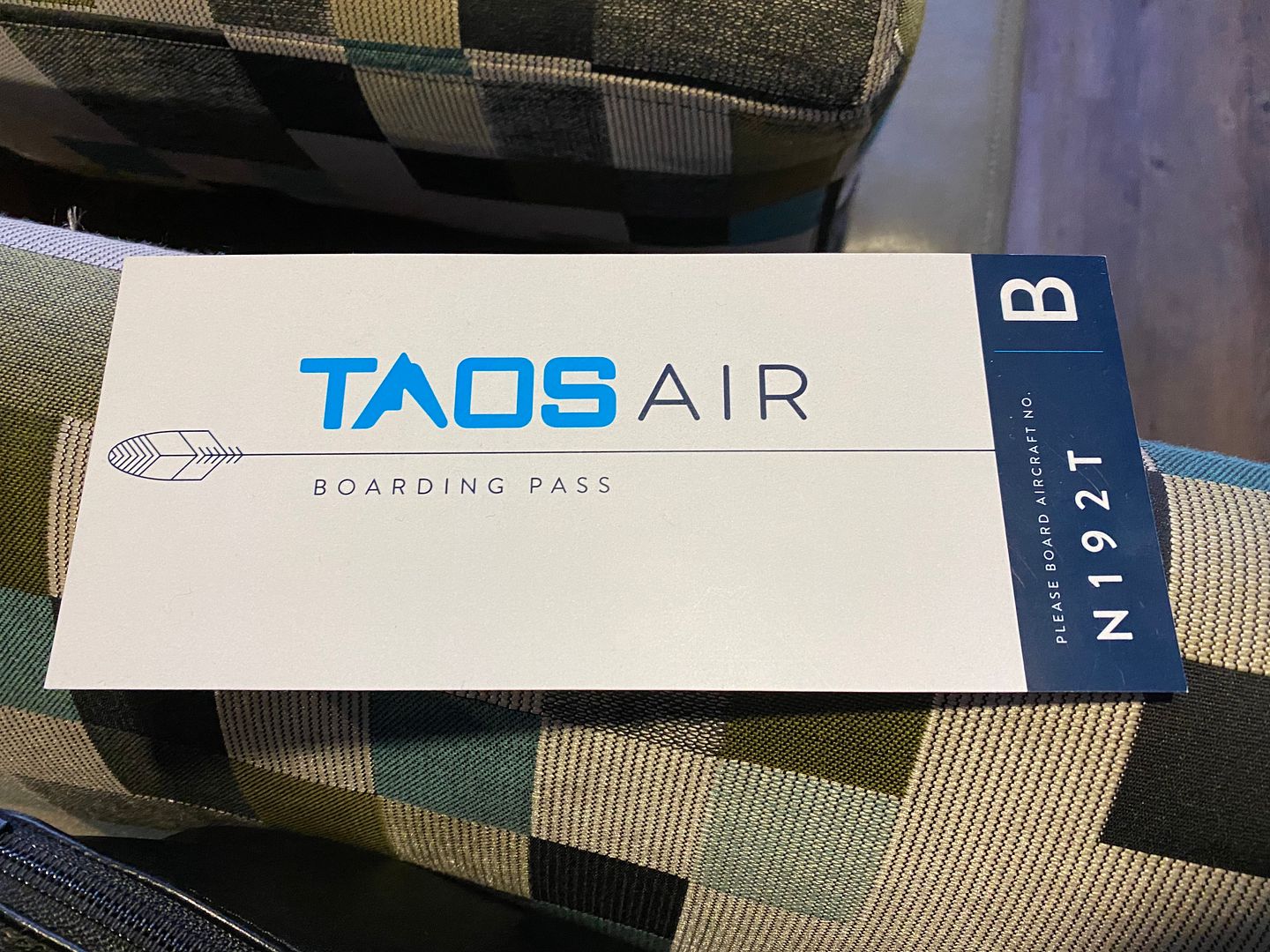 Hawthorne airport procedure: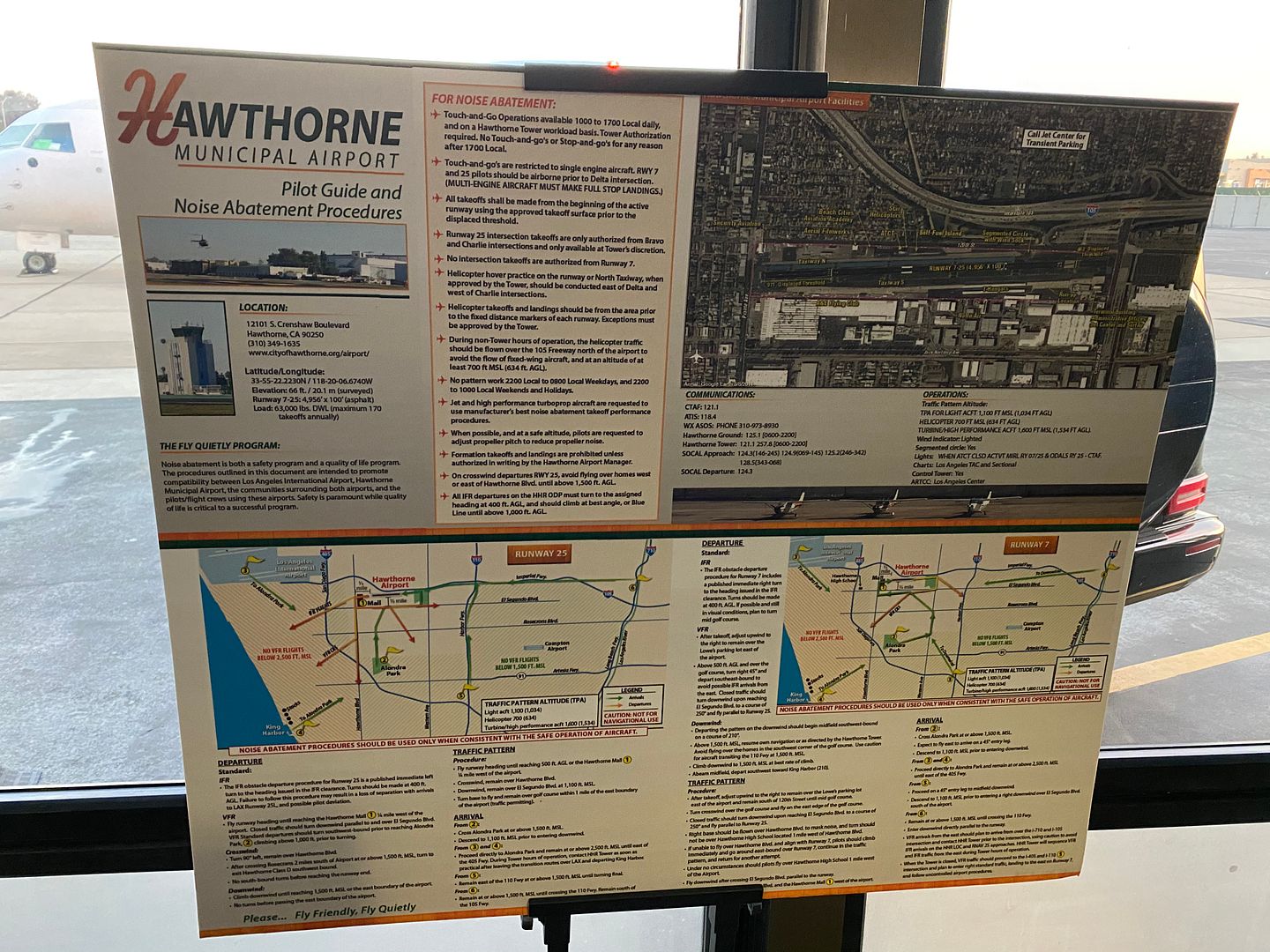 Boarding Procedure:
1. F/A checked your ID and name, and checked you in using her phone.
2. She handed you the boarding pass
3. Check in bags were taken away by ground staffs and loaded onto the plane.
4. Priority boarding for disabled passenger and they are very helpful, followed by families with young children, and the rest just followed the pilots out to the plane.
5. All open seating and Kimberley told us which section of the plane we should sit. She asked us to sit in the middle of the plane on the flight to Taos.
6. Kimberley collected the boarding pass and double-checked the passenger counts.
With only six passengers, boarding was quickly done.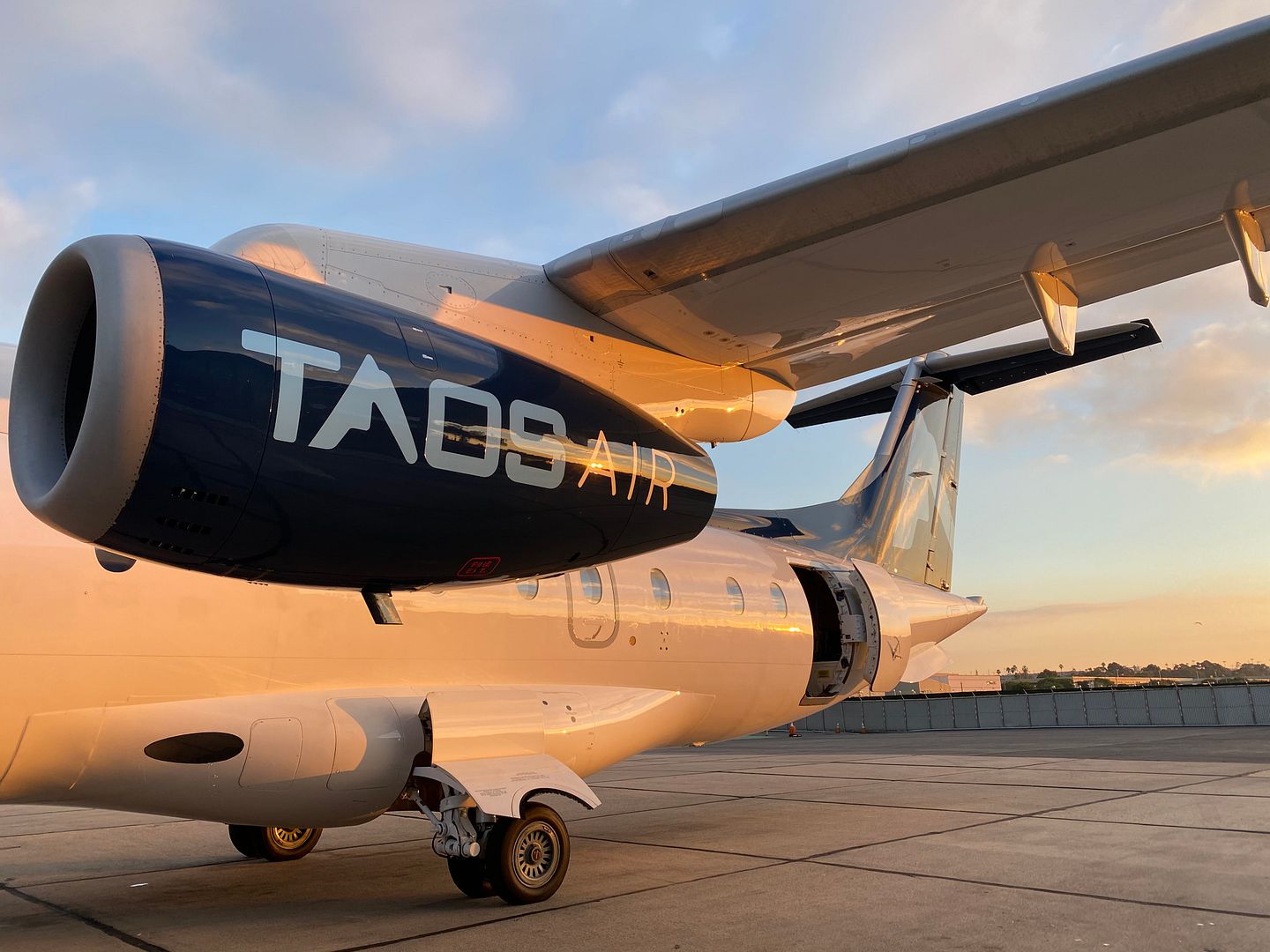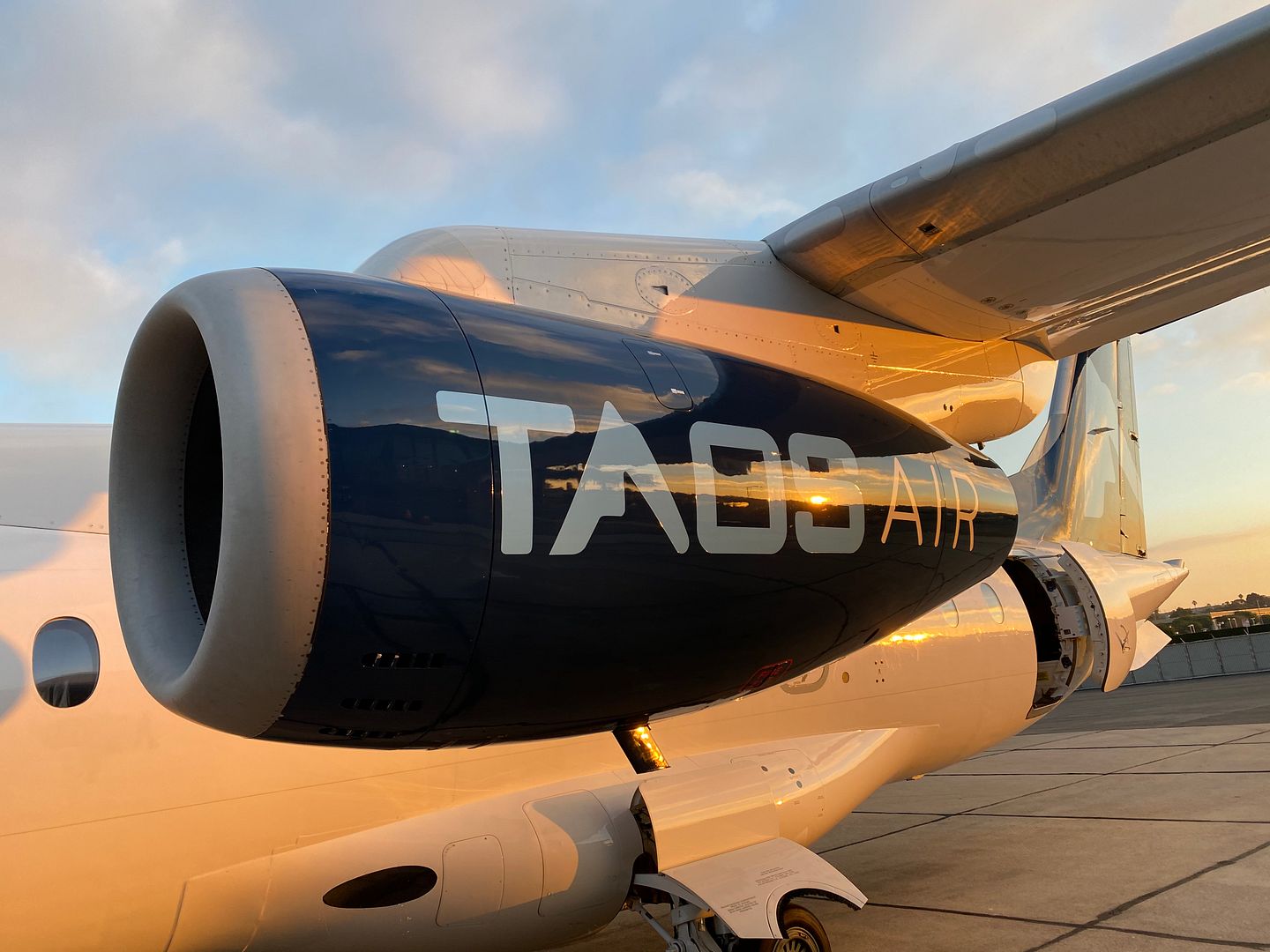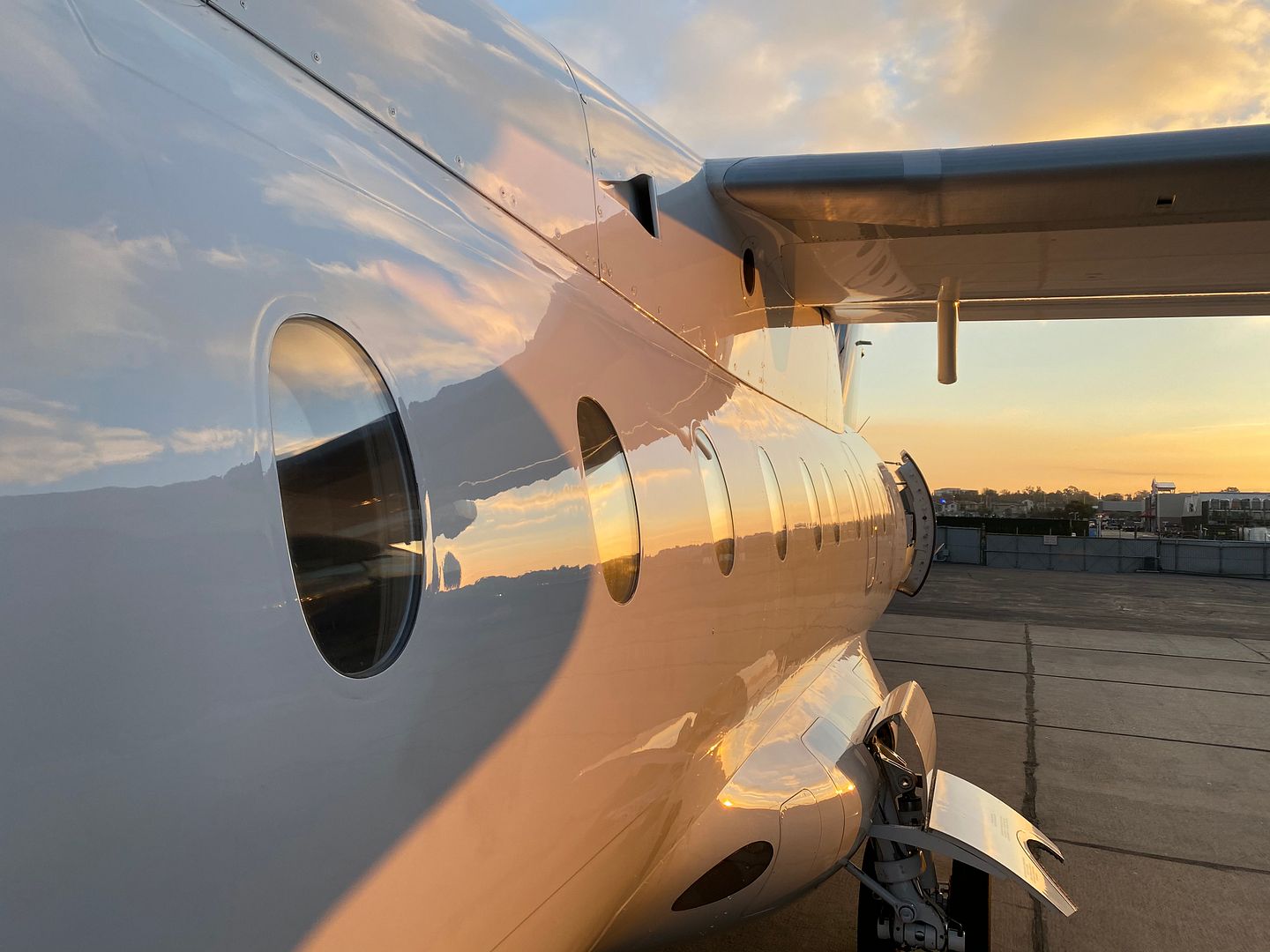 We pushed back at 7:30am and took off at 7:33am for the hour and thirty-eight minutes flight to Taos.
Here is the flight information from flightaware: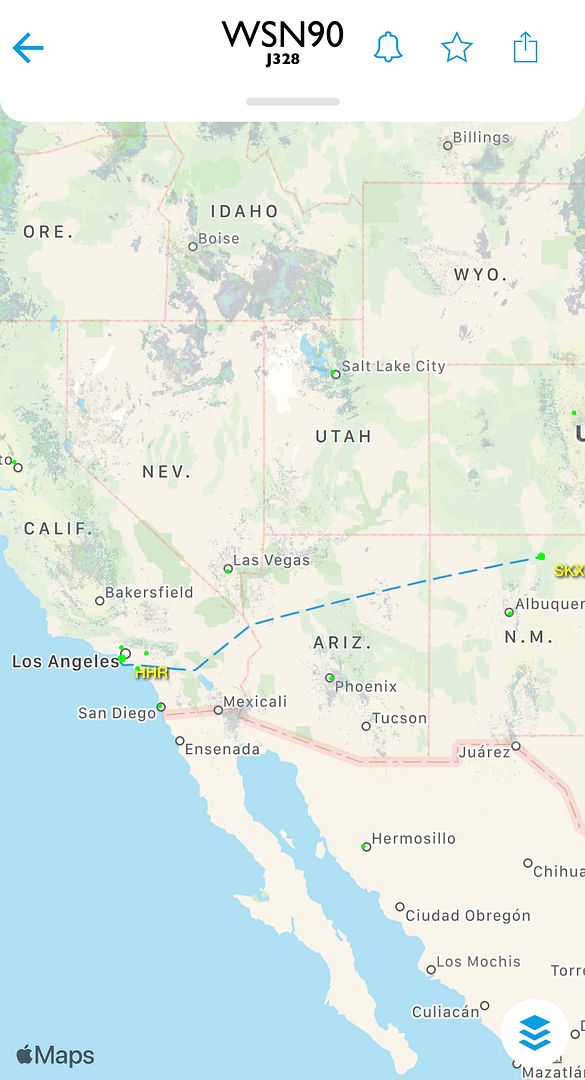 Just a beautiful day to fly! Passengers just moved around to take pictures.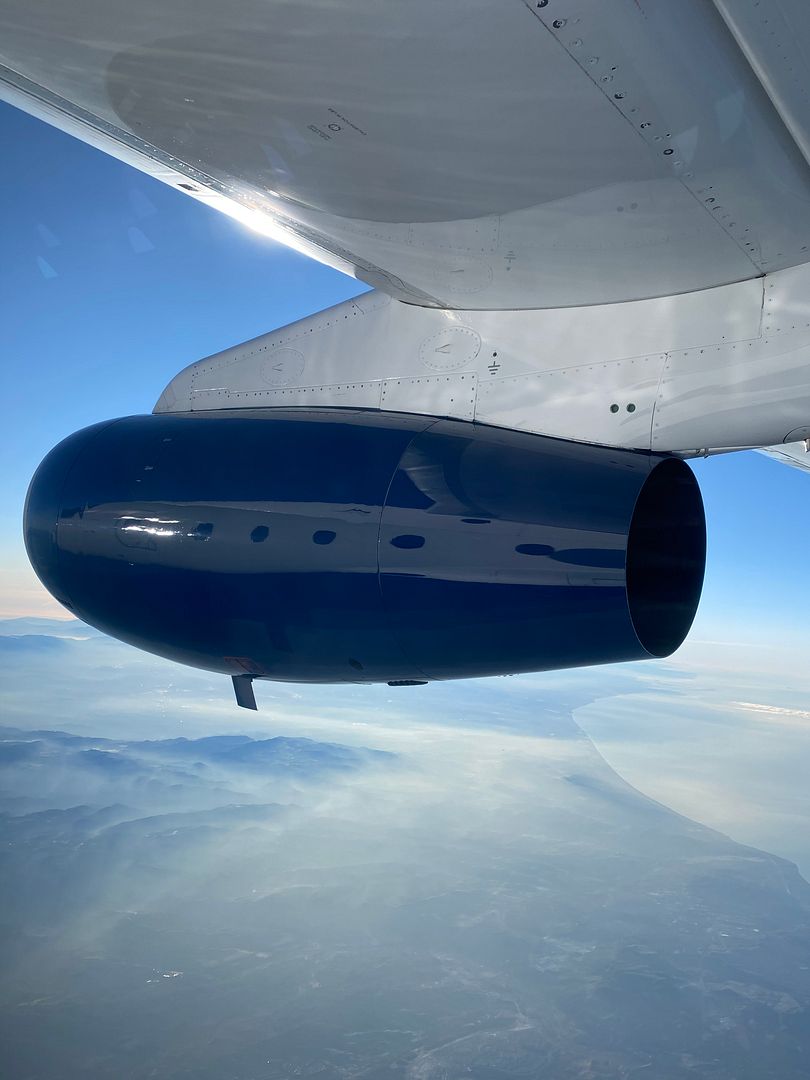 This Dornier 328-Jet has 30 seats arranged in a 1-2 [A – DF] arrangement. Exit rows are 1DF (no extra legroom though) and 10A, which is the best seat in the house. They are all upholstered in this cream color leather.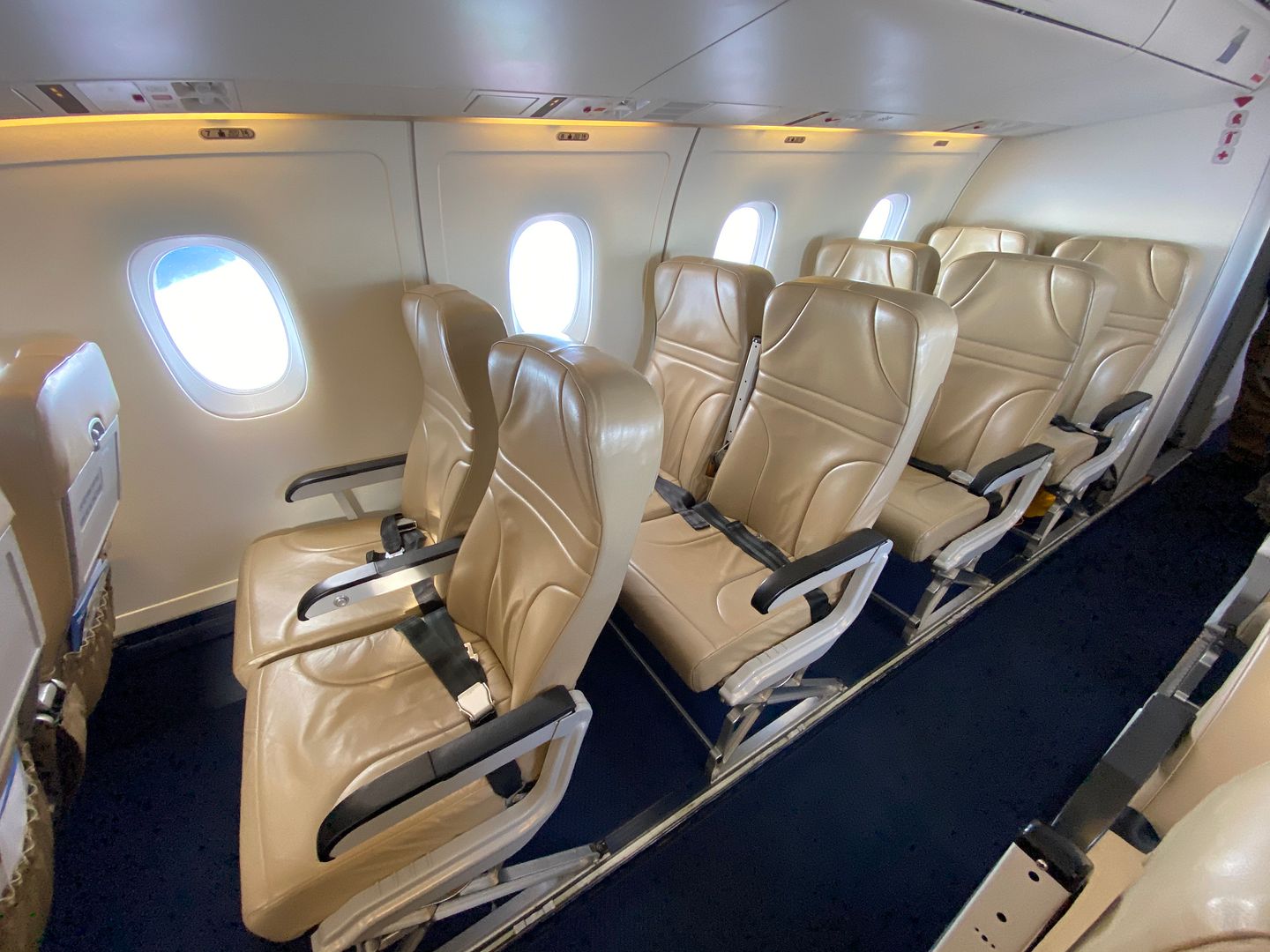 Legroom is not particularly generous but is okay enough given everyone has at least two seats to themselves.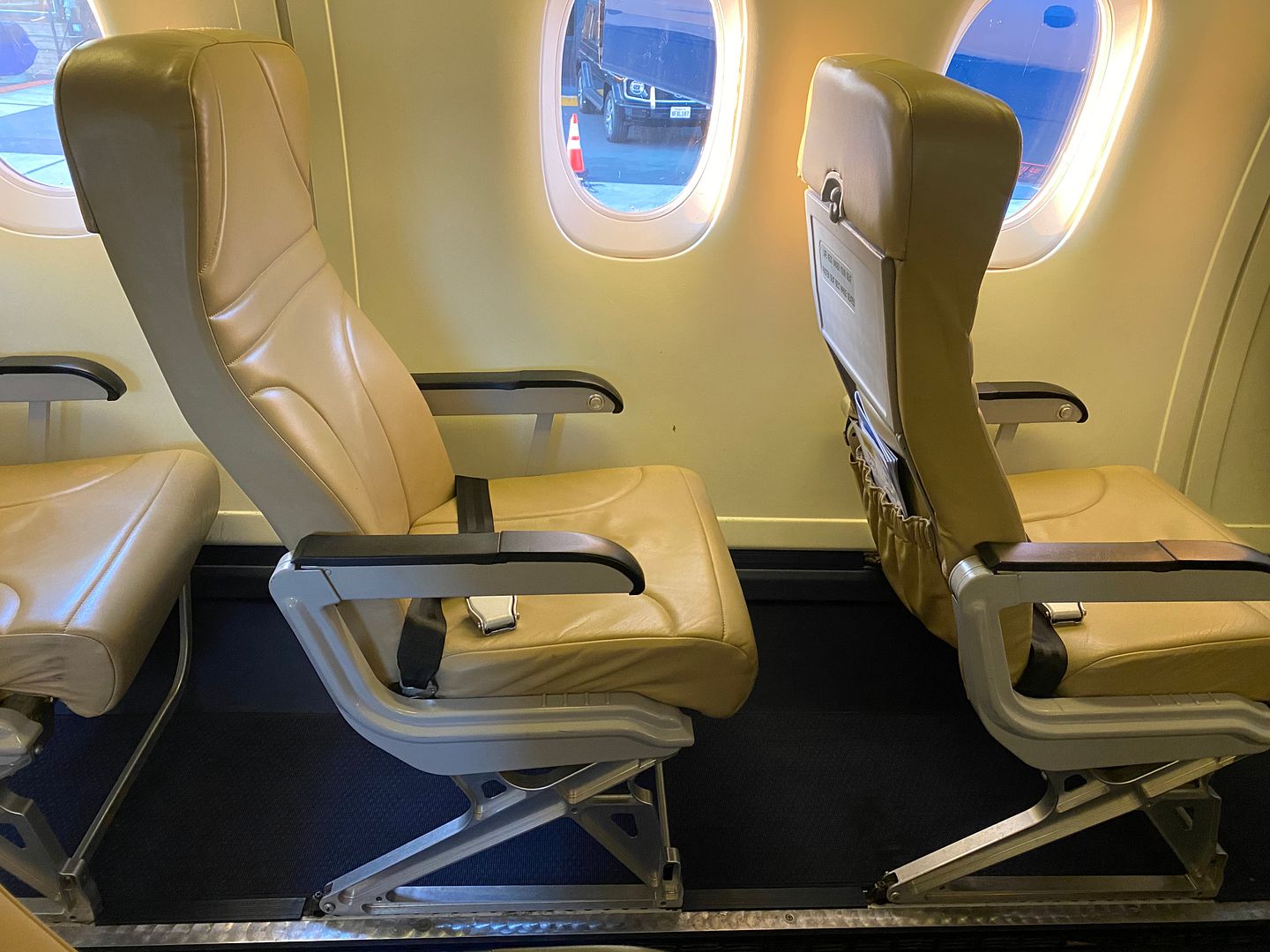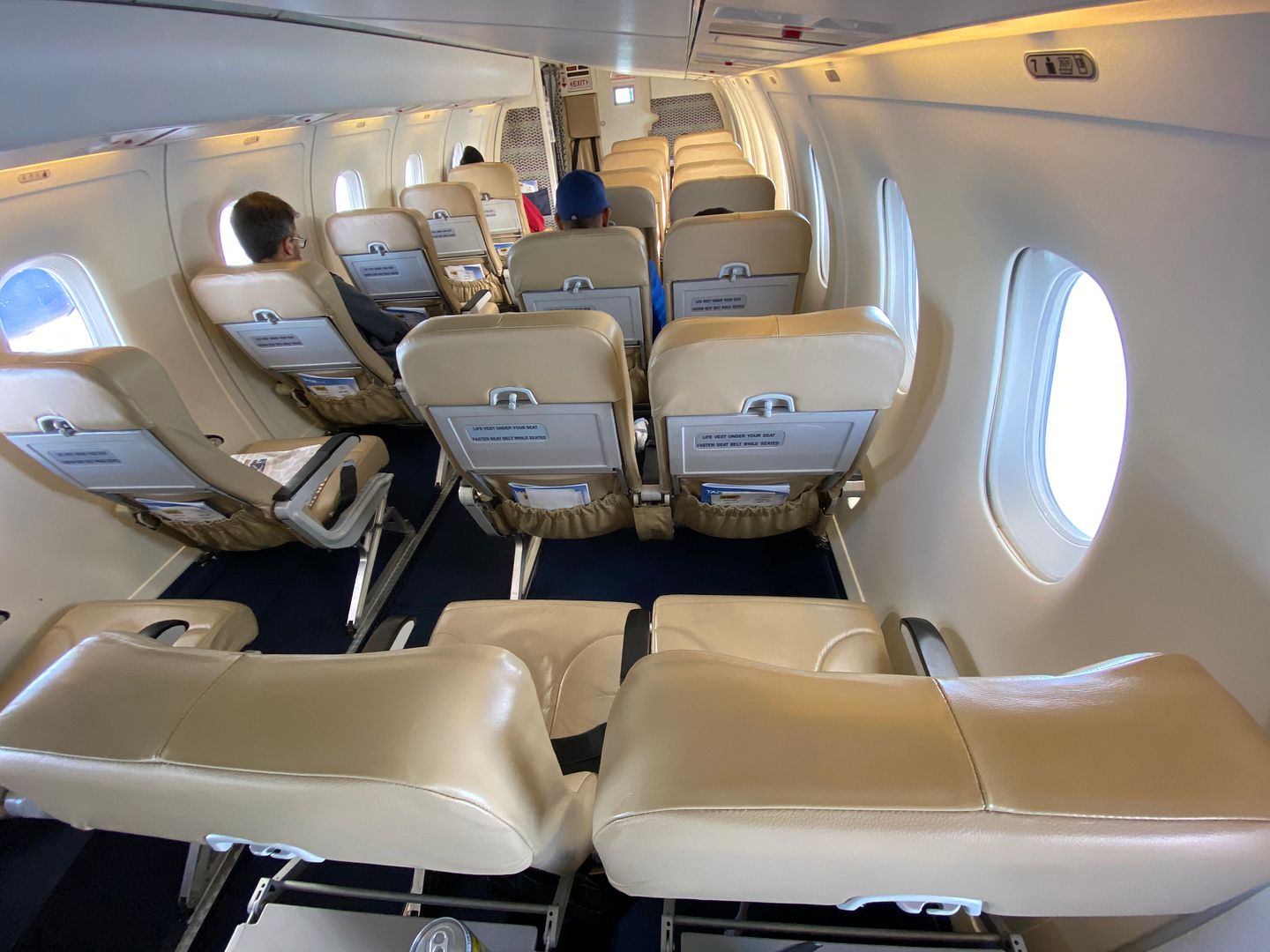 8F – where I stayed for both flights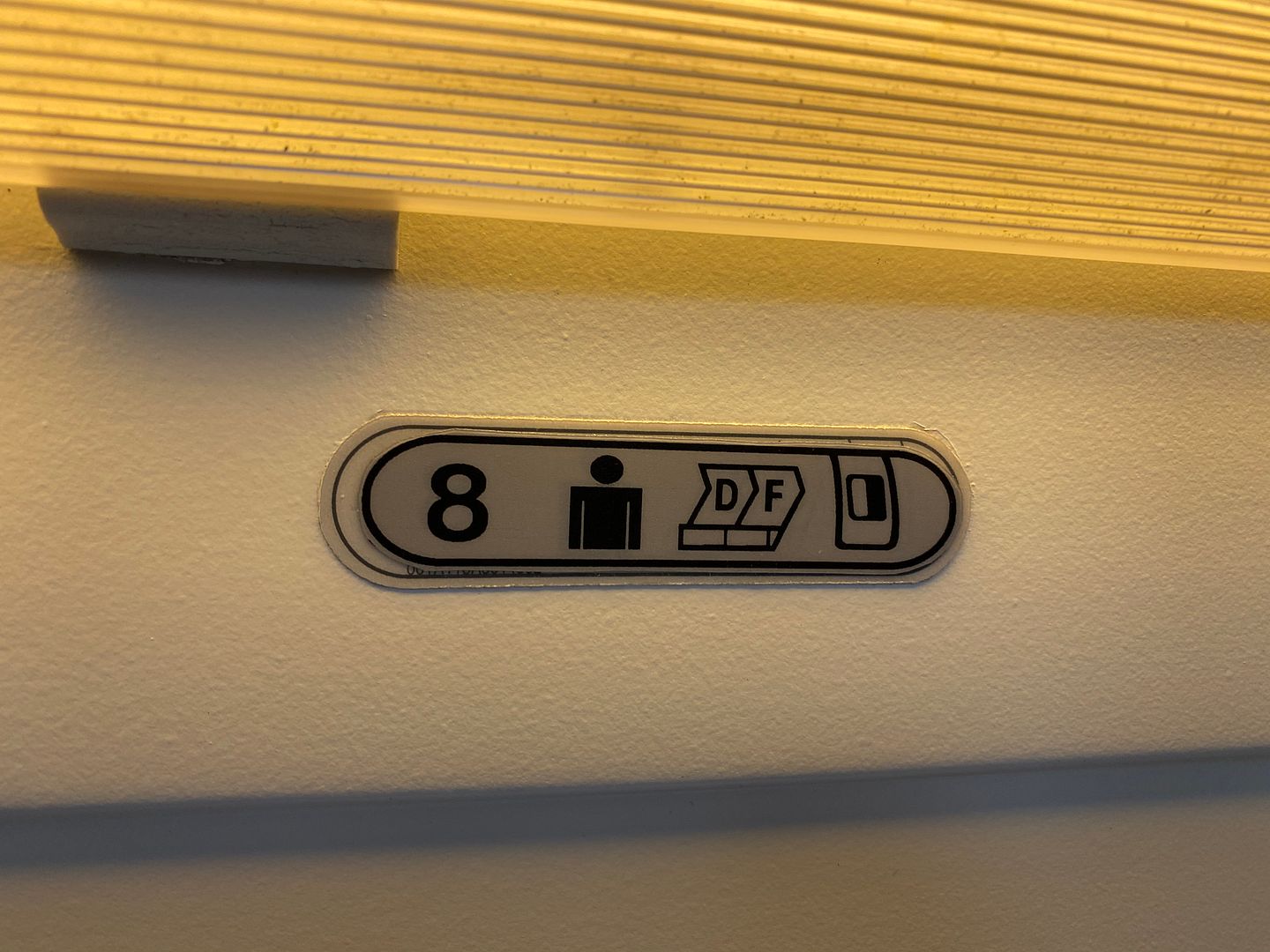 10A is the best seat in the house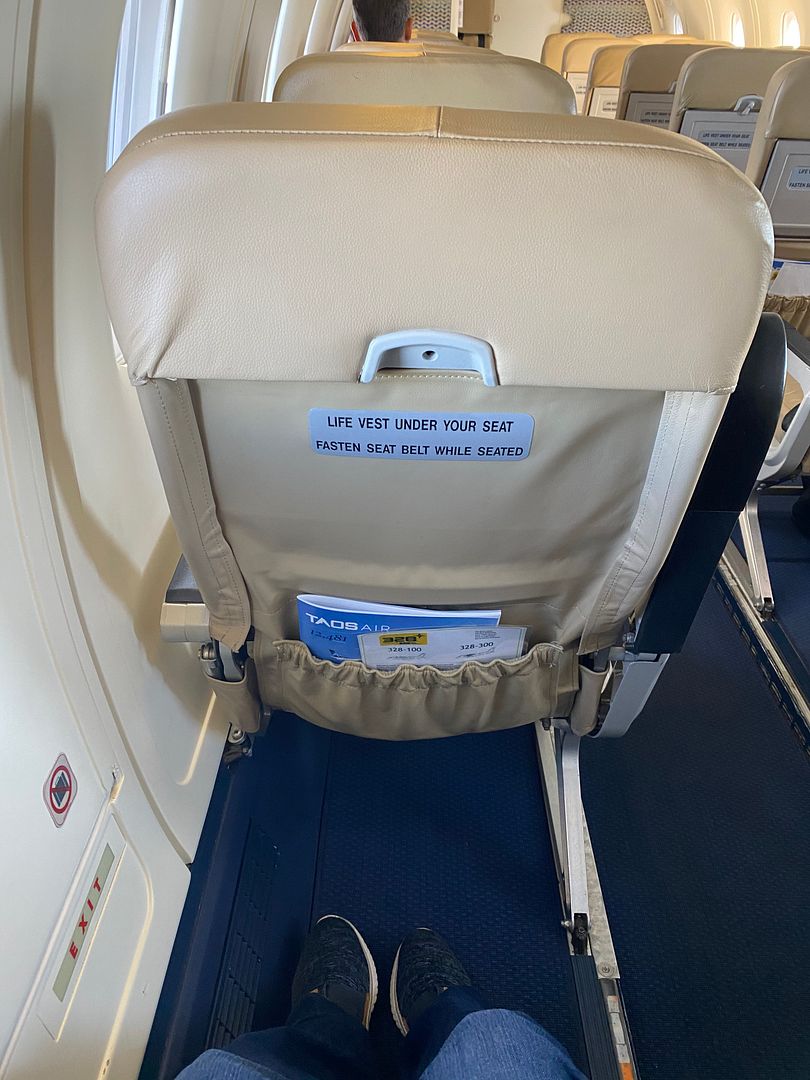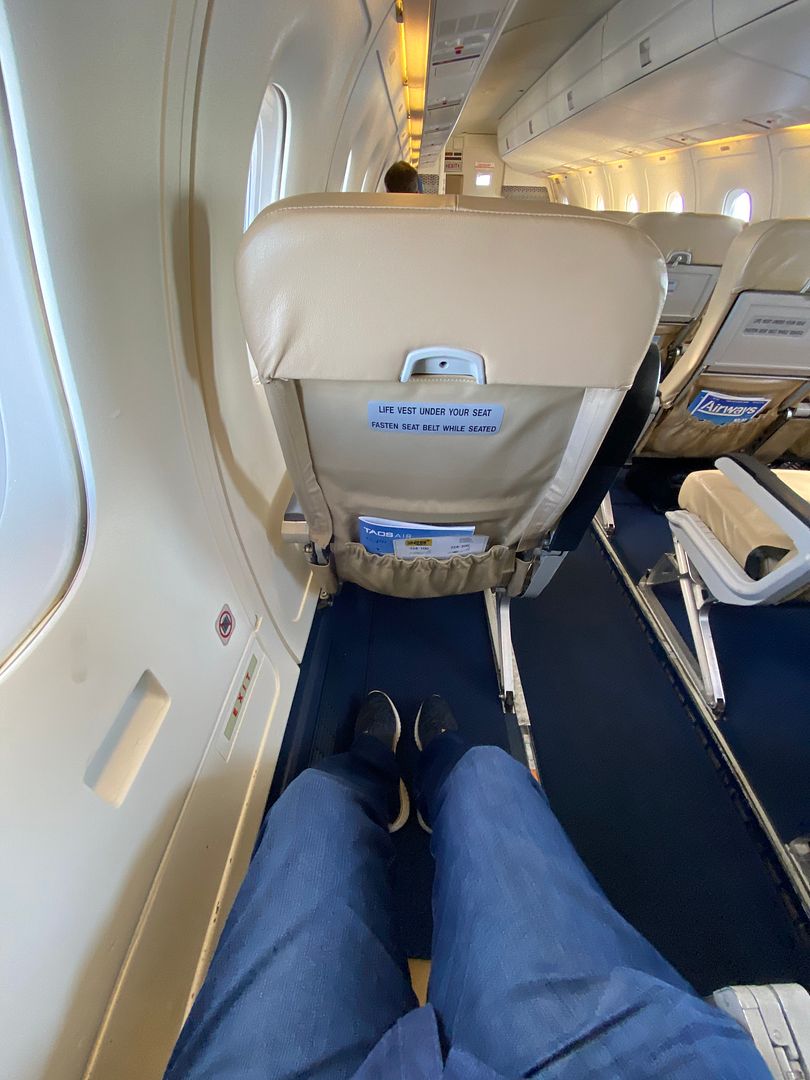 Recline is almost non-existing.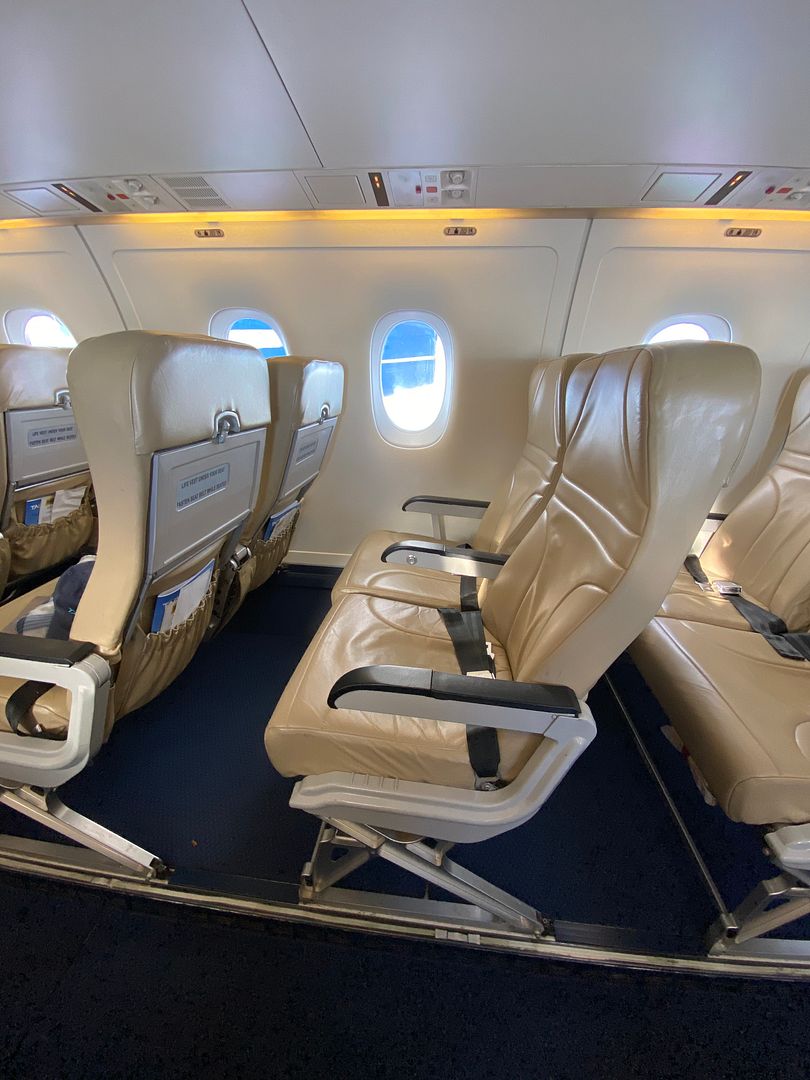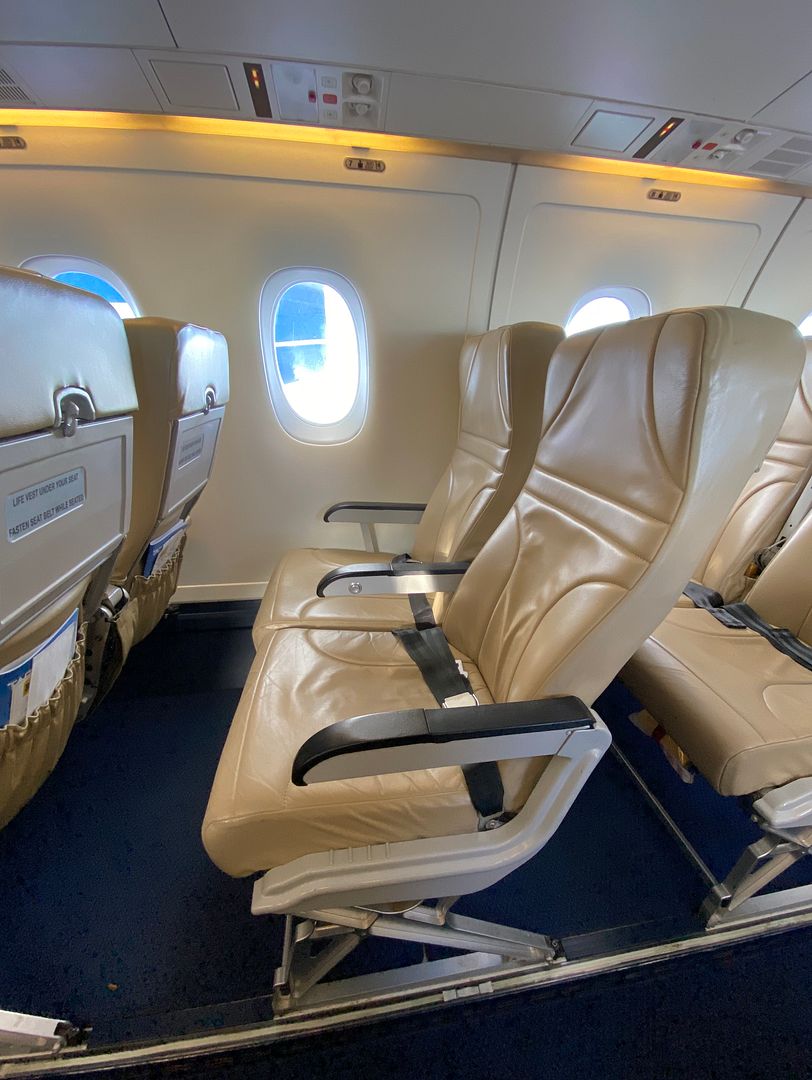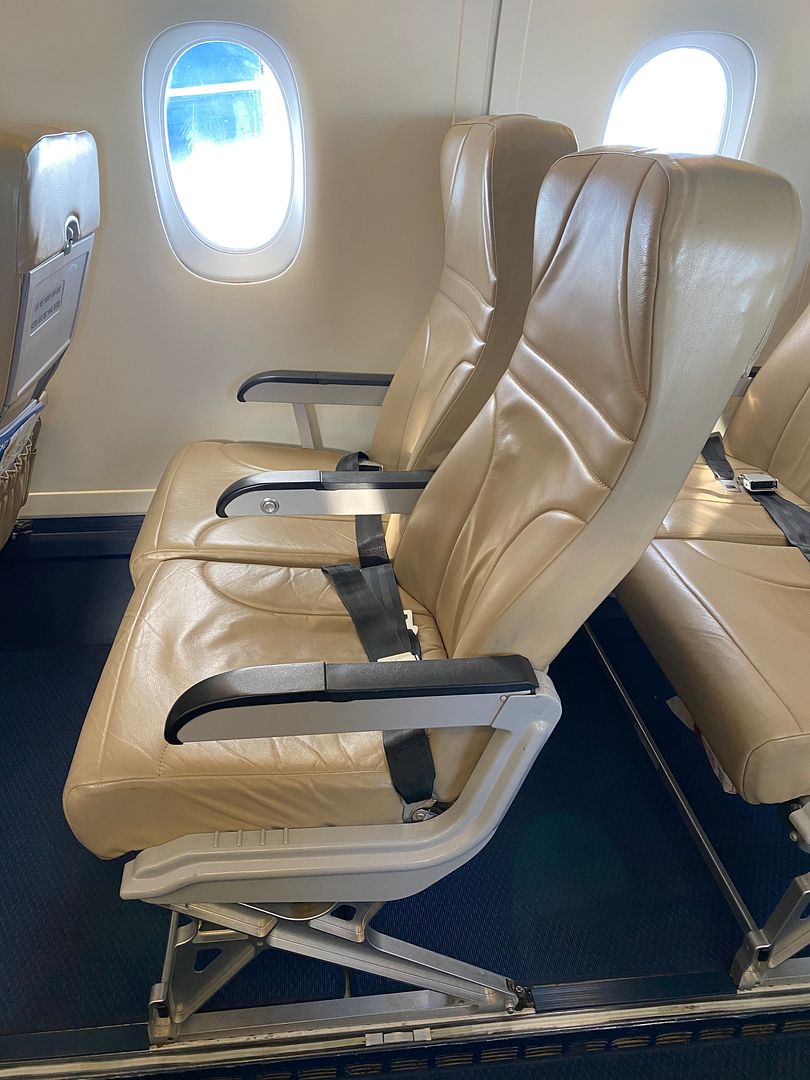 Last row
Overhead panel:
Decent sized window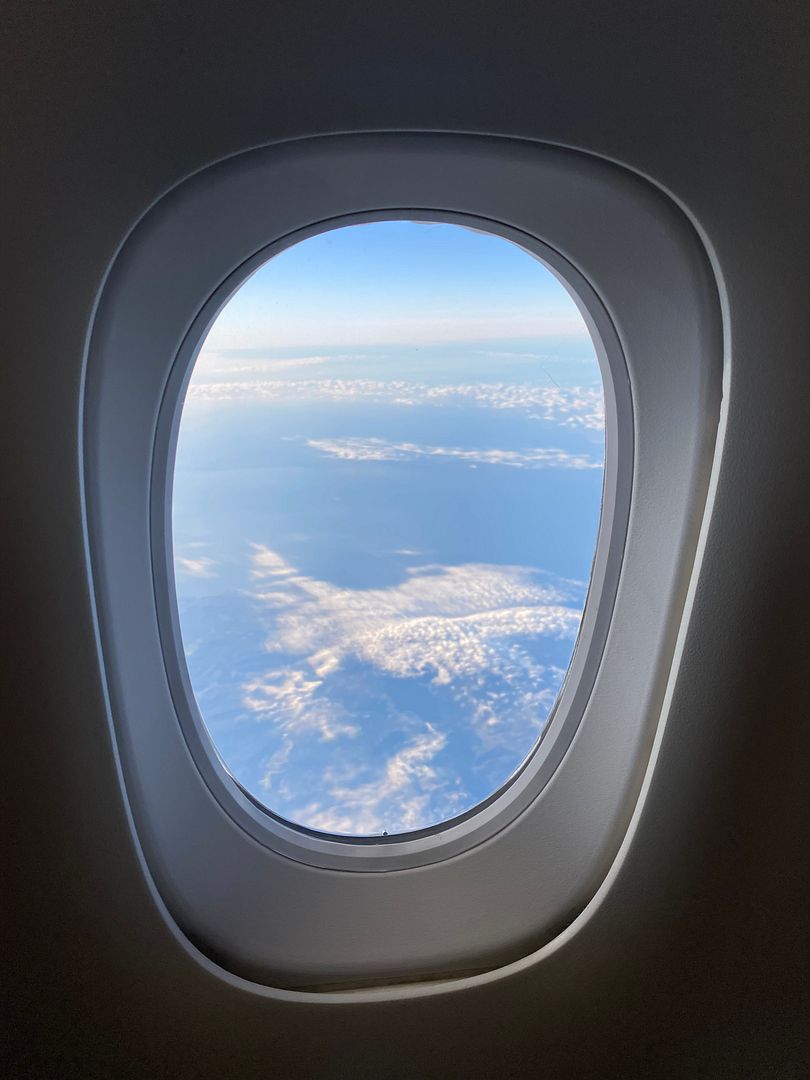 Overhead locker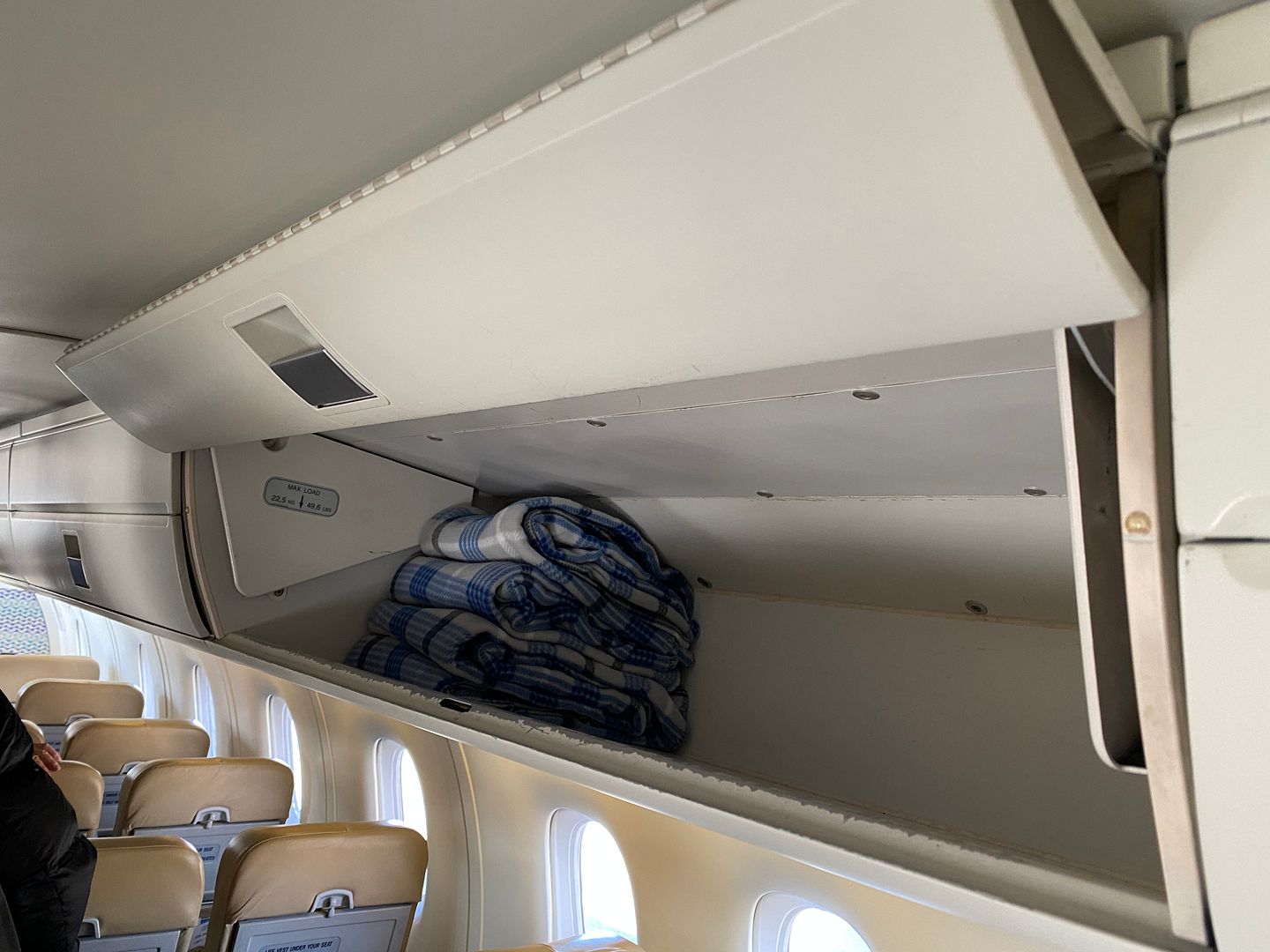 There is a galley in the back and there is no oven but it isn't necessary as they don't serve meals, given their longest stage length is two hours.
There is also a bathroom, which is really small. There is no running water faucet given the winter situation at Taos, NM. There are plenty of disinfecting wipes and hand sanitizer though.
Cabin Service:
Kimberley took orders for beverages, which include assorted juices, tea, coffee, and some high-end premium non-alcoholic drinks. However, there are no sodas and I am not aware that alcohols are offered.
I have this sparking blueberry mint water on the first segment.
There is a snack basket featuring a wide range of sweet and savory snacks.
Patagonia's snacks – beef jerky, assorted fruit & almond bars, and assorted savory seed bars, Grandetto's snack mix, Hawaiian's Jalapeno potato chips, Snyder's pretzels, Doritos, smoked almonds w/Himalayan pink salt, and TAOS Bakes – caramel pecan cranberry
Boxed waters were passed out later in flight.
Safety card and Taos Air Magazine – basically a brochure about Taos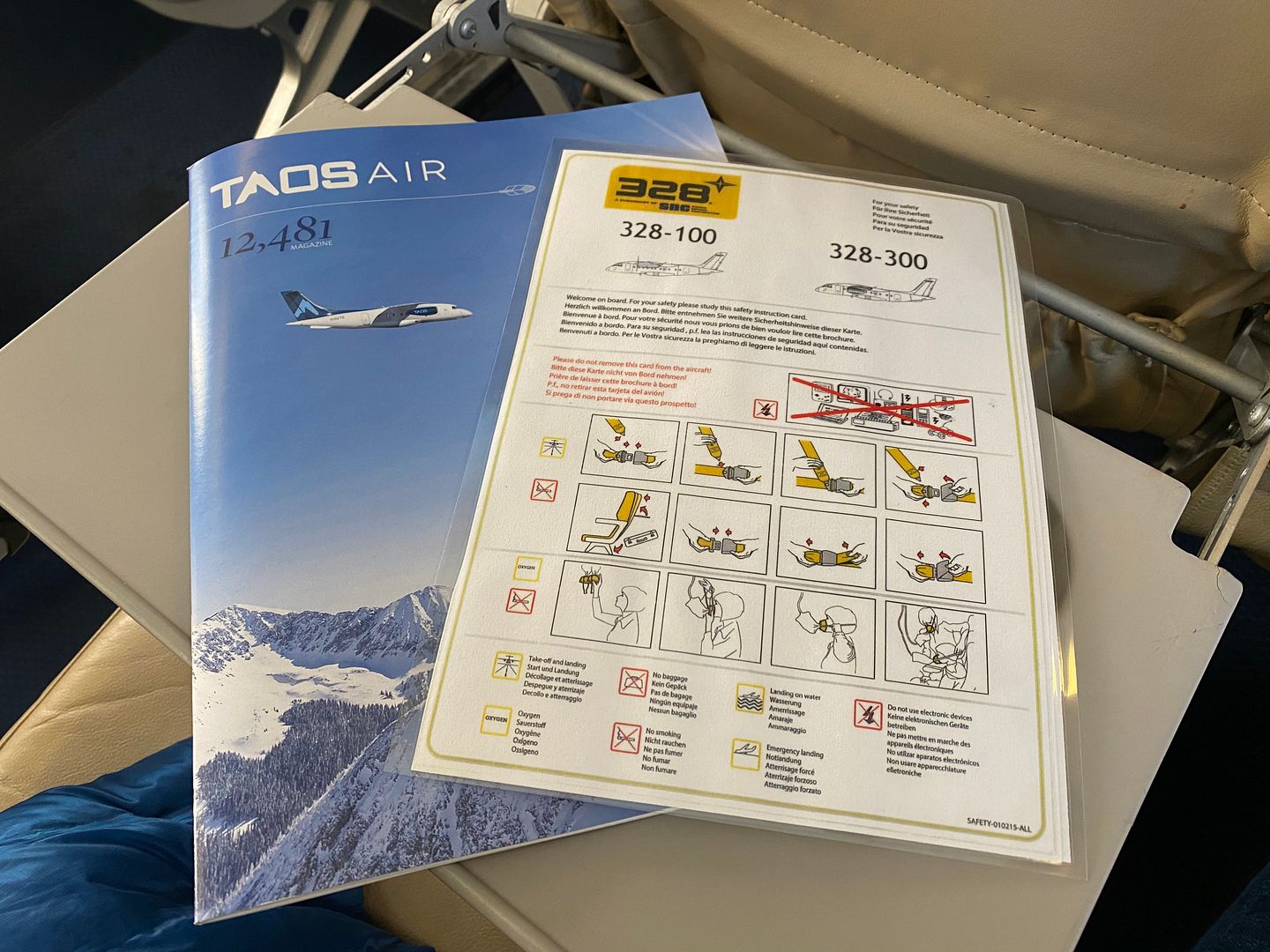 Blankets are available on demand!
It was just a beautiful morning to fly.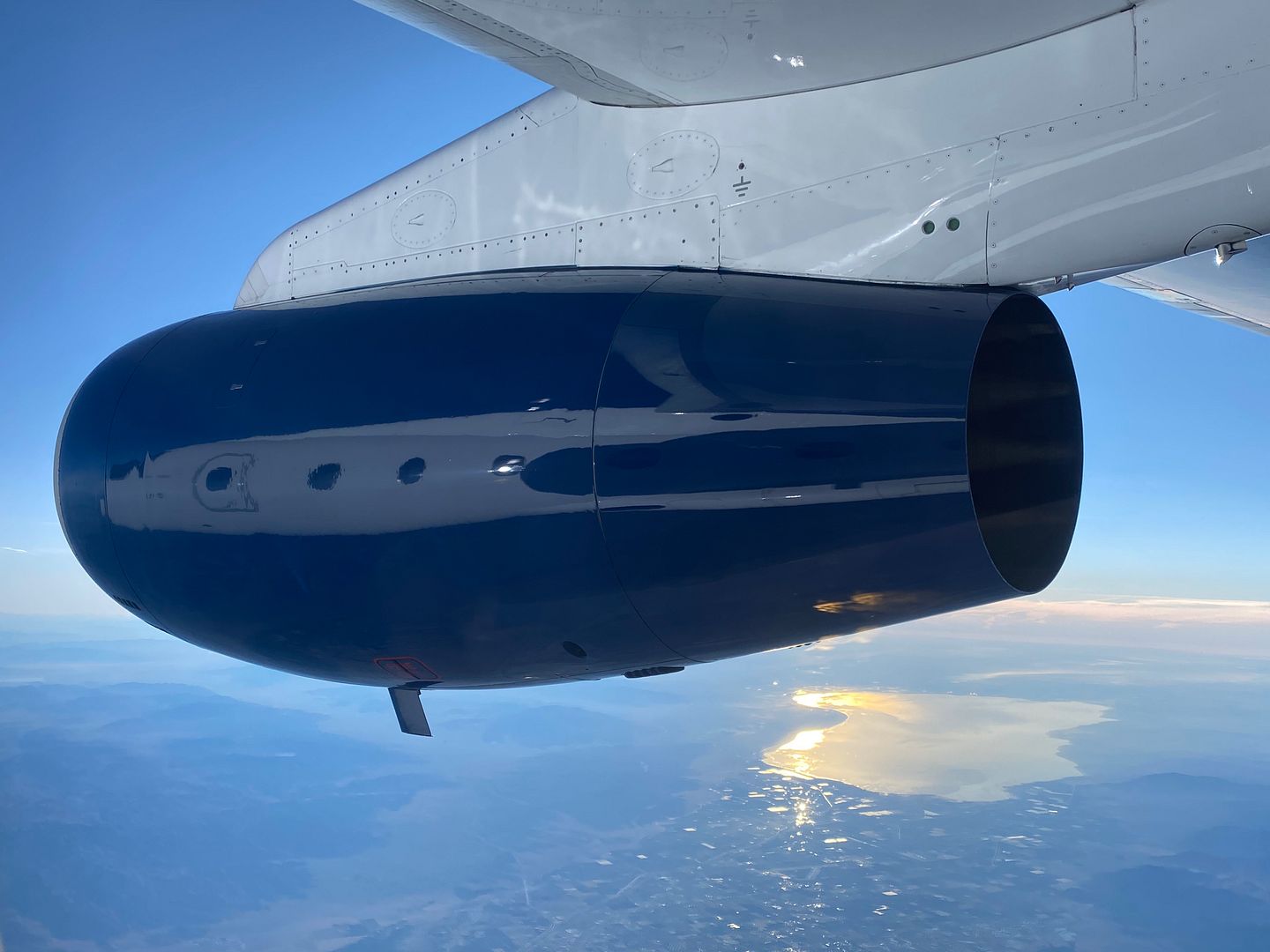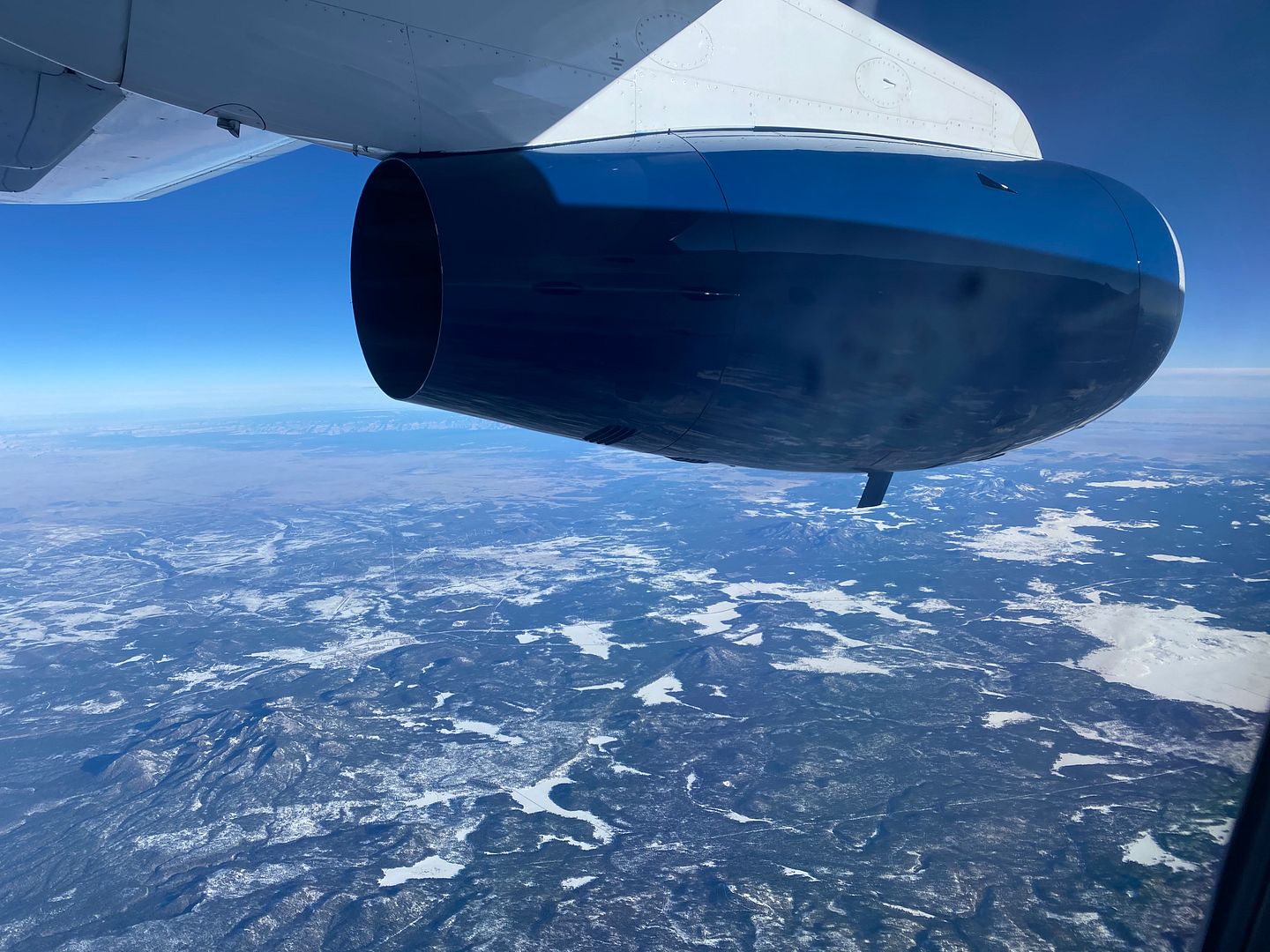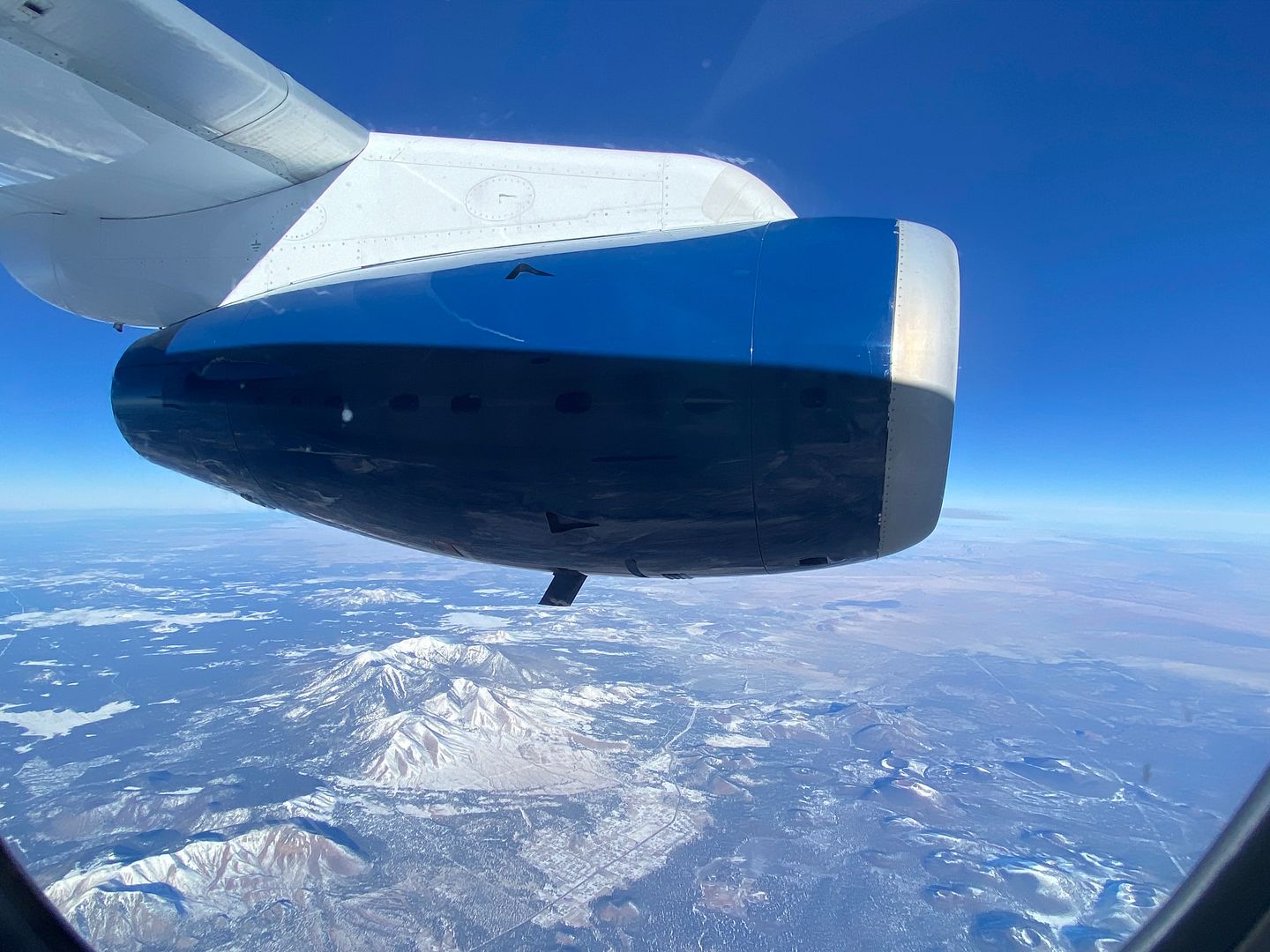 Descent began at 9:57am Mountain Standard time.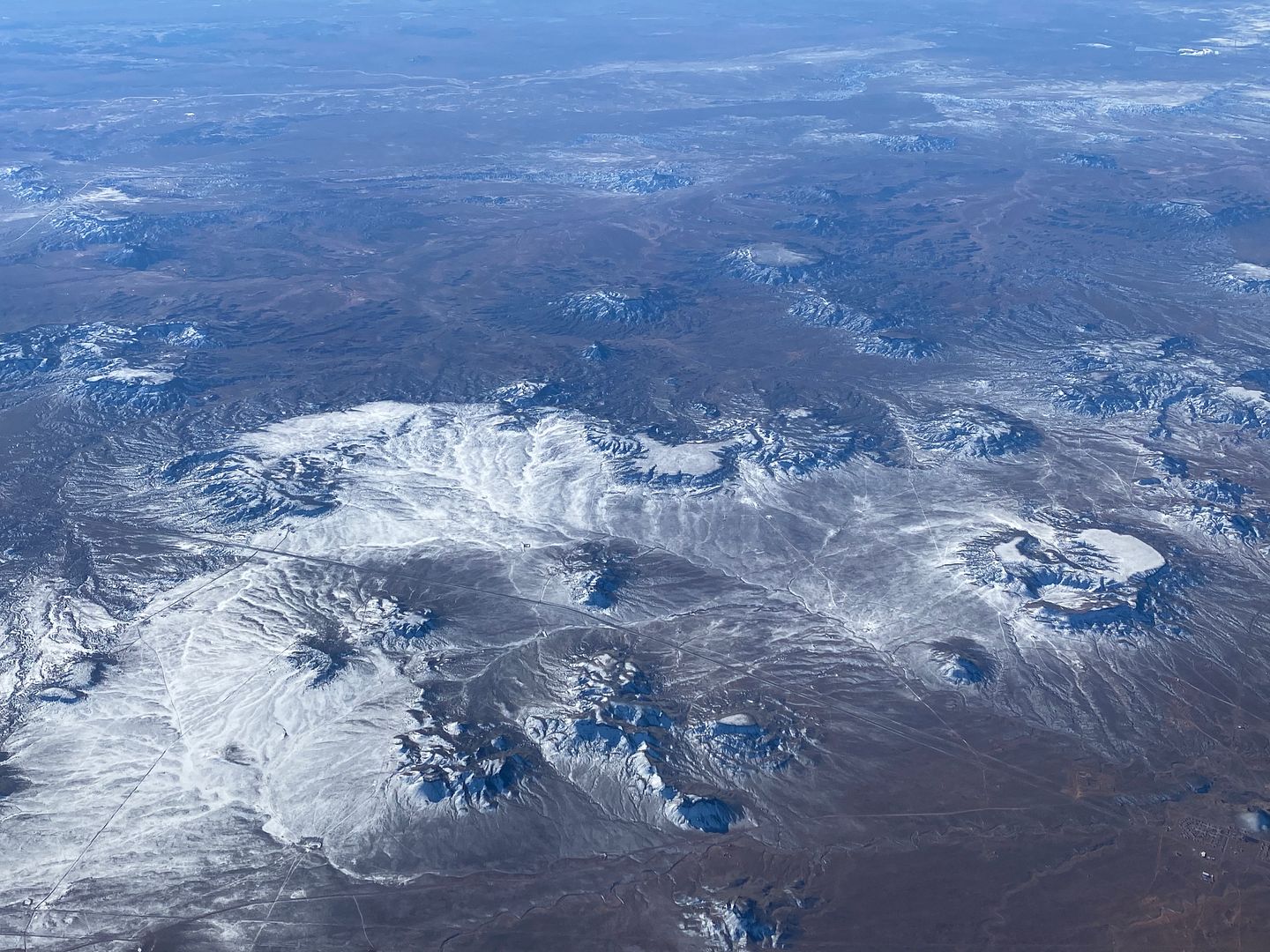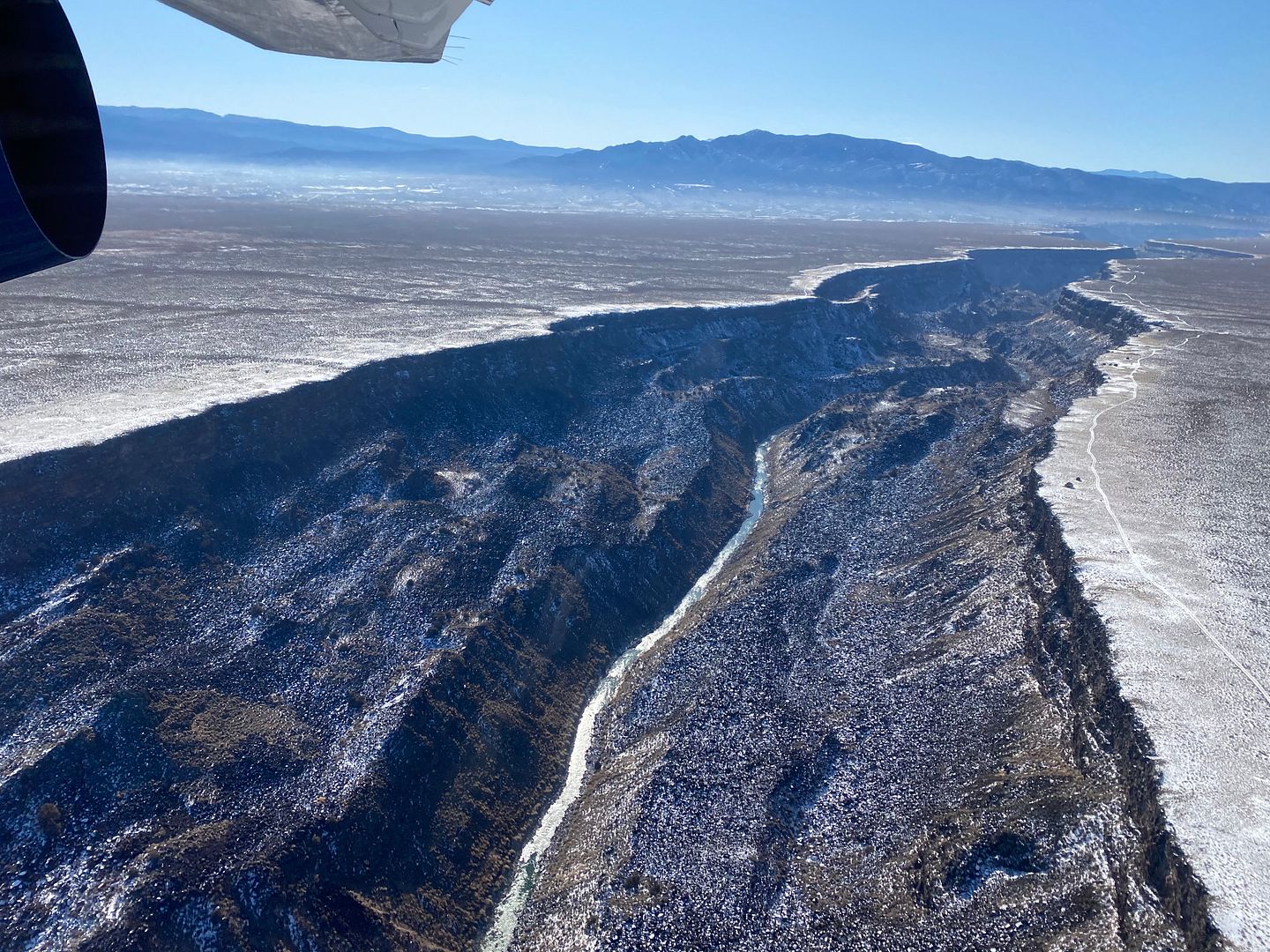 We landed at R/W4 at 10:11am and parked at the cute little terminal two minutes later.
Once again, you were free to walk around and no one was chasing us.