Background: What In The World Is Cabo Verde Airlines & Why Am I Reviewing It?
Before I get into this review, I'd like to give some background about the flights I took and my rationale in taking them. Last summer, I read an article that Cabo Verde Airlines would launch flights to Washington DC, my home city, in December 2019. I was, of course, intrigued by the flight, and decided to go to Cabo Verde over New Year's (after Christmas) in 2019 and 2020 with my parents, instead of going somewhere (comparatively boring) in the Caribbean, which would have been at least as expensive.
For those who don't know what Cabo Verde is, it's a country off the coast of Senegal in Africa made up of volcanic islands. It used to be a Portuguese colony, until it gained independence in 1975. Cabo Verde is now increasingly becoming a large tourist destination for Europeans, especially on the islands of Sal and Boa Vista (which are the most developed). The island of Santiago (which is home to the country's capital city, Praia) is the most populous island, and while all of the islands were historically volcanic, only one, Fogo, has an active volcano.
So while we did originally want to go to some of the more interesting islands than Sal, which has a few interesting natural sites and beautiful beaches, we only were able to go to Cabo Verde for six days, and based on the limited frequency of inter-island flights, we weren't able to make it to another island, such as Fogo or Sao Vicente (I guess that's a good reason to return to Cabo Verde!).
Cabo Verde Airlines (formerly known as TACV before 2018) has for years flown from the capital, Praia to Providence, Rhode Island or to Boston, where there are large Cabo Verdean communities, along with flying infrequently to multiple destinations in Europe and Brazil. For years they had been struggling to get by economically and at times only had one aircraft in their fleet. Enter Icelandair, which decided to come in and manage TACV, renamed the airline to Cabo Verde Airlines, and ultimately bought 51% of the airline, and named a person of clear Cabo Verdean descent, based on his clearly Cabo Verde name, Jens Bjarnason, as head of the airline. (I'm kidding, of course.)
Icelandair's goal with Cabo Verde Airlines was to essentially copy Icelandair's strategy, which is to fly passengers from Europe to North America via Iceland, based on its convenient geographical position. Cabo Verde is located almost exactly in between Europe and Brazil and between North America and West Africa, meaning that it's in a prime position for transporting connecting passengers between the four regions. Icelandair chose the largest airport in Cabo Verde, Sal Amilcar Cabral International Airport, as its new hub, which was also conveniently the largest tourist destination, so they could also help boost Cabo Verdean tourism.
Under Icelandair's leadership, Cabo Verde Airlines introduced flights from Sal to Rome, Salvador, Washington, Porto Allegre, Lagos, along with strengthening their flights to Lisbon, Paris, Milan, Recife, Fortaleza, and Boston. Cabo Verde Airlines seems to have gotten more profitable since Icelandair's takeover and has somewhat steady flights, although their operational performance (more on that later) is still miserable (just look at FlightRadar24: on-time flights are a rarity).
So back to me: flights to Sal on Cabo Verde Airlines were pretty cheap for being during the Christmas/New Year's season, which is normally very expensive. While flights to the Caribbean (i.e. Aruba) on United cost up to $1,000 per-person round-trip in October (nonstop cost even more), flights to Cabo Verde round-trip cost $700, which was undoubtably more exotic, and I thought that flights might not be around for long. So we booked flights from December 28 to January 3: six days in Cabo Verde; we would have wanted to stay longer and visit other islands besides Sal, but our limited time there and previous engagements didn't allow us to stay longer.
Cabo Verde Airlines currently operates three 20+ year old Boeing 757-200s in their fleet with a fourth used one on its way, one of which is an ex-Icelandair plane with the three others coming from various other airlines. They also currently lease two Boeing 757-200s from Icelandair, which they use, along with its own fleet, for the vast majority of its European, Brazilian, and North American flights. Cabo Verde Airlines also operates one ATR 42 for domestic flights and for some flights to Dakar, along with leasing one Boeing 737-300 for flights to Dakar and Lisbon. Cabo Verde Airlines does have a small business class cabin on their 757s and does have reasonably priced upgrades, although we didn't manage to upgrade to business on either of the flights as it was full on the way there (more on the flight back in my second installment).
There are no reviews, besides those on TripAdvisor and a couple short videos on YouTube, on the internet of Cabo Verde Airlines, so I had almost no idea what to expect onboard. On Cabo Verde Airlines, seat selection cost $15 (we selected our seats), although almost no one else had, so the seat map (via Expertflyer) was empty up until the day of departure. I thought before the flight that we would be among the only people onboard, however I clearly mistook the empty seat map as a lack of people wanting to book the flight and not as a sign that no one wanted to pay the $15 to select seats (in other words, the flights were definitely not empty).
So I came into the flight with an open mind, hoping for a pleasant and charming small, growing airline, although fearing that it would be a miserable experience with multiple hour delays. Throughout my two flights with them, I experienced a little bit of both, but unfortunately, more of the latter. I was originally only going to post one review and combine the two flights in one article if I were to fly economy on both flights, although the second flight was….slightly more interesting, so I'll save it for a second review (and I didn't want to write a 10,000 word post!). And without further ado, the internet's first full review of Cabo Verde Airlines!
The Flight At A Glance:
Aircraft: Boeing 757-200
Origin:Washington Dulles International Airport
Destination: Sal Amilcal Cabral International Airport
Flight Time: 6h 30m
Date: December 28, 2019
Class of Service: Economy Class
Airline: Cabo Verde Airlines
Flight Rating 66/100
Flight Number: VR693
Seat Number: 16F
Time of Actual Departure: 8:00 AM
Time of Actual Arrival: 6:30 PM
Departure Terminal: Terminal A
Aircraft Tail Number: D4-CCG
Ground Experience
The flight from Washington to Sal had been delayed almost every flight before, despite the aircraft supposed to be on the ground in Washington for nearly 18 hours. It turns out, the same crew which operates the inbound flight operates the outbound flight from Washington, so since the inbound flight was delayed every time before, the crew needed more rest, so they delayed the flight. It turns out, the flight before was only a couple hours late coming to DC, so the crew had enough time to sleep before the flight.
Our flight was operated on D4-CCG, a former Icelandair plane, although based on the limited reviews online, I found that the entertainment screens were inoperative, so I was sure to download no fewer than 15 or so movies to my iPad on Netflix before the flight, so I wouldn't die the slow death of Cabo Verde Airlines boredom (of course, #firstworldproblems).
What was also interesting about this flight was that it's one of the few eastbound transatlantic daytime flights. There only are a couple other eastbound transatlantic daytime flights, mostly from the east coast of the US to London (from New York, Boston, Washington, Chicago, and Philadelphia), although there also are a couple others (I also think there's one in the summer from New York to Casablanca?). Because of Cabo Verde Airlines' connecting flights to Africa, our flight operates during the day. This also happened to be my first daytime eastbound transatlantic flight since I flew from Washington to London when I was nearly 2 (so it's been quite awhile)! I personally found that it definitely helped with jet lag (although it's also only a four hour time difference), which is the general consensus, and I definitely prefer them over the standard eastbound transatlantic red-eyes.
The flight was supposed to depart at 7:45 AM, so we arrived at the airport promptly at 5:45 AM, two hours before the flight, and headed to the Cabo Verde Airlines check-in, by the Icelandair ticket counter. I headed to the ticket counter and was surprised to see it bustling with people, which I was not expecting. At check-in, we received our boarding passes and inquired about upgrades to business class, no sooner than an authoritative (possibly even Icelandic?) woman who seemed to be in charge informed the check-in agent that business class was full: definitely something I wasn't expecting after seeing only two business class seats occupied the day before. We then were asked if we wanted the exit row, which was a 'compromise' which we happily accepted. The check-in agent stated that the flight was (surprisingly) on-time.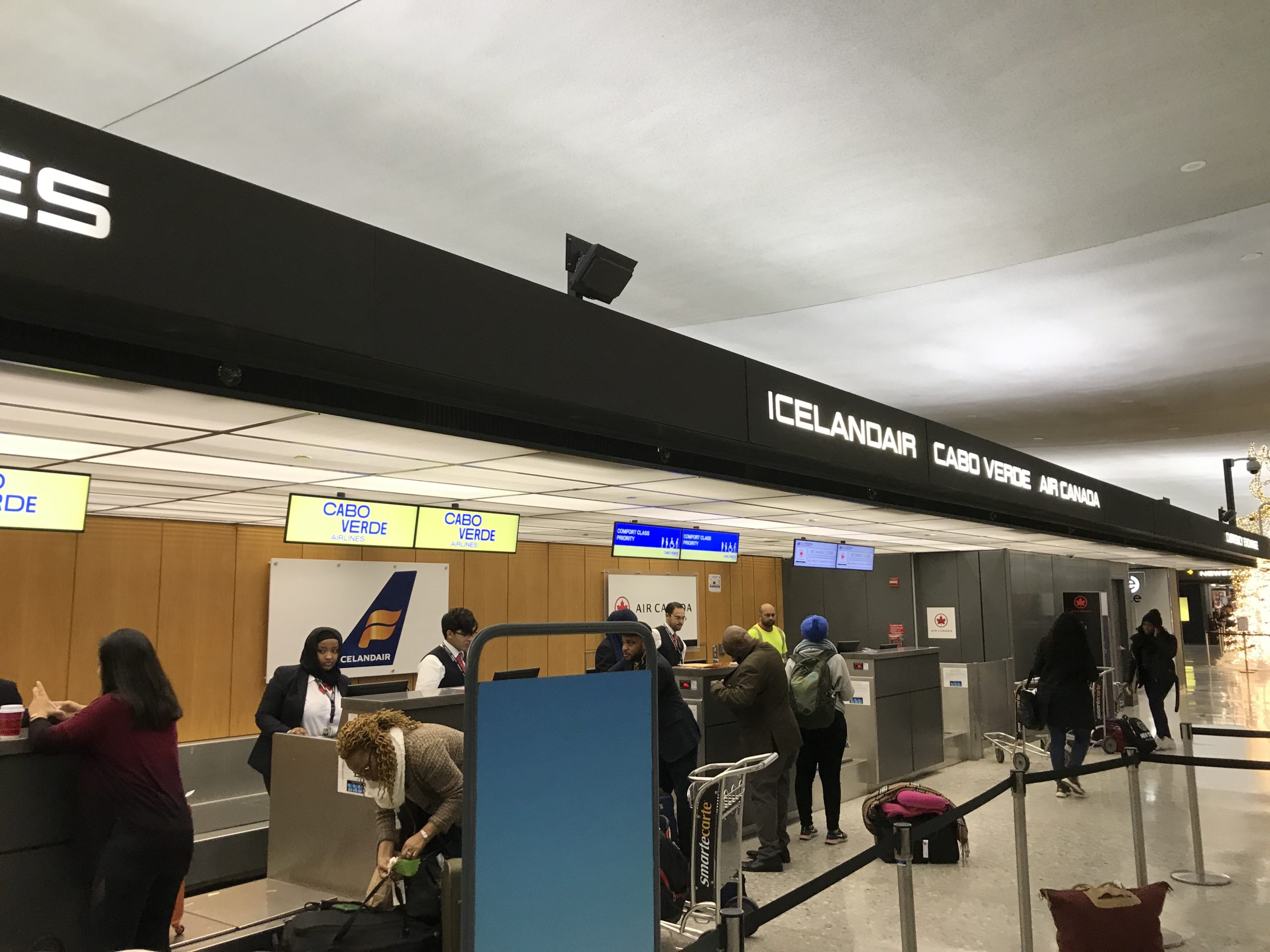 The Cabo Verde Airlines Check-In
After check-in, we headed to Concourse A via the Aerotrain after going through regular security (Cabo Verde Airlines doesn't participate in TSA Pre-check) and headed to gate A15, the same gate where Icelandair leaves from and was shocked again when I saw that the gate area was packed. I was hoping that if the flight was delayed, we could visit the new Turkish Airlines Lounge (which we could access via Priority Pass), however, it still said on the board that it was on time, so we then bought food for the flight, as I didn't have high hopes for the onboard food.
To my surprise, the gate area wasn't empty, as I had half-expected it to be; many seats were occupied, and the flight ended up being about half-full. Boarding was scheduled for starting exactly one hour before the flight was supposed to depart (for 6:45), although when I asked the gate agent, she said that we would board in five minutes. However, to my surprise, boarding was indeed announced at 7:00. As you might expect, boarding was quite a bit hectic. At first, passengers with disabilities and families with young children (which there were quite a few of) were announced (as expected) to board.
However, after that, boarding was announced by row (by row from the back, seemingly before business class) by the gate agent, although the message didn't seem to go through, as everyone was just standing behind the queue (but not in it), probably because most people were still sitting down and not many people were assigned seats towards the back. The gate agent then just motioned us forward to board, despite the fact that we weren't seated at the back of the plane, and we boarded the plane, me being excited for trying out what possibly is the most unique airline to serve the United States.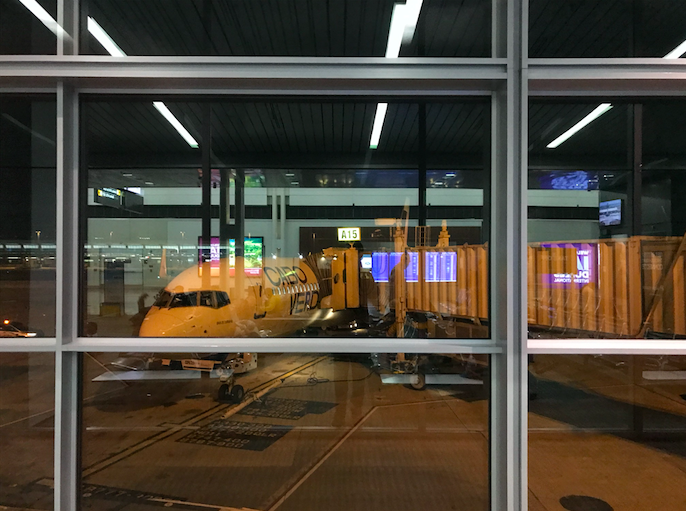 Our Aircraft
The Flight:
At the airplane, we were directed to our seats by the friendly flight attendant in row 16, which were in the exit row. I immediately recognized this plane as having the same interior's as Icelandair's 757s, which I flew on in 2017, which wasn't a surprise, given that the plane was operated by Icelandair until 2019. While the seats were relatively modern (although still were noticeably worn), the plane clearly showed its almost 30 years of service through the dated lavatories and overhead panels. Before heading back to row 16, I had a look at business class, which also maintained the Icelandair seats and featured standard US-style seats in a 2-2 configuration. I regret that we weren't able to get upgraded to business class (which would have been a more interesting review), but it was full on the way there and complicated on the way back.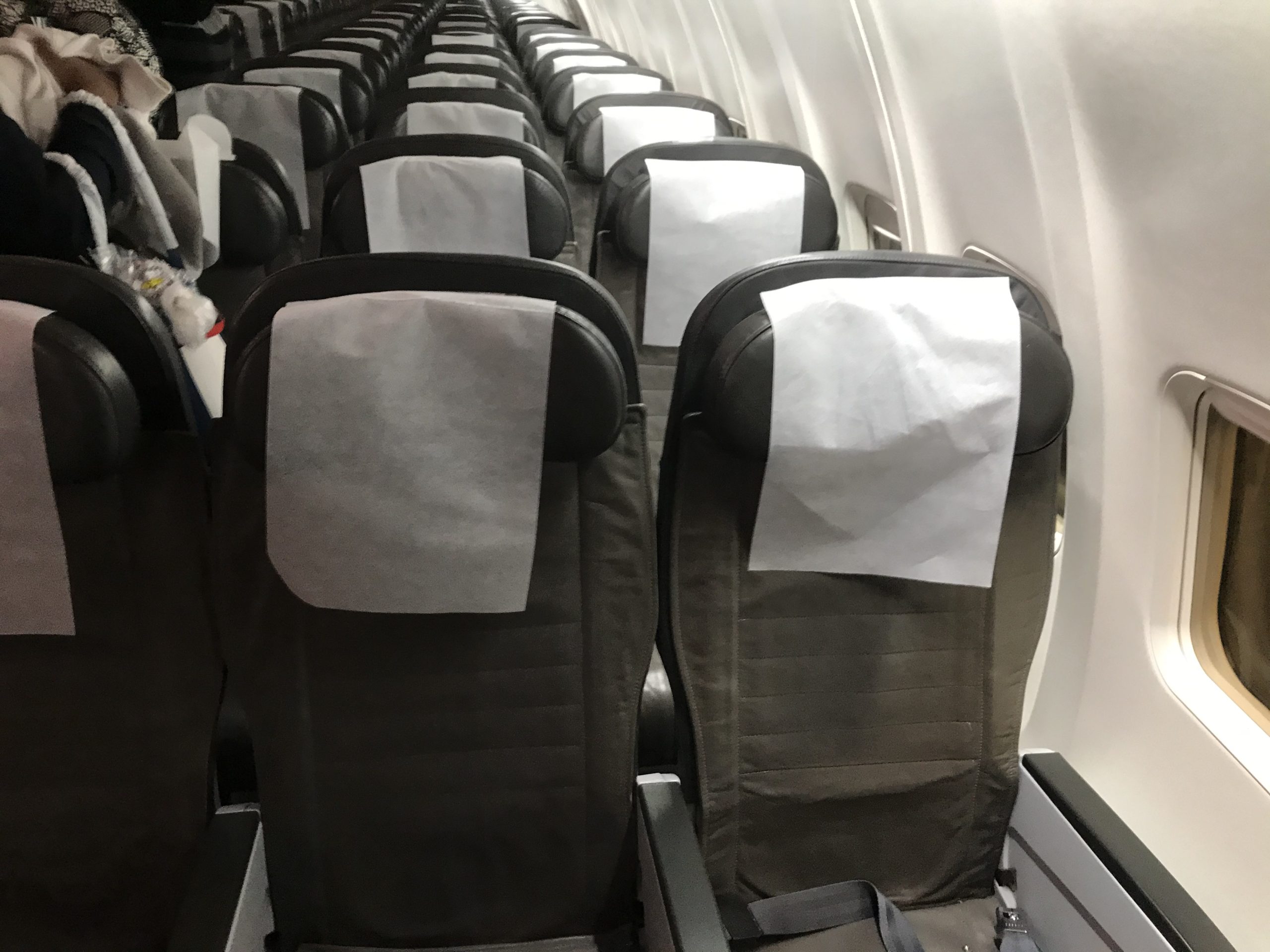 Cabo Verde Airlines 757-200 Economy Class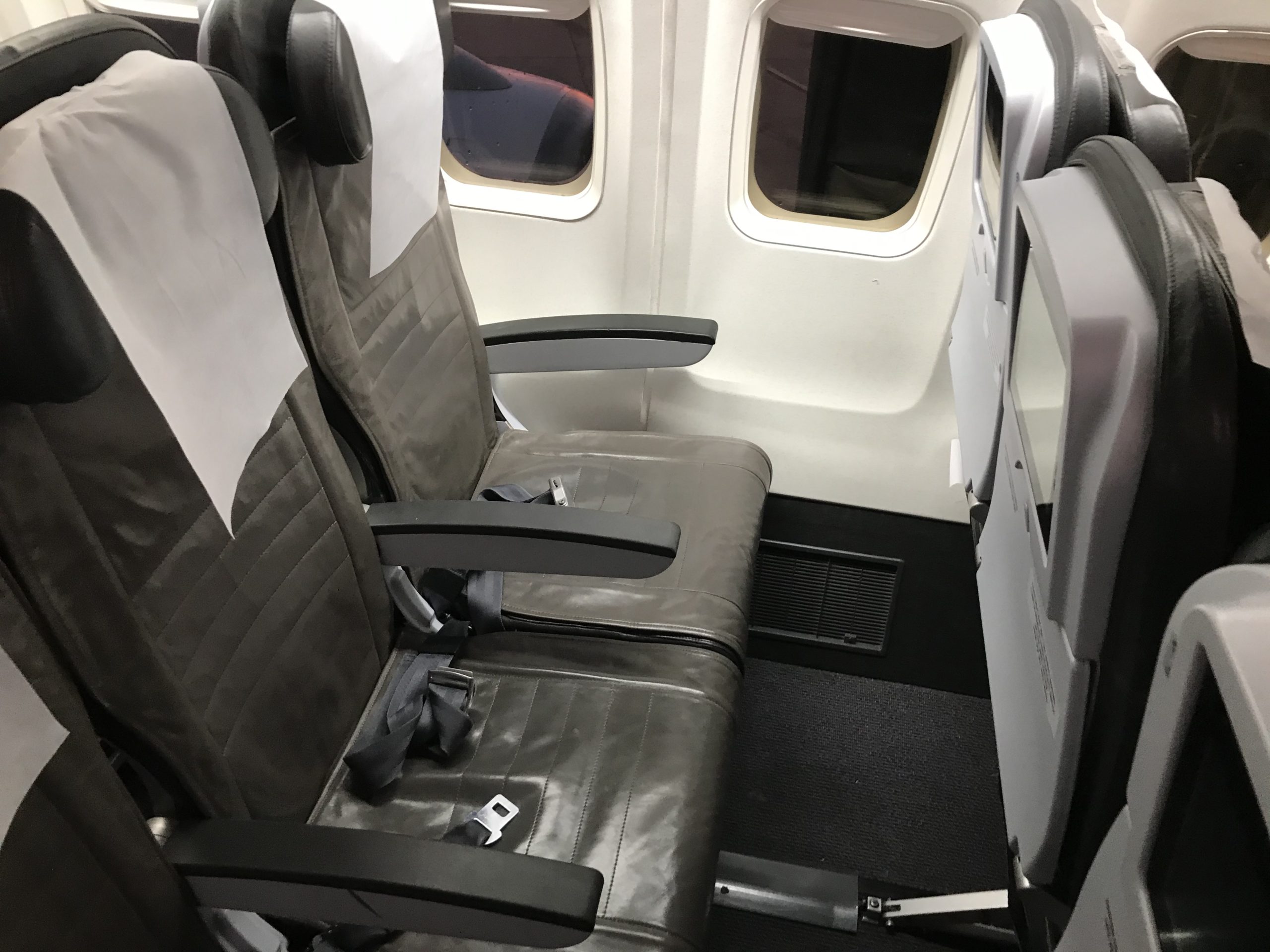 Cabo Verde Airlines 757-200 Business Class
We then made our way to our seats in row 16, which was the first of the two exit rows in the center of the aircraft. I was seated by the window in 16F, which unfortunately couldn't recline, although 16D and 16E could recline about half the way, which I was a bit surprised about. Fortunately, seats 16A-C remained vacant after boarding was completed, so we spread across the entire row (we were also asked by the flight attendant to do so because at least one seat from each bank of three seats by the exit door, at least according to the flight attended, needed to be occupied).
Legroom, as you might expect, was almost unlimited in the exit row, so while I couldn't recline, at least my knees would be comfortable for the next seven hours. The seats themselves were slimline seats, so they weren't particularly comfortable; they were very hard and they definitely are nowhere near the best economy class seats on the market, although they were (in my opinion) fine for a 6.5 hour flight. Unfortunately, no amenities such as blankets or pillows were provided, which was also unacceptable.
Unfortunately, as mentioned earlier, while Cabo Verde Airlines does have some planes with in-flight entertainment screens from Icelandair, they decided not to equip their aircraft with in-flight entertainment, so while there were screens installed, there was no content loaded on them; they could have at least installed an in-flight map. Many people were obviously confused why they had screens installed but had no content on them, and quite a few people asked the flight attendants about it. As stated earlier, I came prepared and had downloaded movies to my iPad.
While the seats also did have a WiFi symbol on them, unfortunately, the WiFi was also inoperative, so people were left to fend for themselves for entertainment. Also, there were USB ports on the seats in front, but they were also inoperative, although flight attendants halfway through the flight did offer to charge up people's phones in the galley, which I thought was a friendly gesture. Overall, it was definitely very unacceptable to have no in-flight entertainment on true long-haul flights, although granted, the planes mostly operate 3-5 hour flights and this was an African airline. I personally was able to stay entertained, although I wish that they would invest a bit more long-term in their onboard product.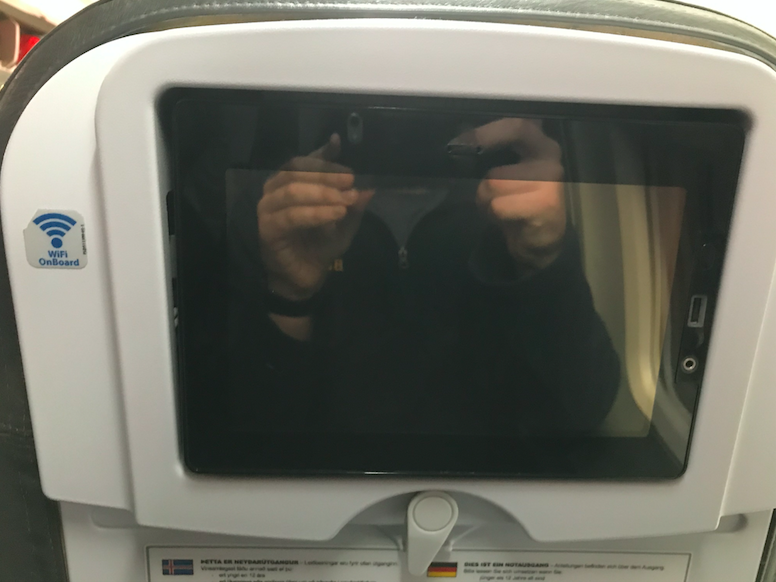 The Inoperative Entertainment Screen
Since the flight had been delayed (literally) on every flight before ours, I still was skeptical that the flight would leave on time, even after we boarded. However, boarding was complete by 7:45, and the purser came on the PA and said that the flight would be approximately 6 hours and 20 minutes and that we would arrive nearly an hour early at 6:30 PM, which caught be a bit by surprise.
In terms of demographics, most of the people onboard seemed to be Africans who were connecting to either Lagos and Dakar, although there seemed to be quite a few Cabo Verdeans and a handful of other tourists too. We pushed back from the gate at about 7:50 AM, only 15 minutes after our scheduled departure time, and taxied to Runway 30 and were off to Cabo Verde by 8:05 on what was undoubtedly the most unique flight out of Dulles Airport!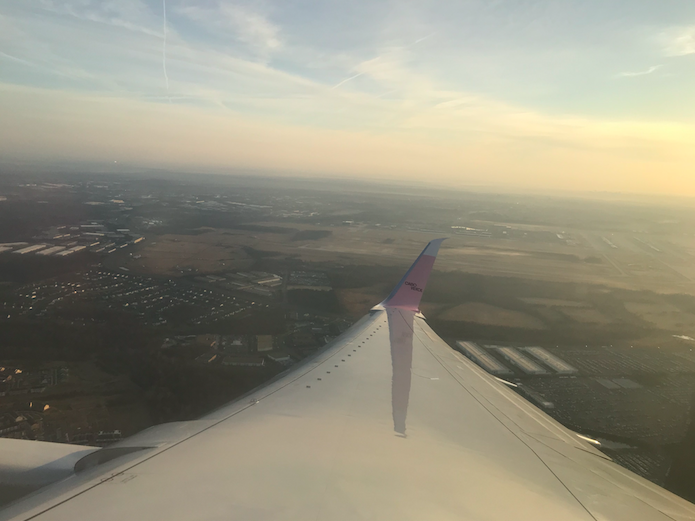 View After Takeoff
We first headed North until we turned southeast towards the Chesapeake Bay and the Atlantic Ocean to head to Cabo Verde. The takeoff and ascent were for the most part very smooth (we actually didn't hit much turbulence over the course of the whole flight). After takeoff, the captain came on again and gave another welcome to us, and reiterated that the flight would be 6.5 hours long and would arrive an hour early. About thirty minutes after takeoff, the crew came around with the first drink service on the flight and served small (and pretty bad) sandwiches with turkey and cheese.
What's interesting to note is that the main meal was served two hours before landing and that Cabo Verde Airlines actually didn't cater food from Dulles: they loaded food onboard in Cabo Verde and used the food for the way to DC and on the flight back because it was cheaper than Dulles catering. I guess that makes sense for a small airline from a developing country, although it definitely didn't improve food quality. After the snack, I checked out the lavatory, which was clean although definitely was showing its age.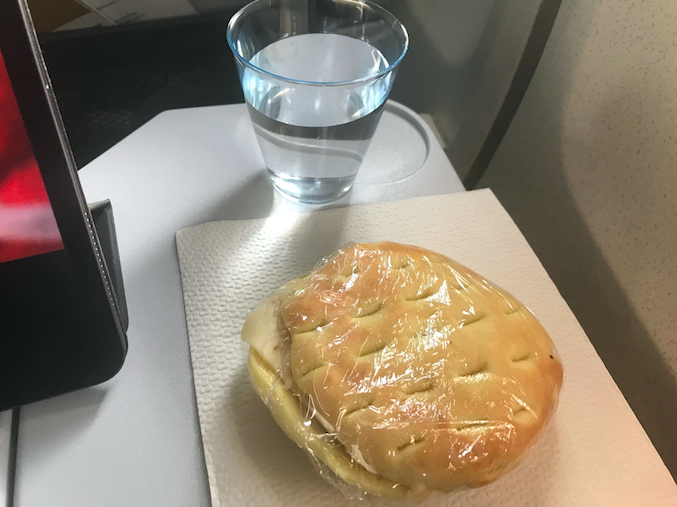 The Sandwich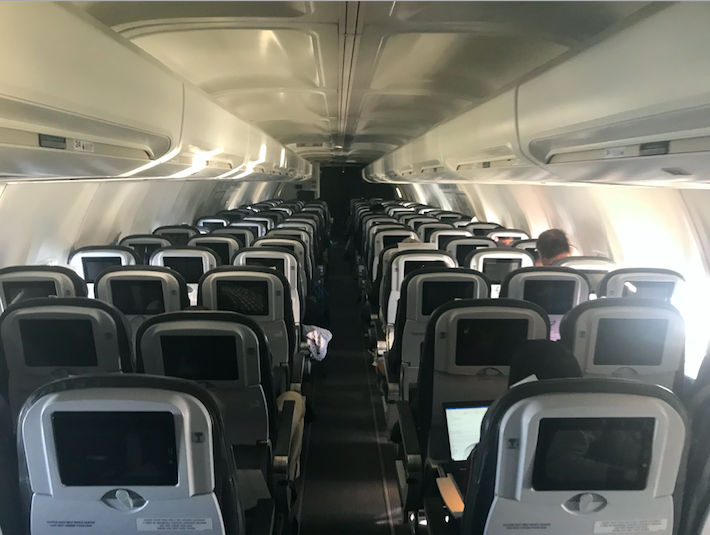 View Of The Cabin
Most people on the flight seemed to sleep for most of the flight, which made sense given the early departure time and that most people were connecting to flights which wouldn't arrive until 3 or 4 AM local time. Since the flight was eastbound, the day was shorter than normal (at least for me), so I only slept for about half an hour and spent the rest of the flight watching movies which I downloaded on Netflix. Overall, the next four hours of the flight were pretty uneventful with few appearances by the crew.
About two hours before landing (which I found to be a bit of an odd time), the crew turned the lights back on. At that point, the captain came on the PA and announced that a full meal service would be served shortly and that we would arrive in two hours in Sal. The crew then came around with another drink service and then came around with the first (and last) full meal on the flight. The meal was, well…disgusting. For the most part. It consisted of a weird potato salad thingy, which was absolutely horrible and was served cold. However, it also had a little slice of smoked salmon which was bearable. The tray also contained a small strawberry tart, which was surprisingly good.
Fortunately, the meal wasn't over yet. About ten minutes after the meal was served, the a flight attendant made a round through the cabin with a bowl of bread. Warm, (relatively) fresh bread rolls. Without a doubt, this was the best bread I've ever had in economy class on any airline, as it was pretty good quality, and because the crew went through the effort of actually heating it up. Fortunately, the crew came around again ten minutes later with more more bread rolls. Without a doubt, the bread rolls were definitely the highlight of the flight, which could be interpreted in both ways: while at least the bread was good, saying that the best part of the flight was the bread isn't necessarily a good testament to the quality of the airline.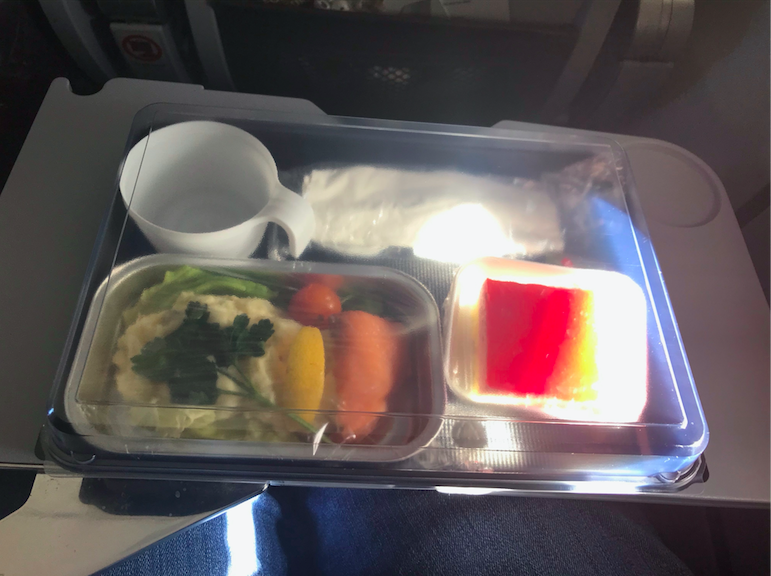 The In-Flight Meal
I haven't talked much about service in this review yet. All of the flight attendants clearly took pride in their jobs and were very friendly and professional, much more so than you'd ordinarily get in economy class on a US airline. They weren't exceptional by any means, but at least they seemed to care about their jobs. At that point, we were about one and a half hours until landing, and soon the sun started to set, after what probably was the shortest day of my life (besides the days I've skipped from crossing the date line).
About half an hour before landing, I spotted the westernmost Cabo Verdean island, Santo Antao, which we had beautiful views of during our descent, along with other Cabo Verdean islands such as Sao Vicente, Santa Luzia, and Sao Nicolao. At that point, the captain came on the PA again and announced that we had begun our descent and would land in Sal at 6:30 PM. Meanwhile, I enjoyed the beautiful views of the islands during the (accelerated) sunset.
We then quickly turned north to line up with the runway over the island of Sal, and had a pretty smooth landing in Espargos, Sal, at 6:27 PM, which was almost an hour early. Unfortunately, it seems as if our flight was an exception to Cabo Verde Airlines' usual awful operational performance which makes American Airlines look like KLM. We then taxied to our arrival stand, and seemed to be the only aircraft on the island besides a Blue Panorama Airlines Boeing 767-300 (which came from Warsaw of all places), as we had arrived before all of Cabo Verde Airlines' other aircraft arrived in their evening arrival/departure bank.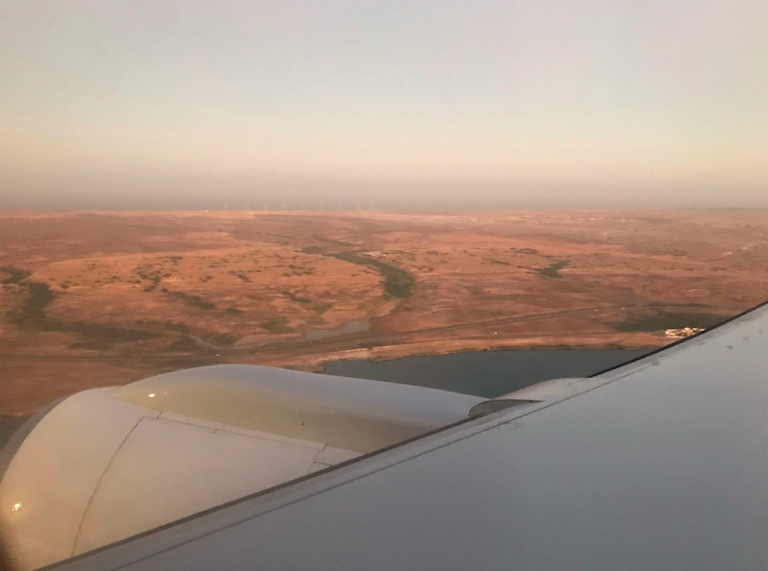 View Before Landing
We waited on the tarmac for about five minutes until air stairs arrived – I guess they aren't used to having Cabo Verde Airlines planes arrive early, of all things. Afterwords, we disembarked; there were two buses waiting there on the tarmac, one for people going to Cabo Verde and another for people connecting to Senegal or Nigeria. As I expected the vast majority (maybe 80%) of people went into the bus for connecting flights while only a few others headed to Cabo Verde along with us. After filling up the bus to the brims with a whopping 20 other people onboard, we began our Frankfurt-like long and arduous 30 second bus ride to the arrivals terminal (FYI, I'm being sarcastic, of course).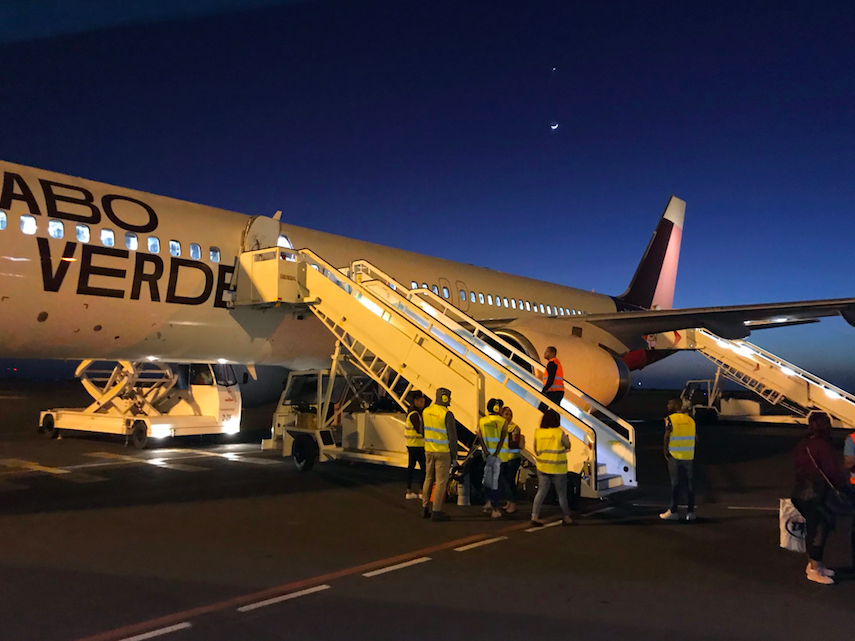 View Of Our Aircraft
We were the first in line for immigration, and we had to do the formalities of paying and getting a visa on arrival, which took about ten minutes. There were only two (friendly) immigration officers there, so I would imagine that it took a while for the people at the back of the line. Our bags were out about 30 minutes after arriving at our gate, and we then headed off in the warm tropical air to the Hilton Cabo Verde, where we would spend the next five days (sorry, no review for that, this is Air Travel Analysis, not Hotel Travel Analysis).
Conclusion:
Where to start. Well, the flight at least was on-time, but our flight seemed to unfortunately be the exception to the norm, which is arriving three hours late. Also, the crew was very friendly and the bread was good. However, unfortunately the entertainment screens weren't loaded with content, the rest of the food was disgusting, and the seats weren't all that comfortable. Based on my first flight alone, I would say that Cabo Verde Airlines is overall not too great of an airline, but that they definitely are showing great potential to improve, if only they would improve their operational performance and invested a bit more in their product.
But as I will show in my next review, Cabo Verde Airlines is well, to put it nicely, a mess, for a multitude of reasons. Overall, I didn't have too bad of an actual experience on this flight alone: at least I got exit row, I brought my own entertainment, and it was on time, but if I hadn't prepared for it correctly, it could have been awful. For flights from the US to Africa or from Europe to South America (or just for flying to Cabo Verde, which is basically all of Cabo Verde Airlines' route network), I probably would recommend flying Cabo Verde Airlines, based on my flight from Washington to Sal, which was moderately okay, but definitely wouldn't recommend it based on my next flight (review coming soon!).
For more pictures about this flight, please visit the original posting of this review on my blog, Air Travel Analysis (link below).
https://airtravelanalysis.com/cabo-verde-airlines-757-economy-review-iad-sid/