First (&Perhaps Last time…) Boeing 747-400ER An Unexpected Journey from Hawaii to Down Under on March 2020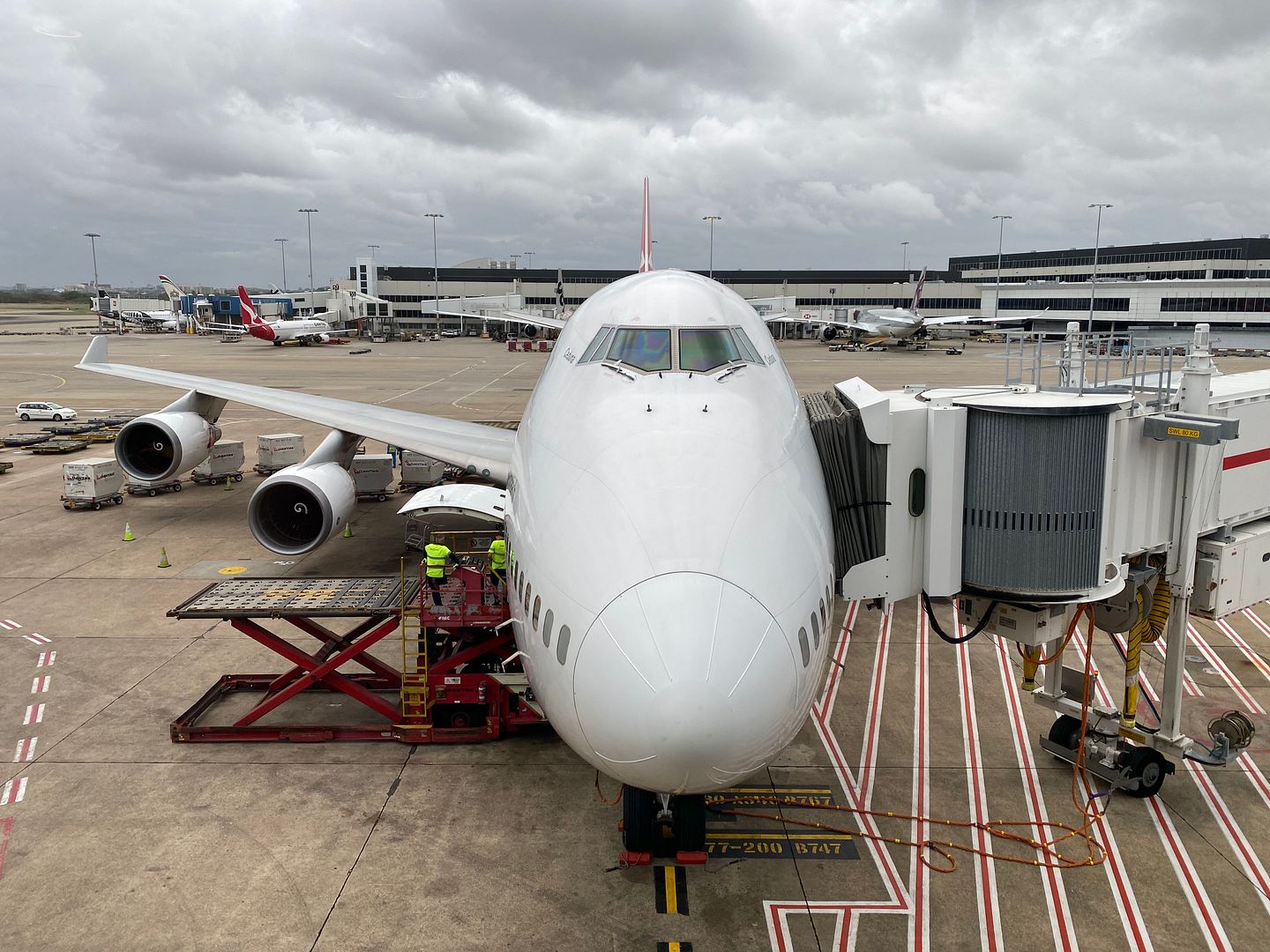 Boeing 747, Queen of the Skies, possibly plays an important role in all our lives in this community, and as an AV geek, flying the Queen of the Skies always brings a smile to most of us. I have pretty much flown all the passengers' variants including -100, -200, -300, -300 Combi-, -400, -400 Combi, -400D, -8, SR, & SP, but there is one variant left missing in my logbook, which is -400ER. Qantas is the only airline that flies Boeing 747-400ER, so it is high on my priority to get a flight on it. While I don't have anything against Qantas, I am not overly enthusiastic with their premium product. Its business class catering looks rather bland and its overnight flights are not particularly great. Earlier this year, my plan is to fly its Tokyo Haneda to Sydney flight especially there are some decent premium fares between Japan and New Zealand. However, due to the severe reduction of service in its Asian markets due to Covid-19, Qantas decided to add a few extra Boeing 747 flights serving its still busy flights between Honolulu and Sydney. On one random afternoon, I checked award inventory and Qantas has opened up its business and economy class award for these new extra flights. I just could not resist and settled on a business class award from Honolulu to Auckland via Sydney. Given these Honolulu to Sydney flights operate during daytime, there will be at least a full lunch service, despite there will be no pajamas offered. On the return, I found a decently priced ticket from Auckland back to San Francisco via Sydney on Qantas' Boeing 787-9s, so I get to try out its oldest and latest business class product. It is a really short trip given some of my previous obligations but I am actually thankful that I decide to do this flight because I have a feeling that these -400ERs may retire quietly during these unsettling times.
Full Photo Album:
https://s1213.photobucket.com/user/Carf ... 4ER032020J
March 3, 2020
QF 104 HNL-SYD Lv0825 Arr1535+1 Boeing 747-400ER VH-OEI "Ceduna"
Undoubtedly, the best seats on Qantas' Boeing 747-400ERs are the 5B and 5J, which are solo suites behind Door 1 with direct aisle access and some additional storage space. I manage to get 5J because of my OW Emerald status. When I booked the flight, the business class cabin was actually quite open with plenty of seats, and I am tempted to change to other seats in the nose section. Fortunately, I decided to stick with 5J because the business class cabin ended up being 100% full in the main deck, as they closed the upper deck for passengers. There are also plenty of non-rev passengers too. On a side note, this was actually one of the few full flights I was on during the month of March.
I spent the previous night at the Best Western, which was actually better than expected, and my morning shuttle to the airport was filled with mostly Aussie and Kiwi, as both Qantas and Air New Zealand were operating a daytime flight back to Auckland and Sydney that day. Before I went to bed, I have already known the inbound flight was running late, so I did not plan to arrive at the airport too early. The check in counters were actually fairly quiet and I was checked through to Auckland. The staffs found my one night at Auckland interesting but I told them that I just need to get this Boeing 747-400ER flight.
Check-in counters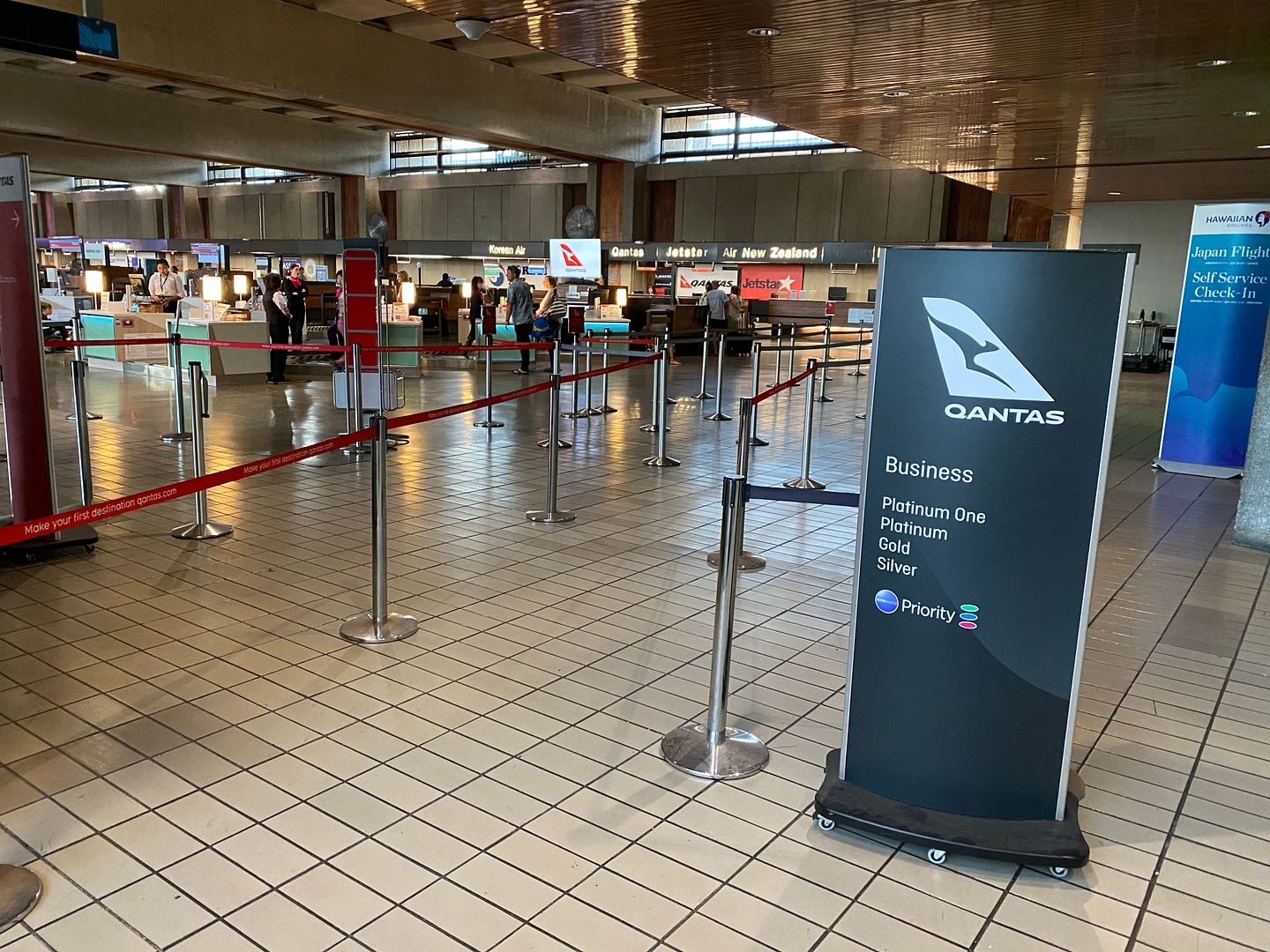 Qantas actually has a lounge in Honolulu but I found out that it was unimpressive at best. So, I decided to head straight to the Admiral Club/JAL Sakura lounge in the main terminal. I got in with no issue after presenting my BA gold card. The lounge had not one single occupant when I arrived. I took the opportunities to take all these pictures because the lounge is always busy. I had the lounge to myself for the first 30 minutes until the first JAL customer arrived. Breakfast was very Japanese, which was 100% fine with me. I prefer curry rice to egg at any day.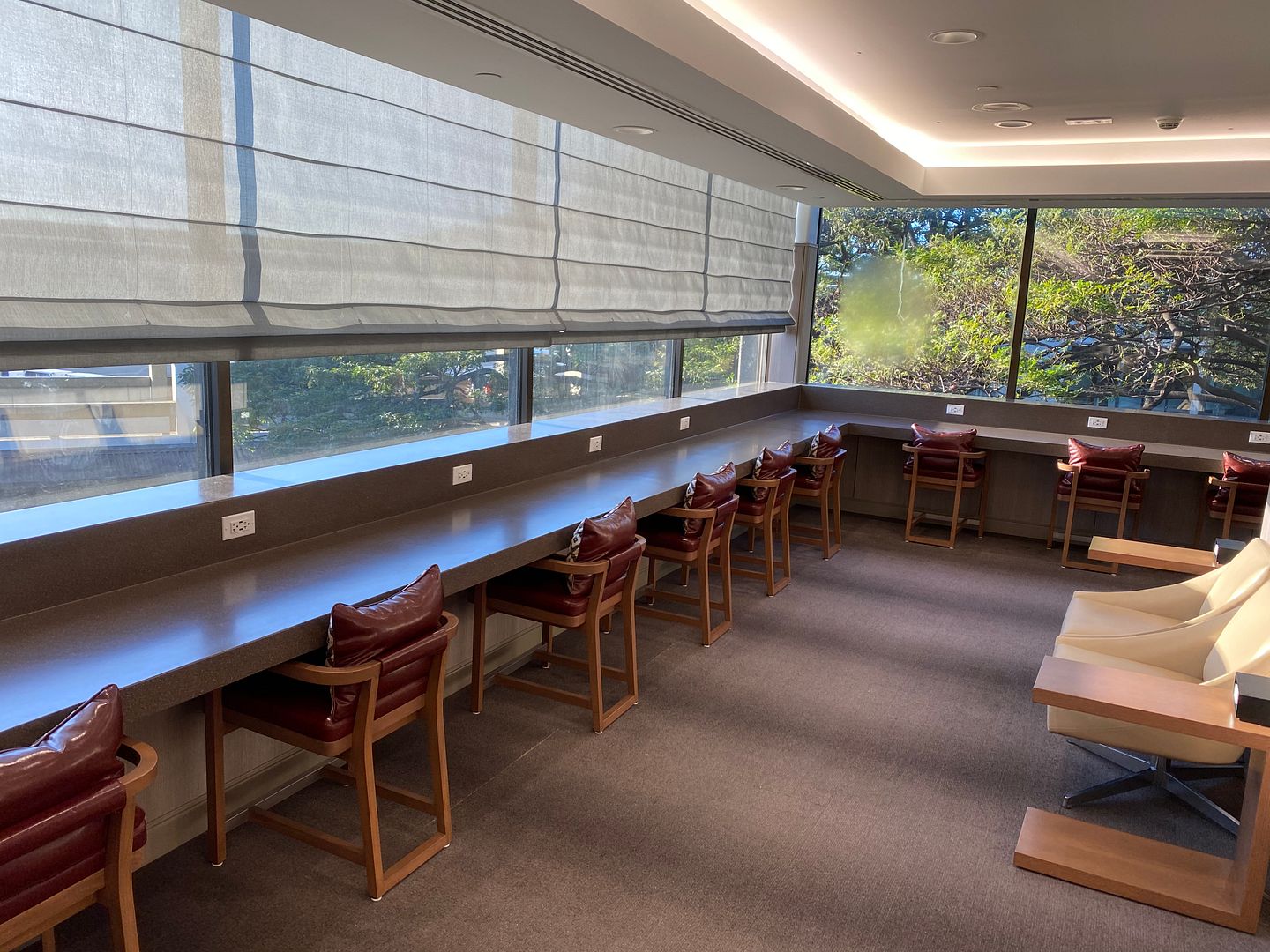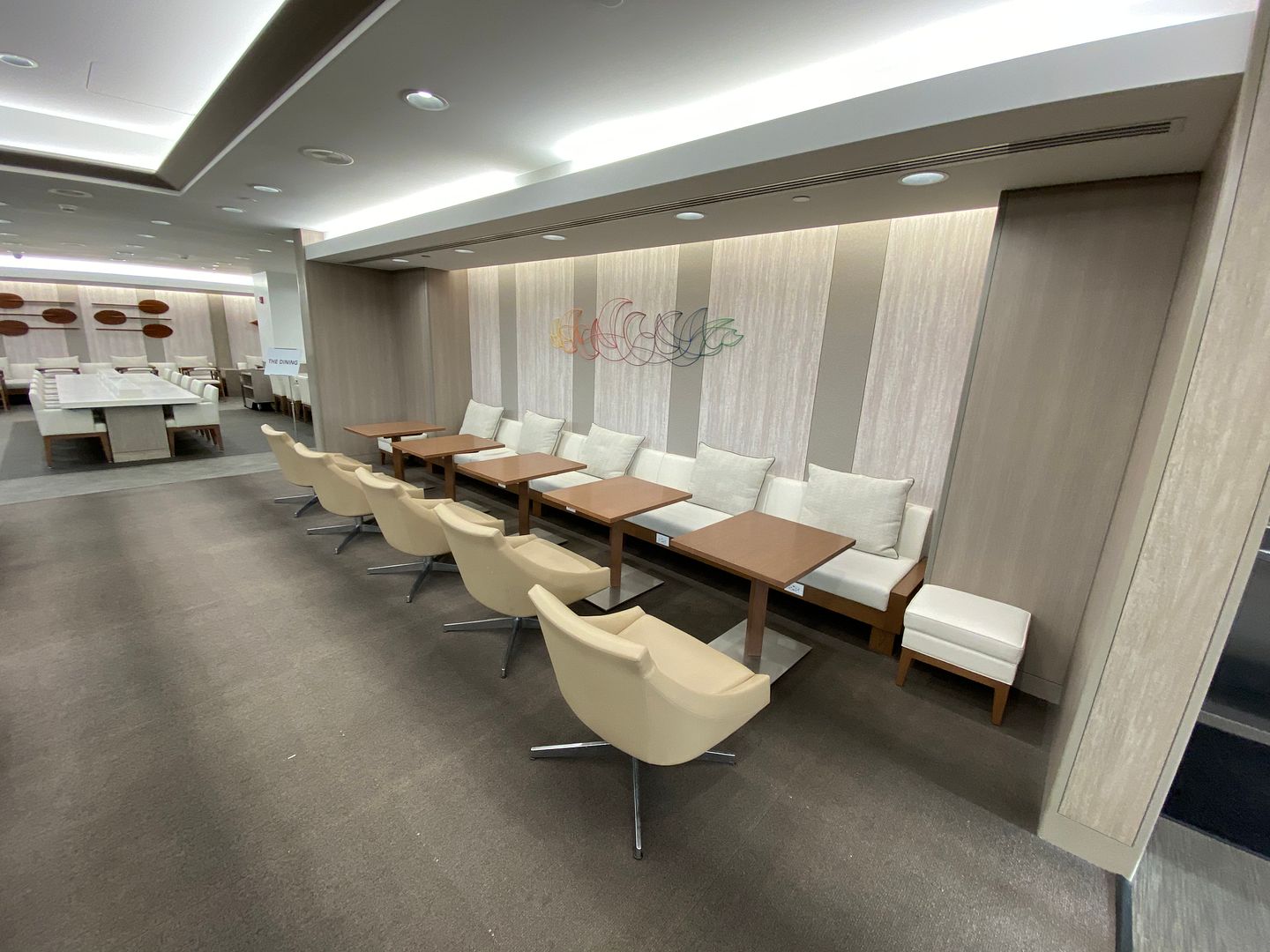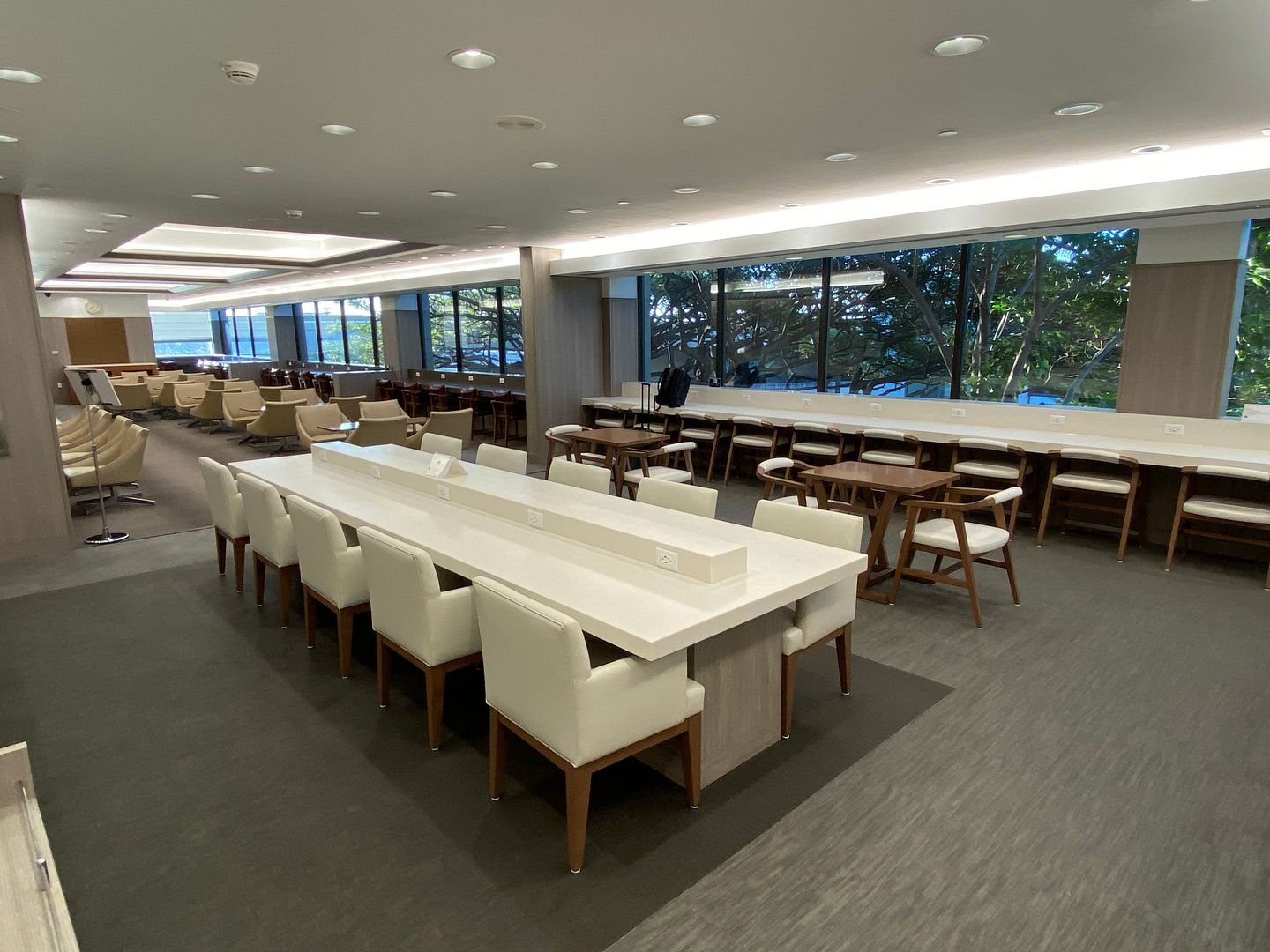 Beverage station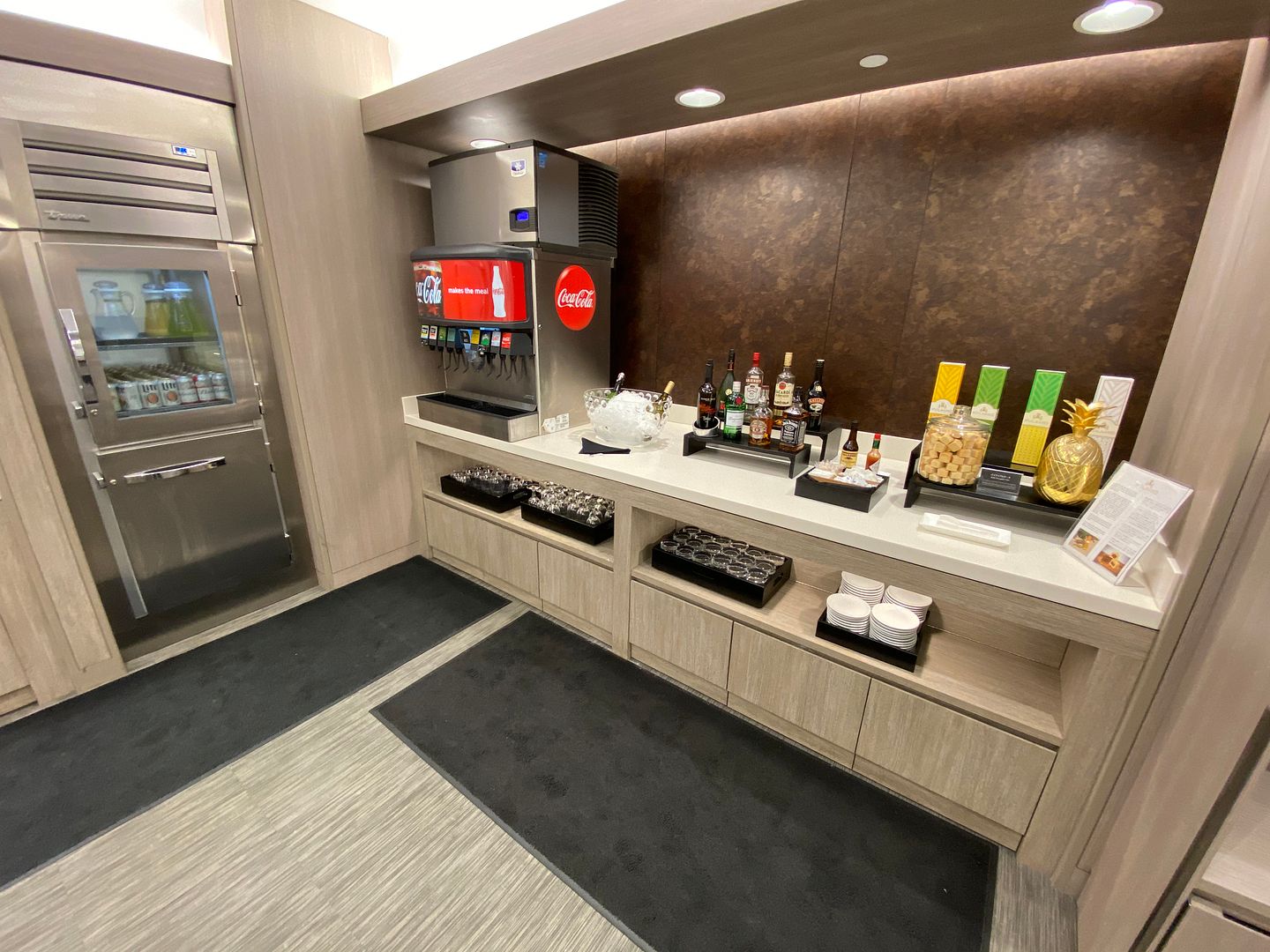 Buffet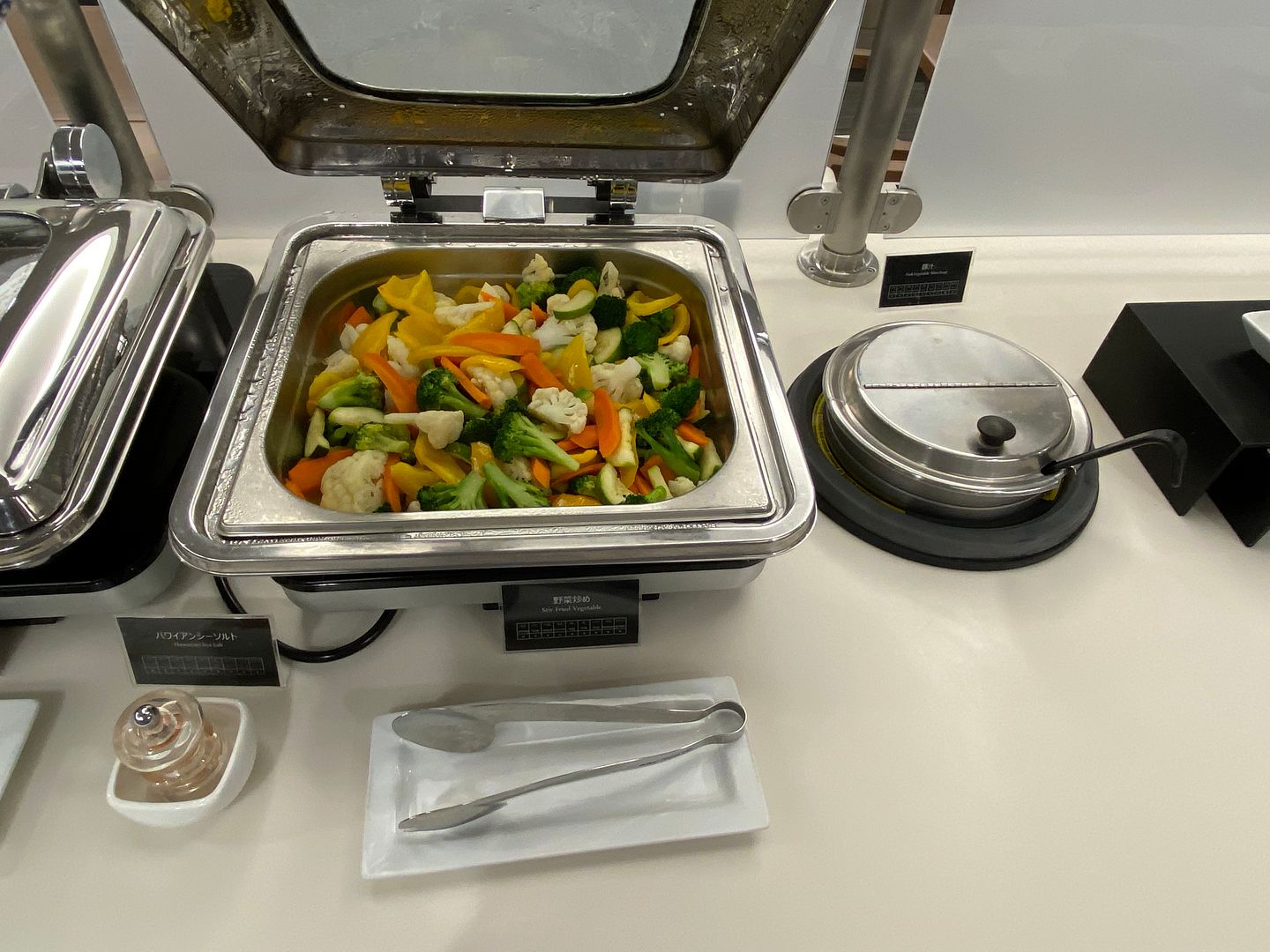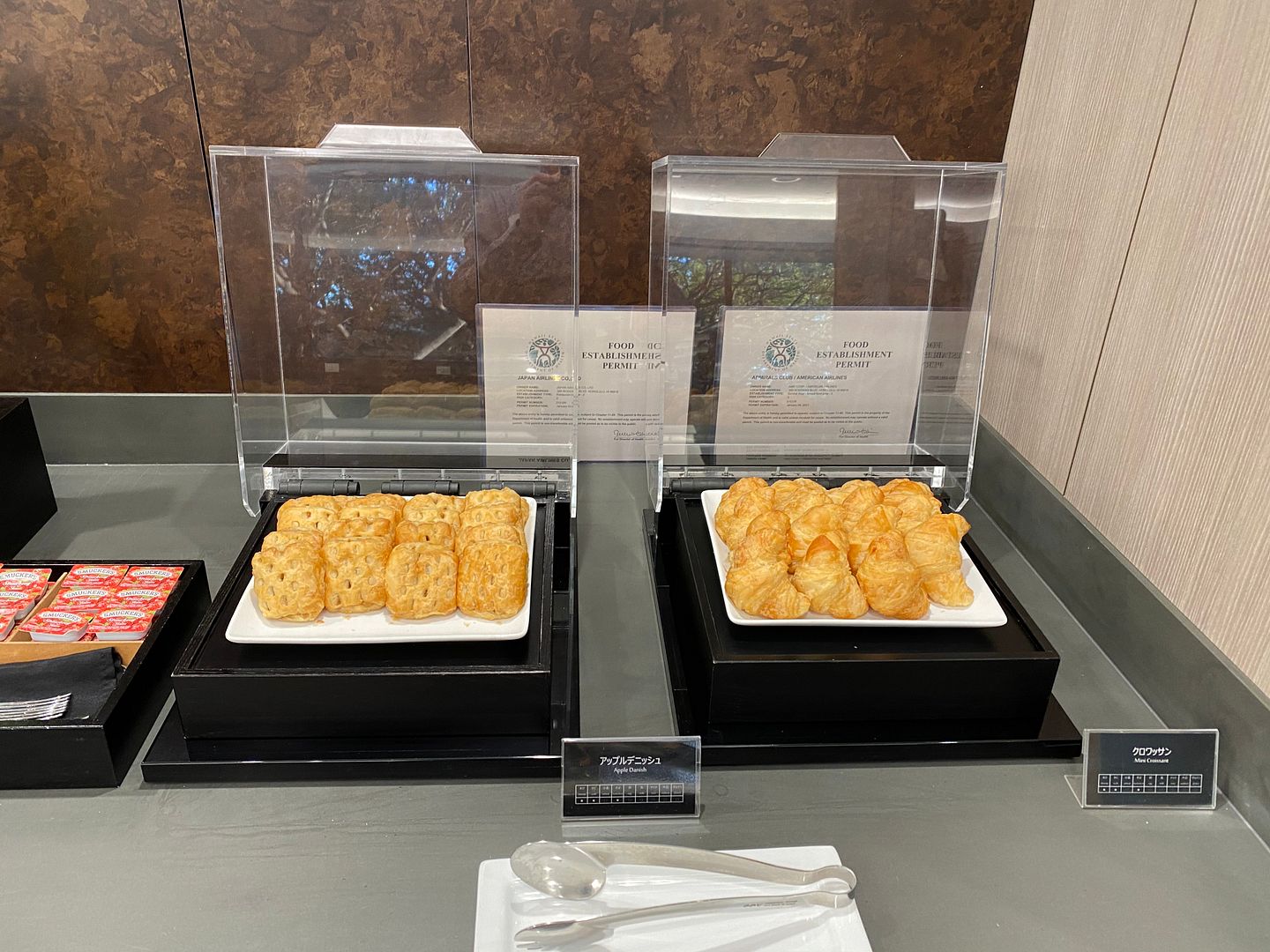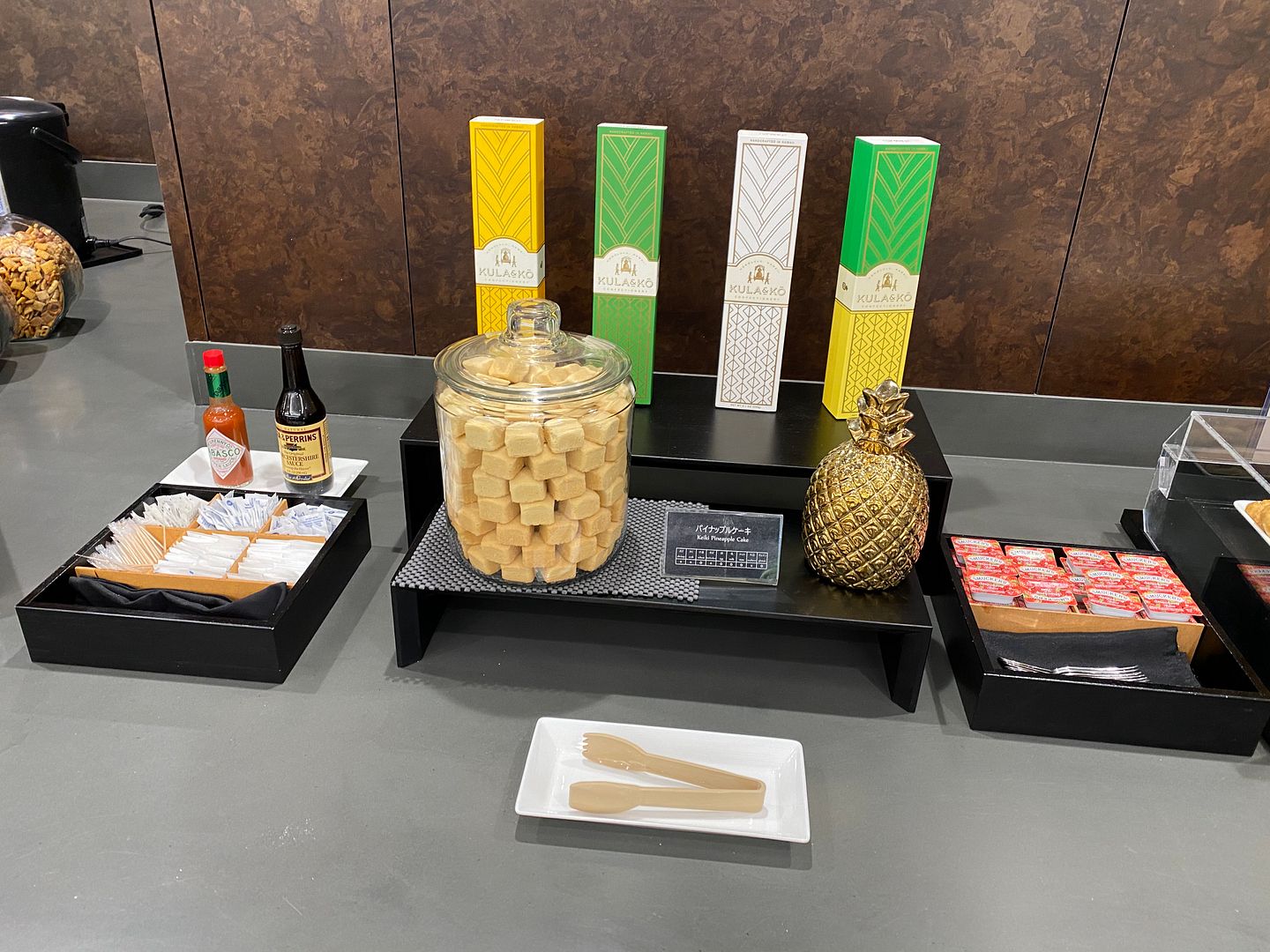 After an hour here, I decided to check out the Qantas lounge for reviewing sake. The lounge is really not that great with limited seating room and food. I did not manage most of the pictures till some of the passengers left.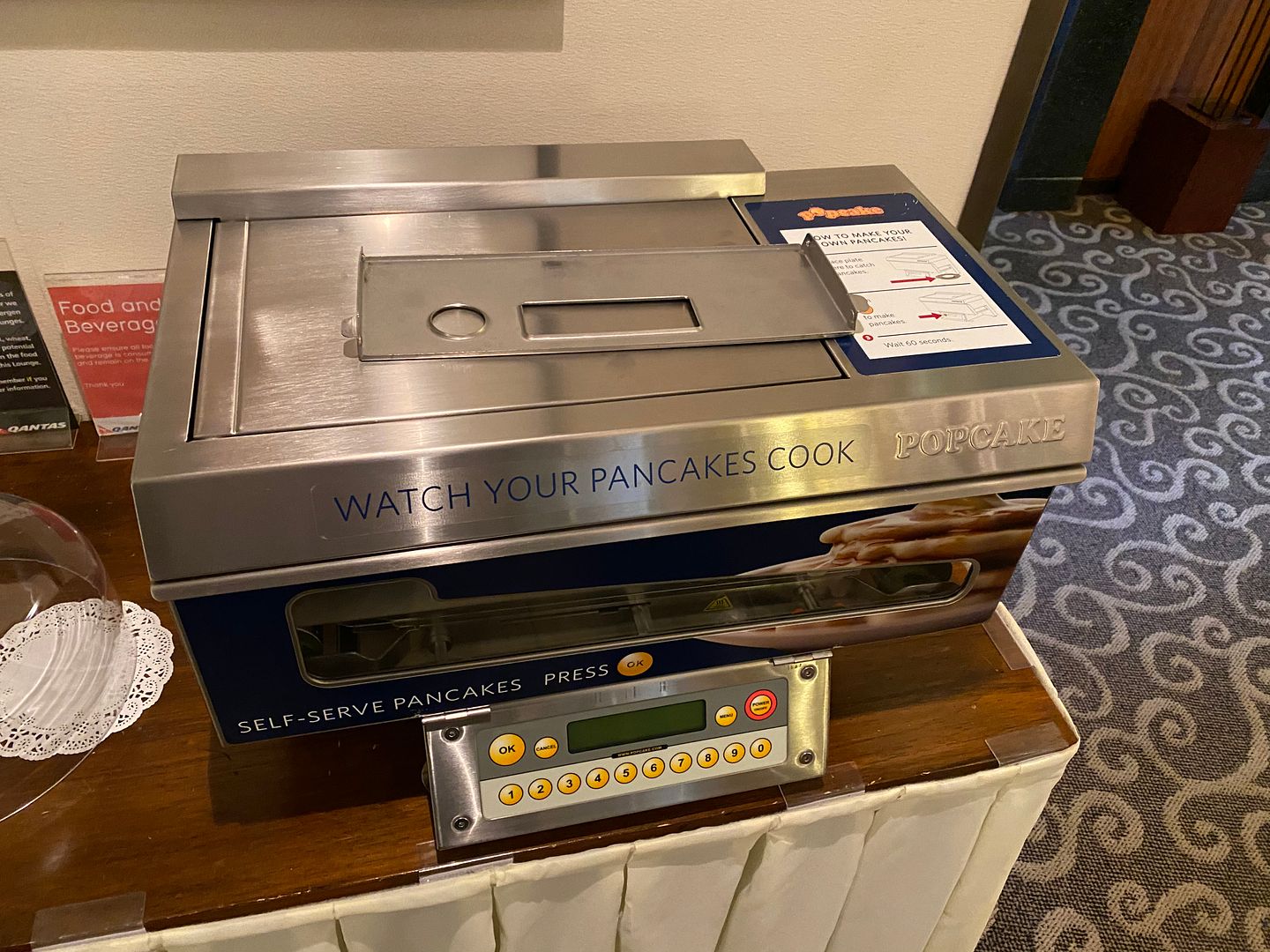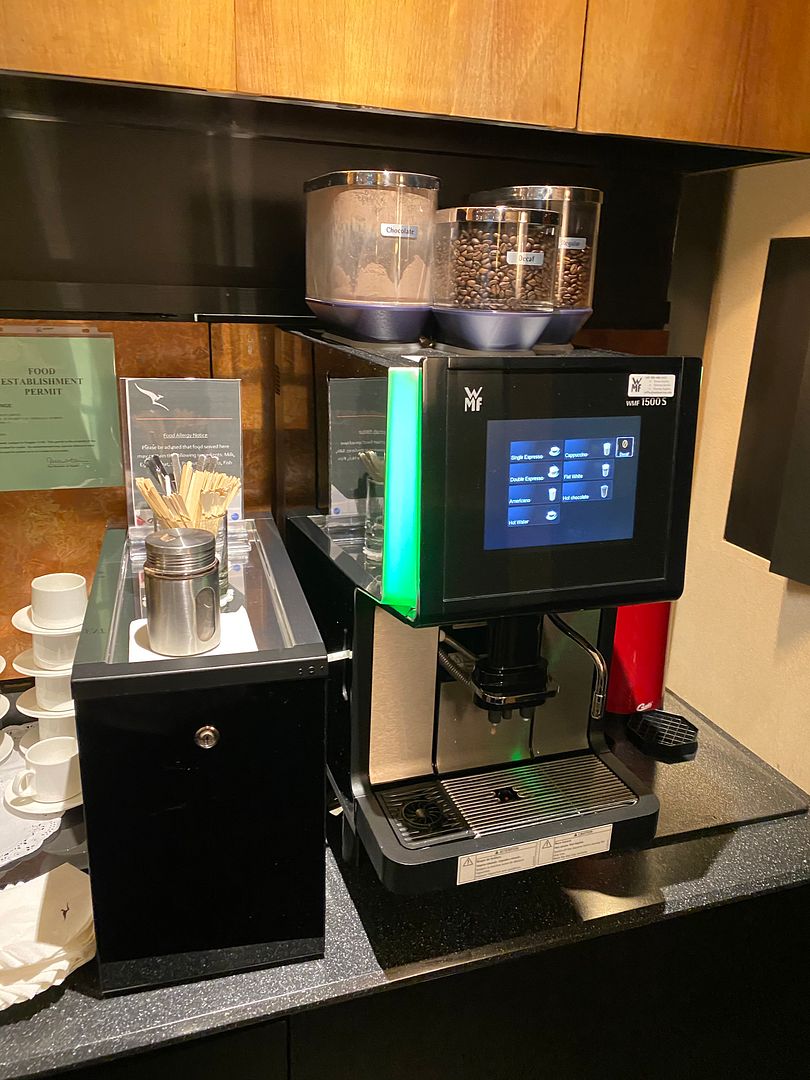 Heading to gate C5 required either a shuttle ride or a decent walk from the Qantas lounge. I tried the shuttle first but the agent told me that the next shuttle would not arrive till 20 minutes later. HNL really should publish a schedule.
Anyway, it was a nice walk to the C Concourse and I love seeing all these planes, which would sadly disappear for a while. The weather was nice – not too hot.
The gate area was crowded and the flight was fairly full in all three cabins. I was so excited to see Ceduna getting ready for the relatively short flight back to Australia. It was a not a great gate for photos, but I still could not resist.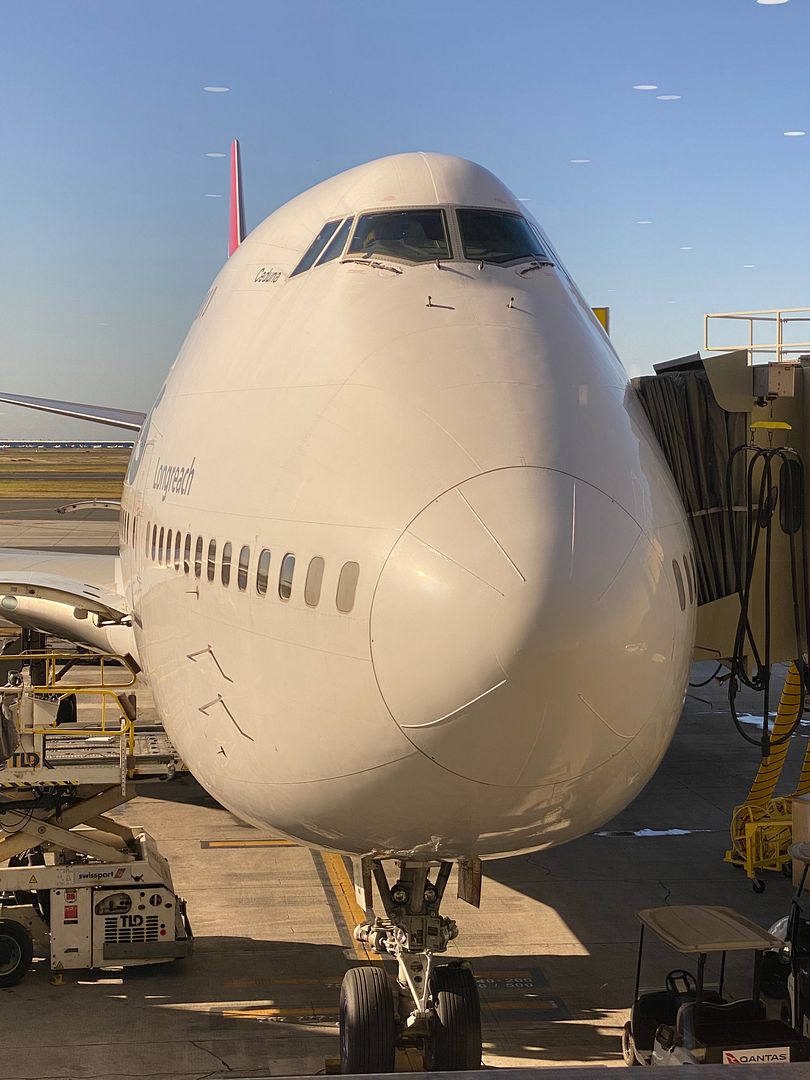 Boarding finally began at 9:03am and Oneworld Emerald members were allowed to board first. Unfortunately, I was not quick enough to shoot a better photo of the nose cabin.
However, the photos for the second cabin turned out fine.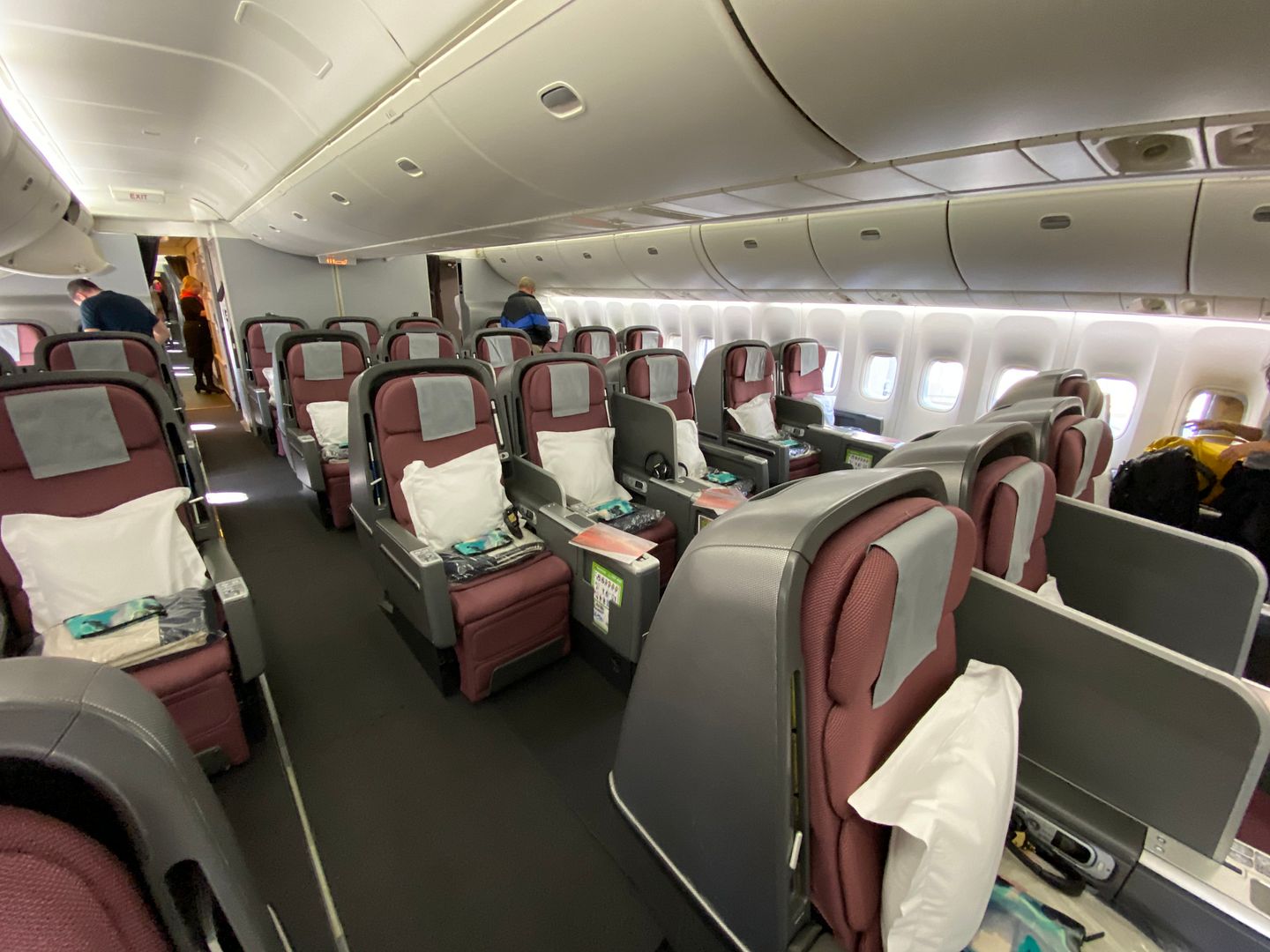 Menu, amenity kit and duvet were already pre-placed at every seat, with mattress pads in the overhead cabin.
I also had a glass of iced water as my choice of pre-takeoff beverage.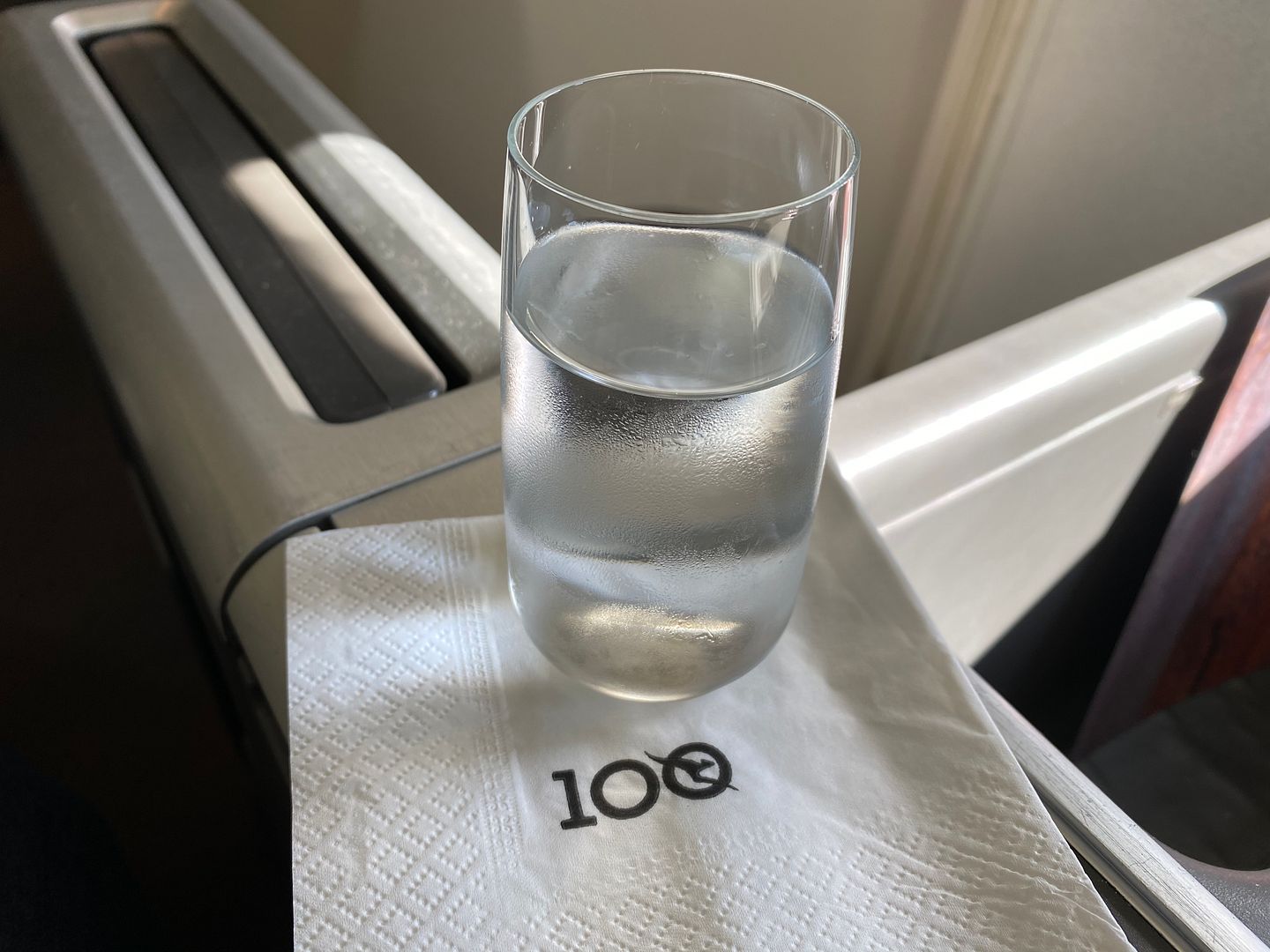 The suite is pretty great especially the giant side storage bin. I stored my laptop along with a few gadgets easily.
However, the cleaning crews did not do a good job. You notice a bottled water in my "suite", and that was actually a half-empty bottle from the previous segment.
I love sitting next to this beautiful door.
Despite a full flight, boarding was completed by 9:28am.
Door was closed at 9:38am and we pushed back five minutes later towards the Reef Runway (R/W 8R).
We passed by a few interesting planes including this JAL Boeing 787-9s from Tokyo and Air New Zealand's Boeing 777 to Auckland.
It was a quiet time in the day and we took off at 9:52am for our nine hours and twenty minutes flight to Sydney. It was a purely over-water flight and we climbed from 34,000ft all the way to 38,000ft.
Last sight of land till nine hours later…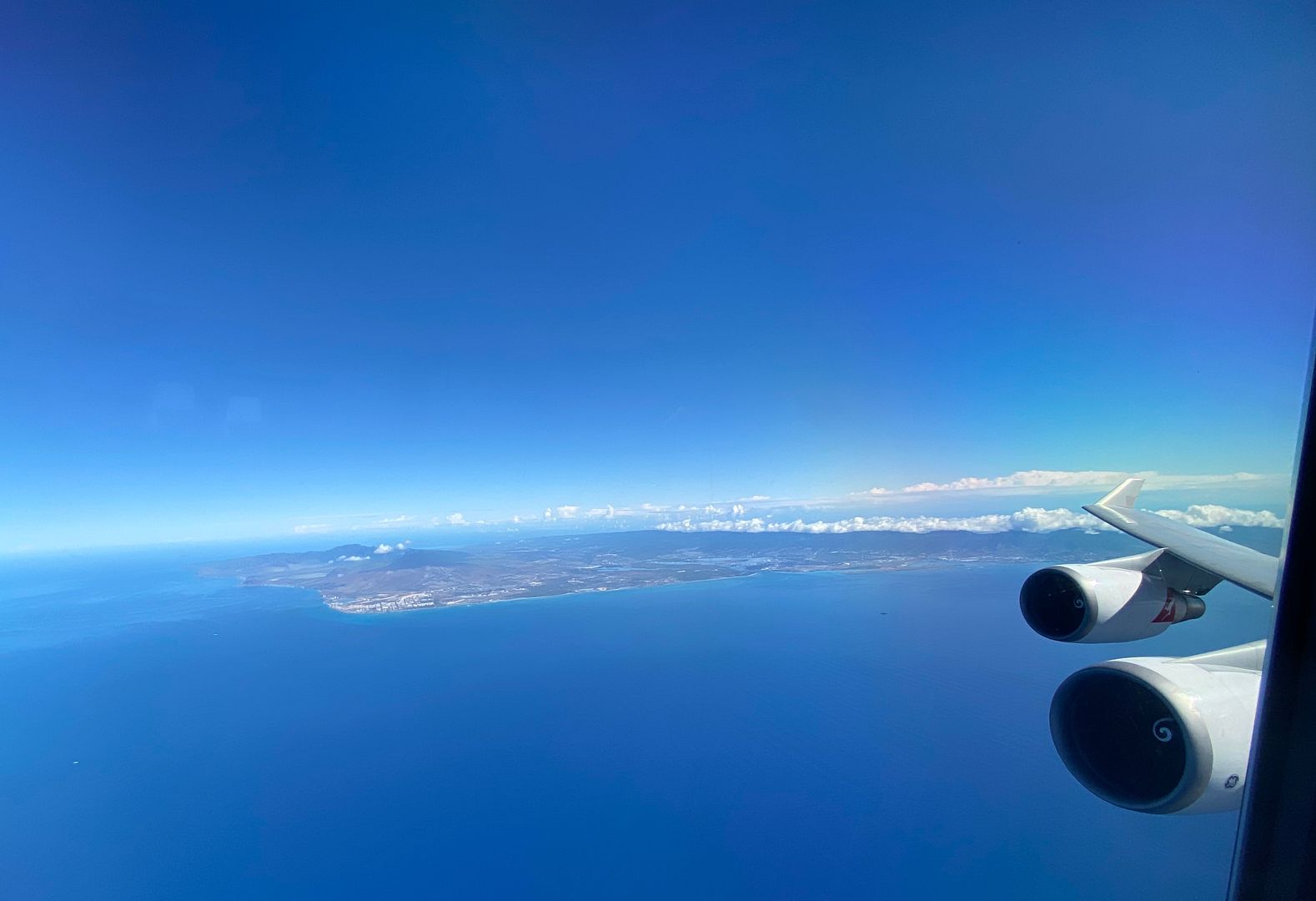 Since the upper deck was blocked, the service was relatively speedy in the main cabin despite a full cabin. Beverage was served within thirty minutes after takeoff.
Qantas does not offer a full wine list, but here is a picture of the wine offering.
A bowl of almonds was offered with my Coke Zero.
Lunch was served about an hour and ten minutes after takeoff. No tray was used for both meals. The service began with linen, utensils, fresh breads, and a small green salad, and then starter was served at the same time by a second F/A. Main course was offered thirty minutes later, followed by the dessert cart. On Qantas, you only get one choice out of the four options – fruits, cheese, cake or ice cream. Tea and coffee was offered later, followed by a quick round of chocolate thins.
Here is the full menu:
Menu
To Start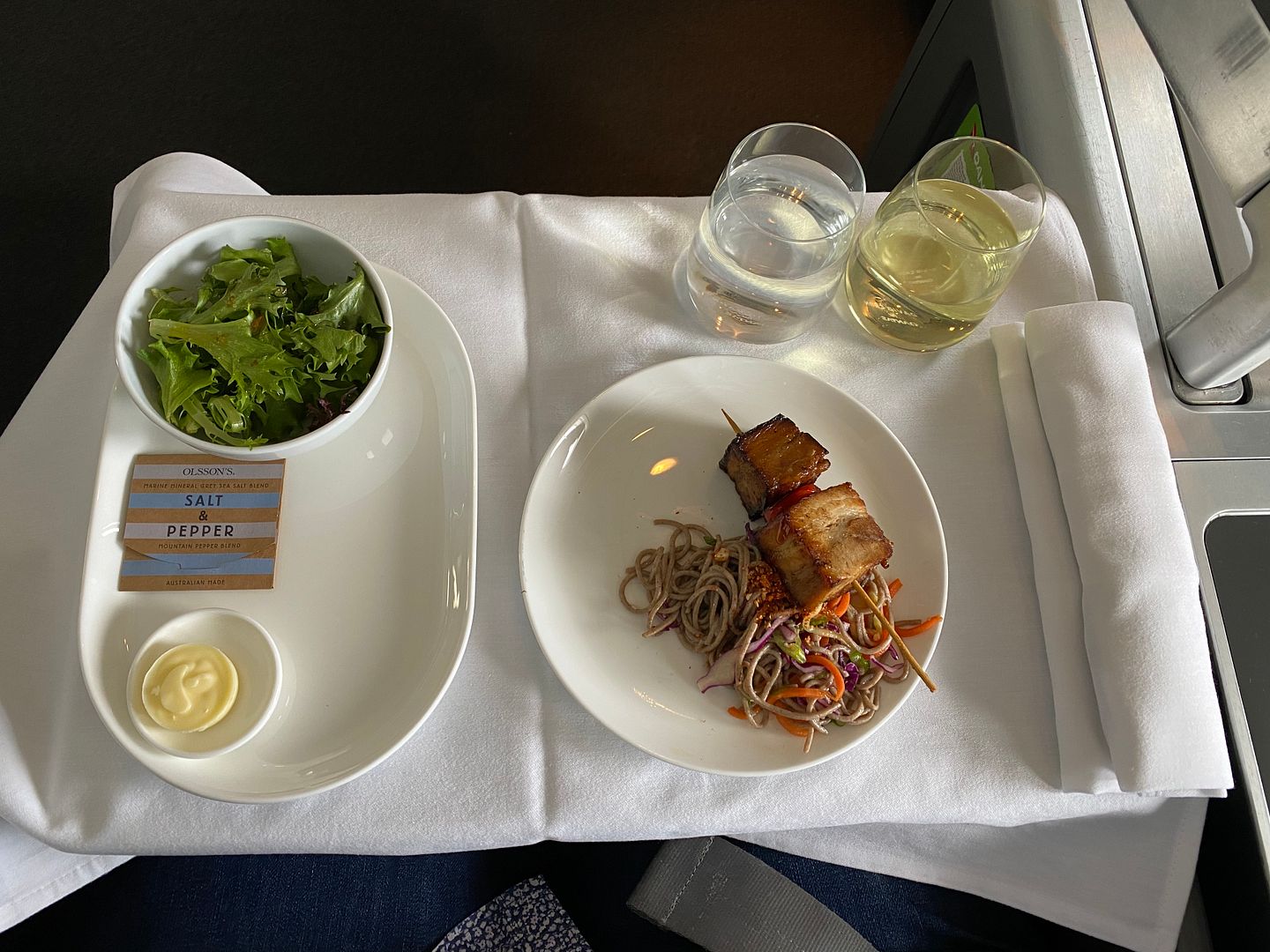 Cauliflower Soup with almond, parsley and pecorino pistou
Tuna Niçoise Salad with olives, green beans, cos, anchovy and lemon dressing
Hawaiian style pork skewers with pineapple salad
Main
Strozzapreti pasta with tomato and eggplant, roast capsicum, basil and pecorino
Grilled salmon fillet with fregola, braised lettuce, green peas, broccolini and gremolata
Chicken breast with Mexican rice, kale and tomatillo sauce
Beef fillet with potato gratin, green beans and brandy cream sauce
The main course was too small, not to mention the toughness of the meat.
Green leaf salad with Neil's vinaigrette
To Finish
Selection of cheese served with accompaniments
Panna cotta trifle with raspberries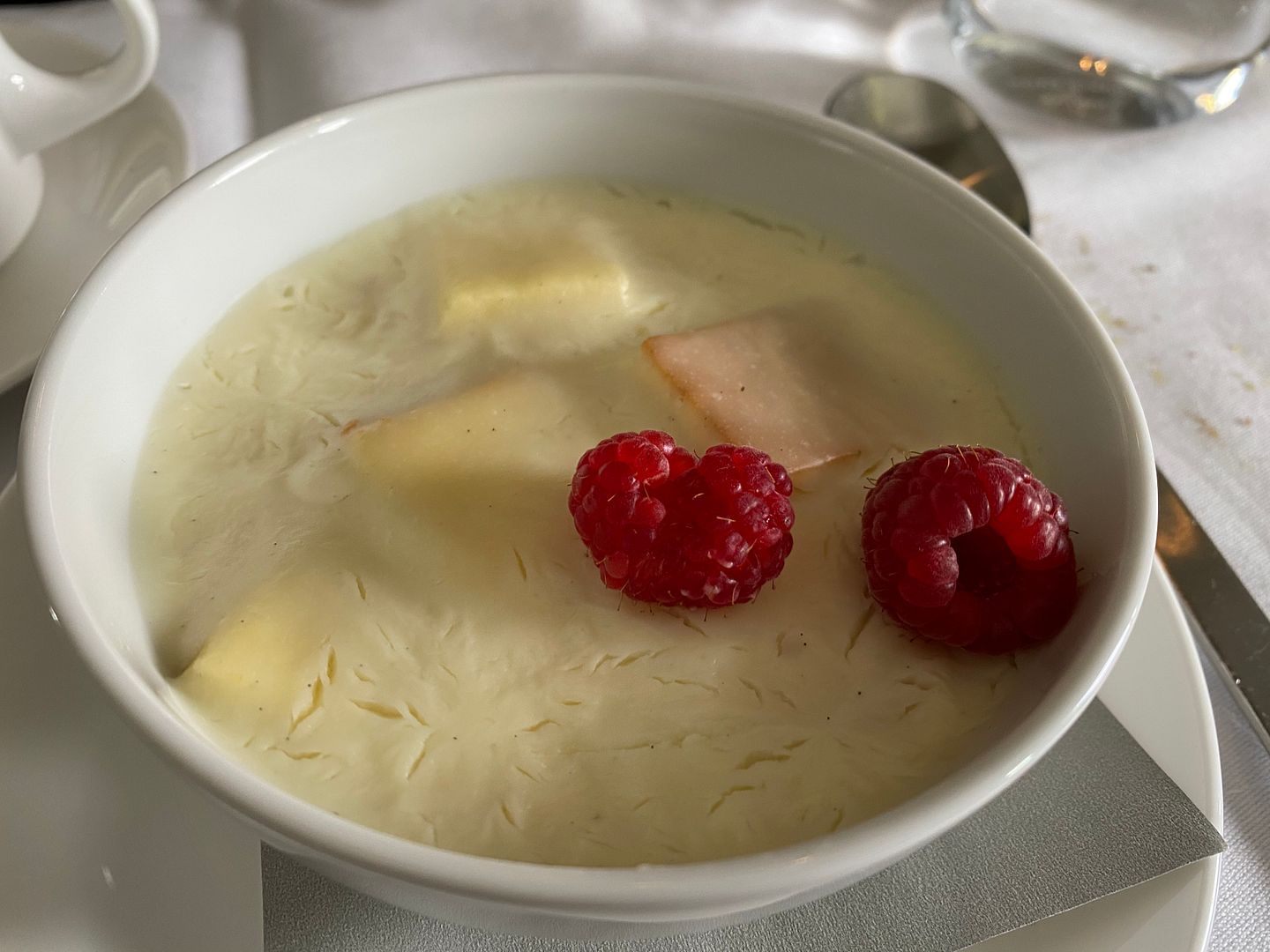 Ice Cream
Seasonal fruit
Chocolates
Lunch was completed within two and half hours, which was about right for a daytime flight.
Never tired of these engine shots…
I visited the small self-service galley next to the toilets behind door two.
There were the Maui chips, coconut cookies, and fresh fruits – apples and pears. They were mostly gone by the end of the flight. I was glad that I took a bag of chips and a cookie first.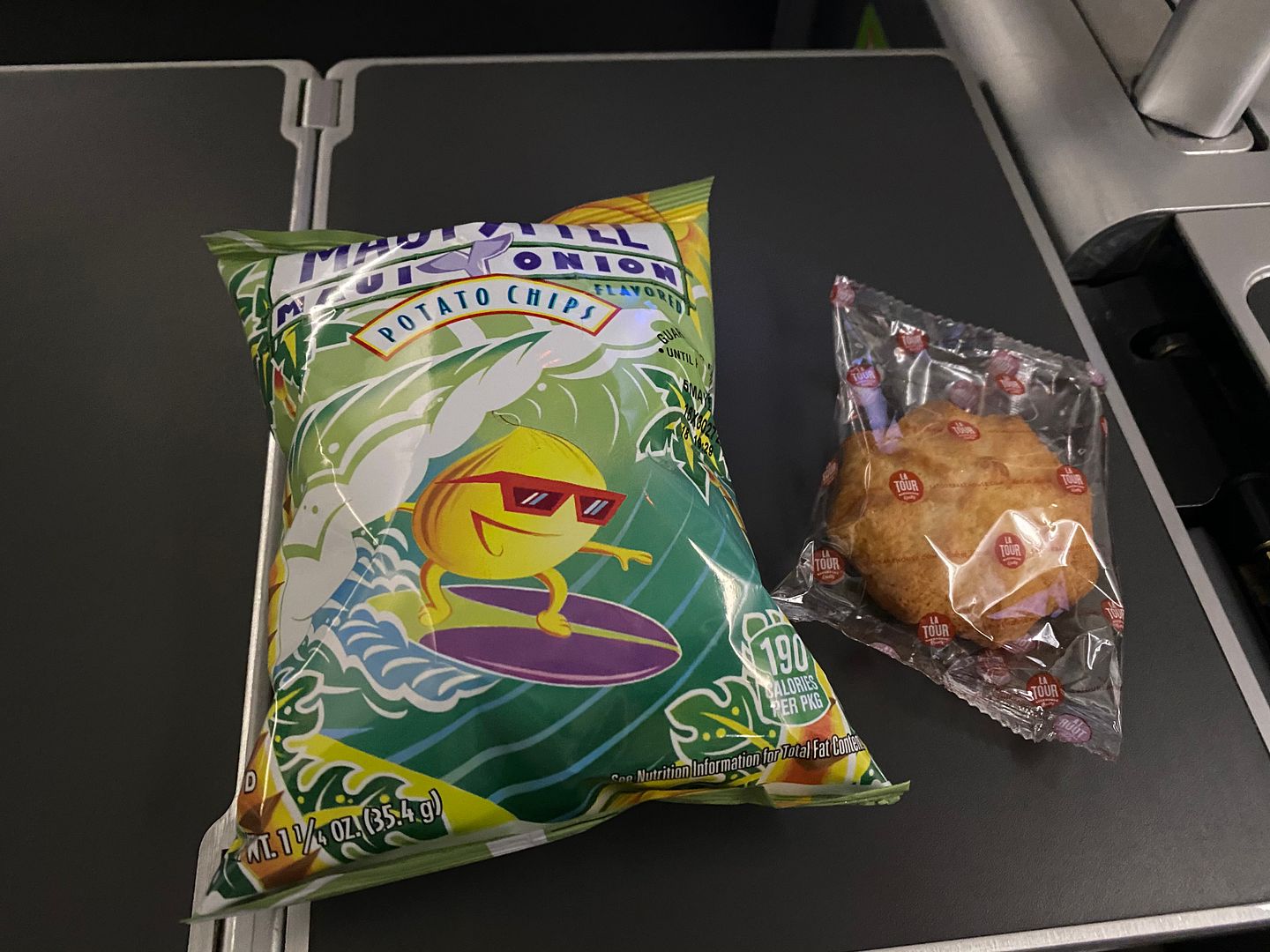 Then I proceeded to make my bed, as I was fairly tired given how much travel I was doing for the past few days.
Here is the seat control panel.
The seat with the mattress pad…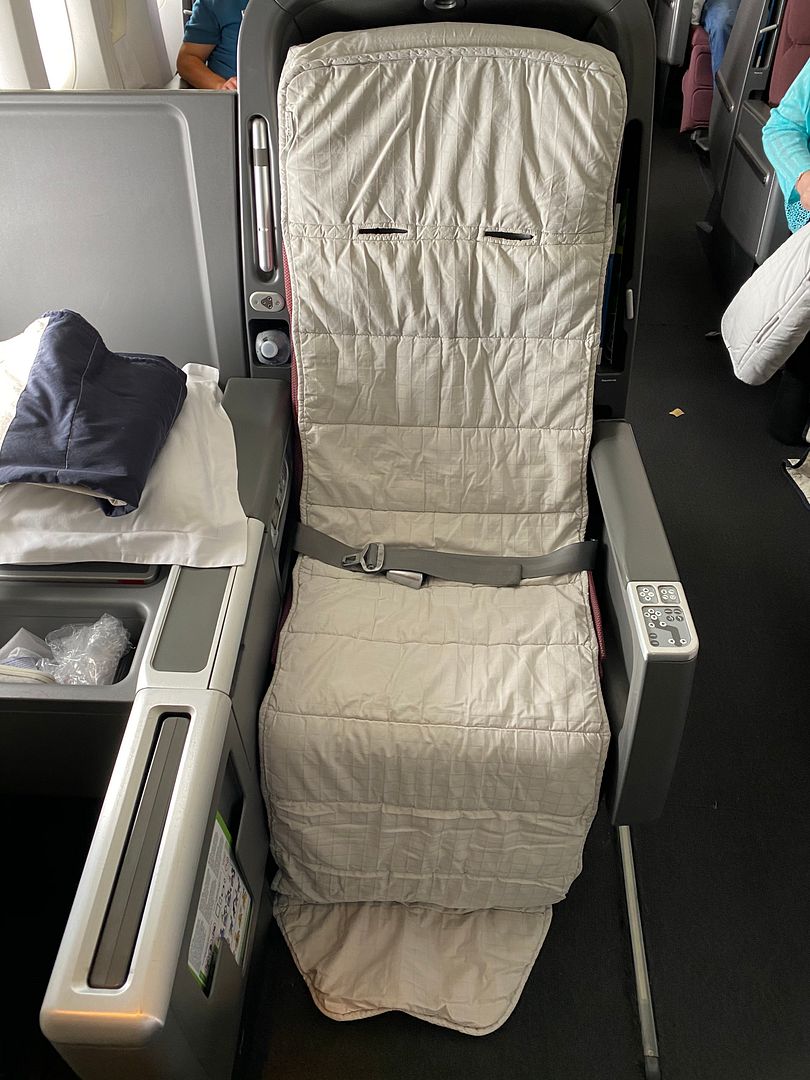 Full flat position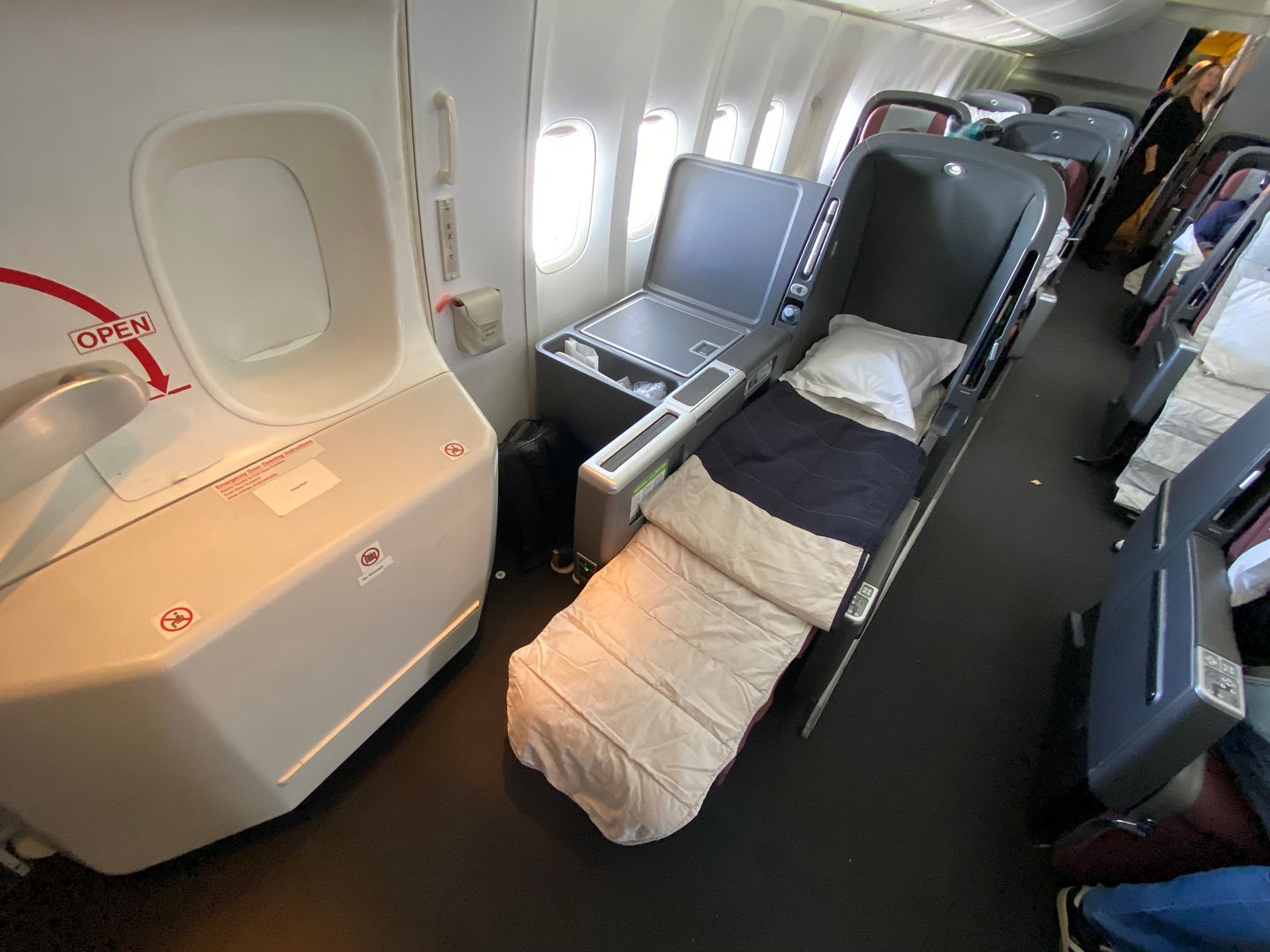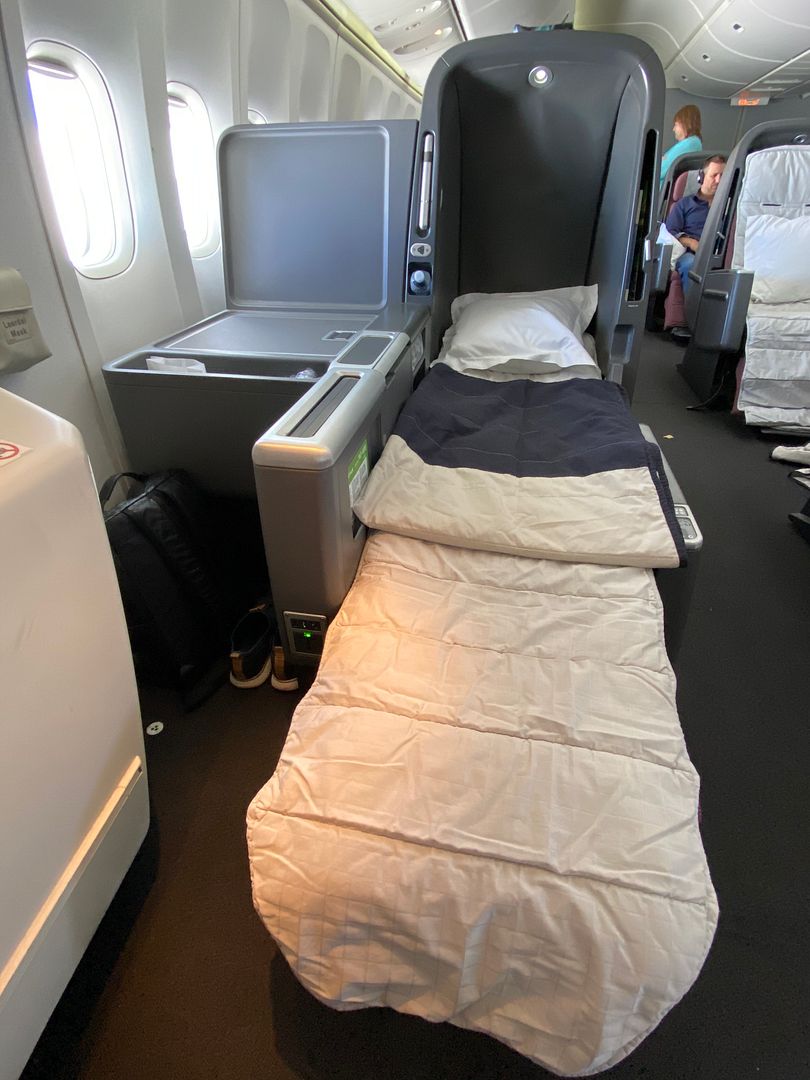 The bed was actually fairly comfortable and I slept very well for the next few hours.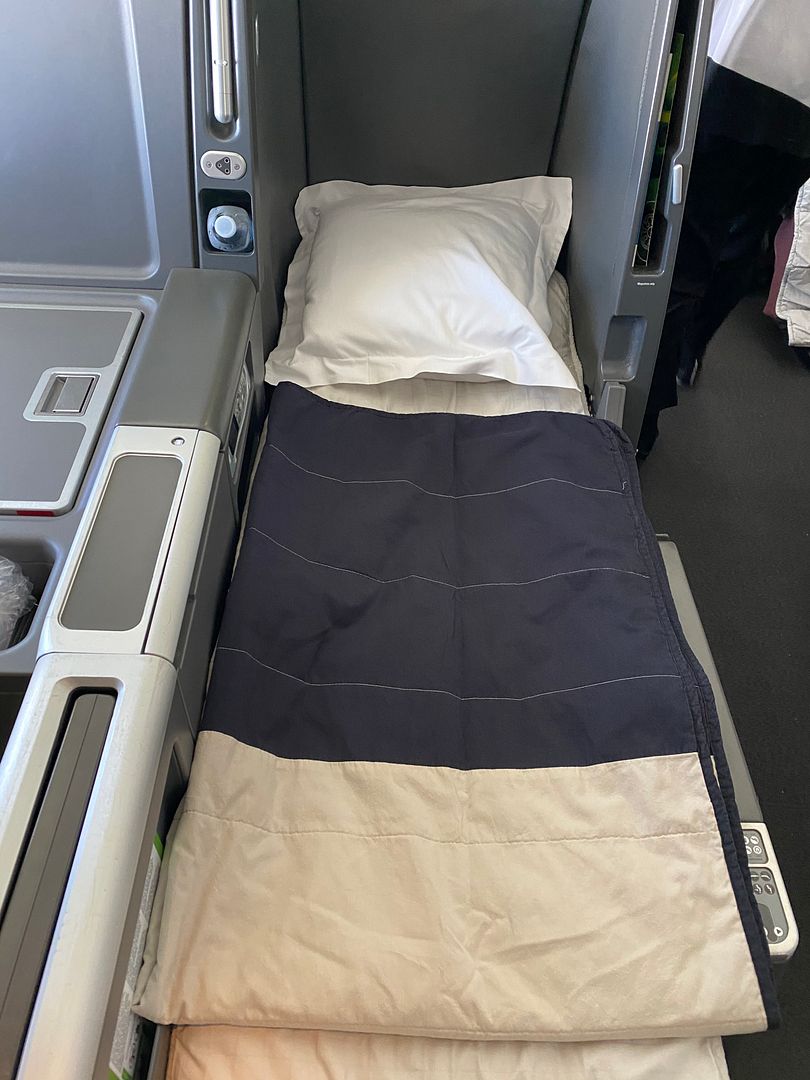 I mostly listened to podcasts for the rest of the flight, and did not really use the personal entertainment system at all. The contents look fairly typical. There is no WIFI on any of Qantas' international flights for now.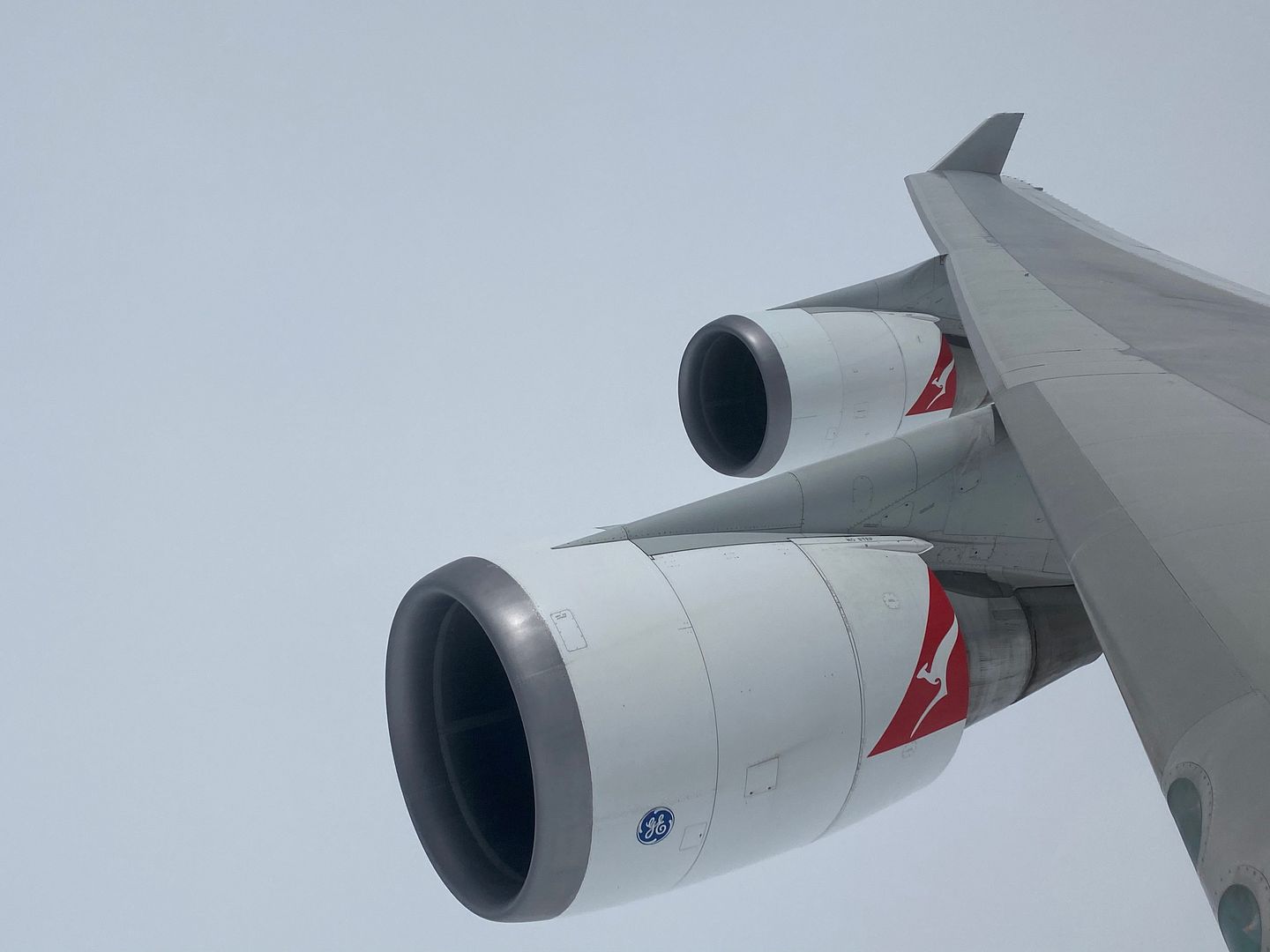 A light dinner was offered at 5:08pm Hawaii time and it was a decent three course meals with a salad starter, followed by main course, and then another dessert cart featuring lemon tart, fruit and cheese.
Dinner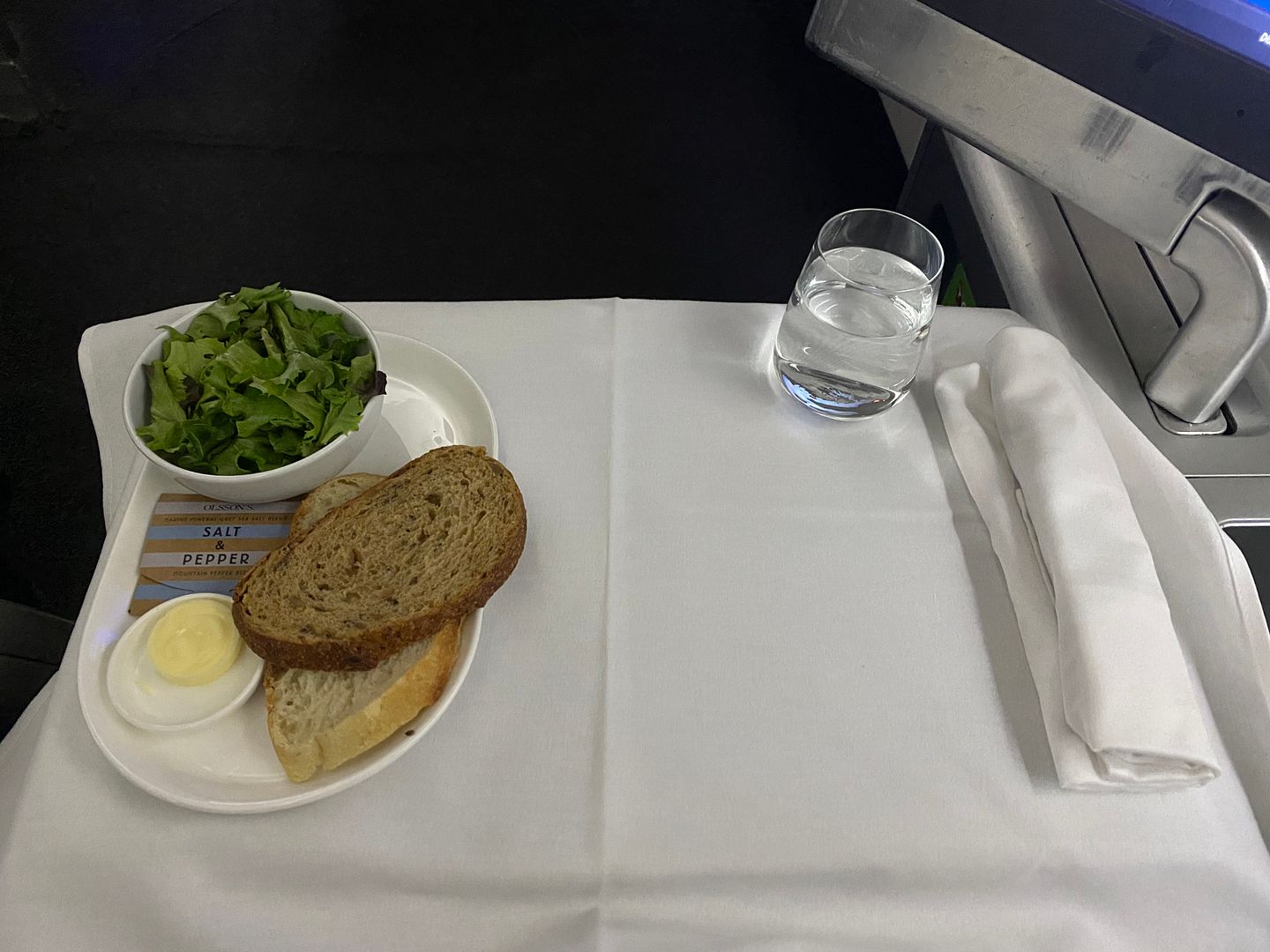 Main
Stir fried baby corn, shiitake, green beans, oyster mushroom and sweet potato noodles with soy
Tagliatelle with beef ragu, gremolata and parmesan
Toasted panini with spiced pulled pork, cabbage slaw and chipotle mayonnaise
Tomato based chicken with risoni, pancetta, broccoli and parmesan
Green leaf salad with Neil's vinaigrette
To Finish
Selection of cheese served with accompaniments
Baked lemon tart with mascarpone
Seasonal fruit
Chocolates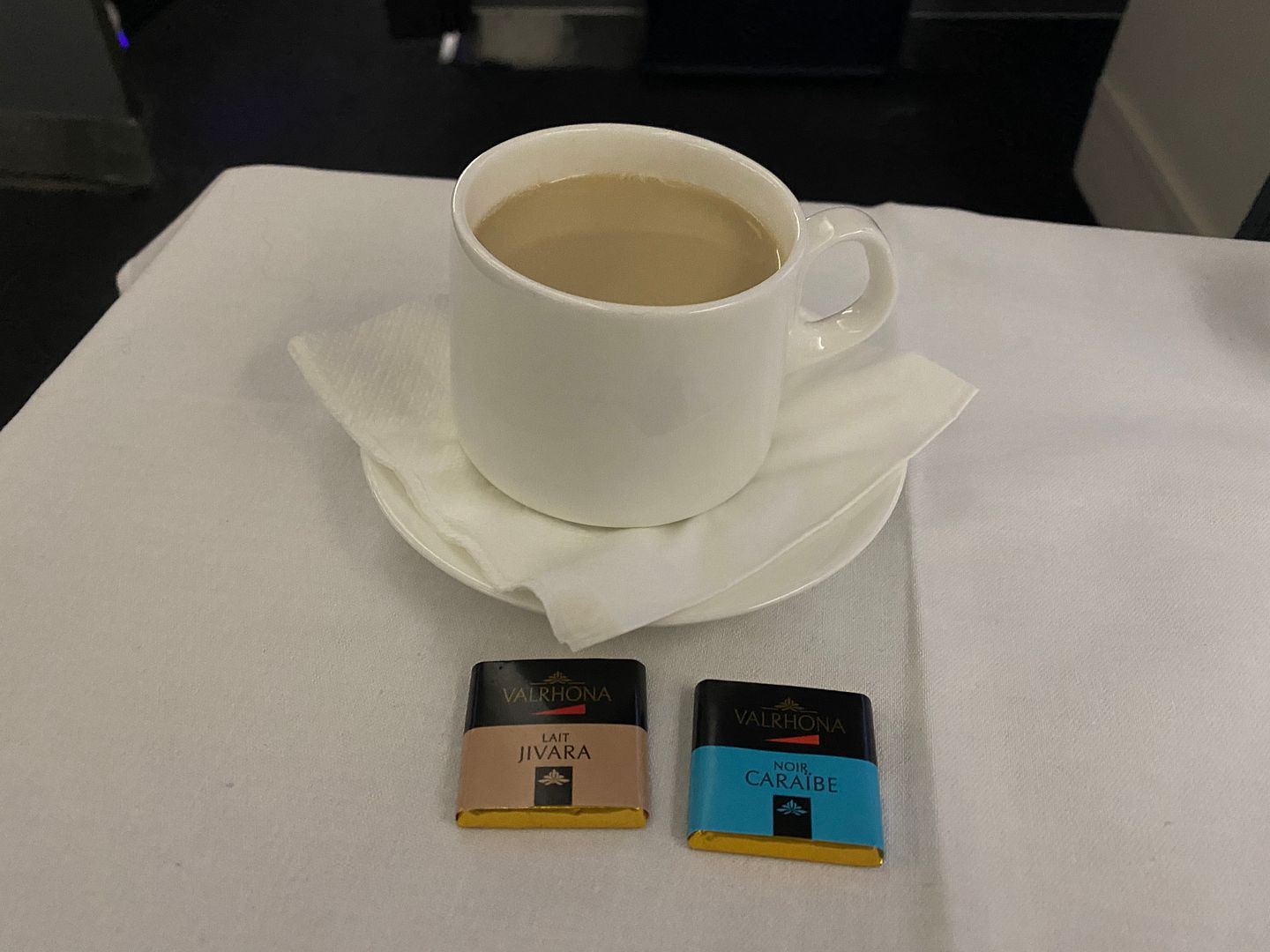 Dessert cart
Tea/coffee cart
Descent began at 3:51pm Sydney time. The weather was not that great.
Sight of land finally
We landed on R/W34L at 4:12pm. It was a short taxi to gate 32.
Another Qantas' 747-400ER next door – I think this 744 was heading to Santiago, Chile later in the afternoon.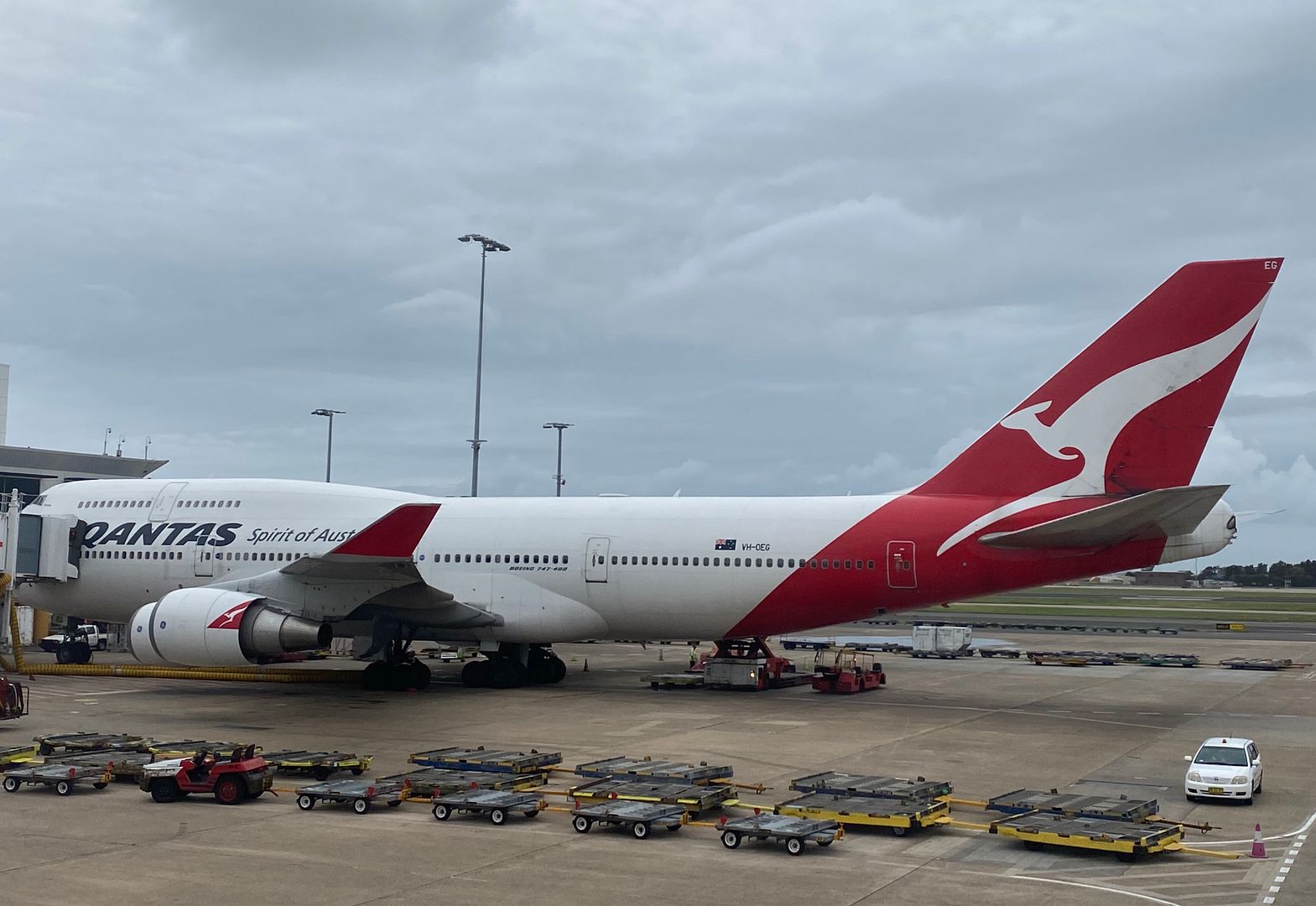 We parked at gate 32 four minutes later.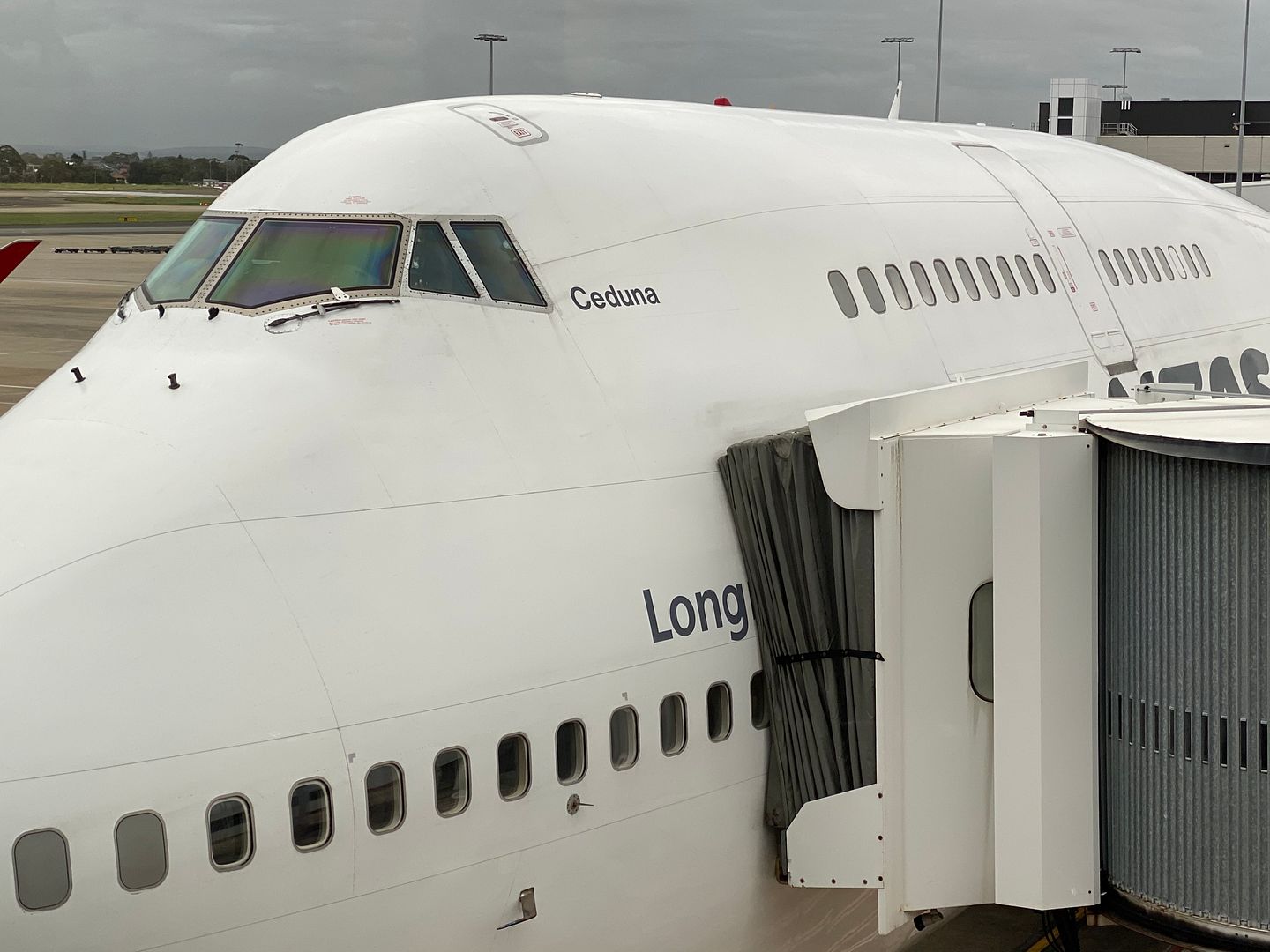 I spotted "Ceduna" being towed to the maintenance area, as I was waiting for my connection flight to Auckland.