Aloha A-Netters!
In an attempt to spread a little good cheer, I'm gonna take a stab at my first trip report.
So I've already edited up both a departure and arrival video for my trip with synced up ATC. Those will be linked below In addition, I've got plenty of pics and for the hardcore avgeeks, all the technical/tech ops details of my flight that the Captain and F/O were so kind as to give me. I also used a ForeFlight Mobile trial on my iPad to track along with the flight.
At one point the Captain had come out to hit the head as I was grabbing a snack and he jokingly told the F/A that he'd trade seats with me... The F/A asked if he was serious and I just turned to the Captain and asked if we had just gotten Direct to BEBOP or BAART. He laughed, answered "It's BAART-they gave us a good shortcut" and turned to the F/A and said "See I told ya he'd be fine"
The crews on all of our flights were absolutely outstanding!
Prelude
So I flew Hawaiian 89/90 at the end of January/beginning of February of this year-thankfully before this mess kicked off in earnest. The flights are the longest US Domestic flights and the longest domestic flight in the world
BY TIME
on the westbound HA89 sector. The flight times can equal
or beat
the Air France and Air Austral flights that fly CDG/ORY-RUN.
I've been very fortunate to have flown Hawaiian 3 times previously using their convenient partnership with jetBlue to connect on HA51/HA50 out of JFK and I've also taken the UA service out of EWR. Traveling to Hawaii for my family and I prior to this nonstop flight coming to Boston required a 2:30-3:15am wake up call to be at the airport by 3:45-4:15 for the earliest (usually ~5:15-5:45am) flight to JFK/EWR so as to not take a chance on connection times. This amazing nonstop service saved us about three to four hours of travel time and allowed us to get some extra sleep which made a huge difference (or at least seemed to) in jetlag/adjusting on our arrival into Honolulu!
Here are the YouTube videos of our departure from KBOS and our arrival to PHNL. I synced the ATC on both of them.
HA89 Full Departure to 14000'
https://youtu.be/bZ6-hq0j6xo
HA89 Arrival to PHNL
https://youtu.be/2-XcnFpuyN8
As a full disclaimer, my YouTube channel is just for fun, I don't monetize it and I don't intend to.

Here are all the avgeek-y nitty gritty details of the flight!
Technical Details
Hawaiian 89
KBOS-PHNL
HAL89/HA89
24 January 2020
N361HA/MSN # 1823 "Hoku Mau"
A330-243C (I noticed this -243"C" on the MCDU when I visited the flight deck and while I figure it's a weight/engine combo variant-perhaps HAL or one of the other folks that seems to know a lot about HA could clarify if they happen to see this report?)
Distances
Actual: 4,494 nm
Planned: 4,477 nm
Direct: 4,425 nm
Route: HYLND5 HYLND HANAA Q816 HOCKE BAE MCW ONL LAR TCH BVL SAC FARRA BEBOP R464 BAART R464 BITTA MAGGI3/466KTS 36000FT
Actual Routing:
HYLND5->NHANT->Vectors 42.583/-70.75 DIR->HYLND HANAA Q816 HOCKE DIR->ONL LAR TCH->DIR SAC->DIR BAART R464 BILLO R464 BOARD R464 DIR->BAMBO->Vectors Visual 8L PHNL
Flight Times
Out: 1407Z Terminal E, Gate E5
Off: 1424Z
On: 0114Z
In: 0117Z Terminal 1, Gate C2
Air Time: 10:50
Block: 11:10
Weights/Performance
Cost Index/Cruise Mach: CI20/.795M
ZFW: 310800
Block Fuel: 145700
TOW: 456500
PLBRN: 128700
Takeoff/Climbout Data
RWY: 04R KBOS
SID: HYLND5 w/vectors for spacing
Flex Temp: 52C
T/O Config: Flap 1+F
V1:148
VR:148
V2:153
Thr Red Alt: 1030
Accel Alt: 1030
Cruise Info
Filed Altitude: FL380
Initial Cruise Altitude: FL360
Stepped to FL380 @ ONL
Final Cruise Altitude: FL380 final
GPS Altitude via ForeFlight: FL400
Shortcuts
Direct HYLND from vectors, Dir>ONL, Dir>SAC/FARRA prior to TCH @FL380
Descent, Approach & Landing Data
STAR: MAGGI3 via DIR>BAMBO @ 10K
Approach: Vectors from BAMBO to Visual Approach 8L
Runway: 8L PHNL/Unable LAHSO
TOD @ Waypoint: ~ 15nm prior to BITTA
LDW: ~328500K
Config: Full
Vapp: 135 low additive due to T/W
Vls/Vref: 132
With the extra avgeek-y details out of the way, let's get into the meat and potatoes... Erm...
I mean Kalua Pork and Potato Mac Salad ('Ono!)
Arrival to the airport
N361HA arrived to KBOS at 0544L/1044Z on 1/24/2020 as HAL90/HA90. A friend of mine from the Aviation Photography Boston Facebook Group works on the ramp and got some great shots of the plane for me-in fact, the first one of them below is the cover of our Hawai'i Photo Book (courtesy of Hawaiian Airlines and Shutterfly!)
N361HA resting at Gate E5 at KBOS as the sun rises on January 24th, 2020.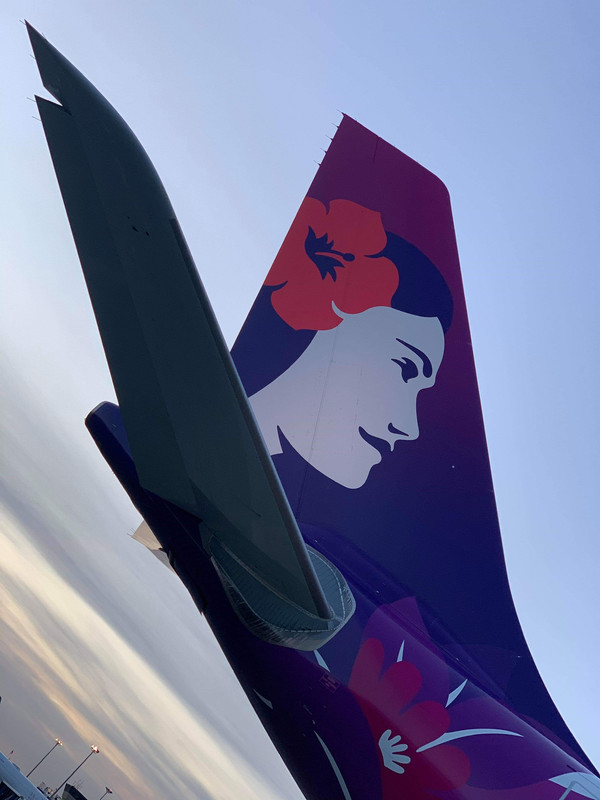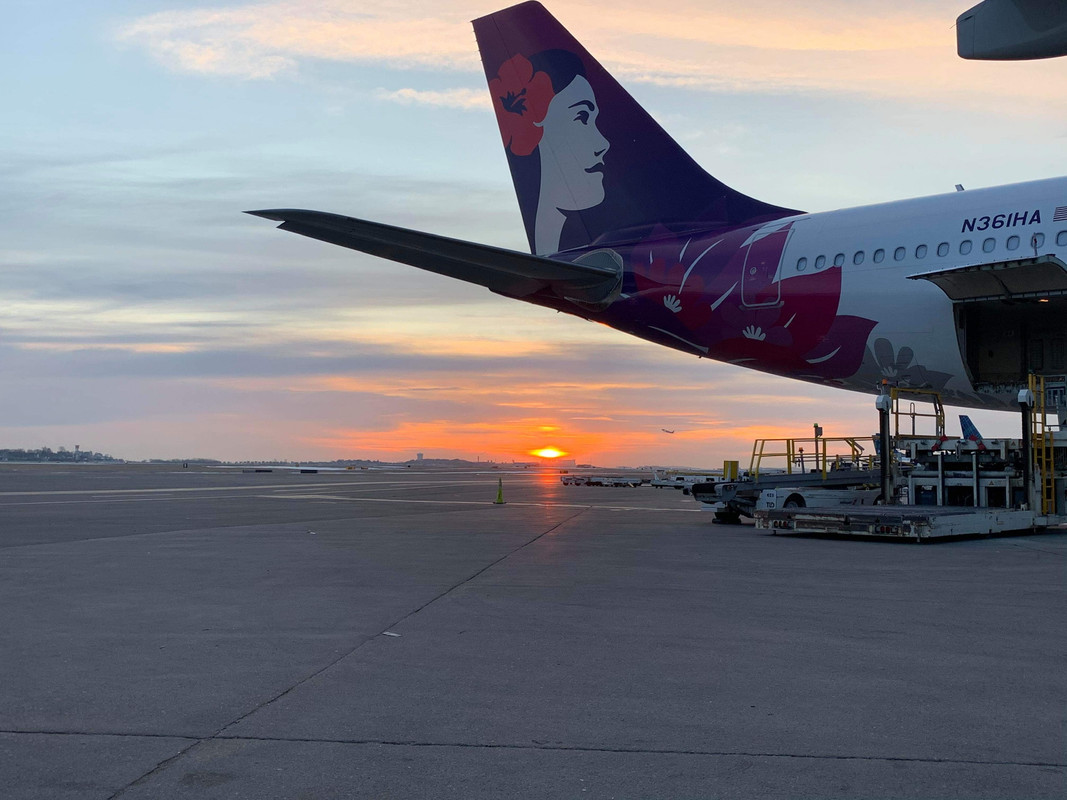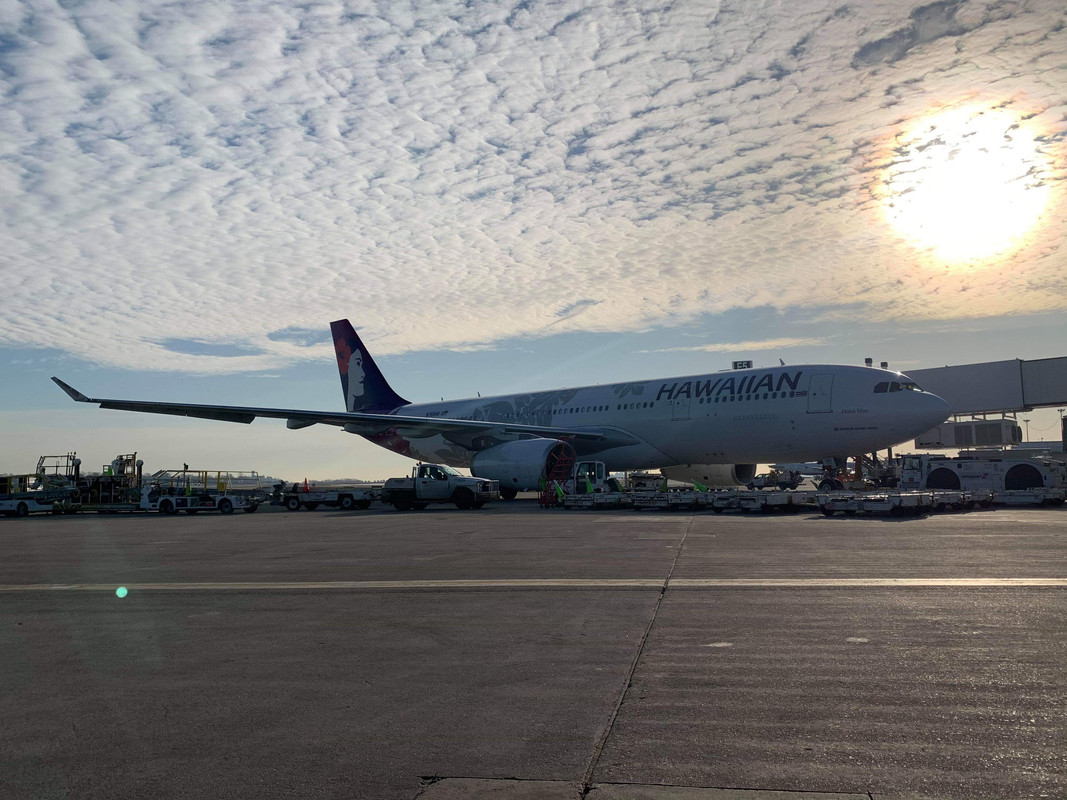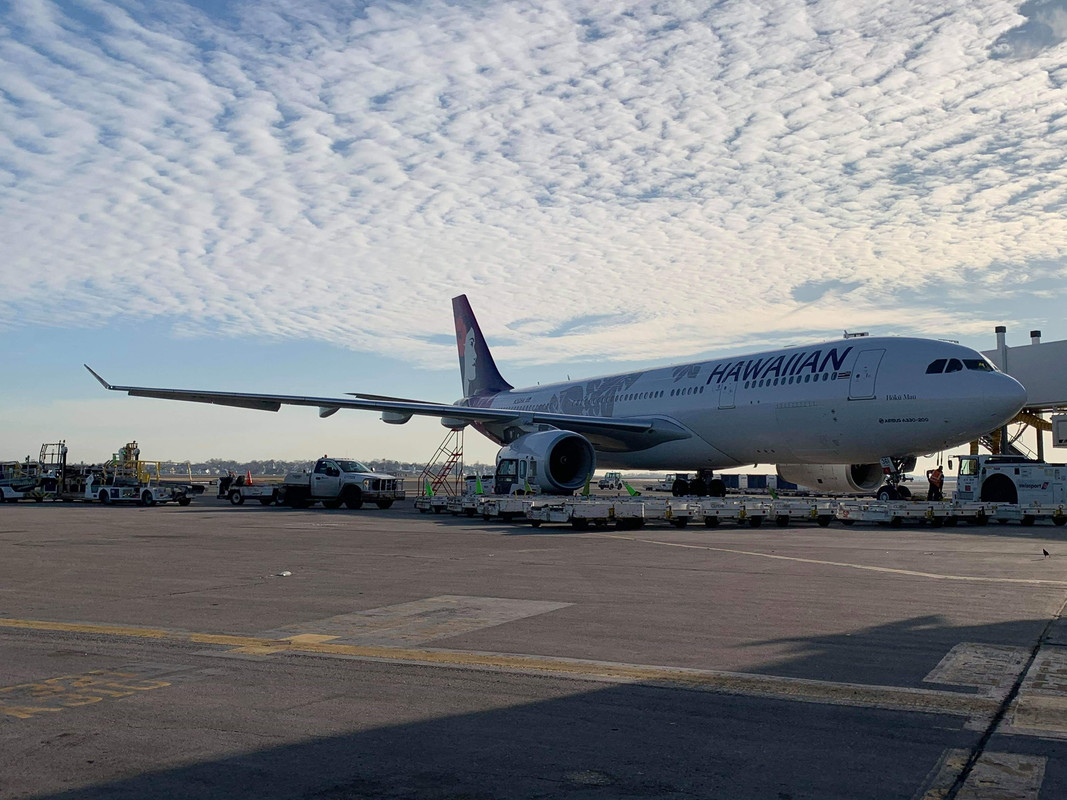 The preceding few and other select pictures from the ramp in Boston are courtesy of Kevin Neri-his IG is:
https://instagram.com/kevin.aerographs? ... 0ko26tq7yx
As I mentioned before, the nonstop allowed us to sleep in quite a bit more-almost 4 hours in fact. We woke up at 6:30am EST, left the house at 7:05 and were at the airport by 7:18 with no traffic!
Here's the obligatory "Hawaiian Airlines sign" pic outside Terminal E at 7:30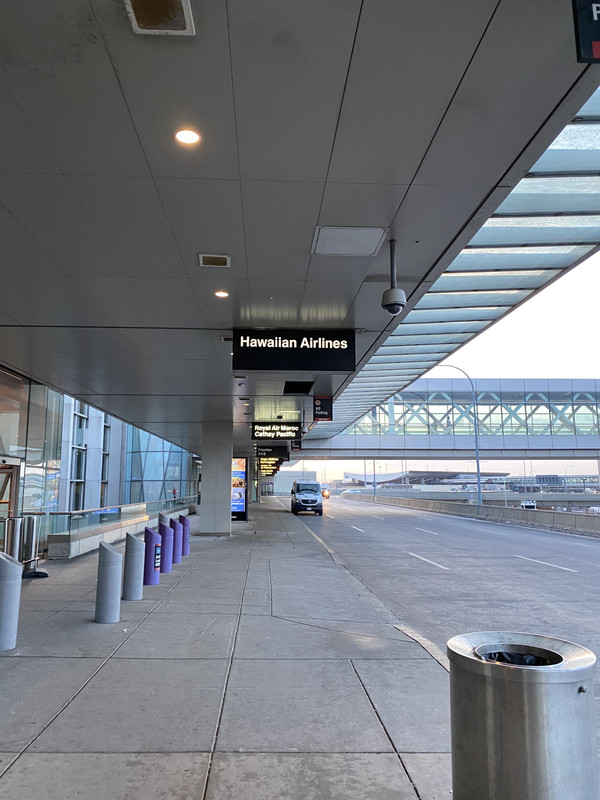 The security line was nonexistent at a quiet Terminal E for a Friday morning, there's a few other flights that depart between 7-9am. A BA 772 and VS A333 depart to LHR between 7:45 and 8:30, then there's a Copa Airlines flight to PTY around 9am. However quiet the terminal was, the Starbucks line was still out of control and we got breakfast at Stephanie's in terminal E where it was clear the servers were overwhelmed. It took 35 minutes just to get a coffee and I had pics to take! My wife says I'm like a 2 year old in an airport but I don't care! There's plane spotting to be done and LiveATC to listen to!
Here's a shot of "Hoku Mau" just before boarding and the gate area at E5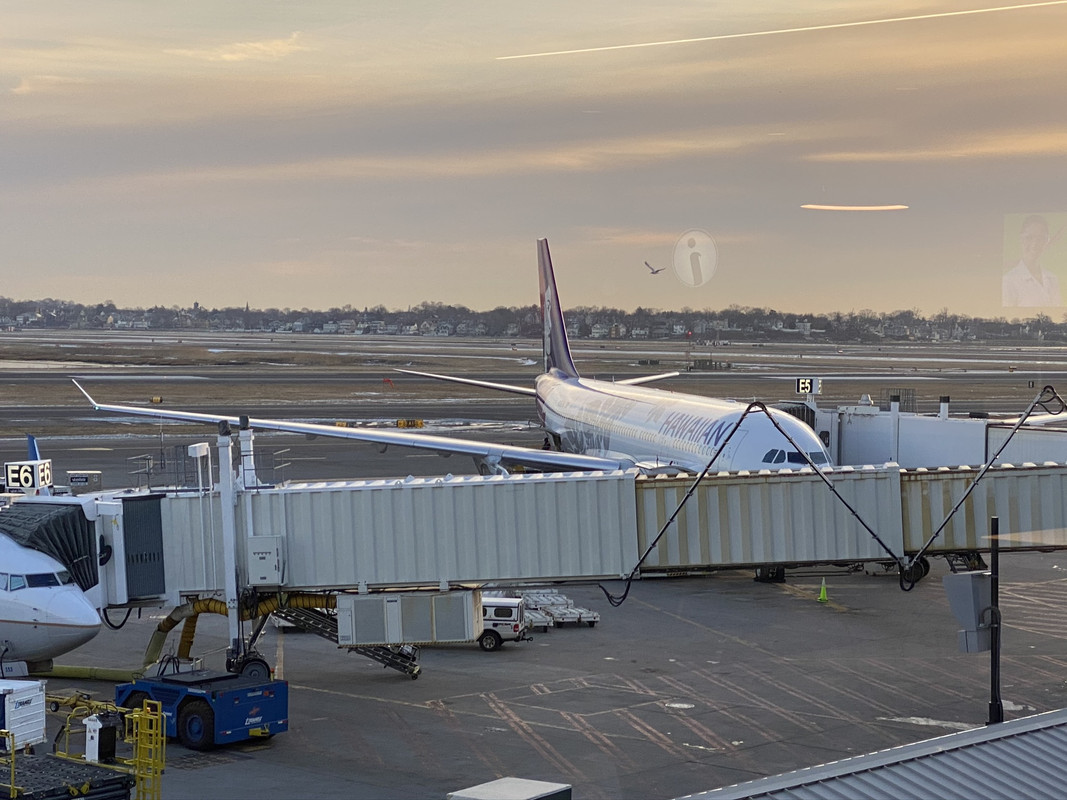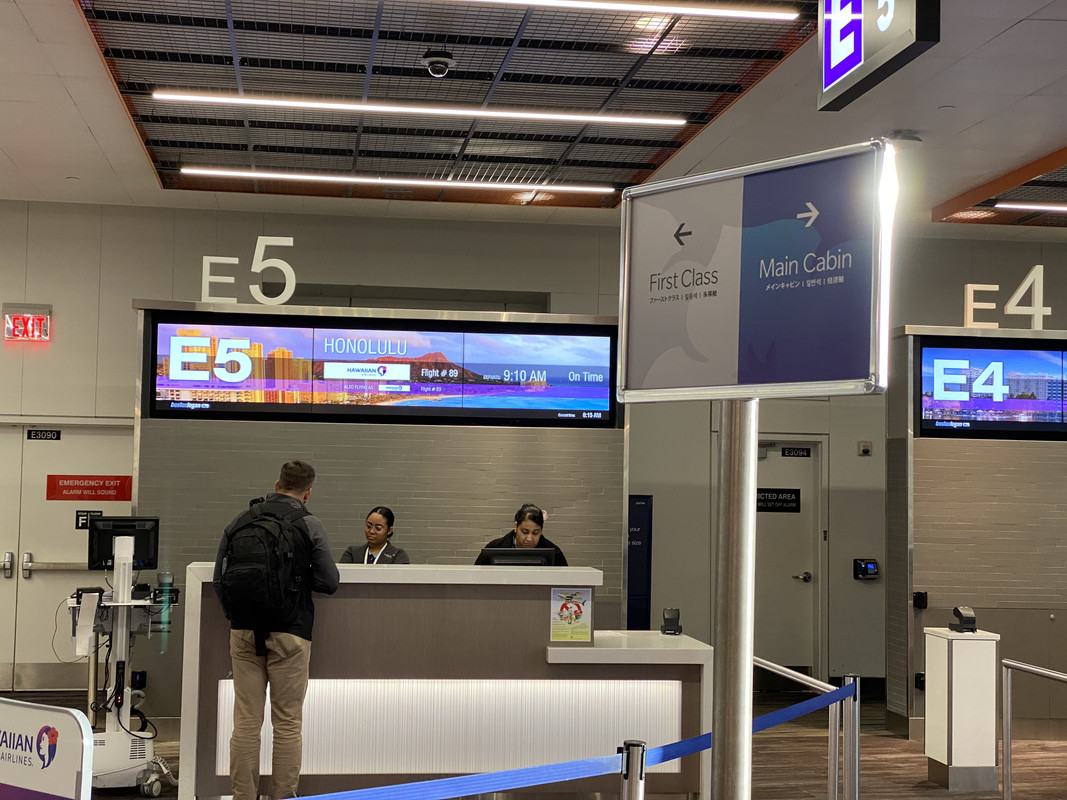 We pushed off blocks at 1407Z/0907L/0407 HST and began to taxi out.
Here's another great shot from Kevin as we began our taxi our to 04R. This is still from a video where he caught the flight control checks (and us missing our turn to A1) check out the full video of the departure linked above for more!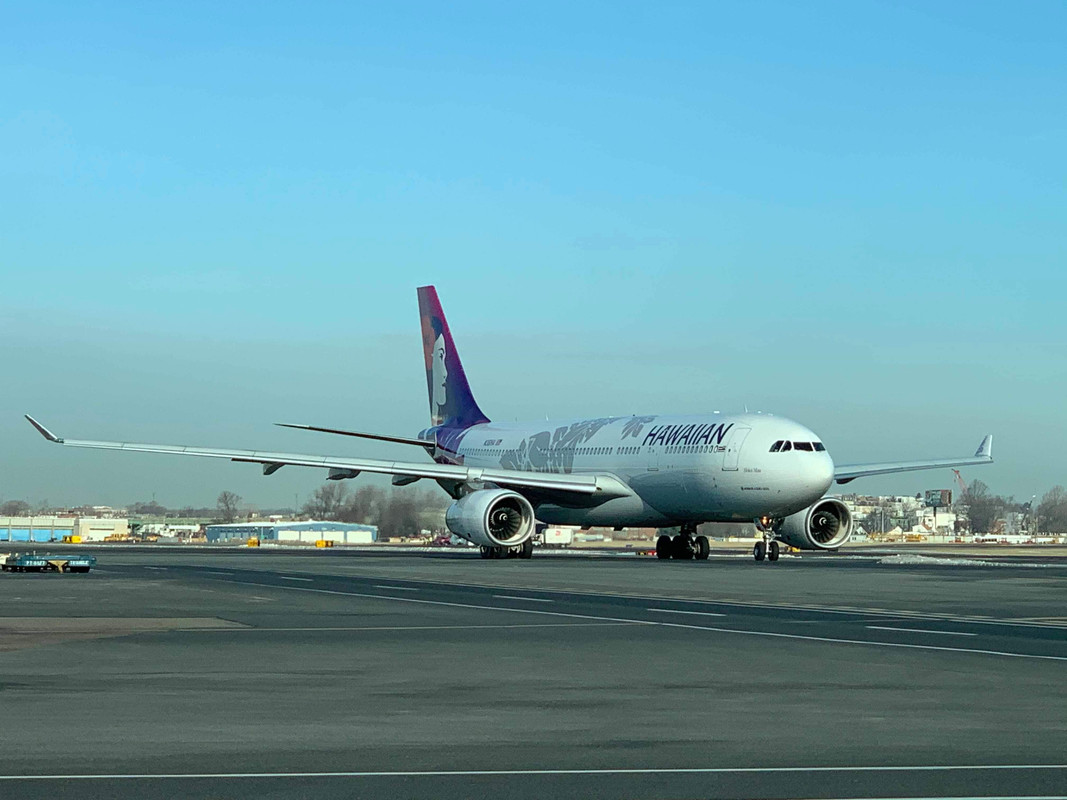 Here's a shot Kevin got when we were stopped waiting for airport staff to check our wingtip clearance on the jetBlue terminal. Zooming in you can just barely make out my hand waving to Kevin directly underneath the second "A" in "Hawaiian"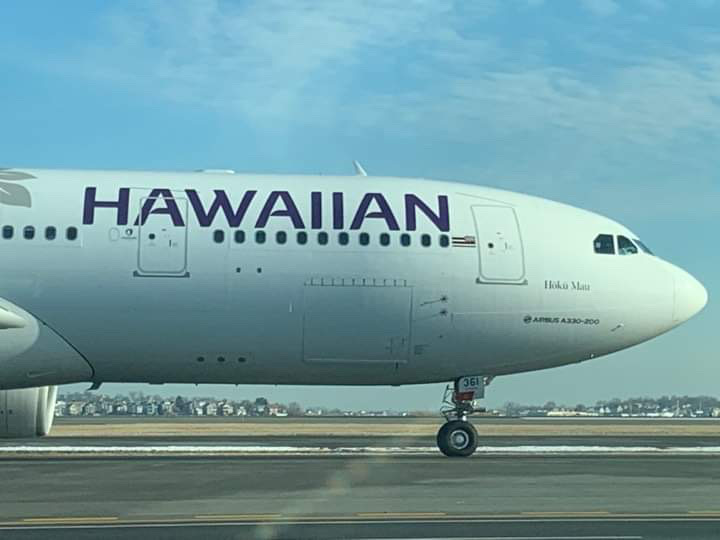 A view shortly after takeoff from 04R at BOS, we had just turned toward HURBE on the HYLND5 departure. After the turn, we were given some vectors for spacing and a 250kt speed limit up to about 14000' for traffic in front of us.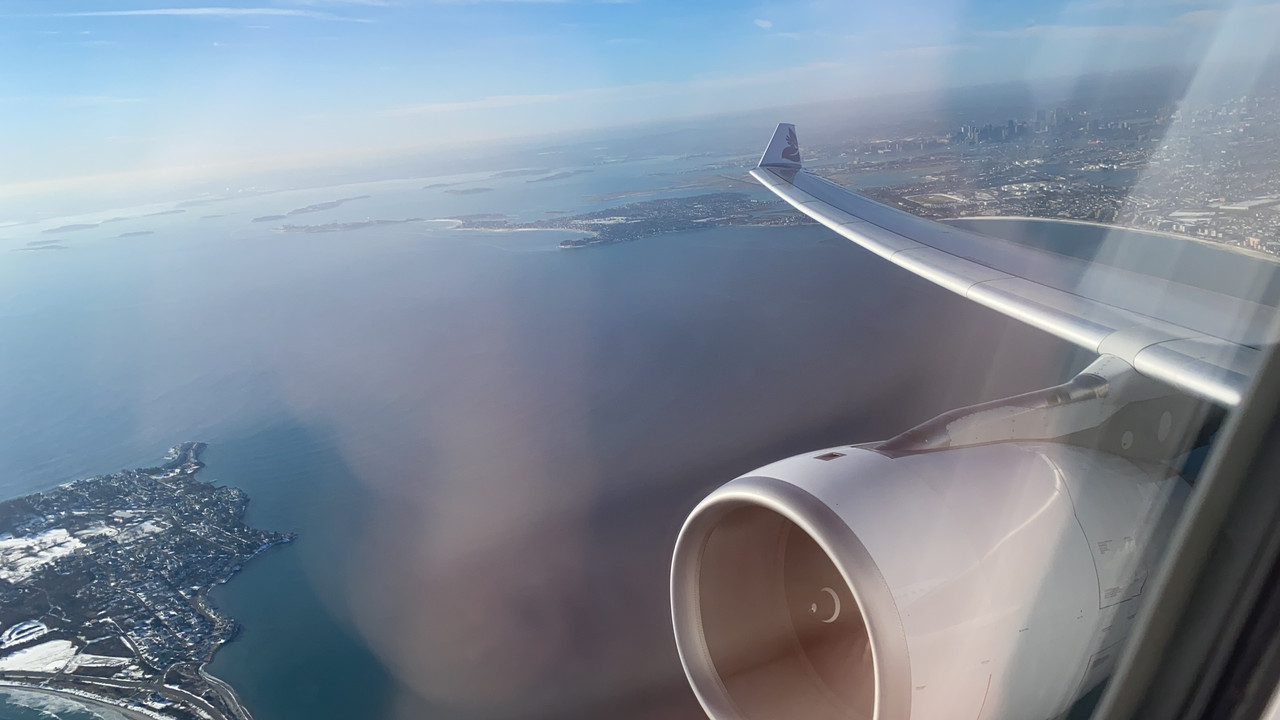 Just reaching initial cruising altitude of FL360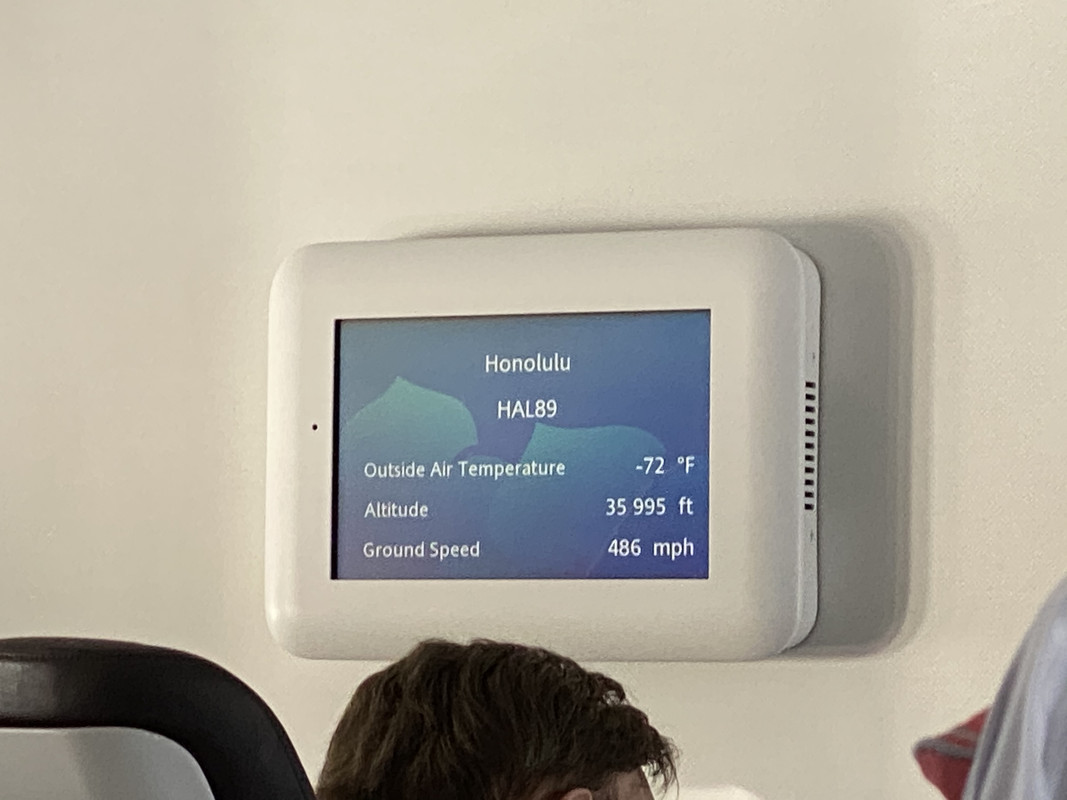 A few of the first pics I got of the air show on our way to HNL. The IFE iPads were ok, but I really like having the air show right in front of me, that's why I used ForeFlight for my own "air show"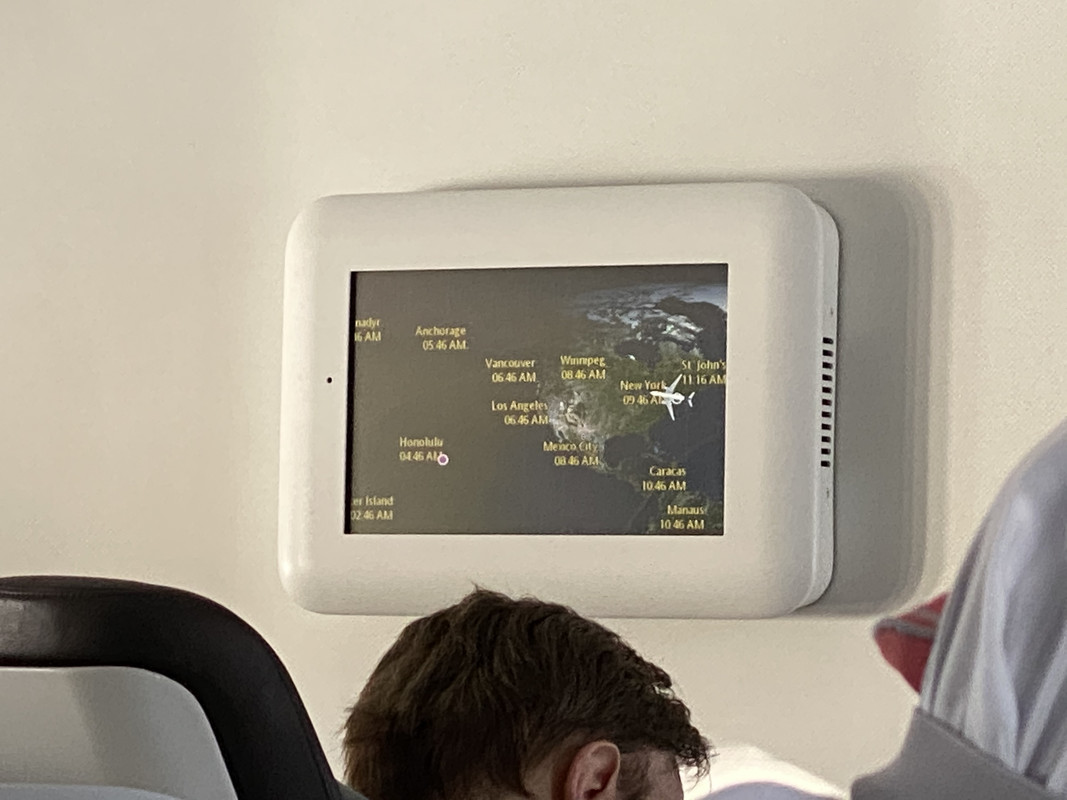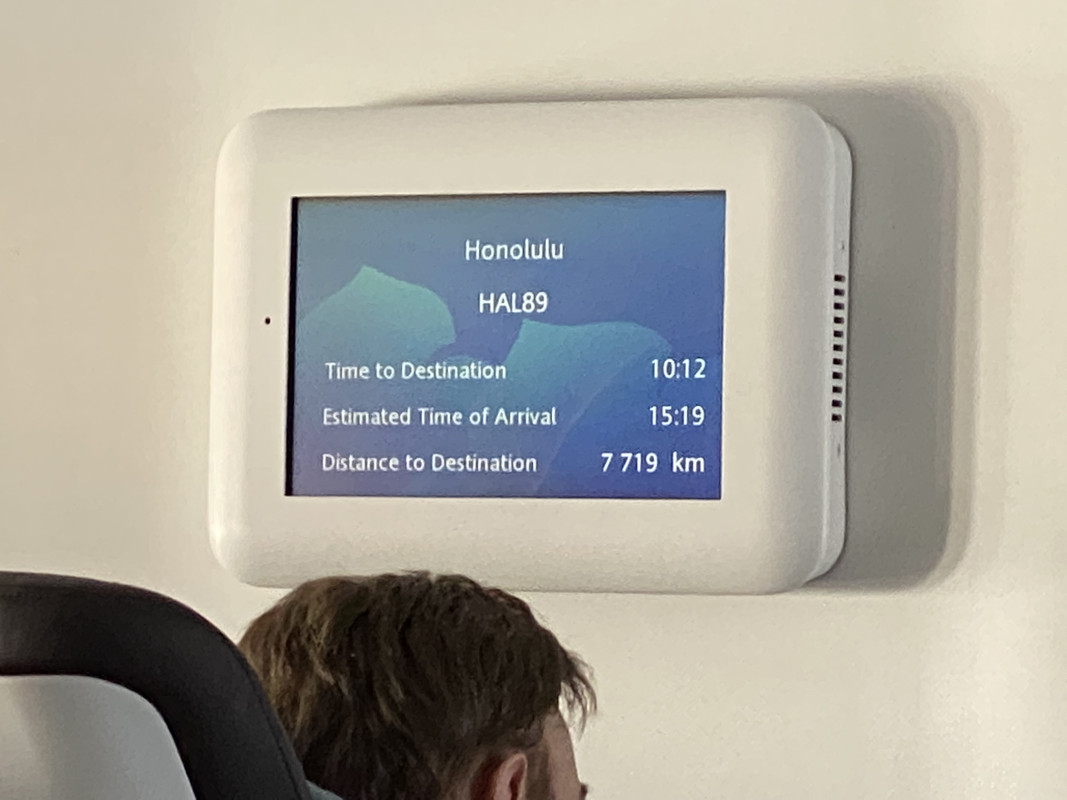 After departure drink service POG juice (my absolute favorite-I probably drank two gallons while we were in Hawai'i!) with macadamia nuts.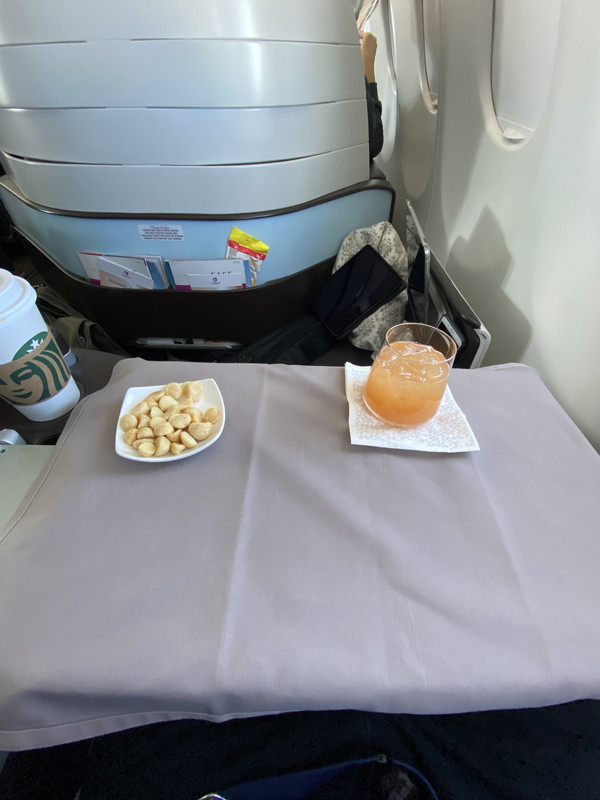 Lunch service on HA89: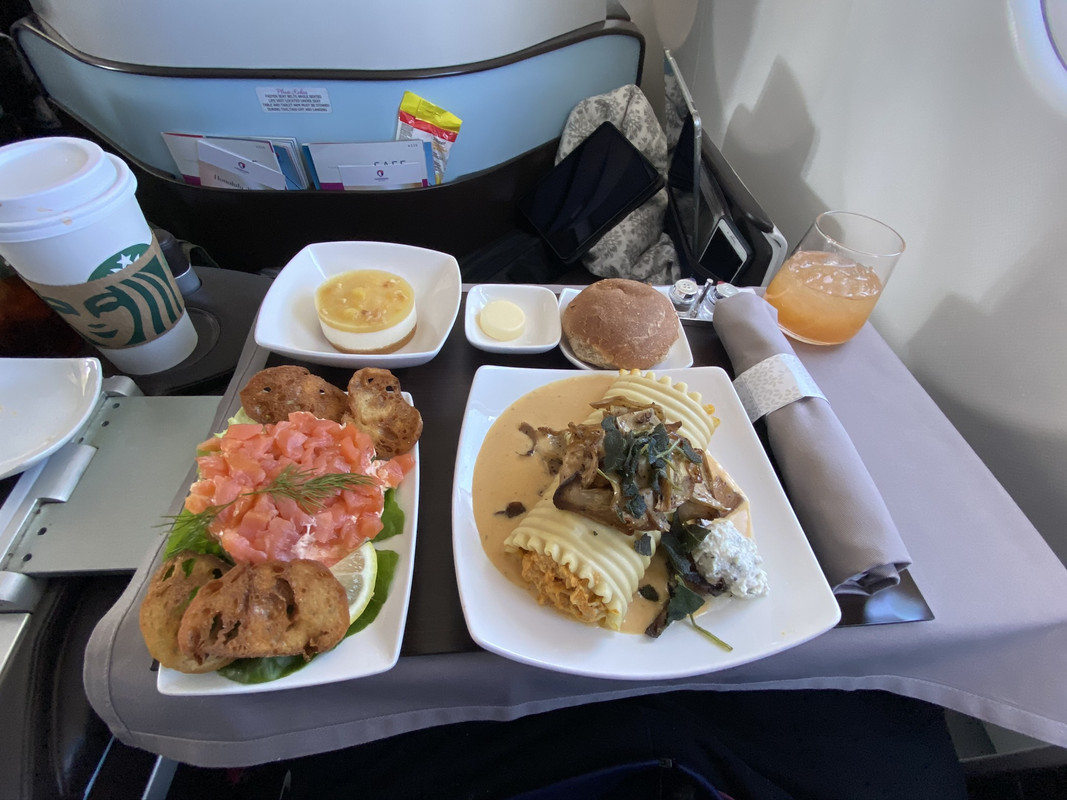 The starter was a Salmon Terrine over potato salad with Lomi tomatoes-it was delicious. The main course was a Creamy Chicken and Pumpkin Lasagna with a Miso Parmesan Cream Sauce also amazing and very filling. The dessert was an out of this world Pineapple Vanilla Shortcake (good thing my wife didn't want hers! I could've ate about 6 of those bad boys!)
Thinking back on this, I'm not quite certain why Hawaiian serves lunch as opposed to breakfast/brunch on the east coast flights with their flights departing either at 9:00am or 10am for JFK. Lunch was served at about 10:15am eastern time, just about one hour after takeoff. That would make the meal period 5-6am Hawaiian time. It seems Qantas is doing "time at destination" meals on their "Project Sunrise" research flights. To me, it sure seems like it would make more sense to have folks eat breakfast coming out of the East Coast and then get some rest. It's basically a super early breakfast for Hawaiian time and a fairly normal breakfast as far as East Coast/departure city time-but what do I know? I'm just an avgeek and the meal was amazing either way! ;-p
After lunch, the lights were turned down and the mood lighting was turned up, Hawaiian has some great colors that totally capture the island vibe!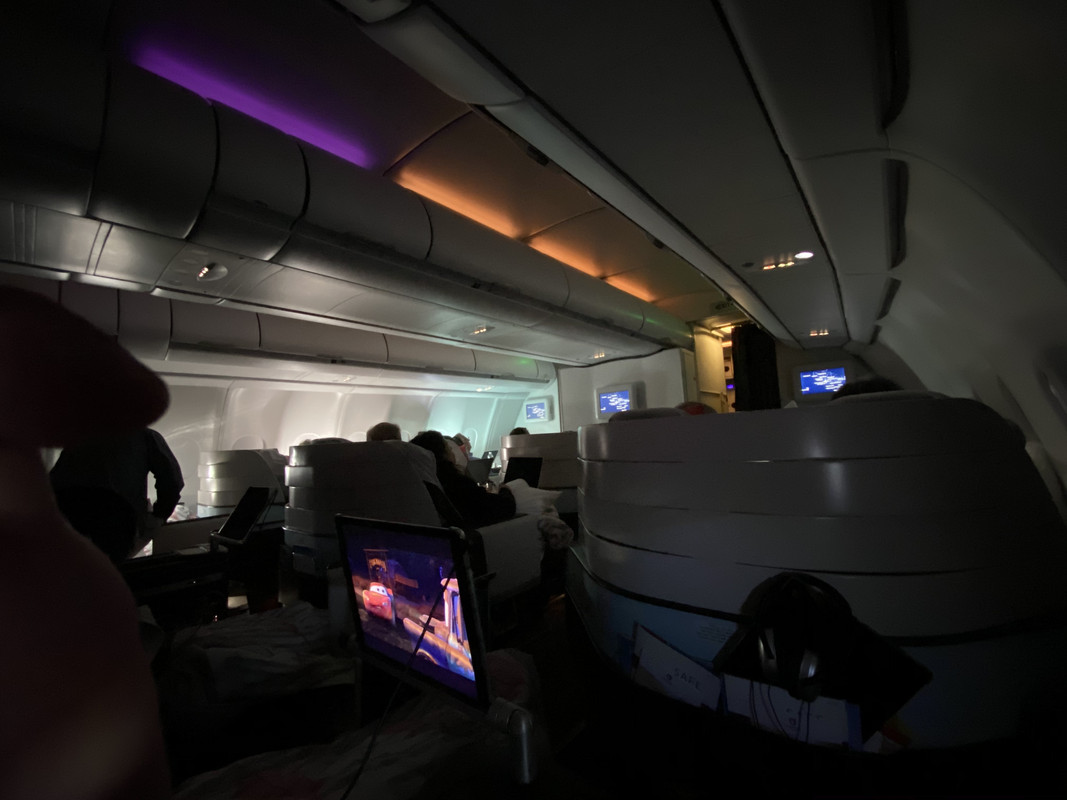 The constellation Makali'i which was prominent in the sky on Hawaiian's first flight over 90 years ago is represented in LED lights at the back of the first class cabin. Makali'i is also the name of Hawaiian's first A330-243, N380HA MSN # 1104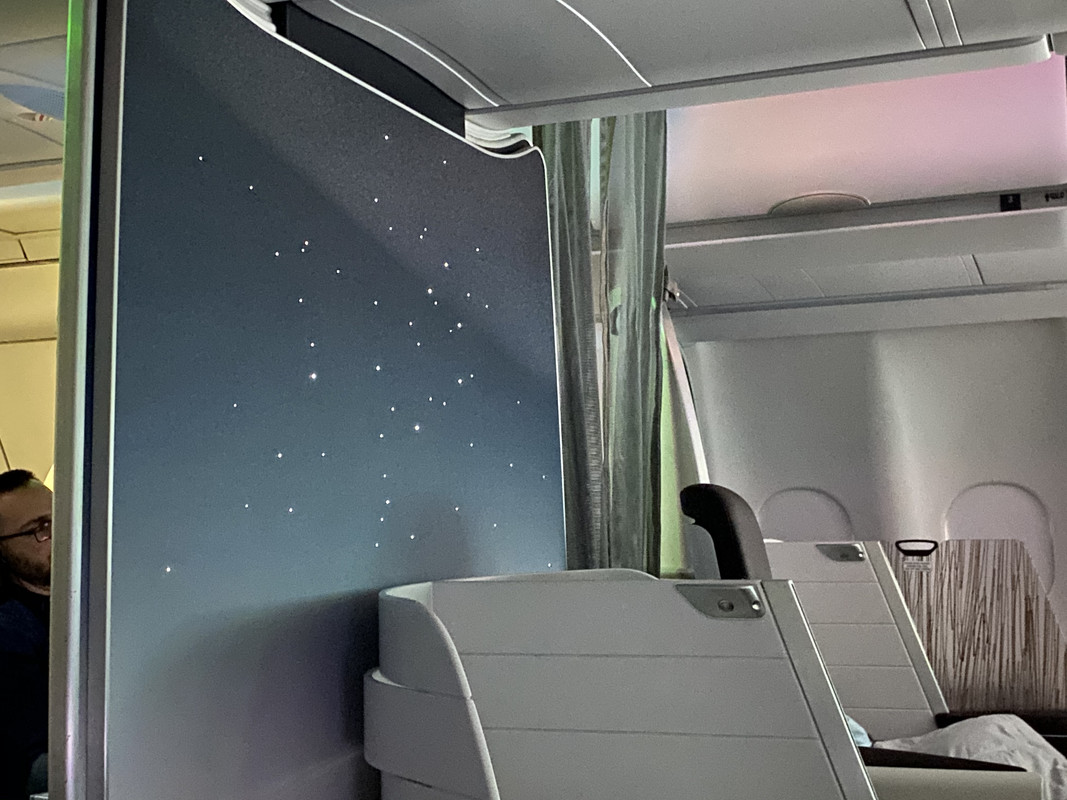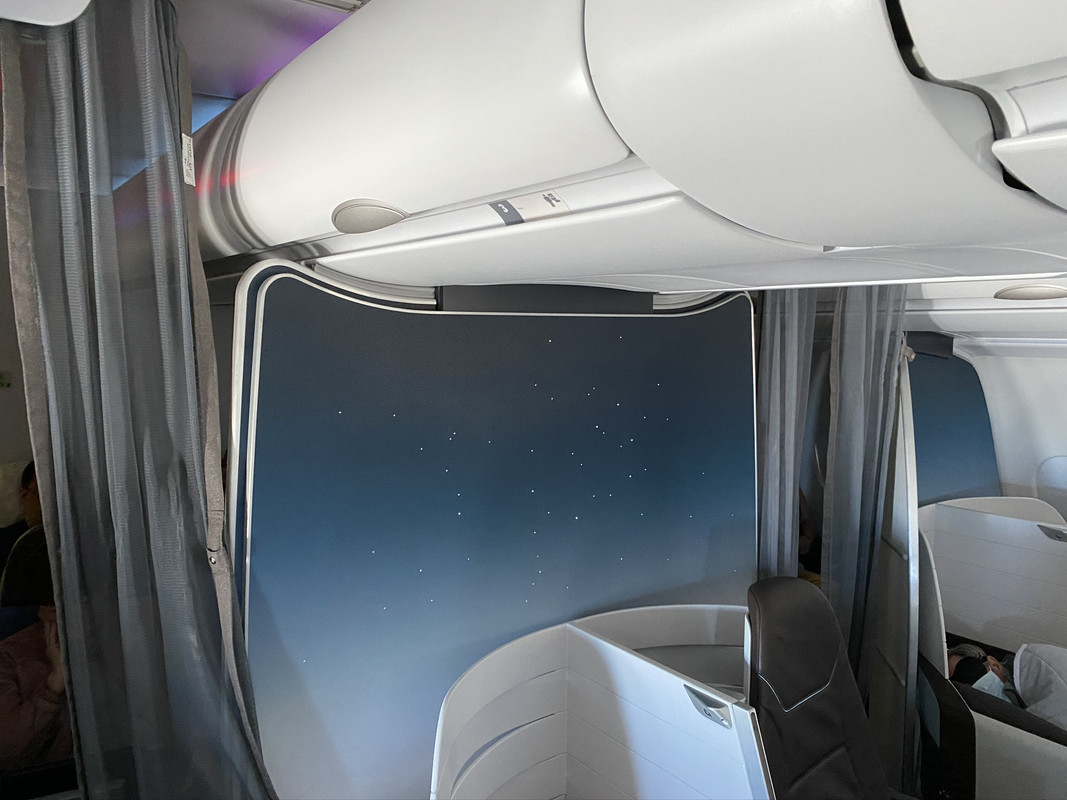 Seat 3J in Hawaiian's First Class Cabin. BOS and JFK First Class passengers get "international" style treatment due to the length of the flights. It includes a mattress pad, extra pillows and amenity kits. Very nice touches! The seat is very comfortable though many complain it lacks "adjustments" I was able to find a good "lounging" position and even able to sleep for a few hours although I generally have a hard time sleeping on planes because I'm usually too excited to be flying!
In addition, I was traveling with my wife in 3H. She's about 5'7" and I was able to exit and re-enter my window seat via the "courtesy aisle access" gangway without disturbing my family in front of me or bumping into her feet on the ottoman.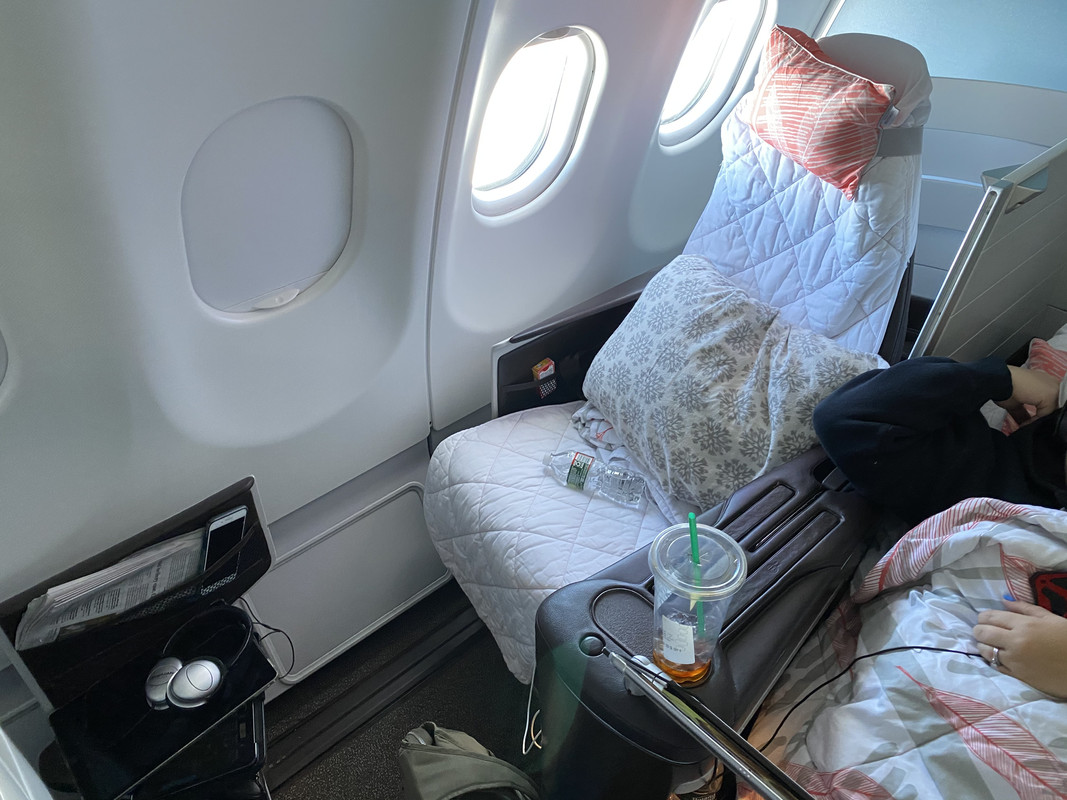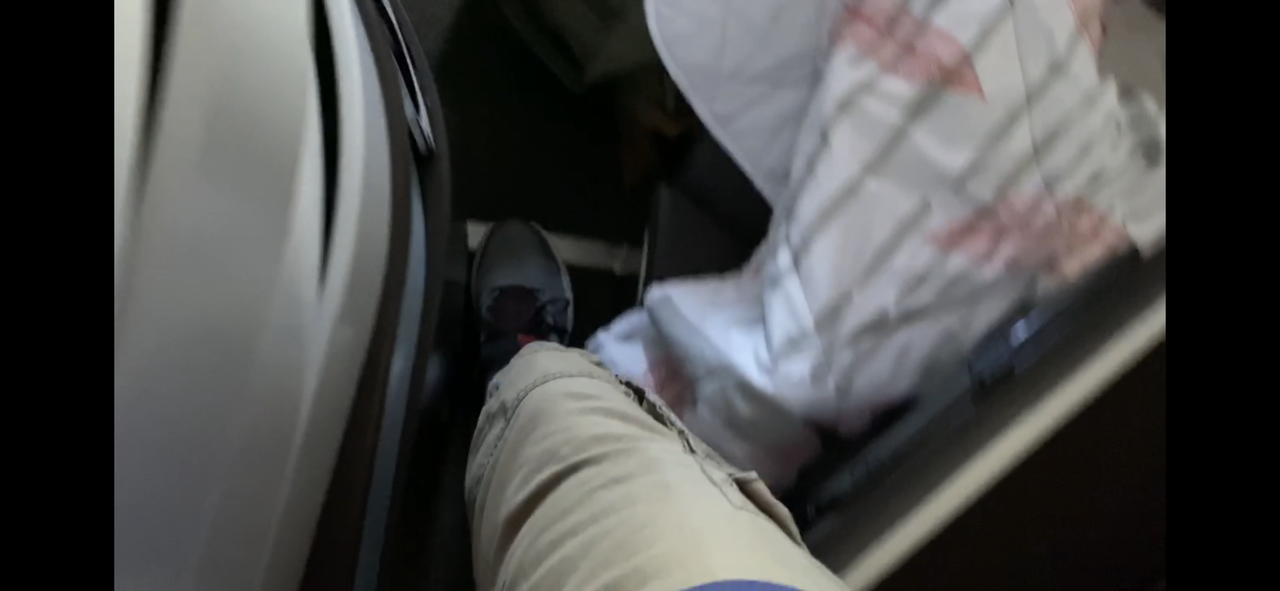 This is the privacy divider I put up when my wife decided to start laughing her head off at whatever movie it was she was watching at the time ;-p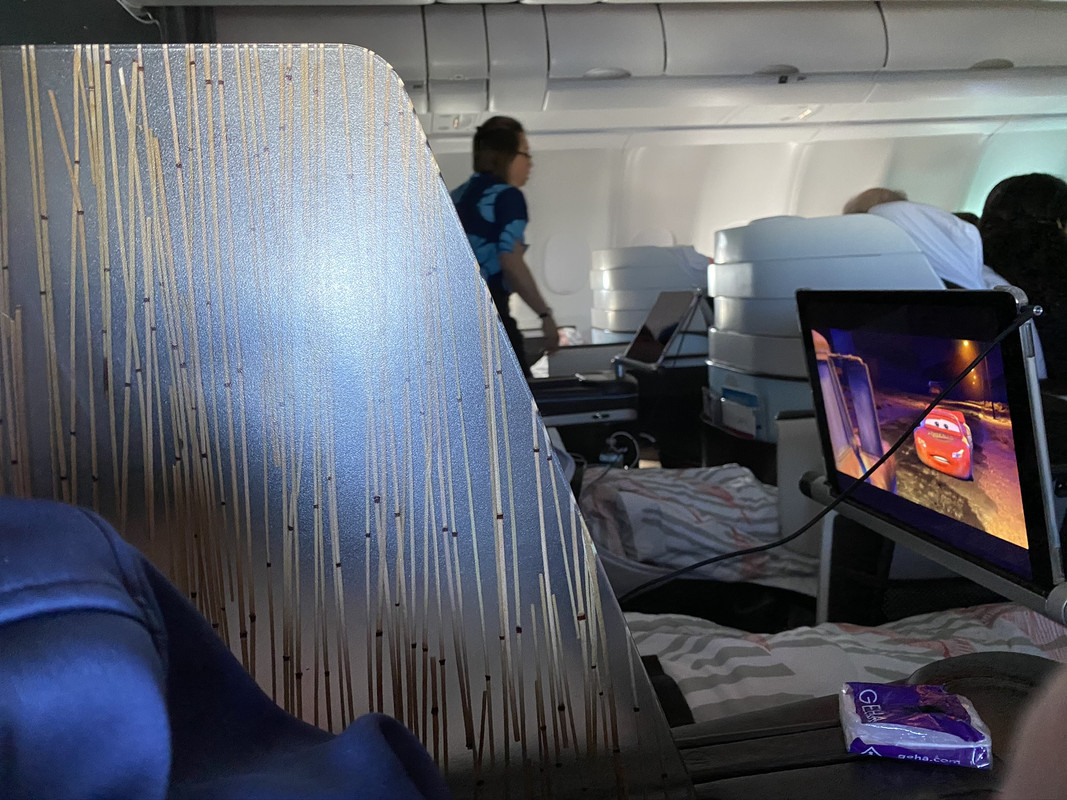 This is a shot from just southwest of SLC as we were coming up to we intially got direct to SAC prior to BVL and shortly thereafter got the direct to BAART which meant I couldn't quite get the pics I wanted of the Bonneville Salt Flats-it was cloudy for most of the trip including as we crossed the California coast just north of Oakland and San Fransisco.
Crossing into California just past Lake Tahoe. You can see Lake Tahoe, South Lake Tahoe airport and the gorgeous views of the Sierra Nevada range. We had already been given Direct->BAART at this point which was a great shortcut-stopped us from having to route via TCH-> SAC->FARRA->BEBOP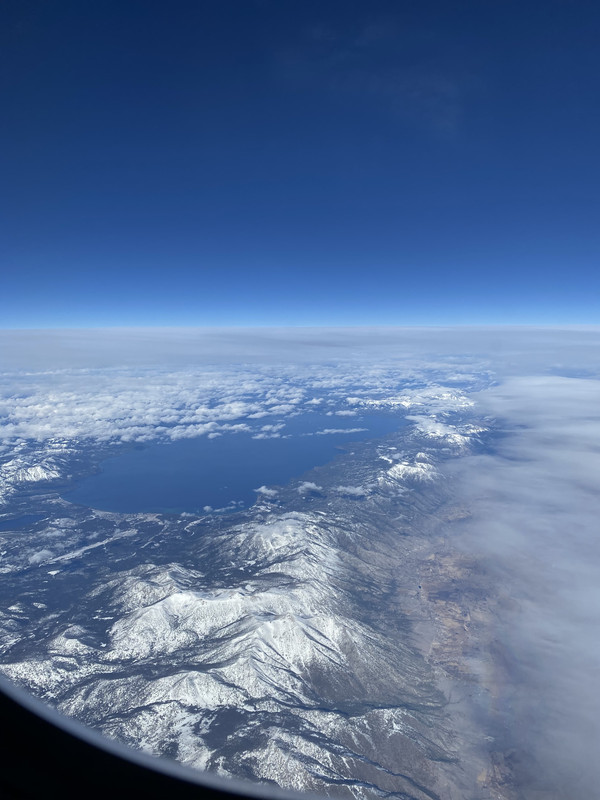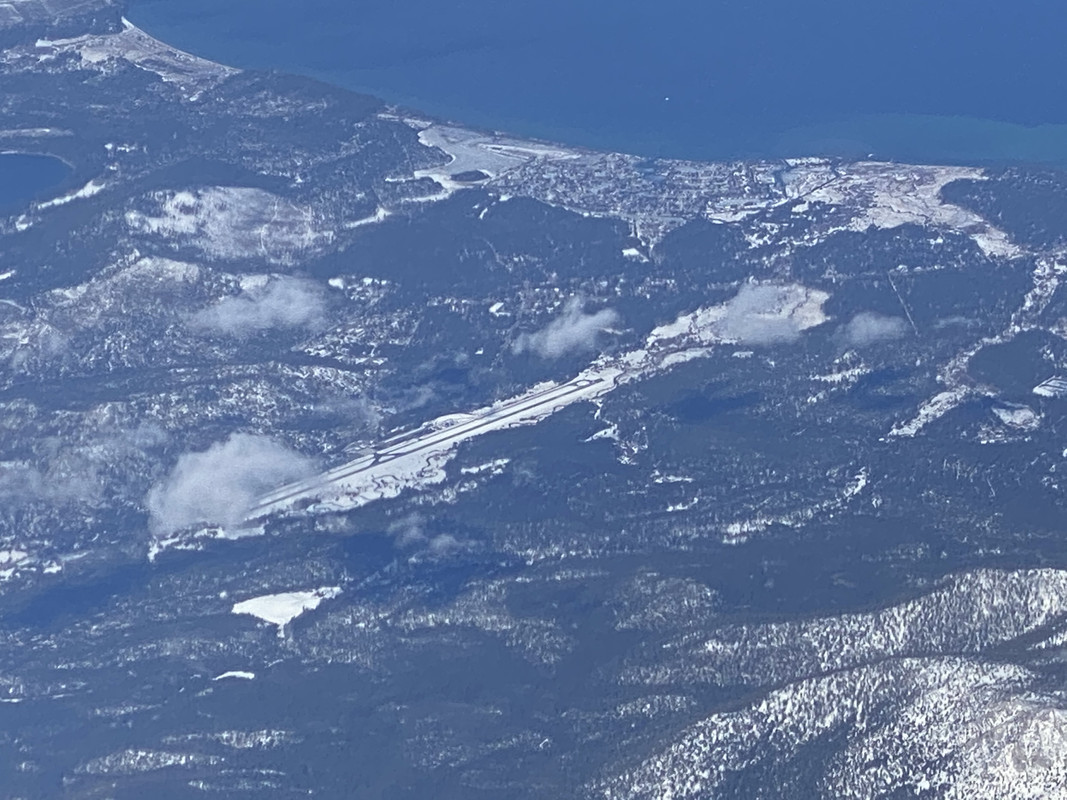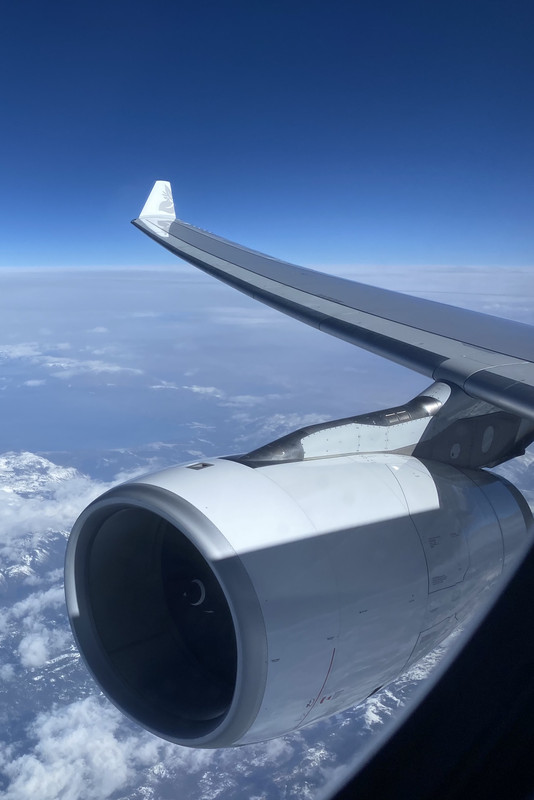 Here you can JUST BARELY make out the California coastline in between the clouds as we began the oceanic crossing portion of our flight.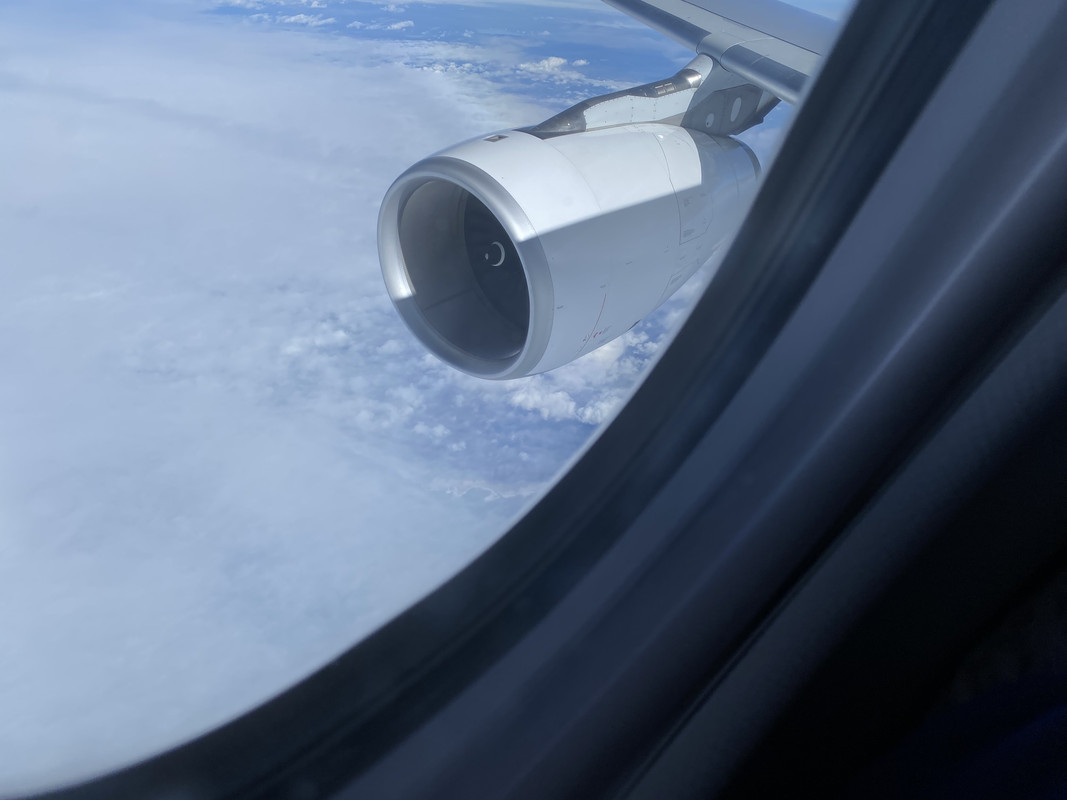 Somewhere over the North Pacific Ocean on the Central East Pacific or "CEP" track R464 or "B" track.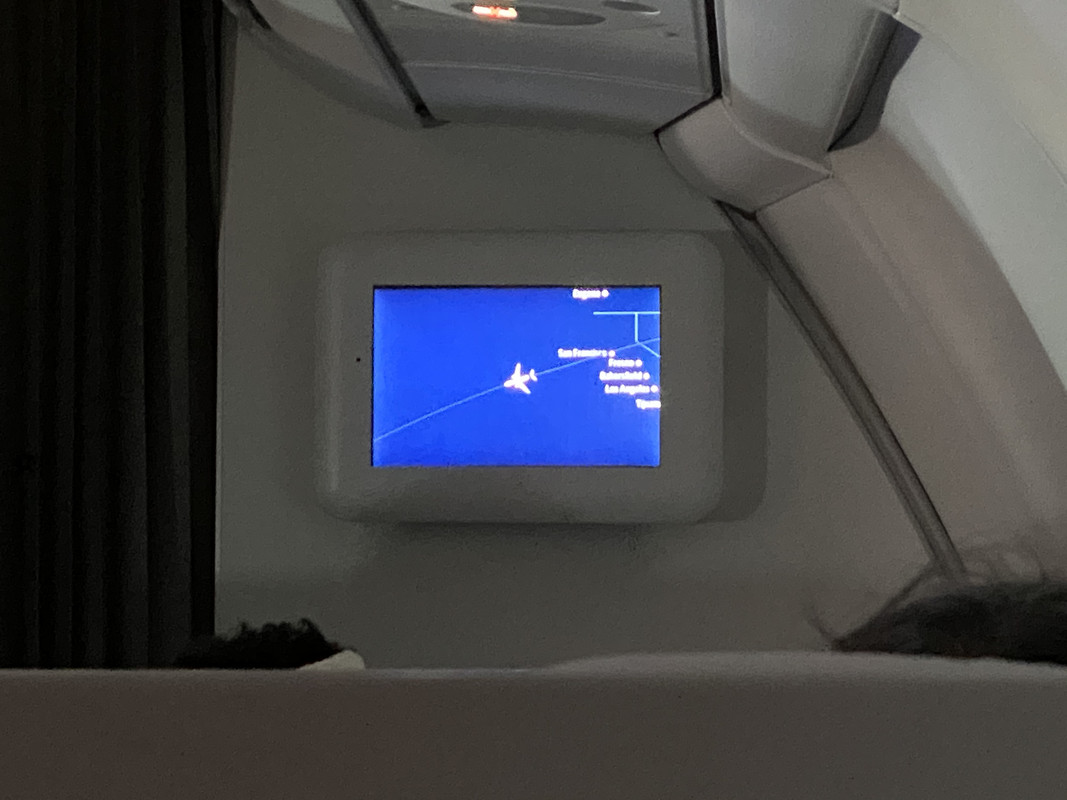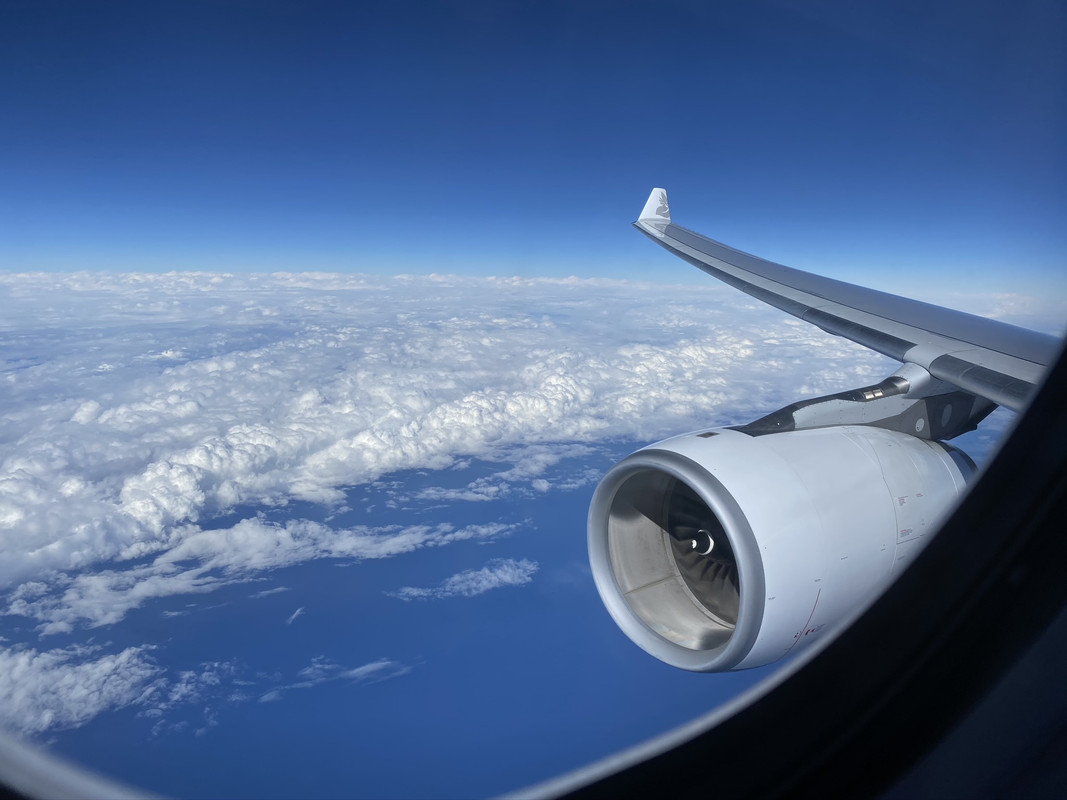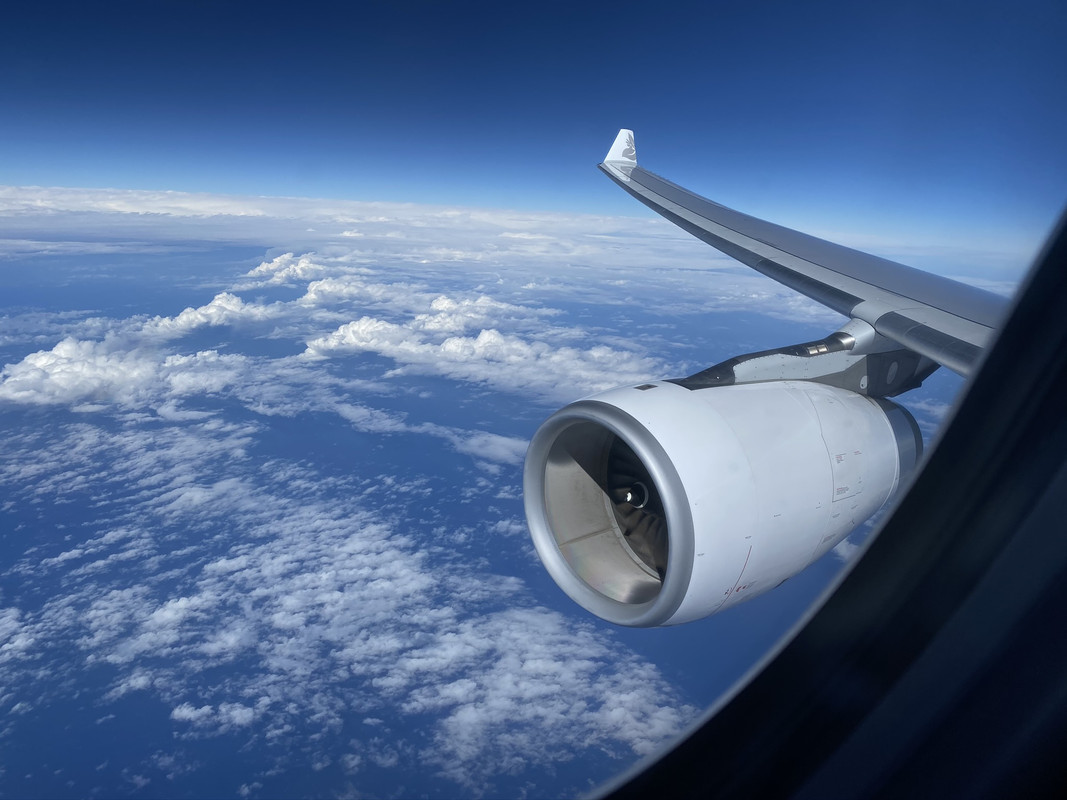 Pre Arrival Lunch/Snack service. 'Ono Kalbi Beef steamed buns served with Maui Onion Bisque, pickled onions/veggies and sriracha dipping sauce. It was really good!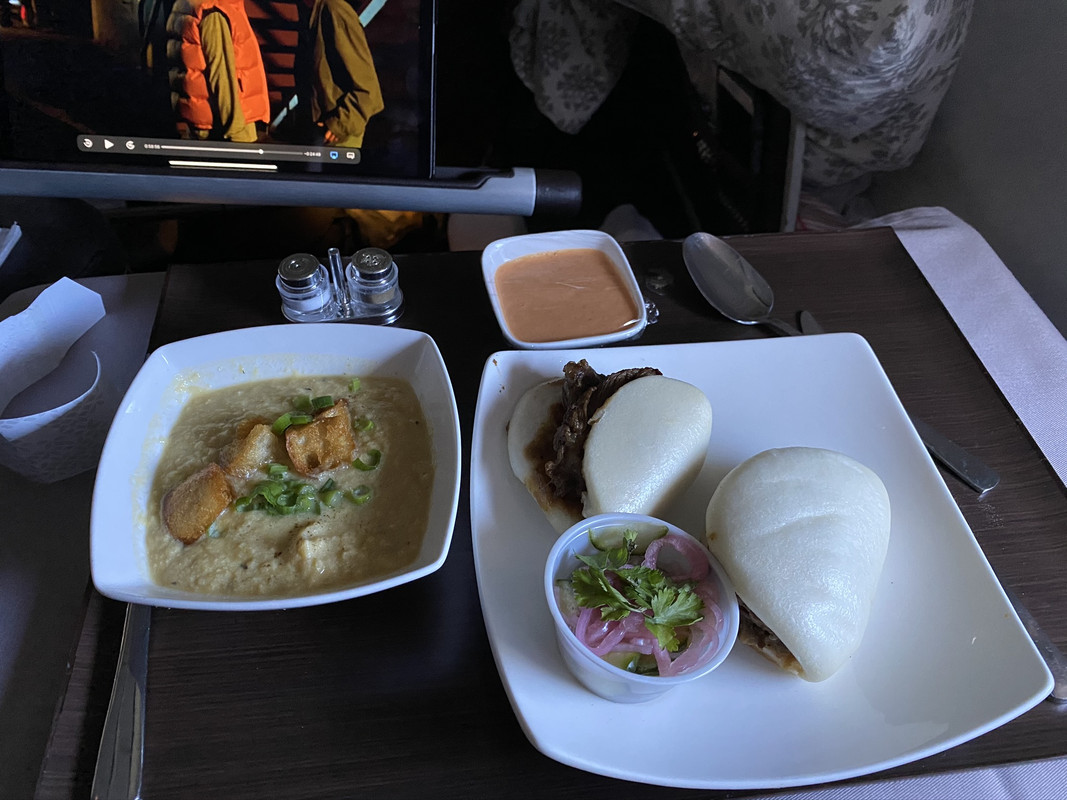 Getting closer now! 1:13 left to go! Pre arrival forms and videos were played shortly after I took the first pic, you can see the pre arrival video in one of them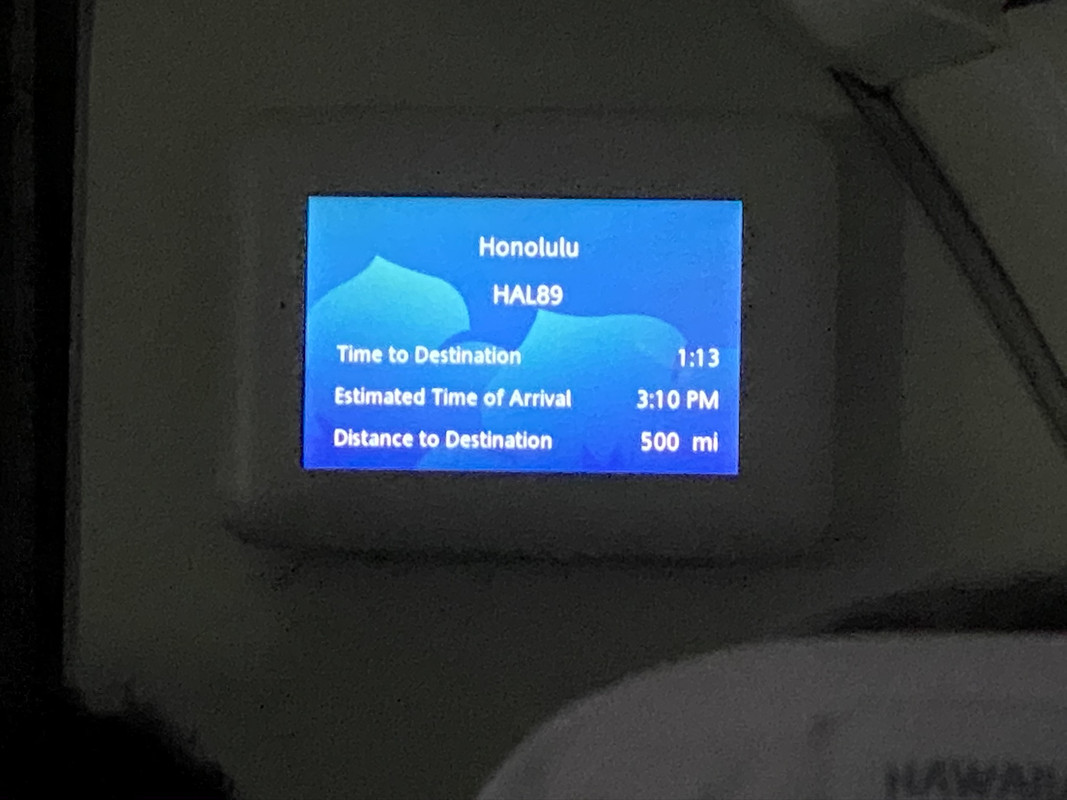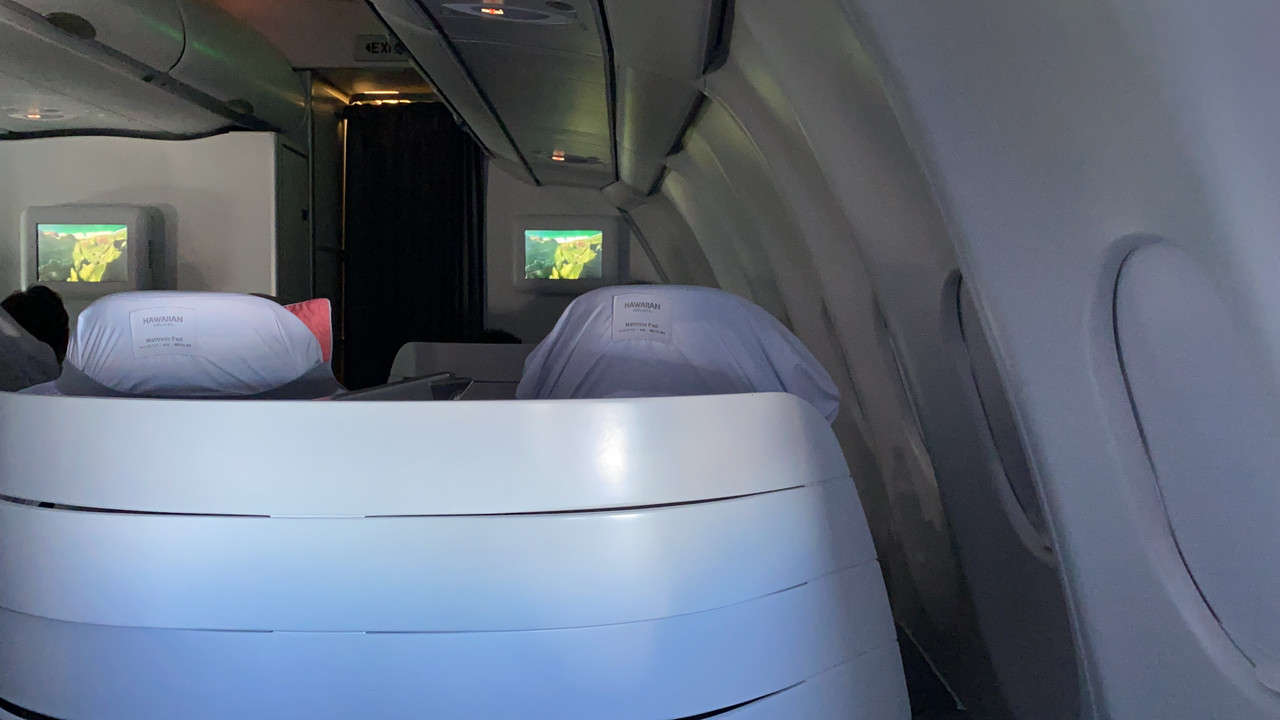 Getting even closer, coming up to BOARD on R464. In fact, shortly after I took this pic we crossed into HCF radar contact just northeast of BITTA and were given Direct->BAMBO and a 10000' crossing restriction at BAMBO, you can see that I input DIR->BAMBO on my ForeFlight app in the second pic below.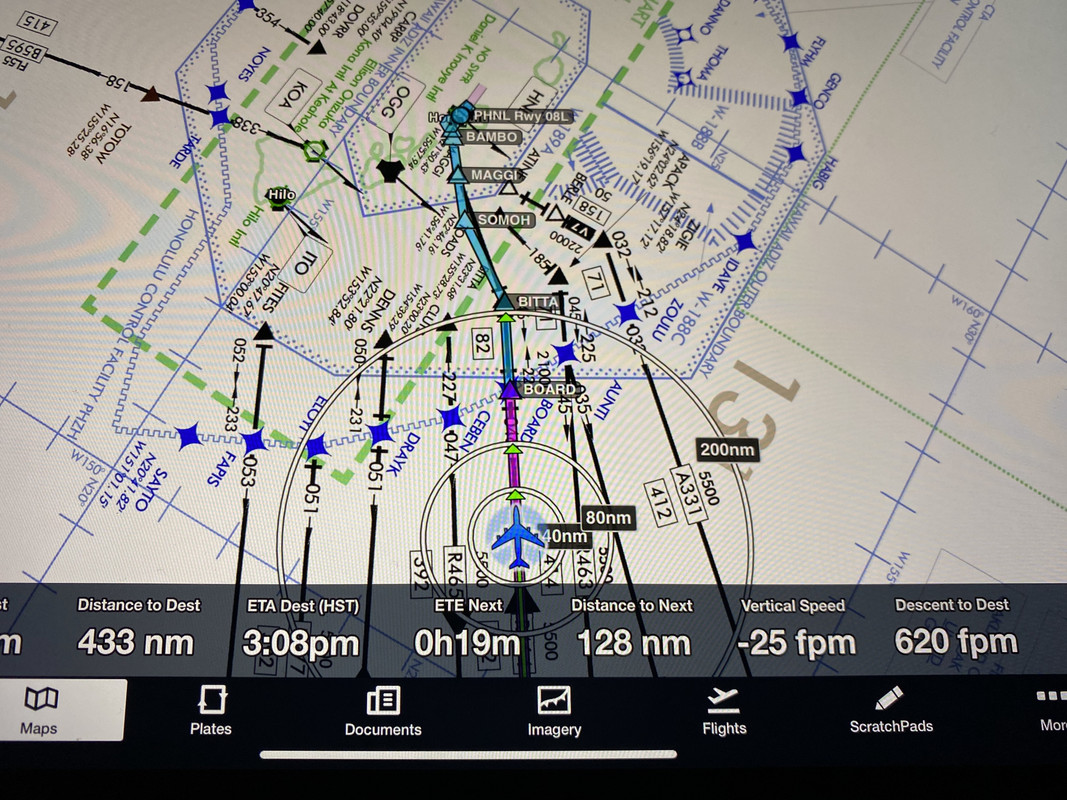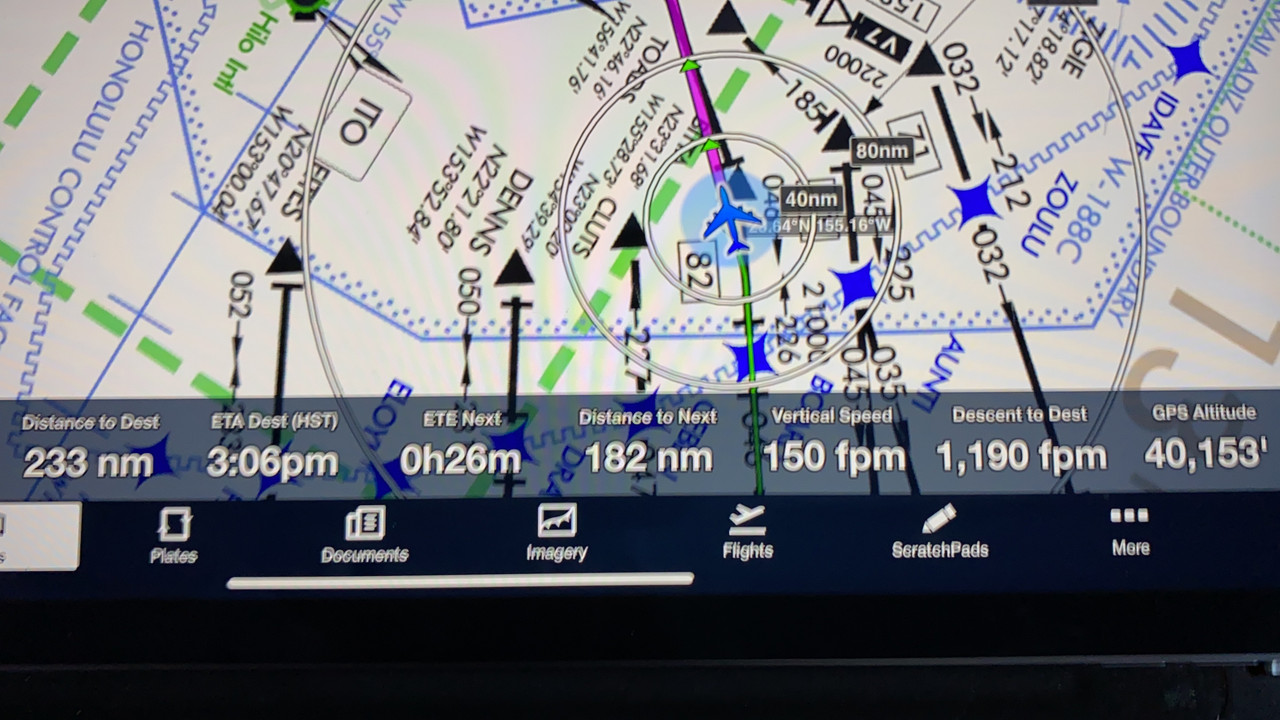 Top of Descent just prior to passing abeam BITTA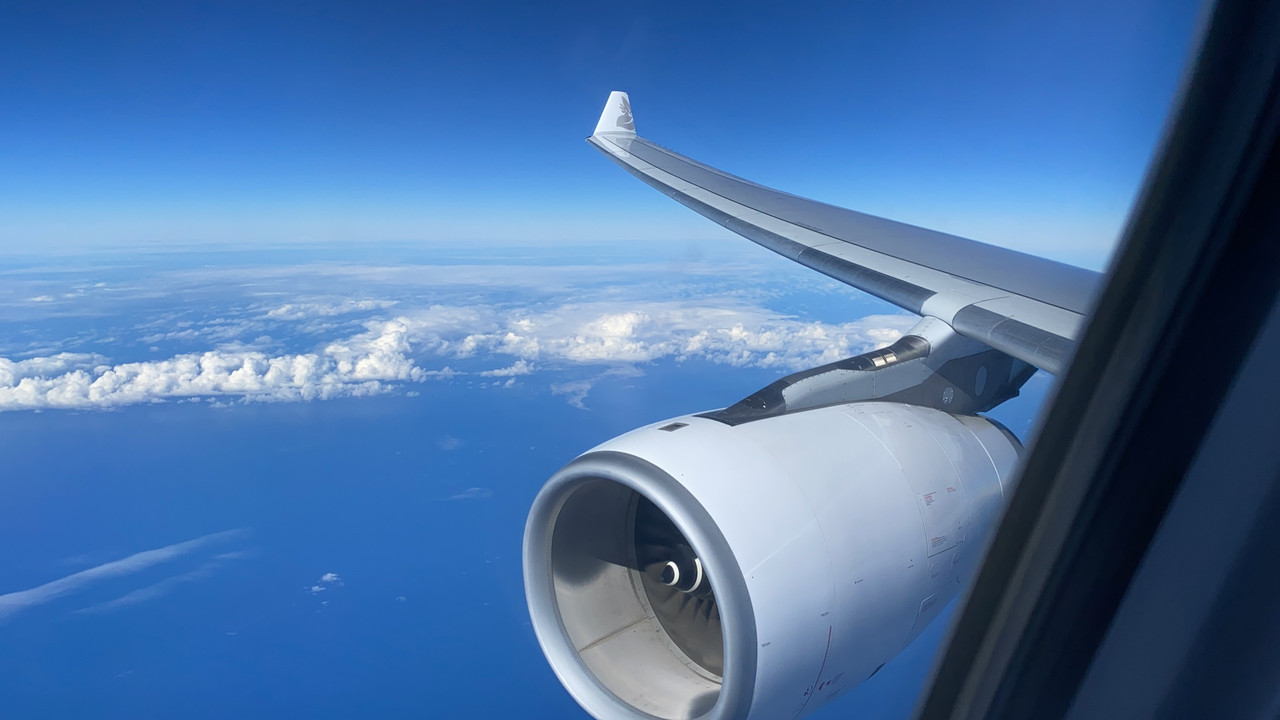 A look at the mountains of the Big Island out the port side window as we began our descent into Honolulu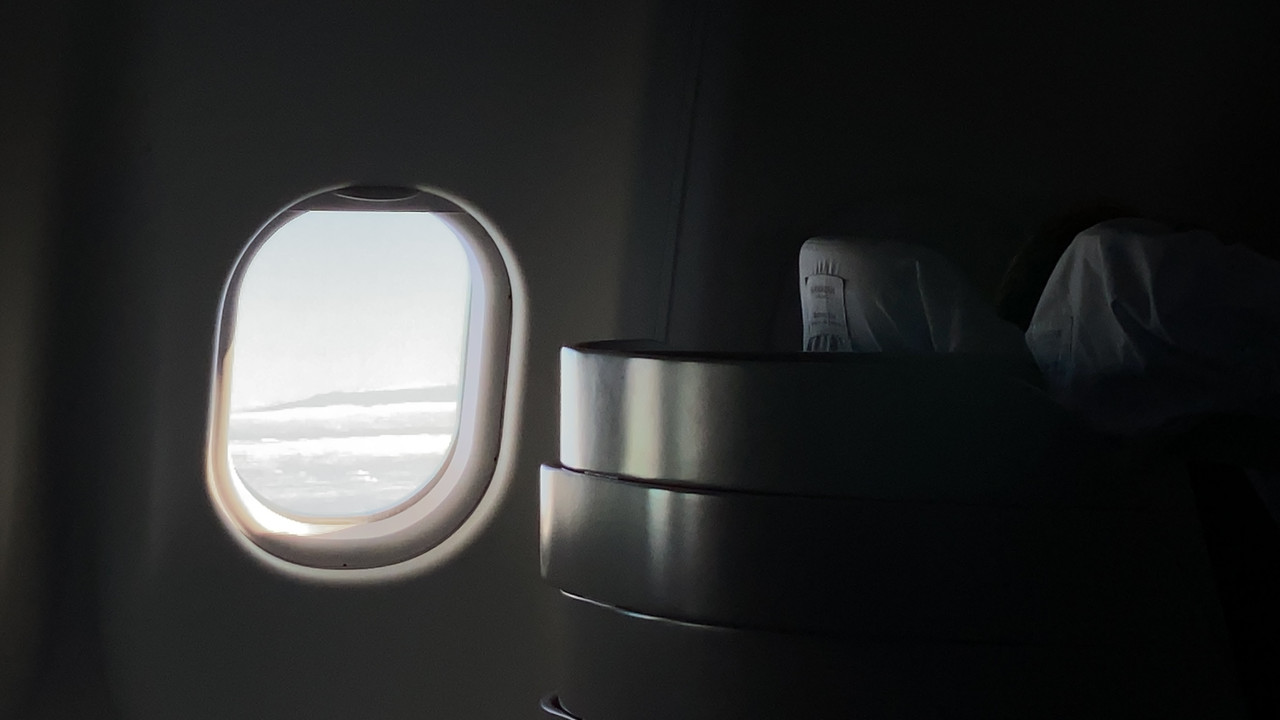 First looks at Oahu out the window. In the first pic you can see the entire north shore-even all the way to Kaena Point. I noticed after my flight there were new RNAV SID/STARs in the database for PHNL. I also noticed in my Flightradar24 and FlightAware apps that it seems like the KAENA2, INOYI1 and SYMIN1 arrivals have been used more often recently. It's mainly been the KAENA1, but I noticed that many of the Delta flights from LAX at least have been filing for the INOYI1. Perhaps a pilot or dispatcher from HA/DL or any airline that flies to HNL can shed some light on this?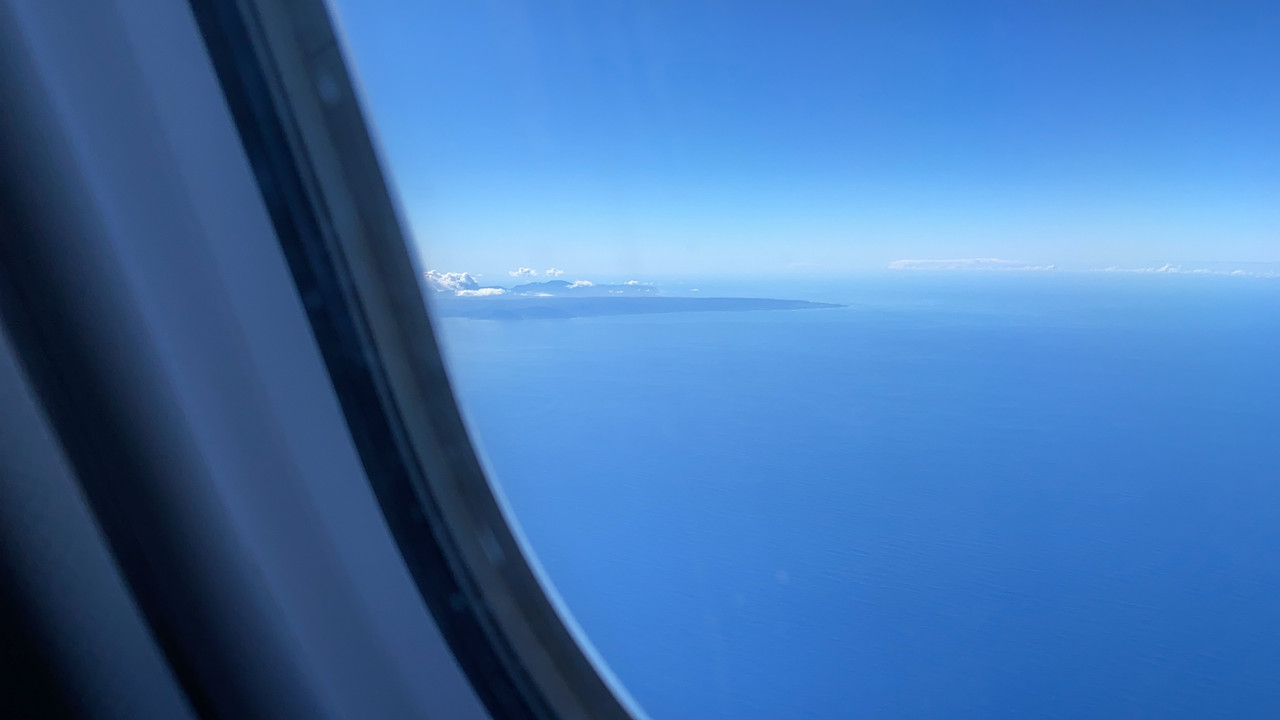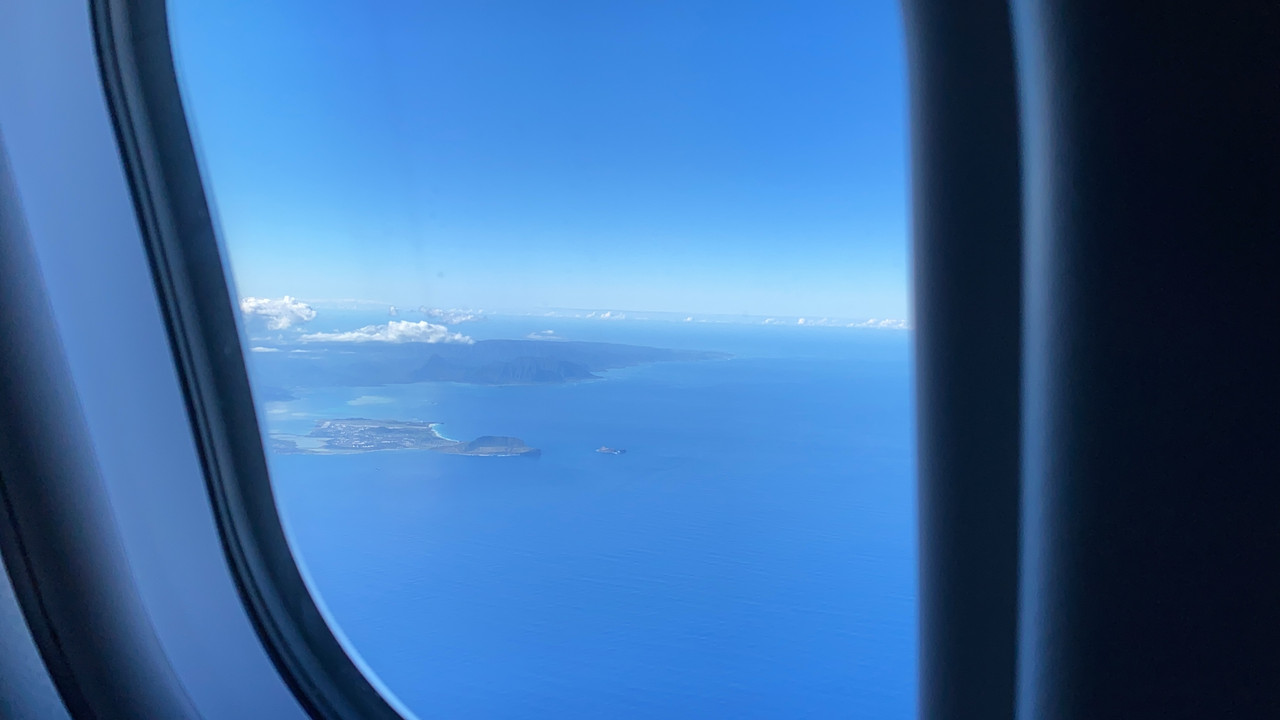 Crossing the Oahu coastline past Kailua and Kaneohe Bay while descending from 10000' to 8000'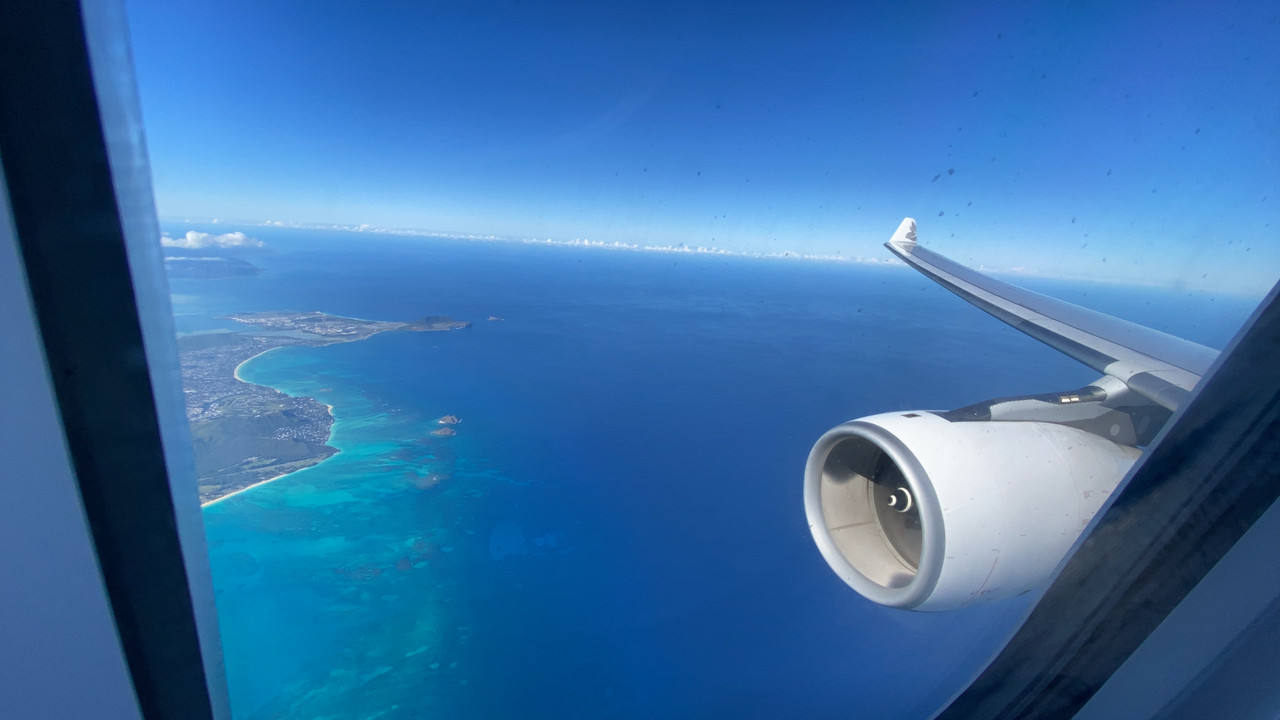 Crossing over the Koolau Range and Waikiki with the Punchbowl Crater National Cemetery in view as we descended from 8000' to 6000' at 210kt to remain above the departing traffic from HNL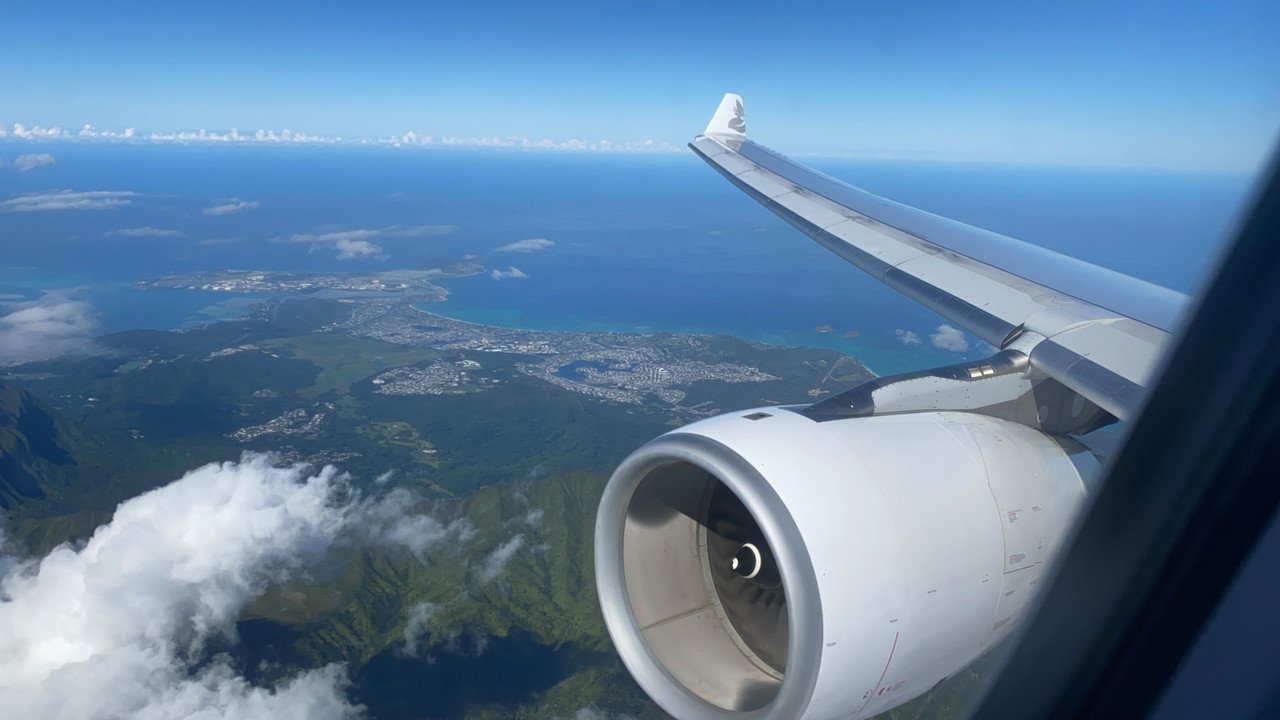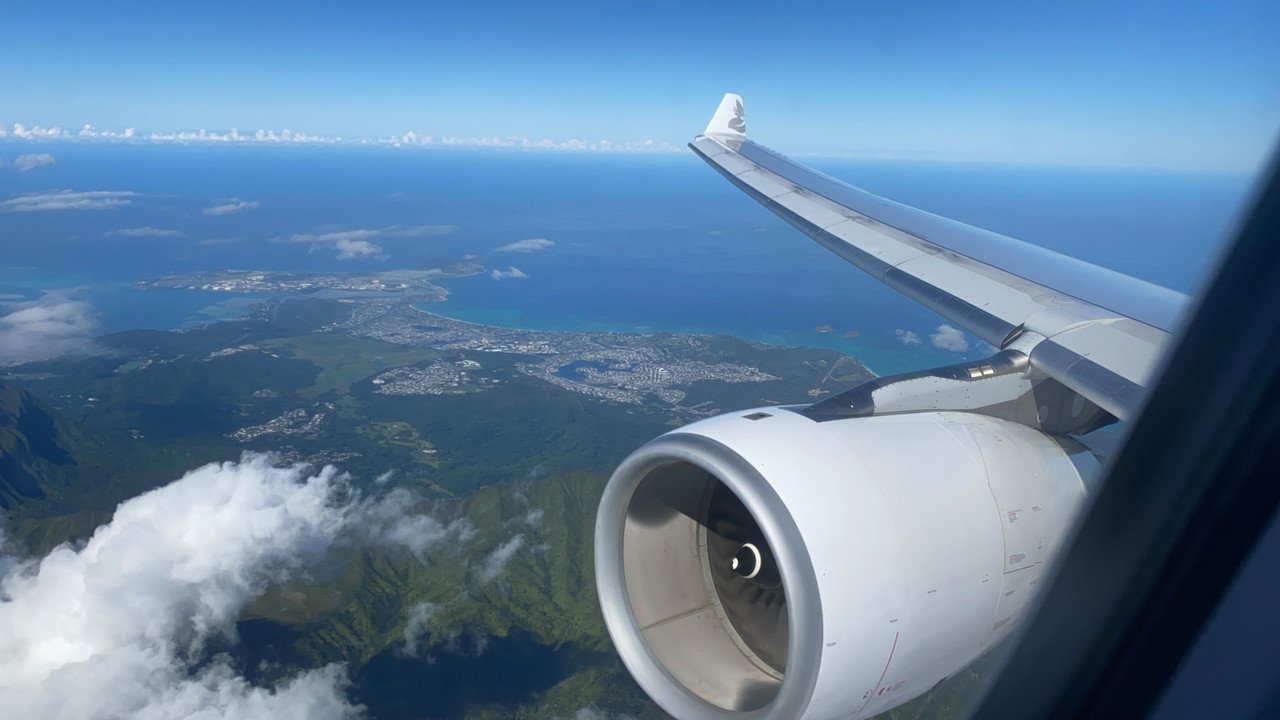 Coming up to and then abeam of PHNL on the long downwind for runway 08L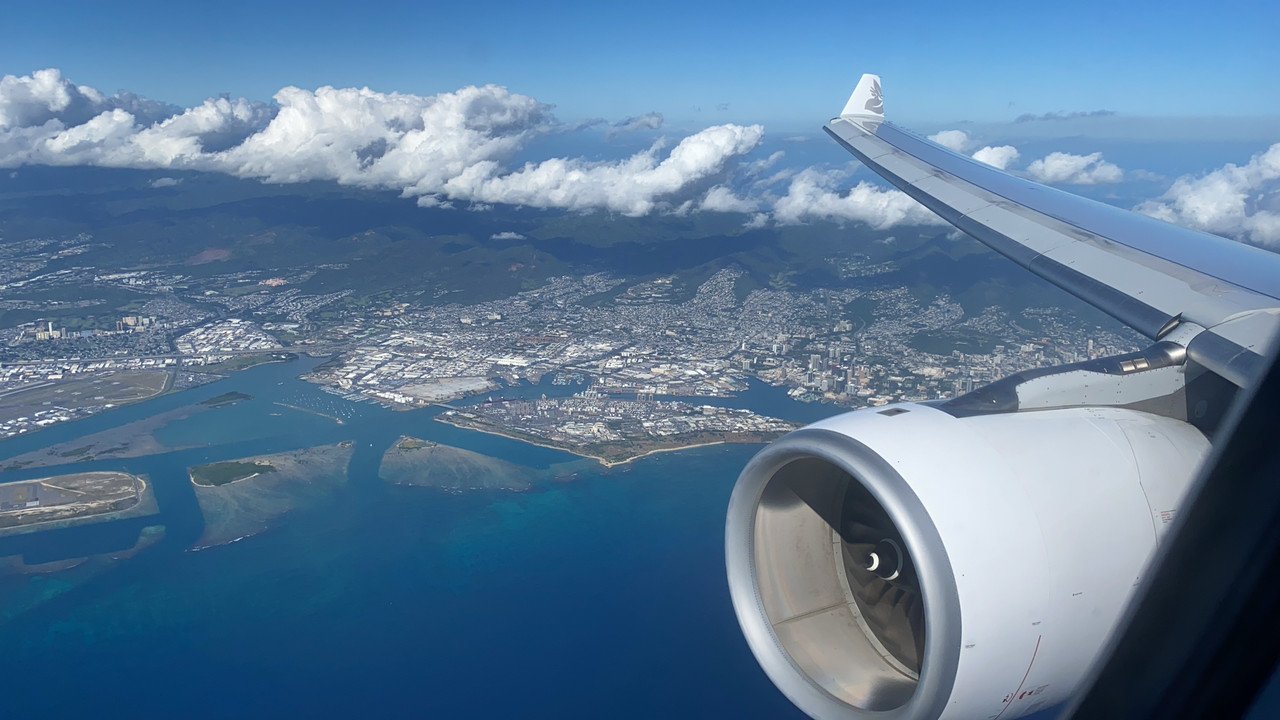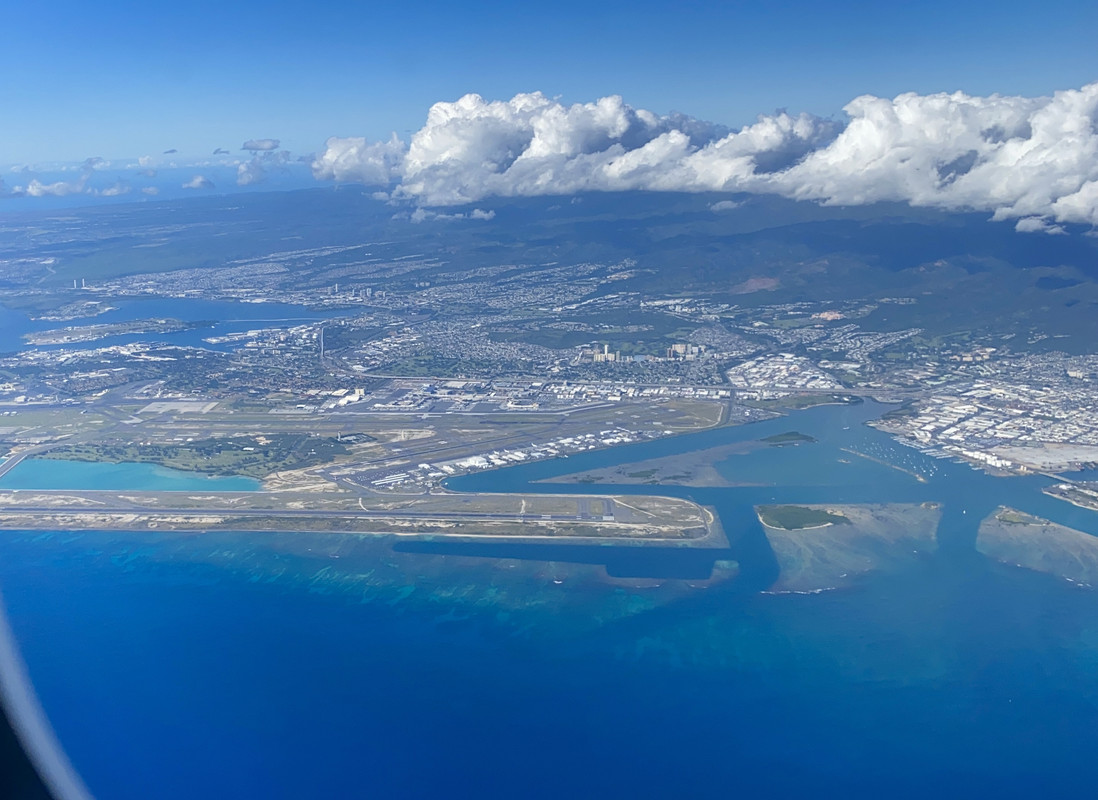 Once we were just past the airport and Pearl Harbor Channel, we were given a descent to 3000' and a speed restriction of 170kt. It was a fairly healthy descent rate down to 3000' and we continued down to 2000' on our base leg.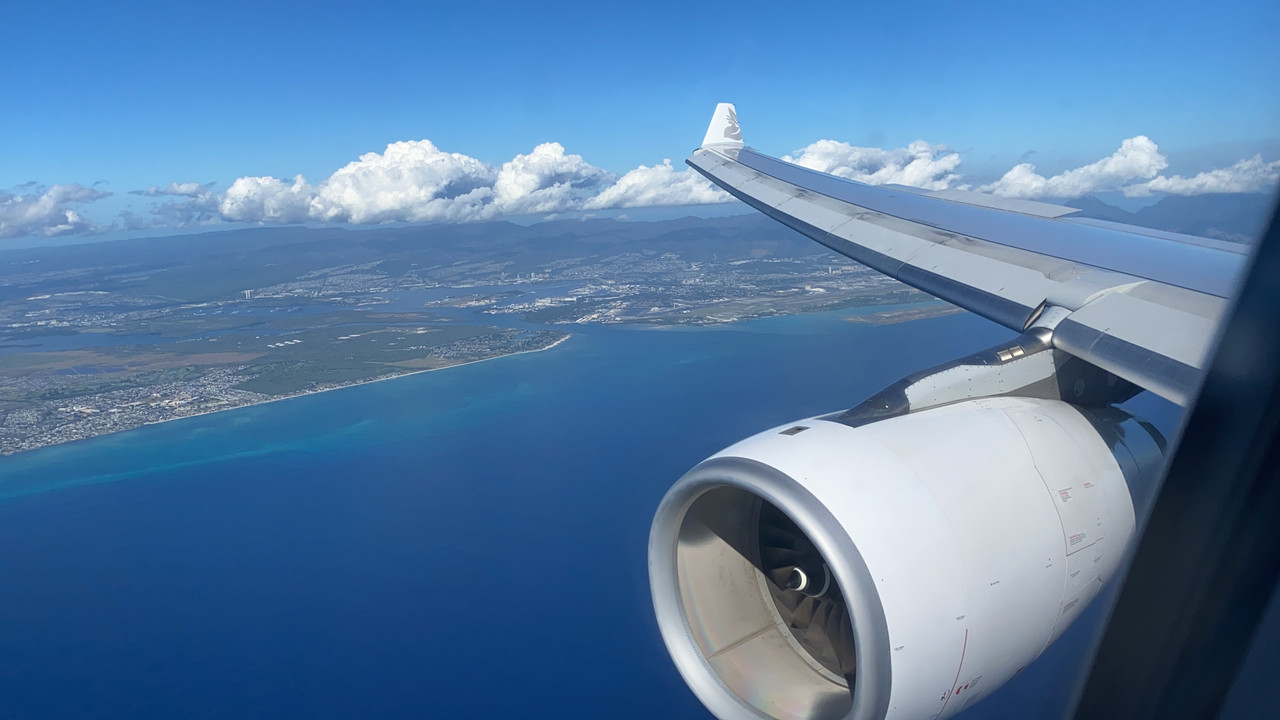 On right base for the visual to 8L with Diamond Head in the distance. Our turn to final was a very sporty "fly it like you stole it" type of turn.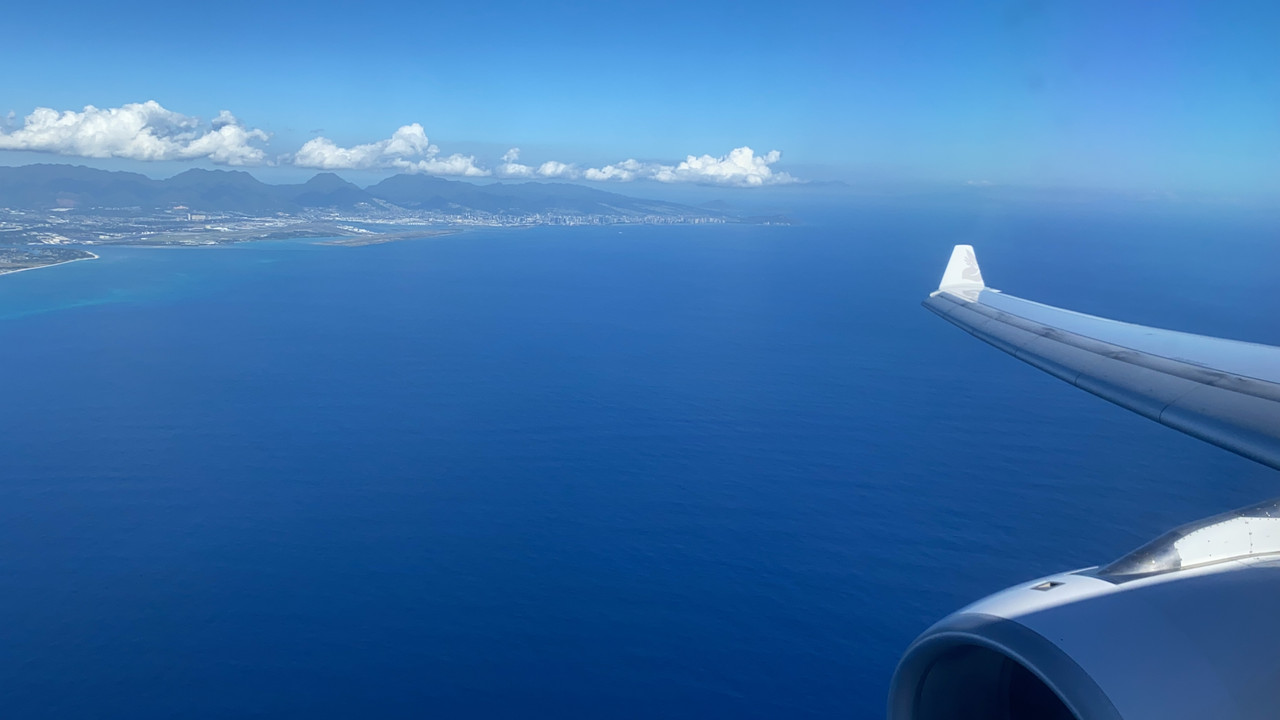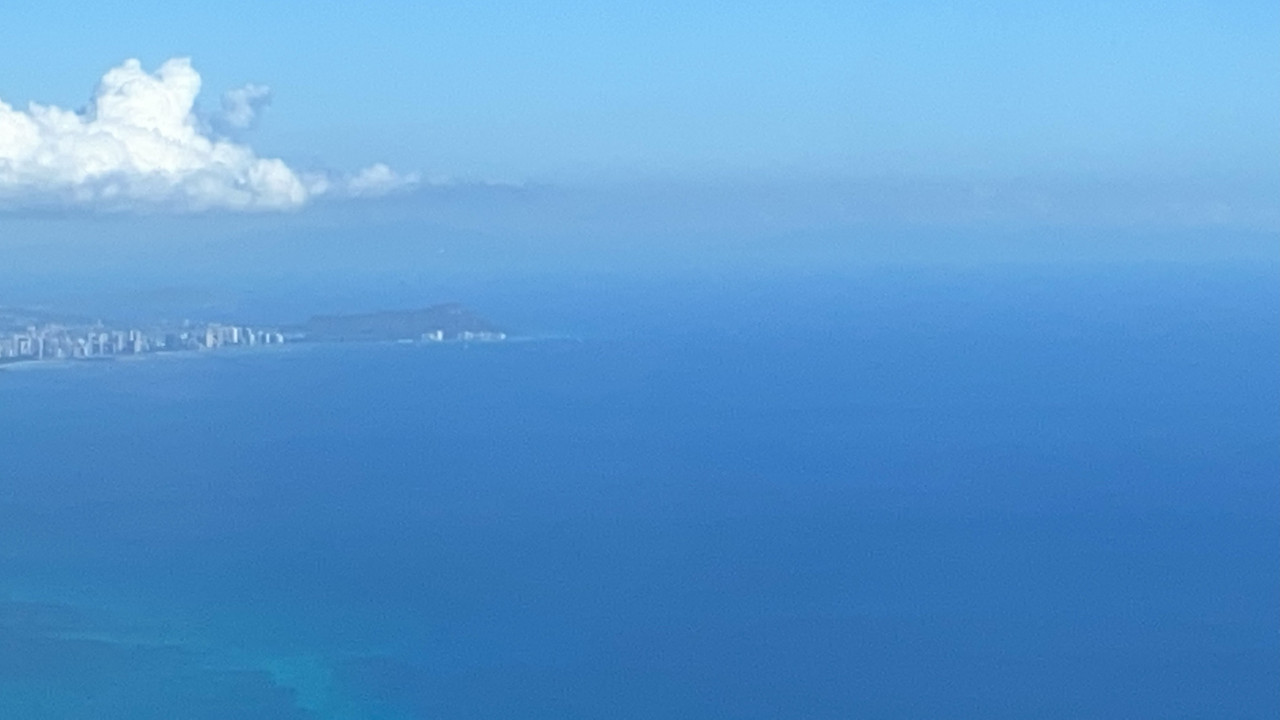 Here we are turning final over John Rodgers/Kalaeloa Airport-formerly Barbers Point Naval Air Station.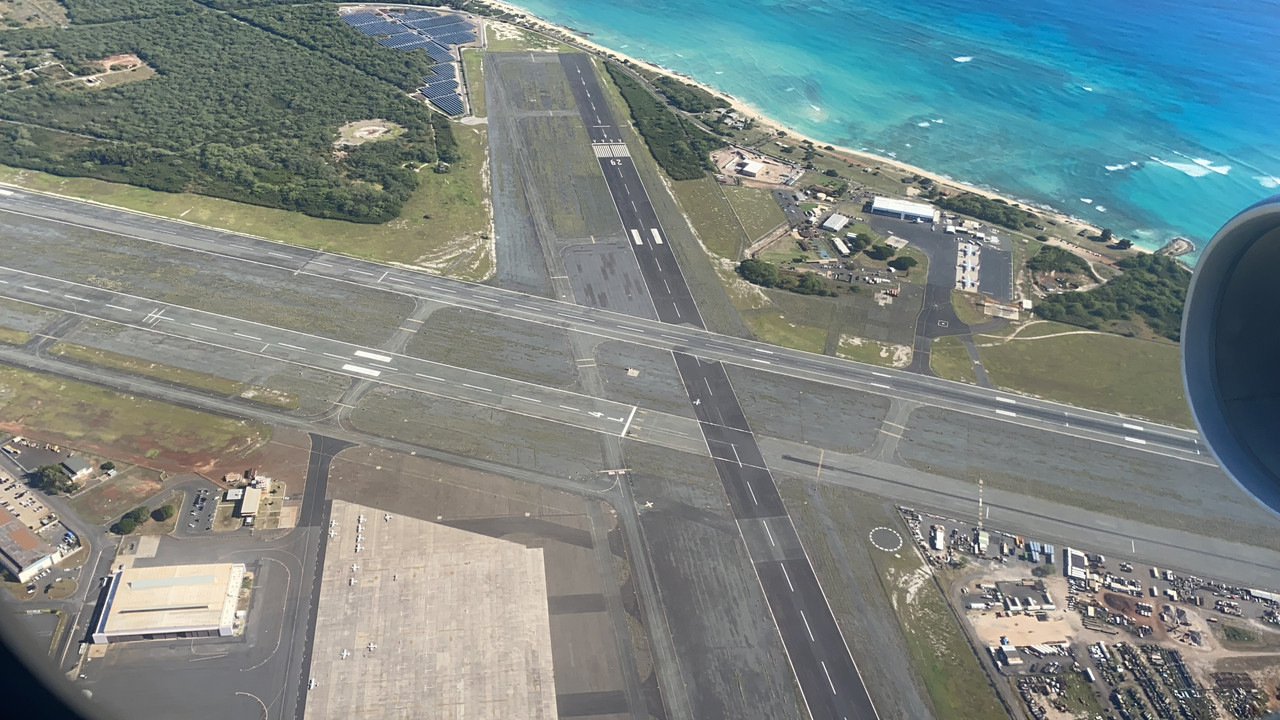 On short final over the F-22/Air Force parking huts at Hickham.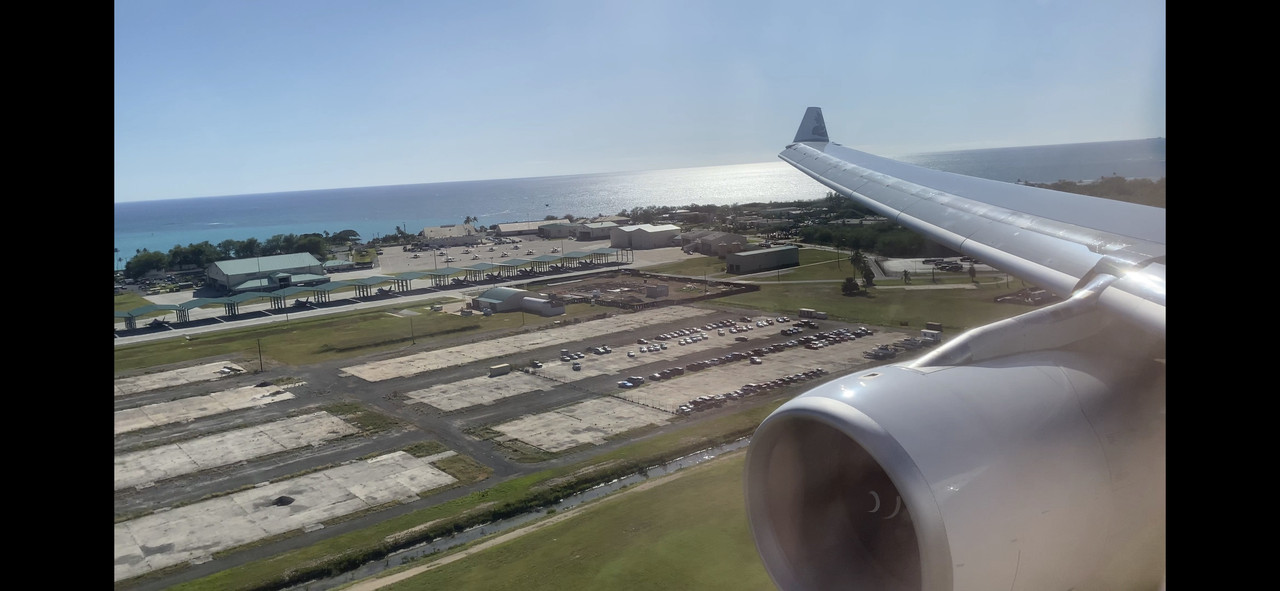 I call these the "money shots" After flying 5095 statue miles/4494 nautical miles in 10:50 of flying time and about 11:45 of "Butt in seat" time, Diamond Head welcomes those of us on the starboard side of the aircraft to beautiful Honolulu Hawai'i! It's the most amazing feeling in the world to me getting that first look at Diamond Head after such a long journey. It's a signal that you've arrived in paradise!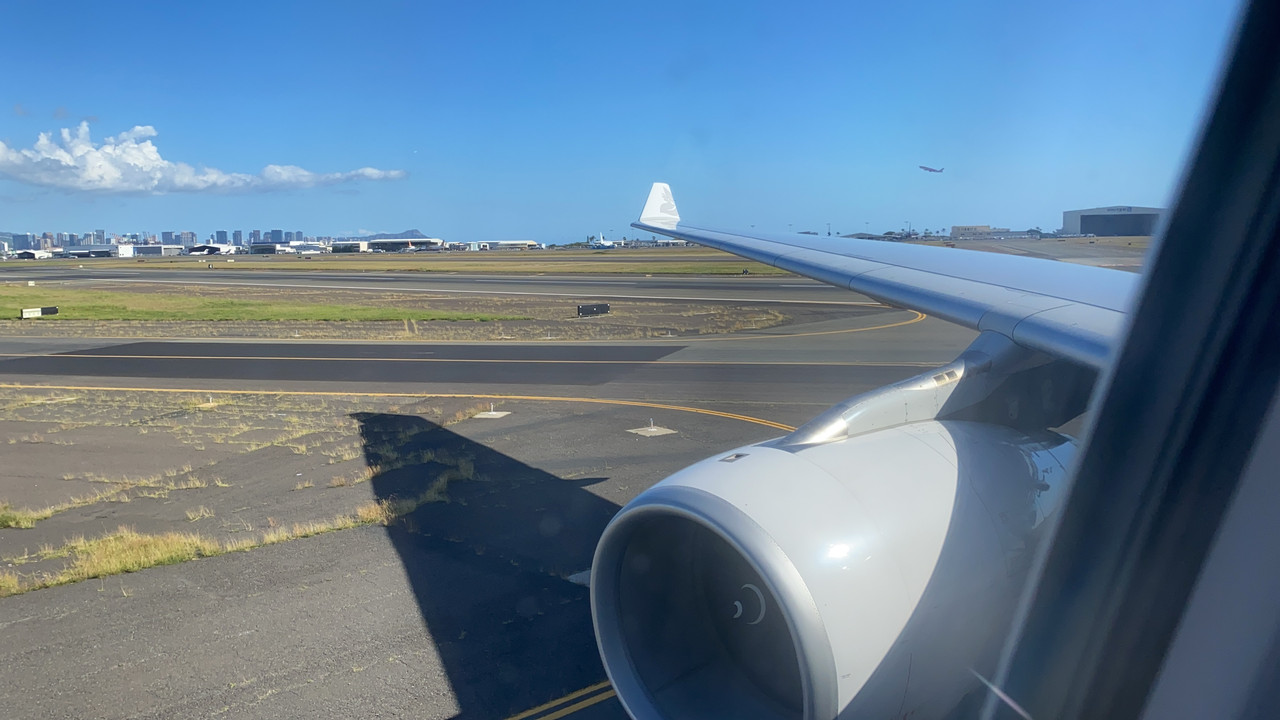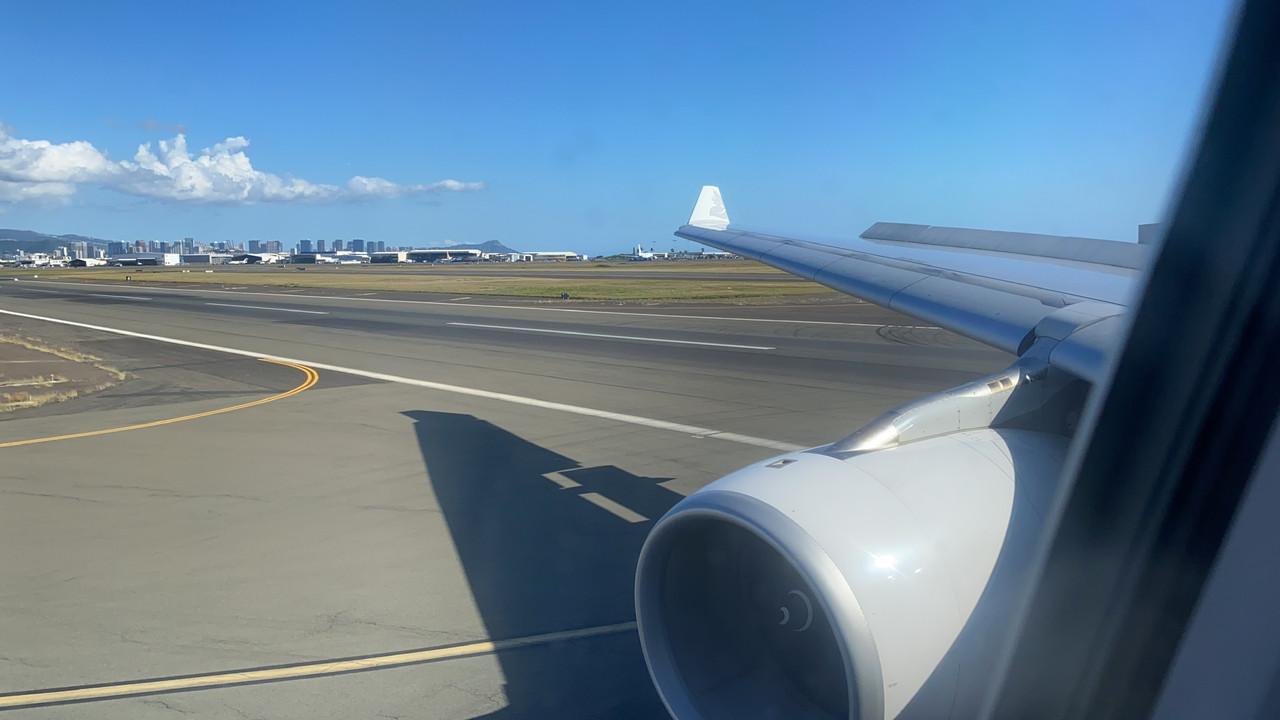 The view from outside the forward L1 door after arrival to HNL and the fleet number on the R1 door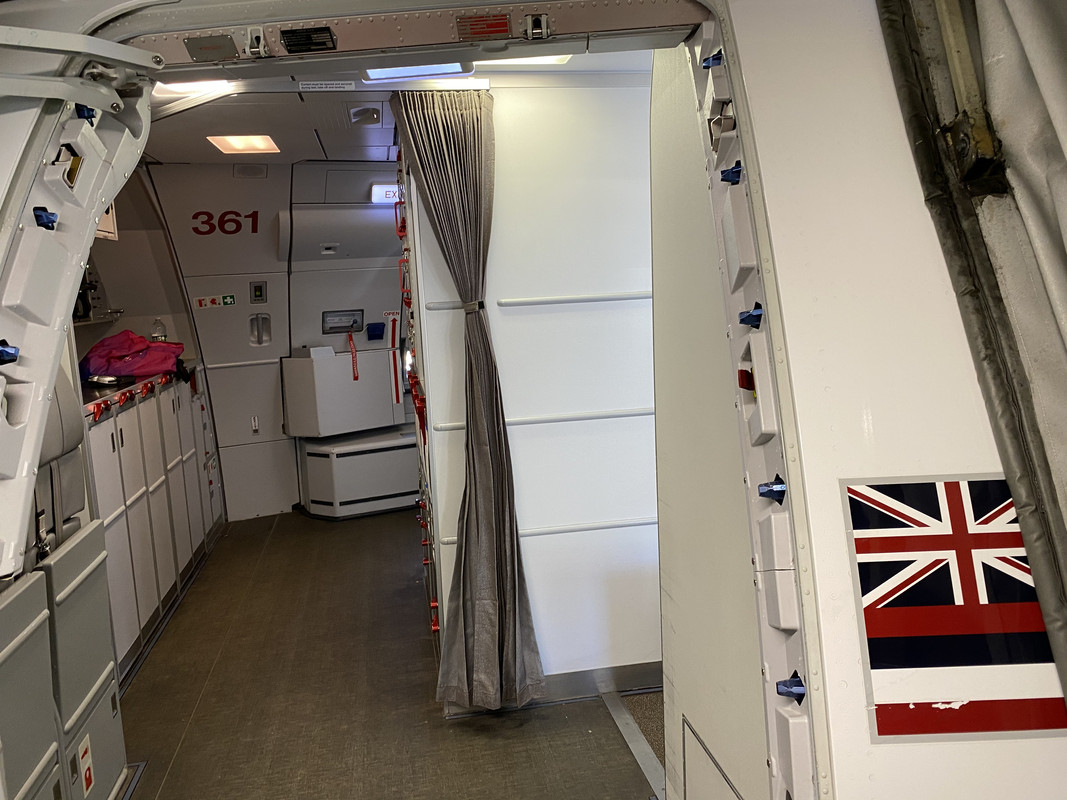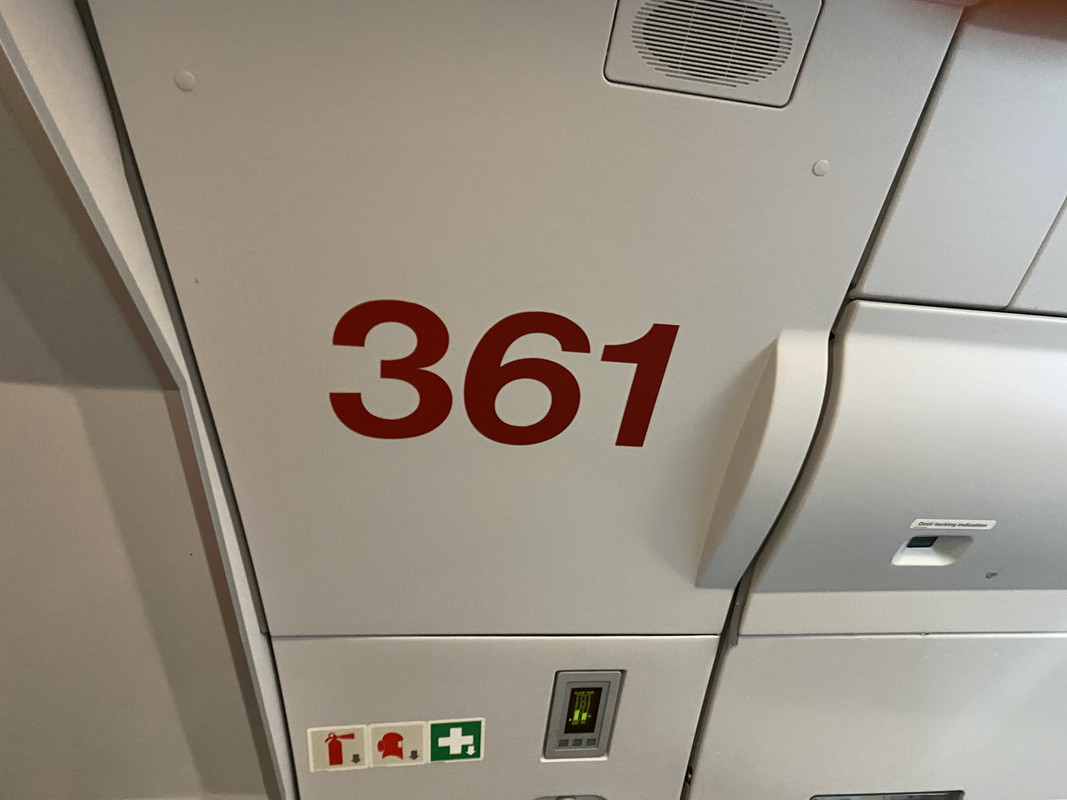 N361HA "Hoku Mau" resting at HNL's Terminal 1, Gate C2 after arriving from BOS. She would continue on to LAX and then rotate over to OGG on her next two flights.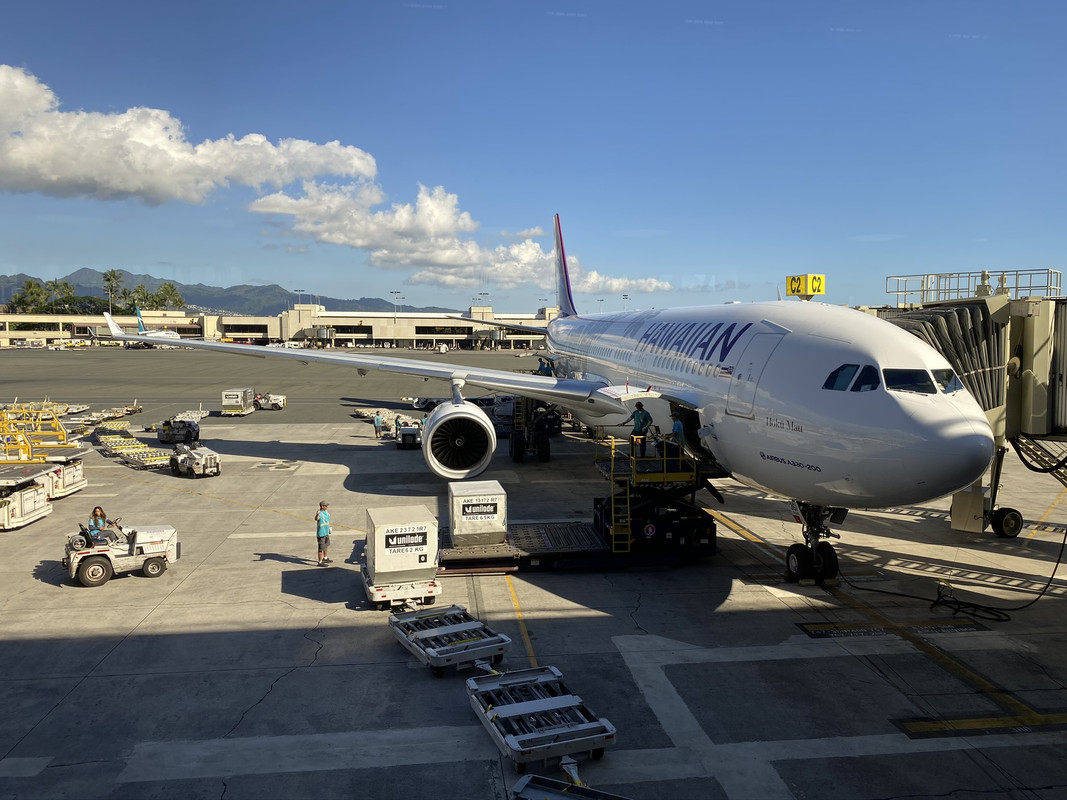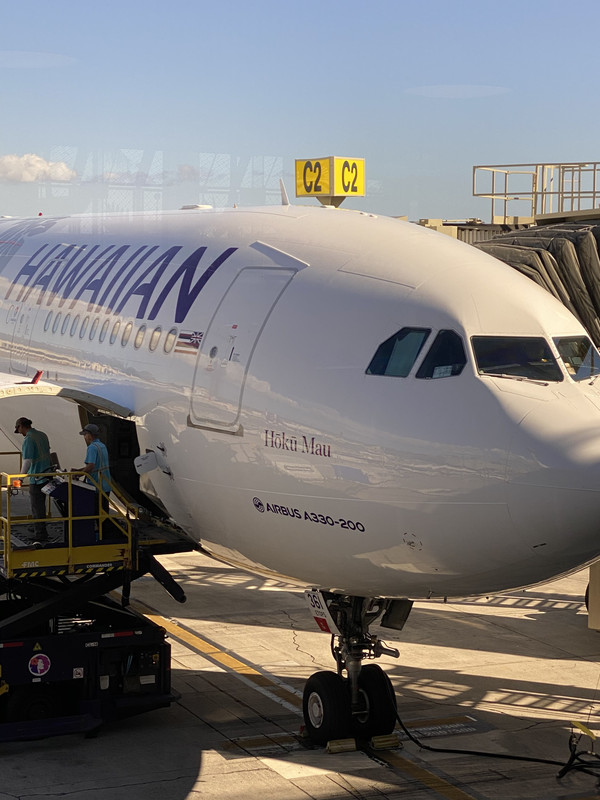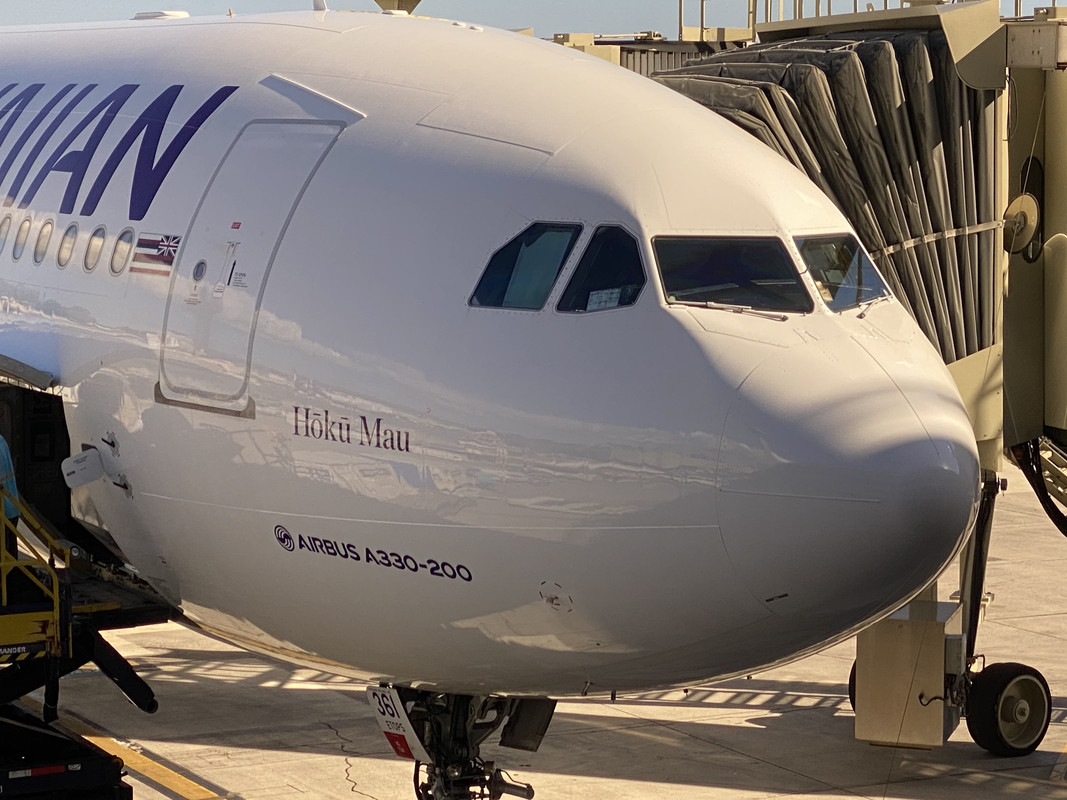 Walking to baggage claim on the gorgeous outdoor walkways that are a signature of HNL.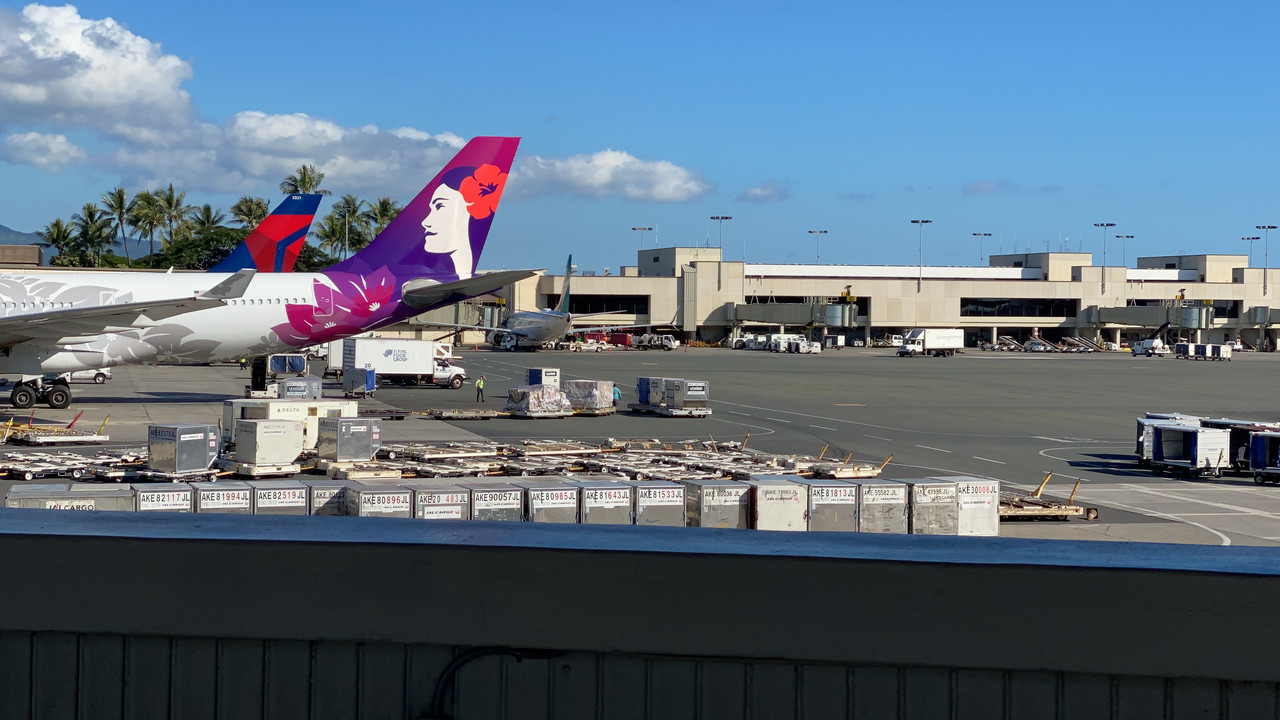 The first sunset from our Oceanfront balcony at the Outrigger Reef on gorgeous Waikiki Beach. What a welcome to Hawaii this was!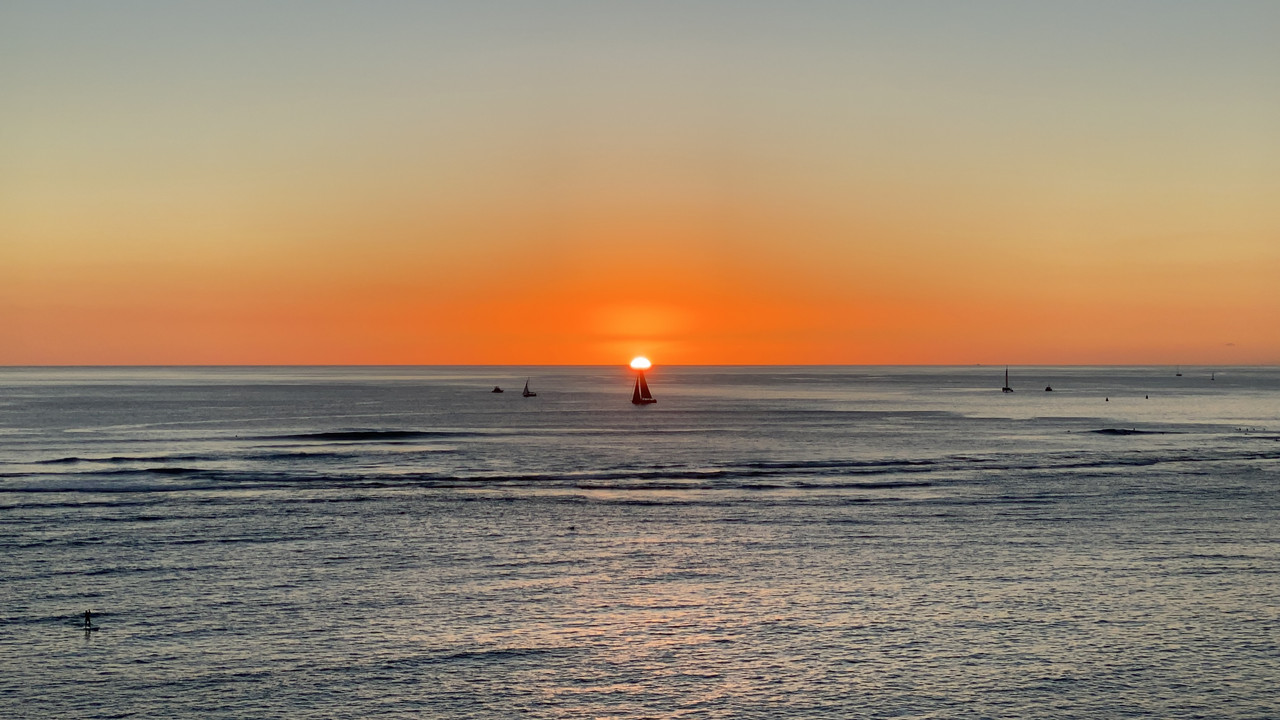 Since we arrived on Friday, it was fireworks night on Waikiki! Every Friday fireworks are launched from the Hilton Lagoon between 7:45pm and 8:30pm depending on the season/sunset time.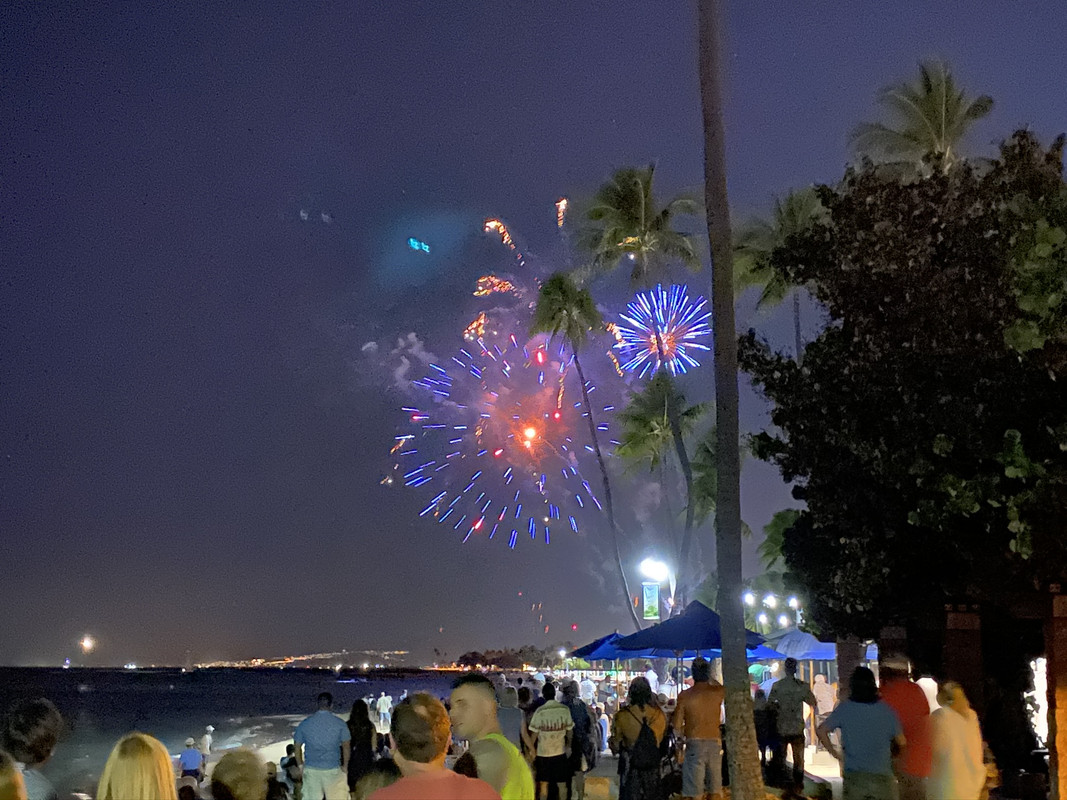 I hope everyone enjoyed this trip report and the videos as much as I enjoyed making them. I'm currently working on the full flights from HNL-OGG-HNL on Hawaiian's 717's.
I also hope everyone in the industry is staying safe and still working during this crazy time. I know my family and I will be lining up to get back to Hawai'i when this mess is over. I'm not a huge fan of the 787-9 Dreamliners that HA ordered and barring any new routes, I suspect BOS and JFK will be some of the first routes to get them. I will definitely attempt to not fly in Y on a 787 nonstop to Hawai'i due to that horrid 3-3-3 layout in Y. Having read about production issues in South Carolina (I'll leave the rest of my comments about that place out of this report) I certainly hope HA's 787's will be built in Seattle by more experienced and well trained hands. Having flown on HA's Y+ to Hawai'i many times, the 2-4-2 on the A330 suits my wife and I nicely and she'd KILL me if I put her in the middle like I do on JetBlue's A320's. I would've much preferred to fly my next trip to Hawai'i on an A330-800neo or even the originally planned A350-800... But only time will fell and I'll be saving my pennies for an F fare! Maybe HA will even put in a proper premium economy at 2-3-2 or 2-4-2 to cater to couples and biz travelers who don't want to shell out for F.
Mahalo for taking the time to read my report. Comments are all welcome and my DM's are open if you'd like to see some of the raw video or any of the other pics.
I'd like to also dedicate this report to the memory of my Grandfather, S/FC Edwin Hamilton who was on a destroyer in the Pacific during WWII and spent a lot of time in Hawai'i during the war. After VJ Day, he was stationed at Pearl Harbor as shore patrol. He always used to say "don't worry about me when I'm gone, I'll be back sailing the South Pacific with my buddies again!"
My grandfather passed away on 4/5/2019 within about 10 minutes of the departure of the inaugural Hawaiian 89 nonstop flight from Boston to Honolulu. I had gone about a 5-6 minute drive up the street to catch the 33L departure from a distance. When I got back home, I walked in the door, and within a few minutes my family gave me the news that he was gone. I initially laughed at them perhaps out of shock. Looking back, they probably thought I was out of my mind. My reply was "yeah he's gone, he just hopped on the first nonstop flight back to Hawai'i"