Video: https://youtu.be/P2uqraNLNPE
Flight Info:
Route: Quebec City/YQB - Fort Lauderdale/FLL
Airline: Air Transat
Flight Number: TS 306
Aircraft Type: Airbus A310-300
Registration: C-GTSY
Class: Business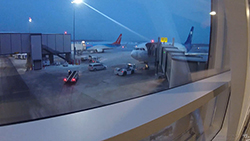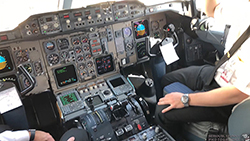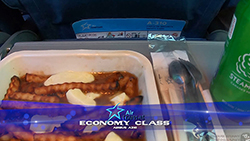 This may turn out to be one of the most fun trips I've had in a while! Not only was this a change to fly again with "Mr. #1 Photo on Airliners.net, my good friend Justin, but maybe a last chance to fly the A310. Little did we know...
The last time I was booked for an Air Transat A310, it was September 15th 2001. No kidding. This one was right when Coronavirus was starting to take effect in North America. Coming up to the date, we were sweating it, wondering if we would really go or not. Turned out, Air Canada did end up canceling my flight to YQB, so a day or two before, I had to make a decision. I thought "eff it", and found a similar fare via LGA, and just so happened, met up with Justin there to take the Westjet 737-600 on in. That's another post for another day, but it did knock out all the 737 series for me, so after a refund from AC, worked out well I'd say!
No lie, while going through Canadian customs, they shut the border down. We heard the guards say it. Thankful not for Americans (yet) but we made it in with less than an hour to spare! There was no problems social distancing around Quebec City: hardly anyone was out. We found an awesome restaurant, and spent most of the night wondering what in the hell was happening with our A310. Air Transat only had 3 left so we thought, 2 were accounted for, and ours diverted to Montreal. Uh oh.
It wasn't until the buttcrack of dawn we saw C-GTSY pop up like a wackamole. No idea where it came from, but we weren't arguing. We were gonna get the A310 after all!
Check in was Easy-e. It was a wicked early flight any way, but that's when it sunk in that everyone was bailing. 10 mins before boarding and we're looking around like we missed something. Indeed, it was just one boarding call and we were on like Donkey Kong.
I took the first row in coach, Justin was back behind the wing. When there's so few pax on a plane that big, the crew can get to know you. Turns out one of the FA's was kinda an avgeek too and struck up a conversation with Justin, who told him what we were up to. Yea, really just flew up here to fly on an A310. It's nice to find people who share or disease, especially when it's crew.
Before I knew it, he's chatting me up too. And I guess he gave the purser the iggy, because soon after take off, she was asking me all about it, and offered us the upgrade. Justin hung back because he's mental. I jumped.
I gotta tell ya, Transat is no semi-charter / discount anything. The service was great, and I'd say that even if it wasn't empty. Better IFE than most US carriers. And seats in both classes soft and comfy. Of course being an older plane, those are the old school thick coach seats, not the church pews they're putting in now everywhere.
A full breakfast and showing of Joker later, back comes the purser. The pilots gave Justin their route maps as a souvenir, and the purser wanted to put us in the official flight log, which was pretty cool. So we're in Air Transat's history forever now. Haha She even set up a flight deck visit after we landed. Honestly, couldn't have been sweeter.
I haven't had this much fun on a flight in a long time. I'm pretty confident I'd say this even if it was a normal flight, but Air Transat was great, and I hope things go well for them, because I'm looking forward to another flight on them as soon as we can. Hope you enjoy the video, and I've included Justin's footage as well.
Video: https://youtu.be/P2uqraNLNPEBonus footage: https://youtu.be/XXXKsdq6zNICabin Walkthrough: https://youtu.be/-J3LYgOKgoY