From My Archives Project
I originally started the From My Archives project in the summer of 2018 to keep me occupied when I was working as an EMT and sitting around base bored while I waited for a call. I ended up resigning from the ambulance squad about a month before COVID-19 struck, and between that and the shut down of my research lab I have a lot of spare time right now. Because of that, I have decided to restart the From My Archives Project to keep me busy. Because of how long ago these trips were, I would like to apologize if these are slightly less detailed than my other trip reports. I would also like to apologize if the photos are not of a high quality/the normal orientation for airliners.net, mainly because they were not originally meant to be posted. As always, feedback is appreciated.
Background
In February 2014 I joined my school's trip to Paris, Provence, and Barcelona. The tour operator (EF tours) booked our entire group to depart on BA 212 on the 13th of February and BA 332 arriving into ORY on the 14th. For the return home from BCN on February 22nd we were split up into 2 groups. One, smaller group took AA65 to JFK and then connected on AA 256 to BOS. The second, larger group (with myself included), had an early morning departure from BCN on KL 1662, connecting to DL 231.
BA 212

Traveling to the Airport
Consistent with my luck, our flight was scheduled to leave the same day that a large snow storm was clobbering the suburbs of Boston. Even though school was cancelled due to the snow, everyone on my trip met up in one of my school's two cafeterias well before we would have normally met. Once everyone had arrived, we loaded our suitcases into the cars of some brave parents, and then hopped onto the school bus. After a very long drive (mainly because our teacher used to work at BOS and wanted the bus driver to take some back route) we arrived at the airport, quickly unloaded our bags and then piled into the empty BOS terminal E.
At the Airport
Because of how early we arrived at the airport, BA's check in desks were not open when we arrived, so we hung out on some chairs in front of the check in desks for a few hours until it opened around 2PMish. As check in opened we piled into the already substantial line. Because of how long the line was (and because we were a 50 person group), it took me a while to get checked in. Because I had not perfected the skill of sharpening my elbows to be at the front of the line, I was one of the last people from my group to check in, and I ended up only getting a window for the flight to LHR (I feel like I was in row 44 but I might just be making that up) and a middle seat for the flight to ORY.
Once everyone was checked in, we made our way to security. Unlike my group trip to Israel, this was totally unremarkable. After a little bit, we were all through and we made our way to gate E7A. After we reached the gate, most people went off to shop, though being the avgeek that I am I stuck around and planespotted.
EI/AG B752 coming/going to SNN
A first peek of G-BYGB, my first ever B744
FL B712
US A319
A better view of my 15 year old B744
After a few hours of planespotting (and an approximately half an hour delay), boarding was called, and after getting my passport checked by the agent I was cleared to enter the jetway.
Onboard
Once onboard the plane I was greeted by the FA and directed to my seat. While the seat was slightly antiquated by 2014 standards, it was comfortable, provided great leg room, and had a nifty, upside down neck pillow style head rest. On every seat was a nice pillow, a blanket (which I did not use), a set of acceptable head phones and a small amenity kit with a toothbrush, single use toothpaste, and an eye mask.
The seat.
As I settled in, I realized that in getting a window seat I ended up being assigned to sit next to two of our chaperones, but it is what it is.
Once boarding was completed, the experienced captain made his welcome aboard announcement. As we pushed back, the FAs launched the safety video. During the safety video they stood in the front of the cabin and when directed to, simultaneously pointed out the location of the emergency exits on the aircraft. While they were doing this, I realized that one of them looked like my 6th grade English/Social Studies teacher.
After a little bit we finished up taxiing and executed a uniquely B744 takeoff into the dark, slightly stormy skies over BOS. Once we climbed through 10,000 feet, I began to explore the entertainment system. While it was not the most modern system (nor did it have the best selection), it was fully functional and offered a good selection of movies, TV shows, and music. I forget what movie I selected, but in keeping with my tradition, I chose a kids movie.
During my movie the FAs began a combined dinner and beverage service. By the time they reached me, the only item that they had left was cheesy pasta. Because the tray had a bottle of water on it (and I also had my full bottle of water), I passed on a beverage.
The meal
The entree.
The salad that the meal came with was good, and I appreciated the dressing that it was served with. The entree was a little salty for my taste, but it had plenty of gooey cheese, which made up for it. The roll was fine and the apple-cinnamon cheesecake was one of my favorite long haul airplane deserts (the only one that really comes close to it is LY's carrot cake on my 2014 flight back from TLV).
After they finished distributing trays, the flight attendants came through the cabin with tea and coffee. Somewhere over Northeastern Canada they finished the meal service by collecting the trays, and I popped a melatonin, put on my eye shade, reclined my seat, and slept for approximately 2-2.5 hours.
After I woke up I think (I'm not certain) I selected some TV episodes to watch. As we were approaching Ireland, the FAs distributed breakfast, which was an adequate butter croissant (much better than what I had received on UA on my first TATL flight).
Breakfast. My apologies for the graininess-- early 2010's iPhones generally took poor nightime potos and I did not want to wake anyone by turning the light on.
Soon after breakfast we began our descent into LHR. Due to the storms that were pummeling the UK with high winds and large amounts of rain, G-BYGB made a firm but remarkably smooth landing at LHR. As we taxiied, the FAs made their arrival announcement and gave a shout out to a whole bunch of people on our flight, including someone with a birthday/anniversary, and my high school's trip. After a little bit, we pulled into LHR's T5 approximately 30-45 minutes late. Due to this delay, our group only had a little bit under 1.5 hours to make our connection, so we quickly disembarked from the plane.
Overall Weighted Score
NOTE- food is a simple mean of dinner (4) and breakfast (3).
4.2/5
Connecting in LHR
One everyone had disembarked from our B744, we began to make our way through the sleepy hallways of LHR's flight connection system. After a quick ride on the underground train that links T5's concourses to each other, we arrived at what I thought to be the most British checkpoint possible-- where everyone had to cue up to have their hand baggage checked and to make sure that they had sufficient time to make it to their connecting flight. After we all passed through this checkpoint, we entered another line for security, which was unremarkable.
Once through security we entered T5's A concourse departure area, where we proceeded directly to the gate (I forget which one) to hop on a bus to the A319 that would be operating the quick, trans-channel hop to ORY.
Once boarding was called we all piled into bus. Due to the fact that it was still fairly dark out, I didn't get any good planespotting photos. Below I have attached an A-net picture of G-EUPW, the 13 year old A319 that would be operating my flight.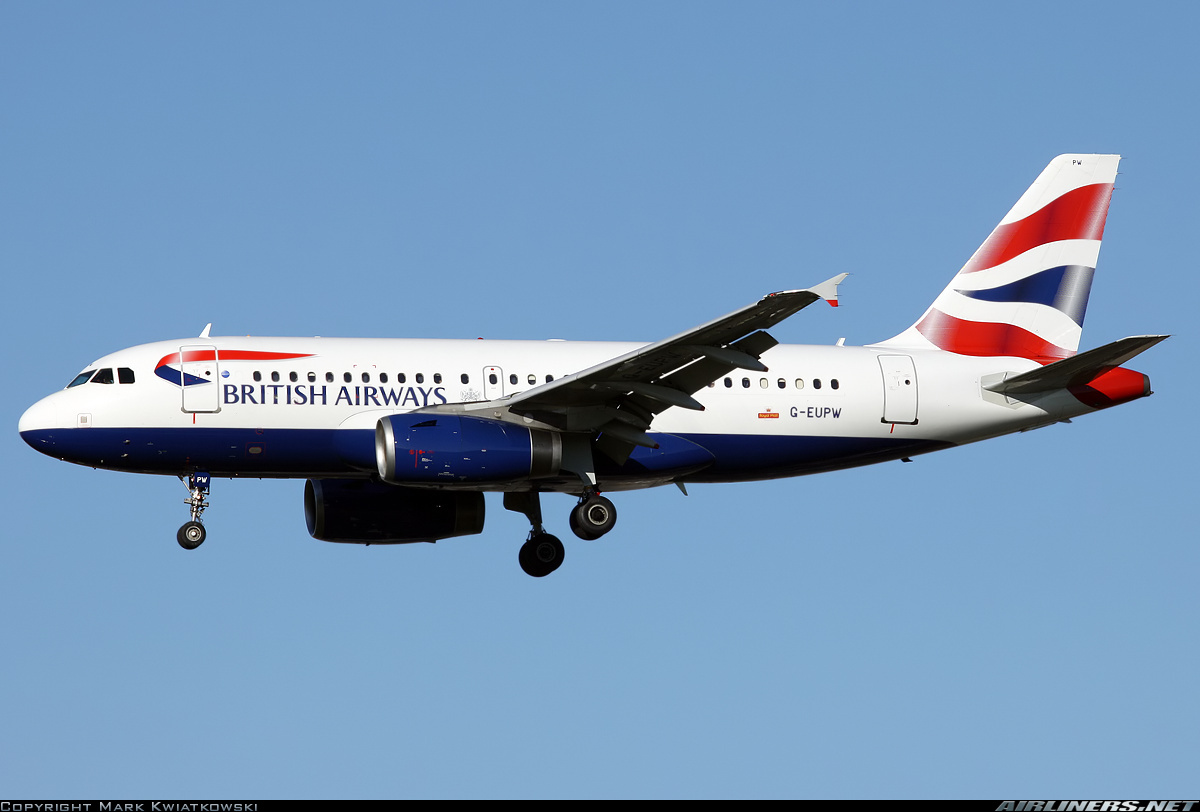 BA 332
Once onboard I made my way to the middle seat that I had been assigned to (I forget where in the aircraft it was). The seat itself was comfortable for the full length of the flight and it provided a good amount of leg room. Seeing as my seatmates were already there when I got onboard, I did not take a cabin photo, so I have attached one below.
The cabin
Once boarding was completed, we began to taxi to the active runway. We ended up having to wait in a long line of aircraft before we could depart. While the planespotting would have been amazing, because I was in a middle seat I could not capture any pictures of it. After a while, it was our turn to depart, and we executed an unremarkable takeoff.
Rapidly after takeoff, the FAs jumped into action in order to start service. On offer was a ham and cheddar croissant. While I did remove the ham from the sandwich (I'm not a big pork person), the croissant was fine and the cheddar was quite tasty. The bag that contained the meal also had a small pot of orange juice, and I think (I'm not sure) the FAs also came around offering water, coffee, and tea. I was impressed by this level of service on a flight that was less than 1 hour. Just 6 months prior to this flight I was on a UA flight from BOS-EWR and they were barely able to provide water to the entire cabin on a flight of a similar length
Breakfast
After a little bit we began our descent into ORY. We made a slightly bumpy but otherwise unremarkable landing in ORY and then taxiied to our gate, where we disembarked. As we disembarked and began walking towards immigration, I was able to do a little planespotting.
AF B773
As usual for Schengen immigration at that time, we were all stamped into France without a single word. We then picked up our bags, walked through the open door that was customs, and then embarked on our bus to begin our first day of touring Paris.
Overall Weighted Score
4/5
Summary
As my first flights with British Airways, these flights left me impressed with the airline and wanting to use it for future TATL journeys.
Logbook and Previous Trip Reports
This
chart
offers a comparison of all the short haul flights that I have taken, and this
chart
offers a comparison of all the long haul flights that I have taken.
2020
Flying Into the Future Part 3: Delta ALB-DTW-ALB
2019
Flying into the Future Part 2: Southwest ALB-BWI-ALB
Flying into the Future Part 1: Delta ALB-DTW, American DTW-PHL-ALB
Onwards and Upwards Part 2: Air Canada TLV-YUL-BOS
Onwards and Upwards Part 1: Swiss and El Al BOS-ZRH-TLV
2018
The Milwaukee Way WN BOS-MKE-BOS
Porting it to and from Toronto
Southwest to Milwaukee and Back (with a surprise)
Air France, CSA Czech Air, and Alitalia to Prague, Bratislava, and Budapest
2016
From my Archives: Summer '16 rescheduled and delayed with Iberia, Vueling, and British Airways
2015
From my Archives Summer '15 Shuttle America: Do they actually meet Delta's Standards?
2014
From my Archives: Summer '14 Returning from Israel One of the Only Ways Available El Al
From my Archives: Summer '14 Outward bound to Poland and Israel with LH
From my Archives: Winter '14 From Sunny Spain to Snowy Boston, KLM and Delta to Boston