Hello everyone!
This trip to Orlando occurred last September, before the Covid-19 pandemic has spread worldwide. My wish is that all the chaos it created is gone soon and hope for a better future for our friends of the aviation community, who are suffering a lot during this hard time.
Let's go!!

In June of 2019 I was checking my credit card points as I wanted to buy an electric pan to make gohan – the Japanese rice. After some searching, I found it, but I had plenty of points to use so I decided to go for something more exciting than a cooking utensil.
I started to simulate some trips to see what I could make with those points and that is when an obsession of mine came into place: Orlando. I had family and friends living there in the 90's and 00's and spent many of my school vacations in the city. This was a long time ago, but all the attractions and theme parks of the city still get my enchantment and still go whenever I can.
I obviously wanted to go to Orlando again and during my searching I found one option in which I'd be able to issue an economy class ticket with LATAM, non stop flights from São Paulo to Orlando and still rent a car for 10 days, from Sept. 19th., to the 28th.
And that is when an electric rice pan became a trip to Disney!!
Let's fast forward to the day of the trip.
I arrived at São Paulo – Guarulhos airport early in the morning of September 19th, 2019. The schedule would take me to Orlando aboard a beautiful Airbus A350 of LATAM. Our departure time was 09:30AM.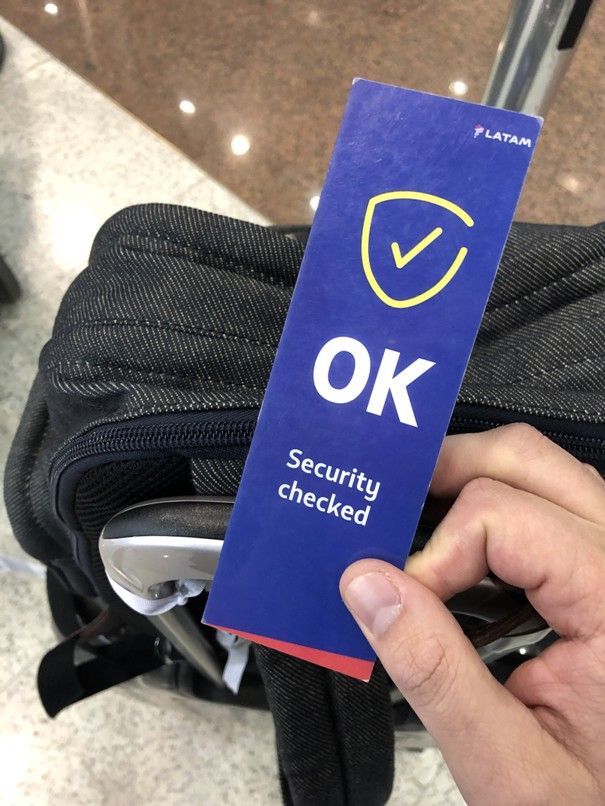 After immigration and security, I headed to the American Express lounge to have a coffee. Later I went to the Star Alliance lounge which is much larger and more comfortable - you can access both of them with an American Express platinum card and it's a no brainer: go to the Star Alliance lounge if you can.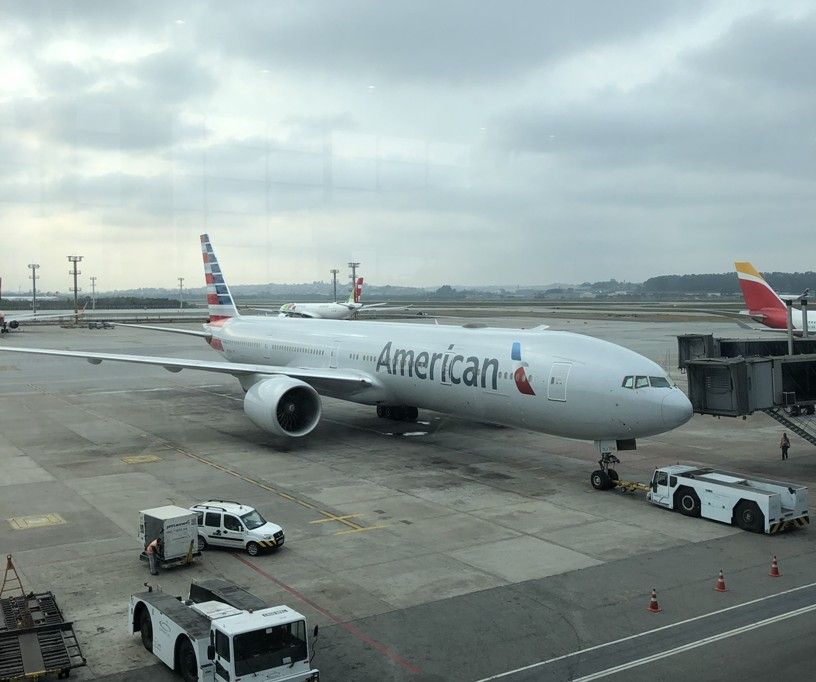 The aircraft assigned to our flight was the Airbus A350-941, registration PR-XTH, delivered new to LATAM on April 30th, 2018. I boarded with a lot of excitement as this would be my first time flying in the A350.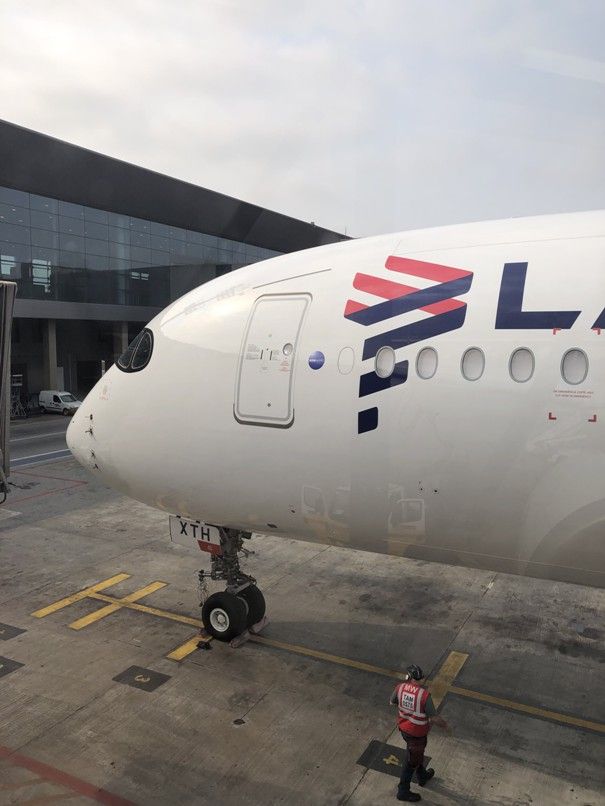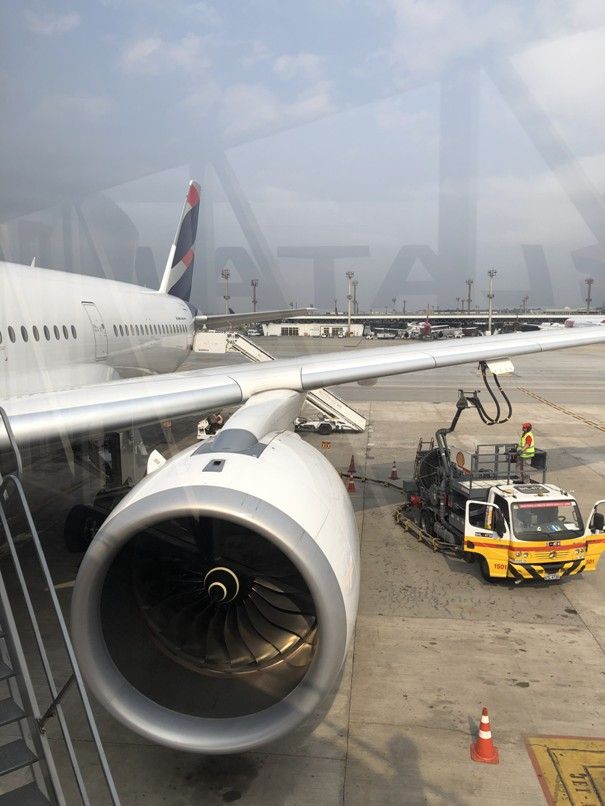 My seat was 41K, a window, and as I reached it, the whole row of 3 seats was empty. I crossed my fingers and prayed that it remained like that, but a lovely little boy sat beside and kept staring at me. It was a little awkward, but I tried to be nice to the little citizen and asked: "hey pal, are you ready to go to Disney and meet Mickey??". The boy was silent for uncomfortably long 10 seconds before he firmly said: "NOOOO!!!!". Well, I was, so I jut opened my window and looked at the movement outside.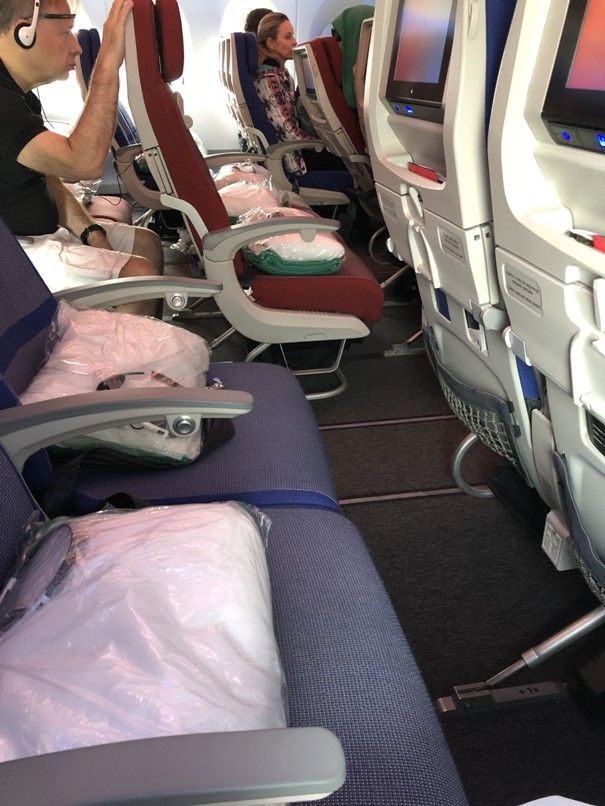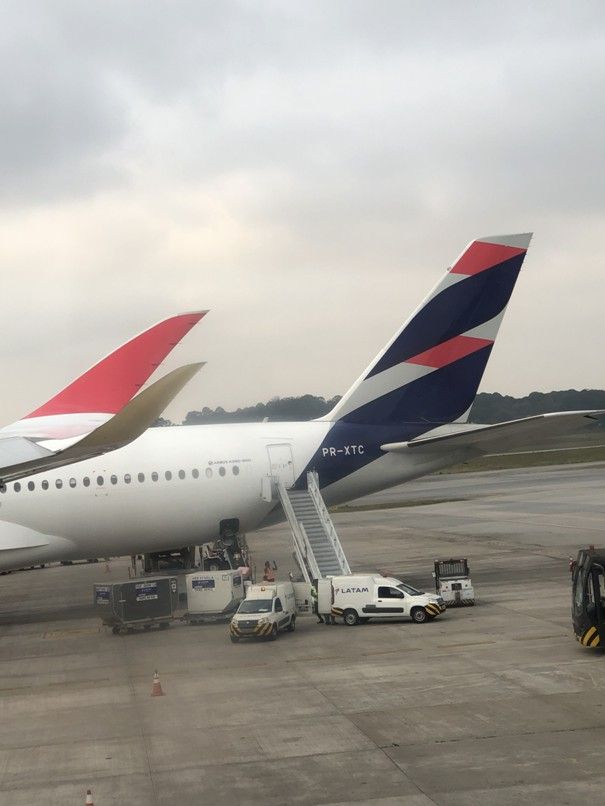 Nice mood lighting, reminded me of AA's though.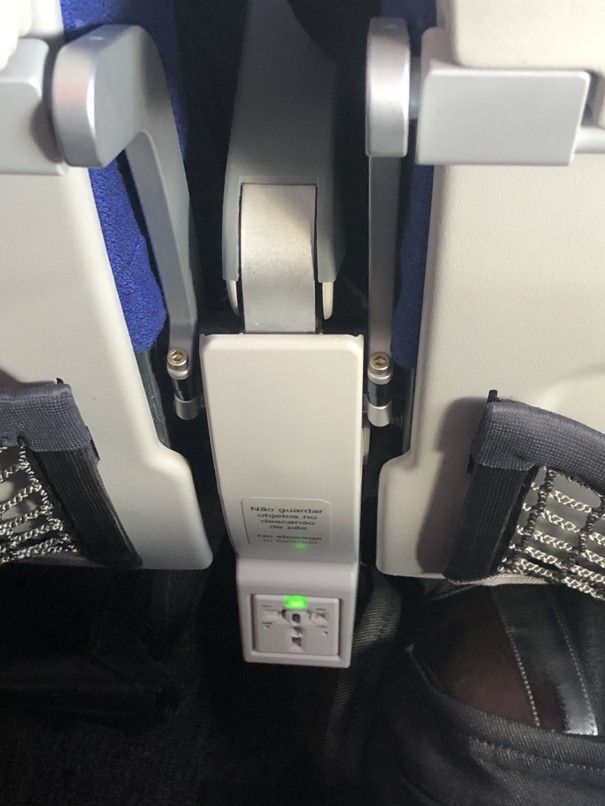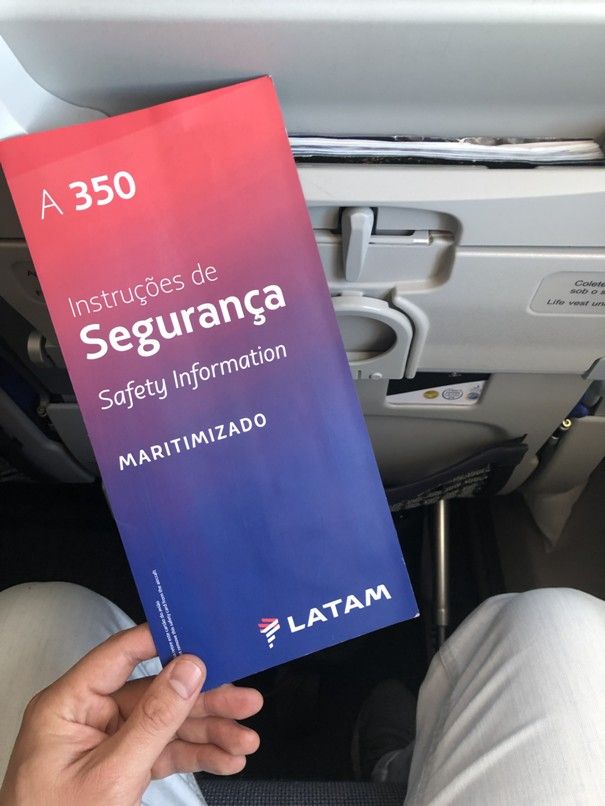 Thank the Lord the child's father soon appeared and took him to the seats behind me. YES!! Pushback started and no one sat in my row, a true blessing for any economy class traveler!!
With that, I sat back and relaxed while waiting for our departure. I imagined we would have an empty(ish) flight as it was a Thursday, in the middle of September, with no holidays but I could not be more wrong. I believe that 30% of the passengers was composed of little screaming beings with less than 10 years old who, apparently, were off from school duties. Well, this was a flight to Orlando, I couldn't expect anything different.
We departed on time from GRU Airport in São Paulo, what made me very happy as I had plans to do straight to Epcot after arrival in MCO. I'll talk about this later.
https://youtu.be/WMH173UrlGI
Pushback and departure video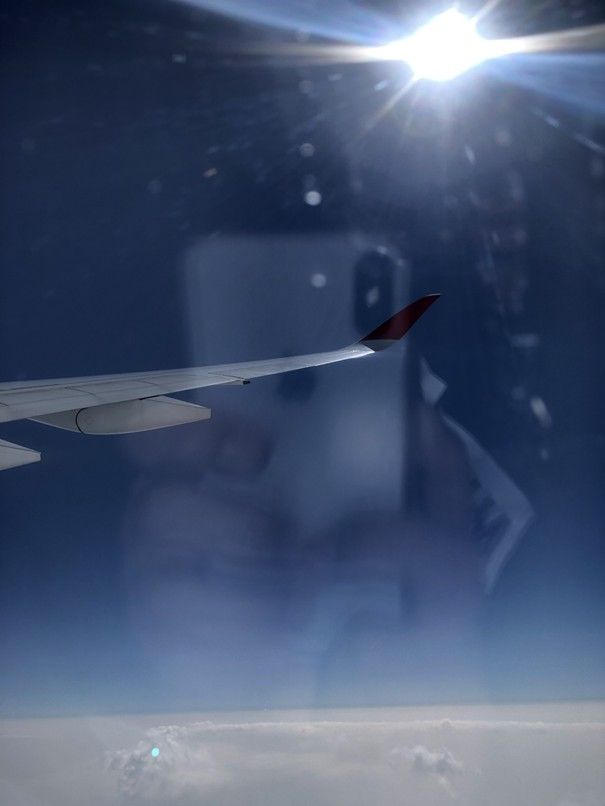 It didn't take long for the breakfast to be served. It consisted of an omelet with bacon and tomato and a yoghurt. I chose a water and a coffee to drink. Everything was very good and the portion was big, I was really surprised with the quality and presentation of this meal.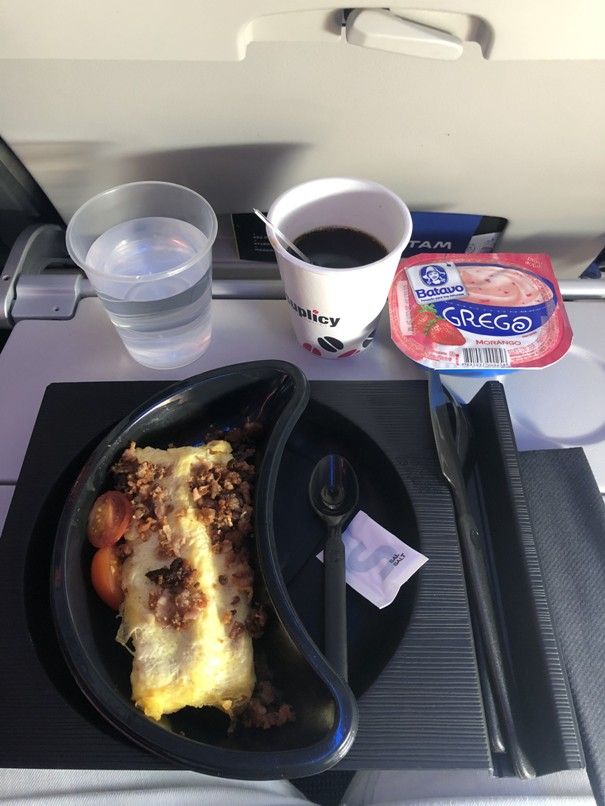 The crew was absolutely fantastic, all smiles, very friendly and educated people. They also gave me a belt extensor so I could lay down on my three seats with the seat belt fastened. And that's what I did! After about 4 hours sleeping in the "flat bed" position I was waken up by that same little boy from the beginning of the trip. He was there again, staring at me, quiet. It was kinda creepy, because for some seconds I couldn't realize if I was really awake. I looked behind and his parents were sleeping so I decided to tell the boy that the captain would forbid children to go to Disney if they were strolling around the plane. He immediately zipped away to his seat and didn't bother me anymore. How can people leave their children unattended in a flight like that? Really strange and dangerous.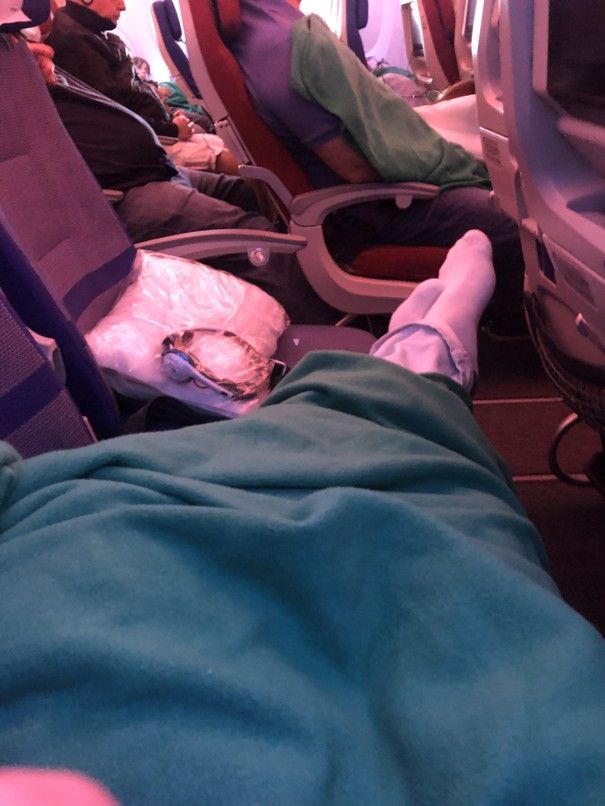 Flat bed position lol
Anyway, at that time I couldn't sleep more so I watched a not-so-great movie called The Sun Is Also a Star. The entertainment system is incredibly good, responsive, intuitive and I loved the outer cameras on that aircraft, it was absolutely the best I could watch! Lol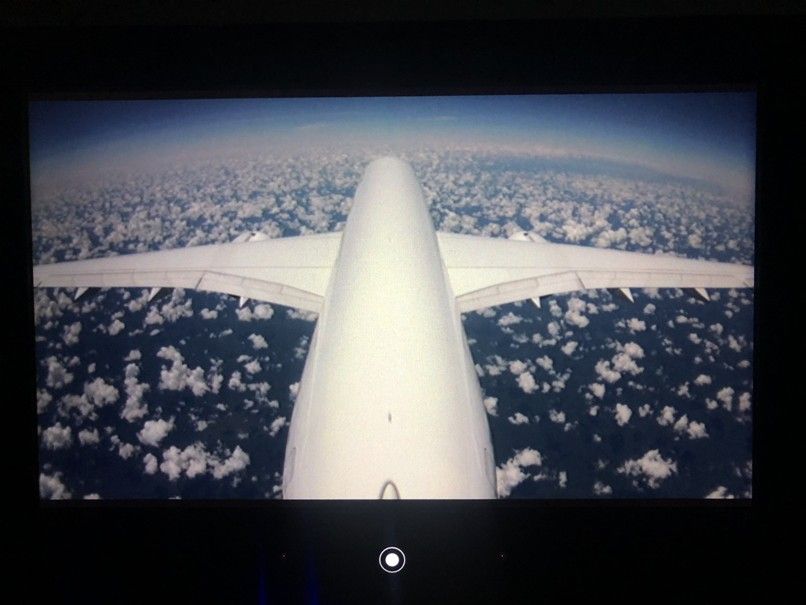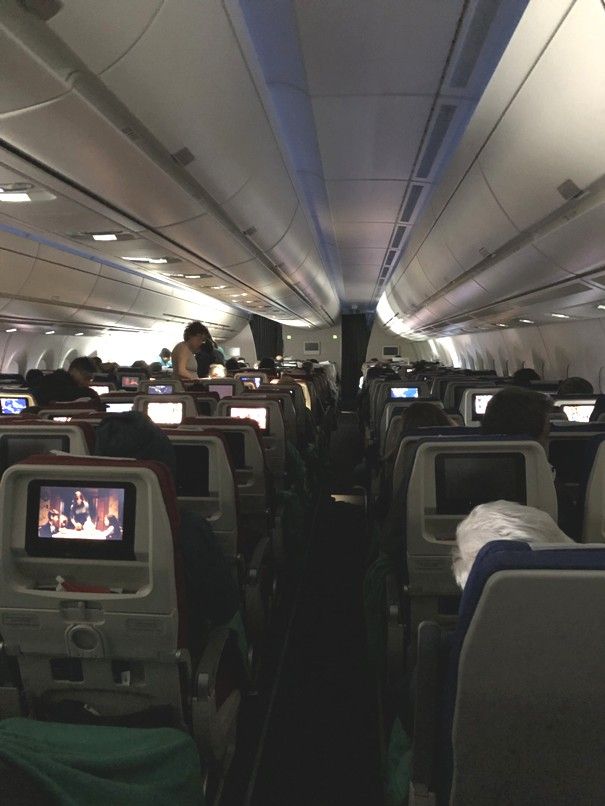 Spacious cabin of LATAM's A350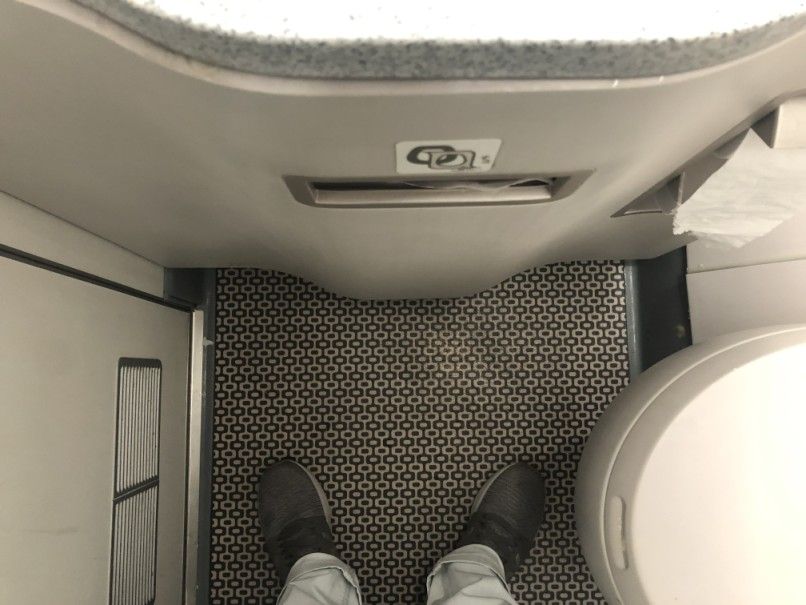 Bathroom floor detail
We were already flying close to the Bahamas at that time, so lunch was served. Again, a great service provided by LATAM. Good quality of food, big portions, I wouldn't ask for anything more.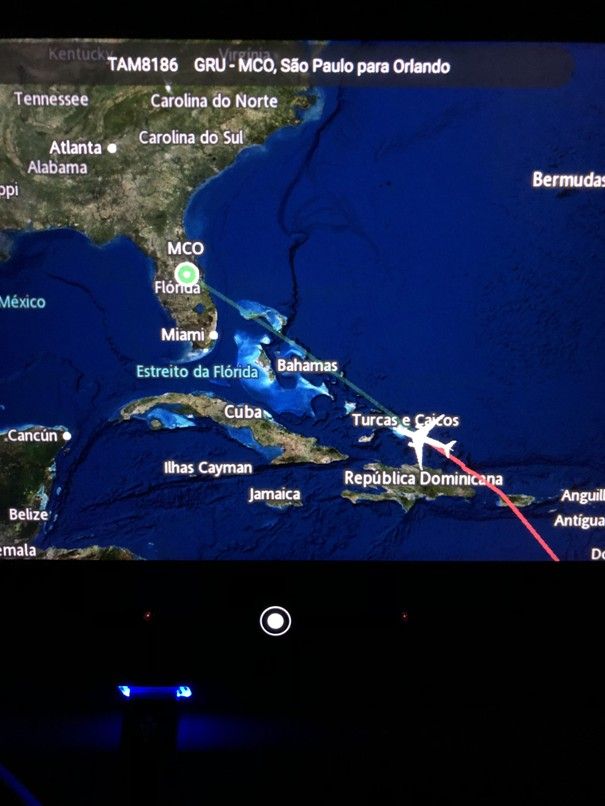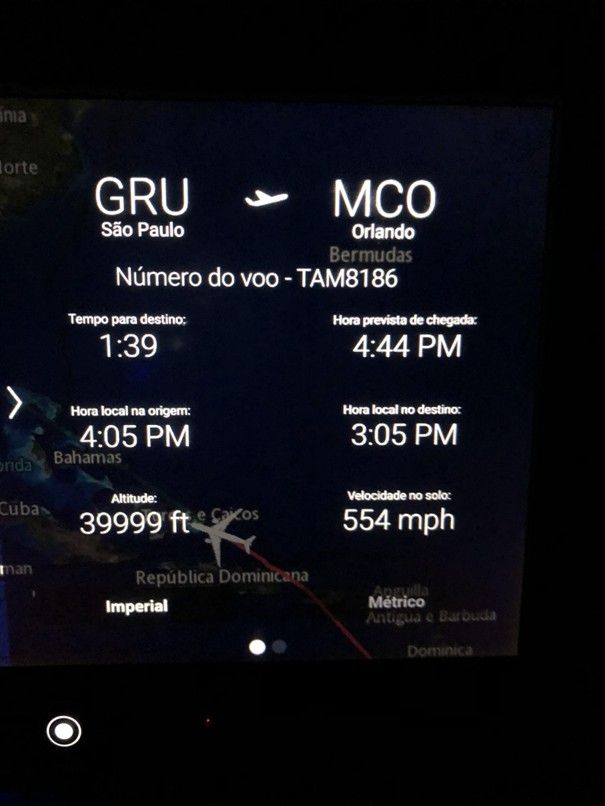 And look at the amazing view we had during our meal:
Right after lunch we started our descent, over Pompano Beach, and the symphony of the unsatisfied children is clear in the landing video below. I believe there were mini avgeeks crying for the end of a great flight with LATAM, don't you think so?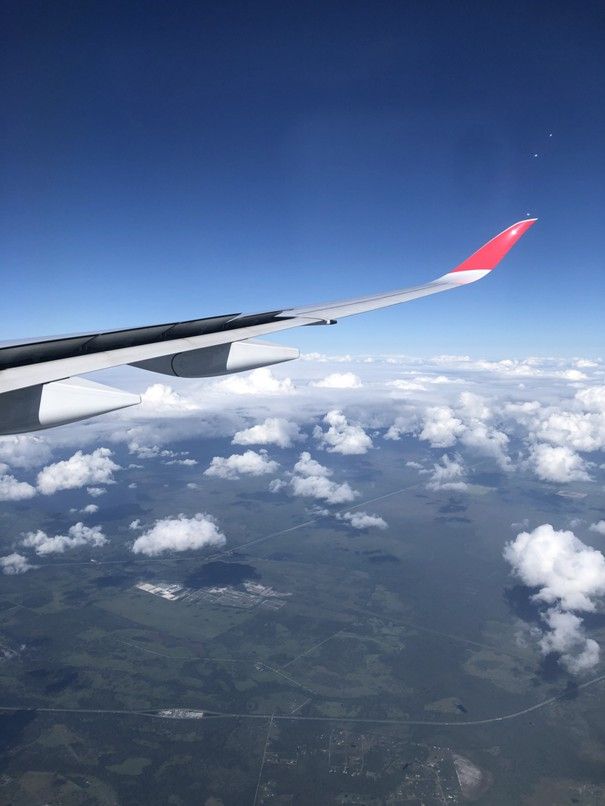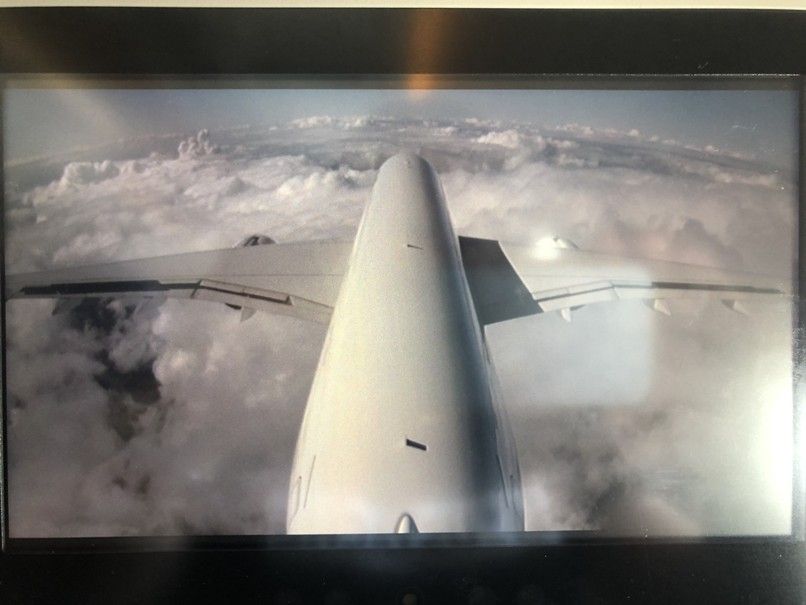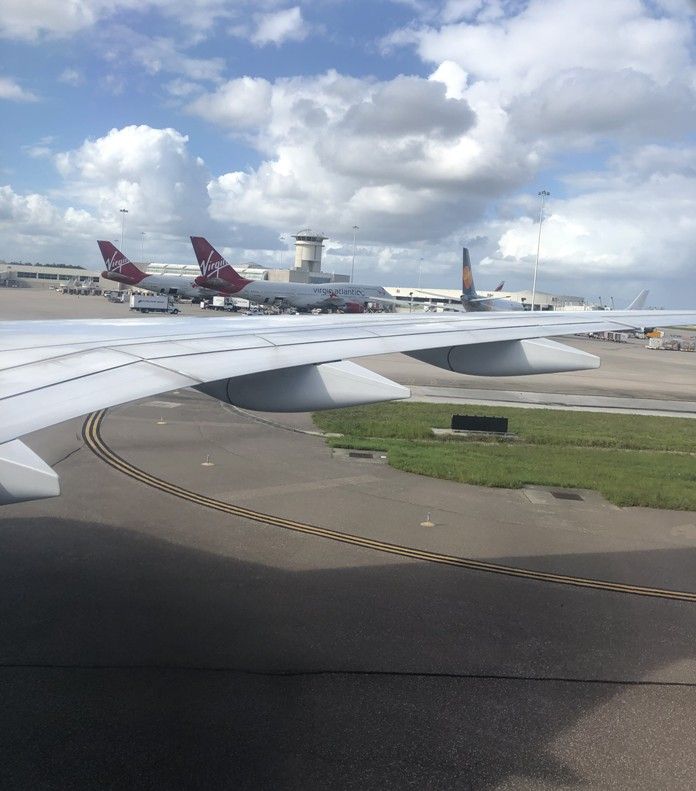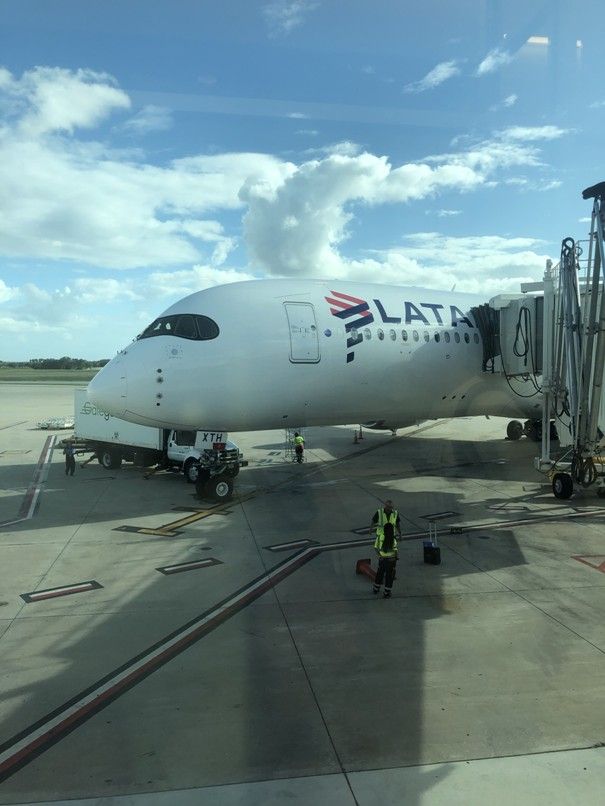 https://youtu.be/WCDWB7X0V7c
Landing Video
We arrived at Orlando International Airport 20 minutes before the scheduled time. After a very fast immigration, I proceeded to the Dollar counters to get my rental car. I like the system adopted by Dollar (and other companies too) where you can choose any car in a row dedicated to the category you paid for. I chose premium sedan and the options were Nissan Altima and Hyundai Sonata. Plenty of these two. But there was one, only one Chrysler 300S and that was the one I got. It seemed superior than the others.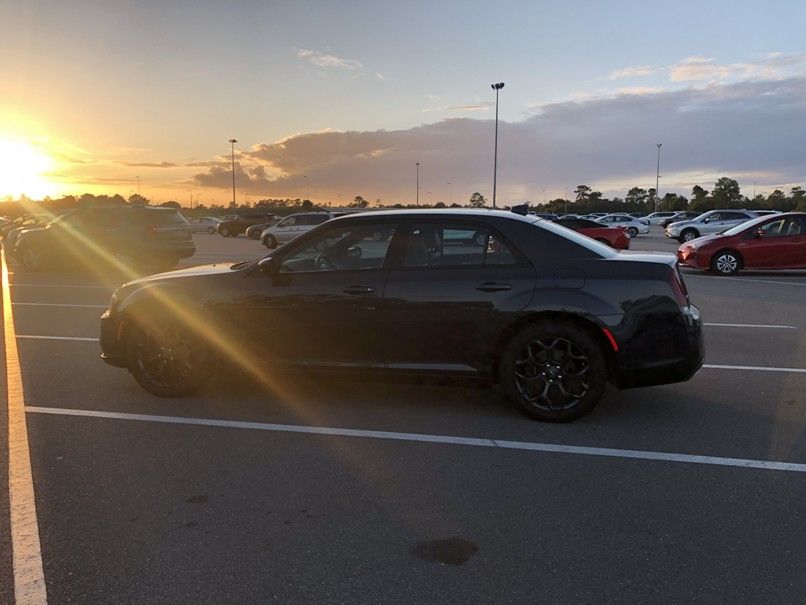 From the airport I did exactly what I intended: went straight to Epcot to enjoy the Food and Wine Festival that was happening at that time. It's an amazing experience that I try to go whenever I can. It's Disney magic for adults, I love it. On this day I just ate (A LOT!) because I was driving. I went again to the Festival, but this time without a car so I could have the "drinking around the World" experience. I really recommend it.
Here are some pictures of the event:
Straight from the airport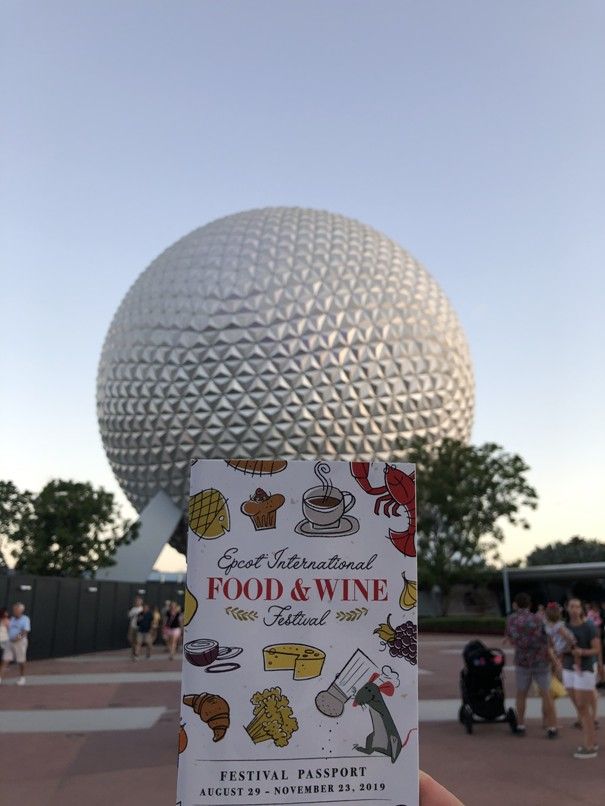 Also on the arrival day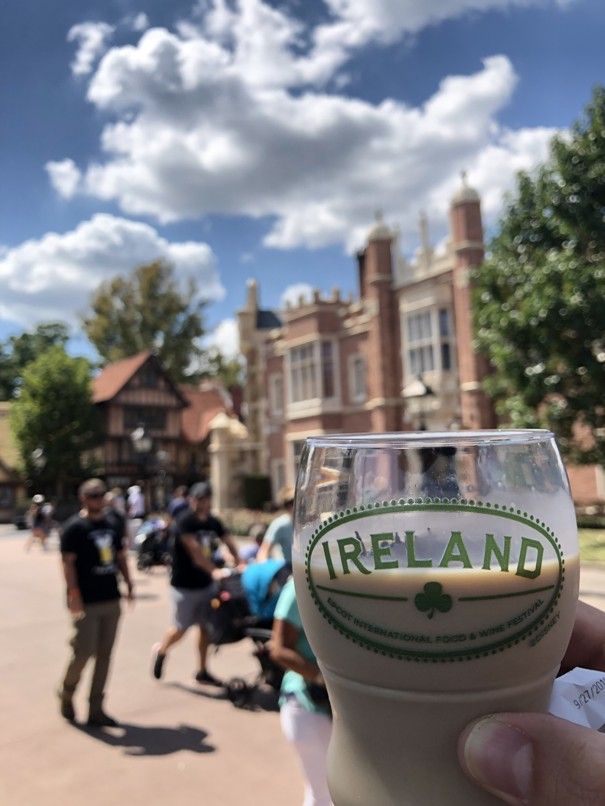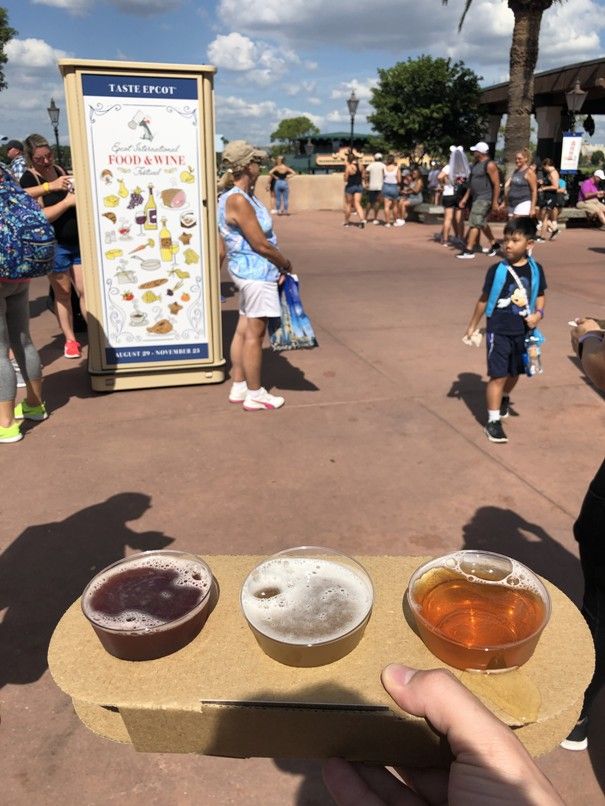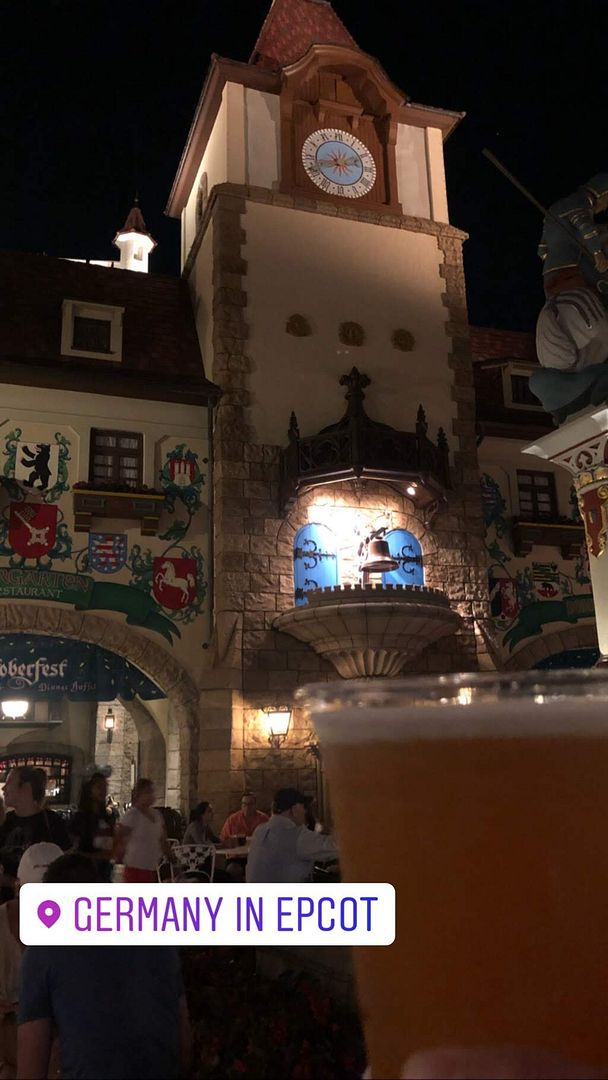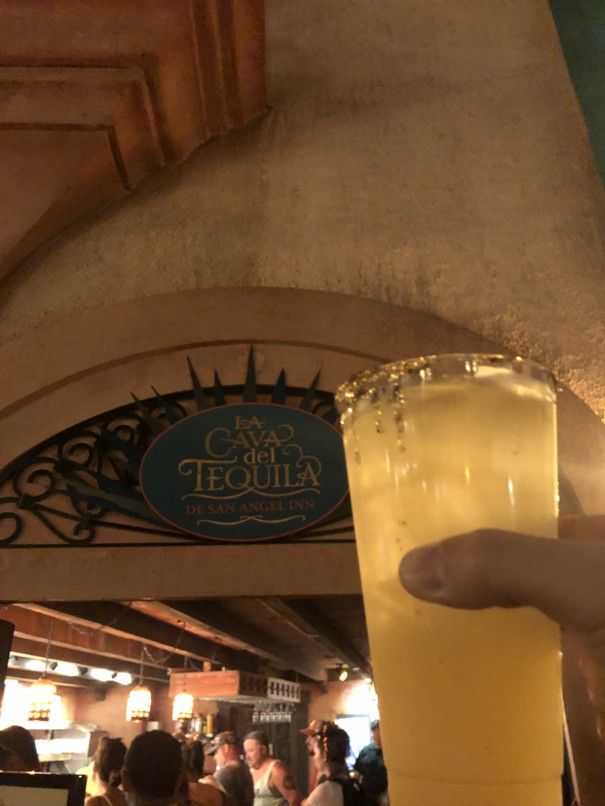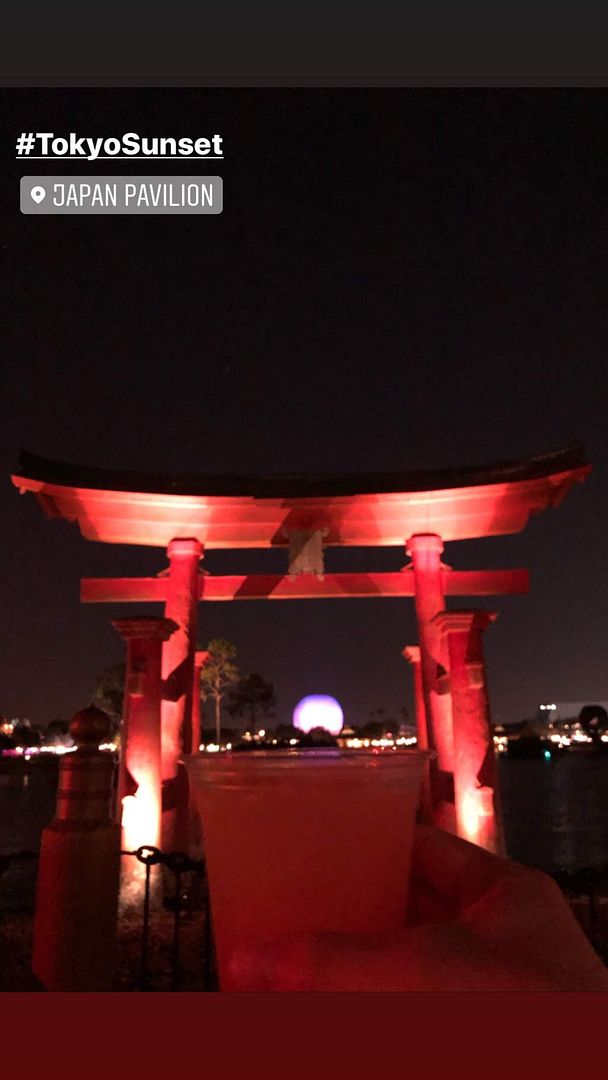 Finally, I'll rate my flight with LATAM as follows:
- Check-in: 6/10: the lines at GRU were disorganized and there were only two international flights at that time, the other one going to Miami. I expected something faster, it took me around 30 minutes to complete the procedure – I arrived early there were around 15 people in front of me.
- Punctuality: 10/10: the flight departed on time and arrived ahead of schedule, which fitted perfectly in my plans.
- Comfort: 9/10: The plane was really clean and well maintained. The seat is comfortable, has USB ports for every passenger and two power outlets for every three seats. The only negative point is that the armrest is too thin, but I was lucky I didn't have to share it.
- Entertainment: 10/10: I watched a movie and kept looking at the outside cameras, so it accomplished perfectly what I wanted. Very fast and responsive touchscreen too.
- Service: 10/10: the crew was fantastic and the meals were very tasty and in great size. Everything here exceeded my expectations.
Total grade: 9,0
That's it guys, I was really glad I could take this flight and now share with you all. Orlando has a special place in my heart and the last time I had flown on a direct service from São Paulo to Orlando was aboard a 767-300 of the deceased Brazilian airline Trans Brasil, in January of 2001. Since than I've been going to the theme park capital thru ATL or MIA.
I also would like to share with you all some stories that I posted on Instagram. I'm sorry it's all in Portuguese, but I think you can have an idea of what's going on.
https://youtu.be/t3nIKUyLK0g
Alright, feel free to ask me any questions regarding this trip, tell me if you enjoyed it and, if you didn't, please tell me why, so I can improve next trip reports!
Thank you very much for your attention!!
Til' our next flight!!