Well, I'm fresh off the plane and I'm coming down from the flying high. And having gone rather plane starved since New Years Eve of 2019 where I demoflighted a Cessna, not realizing that would be the last time I would board a plane until this April when I went to Phoenix for a daytrip. However one night the topic of Avelo did come up and their rock bottom pricing. Eventually both me and a friend caved to the idea of another daytrip just with less planespotting and more uniqueness factor with a brand new airline, picking up a 38 dollar round trip flight for a nice spring weekend.
With some of the talk of Avelo on this forum I did not expect just how things would went with this route but more to be elaborated later on in the report.
But here and now I was able to make a flight out to OGD and back for a quick day trip lunch and to have the authentic Avelo and Burbank Airport experience.
Anyhow the pertinent information beneath for the flight and airframe.
Flight : VXP107 and 108
Route: KBUR-KOGD-KBUR
Flight Time : 1h19m + 1h36
Airframe - N803XT
Seats - 6A - 8F
Departure Times : 11:20AM PDT/02:38PM MDT
Arrival Times : 01:39PM MDT/03:14PM PDT
And now on to the meat and bones of the trip report.
---------------------------------------------------------------------------
The Beginning - Long Beach To Burbank...
As a hermit who never goes to the big city from the relatively quiet distant end of the Los Angeles Metro Area it was a rather comforting site while being driven to Bob Hope in the morning with the usual LA Basin Marine Layer overhead.
As we neared Burbank, my rather amazing friend and driver took us to downtown Burbank instead of the intended Bob Hope Airport, albeit resulting in a conversation drawing comparisons to the NorCal area with the low clouds and high hills around.
---------------------------------------------------------------------------
Flight 1: BUR-OGD XP107
After having swung around to the actual Burbank Airport, and holling the SUV up at the cheap and reliable Southwest Parking next to the Pacific Surfliner right of way we walked the short distance to check in the good old fashioned way.
Avelo signage had been posted up in front of Terminal B and inside with their check in area being a rather usual affair sporting their branding all around.
Avelo had only very recently gotten their online check in infrastructure online. Here we became truly aware of the load nature that Ogden had attracted. A very abundant amount of families, quite literally from check in to being on the gate we always saw a child or toddler in arms. Which did make for a rather well filled flight as seen with the seat map and the luckily good allocated seats prior.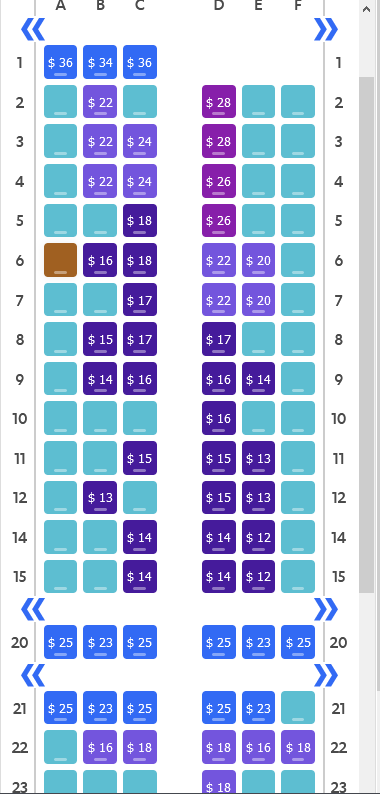 Walking from the check in with a printed out boarding pass in hand to the TSA checkpoint, we passed a hallway filled with Lockheed Martin memorabilia, all well in taste considering the long history Lockheed has had at Burbank.
As we proceeded through TSA, at near record pace considering the quiet hour of the morning with time in the checkpoint being just around three minutes outside of waiting for a bag to come out on the x ray behind a few other bags. Our boarding passes directing us for gate B4 with more than ample time to sit down and relax and chat about the future of Avelo and our flight in general.
As we arrived at the windowless waiting area for gate B4 area we were greeted by the usual Avelo branding and signage along with some rather sharply dressed Avelo ground staff sporting the company colors of purple, yellow, white, and light blue.
Our aircraft, N803XT one of the most recently activated airframes for Avelo having just came off of service with Turkish Airways came up to the gate after the flight from Phoenix Mesa. Within twenty minutes they had turned the aircraft around and had started boarding the immense deluge of young families for this flight in the priority boarding groups. It soon turned to quiet as everyone waited around for boarding group five to be called as it seemed everyone had awaited for Avelo to assign each one their seats instead of forking up the same amount as base fare for seat selection.
Walking out for the air-ramp boarding gave fond memories of my second most recent flight with this same friend over to Phoenix and back from Long Beach.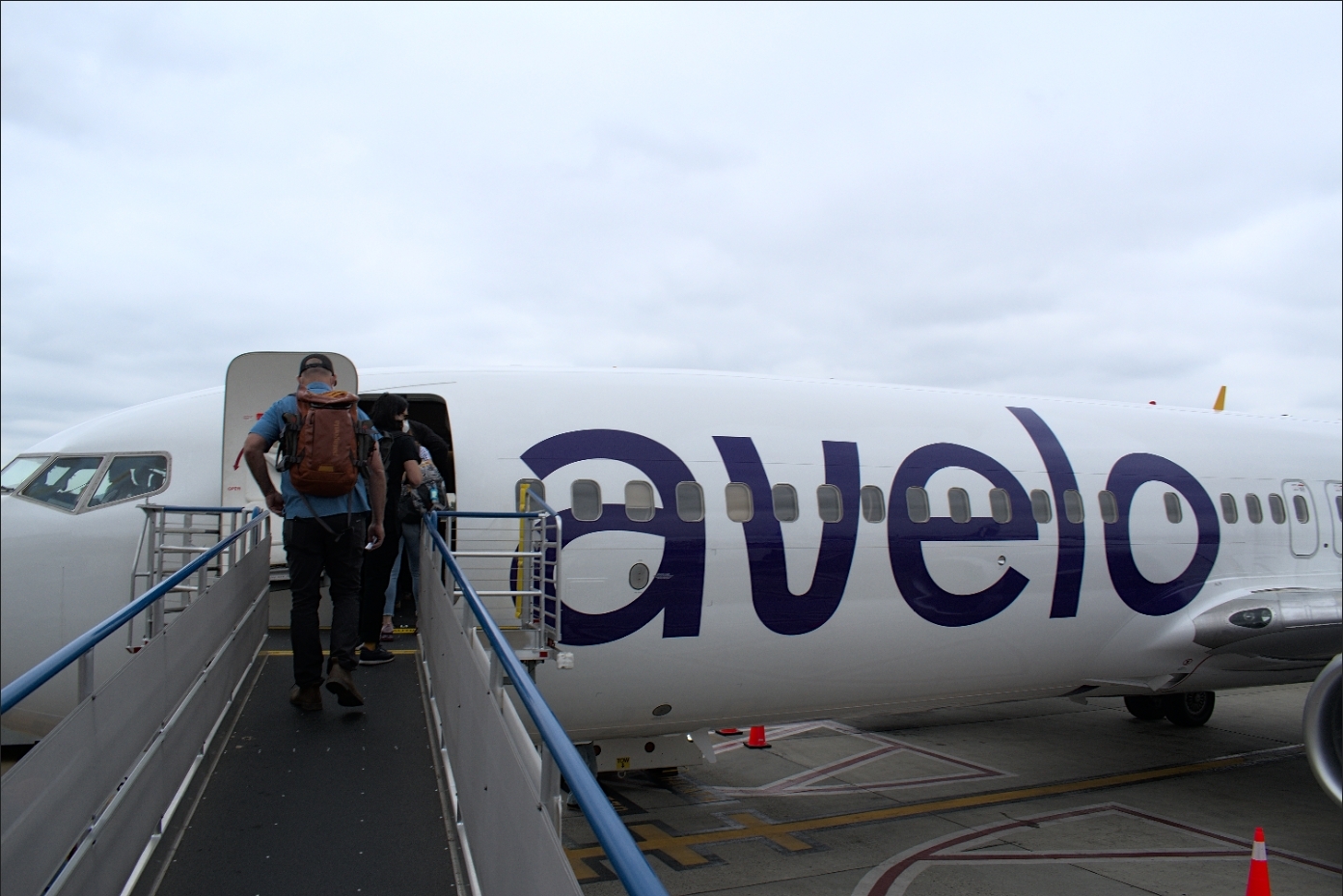 We were greeted by a fresh and new cabin, albiet sporting ironboard back seats that would fit in just fine on a Spirit A320NEO or a Class 700 doing Thameslink running.
I quickly took my seat and from that, I was able to comfortably view the Burbank tower before pushback and departure while also taking a peep back and taking a photo of the load behind 6A~ish.
Below, I have provided a takeoff video of... (middling) quality but a takeoff video nonetheless. In which I can excuse my poor videography because I did the genius thing of taking a photo with my DSLR at the exact same time.
https://youtu.be/Me7w1cLxJRs
Following the climbout through the marine layer over Los Angeles the cabin crew was quick to get to work and surprise us all with snack service. In a world of service cuts and reductions, an airline that has a base fare before taxes at 10 bucks we were rather surprised to get a token yet still filling shortbread cookie and water bottle. Is this their biscoff or stroopwafel? Well let's see if they last long enough for these Lorna Doones to be associated with them. Although I certainly haven't seen them outside of Avelo.
Heading back to the rear for a moment to chat up with the flight attendants, who were extremely passionate about this new airline and hopeful for the future of it. Throughout the entirety of these two flights I could feel the passion through the excellent service they provided and this personal touch they provided definitely helped drive that point home.
The hop to Salt Lake went far quicker than me or my friend felt it should have gone with the very lightly snow kissed mountains surrounding Salt Lake City rapidly coming into view and soon enough the name of fame for the city it's self.
We came off Runway 03 in a rather relaxed pace all things considered with the lack of even idle reverse. And rather fitting of the relaxed and laid back mood that had came from the more rural and sparse appearance of the area. A hangar BBQ was in sight along with the airport's fire response team hanging close to the terminal, some of the firefighters looking out from their garage to our flight pulling in with others leant against the fence to the terminal; which we would shortly find out were also part of the crew that pushed the ramp up to our aircraft.
---------------------------------------------------------------------------
An Ogden Sized Intermission
As everyone quickly drained out into the terminal, the scale of the terminal dawned upon us rather quickly. Small, quaint, and with a brand spanking new restaurant that I had called ahead for to get a sandwich.
Me and my friend quickly popped out to the front of the terminal, taking in the quiet scenes while our flight was boarding already in the background.
Of note, it appears Ogden City has made it clear as recent as April 30th that they would be tearing down the old Ogden Airport ATC Tower that rested atop the terminal due to it's abandoned status and damage it sustained during an earthquake and windstorm.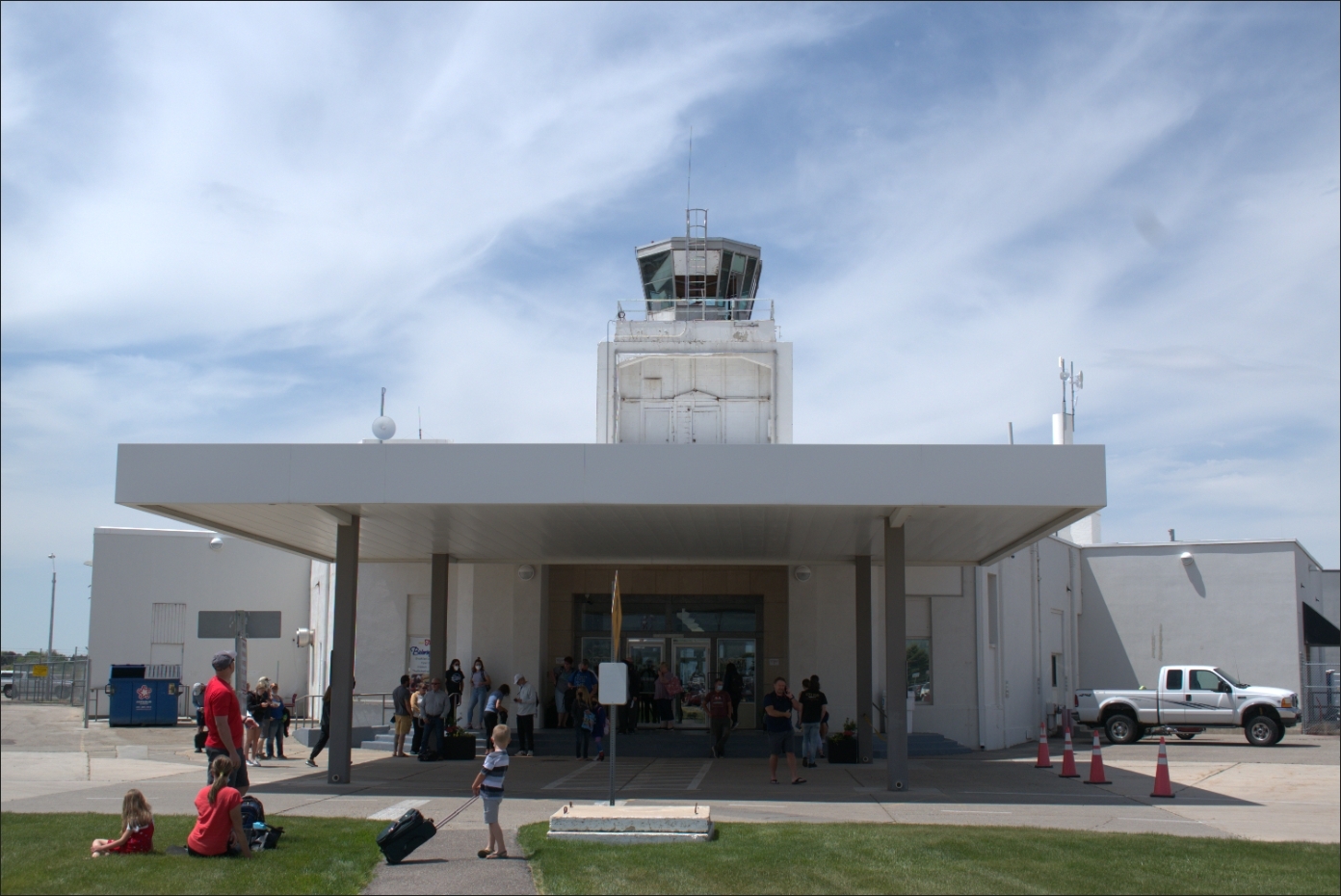 ---------------------------------------------------------------------------
Flight 2 OGD-BUR XP108
We quickly went back inside to wait for my sandwich to be made, while I hopped over to the check in desks to grab a paper boarding pass just to keep. But then again it beat fumbling around with my backpack and phone to get aboard the flight with the comparative ease of only having to clutch onto a thin piece of paper.
By then we were cutting it close when I had received my sandwich, and were quick through the tiny TSA facilities at OGD. It appeared like we were the last to get through the checkpoint, with my Tomato Bisque side having to meet an unfortunate end with the trash bin.
A quick jaunt up the ramp and a familiar greeting by the flight attendants onboard before getting settled in for the ride back home. I noticed the flight was just slightly less filled than the last. But still far better than what I would have expected for a flight from Ogden.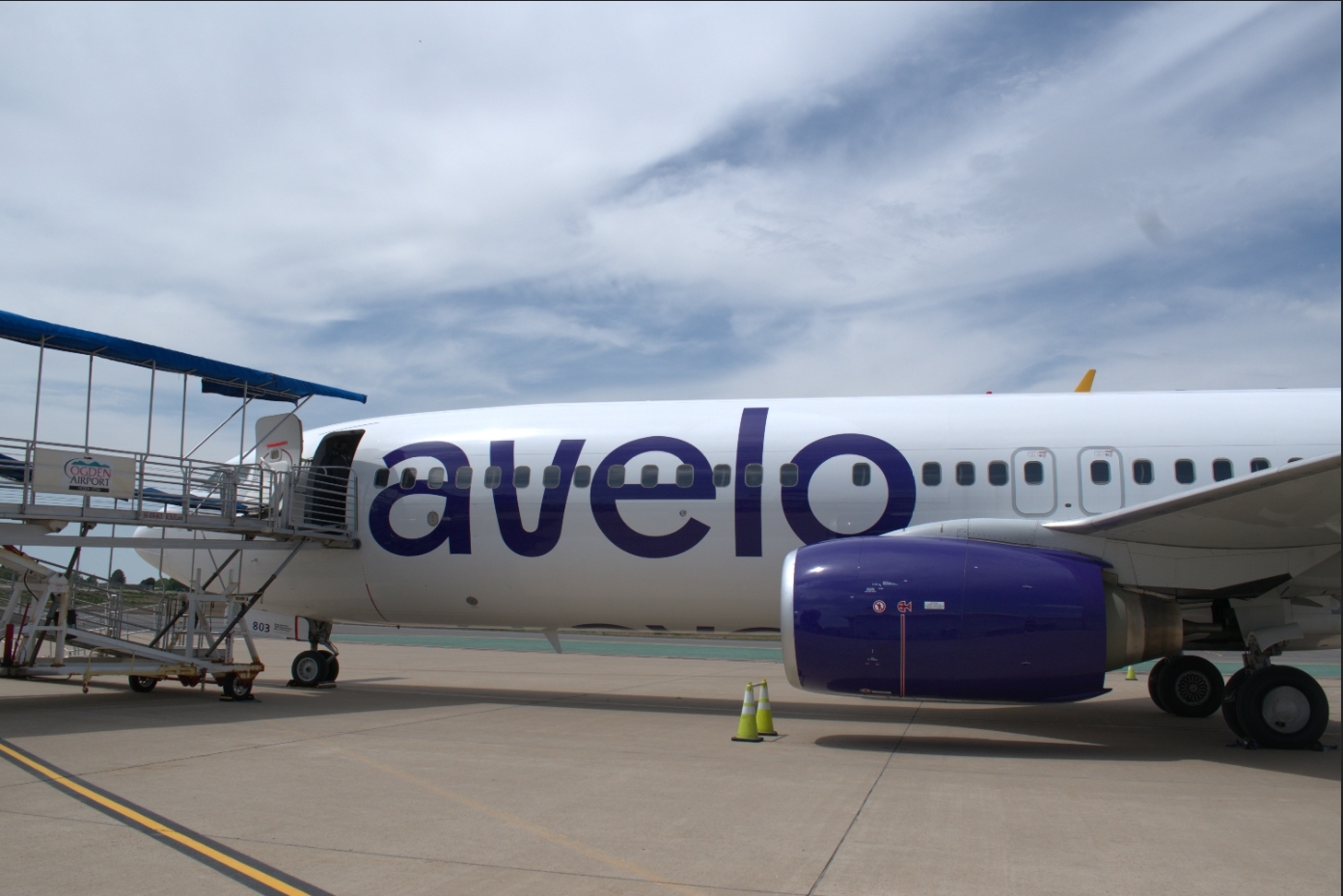 On the taxi out, I was able to see the old and new tower standing next to each other. I do wonder just how much longer that the old tower has, but considering the slated demolition date of Spring of 2021 I am probably amongst the last to see it standing in it's former glory.
Once again the engines fired up for a quick taxi on over to Runway 21, a little odd to me and my friend but this made sense afterwards considering the traffic from KSLC being right next to us while we left.
A practically full power departure before a quick level off to avoid KSLC's traffic made for a pretty rocket like ride as we climbed out of the Salt Lake Area.
https://www.youtube.com/watch?v=9d8C5mfb6as
The Great Salt Lake came back into view before fading away beneath the clouds as we climbed for Flight Level 360. The climb went smoothly even with predictions of potential light chop as we climbed through the mountain air.
By now it was around two o clock for my Pacific Coast acclimated body and not all of the self restraint in the world could have stopped me from tucking into that sandwich that I had been hyping up for myself up to this point. While not a focus of the flight... I wanted to talk about it.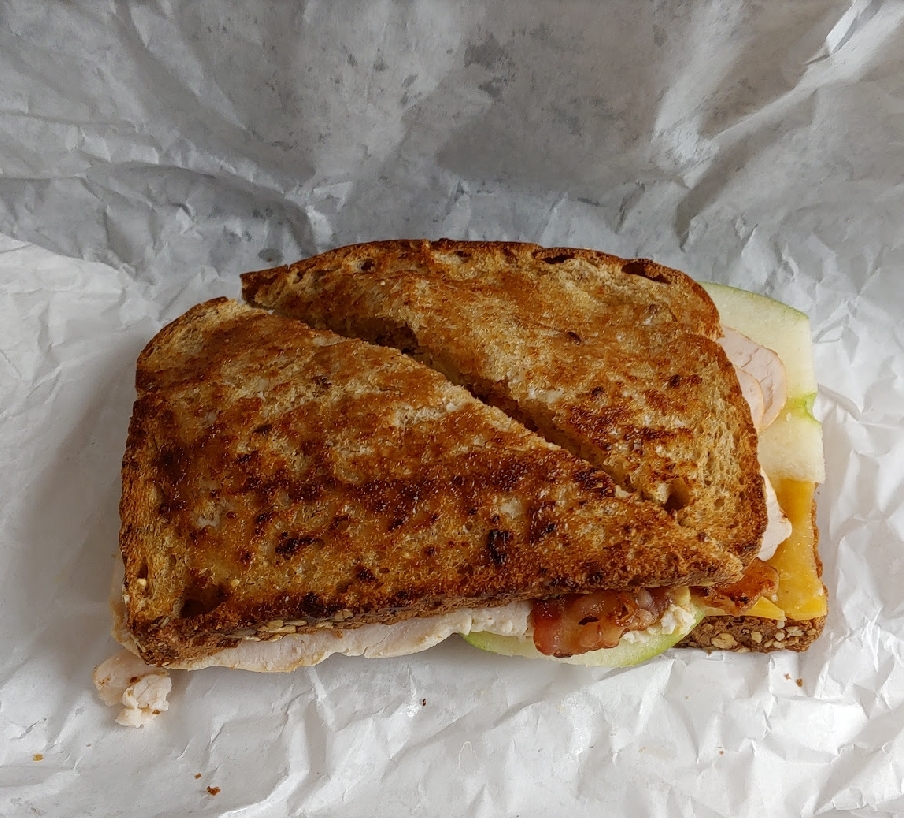 A Turkey, Apple, and Bacon Sandwich sporting some what I assumed was whole wheat or multi grain bread along with cheddar and honey mustard made for an admittedly rich sandwich for a late lunch as we cruised over Southern Utah and roamed down into Nevada. Soon afterwards snack service started as we made our way southwest with the same shortbread cookie and water being provided. We were soon overflying Las Vegas giving a hint that we would be descending very shortly into Burbank.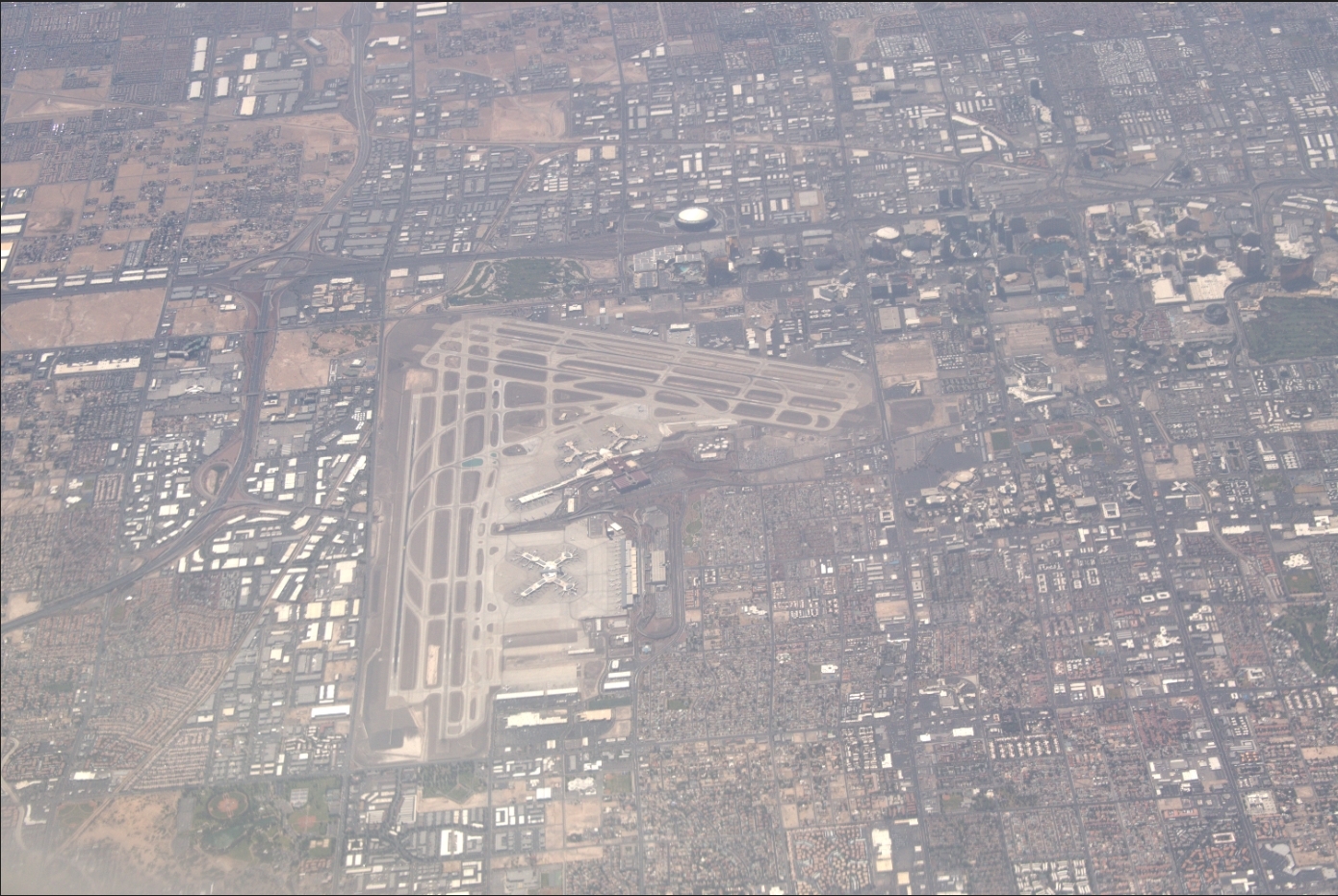 I had anticipated this trip for the potential to get the Four Stacks Visual into Burbank, and as we cleared the clouds surrounding the Burbank area, slicing between the two mountains that provided a clean gateway into the Los Angeles Area from up north, my hopes were heard and the rumbling of flaps and gear gave me good reason to believe we'd be landing on 15 instead of 08.
The Four Stacks took us low over Burbank giving us a very good view of all the industrial estates and back yards with pools that makes up the area as we came down on Runway 15 at Burbank for a quick stop, and a just as quick turn off to the gate. We pulled into Gate B3 in typical fast Burbank fashion.
https://www.youtube.com/watch?v=3Rm-ByiBYC4
Afterwards, I did get the opportunity to chat up at the flight deck and get the usual photos up front. Admittedly, this was my third 737 flight ever with far more Airbuses under my belt thanks to my time in the Philippines. But, something I did puck up on in my little chat was the preference by the crew to utilize the Four Stacks. But then again who wouldn't want to hug the mountains on a bright sunny SoCal day when you started the leg in more dreary and overcast weather.
Coming off of this flight into the low ceiling terminal of Burbank I would definitely say I came away from this flight astounded by what Avelo provides for it's price. In the time I spent waiting for the rest of my fellow passengers to disembark I overheard many saying this was one of the best domestic experiences they had ever had the pleasure of flying on. A healthy mix of passengers, 50/50 from Ogden and Salt Lake City with the Salt Lake originating passengers appearing to be chasing the low fares that Avelo offers.
A passionate and committed crew who poured their effort into an outstanding service along with a service that while at initial appearance connected two unlikely pairs in the end at least on this Saturday produced a very healthy turnout.
With so many passengers coming off of this flight with their experiences turned for the better, a travel boom on the heels of more and more reopening, my hopes are high for Avelo. Especially with passengers talking about how had this been a road trip they would have still been stuck in Provo; let alone the slow going traffic of Los Angeles.