Qantaslink QF1604 Perth To Darwin
Flight Details:
Airlines: QantasLink
Flight: QF1604 PER - DRW
Reg: VH-UVQ
Aircraft: Airbus A320-200
Class: Economy
Departure Perth Terminal 4: 11.45am
Arrival Darwin International: 4.50pm
Flight time: 3 hours 10 mins
Distance: 2646 km or 1429 miles[/text]
VIDEO: QantasLink QF1604 Perth to Darwin
https://www.youtube.com/watch?v=7xaLZN9K9Rw
Introduction
This trip report is from Dec 2022. This trip report is the continuation of "Great Aussie Fly" series. I had flown to Perth few days ago, read trip report:
Qantas QF9 Melbourne To Perth
.
I had rented a car and drove to Albany, Esperance, Norseman and Kalgoorlie - Boulder and returned back to Perth. Driving videos will be available after few months as I haven't edited the files.
If you enjoy long drive, check Youtube channel: @Roadcamz
See map below.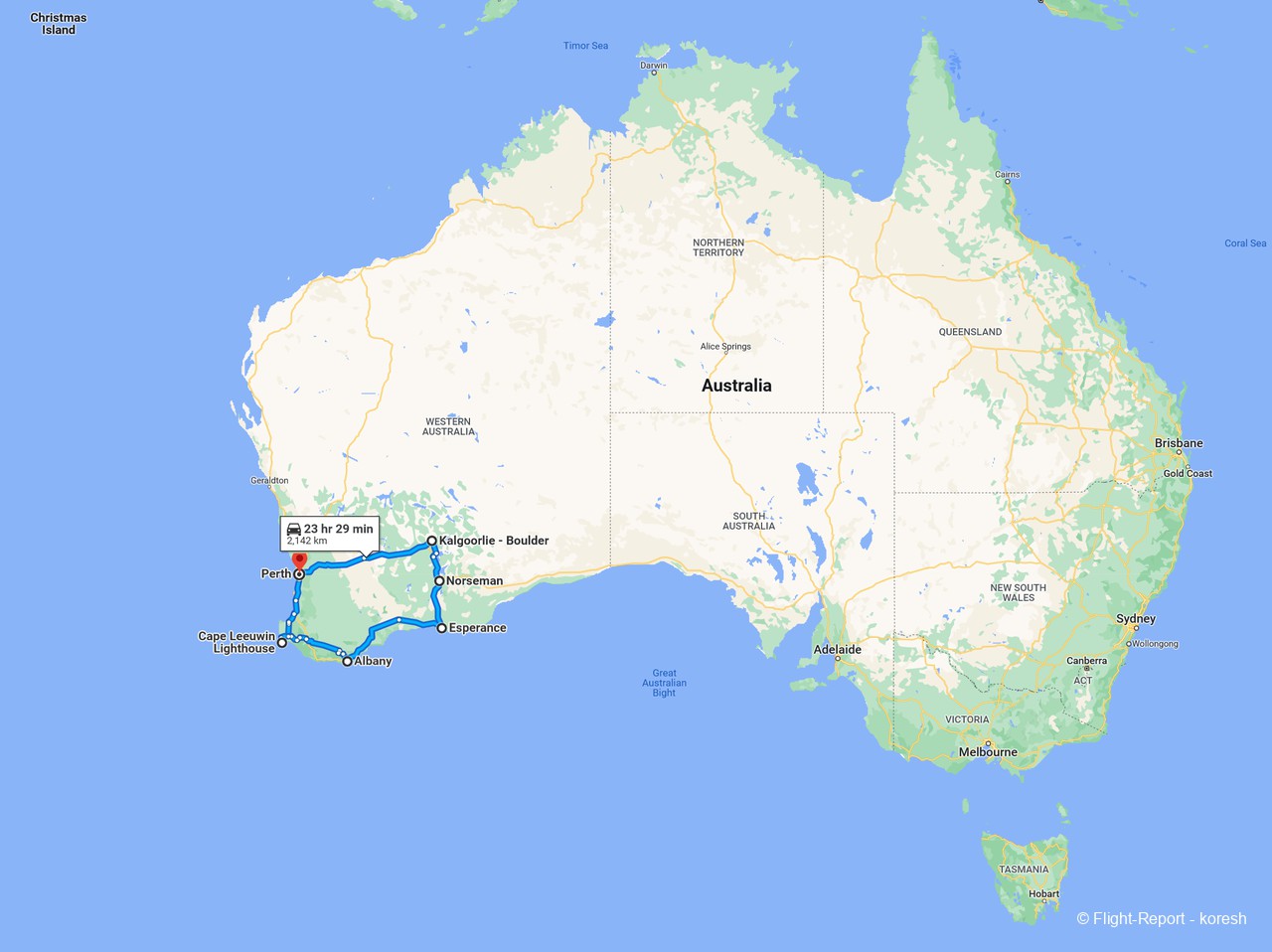 Pre-Departure
After returning, I stayed close to airport. Two days before departure, received notification to check-in.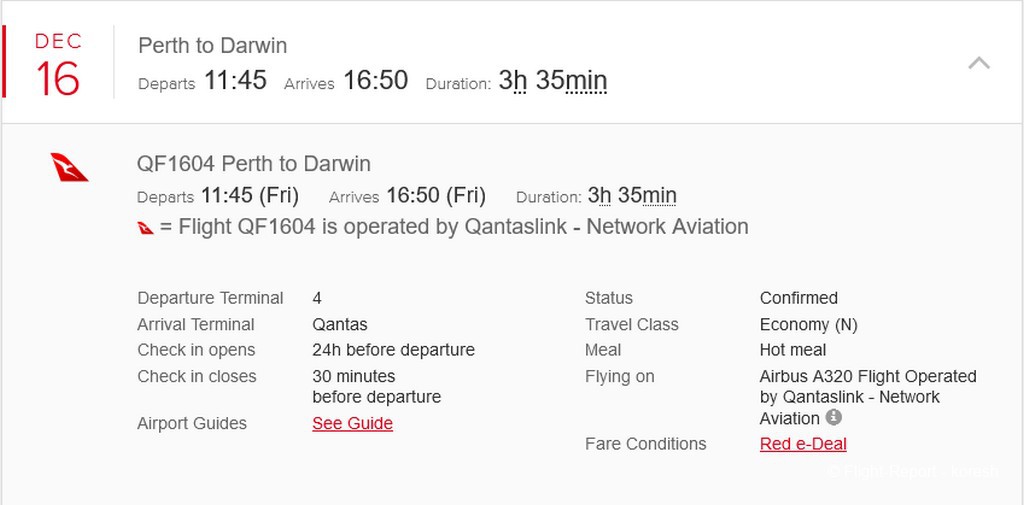 I was able to check-in online but was unable to generate boarding pass. I found later that the flight was flown by Qantas subsidiary, Qantaslink - Network Aviation.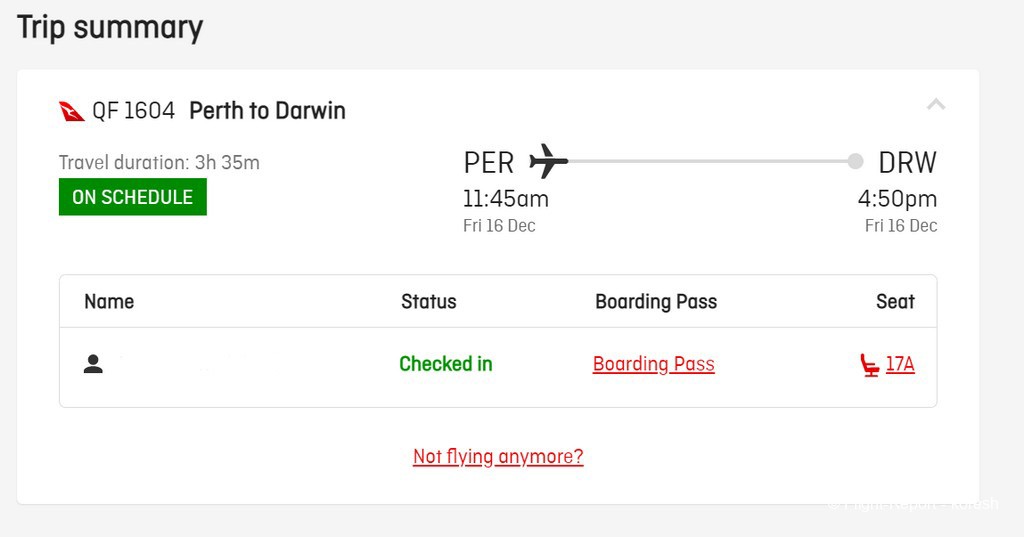 Pre-departure information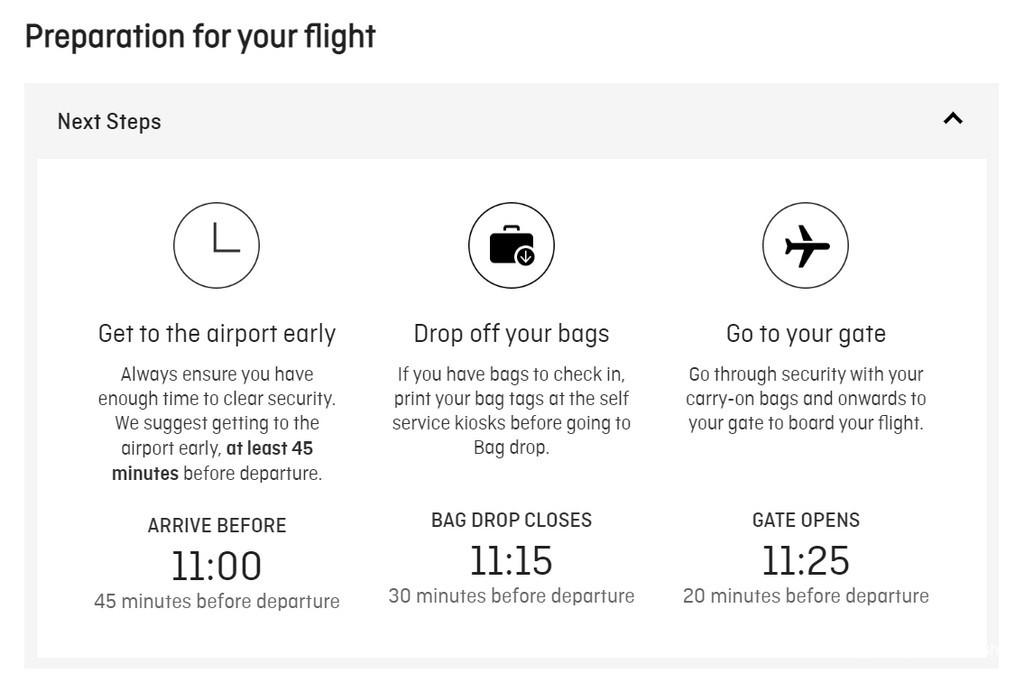 Carry-on details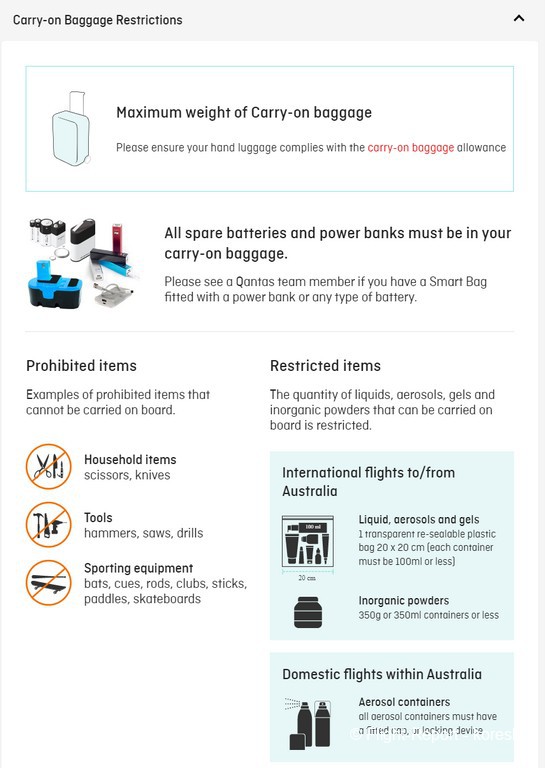 Qantaslink Airbus A320-200 seating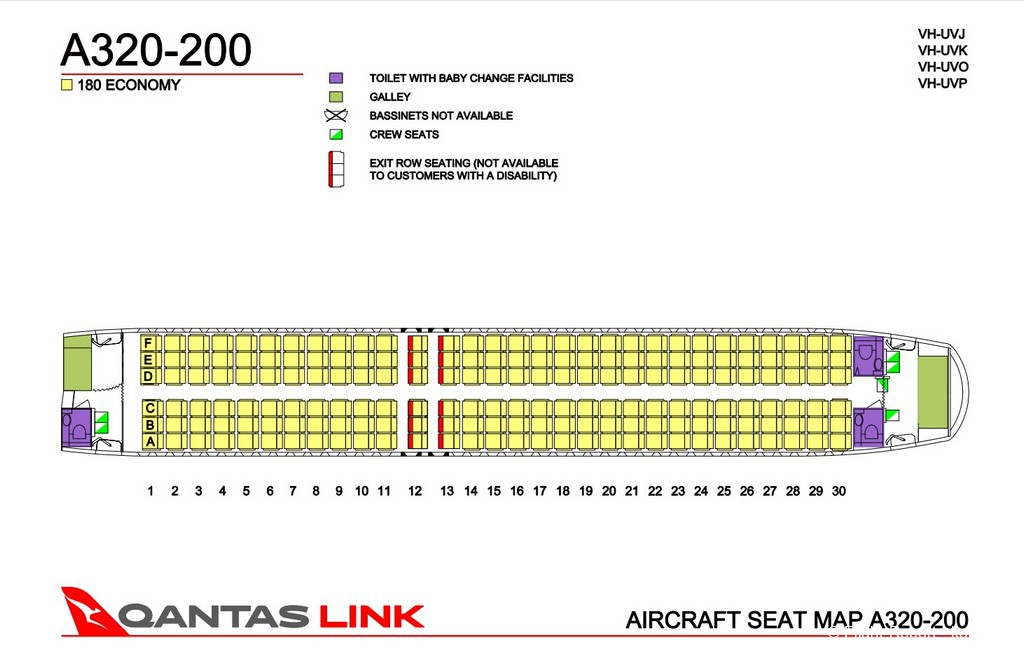 Arriving at Airport
As I had return car back, left early to fill fuel. Drove to airport early and returned the car key. As I had pre-paid the rental car, I left key in the box and walked towards the terminal. As I was flying with Qantas group, drove to Terminal 3/4. Virgin Australia, Alliance and all international flights depart from Terminal 1 and 2 which is located on the other side of the runway. It also has rental return car parking. I was informed to drop car at Terminal 3 car park at the time of pickup.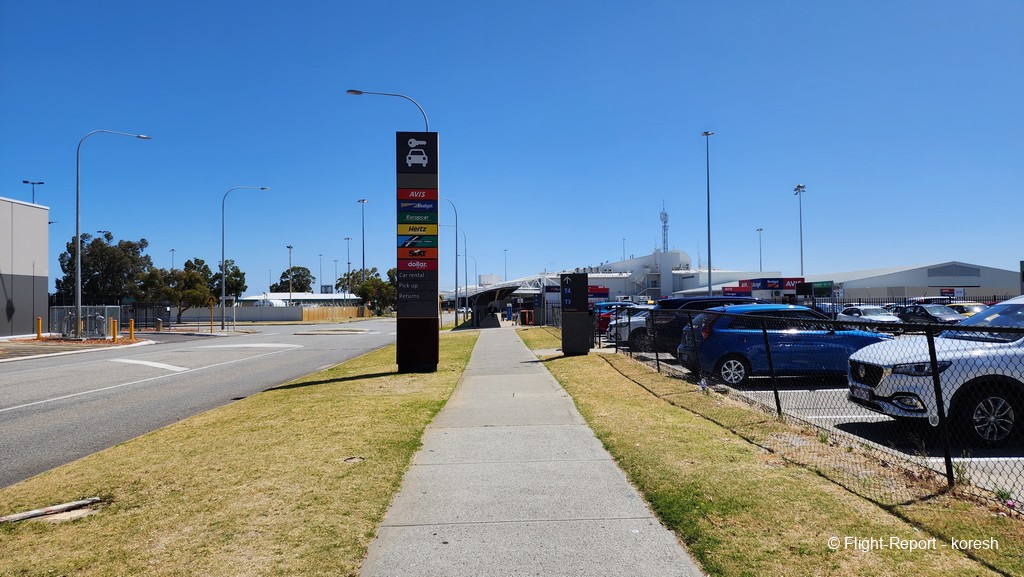 Check-In
I entered through Terminal 3 and tried to check-in through the self-check kiosk. My details were not showing. Check-in counters were unmanned.
I asked the security and was informed to head towards Terminal 4 , where domestic check-in counters are located. Both Terminal 3 and 4 are interconnected.
As I was early, I waited for the check-in counter to open.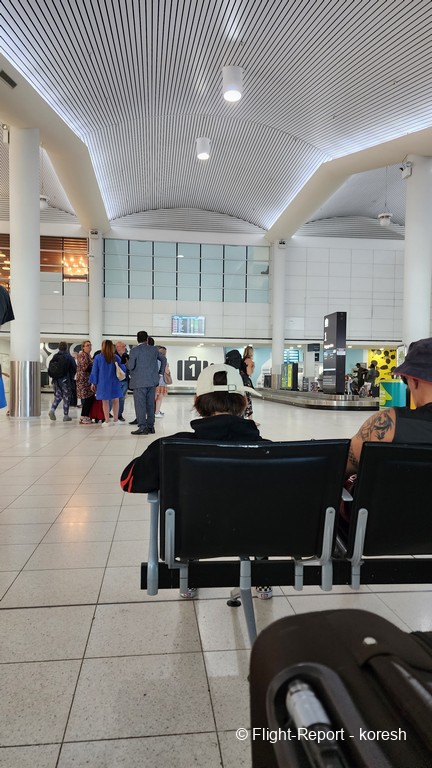 While seated in front of the arrivals area, view of the flight schedule.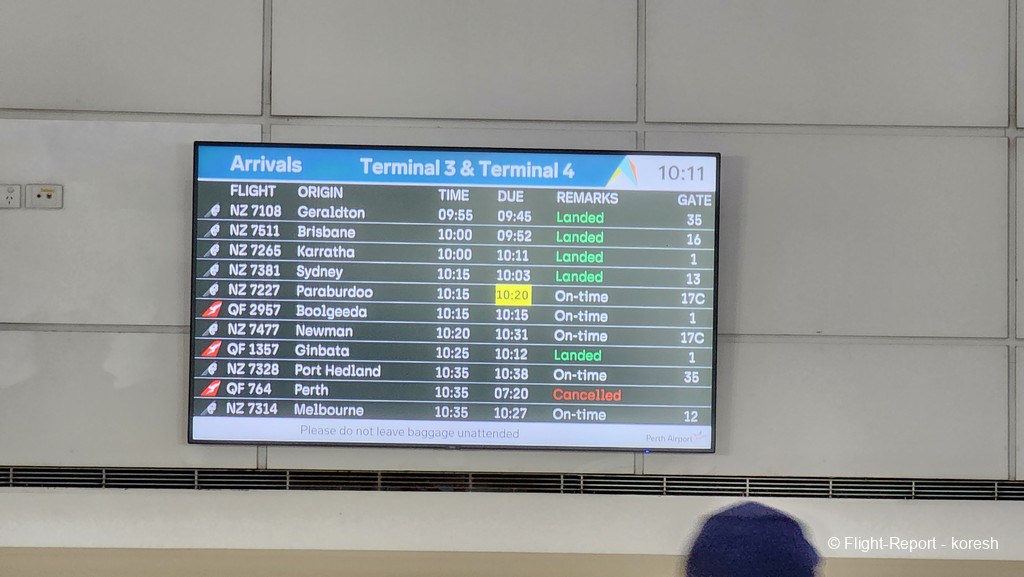 As there were interstate flight, sniffer dogs used in arrivals to detect unreported food. Noticed few people pulled aside for checking.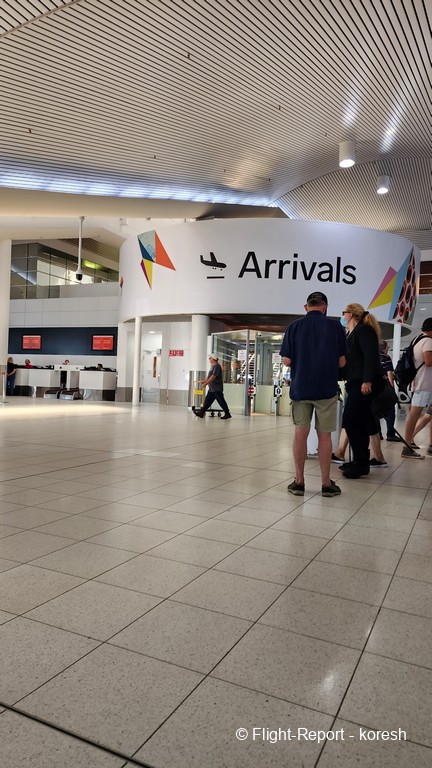 Check-in
Check-in was open for the flight. I went to the self-check kiosk but the system was unable to recognise my details. I checked with ground staff, who checked my id and then printed the boarding pass, receipt and baggage tag.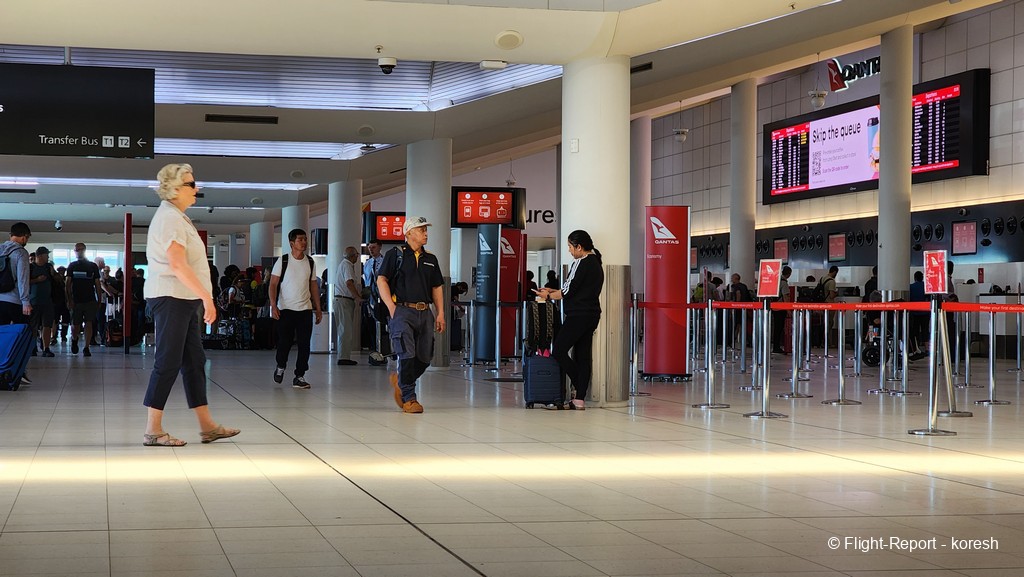 Dropped my check-in bag, which was weighed.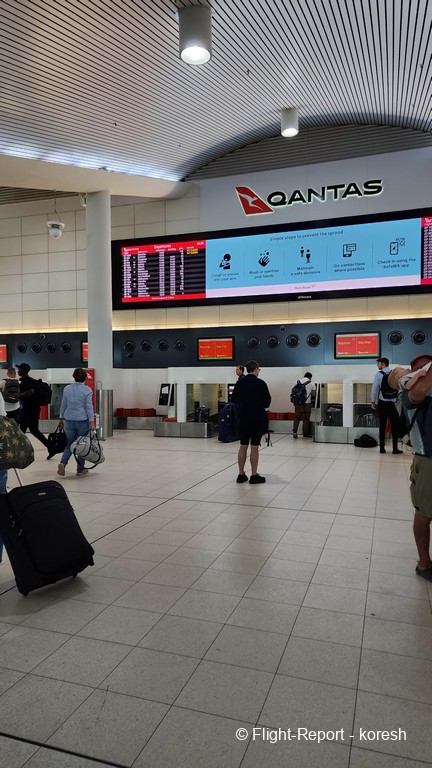 I checked the boarding information - Gate 17C in Terminal 3 would be used for Darwin flight.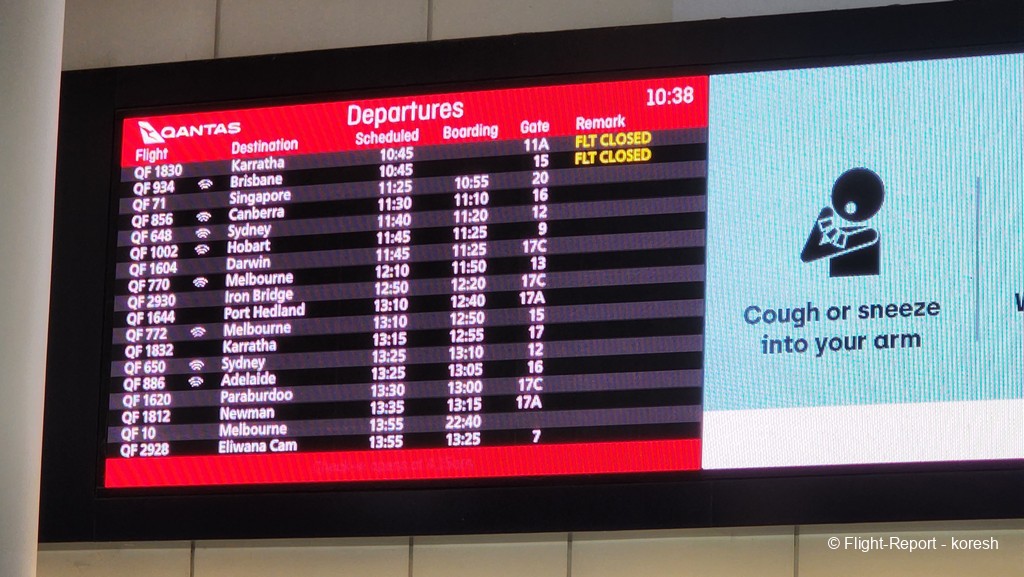 Security
Security queue was long and took about 20 mins to clear.
Departure Area
After completing security, walked up the stairs to the departure area. Walking towards the gate.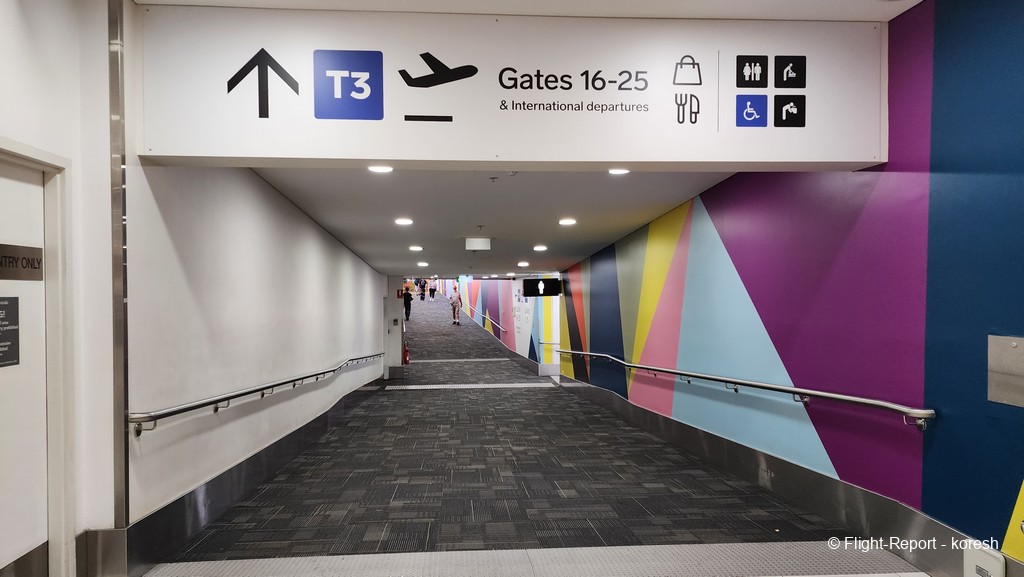 Boarding
By the time, I reached boarding gate. Boarding for the flight had commenced.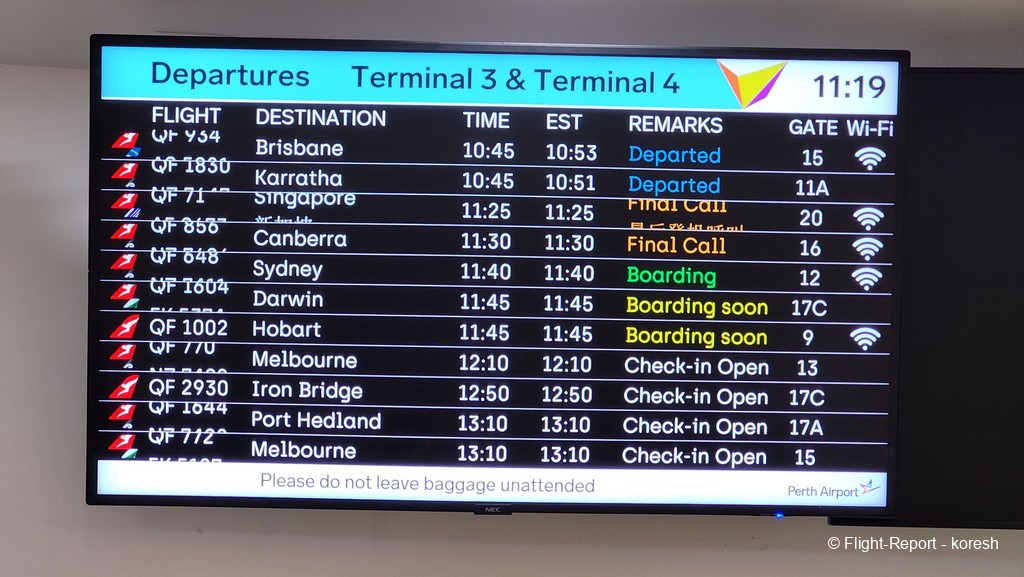 Boarding gate 17C is towards the left.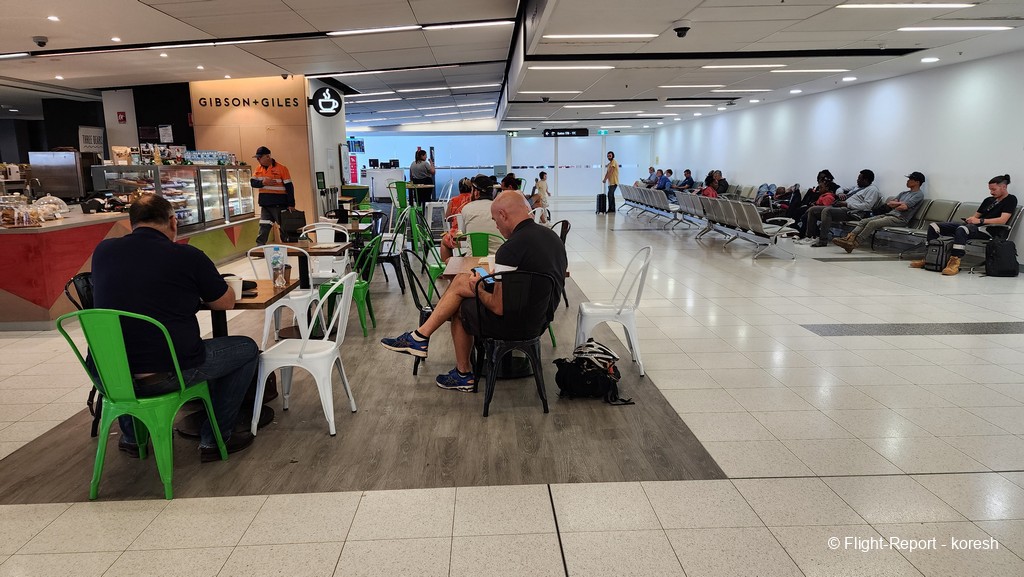 Boarding pass was self-scanned and then allowed to walk through the corridor towards the aircraft.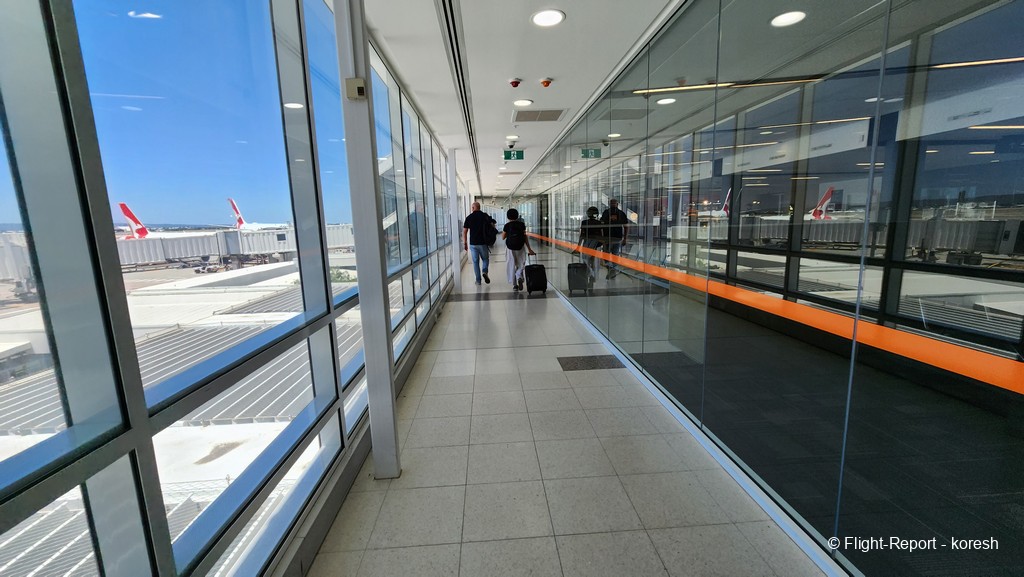 View of the Qantaslink Fokker 100 and Terminal 1 and 2 in the background.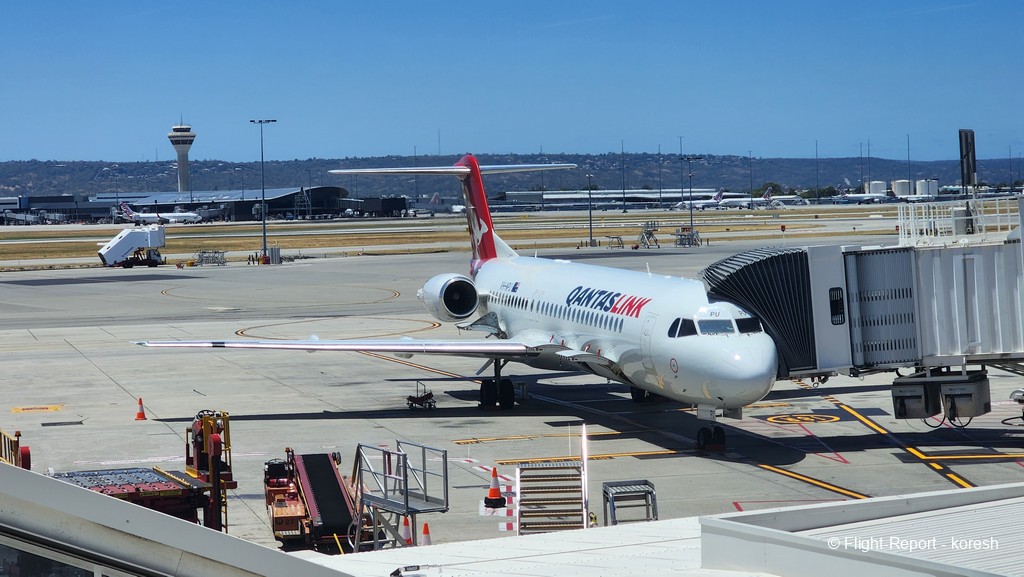 Qantaslink Airbus A320-200 VH-UVQ operating QF1604 Perth to Darwin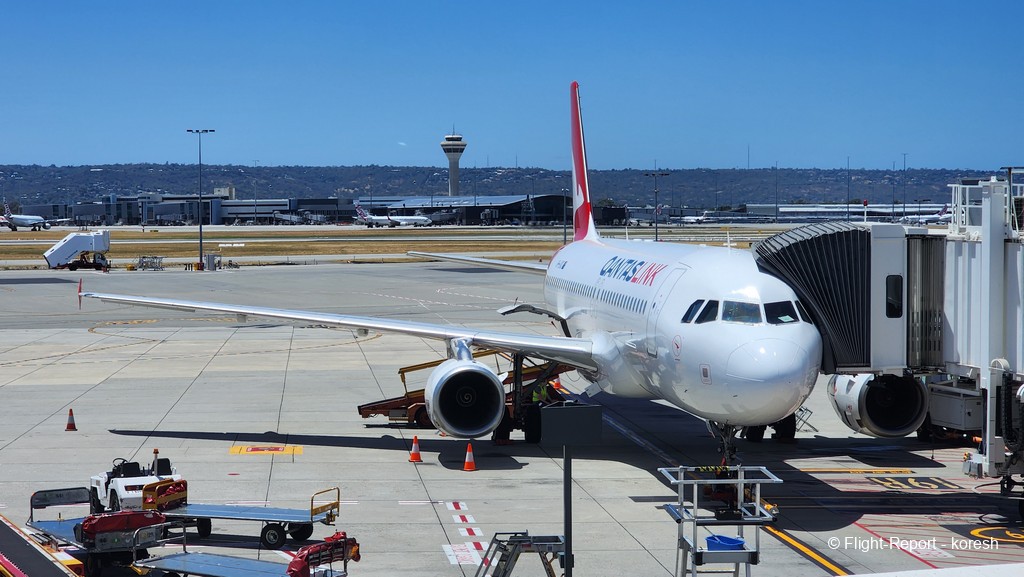 Closeup view of the aircraft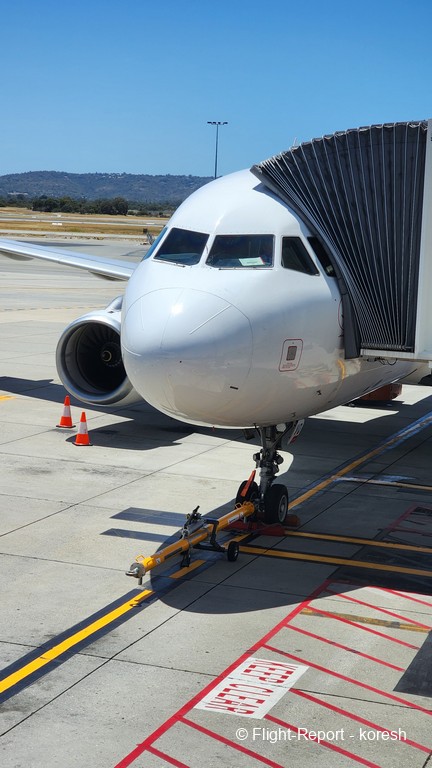 On Board
On reaching the aircraft door, cabin crew checked the boarding pass and directed passengers. This aircraft had all economy seating. Single aisle 3-3 leather seats.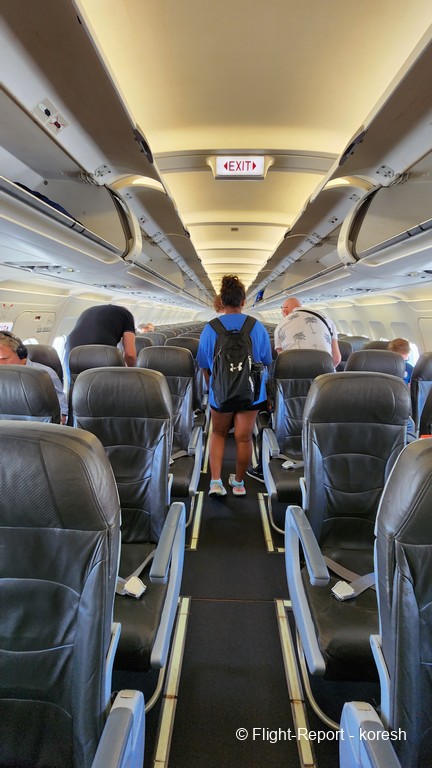 Settled in seat, noticed aircraft was 50 percent full. I did not have a neighbour nor the opposite side.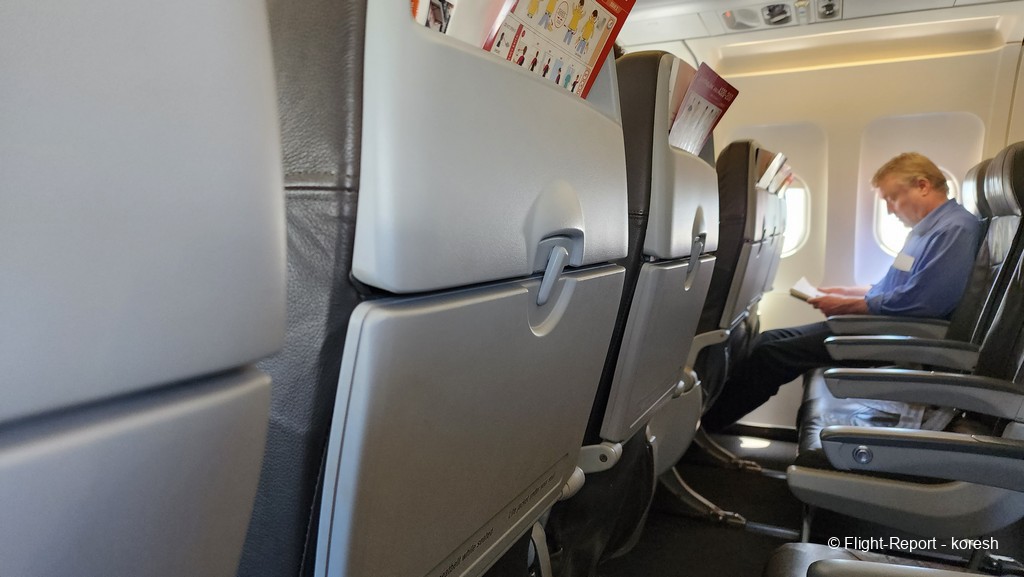 Window view and noticed the Qantas Airbus A330-200 is VH-EBJ "Margaret River" which I had travelled on from Sydney to Melbourne few days ago, Read report here:
Qantas QF427 Sydney to Melbourne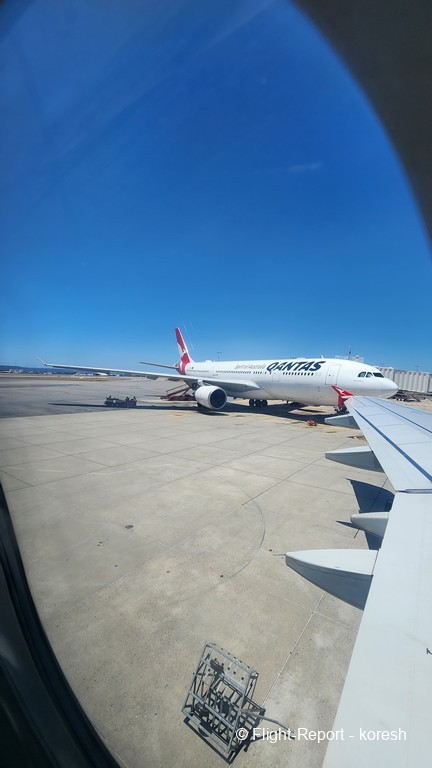 Boarding in progress.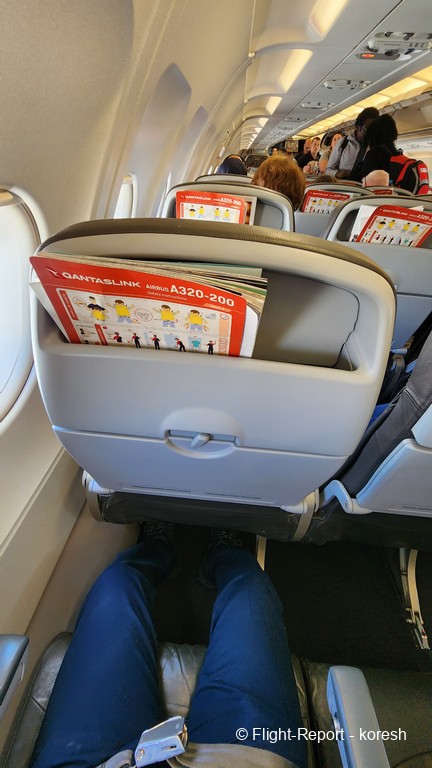 Boarding almost complete.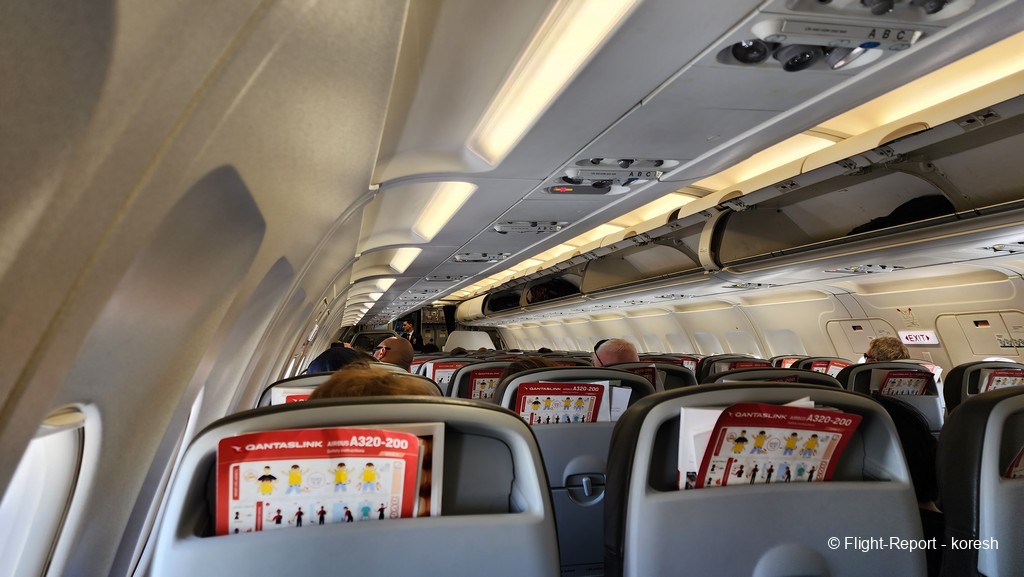 Crew made announcement to welcome passengers.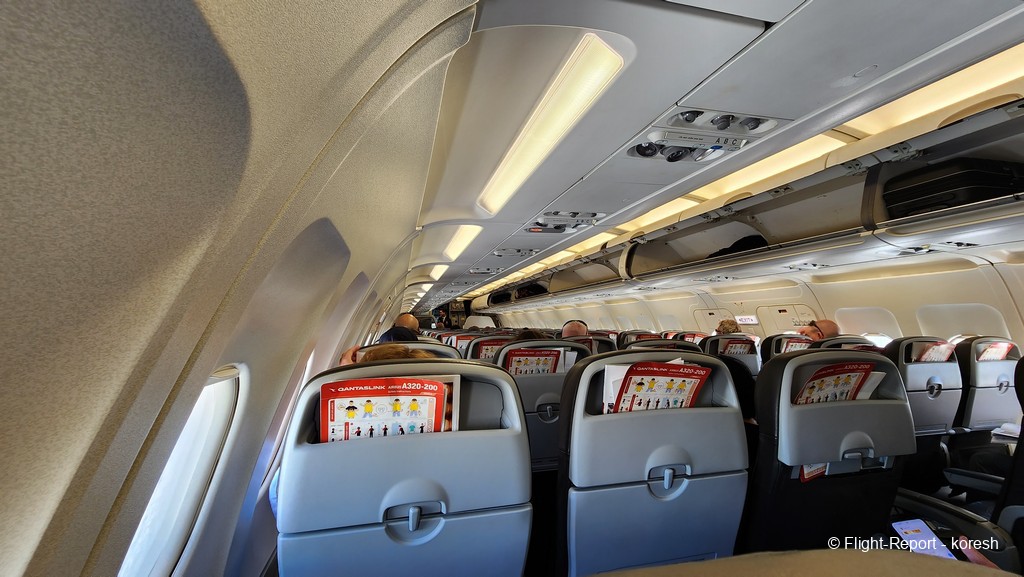 Pushback and Taxi
Captain announced pushback would commence shortly, doors were closed. Safety demonstration was conducted manually.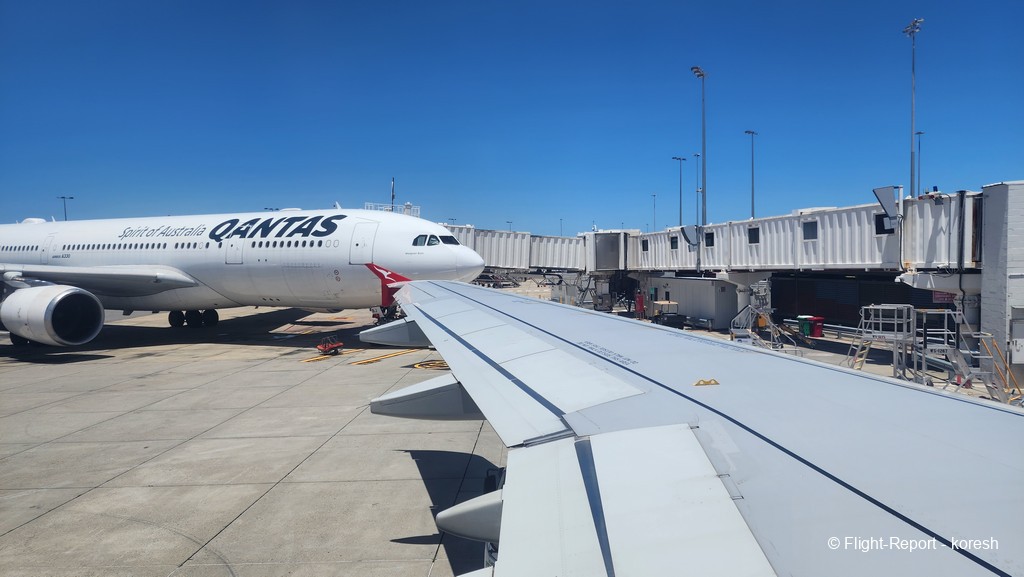 Pushback commenced on time, Pilot had informed that due to tailwind, arrival time would be 4.40pm.Slightly ahead of schedule.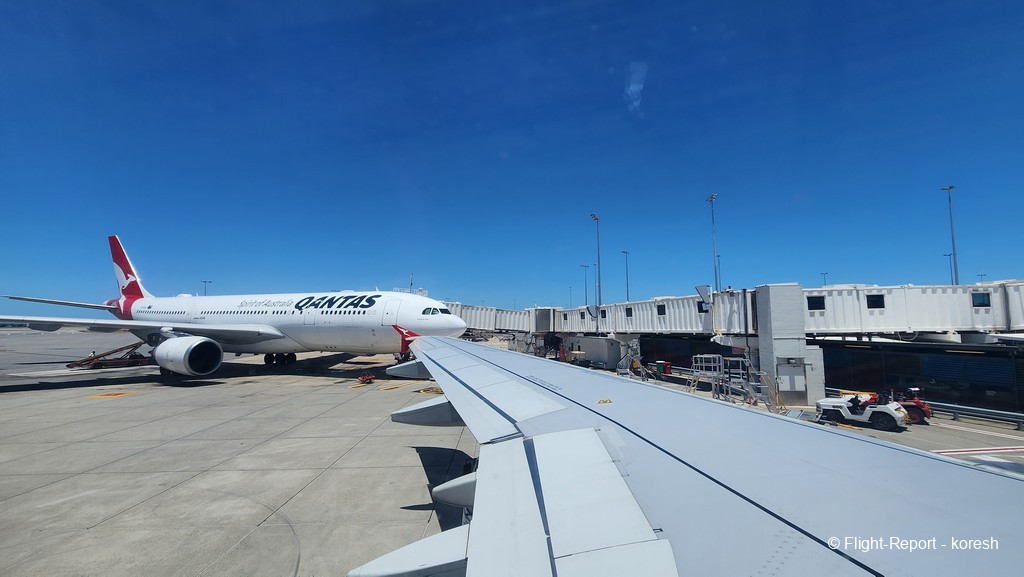 Doors closed.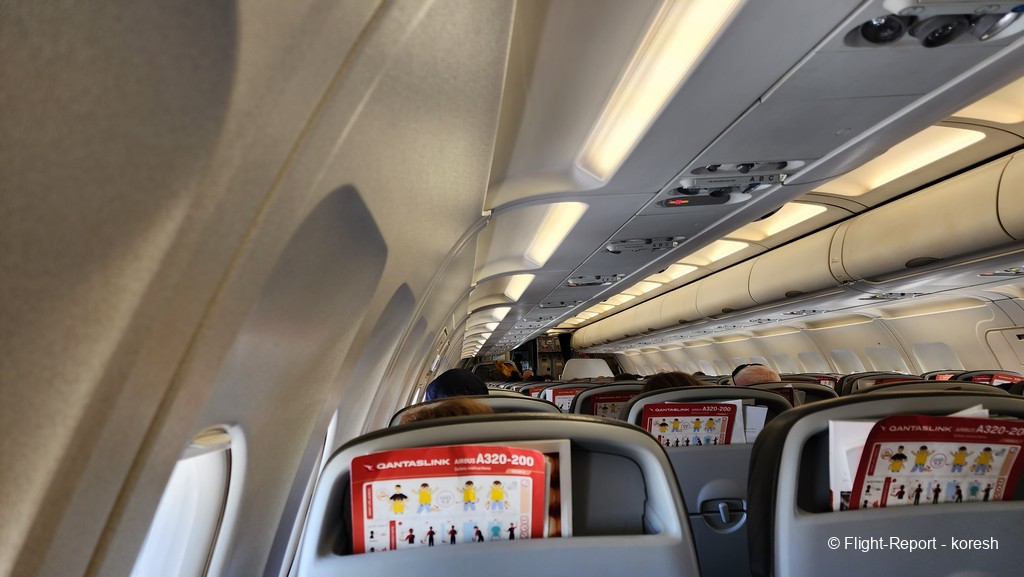 Pushback to commence.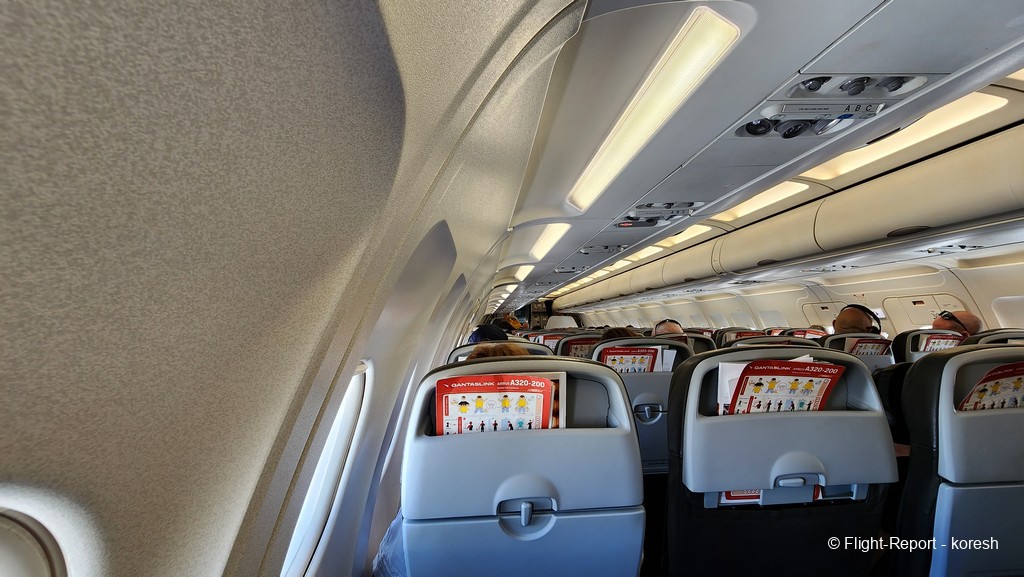 View of Safety card and individual airvents on the Airbus A320-200.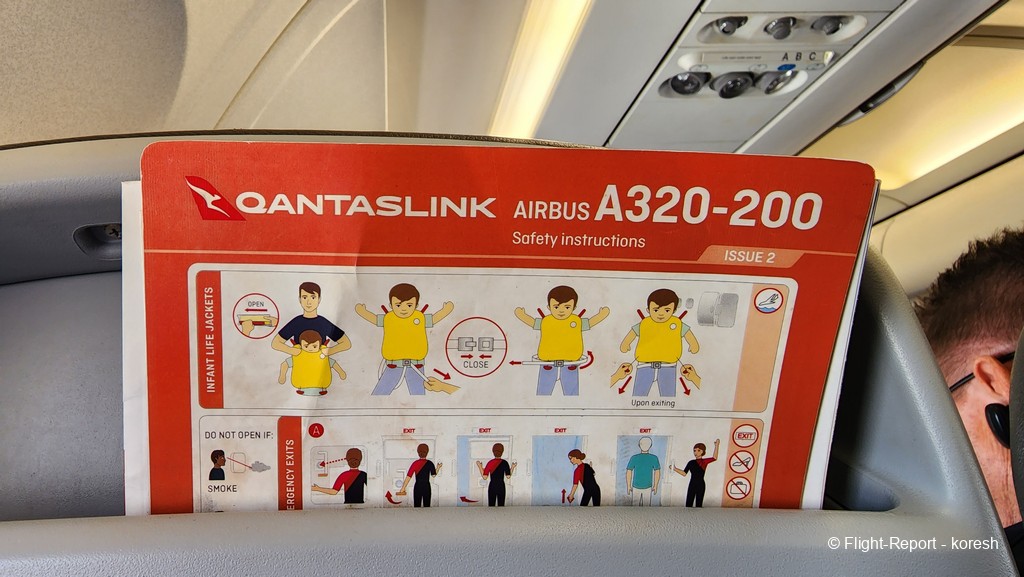 After pushback, aircraft had a long taxi to runway 21.
Aircraft following was Airbus A330 to Melbourne.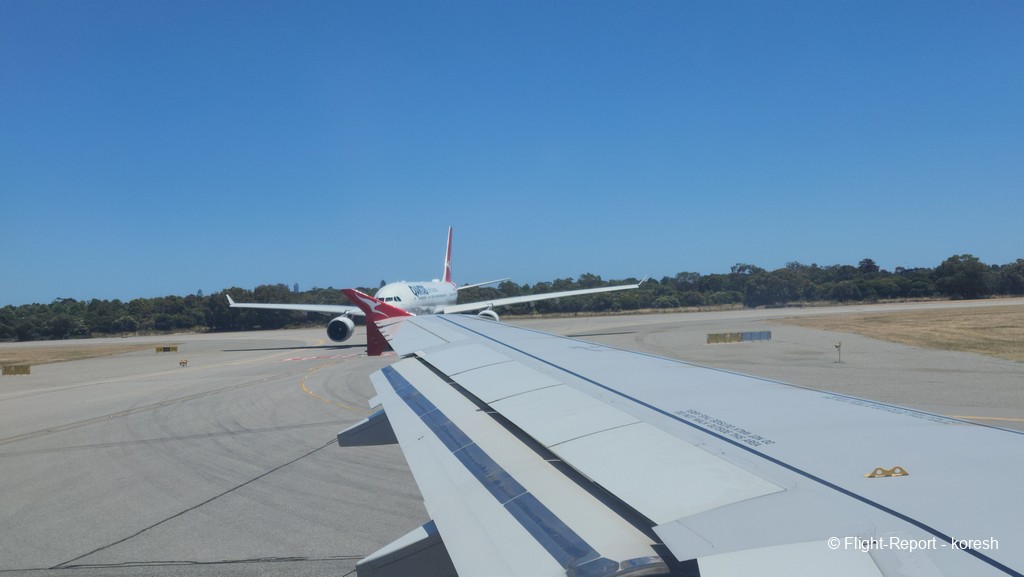 Aircraft did not hold for long upon reaching the runway, engines roared and gained speed. Up in the sky within few seconds.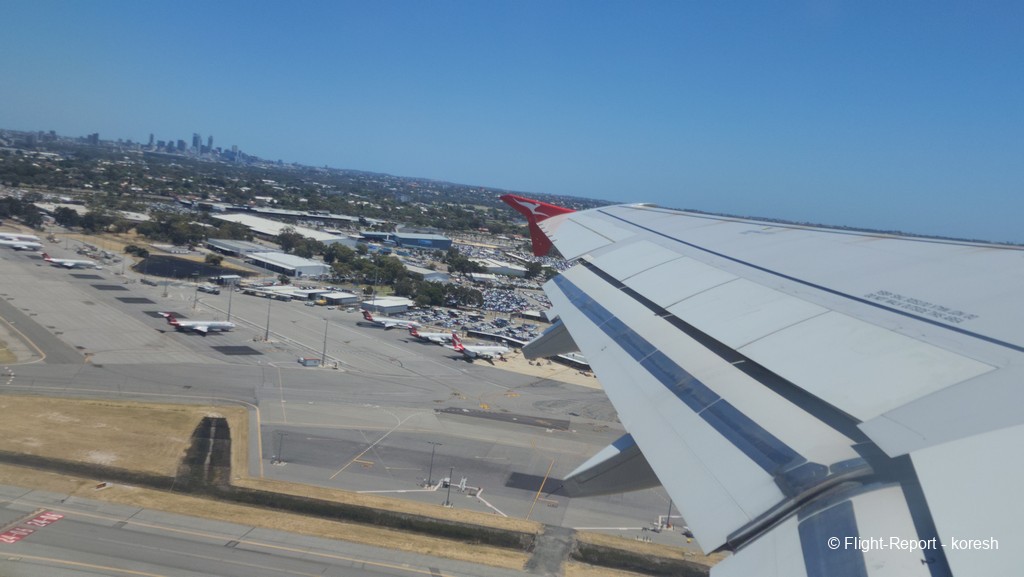 View of Terminal 3 and Perth skyline in the background.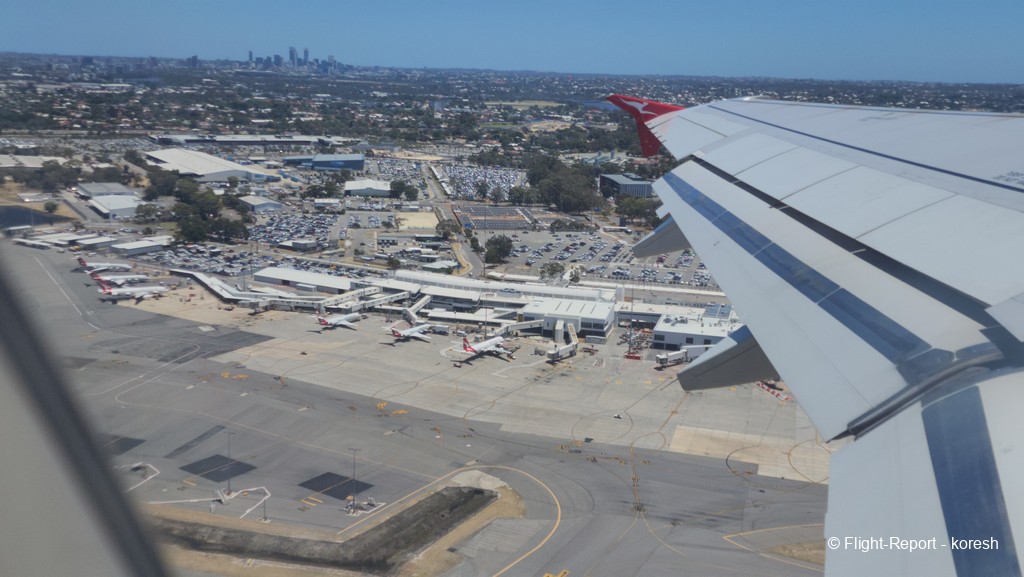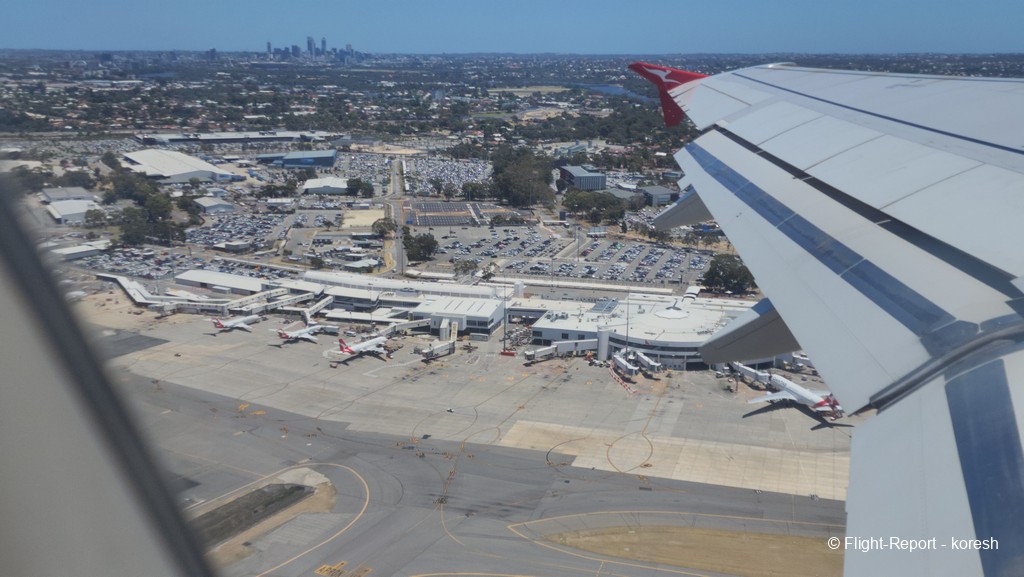 View of Terminal 4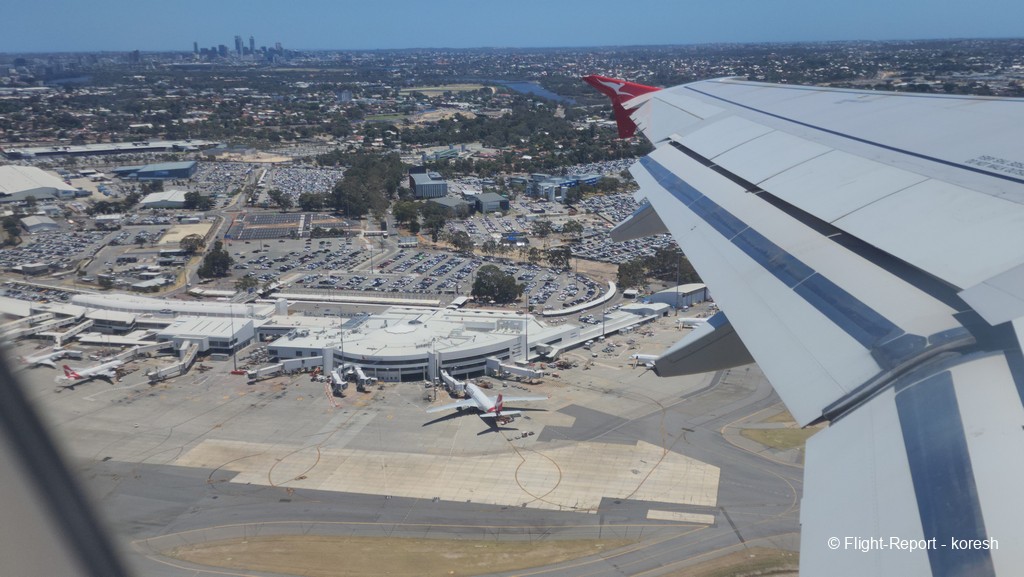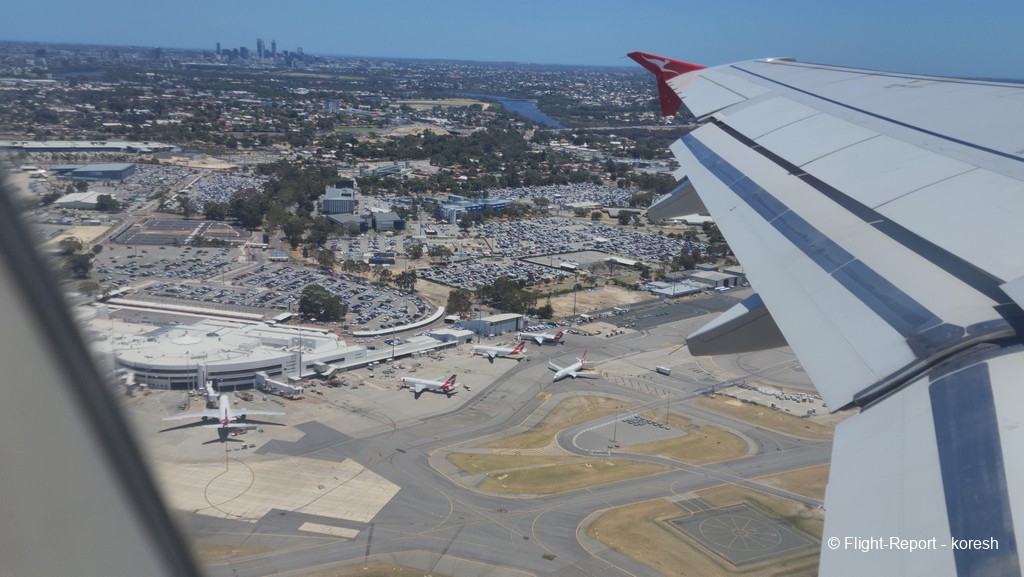 Regional airline terminal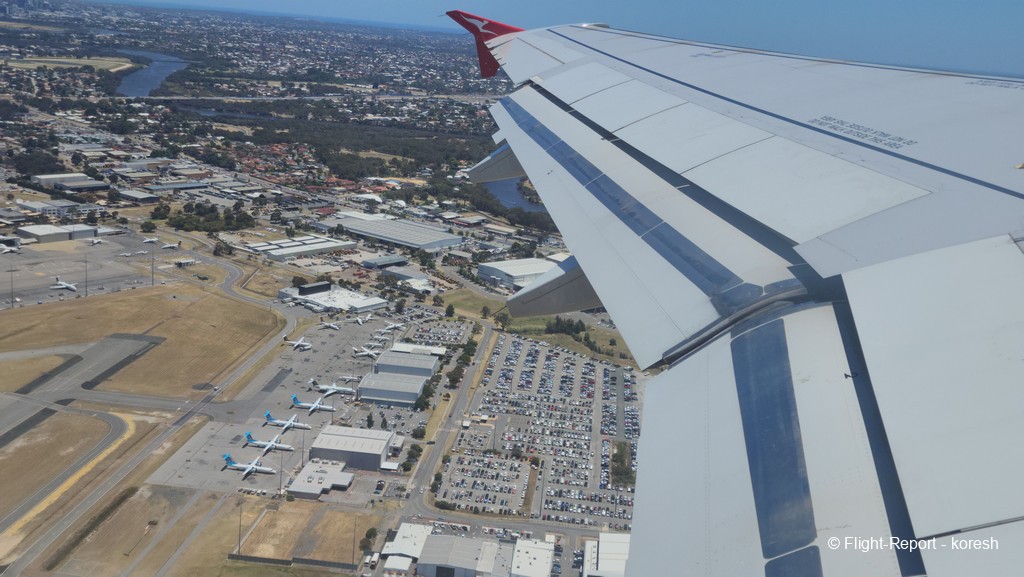 View of Swan river after departure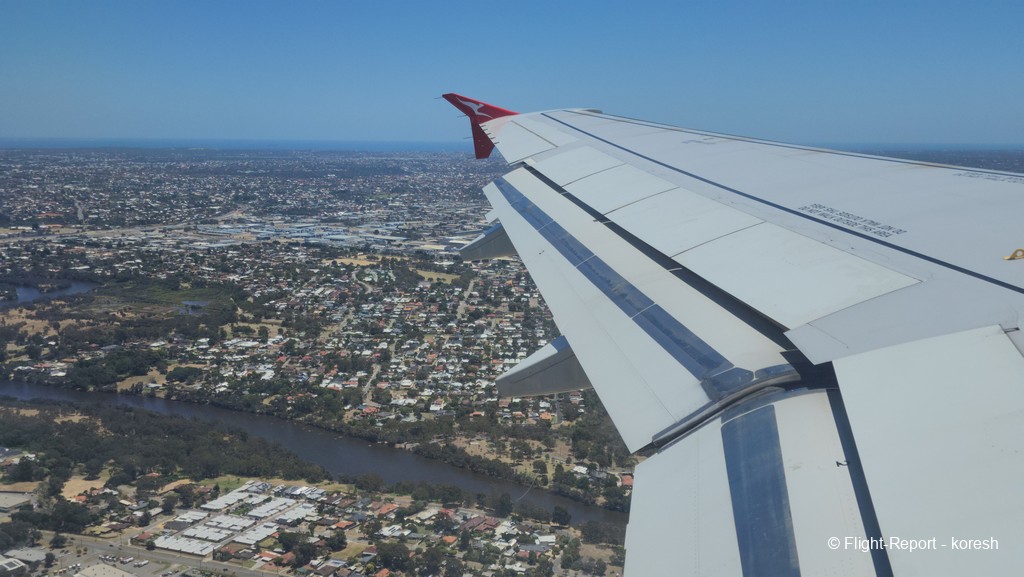 Perth, Western Australia is known for mines, view after departure heading West.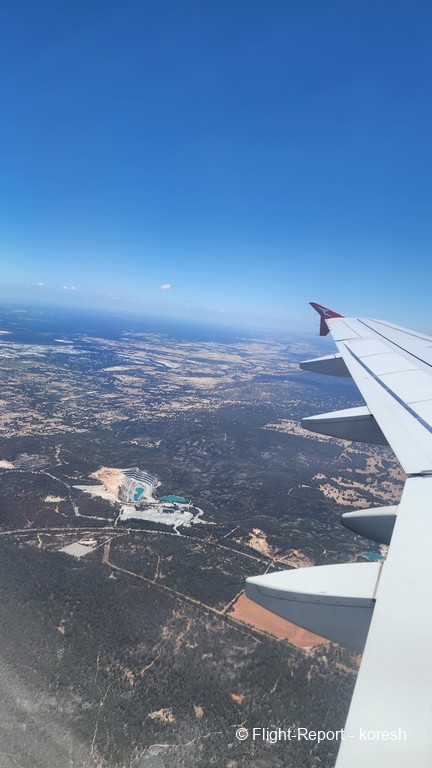 More mines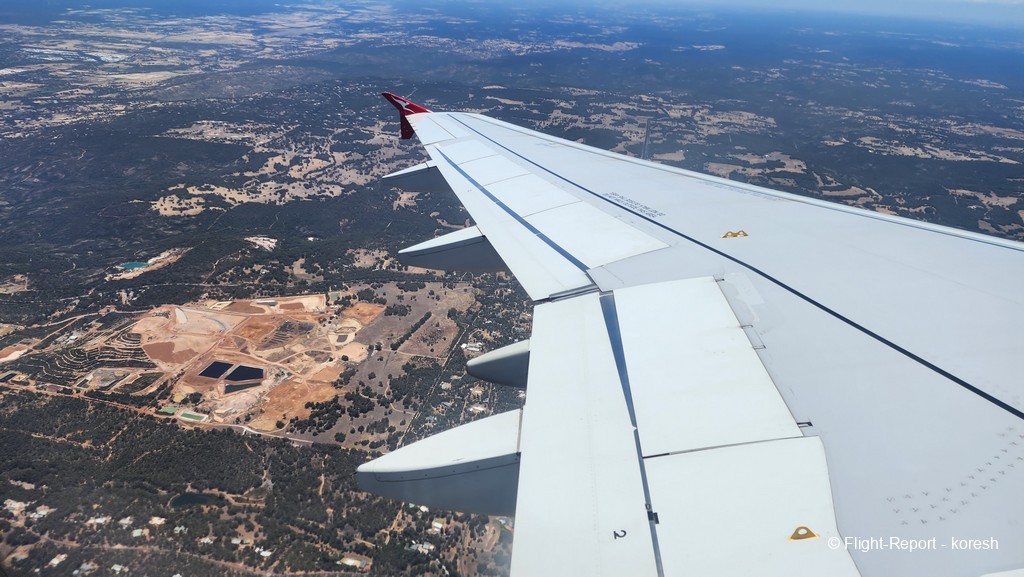 Seat Pocket Material
Checked the seat pocket and got inflight magazine, air sickness bag and safety card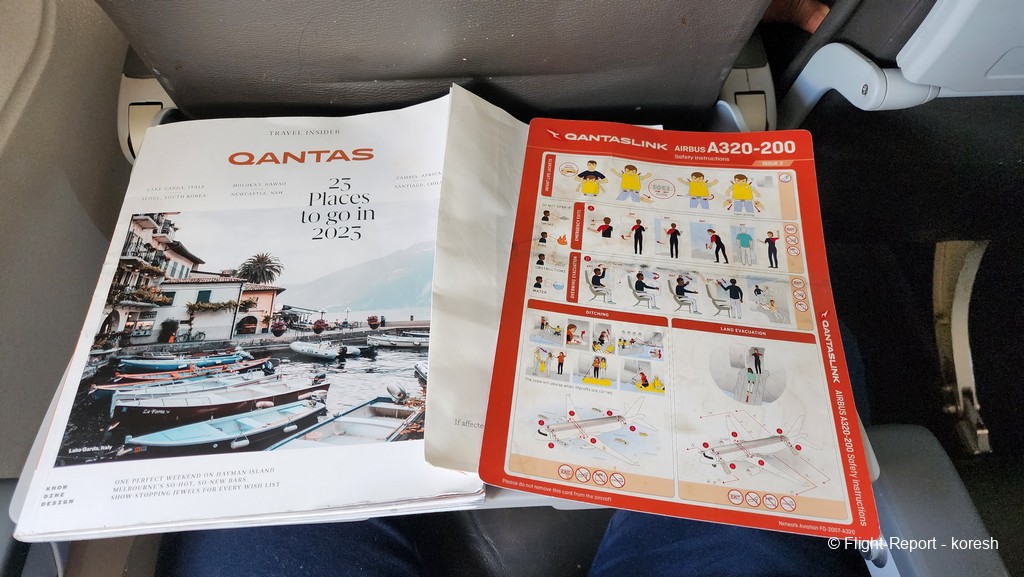 Reverse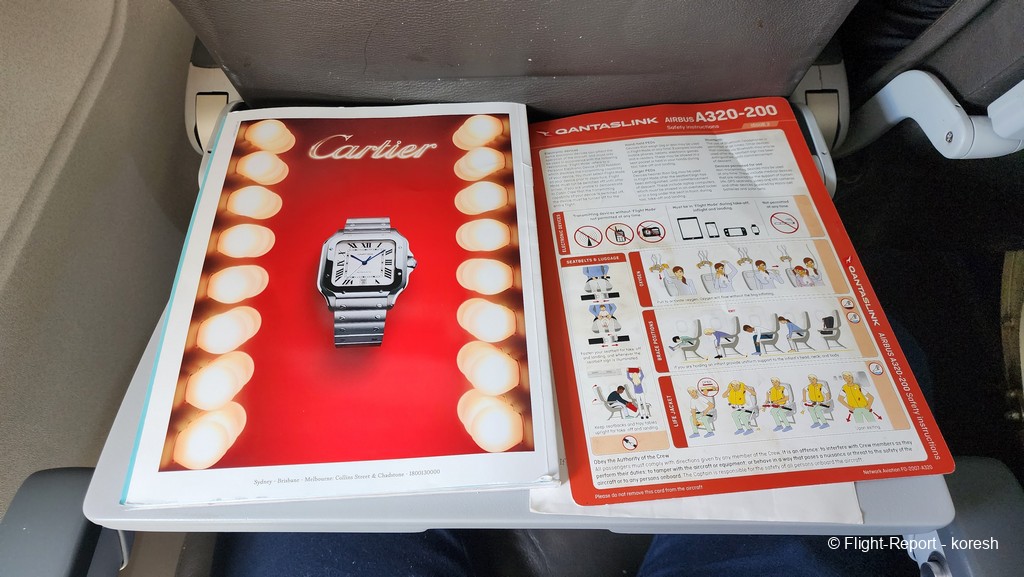 Qantaslink Airbus A320-200 safety card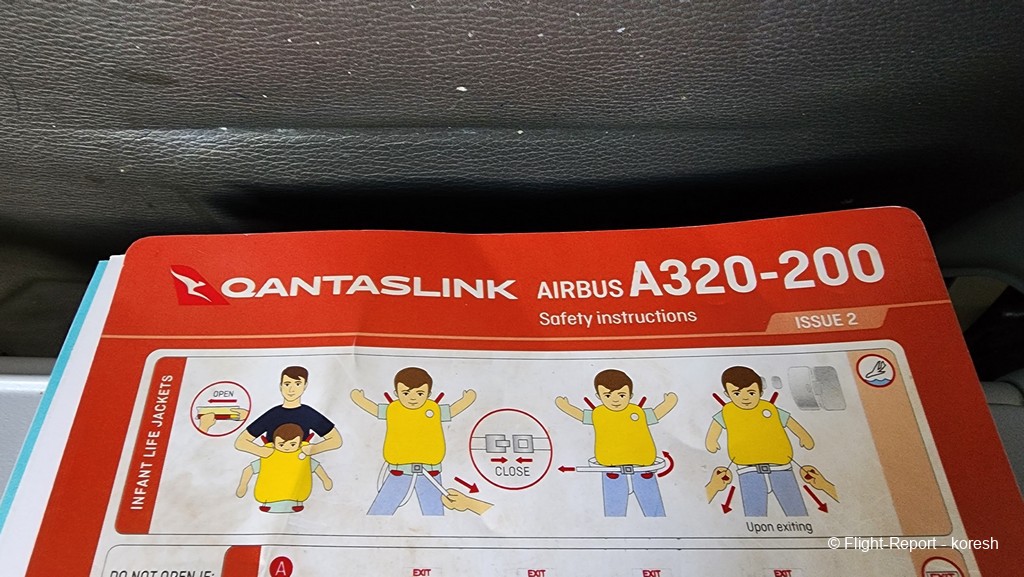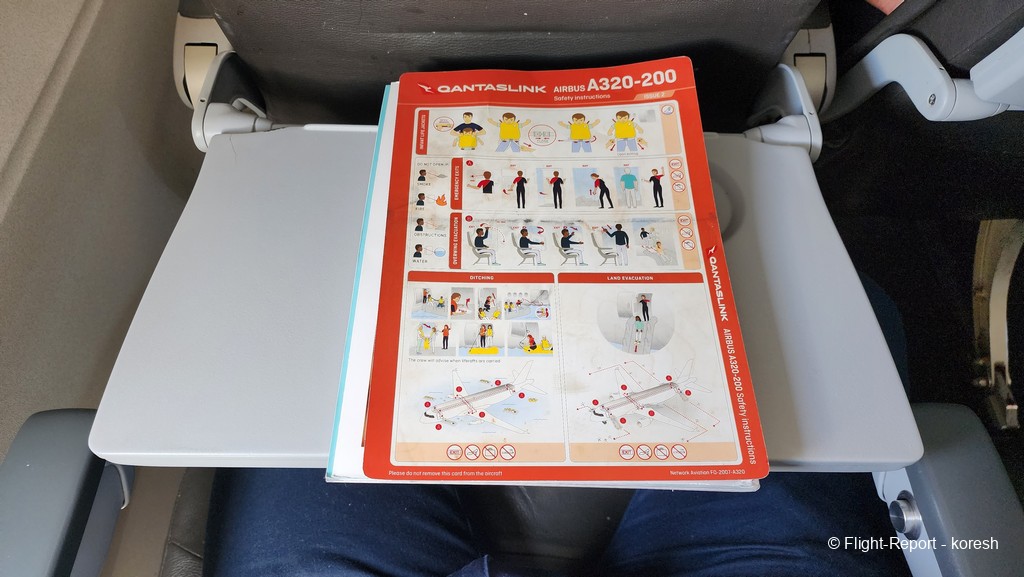 Qantas inflight magazine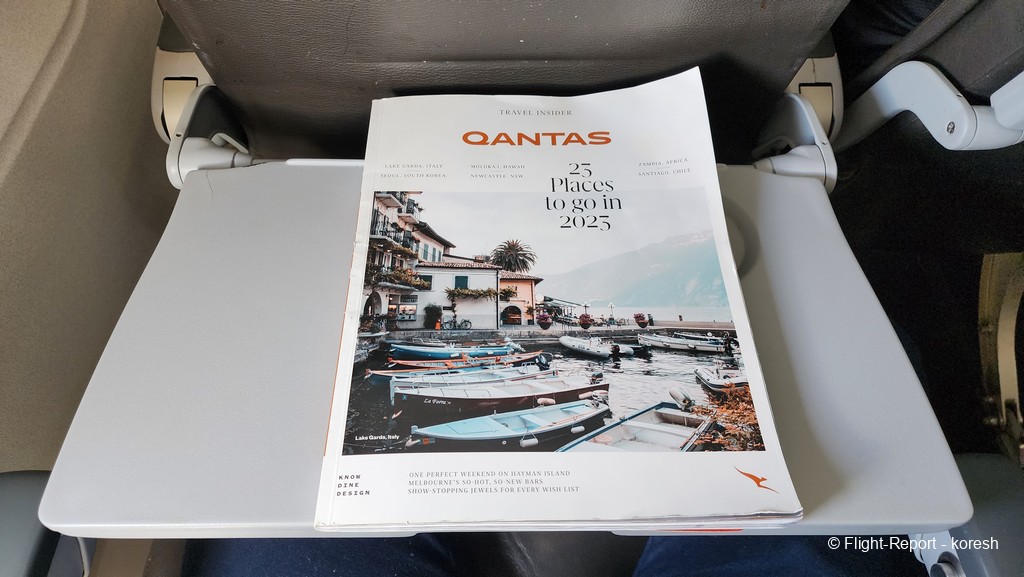 Printed boarding pass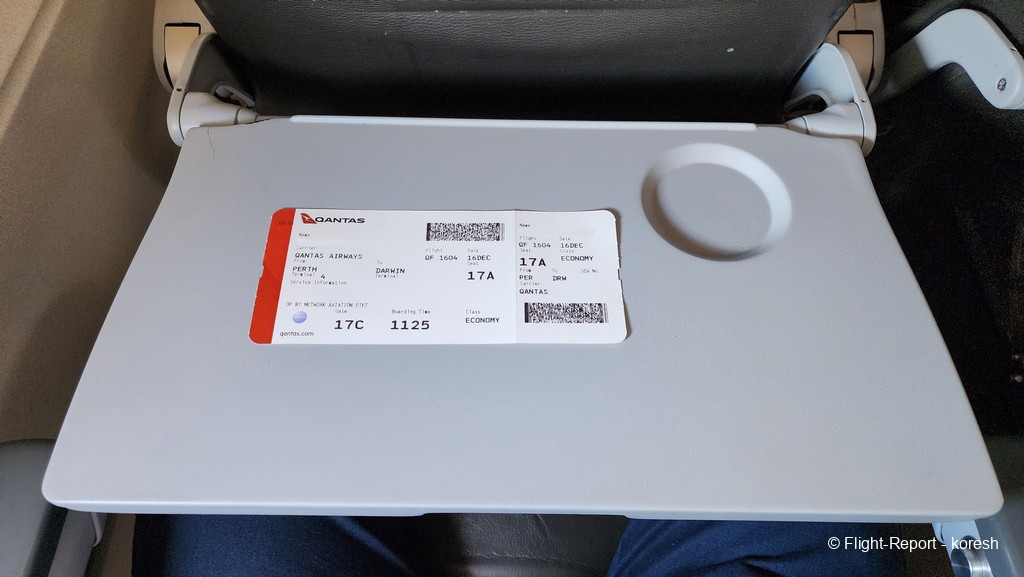 Baggage receipt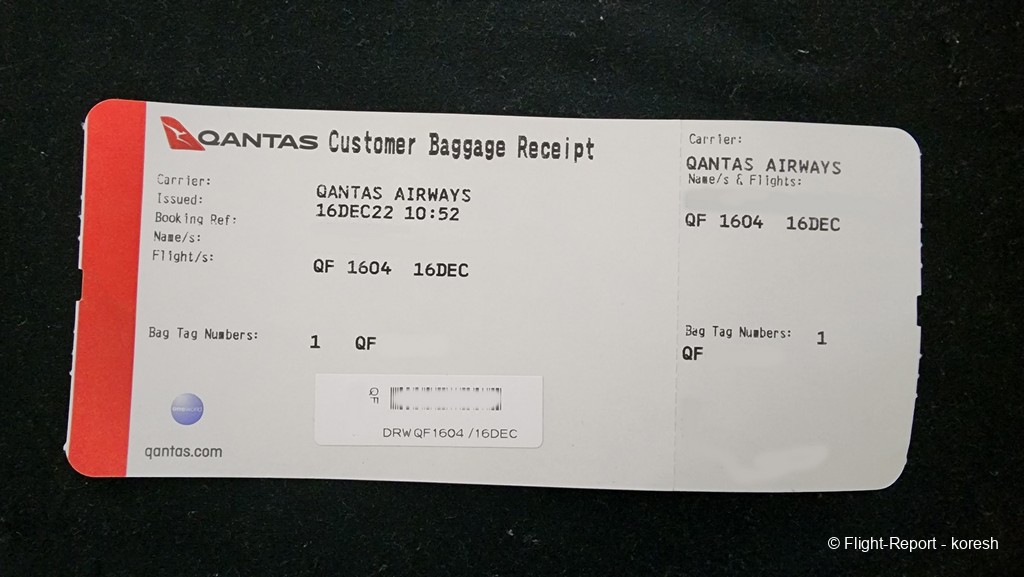 Cabin view
Got up to stretch and use the toilet, which was clean.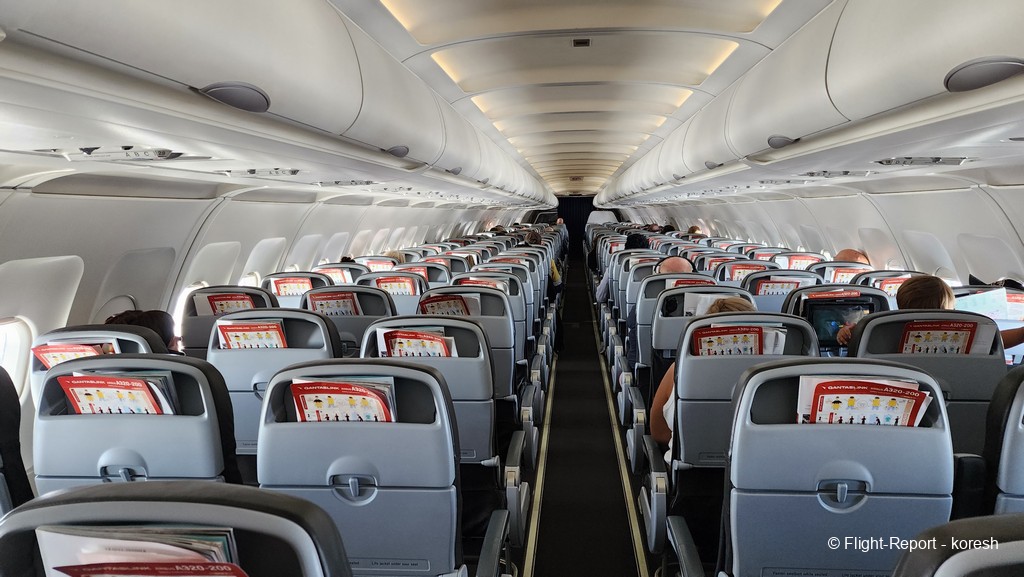 Cabin view of Airbus A320-200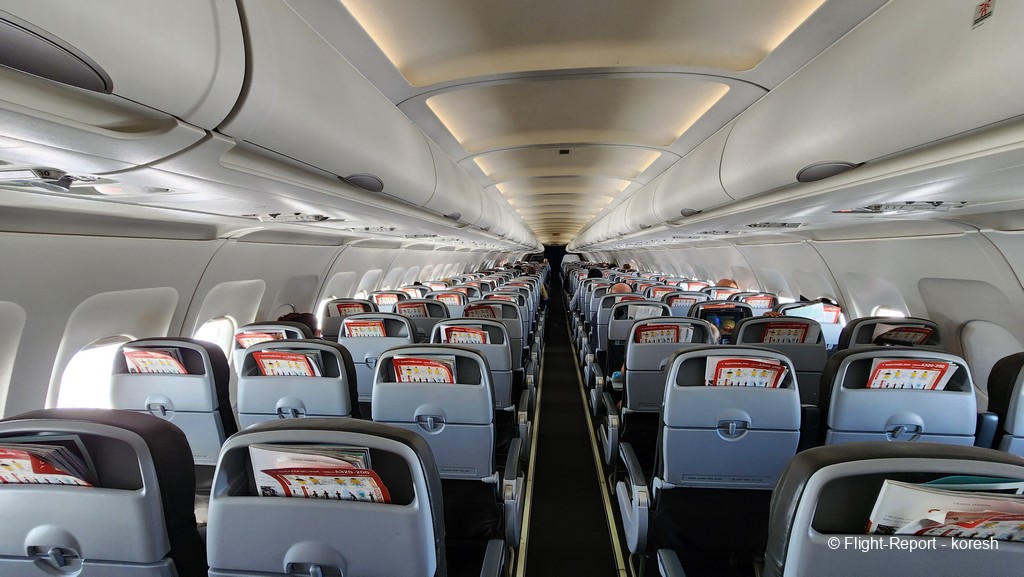 Bright day and hot, had to keep the window shades down.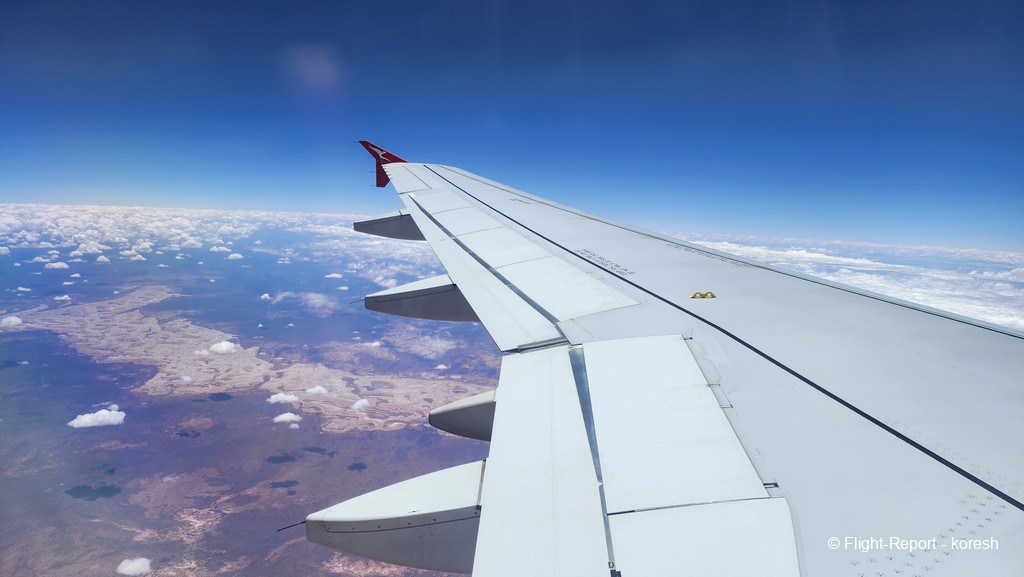 Cabin Service
Cabin service commenced after an hour, choice of meal was chicken or beef .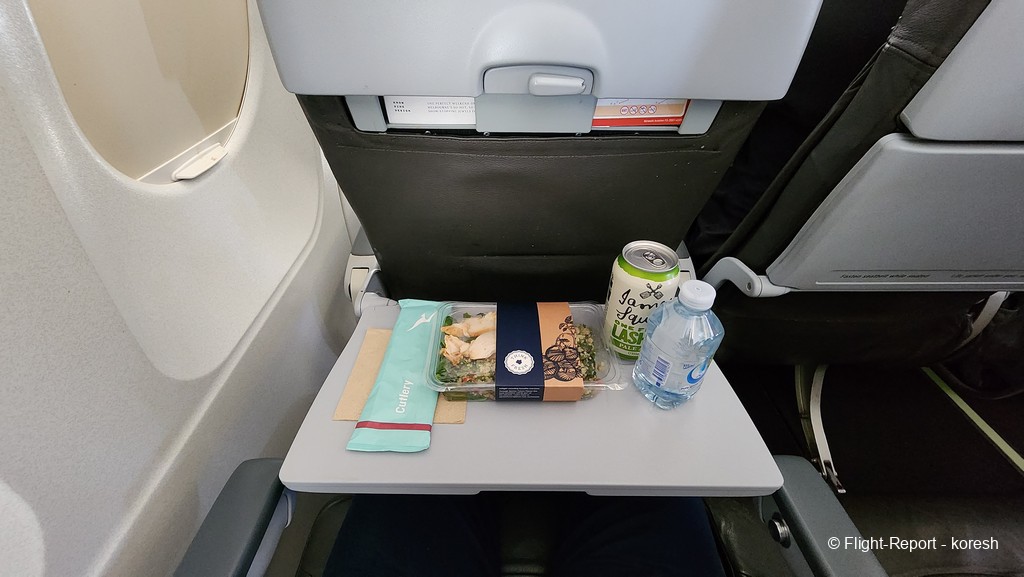 I chose the chicken salad and received water bottle.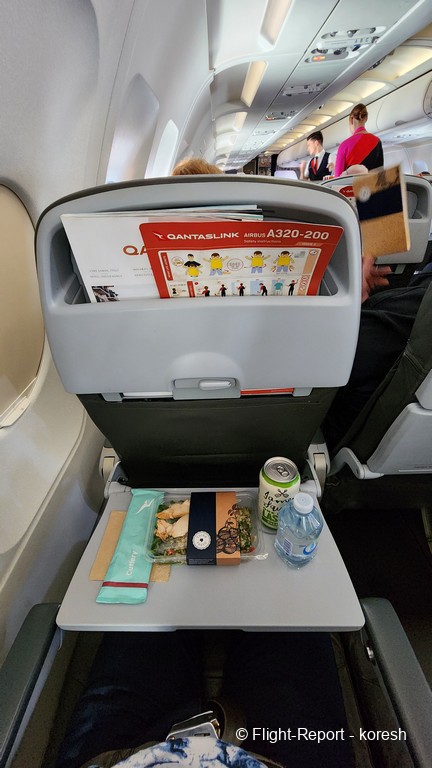 Crew checked if I would like drink. I chose beer.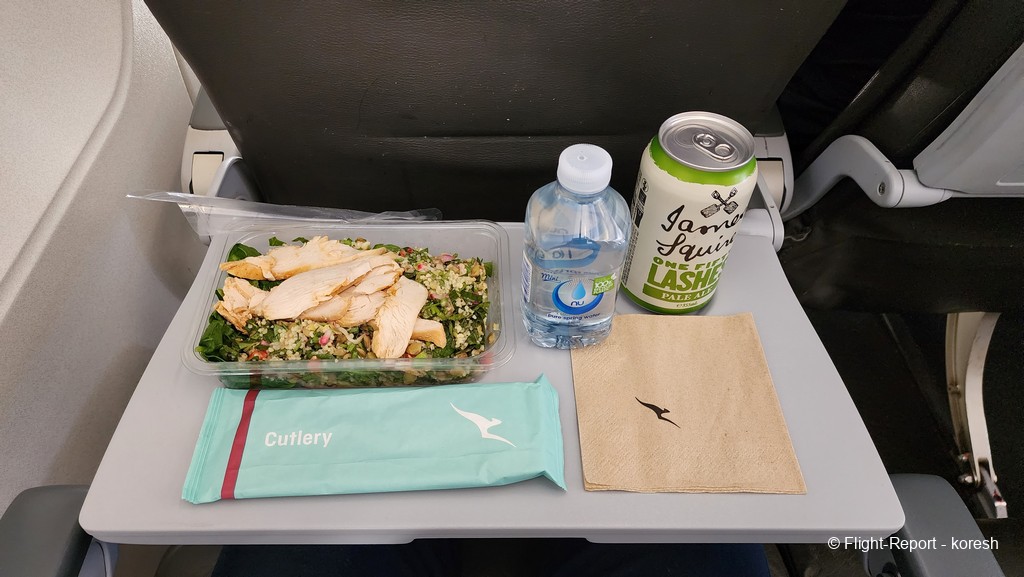 Wooden cutlery made it difficult to pick food as the the spoons are shallow.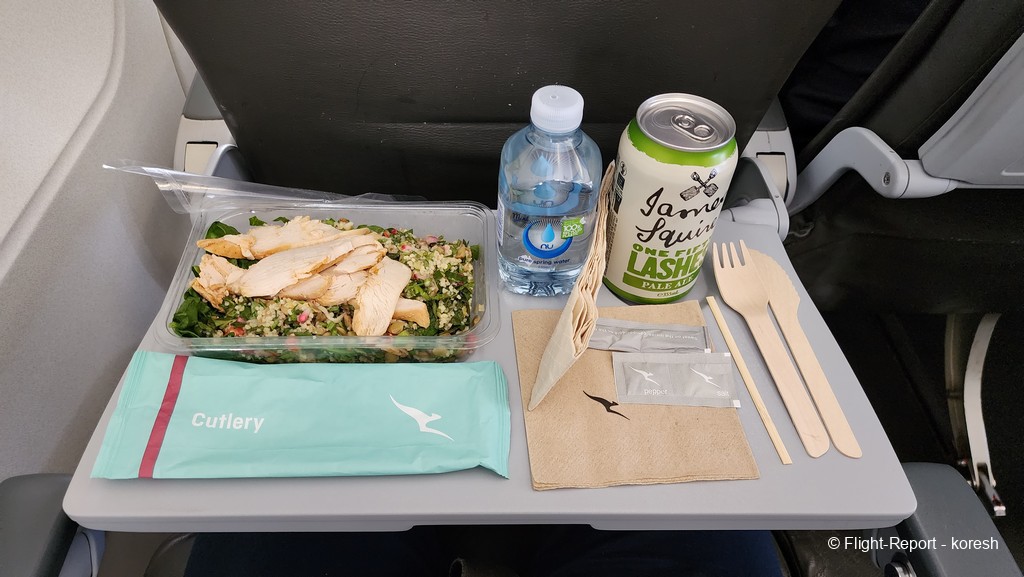 Chicken was dry but the rest of the salad was ok.
Crew checked if passengers would like more drinks. Some had second serve of beer.
Reminded me of the good old times and the Australia that is disappearing from the East coast.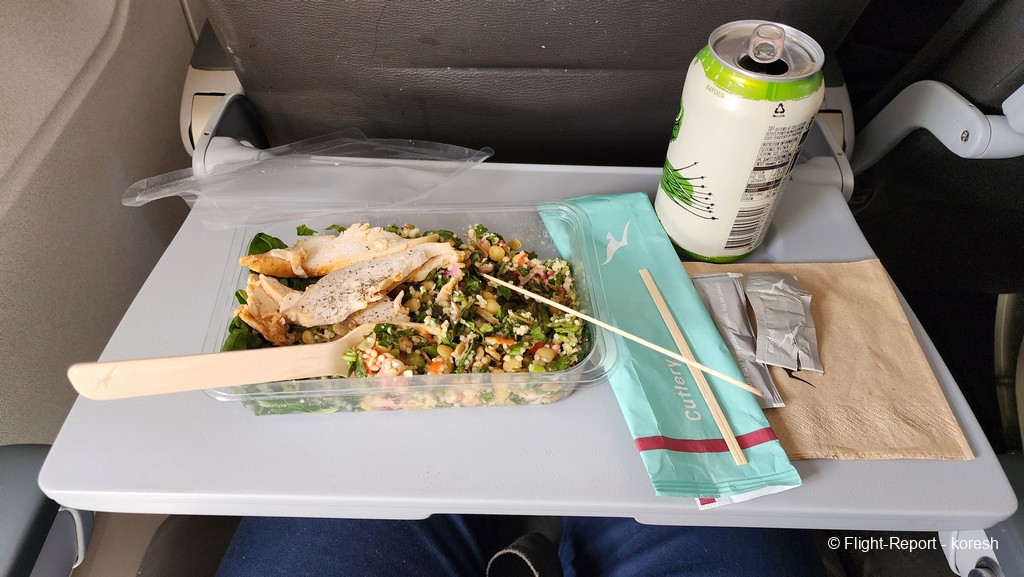 Qantas logo with safety card
Qantas route map.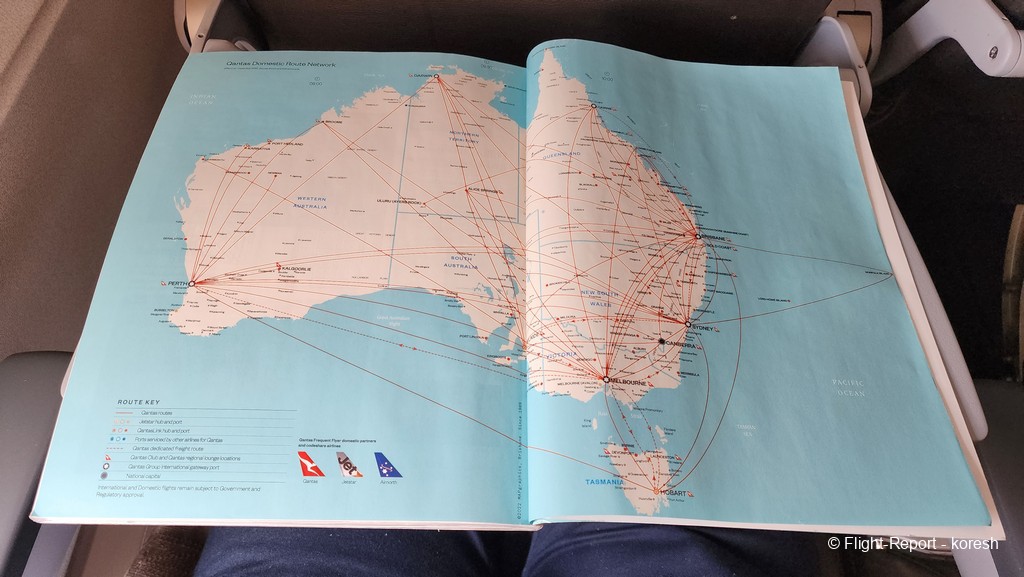 World map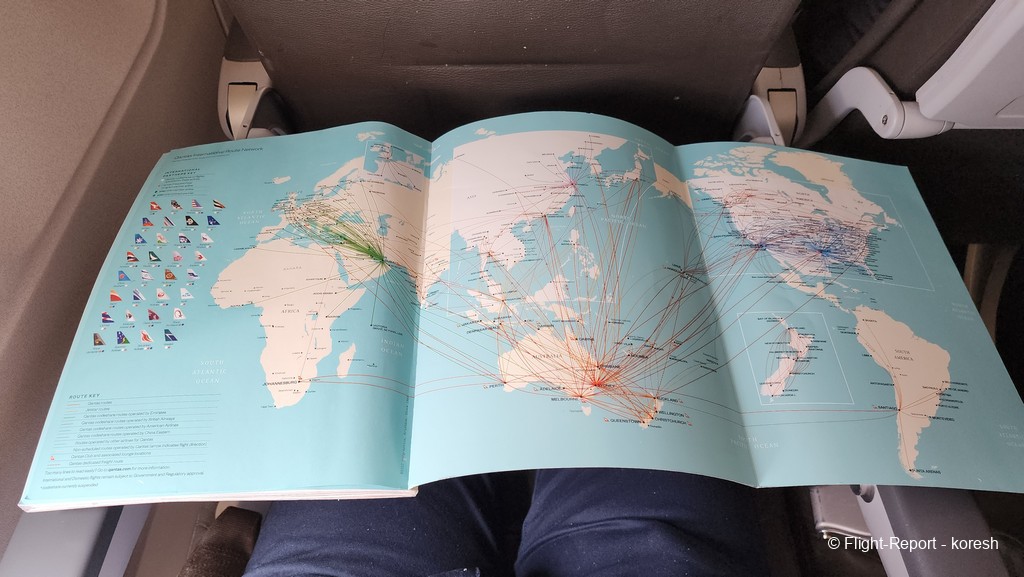 In about 2 hrs of flying crossed over to Northern Territory and the landscape changed below.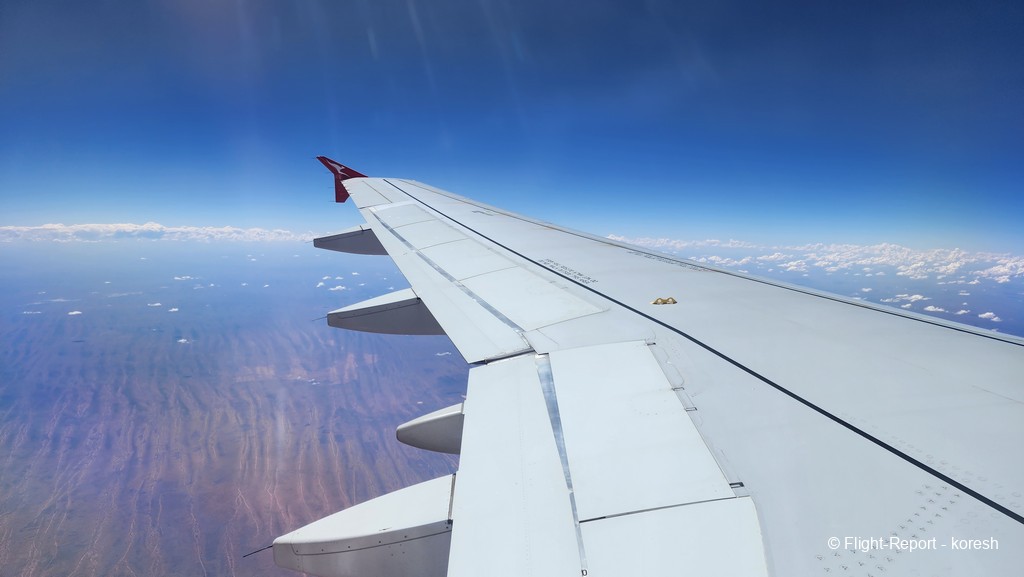 Crew distributed cookies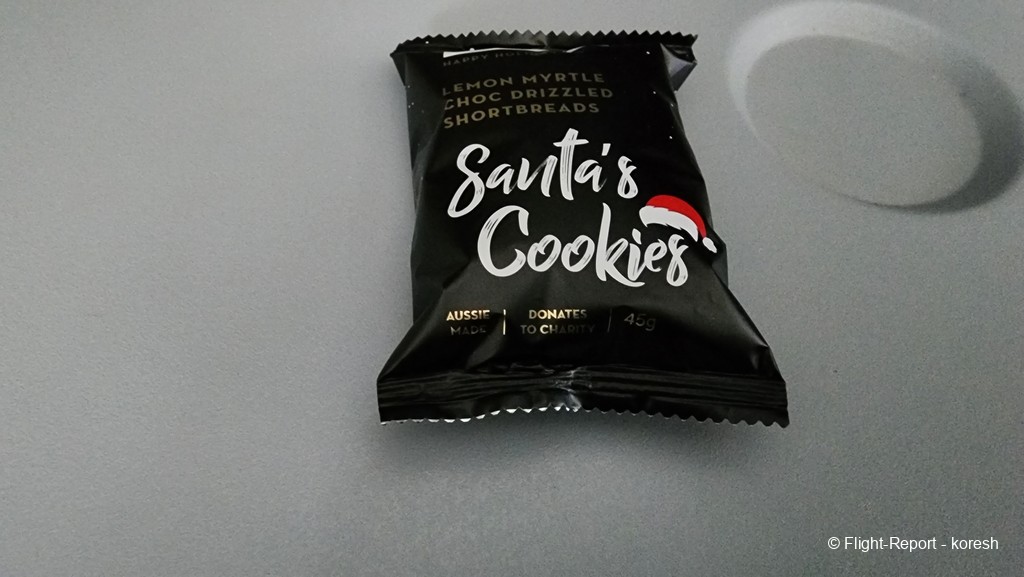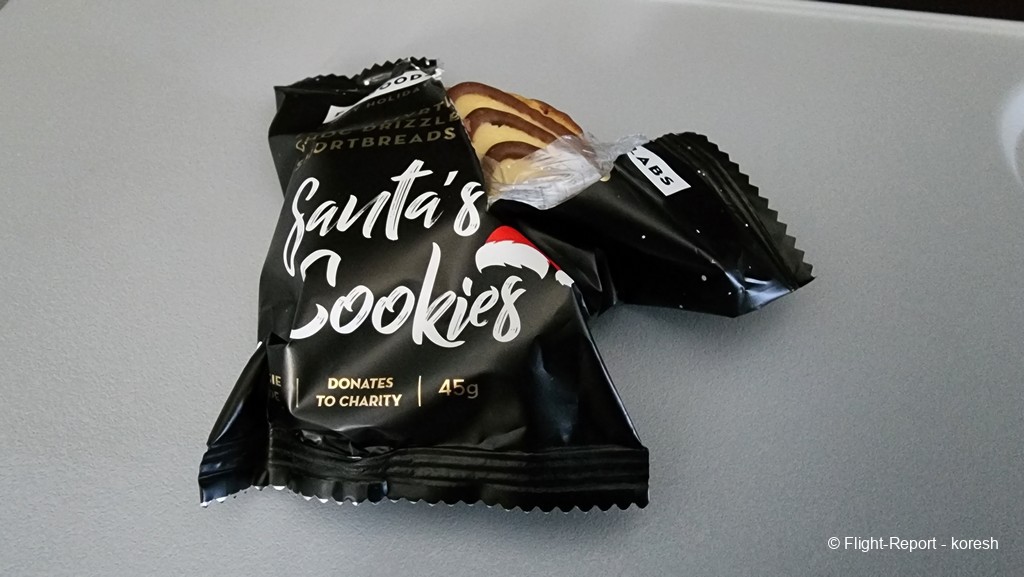 Another 35 minutes to arrival.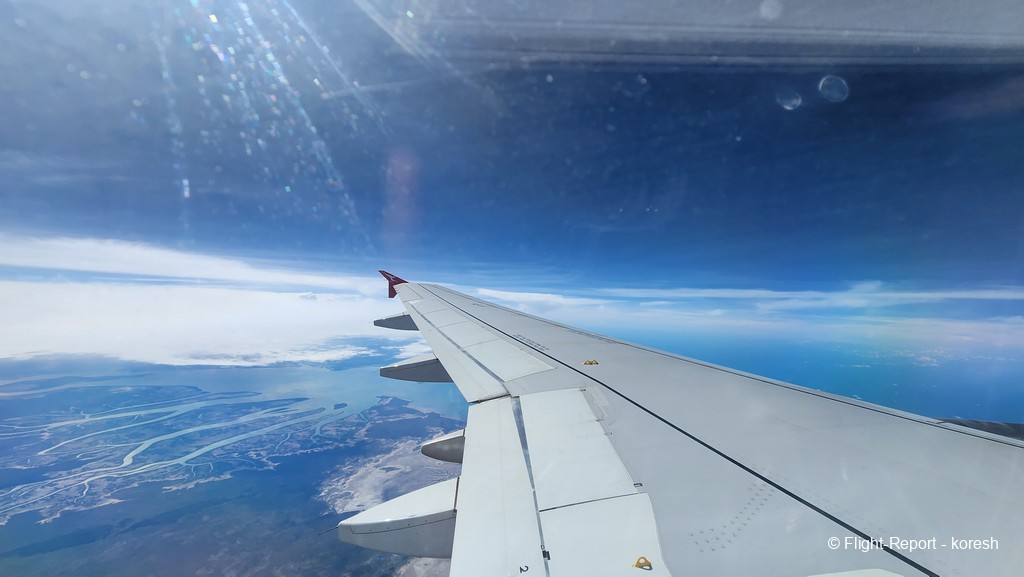 Landing in Darwin
Announcement was made, descend would commence soon. Crew cleared the cabin of rubbish and conducted safety check.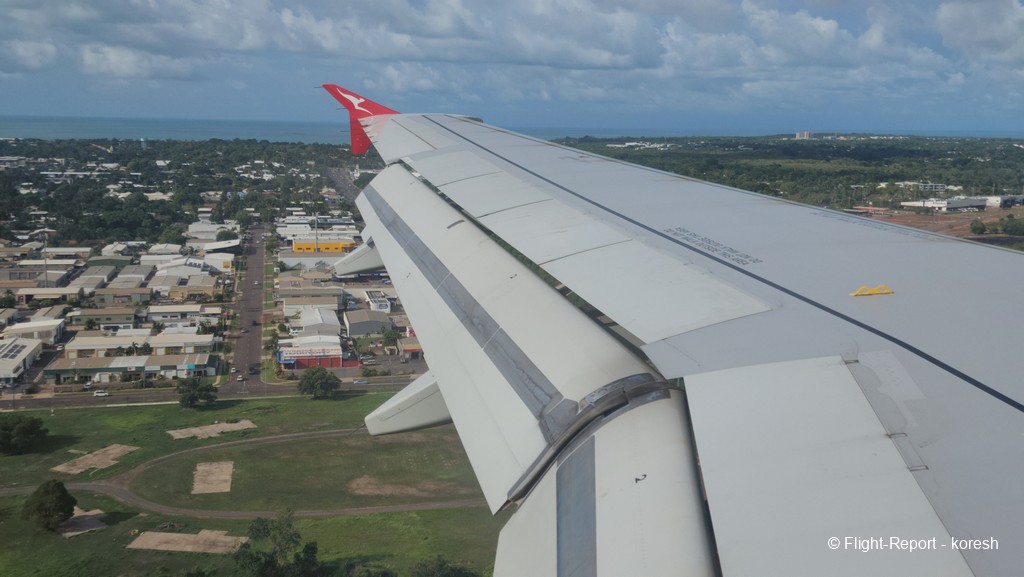 Landing gears came out.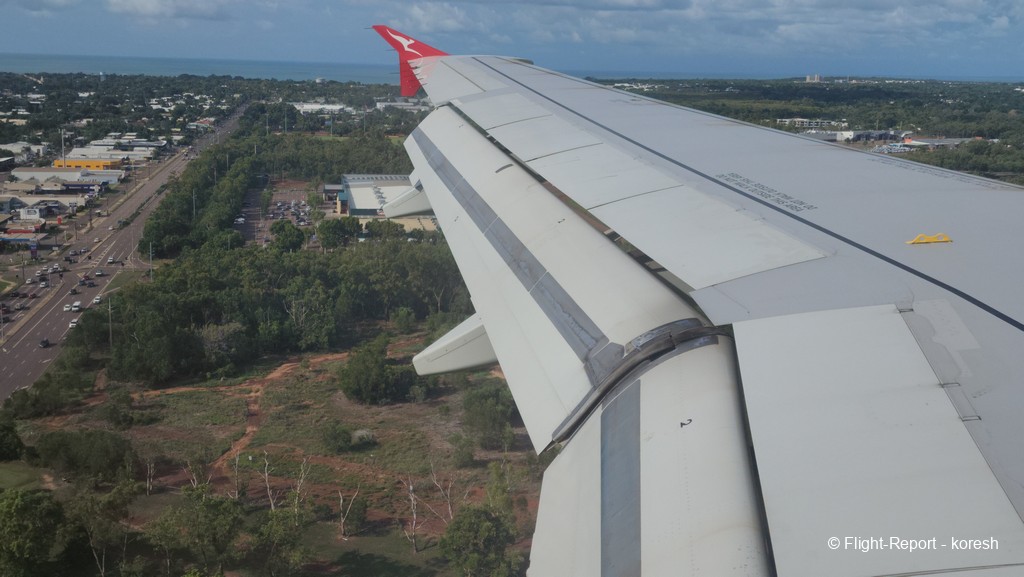 Landed smoothly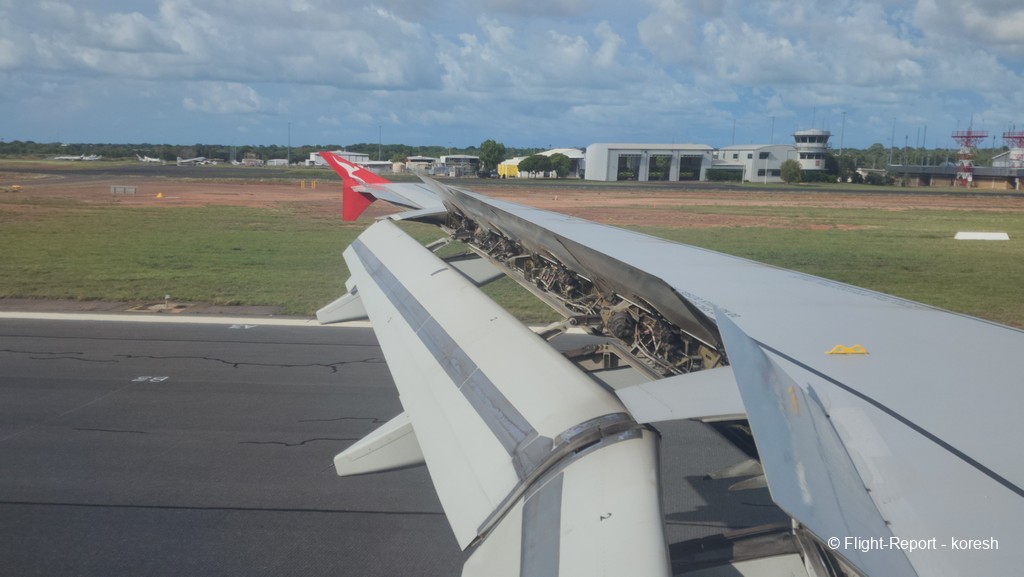 View of Terminal as a Virgin Australia aircraft holds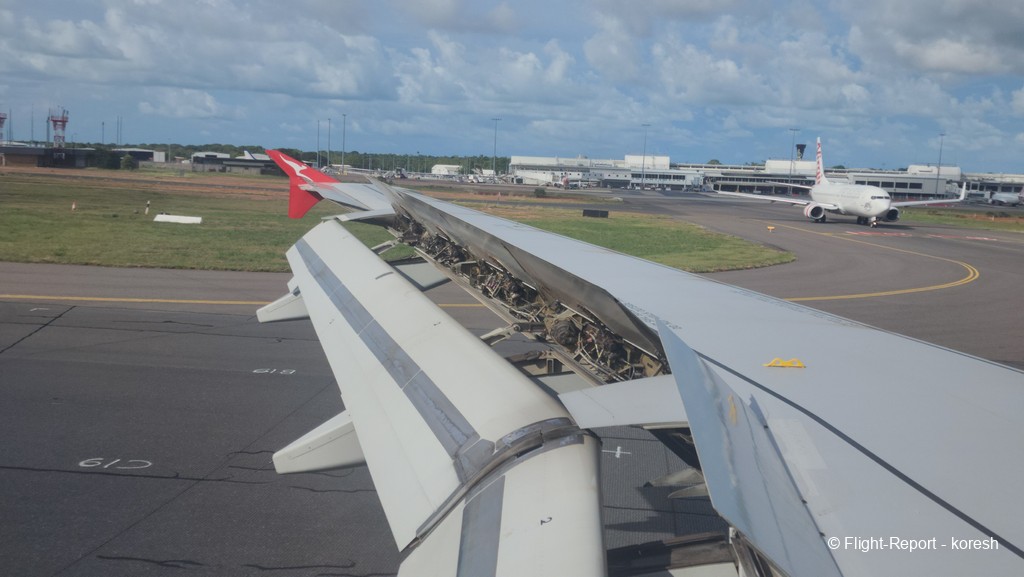 Braking to slow down.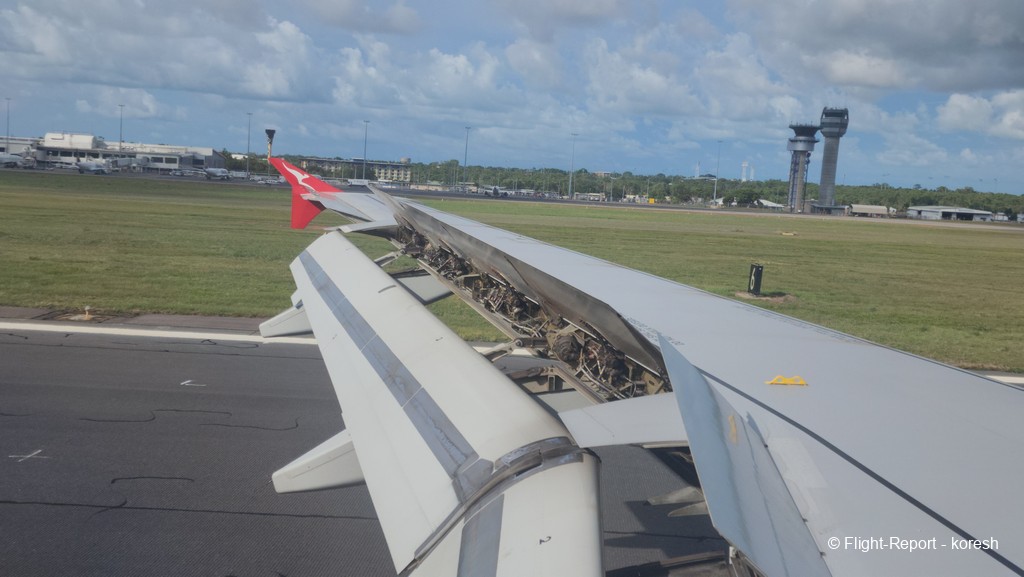 Exiting the runway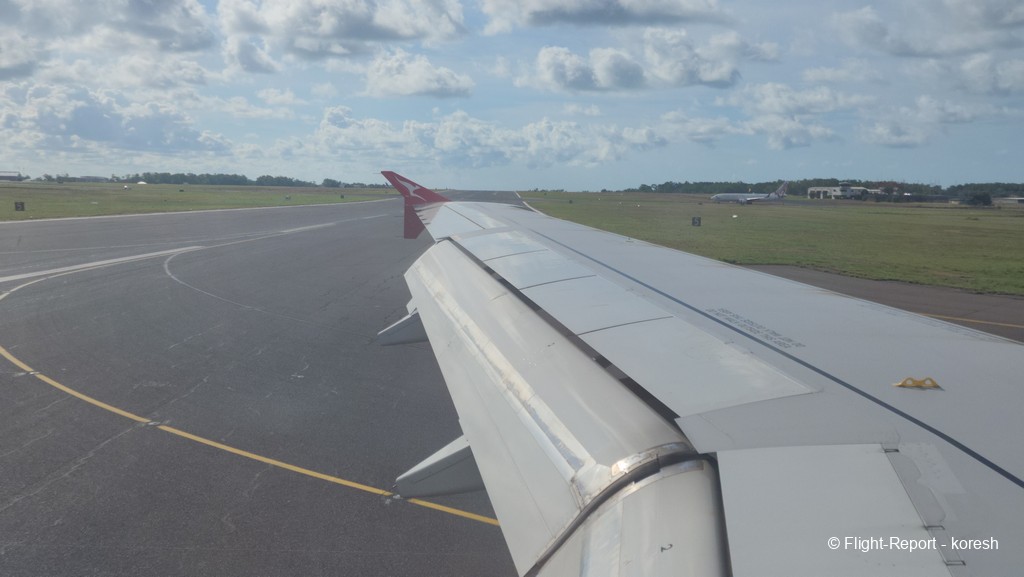 Heading towards the gate.
Airbus A320 waiting for Virgin to depart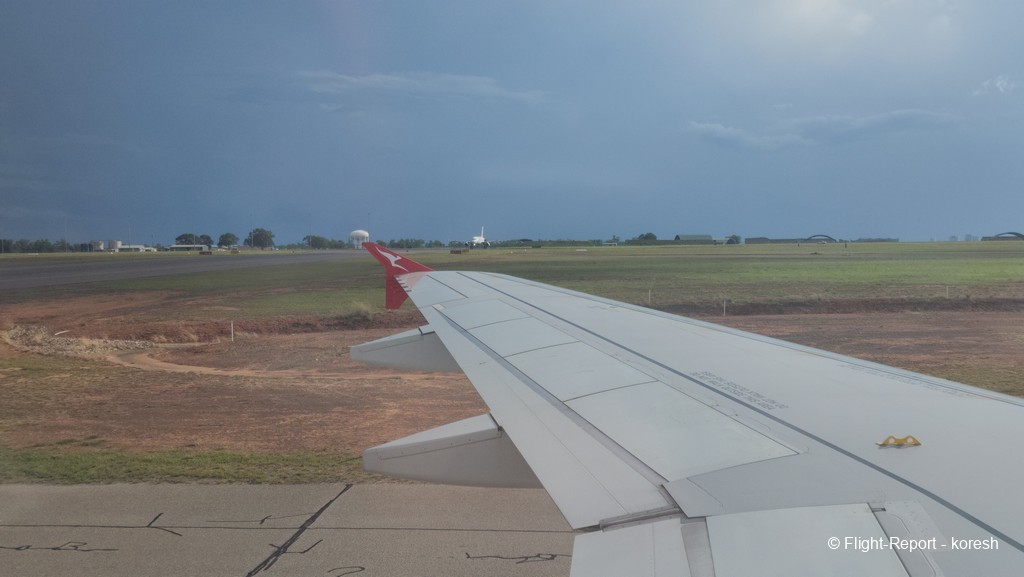 Almost reached the gate.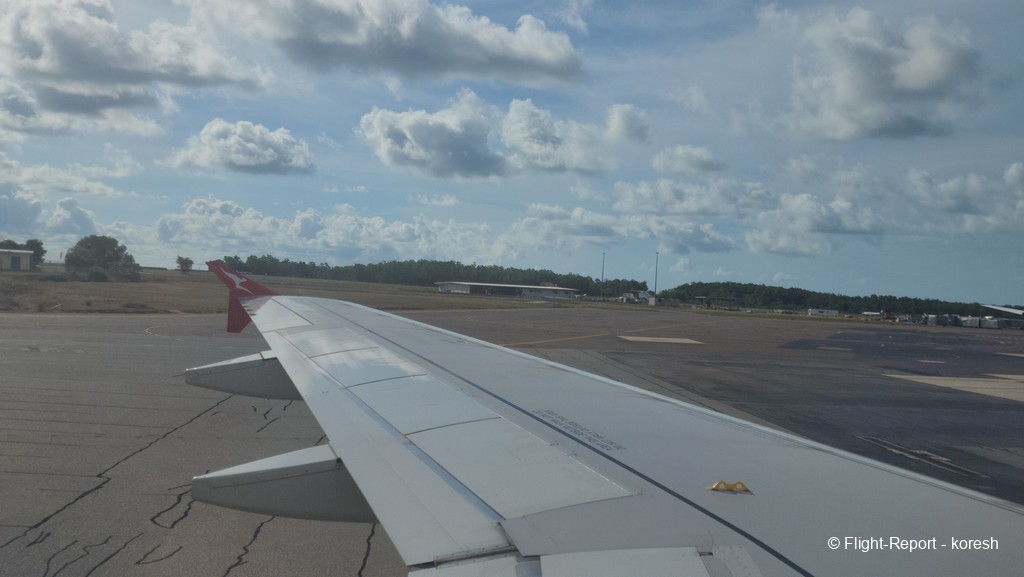 View of Qantaslink Embraer ERJ-190AR VH-UZI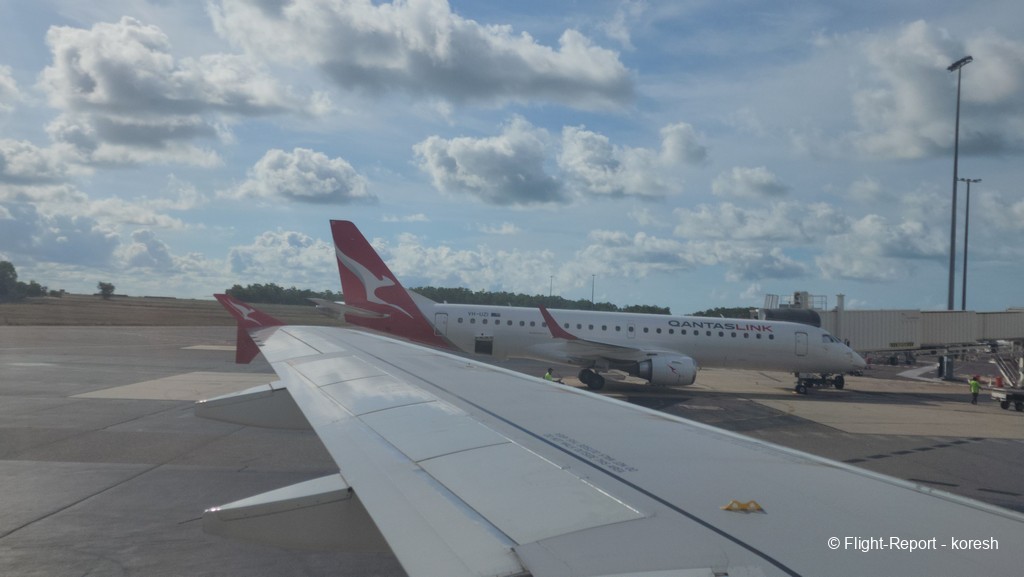 Upon reaching the gate, disembarkation was orderly. with those seated in front exit first.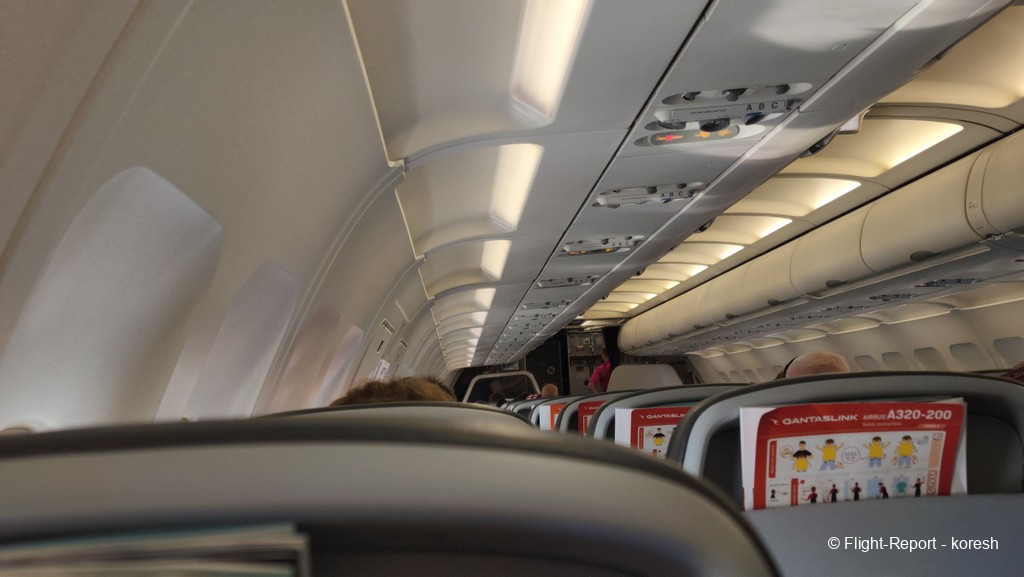 Thanked crew and disembarked the aircraft.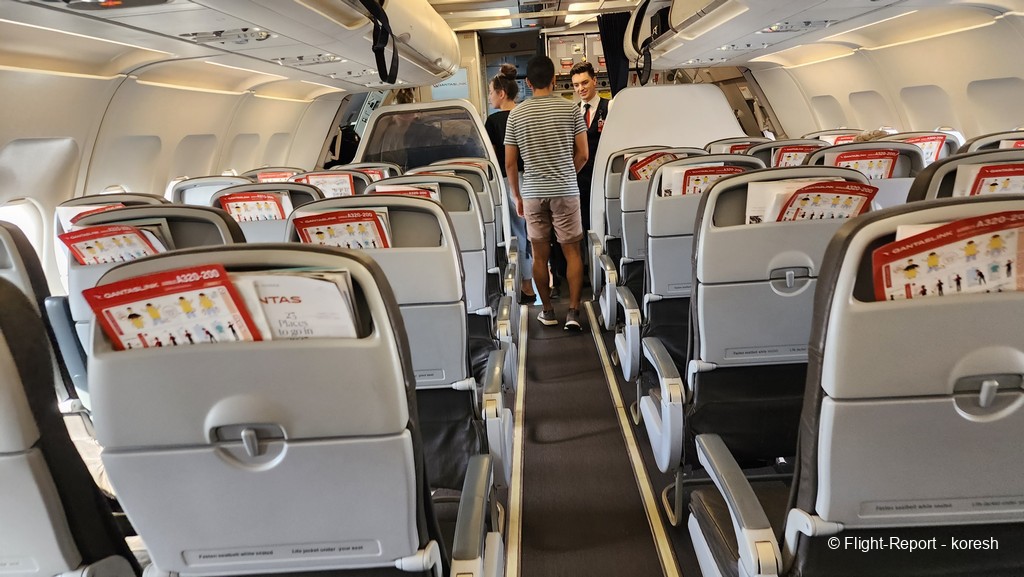 QantasLink VH-UVQ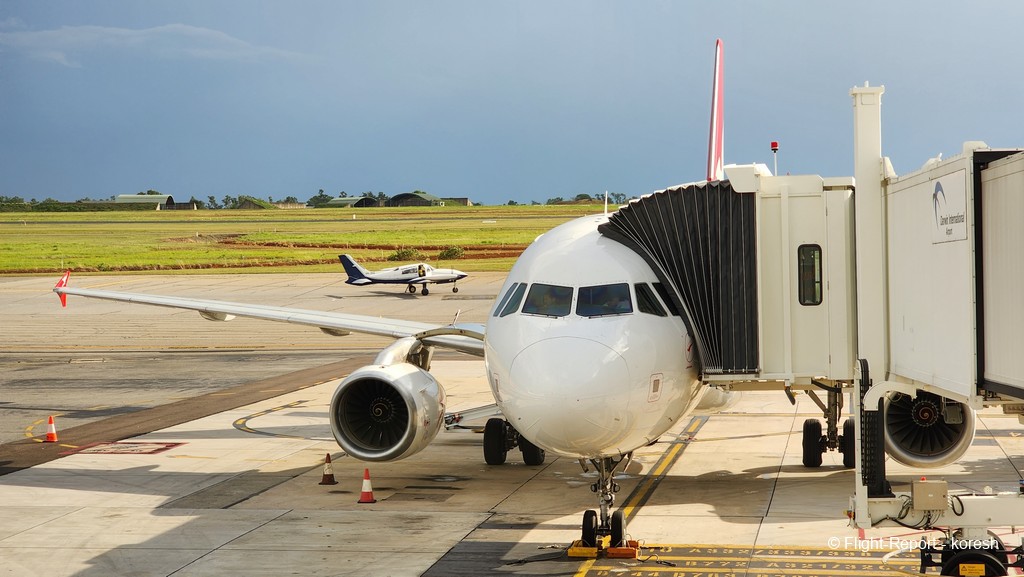 Walking towards the exit.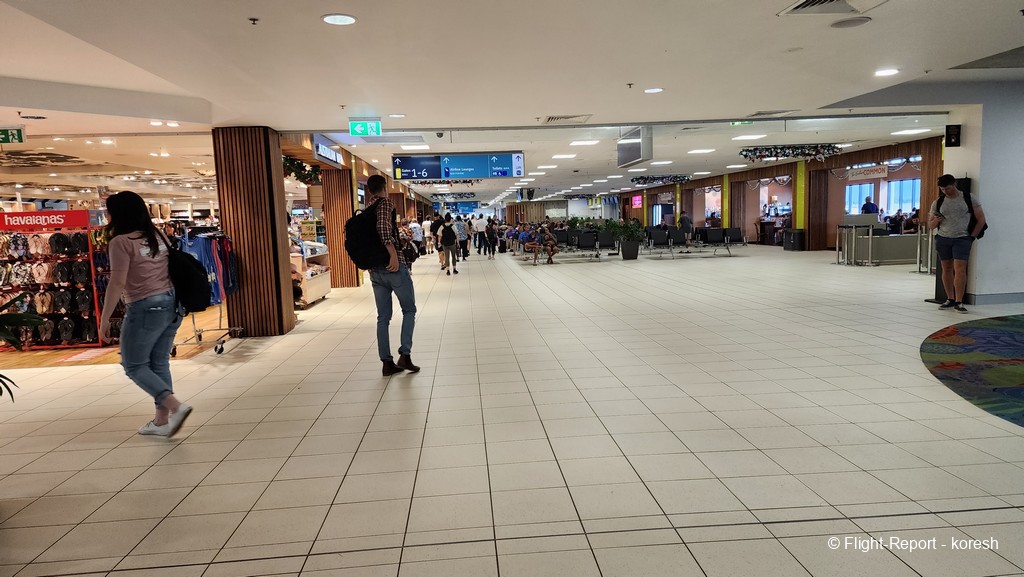 I had arrived early and the bags were not loaded. I noticed the car rental counter was next to the baggage claim. I went to the counter and got the car key and they bags had started to arrive. Got mine withing few minutes.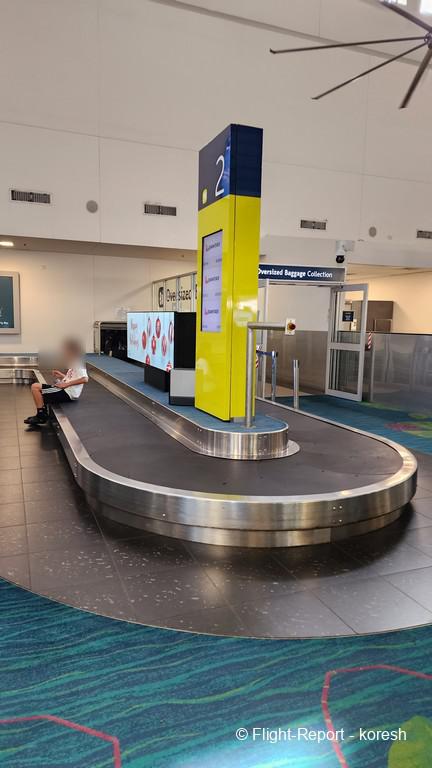 Exit Terminal
Exited the terminal and walk towards the rental car parking which is to the left. I had received a swipe card to exit the car park. Loaded the bags and drove to hotel.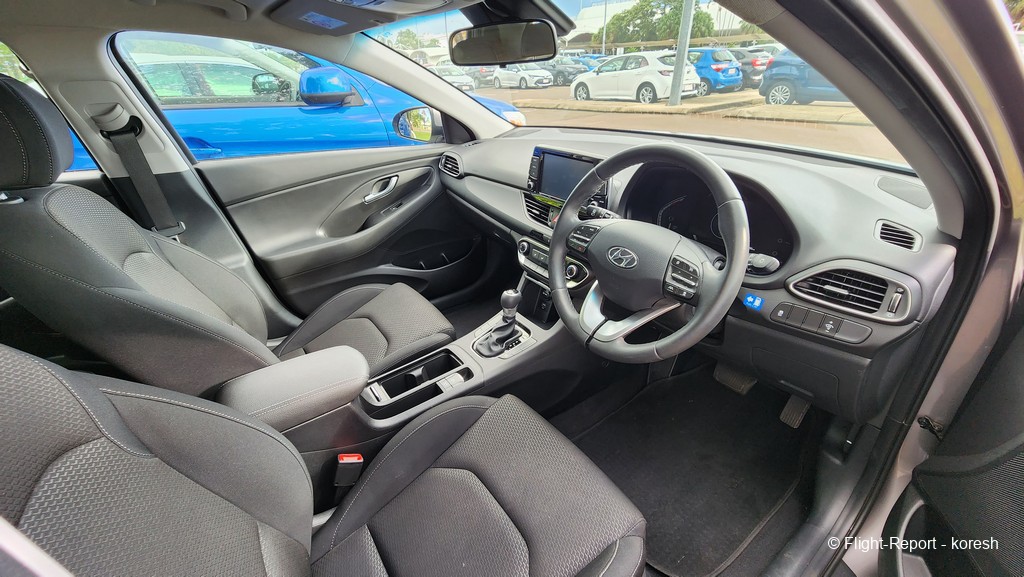 By the time I reached the hotel, i was past 5.30 pm as the time zone changes to Central time. Street view from balcony.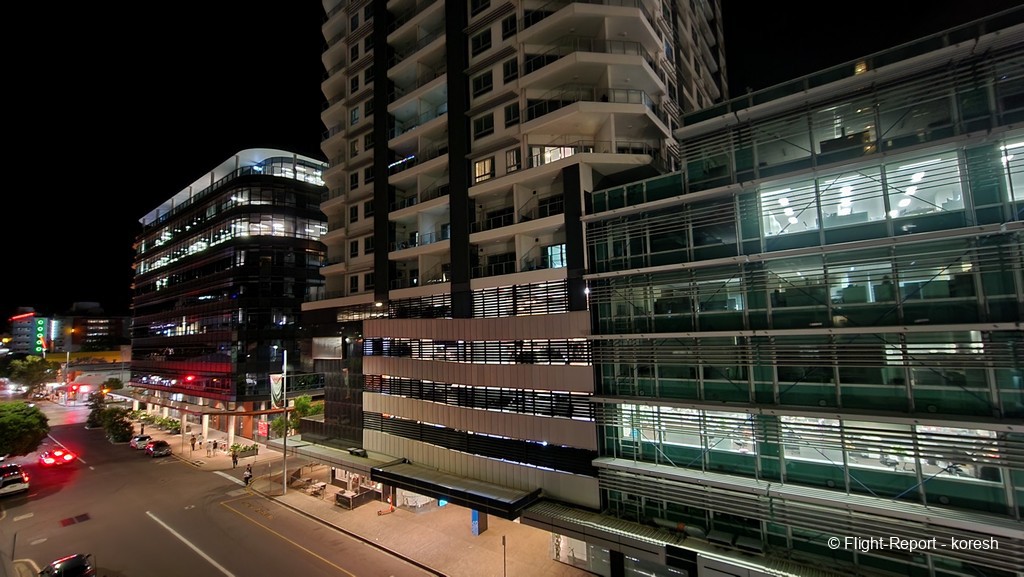 Flight Information
Checked the flight information after reaching hotel.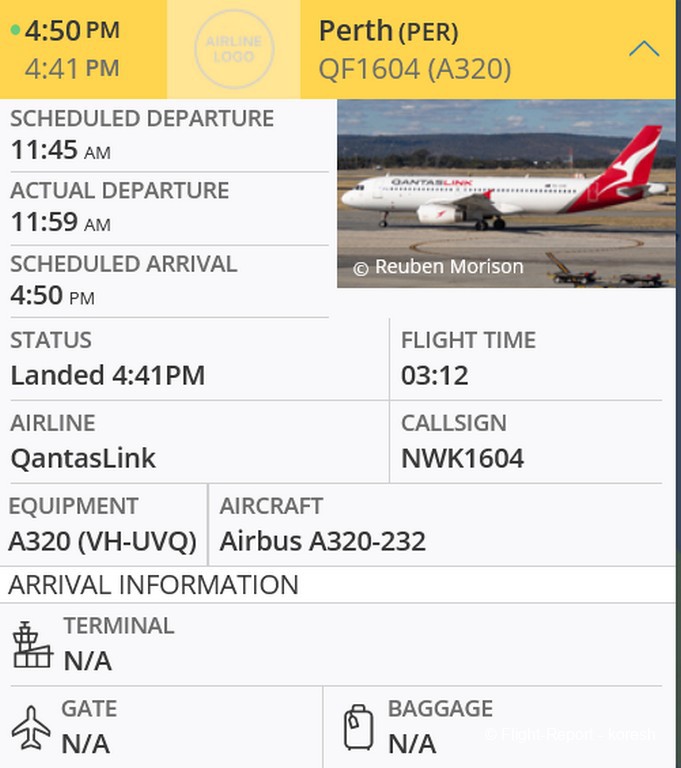 Flight details

Aircraft rotation

I hope you enjoyed reading this trip report.
Thanks for reading the report and watching the video.

Other Trip Reports
Qantas QF9 Melbourne To Perth
Qantas QF427 Sydney to Melbourne
Cathay Pacific CX660 Mumbai to Hong Kong
Cathay Pacific CX663 Hong Kong to Mumbai
Singapore Airlines 9V-SQM SQ421 Mumbai - Singapore
Virgin Blue Airlines VH-VUV DJ986 Brisbane - Sydney
Virgin Blue Airlines VH-VBM DJ905 SYD to BNE
Royal Brunei Airlines V8-RBG BI194 SYD - BWN
Tiger Airways 9V-TAP TR2103 BKK - SIN
Bangkok Airways HS-PGW PG276 HKT - BKK
Thai Air Asia HS-ABL FD3525 SIN - HKT
Scoot 9V-OTA TZ1 SYD - SIN
Malaysia Airlines 9M-MTA MH141 KUL-SYD
Malaysia Airlines 9M-MRN MH 195 BOM-KUL
Singapore Airlines 9V-SVE SQ422 SIN - BOM
Singapore Airlines 9V-SVL SQ242 SYD - SIN
Virgin Blue Airlines VH-VUA DJ849 MEL-SYD
Singapore Airlines 9V-SQI SQ237 SIN - MEL
Singapore Airlines 9V-SYG SQ424 SIN - BOM
Singapore Airlines 9V-SMZ SQ220 SYD - SIN
Tigerair VH-VNG TT224 MEL- SYD
Thai Airways HS-TGX TG472 SYD - BKK
Cathay Pacific B-KQD CX 101 HKG - SYD
Cathay Pacific B-LBB CX660 BOM - HKG
Cathay Pacific B-HLW CX663 HKG - BOM
Cathay Pacific B-LAQ CX110 SYD - HKG
TigerAir VH-VNJ TT602 MEL - SYD
Air New Zealand ZK-OJO NZ729 AKL - MEL
Air New Zealand ZK-OJO NZ898 MEL - CHC
Singapore Airlines 9V-SVI SQ241 SIN - SYD
Tigerair VH-VNJ TT279 SYD-MEL
Singapore Airlines 9V-SQI SQ421 BOM - SIN
Air Pacific DQ-FJH FJ914 SYD-NAN
Singapore Airlines 9V-SQJ SQ422 SIN - BOM
Singapore Airlines 9V-SVI SQ 242 SYD-SIN
TigerAir VH-VNH TT527 BNE - MEL
TigerAir VH-VNJ TT536 MEL - BNE
Malaysia Airlines 9M-MMD MH609 KUL-SIN
Qantas VH-OJD QF6 SIN - SYD
Qantas VH-OGI QF520 SYD - BNE
Air India VT-SCP AI517 HYD - PNQ
Air India VT-EVA AI965 BOM - HYD
Air Pacific DQ-FJK FJ911 NAN - SYD
Thai Airways International HS-TGZ TG475 BKK - SYD
Singapore Airlines 9V-SYD SQ421 BOM - SIN
LAN Airlines CC-CQF LA801 AKL - SYD
Thai Smile HS-TXC WE335 BKK - BOM
Thai Smile HS-TXR WE336 BOM - BKK
Malaysian Airlines 9M-MLH MH610 SIN - KUL
Qantas VH-QPF QF51 BNE - SIN
Malaysian Airlines 9M-MRO MH389 PVG - KUL
Air Asia 9M-AFW AK703 KUL - SIN
Air Asia 9M-AHQ AK702 SIN - KUL
Singapore Airlines 9V-SKI SQ222 SYD - SIN
Singapore Airlines 9V-SYL SQ825 PVG - SIN
Shanghai Airlines B-2563 FM9108 PEK - SHA
Hainan Airliners B-6510 HU7606 SHA - PEK
Air India VT-ANK AI308 DEL - MEL
Air India VT-PPV AI866 BOM - DEL
Air India VT-PPN AI805 DEL - BOM
Etihad Airways A6-APB EY454 AUH - SYD
Jet Airways VT-JBE 9W584 BOM - AUH
Etihad Airways A6-APG EY204 AUH - BOM
Etihad Airways A6-APH EY455 SYD - AUH
Air India VT-ANU AI301 SYD - DEL
Aerolineas Argentinas LV-ZRA AR1183 SYD - AKL
Singapore Airlines 9V-SVJ SQ826 SIN - PVG
Singapore Airlines 9V-SYD SQ421 BOM - SIN