Ok, before i start, I haven't actually got many pictures because this was a night flight and there isn't really much to take pictures of, except your meal etc
. So as a substition I will try and make it as detailed as possible, I apologise in advance if it turns out boring.
Well we booked this holiday 4 weeks in advanced, on expedia. We were originally going to be flying on Air Europa on the monday night with B737-400's, but before we confirmed the booking, we changed it because this was more convenient and cheaper. So our outbound flight was on Monarch and our return was First Choice, but i will do a seperate report for that one. Using AENA, i was able to find out that my flight would be operated by an A321. In a way, this was disappointing because I was hoping that I would get an A300 or A330, and also the following saturday it
was
schedule to be an A300. Oh well!
So on the 17th July at about 18:45pm, after a day of packing, taking the cat to cattery etc, we jumped into the car and headed off towards London Gatwick, an area that I am very familiar with
. We arrived "on site" at about 19:20 and we parked our car in the very large car park under the 26L approach. While parking, getting the luggage out and walking to the nearest bus stop, 2 BA B737-500's and a Britannia B757-200 landed (the BY B757 was from Palma) over our heads. The bus turned up and we hopped onboard, put the luggage into the specially assigned area for luggage, and took a seat. Before we knew it we were at the terminal, and we jumped out and put or luggage onto a trolley and wheeled it through the moving doors and up the ramp.
So the holiday starts here, as they say
Once we were up the ramp, we proceeded onto the moving walkway, which took us into the checkin area of the south terminal. It was packed! We passed the Thomas Cook desk and that had a line about a mile long. I dreaded to think that the Monarch line may be similar. We turned up to it to find about 3 people in the queue, and by the time we got there we just went straight to the desk anyway. Cool! I immediately asked if my tennis racket would be ok to take on as hand luggage, and they said "no, it well have to go in with the oversized luggage." I accepted this, although it was far from oversized. When we had checked in we were given our tickets and boarding passes. Seat 32 C/D/E/F. I was having 32F, the window seat, not that there is much to see at 11pm at night
.
After dumping my tennis racket with the oversized luggage, we went upstairs to have a meal at "Frankie & Benny's." I had cheeseburger and fries. One of many to come, i guessed
. I looked at the arrivals board to see if the schedule flight from Alicante was on time as this was the flight that would follow up to mine. To my shock and dispair it appeared 2 minutes late!!!
. I sat down to enjoy my meal.
Afterwards we went downstairs to the security check point. There was a long queue and we got talking to a family who were off to Kos on Thomas Cook. Once we were through, we had a quick look around the shops. Then i went up to the "airside" spectators gallery. I looked around, saw a Monarch A300 (G-OJMR) on stand getting ready for it's 22:20 departure to Kos. There were a few First Choice Airways aircraft in gates and remote stands. Not surprising after 5 arrivals from Palma, 1 from Verona and 1 from Faro, the previous hour before! The departures board was telling us to go to Gates 31-38, so basically, the satellite. I was in the spectator area from about 21:20 to about 22:00 and in that period i saw 3 B737-800's of Excel Airways land, as well as an A300 a B757 and then finally an A321 of Monarch, which was mine. Because it was dark i didn't see its registration straight away, but it was in new colours so it was going to be a new one. As soon as the aircraft turned off the runway, the departure board flashed "Boarding Gate 35." Well we knew it didn't mean literally BOARDING, just gathering to the gate. Well, how do you board a plane that's not there? About 5 minutes later, we went for one final visit to the loo before heading off to the transit to the satellite. On the satellite transit i stood near the window on the left expecting a great view, but all i saw was building work. They're obviously building a walkway and maybe getting rid of the transit?
Well i'll start the flight here and so here are the details

Date: Saturday 17th July 2004
Route: London Gatwick - Palma de Mallorca
Flight Number: MON5322
Aircraft: A321 - G-OZBG
Schedule departure time: 22:50
Actual departure time: 23:15
Seat: 32F

There was a slight delay to boarding and did not actually begin until about 22:45, so there was no chance we were going on time. We were not told of why there was a delay, the aircraft landed a minute early. In gate 36 was a MyTravel B767, who was all shut down, nightstopping. In gate 34 was a Monarch A321 preparing for its flight to Rhodes. There were two other Monarch aircraft (A300 and B757) in gates 33 and 32 also but i did not see where they were going to. Looking across to the north terminal, a First Choice B757 was pushing back, going to Palma. Anyway, at about 22:45 we were called for boarding, and as we were near the back, we were called for boarding first. The made clear that it was rows 26+ however almost every passenger it seemed got in the queue. The lady standing behind the desk obviously was very annoyed and impatient and almost shouted down the P.A. At present time ONLY passengers in row 26+ will be allowed onboard the aircraft.
Anyway, we passed through and went down the gate...to find it barred off and a man directing us down the stairs. Ok, i thought. Once down were out into the open on Gatwick's tarmac and we saw our aircraft with steps attatched to the "front door." Next to us was G-OZBH who had a gate, so it obviously wasn't an operational thing (i.e. just for Monarch). I took a picture here, rubbish in quality, but i was being moved along by the handlers and i don't think they liked the idea of me taking photos, but oh well: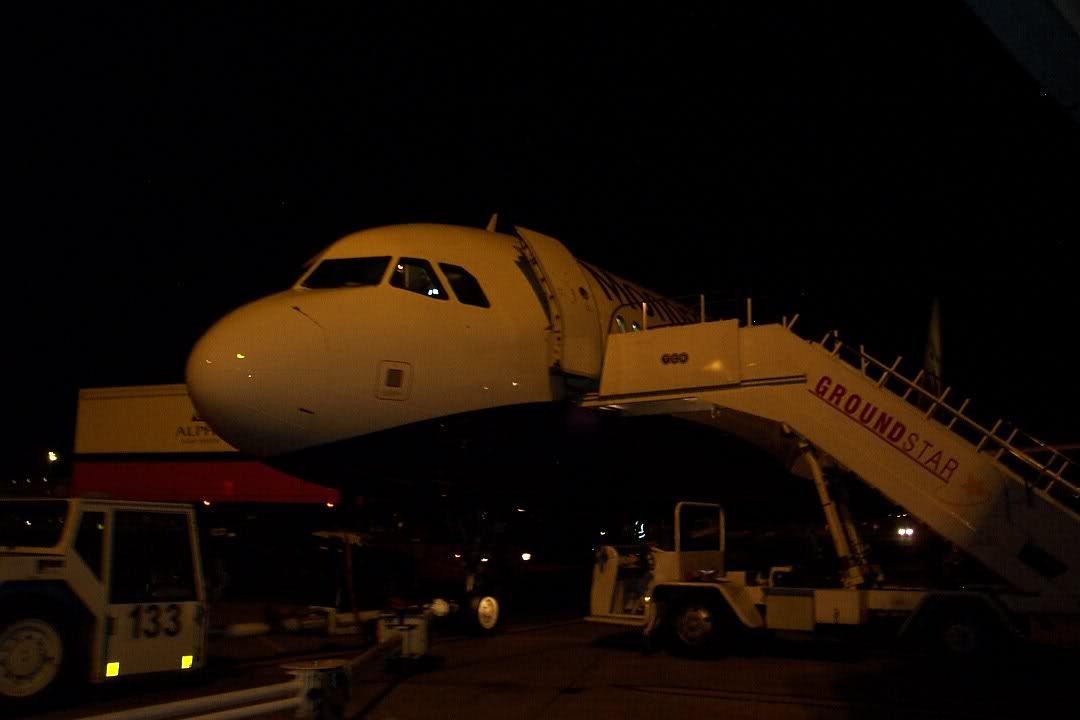 Was it worth the wait?
This was the first oppertunity for me to get the reg. of our aircraft. I loked on the wheel door to see BG so it was G-OZBG. I got on board and were met by friendly smiles from the crew, they said hello and told us where to go. "Down the aisle," gosh i didn't know that. While walking down i managed to take another pic but i was being pushed down by impatient holiday makers so i couldn't exactly pic my spot. SO this will have to do: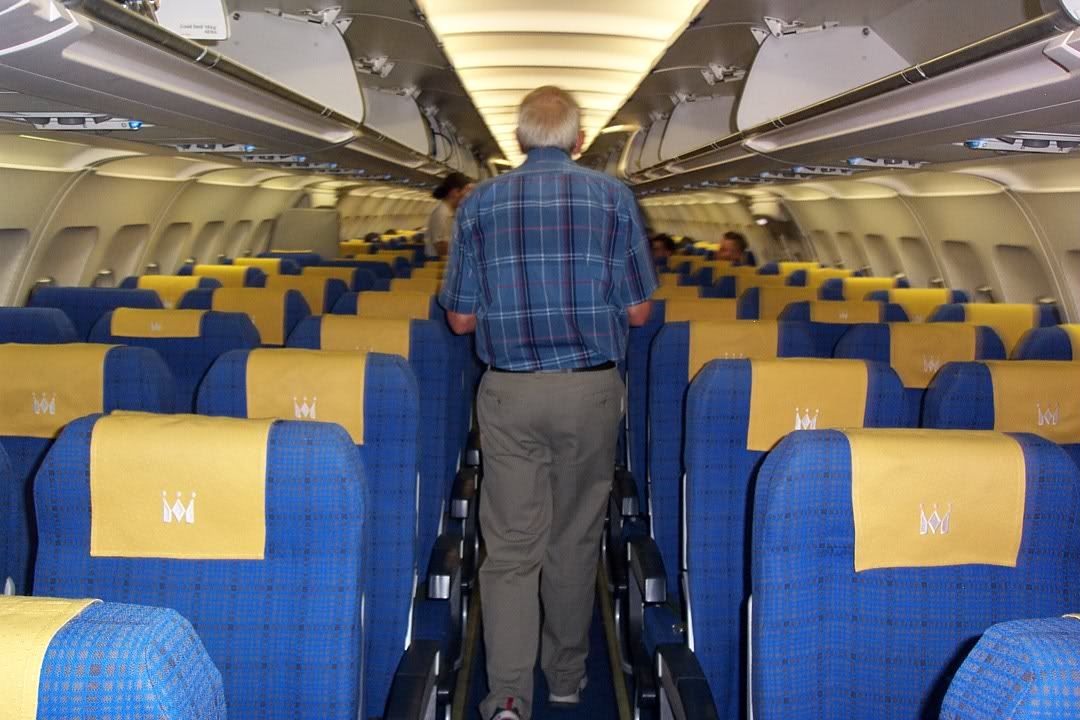 Once sat down i looked out the window, the other A321 was just about to pushback and there were a lot of departures from what I saw. About 15 mins after taking my seat, the door was closed, brakes released and we were moving backwards out of 'Gate' 35. The cabin crew told us that the gate had had a mechanical fault and was not operational. Then we were told about the flight. They estimated it would last 1:55hrs, we would cruise at FL310, passing down over west France then down through Barcelona and then go accross the Mediterranean to Mallorca. All very well.
As we pushed back, the engines cranked up, with a loud whine, that i had never experienced before. I don't think the kid behind me had either, as she burst into tears. (For the first time of what seemed like 100 times throughout the flight). The crew manually performed the safety demonstation. Then, soon after, we were moving, towards the runway. We passed 3 First Choice Aircraft in the terminal, 1 A320 and 2 B757's including G-OOOB which is still in the basic old colours. Then there were two more First Choice Aircraft, an A321 and a B757 on remote stands. We passed the construction of the footbridge over the taxiway, but did not go under it, on our way to 26L. I was on the right hand side, so i did not see the terminal. After we had gone round the terminal, we were parallel with the runway. An Excel Airways B737-800, G-XLAA from Faro. Then we got nearer to the end of the runway, and saw another B737-800 of Excel Airways about to line up. Using my binoculars (yes i took my binoculars to Mallorca
) i made out that it was G-XLAB to Malta. This immediately turned onto the runway and was away. We followed behind onto the runway.
So we slowly turned onto the runway and crawled slowly, before the engines whined up and then shook into life. Full thrust was applied and this baby moved. At this point, i thought we must have been very close behind the Excel B737 as we didn't even stop when we turned onto the runway. We were quickly airborne and leaving a very dark Great Britain behind. As we reached around the end of 26L/08R, we saw the Excel Airways B737-800, after it had turned around to our right. Logical thinking by the ATC as we were turning left. Well, we soon did that. We passed a layer of cloud and were into the open sky. Not really much happened after that. The baby screamed behind us, we hit some turbulence, the baby screamed again. She even started screaming and crying when the refreshments trolly came around, obviously didn't like the look of the Flight Attendant.
We I got my "meal:"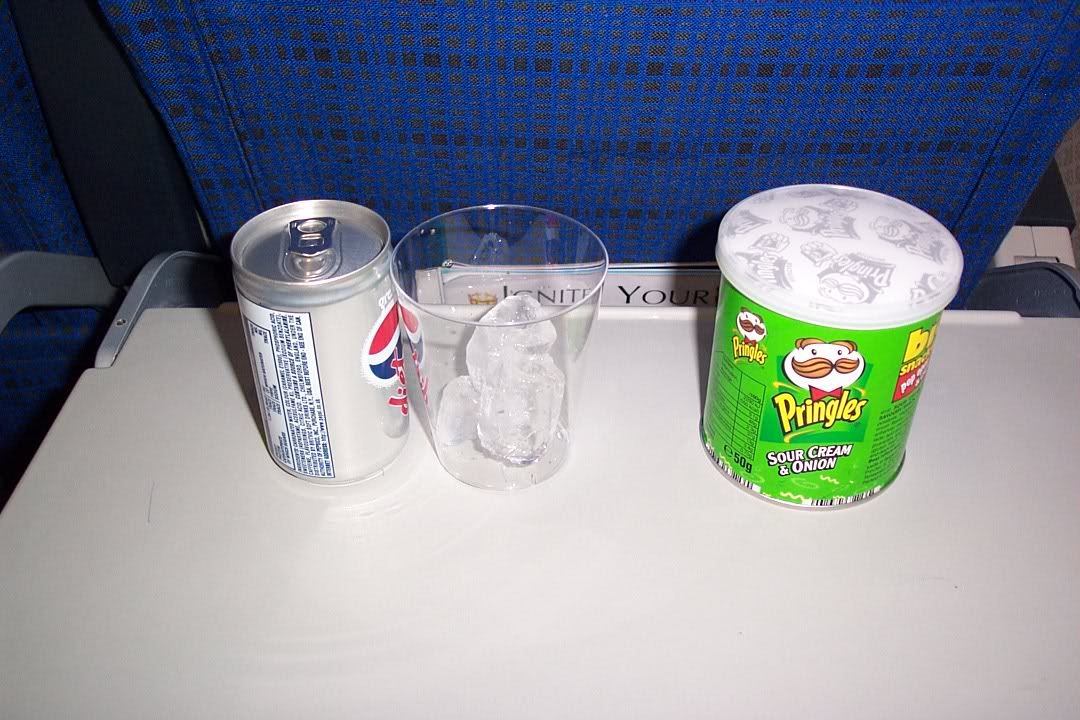 Today's flight was pretty full, they said a couple of empty seats near the back were still spare, but other than that it was full.
Here's a pic of the cabin en route.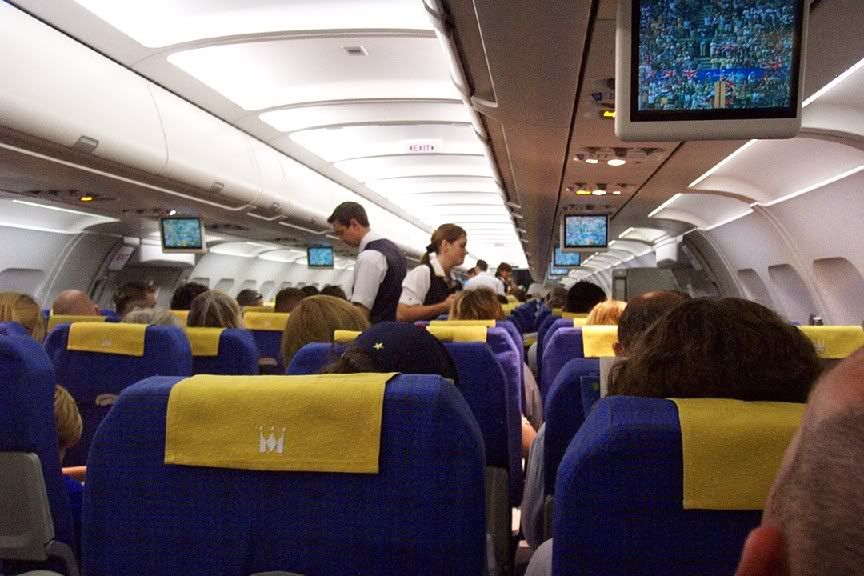 Well we reached 35,000ft and past over a very lit up Barcelona. The flight itself was, in a way, boring. There was nothing to see out the window, there wasn't anything decent on the box, even a bit of turbulence would have helped. Second thoughts, i would have hated to hear the reaction of the little toddler behind if that happened
Well after we had passed over Barcelona, we were over the Mediterannean and we started our descent. The captain said we would be approaching over the coast, which was unusual in Palma. Although during my visit i kinda latched on that in the morning they were generally approaching over the coast, to turn around at about midday. So there were many right turns to keep us parallel with the coast. After about 3 minutes we made a swooping turn to the left to establish us onto the approach for 06L. Once lined up the flaps were put into action and we got the kick from the landing gear as they were lowered. Looking across the cabin out the window on the other side, we passed the resort of Magalluf (a.k.a. Shagalluf) and Palma Nova. Looking ahead we could see light.
During the approach it seemed that the pilots were struggling to keep the plane in the air, with the throttle increasing, almost to full throttle at one point. And our approach seemed very low, as we passed over the coast, the high rise buildings and the main motorway. The lights of Palma International Airport were now in sight and so was the apron to the right.
We made our last adjustments over the piano keys and numbers of 06L before slamming into the runway, with no kind of flair. Then, we slammed into the runway again, before a huge period of braking, nothing in the form of reverse thrust. Within about 10 seconds we were turning off onto the (now closed) runway 06C/24C and at that, i could see two aircraft behind us on approach, the nearest was very close. That was obviously why we were braking as if we were about to go off the end of Niagra Falls. I love looking at aircraft approaching in the night. The huge bright lights make the aircraft look so close. We slowly taxied to our gate, with the usual "Welcome to Palma, where the local time is 02:07am, the temperature outside is 22 degrees celsius etc." We turned around and started approaching the "C" Pier. The aircraft behind had already turned off the runway and i now identified it as a Spanair MD-83, which i later found out was from Dublin. We passed the gates and the turned in, to gate C43. Once onstand, there was huge rush to the door, however, the doors hadn't even been opened and the jetway wasn't even on the door, so i just remained put. Next to us, a First Choice Airways A321 charged onto a remote stand next to us. One could only think that pilot had had a long day
. About 5 minutes after we were on stand we were moving down the aisle. I said goodbye to the crew and walked onto the jetway and up into the terminal building.
As we were out into the terminal, we saw the passengers all waiting to board the return flight. It was so tempting to put my thumb on my nose and wave my fingers. Ner ner, you're going home and we've just arrived
.
We walked towards the baggage reclaim, which took ages, as the terminal is so big. However, once we got there it was a breeze and everybody had their luggage within 5-10mins. Other baggage reclaims were for that First Choice A321 from Bristol and two other Spanair flights from Dublin and Cork. After we had collected our bags we nipped through the doors and went to the car rental place. About an hour after touch down we were walking across the road to the car park to get our car. I was trying to get a network on my mobile but it wasn't having any of it. Anyway, once we had our car, we left the airport to start our holiday. Well it wouldn't be straight in the pool for us - the pools were treated with chemicals at night
.
Well thats generally it. We arrived at Marriott's Club Son Antem Golf & Spa Resort at about 04:00am and went straight to sleep. We would be spending the next week here.
The return flight report will come soon, and will have a lot more pics, thanks to the fact it was a daytime flight
Thanks for reading, sorry if it was boring, please leave a comment.
Cheers
-Stephen