Here's a trip report of a weekend trip to Barrow, Alaska, the farthest north town/place on the North American continent.
June 24, 2005
Alaska Airlines 143
Routing: ANC-FAI-BRW
Scheduled ANC departure and gate: 6:30 AM, C8 Actual departure: 6:27 AM
ETA in FAI: 7:24 AM Actual Arrival: 7:23 AM
Scheduled FAI departure and gate: 7:59 AM, gate 6. Actual departure: 7:52 AM
ETA in BRW: 9:26 AM. Actual arrival: 9:09 AM
Aircraft: Boeing 737-200, N741AS
The AS check-in area at ANC was a madhouse, as only two (2!) agents were attempting to check in passengers for the early morning block of flights to BRW, FAI, SEA, BET, ADQ, etc. Fortunately I arrived at the airport around 5:00 and was checked in and through security by 5:45. C8 was the departure gate this morning. Boarding began at 5:55 AM, and upon climbing up the air-stairs into the combi, I noticed that there was no cargo this morning. Instead, the 732 was configured in an all-passenger, all-coach configuration, the first I had seen in many combi flights across Alaska over the years.
The doors were shut and we left slightly ahead of schedule. The entire front half of the aircraft was empty thanks to the unexpected large block of seats. We taxied quickly to 24R, passing the usual number of cargo jets and AS flights, along with a NW 752 at B11, a NW 753 in from HNL at B10, and a UA 752 bound for ORD at B8. The 48 minute flight to FAI was cloudy, with haze caused by nearby wildfires filling the sky as we approached Fairbanks over the Tanana Flats to the south. We touched down ahead of schedule on 1L and taxied to gate 6, where we were able to use the jetway (due to the lack of cargo) as opposed to the rear stairs. Parked at gate 7, where there is no jetway, was a NW 752, the morning flight to MSP.
Our ground time in Fairbanks was quick, and soon the front door was shut. We taxied out to 1R and did a mid-field takeoff, blasting out over the Mitchell Expressway and over my old haunts on University Avenue, Airport Way, College Road, and the University of Alaska.
As we crossed the Yukon River and made our way over the Brooks Range the FA's began their inflight service, consisting of heated scones (actually quite good, I even had seconds) and a beverage. Flight time was announced as 1 hour, 13 minutes. Soon the Brooks Range faded into the North Slope and we began our descent. Here are some pictures of the Slope and the permafrost polygons: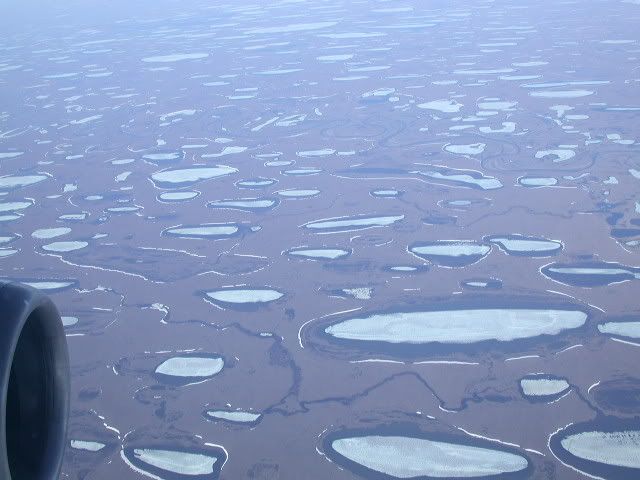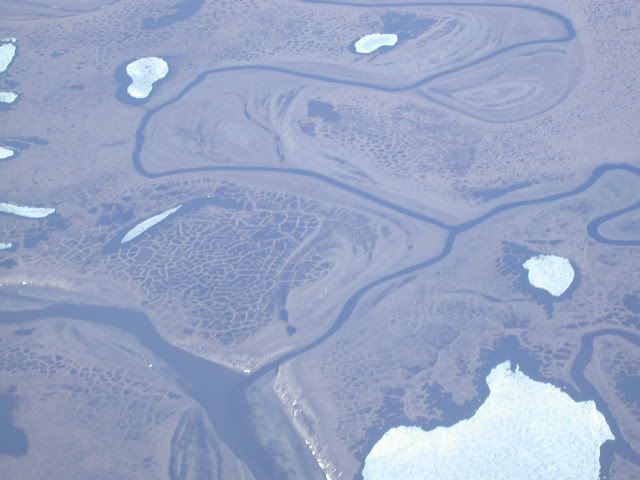 A shot of the Arctic Ocean on final approach: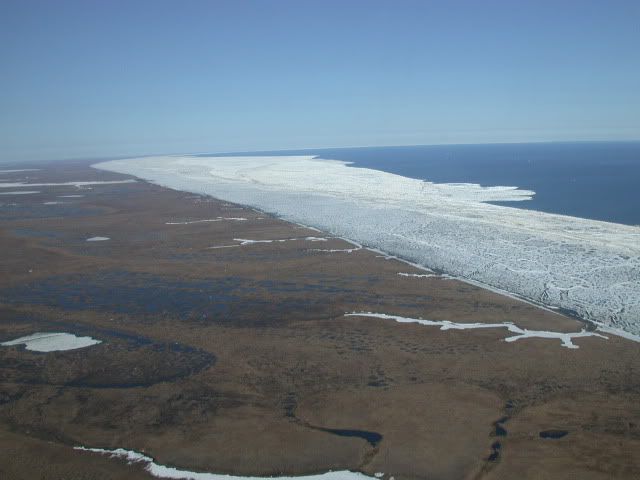 And an aerial view of Barrow as we landed on runway 6:
A quick taxi to the AS terminal and we deplaned into the typical east wind that Barrow usually experiences. The temperature at landing was 38 degrees.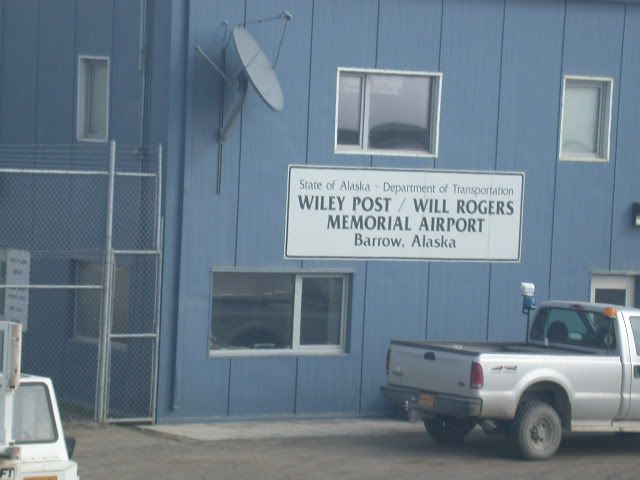 Here are some pictures from Barrow and the area around it: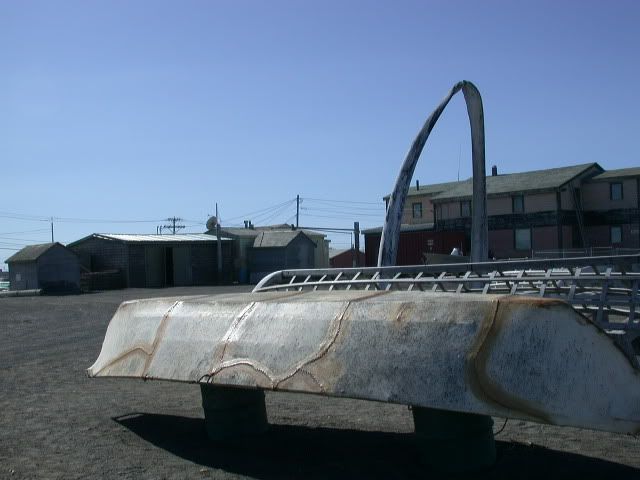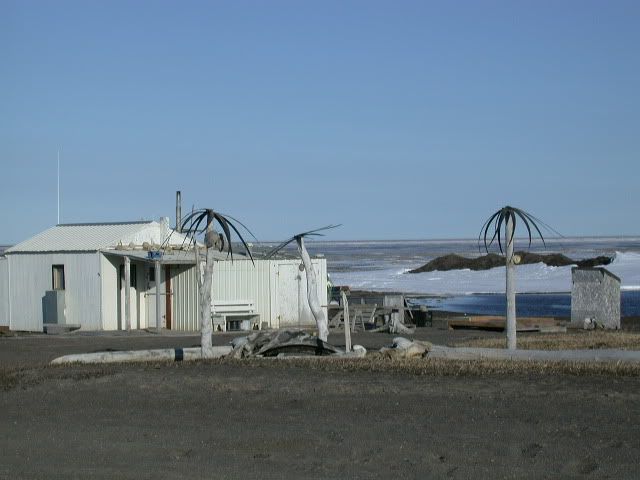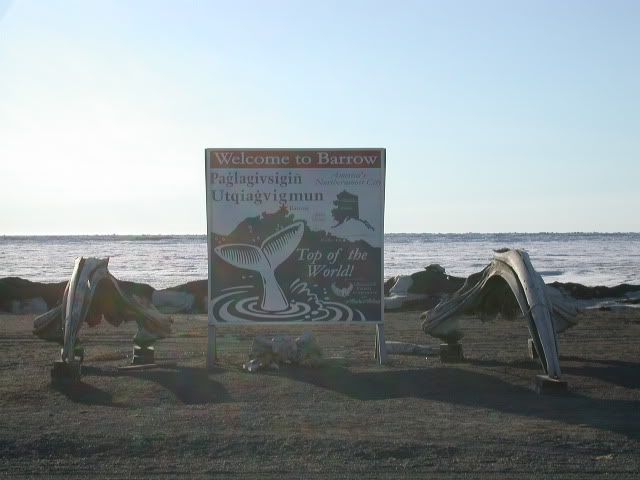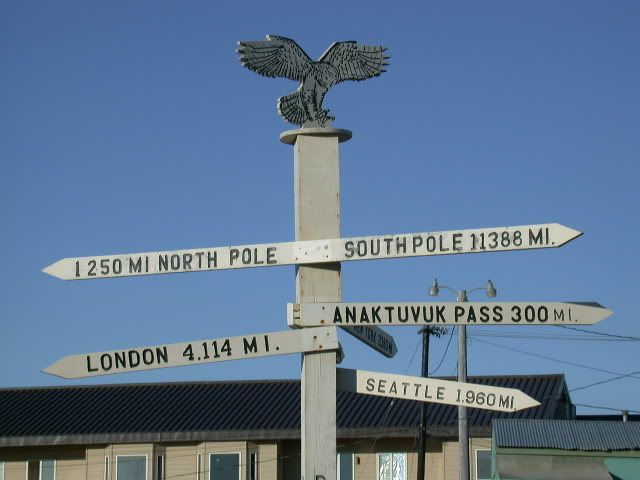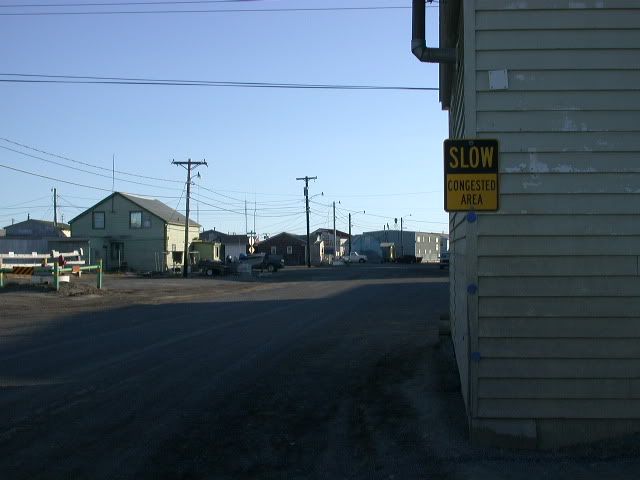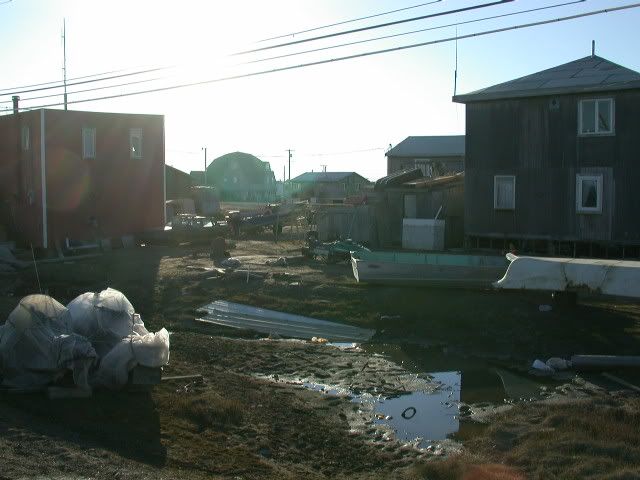 June 25, 2005
Alaska Airlines 144
Routing: BRW-FAI-ANC
Scheduled BRW departure: 10:01 AM. Actual departure: 11:50 AM
ETA in FAI: 11:20 AM. Actual arrival: 1:05 PM
Scheduled FAI departure/gate: 11:55 AM, gate 6. Actual departure: 1:36 PM
ETA in ANC: 12:50 PM. Actual arrival: 2:24 PM.
Aircraft: Boeing 737-200, N741AS
The AS terminal was a madhouse and then some. Flight AS 146 from the previous night had canceled due to a mechanical issue, and walking to the airport N745AS had been pulled off to the side, waiting for a replacement hydraulic part to come from Anchorage. To top it off, Barrow was foggy this morning, and the inbound plane had been placed on a weather hold. Fortunately, visibility improved above the minimums and the inbound aircraft arrived about an hour late. Check-in was very slow, as AS 144 was overbooked, and the agents were re-accommodating people from the previous night on a special section scheduled to depart BRW at 2:00 PM.
At 10:45 an agent began taking boarding passes and the TSA put people through security two at a time. The flight was full this morrning, with a cargo bulkhead in place, allowing for 56 passengers. The taxi to runway 6 was quick, and soon we were airborne through the remaining fog and pointed southeast towards Fairbanks. Flight time was announced as 1 hour, 12 minutes, and inflight service was exactly the same as yesterday. We began our descent as we crossed the Yukon River, with a nice view of the Trans-Alaska Pipeline and the Dalton Highway crossing the river. Fairbanks was again hazy from nearby fires as we flew over town and landed to the south on 19R. Ground time was speedy due to the delay, and shortly we taxied back to 19R and winged our way south to Anchorage. Here's a shot of Denali and Mt. Foraker enroute: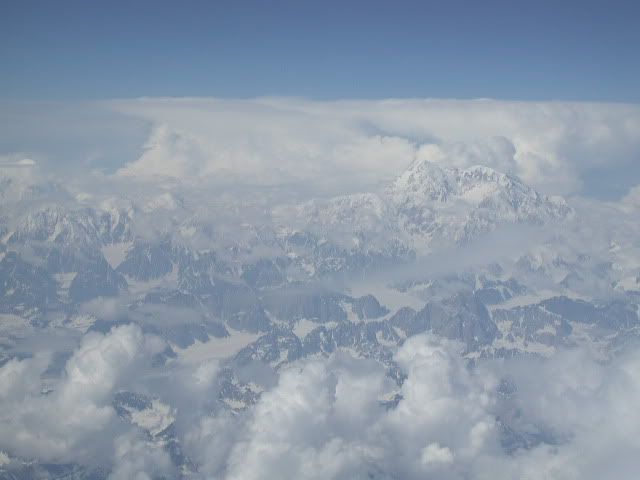 Aside from the weather delay, AS provided their usual level of high inflight service on the intra-Alaska routes. The check-in area at ANC was inexcusable, however. At BRW, I'm willing to give the agents a break as there are only three that work there and they were dealing with an unusual situation. Overall, we here in Alaska have been spared some of the obvious turmoil on our intra-Alaska routes that has plagued the AS system in the lower 48. Here's to hoping AS rights their ship sooner rather than later.