This is the third and final part of my Thailand. The other to reports can be found here:
Thailand On SK And PG (w/pics) Part 1
Thailand On SK And PG (w/pics) Part II
We now had some days in Bangkok, and we needed to get new passports at the Swedish embassy and new stamps from the immigration authority. When we called the embassy from Koh Samui we were told to be there as soon as they opened in the morning. And we were on the 20th floor at Pacific Tower 2 where the embassy is located. There were an interview and when we had explained everything, it was time to take new photos, and then to get down to the bank to pay for the new passports. Everything went extremely well and we were done at the embassy at 10 in the morning. And the passports were ready at four in the afternoon. WELL DONE!!!
Jippie, my new passport!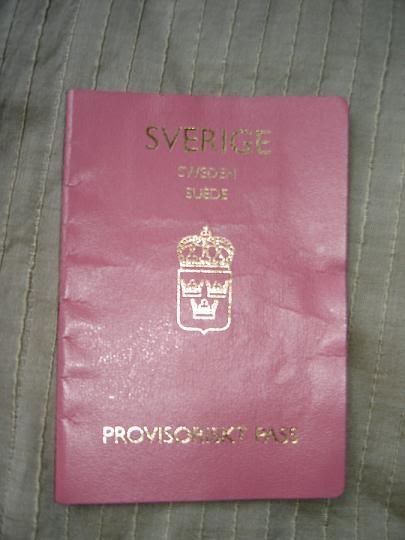 The next day we went to the immigration authority, and there we had to wait about two hours. Finally we were good to go back home. We now had two days in BKK. We went to see the reclining Buddha, and to do some shopping on Khao San Road. But at last it was time to fly home again.
Scandinavian Airlines 972
Bangkok, BKK - Copenhagen, CPH
Airbus A340-313X
LN-LKG - Gudrod Viking (cn 424)
Scheduled departure/arrival: 00:20/6:30
Push-back: 00:25
Taxi: 00:32
Take-off (RW 21R): 00:37
Arrival at CPH: 6:25
Flight time: 10:48
Load factor: 95%
We arrived at BKK at around 18:30 because we wanted to have some extra time if there would be any problems with our new passports. But at the SAS check-in desk everything went well. GREAT. We now had to pay the departure tax and when that was done we went through the security check and continued on to the departure terminal. We walked around the terminal, bought some duty-free cigarettes and whisky, before we decided to have something to eat. SUSHI!!! Yummy!!! And when you have eaten you want to get drunk (or is that just me?), so let's find a good bar. The one we found was OK, with a dig selection of beers, cocktails and wines. As we sat there drinking whatever we were drinking, we started to watch the TV that was hanging in the ceiling. We were both kind of surprised when we saw that they were showing a documentary on air disasters, more specific the KLM/Pan AM crash in Tenerife in 1977. Is it really appropriate to show that at an airport??
Anyway, we still had a few hours before departure, so we decided to sit down and just wait, so we walked down the terminal and found us some seats. Once we sat there I was looking out on the planes waiting at the gates and the ones that were parked. And I got to think about the Thai Airways fleet. I saw an MD-11 some B747s, two A300s, a few B737-400s, some B777s and the new A340-500. Thai have a wide fleet...
Here, I am looking at the departure screen.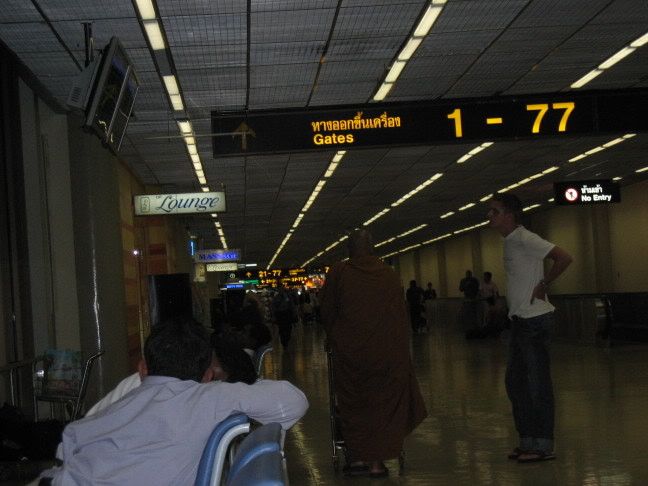 Boarding started fifteen to midnight, and all the passengers were on board at ten past. My seat for this flight was 36A in the rear Y-cabin. Very nice to be back on an A340 again. We were told by the captain that there still was some cargo to load, which meant that we had to wait 15 minutes before push-back. The plane started to taxi at 00:32 and was standing on the runway five minutes later. It was a very powerful take-off that lasted for 65(!) seconds. The plane banked right shortly after take-off, and soon we were heading north-east on our way back to Europe.
As soon as the plane reached the initial cruise flightlevel, the FAs started to serve dinner. This time the meal was pure crap!
. I think it was some disaster made of pork and rice... Dunno really. I asked the stewardess for some extra bred, and she seemed to understand why I asked. She came back two minutes later with some bread and cheese. THANKS FOR THAT!!! I ordered some whisky after the FAs had picked-up the food trays. Then I started to check what the IFE had to offer. Great, Friends was on. It was the episode when Ross finds out that Joey and Rachel are dating. Hilarious!!! Now, I felt that it was time for some sleep, so I slept for about three hours. Woke up somewhere over southern Russia. Just a few hours left to go now. I spent the next the time playing games and reading a book.
Finally breakfast service began. It was OK, but nothing special at all. The service on this flight was no way near as good as the one on the outbound flight.
Getting close...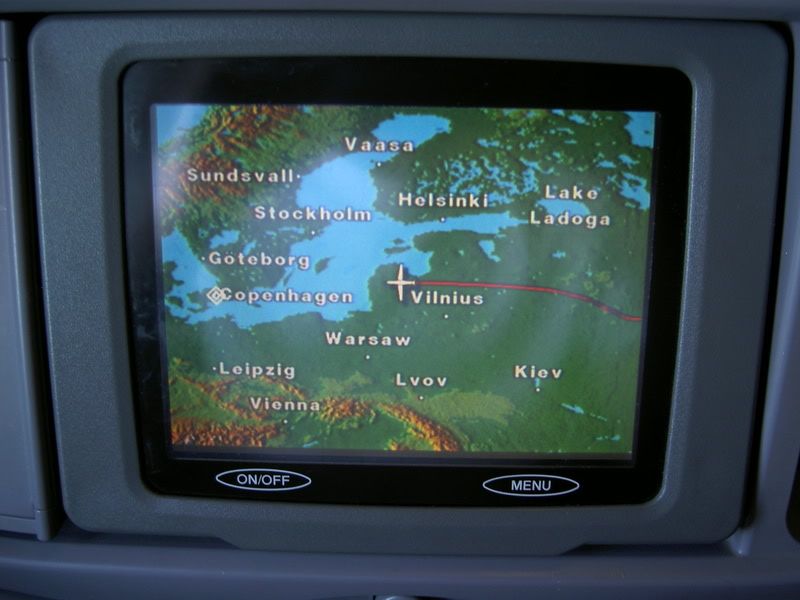 On finals runway 22L
Touchdown RW 22L...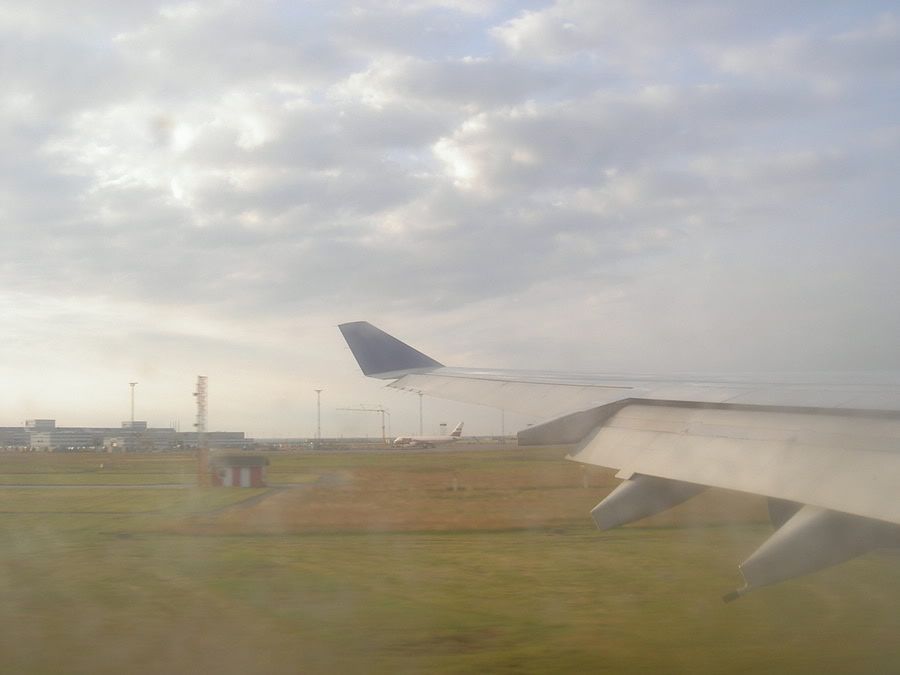 ...and brakes.
Here Gudrod Viking at gate C29 after the flight.